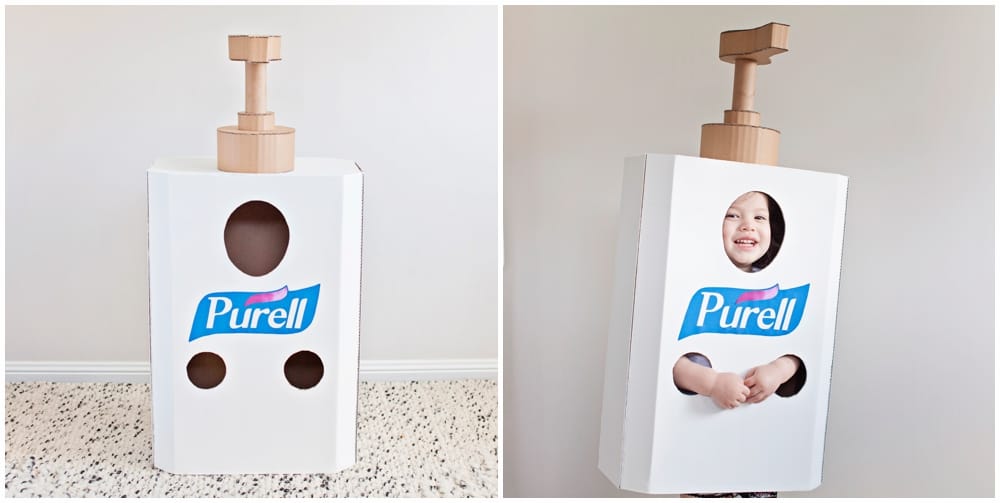 Follow us on Instagram for more fun ideas for kids!
This cardboard DIY Hand Sanitizer Costume is perfect for celebrating Halloween 2020! Plus it'll remind kids keep their hands clean while trick or treating.
I think we can all agree 2020 has had its challenges with COVID impacting so many globally. Despite the health pandemic we're facing, there's still some fun to be had. Halloween may look and seem very different this year, but that doesn't mean it's cancelled. Celebrate by making this DIY Hand Sanitizer Costume for kids that pretty much sums up a huge theme of this year – keeping your hands clean!
We enlisted the help of our friend Kathryn over at Cardboard Folk who is a cardboard genius. You may recall the DIY Cardboard Gumball Machine she whipped up.
Kathryn is back and will be sharing 3 Halloween costumes this year. Since we know 2020 has also been financial hard for many, all these costumes will be made of cardboard and low-cost using recycled items.
You know we're huge fans of cardboard Halloween costumes anyways!
Have you see our woodland animals, cardboard rainbow and cardboard dinosaur costume?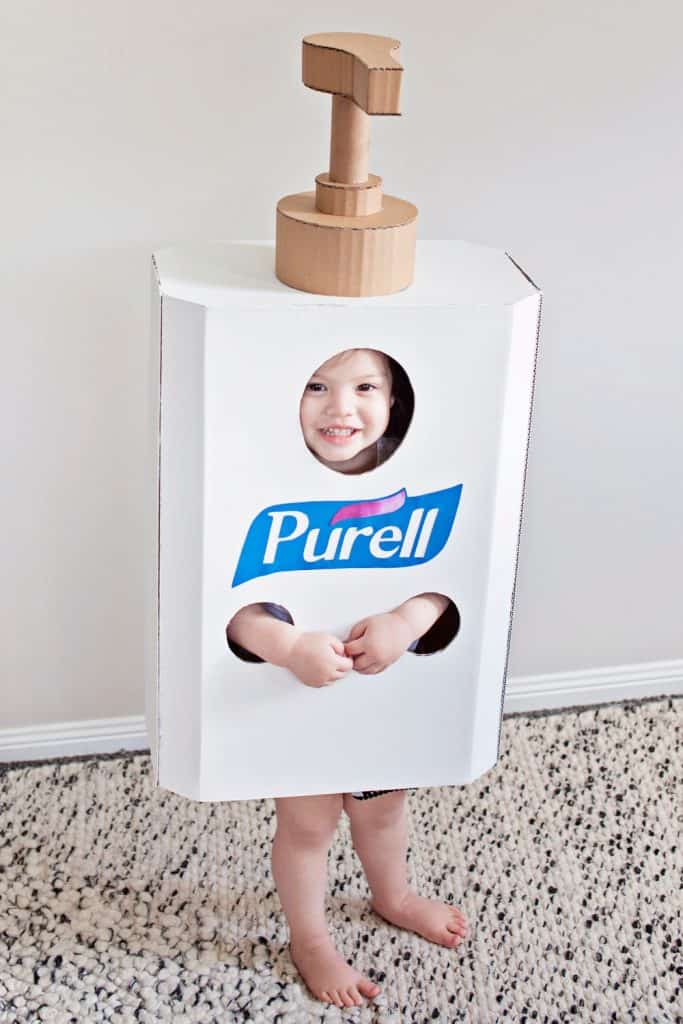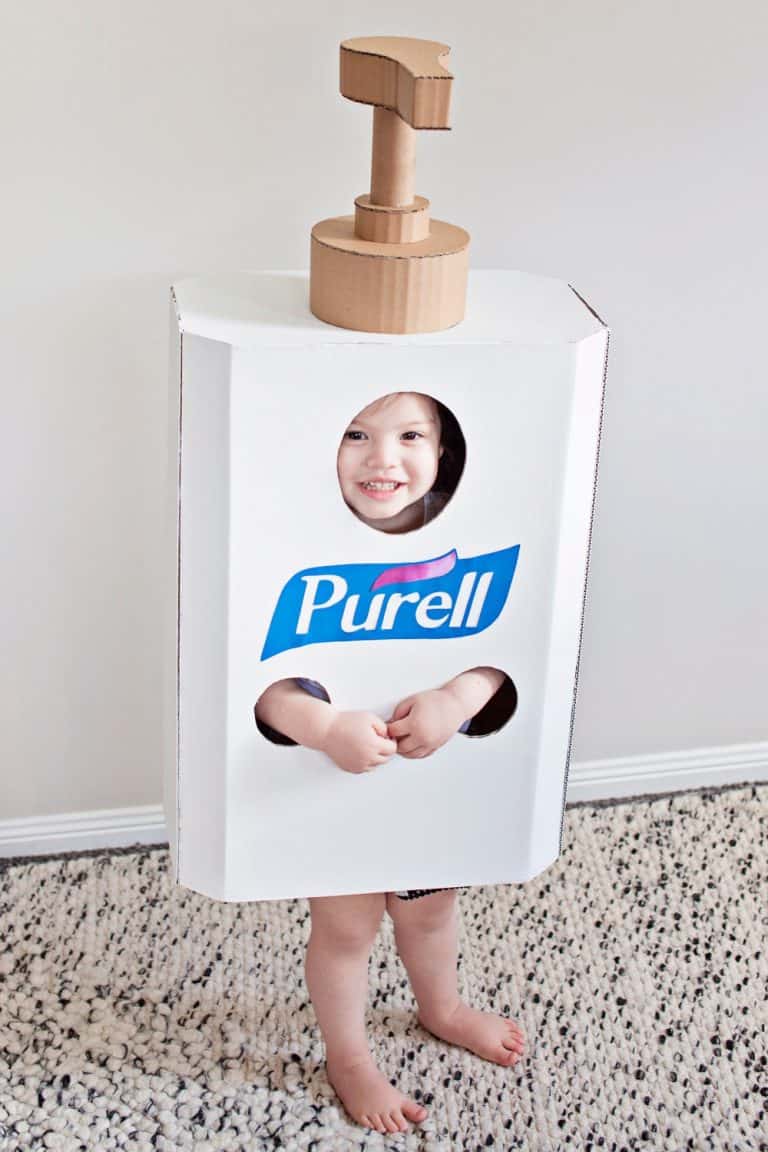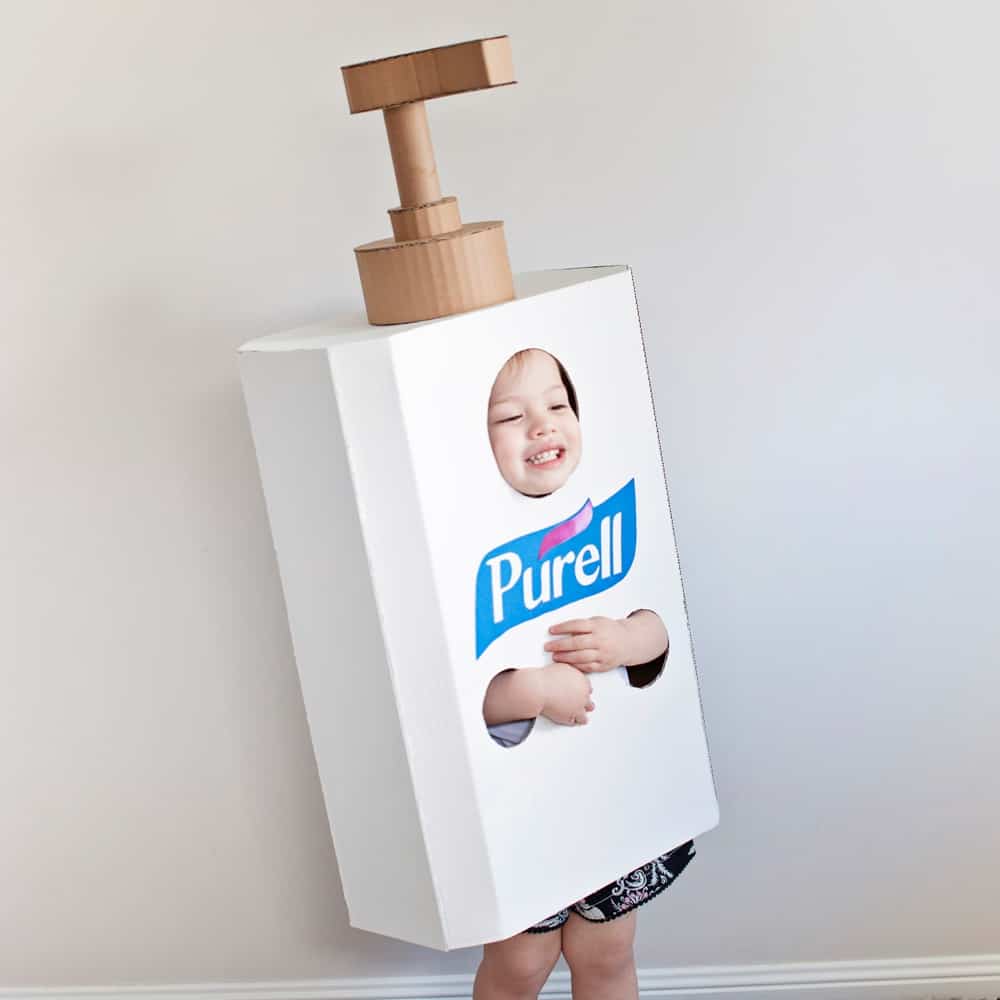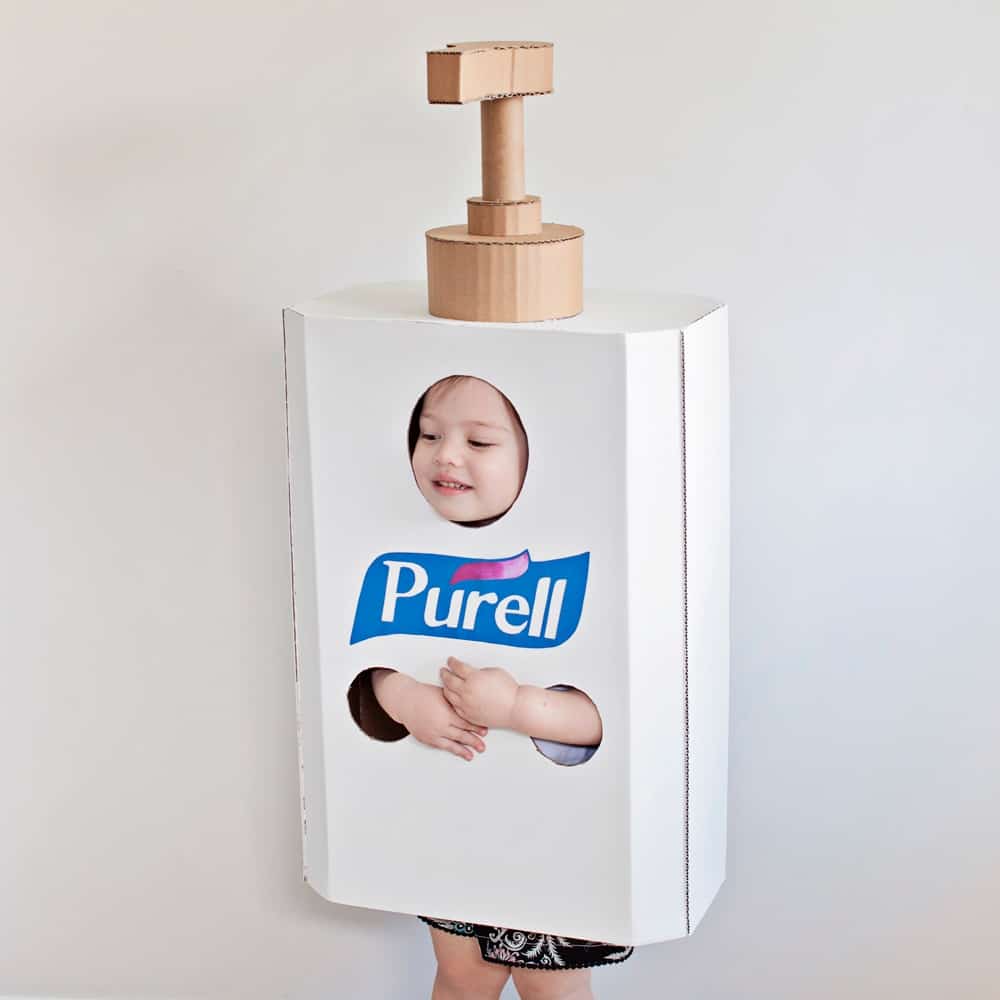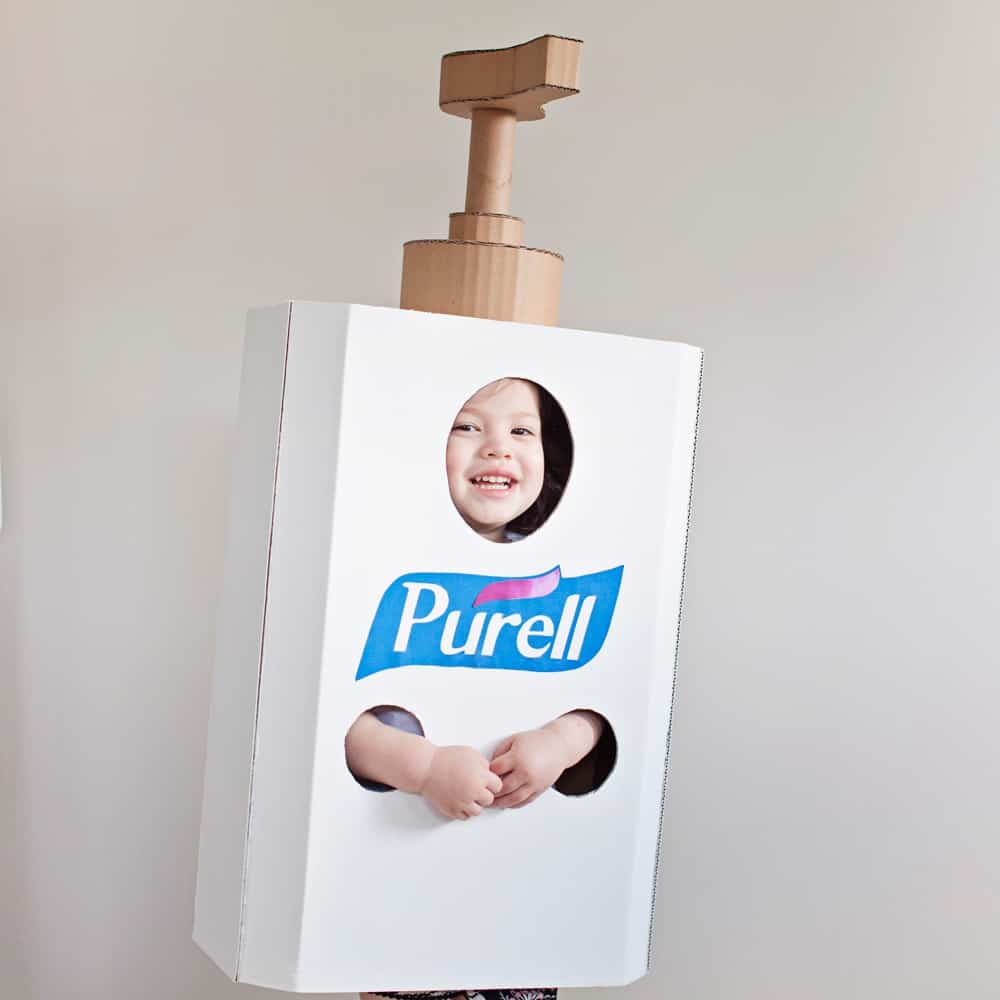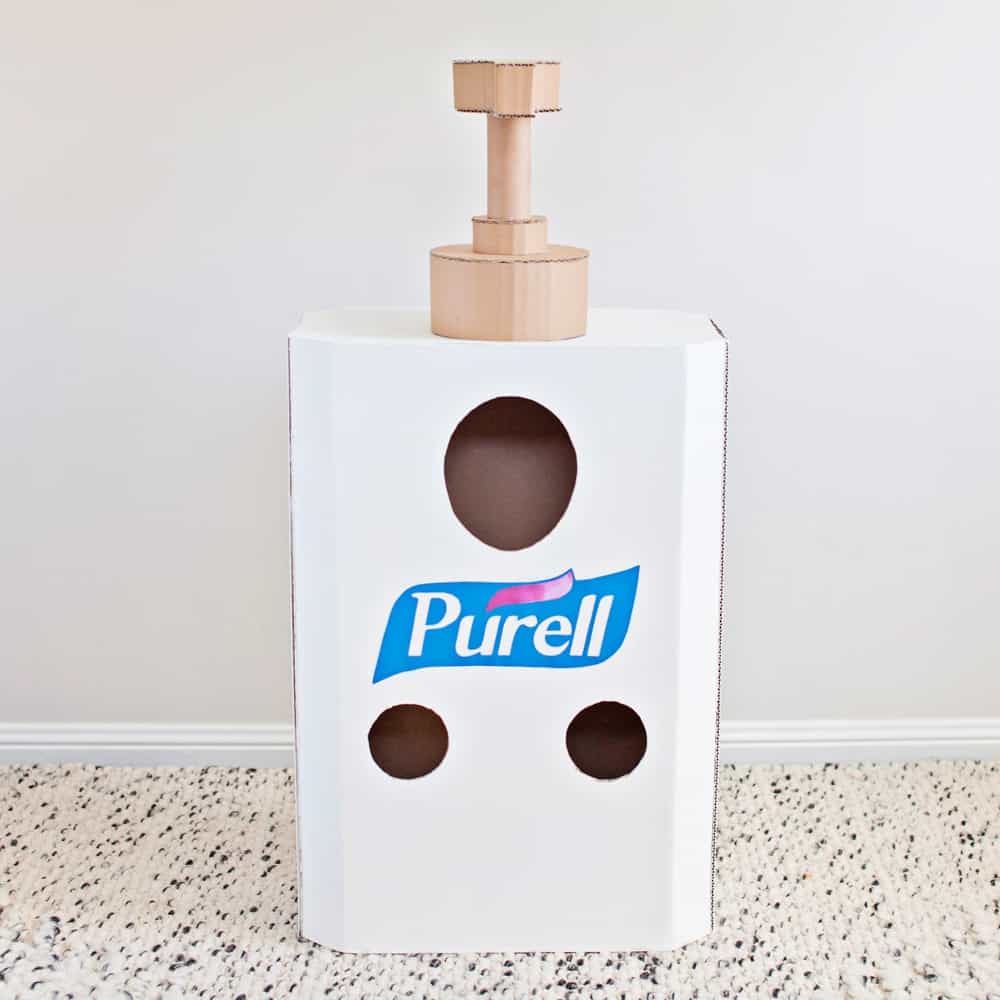 Hand Sanitizer Costume DIY – Materials:
Large Pieces of Cardboard (at least 60cm Long)
Toilet Roll
Blue Cardboard
White and Pink Paint
Paint Brush and or Roller
Steel Ruler
Pencil
Washi tape or similar
Glue Stick
Recommended:
Cutting Mat
Printer (to print Sanitizer brand logo)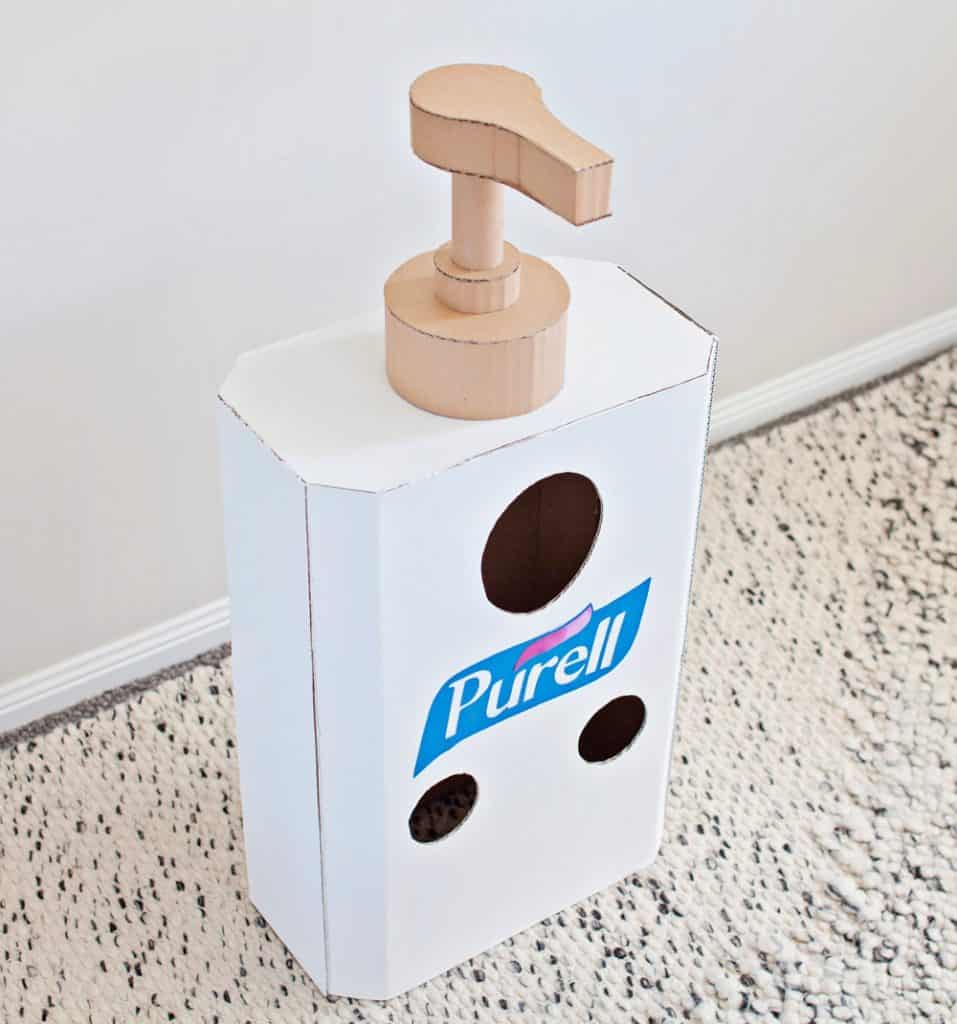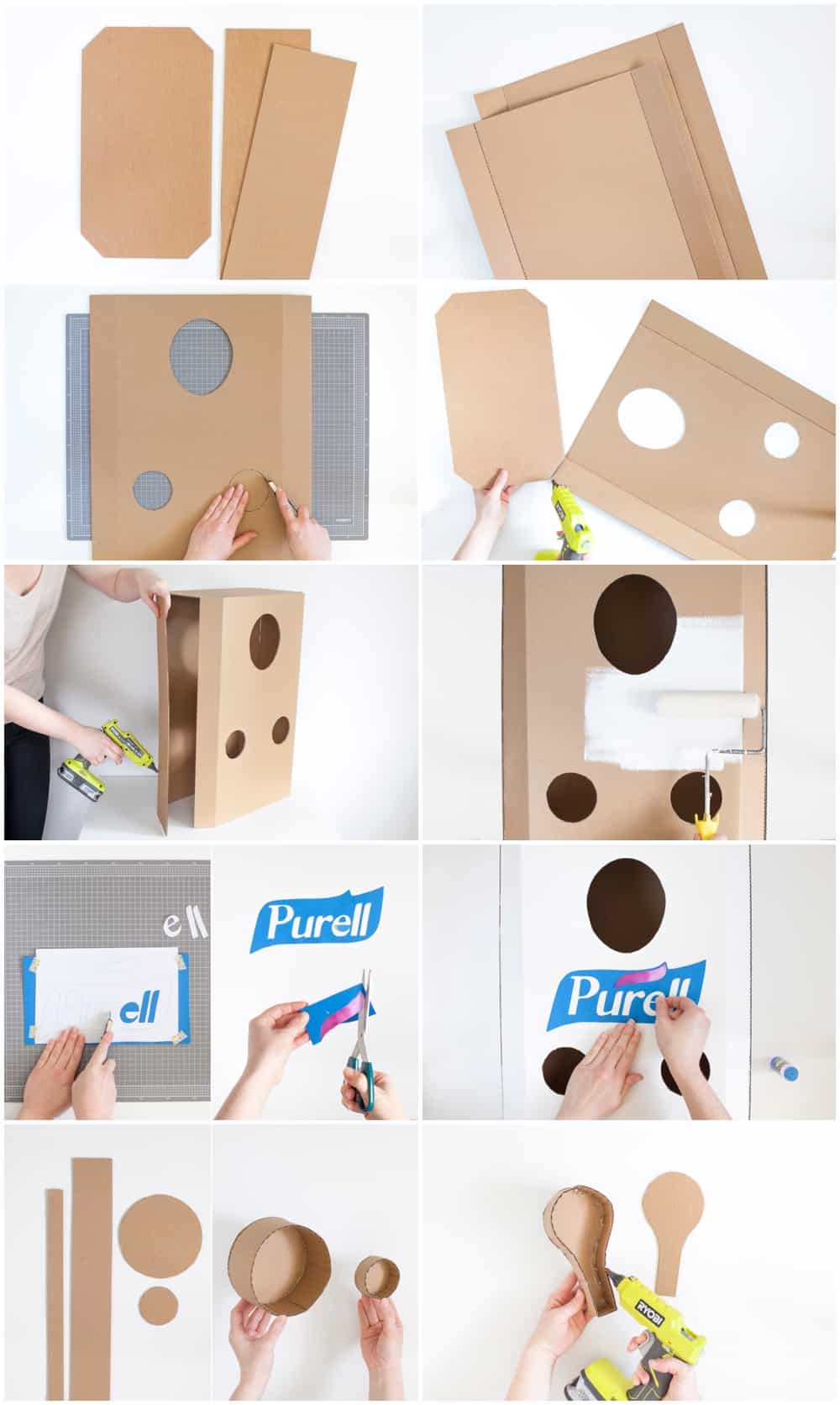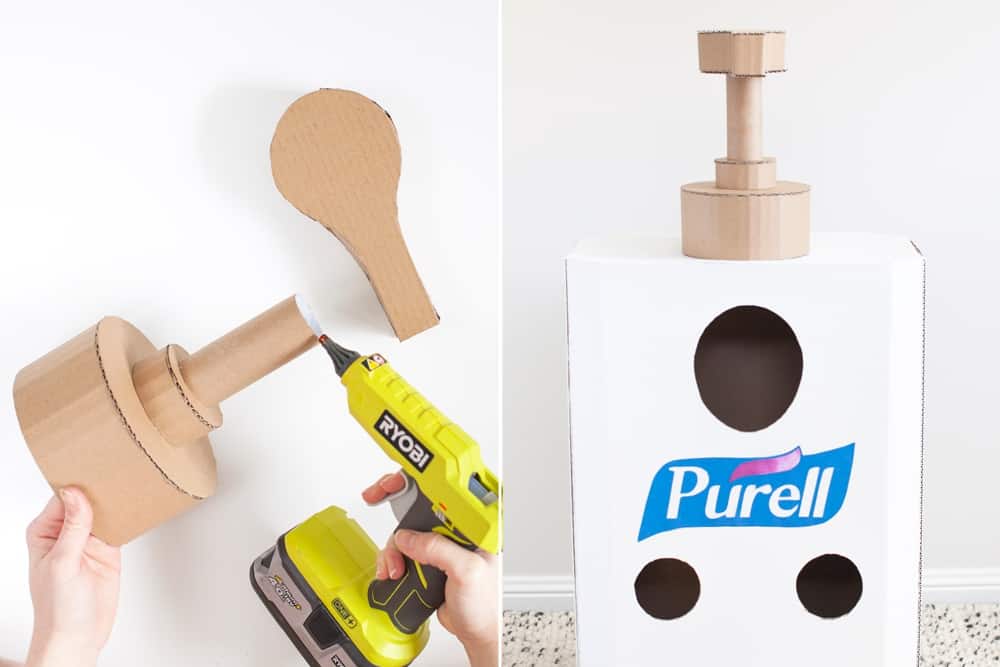 INSTRUCTIONS
Step 1:
Cut a Rectangle 22cm x 40cm for the Top of the body.

Chamfer (Bevel) the corners 4cm in from each side. Cut 2 x Rectangular strips 14.5cm x 60cm for the sides. Scale the costume up or down to suit the size of your child
Step 2:
Cut 2 Rectangular pieces 43.5cm x 60cm for the Front and Back.

On the inside faces of the cardboard score 2 vertical lines 5.7cm in from each side so that the sides can fold in 45 degrees
Step 3:
On the FRONT piece cut out an oval shape for the face and 2 circles for the arms.

Measure your child to get the right sizes.

The Arm cutouts should be located roughly where the elbow will sit when being worn.
Step 4:
Glue the Body together with a hot glue gun, starting with the top and front, then attach the back, followed by the sides.
Step 5:
Paint the Body.

We used 2 coats of White Acrylic paint applied with a roller.
Step 6:
Print out the Hand Sanitizer brand logo (alternatively you could draw your design free hand straight onto the blue cardboard).

Use the printout as a template to cut out the blue cardboard with a box cutter or craft knife.

We used washi tape to keep the template in place as we cut. Use pink paint to create the brush detail
Step 7:
Glue the logo to the body with glue stick.

It should be located between the face and arm holes.
Step 8:
Make the Lid by cutting 2 circles and 2 strips of cardboard.

One circle should be 7cm Diameter with a strip of cardboard 3cm wide, the other circle should be 15cm Diameter with a strip of cardboard 8cm Wide.

Glue the Strips of cardboard around the circumference of the circles
Step 9:
Make the pump by cutting 2 spout shaped pieces, ours is 20cm Long.

Cut a long strip of cardboard about 4cm Wide and curve it around the edge of one of the spout pieces, glue as you go.

Glue the second piece on top
Step 10:
Assemble the lid and pump by layering the large circle, small circle, toilet paper roll and spout.

Glue in place.

Glue the entire pump onto the top of the body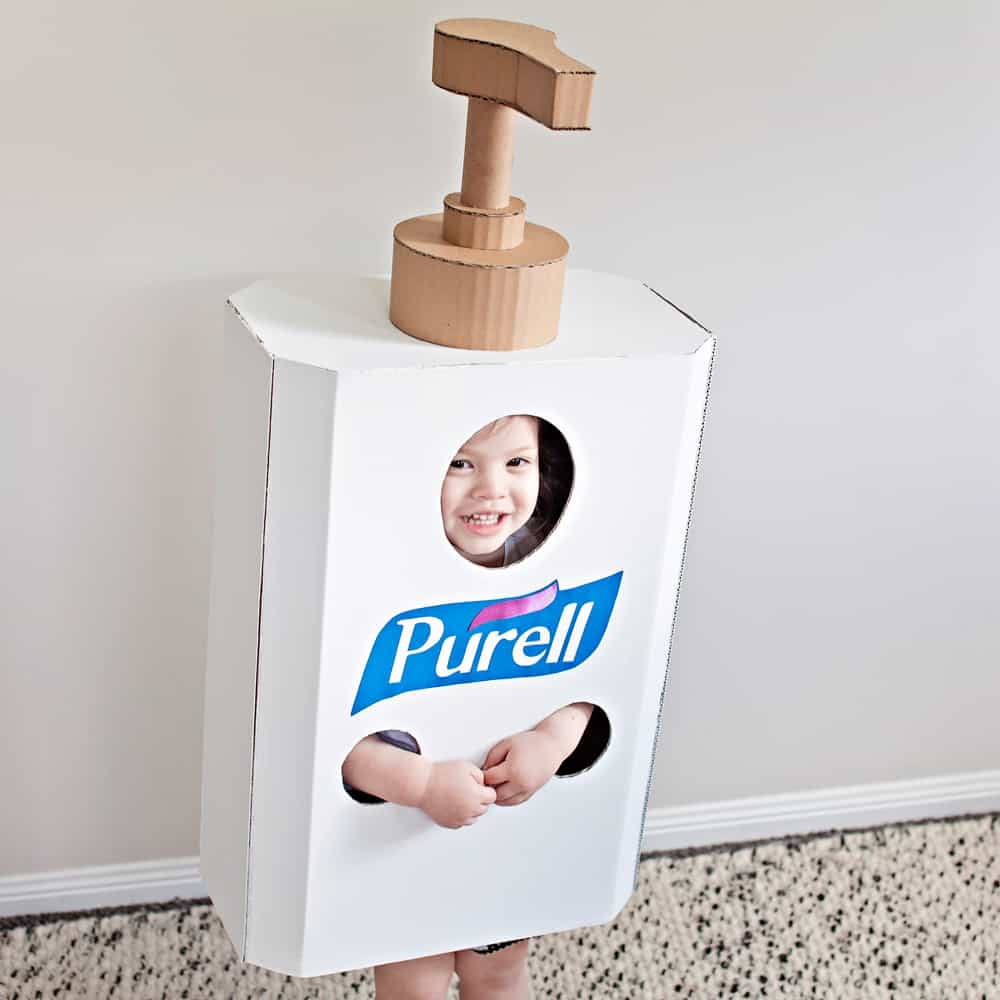 ABOUT CARDBOARDFOLK
I'm Kathryn, Interior Designer turned cardboard enthusiast and chaos co-ordinator to 3 small folk, living in sunny Queensland, Australia. My weapon of choice is the hot glue gun and on any given day you can find me crafting my way through the recycling bin. Mailing boxes are my love language! With a background in design, I bring a love of architecture and engineering to the crafting table, I thrive on testing the limits of what can be created from cardboard. I always have a project, or two, or three on the go. A classic procrastinator. A serial writer of lists. I started Cardboardfolk to foster a love of creation and recycling in my children. I'm all about tapping in to the potential of the everyday object, the overlooked and discarded and giving them new life. You can find more ideas over on Instagram @cardboardfolk
YOU MIGHT ALSO LIKE