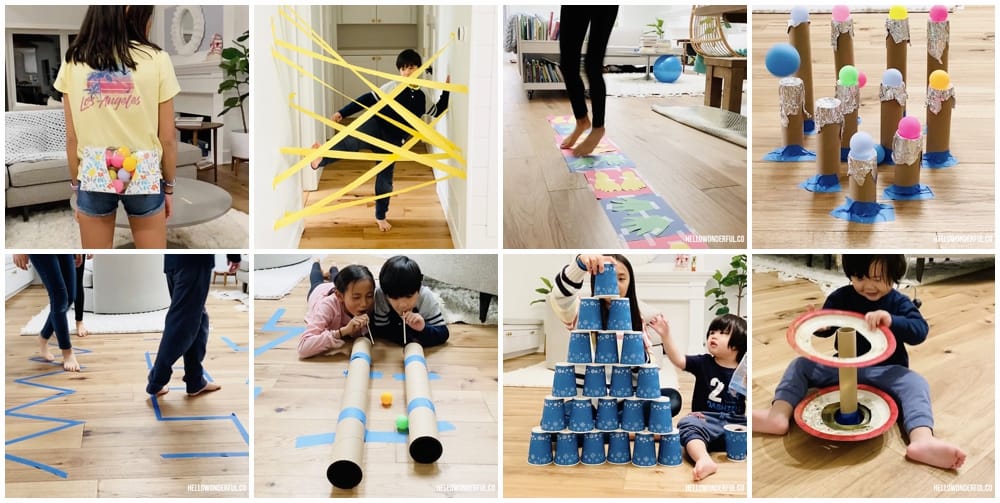 By using this site, you agree to our Terms of Use. This post may contain affiliate links. Read our disclosure policy.
Follow us on Instagram for more fun ideas for kids!
This post was written March 2020 and updated Jan 2023.
Scroll down to watch the video below to see some of these fun Easy Best Indoor Activities for Kids. Make sure to subscribe to our YouTube channel for more fun videos!
Keep the kids having fun and engaged with these 50 Plus Easy Indoor Activities for Kids using simple household items and recycled materials.
We've all been aware of the recommendations to stay home, self-quarantine if you are feeling sick, and keep healthy which is why we've gathered up the best, easy indoor activities for kids. These fun activities are perfect for a sick day or rainy day or act as fun indoor playgrounds.
They require just a little creativity and are great for young or older children to play their own game right at home!
Many schools are closing due to the imminent threat of COVID-19 (Coronavirus) and we've been getting lots of requests from readers on how to keep kids busy indoors.
Understanding that many may not have access to craft books, supplies or art materials, these 50 Easy Indoor Activities for Kids are cheap and easy to set up with most household materials you probably have on hand. Many of these are a great way to recycle and reuse packaging and materials from home.
Note this post was written during the pandemic in 2020 but updated to reflect indoor activities you can do at any time of year. You can use these indoor fun ideas for for busy toddler activities, birthday parties, play-based learning or for a great time with the entire family no matter what mother nature has planned outdoors!
If you don't have the time to set these up, board games also make super fun indoor activities, especially for the whole family or older kids.
What if I don't have the exact items at home to set up these indoor activities?
Don't fret! The last thing we want you to do is to go out and buy stuff you'll need once or twice. Take stock of what is in your home and improvise! Also, involve your kids and ask them, "how can we make this another way? Easier? Faster? Better?"
Test out different ideas – the experimentation in creating different variations of games is also fun!
Make sure to check out the full list below and watch the video in the post!
For young children, we recommend setting up a sensory bin for free play. You can easily set one up using pom poms, or use cotton ball for a fine motor skills activity. This makes a great indoor activity for kids of all ages, because who doesn't like to engage in some sensory play?!
Easy Indoor Activities for Kids – Materials and Instructions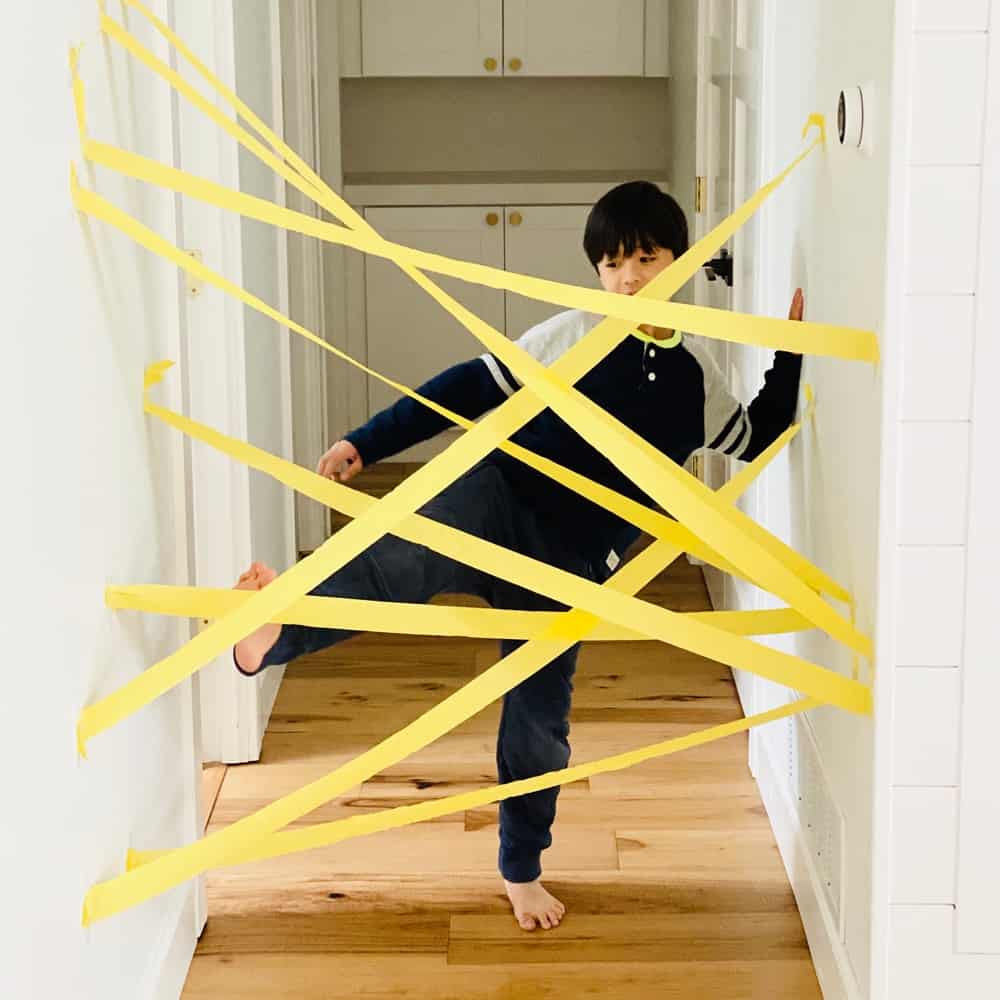 Create an Obstacle Course Using Crepe Paper
Take a roll of crepe paper and tape lines across a hallway wall. Zig the lines high and low. Encourage kids to walk through without breaking the crepe paper!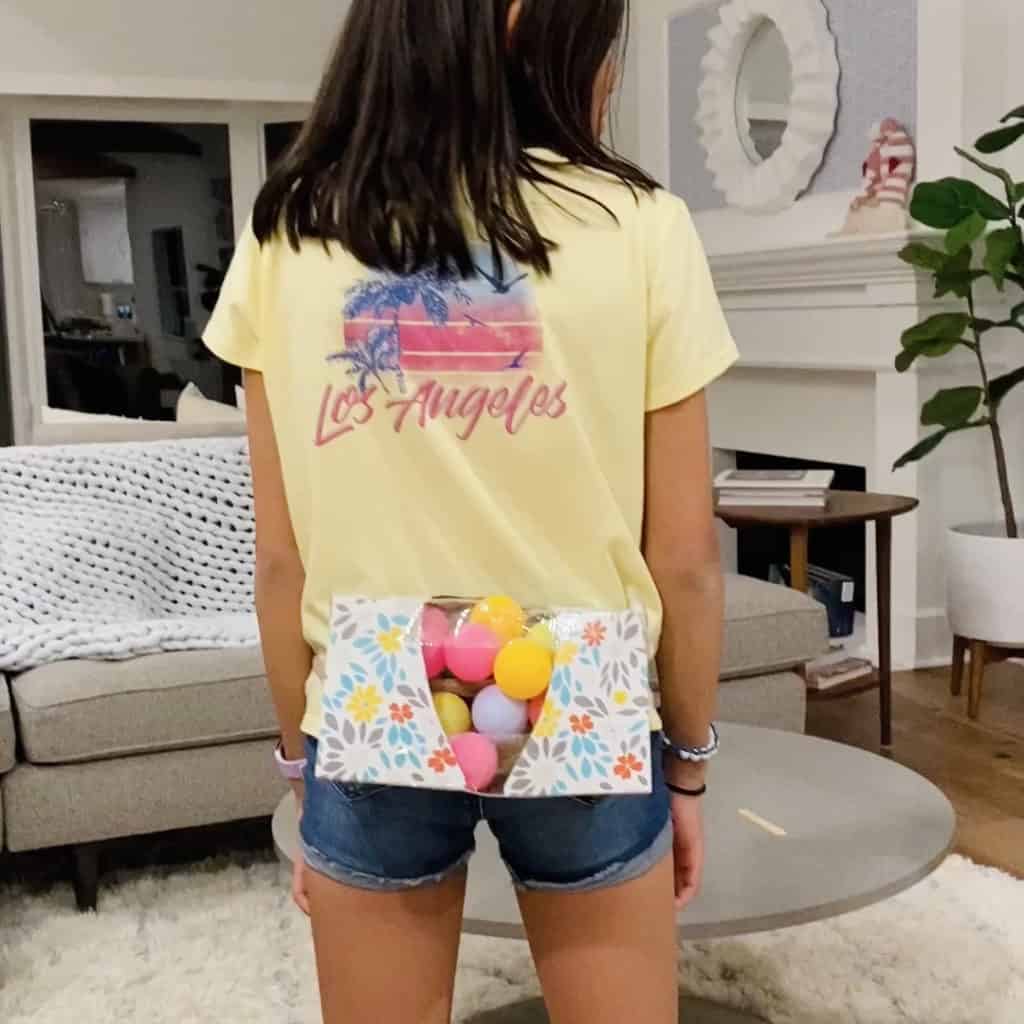 Ball Shaker Game
This was from our Minute to Win It Games. Take an empty tissue paper box and fill with ping pong balls. Take a sash, scarf or pantyhose and tie around your waste.
Encourage kids to shake out the balls in X number of seconds or minutes.
If you don't have ping pong balls you can stuff with large bells, or anything soft, round and not too heavy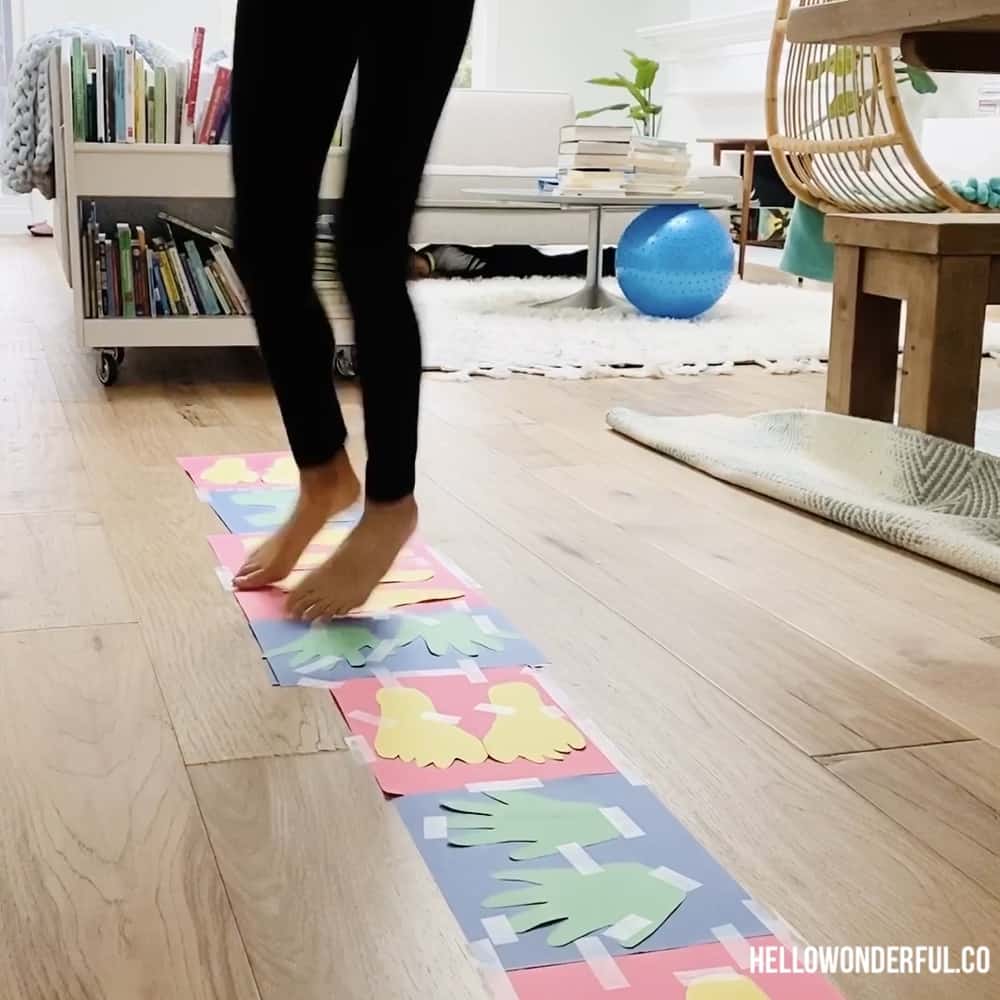 Sensory Walk or Gross Motor Footprint Handprint Activity
Trace one handprint and one footprint. Use that as a template to make several pairs of footprints and handprints. Tape down to colored paper. Make a gross motor game by placing your hands and feet on on the paper.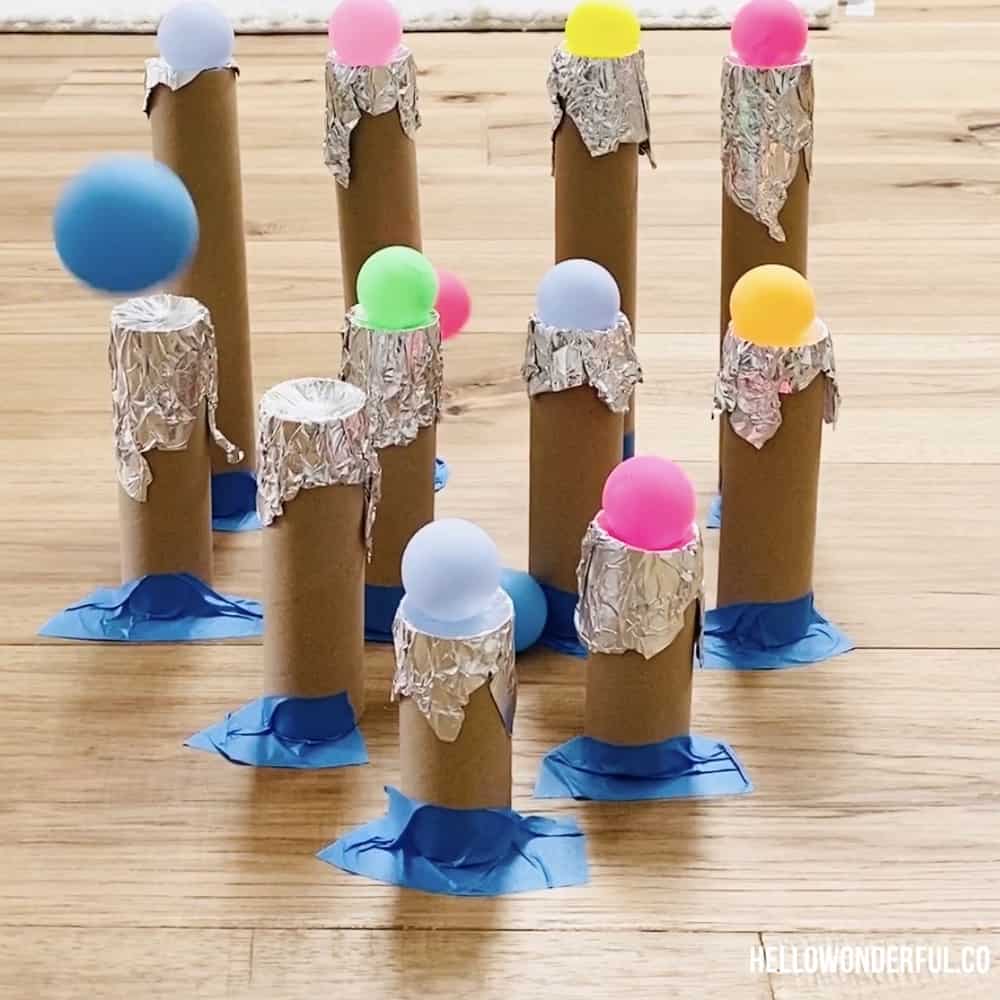 Ping Pong Ball Toss
Use varying paper tubes in heights and use painter's tape to tape down the floor or you can even insert them on top of a cardboard box and hot glue down. Place foil over the opening and ping pong balls on top so they don't fall down.
Tip: If you have large colored plastic balls you don't need the foil. Use a ball or make your own (we crumpled a piece of leftover foil!) to knock down the balls. Or if you have a Nerf Gun, you can use that too.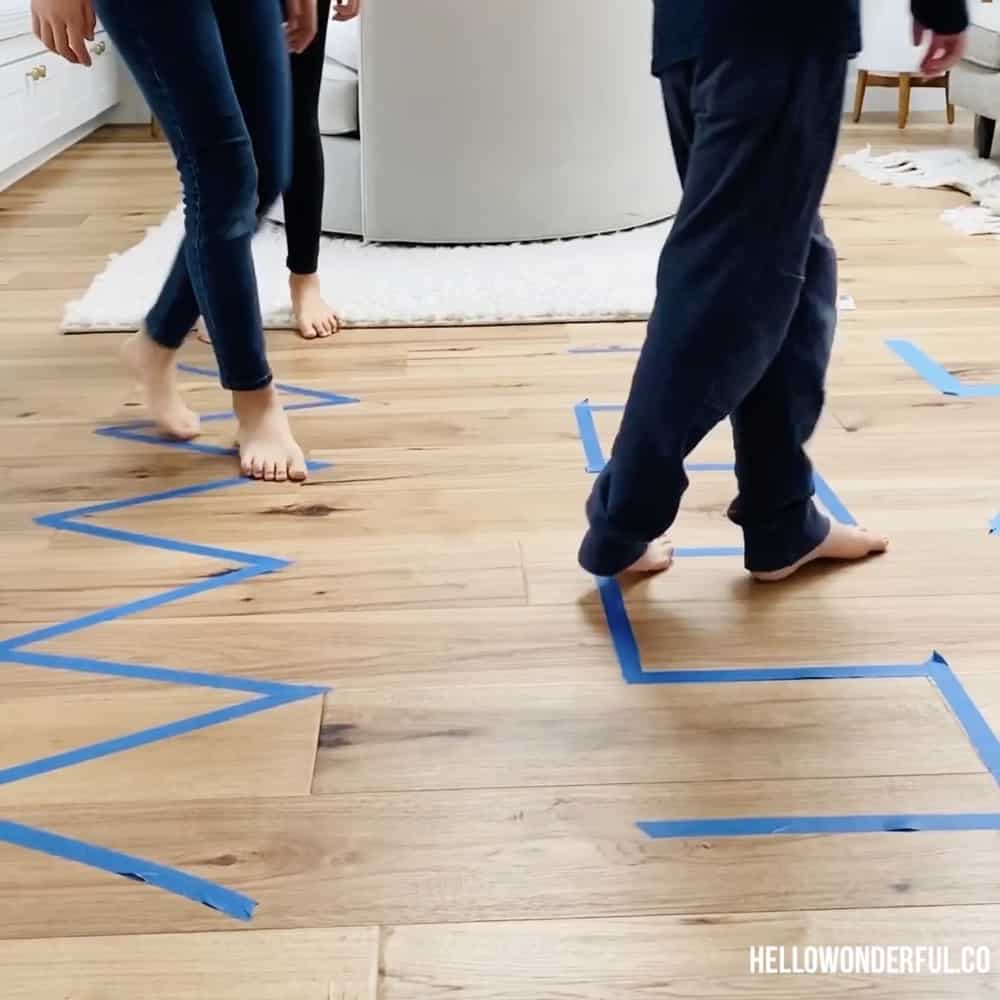 Walk the Line
Create different lines on the floor and have kids follow the lines for a fun gross motor game.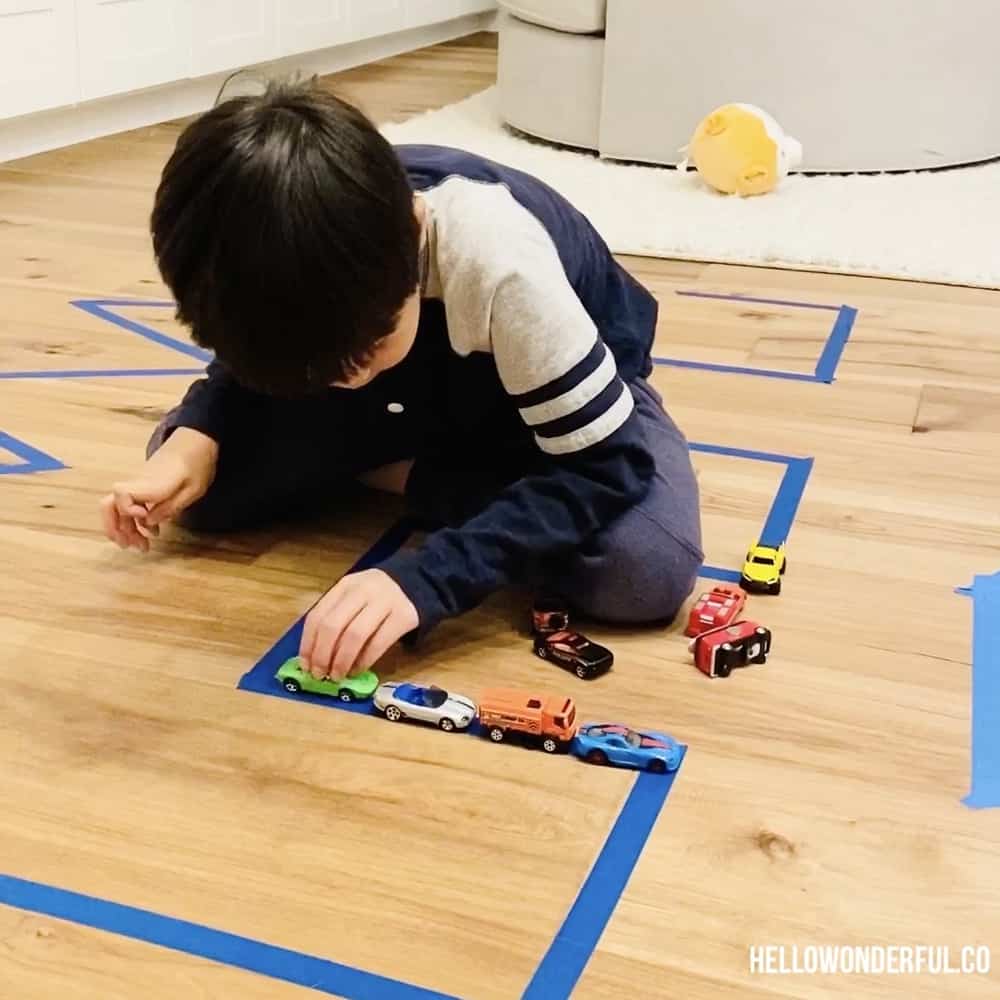 Line the Cars on the Line
You can use the same line from above and line cars along the lines.
This can be any small item though! LEGO, Duplos, trains, dinosaurs, whatever your kid is into at the moment.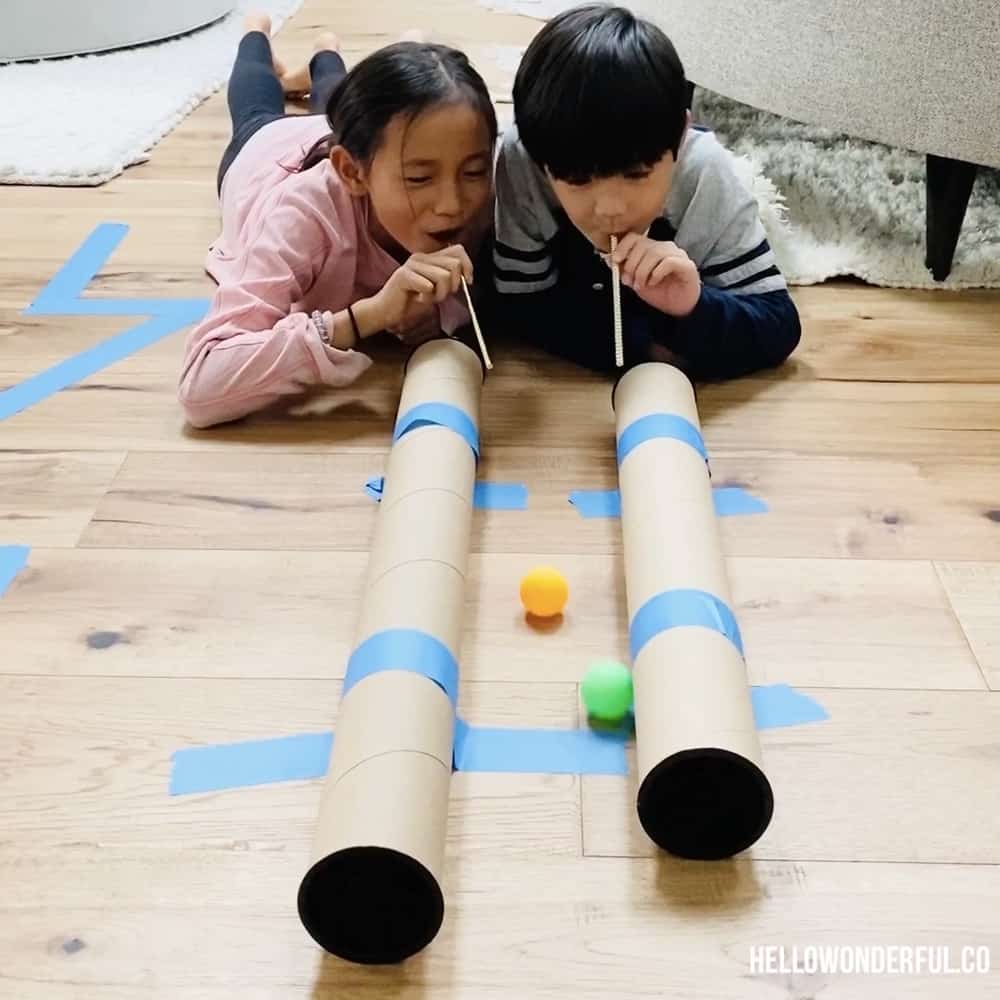 Ball Straw Blower Race
Take two paper tubes and tape to the floor. Give each kid a straw and do a ping pong ball race!
If the ping pong is too easy to blow, use a heavier ball or object. Test out different ones – the experimentation in creating different variations of games is also fun!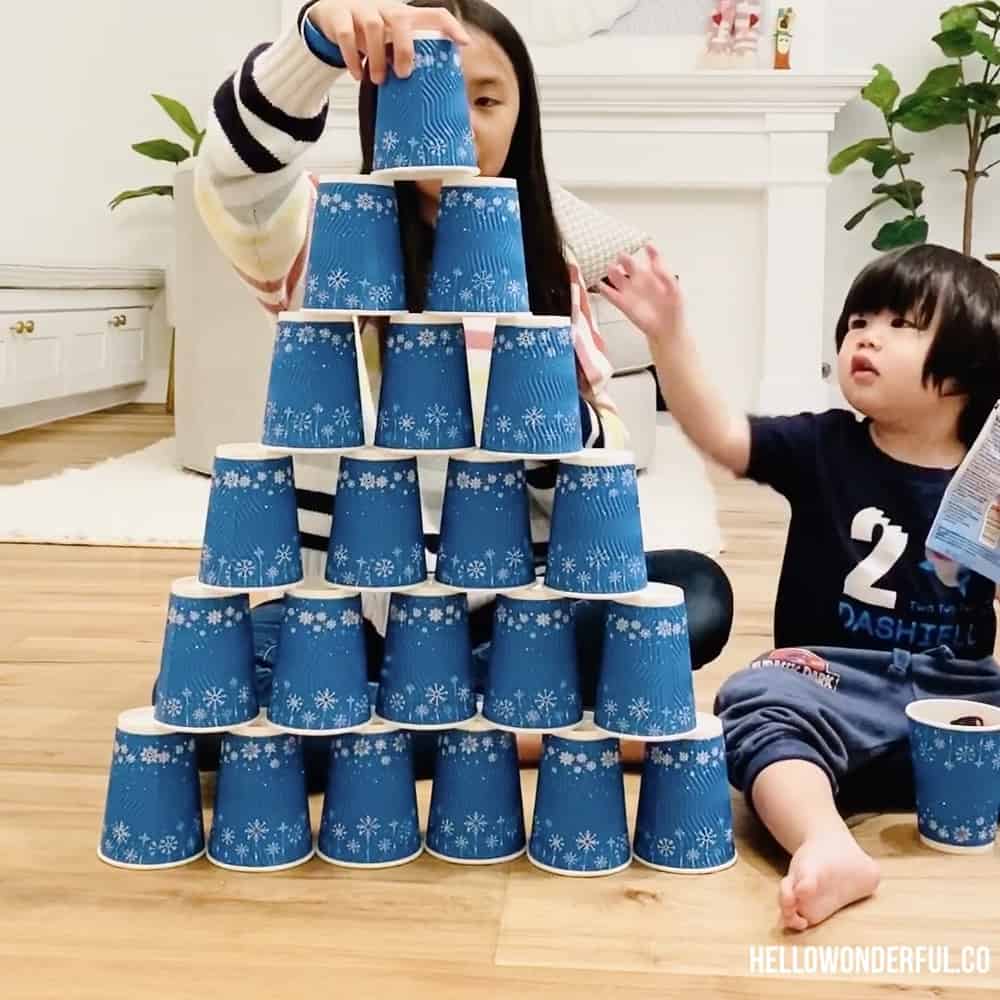 Paper Cup Stacking
Recycle and reuse paper cups into a fun stacking game. How high can you go?! Get the little ones to help bring and stack cups too!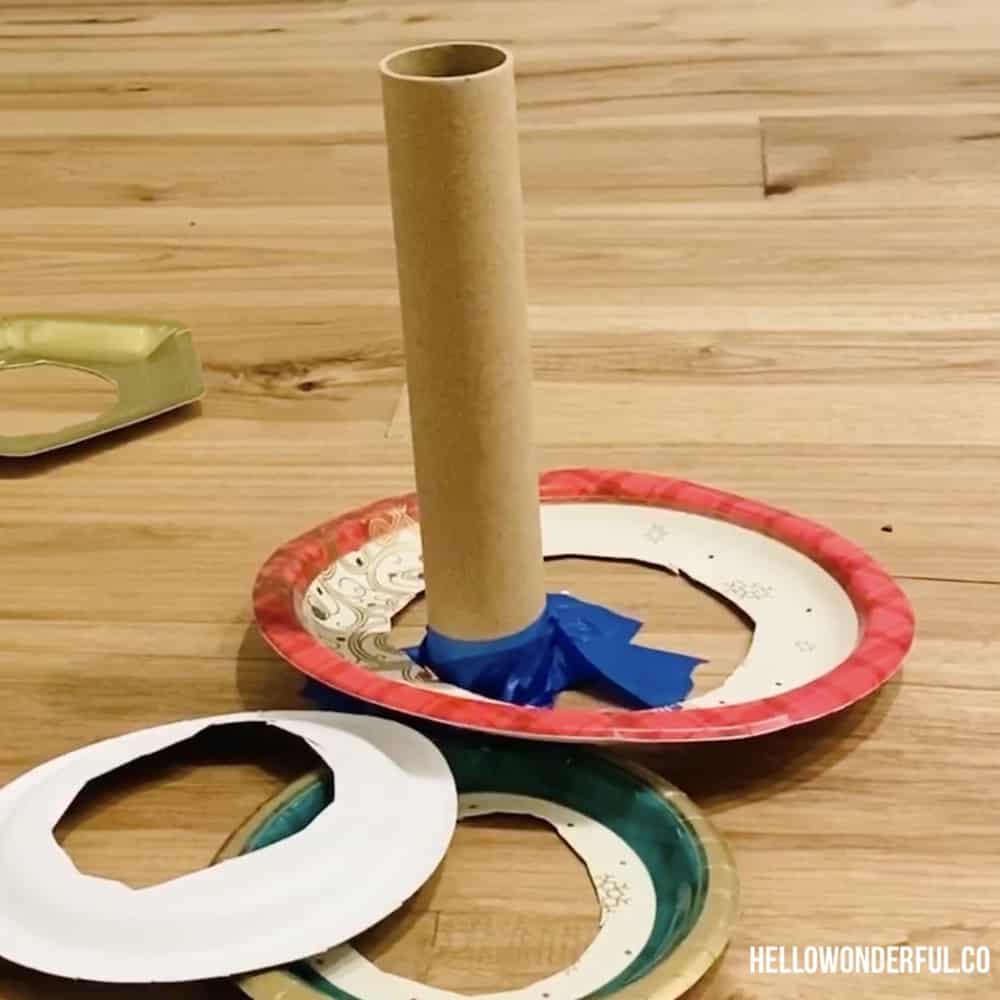 Paper Plate Toss
Take a paper towel roll and tape to the floor. Cut out inner circles from various paper plate sizes. Do a paper plate toss.
How many can you get in in how many seconds/minutes? Make it more challenging by scooting further back!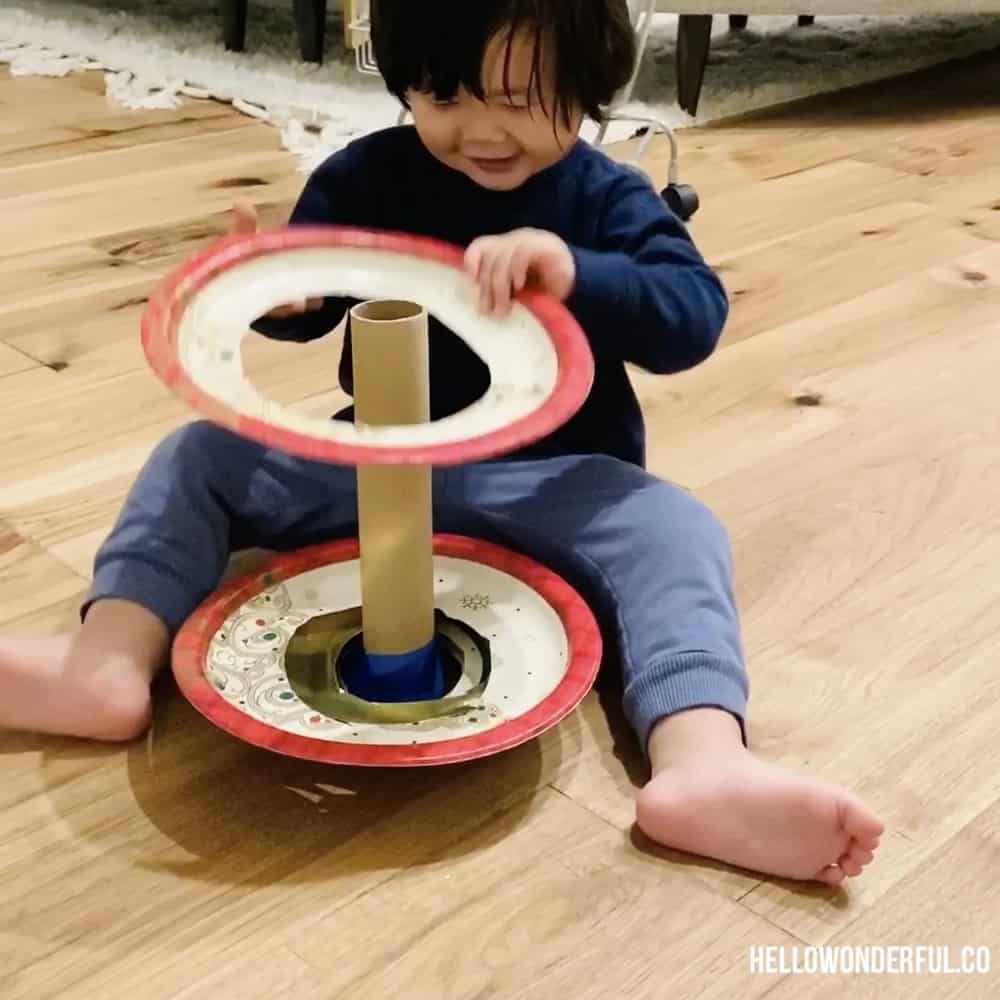 Paper Pate Ring
Here's a variation of the above for toddlers, let them stack the plates inside the roll.
Variation – you could cut small to medium and use only white paper plates you can color in rainbow colors a fun color recognition learning activity!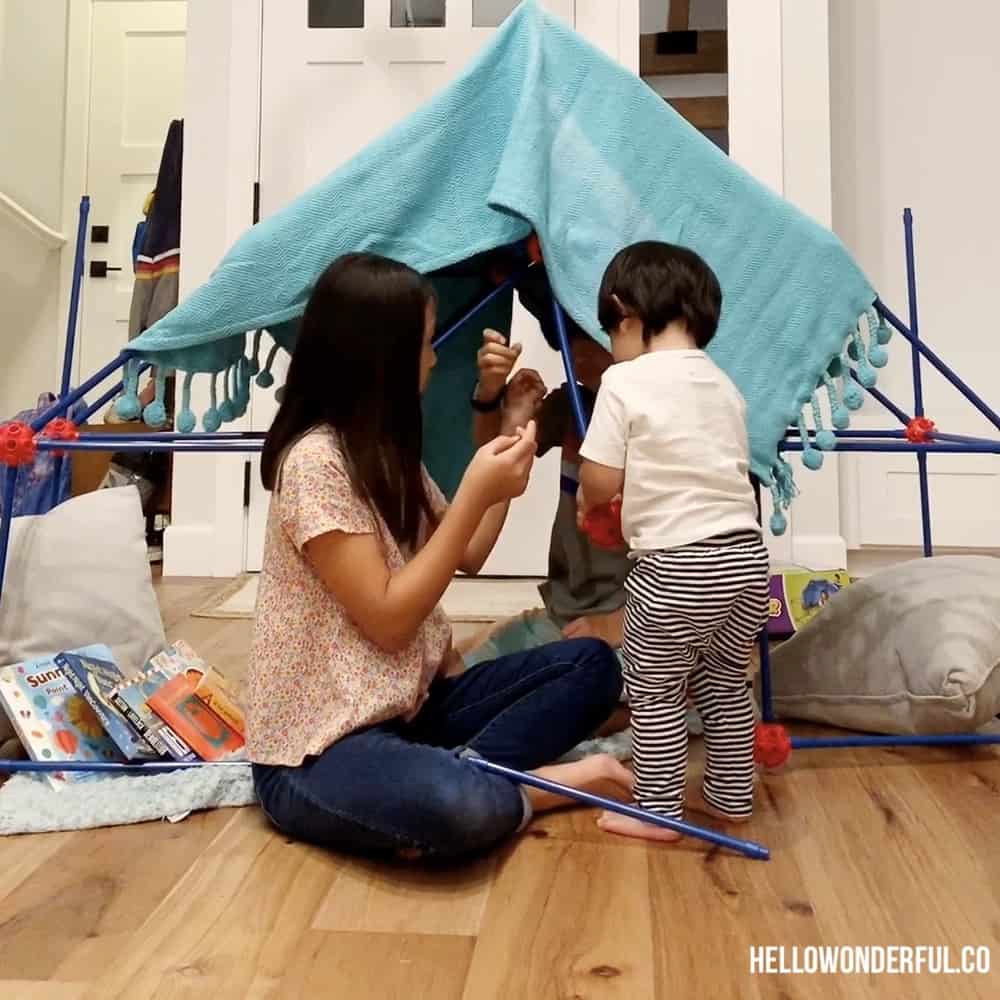 Create a Reading Book Nook
Build a fort, we have this awesome Fort Builder, but you don't need to run out and get it if you don't have one.
We've build plenty of cushion and pillow/blanket forts before!
Add several books around and make a cozy indoor reading nook!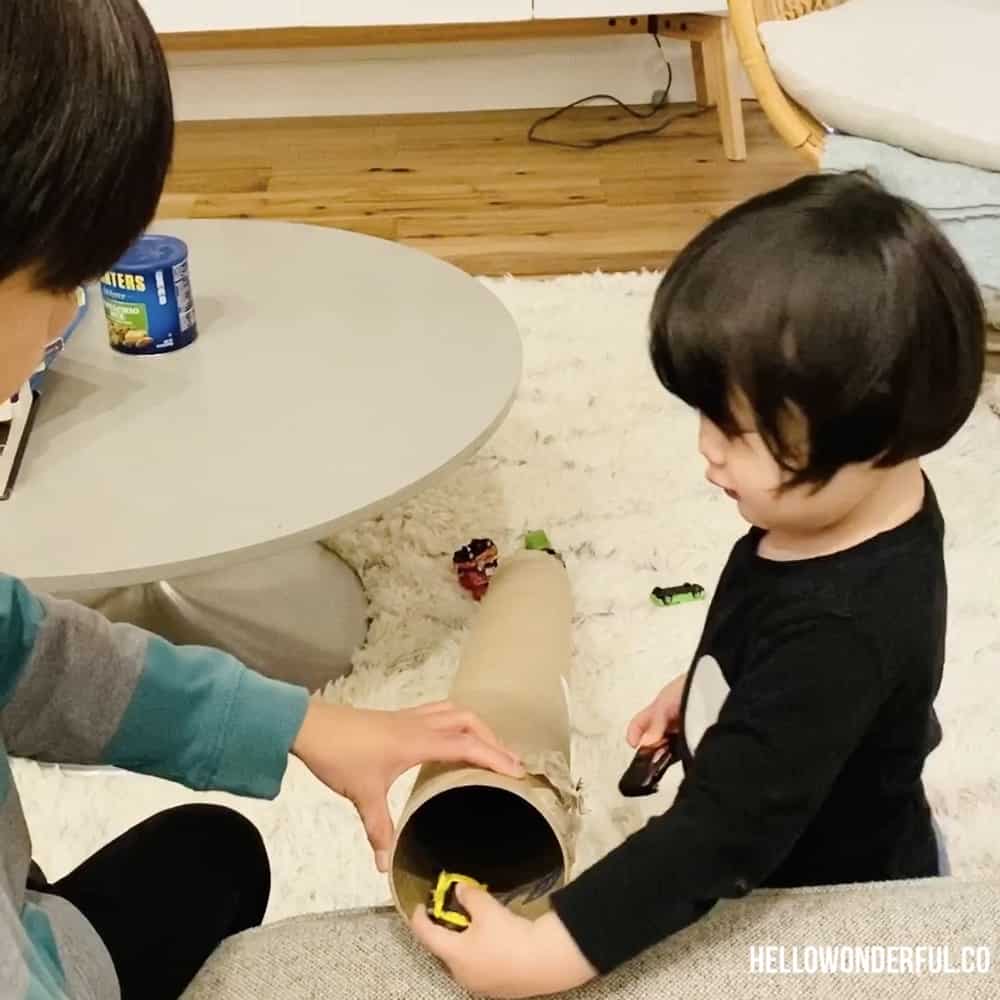 Car Ramp
Reuse a big paper tube and drop cars down. This may sounds simple, but trust me, it keeps my toddler engaged for a good chunk of time! Use trains, small toys, dinosaurs, whatever can drop down a ramp!
Variation, make it bigger! Connect a couple more tubes together!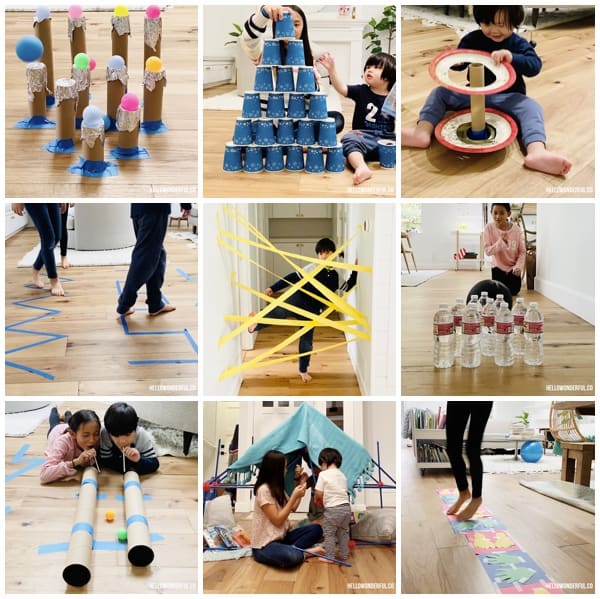 Other ways to set up the perfect indoor activity center at home:
Set up a homemade slime station
Recycle egg cartons into creating different ways to play
Make bumper cars out of cardboard boxes!
Grab your favorite book and role play the characters with each family member getting involved in a favorite scene
If you have the budget for it, a bouncy house is a great way to burn off energy!
Use tape to stick toys for an animal tape rescue!
Set up an indoor play space if you have the space that is dedicated to imaginative play (stack up pillows, blankets and old cushions to make forts!) for lots of fun
More fun ways to keep the kids engaged and setting up a fun indoor activity from our online parenting friends: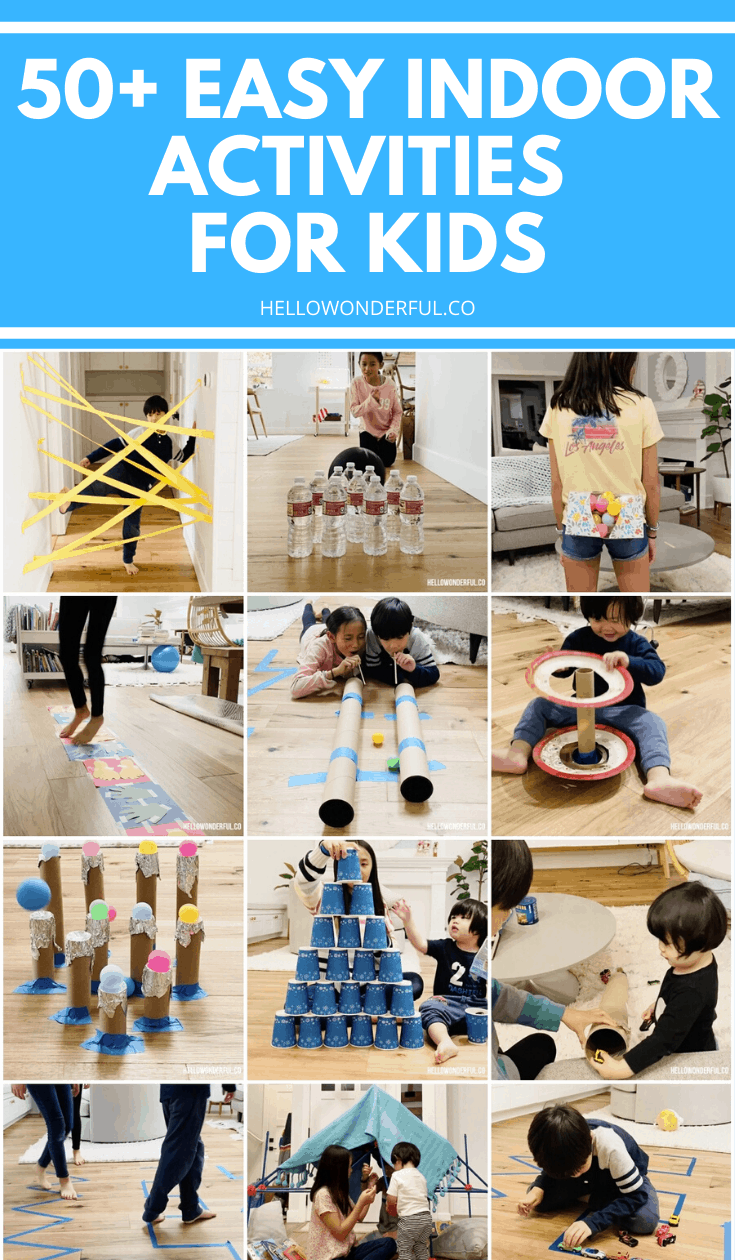 MORE incredible Best, Cheap Easy Indoor Activities from our blogger friends across the world!