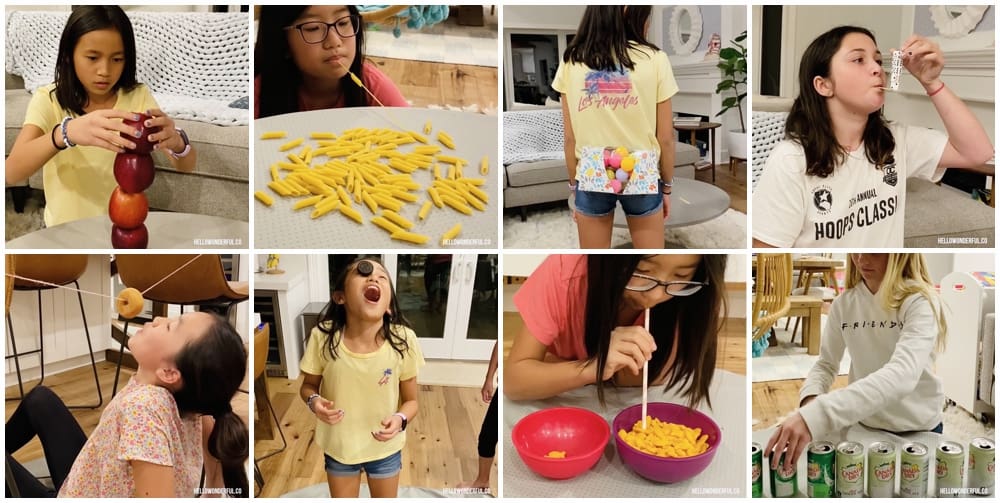 By using this site, you agree to our Terms of Use. This post may contain affiliate links. Read our disclosure policy.
Follow us on Instagram for more fun ideas for kids!
Scroll all the way down to watch the video below to see how fun these Minute to Win It Games for Kids are! Make sure to subscribe to our YouTube channel for more fun videos!
These Minute To Win It Games for Kids are fun party games you can set up easily with common household materials. Great for birthday parties, game night, sleepovers and play dates with kids!
My daughter recently turned 11 and she asked for a birthday sleepover with a few friends. We decided to make it a fun night by setting up games inspired by the game show Minute To Win It.
If you're not familiar with the game, it features a team of contestants that have to complete challenges in under a minute for cash prizes. The great part is the challenges use common household items so they are easy to set up at home too!
Kids these days are so stuck on their devices and screens. These games are a fun way to boost energy and decrease screen time!
In our research we found this great list of Minute to Win it Games for Kids and also used some ideas inspired by the show to add on our our party game night.
We had 3 teams of two kids each and did 10 games. FYI, this took around 2 hours so it was the perfect amount of time for kids to stay engaged, not too long and not too short.
Here are the games we played and the set up/items you will need:
Minute to Win It Games for Kids – Materials: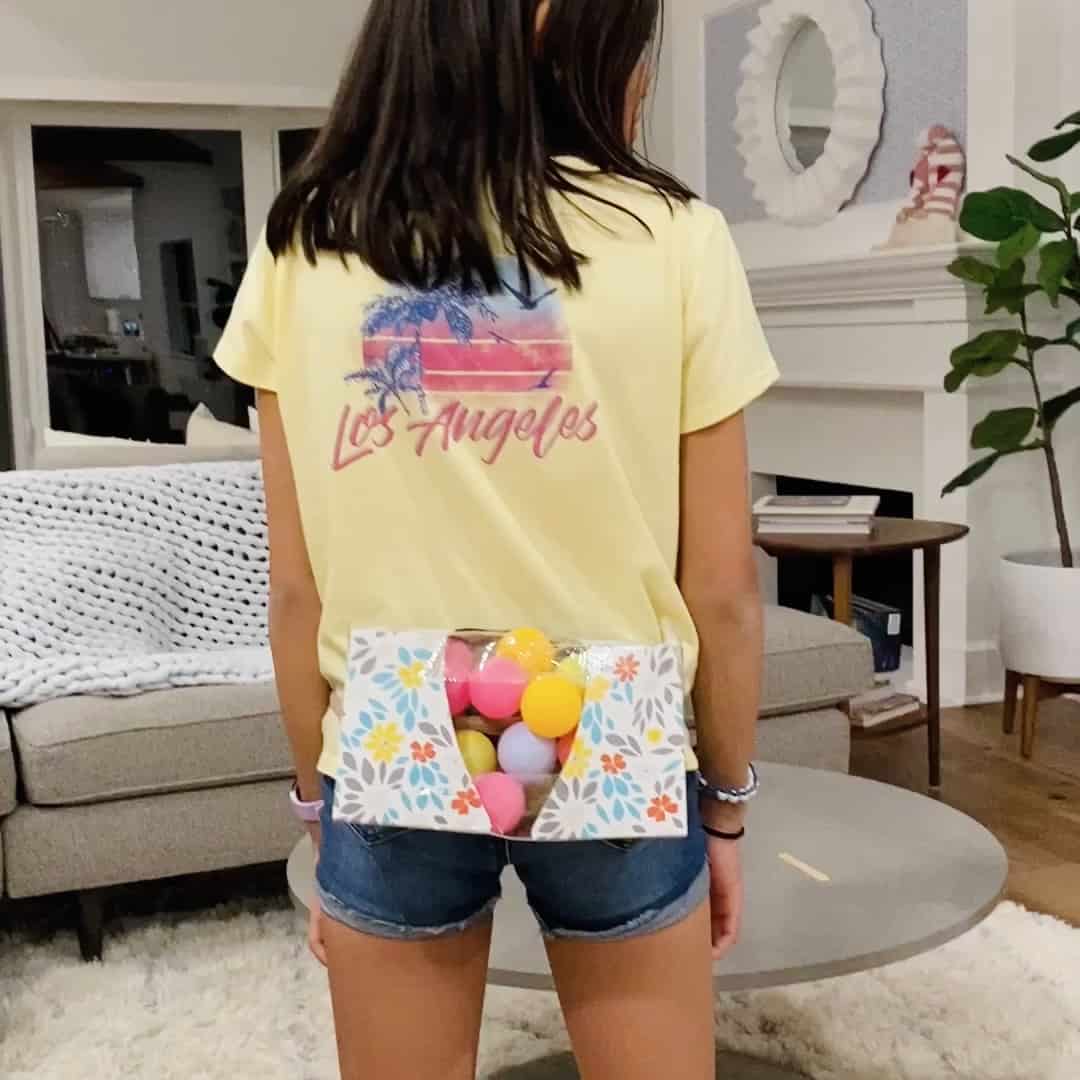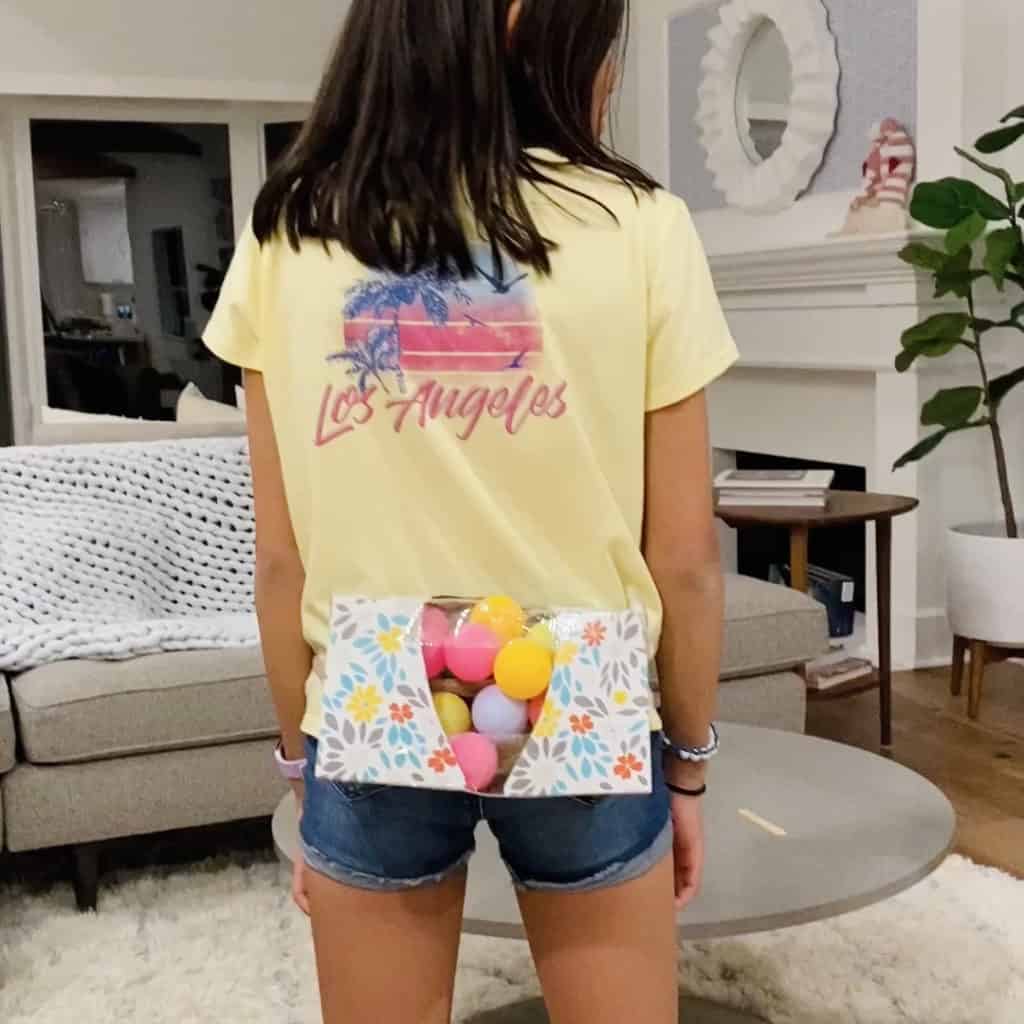 SHAKE THE BALLS
You will need an empty tissue box paper, panty hose, ping pong balls

Create two holes on either inside ends of the tissue box, thread your panty hose through and tie to a kid's waist with the open part of tissue box opening facing out. Stuff ping pong balls inside until full (remember the count as each team will need the same).

Shake as many balls out in 60 seconds!

Winner is the one who shakes the most balls out in shortest amount of time.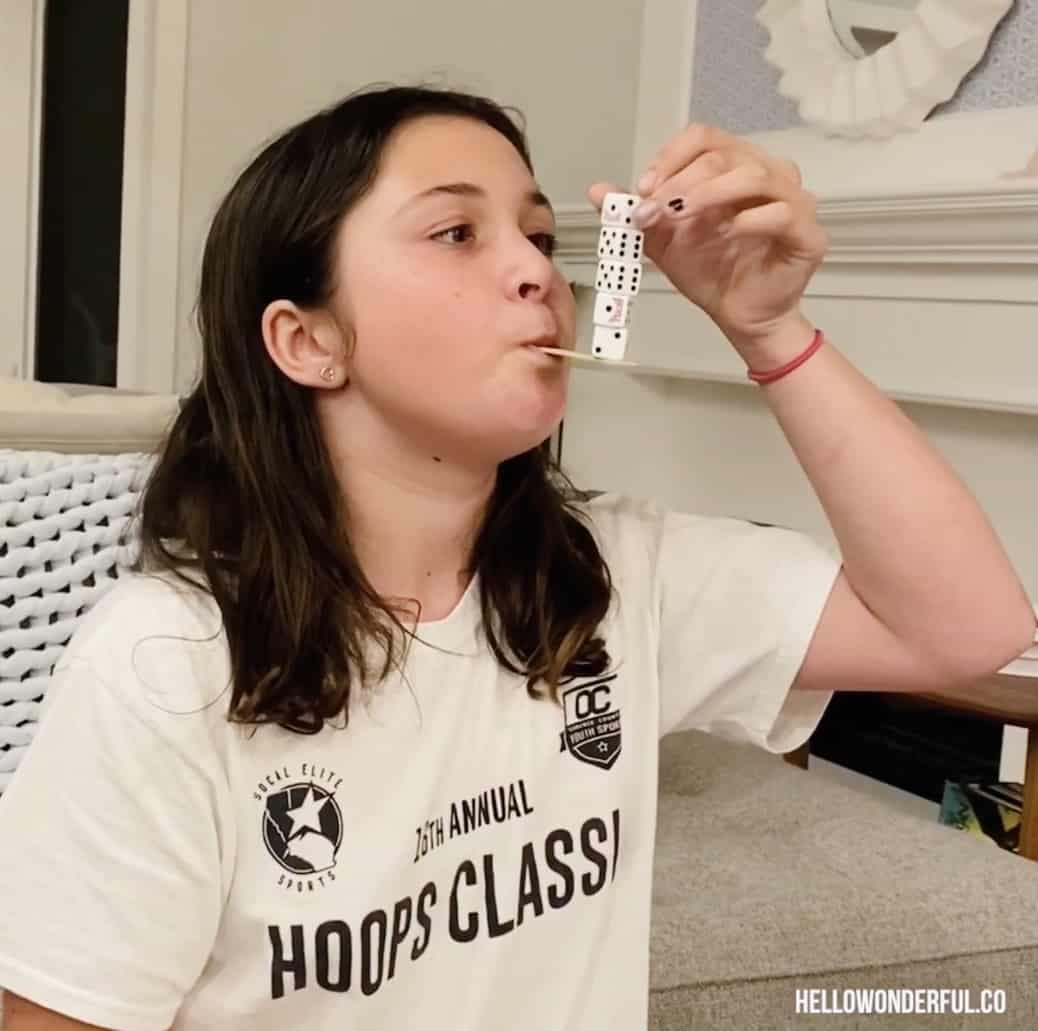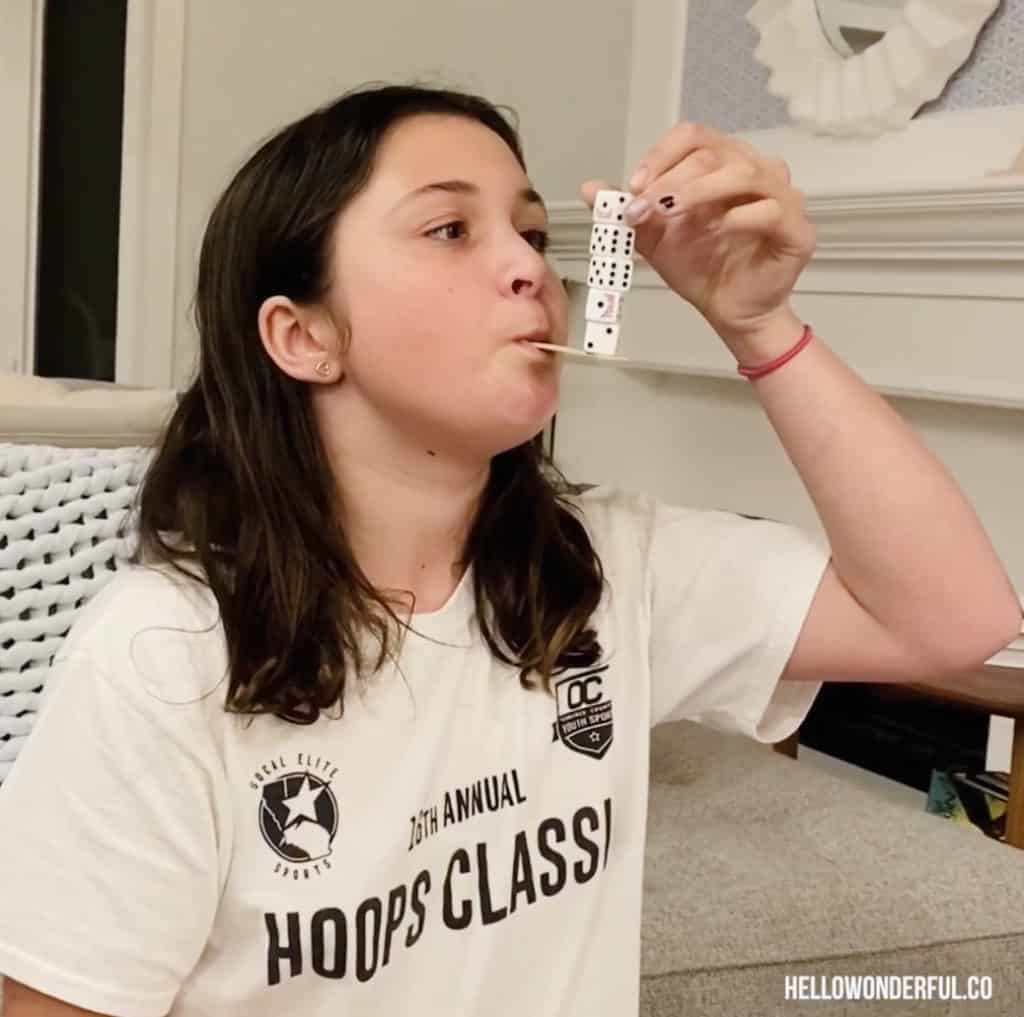 BALANCE THE DIE
You will need at least 8-10 dice

Popsicle sticks (the slightly wider ones are great)

Winner is the one who can balance the most die in the shortest time.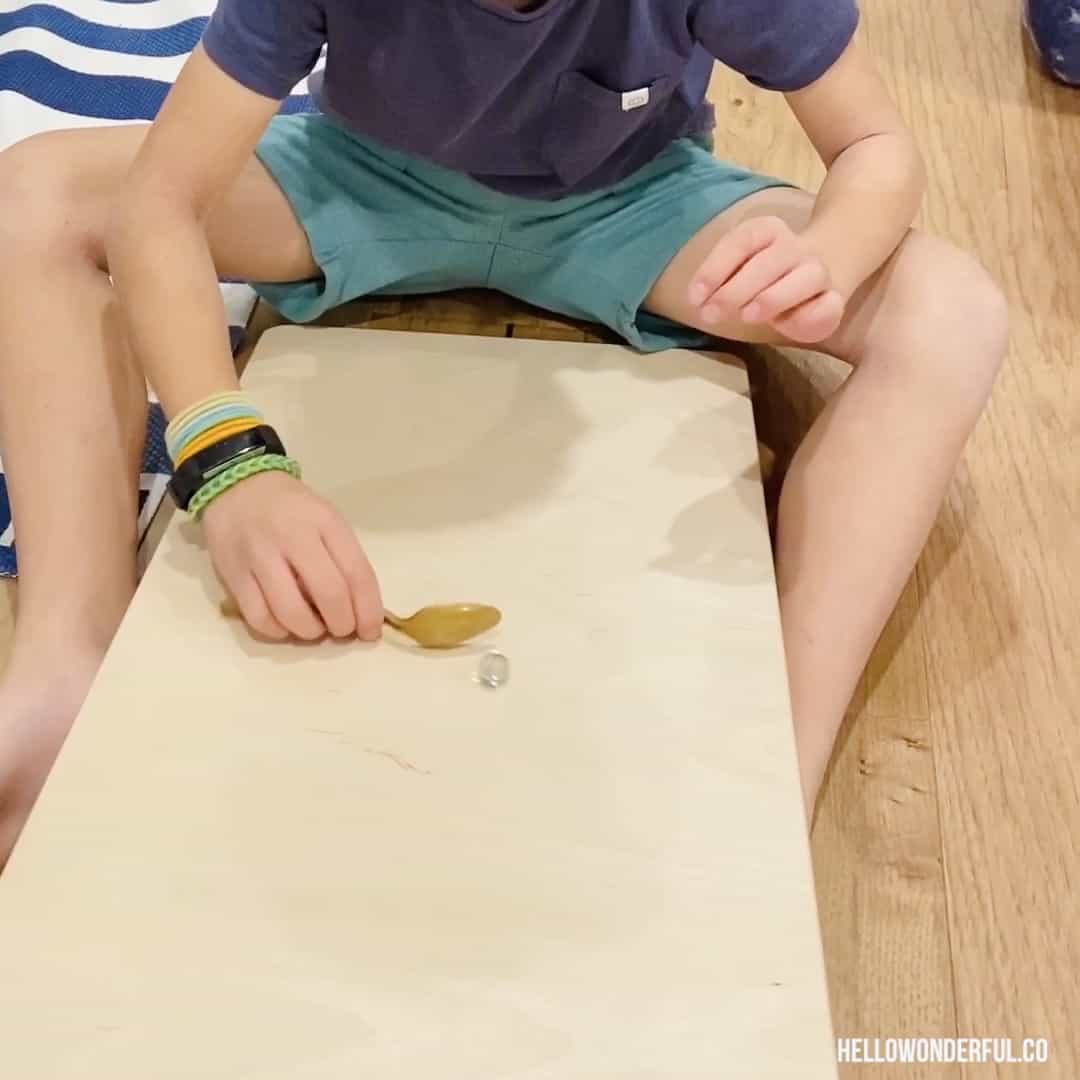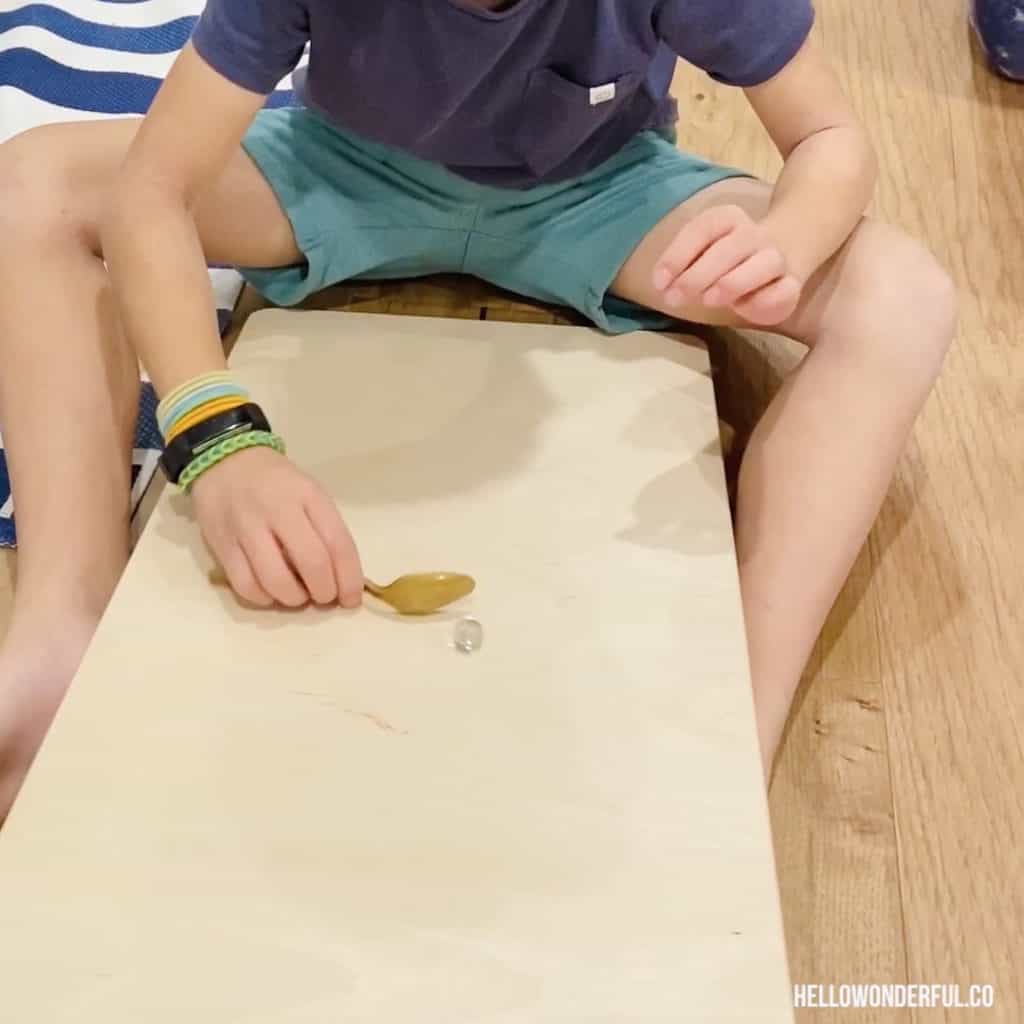 ROLL THE MARBLE
You will need a plastic spoon and marble

A slanted base, you can use use a slanted long cardboard box

Use the back of the spoon to keep the marble from rolling off.

Winner is the one who can keep the marble on the ramp the longest time.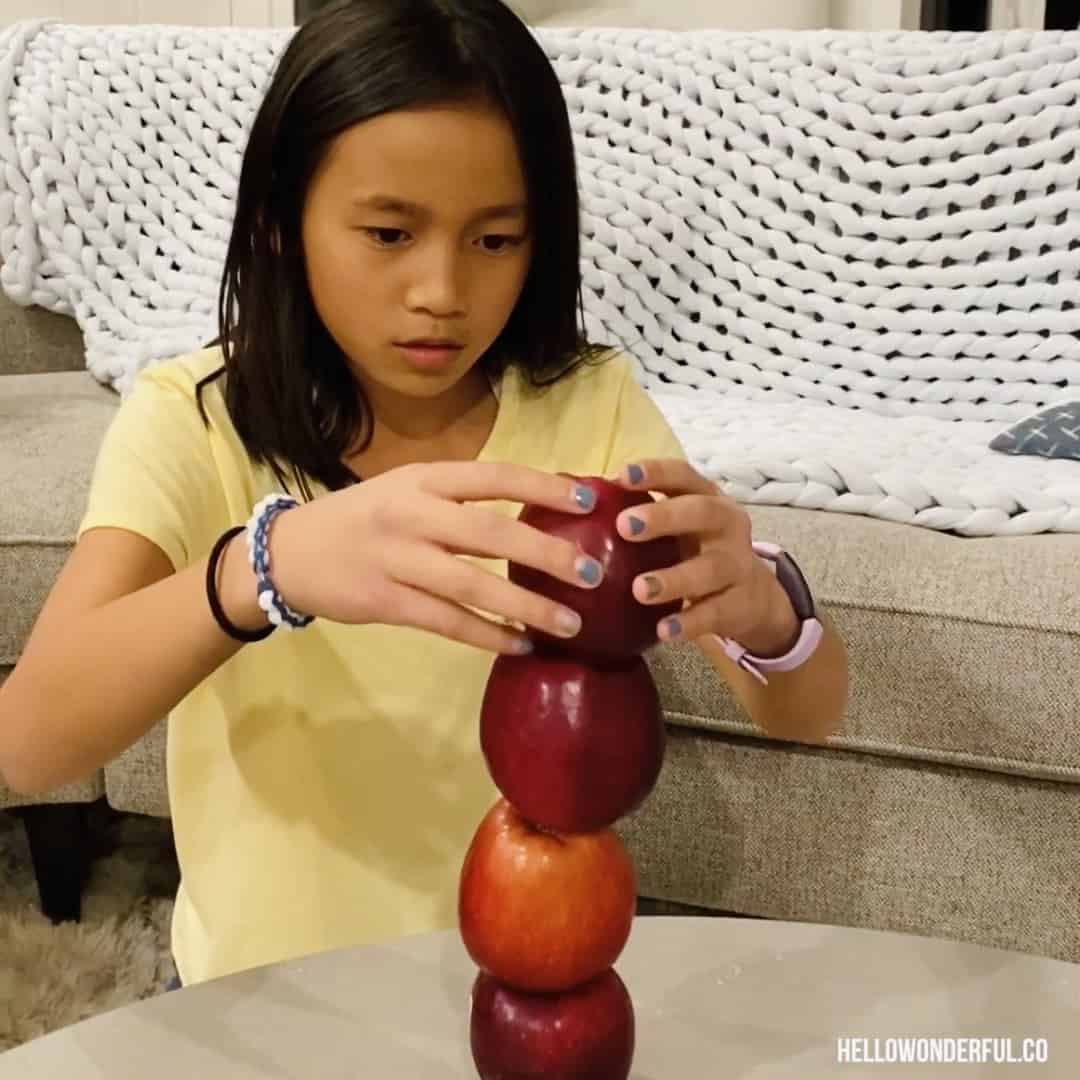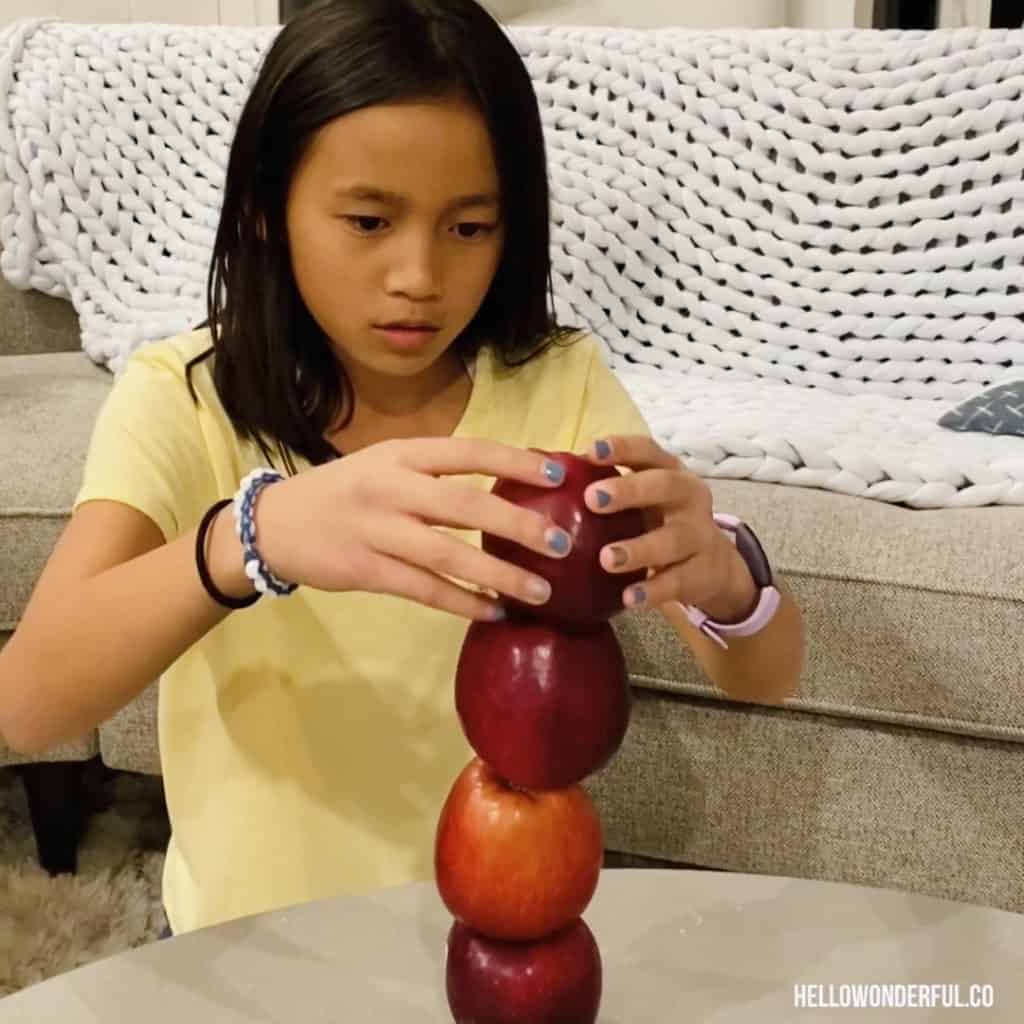 STACK THE APPLES
You will need 5 apples.

Winner is the one who can stack all 5 apples in the shortest time.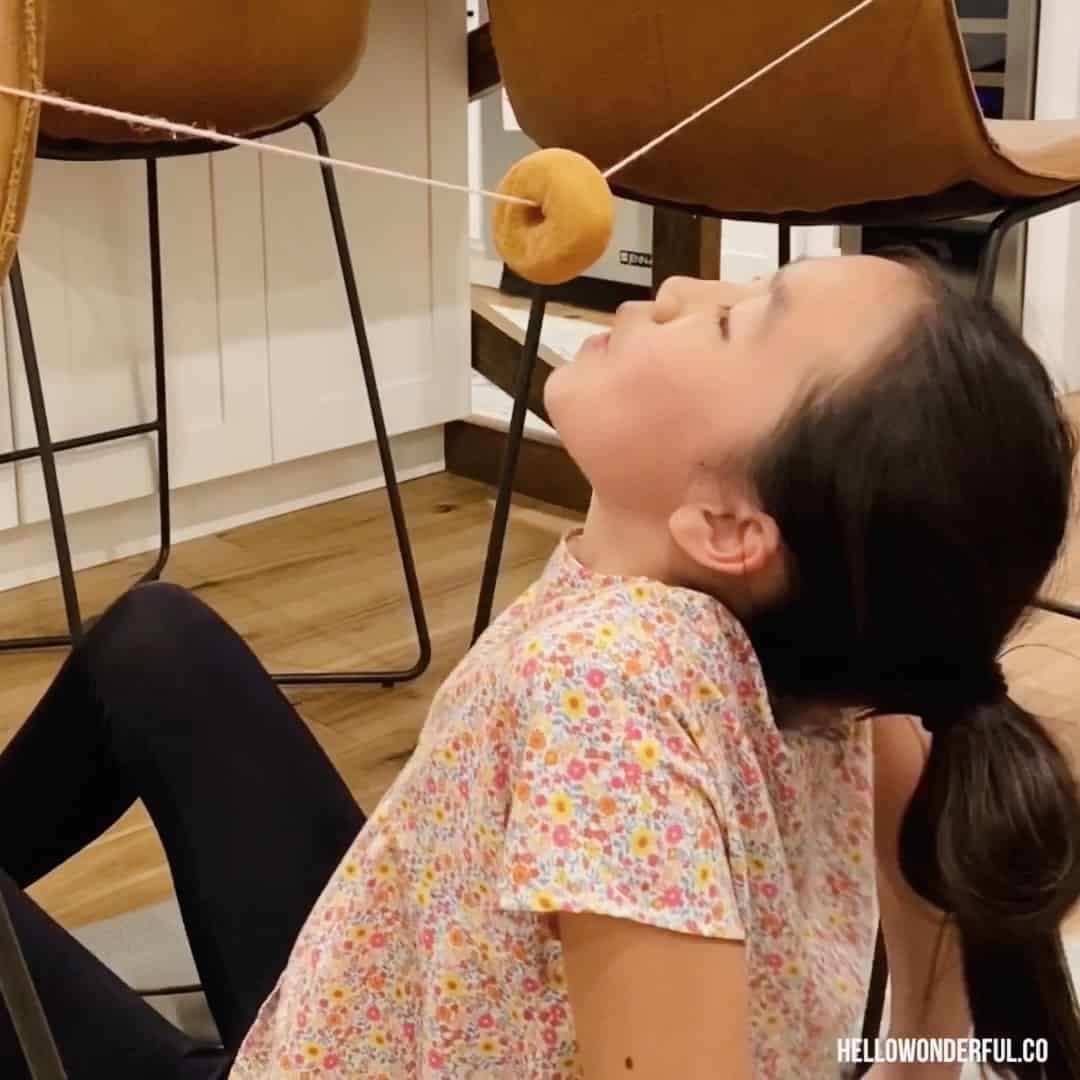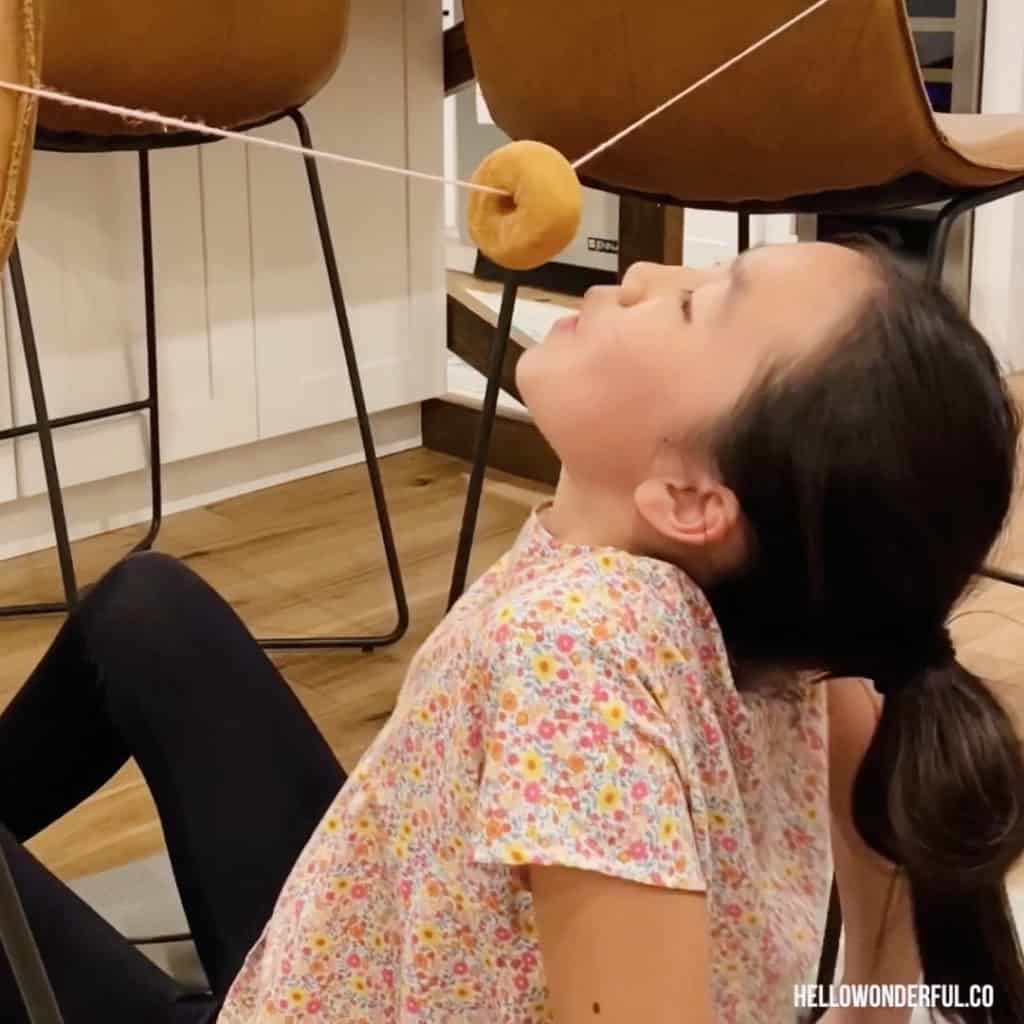 DON'T DROP THE DONUT
You will need two chairs, string, donuts

Thread the string around two chairs and the donut.

Winner is the one who can eat the most donut in shortest time without having it fall down.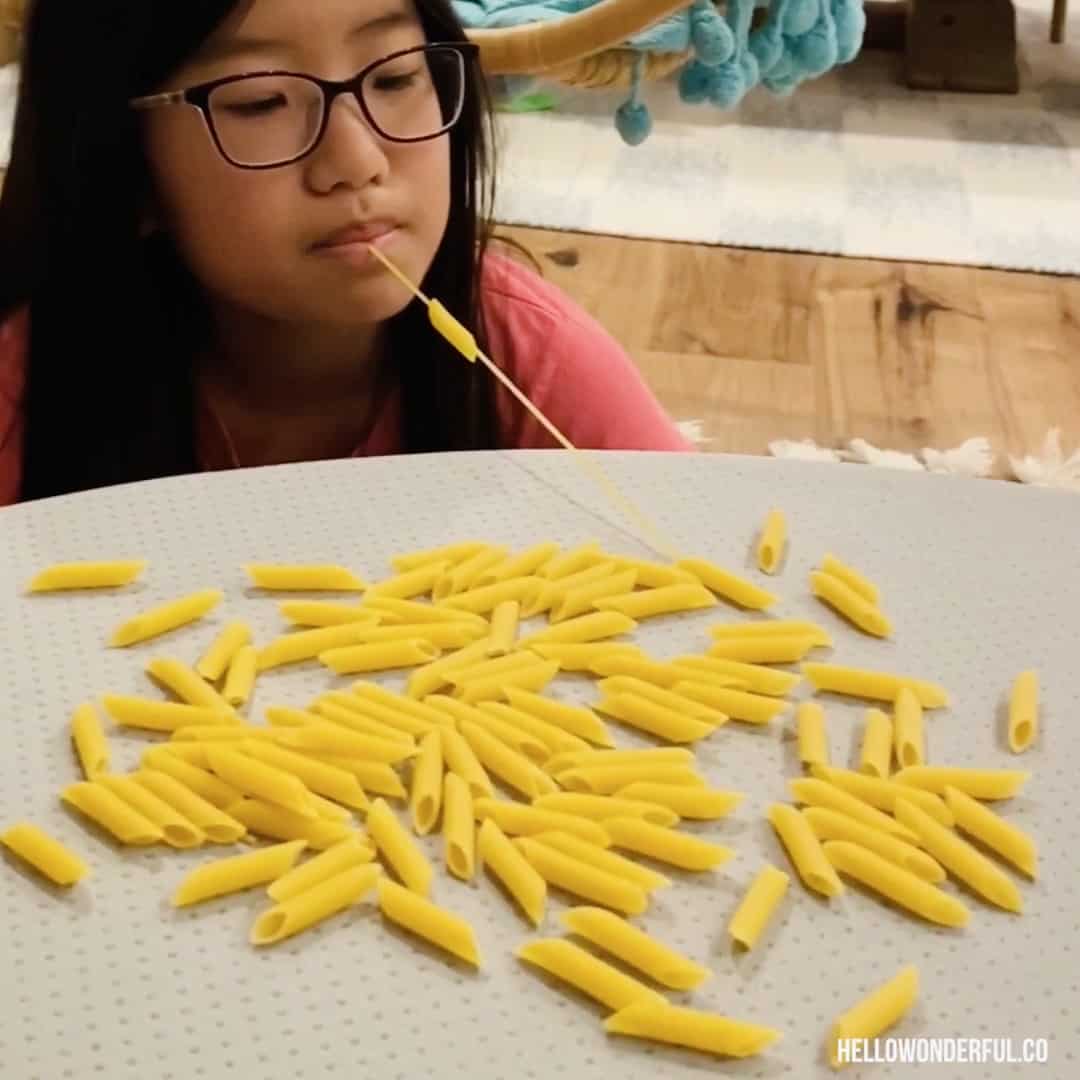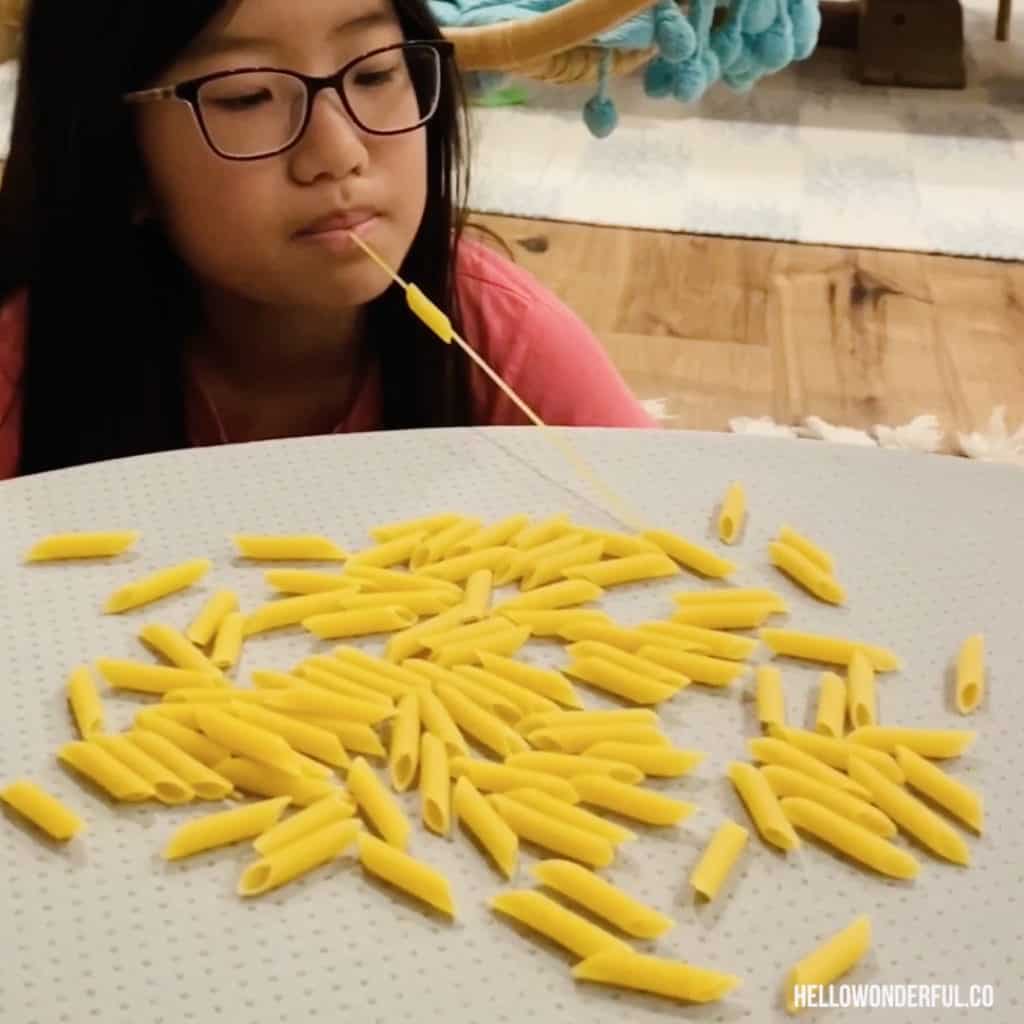 THREAD THE PASTA
You will need spaghetti noodles and penne pasta

Lay out some penne on a table and give each child a spaghetti noodle to place in their mouth.

Winner is the one who can thread the most penne pasta in the shortest time only using their mouth.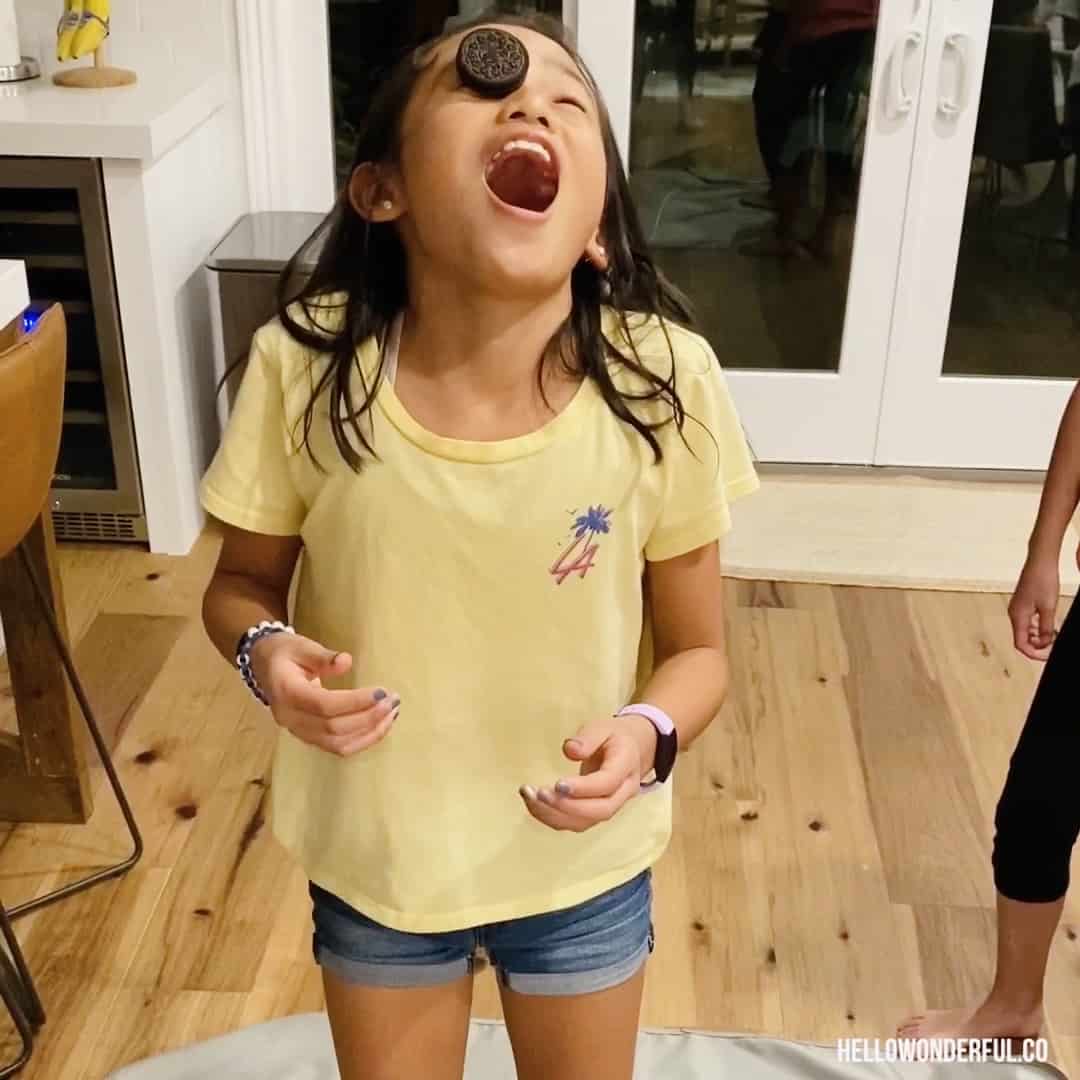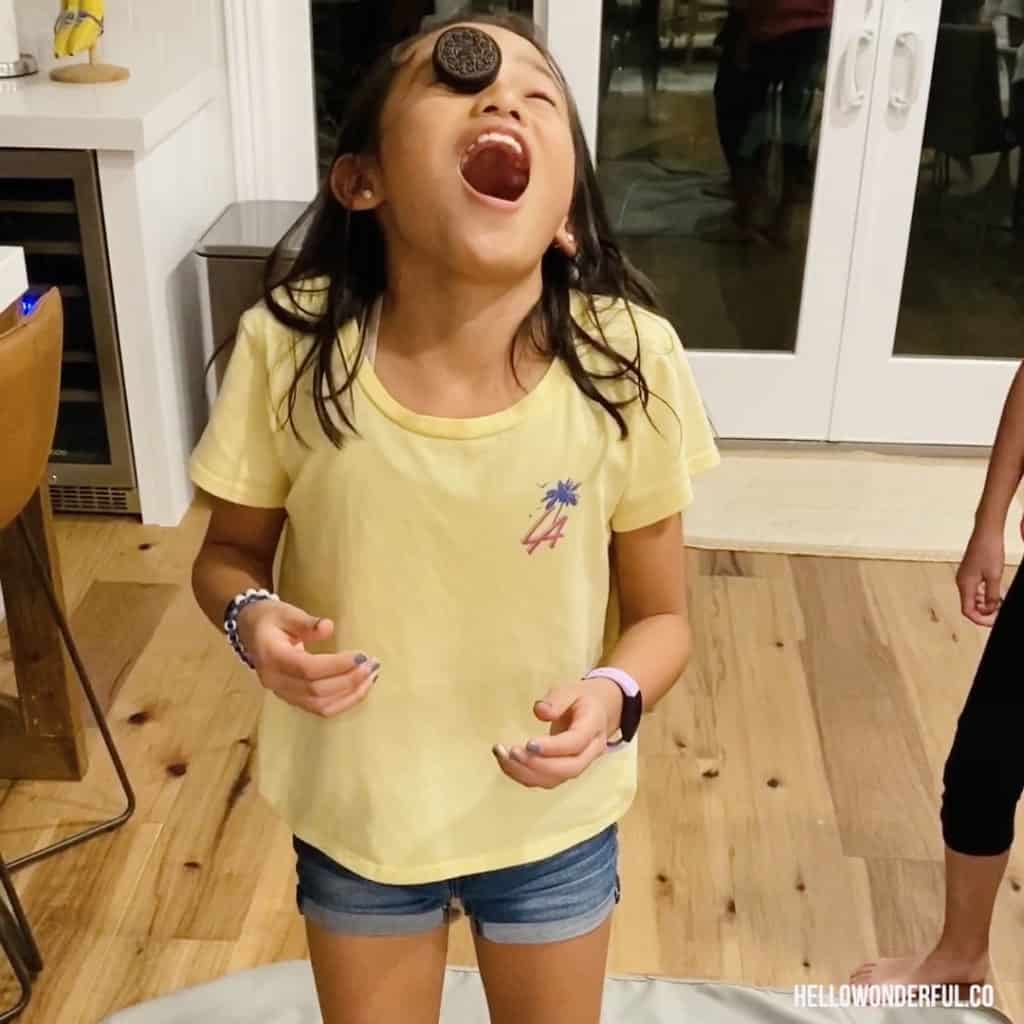 EAT THE COOKIE WITH NO HANDS
Place a cookie on your forehead and try to eat it without hands.

The person who can catch the cookie in their mouth in the shortest time wins.

Note this was extremely difficult with an Oreo cookie which is what we used! Try it with a smaller cookie maybe animal cracker.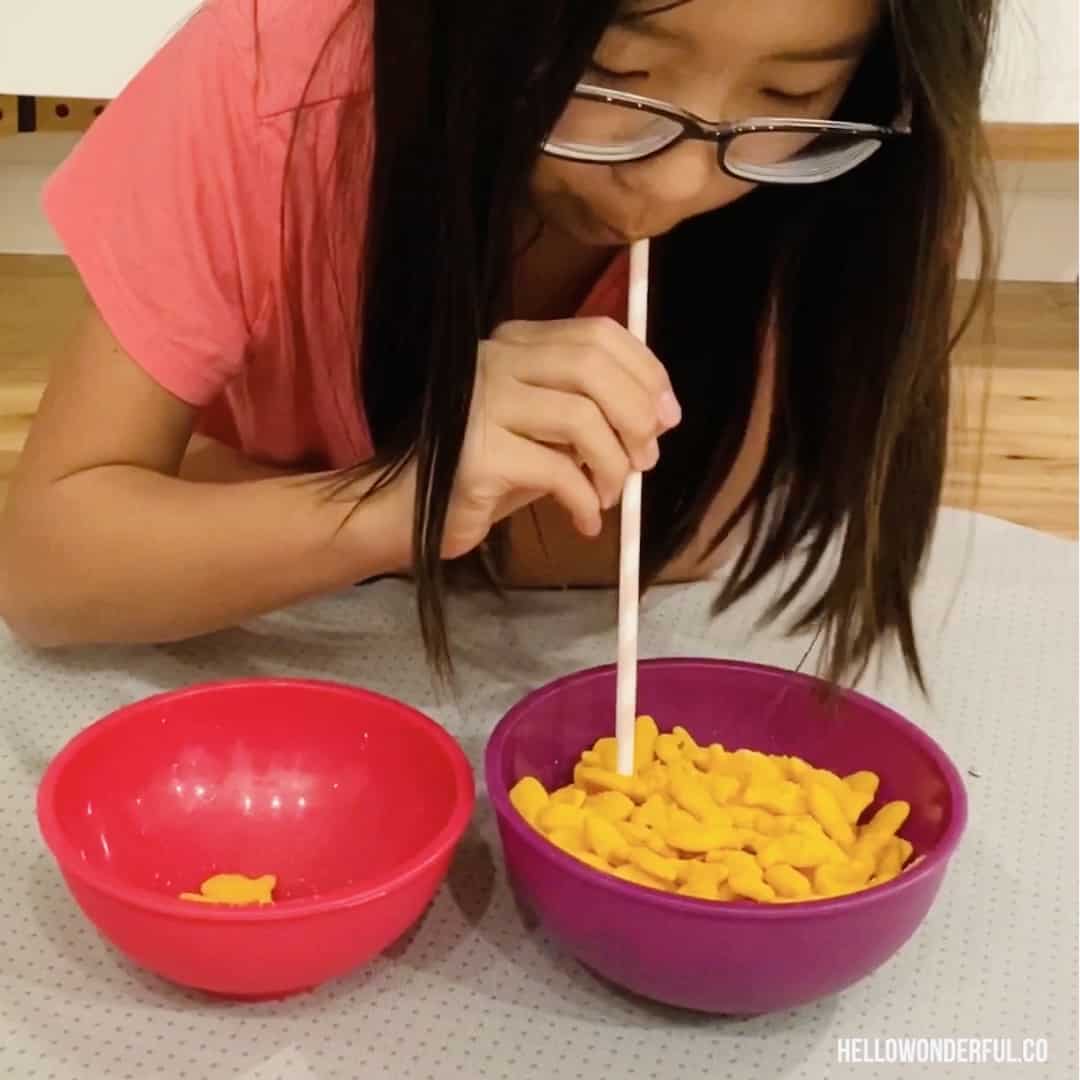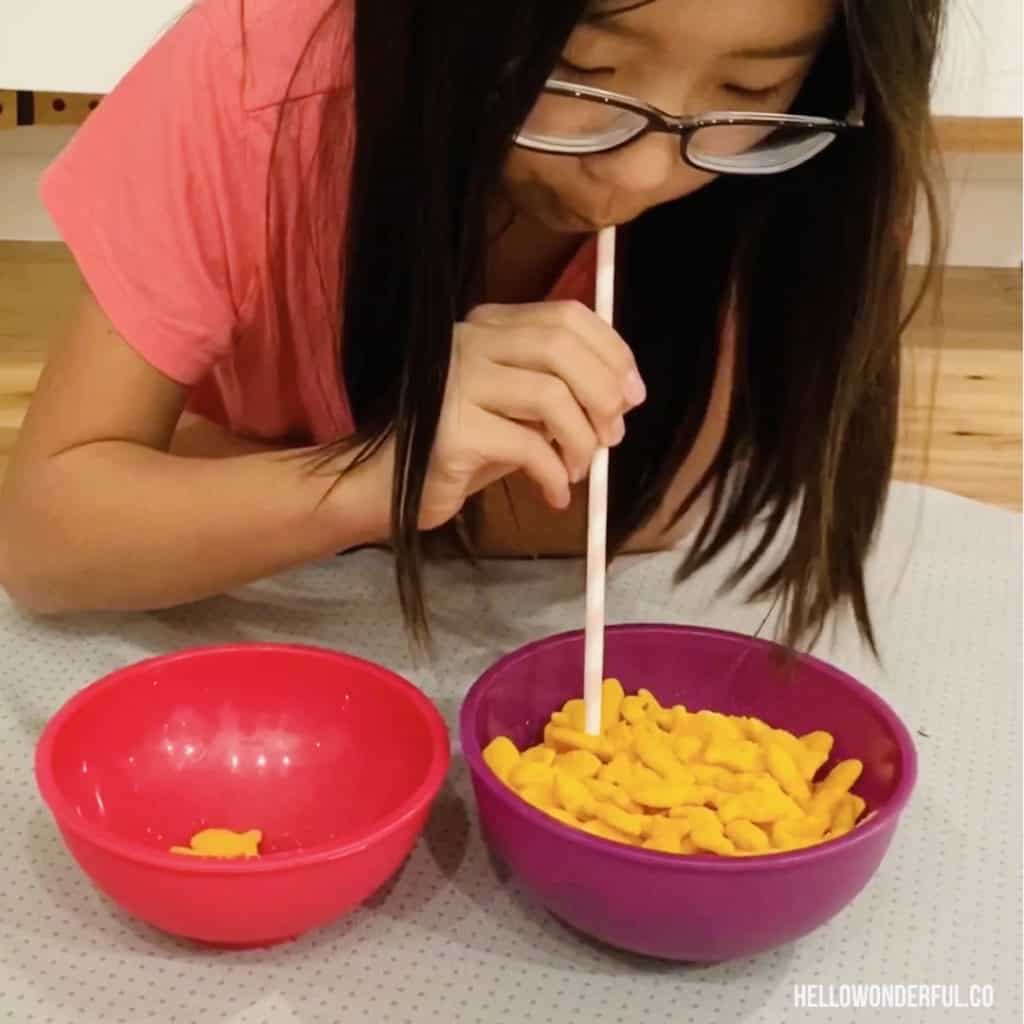 TRANSFER GOLDFISH CRACKERS WITH STRAW
You will need two bowls, Goldfish crackers, and a straw

Winner is the one who can transfer the most Goldfish crackers using only a straw.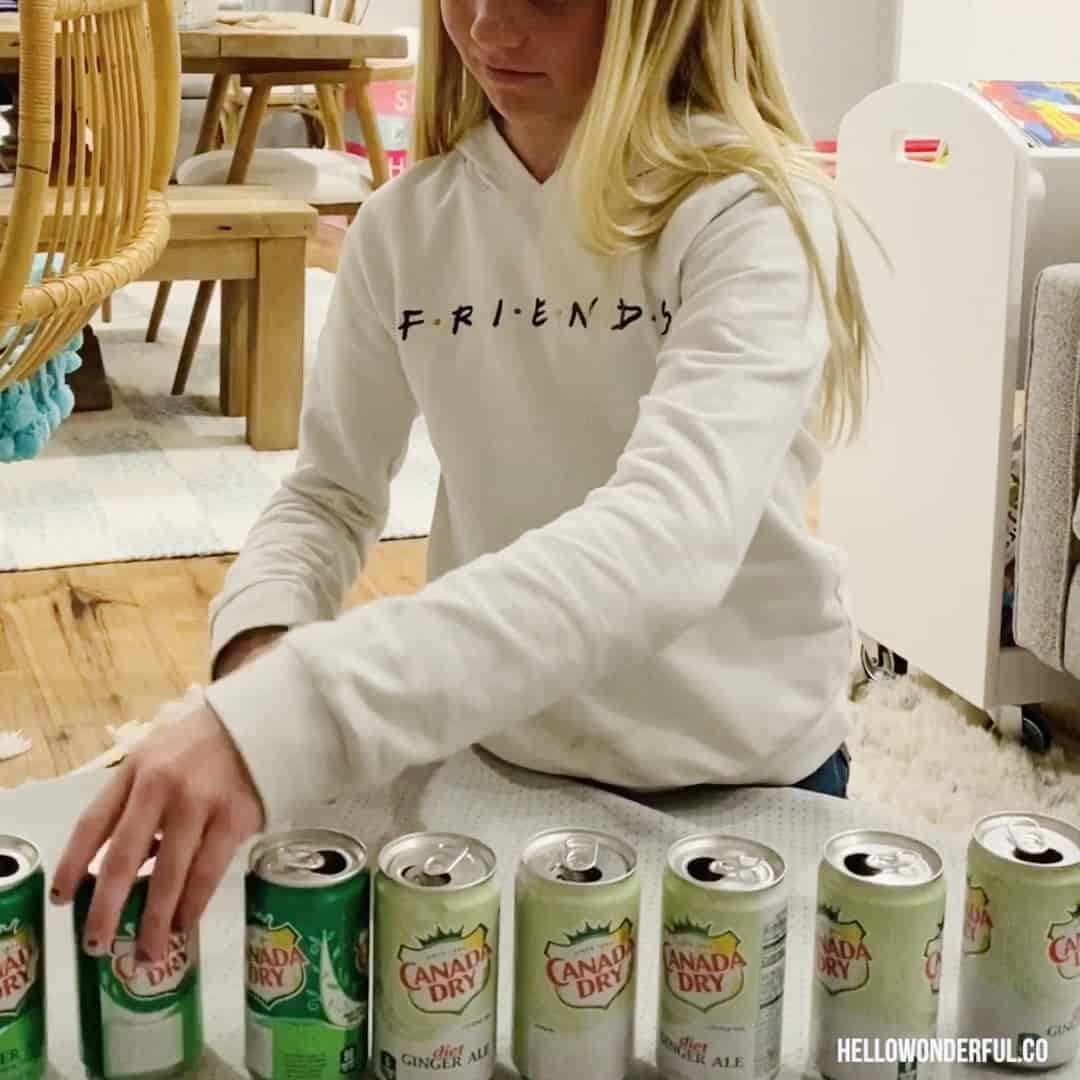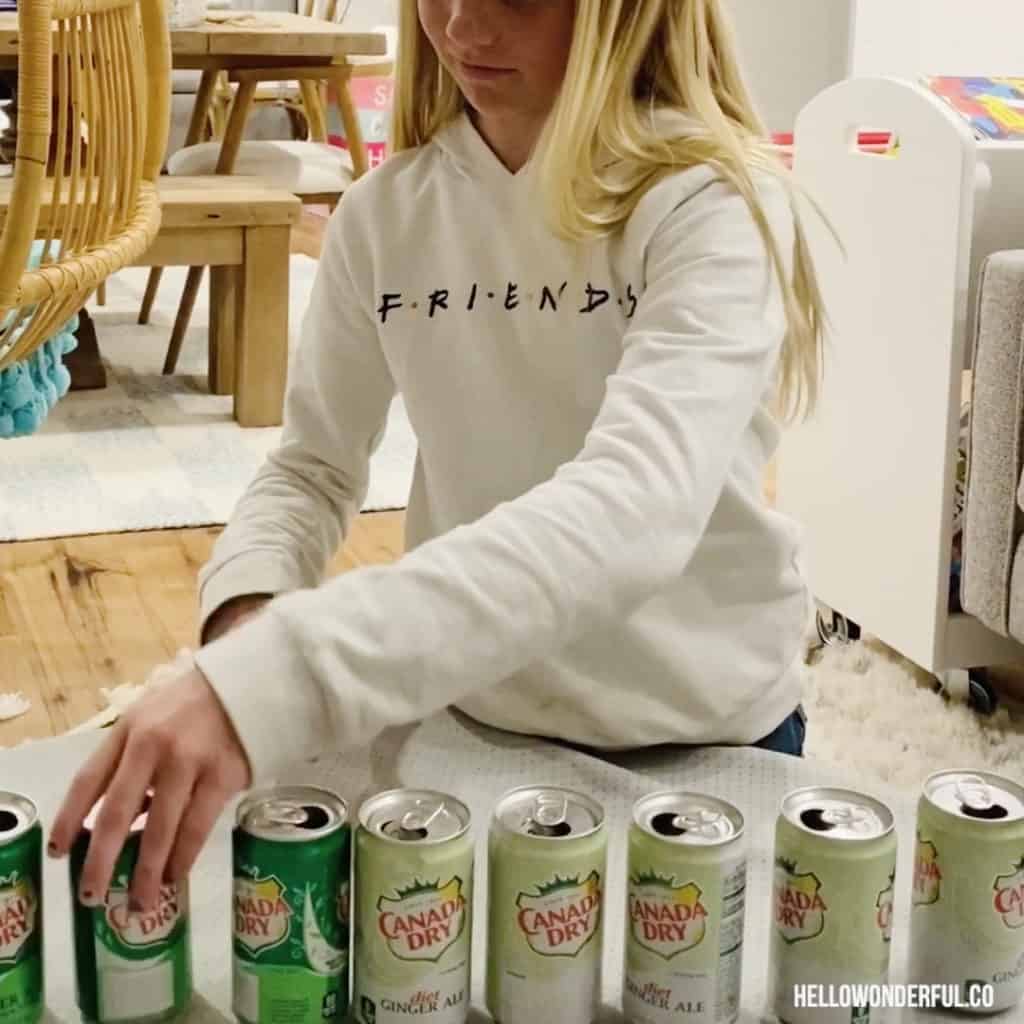 GUESS HOW MANY PENNIES IN THE CAN
You will need 8 soda cans

Add one penny to one can, two pennies to the second and so on until each can is filled.

Winner has to line up the cans in consecutive order and number of pennies. The one one is closest wins!
Note: in the video we do show an additional game of throwing Goldfish Crackers in the air and seeing how many you can catch but because of potential choking hazard we can't recommend this on the post.
PLEASE ALWAYS HAVE ADULT SUPERVISION WHEN PLAYING THESE GAMES AND USE COMMON SENSE!
What was your prize structure for the Minute to Win it Games for Kids?
Great question. We didn't follow the same structure as the show since it usually follows just one team. Here we had multiple two player teams. We kept the scoring very simple!
Each game was worth $10 (of course you can use any denomination, $1, $5, etc). Each team had a scoreboard and team name. For every game they won, the team won $10. At the end of the all the games, you just tallied how many games each team won and split the winnings.
We did do something extra fun at the start of the game however! We had a "pre-bet" where each team decided if they wanted to bet that they would win. IF they were the biggest winners (most cash won at end of all games) they would get a total of $10 added to their winning pot. BUT if they lost, $10 would be subtracted.
Of course you can keep store anyway you want that makes sense for you! And you don't need to dole out cash. You can do small trinkets, toys, favors, or just play to have bragging rights as the winners 🙂
Have you played Minute to Win it Games or watched the show? We highly recommend these as good old-fashioned play!
YOU MAY ALSO LIKE