Follow us on Instagram for more fun ideas for kids!
Watch the video below to see how to play these fun Christmas games for kids! Make sure to subscribe to our YouTube channel for more fun videos!
These Best Christmas Games for kids will bring so much family fun to the holidays this year. Playing games together as a family is the perfect holiday gift!
Can you believe that Christmas is right around the corner? This year has been a year of craziness for sure but one thing that we can all agree on is that Christmas is literally the best. The calmness of the year, the excitement of the "big day", and the hours of family fun that are just waiting to be had. Indoor activities during the holidays are always so much fun.
We always get in our fair share of holiday movies during this time of year but the Christmas games are always our favorite part. We make certain to play games that are suitable for a wide range of ages so that everyone can easily join in on all the fun. Some of these games are fun holiday twists on Minute to Win It games for kids so if you're into those types of challenges read on!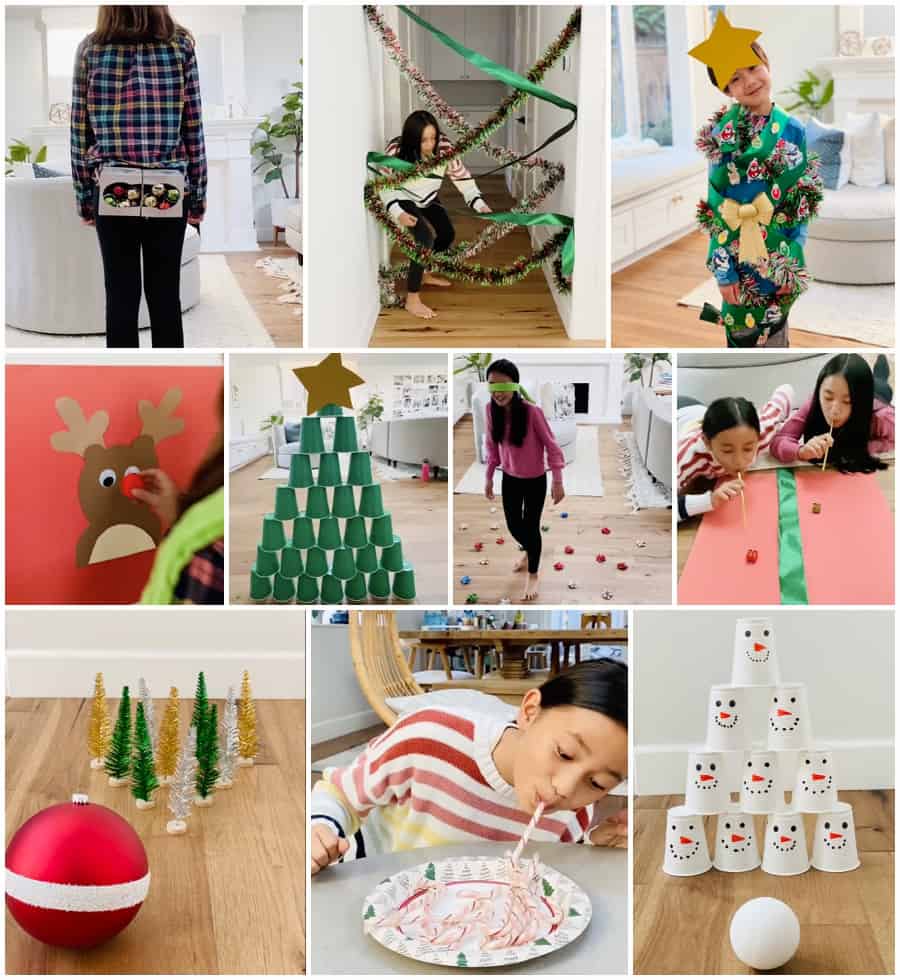 11 TOTALLY FUN CHRISTMAS GAMES FOR KIDS
As you probably already know, making up fun games to play together as a family is something that you can do at any time of the year. But this list of fun holiday games are special and can easily become a family tradition!
Watch the video in the post to see how to play these fun Christmas games for kids!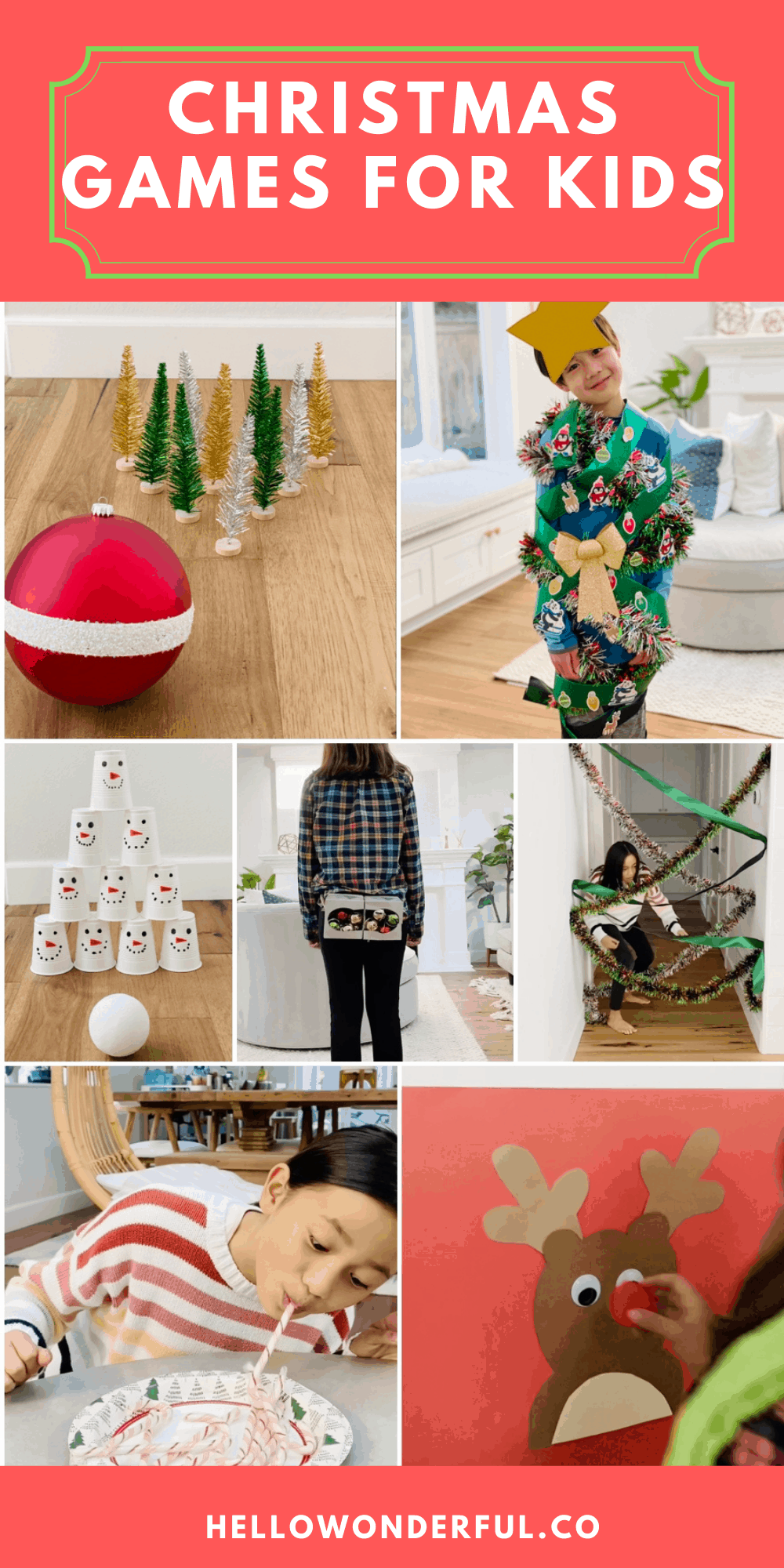 Shake the Jingle Bells
You guessed it…you gotta shake out those balls! But get ready for the giggles because this game is way too fun!
Supplies needed:
Kleenex box
Strong string or thin belt (or something else to tie the box to the waist)
To play, make two holes through the sides of the tissue box so your belt or string can wrap around your waist. Fill the opening with jingle bells. Set a timer for 60 seconds (or whatever time you choose), and see how fast you can shake out all the bells!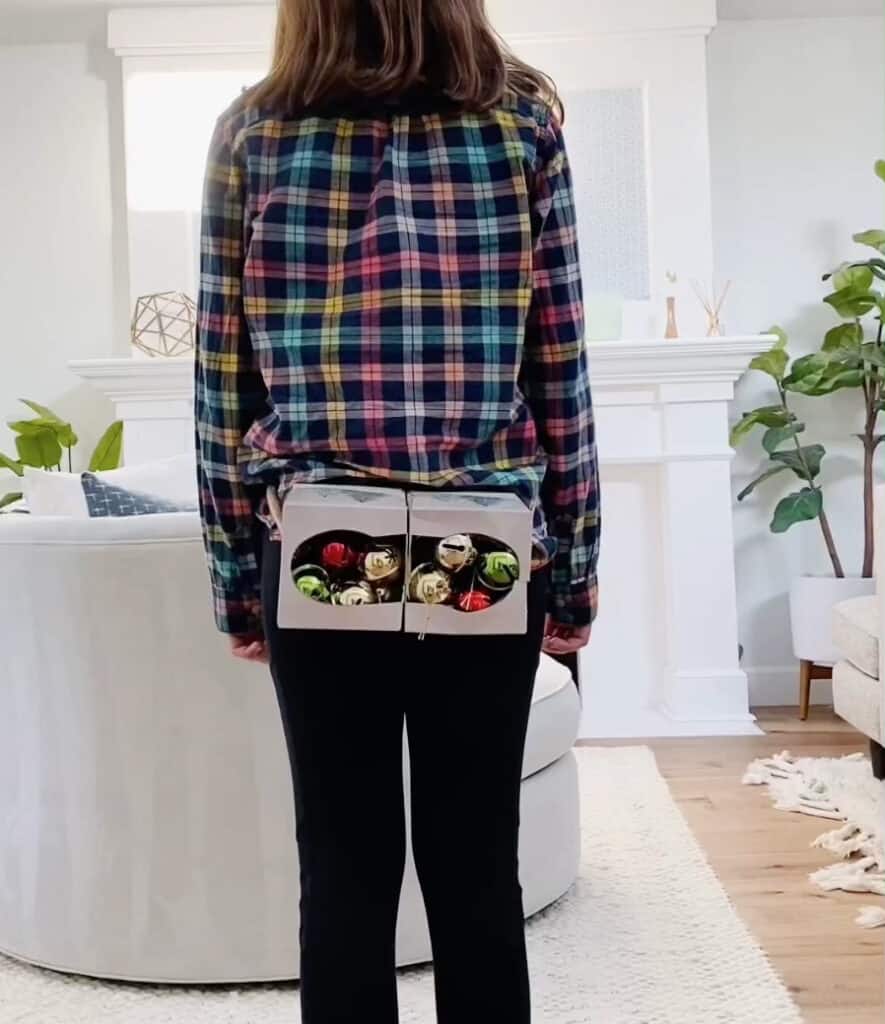 Christmas Garland Obstacle Course
Just how agile are the kids? This game will give them a ton of indoor obstacle fun.
Supplies needed:
Garland, tinsel or ribbon
Tape
Simply tape the garland up on the walls in a hallway (use painter's tape or mounting strips) and make it to where the kids have to climb through it without touching the garland or knocking it down.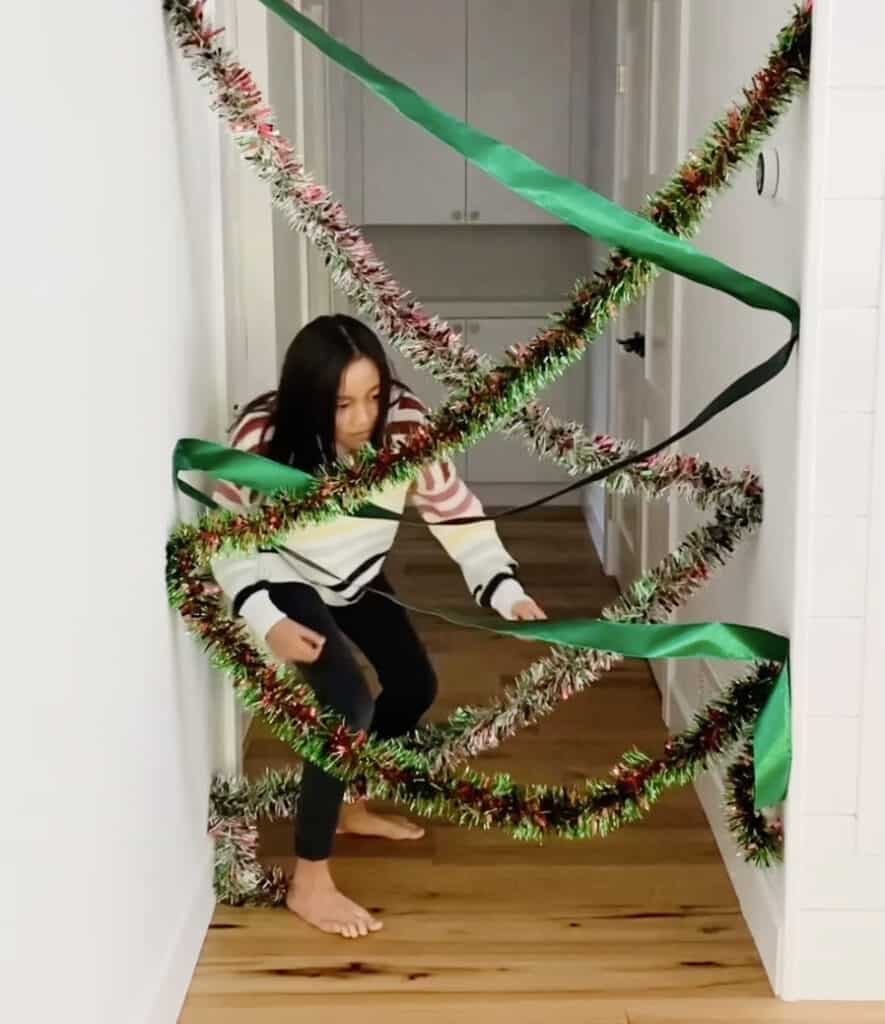 Snowman Snowball Cup Game
This just takes a minimal amount of set up and is certain to have everyone in the family showing off their throwing skills.
Supplies needed:
White Cups
Markers (to decorate the cups with fun snowman faces)
Decorate your white cups with a snowman face. Stack the cups in a triangle with three on the bottom, two in the middle, and one on top, and then have the kids throw the ball to see how many they can knock down.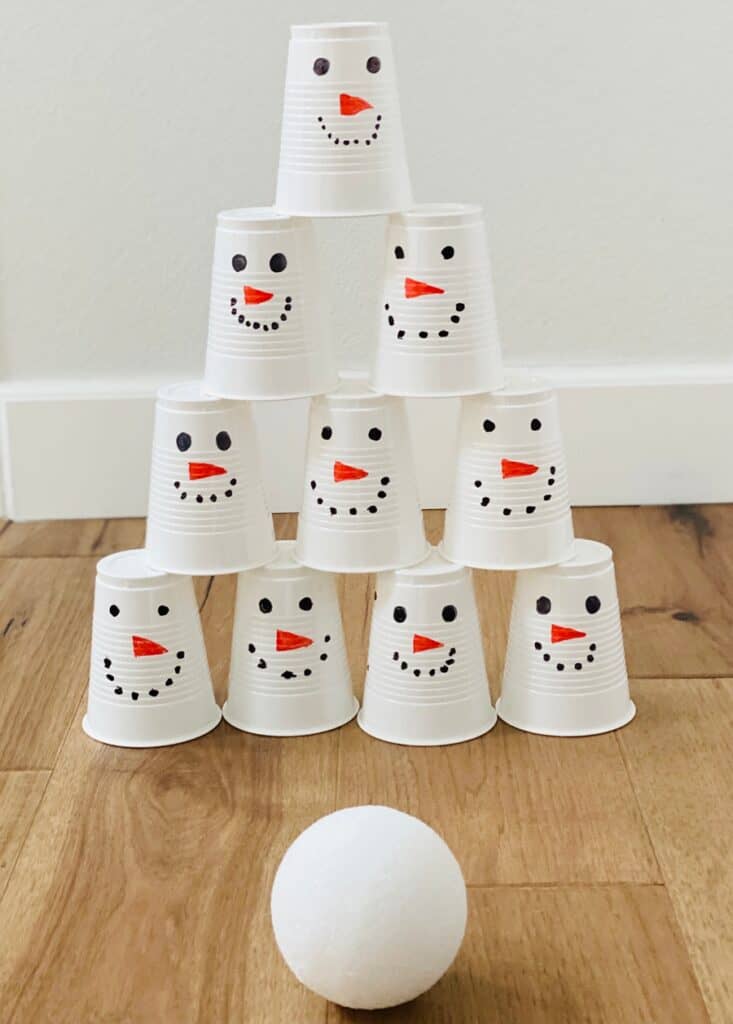 Christmas Bowling (one of our favorite Christmas games for kids!)
You don't even have to leave the house to go bowling. This is one of the kid's favorite games because bowling is always a crowd favorite!
Supplies:
Small Christmas Trees (or other small objects that can be knocked over without breaking) we just Target's dollar trees!
Large Ornament Ball (make sure it's shatter-proof)
Line up the small trees or objects just like you would see them at a bowling alley then let the kids go bowling. And maybe instead of a "turkey", they'll get a "reindeer" instead!
Watch the video in the post to see how to play these fun Christmas games for kids!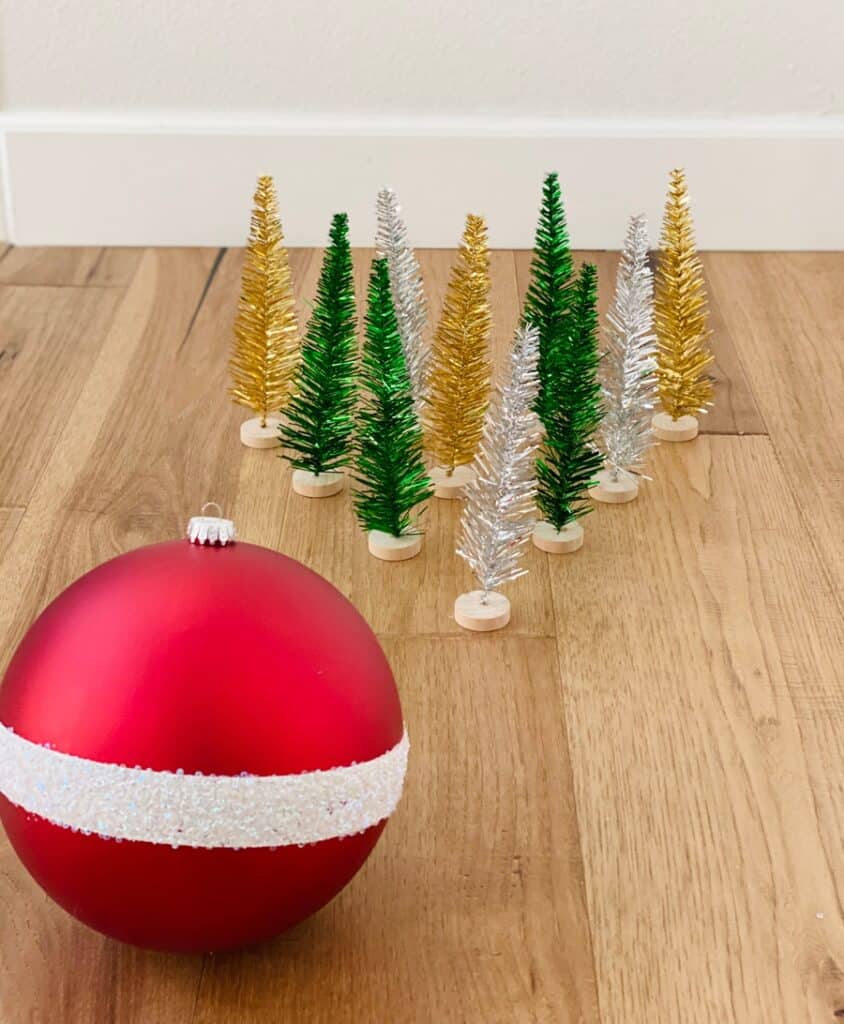 Candy Cane Game
Sure, this game sounds easy but I can assure you that it's much harder than it looks. (but so much fun!)
Supplies:
Mini or regular candy canes
All you really need are mini candy canes to do this game. Have each person start with one mini candy cane in their mouth, opposite the curved side of the candy cane, and then have a big pile of candy canes in front of them on the table. Once you say go, time them and see how many candy canes they can pick up and move to the side in 30 seconds.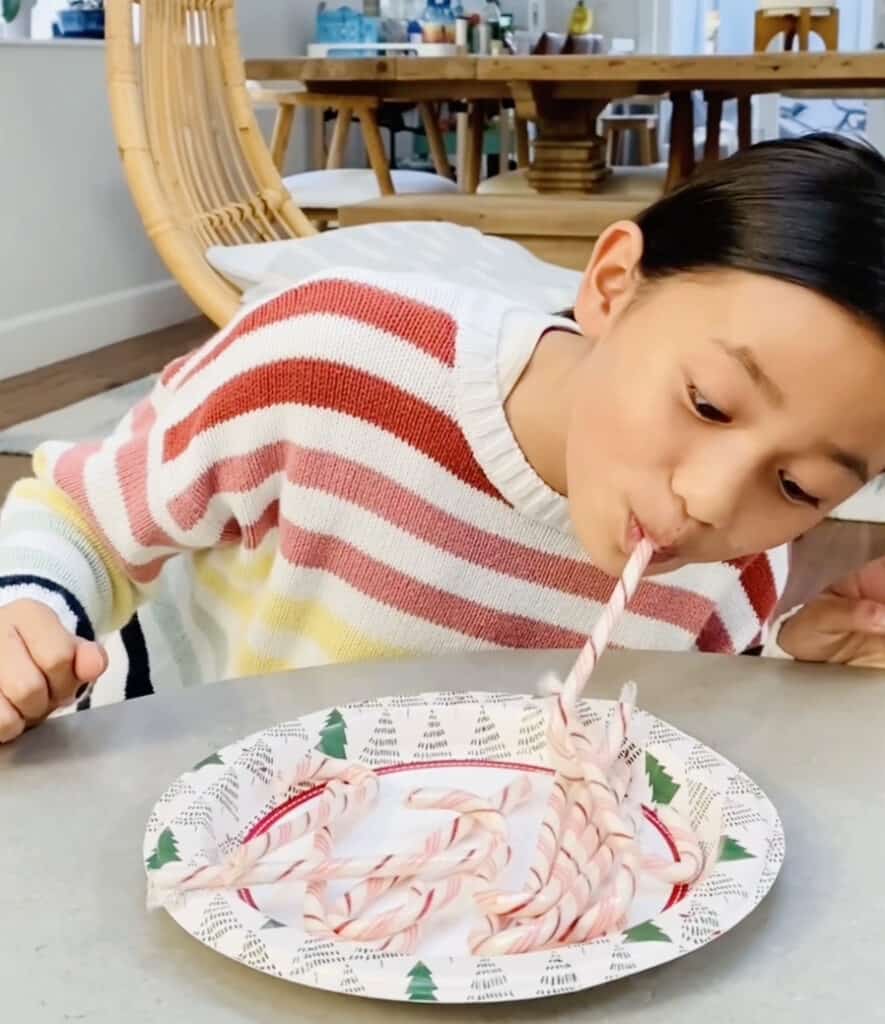 Pin the Nose on Rudolph Reindeer
This is no different than any other pin the nose game but this time, you're going to cut out the shape of a reindeer and just have a big red circle to try to place on his face.
Supplies:
Construction paper (light brown/dark brown/cream)
Googly eyes
Red Pom Pom
Tape
Blindfold
Cut out a paper reindeer to the best of your ability. Glue on some googly eyes. Blindfold the child, spin them around, then have them try and tape the nose on Rudolph.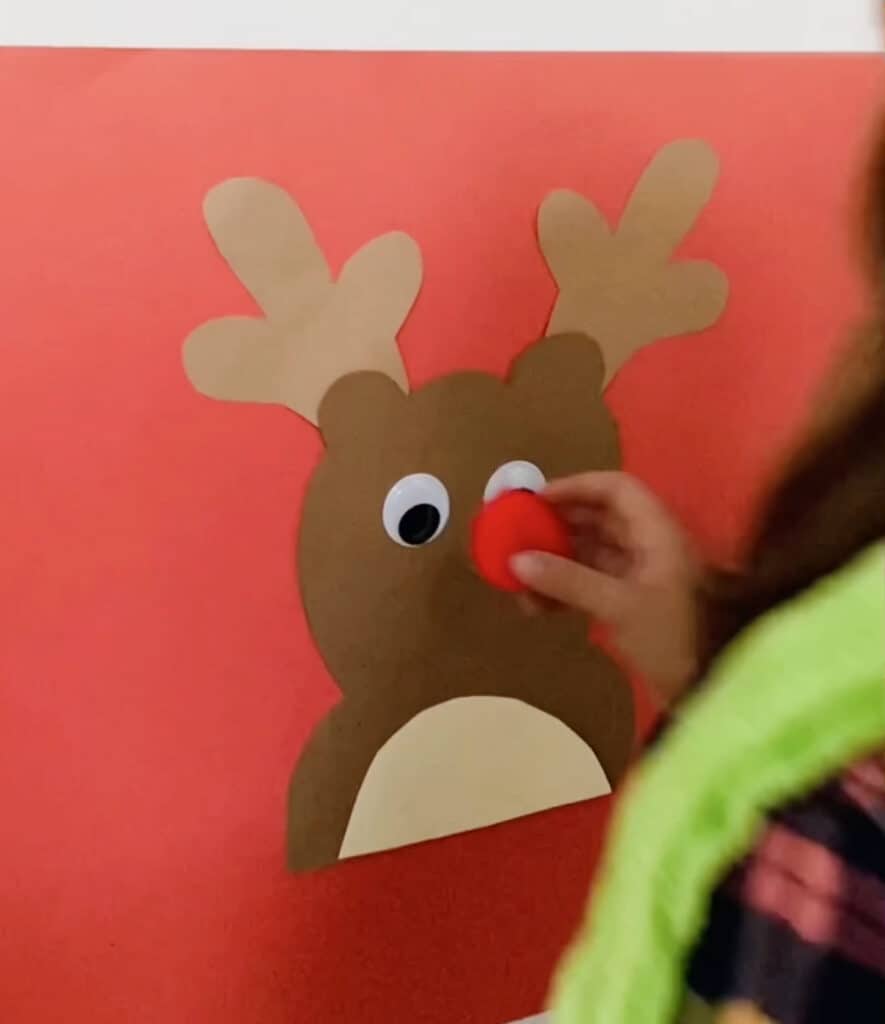 Watch the video in the post to see how to play these fun Christmas games for kids!
Wrap the Christmas Tree
The kids are going to love this game! It's wacky, wild, and silly!
Supplies:
Ribbon
Star (we just cut one out of glitter cardstock)
You guessed it…pick someone to be the "Christmas tree" and then see how fast they can decorate it with the garland. Don't forget the stickers as ornaments and the star!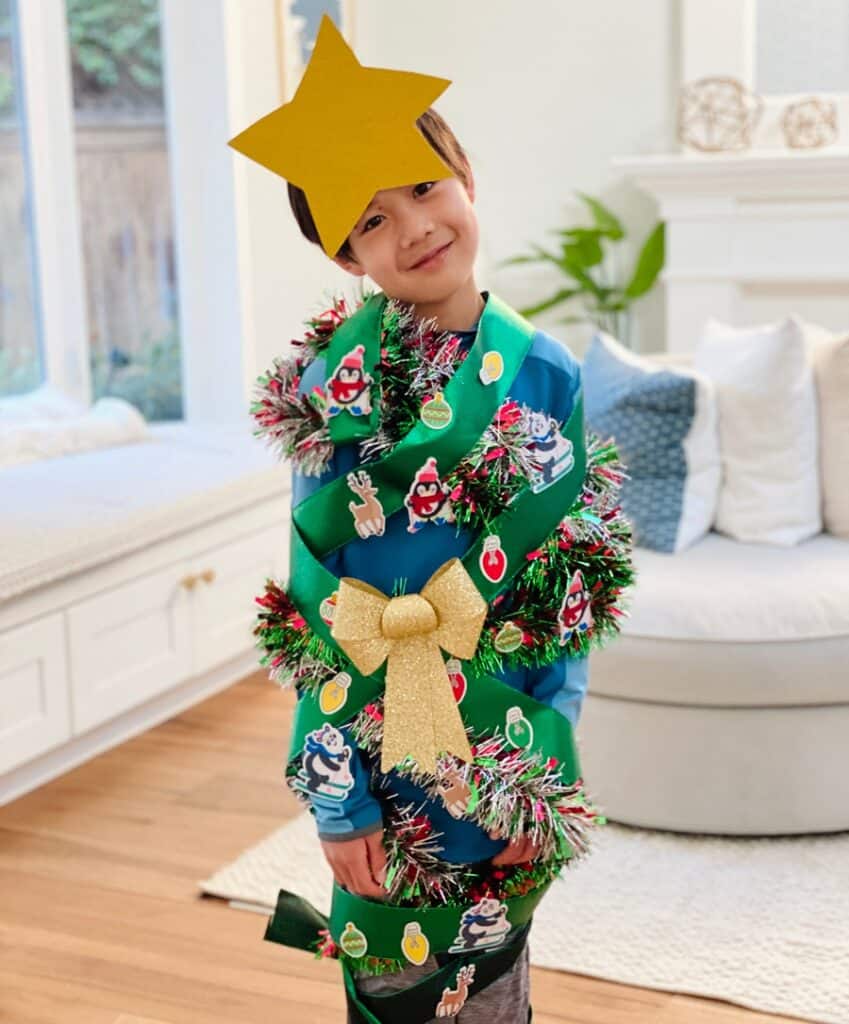 Christmas Tree Stacking Cup Game
Teamwork is the key to this game! Everyone can have a helping hand in making this Christmas Tree!
Supplies:
Green plastic cups
Star (we just cut one out of glitter cardstock)
Work together as a team making this fun Christmas Tree with cups. Stack them up and then finish it off by putting on the bright yellow star. How high can you go until time is called?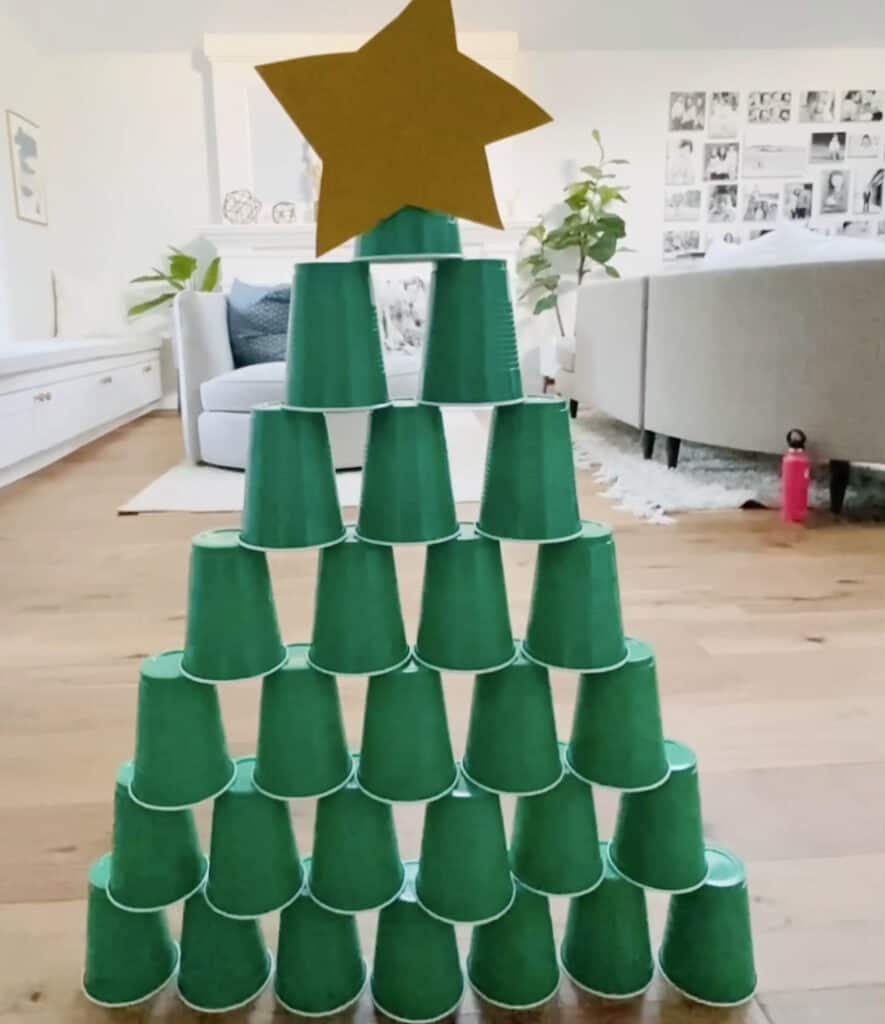 Paper Plate Wreath Game
This Paper Plate Wreath Game is so simple and fun! It just might also bring out some family-friendly competition, too.
Supplies:
Green Paper Plates
Empty Paper Towel Holder
Glue
Start by gluing the empty paper towel holder to the middle of the plate. Let it dry. Take the green paper plates and cut out the center, making it look like a wreath.
Then, have the kids take turns throwing the green paper plates at the paper towel holder, seeing if they can get it on the ring.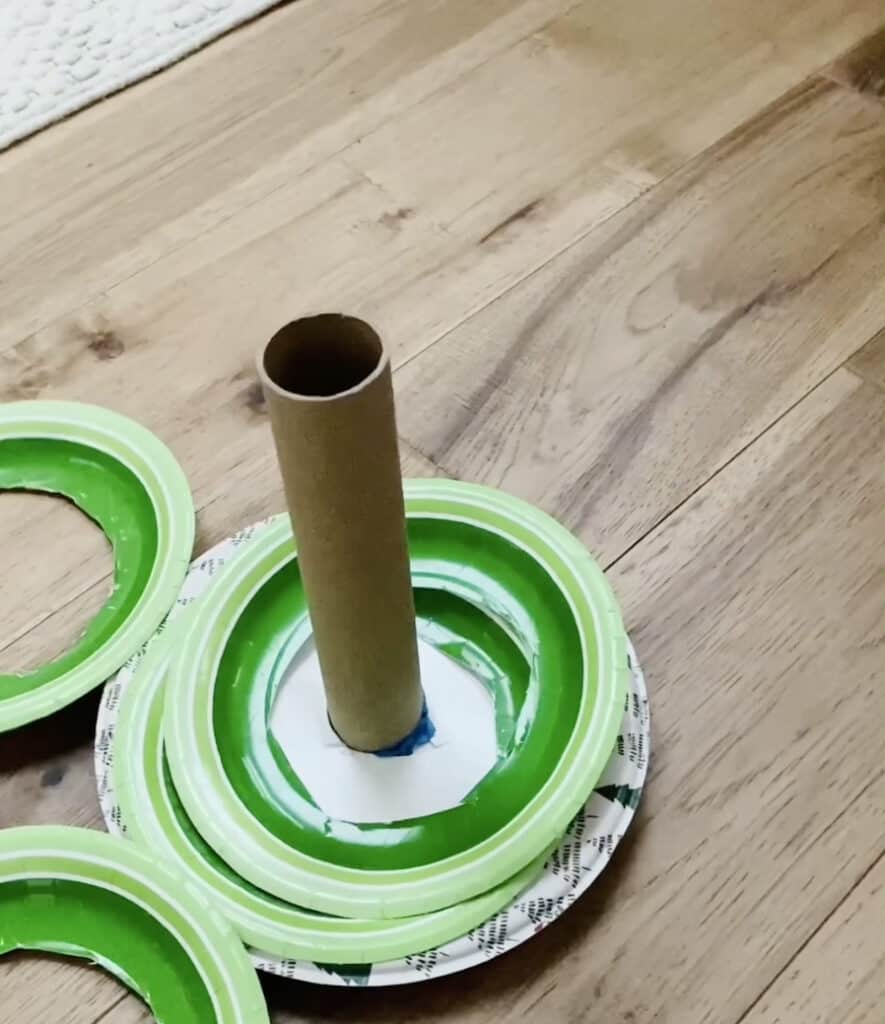 Don't Step on the Gift Bows
Even though this game won't be near as painful as stepping on a Lego (or Lava), you're not going to want to step on a Gift Bow either.
Supplies:
Blindfold someone in the family and then lay out the gift bows on the floor. See if they can make their way across the room without stepping on any of the gift bows.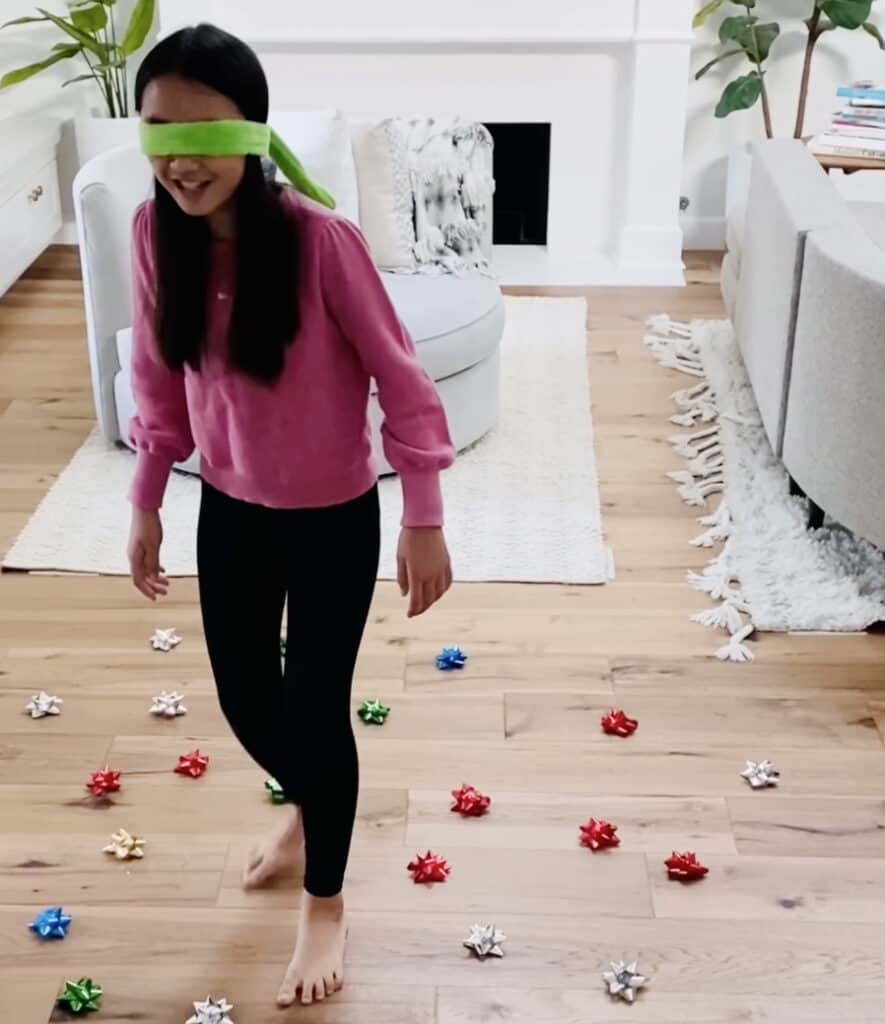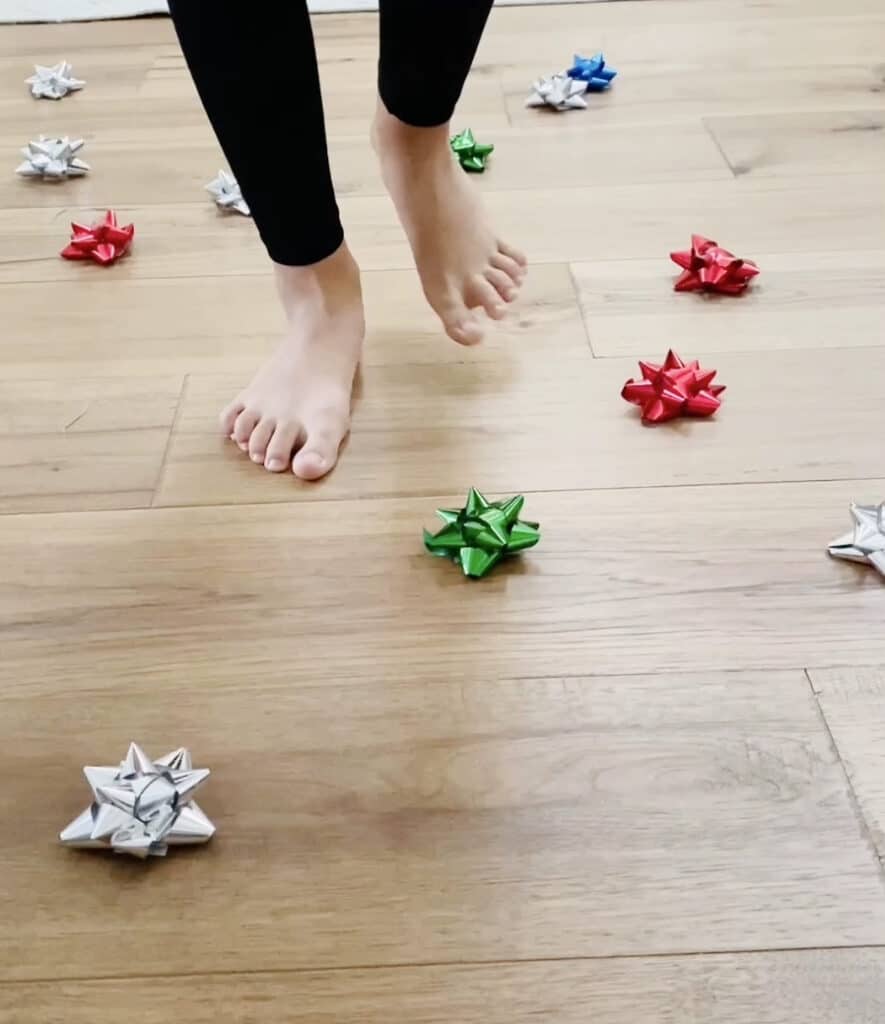 Watch the video in the post to see how to play these fun Christmas games for kids!
Present Straw Race
The race is on! Who can get their present from one side of the board to the other?!
Supplies:
Mini gift packages (little boxes that you can wrap up that are small and lightweight)
Straws
This race takes two people to play. Have each person start at one end of the table and take their straws and blow through them, trying to push the presents all the way across the table. The first one to get their present across wins!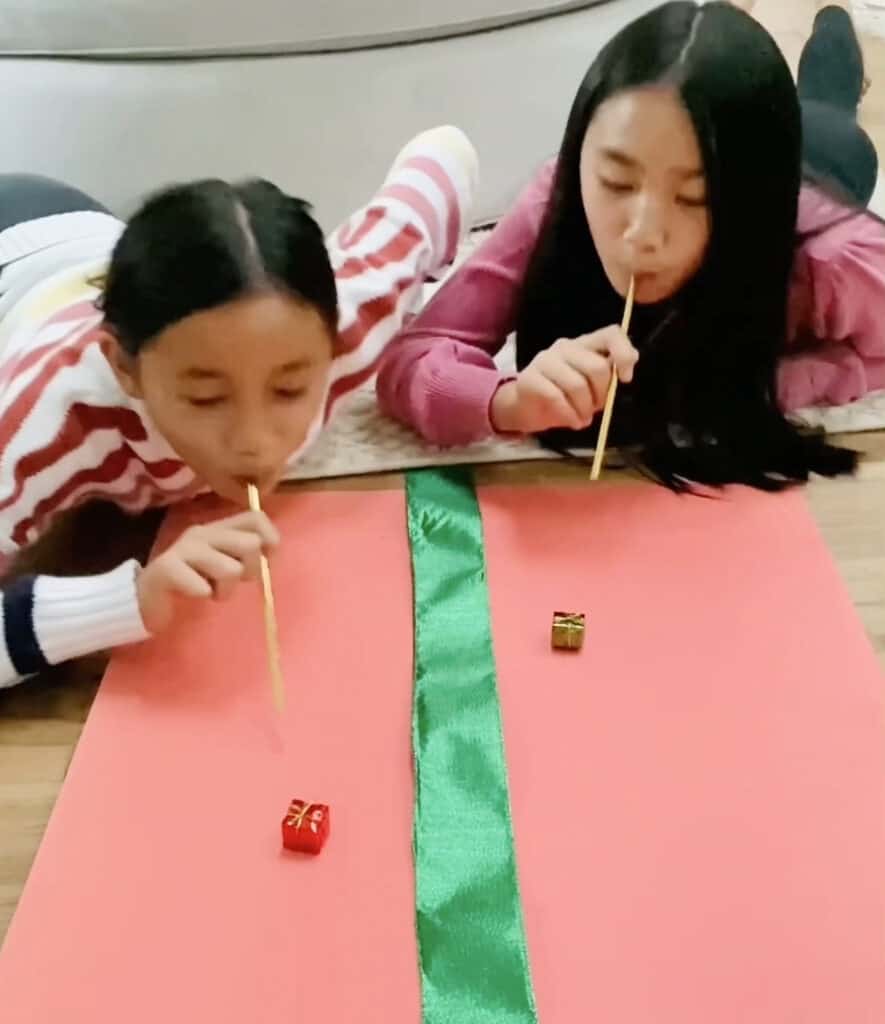 Have fun with all these Christmas games for kids! You just might find yourself joining in on all the fun!
Watch the video in the post to see how to play these fun Christmas games for kids!
Do you have any other Christmas games for kids that you love to play?
More Christmas Activities