By using this site, you agree to our Terms of Use. This post may contain affiliate links. Read our disclosure policy.
As an Amazon Influencer, I earn from qualifying purchases.
Check out my Plaeful Printables for kids play and learning!
These Best Christmas Games for Kids will bring so much family fun to the holidays this year. Playing games together as a family is the perfect holiday gift!
Can you believe that Christmas is right around the corner? This year has been a whirlwind, but one thing we all agree on is that Christmas is the best.
The season's calmness, the excitement of the "big day," and the hours of family fun are just waiting to be had this christmas holiday.
Indoor holiday activities are fun, so it's time to find a fun game for an exciting holiday party! Holiday movies are great, but it's the Christmas games that steal the show.
These games are great for most ages great for younger children, making them a family tradition filled with our favorite things. Some of these games are festive takes on Minute to Win It challenges, perfect for kids.
Whether it's a classroom party, a simple easy game, or the excitement of Christmas morning, it's all about making memories with our little ones and having a good time.
If you're into family-friendly Christmas activities, read on for tons of fun Christmas party games, and have a Merry Christmas!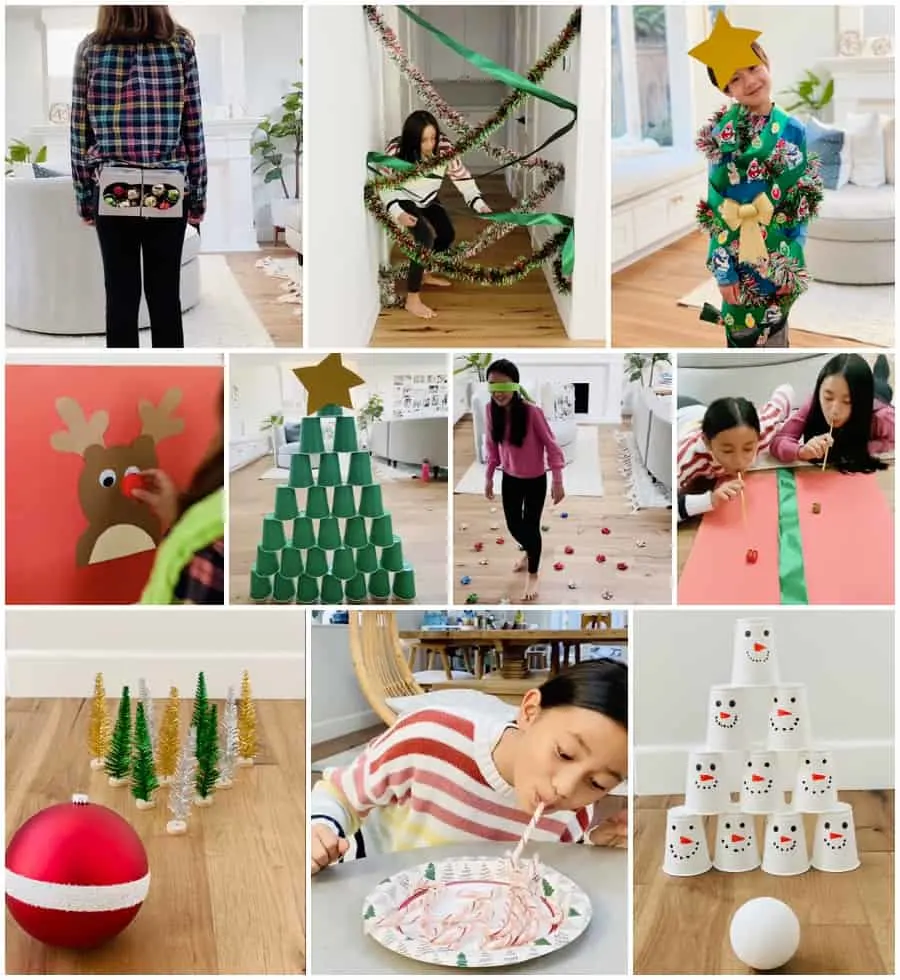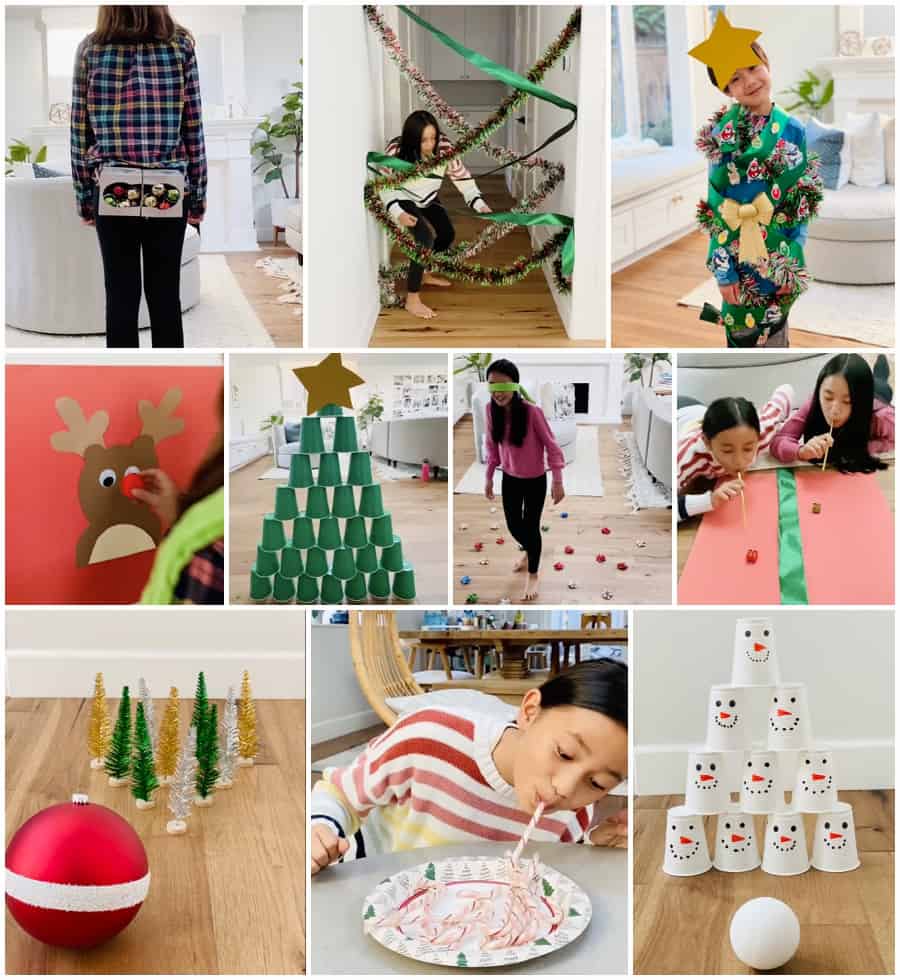 11 TOTALLY FUN CHRISTMAS GAMES FOR KIDS
As you probably already know, making up a great game to play together as a family is something that you can do at any time of the year, including the Christmas season.
But this list of fun holiday games with a festive take is special and can easily become a family tradition!
Check the post's video for how to play these fun Christmas kids' games!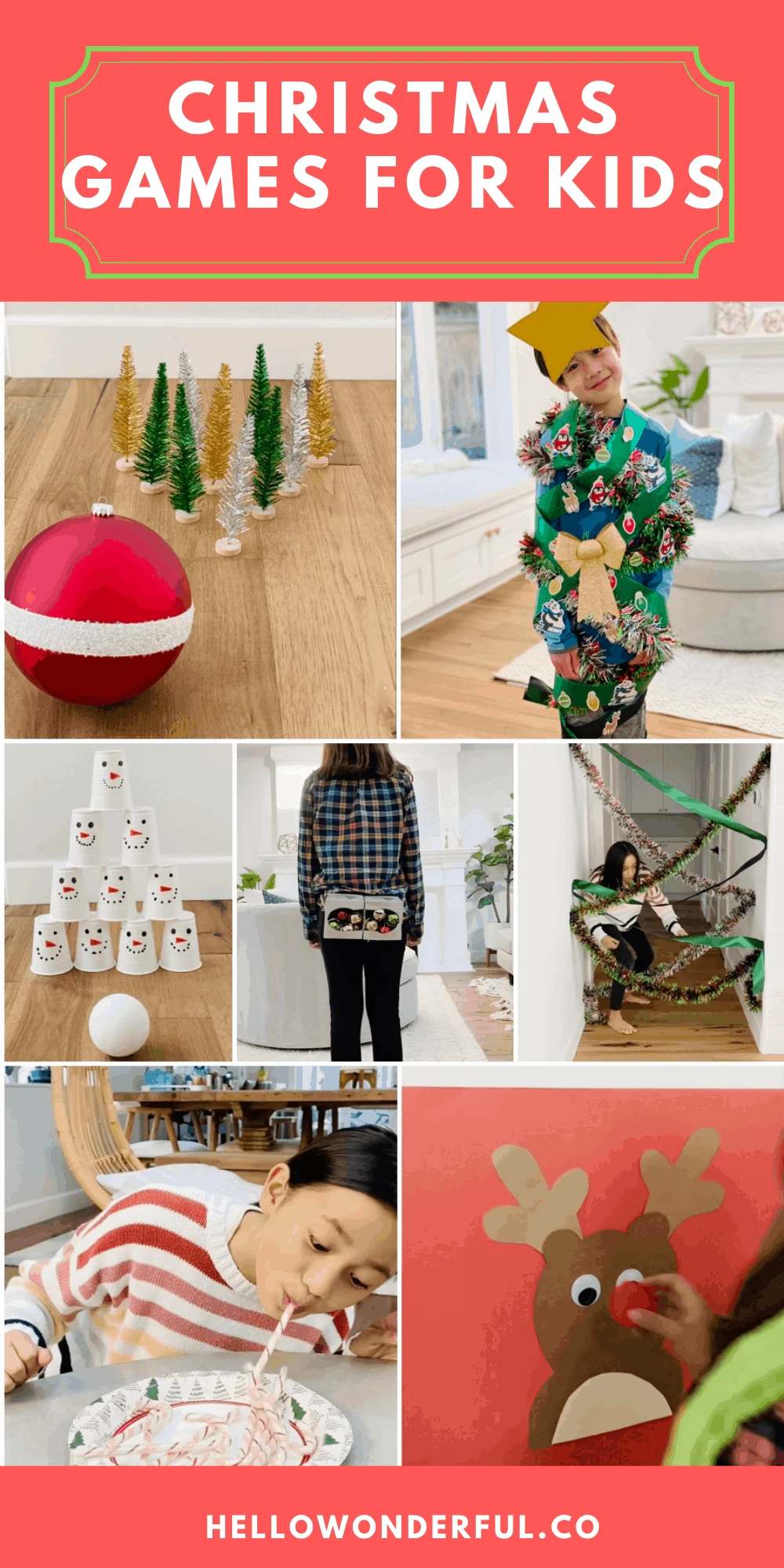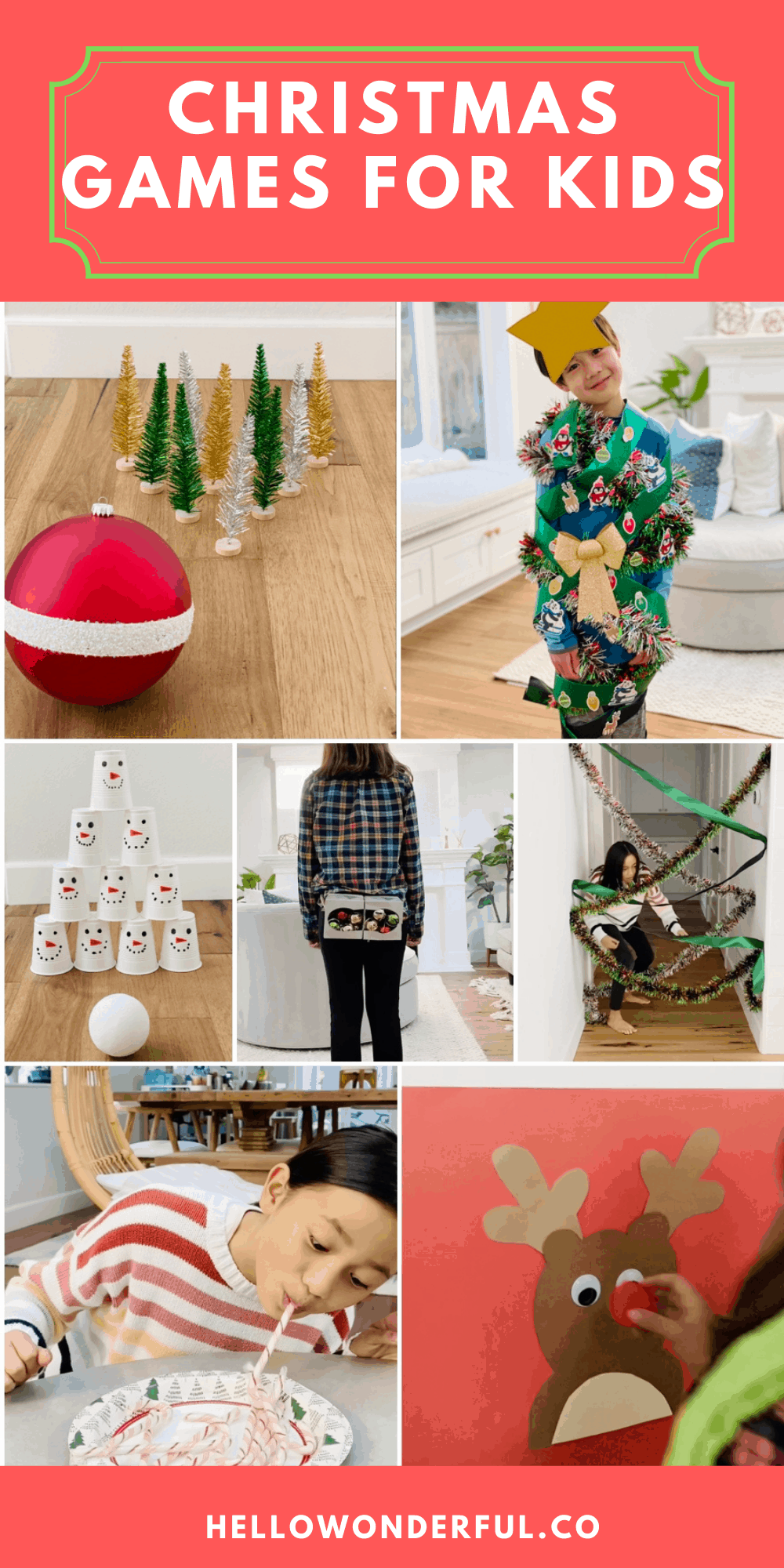 Shake the Jingle Bells
You guessed it…you gotta shake out those balls! This game is a fantastic way to add some excitement to the holiday season.
To play, create two holes in the sides of a tissue box, allowing your belt or string to go around your waist. Then, fill the opening with jingle bells.
Set a timer, and watch the family race to shake out all the bells in 60 seconds.
Supplies needed:
Kleenex box

Strong string or thin belt (or something else to tie the box to the waist)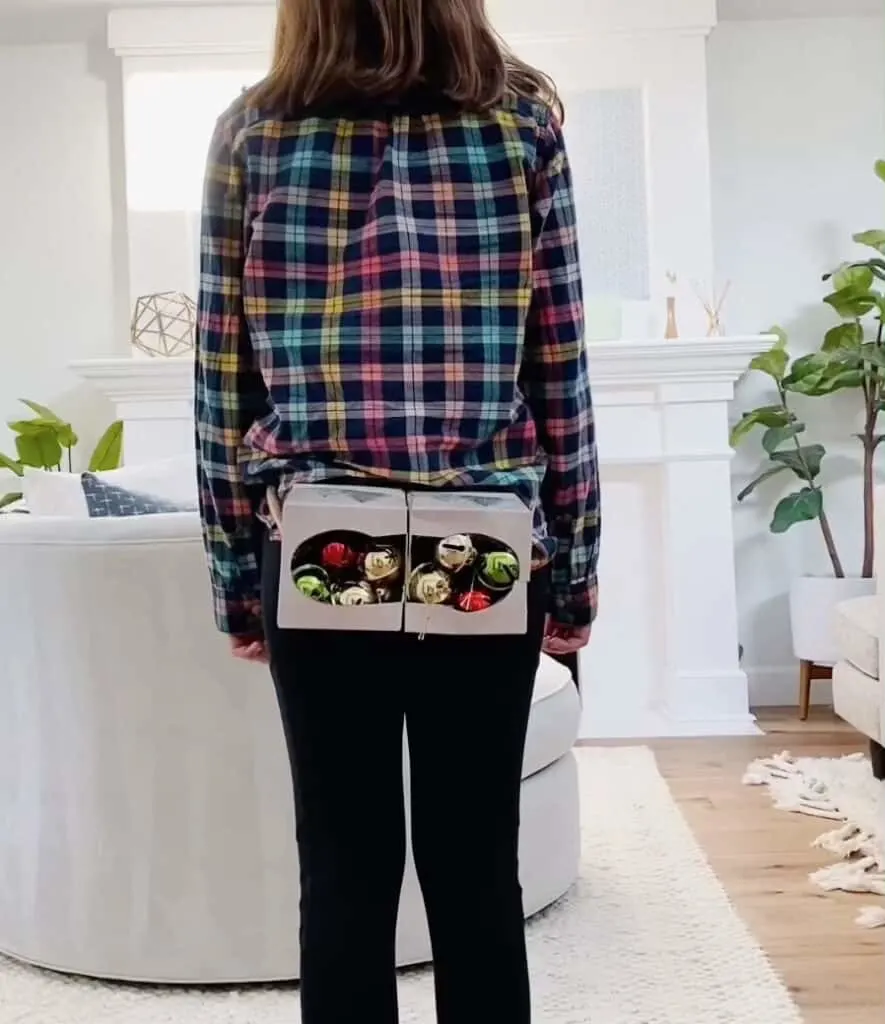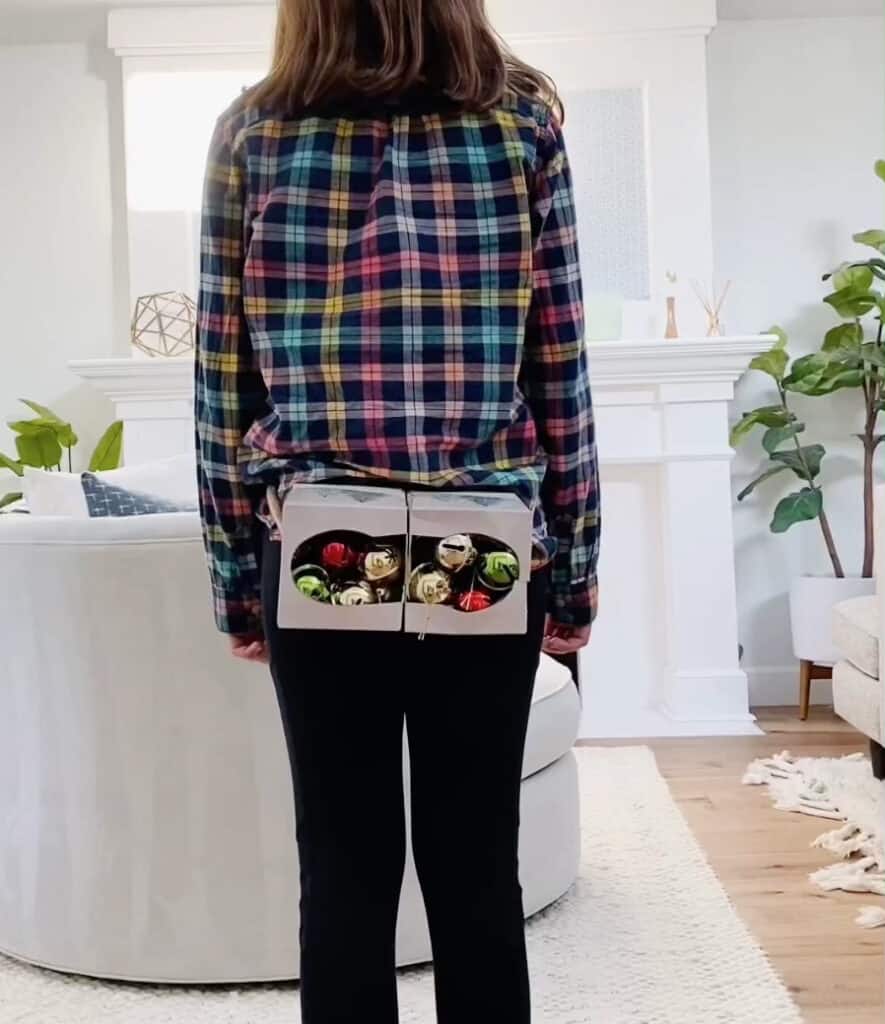 Christmas Garland Obstacle Course
This easy Christmas game will provide tons of indoor obstacle fun during the holiday season. Just tape the garland on the walls in a hallway (use painter's tape or mounting strips).
Create a challenge where kids have to navigate through it without touching or knocking it down.
You'll be amazed at how much fun it is for the whole family, even for older kids – the perfect game with a Christmas twist!
Supplies needed:
Garland, tinsel, or ribbon

Tape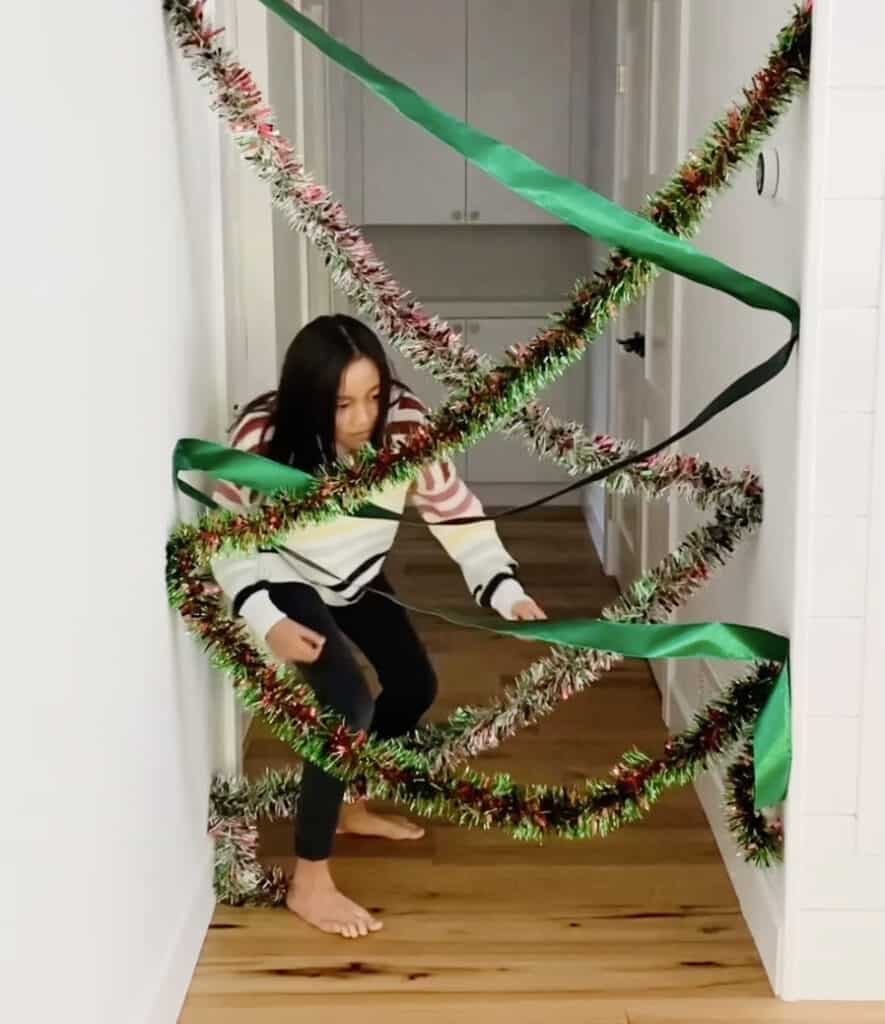 Snowman Snowball Cup Game
Up next is one of the most fun Christmas games that will bring a smile to kids of all ages. A minimal setup for maximum fun!
This simple game is perfect for the whole family to show off their throwing skills. Decorate white cups with fun snowman faces and stack the cups in a triangle.
Simply place three cups on the bottom, two in the middle, and one on top. Watch the kids throw the ball to knock them down.
Supplies needed:
White Cups

Markers (to decorate the cups with fun snowman faces)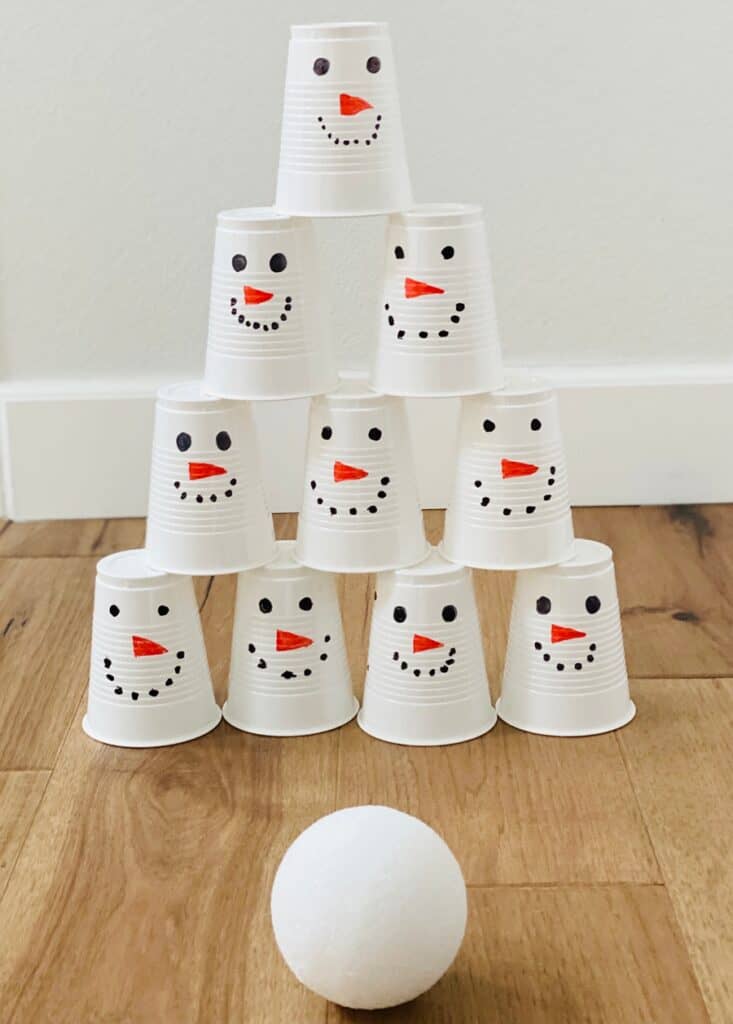 Christmas Bowling (one of our favorite Christmas games for kids!)
You don't even need to leave home for a fun bowling experience. This is one of my kid's favorite games since bowling is always a good time!
Start by lining up small trees or objects, mimicking a bowling alley, and let the kids go bowling for holiday fun!
Maybe instead of a "turkey," they'll score a "reindeer"! It's perfect for small groups, but can be enjoyed by larger groups as well!
Supplies:
Small Christmas Trees (or other small objects that can be knocked over without breaking), we used Target's dollar trees!

Large Ornament Ball (make sure it's shatter-proof)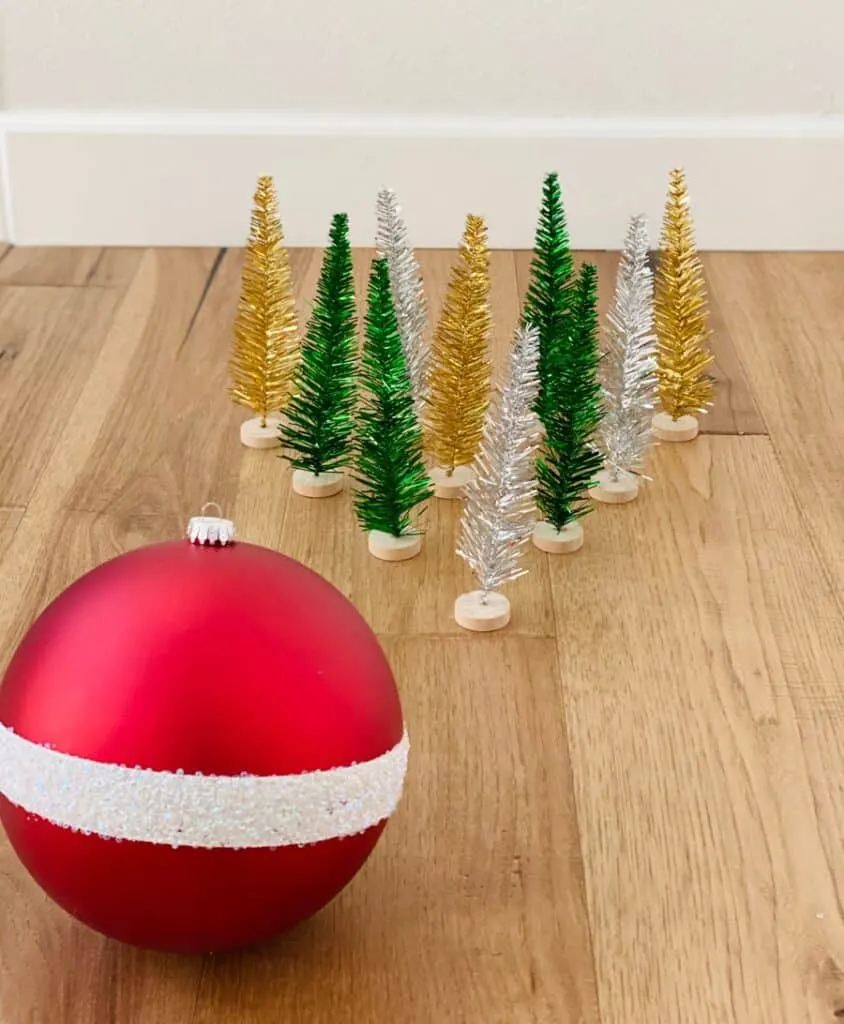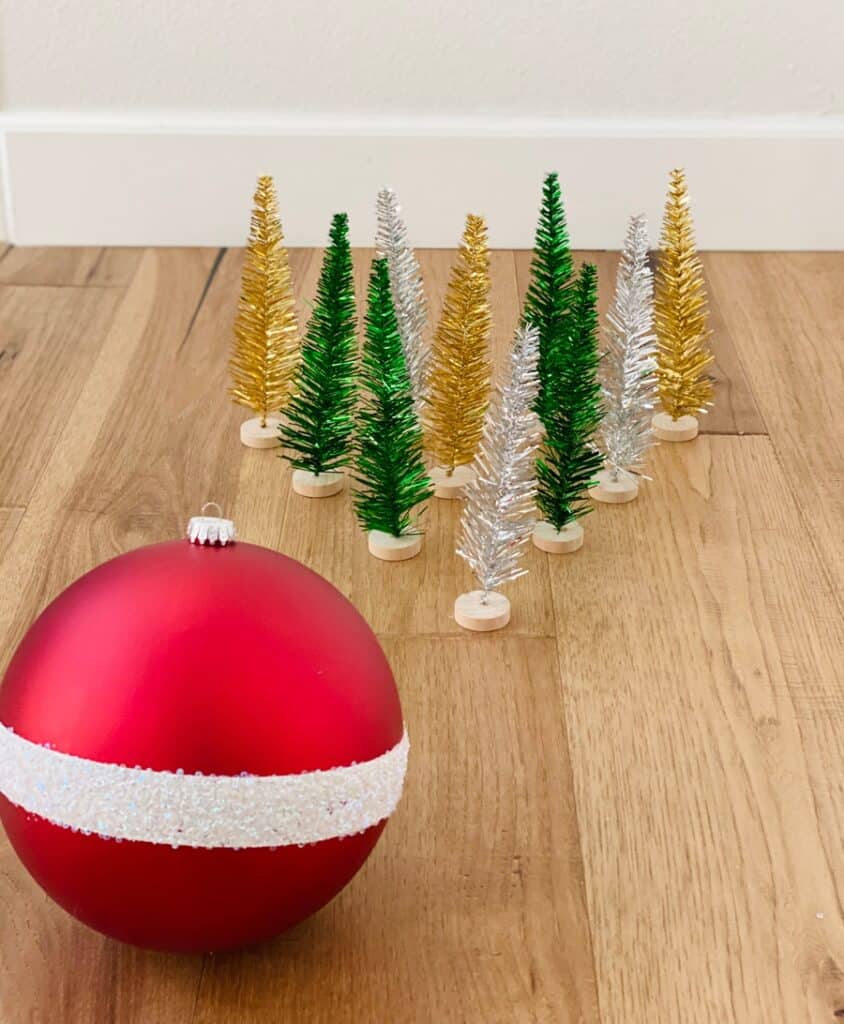 Candy Cane Game
This game may sound easy, but it's much more challenging than it looks – and it's an absolute blast! All you need are mini candy canes.
Each person starts with one mini candy cane in their mouth, positioned opposite the curved side of the candy cane. Then, place a pile of candy canes on the table in front of them.
Set a timer for 30 seconds and watch them try to pick up and move as many candy canes as possible to the side.
Supplies:
Mini or regular candy canes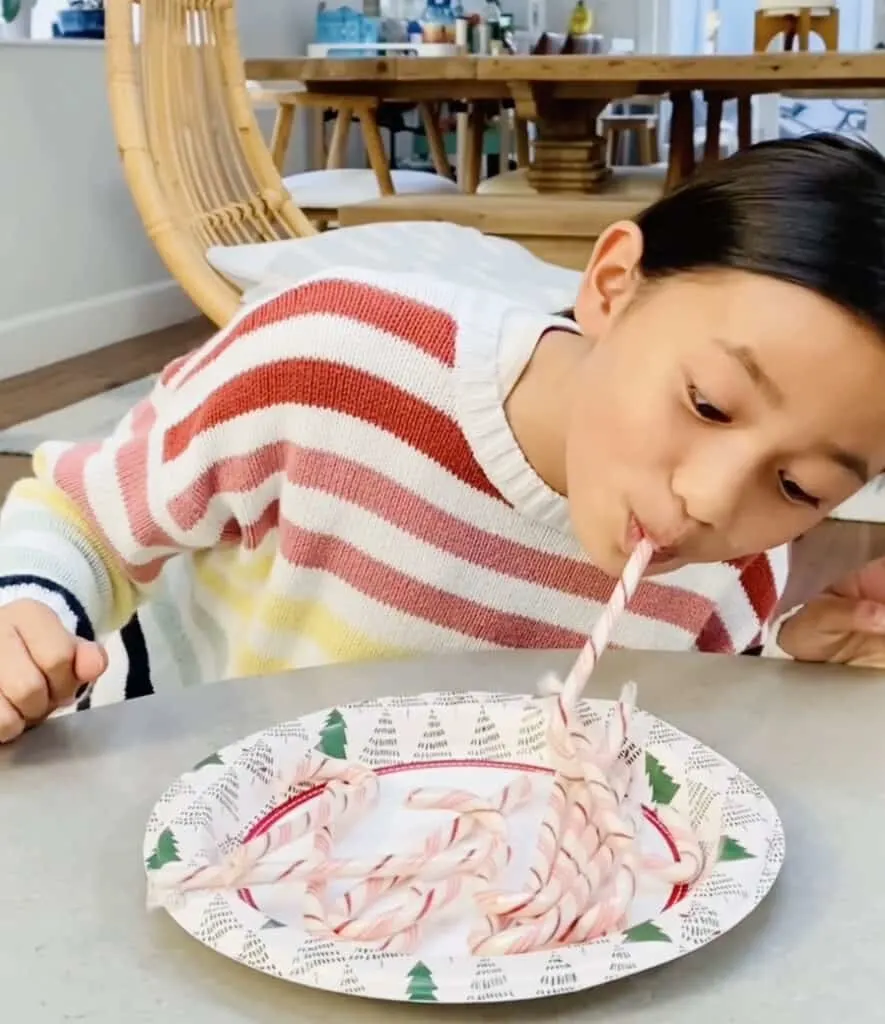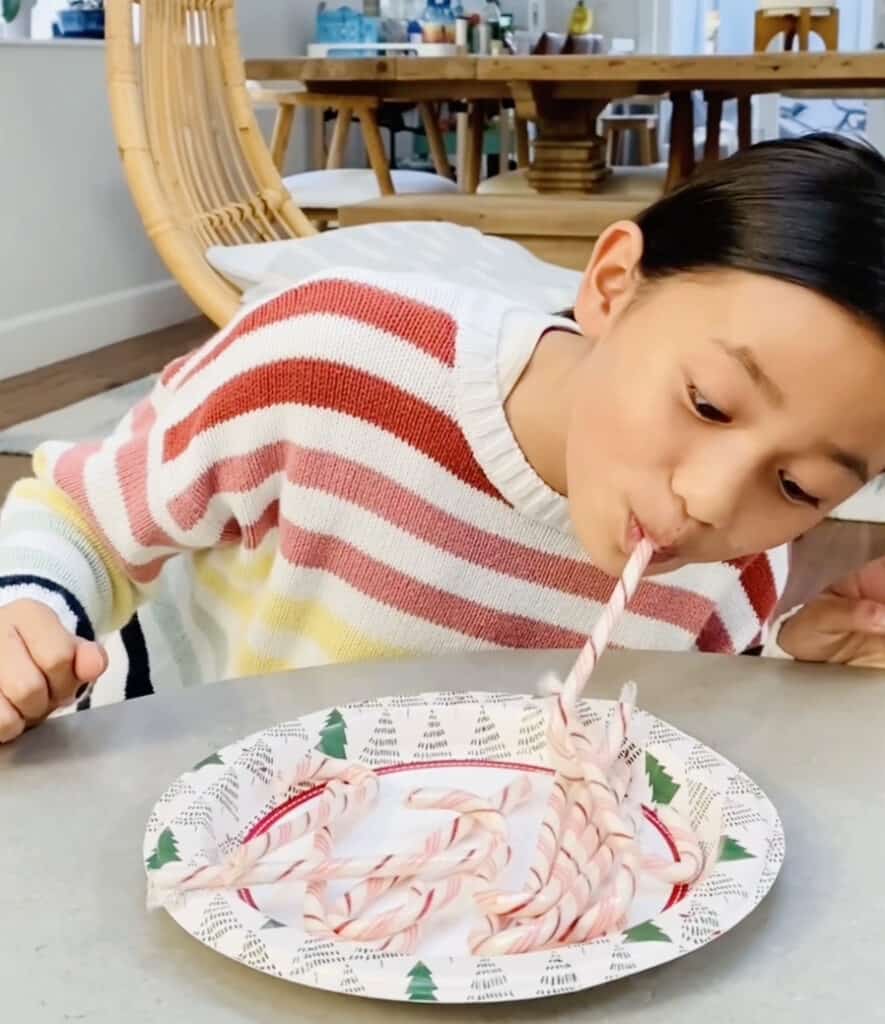 Pin the Nose on Rudolph Reindeer
This game is just like the classic "pin the nose" game, but with a delightful twist – Rudolph the Red-Nosed Reindeer!
You'll need to cut out a paper reindeer, and adding googly eyes for that special touch is a must. Blindfold the child, spin them around, then have them try and tape the nose on Rudolph.
Pin the Nose on Rudolph Reindeer is a jolly twist on a classic tale. It's Rudolph fun for the whole family!
Supplies:
Construction paper (light brown/dark brown/cream)

Googly eyes

Red Pom Pom

Tape

Blindfold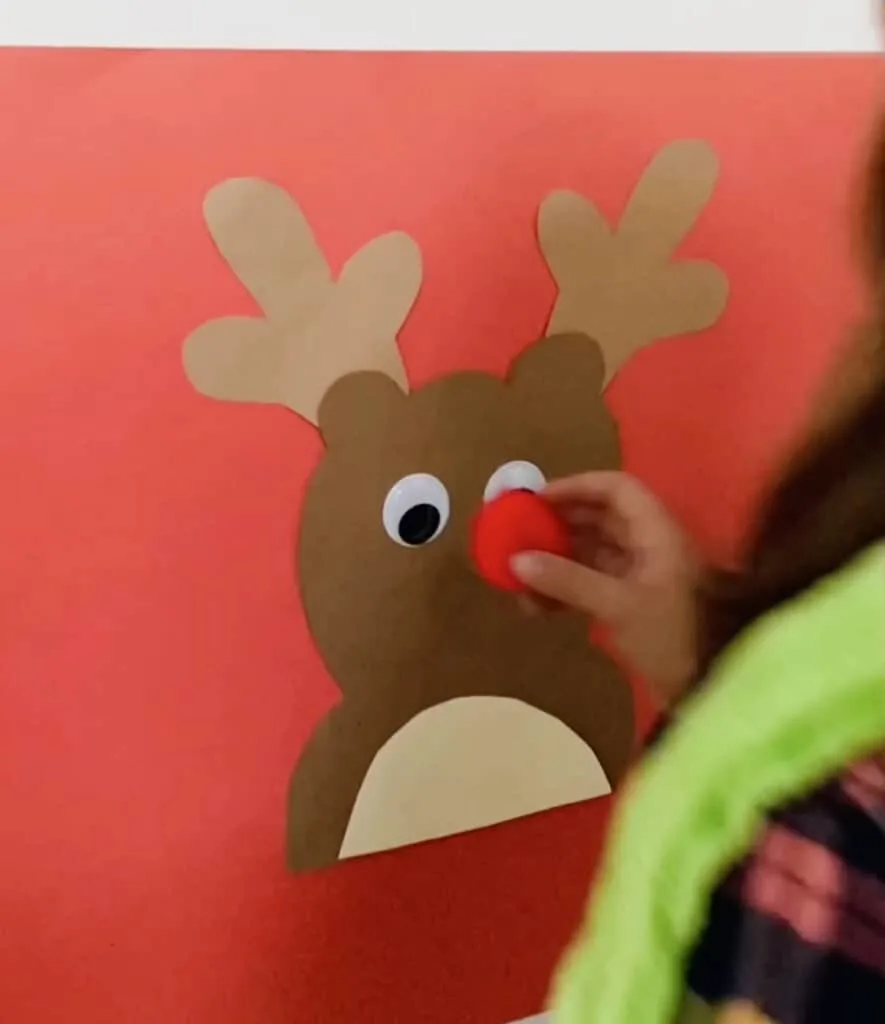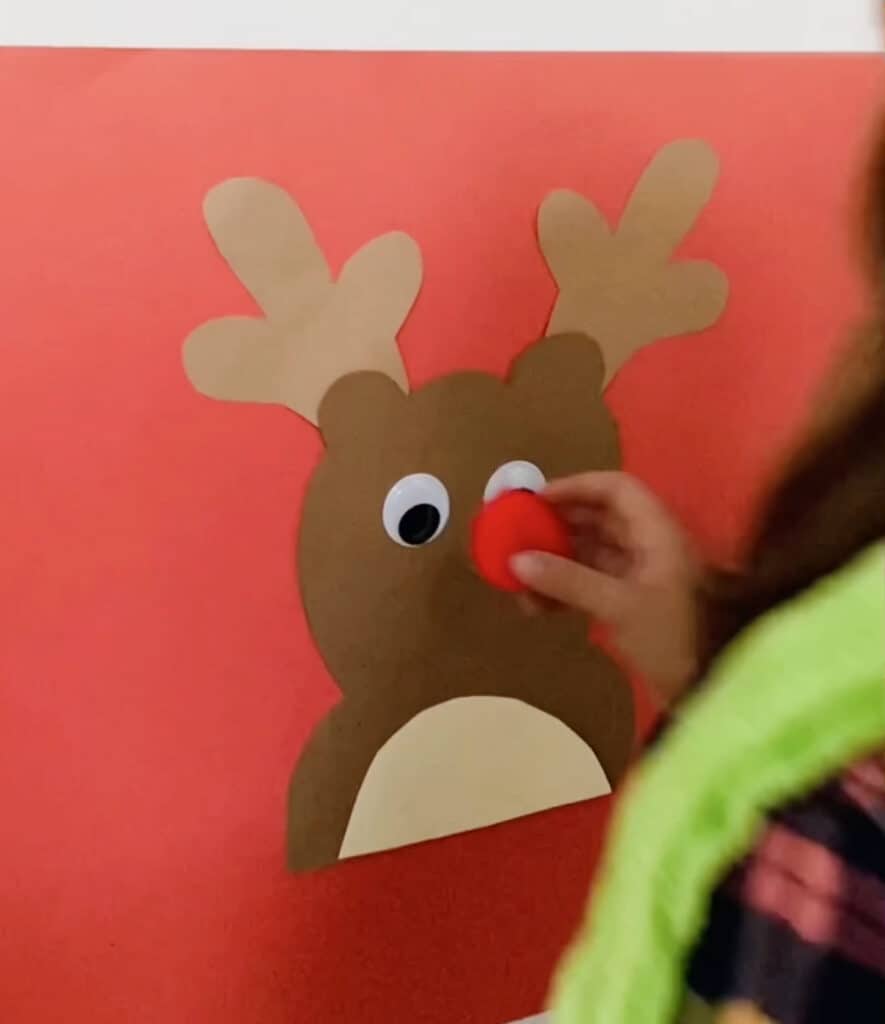 Check the post's video for how to play these fun Christmas kids' games!
Wrap the Christmas Tree
Get ready for a wild and wacky game that the little kids will absolutely love!
The idea is simple—select one family member to be the "Christmas tree" and see how quickly they can decorate themselves with garland.
But here's the fun part: use Christmas stickers as ornaments and top it off with a star.
Supplies:
Ribbon

Star (we just cut one out of glitter cardstock)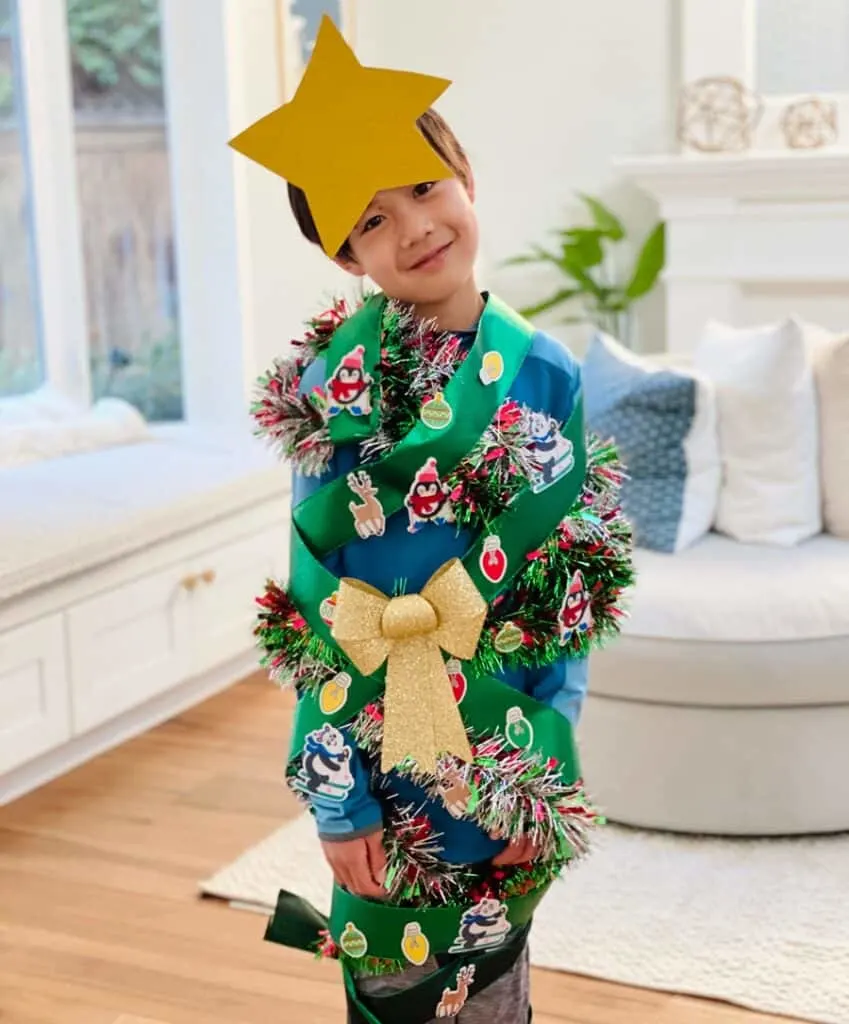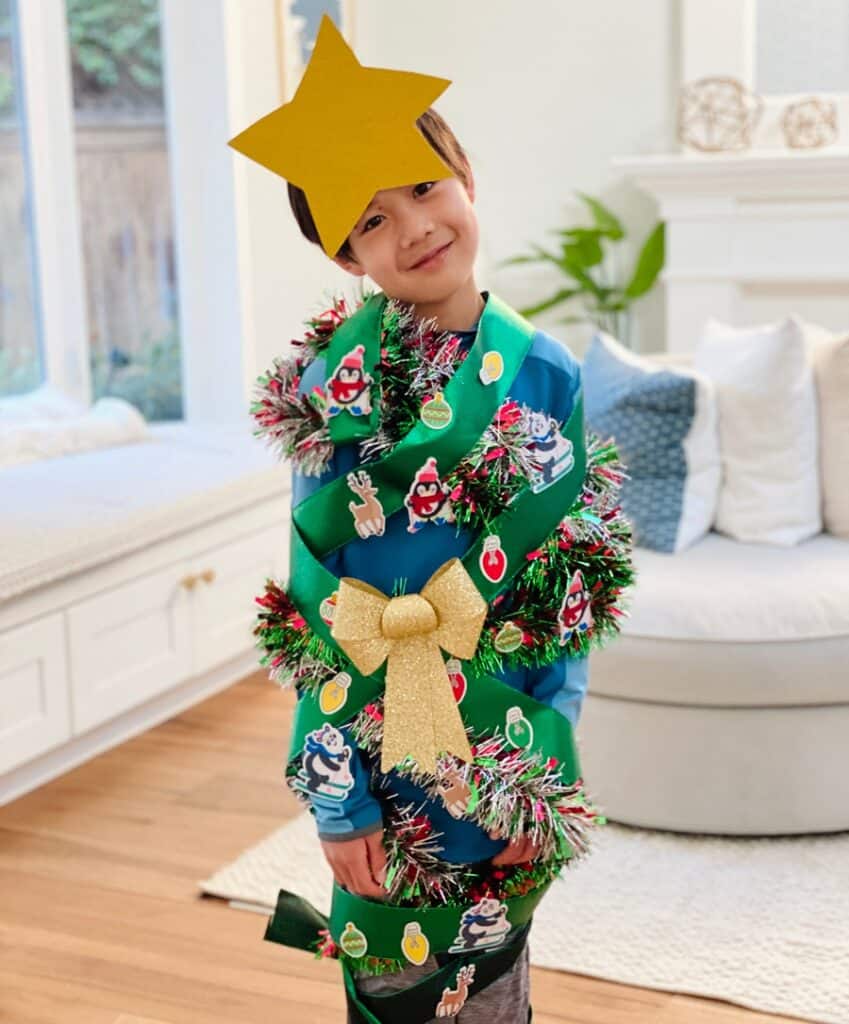 Christmas Tree Stacking Cup Game
This game is a perfect way to encourage cooperation and friendly competition in different ways. It's all about teamwork and a bit of holiday creativity – the best part!
The goal is to work together as a team to create a Christmas tree using plastic cups. Stack them up, and then finish off your masterpiece by placing a bright yellow star on top.
The challenge? How high can you stack the cups before time runs out? It will have your kids laughing, bonding, and loving the holiday season like never before!
Supplies:
Green plastic cups

Star (we just cut one out of glitter cardstock)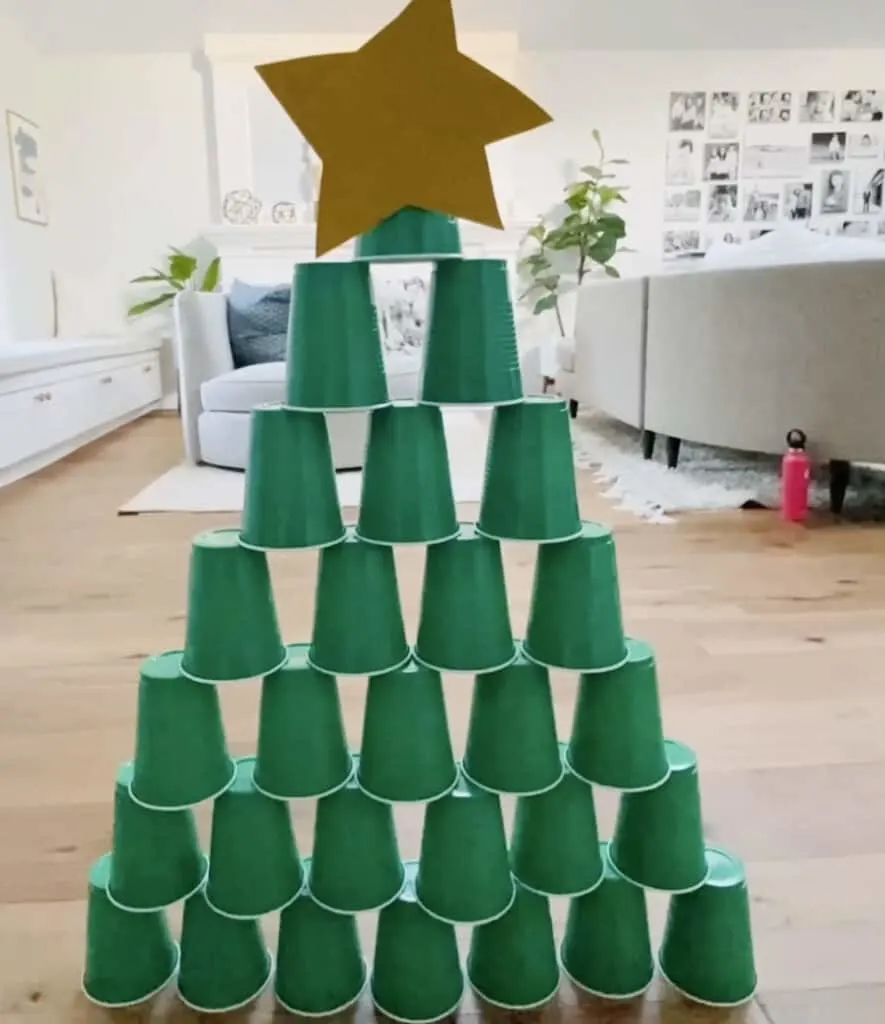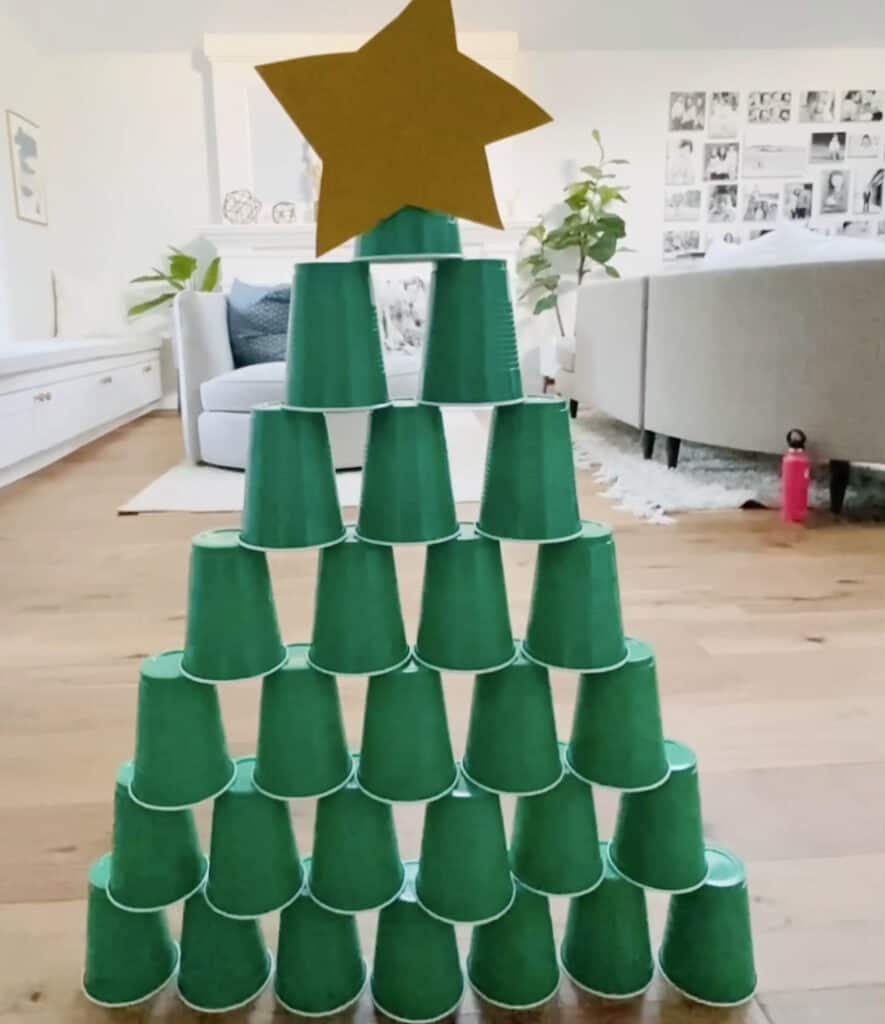 Paper Plate Wreath Game
In this game, you'll start by gluing an empty paper towel holder to the middle of a paper plate. After letting it dry, cut out the center of the green paper plates to create a wreath shape.
Then, it's time for the kids to take turns tossing the green paper plates at the paper towel holder, aiming to land them on the ring.
It's a game that's not only entertaining but also a wonderful way to bring out some friendly competition among family members!
Supplies:
Green Paper Plates

Empty Paper Towel Holder

Glue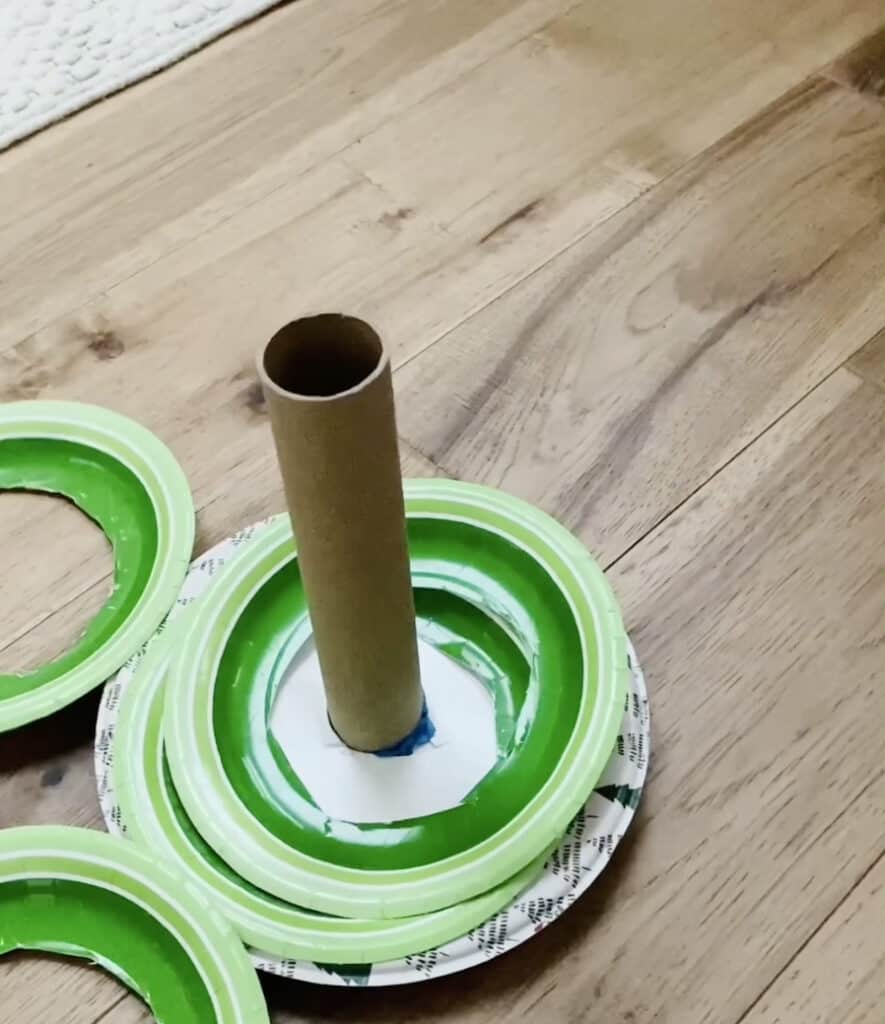 Don't Step on the Gift Bows
In this hilarious game, we put careful footwork to the test. Blindfold one of the family members and scatter gift bows across the floor.
The challenge? To navigate across the room without stepping on any of the gift bows.
It's a light-hearted and giggle-inducing game that's sure to create plenty of laughter and unforgettable memories.
Supplies: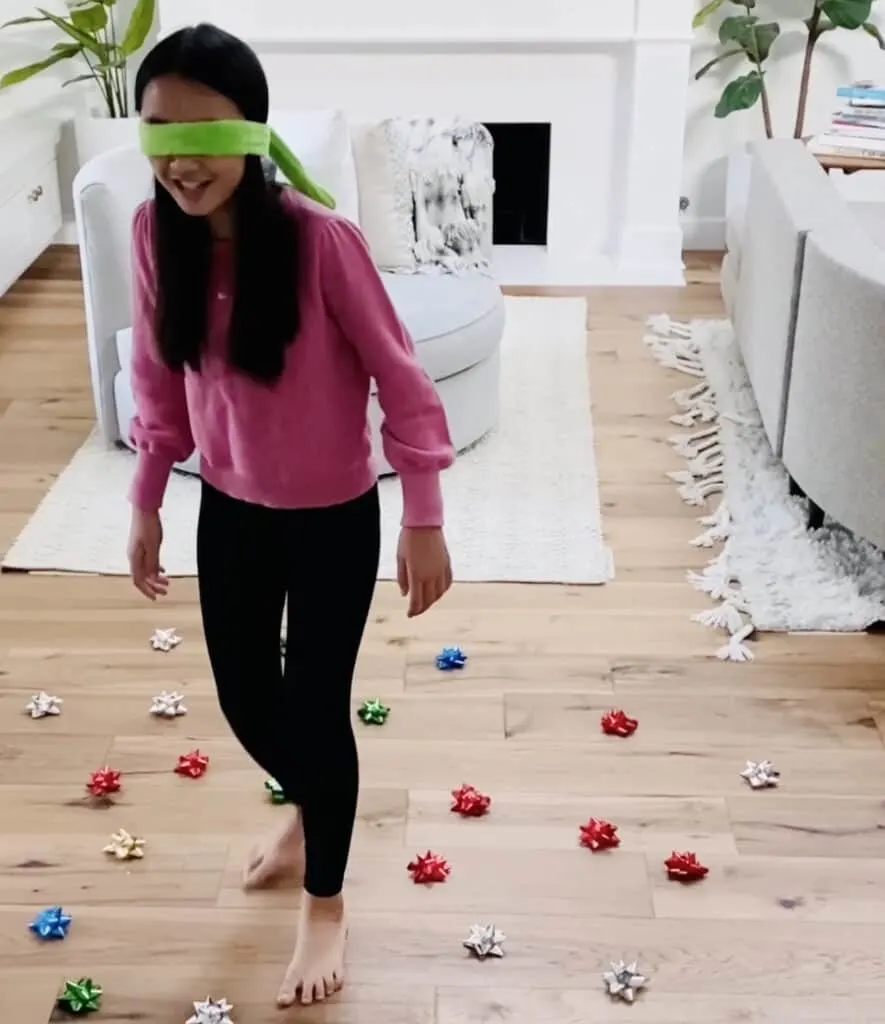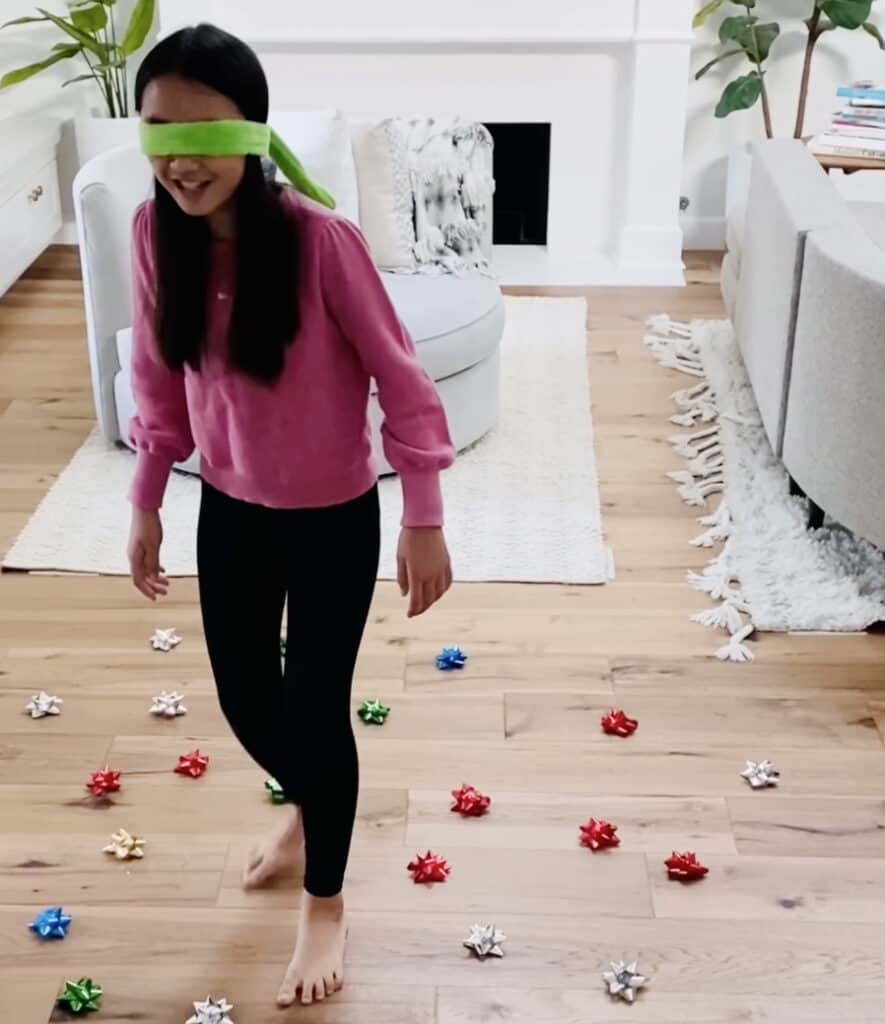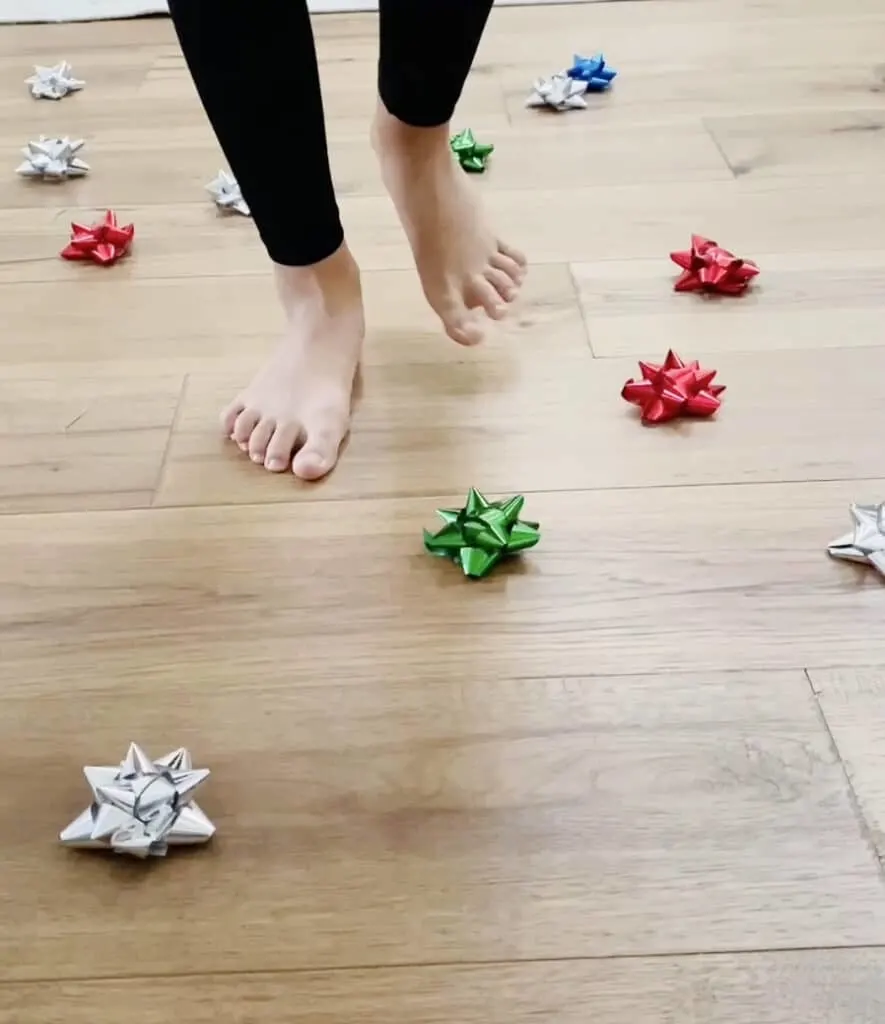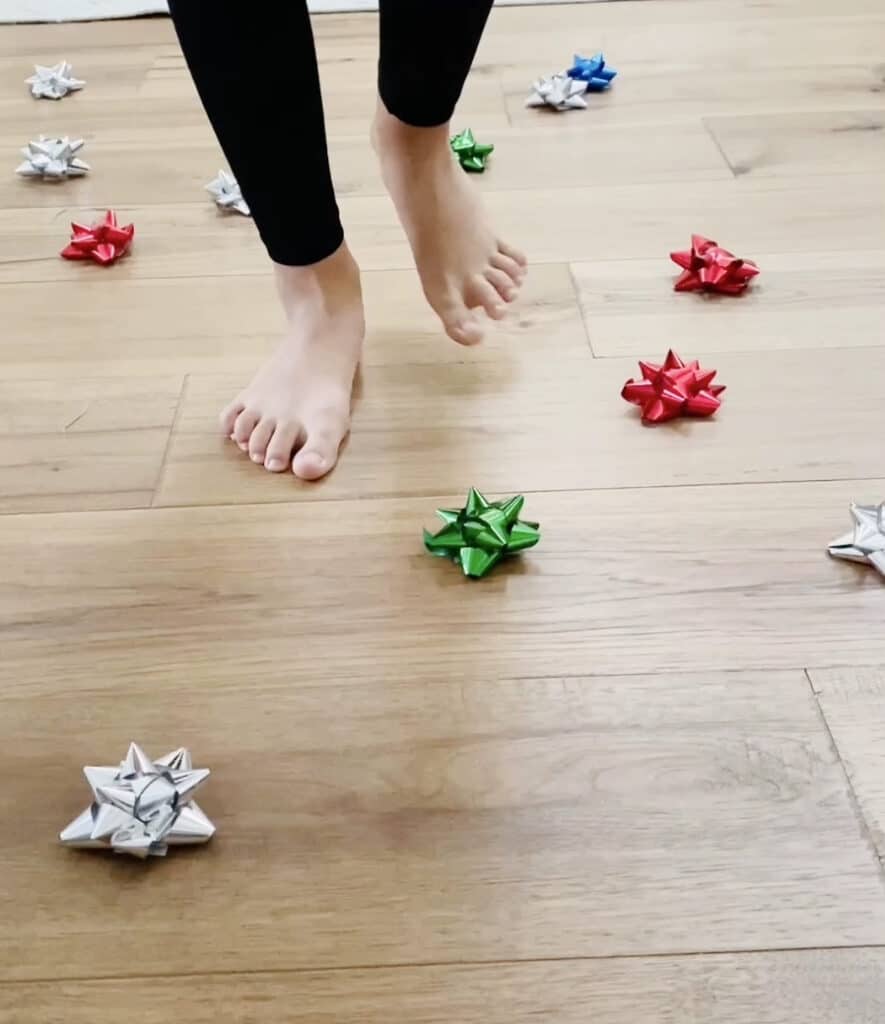 Check the post's video for how to play these fun Christmas kids' games!
Present Straw Race
This game is designed for two players, making it perfect for family time.
Each person starts at one end of the table and uses straws to blow and push mini gift boxes across to the other side.
The aim? To be the first to successfully move their present to the finish line. It's a fast-paced and exciting competition with everyone cheering for the winner!
Supplies:
Mini gift packages (little boxes that you can wrap up that are small and lightweight)

Straws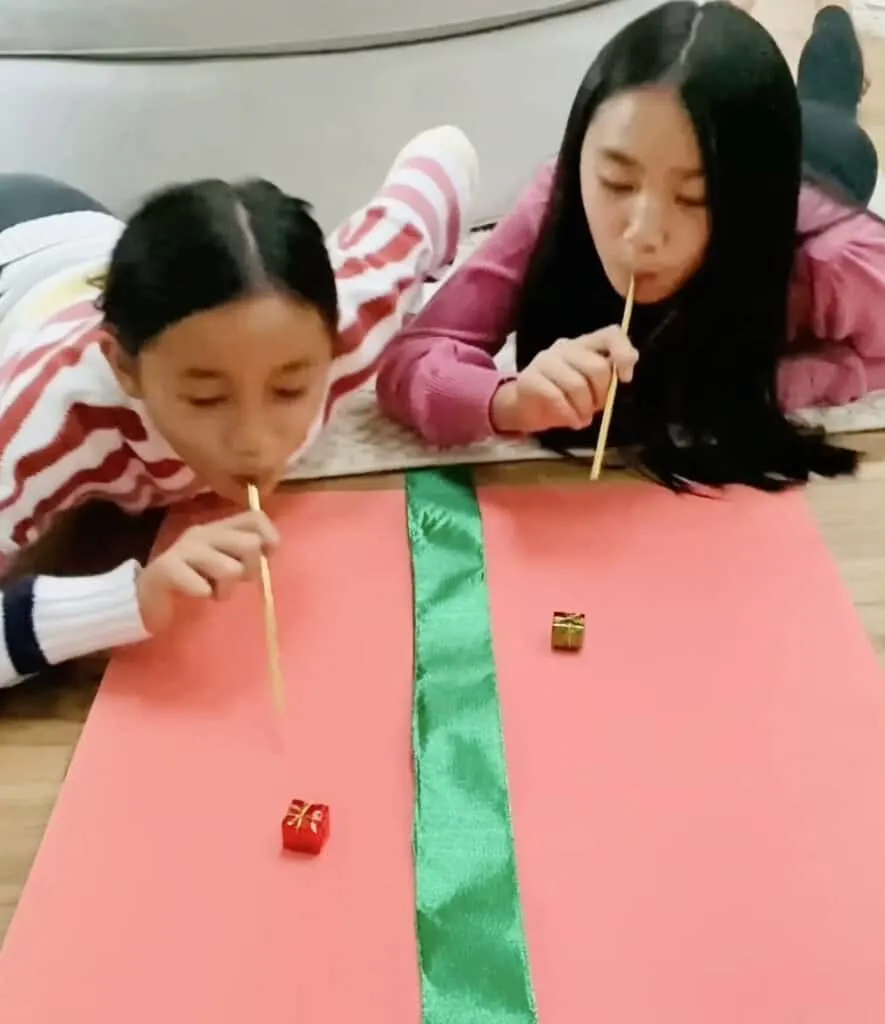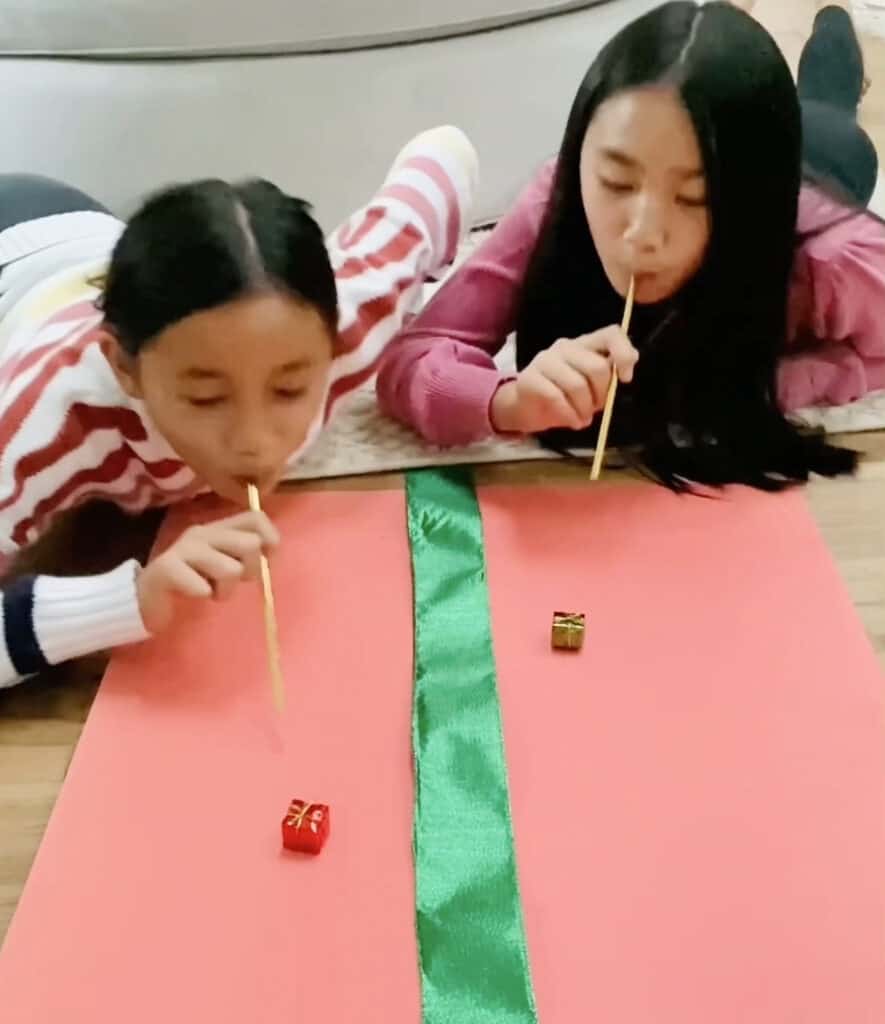 Have fun with all these Christmas games for kids! You just might find yourself joining in on all the fun with them!
Check the post's video for how to play these fun Christmas kids' games!
Do you have any other Christmas games for kids that you love to play?
More Christmas Activities