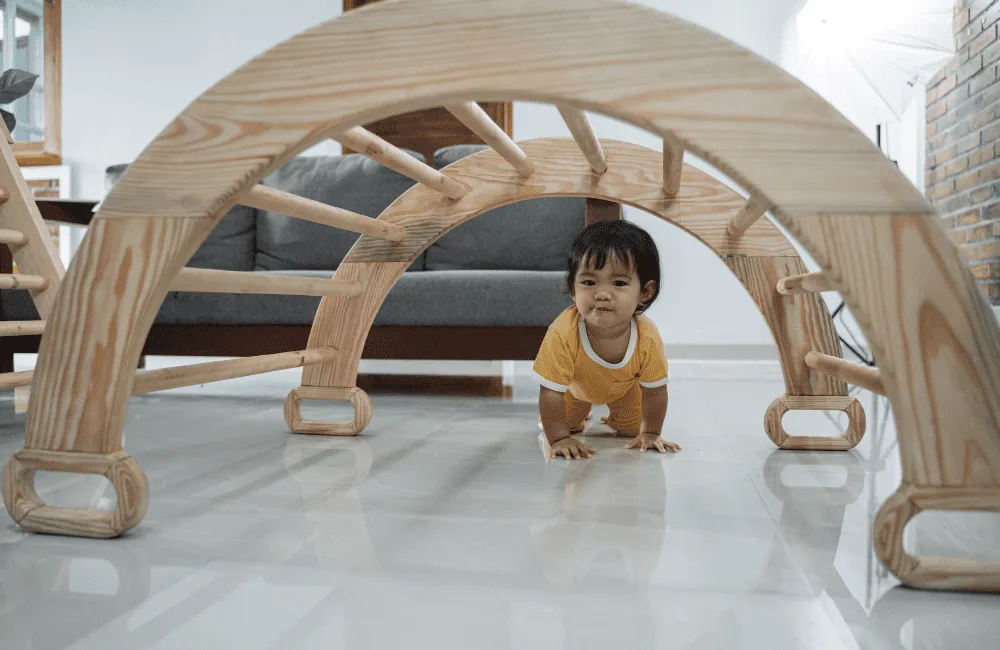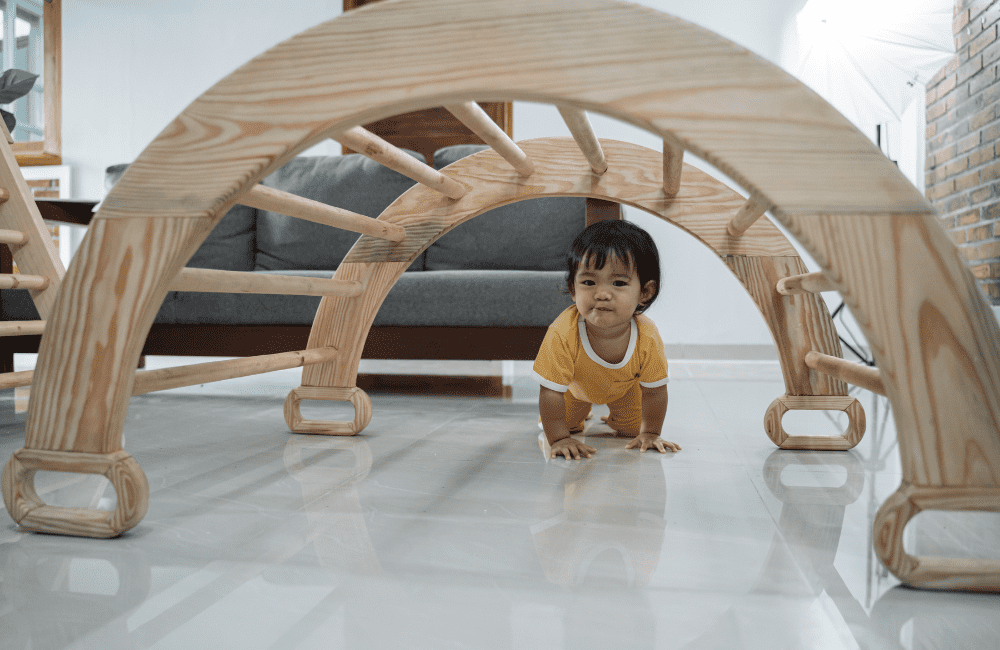 Photo Credit: Canva
By using this site, you agree to our Terms of Use. This post may contain affiliate links. Read our disclosure policy. As an Amazon Associate I earn from qualifying purchases.
Follow us on Instagram for more fun ideas for kids!
Kids these days are always on the go. With the cold air and for some of you, snow outside, there's little for them to do but come inside and play for hours on end. This year, however, try setting up an indoor play gym for kids at home to burn off that endless energy. Not only can you provide a safe indoor playground for your kids but also a fun change of scenery.
Some of these indoor play gyms have slides, swings, climbing walls – basically everything that a kid could want! These products build upon gross motor skills and balance which are wonderful for kids' physical activity and development.
Not only will they have fun for hours at a time, but they'll also burn up all that extra energy for you! Let's take a look at some of the best indoor play gyms for kids.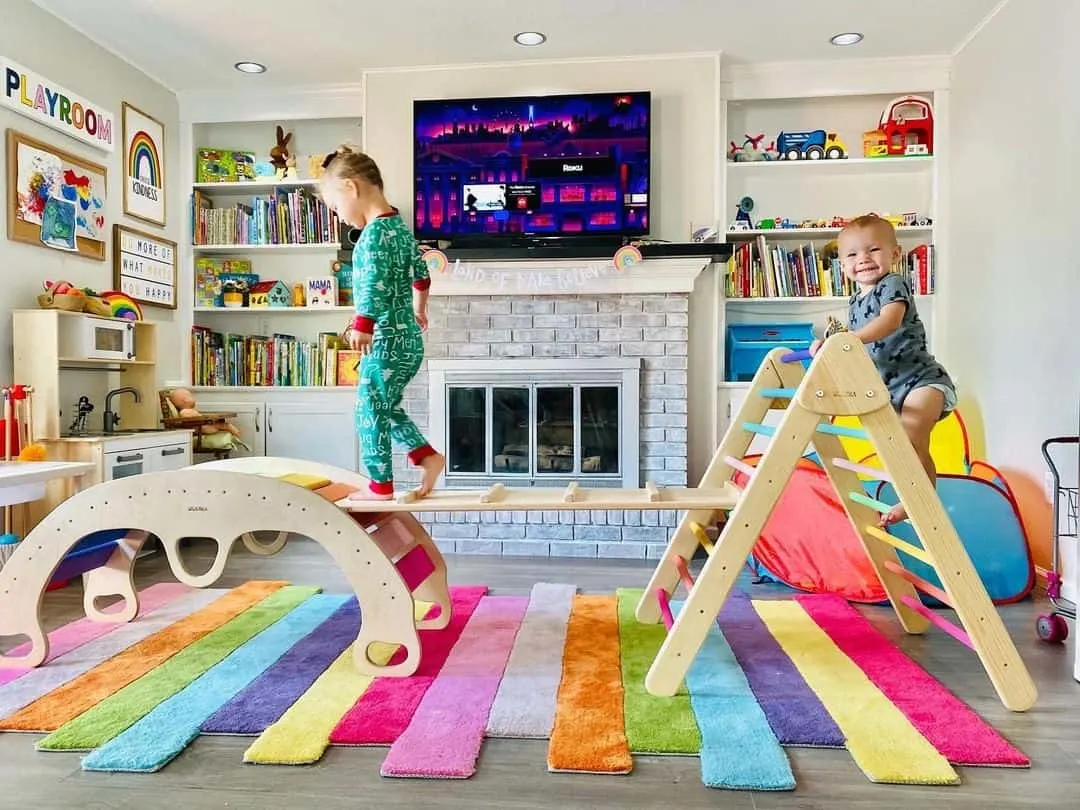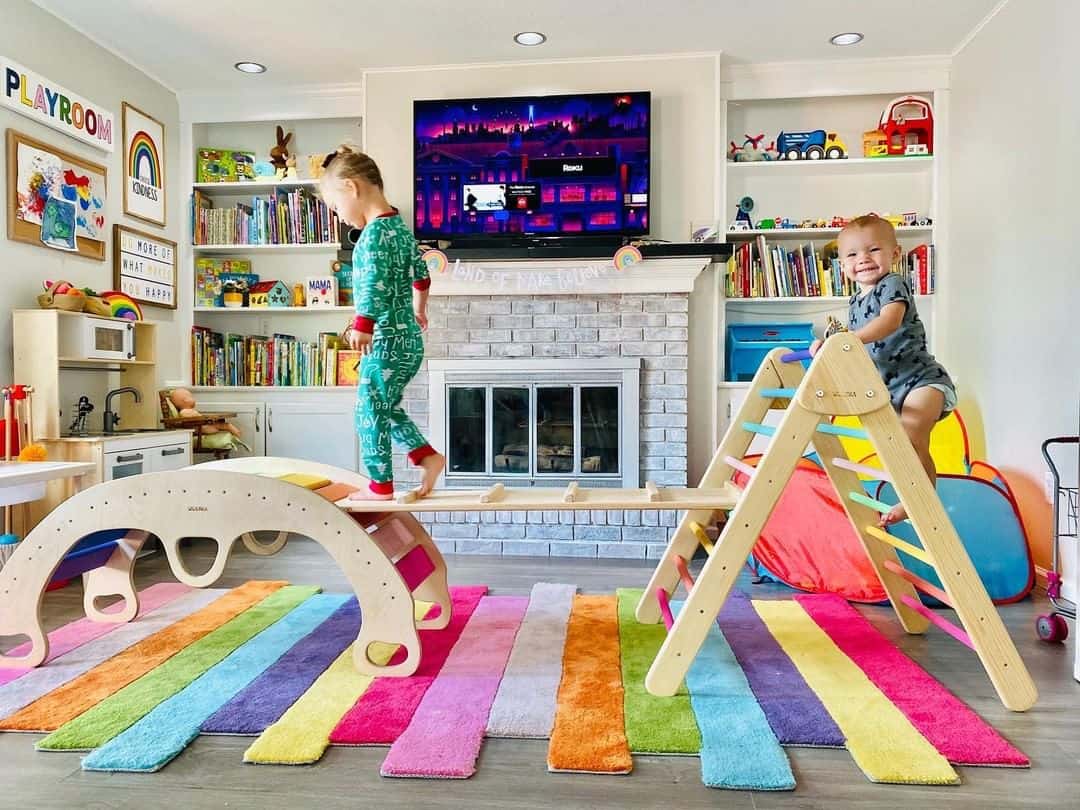 Photo Credit: Wiwiurka
This Indoor Playground is a place where children can play and have fun. This will help them develop skills like balancing, coordination, or gross motor ability. They'll be happy in their free time! This set includes 3 pieces: Double Rocker, Large Foldable Triangle (Pikler Triangle) and a Reversible Ramp.
Fun Facts:
Provides a safe space for kids ages 2-7 to play indoors

Promotes developmental skills through free play

Made of FSC European Birch plywood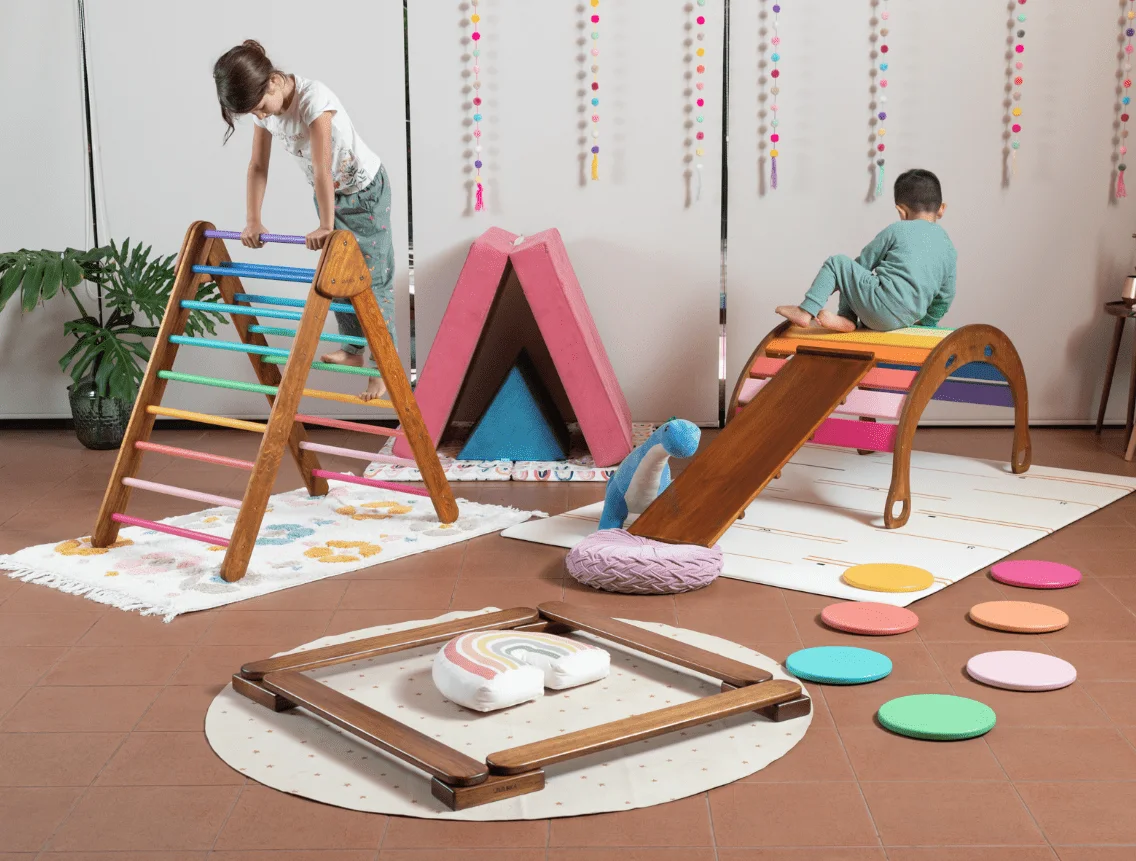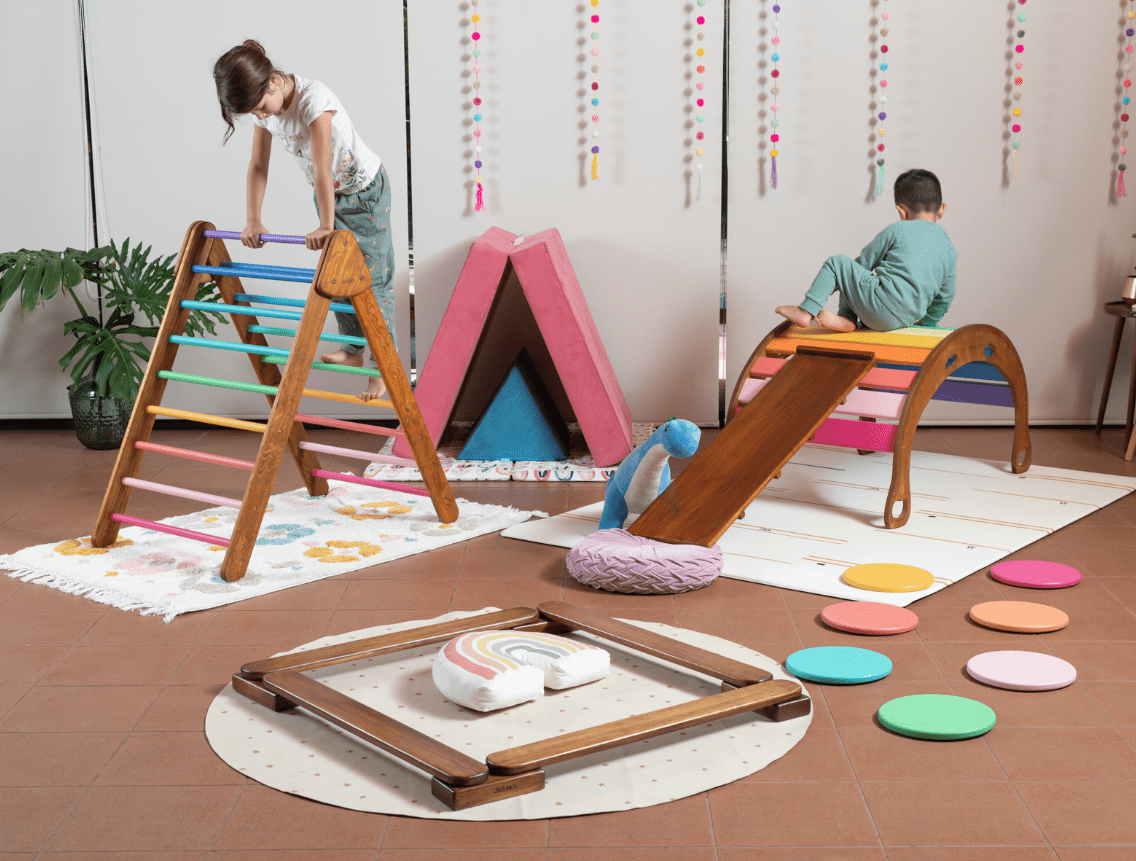 Photo Credit: Wiwiurka
Connect with your favorite Wiwiurka characters in a single set! Adorable and fun for kids. The Foldable Triangle will go with any color palette or one you choose. This is a 5 piece set that's perfect for setting up your play indoor gym at home. Includes Large Foldable Triangle, XXL Rocker, Reversible Ramp, Paws, Balance Beam set.
Fun Facts:
Connect with your favorite Wiwiurka favorites

Fun for kids ages 2-8

Made of high-quality Pinewood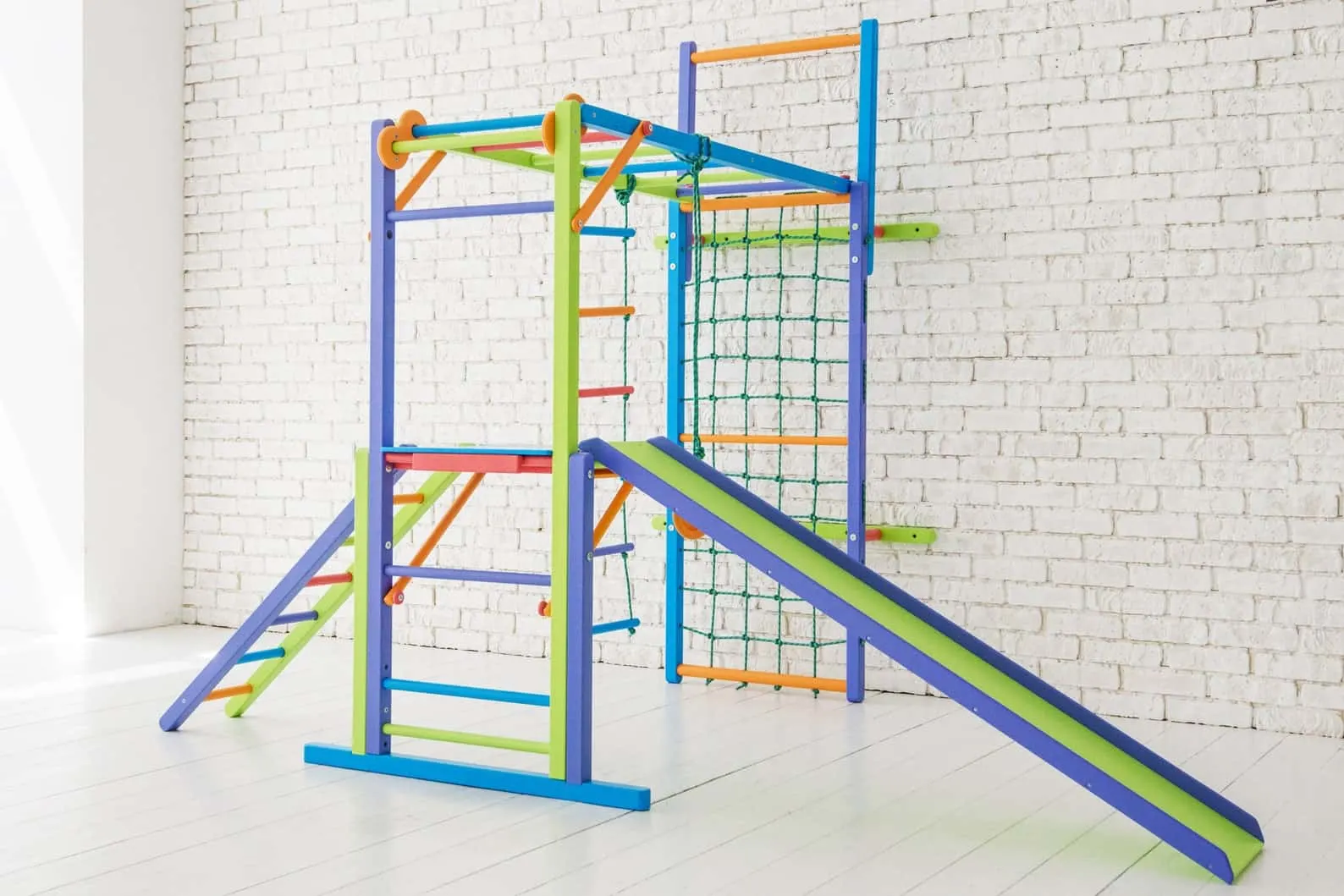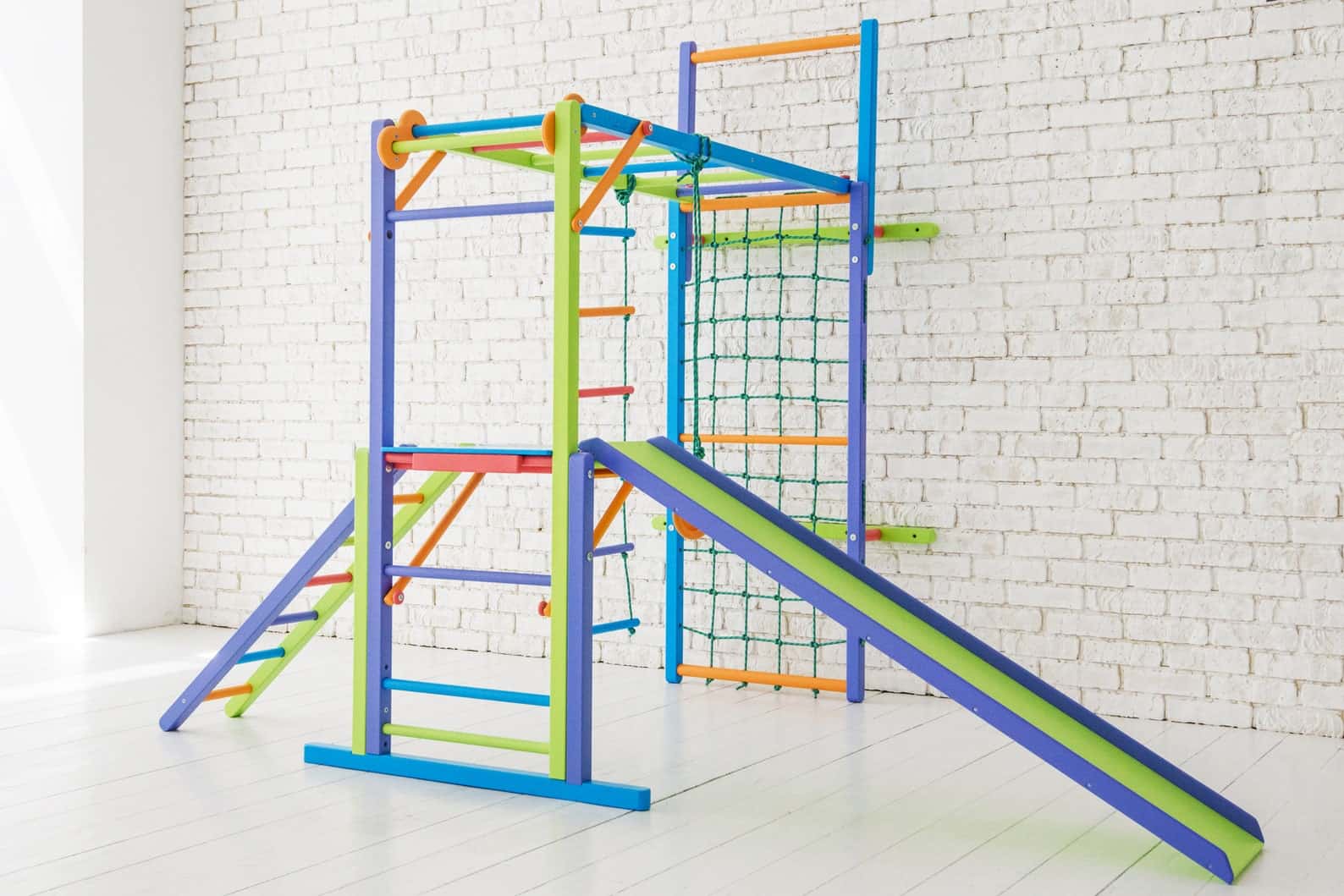 Photo Credit: Etsy
This EZPlay Playground is a great choice for kids ages 4+ who love the thrill of climbing.! There are 7 in one play features that offer plenty of playtime fun which are:
– Monkey bars
– Rope ladder
– Wooden ladder
– Gymnastic rings
– Climbing rope
– Rope wall
– Slide
Fun Facts:
Have fun all day long in your home

Give kids an opportunity to exercise and play

Easy to fold and store when not in use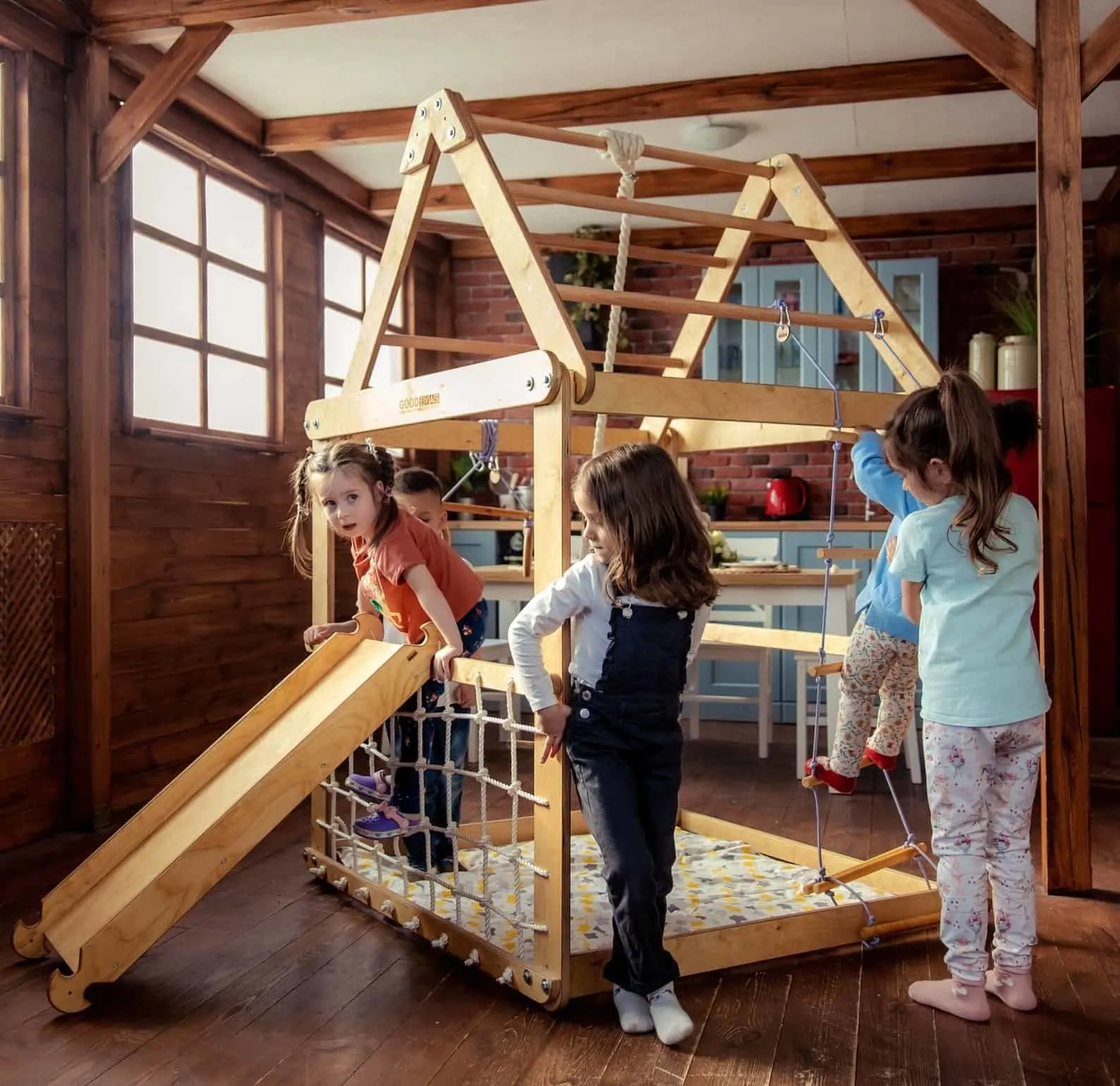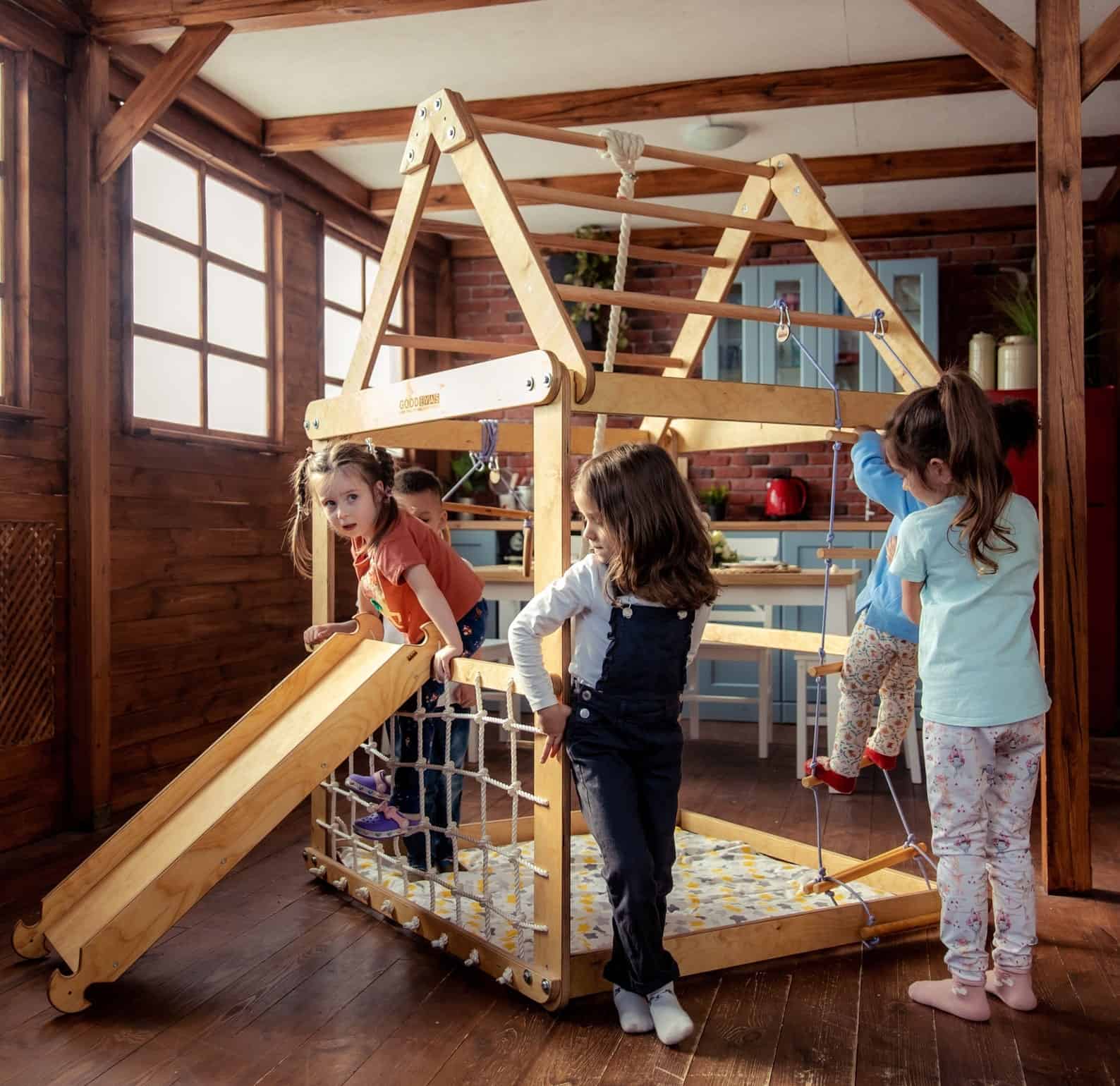 Photo Credit: Etsy
A Goodevas Wooden Climbing Playhouse is the best place for your child to play. It will help them develop their coordination and muscles they wouldn't use in everyday life! What's neat is that this climbing structure includes: a wooden house and a 2 in 1 slide/climbing ramp, plus a fun trapeze swing bar with rings, and indoor swing plus rope ladder for endless playing.
Fun Facts:
Fun and interactive design perfect for toddlers through 7 years.

Designed to be safe for both inside or outside use made of high-quality wood chemicals.

Versatile enough that it can be customized per your needs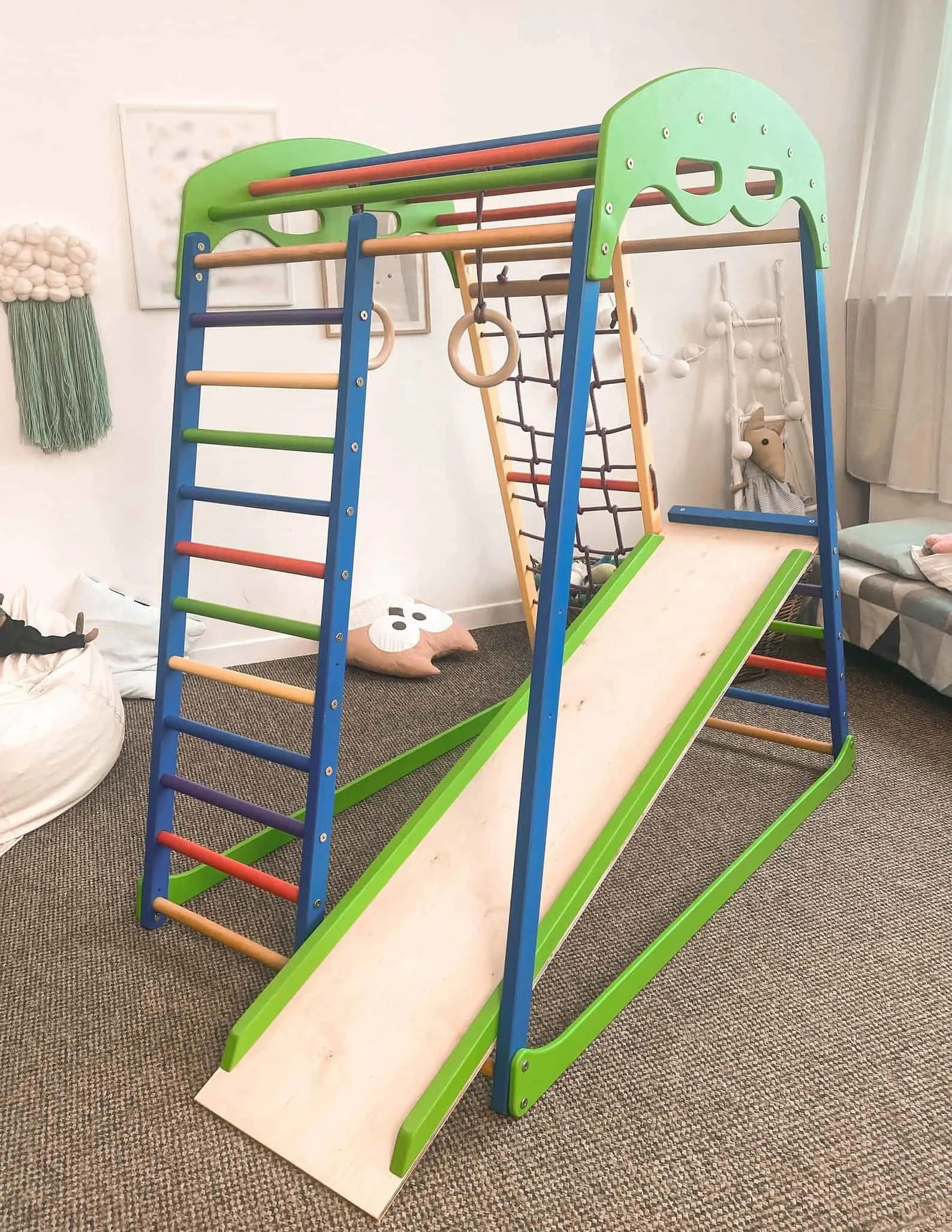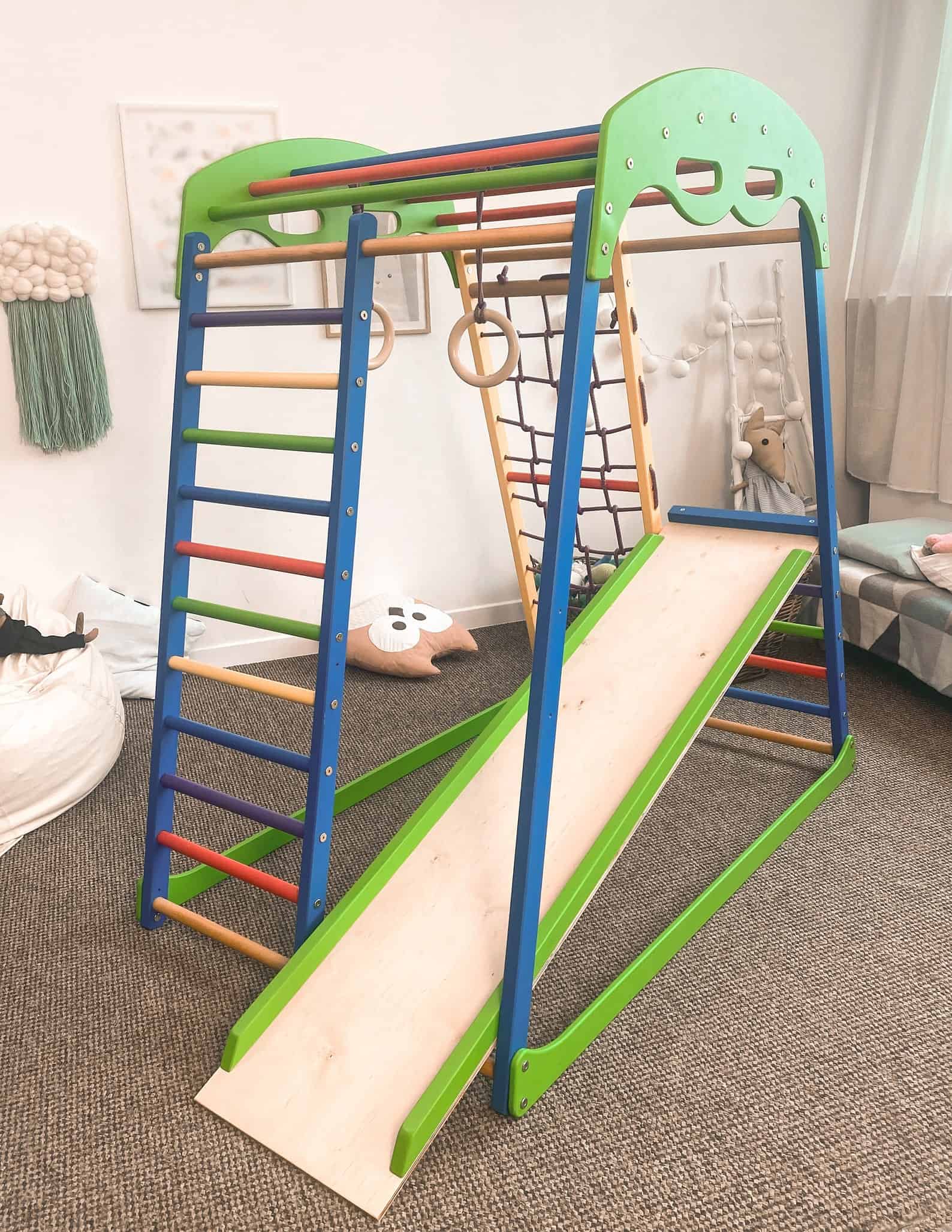 Photo Credit: Etsy
This children's playground is the perfect spot to take your toddler. It has different pieces that can change into other things, like climbing Swedish ladders and rings! The jungle gym is large enough to accommodate 2-3 kids so it's a great way to spend time with other playmates!
Fun Facts:
Safe and secure environment for your toddler

Unique play pieces that change into different games like Swedish ladders and rings

Made of eco-friendly beech wood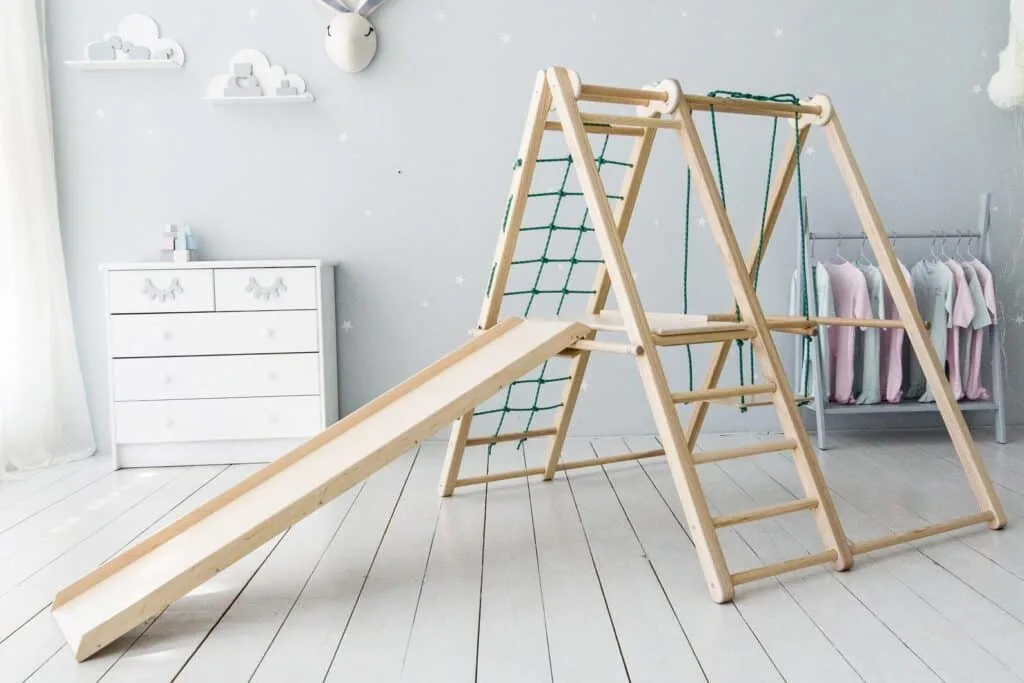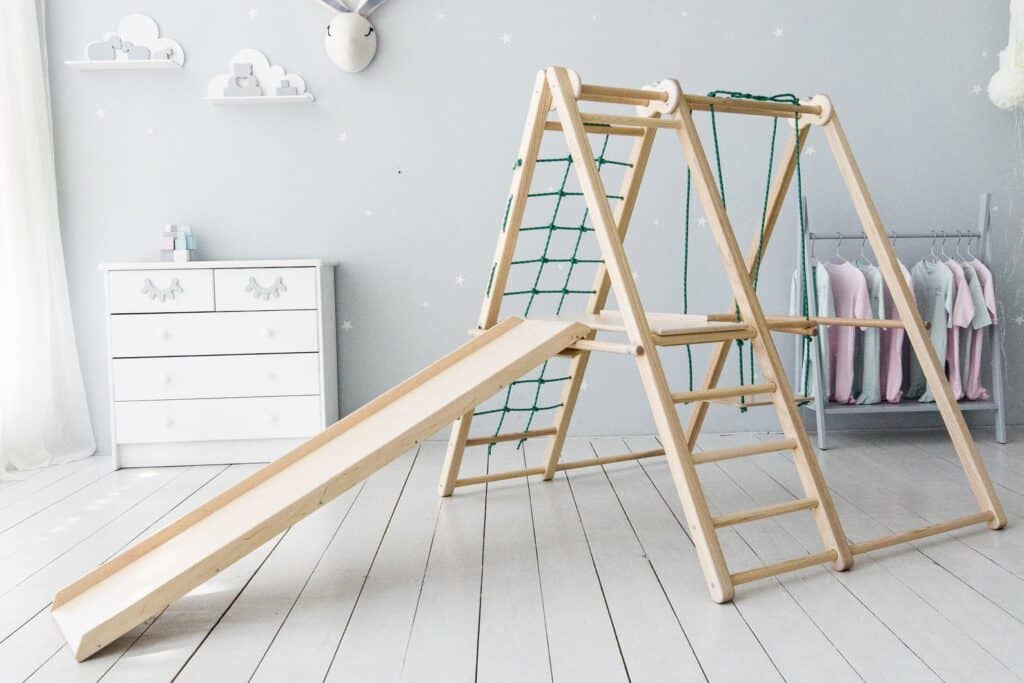 Photo Credit: Etsy
The EZPlay Panda is the ultimate children's indoor playground. It can be assembled in less than 1 minute and will keep your little one happy for hours. The 5-in1 design includes both a rope ladder as well as wooden ones, so it does have something that every child wants–and needs!
Fun Facts:
Save time by assembling in less than 1 minute

Made of splinter-free ash wood construction

5-in-1 design has something for everyone, including more rope ladders and wooden ones!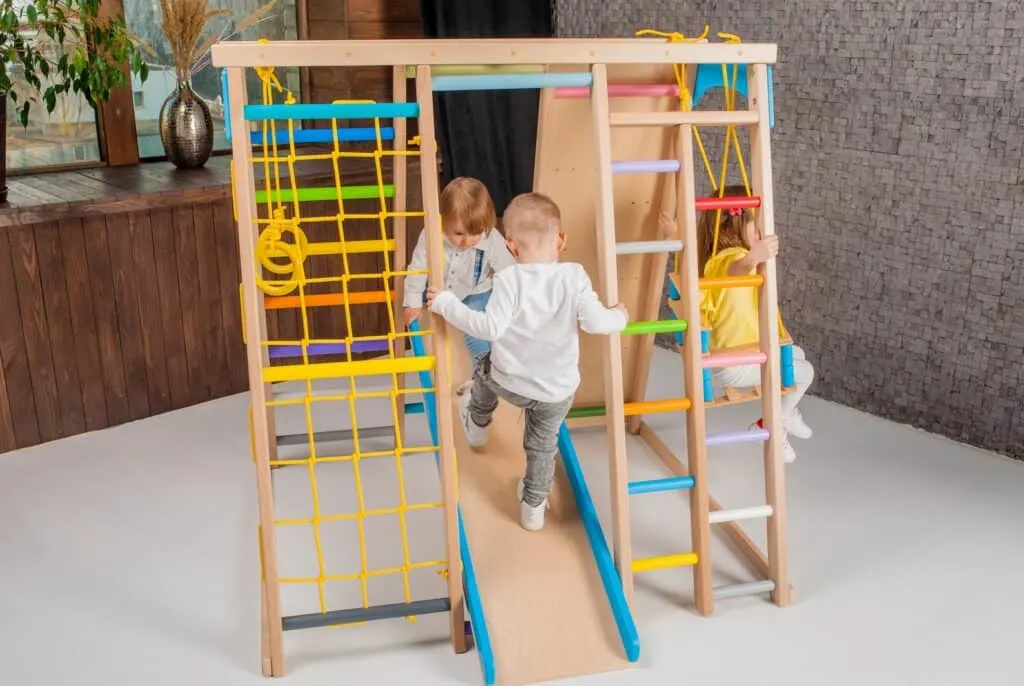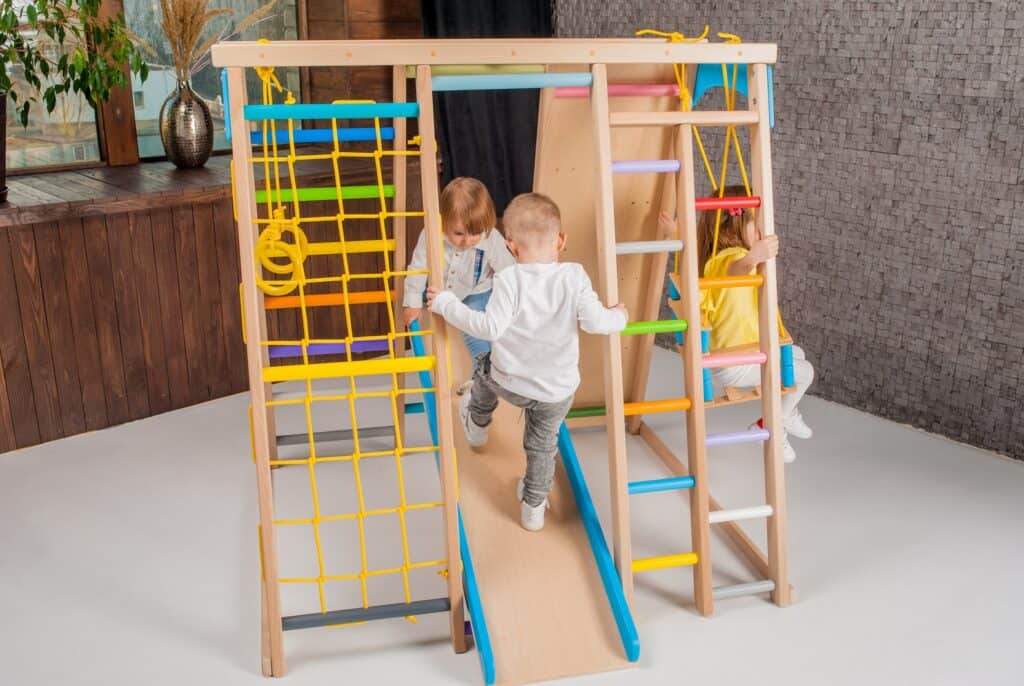 Photo Credit: Etsy
This climbing wall is perfect for kids! It can hold up to 3-5 children and still not break. Plus, the fun features mean there's no need for outdoor play in bad weather because it will keep your kids safe indoors while letting them have some imaginative freedom outside of their safety net with age-appropriate challenges that are both educational as well as exciting. Play features include:-slide
-rings
-swing
-rock climbing wall
-wooden ladder
-monkey bars
-net ladder
Fun Facts:
The ultimate indoor activity for kids

Safe, stable and durable and made of solid beech wood.

Suitable for ages 1-6 years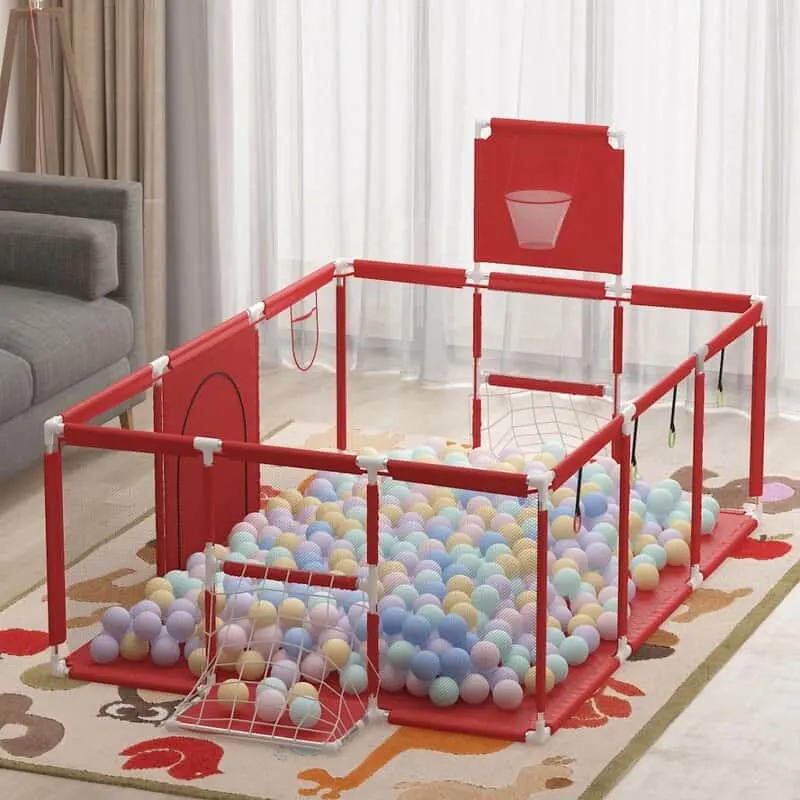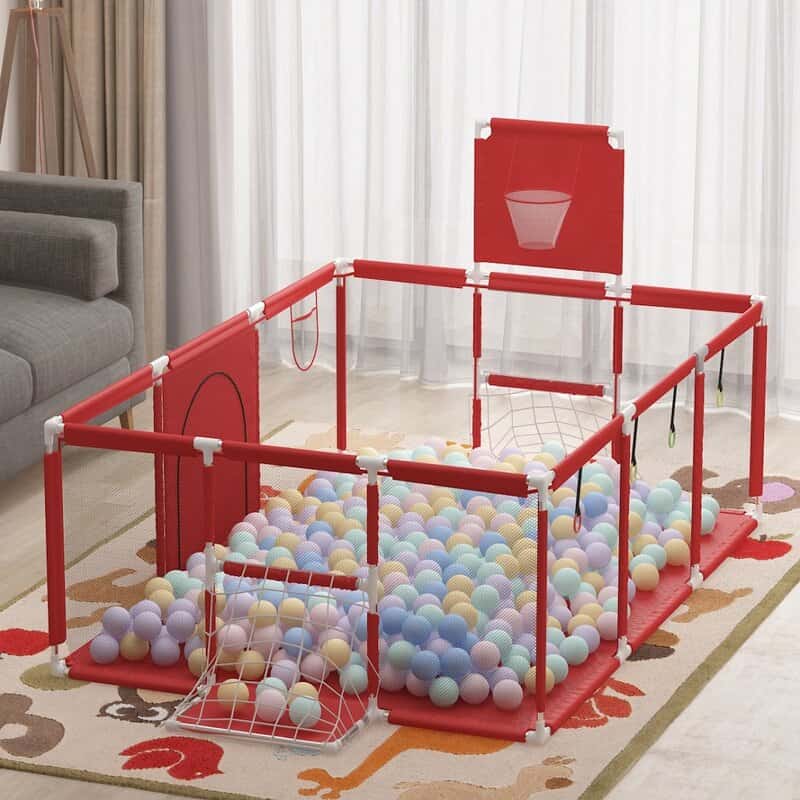 Photo Credit: Wayfair
This playpen is a great way for your toddler to have fun and stay entertained while keeping safe. The basketball hoop is a fun addition to get babies learning hand-eye coordination as early as possible.
Fun Facts:
Breathable mesh allows you to see baby safely

Tubes are made of high quality stainless steel

Roomy size for a toddler to have fun and play without getting into trouble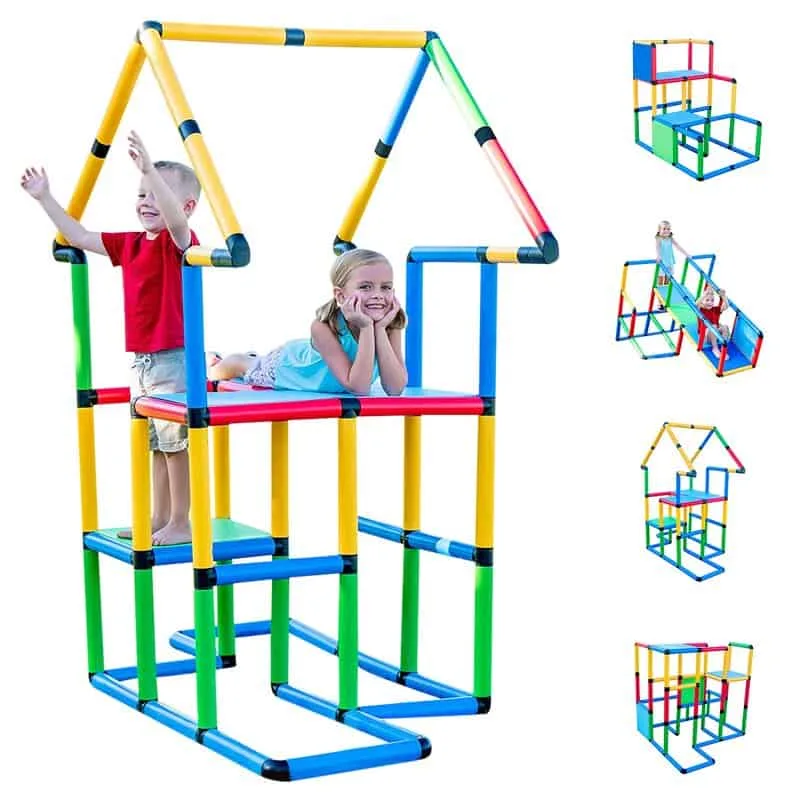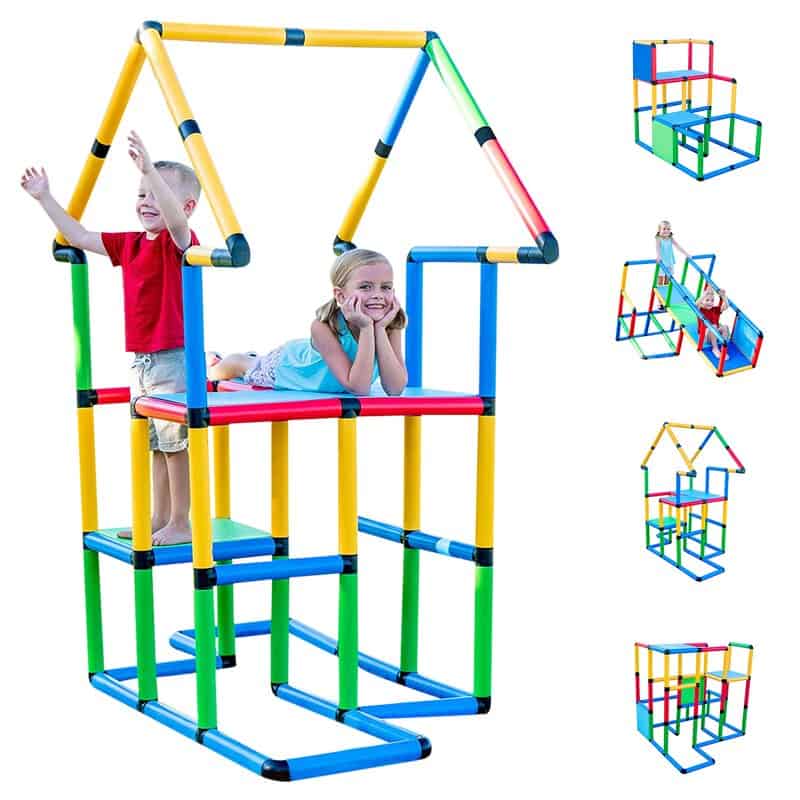 Photo Credit: Wayfair
This climber is a self-built play structure and it's truly amazing. Assists with teamwork, hand-eye coordination, gross motor skills and physical play on your own designed play structure! Your kids will soon be serious construction designers, analysts, and planners. The kids can then climb, slide, and play imaginatively for hours on the self-built play structure.
Fun Facts:
Great for kid age 2-12

Easy setup with lots of building possibilities

296 pieces, including connectors, tubes, panels, keys, screws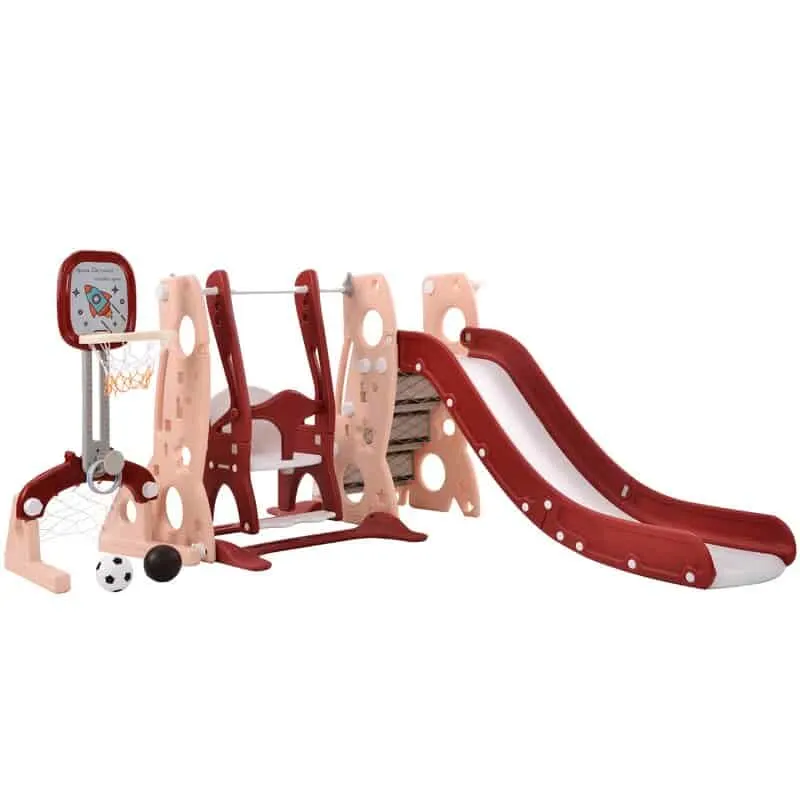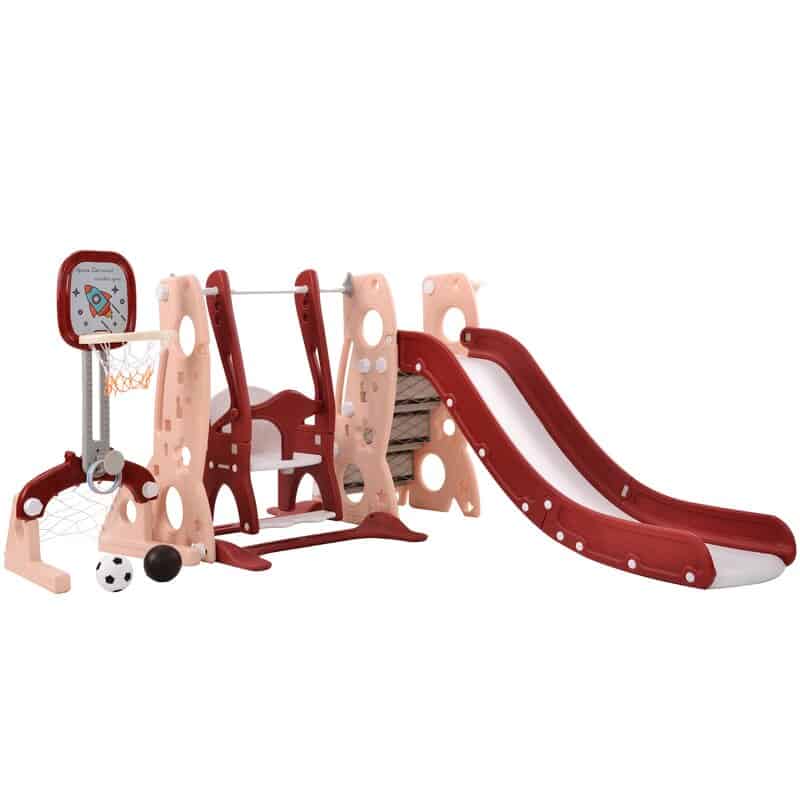 Photo Credit: Wayfair
This 4-in1 swing set is the perfect gift! It has a slide, basketball hoops, and one football gate. There are also four rings that your little one can jump around in or just hang out at while you enjoy some time with them; it's not too hard for those of us who might want independence as children grow up – but now we don't have to worry about self-sufficiency because this baby does everything themselves without any help from mommy (or daddy).
Fun Facts:
Multiple activities in one

Swing is adjustable

Safe Sturdy Structure with ASTM Certificated Material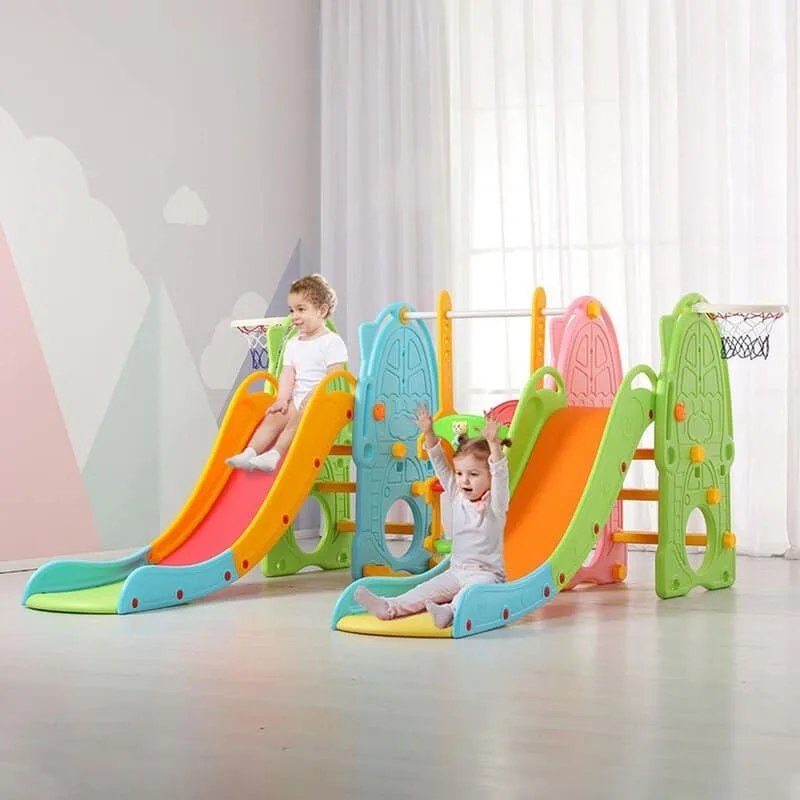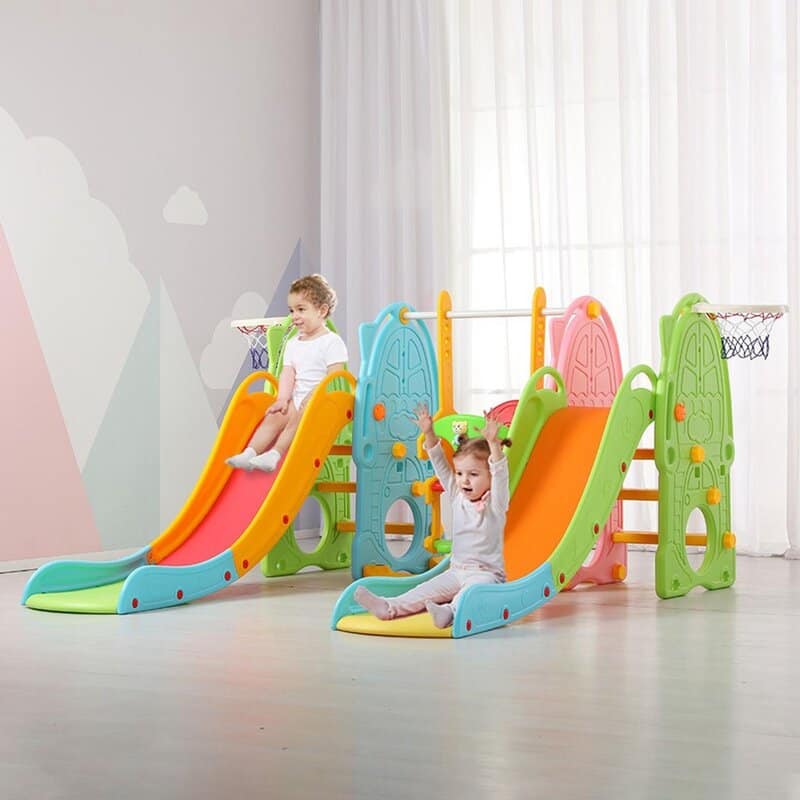 Photo Credit: Wayfair
This 3-in1 set can be used for slide, swing, or shoot. The box is made of durable material so it's safe to touch even if you have young kids in the house because this will entertain them while they play inside with their new fun item! It also comes equipped with many colors on its surface which makes playing super fun and colorful for kids.
Fun Facts:
It's 3 in 1 which means it's versatile for play

The slide offers a gentle slope for little ones

Made for indoor and outdoor use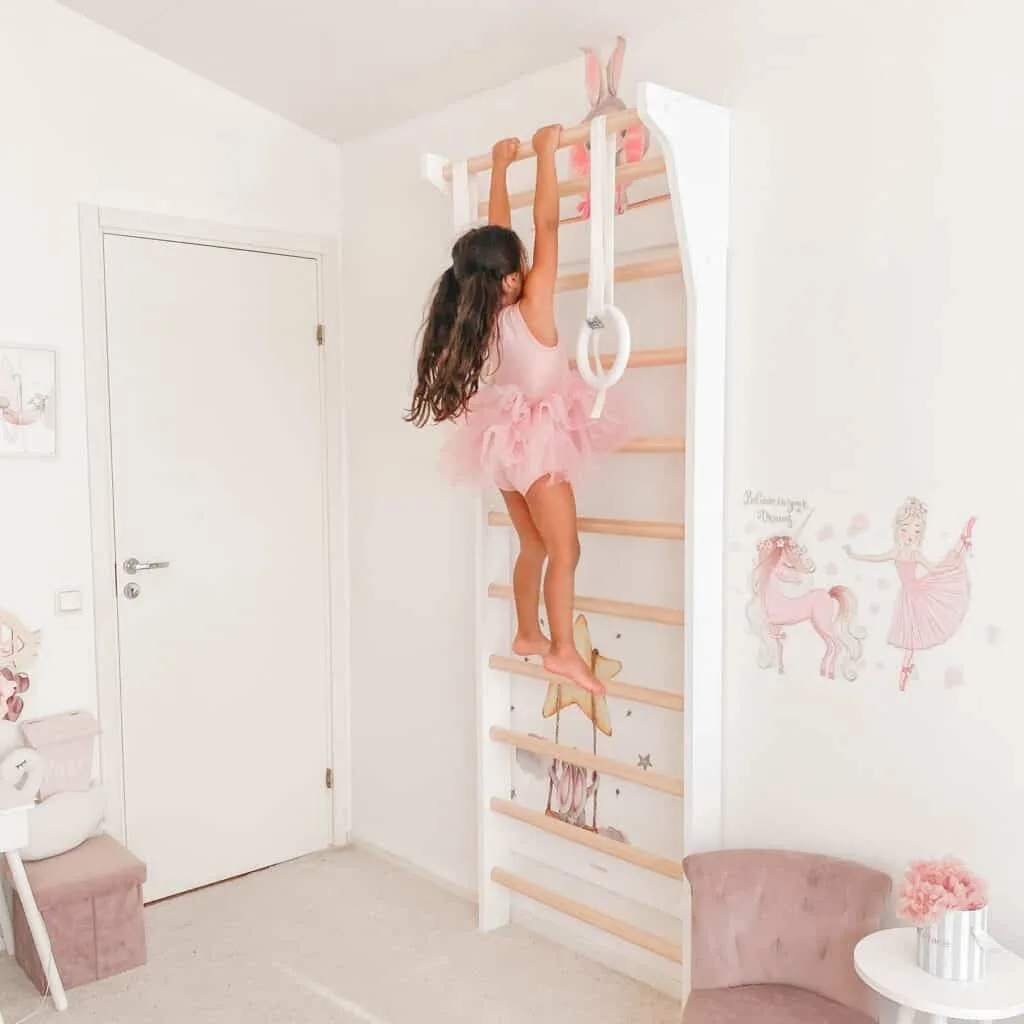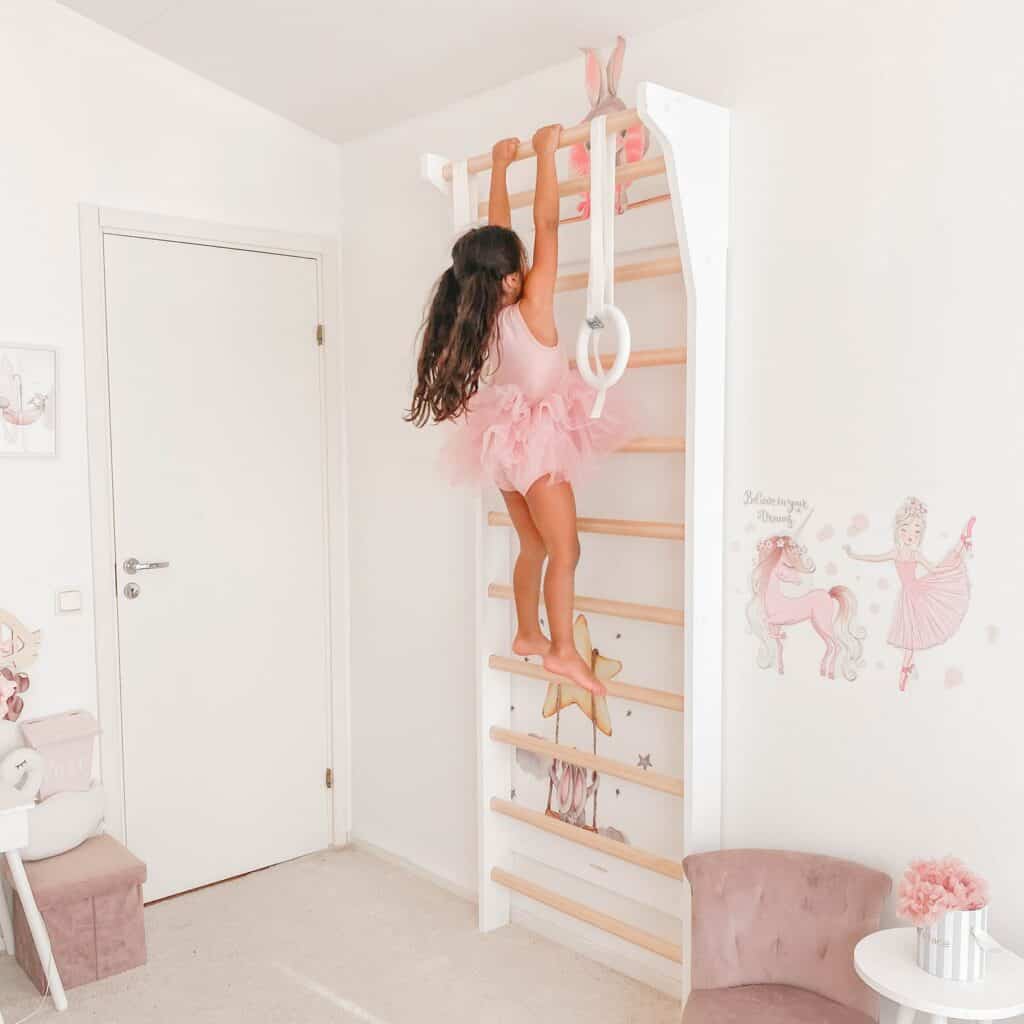 Photo Credit: Etsy
This set is a good way to get your kids exercising and building upper body strength. Its vertical design makes it unique and saves space even for small rooms. Even though wall bar workouts may seem like fun because of all the things that can be done on them (like slide-adders), don't let your child's age keep him or her from doing this type of exercise routine correctly – it is safe even while growing up too fast these days!
Fun Facts:
Promotes strength-building exercises

Designed in Finland and created in the EU

Made of birch wood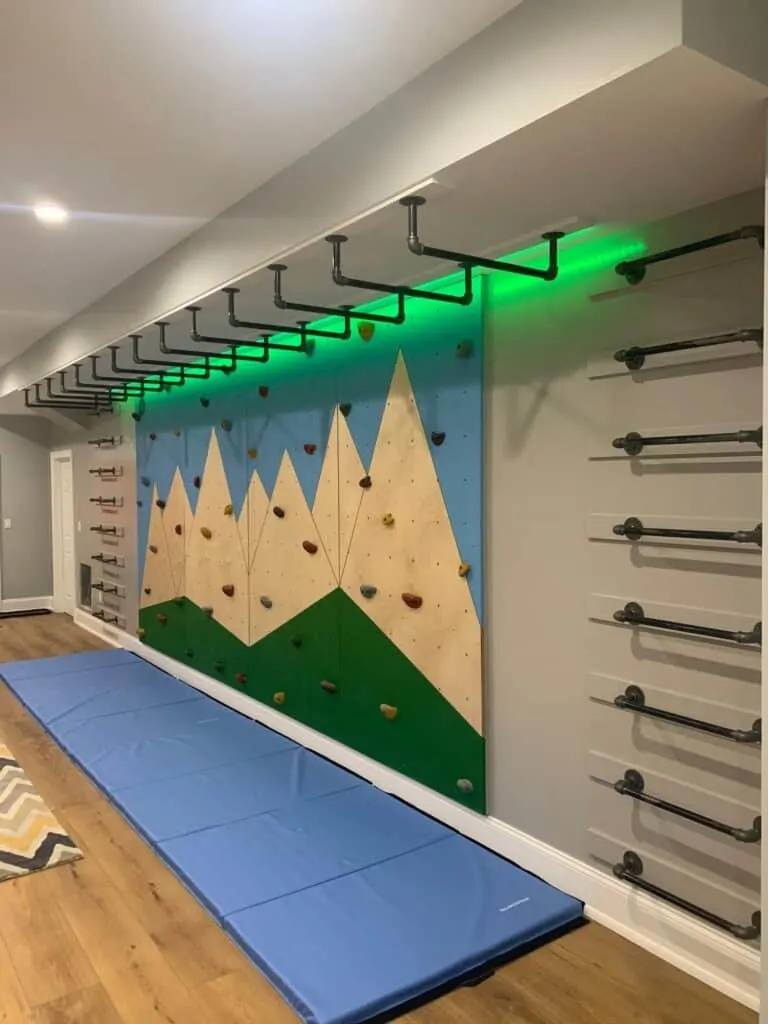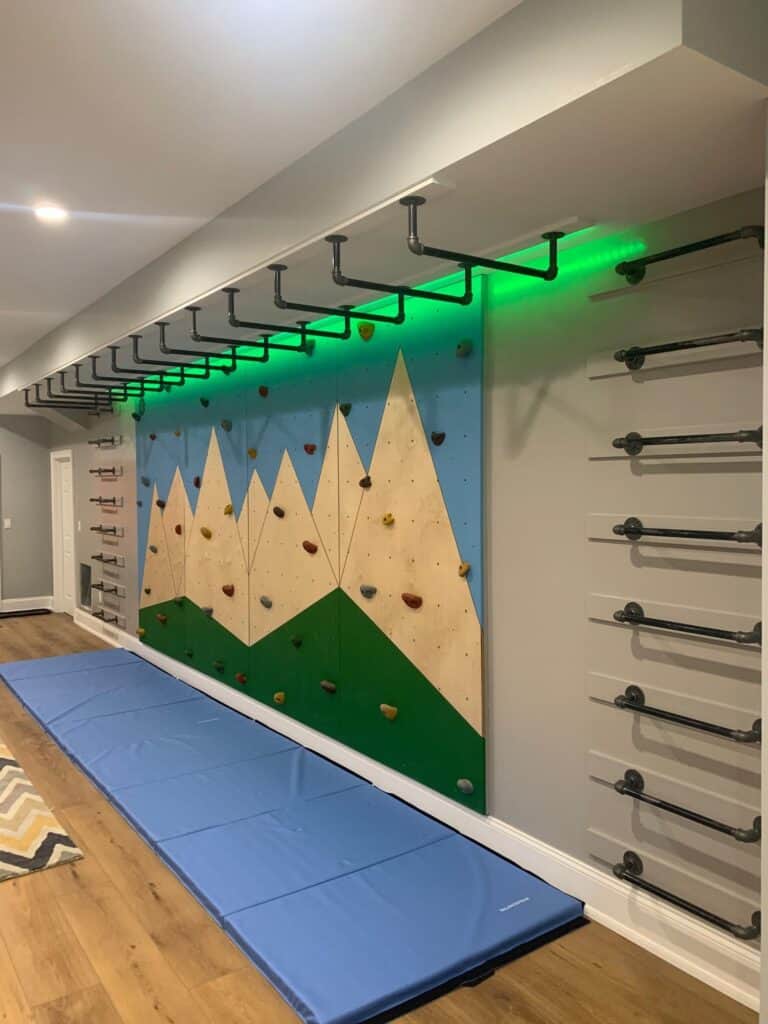 Photo Credit: Etsy
These heavy-duty bars from Schmidtfer Homes can be used by children and even adults as they go up to 200 lbs. It's a great investment in your family's health and with the selection, your little ones will get an awesome home play gym to play on the monkey bars anytime they like.
Fun Facts:
Builds core strength

Made with 1/2″ or 3/4″ steel pipe.

Can be enjoyed by all ages up to 200lbs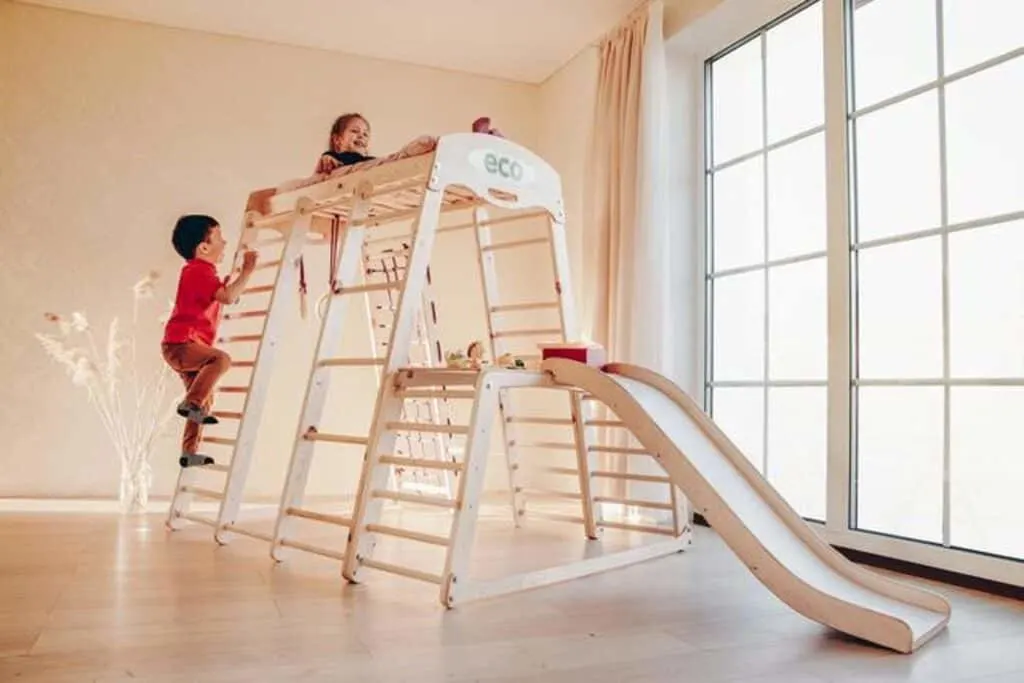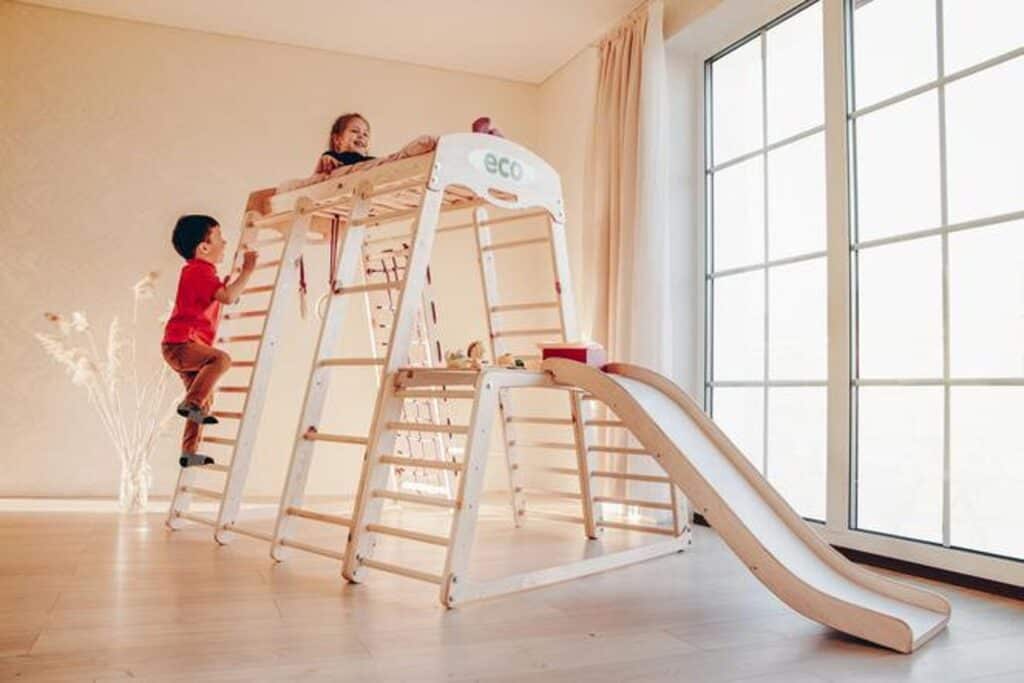 Photo Credit: Etsy
The Indoor Playground is a place where kids can have fun and spend their time. They will learn new skills like balance, coordination, or gross motor ability! Have fun swinging, climbing the wooden ladder, and slipping down the slide.
Fun Facts:
Provides a safe place to play indoors and is freestanding

Promotes balance, coordination, and gross motor skills

For ages 1 year up and up to 60kg weight
Indoor play gyms provide an essential outlet for kids who are looking to stay in and let off steam. These indoor playgrounds give children somewhere safe, yet stimulating where they can burn through their excess energy without worrying about traveling much this year!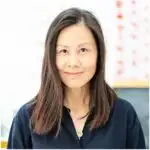 Agnes Hsu is a mom of three and has been inspiring parents and kids to get creative with easy activities and family friendly recipes for over 10 years. She shares her love for creative play and kids food to her 2MM+ followers online. Agnes' commitment to playful learning and kindness has not only raised funds for charity but also earned features in prestigious nationwide publications.