We all know kids love to build forts out of practically anything they can get their hands on – cushions, pillows, blankets, to name a few. Here's a fun project for getting your little engineers excited about building a fort, structures or anything they imagine with just a few basic materials. Not only does this DIY stick fort kit encourage structural building skills and geometry, it's just plain fun for lots of open-ended play! Read more to find out how to make your own.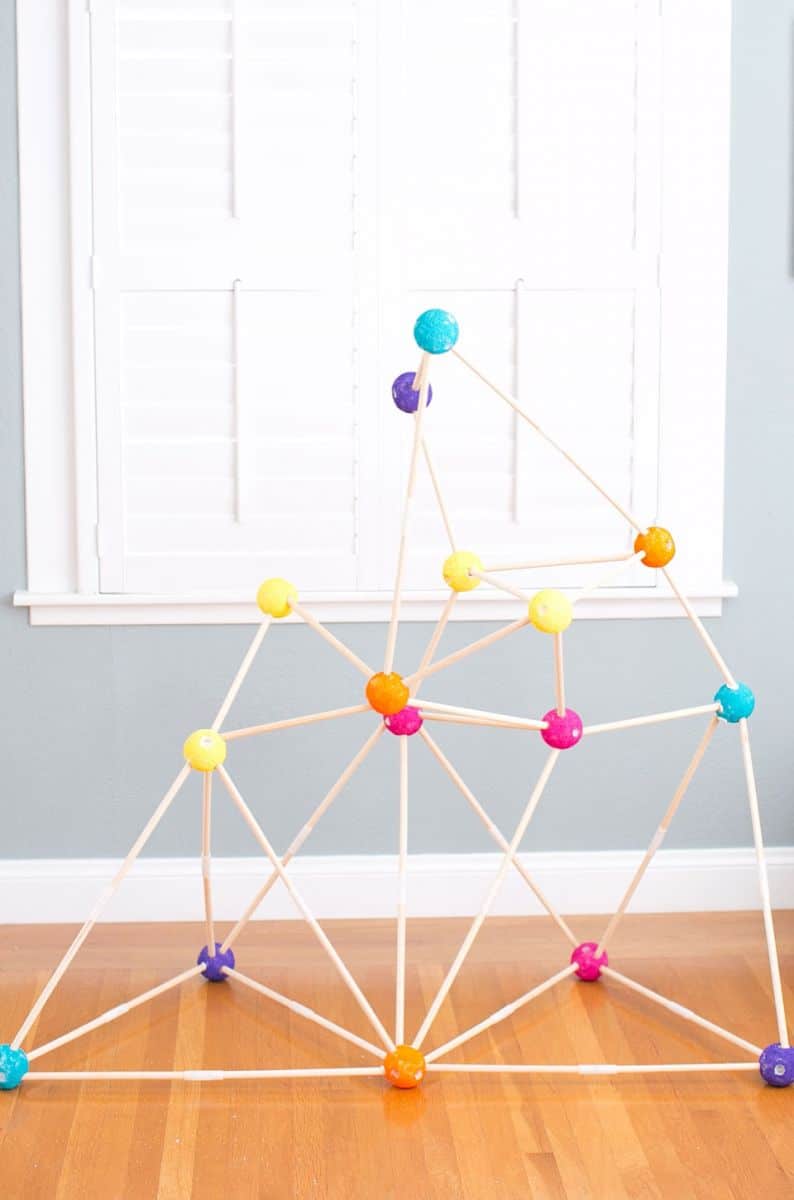 DIY Stick Fort Kit – Materials:
– 12″ dowel sticks like these
– dowel stick connectors
– 3″ styrofoam balls
– Non-stick clay like this
– Paint and brushes (optional)
Steps: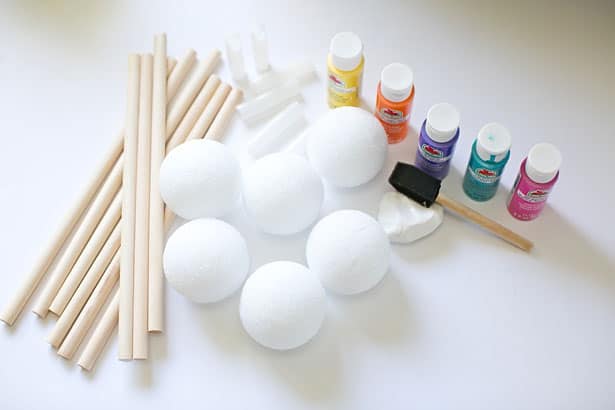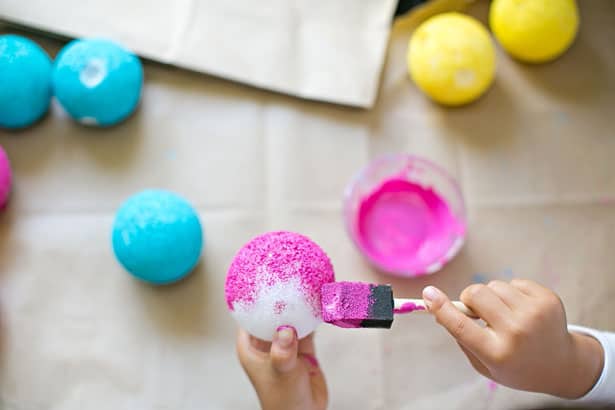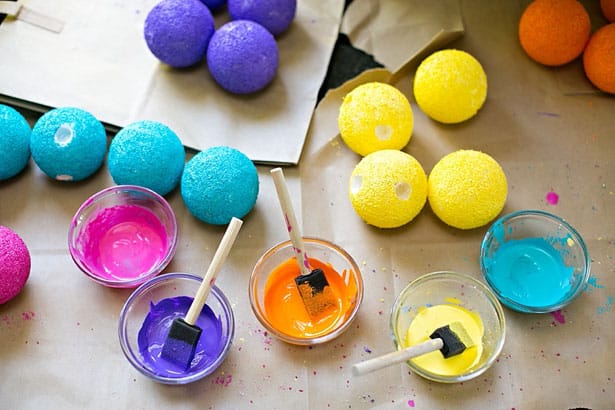 1. If you will be painting the styrofoam balls, lay out paper bags or newspapers, paint and foam brushes. It's not necessary to have the balls painted to build the fort kit, but this was something the kids enjoyed doing which adds a bright pop of color.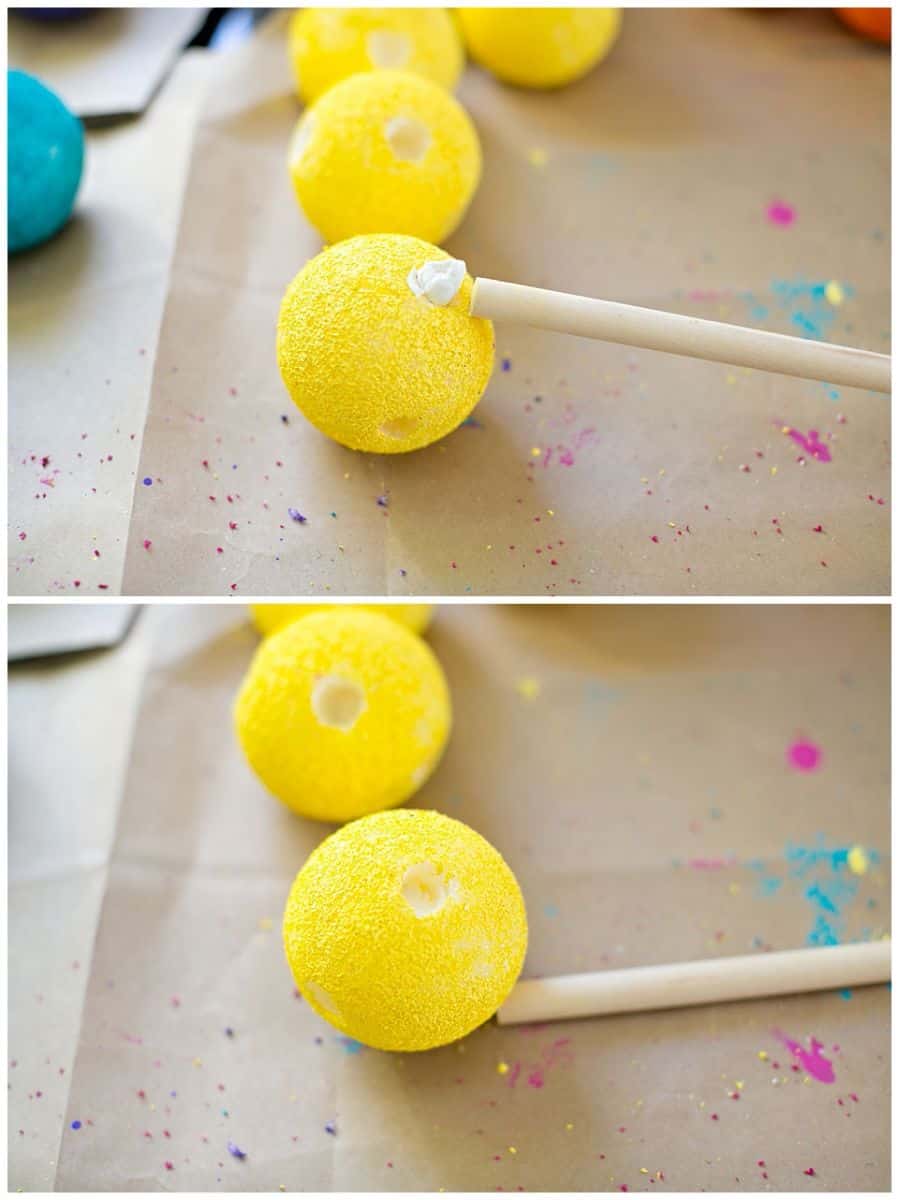 2. Once the paint is fully dried on the balls, you can start connecting the sticks. Here is what we did. You can start by adding 4 holes (piercing a dowel stick to each ball) to have some "pre-drilled" holes. But we found that we ended up piercing holes as we needed.
Here is the trick though – in order for the dowels to "stick" to the balls, we added a bit of clay and pushed the dowels in as we were building (see above photos). This really helped the dowels stay in place and not fall out of the balls. It's important to use a non-crumbly and pliable clay like this which doesn't stick to the dowels as you take them out of the holes.
We have played with this several times on different days. The clay does dry and we do have to place a bit more clay each time to hold the structure in place, but it's not a major bother and you just need a tiny bit. Think of it like adding mortar to bricks.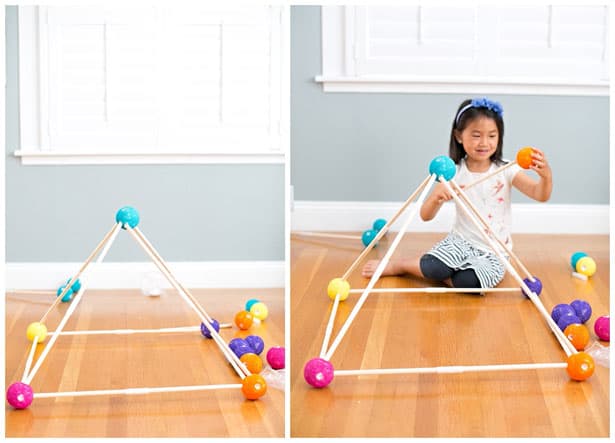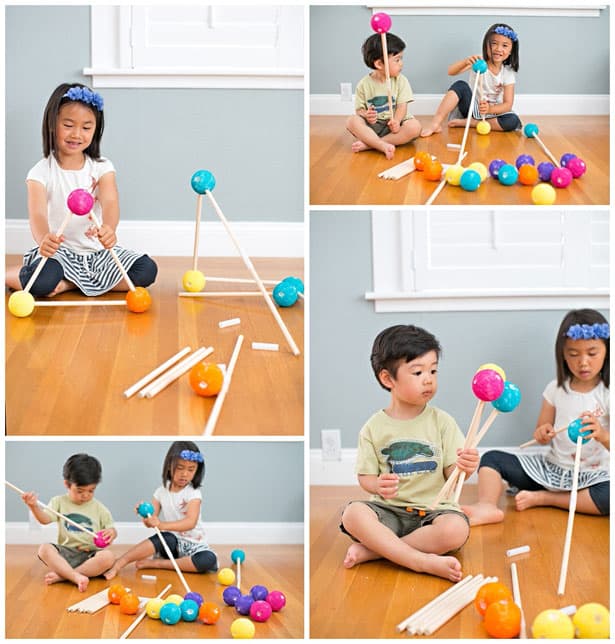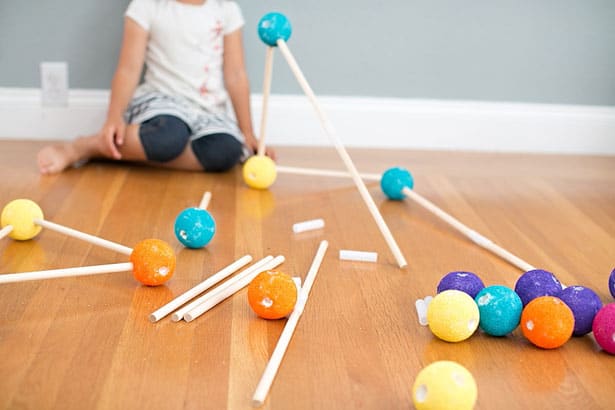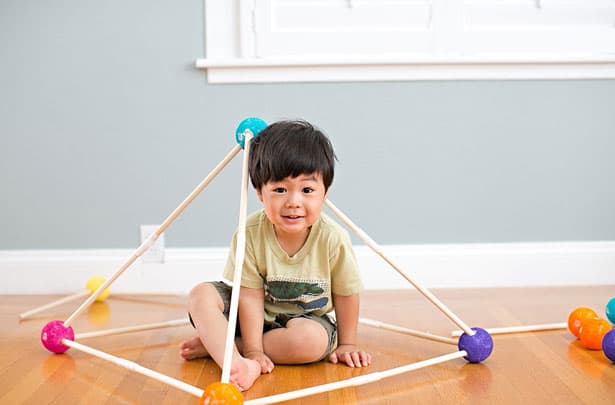 Lay the sticks out and let the kids explore and help guide them through the building process. For example, they found out quickly enough that a "triangle" is more structurally strong than a square base.
The great part about using connecters is that you can connect two 12″ dowels to create a large structure. Or you can make smaller ones without them.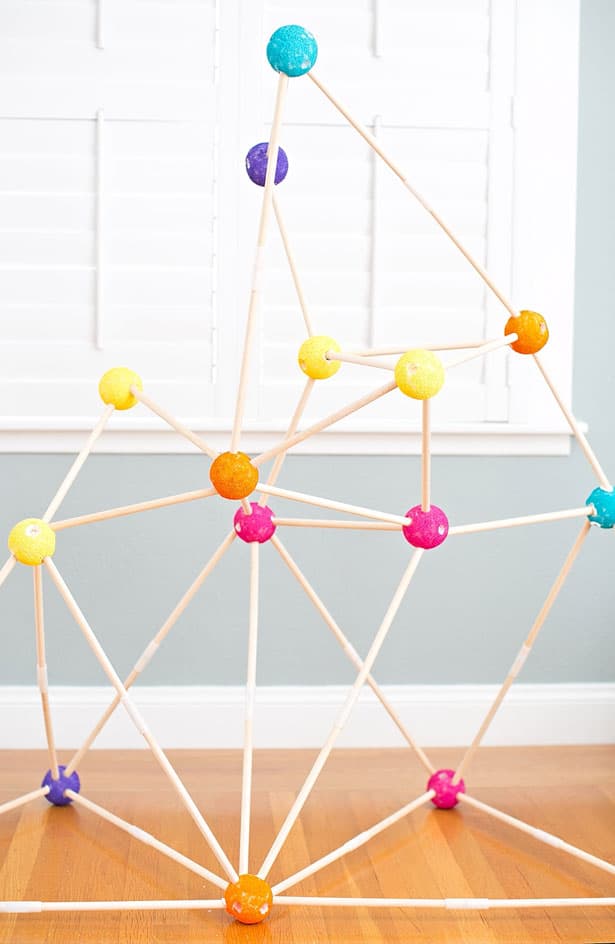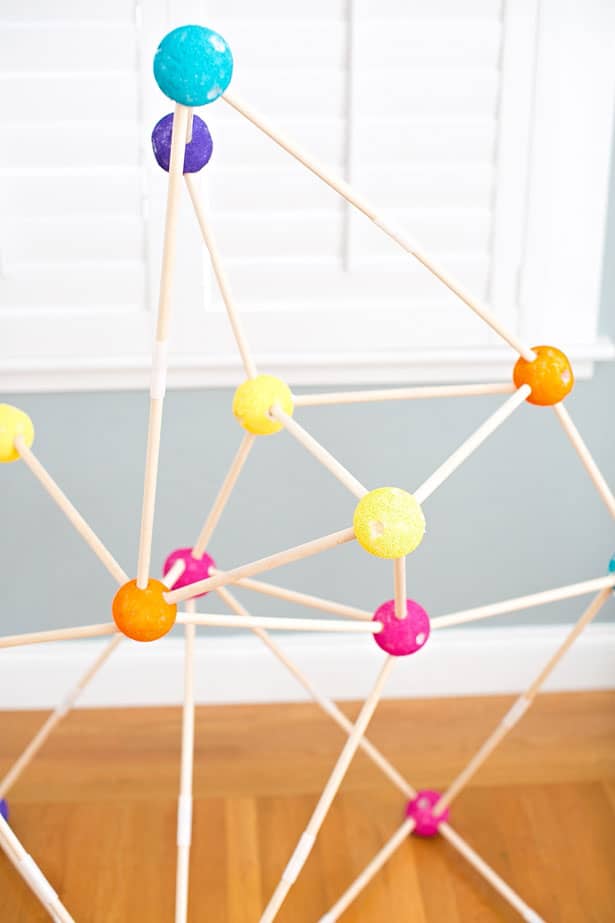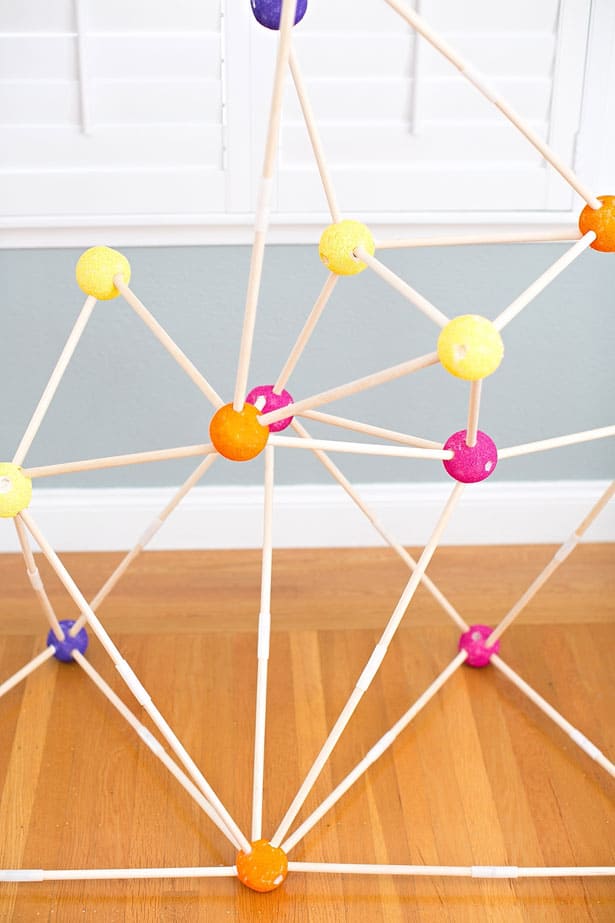 Since the kids are relatively young, this was definitely a joint project between parent and child, but I could see older kids being able to free-hand building structures by themselves.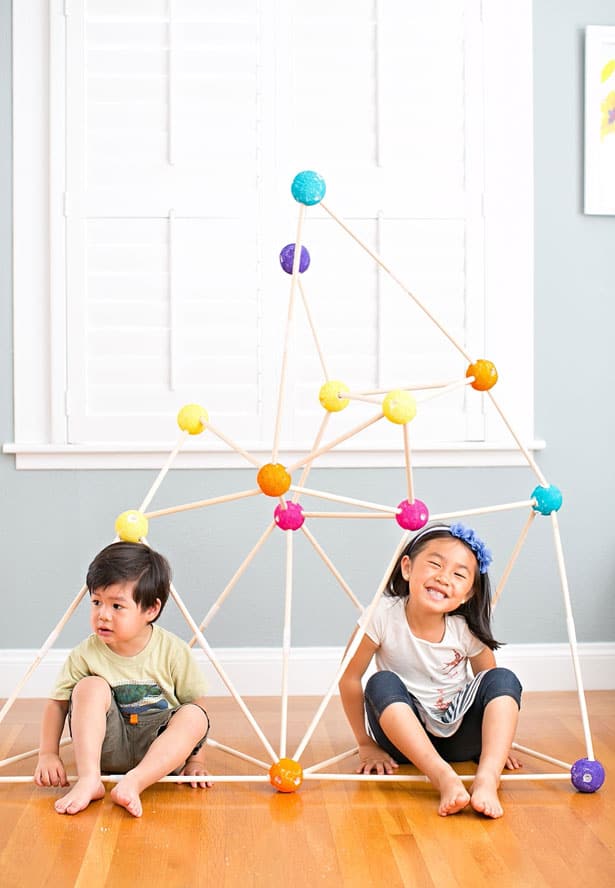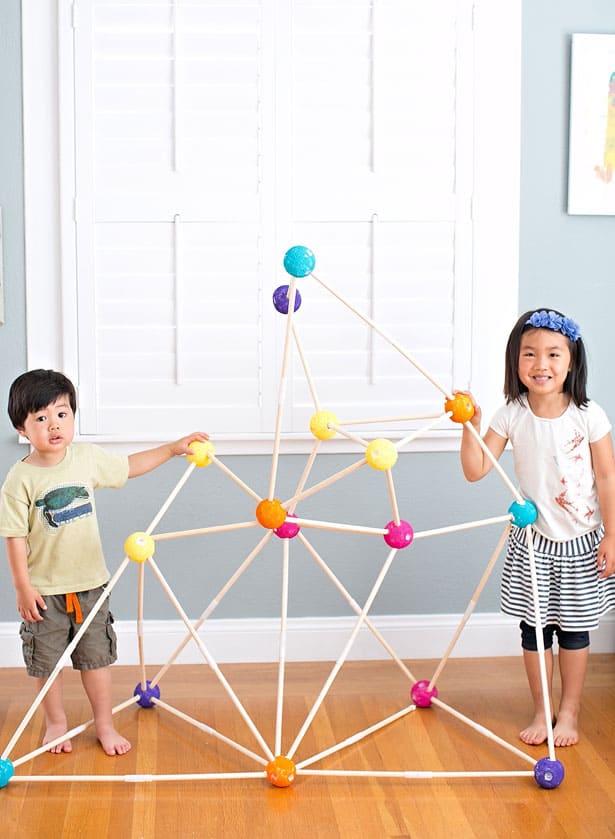 This was fun and easy to put together and pull apart. I like how it can go from big to small depending on what you build and breaks down easily. Although the painted styrofoam balls add a nice pop of color, that was probably the most time time intensive part of the project, so I say skip it and just go straight to building!
What are some ways you encourage building and open-ended play with your kids?
Also see:
12 Brilliant DIY Engineering Projects For Kids
9 Fun Ways to Play With Popsicle Sticks
10 Clever Ways to Play with Paper Straws

9 STEM Toys That Make Science Fun