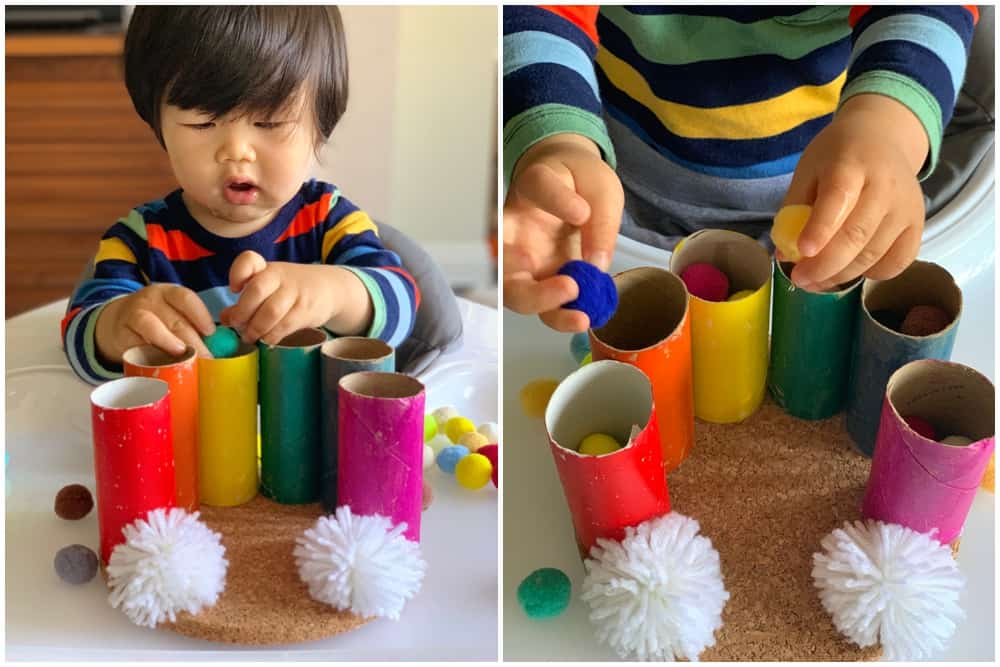 By using this site, you agree to our Terms of Use. This post may contain affiliate links. Read our disclosure policy.
Follow us on Instagram for more fun ideas for kids!
Watch the video below to see this fun Rainbow Pom Pom Drop Activity
in action
.
Make sure to subscribe to our
YouTube channel
for more fun videos!
This Rainbow Pom Pom Drop Activity is a fun fine motor activity for your toddler or preschooler!
In our house, fine motor activities are a big deal. Having a toddler means that little hands are exploring everything and I'm constantly presented with opportunities to teach him and work on various learning objectives.
Sensory play activities can be a great way to help your little one develop their mind and coordination while also fine-tuning their hand-eye coordination as well.
Plus, when you can something that was going to be trash in your house and turn it into a craft, it's just a fun and simple thing to do!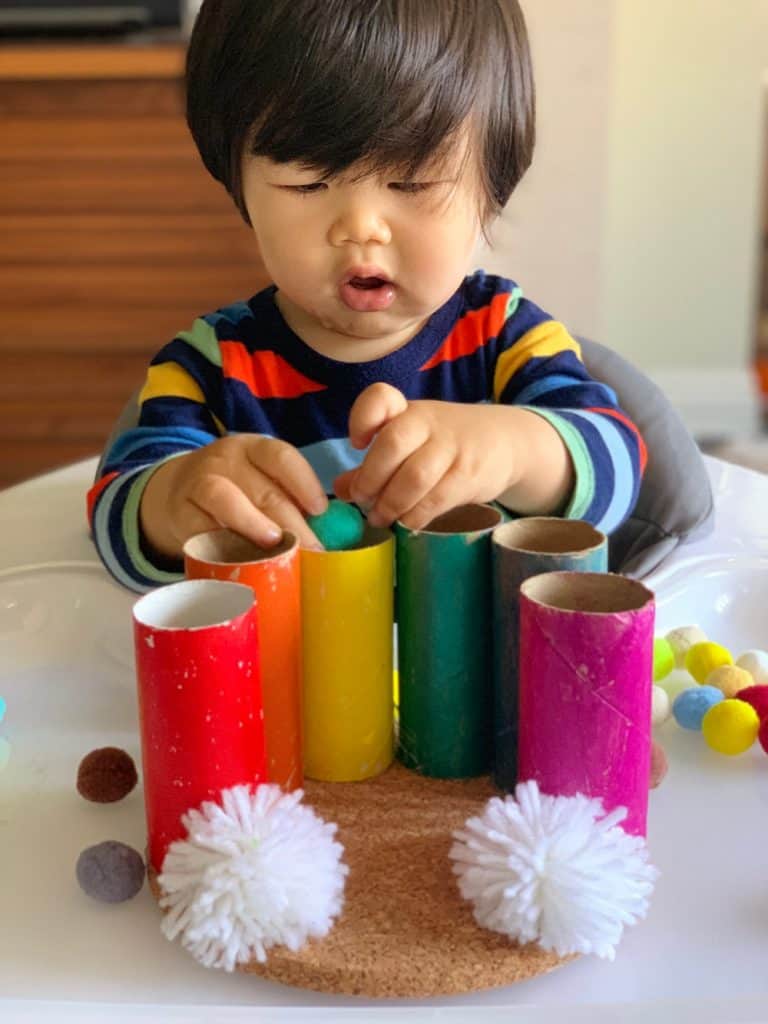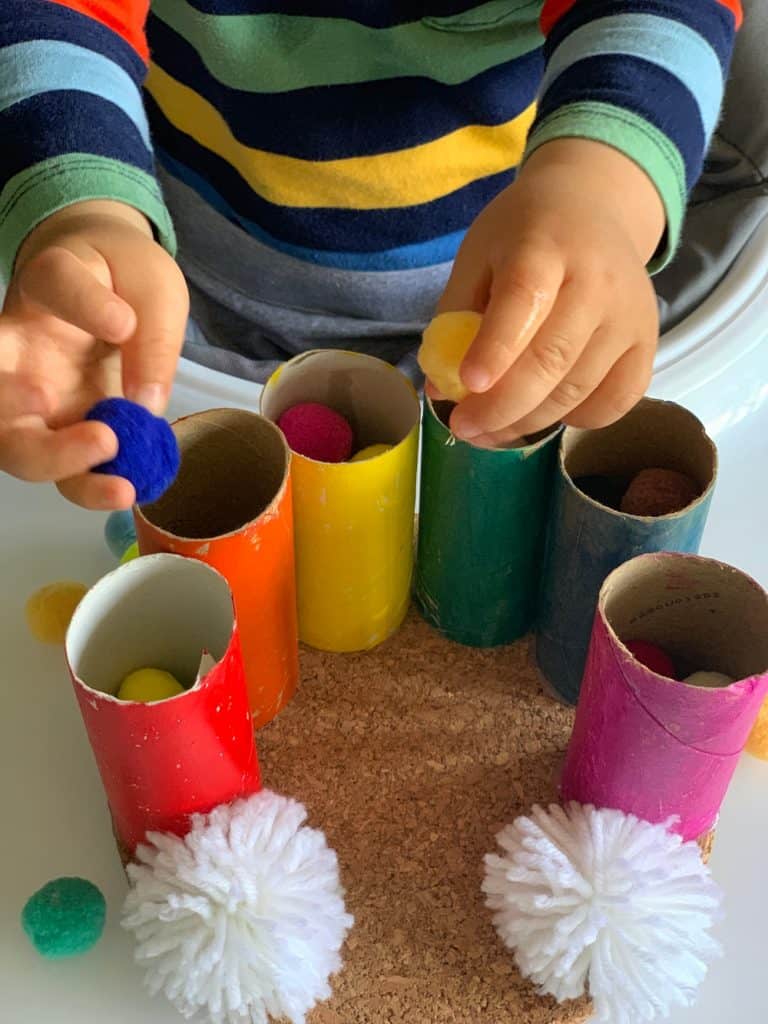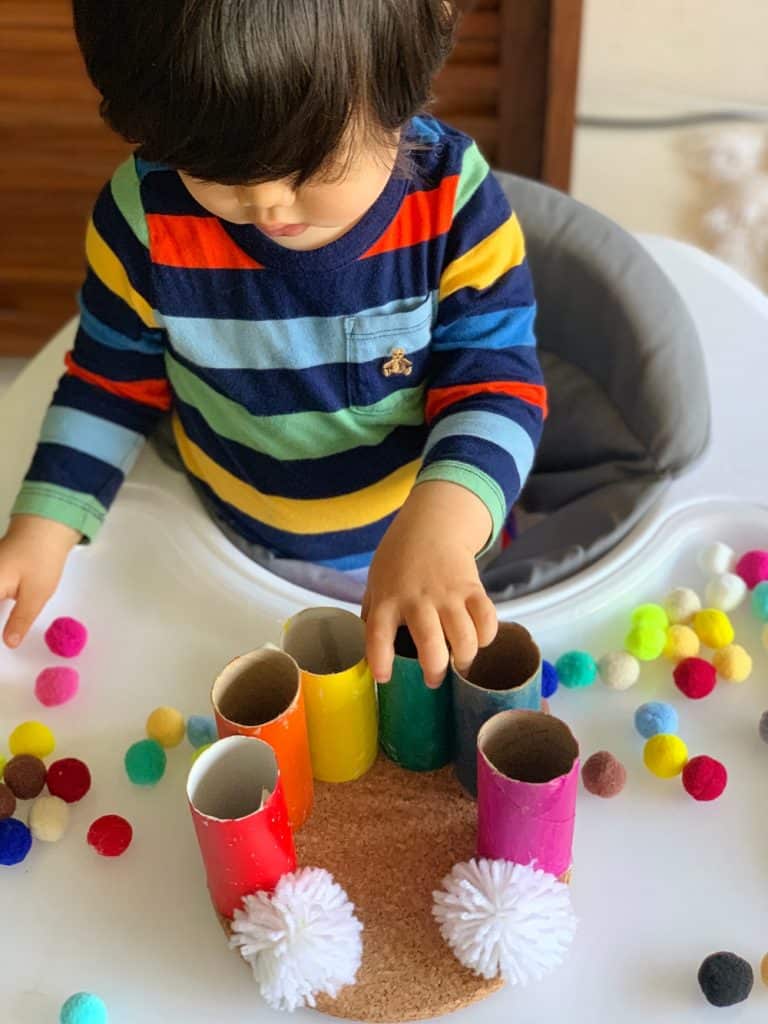 Recycle paper tubes into a fun fine motor skills activity.
The beauty with this DIY toy is that you probably already have all the supplies required.
The main parts of the rainbow are recycled toilet paper tubes. You can paint like we did or wrap rainbow paper around each tube.
We also made some quick yarn clouds out of white yarn, but those are optional. You will need small pom poms of course to drop inside the tubes.
We glued our paper tubes onto a piece of corkboard we had lying around but you can make this activity 100% recyclable by using a piece of round cardboard.
I hope that this toddler activity brings a smile to your little one's face! It's such a fun and colorful creation!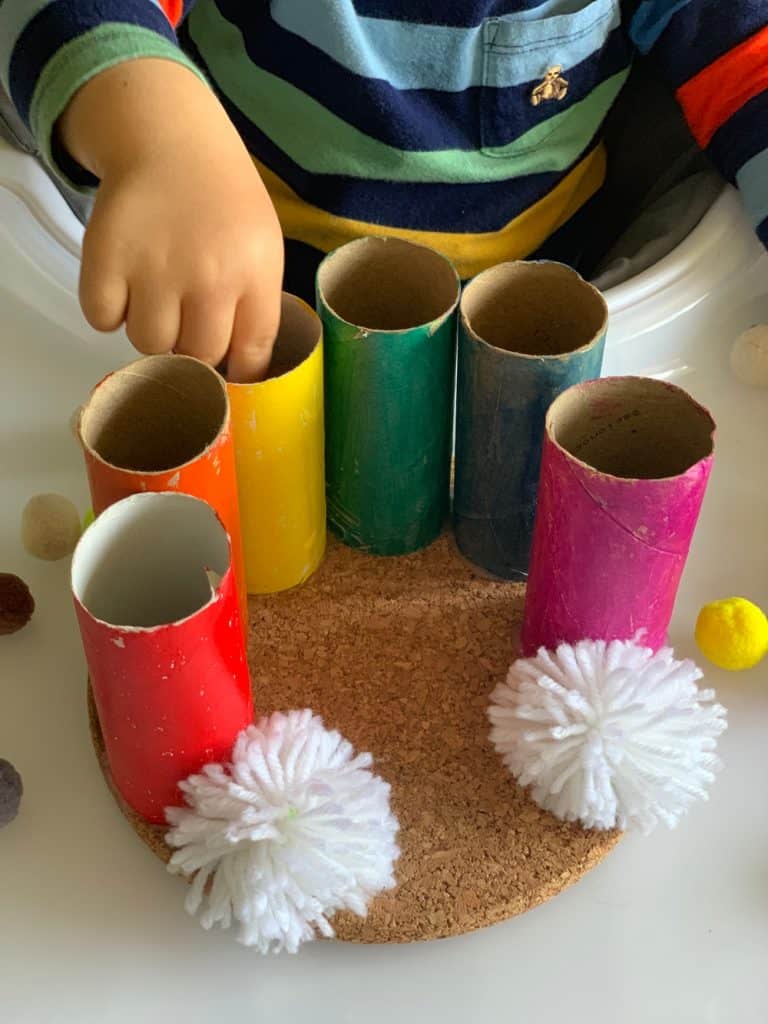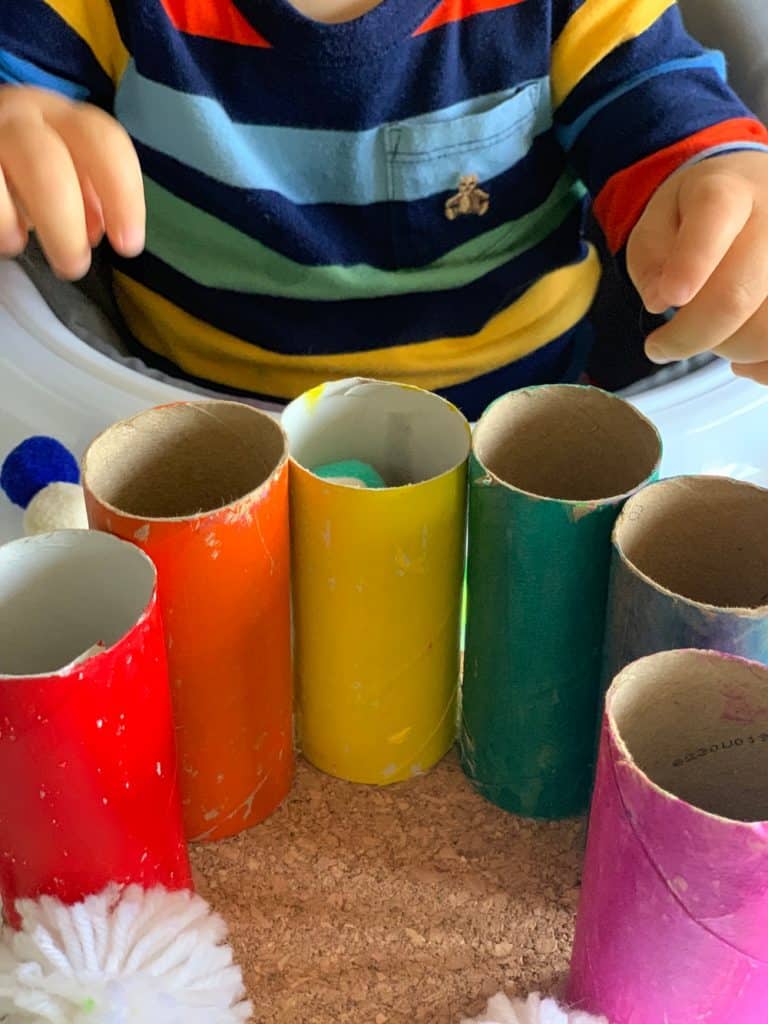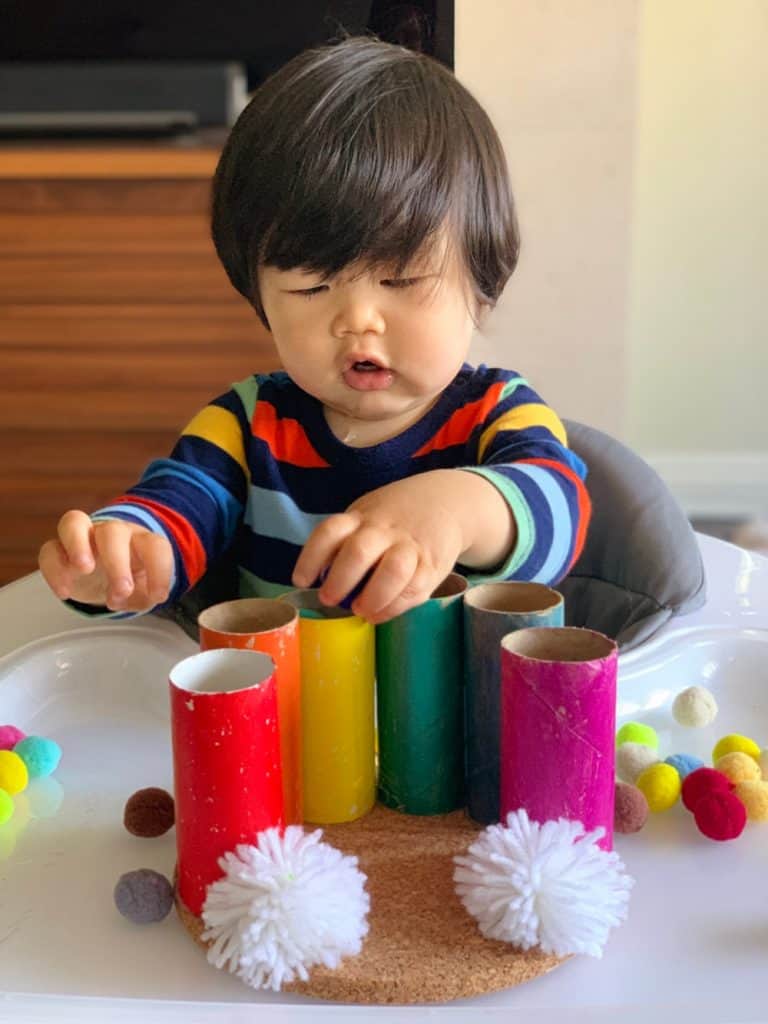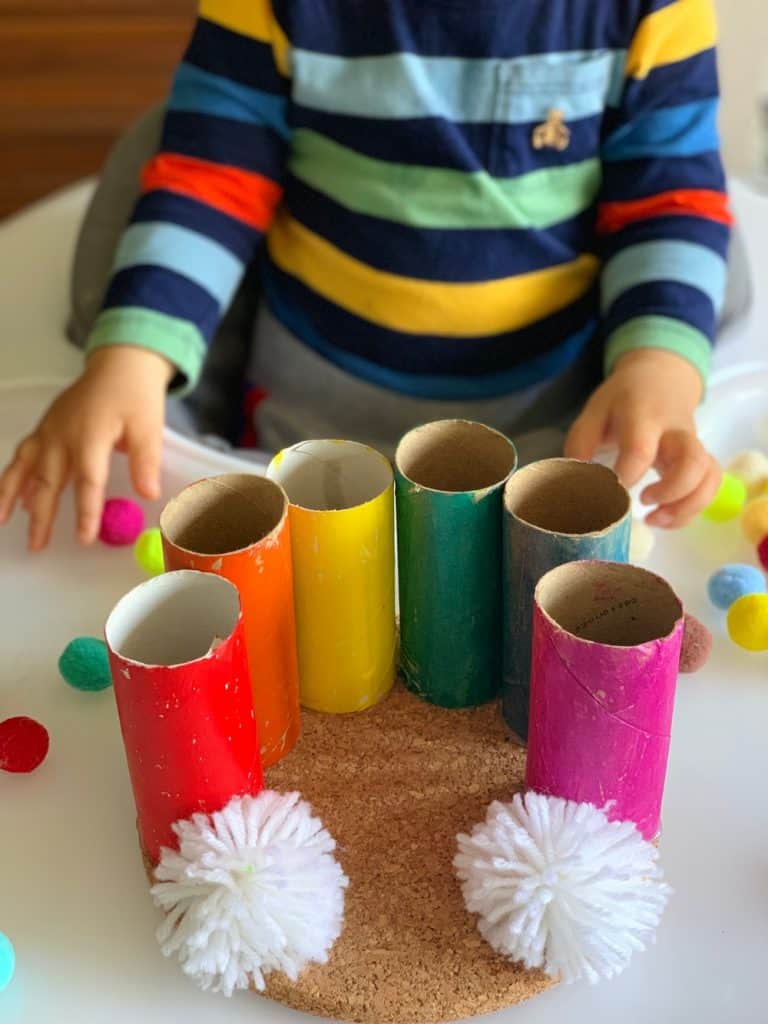 How does this Recycled Toilet Paper Roll Craft help your child develop fine motor skills?
It's actually a great craft for that! Not only are the tubes taller and skinny, but they're also separate from one another as well.
What that means for your toddler is that they're going to have to drop the pom poms down into the tube, then figure out how to get it back out.
And while the whole process might be simple for you and me, it's a process that is going to work the coordination and mind of your child.
Does this cutePom Pom Drop activity help with color recognition?
Yes, it actually can as your toddler continues to grow with the toys. When they are younger, you're focused on grasping the pom poms and adding them inside the tubes.
As they learn colors you can challenge them to drop the right color pom pom into coordinating paper tube. This becomes a fun color matching game for them!
How does this recycled craft help with listening skills in your child?
While you might be using this craft to work on fine motor skills and sensory activities with your child, don't forget about the possibility to teach them about listening as well.
One way to work on listening is to have your child pick up the pom poms and listen to your voice to tell them what color of the tube to drop it into.
Not only are they working on being patient, but they're working on listening to directions as well.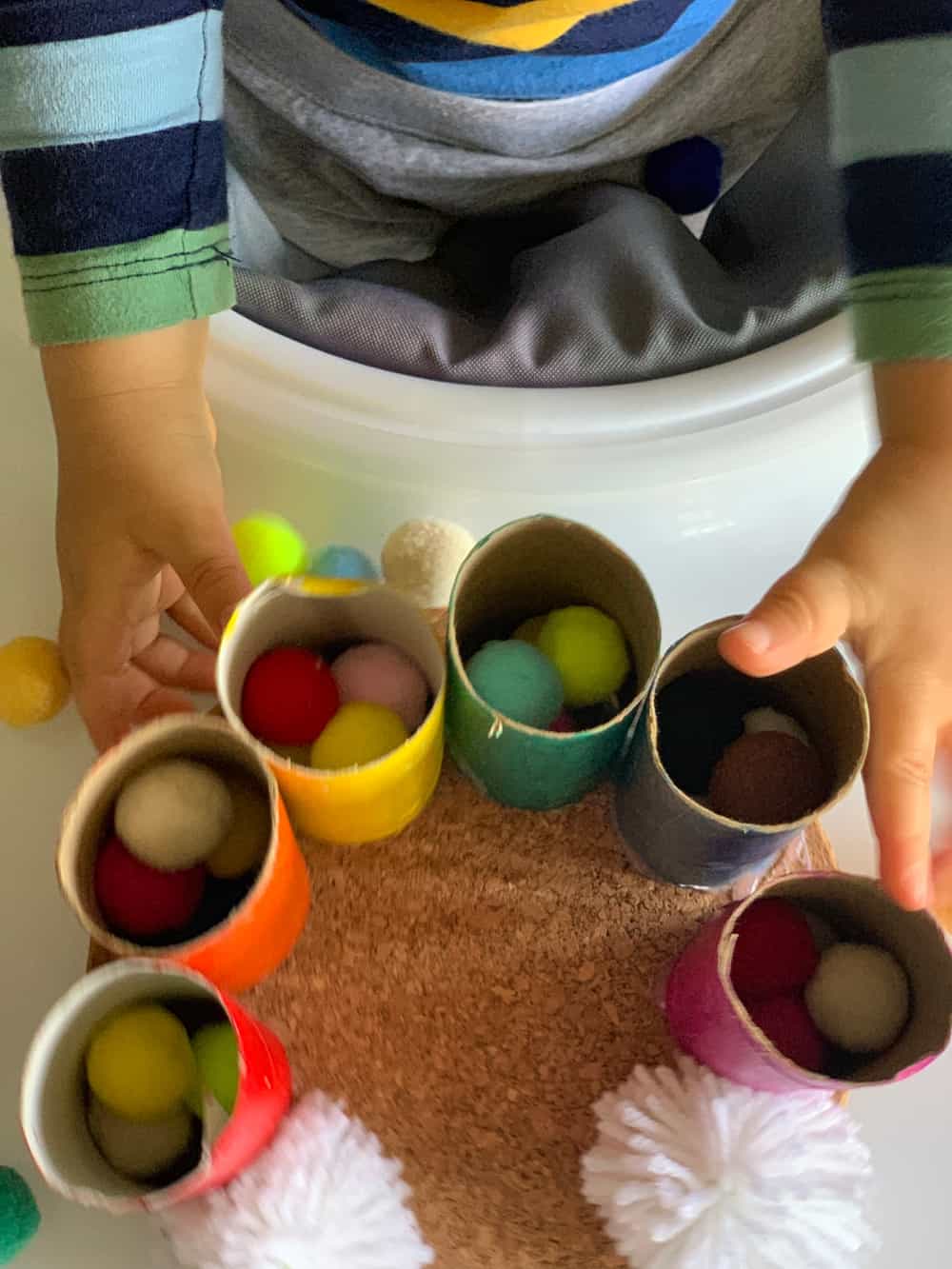 How to set up this Rainbow Pom Pom Drop Activity
It's not overly difficult to set up and you can actually let your child help out as much as you want. You'll just want to have several empty toilet paper rolls, a bit of non-toxic paint and some pom-poms.
You can then either paint the rolls yourself or make it become a fun "messy play" time for your child, too. You can even just wrap c0lored paper and staple or glue!
Paint each toilet paper roll a different color and then let them dry. Once dry, get ready for curious hands to be grabbing and wanting to play!
It's a great activity for toddlers and preschoolers to learn and explore.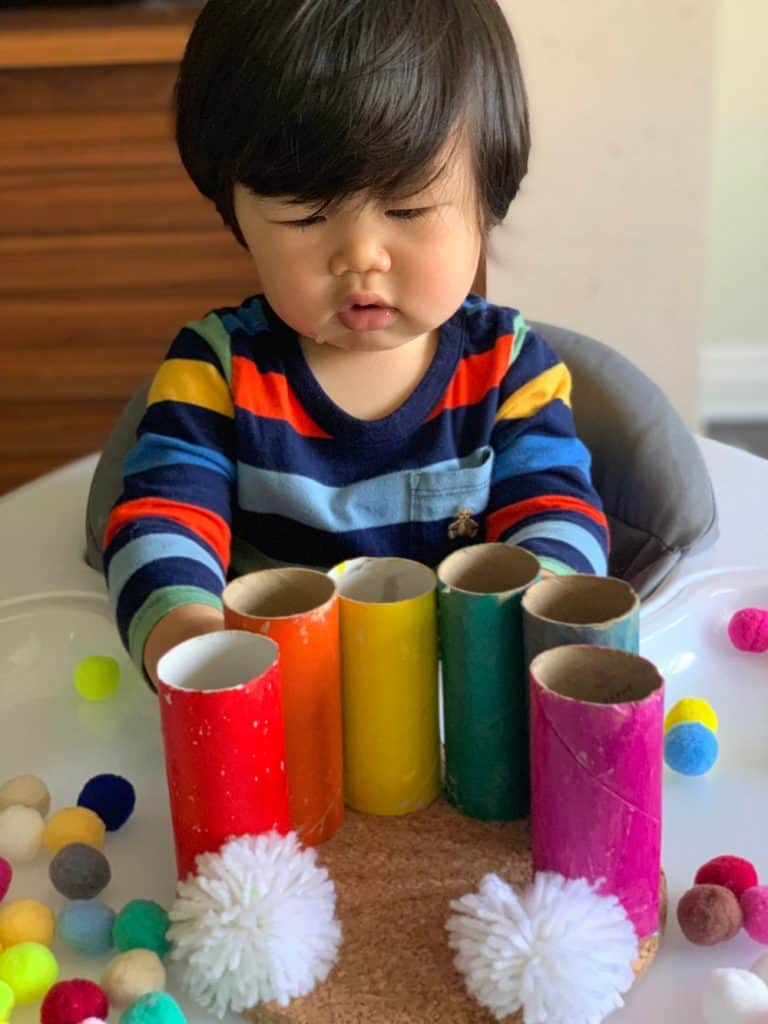 Rainbow Pom Pom Drop Activity – Materials:
empty toilet paper rolls

paint in rainbow colors

paintbrushes

Round cardboard or cork base

White yarn to make pom pom clouds (optional)

**Always supervise baby and toddler activities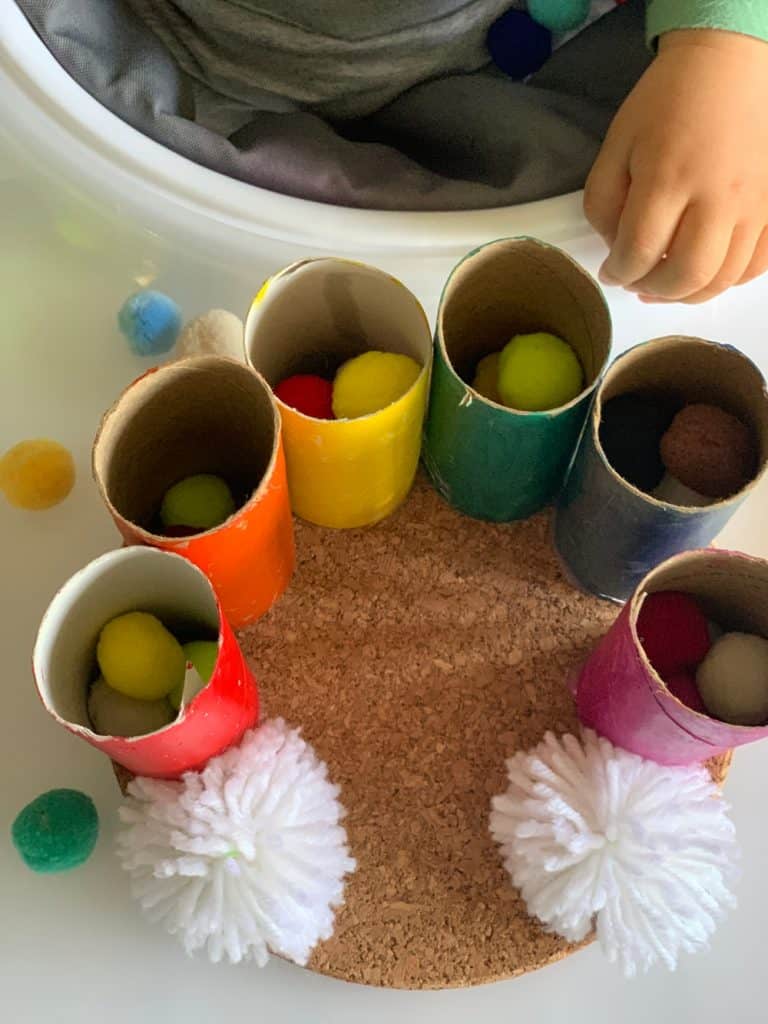 Yield: This Rainbow Pom Pom Drop Activity
RAINBOW POM POM DROP ACTIVITY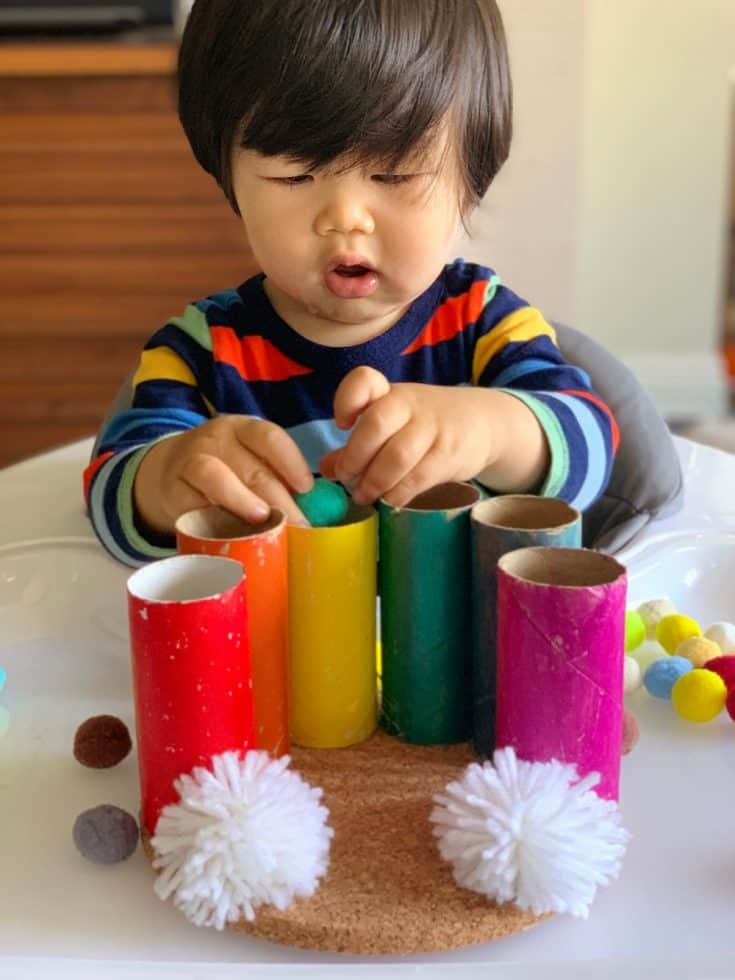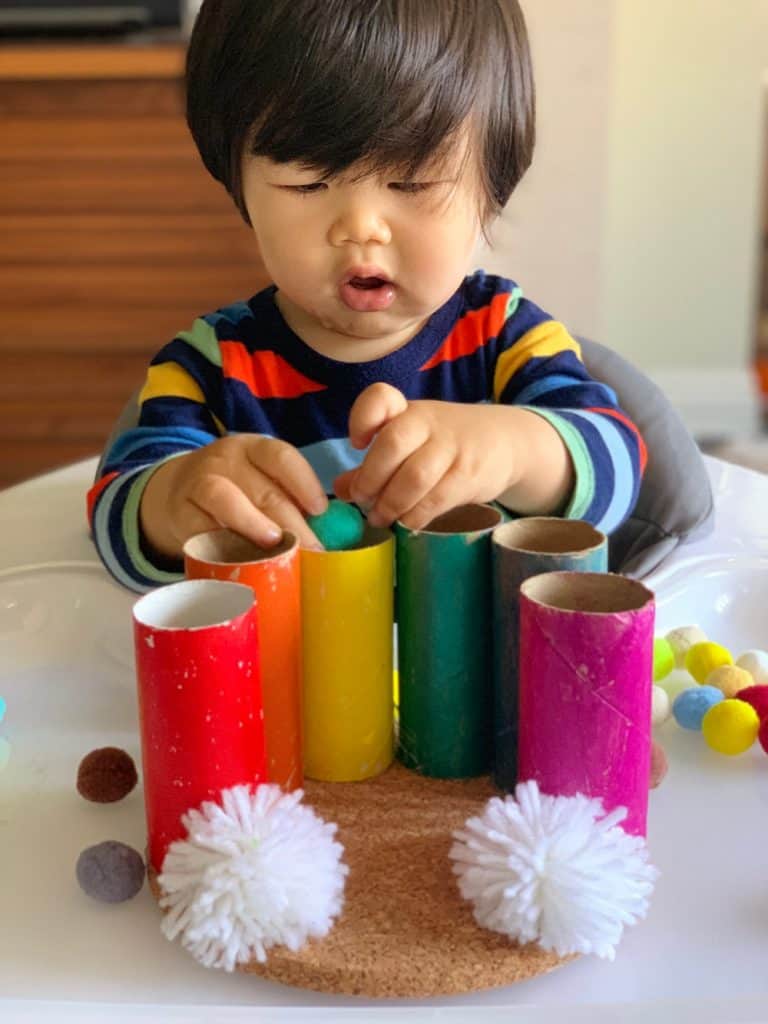 This Rainbow Pom Pom Drop Activity is a fun fine motor activity for your toddler or preschooler!
Materials
empty toilet paper rolls
paint in rainbow colors
paintbrushes
pom poms in various colors
Round cardboard or cork base
Hot glue gun
White yarn to make pom pom clouds (optional)
Instructions
Paint your paper tubes each the colors of the rainbow. Allow to dry.
Hot glue them on your corkboard or cut out a round sturdy piece of cardboard.
Make white yarn pom poms as clouds (optional). We used a pom pom maker. Hot glue t the corkboard.
Encourage your child to drop the pom poms inside the paper tube to fill them up. As they get older, you can encourage them to match the pom pom colors to the tube color.
If you love this fun recycled craft, make certain to check out these other fun crafts as well: