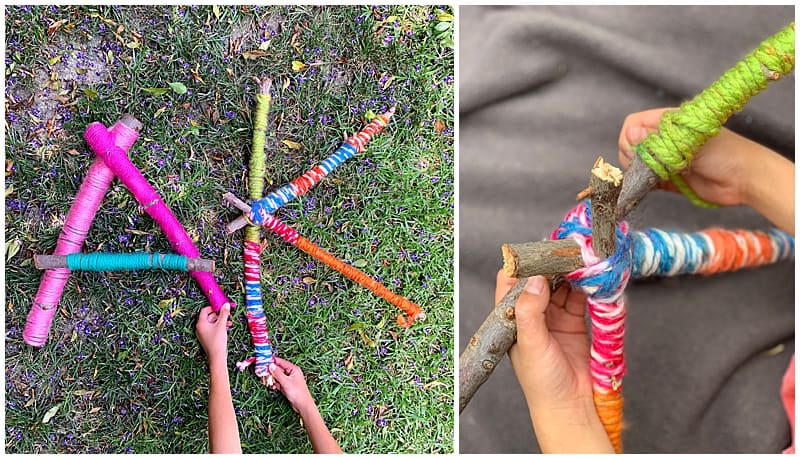 Follow us on Instagram for more fun ideas for kids!
Scroll below to see these fun Giant Yarn Wrapped Stick Letters in action. Make sure to subscribe to our YouTube channel for more fun videos!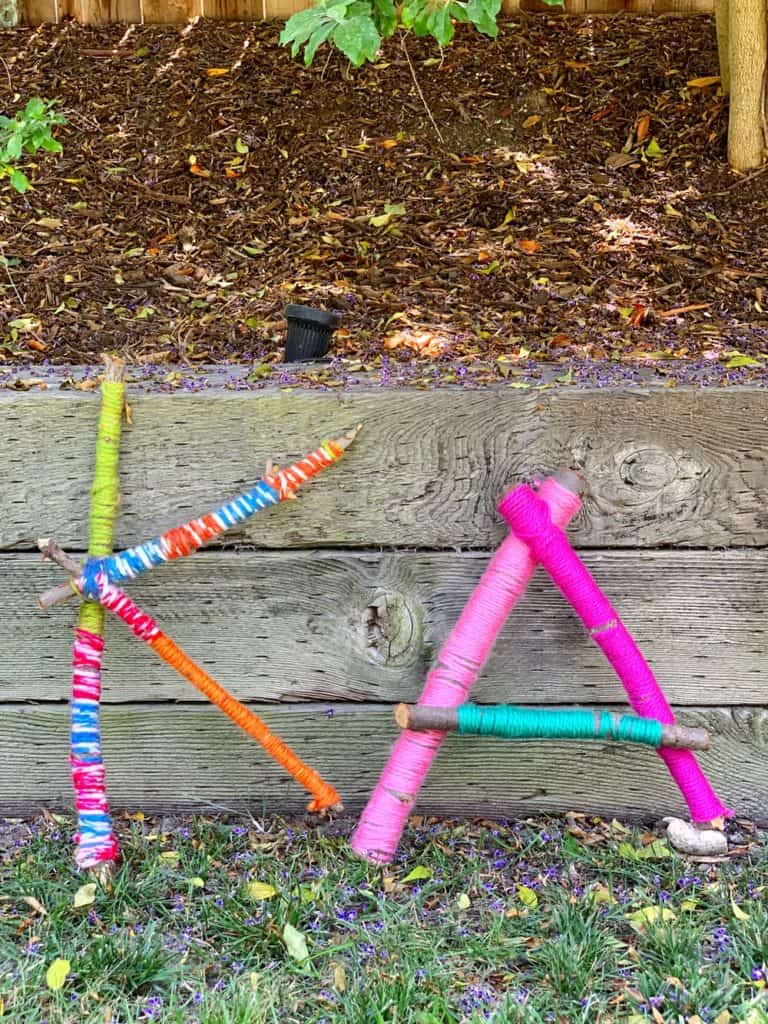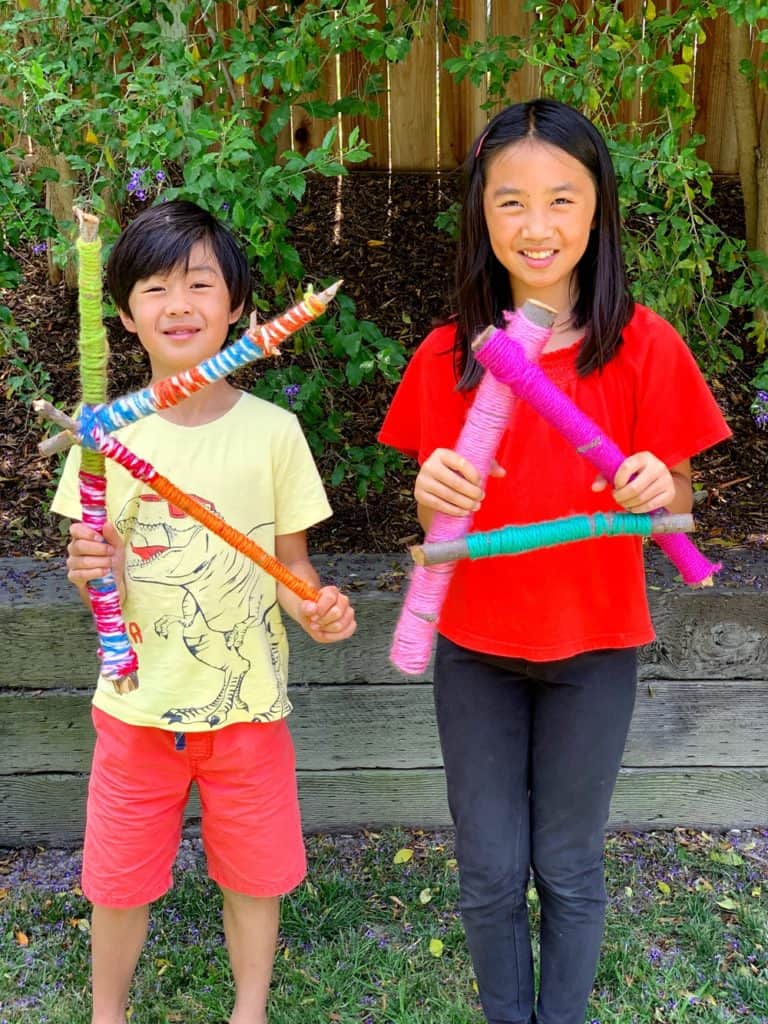 \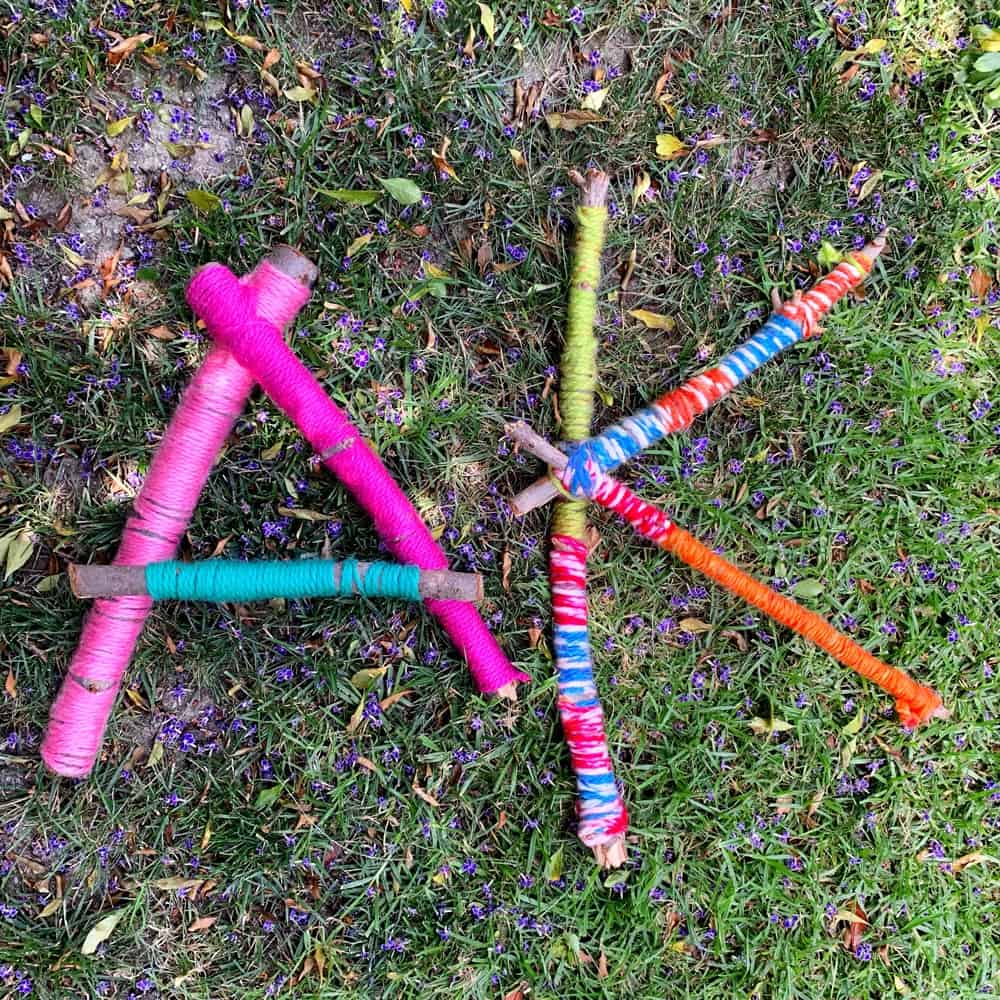 It's pretty safe to say that we're obsessed with these giant yarn wrapped stick letters. Having kids in the house, especially in the summer, means that I'm always looking for creative and fun kids activities to entertain them and learn new things.
Instead of working on the alphabet the traditional way, we've decided that combining nature crafts and fine motor skills sounds like a much better plan!
This Yarn Stick craft is probably one of the most unique ways to work on learning letters…but it's possibly almost the most fun as well! With the summer months here, it's the perfect time to head outside and combine outdoor play with education!
My kids are admittedly older though, so although they already know the alphabet we mention using this activity as a fun learning activity.
They actually loved making these giant letters as decor for their playroom!
I hope that this creative craft shows your little ones that they can create and learn with objects that they can find all around wherever they are!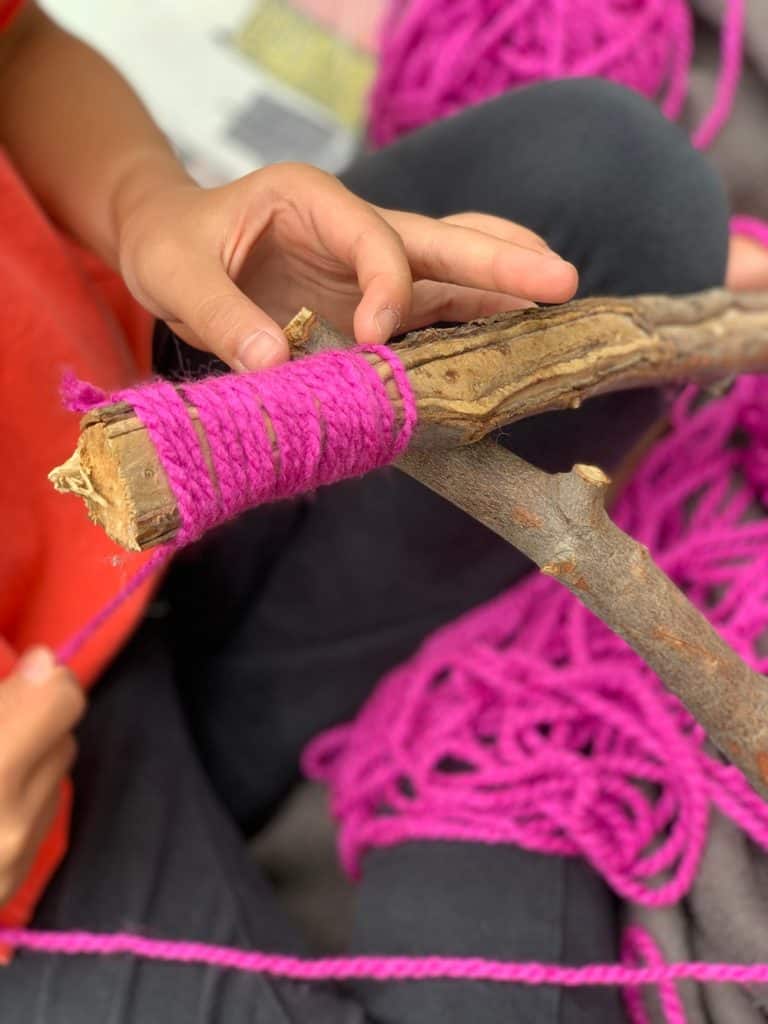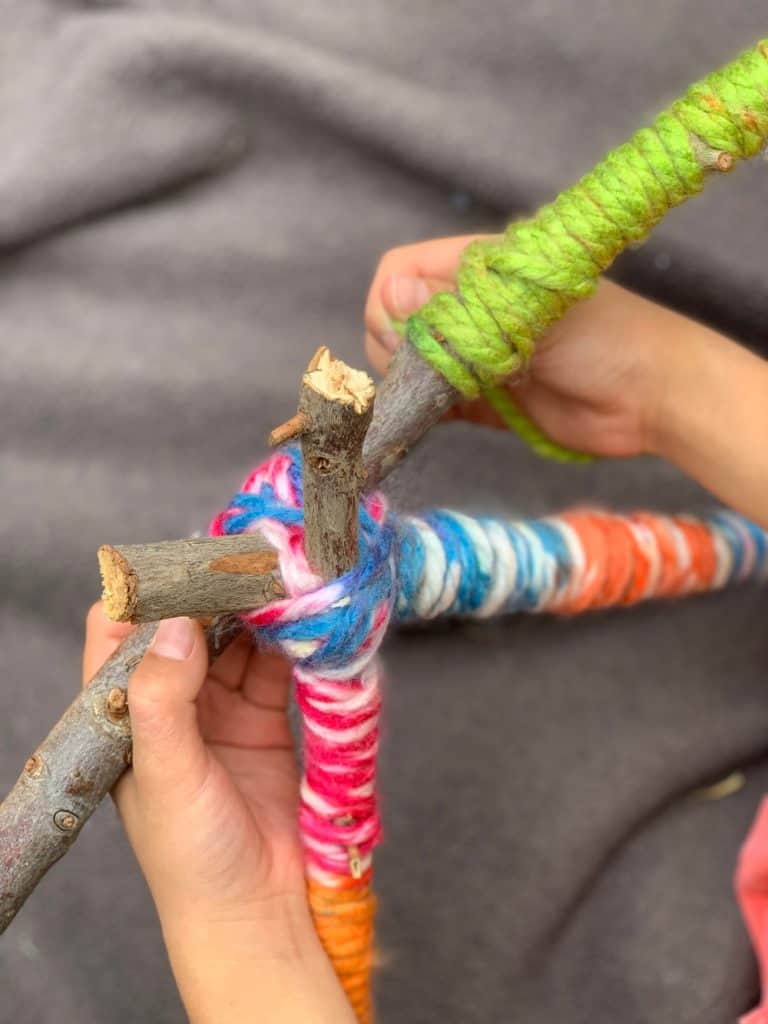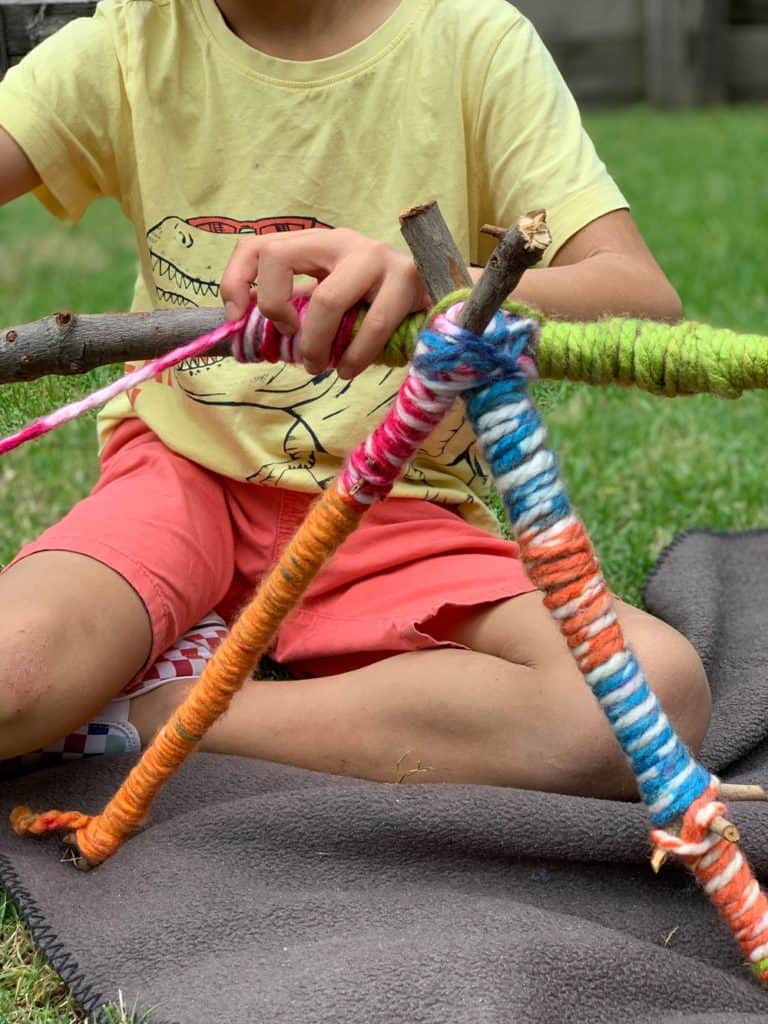 Is there a possibility of getting splinters from the sticks?
There is, but this is where the yarn comes into play. Try and find sticks that are pretty smooth from the beginning and communicate that to your child.
If you're overly worried about splinters from the branches or twigs, you can be the one to find them so that you can be certain that they're good to use.
How difficult is this giant yarn wrapped stick letters activity?
It's really not hard at all. While it might take a little bit of concentration from the smaller kids, they love being able to make their own letters using sticks. The hardest part is attaching the jointed ends, which I helped my youngest with. My oldest was able to tackle that on her own (age 10).
Then, watch as their eyes light up from being able to wrap the sticks in colorful yarn. That's the simple and repetitive part most kids can handle. This is one activity that they can truly create on their own from start to finish.
How to set up for these Giant Yarn Wrapped Stick Letters
This craft is super simple to set up. Start by finding your sticks and talking to your child about what letters you want to create using them. Will you have enough sticks to spell out a few words? Who knows…but that is just half the fun!
Use this activity as a great way to get outside and get active as well. Running around and gathering sticks is a great way to move the body and enjoy some fresh air and sunshine.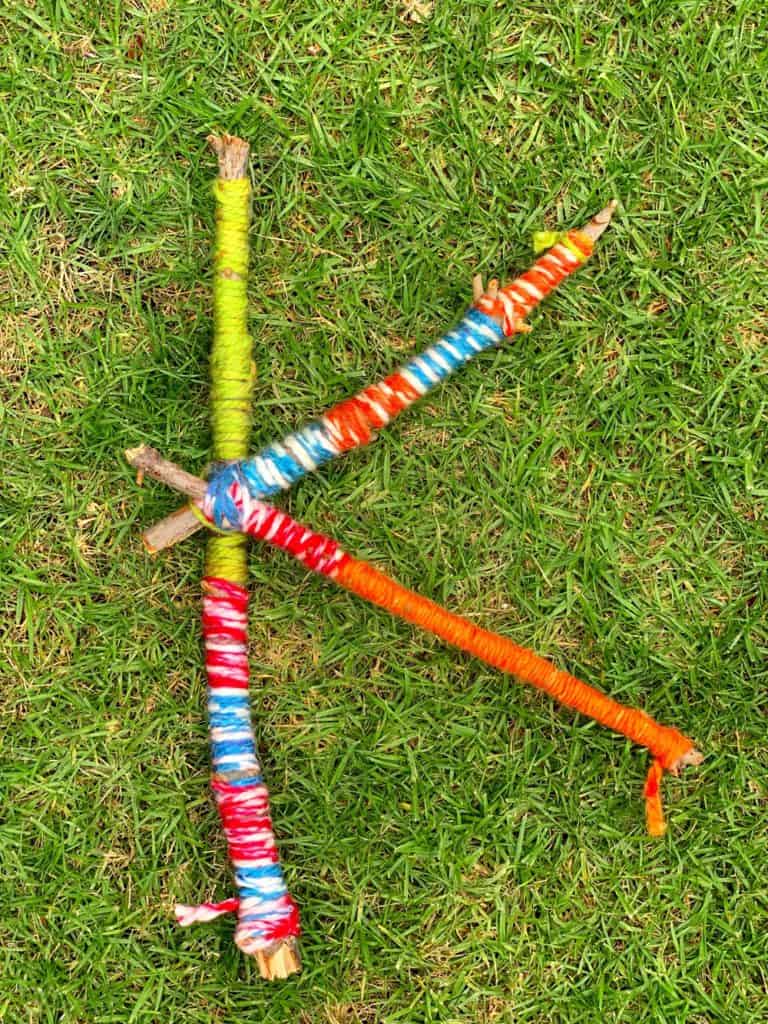 Giant Yarn Wrapped Stick Letters – Materials:
For this stick letter craft, you literally only need just a couple of simple supplies. I told you this was simple!!! (Although, you might want to plan on getting a wide variety of colors for the yarn because there's a good chance your child will want to have a lot of colors!)
Large Sticks (smooth if possible)
Brightly Colored Yarn (wooly and thick ones are nice for large sticks)
Hot glue (to dab that last piece of yarn at the end)
If you love these fun Giant Yarn Wrapped Stick Letters, make certain to check out these other yarn crafts as well: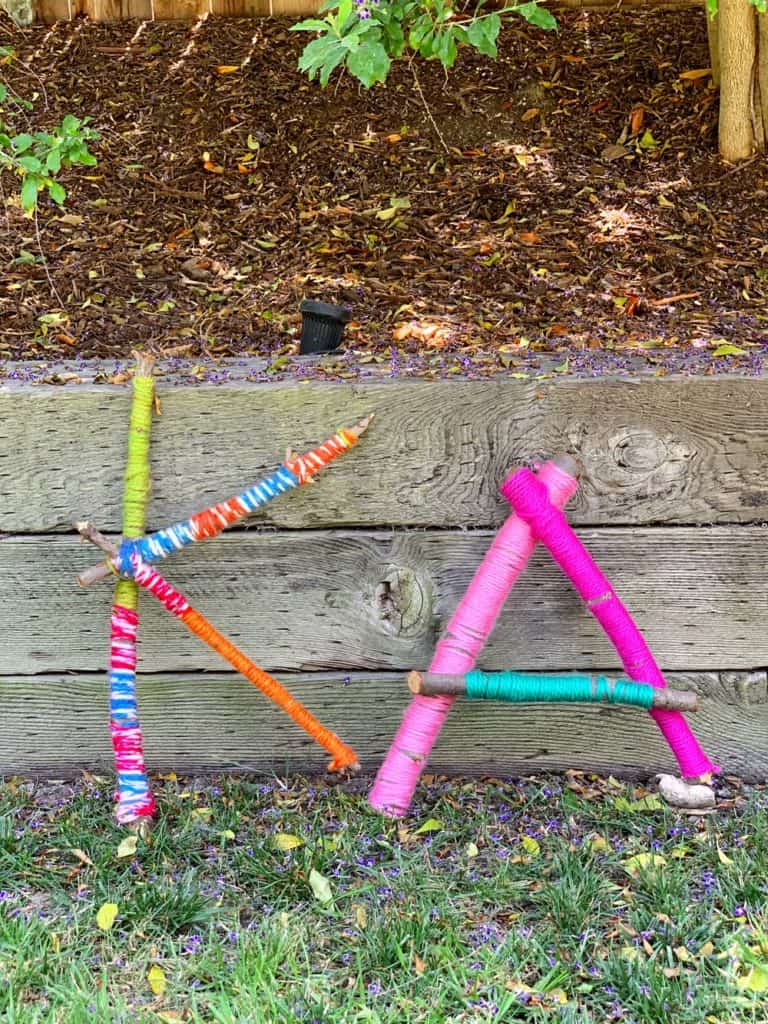 Giant Yarn Wrapped Stick Letters Nature Craft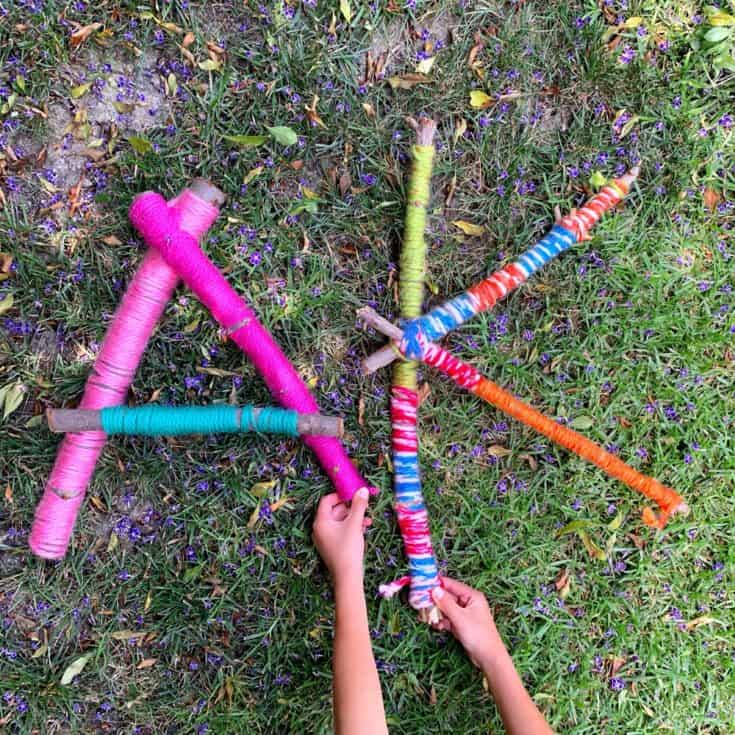 Instructions
First, go on a nature hunt and gather some sticks!
Once you have your stick collection decide on what letters you want to create and arrange the sticks in that letter configuration.
Start wrapping yarn around the joints first, working one joint at a time. Keep wrapping yarn several times around the joint until you feel it's secured.
Then continue wrapping yarn along the length of your stick. This time in a single layers.
When you get to the end and your sticks are wrapped, cut off the yarn and add a bit of hot glue to old that last piece of yarn down the stick. Do this on the part that is behind not front facing the letter.
Disclosure: Some of the links in the post above are "affiliate links." This means if you click on the link and purchase the item, we will receive a small affiliate commission. Regardless, we give our promise that we only recommend products or services we would use personally and believe will add values to our readers.