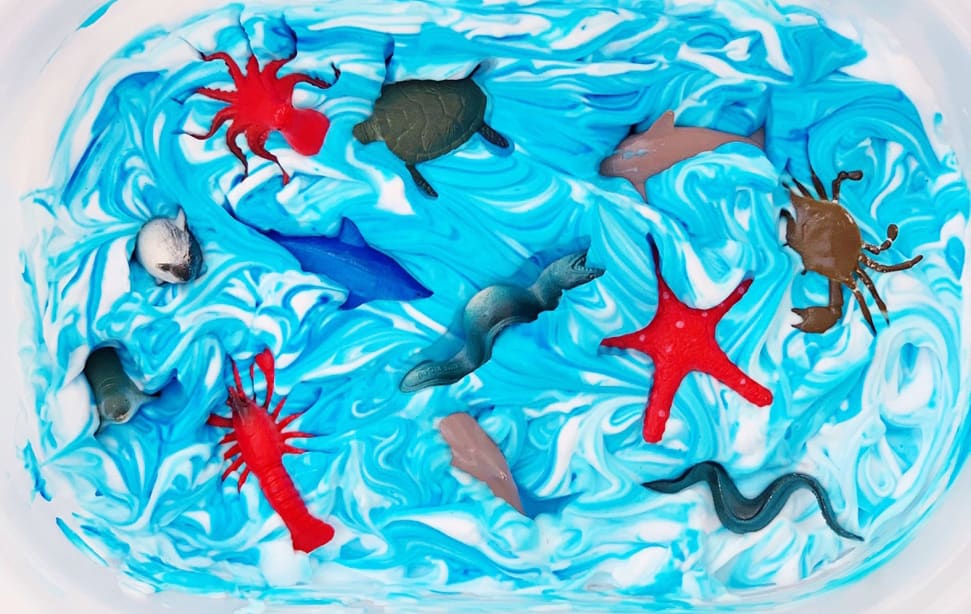 Follow us on Instagram for more fun ideas for kids!
Watch the video below to see this fun Frozen Shaving Cream Ocean Sensory Play in action. Make sure to subscribe to our YouTube channel for more fun videos!
This frozen shaving cream ocean sensory play is great for toddlers, preschoolers and kids to dig their hands into!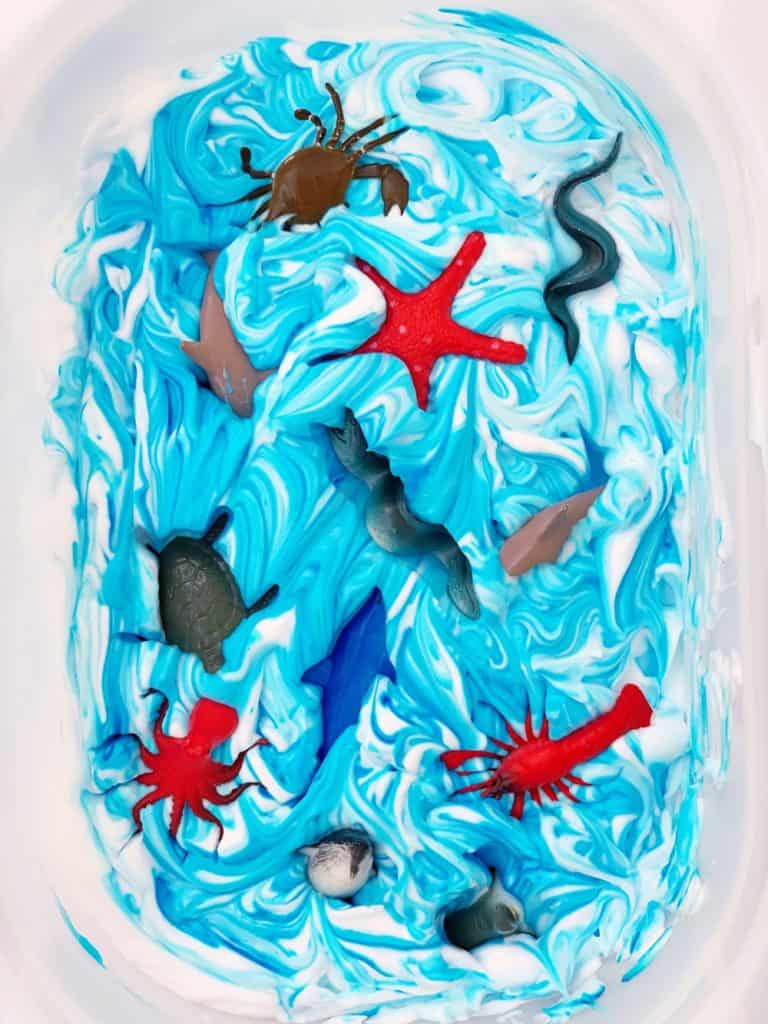 Teaching your child to use their senses through play is such a wonderful way to open up their mind for imagination and creative thinking.
In our house, sensory play is something that we strive to do regularly.
This Frozen Shaving Cream Ocean Sensory Bin lets your child crumble and feel how items can go from thawed to frozen.
It also teaches them that textures will change quickly once that frozen shaving cream starts to unthaw again.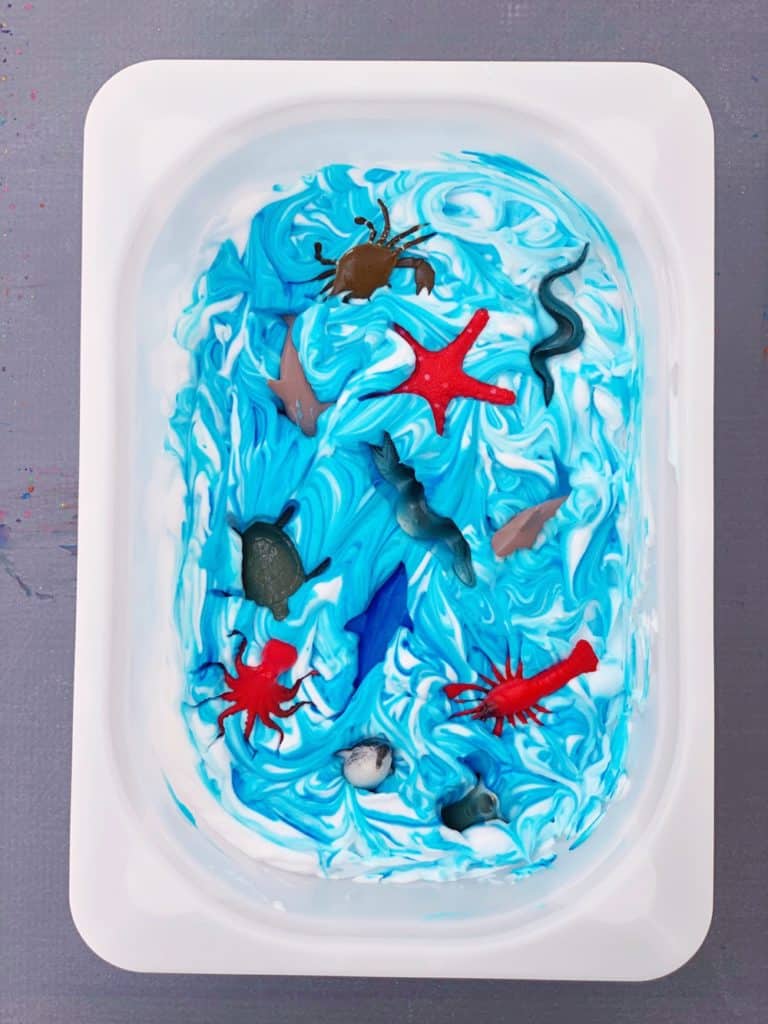 Can you freeze shaving cream?
There isn't any special trick to it.
For this ocean sensory bin activity, we just used store bought shaving cream (make sure to get the foam kind). Shake the can and add to a plastic or freezer safe bin.
Then add the shaving cream bin straight in the freezer! We used one of the bins from our
Flisat sensory table!
How does frozen shaving cream feel like?
To our surprise it is actually very light! It crumbles very easily and feels very airy. We having tried this but were thinking if you frozen whipped cream it might feel the same way!
It's actually not that super cold and icy too! Great for little hands as to no shock them!
What happens when you add water to frozen shaving cream?
If you look at the photos below, we had my toddler explore this fun shaving cream sensory activity right in the bath so he could get messy and then just hose off!
We added water to the shaving cream and it turned this sensory shaving cream right into an ocean of water right before his eyes! He loved exploring the blue waters and toy sea creatures.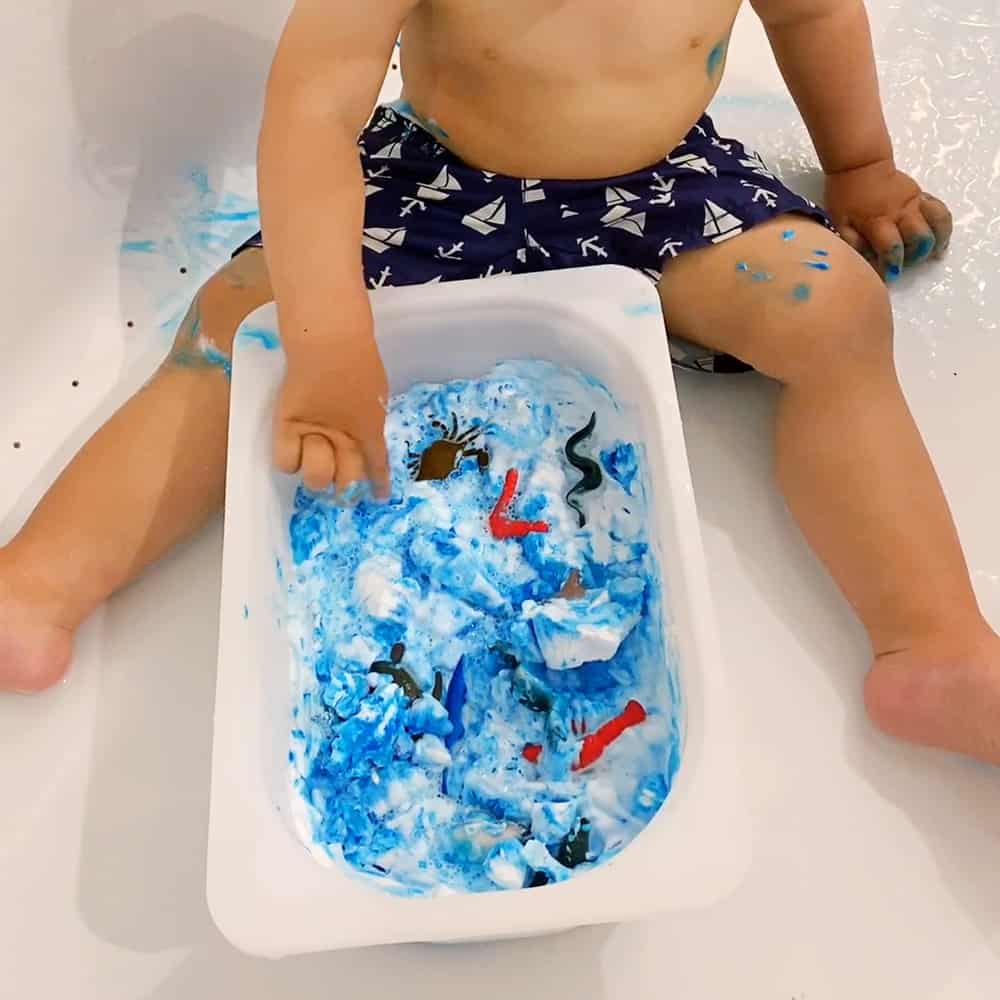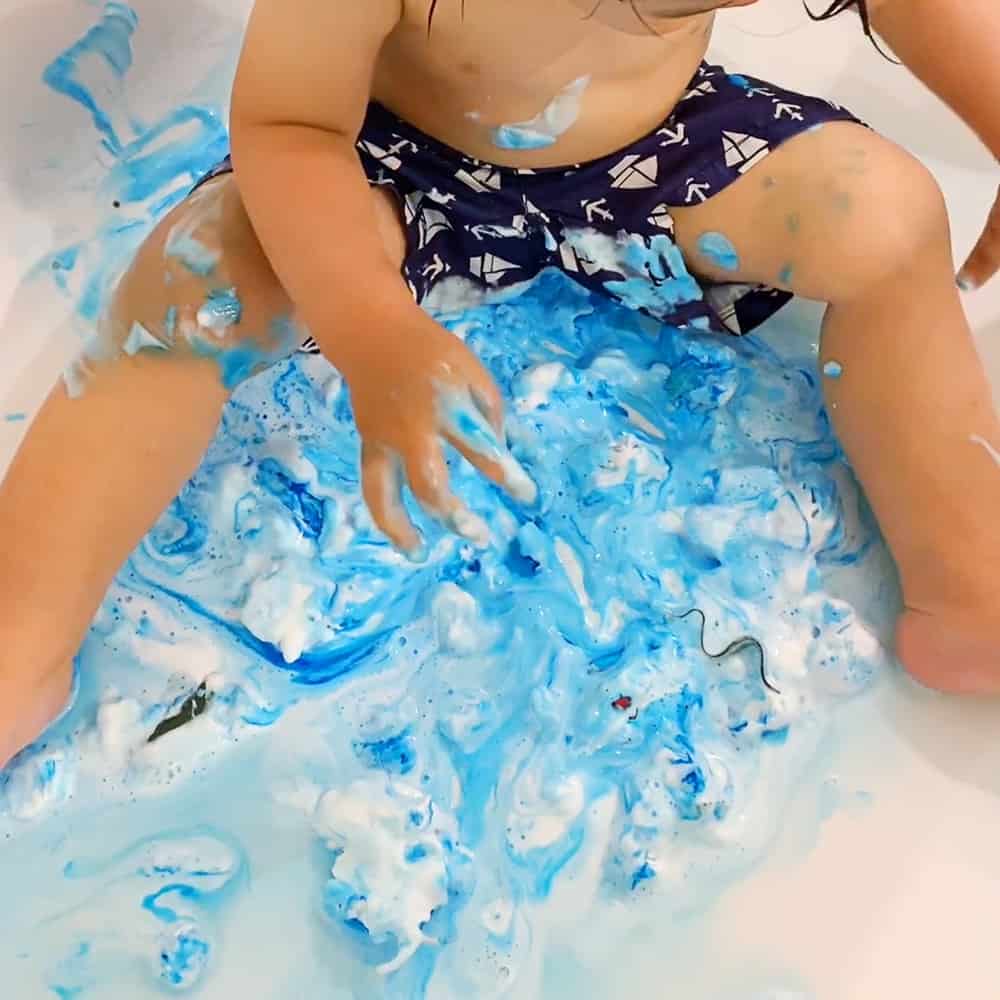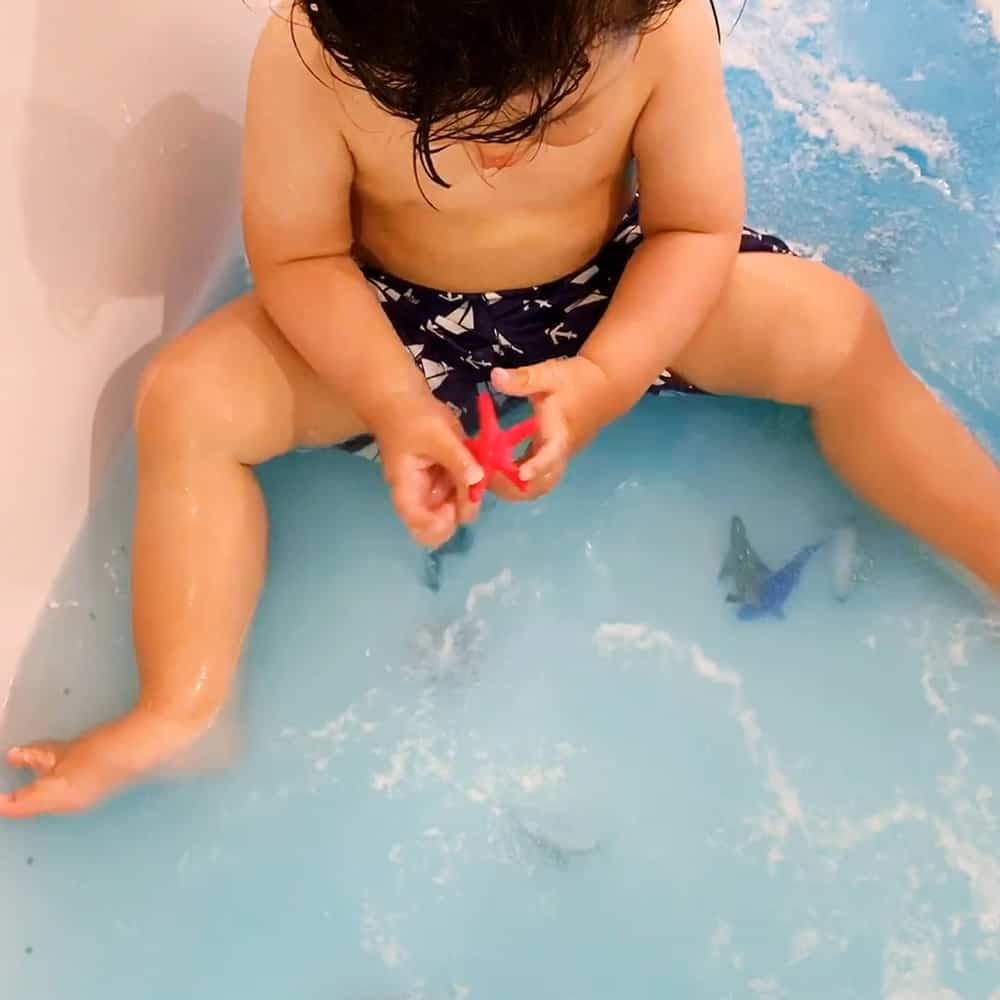 Is shaving cream safe for kids to play with?
As long as your child isn't' putting it into their eyes or their mouth, they should be fine playing with the shaving cream.
Just make certain that you stay close to help monitor in case there are any issues or concerns that come up.
How long will it take for the shaving cream to freeze?
This is the hardest part of this entire sensory activity! It's going to take at least an hour for the shaving cream to start to freeze. If your child can't wait much longer than that, you can always pull it out of the freezer early so that they can start to feel their way around and play.
As long as they're using their senses, you can decide to let them play with it at any point in time.
Is this Frozen Shaving Cream Ocean Sensory Play messy?
It just depends on when you let your little one help. If they help in putting it together before freezing it, there's a good chance that there's going to be a bit of mess involved.
Once it's frozen, your child will start to make a different mess as they're breaking up all the pieces. Just put newspaper or a paint drop cloth underneath (we love using a reusable canvas one) so you can make cleanup a total breeze.
OR you can just plop them right in the bath like we did and hose them off afterwards 🙂
Note: the blue food gel coloring if used WILL stain little hands. But it's not something that doesn't scrub off after a day or so. And it's completely harmless and in our opinions, worth the sensory play.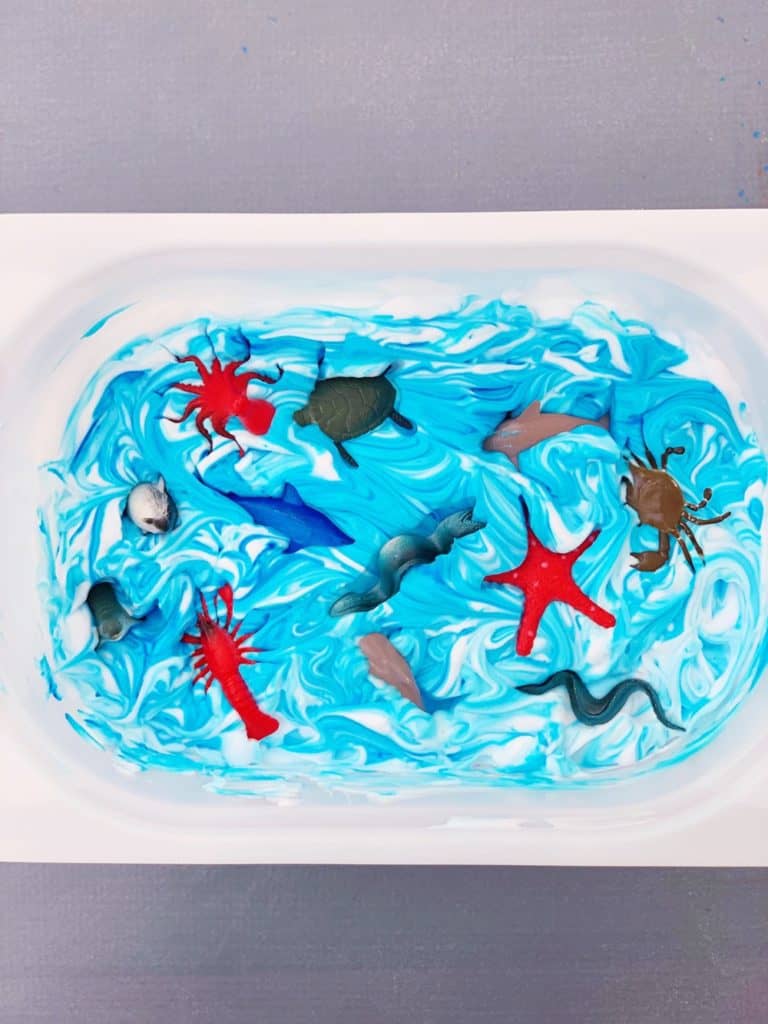 How to set up this Frozen Shaving Cream Ocean Sensory Play
One of the best aspects of this sensory activity is that it's super simple to make. All you need are a few supplies and you'll be mixing and creating in no time at all.
Let your child help out during the process, too. You'll be amazed at how they show interest in wanting to be a part of creating this frozen shaving cream activity.
What's neat is that when you break up the blue pieces, they actually look like icebergs!
Eager little learners are always the best helpers!
I hope that this sensory play activity shows your kiddo that creativity and hands-on fun can be the perfect combination.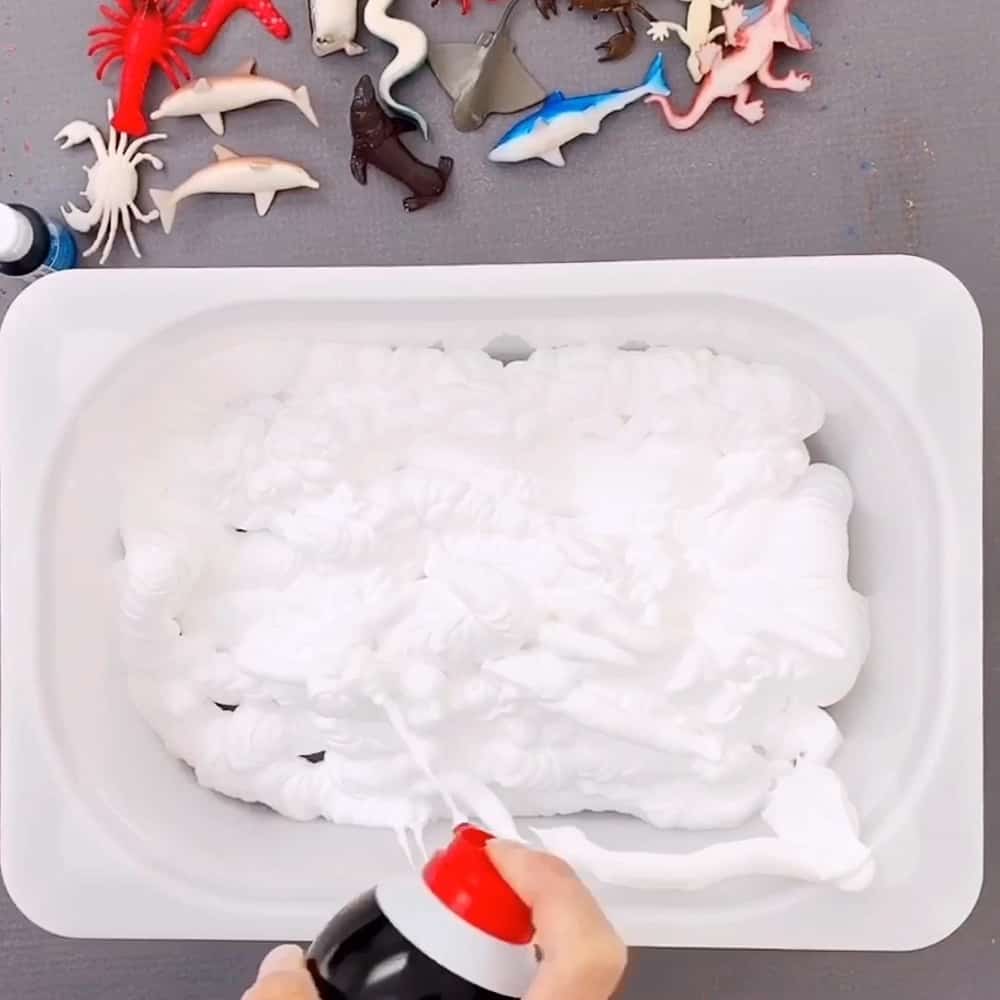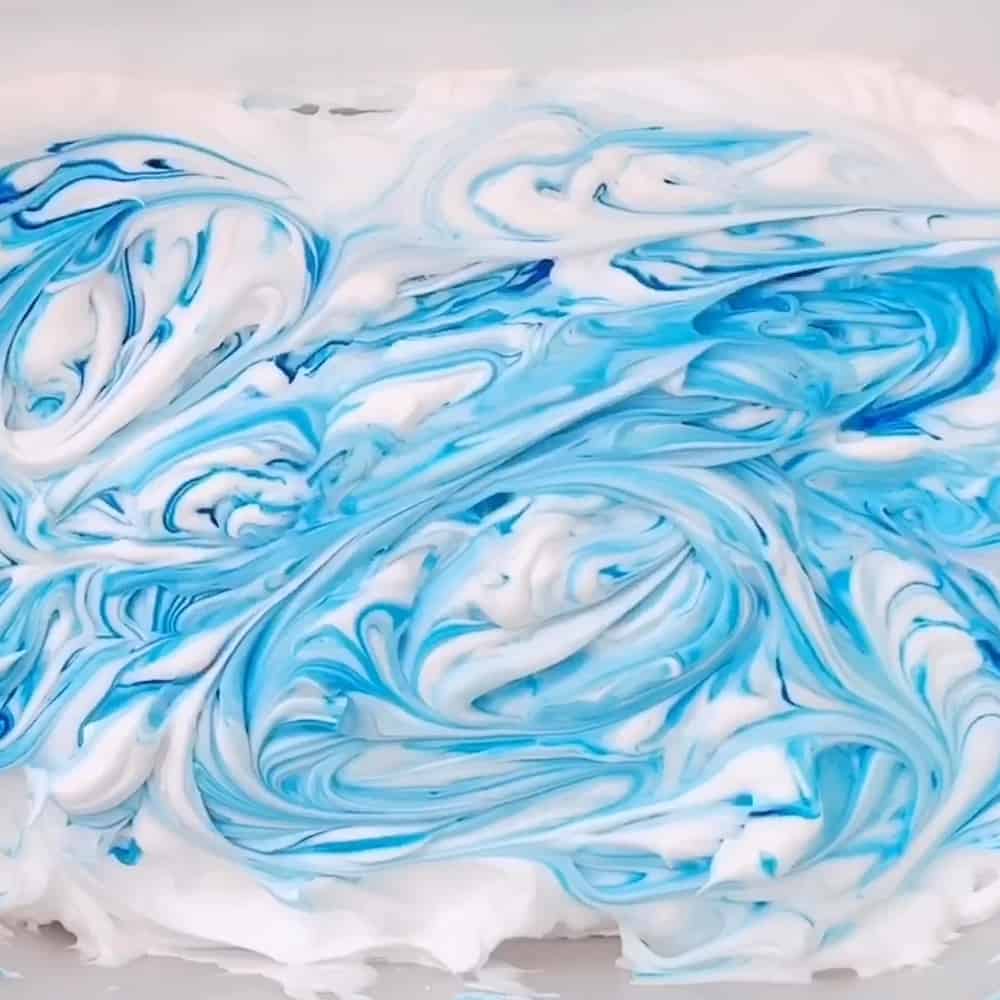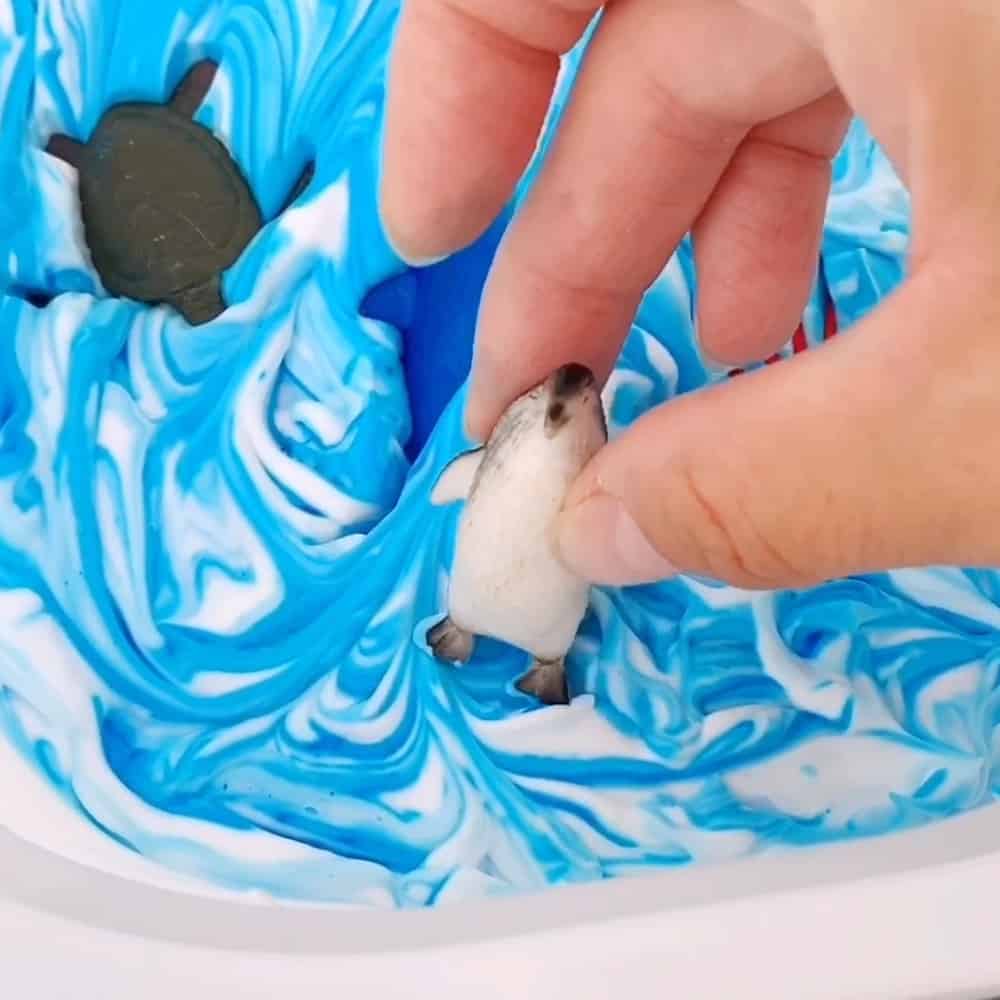 Frozen Shaving Cream Ocean Sensory Play – Materials:
**Always supervise baby and toddler activities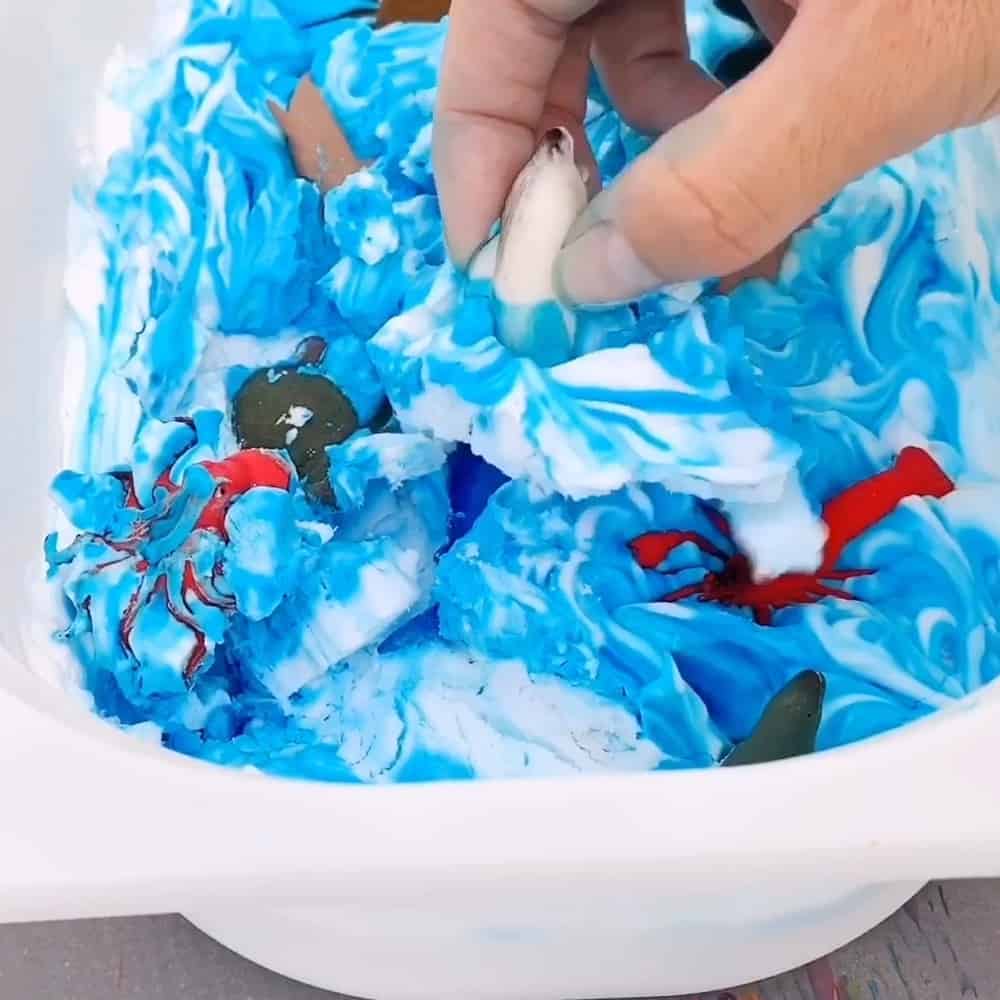 Yield: Frozen Shaving Cream Ocean Sensory Play
This frozen shaving cream ocean sensory play is great for toddlers, preschoolers and kids to dig their hands into!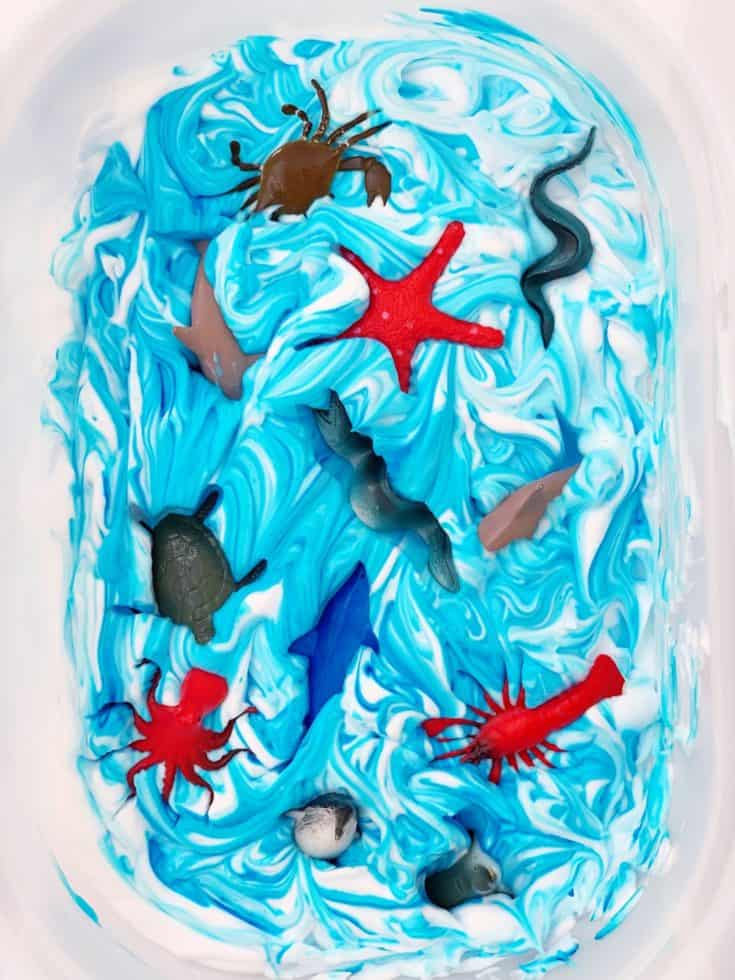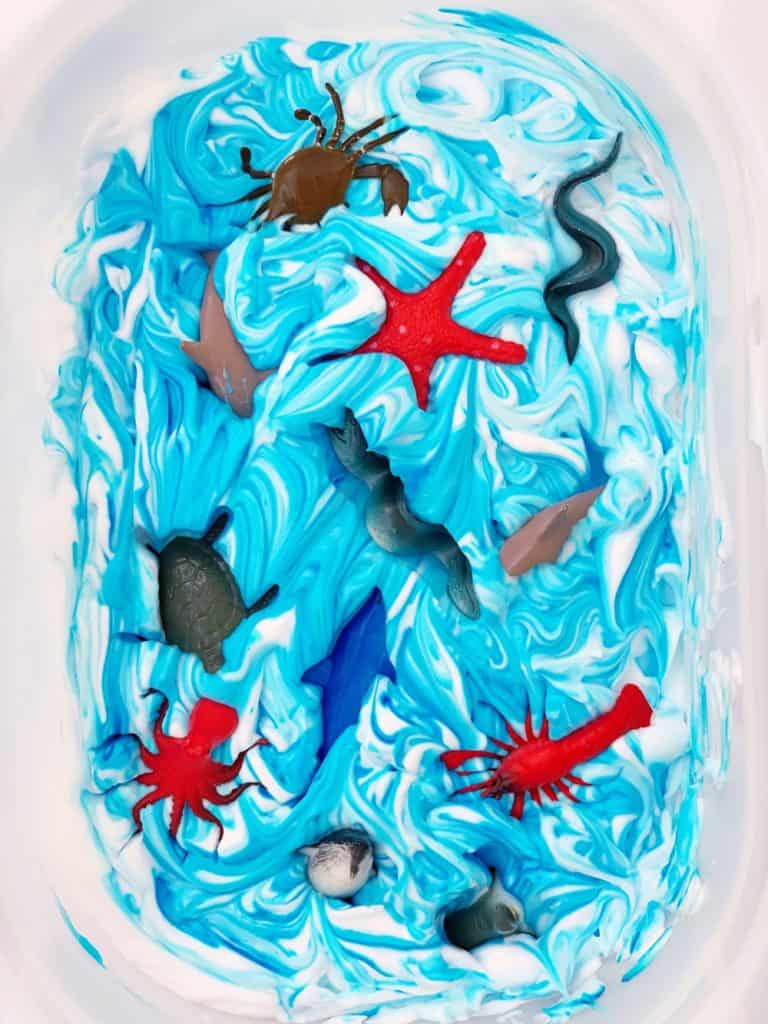 Materials
Freezer-safe container
Wooden Stirring Stick (a chopstick will do)
Instructions
Fill your bin with shaving cream.
Add a few drops of blue food coloring.
Swirl with a wooden stick or utensil.
Add sea animals.
Place in the freezer until frozen. At least a couple of hours.
If you love this fun Frozen Shaving Cream Ocean Sensory activity, check out these other fun options as well: