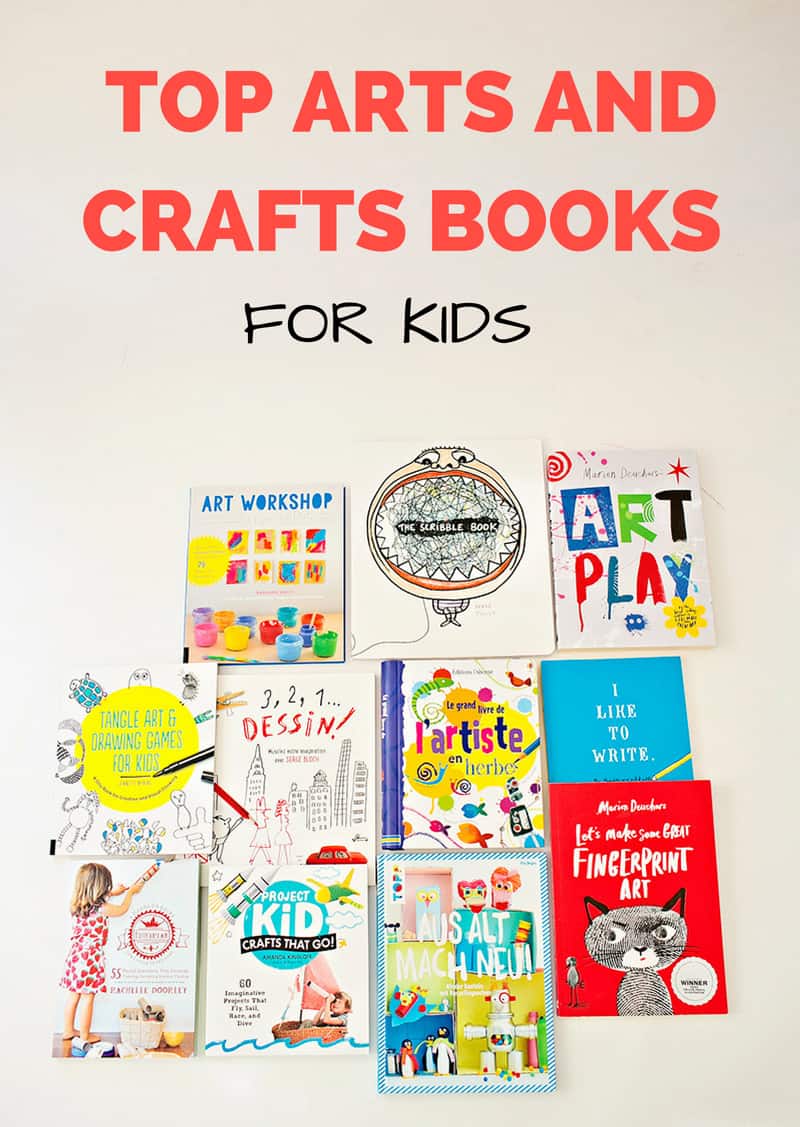 No doubt your kids have a list full of toys they'd like to get this holiday season. Toys are wonderful for imaginative play, but we also love arts and crafts books to spark creativity in children. We've rounded up 11 must-have creative books for kids, tested by my own children's well-loved and used stash. These bright and colorful books offer whimsical drawing prompts, simple and cute crafts, and ideas for setting up your own home art studio right at home with kids. They're perfect for whipping out on a rainy afternoon or to beat boredom at home.
Art books make an affordable gift for a child not just for the holidays, but also for celebrating birthdays. We love gifting a book with a few of our favorite art supplies such as a good pad of watercolor paper, paint sticks, neon paints or a collection of vibrant markers.
Check out each book description below and let us know your favorite art books for kids in the comments!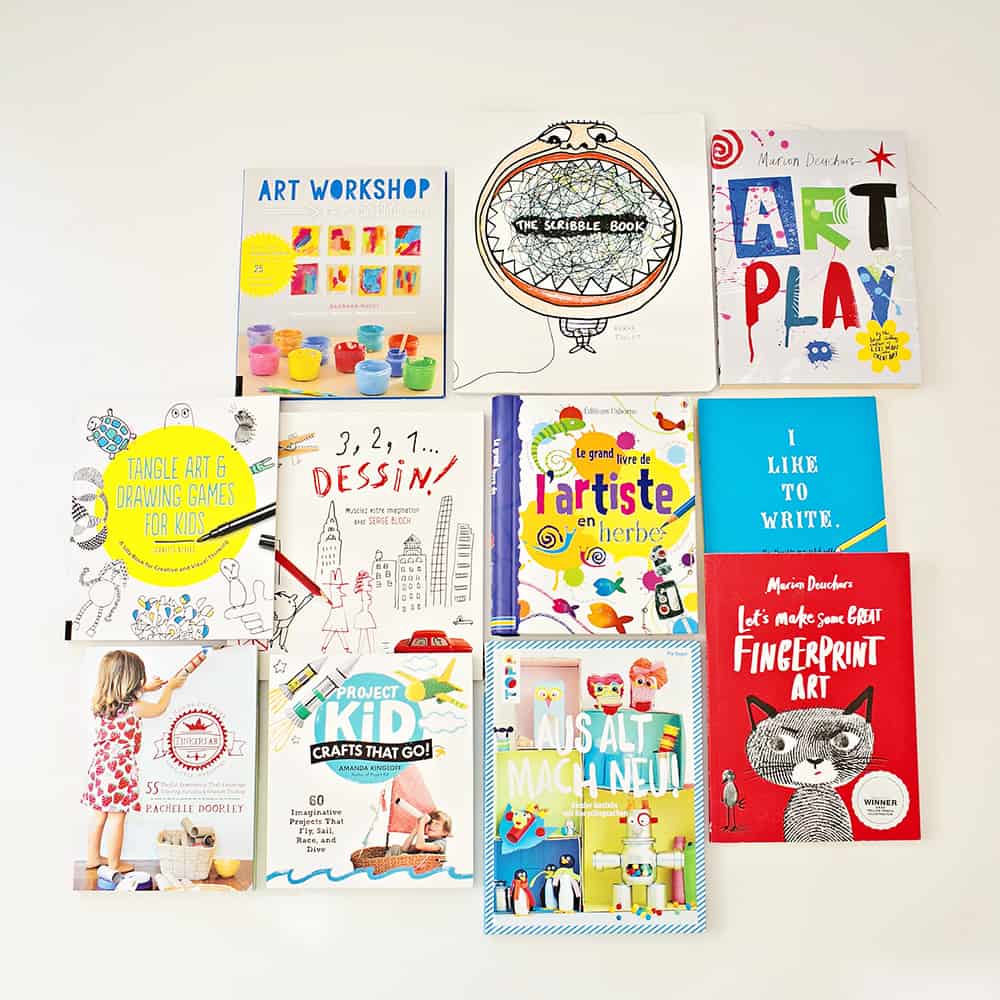 1. Art Workshop For Children by Barbara Rucci and and Betsy McKenna
Wonderful child-led approach to creating art with information on supplies, and essays on the Reggio Emilia approach, collaborative art and role of parent/care taker/educator in self-art learning. The lovely hands-on photos of kids creating are inspiring, but most of all do-able for young children.
2. The Scribble Book by Hérver Tullet
A delightful book that celebrates scribbling as art prompts for children who love to draw outside the line. Especially fun for the younger child under age 5.
3. Art Play by Marion Deuchars
Find out how playful art can be with this whimsical book divided into 7 sections that tackle the art wonders of Drawing, Colors, Shapes, Paint, Paper, Printing, and Pattern.
4. Tangle Art and Drawing Game for Kids by Jeanette Nyberg
This creative drawing game book is fun for the whole family and includes 46 games to spark your creativity with just paper and pen; no drawing experience needed. The book gives you quick, easy and fun drawing prompts that keep both kids and adults engaged. See our geometry trees inspired by the book here.
5. 3, 2, 1 Dessin! by Serge Bloch
We got this book on a recent trip to Paris with the kids and couldn't resist the adorable illustration prompts using real objects. Although the book is in French, the bold illustrations are easy to understand. Turn simple objects like clothespins into alligators, spoons into people, keys into creatures and more.
6. Le Grand Livre de L'Artiste en Herbe by Editions UsBorne
Another French children's art book that doesn't need translation. This thick book is packed with step-by-step visuals of art projects for kids including step drawing for animals, creatures, and topics from abstract to shapes, and paper projects.
7. I Like to Draw/I Like to Write by The Small Object
This dual activity book (one side has writing prompts while the other has drawing prompts) encourages kids to think, write and draw creatively with 128 total prompts filled with stories and whimsical drawings they can complete.
8. Tinkerlab: A Hands-On Guide for Little Inventors by Rachelle Doorley
Enhance your kids' natural inclination to tinker with this fun book filled with 55 experiments that encourages kids to be curious and creative. What's great are the many sensory experiments and simple recipes kids can make to keep them engaged, playing and learning, such as homemade slime and play dough.
9. Project Kid: Crafts That Go! by Amanda Kingloff
If you have a child who loves anything that zooms, moves or has wheels, he or she will be all over these cute crafts that go. With 60 imaginative projects, there is something for everyone – whereas it's your little train conductor, sailor, pilot or construction foreman. Check out the custom construction vehicles craft we featured from the book here.
10. Aus Alt Mach Neu Recycled Crafts by Pia Deges
What can you make with recycled bottles, plastic lids, caps, egg cartons, paper tubes and cardboard boxes? It turns out a LOT of playful and adorable toys! We love this book for stimulating our imagination to turn waste into toys. Note the book is in German, but the photos offer visual step instructions that are simple to understand. See our Magical Rock Fairies inspired by the book here.
11. Let's Make Some Great Fingerprint Art! by Marion Deuchars
Isn't it true we first learn to draw with our fingers? This magical book celebrates that fact with adorable prompts to turn your kids' fingerprints or handprints into food, monsters, animals, and more! Especially recommended for younger kids to spark their interest in art, age 5 and under.
What are your favorite arts and crafts books for kids?
Check out lots more creative projects for kids!
______________________________________________________________________________________________________

Disclosure: Some of the links in the post above are "affiliate links." This means if you click on the link and purchase the item, we will receive a small affiliate commission. Regardless, we give our promise that we only recommend products or services we would use personally and believe will add values to our readers.