Follow us on Instagram for more fun ideas for kids!
Watch the video below to see How to Make Pendulum Painting With Kids in action. Make sure to subscribe to our YouTube channel for more fun videos!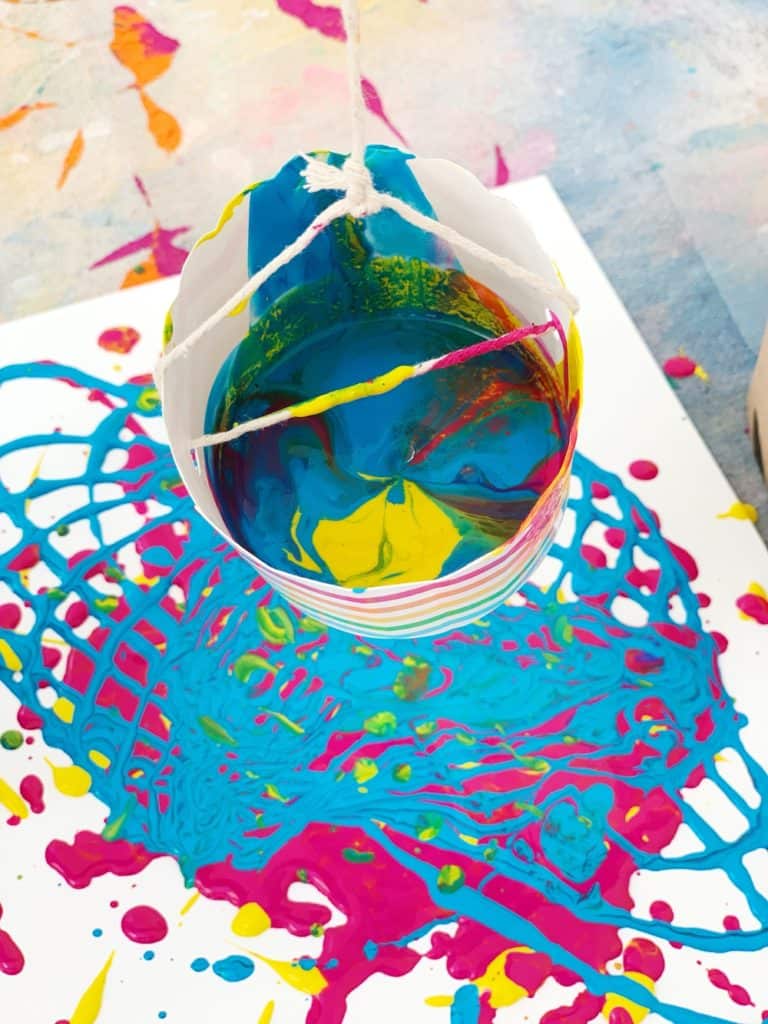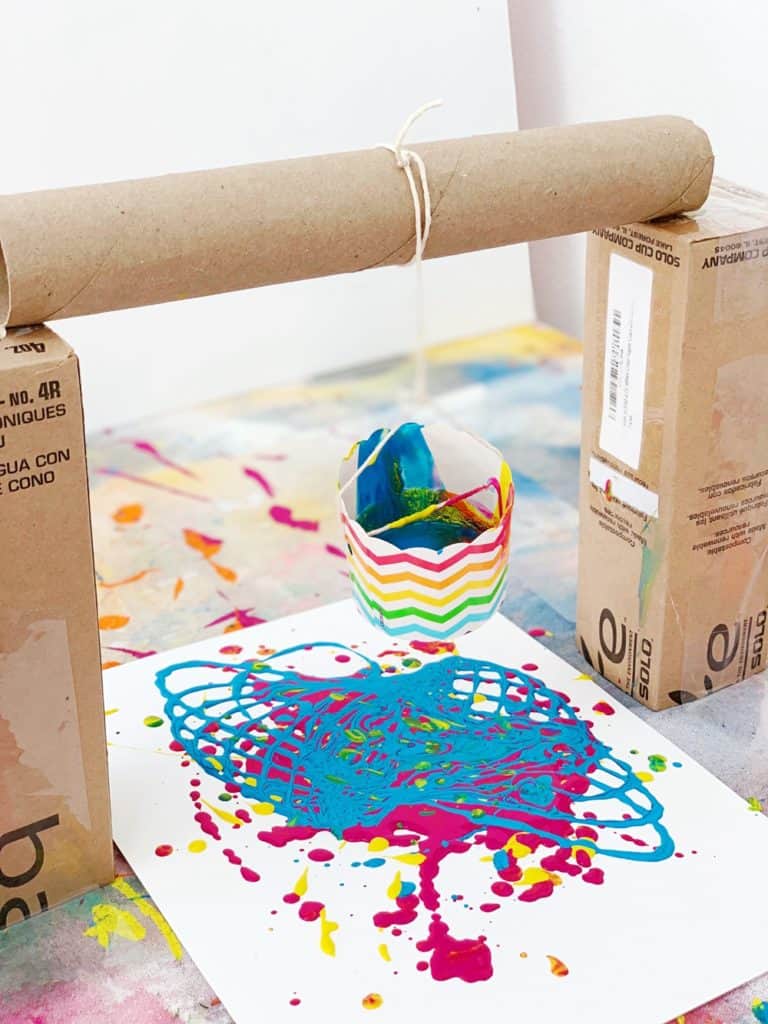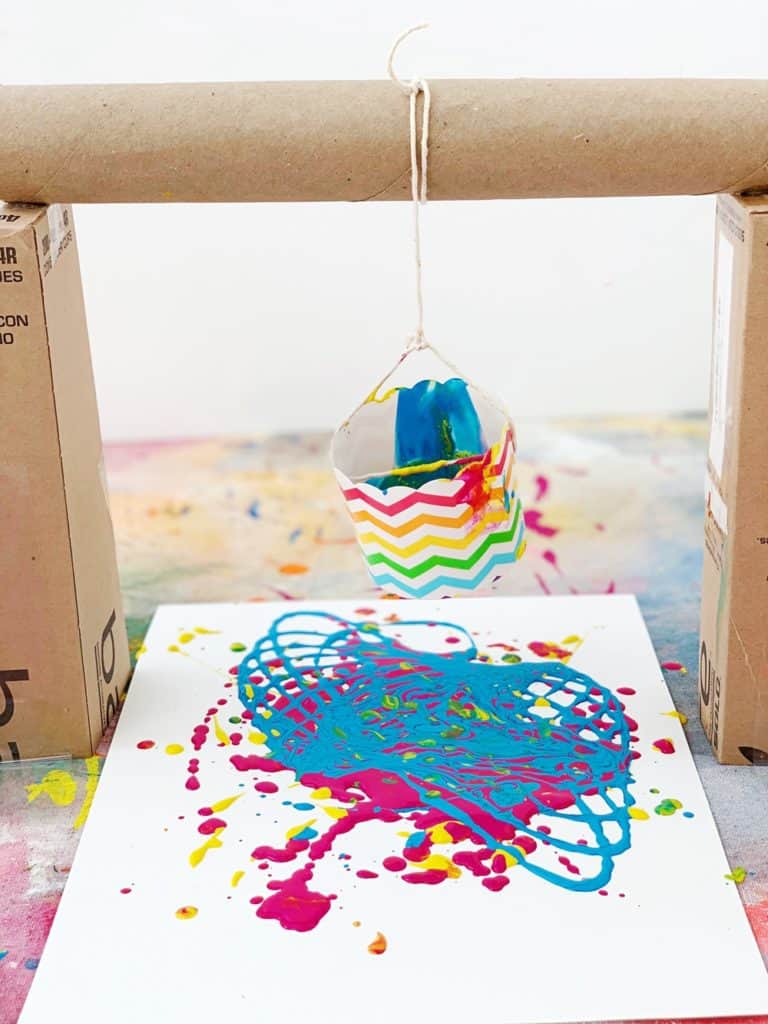 This Pendulum Painting Activity for Kids teaches children that everyday objects can create amazing art.
Teaching your children about art is really important. In our house, we like to learn about a wide variety of art.
From painting with watercolors, having fun with messy play or even painting pictures to gift to others, I feel very strongly about the fact that art helps children grow their imagination and creativity.
While sometimes it's nice to have the fancy paintbrushes and art set, it doesn't mean it's the only way to create beautiful works of art.
This fun activity will show your child that art is truly anywhere and everywhere that they want to see it.
I hope your child sees the fun and excitement of this fun painting activity!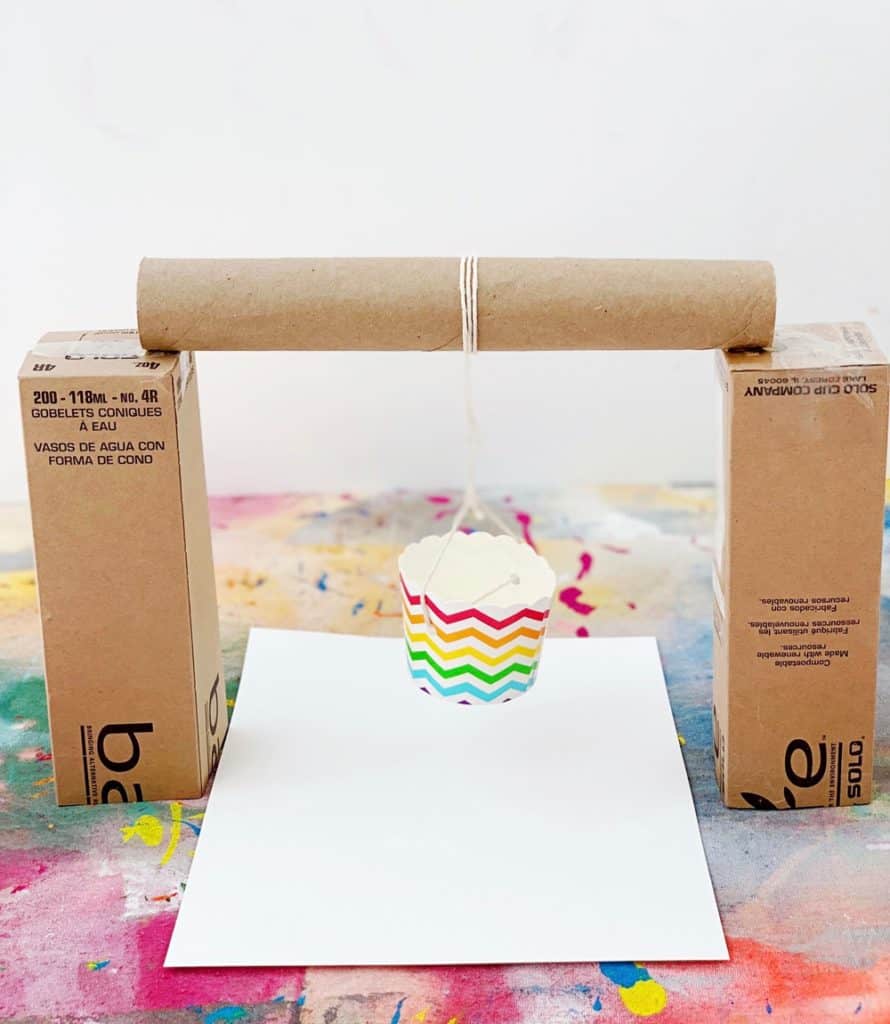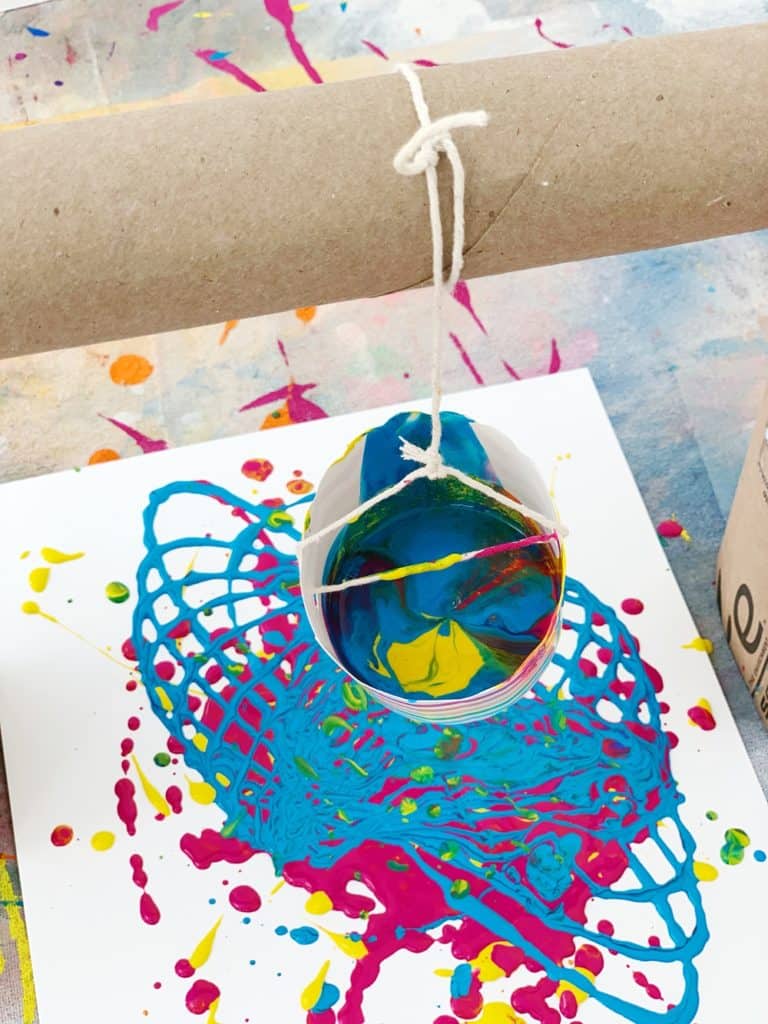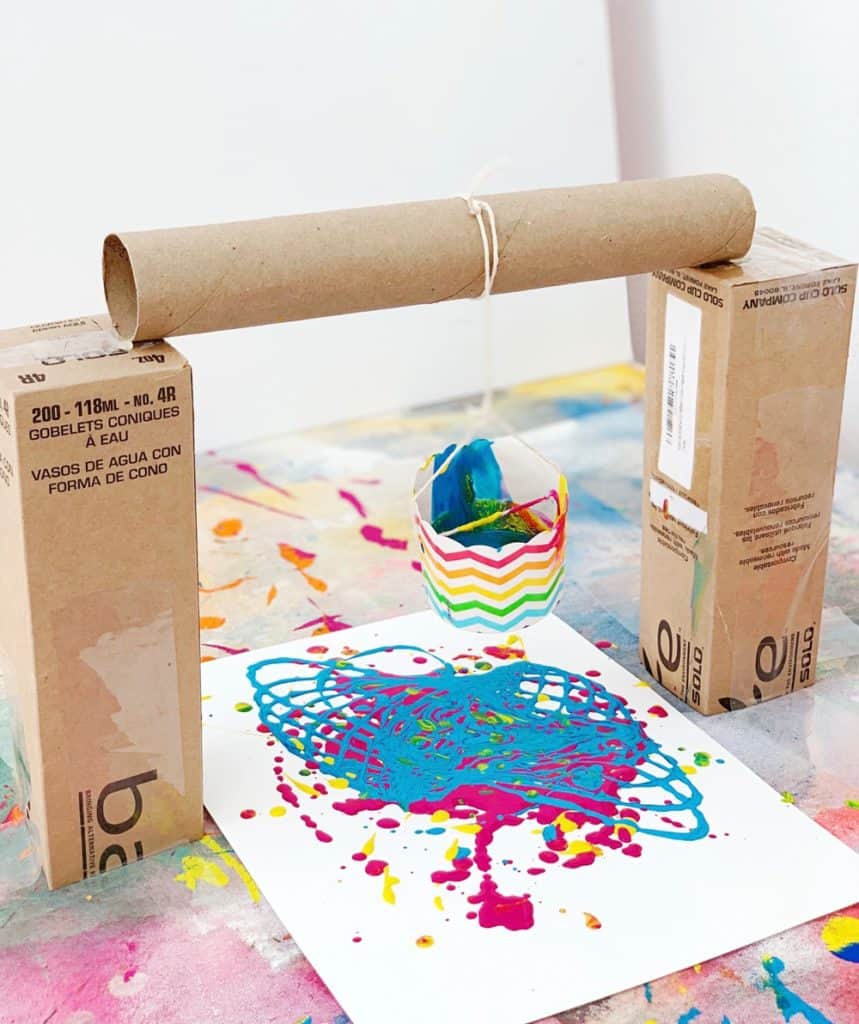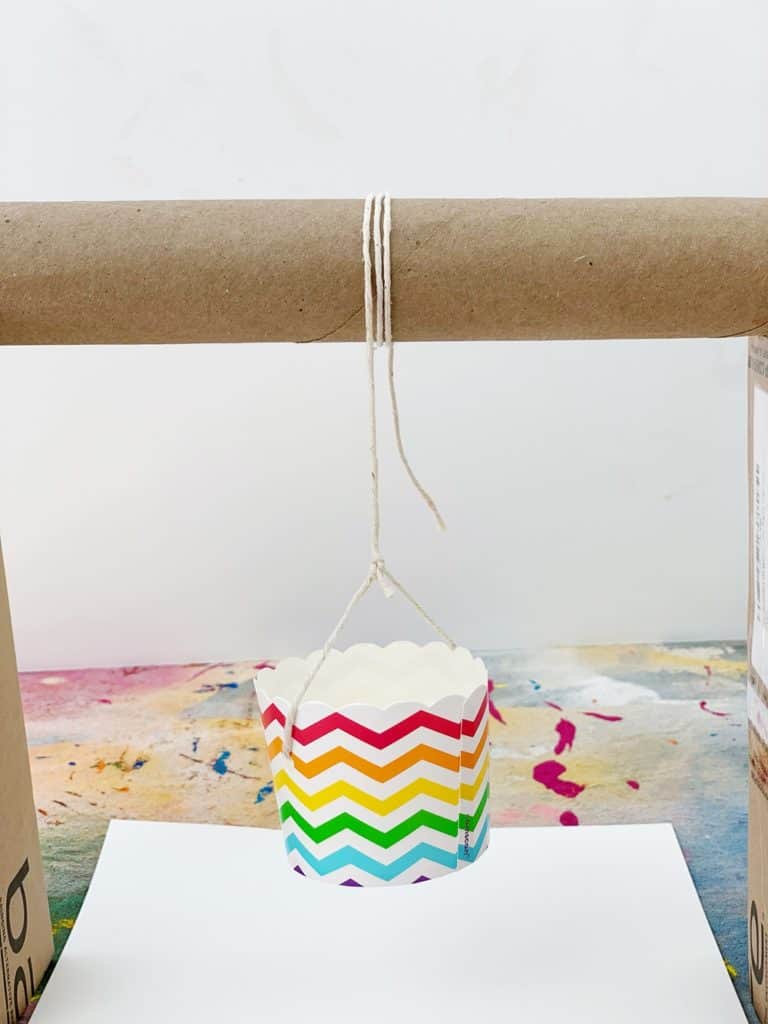 Create beautiful art with this fun STEM painting activity using recycled materials!
There are many ways you can create pendulum painting and set up the contraption. We like to keep it easy around here and look for recycled materials on hand.
In fact we keep a bin of paper tubes and cardboard scraps around for when inspiration strikes!
You will need to create two poles and one across to hold the paint container. We had a long, rectangular skinny tube we cut in half and then just hot glued a paper towel tube across. Easy!
Leftover from a rainbow party, were these rainbow paper food cups so we used those as the paint containers. Then you just need a hole punch, paint and string!
Make note, from trial and error, we found we had to tape the cardboard poles down the table with some packing tape or else they knocked over or were wobbly when we moved the little paint bucket around.
This was a great STEM exercise and scientific observation for the kids. What happens when A occurs? How do you fix it with B?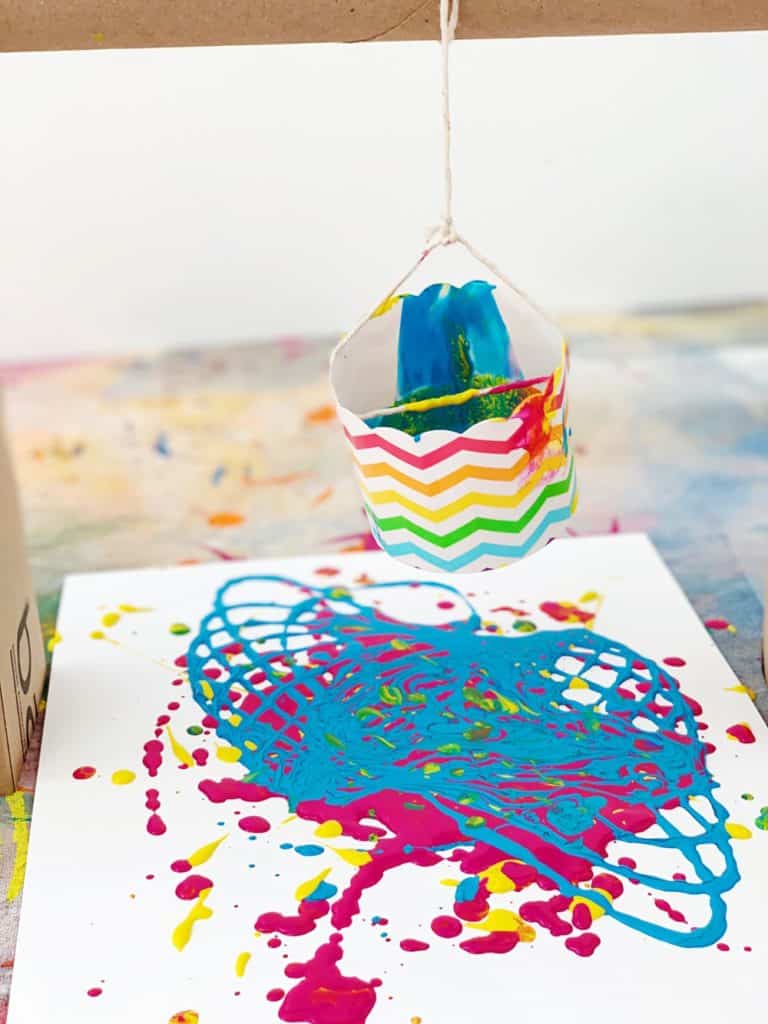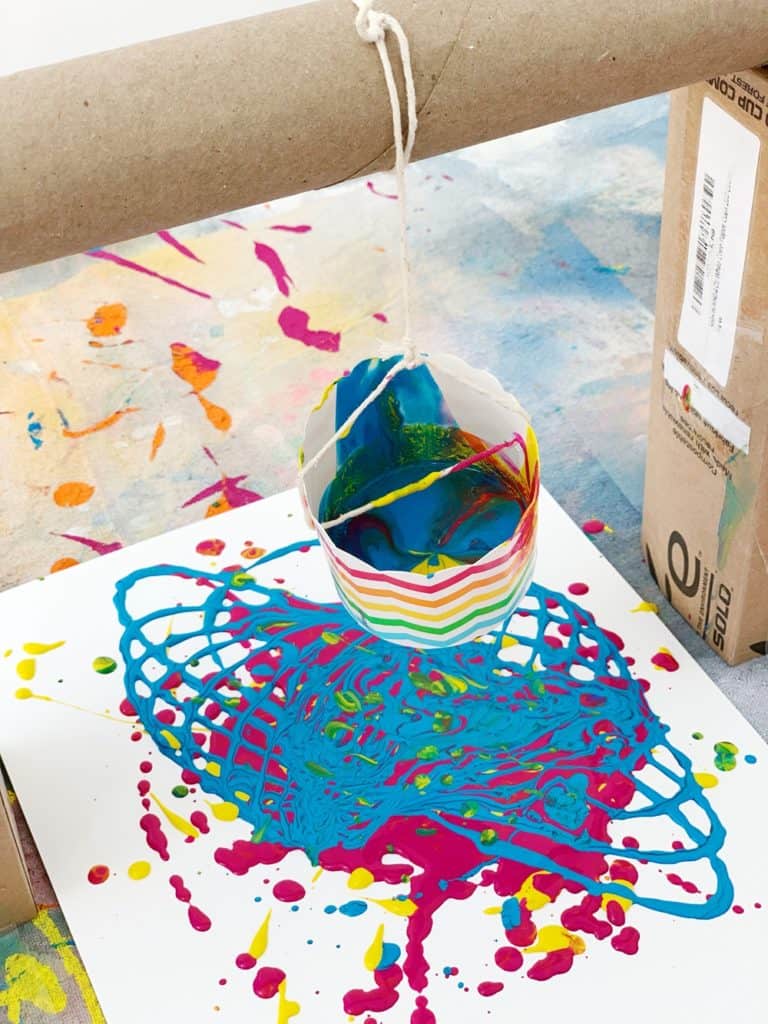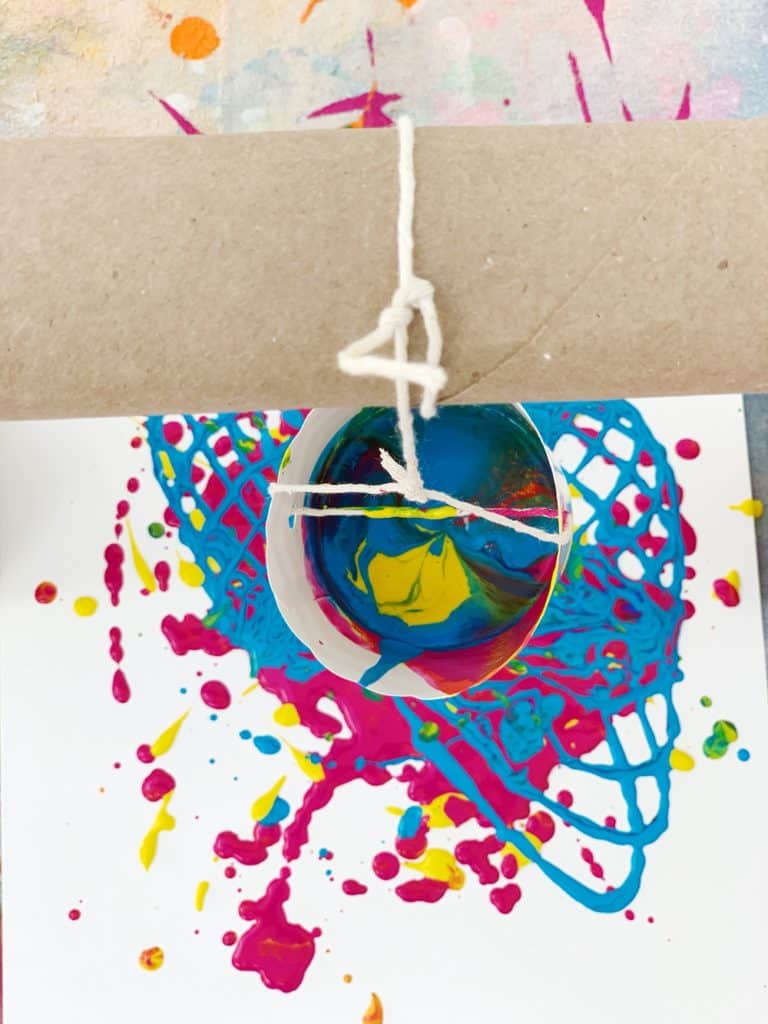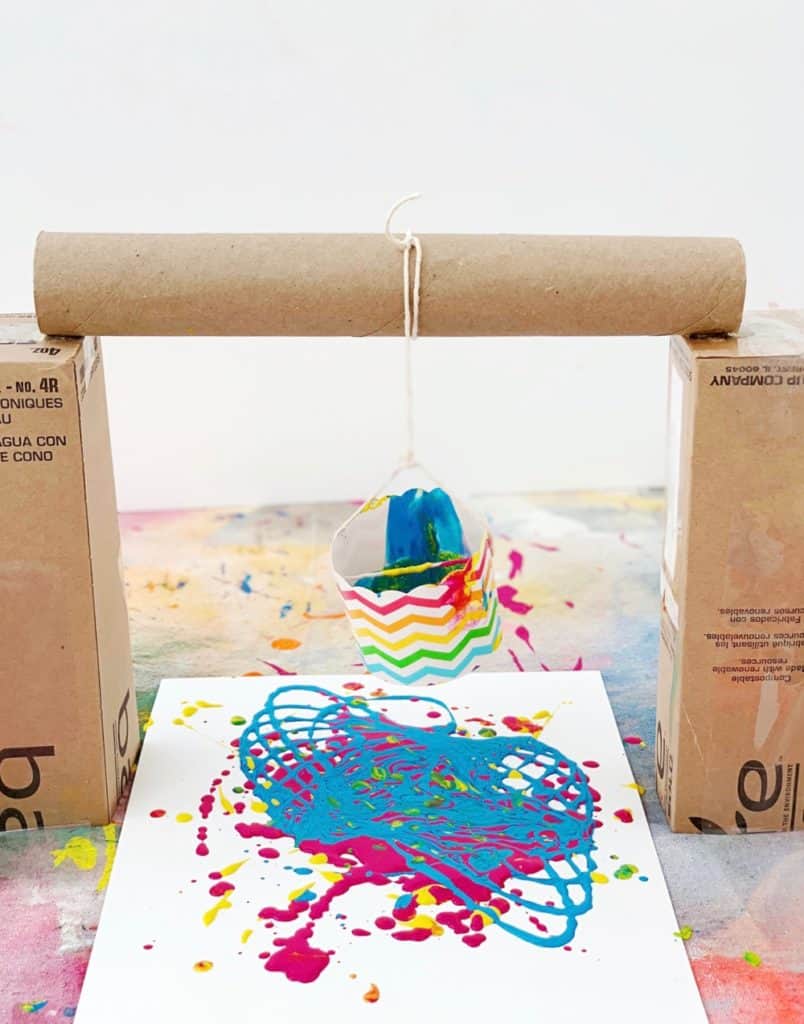 How hard is it to create pendulum paintings?
This is what makes this activity to special and unique. It's really super easy when set up. Once the paint gets added into the holder, your child literally has to do very little work to create a stunning piece of art.
The hardest part is probably cleaning up in the end. We have some tips to give you however, which is covering your entire table with a canvas paint drop cloth.
As you can see ours is lovingly stained from years of past, messy paint experiments and crafts.
The best part is the more it's used, the more beautiful it gets. Just wipe off the paint and let the drop cloth dry.
Or you can take this pendulum painting outdoors and use washable paint and hose it all down.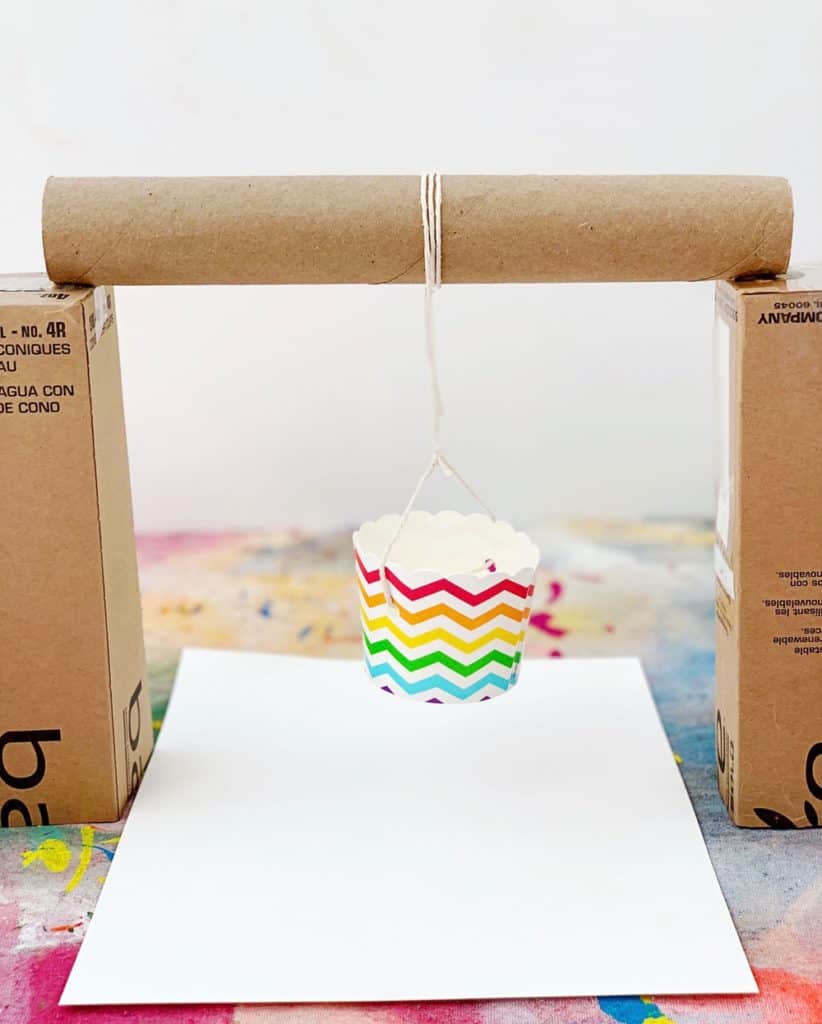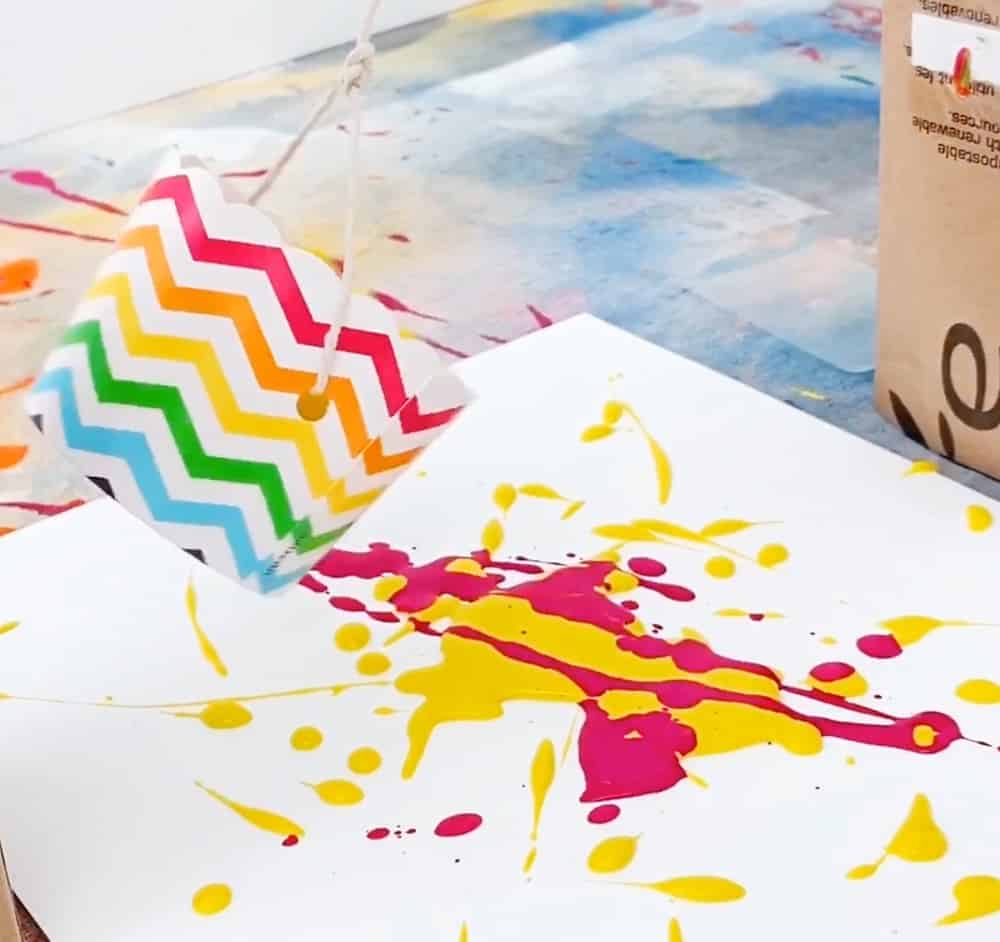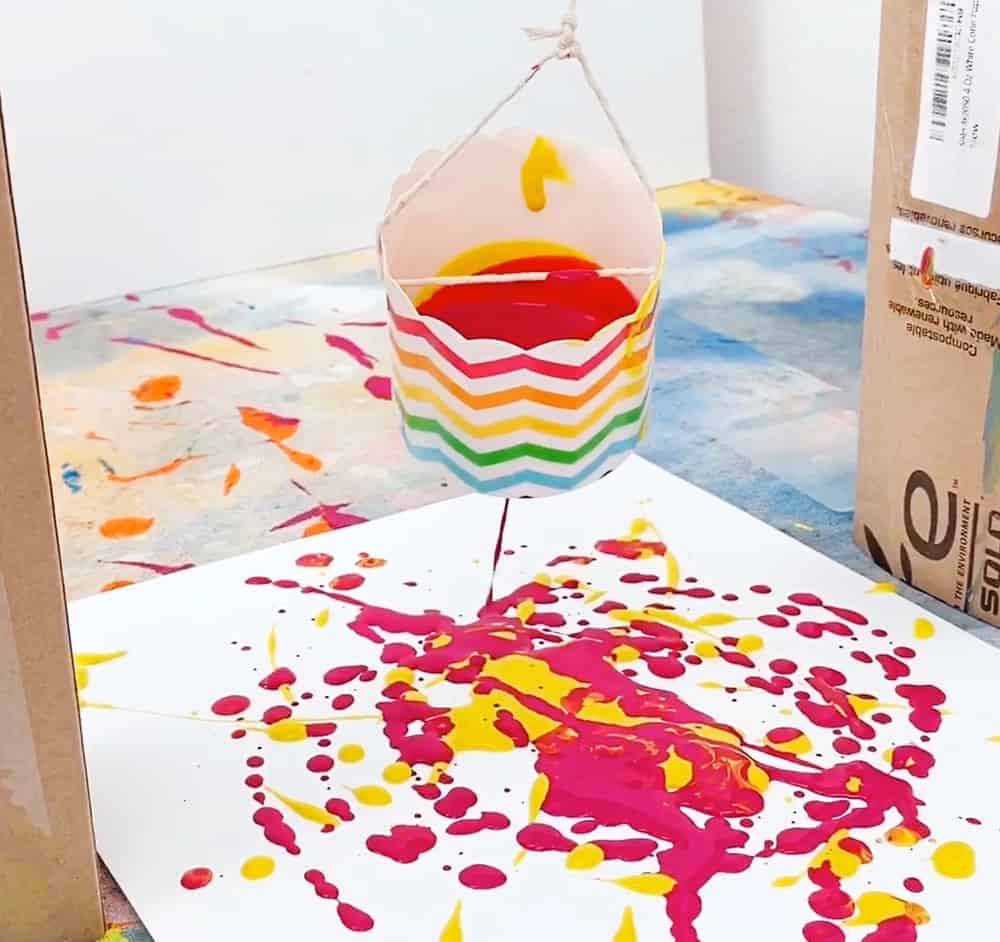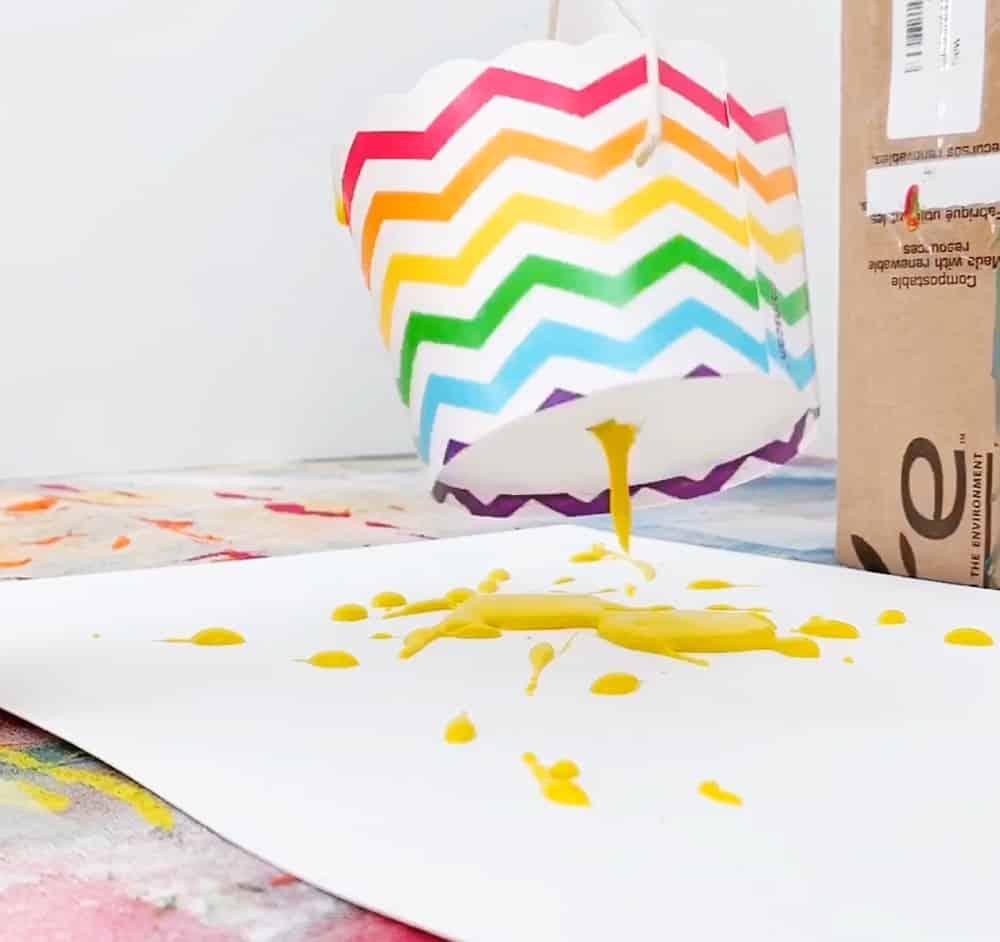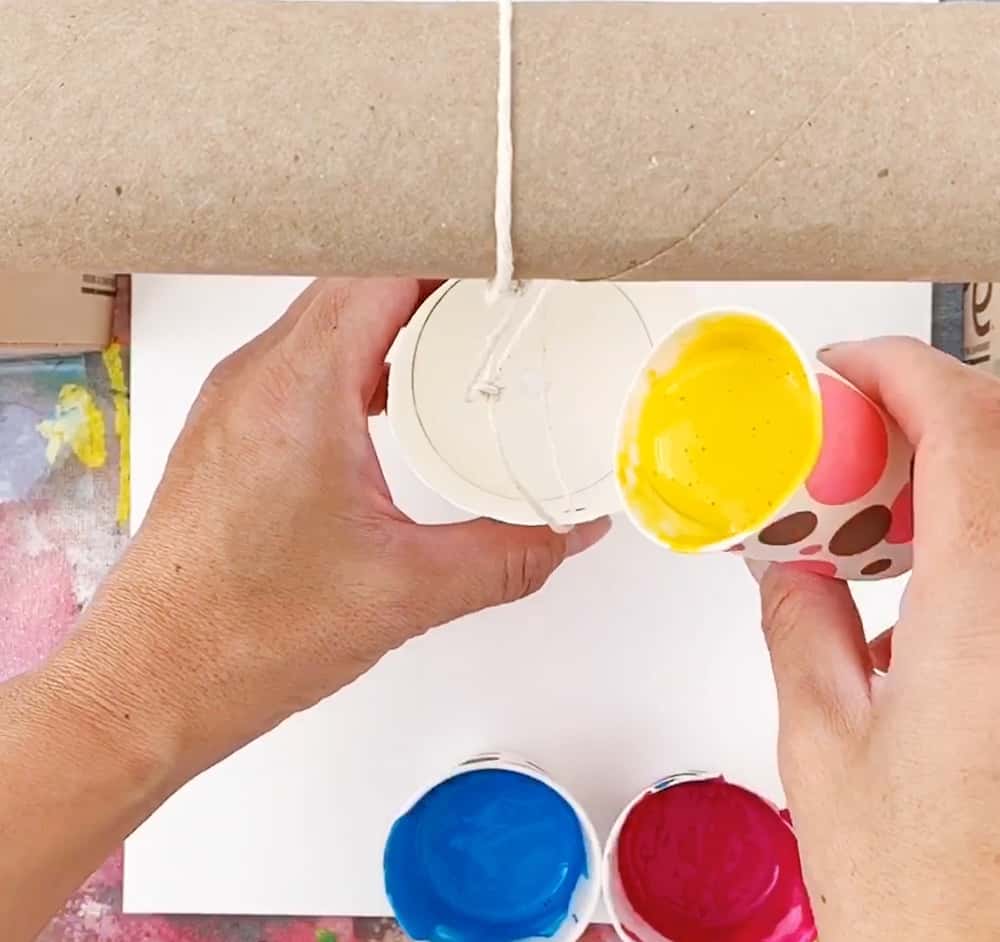 What skillsets does this Pendulum Painting Activity for Kids work on?
Anytime a new activity or project is introduced to a child, there's a good chance that it's going to test their patience and understanding.
And that's okay! It's normal for kids to be curious and want to know everything about what is going on.
Narrowing it down to skillsets based on that, I would have to say that this painting activity works on patience, following directions, hand-eye coordination, and logic. Add a sprinkling of curiosity and tinkering for good measure.
How to set up this Pendulum Painting Activity for Kids
As you can probably tell by now, most of our activities and projects use very little supplies or ingredients. And we have no intention of changing that! It's one of our favorite parts about sharing them with all of you.
As mentioned above, you can use recycled materials for this pendulum painting. However, we hope to inspire and not box you in to just one method.
There are oodles of ways to create a pendulum painting. This one using a plastic bottle is genius and creates elevated art prints!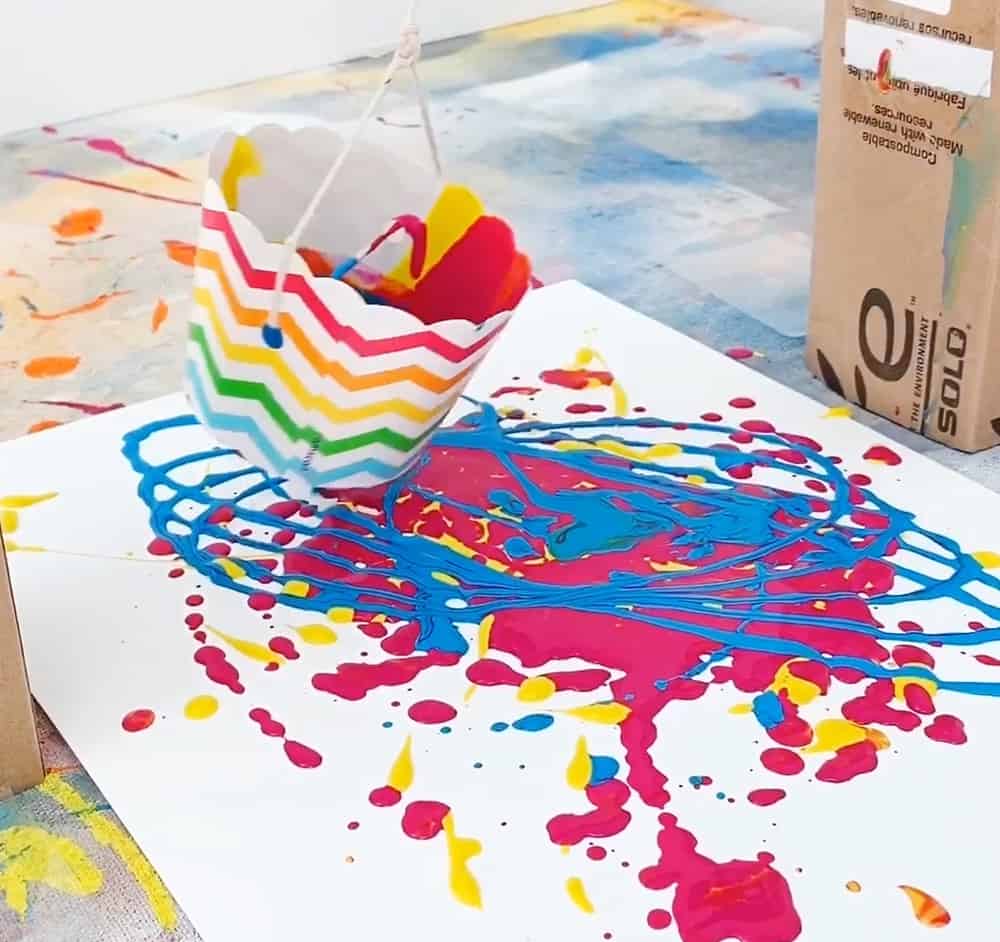 Pendulum Painting Activity for Kids – Materials:
Cardboard box poles
Cardboard Tube
String
Small paper cup
Paint (we used tempera paint)
Water
Packing or strong tape
Cardstock or watercolor paper
Yield: Pendulum Painting
HOW TO MAKE PENDULUM PAINTING WITH KIDS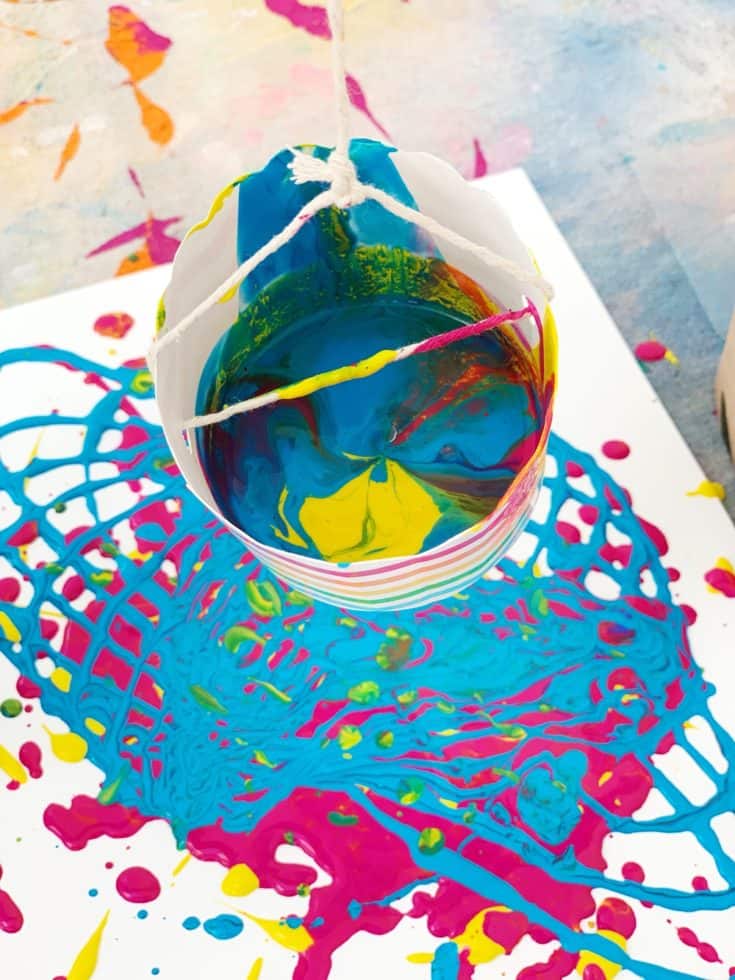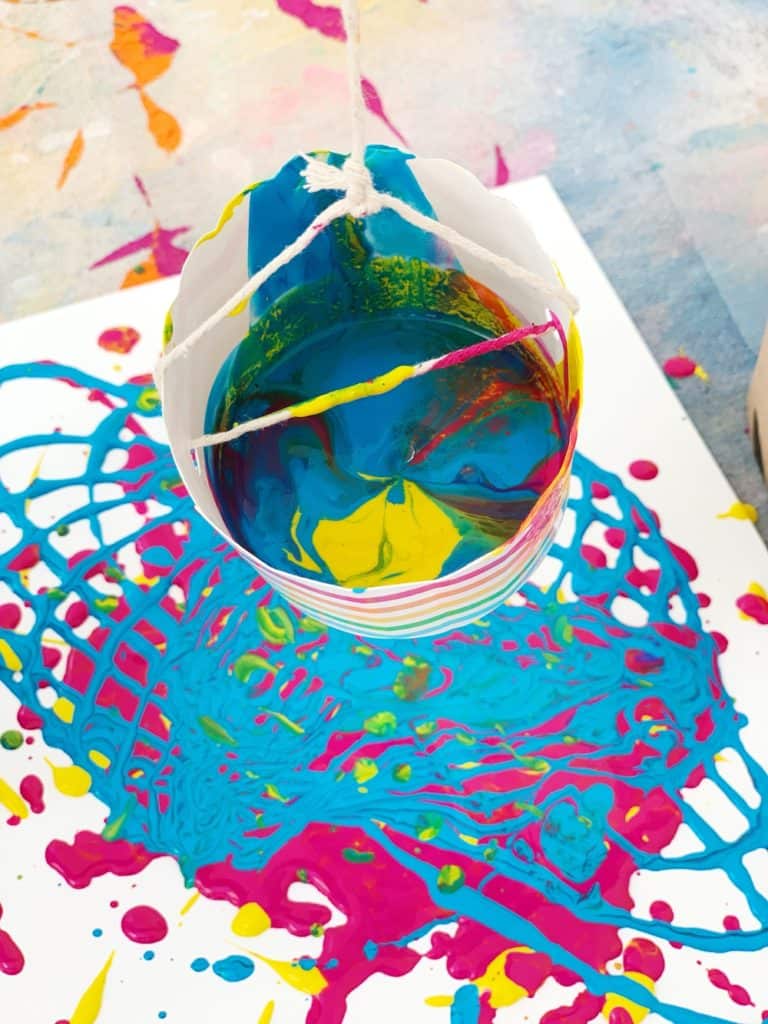 This Pendulum Painting Activity for Kids teaches children that everyday objects can create amazing art.
Materials
Cardboard box poles
Cardboard Tube
String
Small paper cup
Water
Packing or strong tape
Hole puncher
Instructions
1. Hot glue your paper towel roll across your two cardboard poles, evenly.
2. Secure your pole to the table with strong or packing tape so the poles won't wobble or fall down when you are swinging your paint bucket.
3. Take your paper cup, add 3 holes, two evenly across from each other and one on the bottom.
4. Add string through one hole to the other side and through top to make a V formation. Tie off.
5. Take the long end of string and wind a few times through the paper tube in the center, tie off. (It is useful to watch the video in post for this portion).
6. Add paint by color in small cups (we used dixi cups). You'll want to add some water to your paint to thin it out. Experiment from 1:3 to 1:2 to 1:1 ratio of water to paint. We found a ratio of almost 1 part water to 2 parts of paint worked well. It all depends on how fast you want your paint to come out and also how big your hole is in the paint bucket. Feel free to experiment and ask your kids how changing the size hole or ratio of water to paint affects the velocity of paint dripping and intensity.
7. Add a piece of paper right under your paint bucket.
8. Pour your paint in the paint bucket. Swing it around and watch the paint drip in motion. How do the patterns change depending on where you swing?
9. Add more paint on top of the old paint or you can wind a whole new bucket. But we found that pouring more paint on top was just fine.
If you love this fun Pendulum Painting Activity for Kids, make certain to check out these other painting activities as well:
---
Disclosure: Some of the links in the post above are "affiliate links." This means if you click on the link and purchase the item, we will receive a small affiliate commission. Regardless, we give our promise that we only recommend products or services we would use personally and believe will add values to our readers.