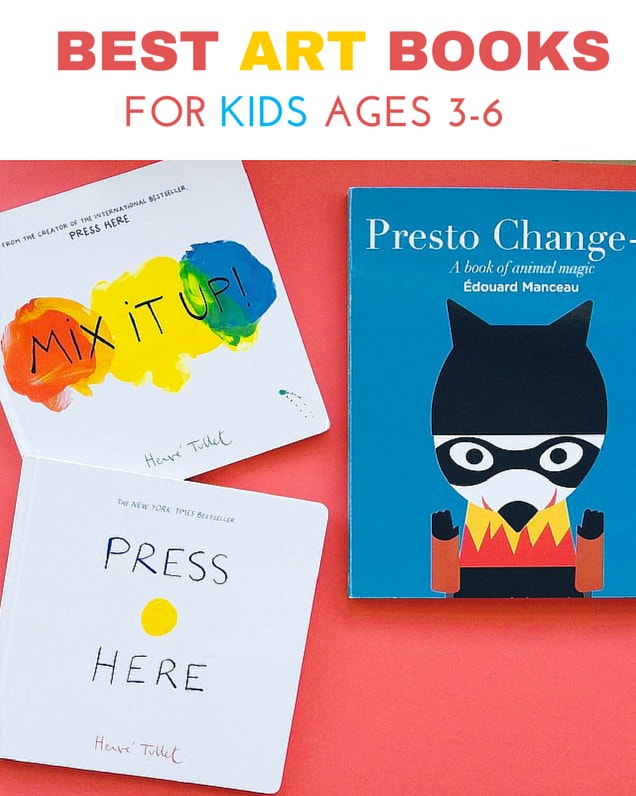 This post was first published 7/15/2015 and updated 5/11/22.
Check out these creative art books for kids age 3-6 perfect for inspiring little artists with colorful new prose and pictures!
Though it may appear that all children are exposed to art at a young age, this is not always the case. In fact, many schools do not even include art classes as a part of their regular offerings. Reading art books with your children is one of the best ways to pique their interest in art.
Reading aloud to children is a wonderful way to introduce them to the world of art, and they provide numerous opportunities for discussion and learning.
Children can put what they've learned about art into practice by participating in fun activities and projects that are provided by many of these books. We have selected some of our favorites from a large number of books on art for children ages 3-6!
A sturdy art book featuring Leo Lionni's well-known story about two friends, Little Blue and Little Yellow, is a great place to start if you child enjoys playful stories.
In this classic tale of friendship, the story is told in a way that will engage young readers by employing only a few words and brightly colored ripped pieces of paper to convey the message.
While following the adventures of Little Blue and Little Yellow on their journey, young children will learn about color concepts in a fun and playful way that they will remember.
This entertaining and engaging book is ideal for early readers who want to learn about cause and effect in a straightforward and engaging manner.
Through the use of the yellow dot on the cover, the pages being shaken and the book being tilted, children will be delighted as the dots multiply and change direction, causing mayhem!
Press Here is certain to become a family favorite, so get ready to have a good time!
It's never been more enjoyable to experiment with color combinations! With the help of this pop-up book, you can see the effects of various color combinations on different objects.
Watch as your favorite colors combine to create new and exciting hues as they blend together.
This title is a beautiful lesson in color mixing, and it is appropriate for aspiring artists of all ages to read. So prepare to experiment and have a good time with Making Colors!
Flip through the pages of Color Zoo and watch as the animals' colors shift in front of your very eyes. This brightly colored board book is ideal for young children who are fascinated by colors and geometric shapes.
There's a lot to discover in this imaginative book, which includes nine different animals and sixteen different shades of color to discover.
Allow your child to let their imagination run wild as they transform an ox into a monkey or a tiger into a mouse. Learning about colors has never been more enjoyable than it is with Color Zoo!
These one-of-a-kind books are an excellent way to introduce your child to the world of color mixing in a non-messy environment.
Simply follow the artist's straightforward instructions on each page and watch as colors appear, mix, splatter, and vanish before your very eyes as the pages turn.
The game Mix It Up! will transport your child into a world of wonder and whimsy that is only limited by their imagination.
For children, the Shapes trilogy is an enthralling introduction to geometric shapes and their relationships with one another told in an artistic and humorous way.
The excellent photographs and hands-on projects assist children in developing a solid understanding of shape, while the engaging text encourages children to use their imagination and creativity.
The artist Ed Emberley demonstrates how to draw a variety of animals, including lions, frogs, and mice, as well as birds, dragons, and other creatures, using only basic geometric shapes.
This classic book is jam-packed with cool things that kids—as well as a fair number of adults—will enjoy drawing from and using as inspiration.
The book is easy to read and entertaining, and it will provide hours of art-filled entertainment for readers. Now that you have a pencil in hand, get ready to enjoy yourself!
Every child's bookshelf should contain this picture book that will spark their imagination. Harold decides to take a walk in the moonlight one evening after dinner.
Young Harold creates a landscape full of wonder and excitement with nothing more than an oversized purple crayon and a piece of paper. Harold and his crayon have a voyage through woods, across the open seas, and past dragons before making their way back to their bed.
This endearing story, which is full of amusing twists and surprises, demonstrates just how far your imagination can take you.
Throughout this delightful story, Duncan, a young boy whose crayons have all decided to quit on him, encounters various adventures.
Duncan only wants to color, but when he opens his box of crayons, all he finds are letters written by the crayons themselves, who are clearly upset.
Colouring in all those bodies of water has worn out the blue crayon, while the black crayon has grown tired of being used for outlining, and the orange and yellow crayons are no longer speaking to one another.
This enchanting anthology contains interviews with twenty-three of the world's most renowned children's illustrators, all of whom are featured in this book.
Learn about their creative process, explore their sources of inspiration, and discover how and why they became interested in illustration.
Artist to Artist is a beautifully illustrated book with fold-out pages that include photographs, sketches, and finished art. It is the perfect gift for any aspiring artist out there!
Anything is possible when you have Andrew Drew and Drew Book on your side. Follow Andrew as he creates amazing works of art using only a pencil and a piece of paper as his only tools.
This book is ideal for aspiring artists of all ages because it fosters creativity and serves as an inspiration for new ideas.
Imaginative illustrations and artistic storytelling will captivate readers with each page turn, drawing them in further and further.
This delightful book demonstrates to children that making mistakes is not only acceptable, but can actually be quite enjoyable and entertaining.
Beautiful Oops! takes children on a journey of discovery, demonstrating that an accidental spill does not have to ruin a drawing and that an accidental tear can be transformed into the mouth of an alligator.
Children will learn to see mistakes as opportunities for innovation, and they will have a great time while doing so.
It is the authors' hope that the novels The Dot, Sky Color, and The Art of Thinkering will encourage readers of all ages to think outside the box and discover their own unique potential.
In these enchanting storybooks, readers will be given a playful introduction to self-expression and art, while also being encouraged to let their imaginations run wild.
The Creatrilogy boxed set, which features charming illustrations and straightforward but impactful messages, is the ideal way to encourage your child's imagination.
The theme of transformations runs throug this enchanting book! Children can participate in the magic of turning a teapot into a large great elephant,, and other objects into animals.
For kids, Presto Change-O! will astonish them with its 8 vibrant, bold images to transform, as well as the engaging rhyming verses.
This will accompany each pair of images and the sturdy oversize book design that is perfect for use at home or on the road.
Keep track of your paperwork? Do you find it difficult to stay organized? This delightful book is available to assist you!
Follow the antics of the colorful cast of characters as they argue over who is the rightful owner of the stray pieces of paper that are constantly blowing into the room.
Windblown Book is a delightful book for children and adults alike, thanks to its charming illustrations and clever cumulative story. So go ahead and pick it up today and prepare yourself for some good, old-fashioned entertainment!
With the Mini Masters Boxed Set, you can introduce your young child to the fascinating world of art history in a fun and engaging way. This wonderful set includes four beautiful board books, each with artwork by a different master artist, that are bound together with ribbons.
The straightforward and rhythmic text will captivate your child, while the vibrant illustrations will capture their attention and pique their interest.
This set, which comes in a convenient box, is ideal for family reading and makes an excellent gift for any occasion.
Takeaway
Introduction to new concepts and ideas through books is always a good idea when it comes to introducing your children to new things, and the Best Art Books for Kids Ages 3-6 are no exception to this rule.
With their beautiful illustrations, engaging rhymes, and clever stories, these books are sure to capture your child's imagination and help them develop a lifelong interest in the arts and crafts.
Now is the time to get your hands on a set and prepare to embark on an exciting journey that is bursting with color, imagination, and creativity. ​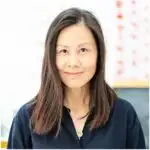 Agnes Hsu is a mom of three and has been inspiring parents and kids to get creative with easy activities and family friendly recipes for over 10 years. She shares her love for creative play and kids food to her 2MM+ followers online. Agnes' commitment to playful learning and kindness has not only raised funds for charity but also earned features in prestigious nationwide publications.