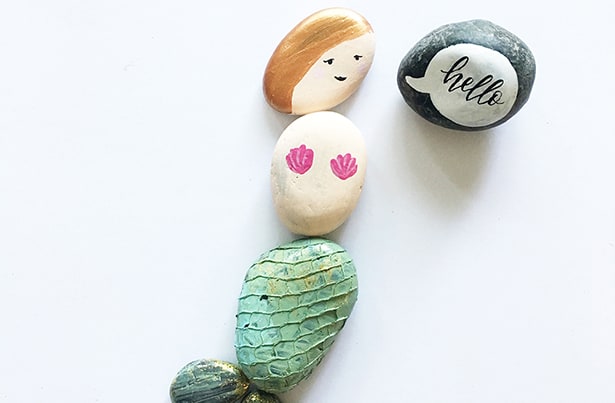 Sometimes the best art supplies are found right in your own backyard – like the rocks used to create this lovely painted mermaid! Inspired by Make It Your Own's "Rock Fish Pond" craft and our current mermaid obsession, we turned the craft quickly into mermaids!
We think these painted mermaid rocks are the epitome of simple handmade beauty and how fun would they be to make along with Swimming paper mermaids, a DIY mermaid plushie, fun printable mermail, or even a wearable mermaid tail!?
Perfect mermaid party crafting combos! I can't help but picture a whole set of mermaid rocks in a garden, children's play area lined up sunning along a bubbling water feature – so cute.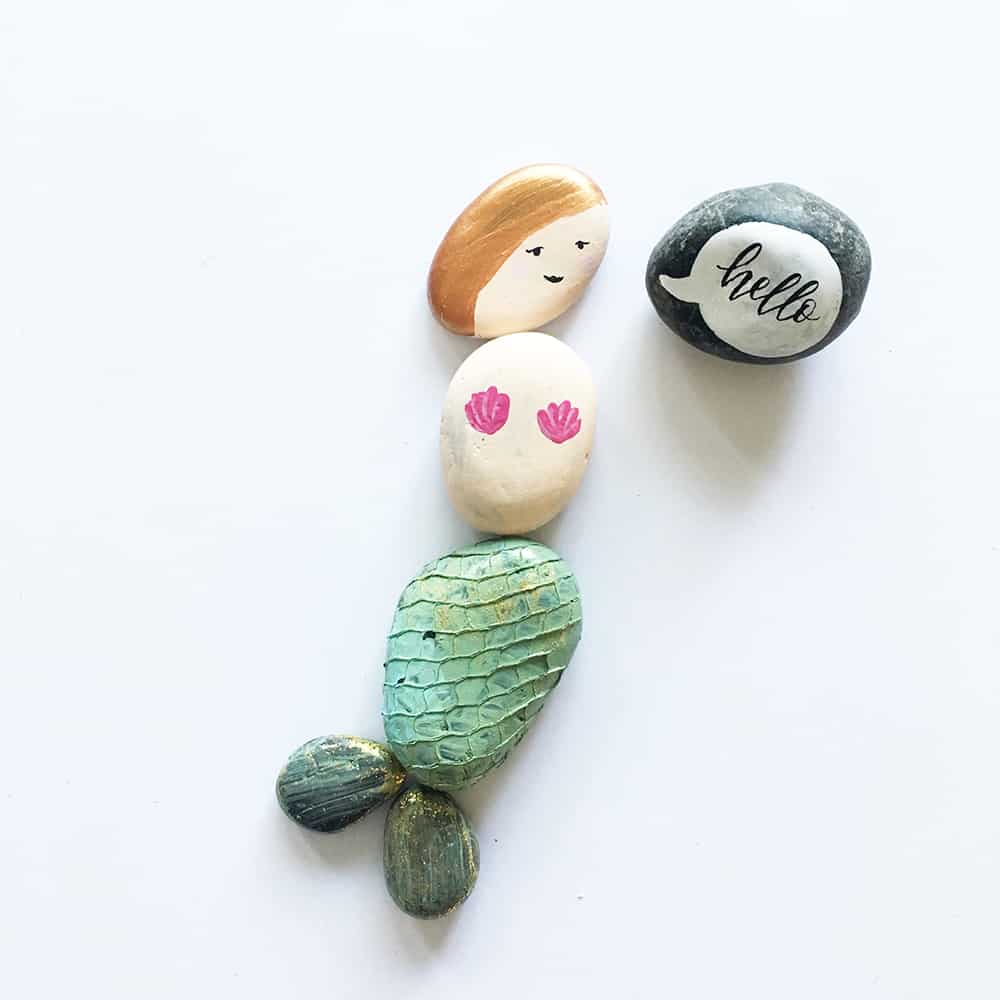 PAINTED MERMAID ROCKS – MATERIALS:
Rocks
Acrylic Paint
Paint Brushes
Extra Fine Tip Sharpie Pen
Mesh Bag (we used mesh from a sack of lemons that we got from the grocery store)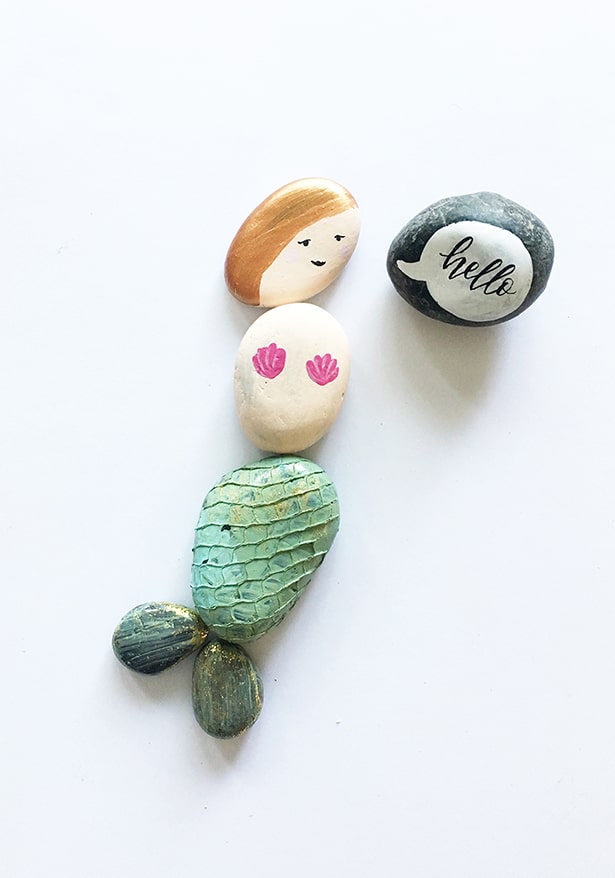 INSTRUCTIONS:
Step 1. Make sure your rocks are clean and dry from any debris.
Step 2. Pick out rocks for the head, body, tail and fin.
Step 3. Paint rocks with acrylic paint using ours as an example.
Step 4. For the tail, tie the mesh bag tightly around the rock. You can secure it with a twist tie or a rubber band. Paint the rock with a nice, thick coat of acrylic paint. Wait for the paint to dry completely before peeling the mesh bag away.
Step 5. Once the paint is completely dry, use the fine tip pen to draw tiny details like the mermaids face.
Voila! These were super fun to interchange between other mermaids! Have you made painted or decorated rocks ?
We have found so many fun ways to create themes with ours!
Decorated rocks make a great DIY alphabet learning tool, build your own painted rock ice cream cones, or use rocks to spread a little kindness.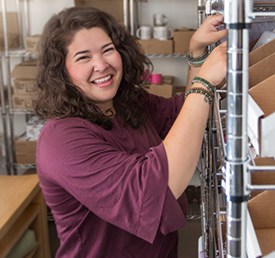 Justine Ma is a designer and hand letterer based in Edmonton, Alberta, Canada. After producing hundreds of prints in a silk screening workshop, she started selling her goods at local art and craft markets. With the request for greeting cards, she quickly became a stationer. Years later, you can find her product line expanded into stationery, home goods and apparel.
She lives and works along side her 4 year old project manager Ruby and amazing husband/partner/carpenter extraordinaire. See Justine's work on her shop and follow her on Instagram @justinemadesign.
---
Disclosure: Some of the links in the post above are "affiliate links." This means if you click on the link and purchase the item, we will receive a small affiliate commission. Regardless, we give our promise that we only recommend products or services we would use personally and believe will add values to our readers.