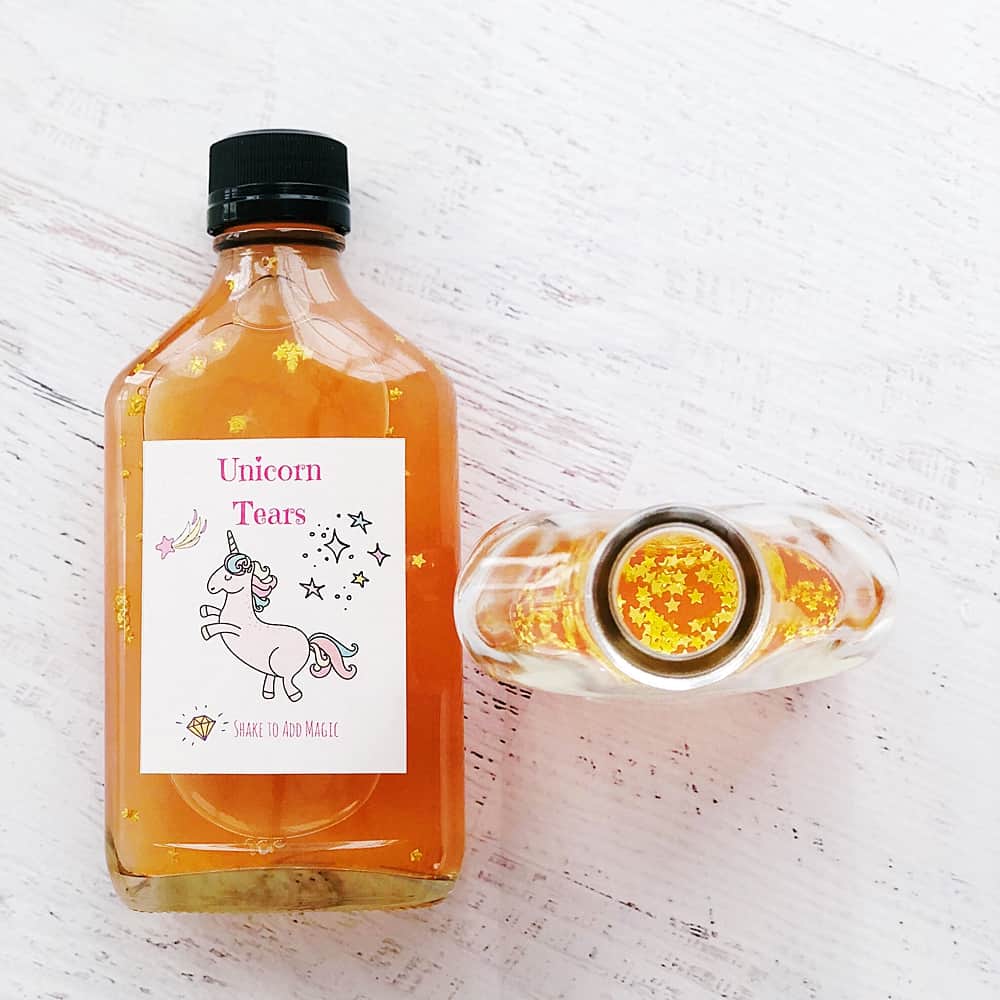 Follow us on Instagram for more fun ideas for kids!
Rainbows, mermaids and unicorns…have you ever wished you could bottle the magic of your favorite things? Well, you're in luck, because we came up with a top-secret recipe for bottled Unicorn Tears Juice!
The perfect mixture of sweet, tang and sparkle – this enchanted drink uses a pinch of edible glitter to give it a special look as lovely as it tastes.
If this bottled magic is giving your all the unicorn party feels, you already have the drink and a little party gift covered, because these make the cutest DIY unicorn take-home favors.
And if you need more unicorn crafts to go along with this magical drink, take a look at our Cute Unicorn Crafts for Kids.
Scroll all the way down to watch how easy and fun it is to make this magical Unicorn Tears Juice and be sure to subscribe to our channel for more fun crafts and ideas!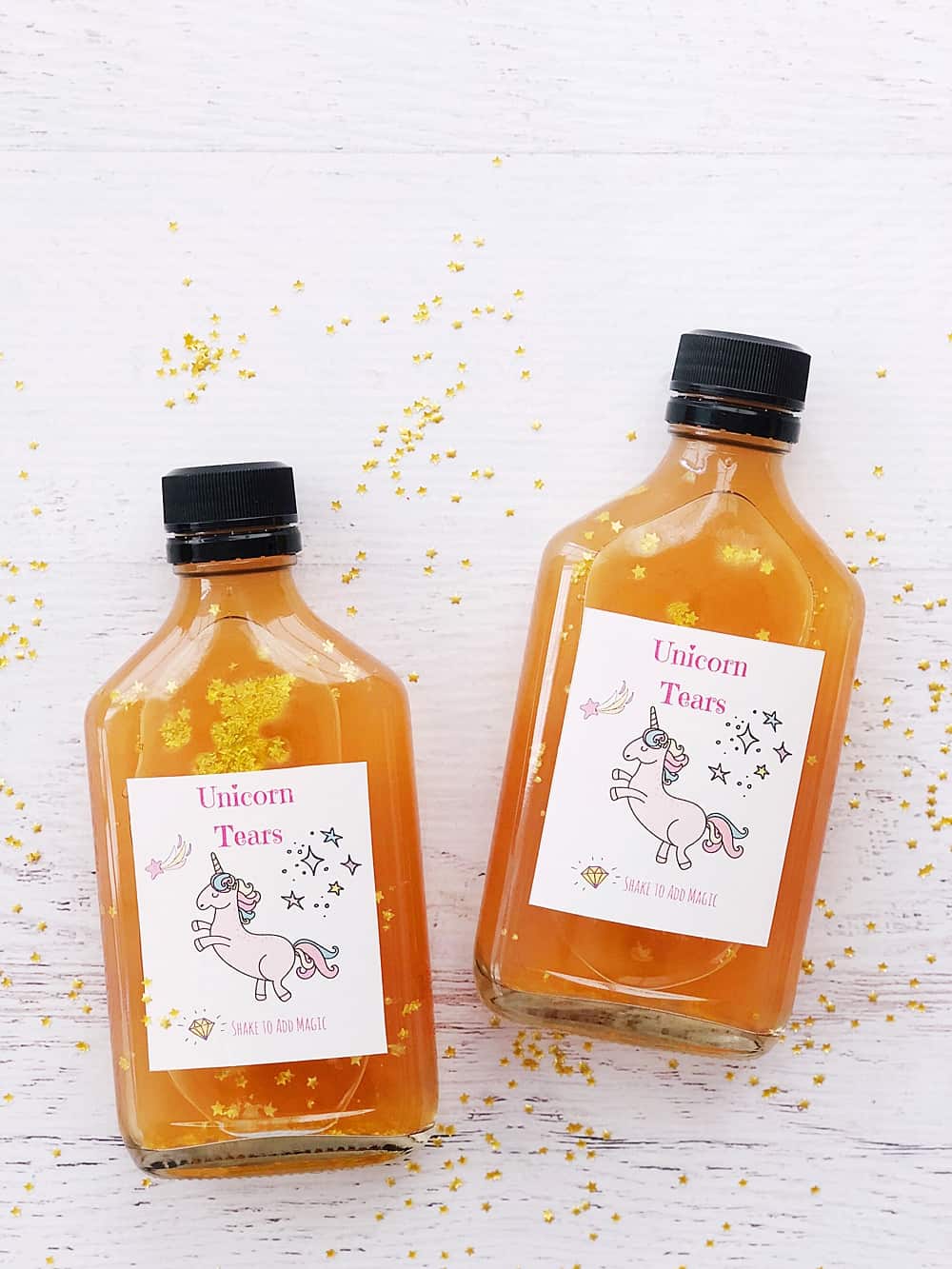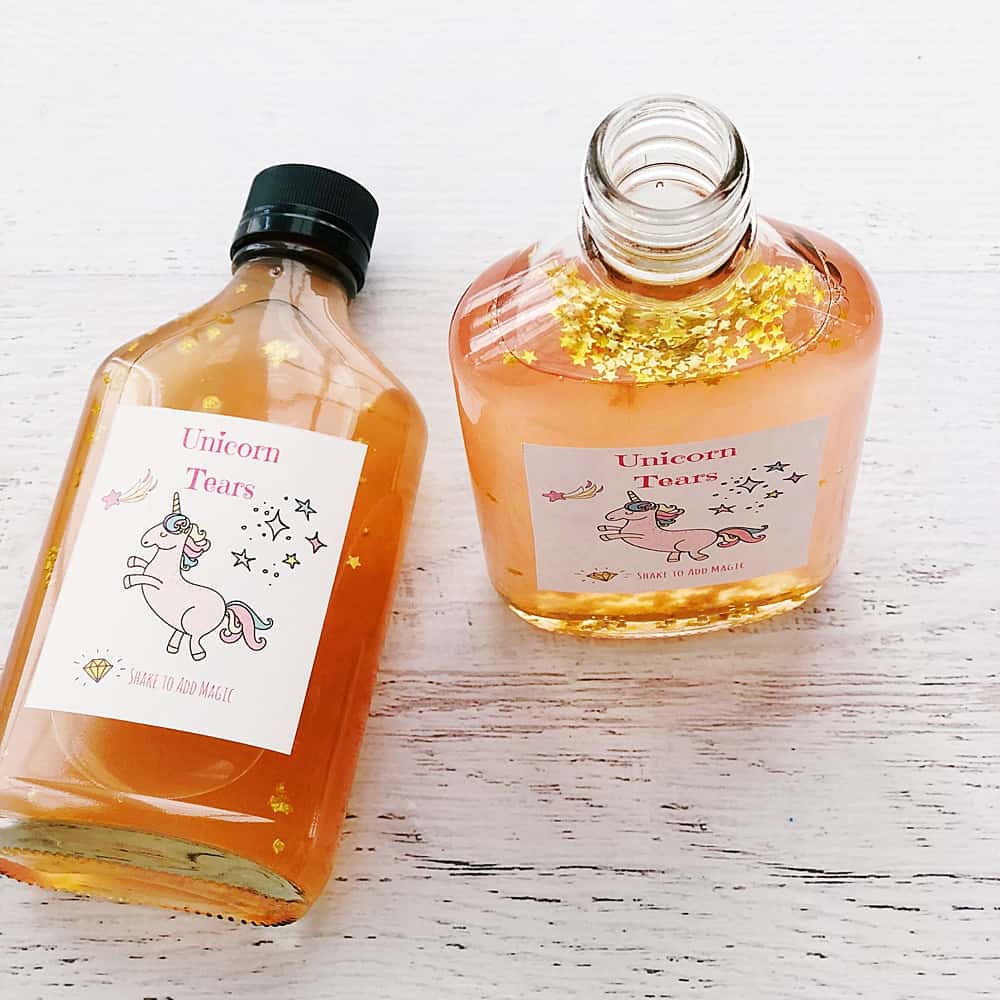 UNICORN TEARS JUICE – SUPPLIES & INGREDIENTS:
Pink Lemonade
A Small Bottle or Flask
Our Free Printable Unicorn Tears Label (download right below)
Printer
Click Here to Get Your Free Printable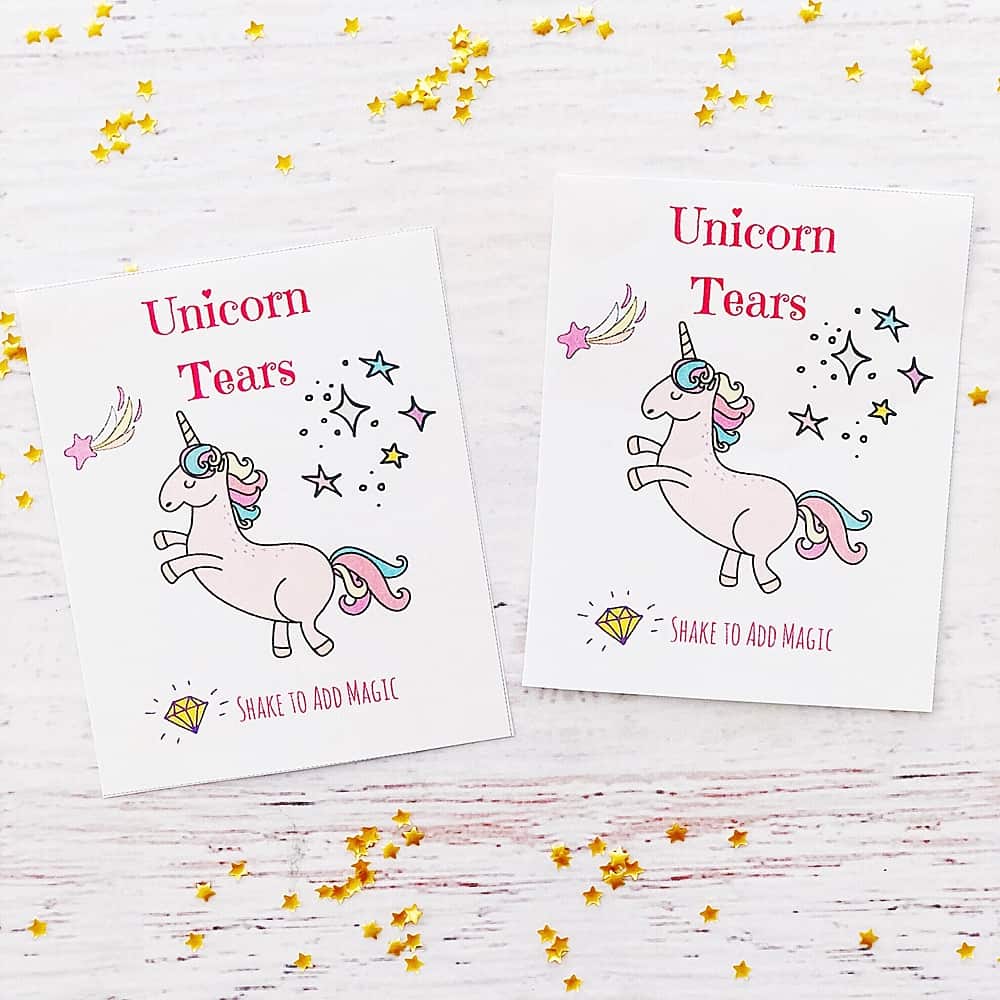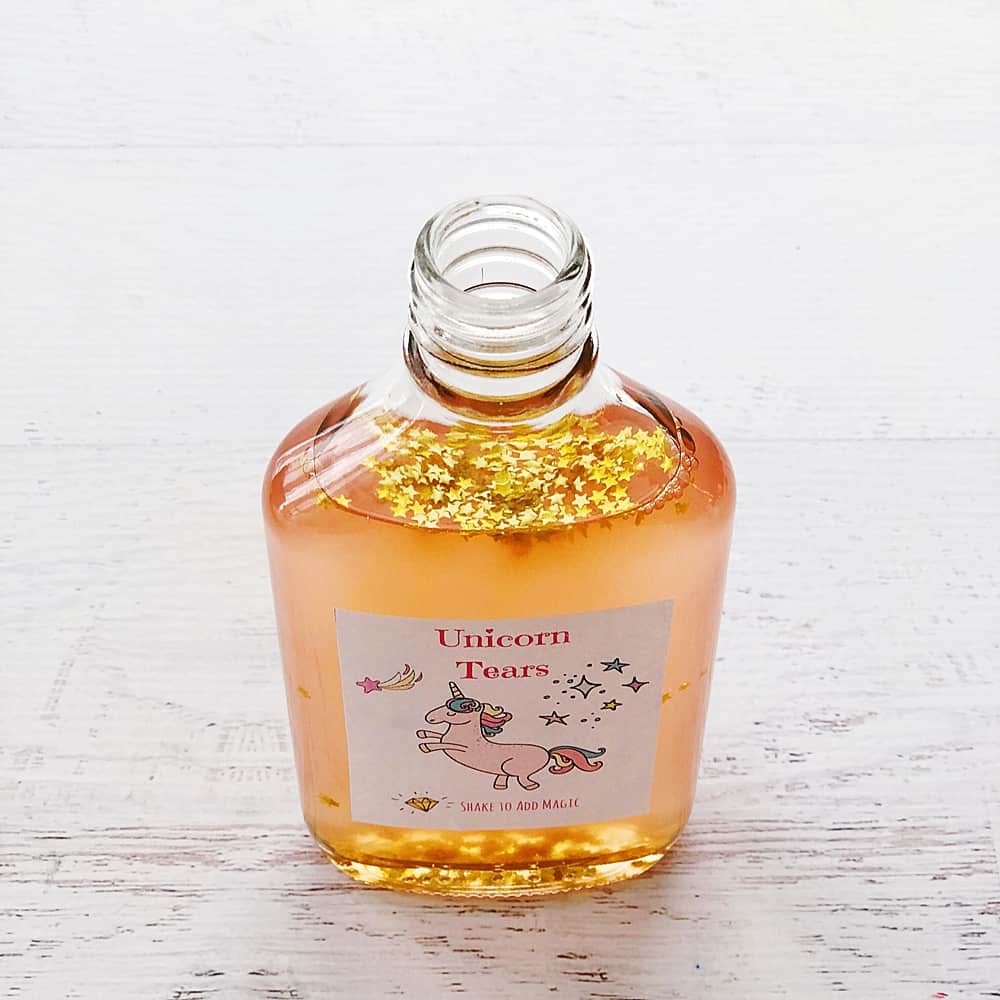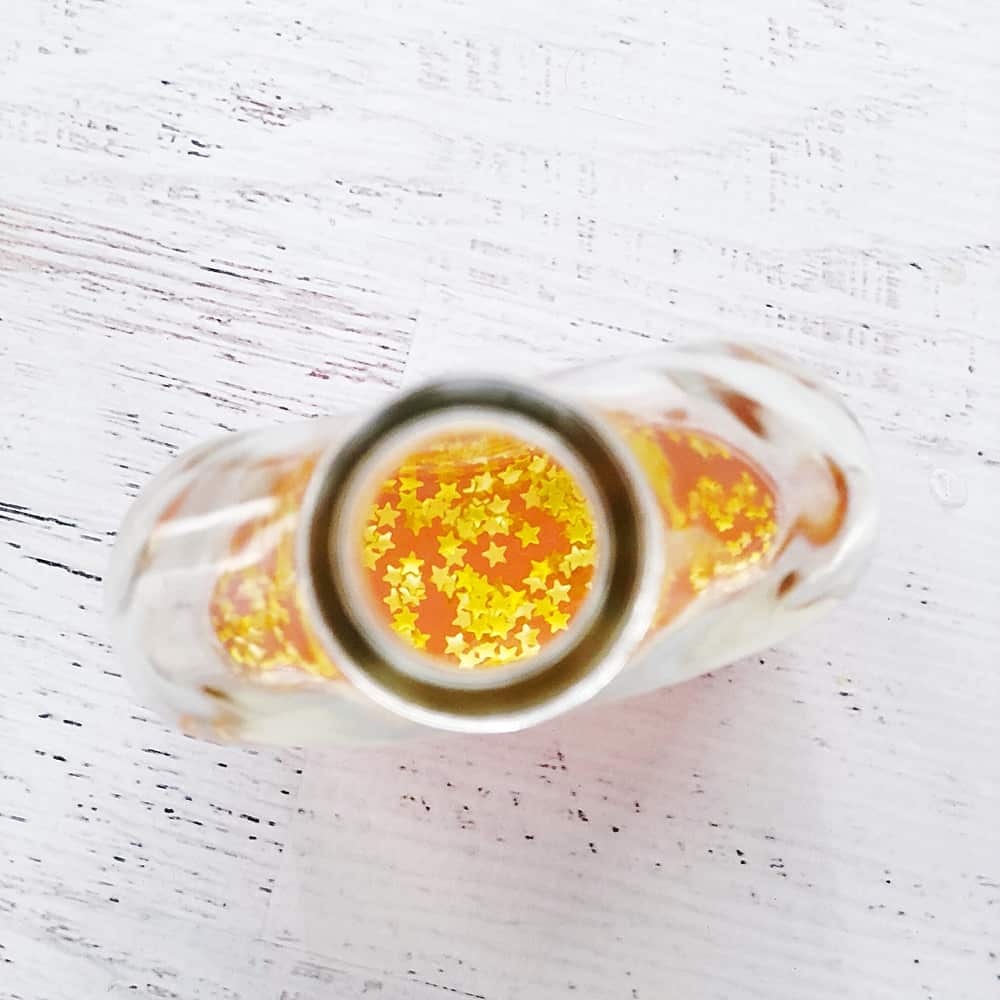 *The starts add extra sparkle but dissolve quick so use only if you want to add extra magic right away to your child's drink! Omit if you're making for a party or for later consumption.
INSTRUCTIONS:
Mix up a pitcher of pink lemonade or use store bought.
Pour into small bottles or flasks.
Use a funnel to add edible gold stars. As a general tip, the stars disintegrate fairly quickly so for party favors, I would skip the extra sparkle and just use the pink lemonade.
Print out the Unicorn Tears labels onto a sheet of sticker paper, apply to the flasks and serve! Happy tears ensue.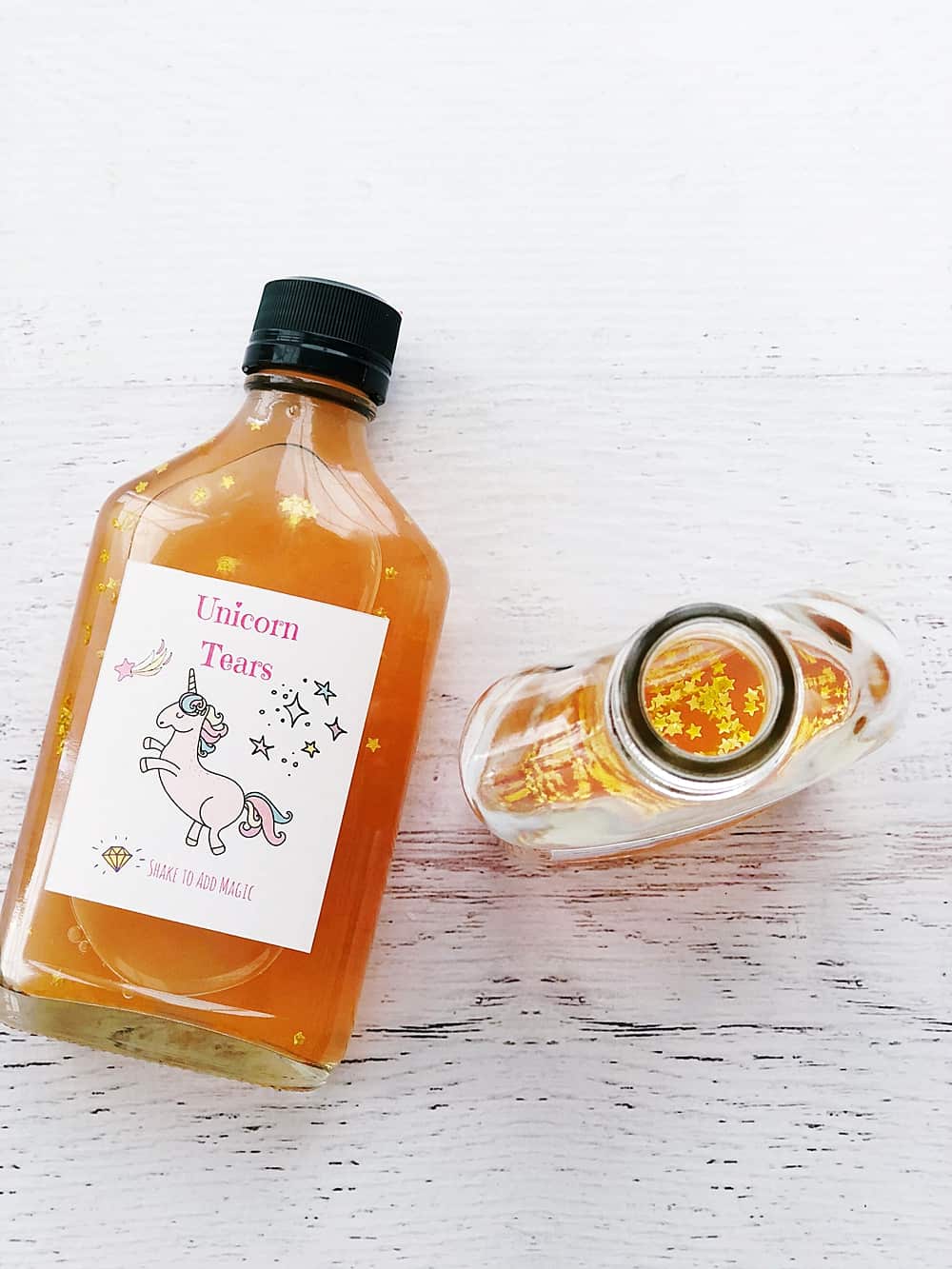 These unicorn tears are happy tears and ones you'll be happy about and so will your kids!
For more magical treats, try making some Unicorn Galaxy Yogurt Bark, these adorable Mermaid Ice Cream Cones, or a batch of delicious (and nutritious!) Rainbow Fruit Unicorn Popsicles.
Watch the DIY video to see how easy it is to make this magical Unicorn Tears Juice.
---
Disclosure: Some of the links in the post above are "affiliate links." This means if you click on the link and purchase the item, we will receive a small affiliate commission. Regardless, we give our promise that we only recommend products or services we would use personally and believe will add values to our readers.