Originally posted on 30/08/2014
It seems that almost all kids go through a superhero phase during their childhood. From superhero dolls to themed bedrooms and parties, they want everything to be related to their iconic heroes.
The best way for them to enjoy their favorite superheroes is by dressing up as one themselves. One of the key elements to any superhero's disguise is their cape.
These DIY capes are easy to make, require few materials, and can easily be personalized for your little one's superpowers. And don't worry – since most of these capes don't use strings that tie around the neck, your kids can safely be up, up, and away!
Easy Tutorial for Sewing a Cape
Your child will look like they're ready to save the day in their cape. This Fabric Sewn Cape tutorial by How Does She will show you how you can easily make a superhero cape. And no, you don't need to worry about creating a sewing pattern.
However, you are going to need to get your hands on a sewing machine. While this may seem like a hassle, once you see the finished product, you'll realize it was so worth the time and effort.
Velcro fastenings make this cape easy for your little hero to take on and off themselves. You can also decide whether you want to keep the design simple with a single color or opt for a double-sided cape. This way, your little one can decide if they feel like being Batman or Superman for the day.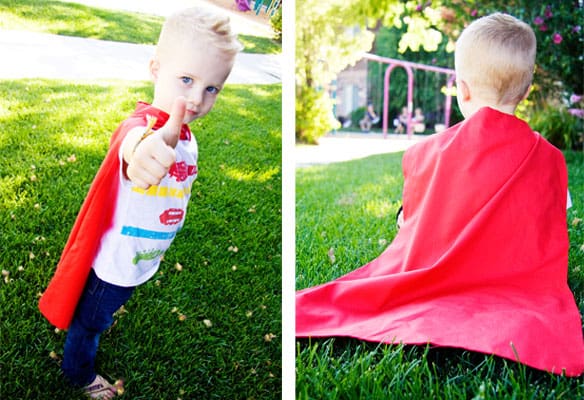 T-shirt Cape Tutorial
This step-by-step guide from Happiness is Homemade is so simple; anyone can do it! This homemade superhero cape doesn't require any sewing on your part. Its simplicity also makes this a great DIY activity for you to do with your kids. Or you can make these as affordable party favors for your child's next celebration.
You can make a simplified version using an old t-shirt and some scissors, or you can follow the full t-shirt cape tutorial to see all the wonderful embellishments.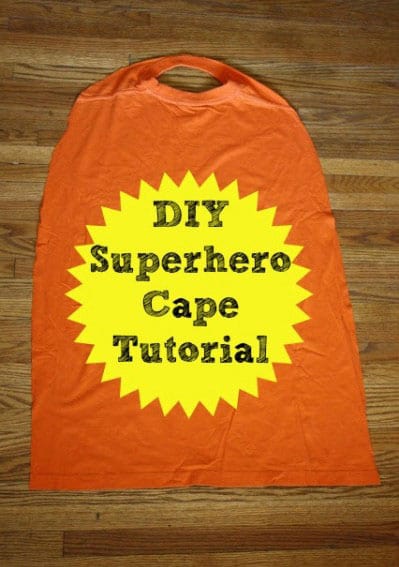 No Sewing DIY Superhero Cape
This homemade cape by Make and Take is so lovely and effortless to make. All you really need is fabric, scissors, and a glue gun.
This tutorial for a DIY kids cape has no template, so this does call for plenty of freehand cutting. But no need to worry, the design is so simple you'll hardly notice any small errors.
How to Make a Superman Cape
This step-by-step guide by My Handmade Home is perfect if your superhero is only a toddler. You'll need to use one of your child's old bibs to make a neckline that fits your little one's neck comfortably.
With a little bit of scrap fabric and Heat and Bond, this superhero cape will be looking like Superman's in no time.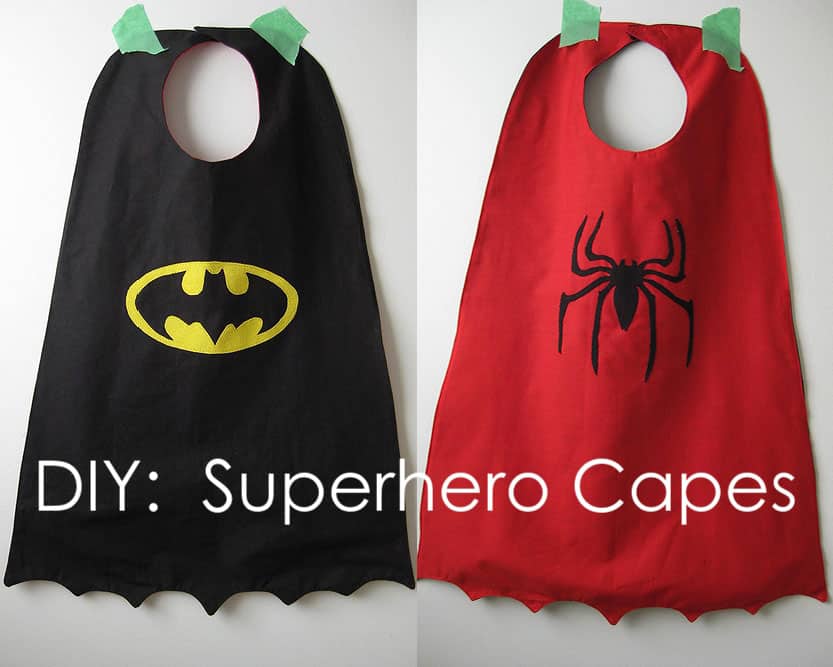 Superhero Capes DIY
This is another excellent DIY cape for toddlers. This Crazy Little Projects tutorial uses velcro to keep the necktie in place – so you won't have to worry about your little one getting hurt.
It can be easily customized for boys or girls by using different color combinations. If you have some superb craft skills, consider cutting out the emblem of your child's favorite superhero, and then stitch this onto the cape. For a simple alternative, stitch a diamond shape, and the first letter of your child's onto the superhero cape.
DIY Kids Capes with Minimal Sewing
Project Nursery has created this stunning superhero cape and mask tutorial. This homemade cape does use a ribbon to keep the necktie secure, so this is probably a better option for older kids. However, it's always a good idea to supervise your child.
You can easily customize this superhero cape with some embellishments. This tutorial will also show you how to make a mask using the leftover scraps of felt. Your little one will love this complete superhero disguise.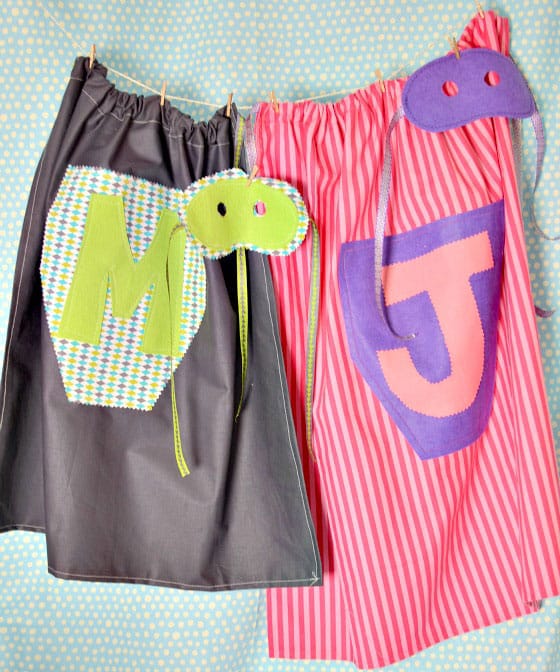 How to Make a Superwoman Cape
Superheroes are definitely not just for boys. Christy's Customs created this easy cape tutorial for a little girl, but it can just as easily be used to make capes for boys too.
This tutorial will show you an easy and cost-effective way to make a DIY superhero cape. It also comes with a printable template so you can get the sizing right.
Again, you can make this cape extra special by stitching on some geometric shapes or your young superhero's initials on.
A Simple Way to Make Your Own Superhero Capes
This is one of the easier ways to create a superhero cape, and it's a great project to do with your kids.
This Camp Slop tutorial will show you how to cut out the cape in felt material and add some fun geometric shapes in adhesive-backed felt yourself. Then let your kids go wild and decorate their cape in a way that matches their own unique superhero identity.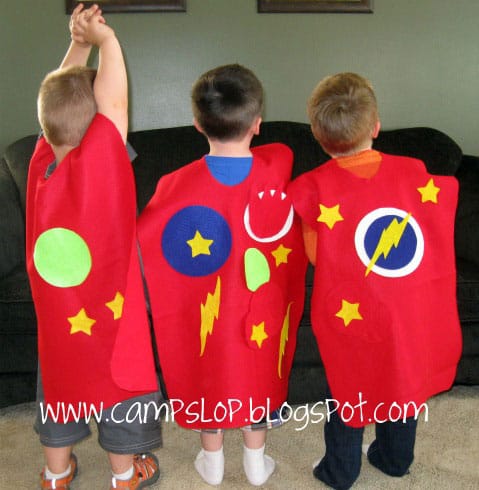 Find A 'How To Make A Superhero Cape' Tutorial You Liked?
A cape is essential to completing a hero's outfit. Not everyone has a superhero cape DIY kit laying about. But these tutorials have hopefully shown you just how quickly and easily you can make one for your little superhero.
Whether you need a last-minute DIY Halloween costume or a quality party favor for your child's birthday celebrations, you'll find the right tutorial here.