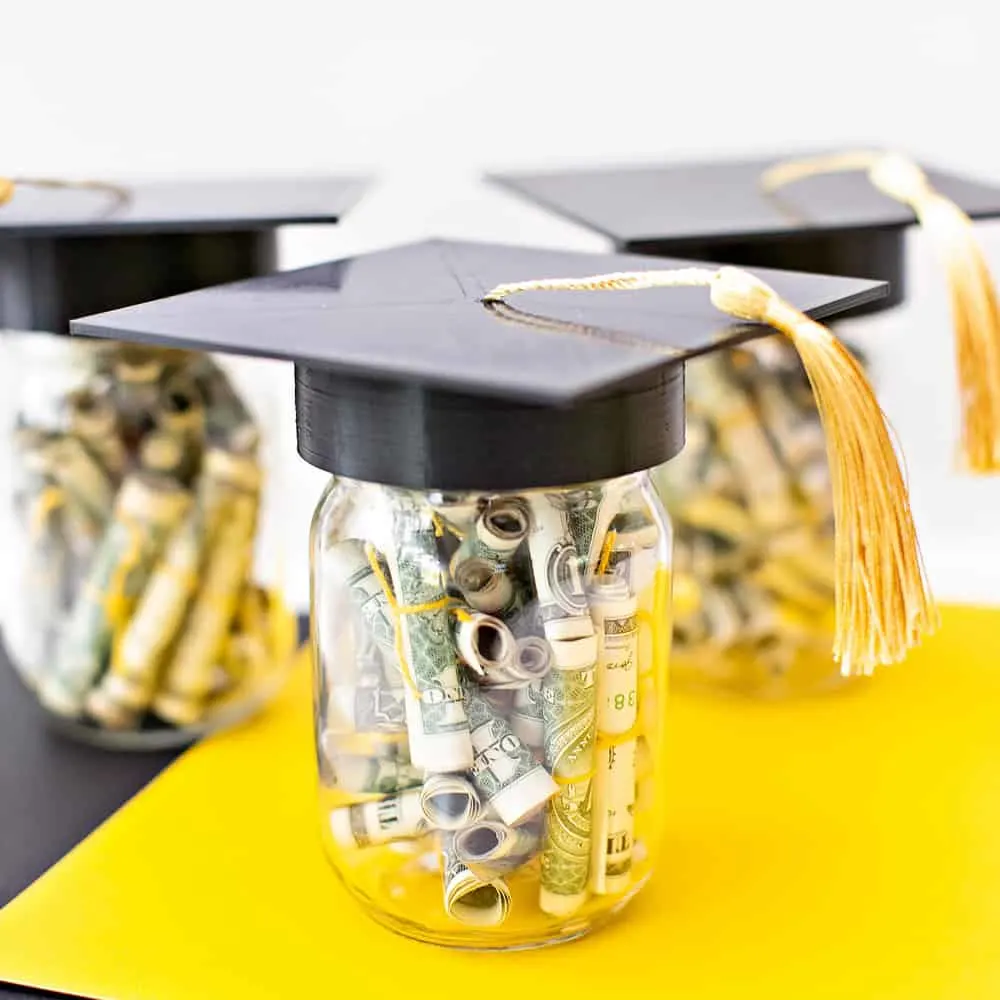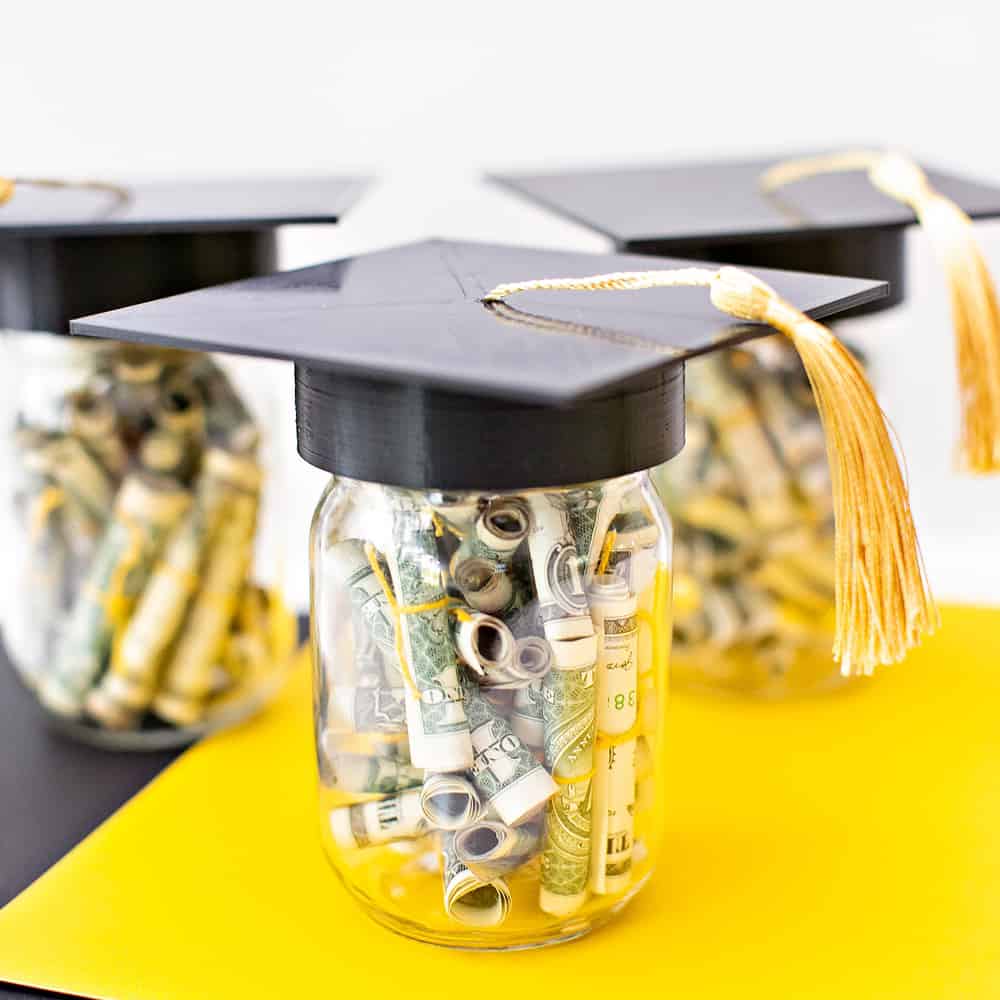 By using this site, you agree to our Terms of Use. This post may contain affiliate links. Read our disclosure policy.
Follow us on Instagram for more fun ideas for kids!
This graduation money gift jar idea makes the best graduation present in a handy jar that new graduates will love receiving!
Graduation is around the corner and we have 3 big ones in our immediate and extended family! My daughter is graduating middle school along with her cousin and my niece is also graduating high school which is a huge deal! If you have tweens or teens, you know they love receiving MONEY as gifts! This graduation money gift jar idea is one something that older kids will love receiving as a graduation gift! Who would say no to a jar of cash! These are great for when you need a quick few dollars for a smoothie or drink at your favorite coffee place with after-school friends. The jar also makes a reusable savings container to encourage the new graduates to save their money when it's empty!
Watch the video in this post to see how easy it is to make this cute graduation money gift!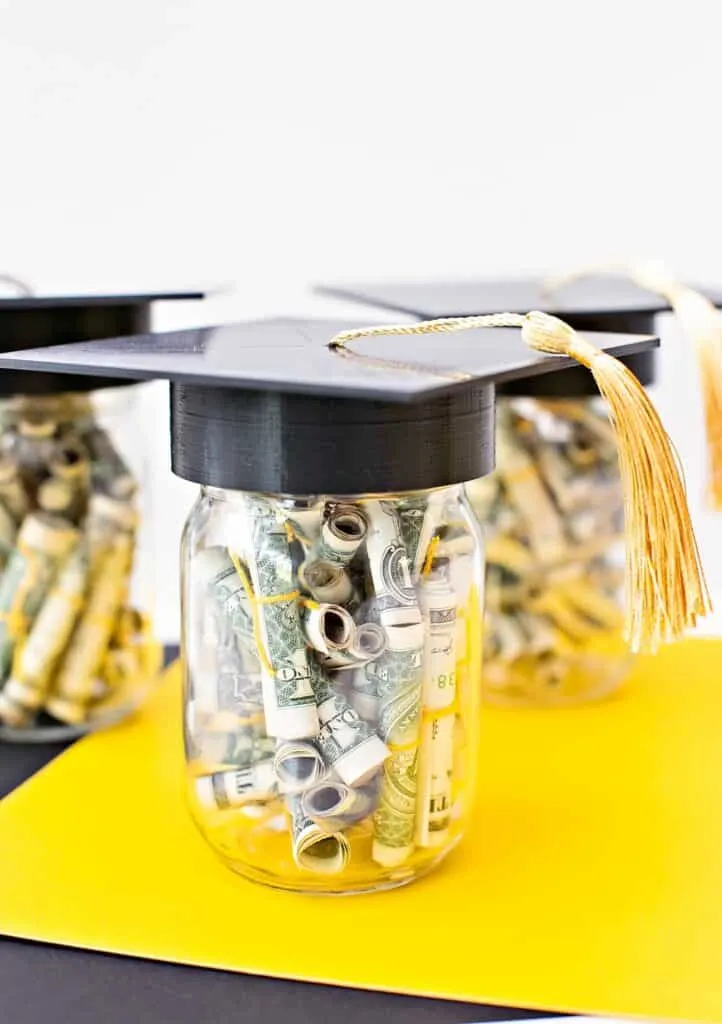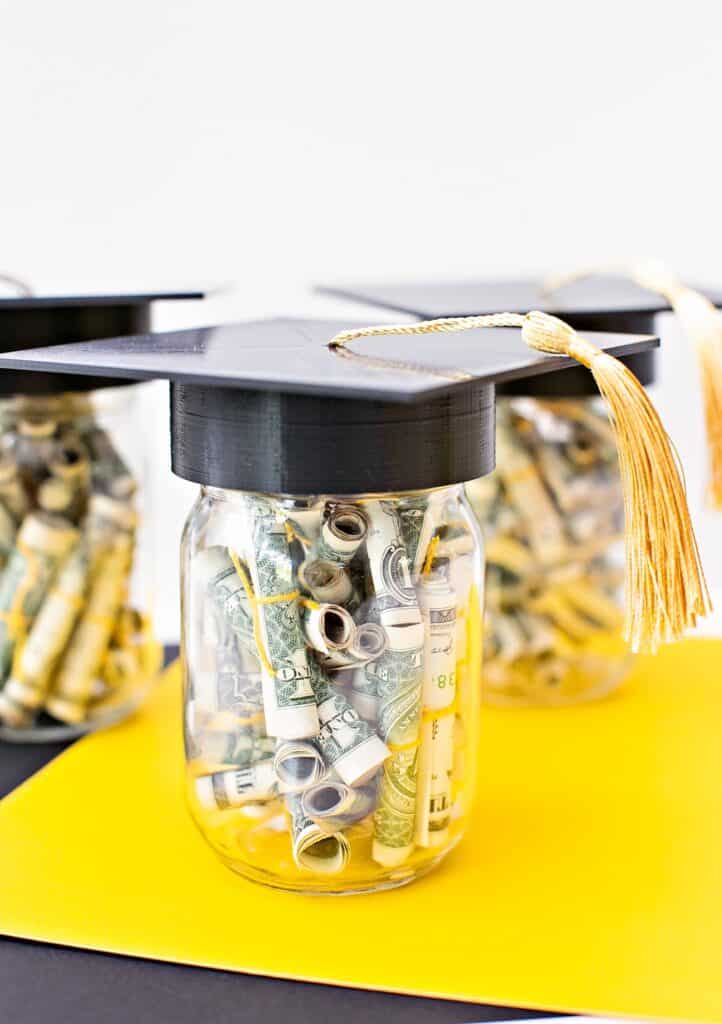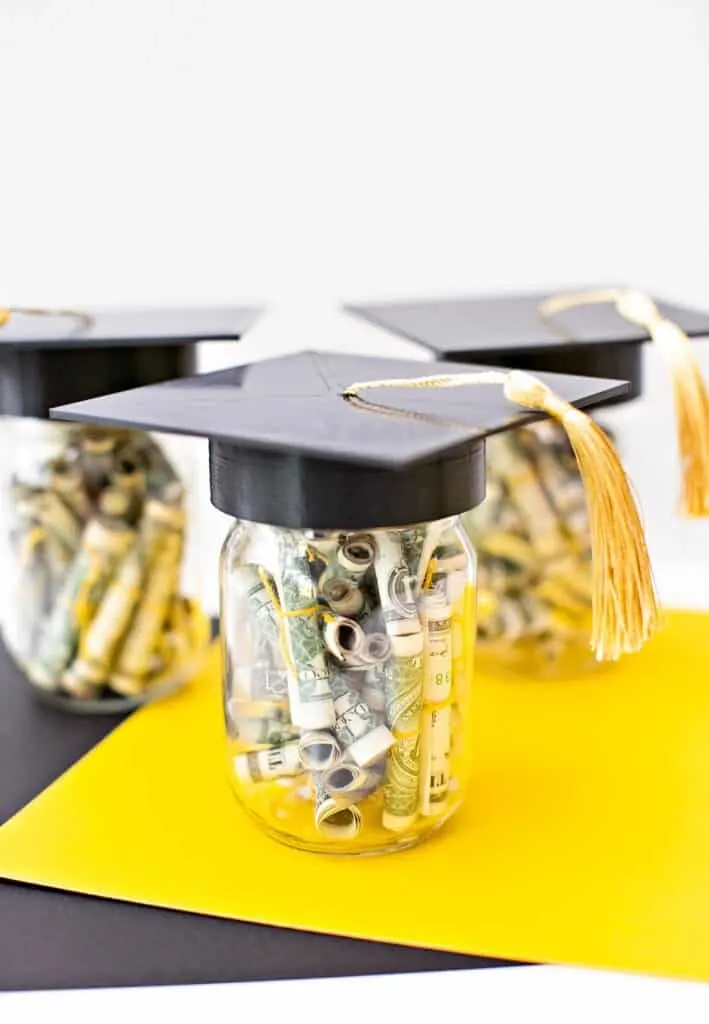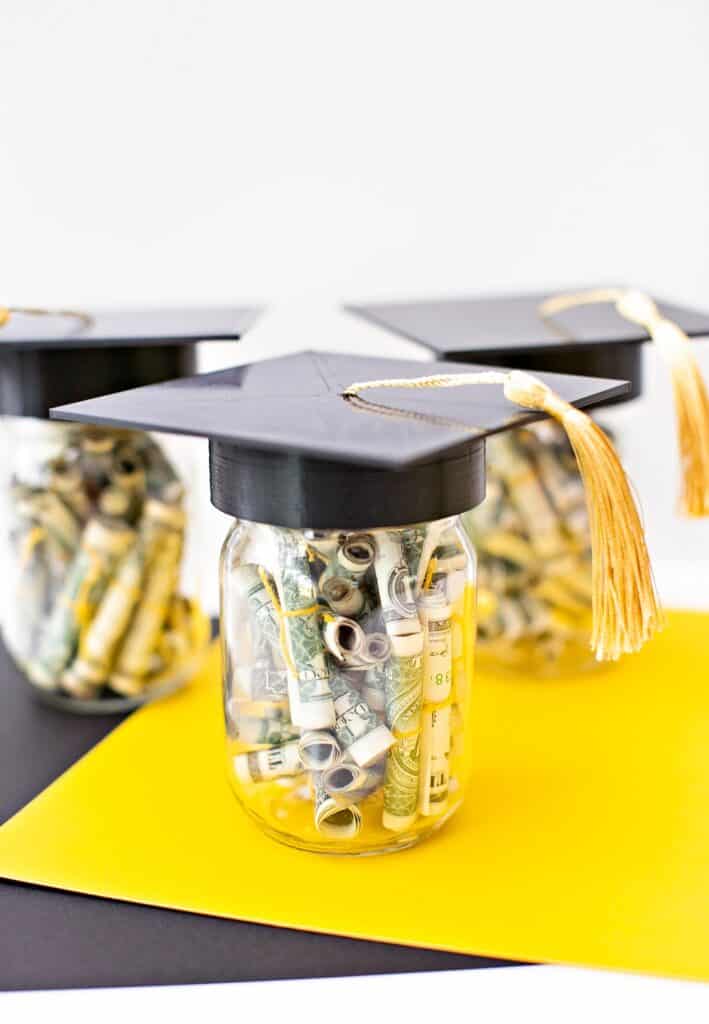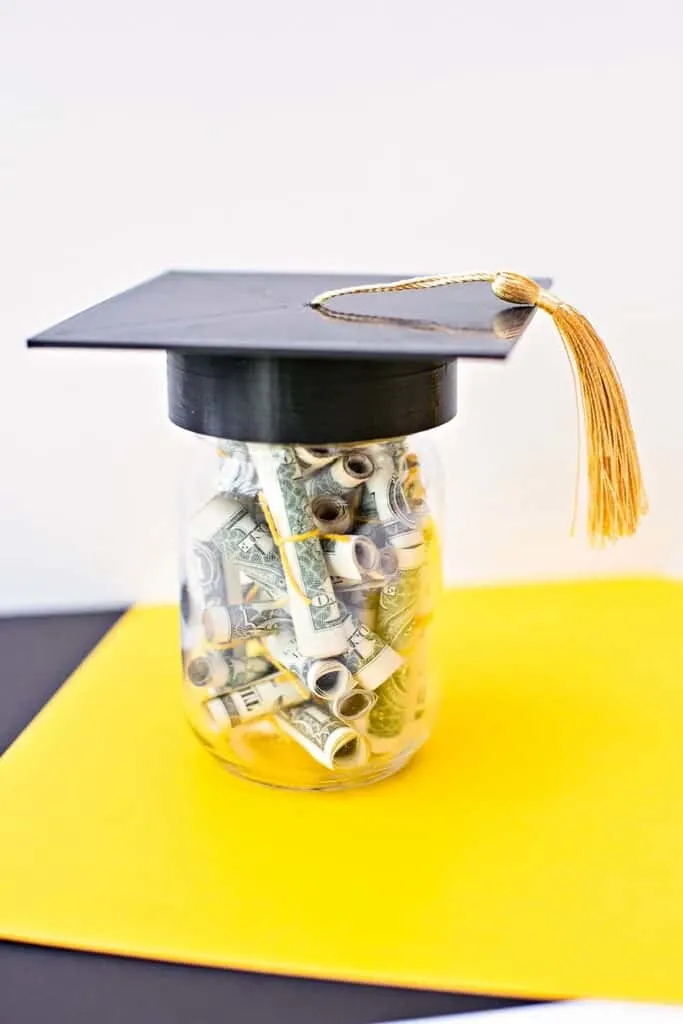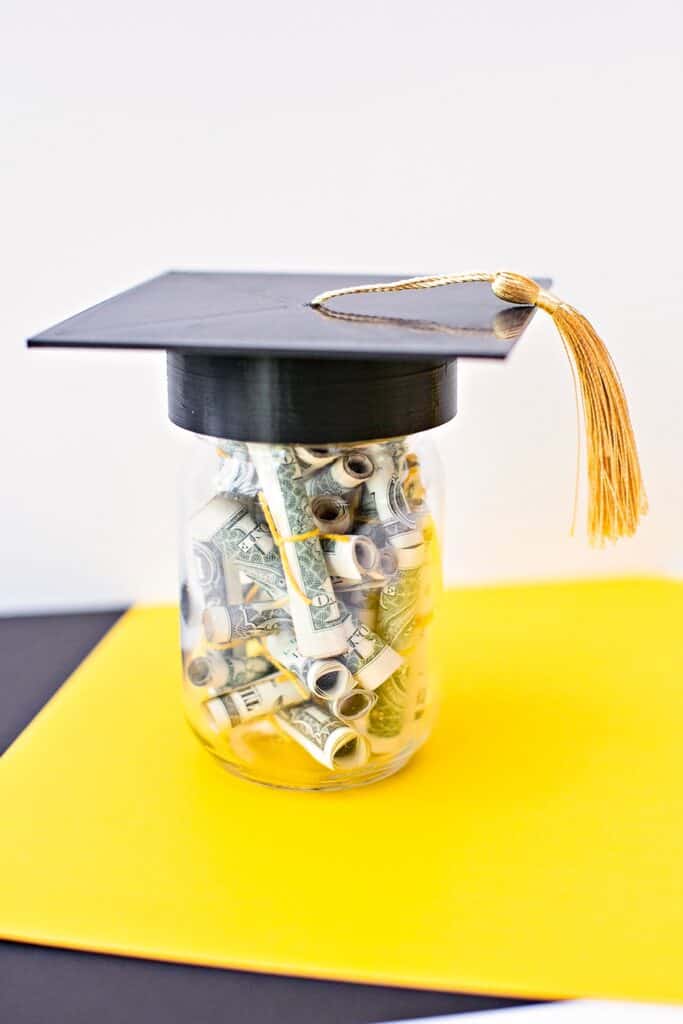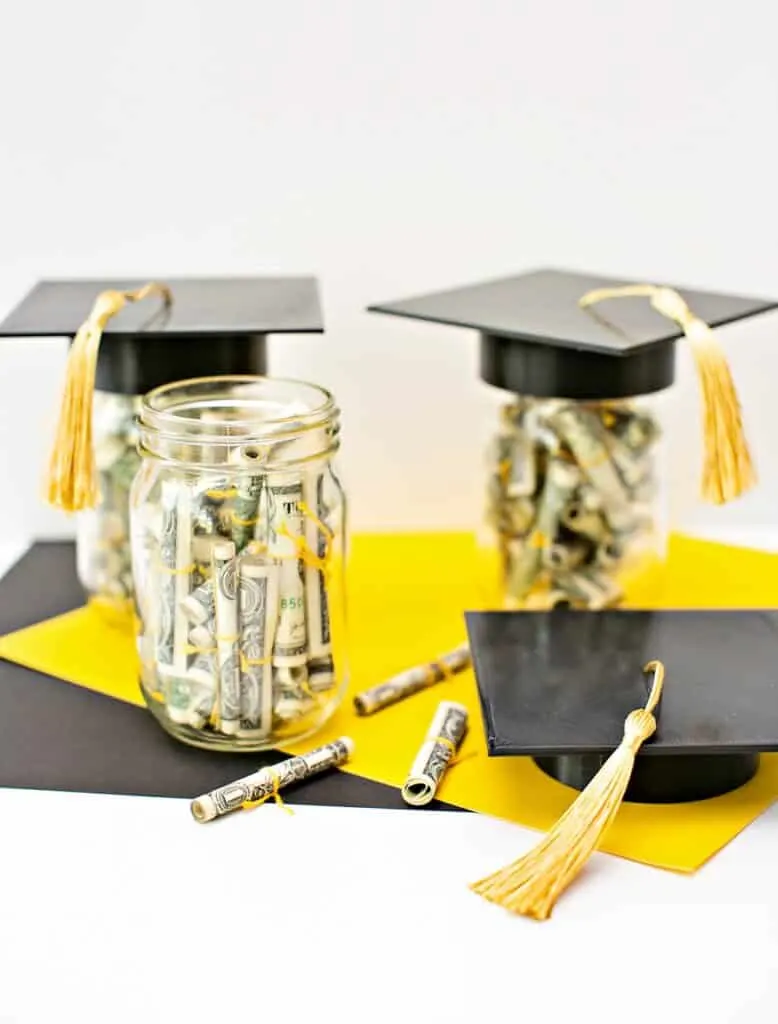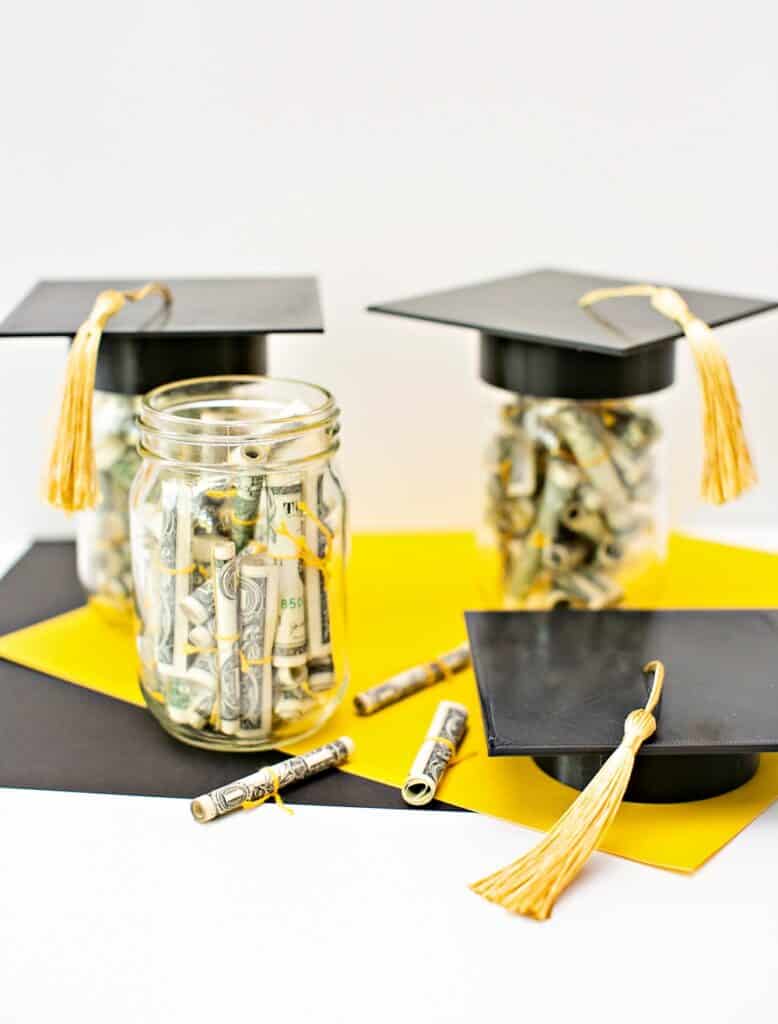 How do you make a Graduation Money Jar?
We actually used the help of our favorite handmade marketplace, Etsy to keep this gift idea simple and easy to make. We got these adorable graduation cap lids here! What's great about these lids is that they are 3D printed so very sturdy to re-use over and again! We also like how the tassel which was well constructed, could be any color you choose at checkout. Of course, you can always opt to make your own graduation cap and lid as well. This could easily be done with black cardstock and thread or yarn for the tassel. We love to support small businesses so chose to buy ours from Etsy.
Another great benefit to the graduation cap lids we got is that they fit most Mason or regular jars. We used these 12 oz jars which are smaller than most Mason jars, but fit the top perfectly too!
The only step you have to do is roll up each bill into a "graduation scroll" and tie off with embroidery thread. To be honest THAT was the hardest part of this graduation gift!
How many bills can you store inside this graduation money jar?
For the size jar we used, we were able to fit about 30 $1 dollar bills. To make the jar and gift EXTRA surprising, we also rolled up a secret $50 bill. Of course, all bills come the same shape so you don't have to use $1 or include such a large amount for the surprise bill. Do what fits your budget!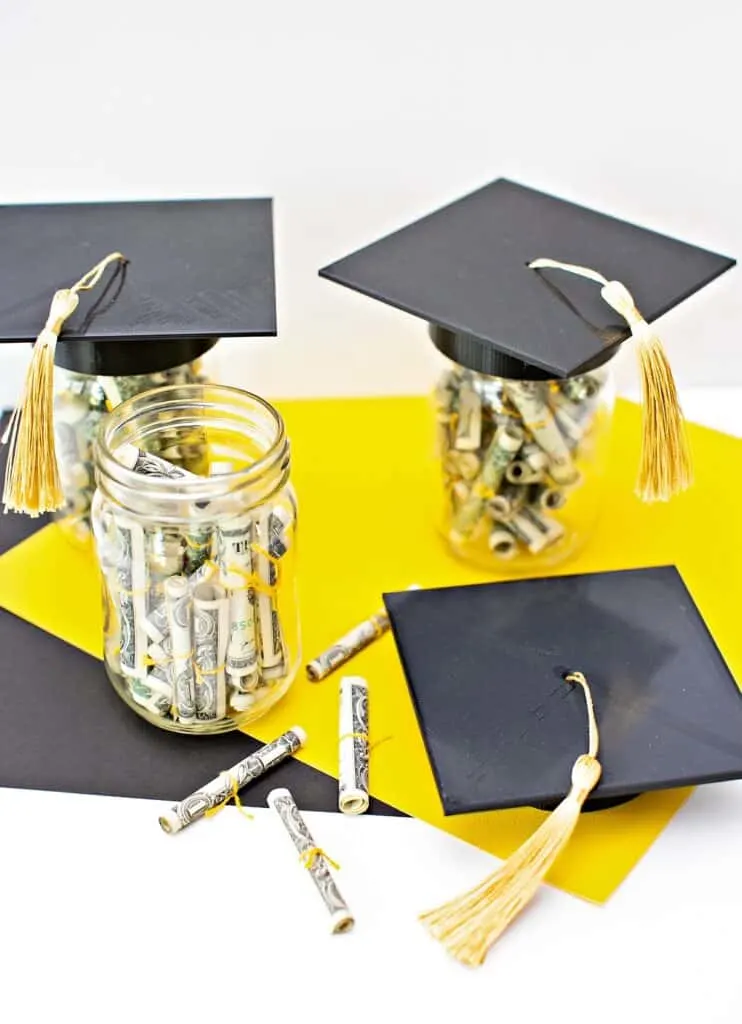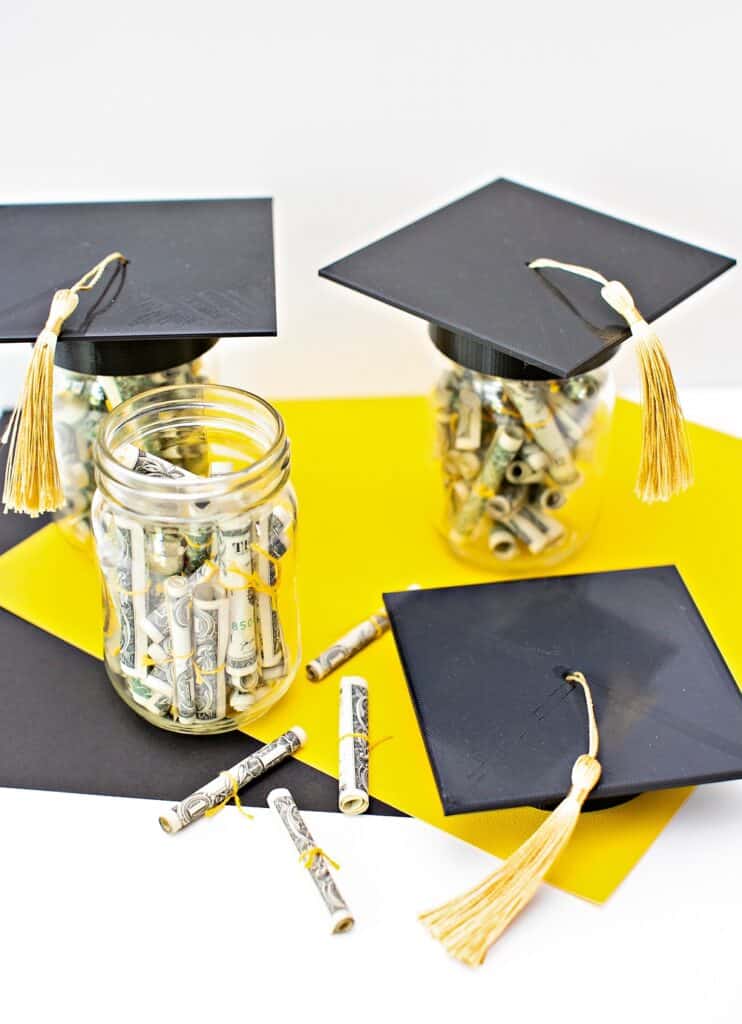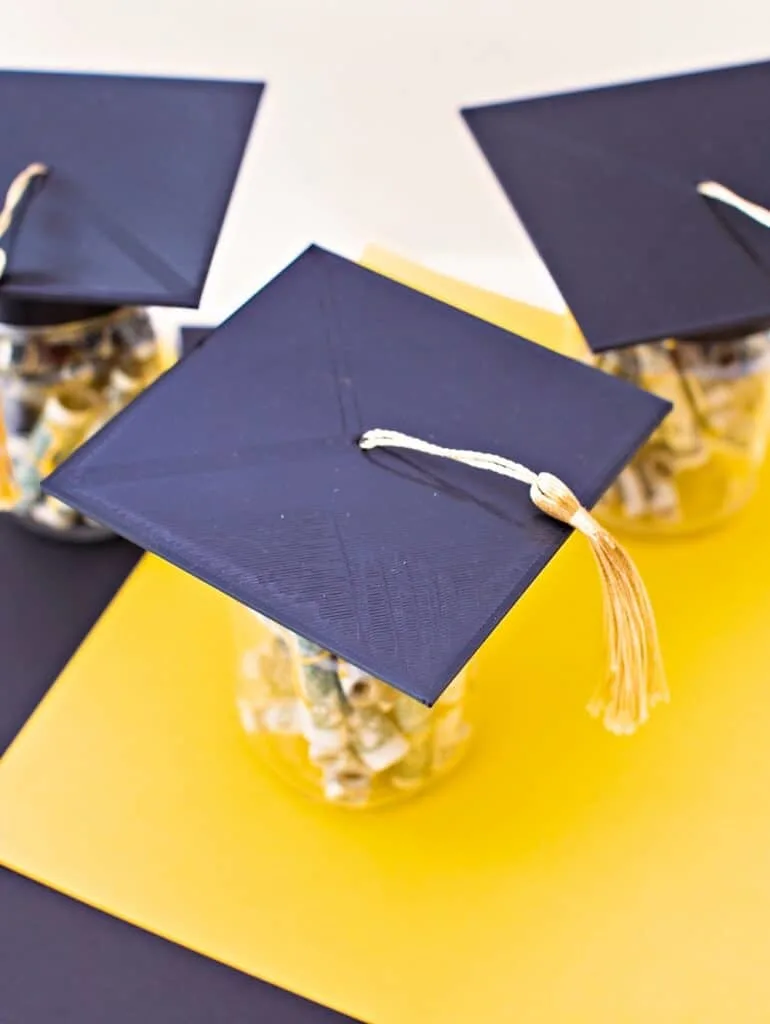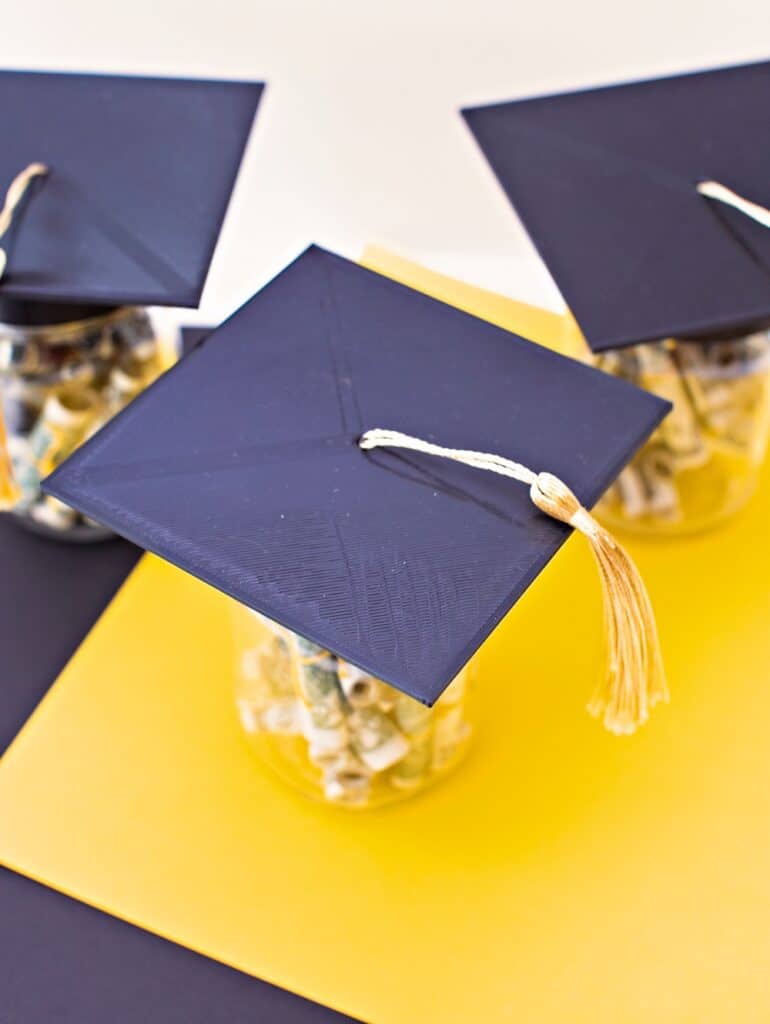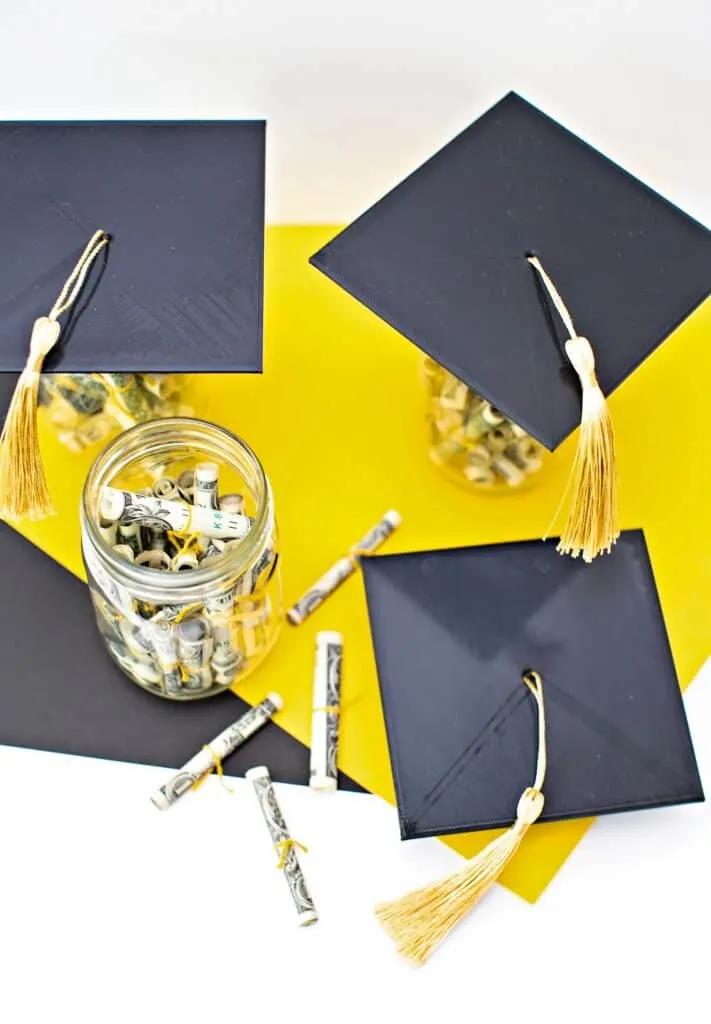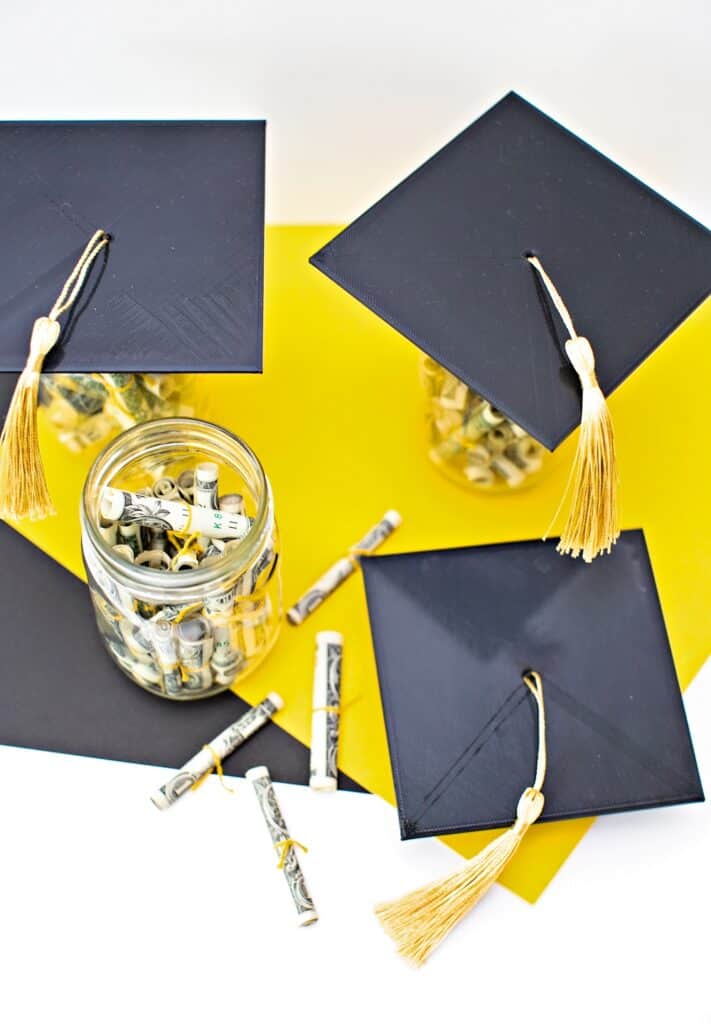 Get the Graduation Caps HERE
Get the Mason jars HERE!
You Might Also Like
Crochet Unicorn Graduation Gift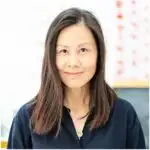 Agnes Hsu is a mom of three and has been inspiring parents and kids to get creative with easy activities and family friendly recipes for over 10 years. She shares her love for creative play and kids food to her 2MM+ followers online. Agnes' commitment to playful learning and kindness has not only raised funds for charity but also earned features in prestigious nationwide publications.