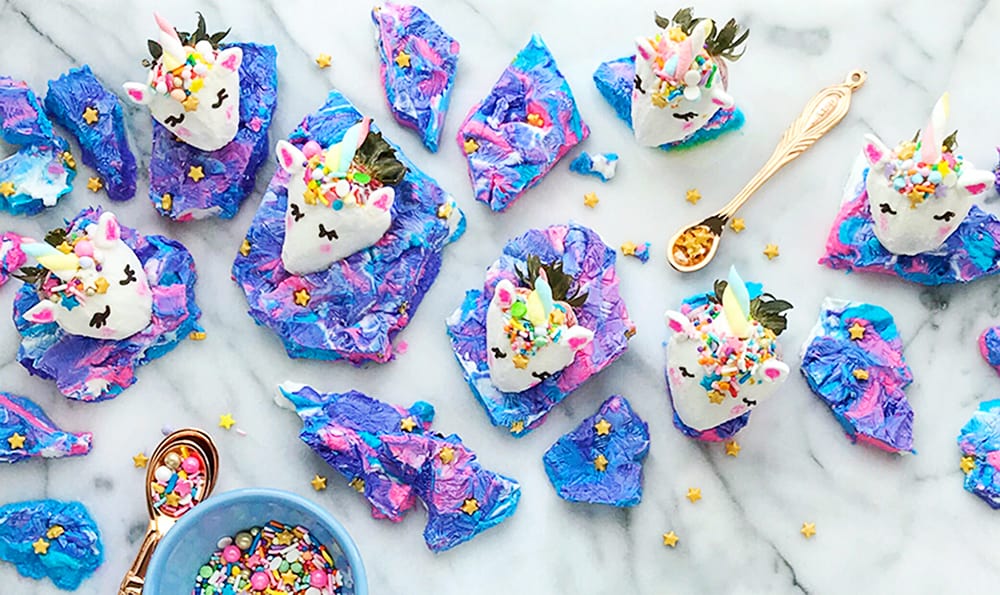 I'm a huge fan of all things celestial, and just can't get enough of the gorgeous galaxy look that's spread throughout social media. I thought it would be fun to take that trend and combine it with easy unicorn fruit for a treat that's out of this world magical! This bark is made using yogurt, so it's lighter than the chocolate variety, and super refreshing on a warm day. It's also simple enough that little ones can help with most of the decorating (especially swirling the bark colors together which I think is the best part anyway).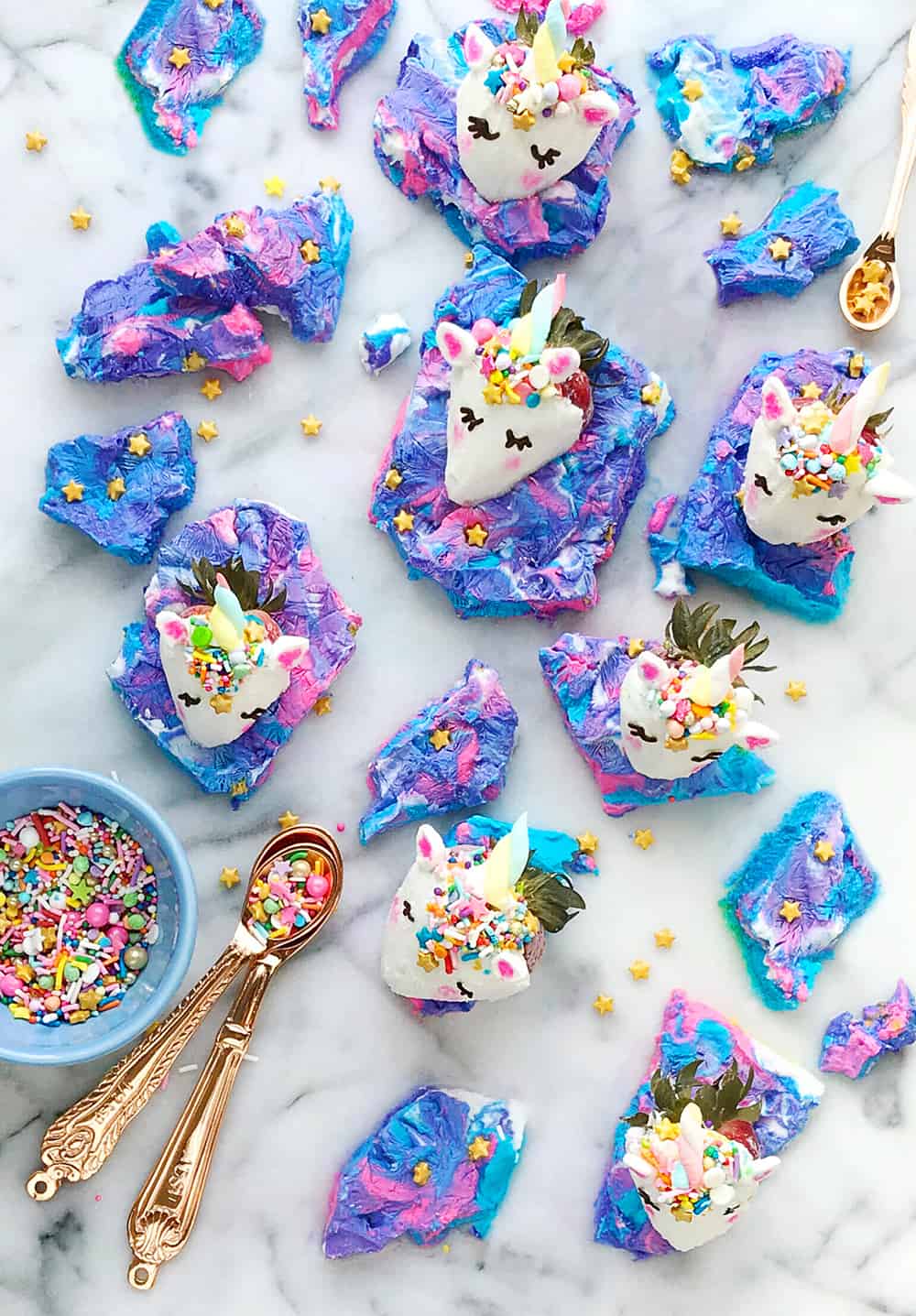 UNICORN GALAXY YOGURT BARK – INGREDIENTS: (Makes about 7 strawberry unicorns, and enough bark to cover a 9×13 pan)
– 35 oz. carton of your favorite Greek yogurt (I used vanilla)
* 7 strawberries
* Pink, purple, navy, and blue food colorings (natural works well too)
* Rainbow sprinkles mix
* Small gold star sprinkles
* 7 small marshmallows
* 2 long marshmallow twists or poles
* Pink food marker
* ¼ cup chocolate chips
* ¼ teaspoon coconut oil* (optional to make the melted chocolate smoother)
* Toothpicks
* Wax paper
* Kitchen scissors
* 9×13 baking dish
* Parchment paper
**All cutting should be done by an adult.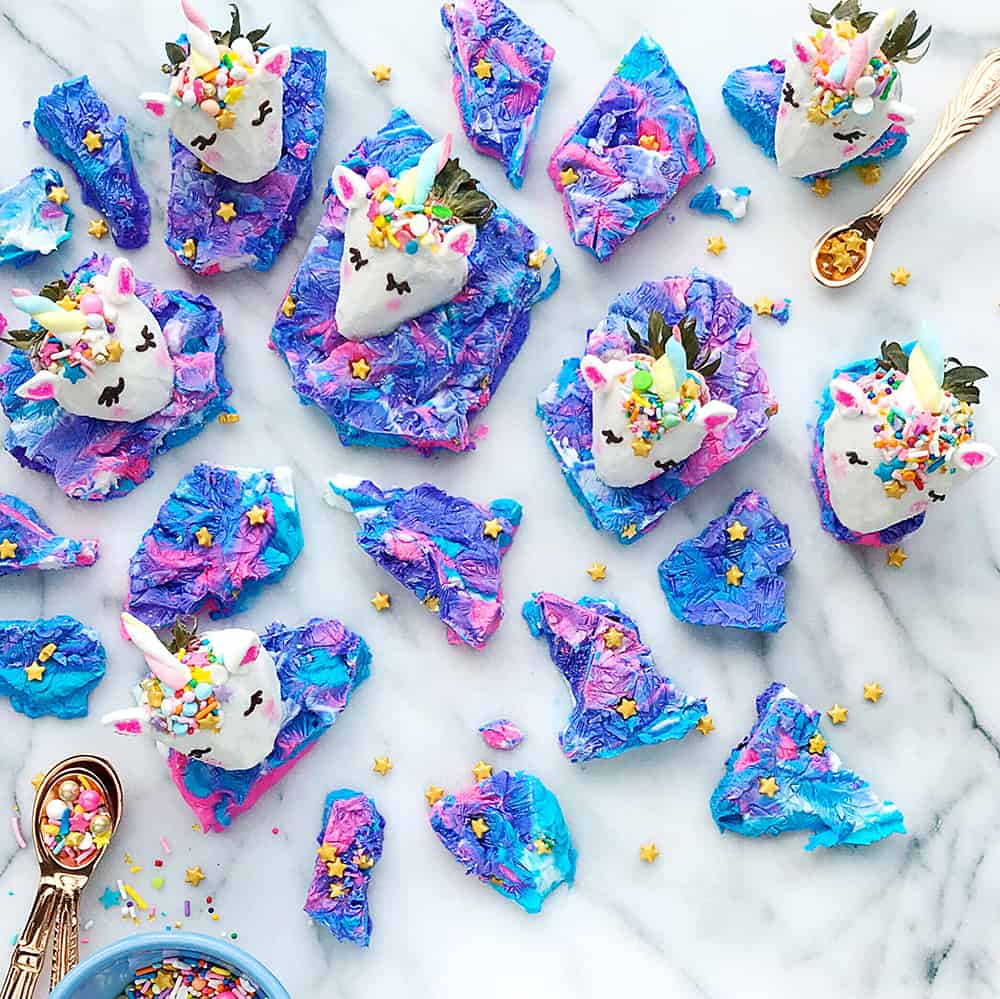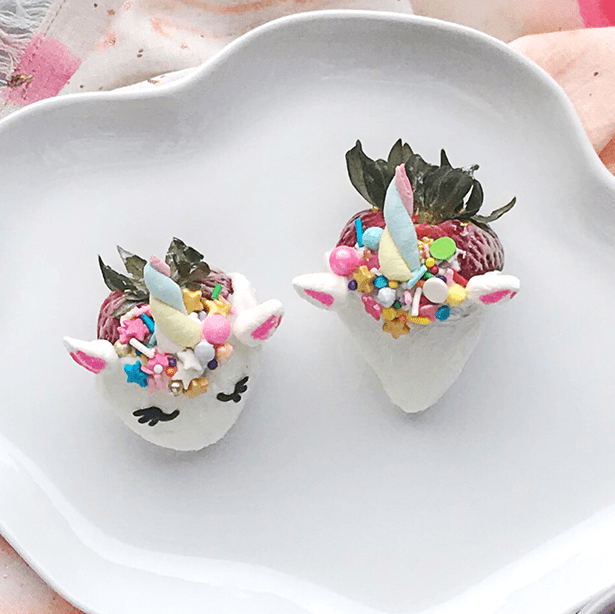 INSTRUCTIONS:
Step 1. Let's begin by making the strawberry unicorns so that they are mostly set before adding them to the bark. Wash and dry your fresh strawberries leaving the tops on (the tops make them easier to hold while dipping into the yogurt). Transfer a little of your Greek yogurt to a small bowl. Dip each strawberry covering almost to the top (you can use your hand to smooth any lumps in the yogurt), then place them on a baking sheet lined with parchment paper and transfer to the freezer to set for at least 30 minutes to an hour.
Step 2. While the strawberries are in the freezer you can prep the unicorn decorations. Cut each mini marshmallow in half on a diagonal, and use the pink food marker to add a little pink to the inside of each for the ears. Cut each marshmallow rope into 4 equal pieces, and then use your kitchen scissors to cut into the sides, on a diagonal, to form a cone like shape for the horns.
Step 3. Place the chocolate chips (and coconut oil if using) in a small heatproof container and microwave for 30 seconds at 50% power. Continue to do this, stirring after each interval, until the chocolate is smooth and completely melted. Use a toothpick dipped in the melted chocolate to draw the lashes for each unicorn onto wax paper. I like to think of the design as U's with little lines coming off of the bottom. Allow to set.
Step 4. Separate the rest of your Greek yogurt into 5 small bowls. Add a little of the pink, purple, navy and blue coloring to each bowl (leaving 1 white), and stir to combine. I like to add just a small amount to start, as the colors will deepen with time. Line your baking dish with parchment paper so that there is a little extra on all sides (to make it easier to remove prior to serving). Place a dollop of each color of yogurt, along with the white, in any pattern you desire. Use a butter knife to swirl the colors together, and add gold star sprinkles scattered throughout. Set aside.
Step 5. After your strawberries have set the first time, you want to dip them again into the yogurt (smoothing any lumps with your finger). Add your rainbow sprinkles and gold stars in a V shape down the front of each strawberry with the marshmallow horn in the middle. Then add a marshmallow ear to both sides of the V, and your lashes just below. Place the strawberries on top of the yogurt bark. Cover with plastic wrap, and transfer to the freezer to set for 4-6 hours.
Step 6. When you are ready to serve the yogurt bark lift it out of your baking dish using the parchment paper, break or cut it into pieces, and enjoy (just make sure not to remove the tops of the strawberries as you eat them)! If you'd like to add colorful cheeks to your unicorns you can draw on a small piece of clean paper towel with the pink marker and dab it onto your strawberries just before eating them.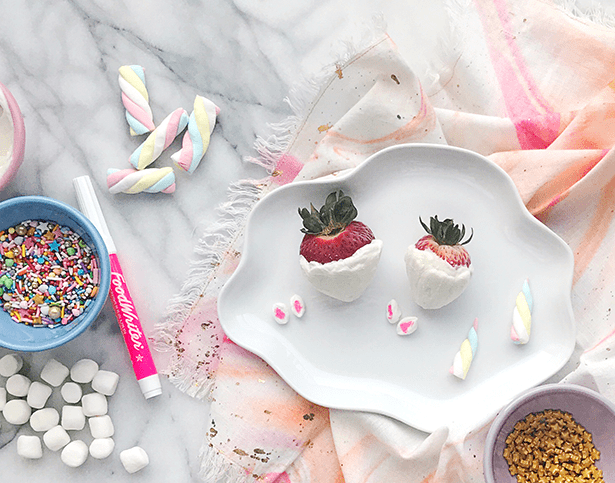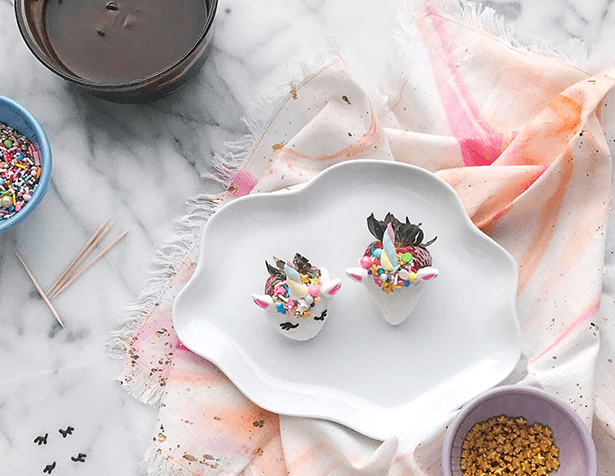 The yogurt bark will begin to soften fairly quickly, so transfer any uneaten pieces or fruit back to the freezer to store. If you freeze it longer than the set amount of time you may notice some ice crystals forming, this won't change the flavor at all, but it may give it more of a gem like appearance. You can easily customize this dreamy dessert by changing the color combination and yogurt flavor (even mixing more than 1 flavor of yogurt into the same bark). Feel free to make the unicorns and bark separately as they are also each tasty on their own .
Check out more frozen yogurt bark recipes like our Unicorn Yogurt Poop Cookies, Strawberry Yogurt Bark, and Yogurt Bark Lollipops!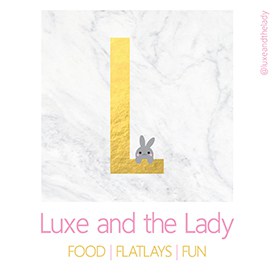 Jessica Lucius is a food and flatlay stylist with a fondness for baking, making, and all things cute. She's also the founder and creative force behind her newly established blog, Luxe and the Lady, where she shares fun ways to bring her favorite animals and childhood characters to life with food. When Jessica's not busy playing with her food, or at the grocery picking out just the right ingredient to turn into eyes and ears, you can find her trail running, working out, reading, recipe testing, and playing with her fluffy baby lionhead bunny, Marshmallow. Follow Jessica on Instagram @luxeandthelady.