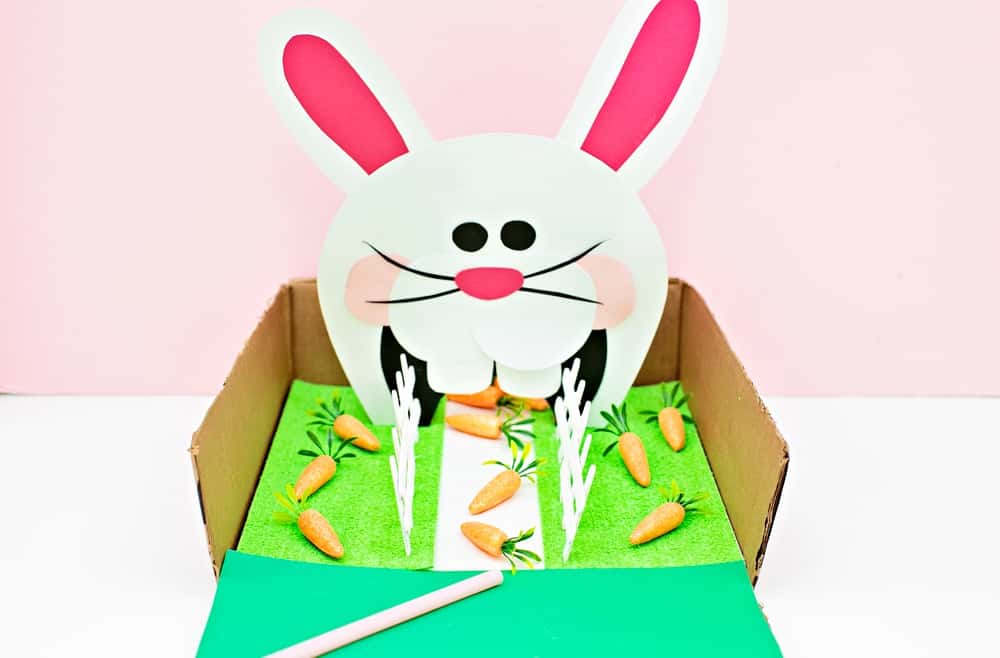 By using this site, you agree to our Terms of Use. This post may contain affiliate links. Read our disclosure policy.
Follow us on Instagram for more fun ideas for kids!
Scroll down to watch the video below to watch this fun Feed the Bunny Game in action. Make sure to subscribe to our YouTube channel for more fun videos!
This Feed the Bunny Easter Game is a great Easter craft for kids and also a fun fine motor skills activity! Kids will love feeding the bunny carrots!
With Easter around the corner, we got you covered with a fun indoor activity for the kids! What we love about this Easter game is that it covers a lot of creative skills and fine motor learning.
You've got the cutting skills from cutting out our bunny template (scroll down for the free printable bunny template). Then a fun recycled craft, by going hunting for the right cardboard box for your bunny.
Crafting the adorable popsicle stick fence is also a fun painting activity for kids.
And last, the most fun part, feeding the bunny carrots! Use a straw to blow carrots into the bunny's excited and smiley mouth!
This is great for learning visual and oral fine motor skills. In fact we got inspired to create this cute Easter craft from our friend Michaela @cutechichaion on IG who makes cute foods for kids but is also an occupational therapist! She had created this awesome feed the monster game we were inspired by.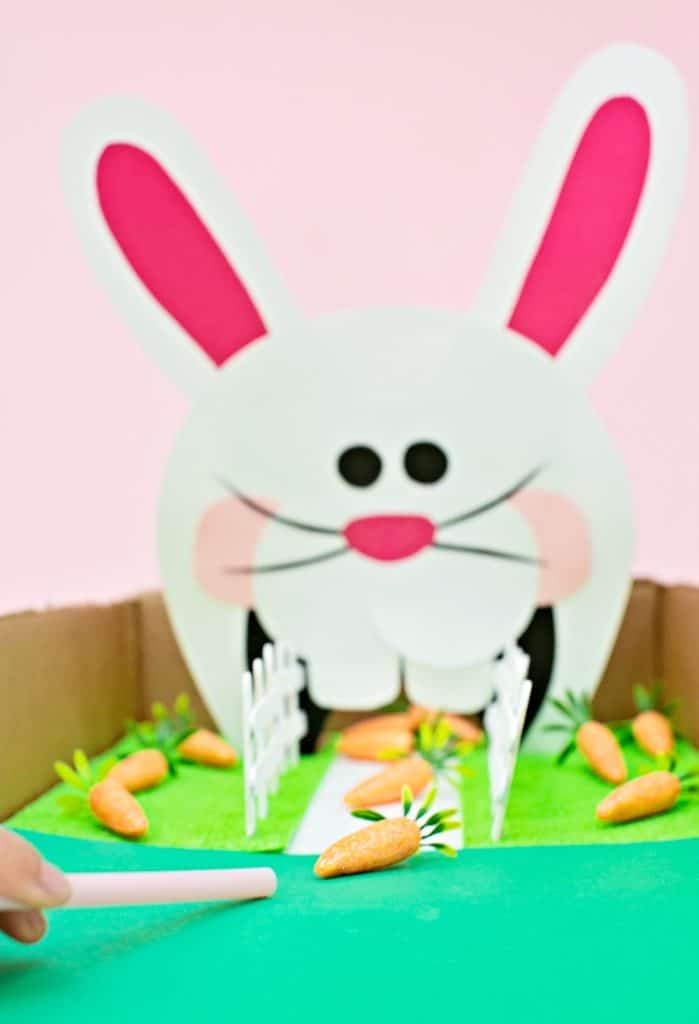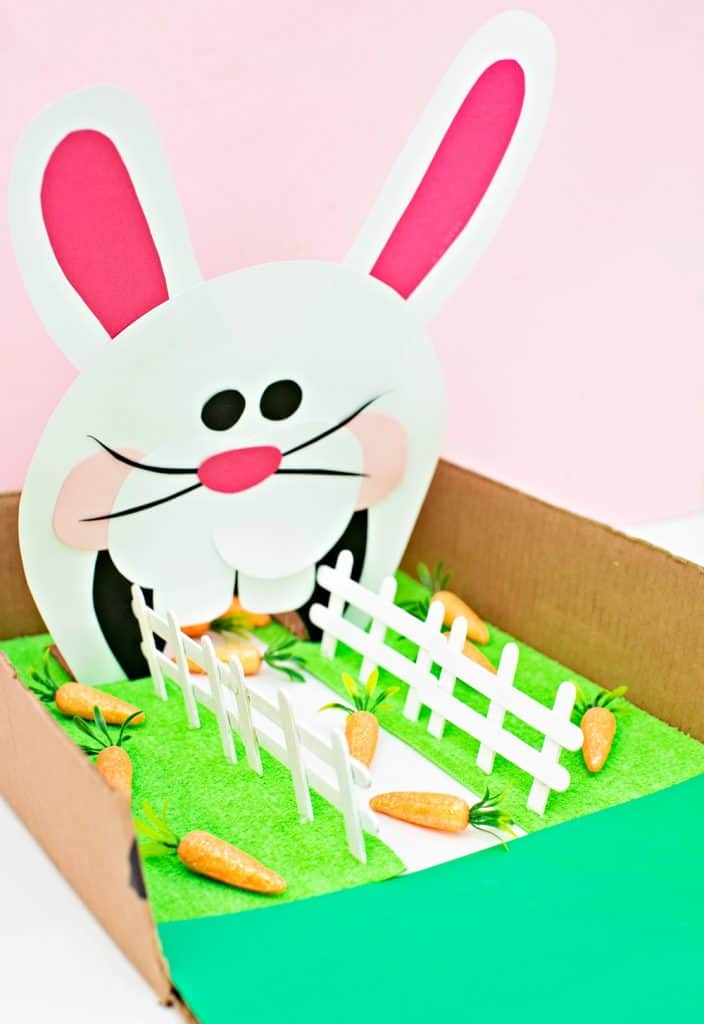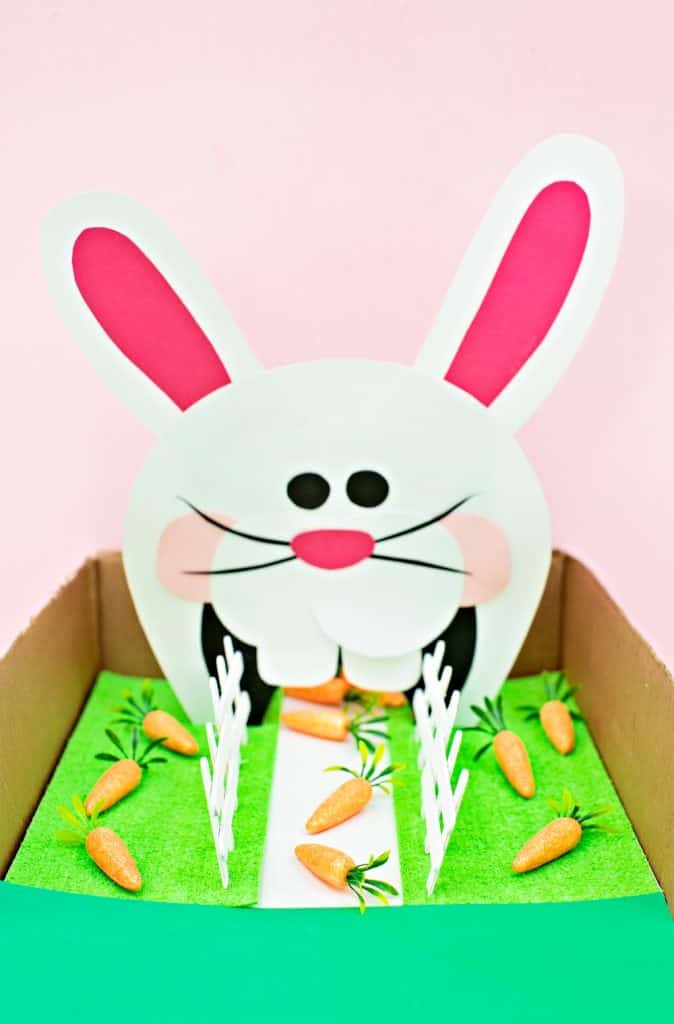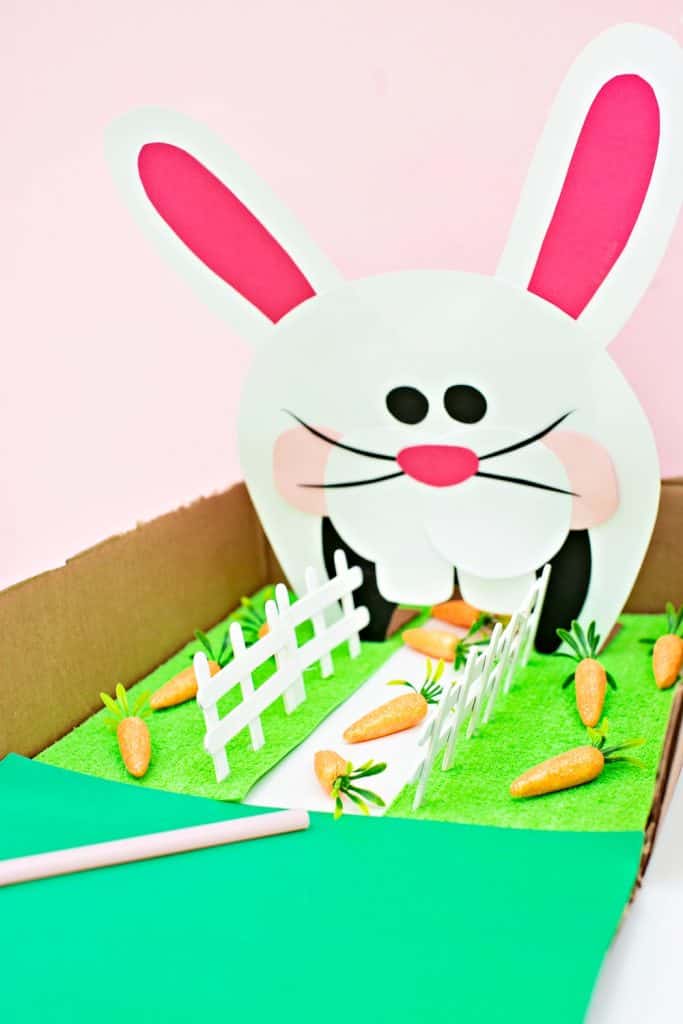 What do you need to make this Feed the Bunny Easter game?
I know our bunny looks cozy in his home with faux grass and white picket fence and fancy carrots.
But truthfully? You don't really need all these fancy accessories to make. You can literally print out our FREE bunny template (see below), affix to a box and start blowing carrots.
If you don't have these cool foam carrots we got, you can make your own out of paper. They should be light enough to blow into the bunny's mouth!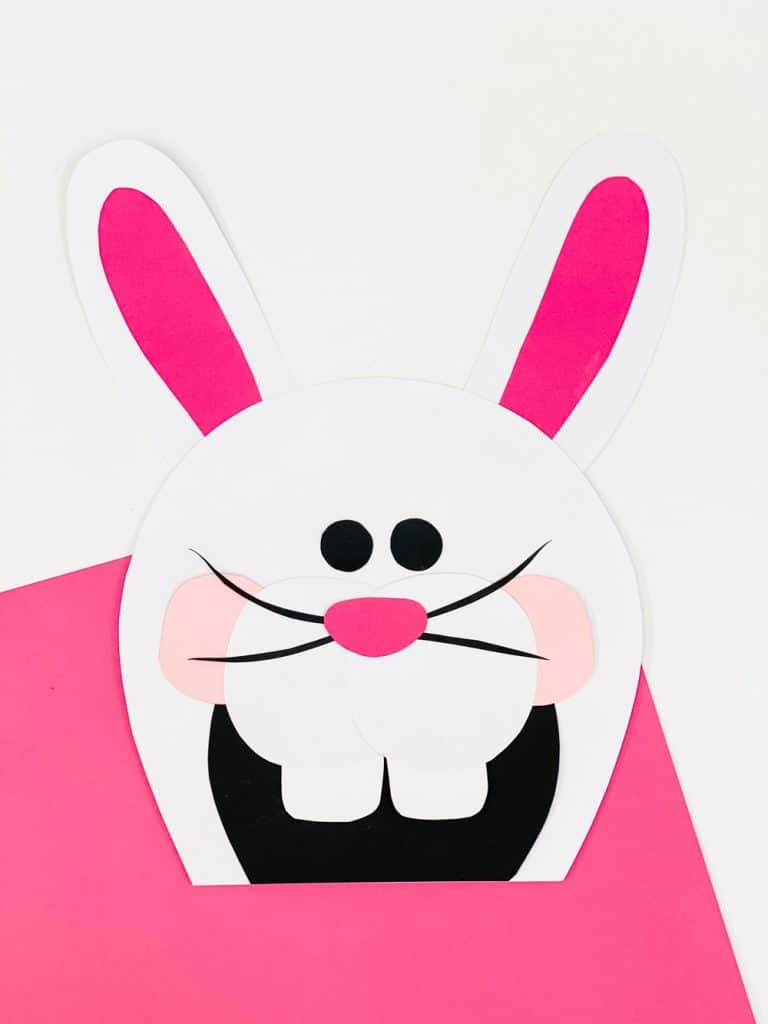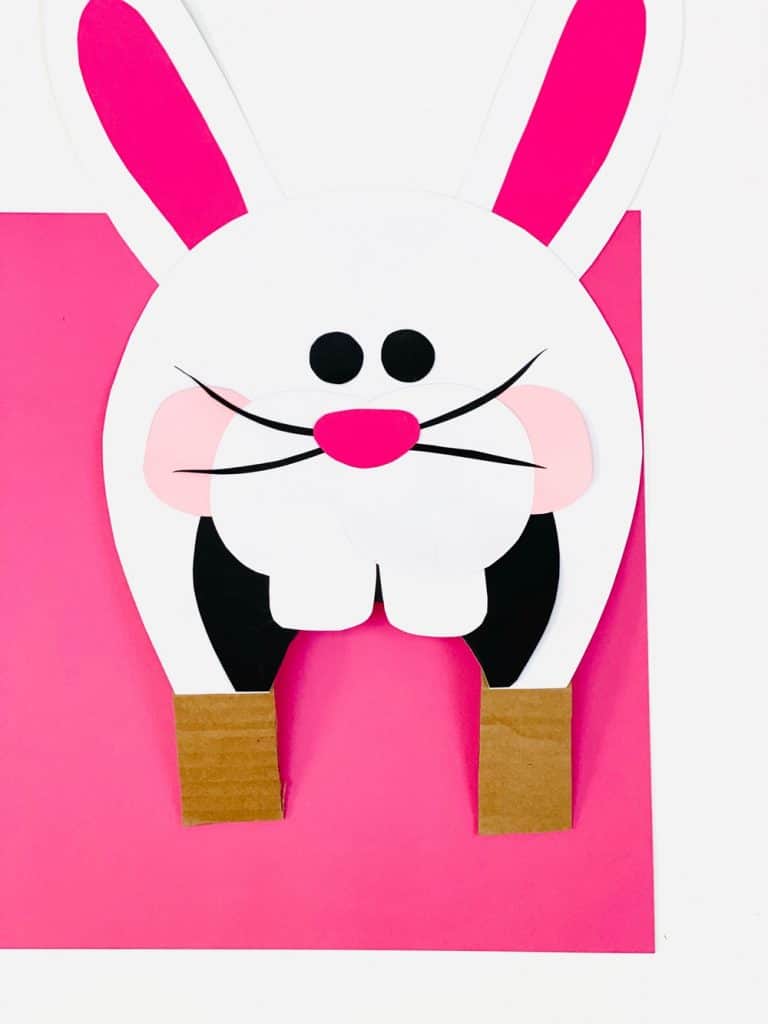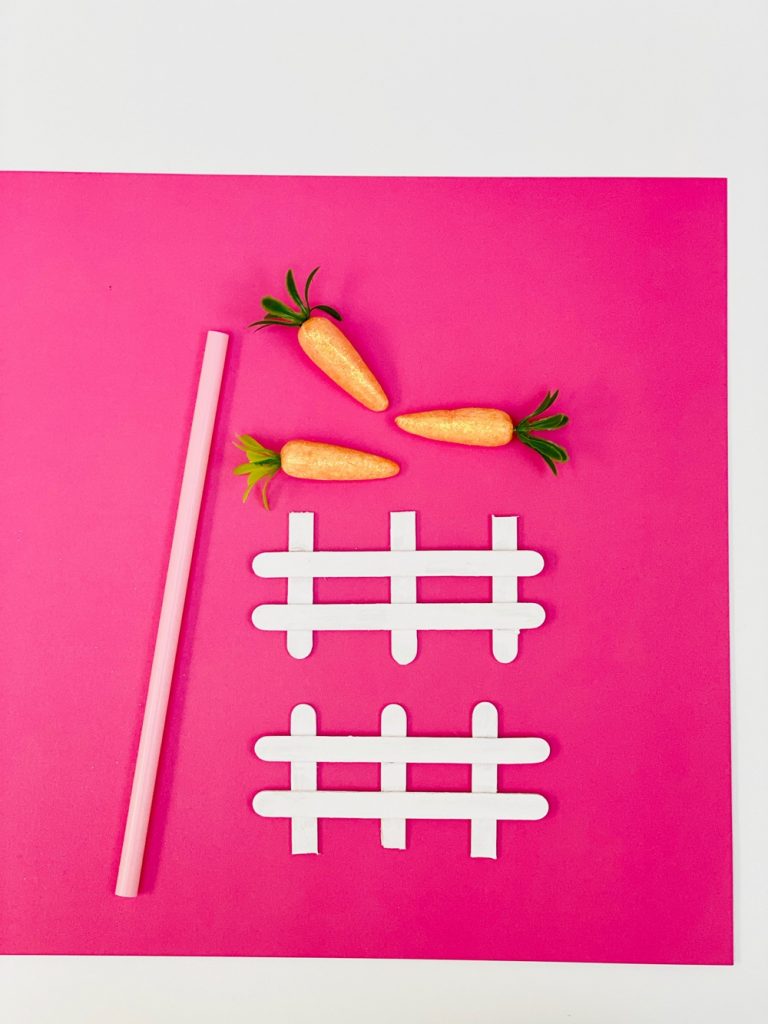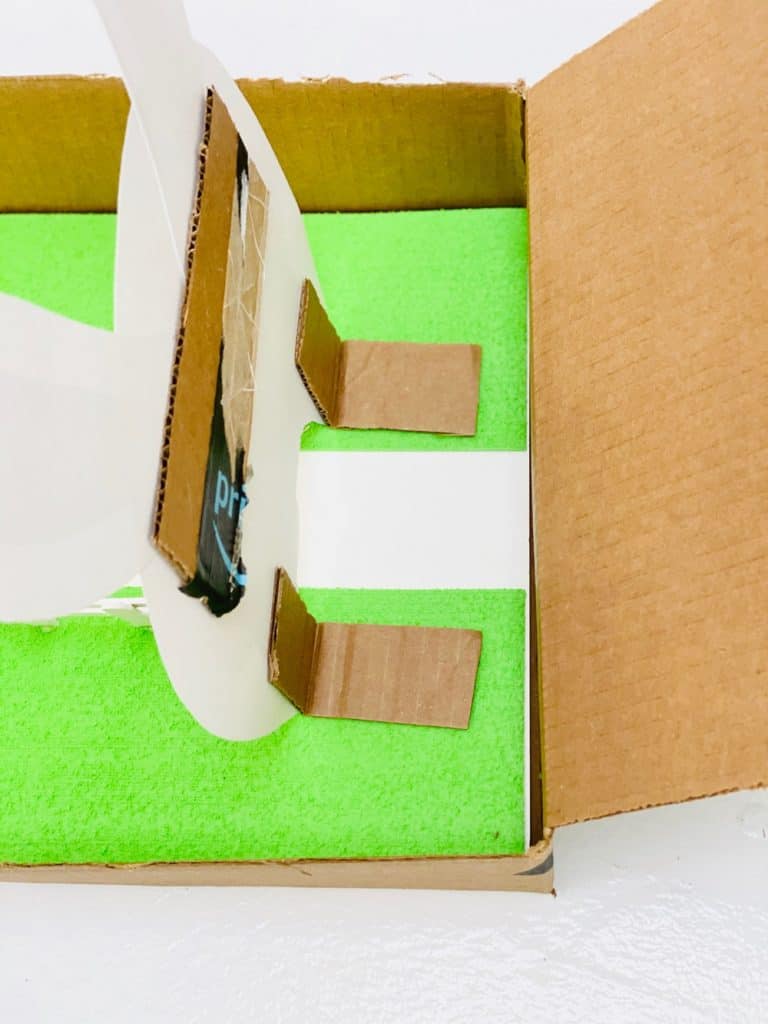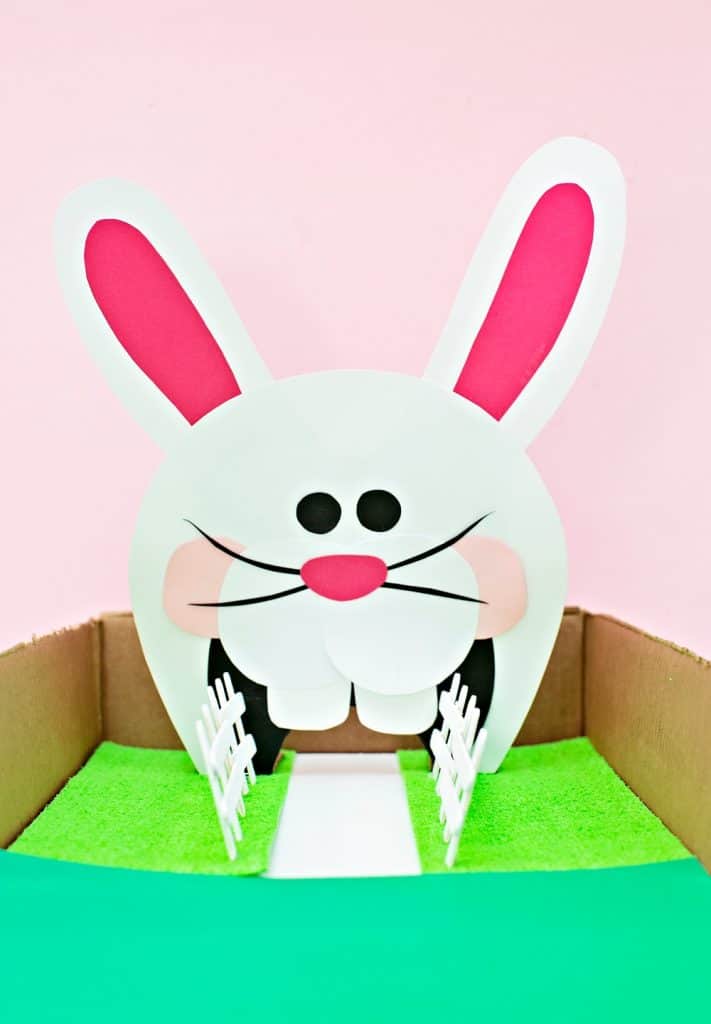 Feed the Bunny Easter Game – Materials:
Cardboard box

Scrap cardboard

Fake grass or textured green foam paper or you can just use green cardstock

Cardstock in dark pink, light pink, black and white

Scissors

Straw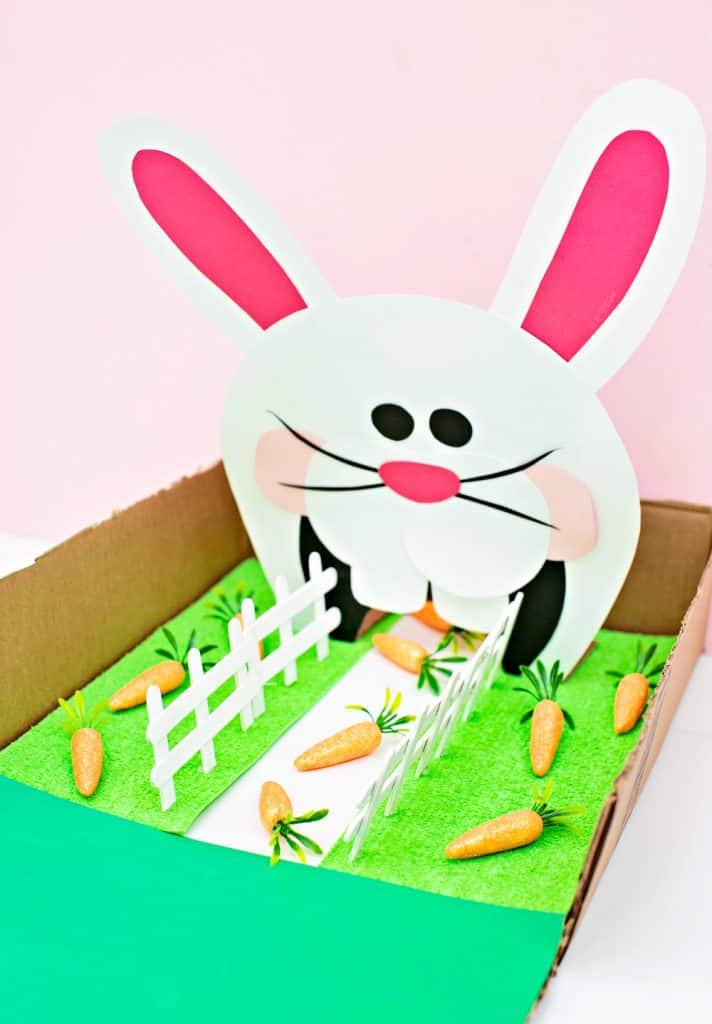 INSTRUCTIONS:
Step 2. Use the template to trace onto your cardstock. Look at our bunny to match up colors and the right shapes (e.g. black for eyes, light pink for cheeks).
Step 3. Once you attach the black part for the bunny's mouth, you will want to cut a hole to make the mouth open so carrots can go inside. Once you do that set aside your finished bunny.
Step 4. Grab a box with sides that can hold your bunny's face comfortably.
Step 5. Cut two strips of your faux grass and glue to either end of box.
Step 6. Make your popsicle stick fence by first cutting 3 sticks in half then hot gluing two full sticks across the half sticks. We made 4 fences total and hot glue two for each side. See photo of craft stick fence above for reference.
Step 7. Glue your bunny down in the box. You need some space between the bunny's head and back of box so the carrots can land somewhere. We hot glue to pieces of scrap cardboard behind the bunny to hold him down. We also hot glued another scrap piece on the back of his head to keep his head from flopping down too much since cardstock is not that thick. See image above of behind the bunny's face for reference.
Step 8. Hot glue your fence on either end of the grass, leading a path into the bunny's mouth.
Step 9. Play! Hand your kids a straw and get them huffing and puffing to see how many carrots the bunny can eat.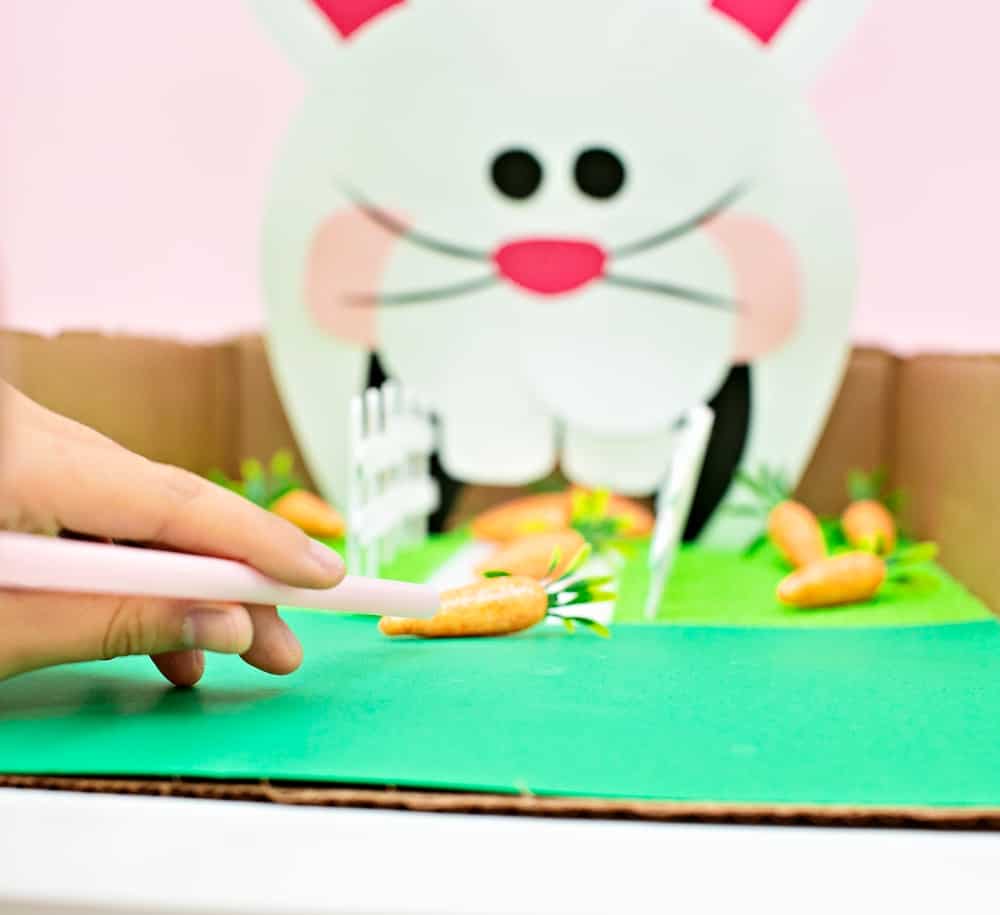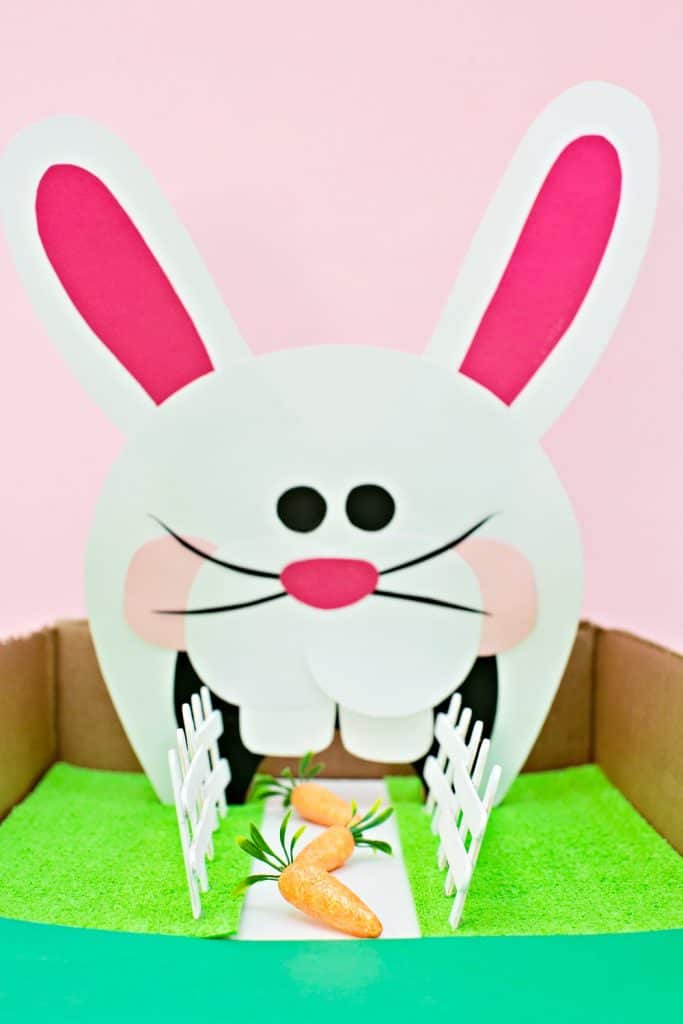 VARIATIONS:
Use empty squirt bottles or your fingers instead to further practice those fine motor and visual skills.

Make it a game between two players! How many carrots can you feed in a certain amount of time?

Teach kids all about bunny nutrition or pair this fun game with some Easter Books!
You might also like:
Easter Egg Ferris Wheel