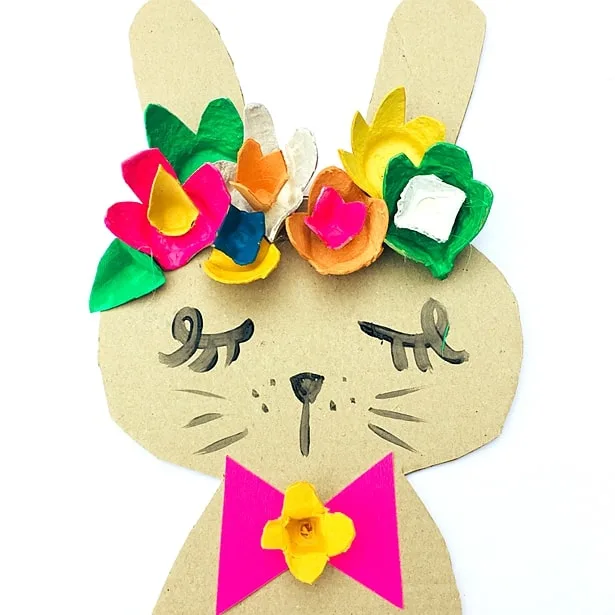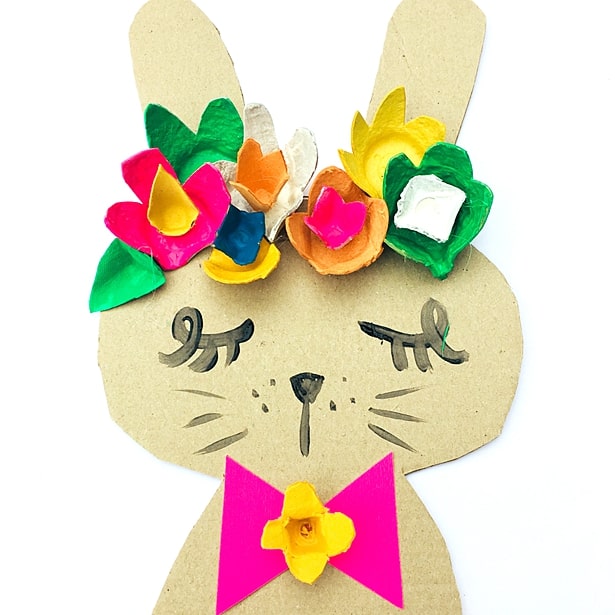 I'm so happy to bring to you this cute Recycled Bunny Cardboard Easter craft that- if you are anything like me and my trio – will be a make that will be around for a long time after Easter has passed!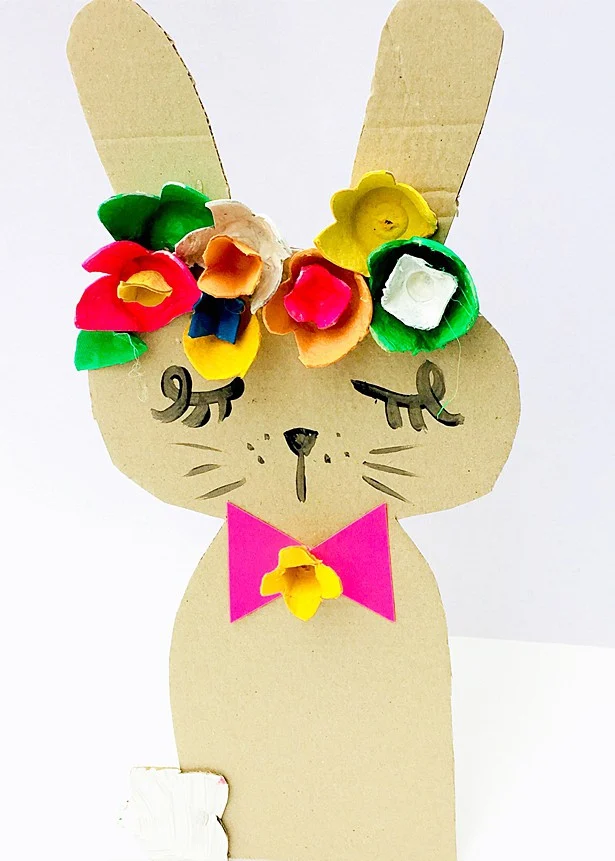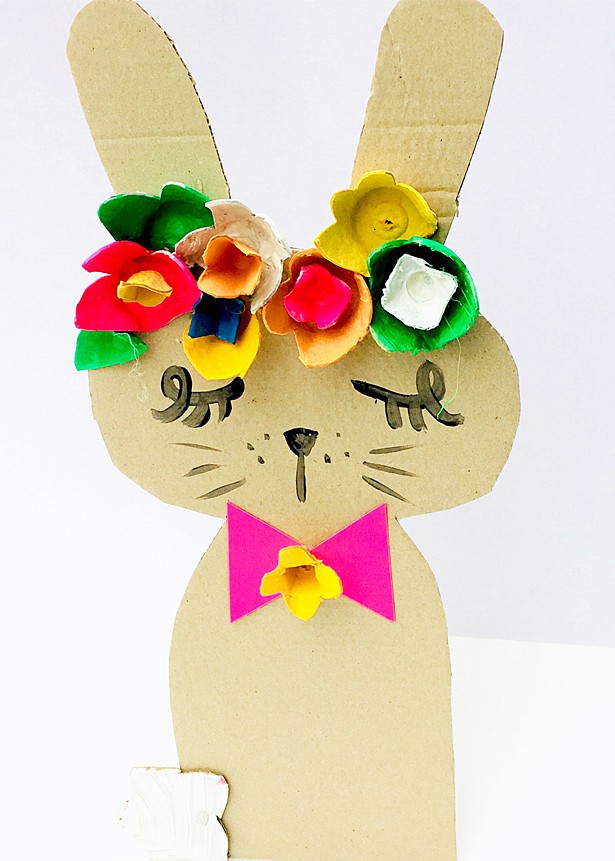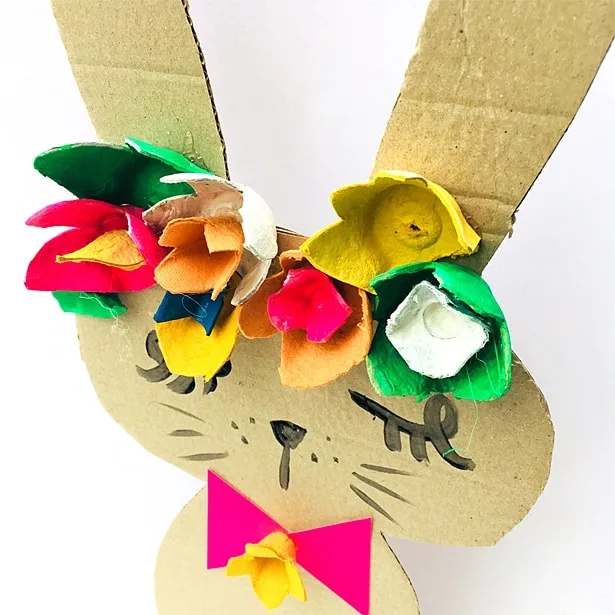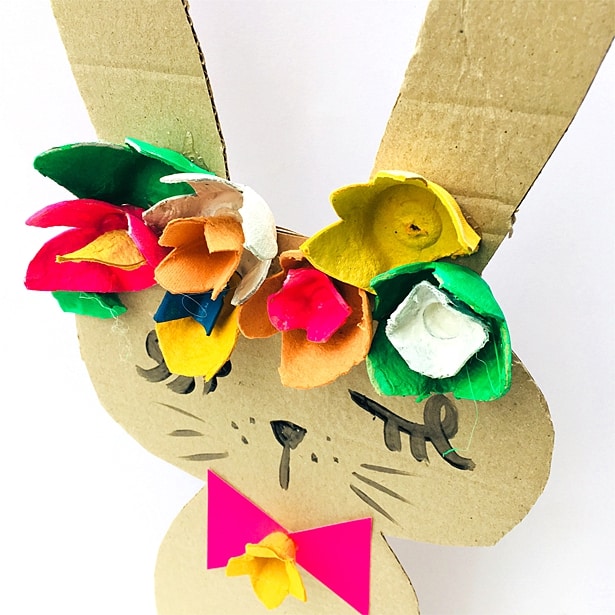 My daughter Coco is the biggest bunny fan I know, her room is full of them and when I told her about this craft she had her sleeves rolled up and was all ready to help, and of course she then homed this Bunny aka HopHop along with the many others including herself! x
So lets 'hop' to it!! and get our Craft Make Play on……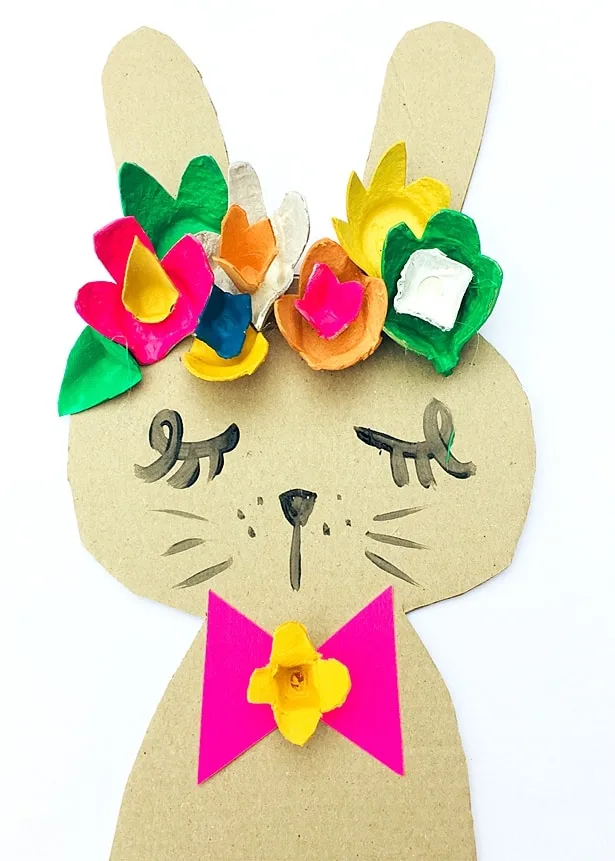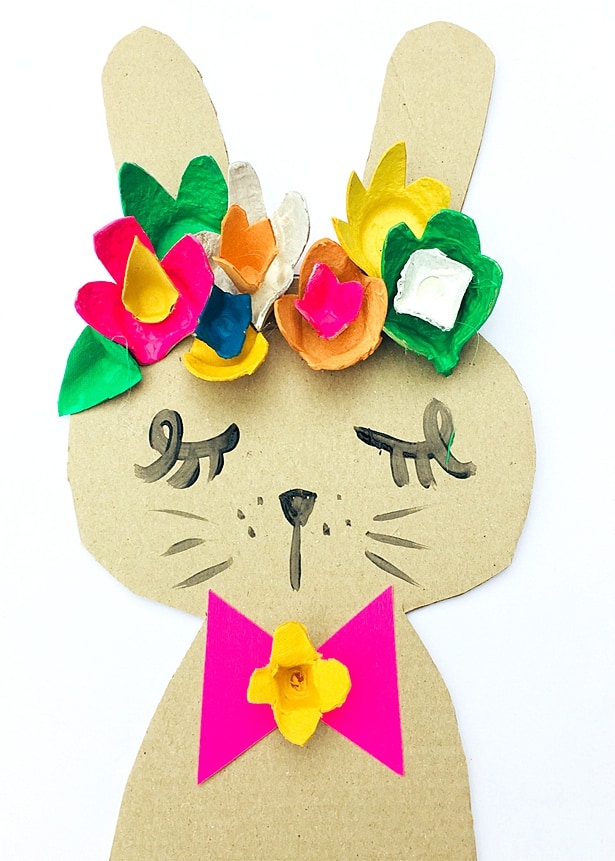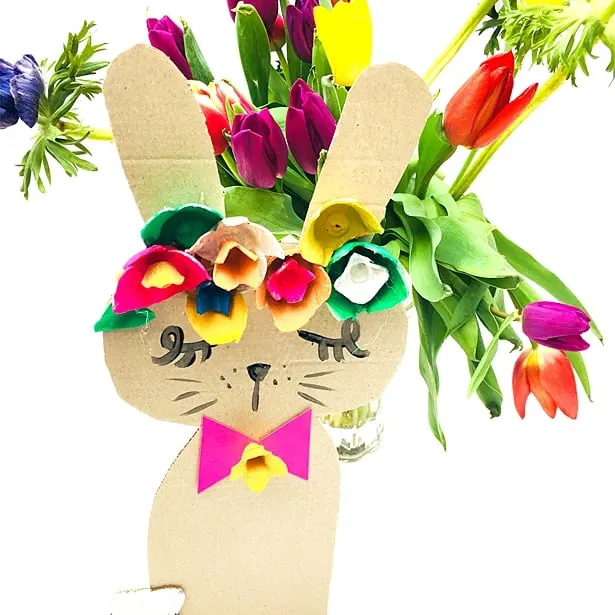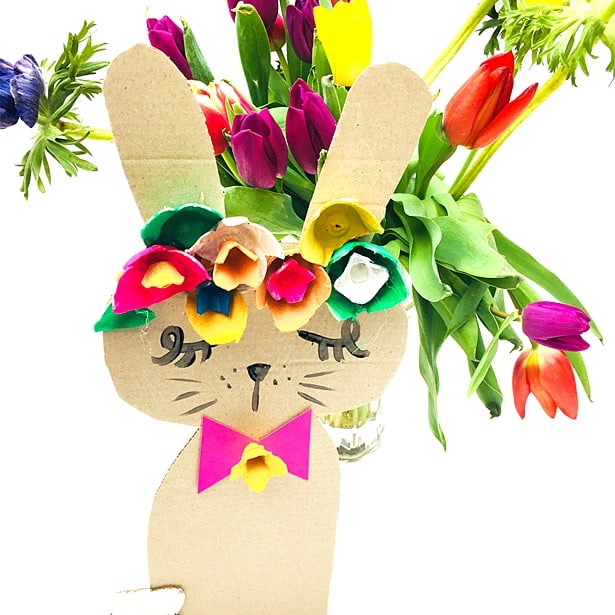 MATERIALS:
Eggbox cartons
Thick card (recycled cereal box works well)
Paints (poster or acrylic paints)
Scissors
Paint brushes
Water jar
Colored cardstock, paper or ribbon if you'd like to give your bunny a neck bow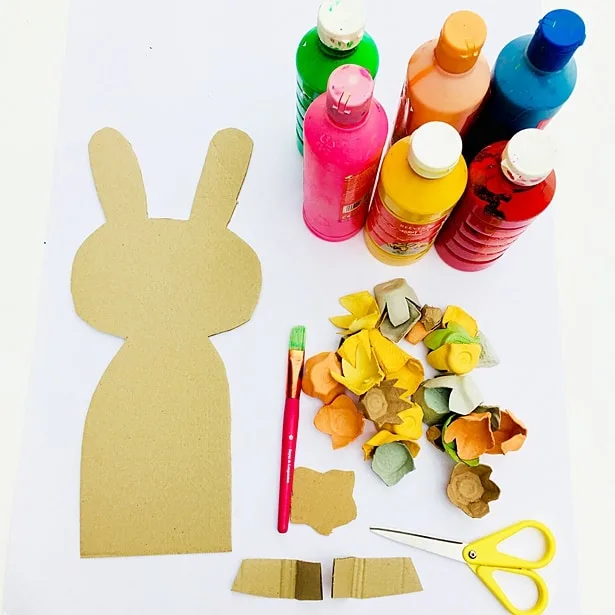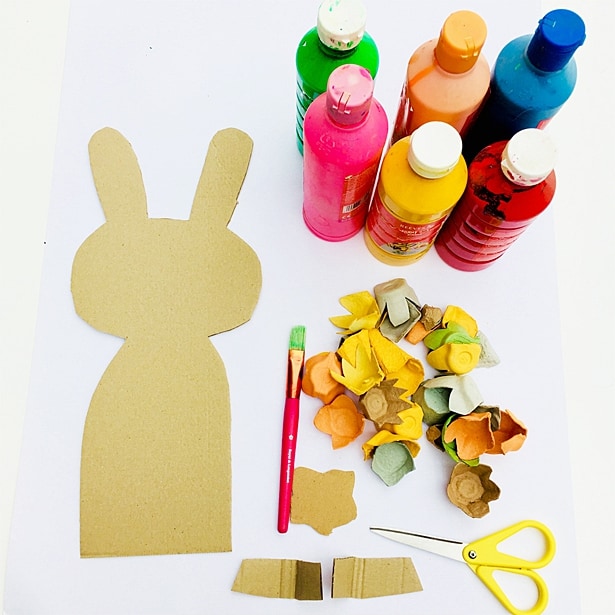 INSTRUCTIONS:
1. Draw your Easter bunny onto the cardboard box – ours was approximately 18cm X 38cm. Make sure the bottom edge is flat and then cut out.
2. Cut out 2 extra pieces of card approximately 3cm X 8cm, you will fold these as shown in the image and then fix with the hot glue to the reverse to create a stand (see photos below)*.
3. Cut out flower/cup shapes from your egg box carton, you can also cut out leaf and petal shapes from the lid.
4. Paint your flowers and allow to dry.
5. Whilst your flowers are drying paint a bunny face onto your cut out bunny
6. Using the hot glue gun fix your flowers into place
7. If you feel your bunny needs more decoration you could add extra flowers, a ribbon bow or as we have done and added a cut out neck bow.
8. Stand up your Easter bunny and if he looks lonely why not make him some friends.
*A stand on the reverse is not crucial but does allow you to stand your bunny in more places, if you don't apply the stand the bunny is perfectly fine on a shelf leaning against the wall.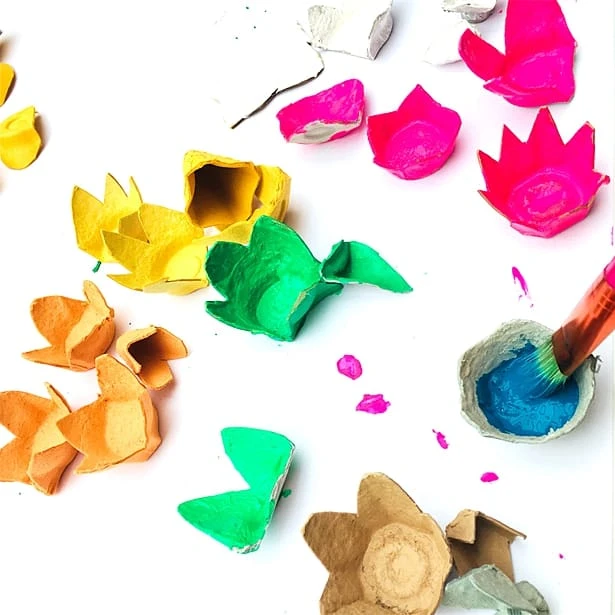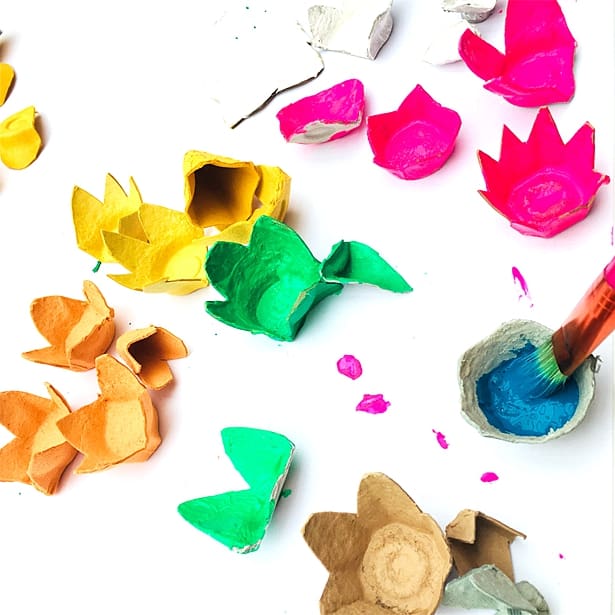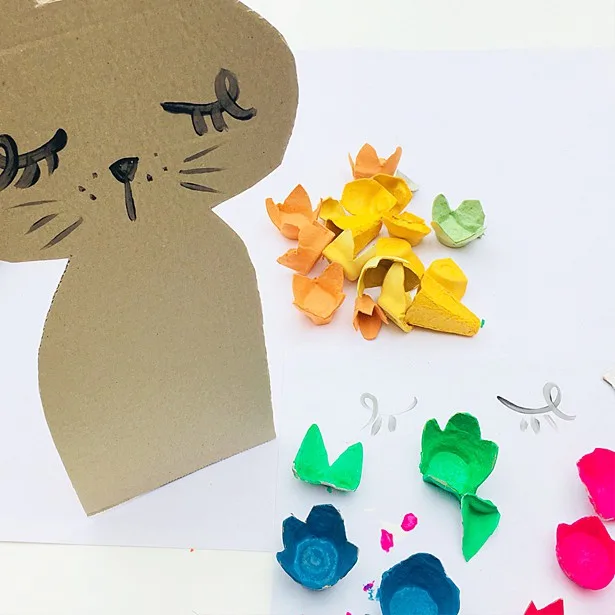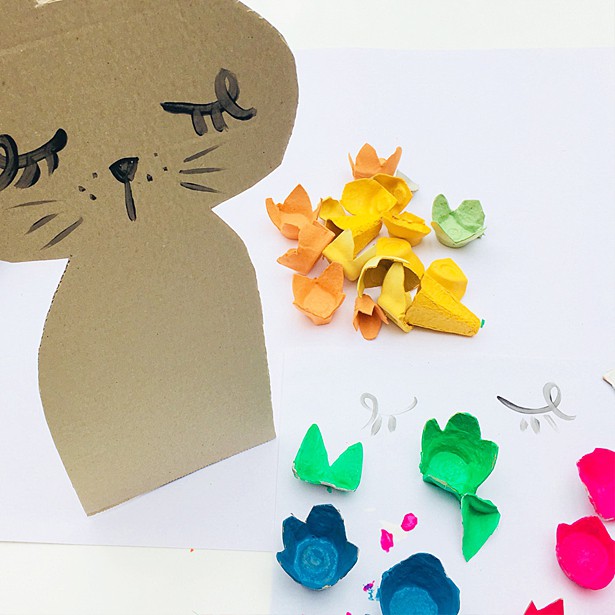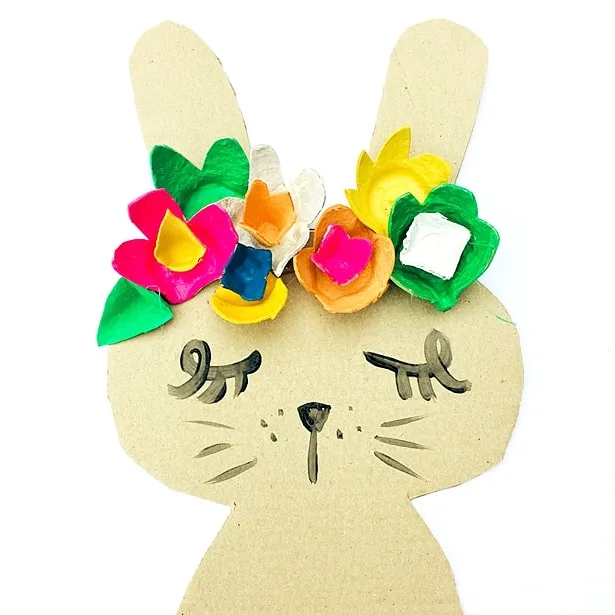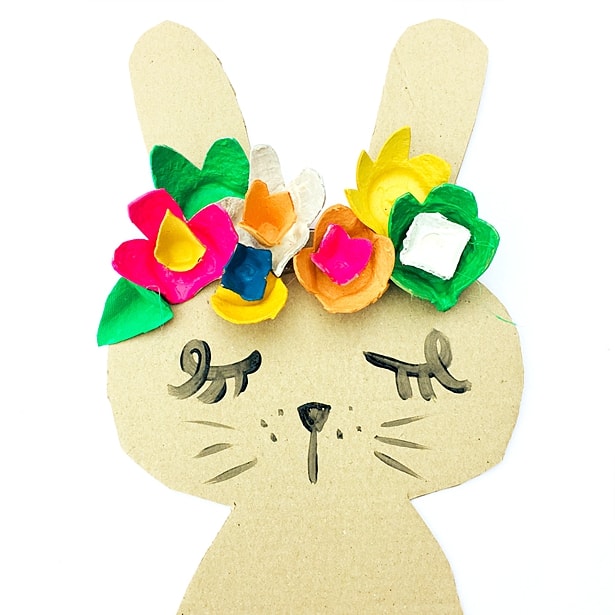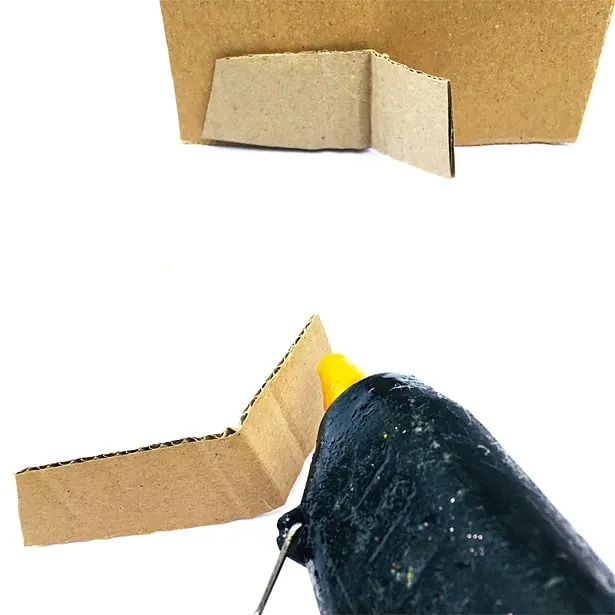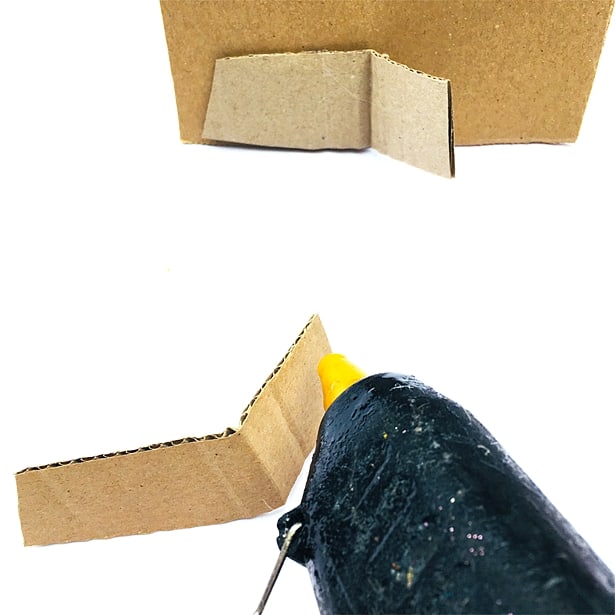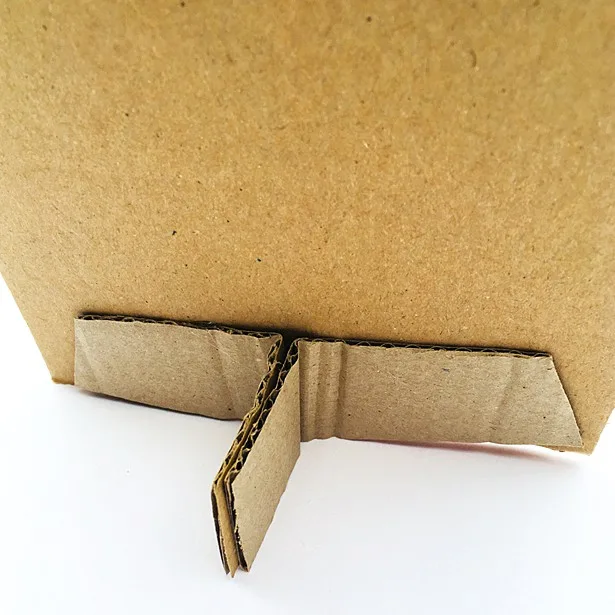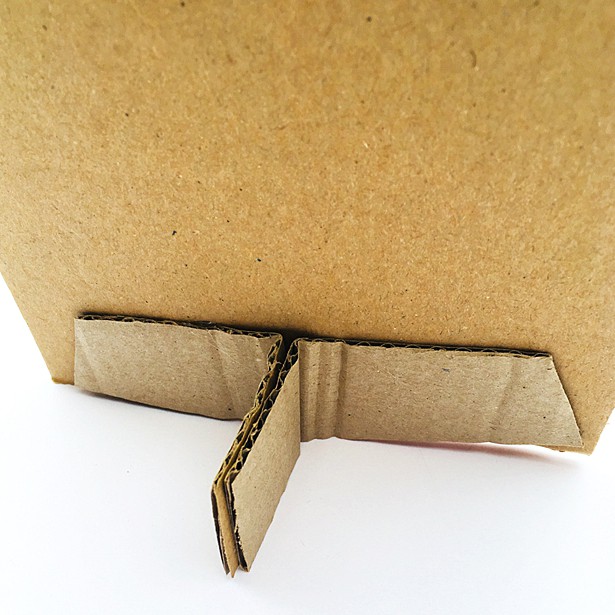 We absolutely love crafts that involve recycling and caring for the planet and we have more crafts using these gorgeous flowers made form recycled egg cartons – why not check out more how-to's on our blog, or browse through many makes on our instagram. Bunny Ears, Easter Bonnets and portraits are just a few you will find. We hope you can pop over and take a peek and maybe even have a go too.
Check out more creative Easter ideas for kids!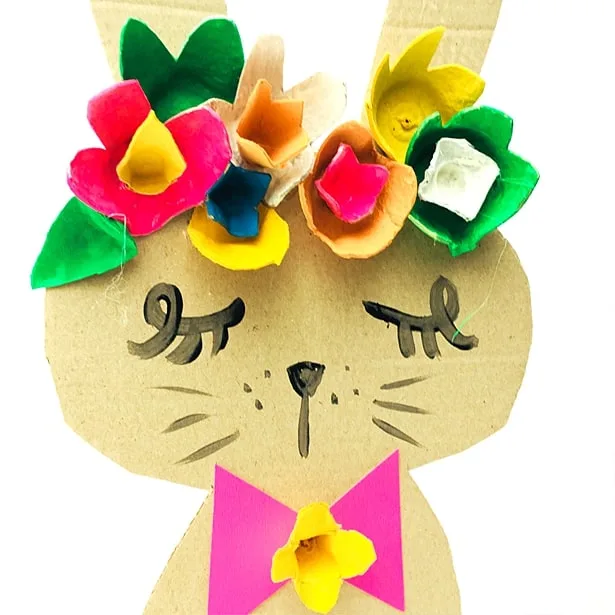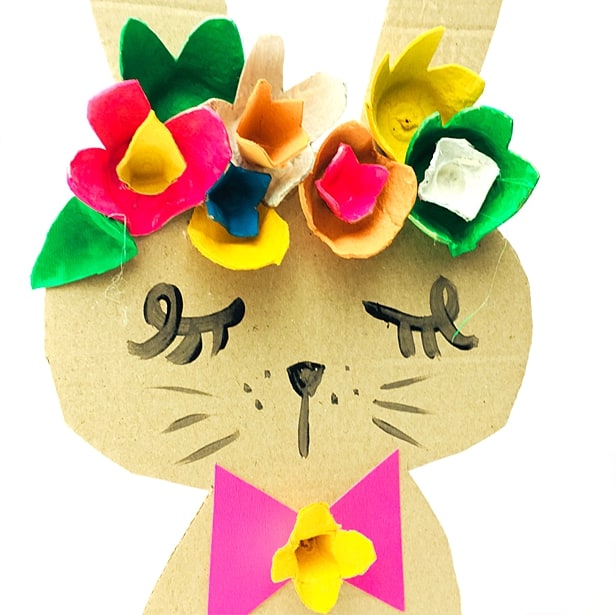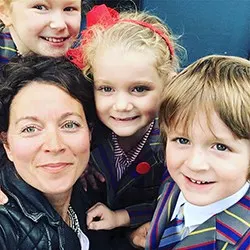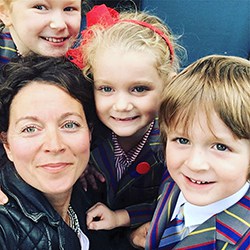 This is Claire, mum to 3 little ones, Maude, Coco and Arlo. A crafter, maker, teacher and former kids fashion and print designer, now founder of CRAFT MAKE PLAY, inspired by children, for children, and adults too!Craft Make Play evolved from an ever growing love for making and creative expression that Claire shared with her own children and then with others. What started at Claire's kitchen table has steadily grown into CRAFT MAKE PLAY. Claire now runs after school craft workshops, pre school sessions and in this years diary Claire has adult workshops and parties too. A new website and blog Craft Make Play an even busier year ahead.To follow Claire and her fresh, fun and inspiring crafts you can see her regularly on Instagram, Facebook, and Pinterest. Take a peek, you'll come away feeling ready to craft and full of ideas.
Disclosure: Some of the links in the post above are "affiliate links." This means if you click on the link and purchase the item, we will receive a small affiliate commission. Regardless, we give our promise that we only recommend products or services we would use personally and believe will add values to our readers.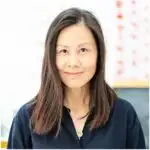 Agnes Hsu is a mom of three and has been inspiring parents and kids to get creative with easy activities and family friendly recipes for over 10 years. She shares her love for creative play and kids food to her 2MM+ followers online. Agnes' commitment to playful learning and kindness has not only raised funds for charity but also earned features in prestigious nationwide publications.