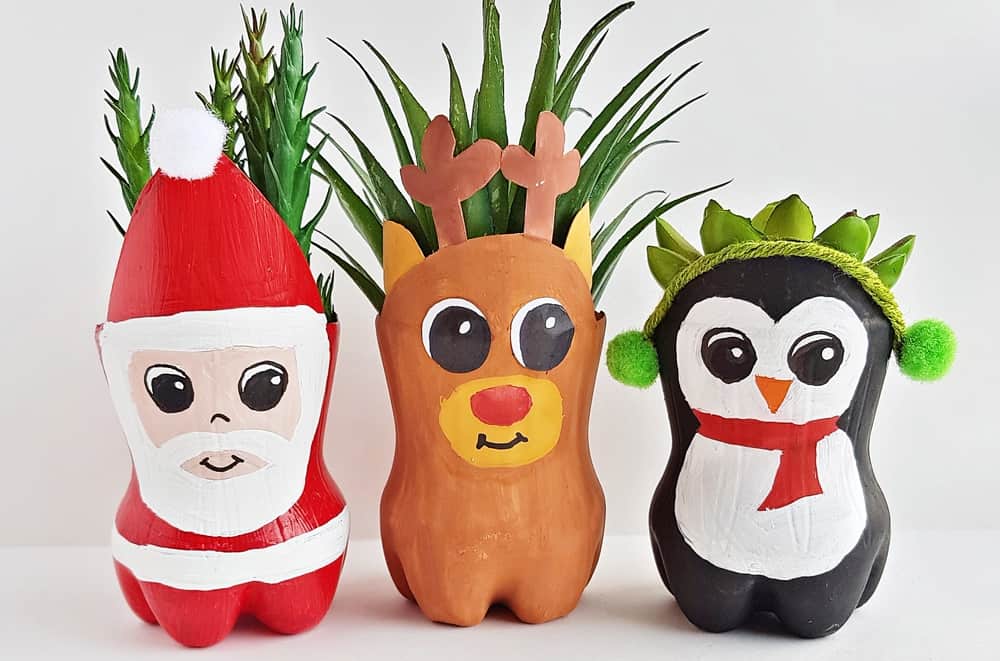 Follow us on Instagram for more fun ideas for kids!
This Christmas Recycled Bottle Planters Craft is a fun holiday craft for kids that also makes a wonderful handmade gift for the home!
I can't believe that the holidays are already here! It's hard to believe that in just a few short weeks we'll be surrounded by holiday music and Christmas shopping.
In our house, this also means that it's time to start putting out the Christmas ornaments and figuring out what Christmas crafts we're going to make. Since we love to repurpose and recycled items to make holiday crafts like these egg carton ornaments, on our list are these DIY Christmas Recycled Bottle Planters.
We loved our Halloween Recycled Bottle Planters, so had to make some to celebrate the holiday season.
They're not only adorable, but they're super simple to make as well. Plus, they make a really cute and adorable way to let the children help to add some fun holiday cheer.
You could easily gift them to family and friends as handmade holiday gifts that will bring a smile.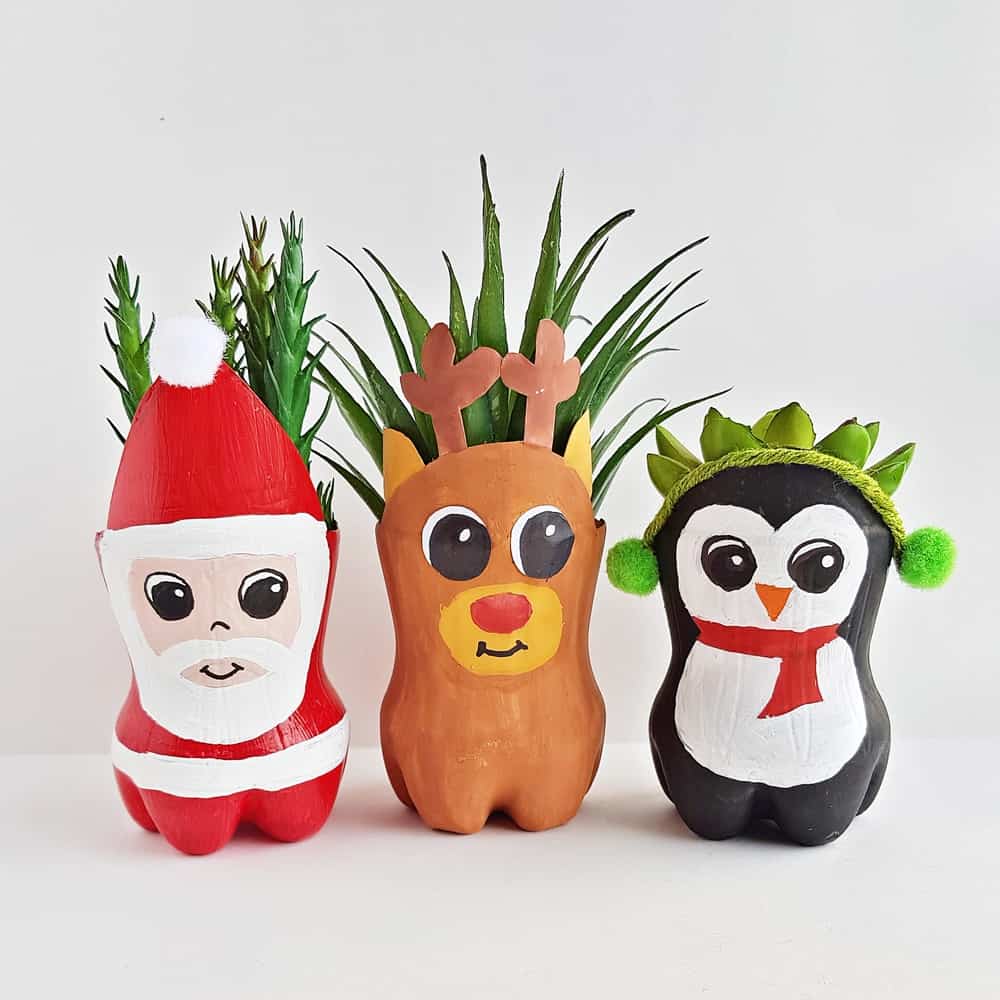 Is this DIY Christmas Recycled Bottle Planter hard to make?
It's really not at all. All the kids had fun with this one and even I did, too! All you mainly need are paint and empty plastic bottles to get this simple holiday craft started and the rest of it is just pure creativity.
As you can see you can easily make a Rudolph reindeer, penguin, or even Santa…. who says that they have to pick just one? If you have the empty bottles to keep creating, let them do so.
Just like any craft, make certain that you're there with them while they're crafting. Not only is it for safety purposes but it's also a great way to create together and make some super fun crafting memories. Do make sure you are the one cutting the plastic bottle to be safe.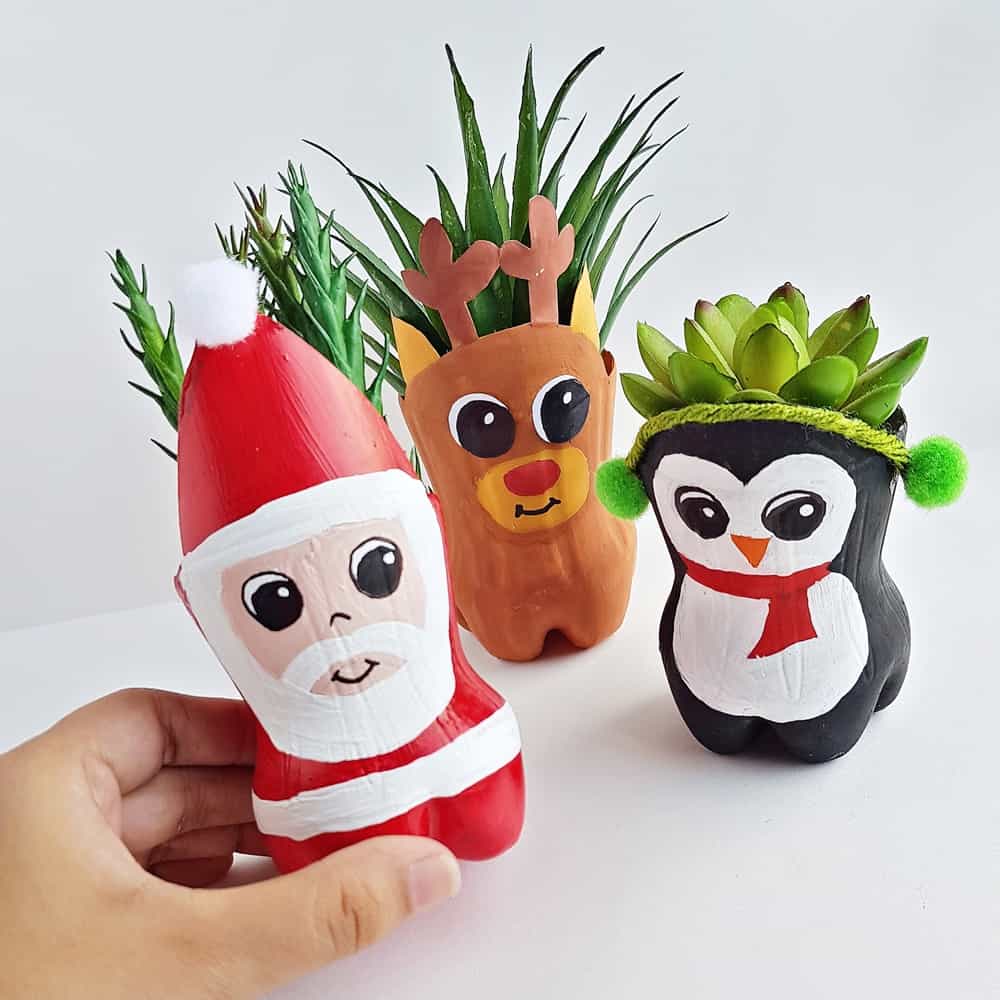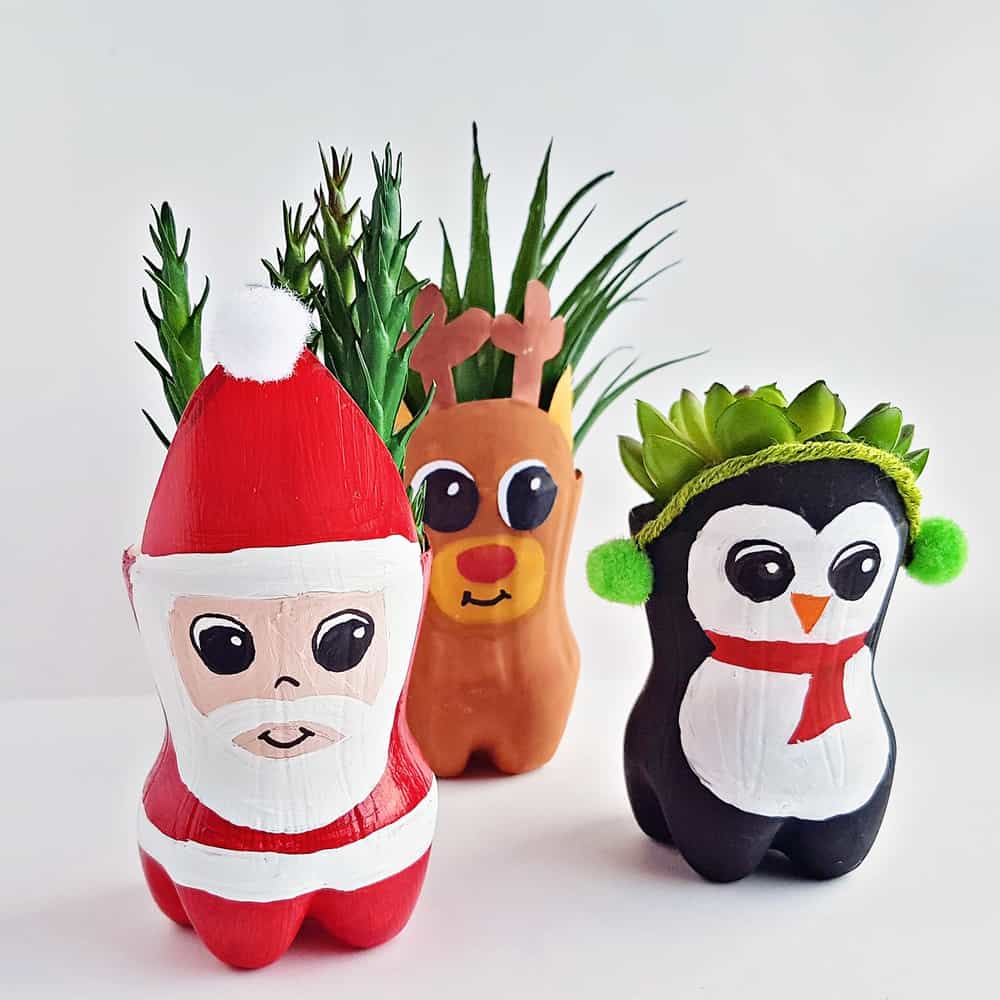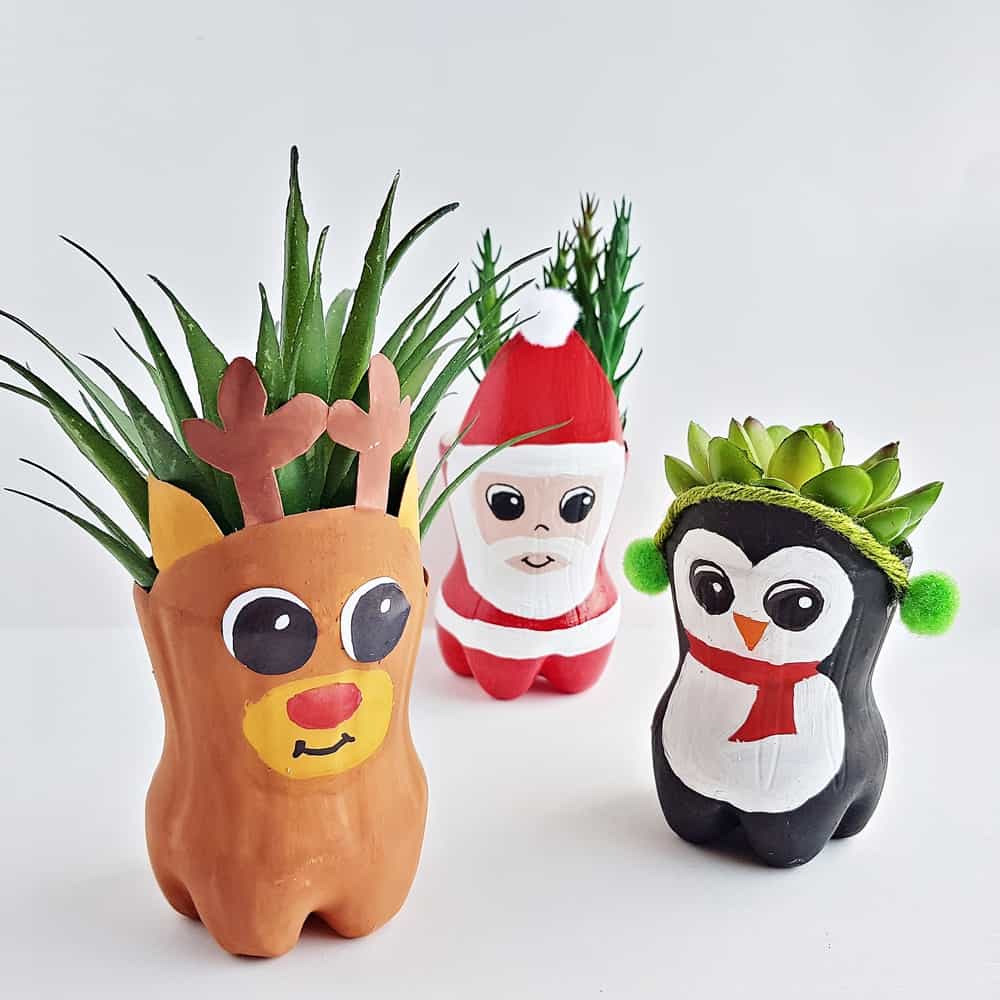 Will any type of empty bottles work for this planter craft?
You actually have to be a bit choosy about the bottles that you're using for this craft. You need to find ones that have a wide base so that they stand up on their own and are big enough to have plants stuck inside of them.
Empty soda plastic bottles are a great choice because they offer that wide base and wide opening that makes it super simple to fill with soil and plants. Just make certain that you are careful when cutting down the plastic on the bottles so that no one gets cut in the process.
Also, make certain that you do your best to clean out the bottles as you don't want to worry about any sticky residue.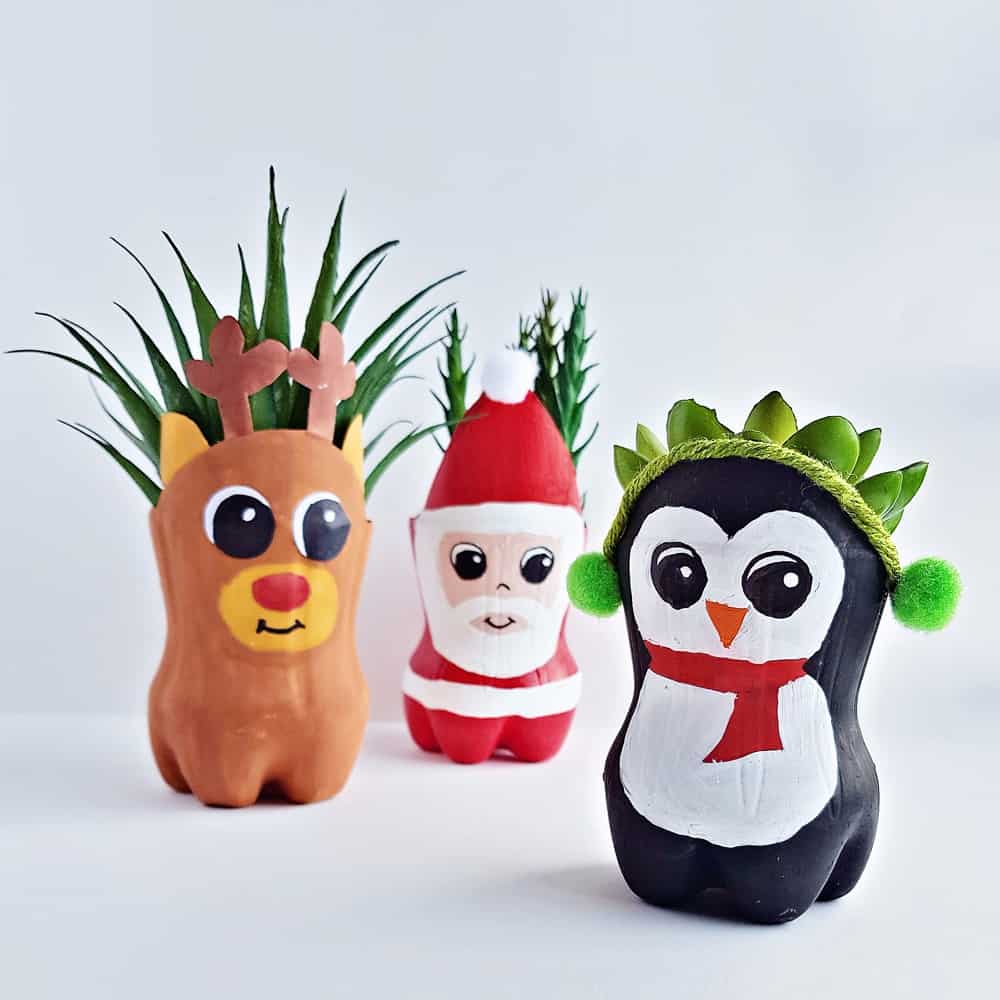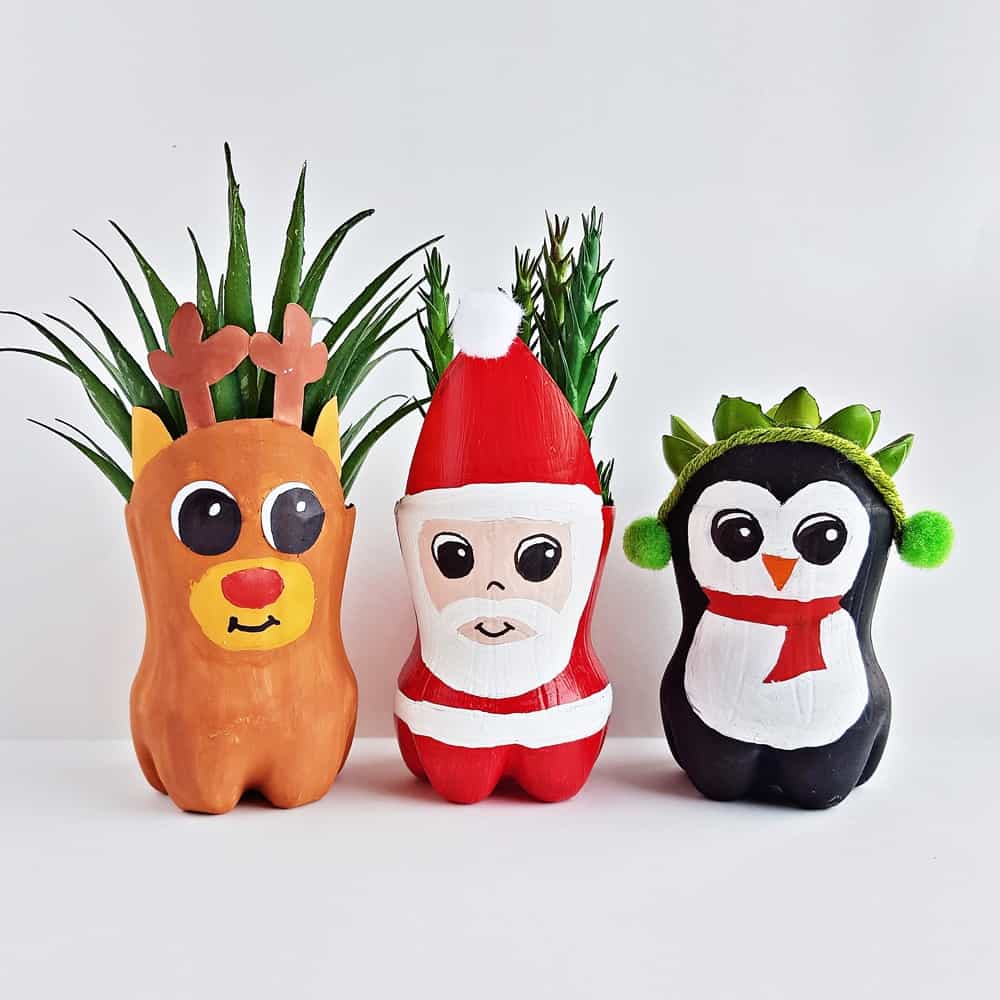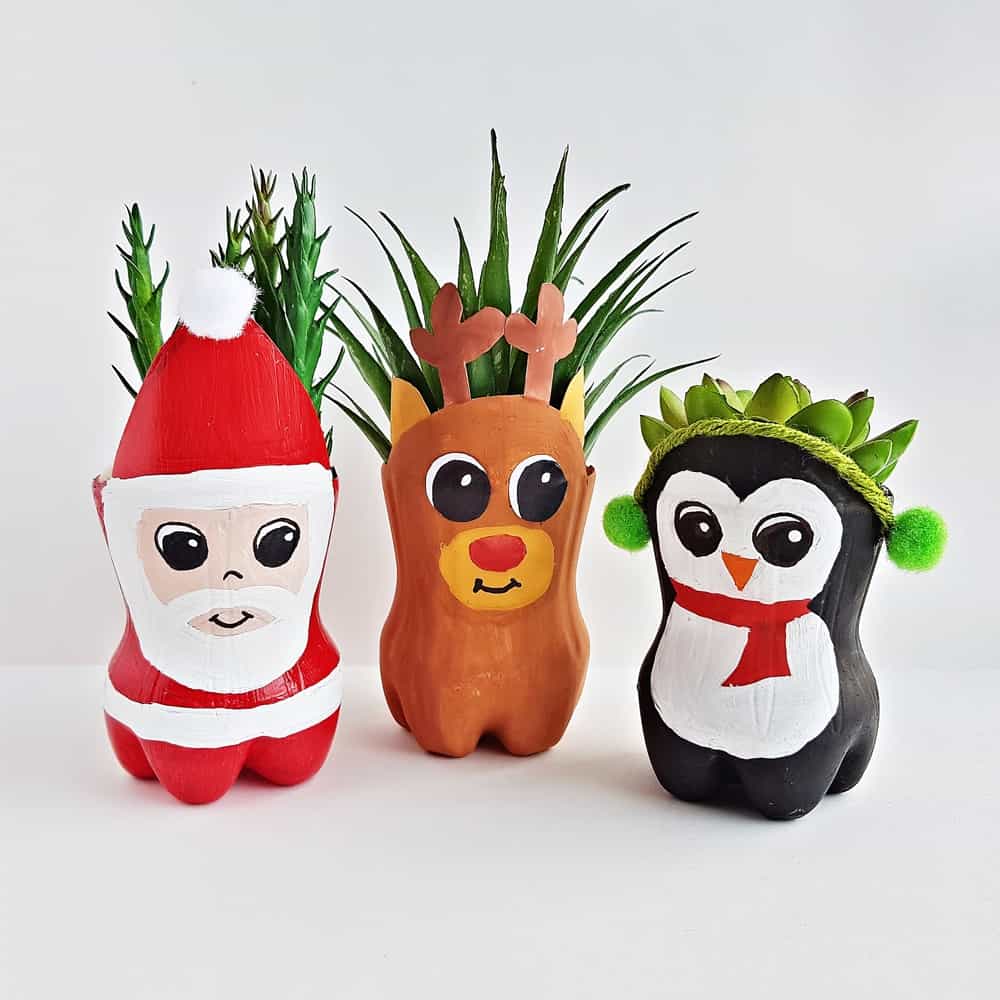 How to create these DIY Christmas Recycled Bottle Planters
It doesn't take a lot of effort to create these recycled planters but it looks like it does! These are such a cute holiday craft that can produce a beautiful living plant or gift as well!
DIY Christmas Recycled Bottle Planters – Materials:
Plastic bottle

Marker

X-acto knife

Pencil

Acrylic paint

Paint brush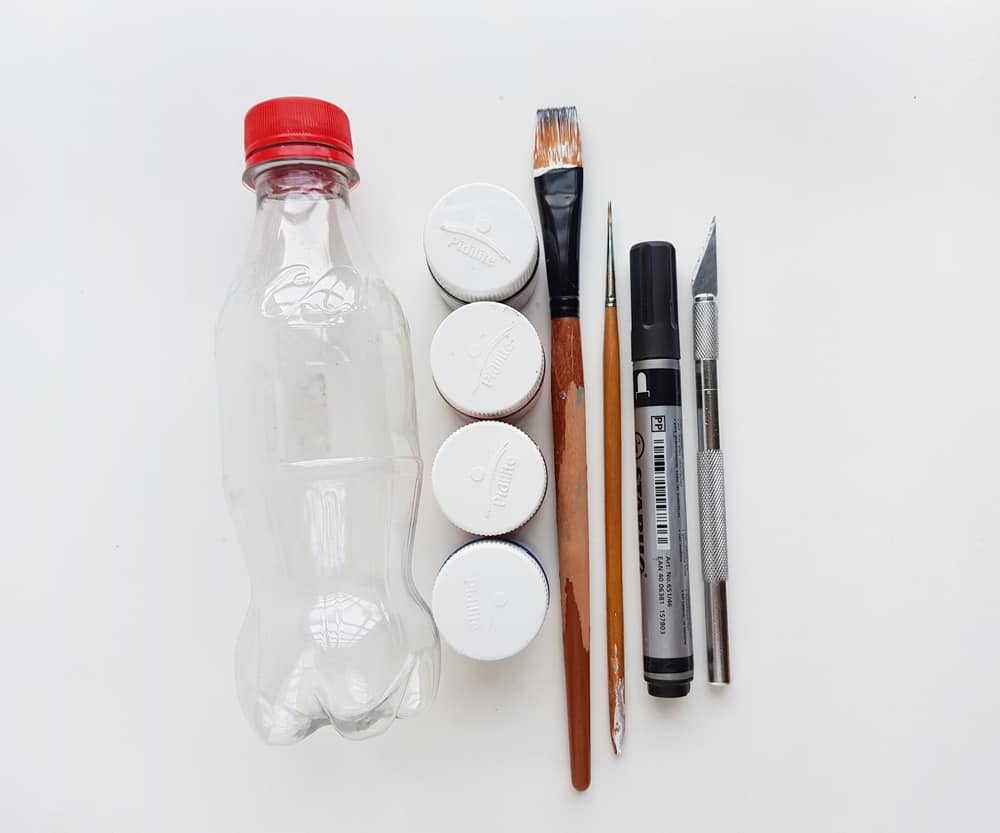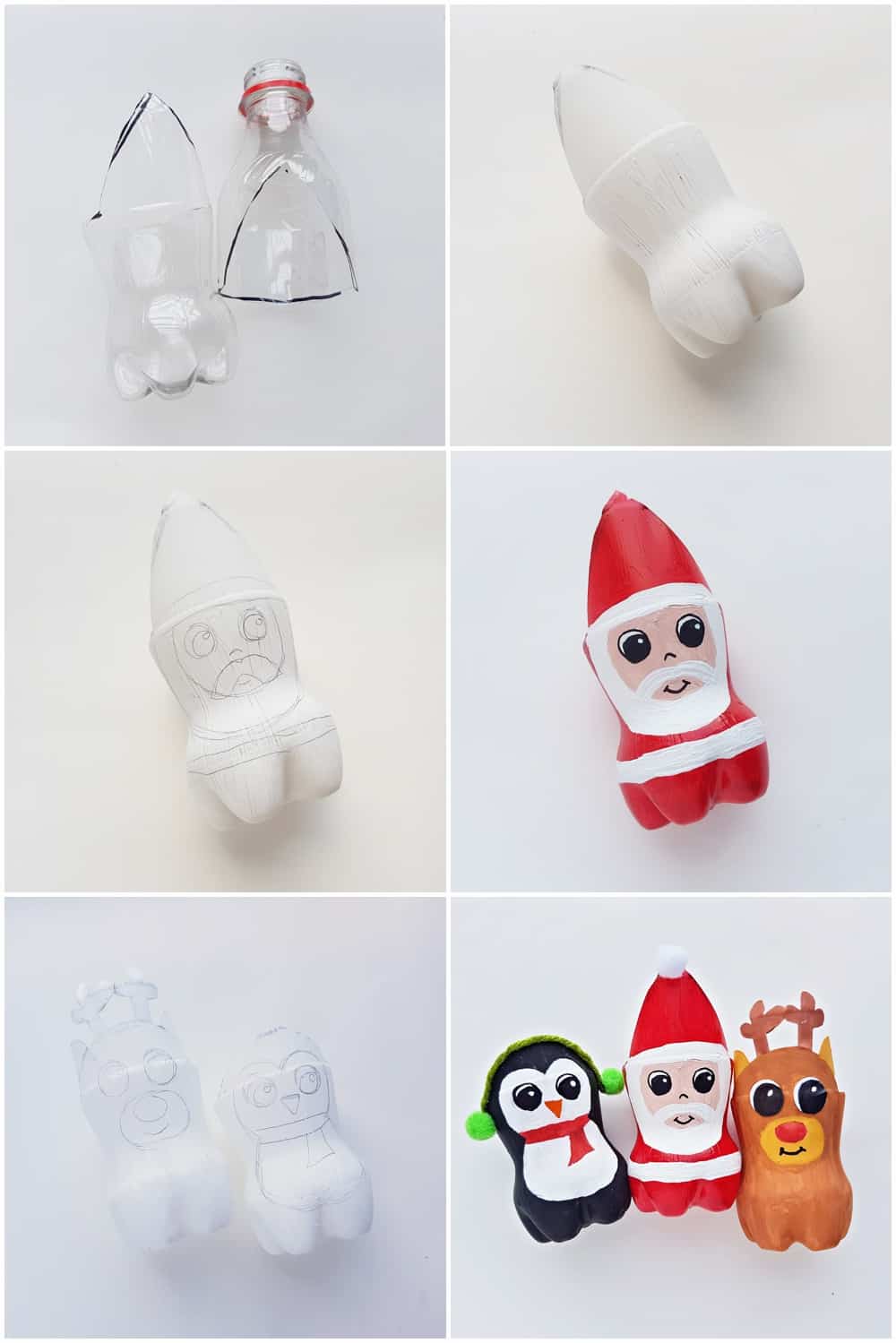 Yield: Christmas Recycled Bottle Planters Craft
CHRISTMAS RECYCLED BOTTLE PLANTERS CRAFT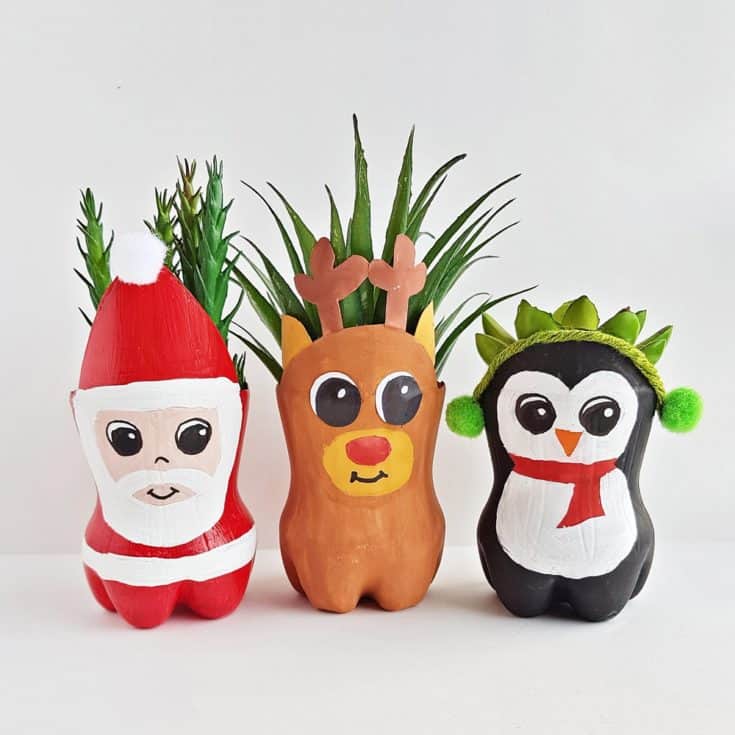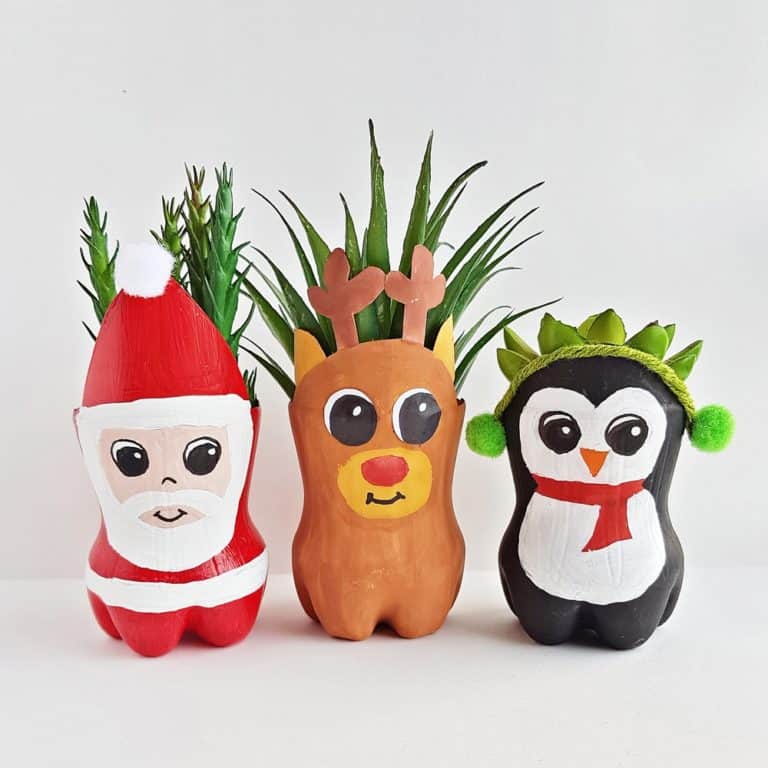 This Christmas Recycled Bottle Planters Craft is a fun holiday craft for kids that also makes a wonderful handmade gift for the home!
Materials
Plastic bottle
Marker
X-acto knife
Pencil
Acrylic paint
Paint brush
Instructions
Step -1:
Select a plastic bottle (any size of your choice) that can stand up and clean it nicely. Make sure that the bottle isn't wet before starting the craft. Use a temporary marker pen to trace the Christmas character layouts on the bottle. I'm tracing Santa Claus, Rudolph and penguin layouts on the bottle. Let's start with the Santa Claus as an example pattern. The bottom part of the bottle will also be the bottom side of the Santa. Leaving enough space on the bottle (outer surface) for the body part of the Santa, trace the top (hat) layout of the Santa on the top part of the bottle.
Step -2:
Use an x-acto knife to cut out the traced pattern. This will separate the bottle into 2 parts. Keep the bottom part of the bottle for this craft and keep the top part aside for now.
Step - 3:
Apply a coat of white acrylic paint on the outer surface of the cutout bottle. Apply another coat once the first coat is completely dried.
Step - 4:
Use a pencil to trace the Santa Claus pattern on the white painted bottle.
Step - 5:
Use red, white and black acrylic paint to fill the traced parts of Santa Claus. The first coat of painting might not turn out nice but don't worry; allow the first coat to dry.
Step - 6:
Now use a thin brush to apply the second coat of paint neatly to fill each traced parts.
Step - 7:
Similarly, prepare 2 more bottles for the Rudolph and penguin craft. Cut out the top side of the bottles by keeping the top layouts of each character, paint the bottles white (the base coat) and then use a pencil to trace the patterns on the white painted bottles.
Step - 8:
Apply paints on each traced patterns to complete the rest of the crafts. Allow the paint to dry once the craft is complete.
Step - 9:
Add decorative elements if you wish like a pom pom for Santa's hat or yarn and pom pom for the penguin's ear muffs.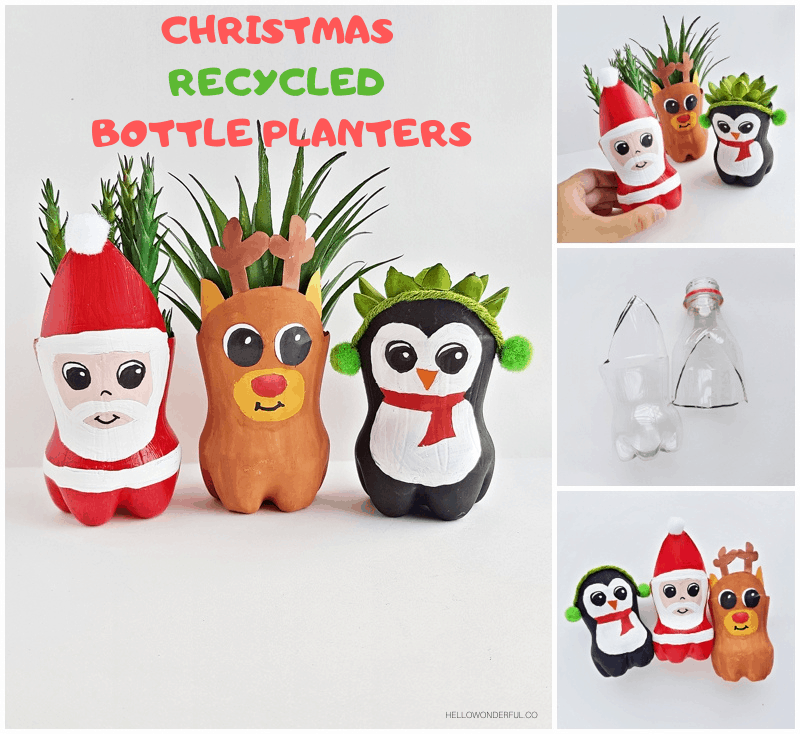 If you love this Christmas Recycled Bottle Planters craft take a peek at some more fun holiday crafts for kids.