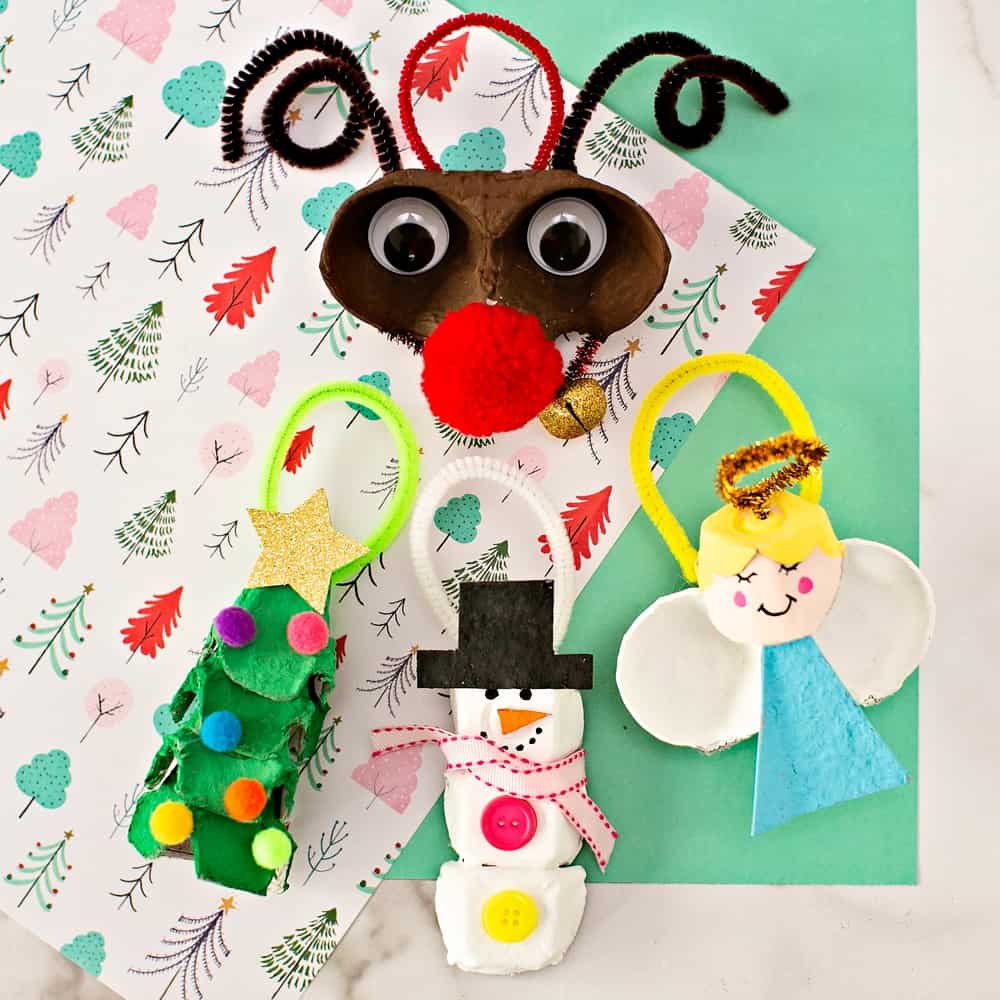 By using this site, you agree to our Terms of Use. This post may contain affiliate links. Read our disclosure policy.
Follow us on Instagram for more fun ideas for kids!
Watch the video below to see how to make these adorable recycled Egg Carton Christmas Ornaments. Make sure to subscribe to our YouTube channel for more fun videos!
These cute Egg Carton Christmas Ornaments are a fun recycled craft kids can make to celebrate the holiday season.
It's so simple to get creative with items that you have around your house, like egg cartons! These are such easy materials for holiday crafting with kids.
So many people tend to think that once the eggs are done that the egg cartons have to go in the trash but this just isn't the truth.
We love to recycle and repurpose items all the time in our home and use them for crafting and creative purposes. Can you believe how egg cartons just transformed into a Christmas tree, Angel, Rudolph and Snowman here?!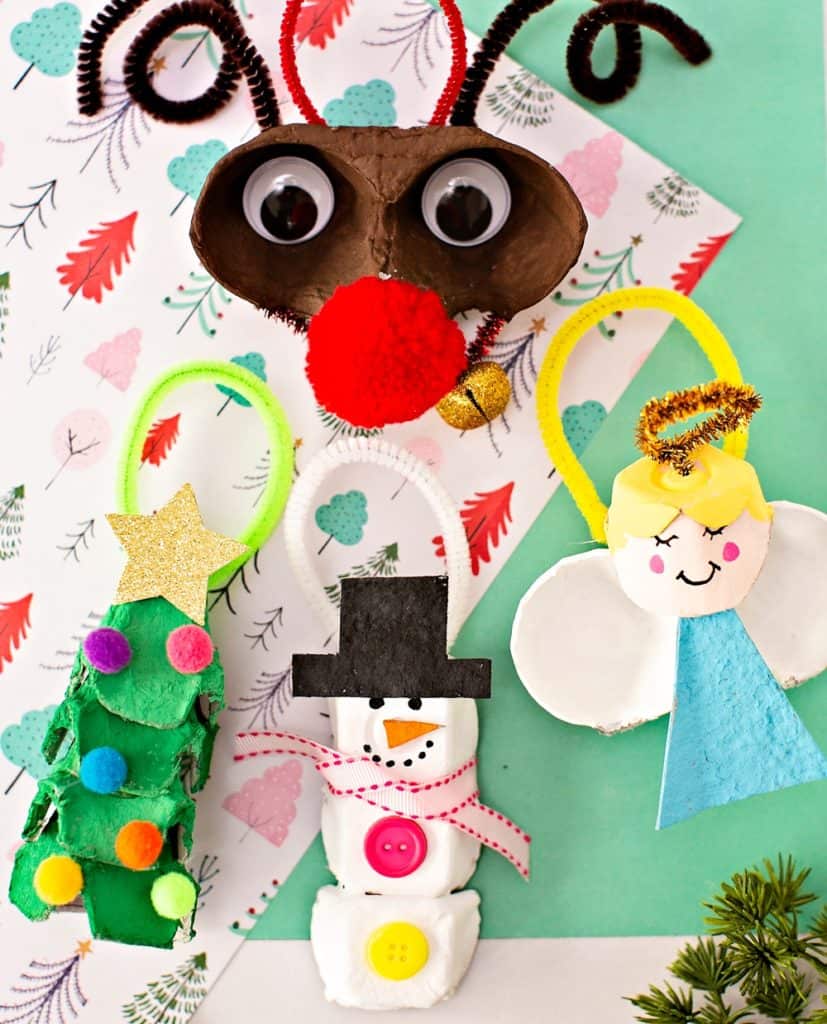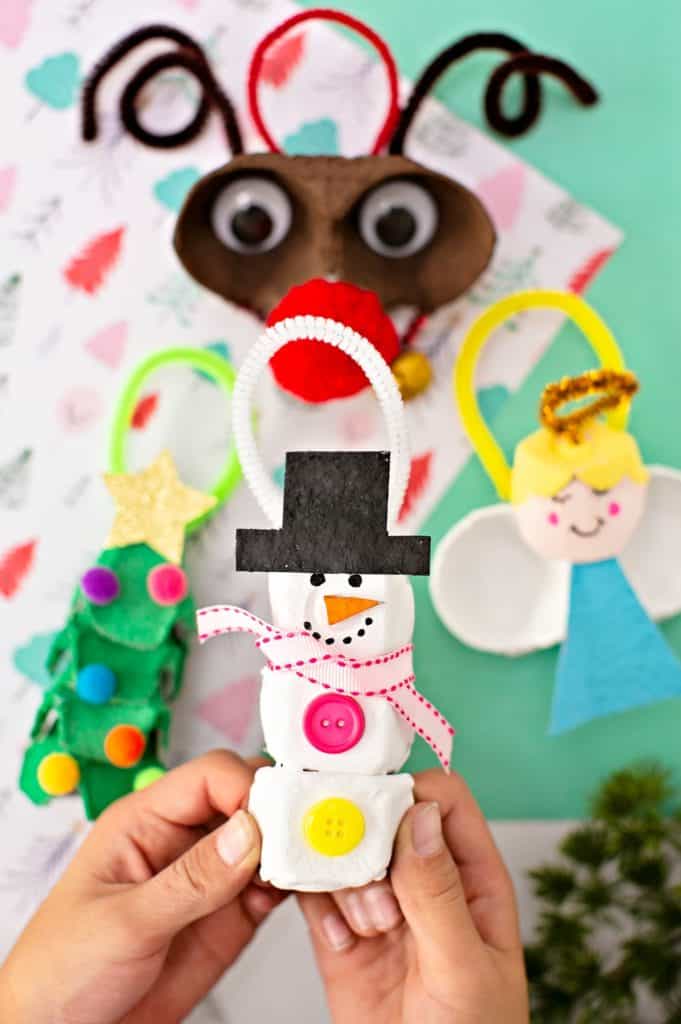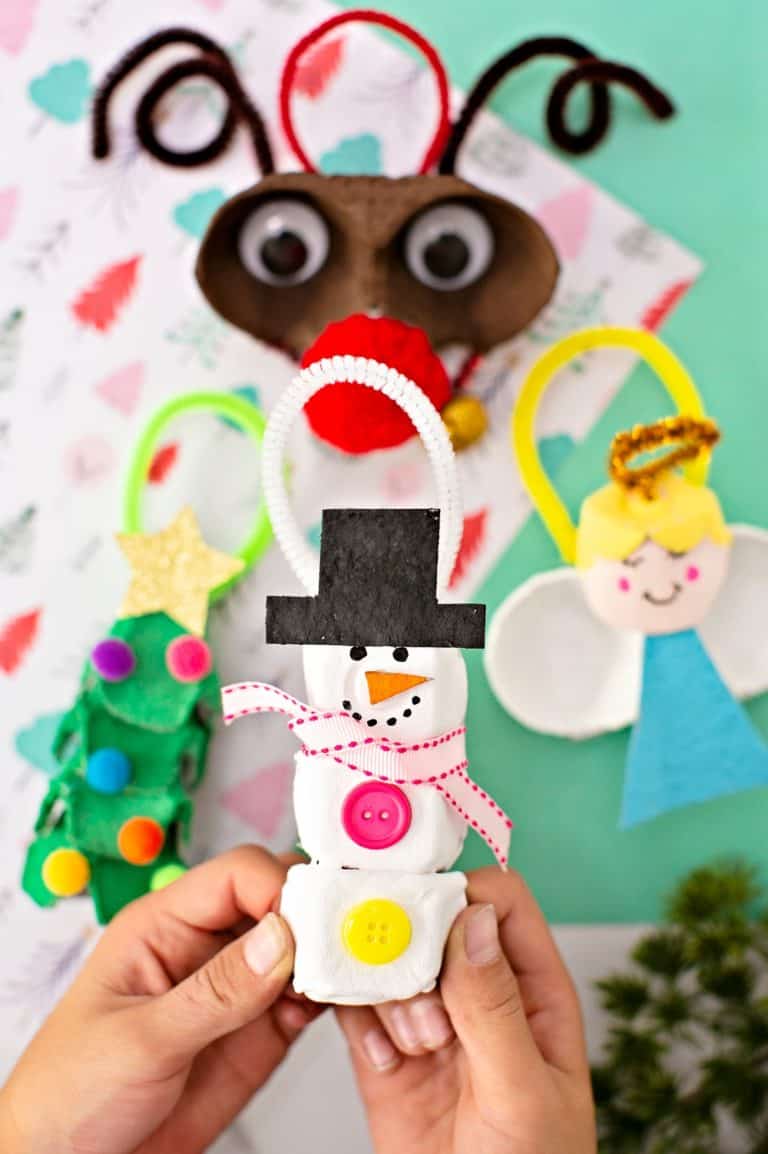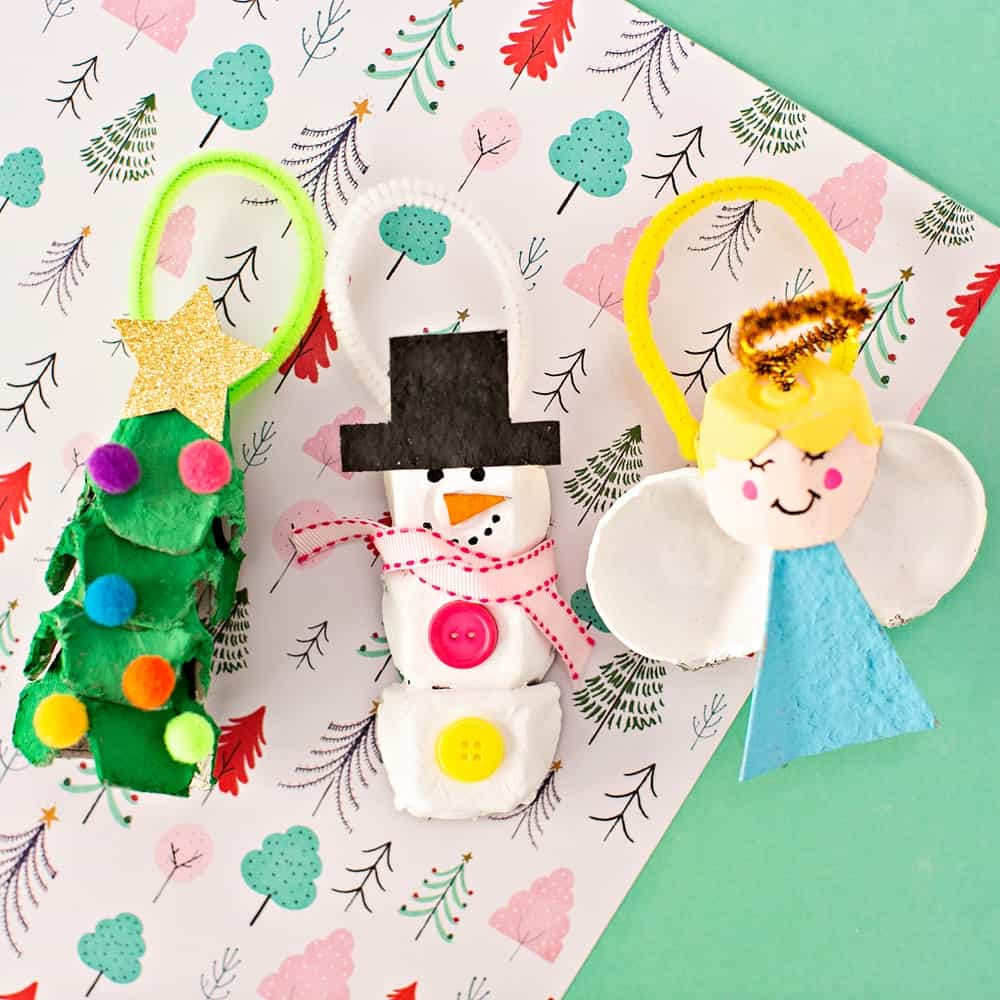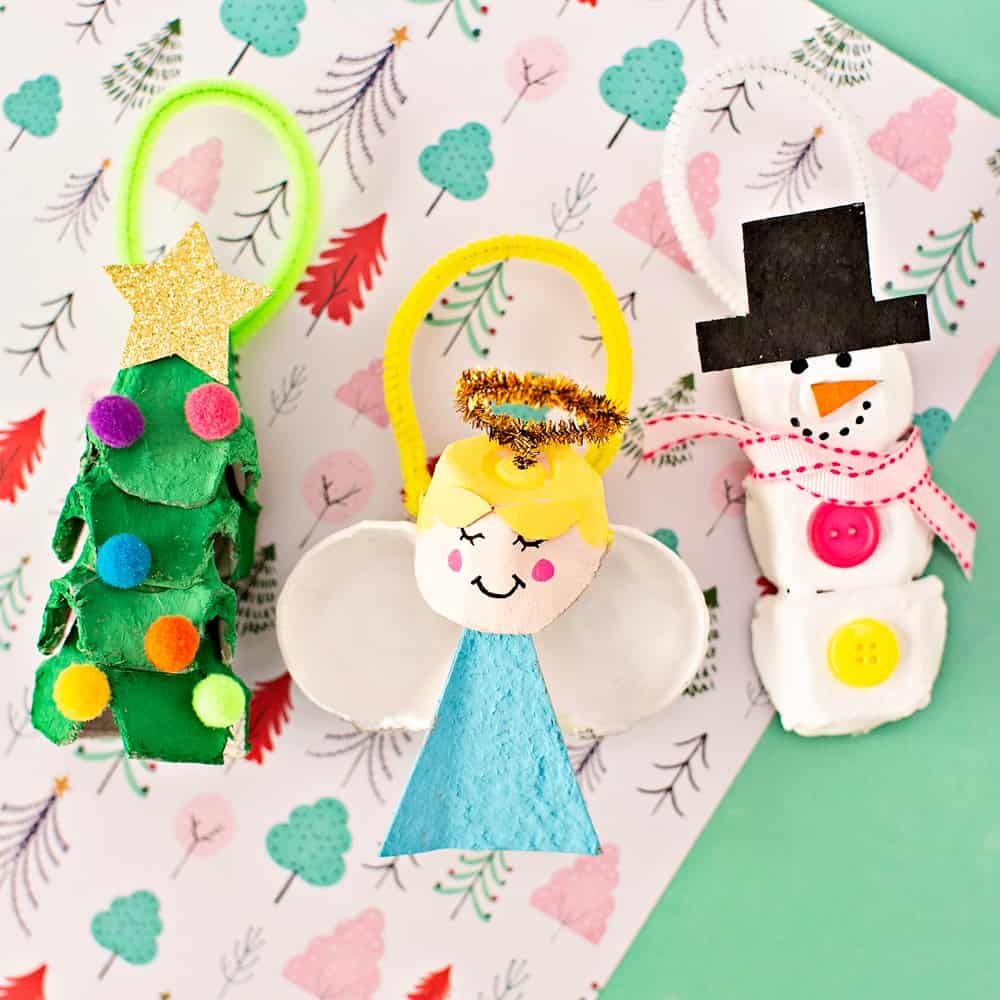 Egg carton ornaments make simple and festive DIY Christmas ornaments.
What I love most about this simple holiday craft is that it's just a lot of fun to create and so easy. Not to mention inexpensive!
Most of us go through egg cartons and so there goes your main material need.
There's no pressure on making anything "perfect" and it's the type of craft that really does allow the kids to just relax and create. And we can all stand to have as much of a stress-free holiday as possible!
When kids are able to sit around having fun with some recycled materials, paint and fun craft items like pom poms and pipe cleaners, it makes the sticky glue mess worth it!
My hope for you and your child is that you'll get to work together to create this fun, easy and unique egg carton holiday craft. It's a super simple way to create handmade DIY ornaments and Christmas memories together!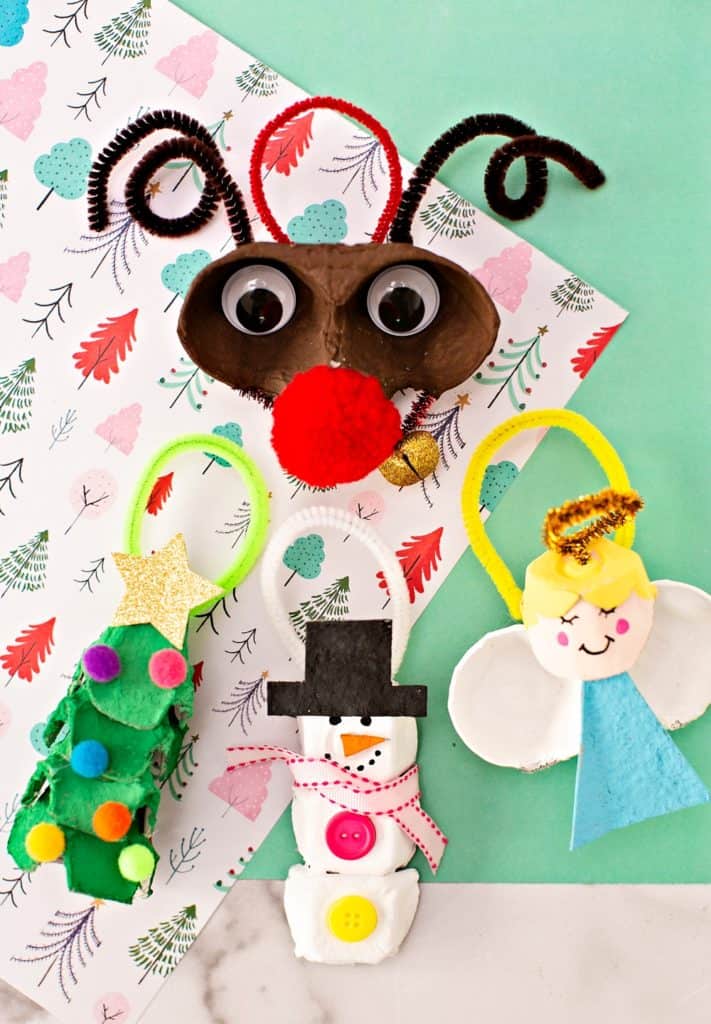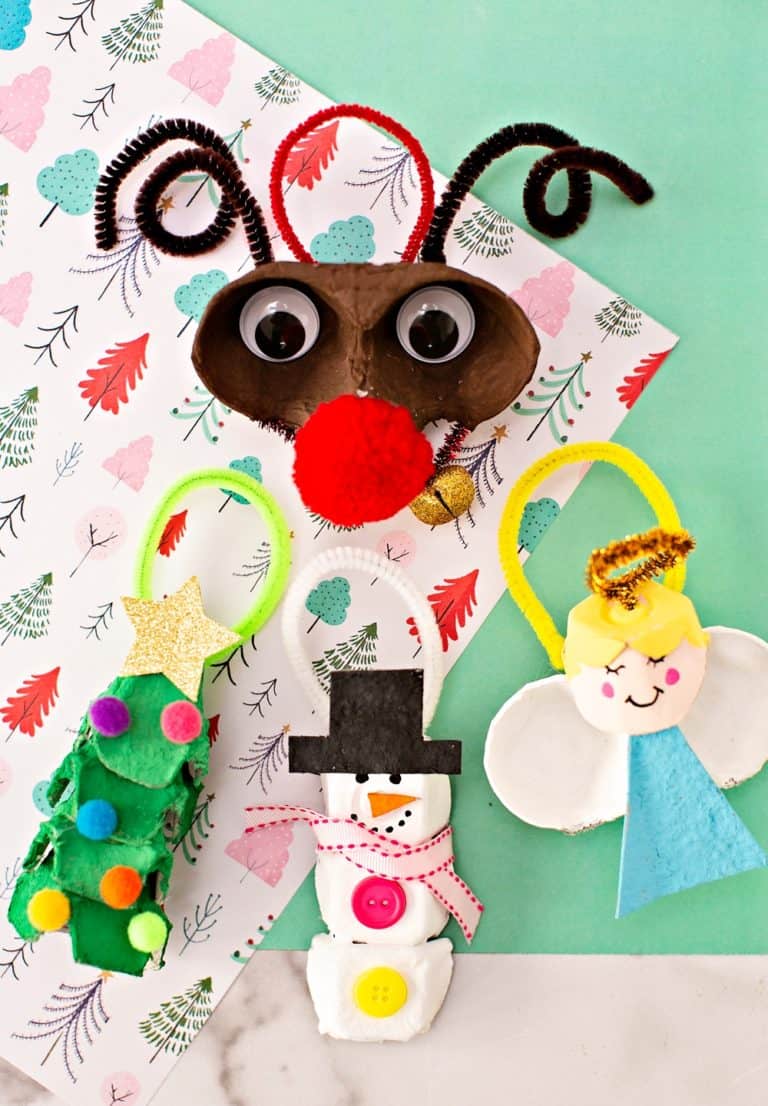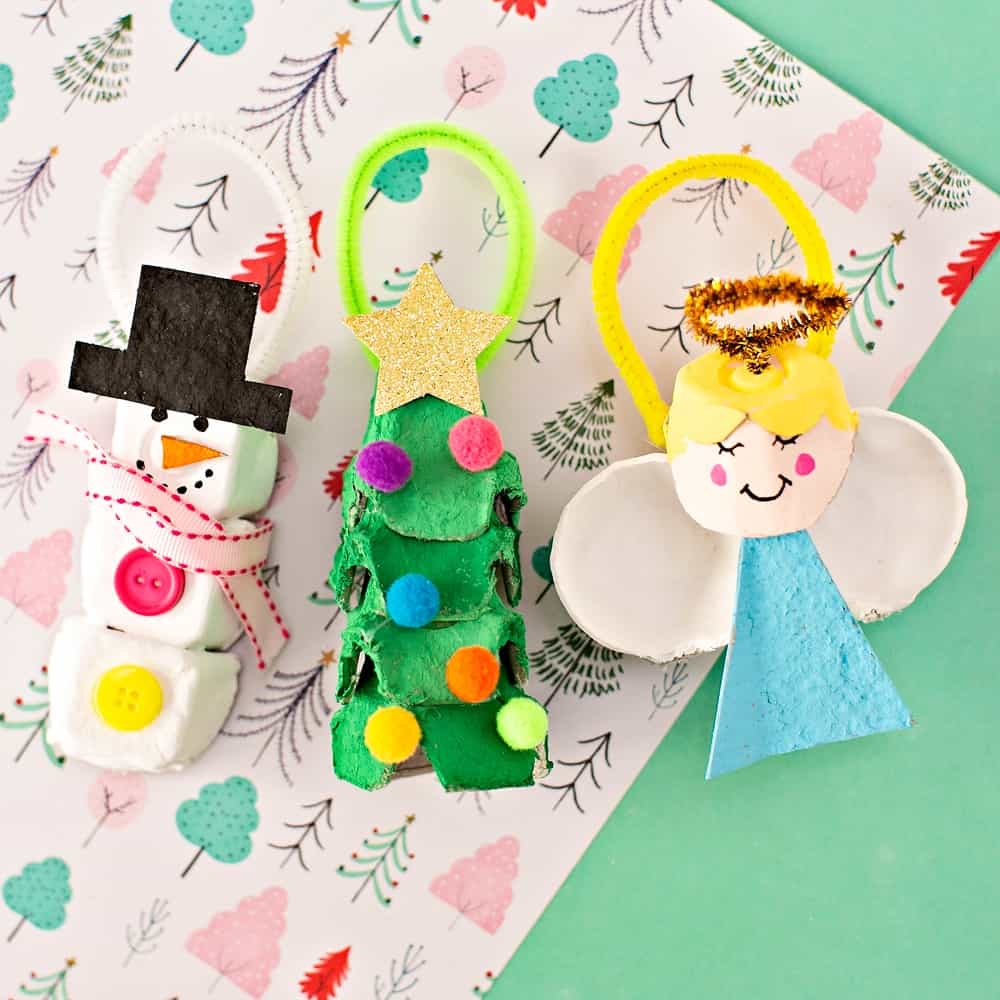 How long does the paint take to dry on the egg carton?
Egg carton is actually very porous and absorbent so surprisingly the paint dries fast! I wouldn't say instantly but in 10 minutes or so, you can go on to adding your layers like buttons on the snowman egg carton or pom poms on the tree.
This is a win with kids who are impatient or need instant gratification when crafting.
Let's face it, most kids don't have long attention spans, so this is the perfect holiday craft that will get grab their attention.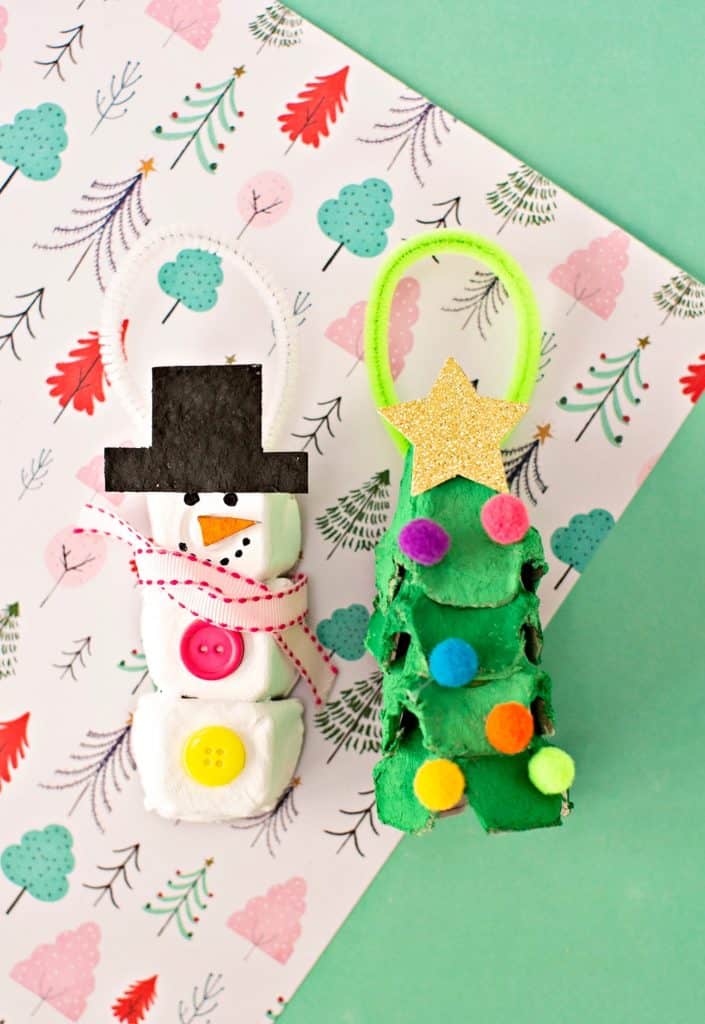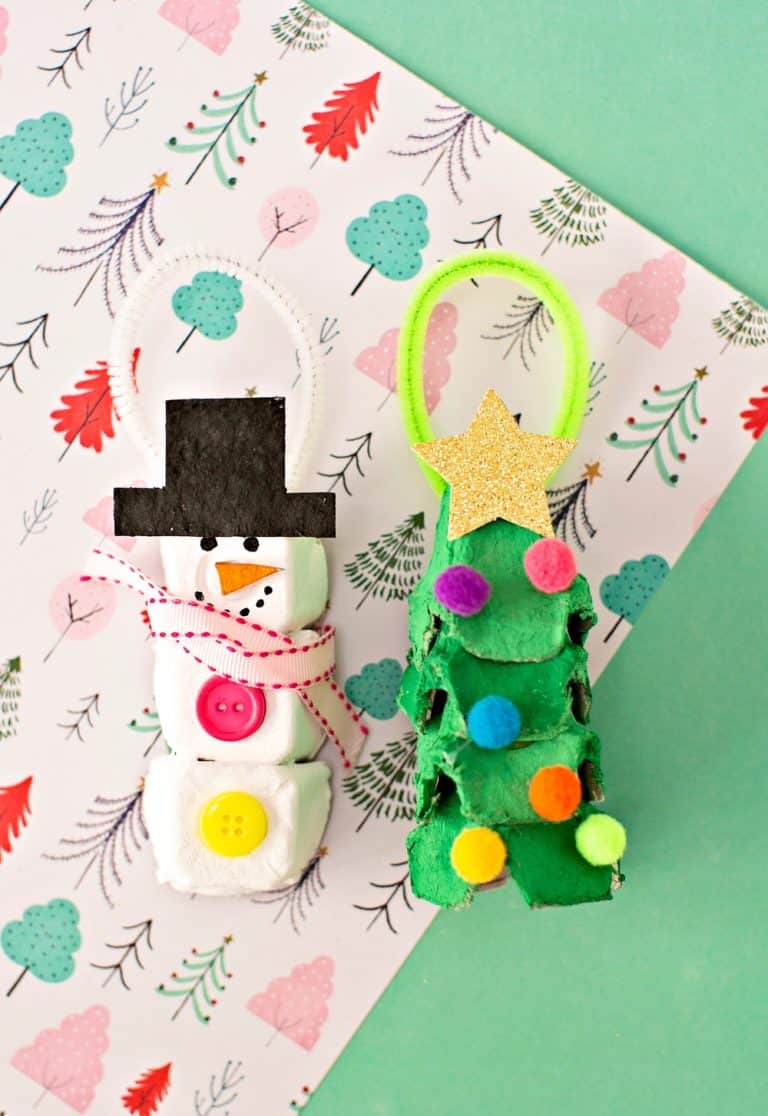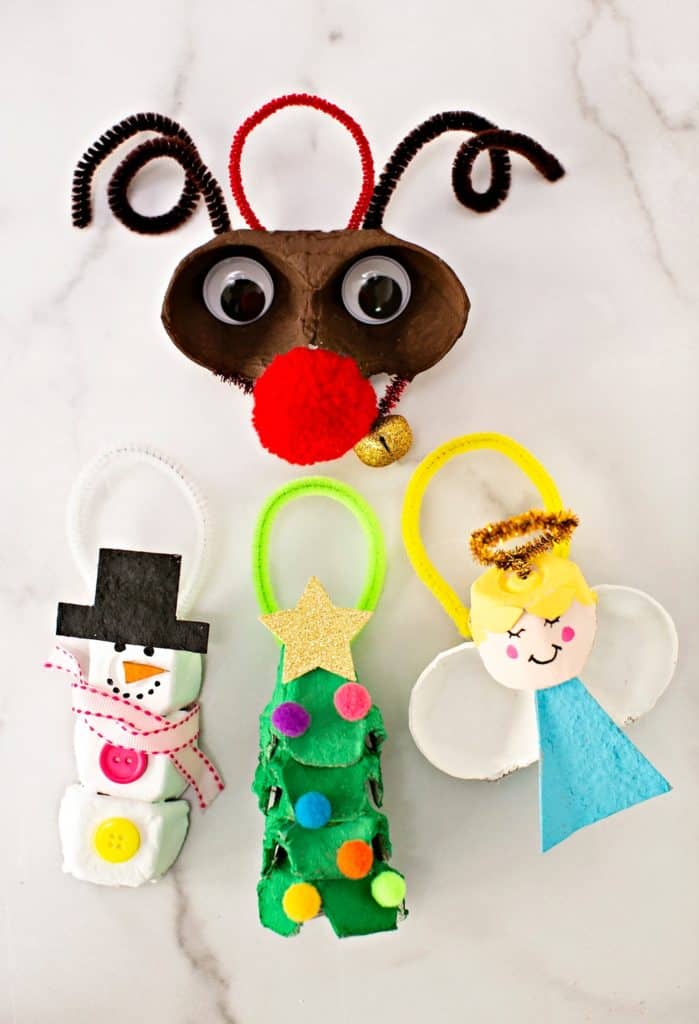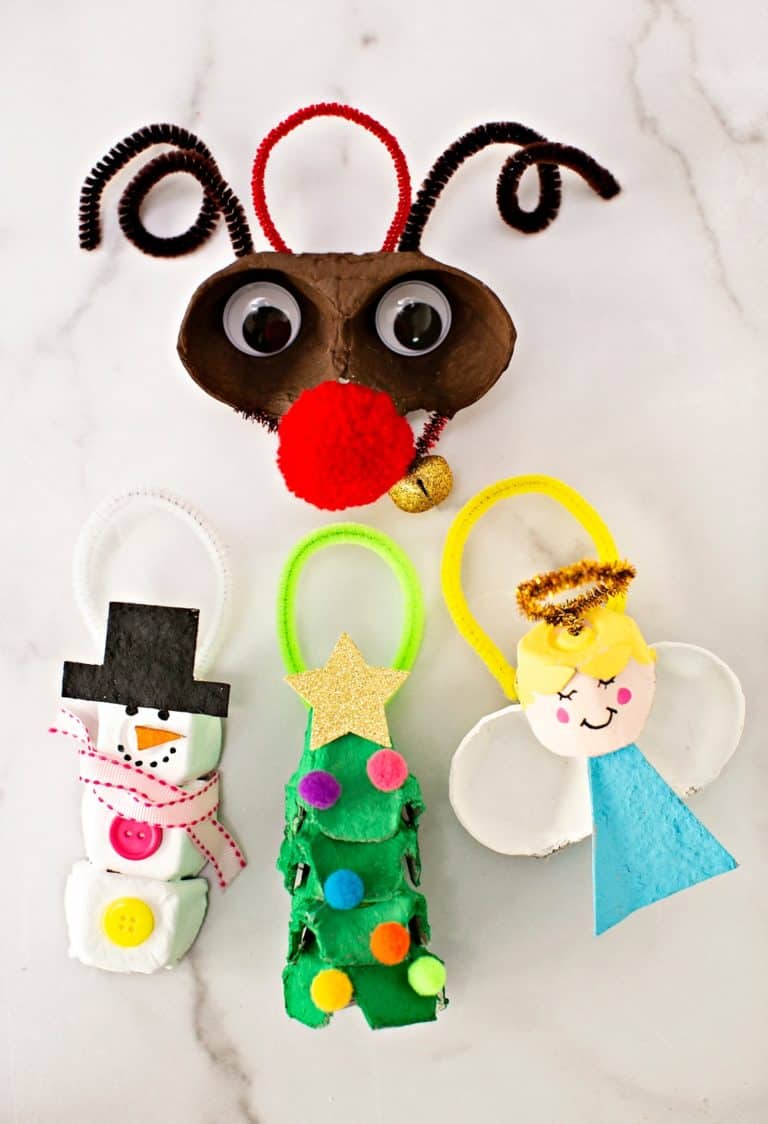 Will all types of egg cartons work for this craft?
You're going to want to use the egg cartons that are more of the cardboard type material. You'll see some that have a shiny outer surface and some that are plastic, but those types of egg cartons aren't going to work for this craft.
The cardboard one offers a great surface for the paint to cling to as well and tends to dry a bit faster, too.
How to create Egg Carton Christmas Ornaments
The best part about this simple holiday craft is that it's really a lot of fun to create! It's going to take you back to your childhood days for sure! All you need are a few supplies to get started and you'll be crafting and creating in no time at all.
We also made several different types of ornaments from our egg cartons as well. We created a Christmas tree, an angel, Rudolph, and a snowman. How fun, right?!
These examples are meant to inspire you but by all means, just lay out the craft materials and egg cartons and see what your children create. You will be amazed by their creativity and imagination!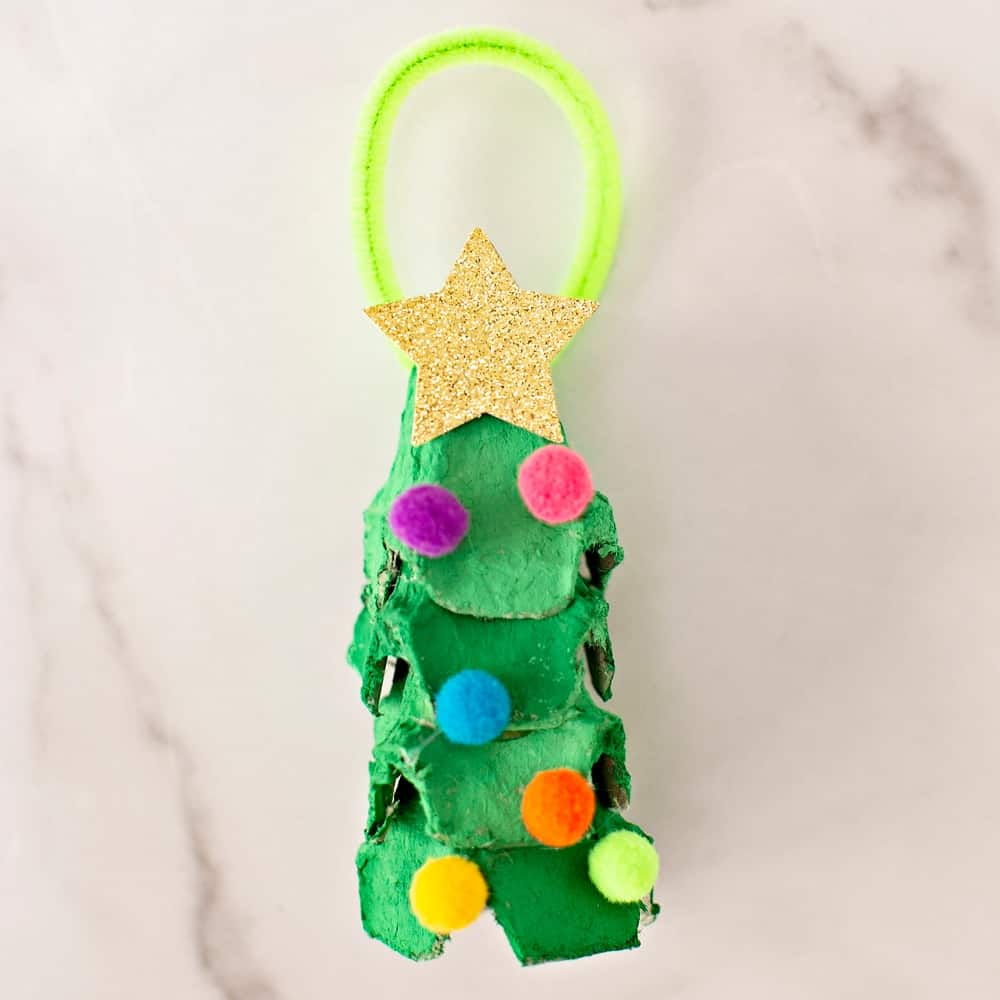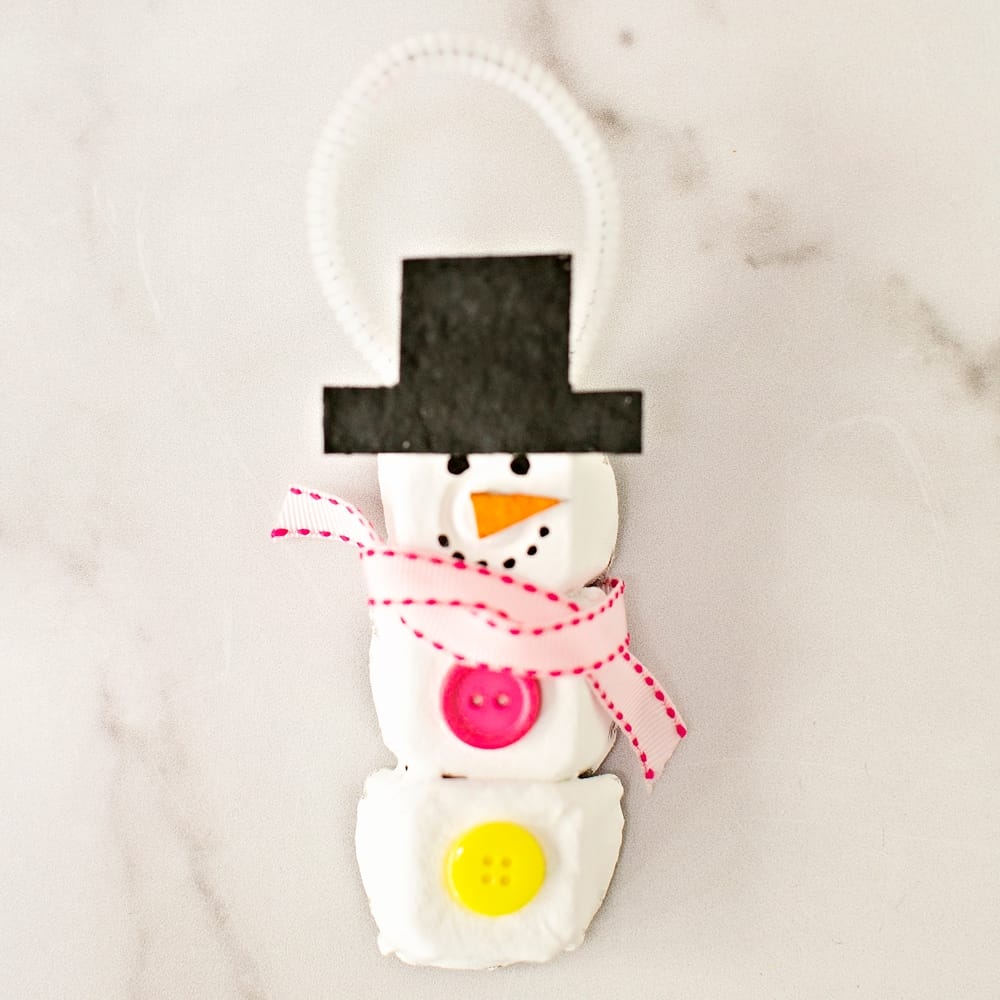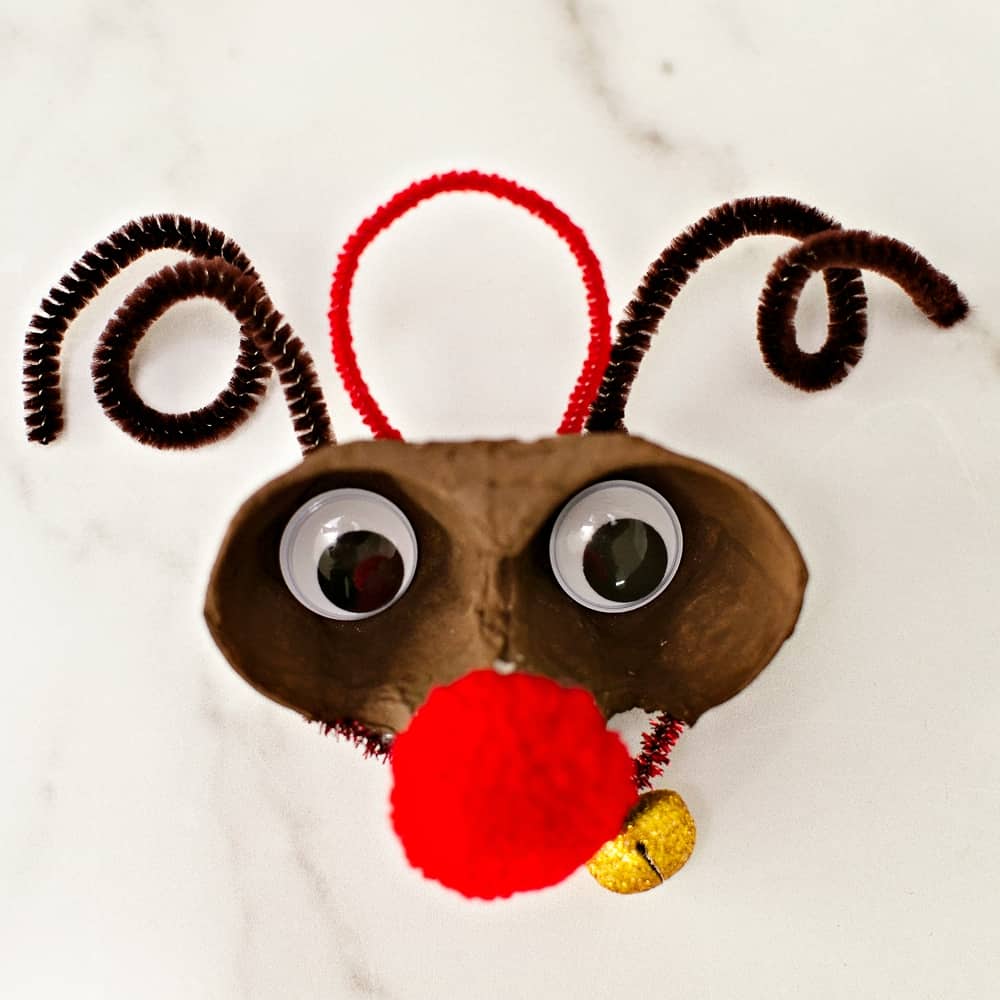 Egg Carton Christmas Ornaments – Materials:
For all ornaments
For Snowman Egg Carton
Scrap ribbon

Buttons

Black paint marker

White pipe cleaner
For Rudolph Egg Carton
Googly Eyes

Red pom pom

Bell

Red pipe cleaner one for the ornament string and one to hold the bell
For Angel Egg Carton
Yellow paint marker

Gold Pipe cleaner
For Tree Egg Carton
Small pom poms

Glitter gold paper
INSTRUCTIONS:
SNOWMAN:
Step 1. Glue 3 egg carton cups together and paint white . Let dry.
Step 2. Cut out a hat shape, paint black.
Step 3. Cut out a small triangle out of egg carton and paint orange.
Step 4. Glue on buttons, and add a face out of black paint makers.
Step 5. Tie your scrap ribbon around the neck.
Step 6. Cut a pipe cleaner in half, bend and hot glue to the back of the snowman.
ANGEL
Step 1. Cut out two egg carton cups side by side and paint white.
Step 2. Cut out one egg carton cup and paint skin color.
Step 3. Cut out a triangle from egg carton sides and paint blue.
Step 4. Cut out two small leaf shapes from egg carton scraps for the angel hair "bangs."
Step 5. Glue the wings behind the triangle, glue on the face and bangs. Using yellow paint pen add yellow hair around the bangs.
Step 6. Tie a small piece of gold pipe cleaner into a circle and leave one side hanging. Punch a tiny hole over the angel head and hot glue halo in place.
Step 7. Add face details to your angel with paint markers.
Step 8. Cut a pipe cleaner in half, bend and hot glue to the back of the snowman.
RUDOLPH
Step 1. Paint two egg carton cups side by side brown.
Step 2. Hot glue two eyes inside the egg carton cups.
Step 3. Bend brown pipe cleaners into spirals and hot glue for the antlers.
Step 4. Optional, add a piece of pipe cleaner threaded with a jingle bell to Rudolph's neck by hot gluing in place.
Step 5.Cut a pipe cleaner in half, bend and hot glue to the back of the snowman.
TREE
Step 1. Paint the pointy parts of egg cartons green (4 per tree)
Step 2. Hot glue small pom poms on for ornaments.
Step 3. Hot glue a small glitter star on top.
Step 4.Cut a pipe cleaner in half, bend and hot glue to the back of the snowman.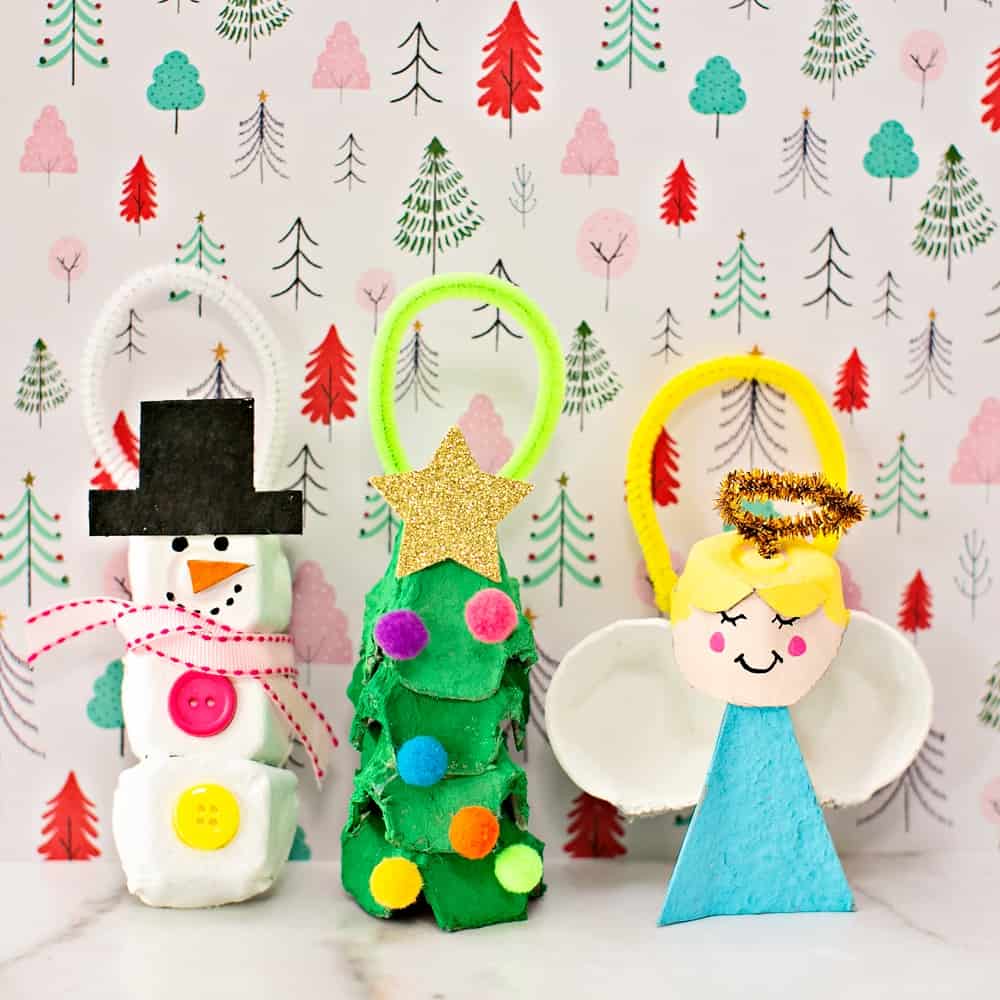 If you love these Egg Carton Christmas Ornaments, make certain to take a peek at some of our other super fun Christmas activities and crafts as well!
______________________________________________________________________________________________________
Disclosure: Some of the links in the post above are "affiliate links." This means if you click on the link and purchase the item, we will receive a small affiliate commission. Regardless, we give our promise that we only recommend products or services we would use personally and believe will add values to our readers. As well, as an Amazon Associate I earn from qualifying purchases.