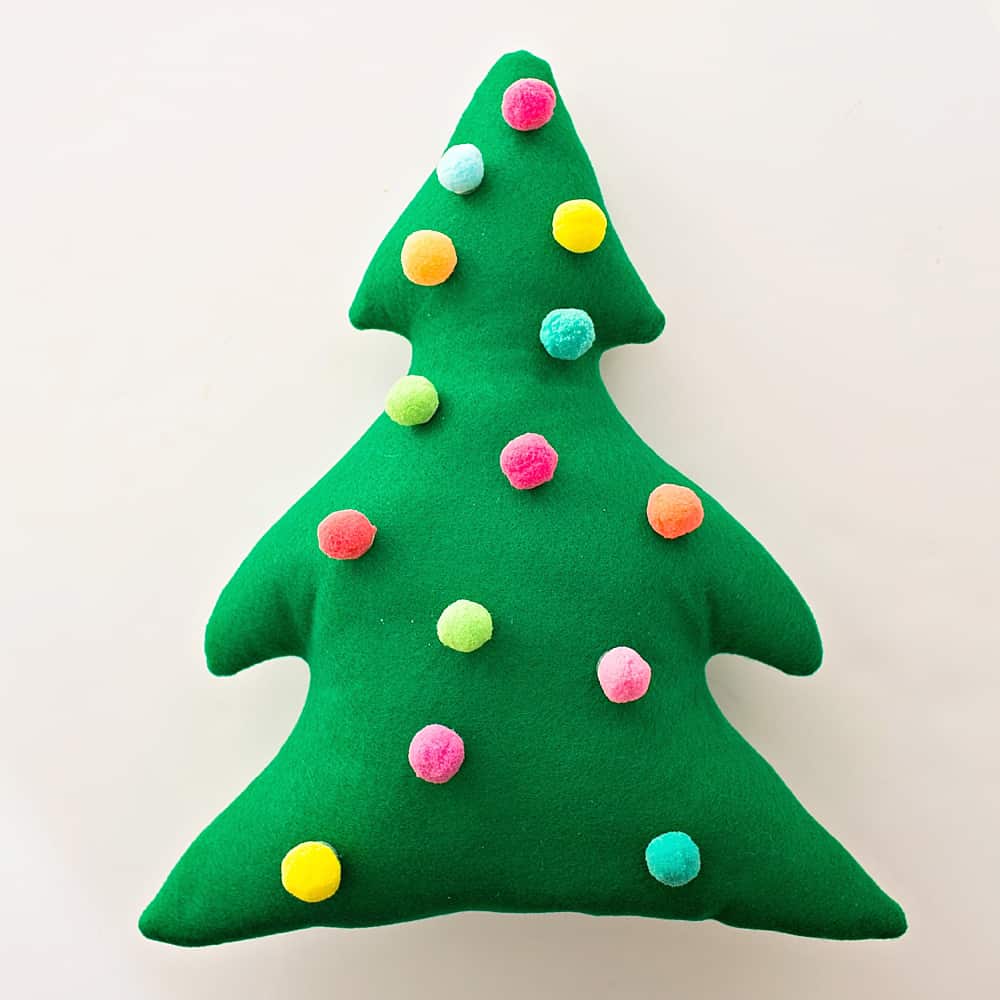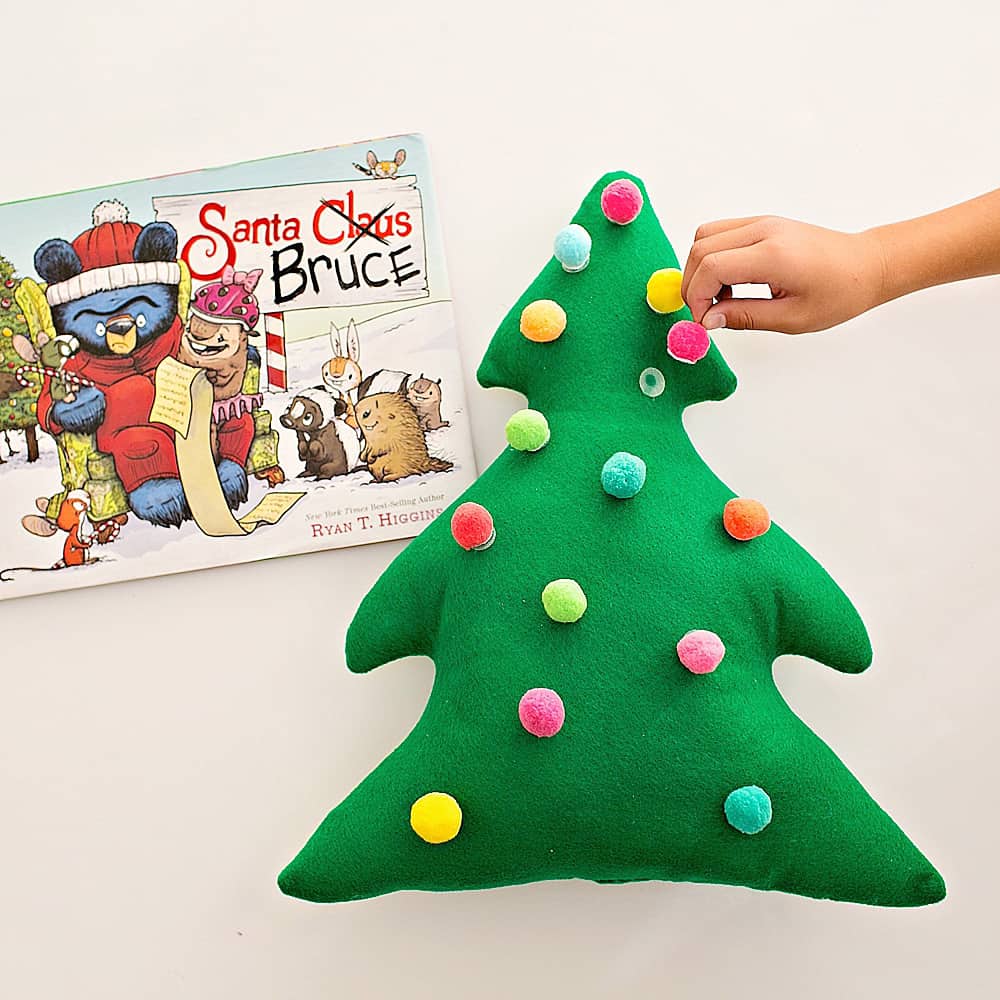 This post is sponsored by Disney Book Group. As always we only work with brands that we love. All thoughts and opinions are our own.
Scroll all the way down to watch the video of our DIY Felt Christmas Tree with removable pom pom lights in action! And be sure to subscribe to our channel for more fun crafts and ideas!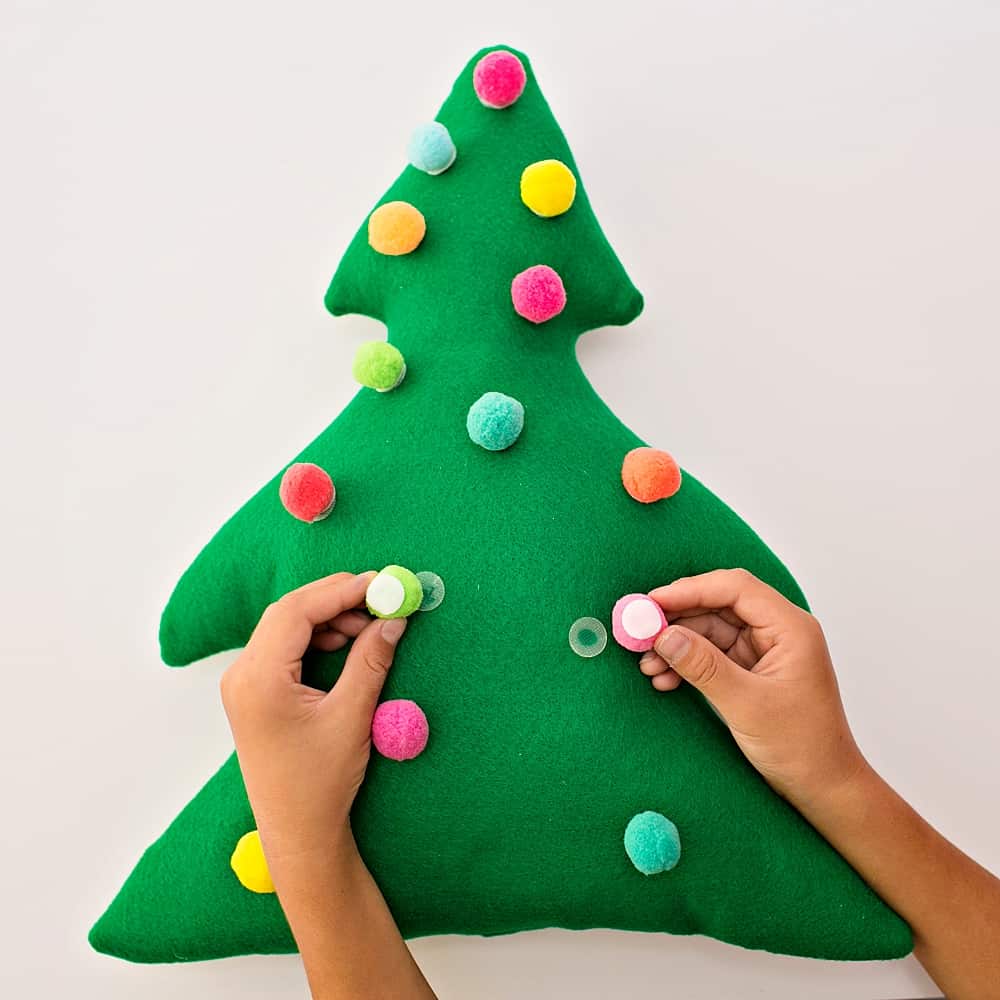 One of the best and most memorable Christmas traditions, in my opinion is sitting down to read Christmas books as a family. We all know that reading is so important to our children's development, but it is also a great time to bond as a family.
In the days and weeks leading up to Christmas, I like to gather up Christmas books and let the kids pick one to read each night. This year, we have a fun new book to add to our rotation and I think you'll love it as much as we do!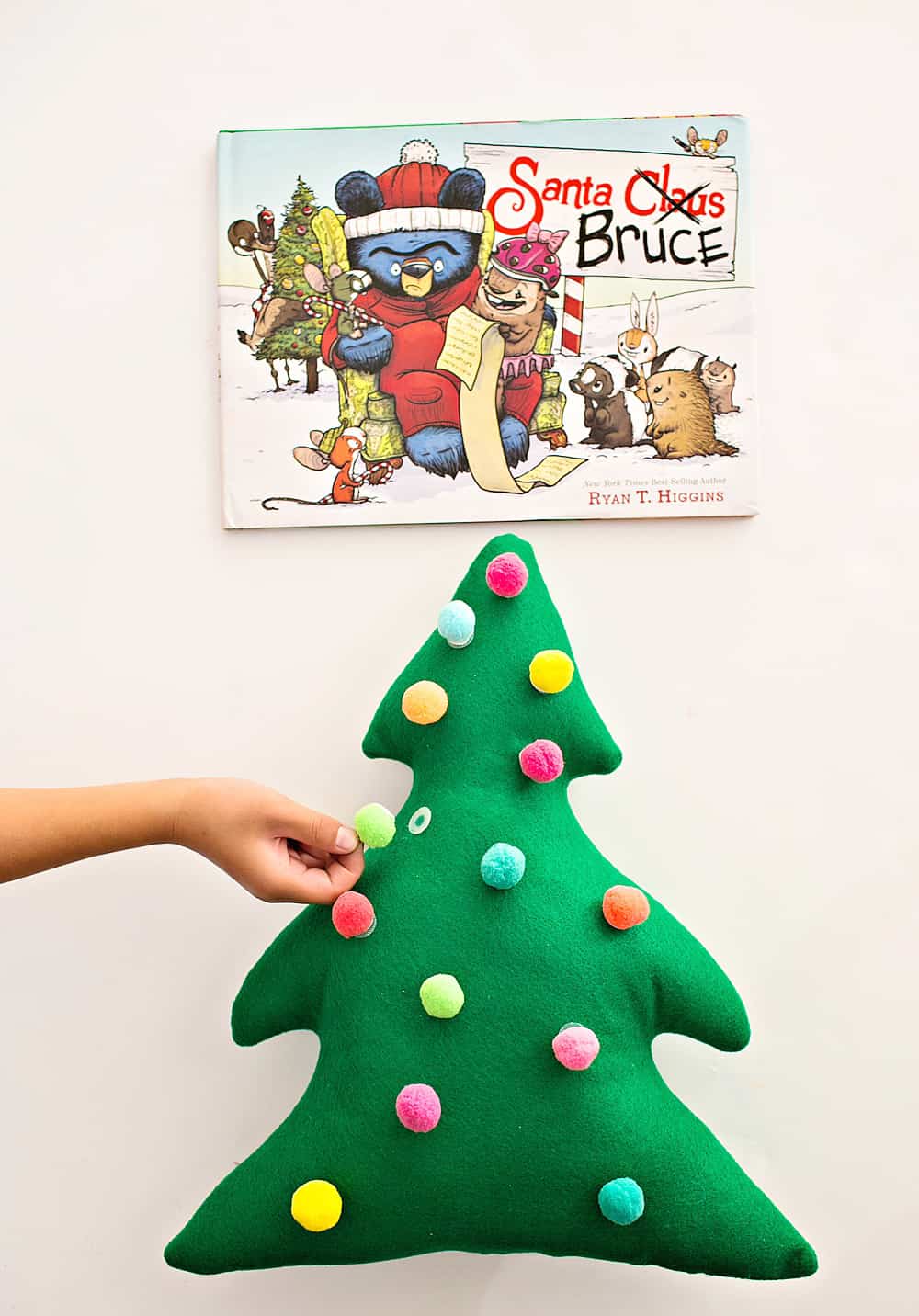 Have you heard of the Mother Bruce series? Well, if you haven't, I highly suggest you check them out. Santa Bruce is the newest release in this series and it doesn't disappoint.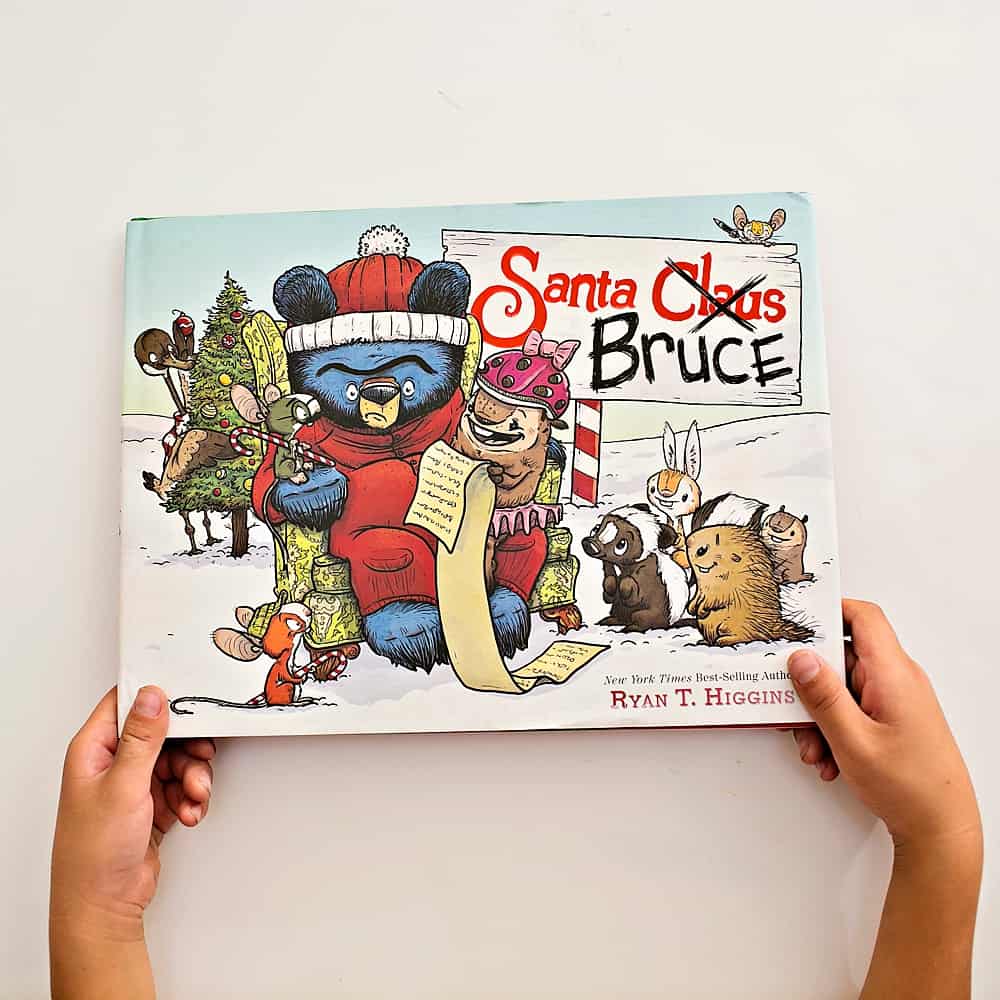 Bruce is a grumpy bear and when his forest friends begin to think that he's Santa, all chaos ensues!
As Bruce navigates the minefield that is being Santa (haven't we all been there before), you and your kids will both laugh hysterically.
Don't be surprised if you are in tears from laughing so hard while reading this book. It truly is a new favorite in our Christmas book library and I feel sure it will be for years to come! You can find Santa Bruce on Amazon.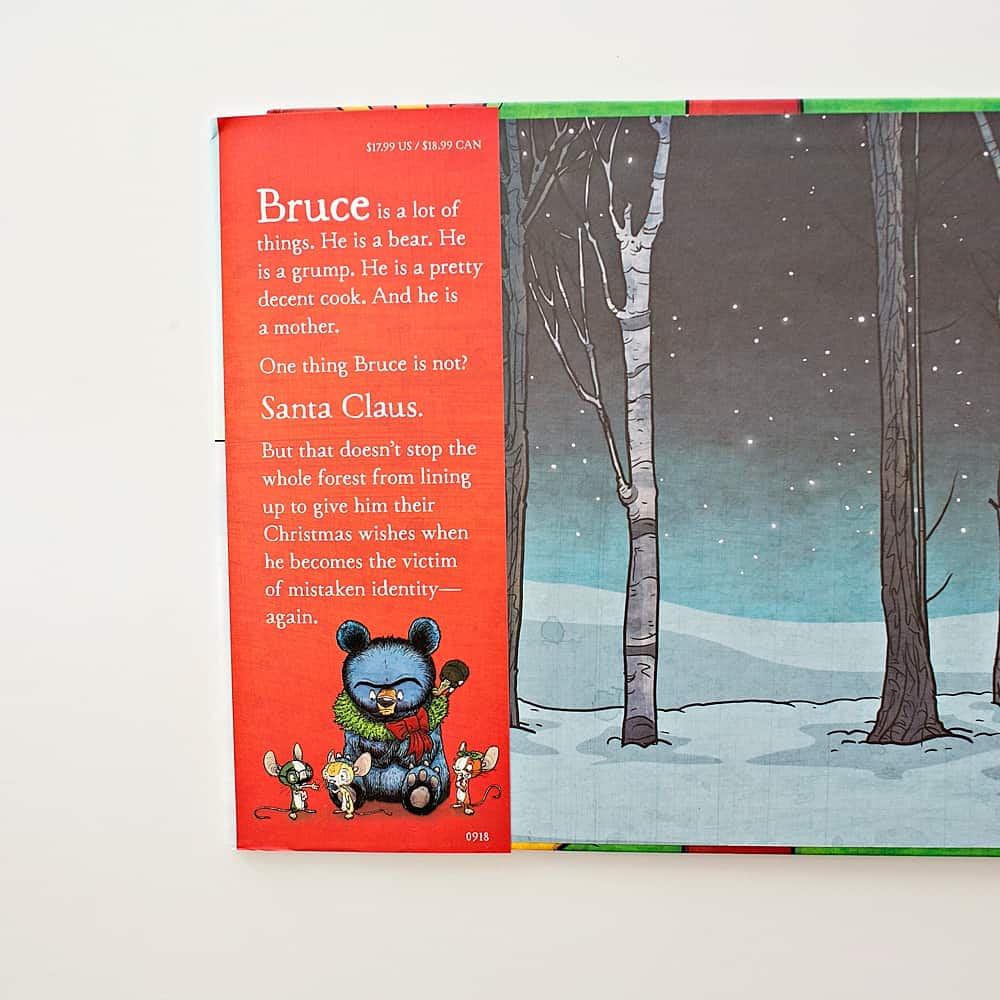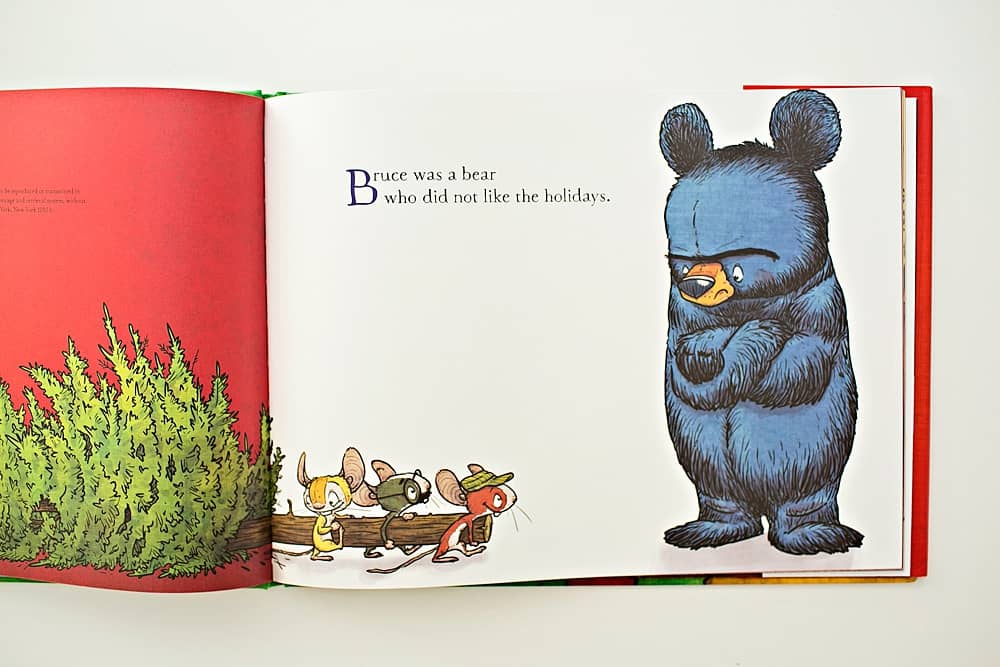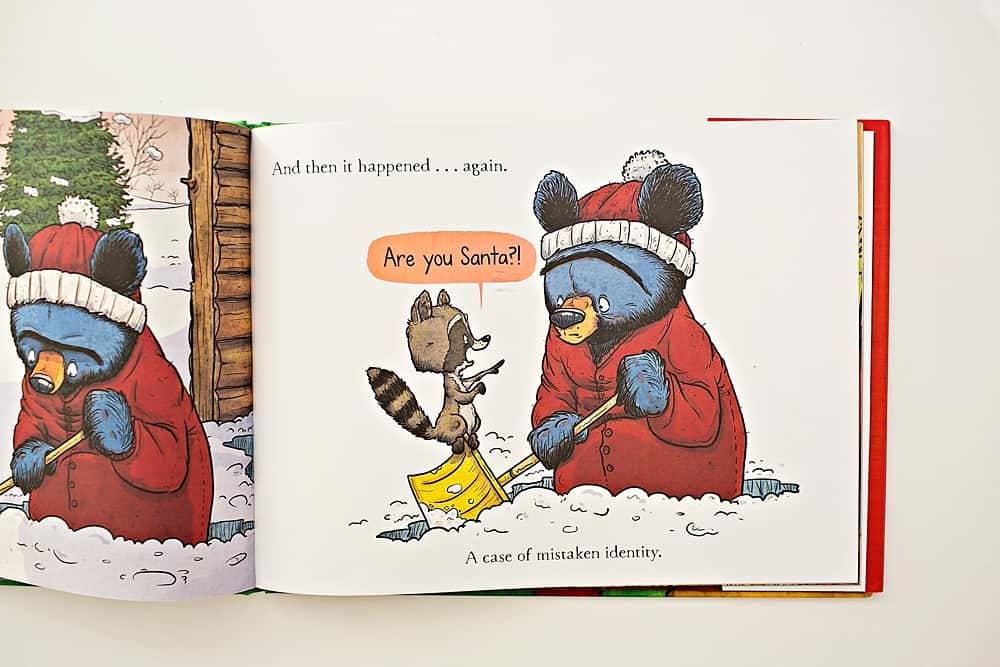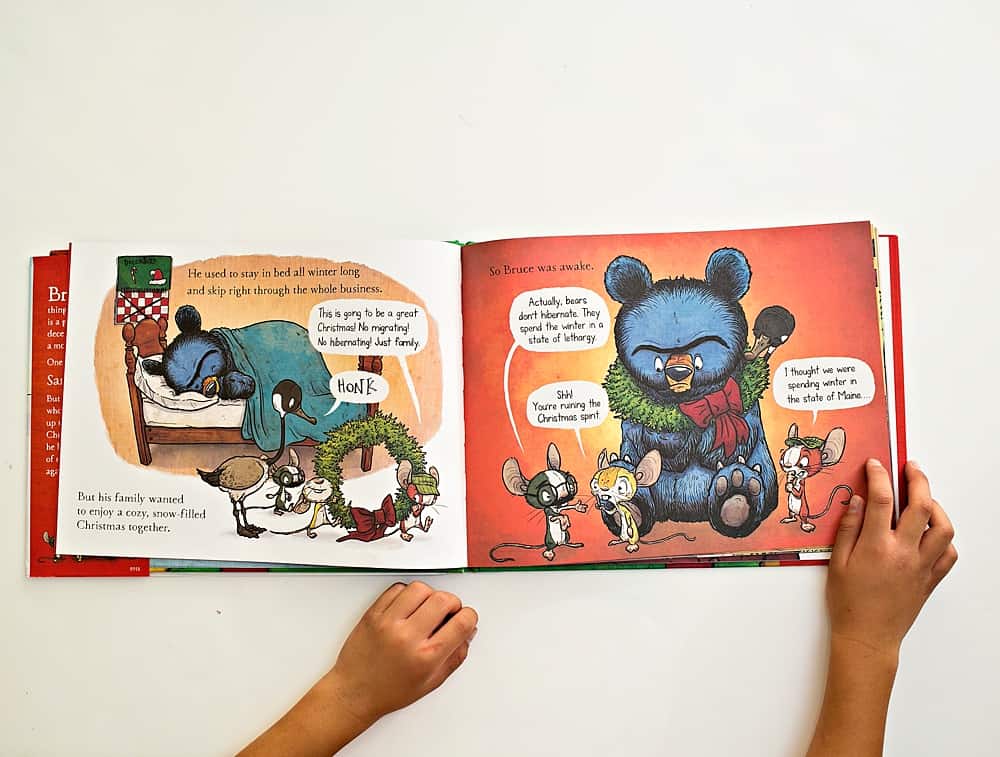 As you can tell from the snaps above, Santa Bruce is a reluctant Christmas Stooge but has not choice but to come around. Can you guess how he will react in the end?
Another fun Christmas tradition that we enjoy is creating new crafts together. This DIY Felt Christmas Tree is a fun way to get everyone in the family excited for Christmas. We think even Santa Bruce would approve even though he's a grumpy bear and would love this felt Christmas tree in his living room! Y
You can even make a tiny felt Christmas tree ornament to go along with it!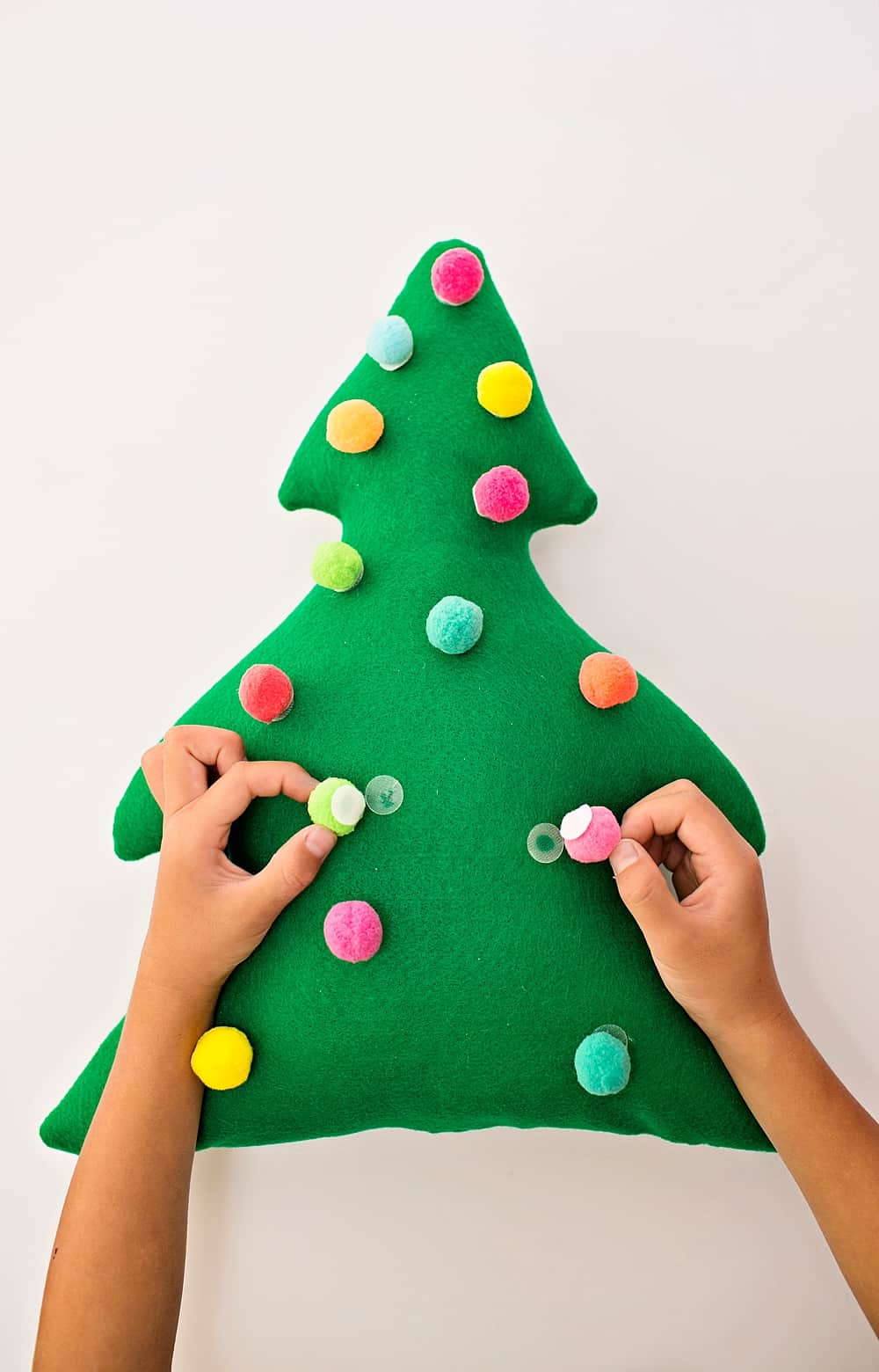 What's clever about this felt Christmas Tree is that it isn't any ordinary tree softie. It's got removable pom pom lights! Kids will delight in creating their own (safe) Christmas light decoration and enjoying their very own tree this year!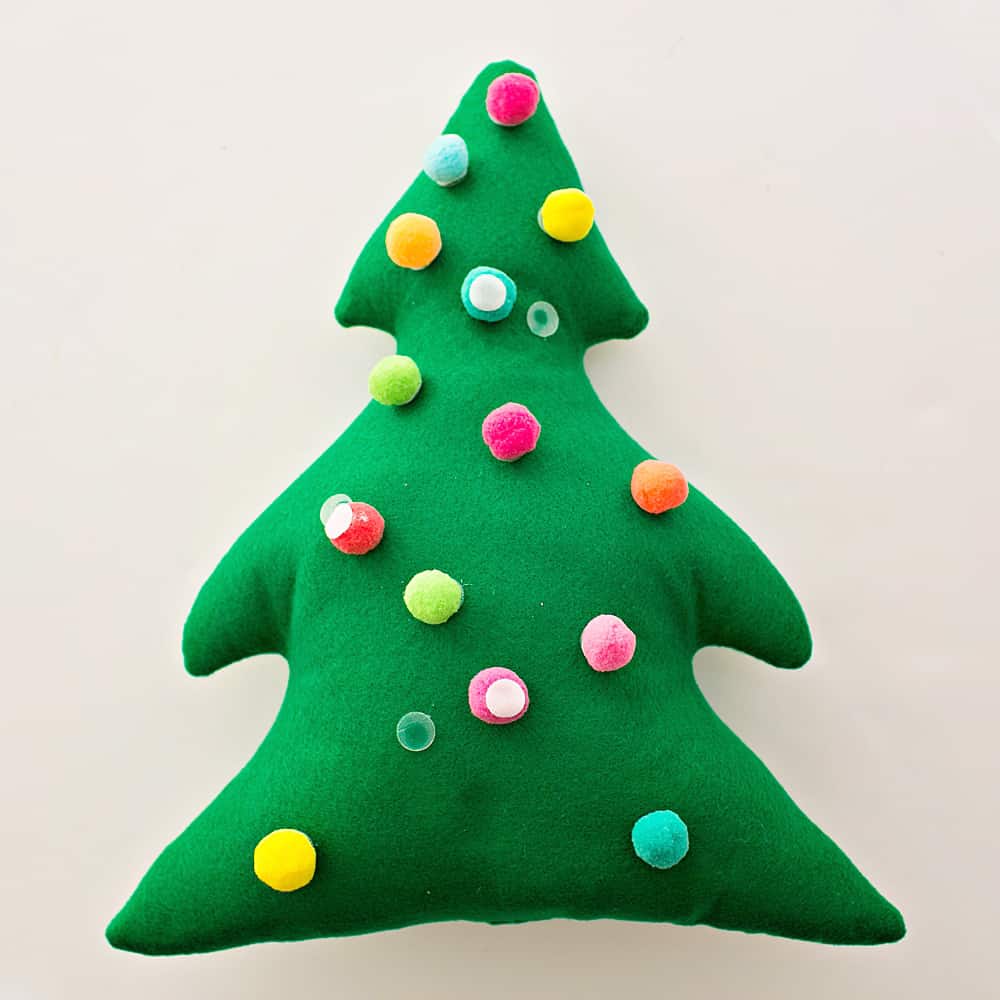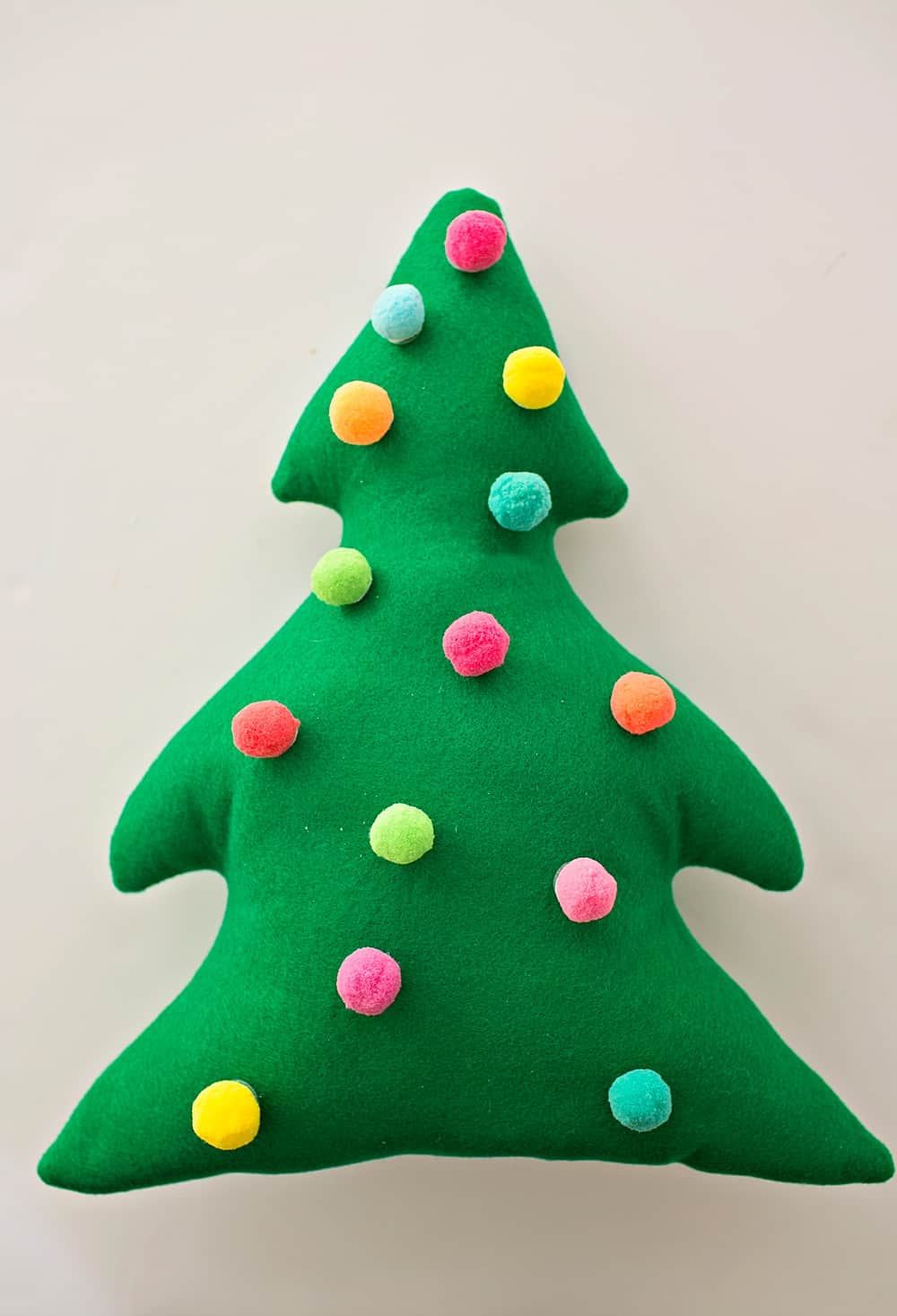 DIY FELT CHRISTMAS TREE – MATERIALS:
Parchment paper
Scissors
Green felt
Polyfill stuffing
Sewing machine, needle and thread, OR hot glue gun
Sticker Velcro dots
Hot glue gun
Colorful pom poms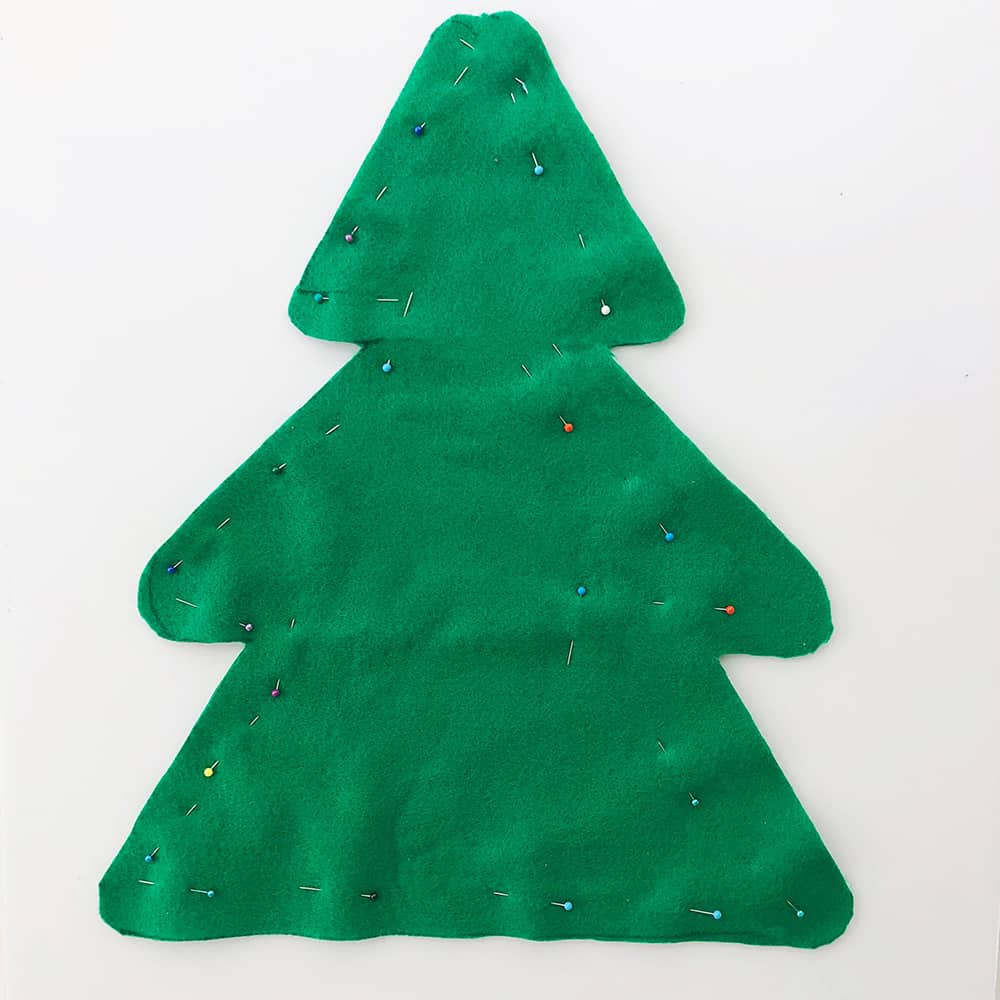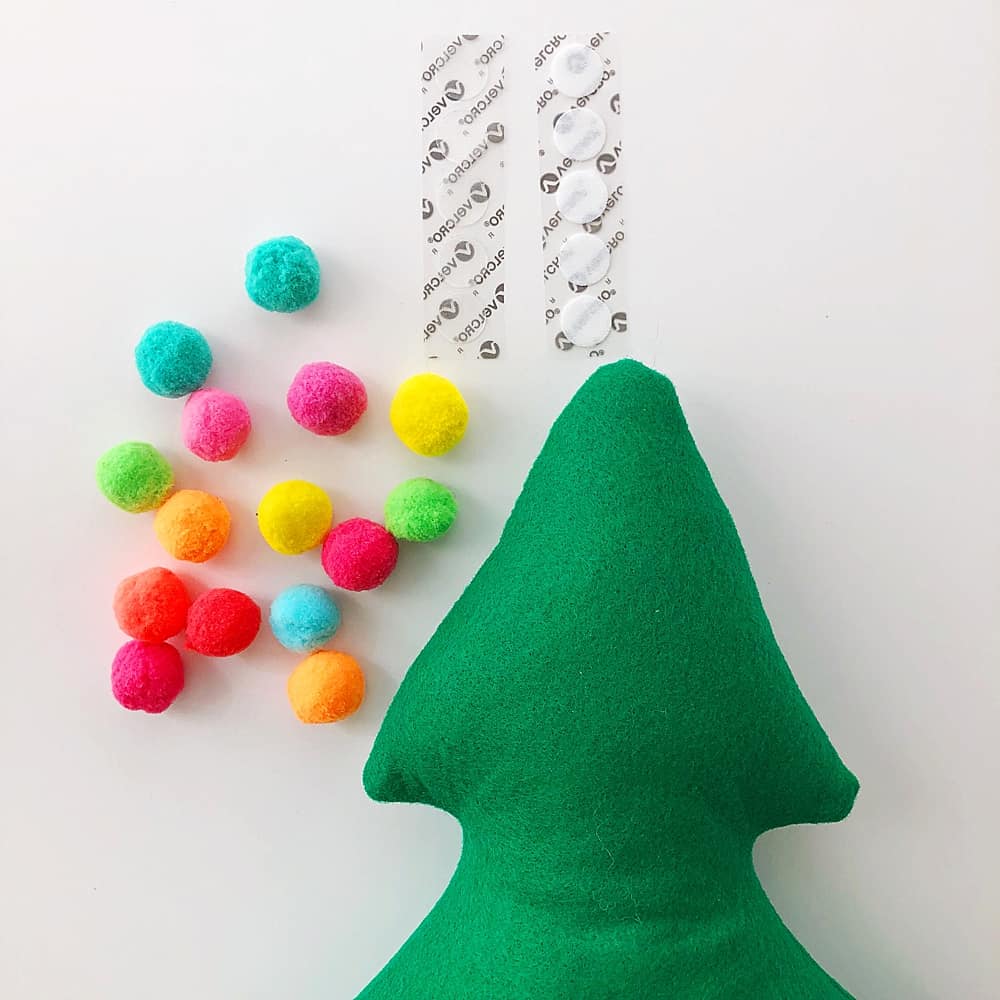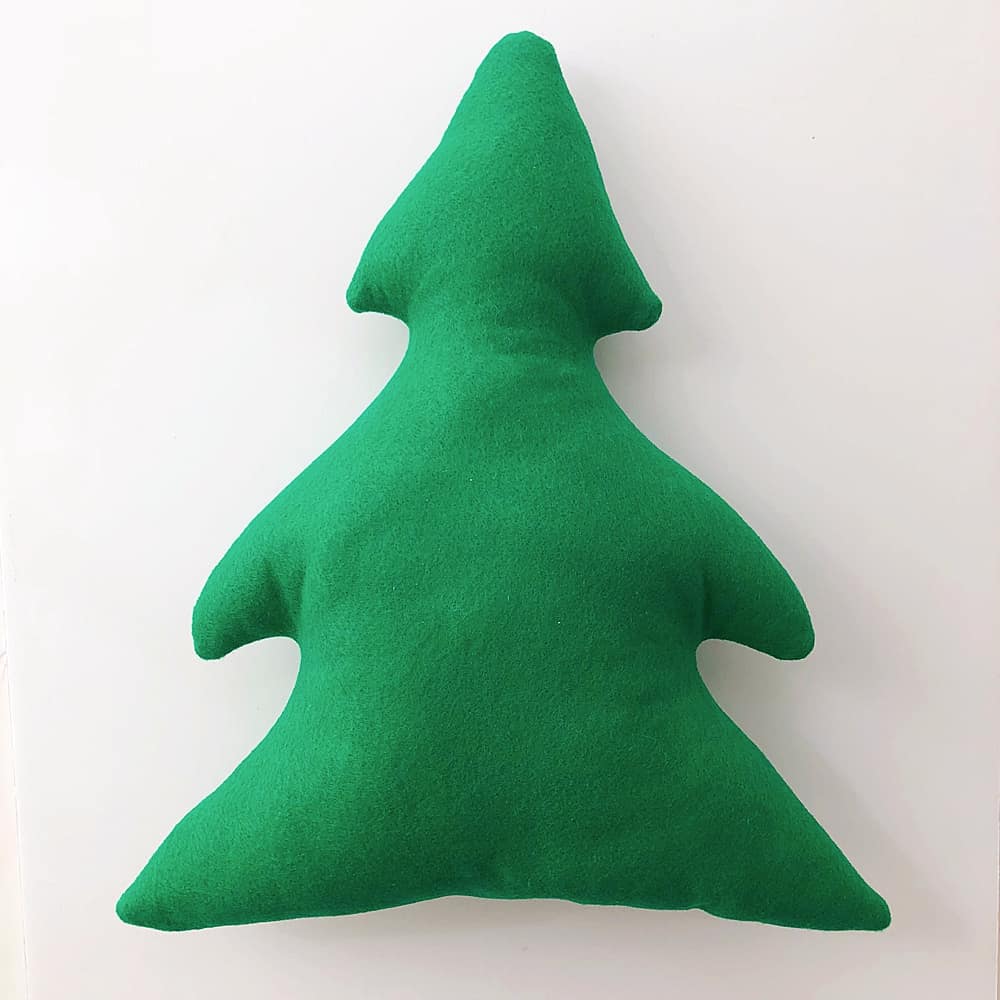 INSTRUCTIONS:
Step 1. You can make your tree as large or small as you want. On piece of parchment paper, fold it in half. Then on one side, draw a tree shape, we had 3 triangle like "branches." Then cut that side, as the paper is still folded. unfold the paper and you should have a symmetrical tree shape.
Step 2. Place your parchment paper over your green felt, which is doubled up. Trace around with a marker. Then cut out your green felt. You should have two pieces. Pin the two green felt pieces all around the borders.
Step 3. This is when it's up to you on how you want to make your Christmas tree softie. you can carefully go around and hot glue the two sides together along the border, hand-sew, or use a sewing machine. Whatever you are comfortable with. We used a machine as we have one. Leave a small hole on the bottom of the tree (flat part).
Step 4. Stuff with polyfill inside the hole. Then sew or glue shut the hole.
Step 5. Arrange your velcro backing on the tree to figure out where you want your pom pom lights to go. If you get the sticker type they will stick to the felt. However you still need to hot glue the backing as the sticker alone is not strong enough.
Step 6. Hot glue the other side of the velcro dots to your pom poms.
You're done! Now have your child play around with their Christmas tree, arrange the lights, and add different colors.
If you have little ones, this is a great fine motor skills exercise. They will love carefully peeling off the velcro pom poms and adding them again to the tree!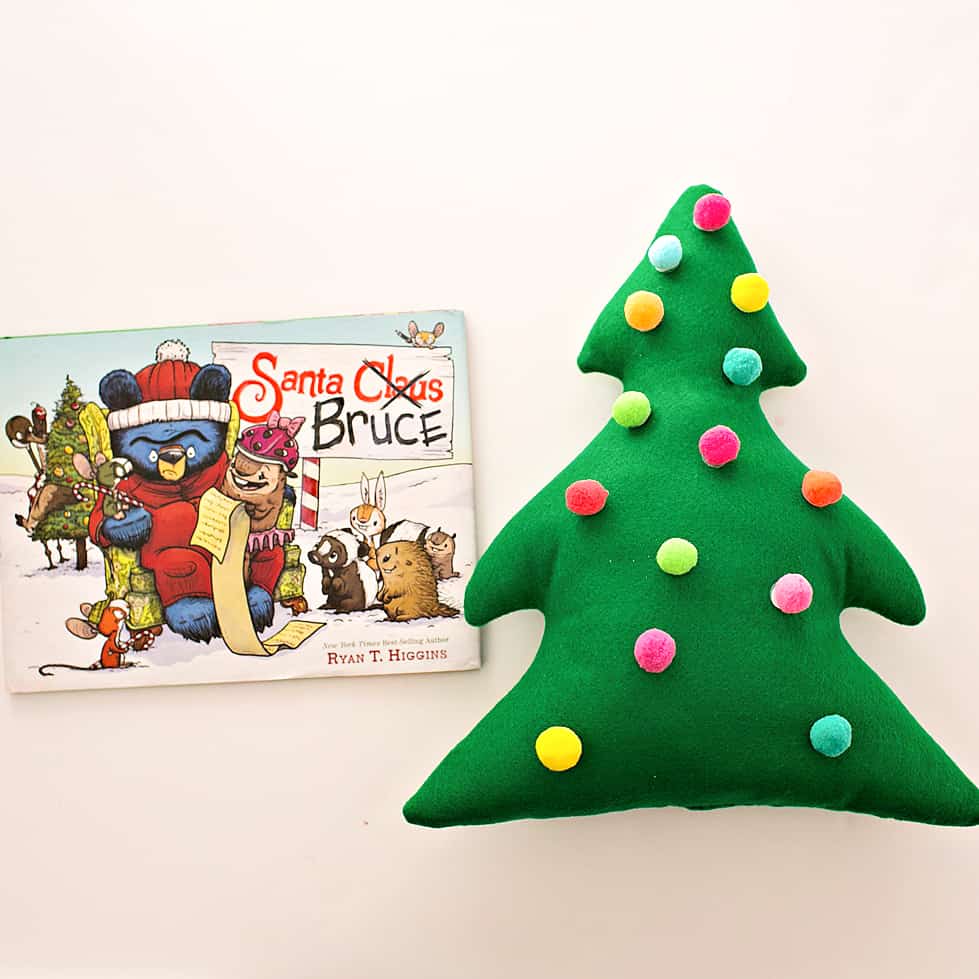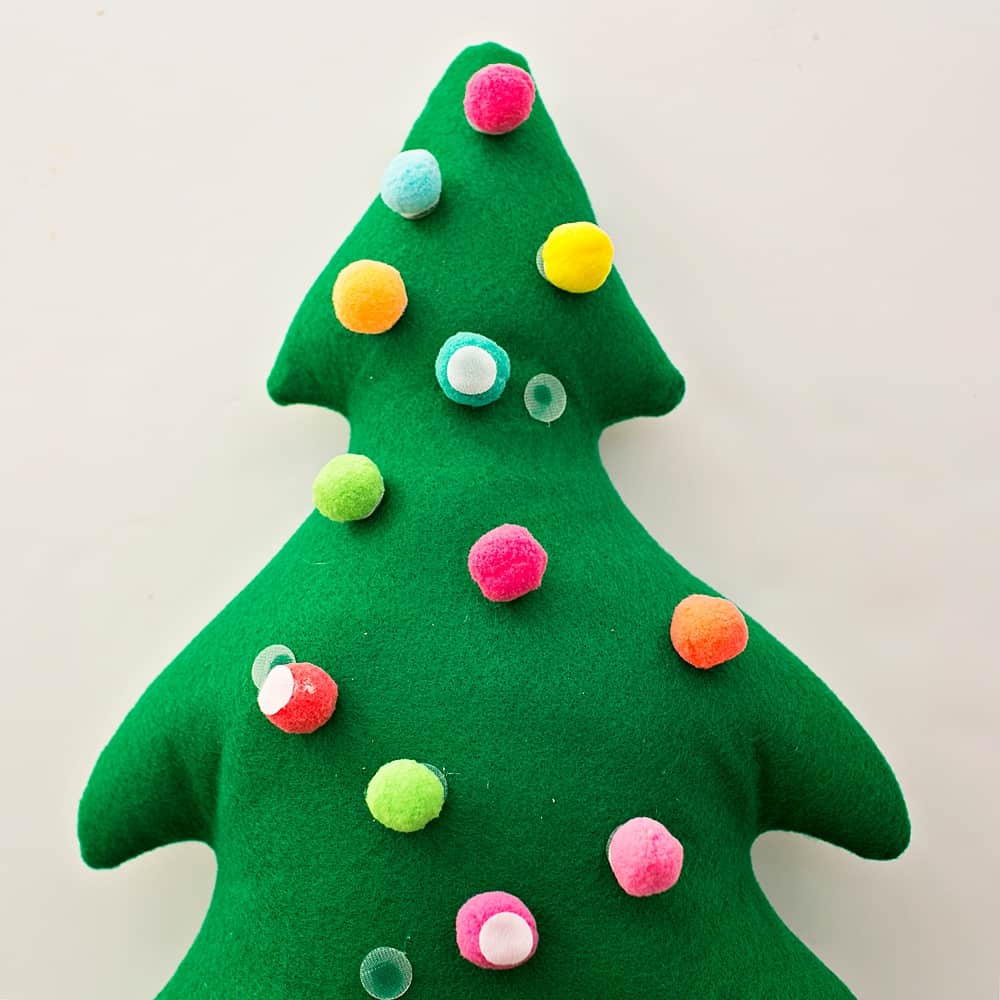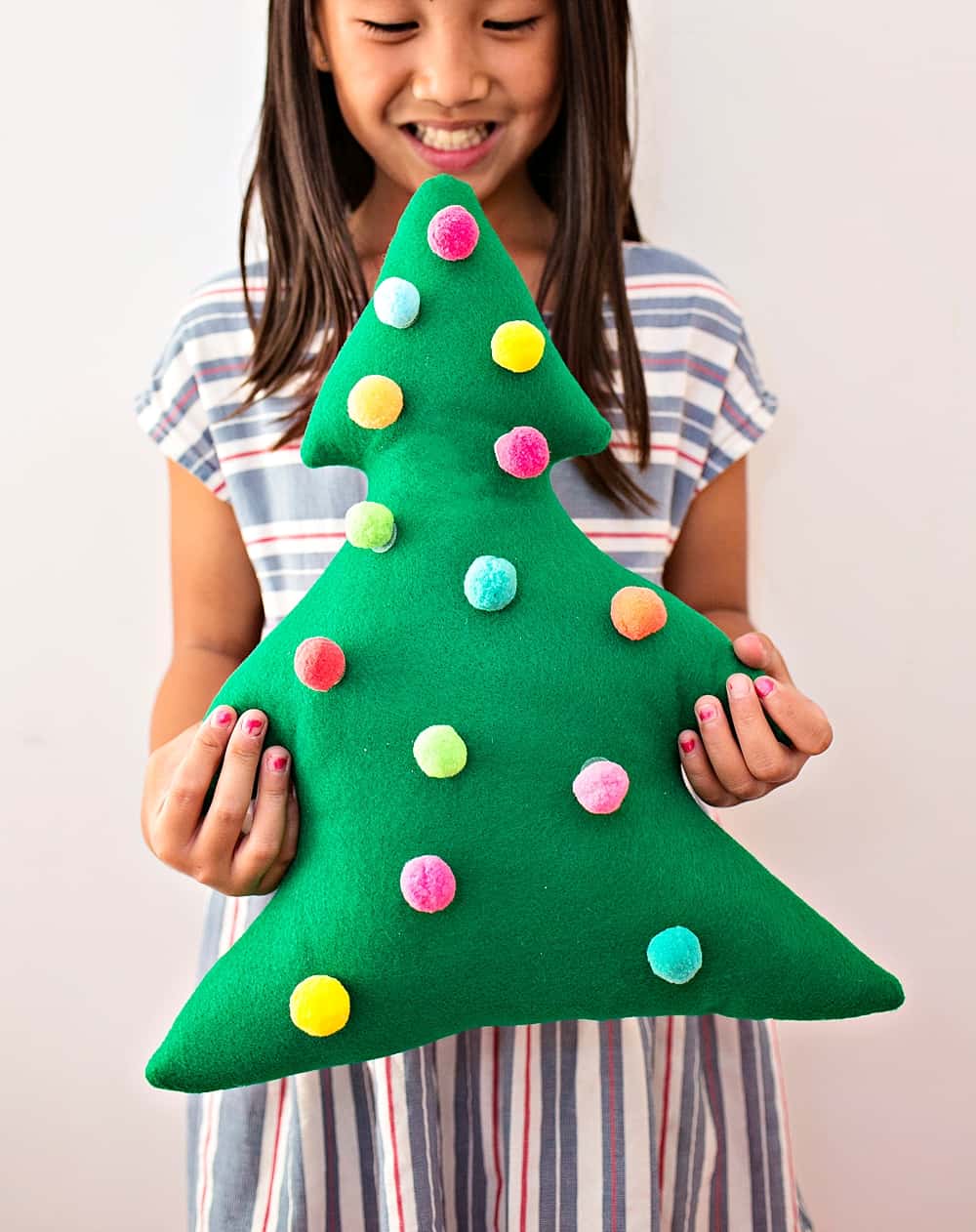 How fun and easy was that to create? The kids and I both loved putting this together, we even stopped to read Santa Bruce and laughed our entire way through it again!
I would love to hear what you think about Santa Bruce and what your other favorite Mother Bruce books are.
You can find Santa Bruce on Amazon.
Check out our video below to see our DIY Felt Christmas Tree in action!
---
Disclosure: Some of the links in the post above are "affiliate links." This means if you click on the link and purchase the item, we will receive a small affiliate commission. Regardless, we give our promise that we only recommend products or services we would use personally and believe will add values to our readers.