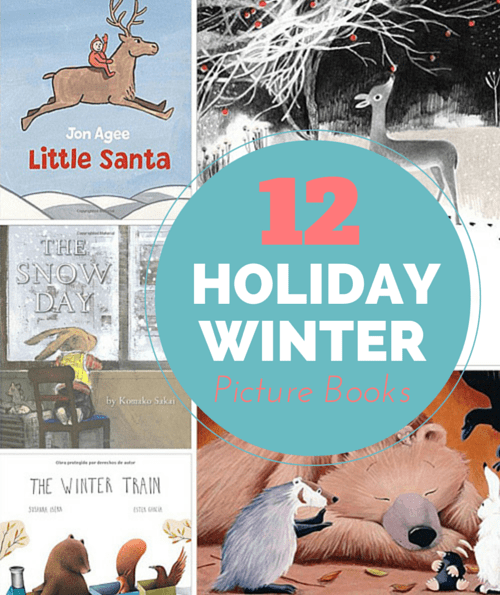 It's that most wonderful time of the year, and whether or not you celebrate Christmas, it's hard not to be moved by the general spirit of goodwill, warm sentiments and good cheer that seem to be most prevalent now as everyone prepares to wind down the year. And as temperatures start to dip in most parts of the world, we can't think of a better way for you to keep toasty than cozying up with the little ones with these sweet picture books on snow and/or winter that are perfect for ushering in – or imagining – a white Christmas.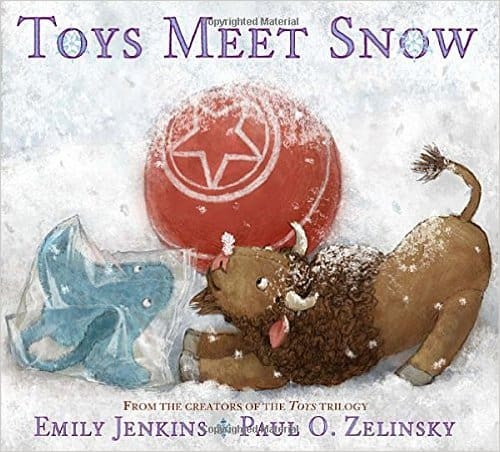 1. Toys Meet Snow by Emily Jenkins and Paul O. Zelinsky
Older readers who are familiar with the Toys books by Emily Jenkins and Paul O. Zelinsky will be pleased to know that the three wacky toy characters – "a curious stuffed buffalo, a sensitive plush stingray and a book-loving rubber ball" – now star in their first standalone picture book. But you needn't have read the other books in order to enjoy this sweet, quirky story about the curious toys venturing out of the house and learning about – as well as having fun with – snow for the very first time. That the toys have three distinct personalities makes reading their innocent conversations – which probably deliberately resembles the way kids talk among their friends – highly entertaining. And you gotta love how the book-loving rubber ball is the most knowledgeable among the three! The warm, gentle illustrations have a soft and fuzzy feel – much like how your heart will be left feeling after reading this adorably whimsical story.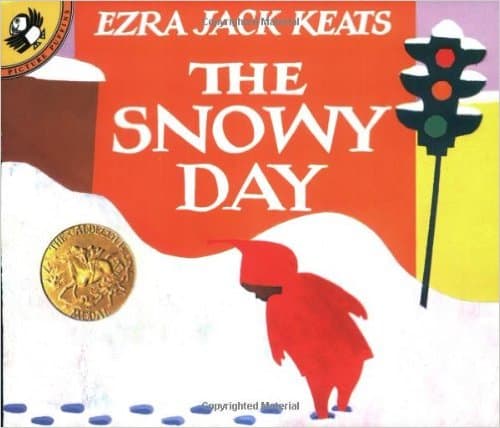 2. The Snowy Day by Ezra Jack Keats
First published in 1963, this Caldecott Medal book adopts a clean and simple palette to evoke the serenity and quiet joy of one boy's revelry amid a magical snow-blanketed wonderland. Peter's childlike wonder and exhilaration are contagious, and anyone would be able to vicariously experience playing in snow through reading this evergreen (or, should I say, white) book.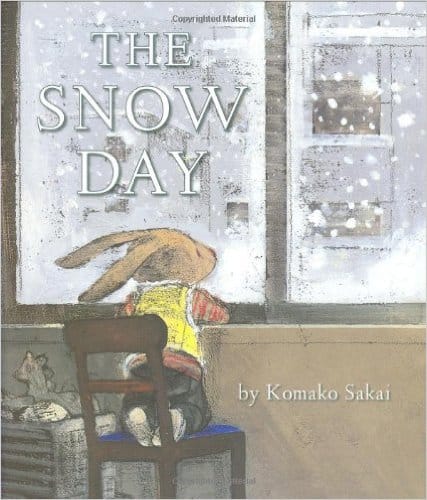 3. The Snow Day by Komako Sakai
Not to be confused with The Snowy Day, this quietly evocative picture book effectively conveys the little inconveniences – but also perks – that come with being snowed in for the day. The story centers on a little bunny and her mom, and the beautiful illustrations depict how magical memories can be carved out from the simplest joys, especially on a beautiful snow day.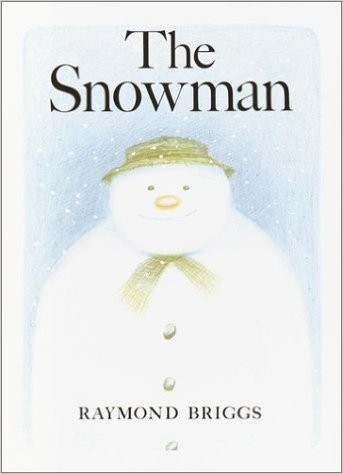 4. The Snowman by Raymond Briggs
Thanks to Disney's Frozen and Olaf, a large percentage of kids probably already believe that snowmen can come to life – and probably perform a musical on command, too. But for the uninitiated, this classic wordless picture book is a wonderfully imaginative fantasy about a boy's snowman coming to life and bringing him on an exhilarating and unforgettable adventure. The book has also been made into a heartwarming animated short film that you can find on YouTube, which is already a Christmas classic in many households.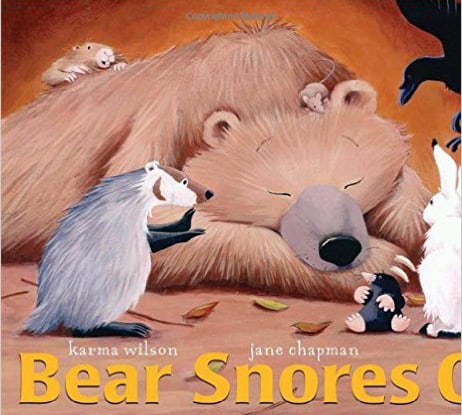 5. Bear Snores On by Karma Wilson and Jane Chapman
As the titular bear hibernates in his cave on a cold winter day, a motley group of animals decide to take the chance to seek some shelter and warmth in his cozy lair while he snoozes on, blissfully unaware — well, at least for a while. Despite the theoretically precarious situation of the animals, the rhymes in this rollicking fun read-aloud book brim with cheer from the first page to the last, and the little twist at the end is a nice touch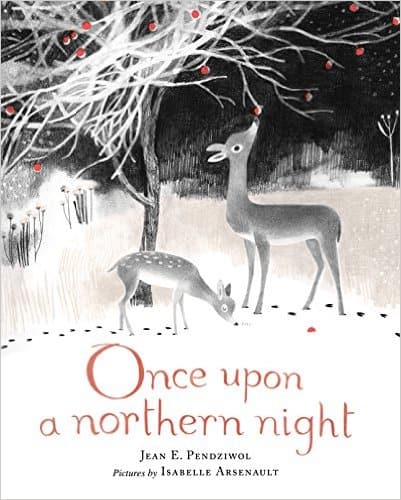 6. Once Upon a Northern Night by Jean E. Pendziwol and Isabelle Arsenault
Part poetry, part lullaby, this lyrical book will transport you to a quiet northern winter's night in the woods. The beautiful illustrations by Isabelle Arsenault are dreamy, enchanting and comforting — just the sort of images you want to linger in your mind as you fall into sweet slumber.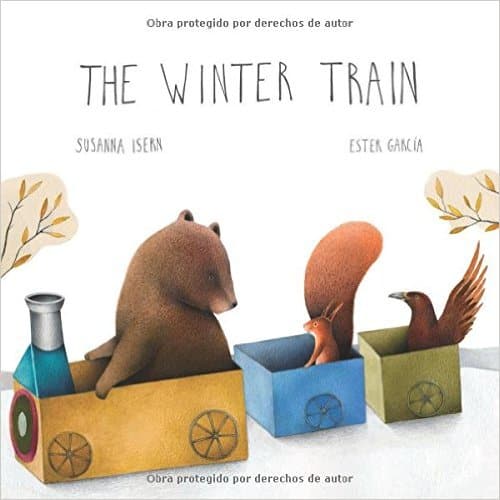 7. The Winter Train by Susanna Isern and Ester Garcia
In contrast to the aptly wintry and languid atmosphere that permeates its pages, this book spins an imaginative and heartwarming story about how — instead of holing up somewhere and hibernating — a motley group of animals in the Northern Forest escape the bitter cold by catching a special train that will bring them to the Southern Forest. When one of them accidentally gets left behind, however, the animals demonstrate their camaraderie by banding together to ensure that everyone gets on the train safely. The beautiful illustrations in this book will take your breath away!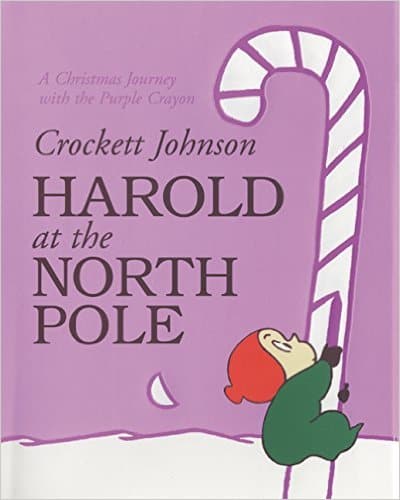 8. Harold at the North Pole by Crockett Johnson
Fans of Harold and his deftness with the ubiquitous purple crayon won't want to miss this adorable title that is perfect for Christmas. As always, it's a real treat to watch as Harold uses his imagination and his mighty crayon to literally draw up his own adventures as he goes in search of a Christmas tree – and he even helps out Santa along the way!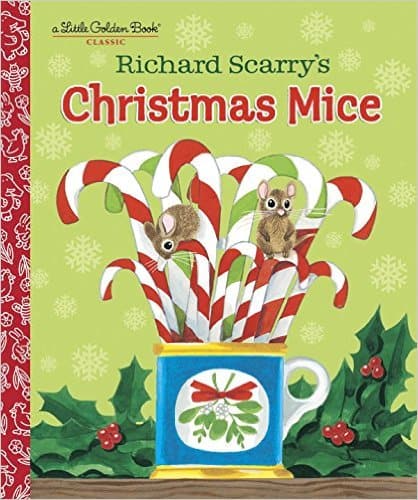 9. Richard Scarry's Christmas Mice by Richard Scarry
Everyone looks forward to finding out what Santa has brought for them, don't they? Even the two little mice in this adorable Little Golden Book can't help but take a peek at everyone's presents under the tree on Christmas morning. And, just maybe, Santa has left something for them too. With the sweetest illustrations by Richard Scarry, this is a Christmas classic that will be loved by the littlest readers.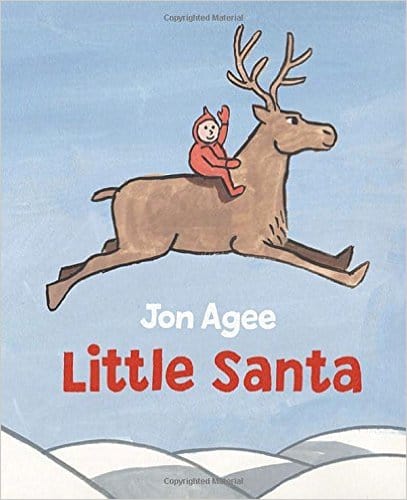 10. Little Santa by Jon Agee
When we think of Santa Claus, what comes to mind is a pot-bellied jolly old man with a bushy white beard, but everyone had to have been little at one point – even Santa. This delightful picture book thus spins an imaginative but plausible story about what Santa was like as a kid, with nods to some of the puzzling quirks of his chosen vocation in future, like his unusual and antler-ed mode of transportation, his distinctive costume, and of course, his propensity for sliding down sooty chimneys!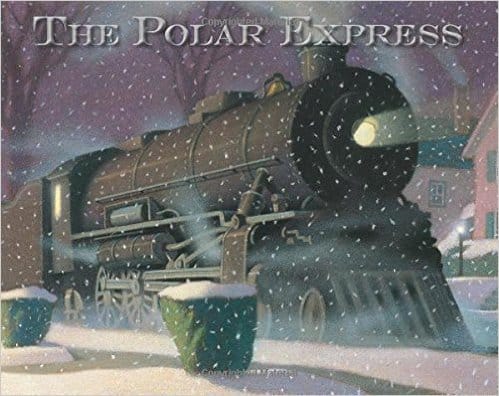 11. The Polar Express by Chris Van Allsburg
This story of a magical train chugging through the night to whisk a little boy, as well as other children – all still in their pajamas – away to the North Pole to meet Santa Claus, is so wondrous that both children and grown-ups alike will be left enthralled. There will probably come a time when your kids will no longer believe in Santa, but Chris Van Allsburg's beautiful story and dreamy Caldecott Medal-winning illustrations will make them – and you – want to believe all over again.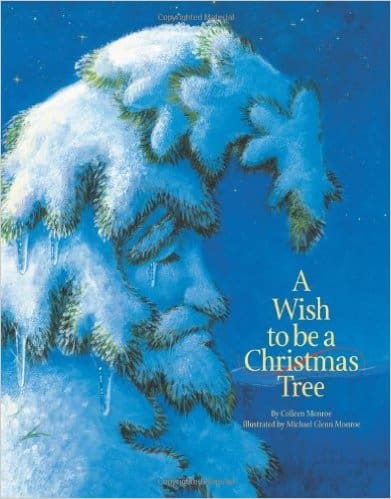 12. A Wish to Be a Christmas Tree by Colleen Monroe and Michael Glenn Monroe
An old pine tree is downcast when he realizes that, after being repeatedly passed over every year, he has become too overgrown to be anyone's Christmas tree. What he doesn't realize, however, is that his steadfast presence is very much appreciated by his forest friends, who decide to rally together to make the tree's wildest dreams come true – and in the sweetest, most beautiful way, too. Written in smooth rhyming verse, this beautifully moving tale is brought to life by the warm, gorgeously detailed illustrations, and truly captures the real meaning and spirit of Christmas.
What are your favorite winter holiday picture books? Check out more festive holiday ideas for kids!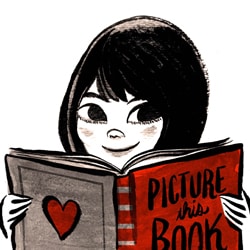 Eileen is a magazine sub-editor and camera-shy mom of two littles, who are also her inspiration (and excuse) for spending way too much time hunting down an eclectic selection of what she firmly believes to be some of the best children's books ever created, as well as reviewing them on her children's book review website Picture This Book. A lifelong bookworm, Eileen set up Picture This Book two years ago to encourage more parents and educators to read to the children under their care, as she believes quality books to be as crucial to early childhood development as water, food and air. You can also follow Eileen's book-hunting adventures on her Instagram page.
______________________________________________________________________________________________________

Disclosure: Some of the links in the post above are "affiliate links." This means if you click on the link and purchase the item, we will receive a small affiliate commission. Regardless, we give our promise that we only recommend products or services we would use personally and believe will add values to our readers.