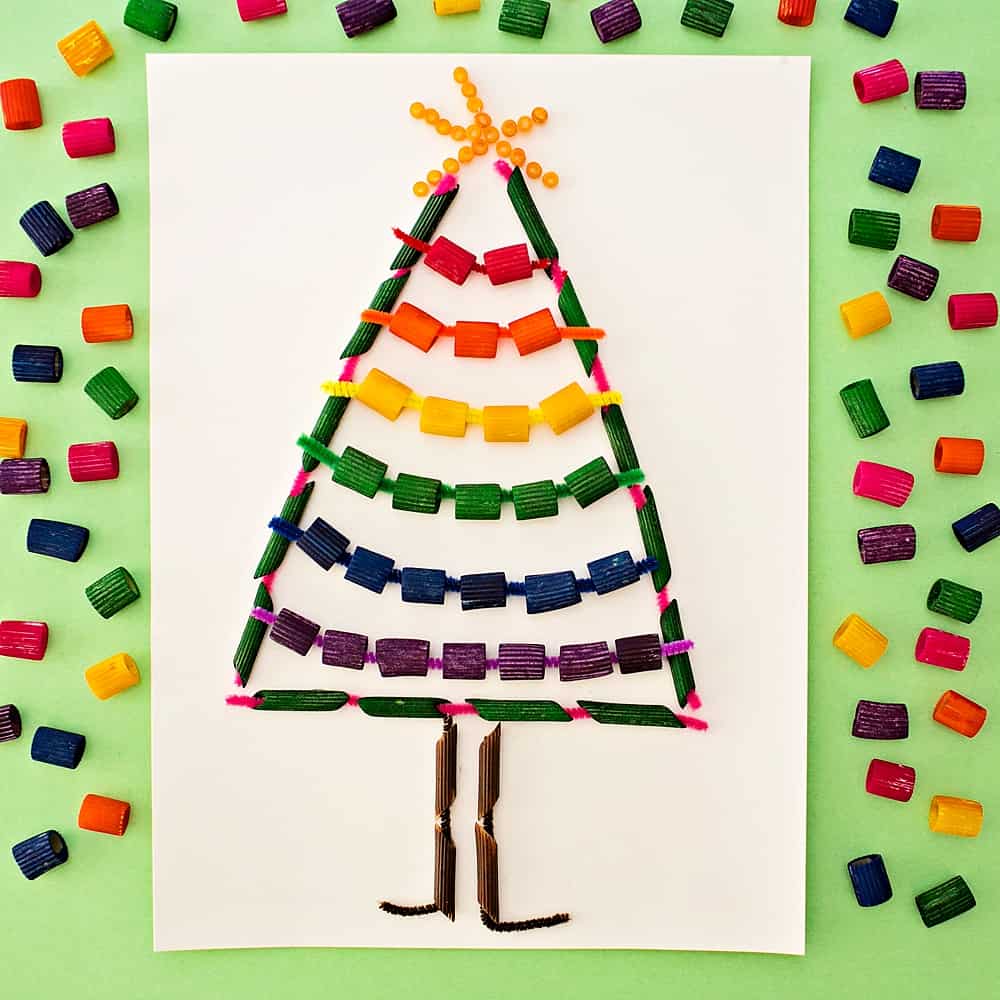 Follow us on Instagram for more fun ideas for kids!
Scroll all the way down to watch the video below for the step-by-step video in how to create these bright and colorful Rainbow Pasta Christmas Tree Craft and make sure to subscribe to our YouTube channel for more fun videos!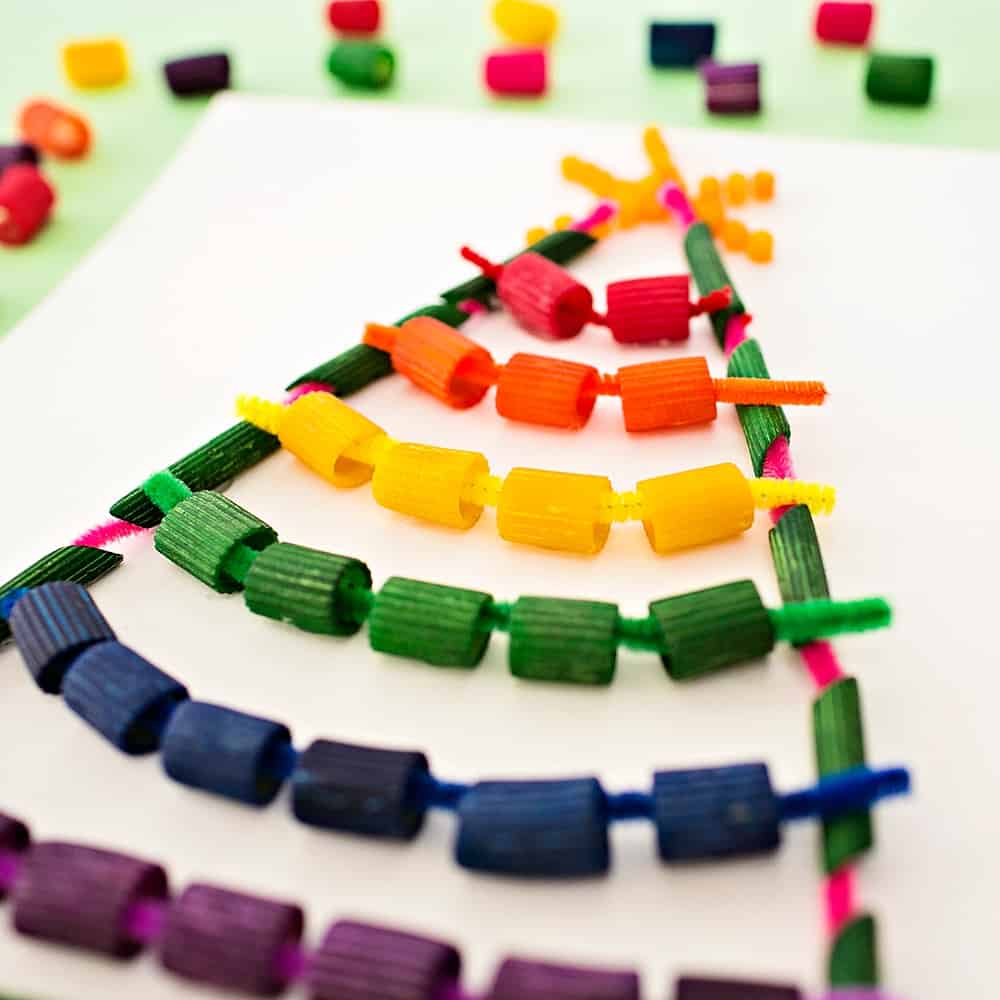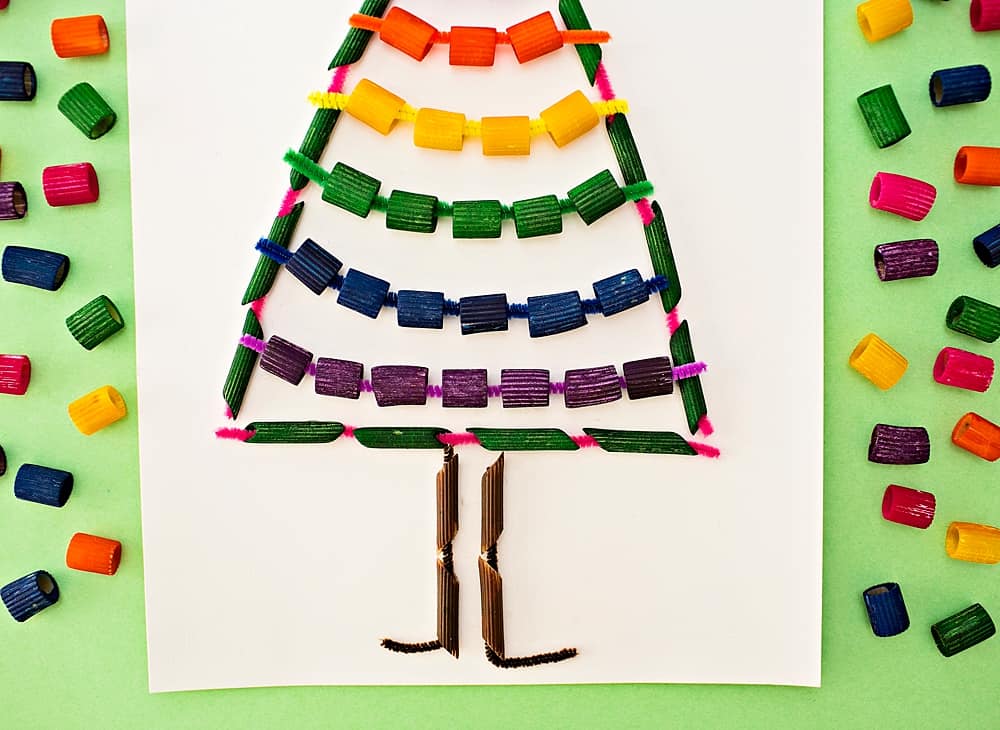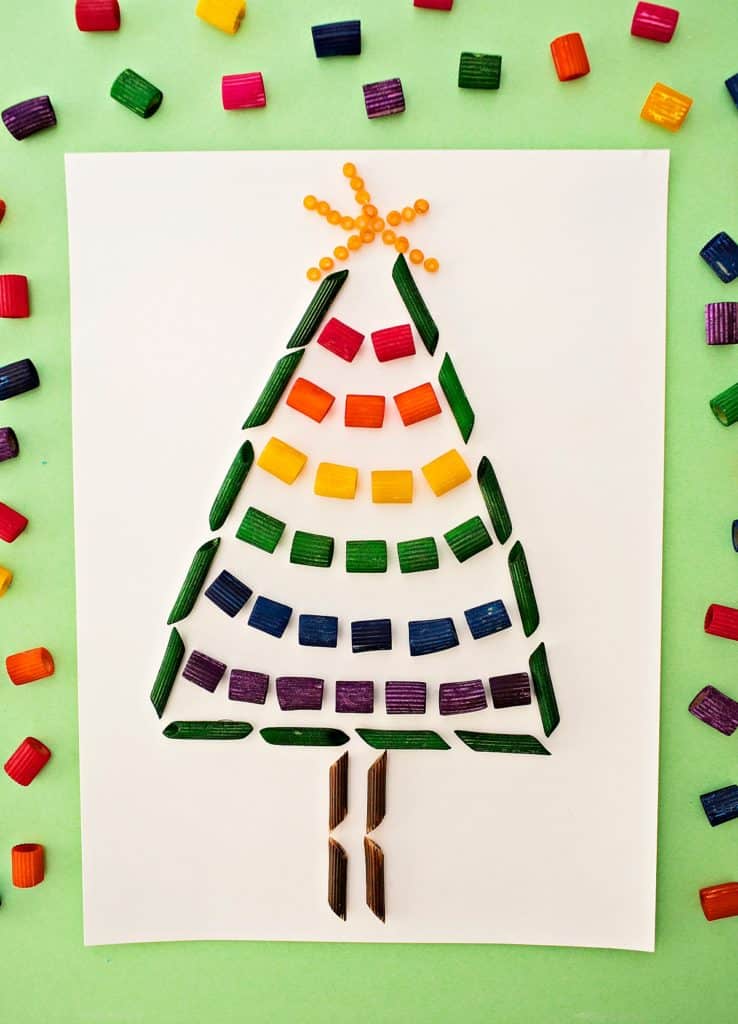 Put a Christmas twist to the classic pasta craft this holiday season by making this festive Rainbow Pasta Christmas Tree Craft!
It's got some art to it as well (read more below on our neat one step trick to easily color pasta in vibrant colors) AND a bit of fine motor skills learning with the threading action.
Once your littles are done weaving and practicing their threading, hang up your cheerful pasta tree for a colorful Christmas tree decoration!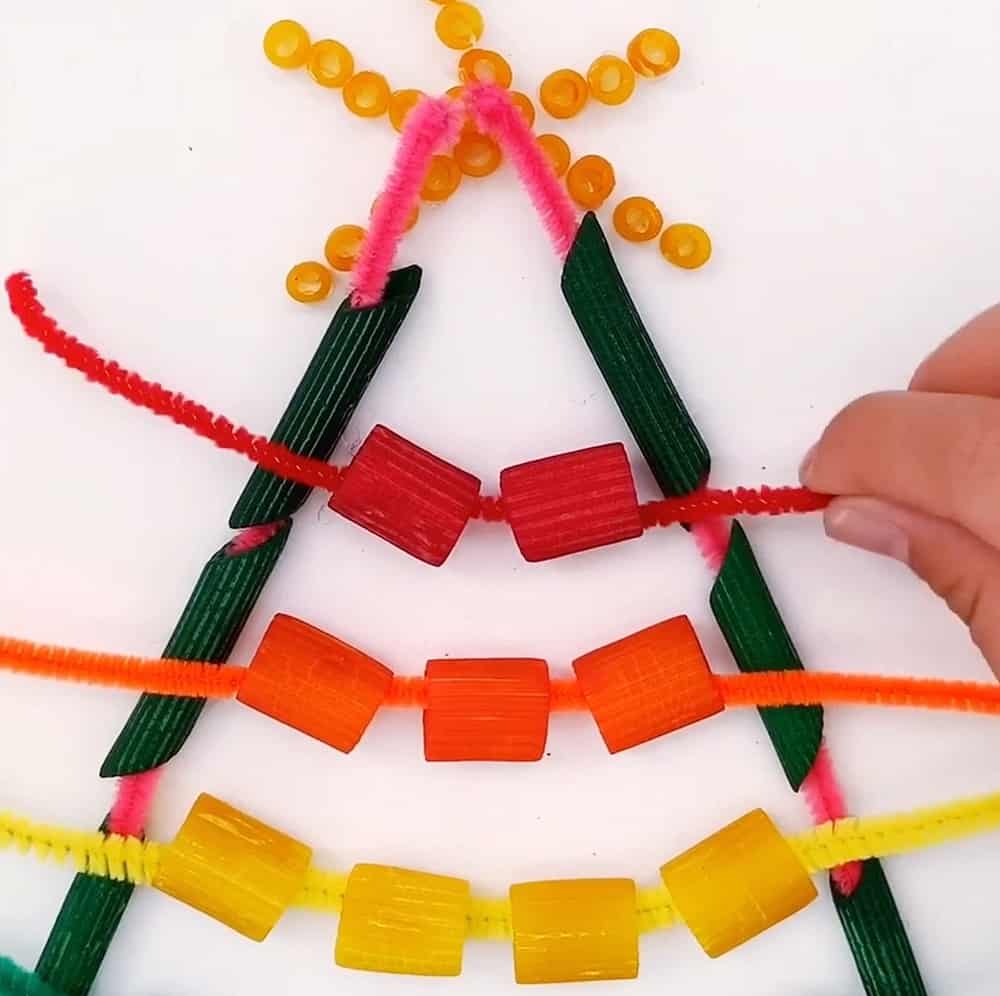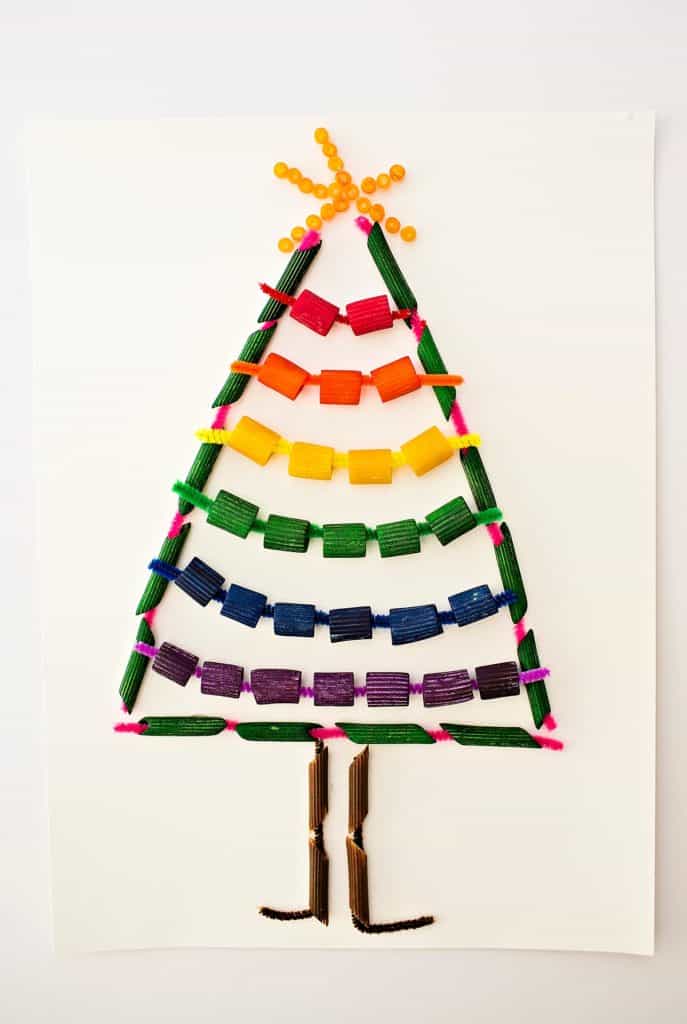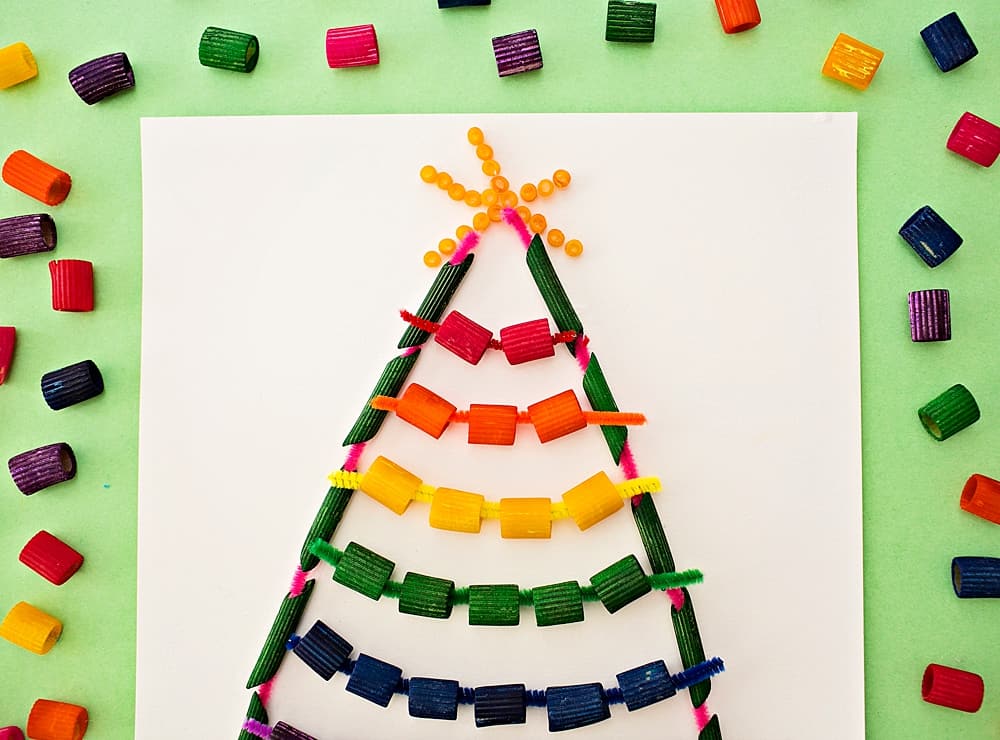 RAINBOW PASTA CHRISTMAS TREE CRAFT – MATERIALS:
Pasta (we used Penne for the outline, Mezza Rigatoni for the lights and Ditalini for the star)
Plastic sandwich zipper bags
Parchment paper, tray
Paper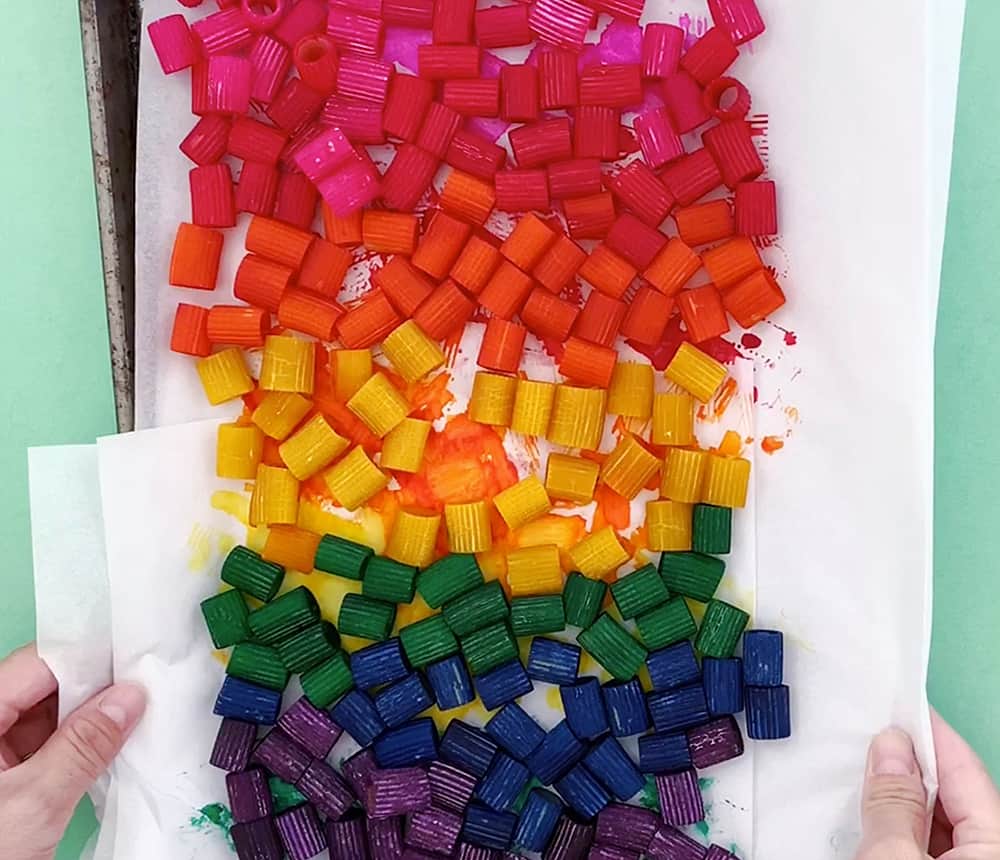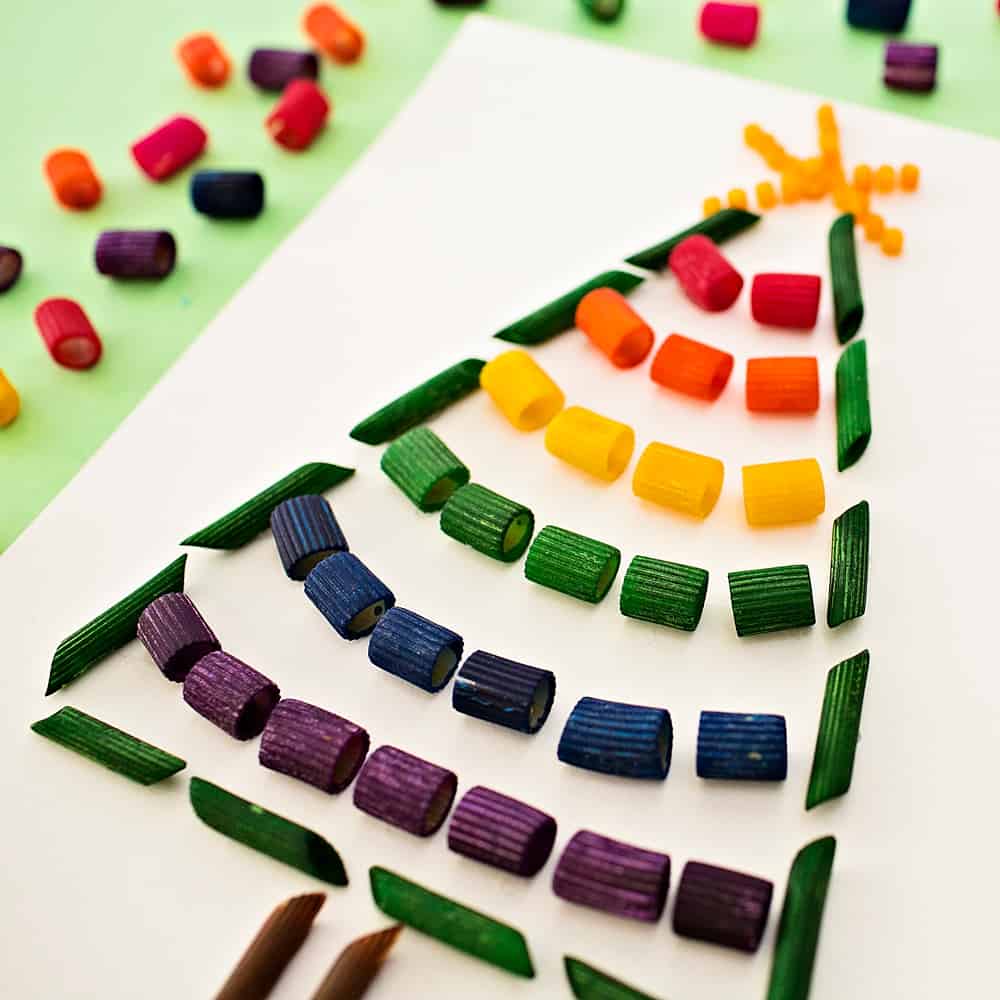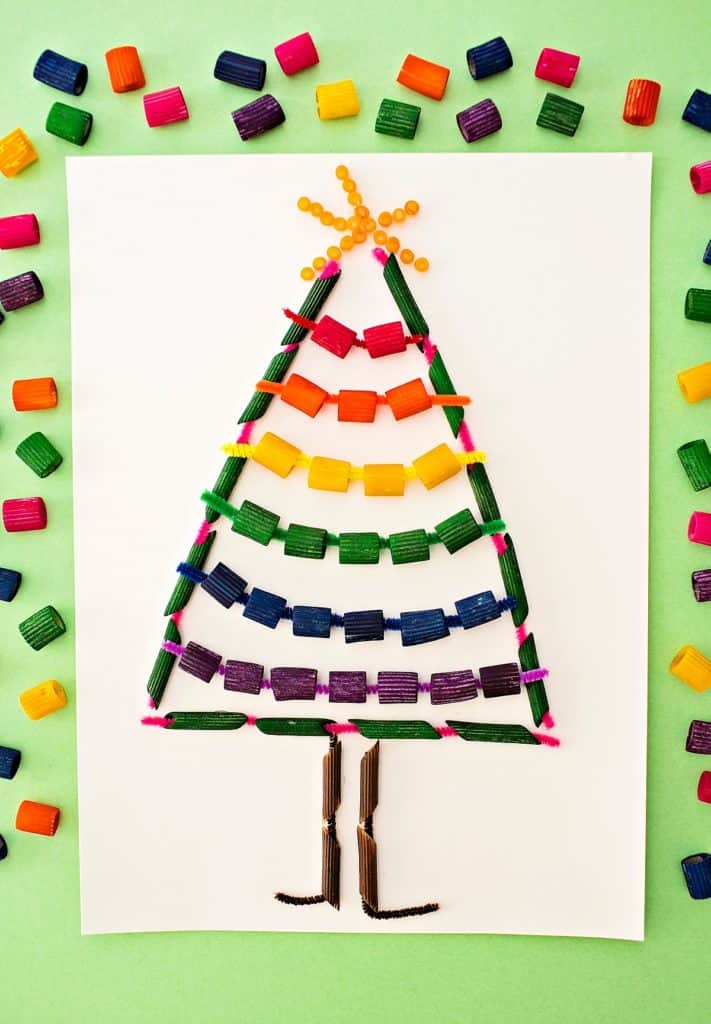 INSTRUCTIONS:
COLOR YOUR PASTA:
Step 1. Line a tray with parchment paper. Add your pasta to a sandwich zipper bag. Add several drops of liquid watercolor to the bag. Zip shut. Use your fingers to mix the watercolor with the pasta until the color is even distributed.
Step 2. Carefully place the pasta from the zipper bag in one layer on your parchment lined tray to dry. This will take several hours. We do a bunch and leave them overnight to dry. Repeat with another color until you have the colors of the rainbow.
NOTE: we dyed the Ditalini pasta yellow to make the star and the penne green. For the brown tree stand, we actually used a brown Kwik Stix paint marker as that was easier since we didn't need too many to dye.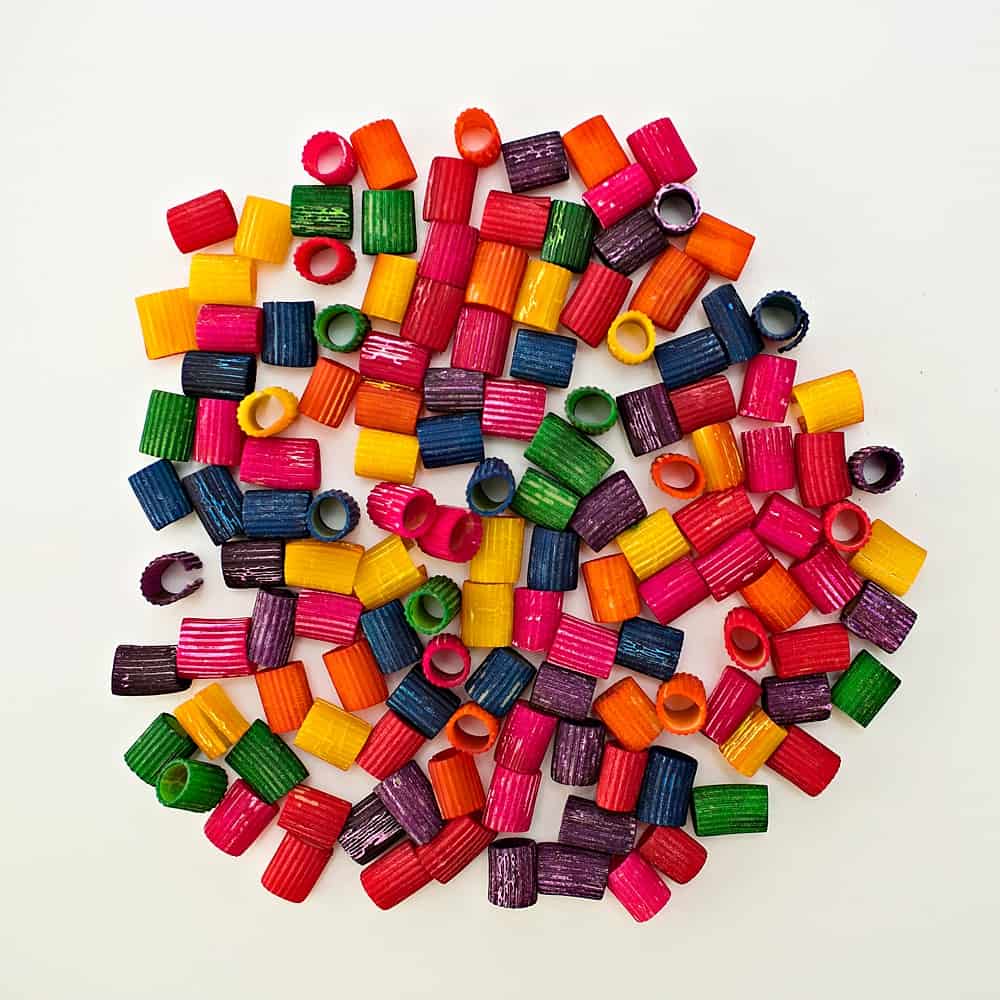 DESIGN YOUR TREE:
Step 1. Layout out how you want your pasta tree to look like on a piece of paper. Then use glue to adhere the pieces to the paper. Make sure there is a gap between pasta to thread the pipe cleaners. If you want to make this threading job easier, make the gap wider between pasta pieces.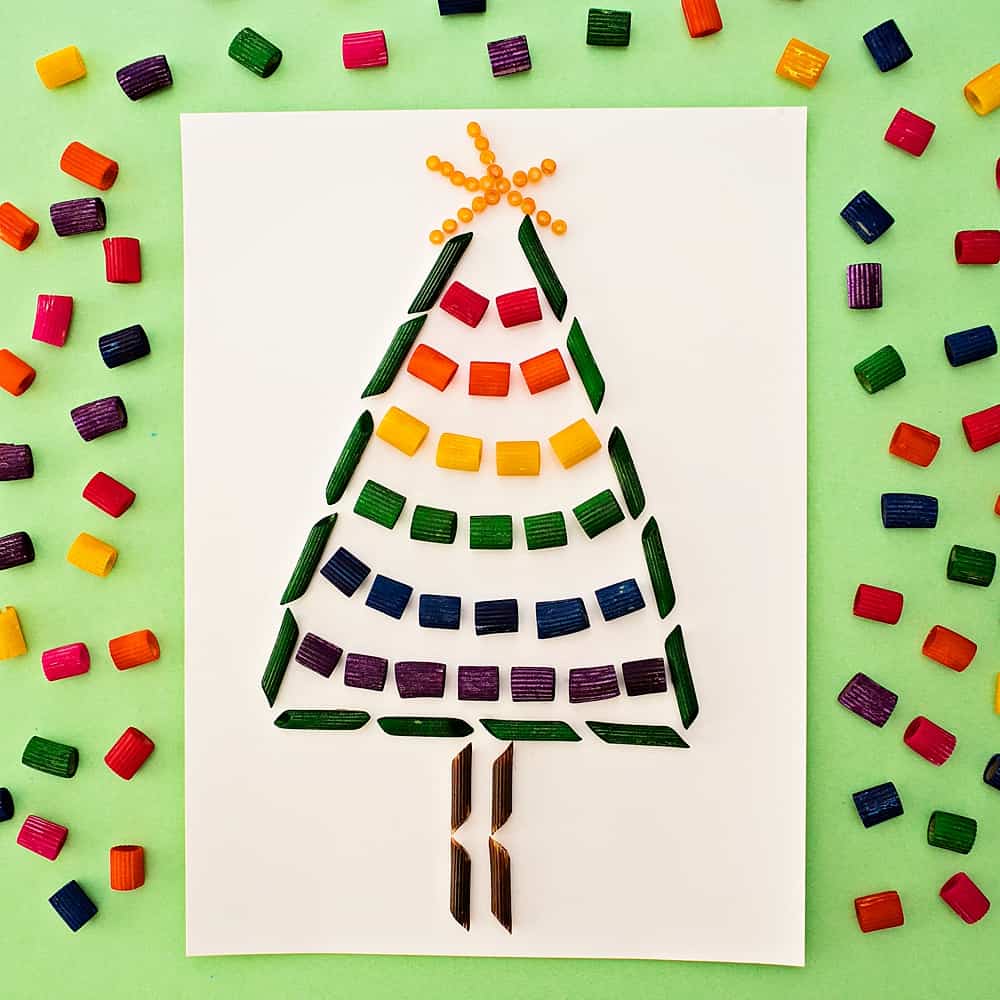 THREAD YOUR TREE:
Step 1. Use pipe cleaners to thread through your pasta pieces. We didn't leave a large gap between ours, but had we done so, we could have used yarn or string to make this a more versatile threading activity!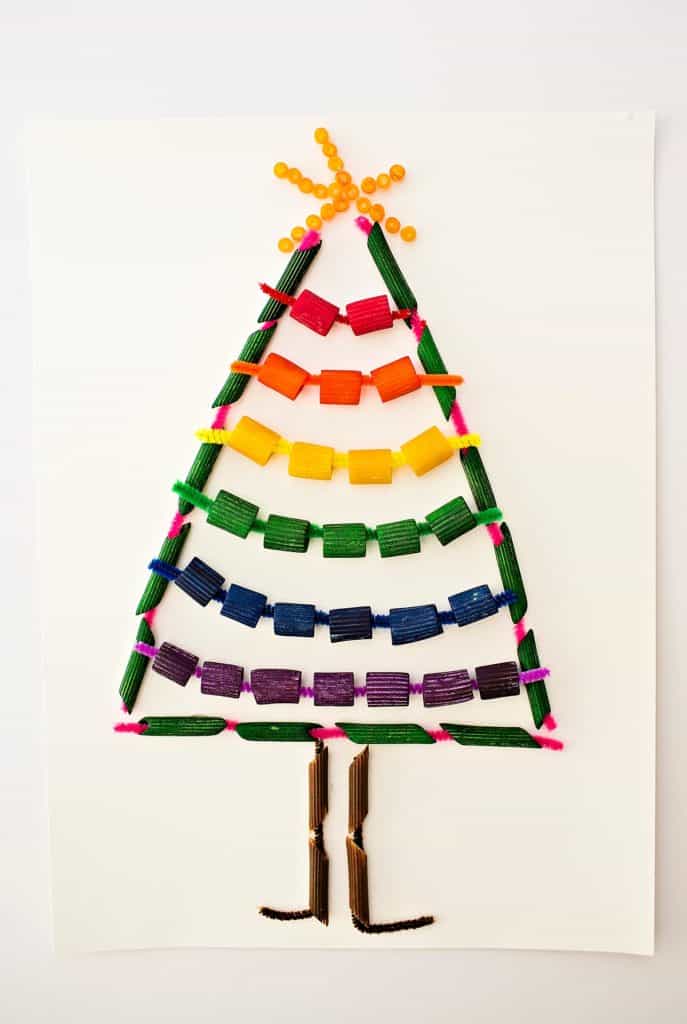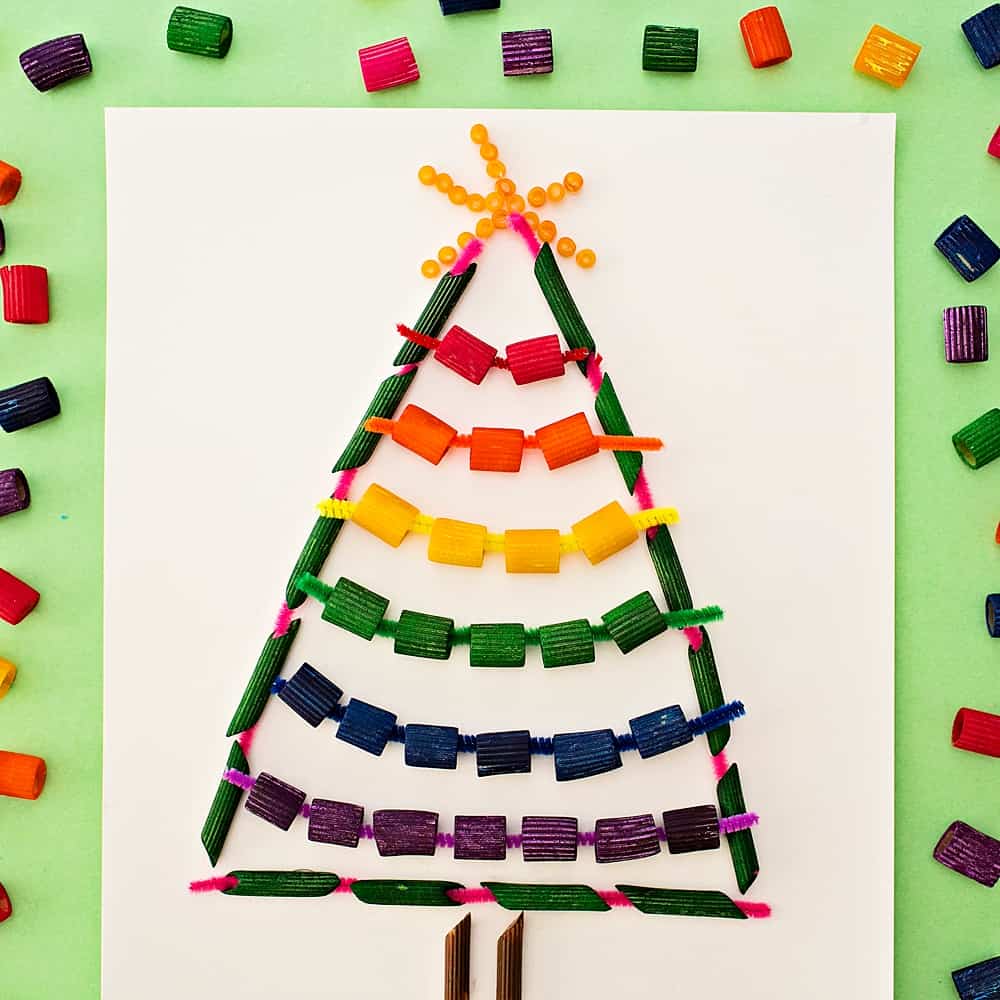 Pasta never looked so colorful! We had so much fun making our Rainbow Pasta Christmas Tree and hope you do as well!
Watch our step by step video below to see how we made this and how we dyed our pasta:
---
Disclosure: Some of the links in the post above are "affiliate links." This means if you click on the link and purchase the item, we will receive a small affiliate commission. Regardless, we give our promise that we only recommend products or services we would use personally and believe will add values to our readers.