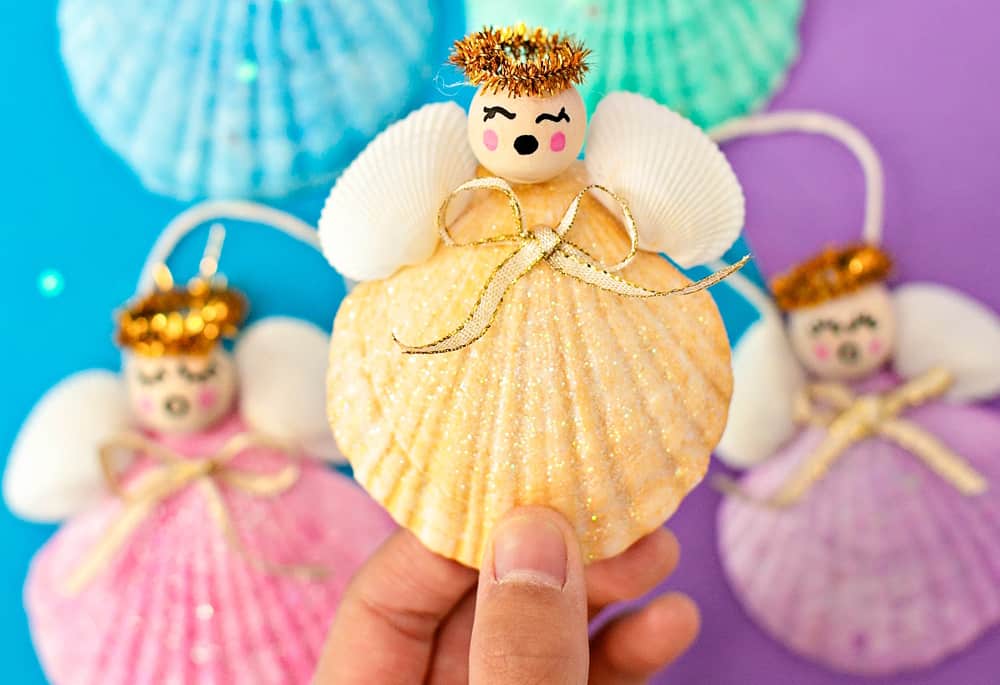 By using this site, you agree to our Terms of Use. This post may contain affiliate links. Read our disclosure policy.
Follow us on Instagram for more fun ideas for kids!
Watch the video below to see how to make these pretty DIY Seashell Angel Christmas Ornaments. Make sure to subscribe to our YouTube channel for more fun videos!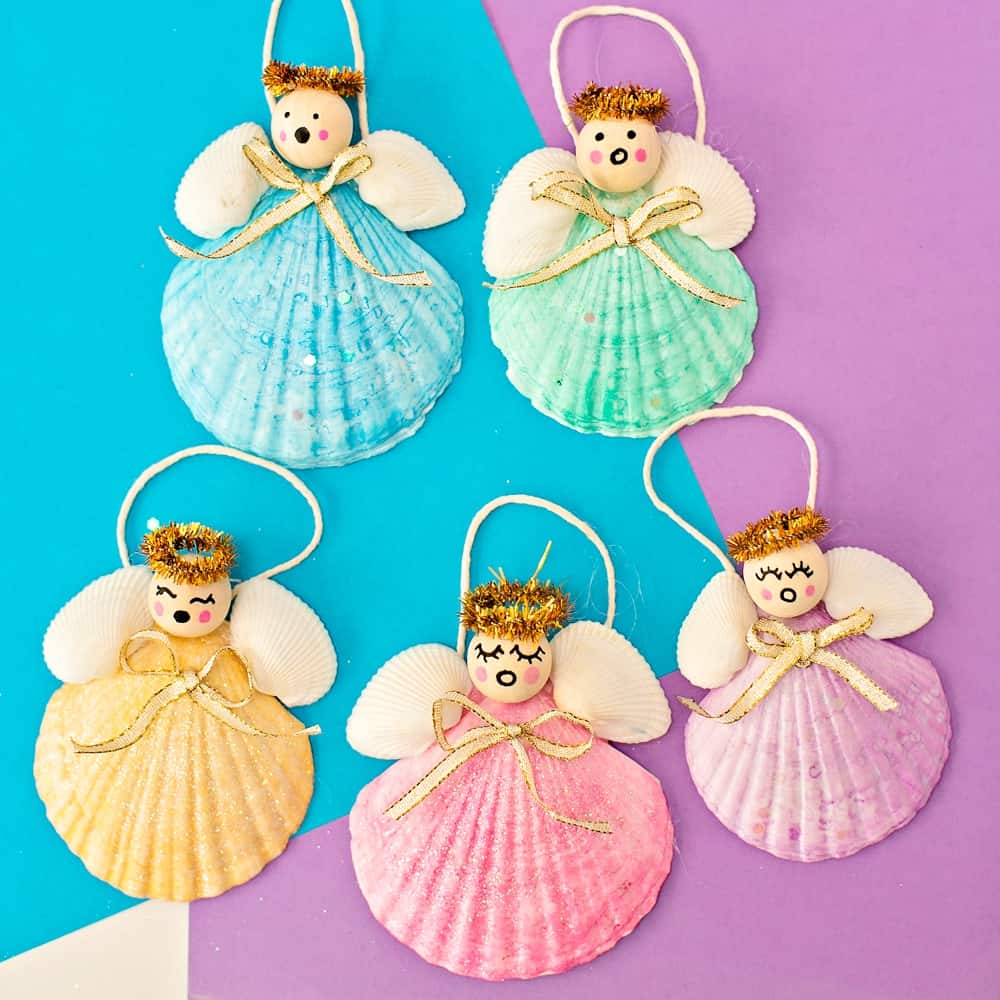 Turn ocean shells into these pretty DIY Seashell Angel Christmas Ornaments that will make your tree sparkle with color.
If your house is anything like my house, you might have a few seashells just lying around. I don't know what it is about kids and seashells but they're just one of those things that little hands like to collect. And don't get me wrong, I think they're beautiful, too and after racking my brain about simple and easy ways to use the seashells for hands-on crafting and learning, we decided to beautifully display them with these DIY Seashell Angel Christmas Ornaments!
What I love about these Christmas seashell angel ornaments is that they're creative, fun and pretty!
Plus, handmade ornaments teach children to think outside the box and use items that they already have lying around.
While we were putting these ornaments together, it also opened up a lot of communication between us as we talked about all the different seashells you can find. It was a great way to bond and create together with ease. We seriously had so much fun!
My hope for you and your child is that you can sit down, have fun and create some simple, yet adorable handmade Christmas ornaments.
With how easy these are to make, your little one can have fun making these up with ease!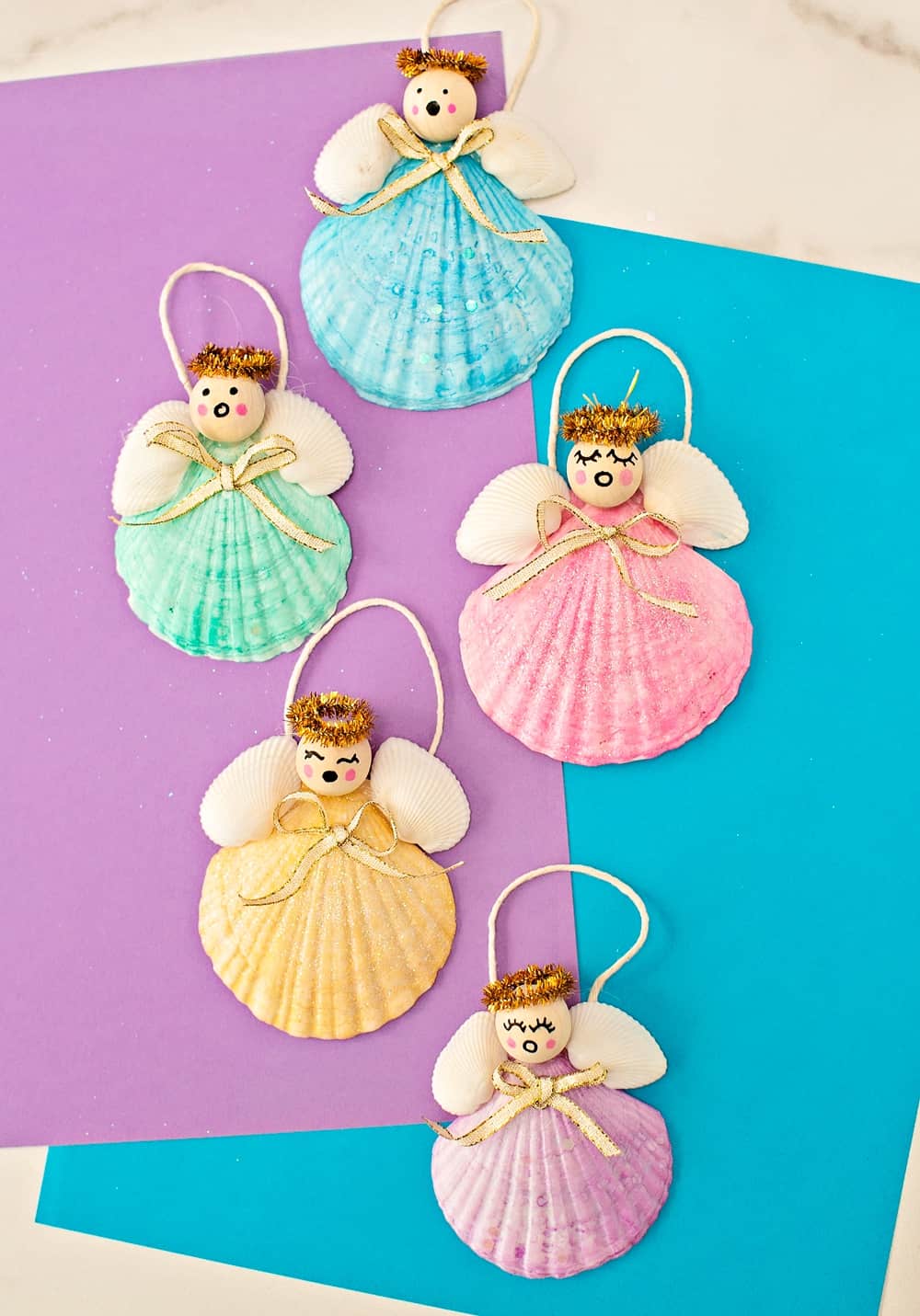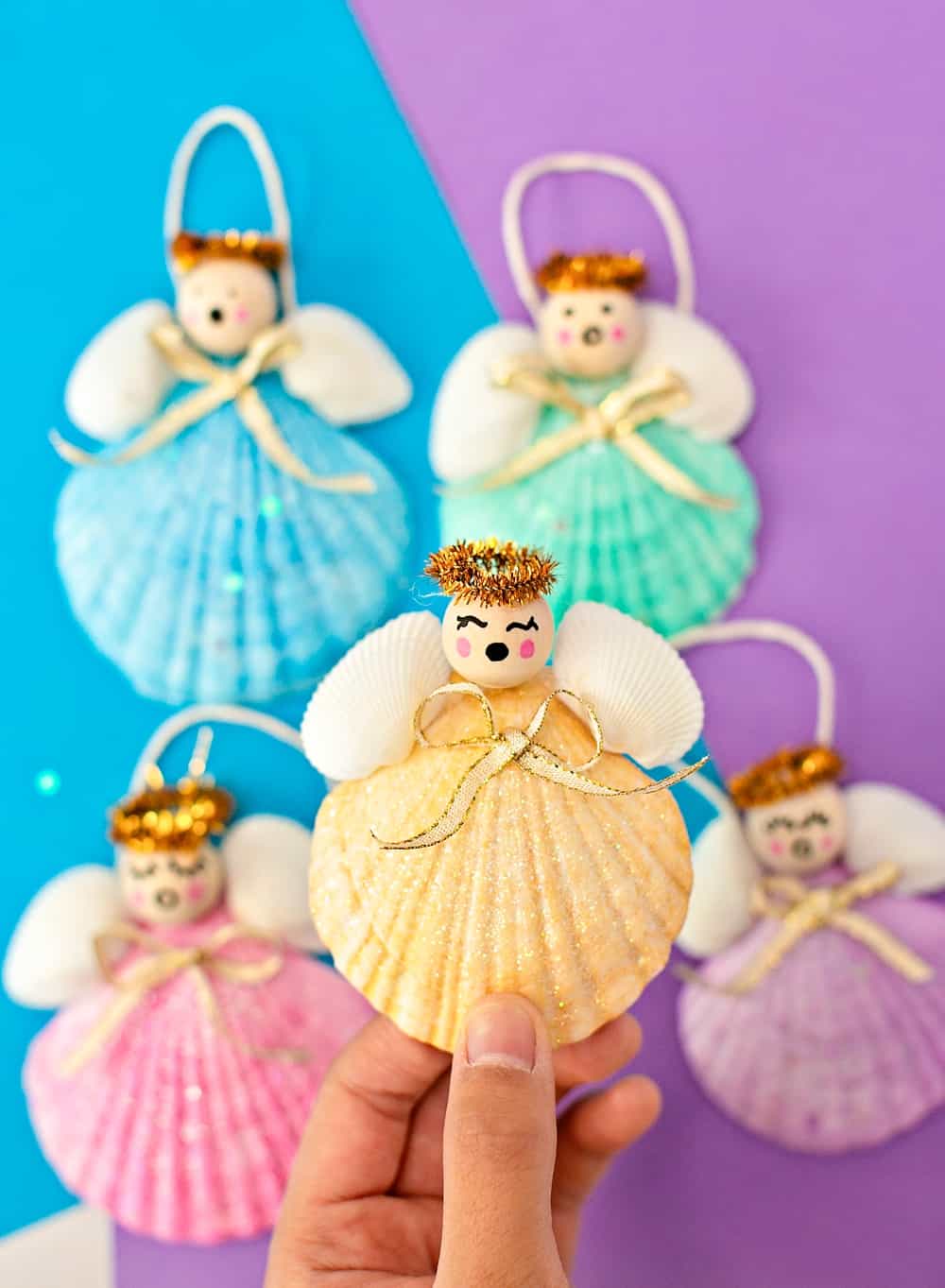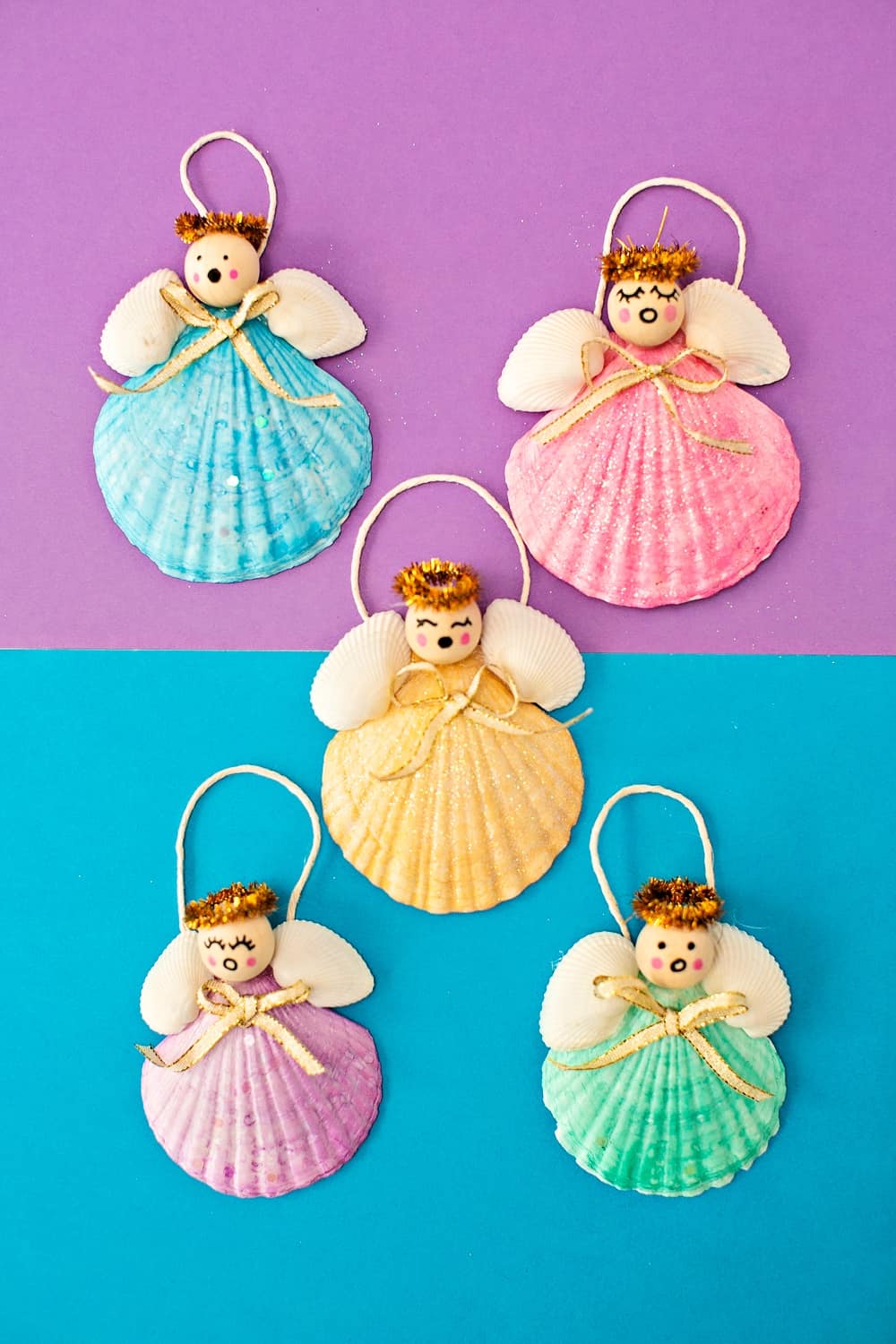 What if I don't have an ocean around to easily find shells?
Of course we understand not everyone can live by the ocean and collect bucketfuls of seashells, us included! Did you know you can easily find seashells online or from your local craft store? The plus about that is that your ornaments will all turn out pretty uniform, which is great if you are making these as a Christmas party craft or holiday class party.
Were do you find the wooden beads?
We either order ours online or head to the local store and buy them from the craft section. Make certain that you're paying attention to the size that you need and want because they do have a wide variety to choose from. The size depends on how large your shells are. We used 3/4″ thick wooden beads.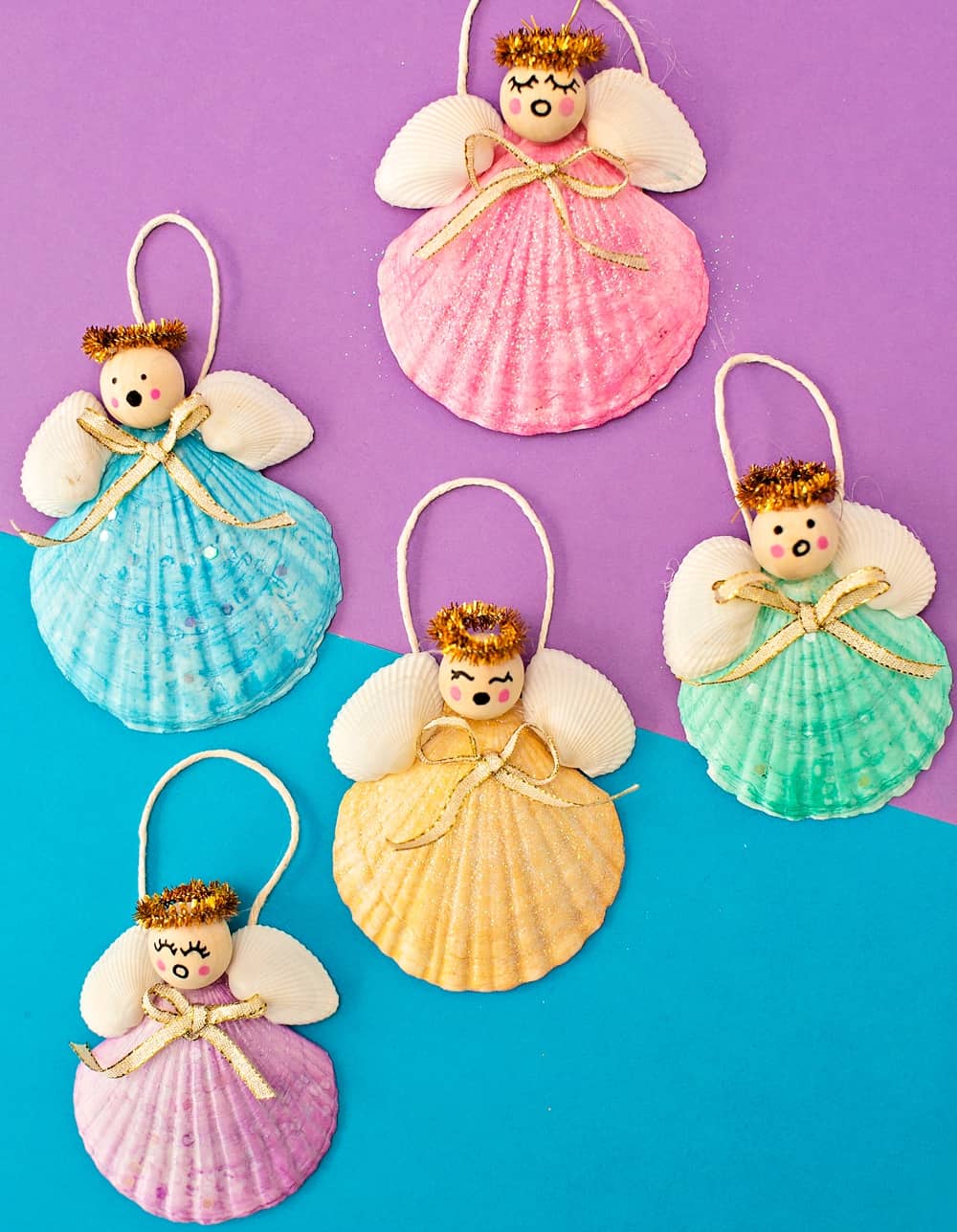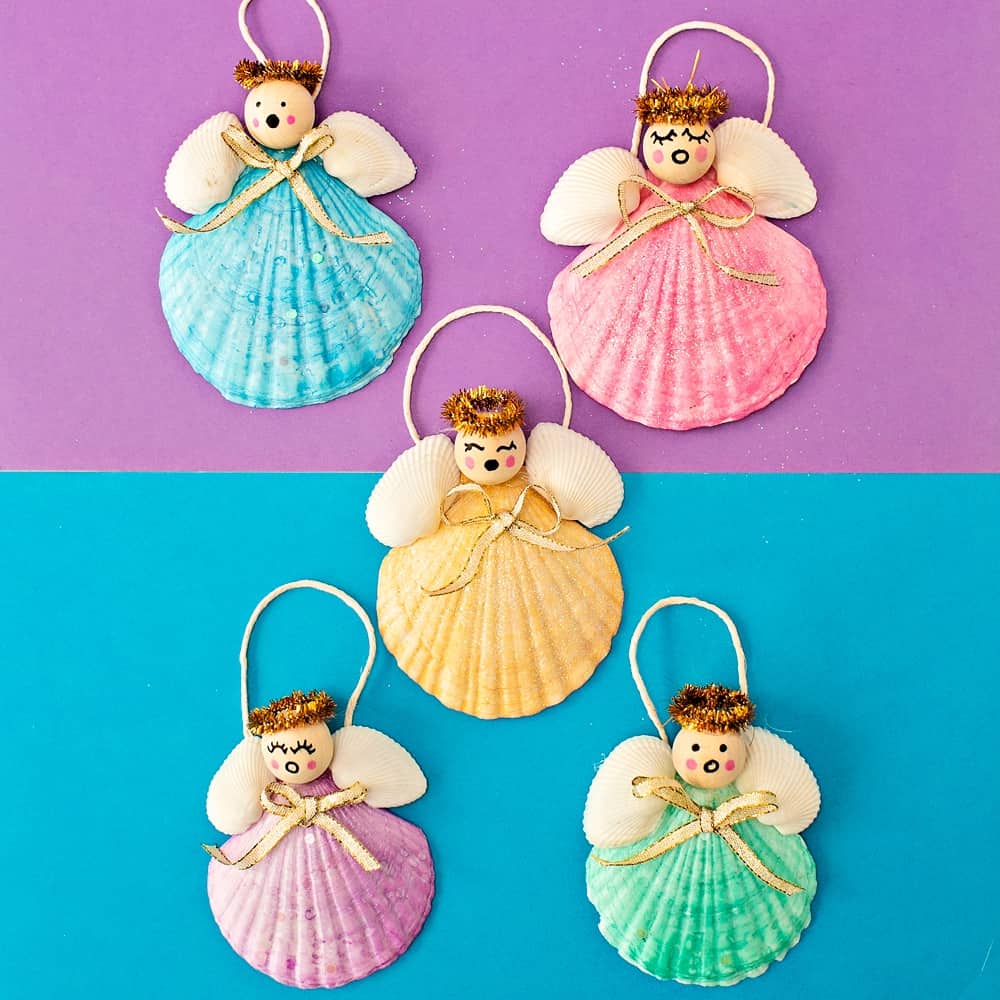 What type of glue do you need to use to make these seashell Christmas ornaments?
Using a hot glue gun is probably the best bet, but should be used with adult supervision.
And while your child might not be old enough to use the hot glue gun on their own, make certain that you're taking the time to educate them about the importance of always practicing safety when they're crafting.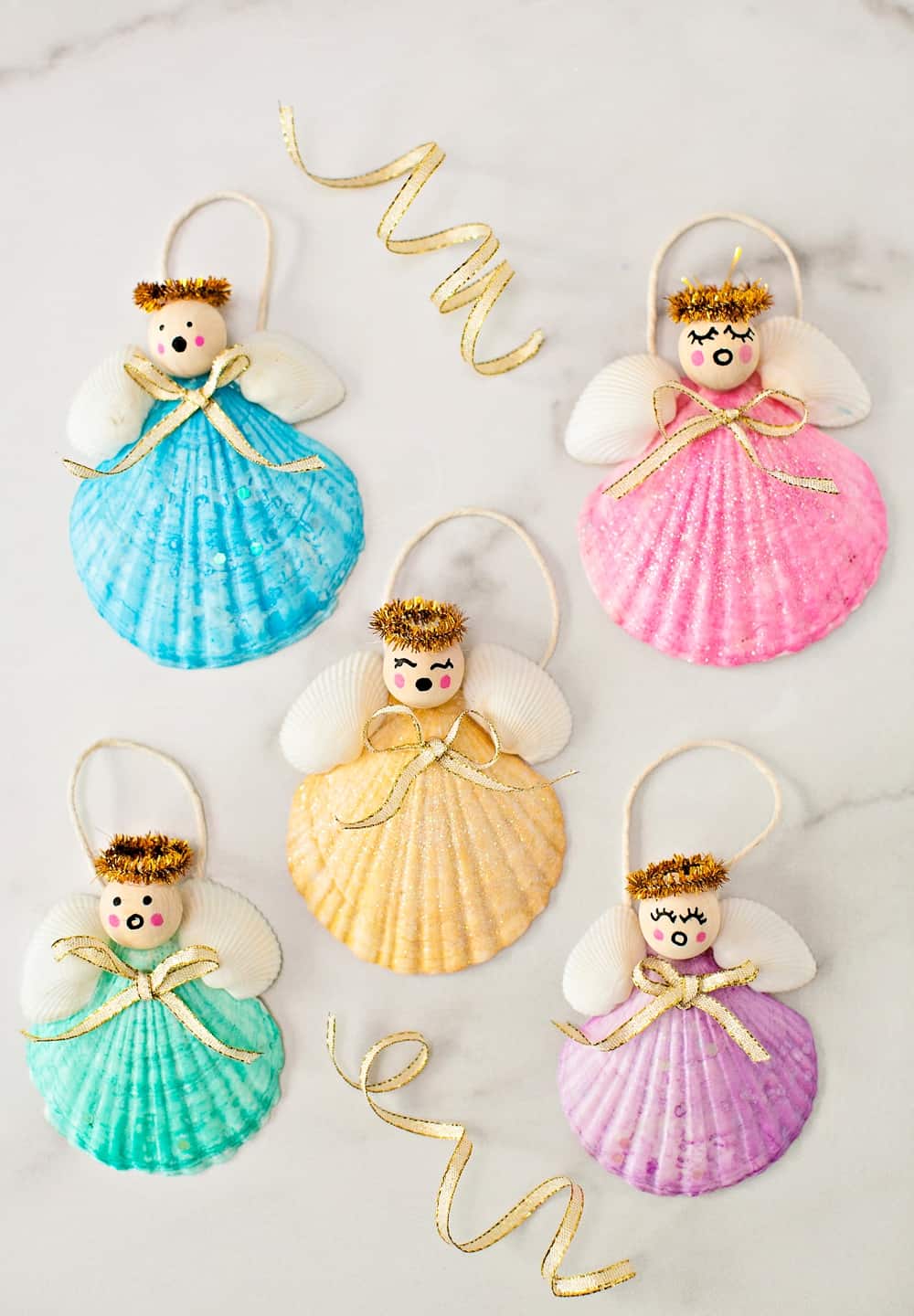 How to create These Seashell Angel Christmas Ornaments
As I mentioned earlier, this holiday craft really is a ton of fun! Just gather up the supplies that you're going to need and get started. There's little prep work that really has to be done with this holiday craft.
Seashell Angel Christmas Ornaments – Materials:
Seashells – a variety of sizes is fine. We used these scallop ones and you'll need smaller shells for the wings.
Paint markers and watercolor paint
Ribbon or Twine, glitter or sequin glitter
Hot Glue Gun
Wooden Beads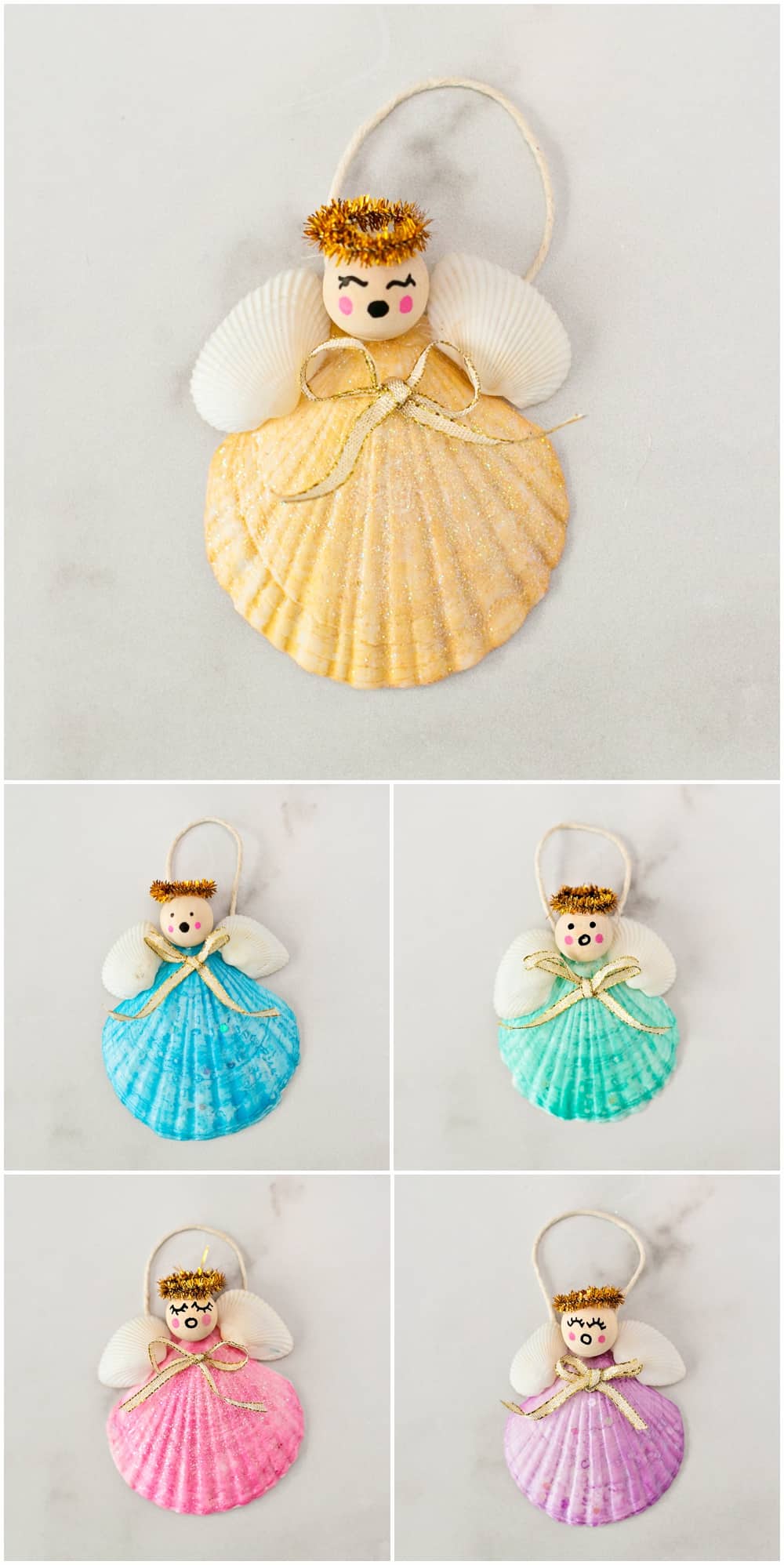 Yield: Seashell Angel Christmas Ornaments
SEASHELL ANGEL CHRISTMAS ORNAMENTS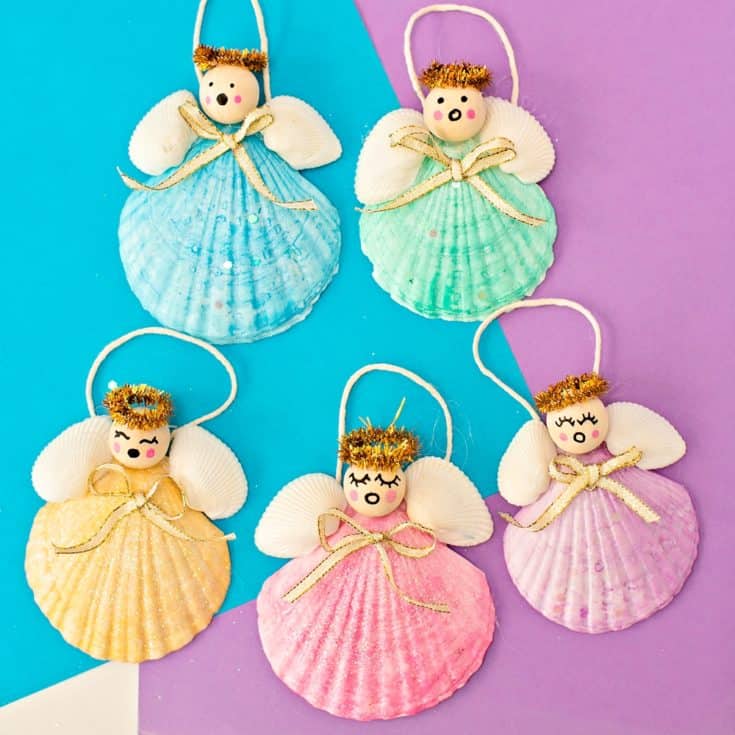 Turn ocean shells into these pretty DIY Seashell Angel Christmas Ornaments that will make your tree sparkle with color.
Materials
Seashells (large scallop for the body and two small clamshells for the wings)
Paint markers
Paint (we used watercolors)
Ribbon
Twine
Glitter or sequin glitter (optional)
Hot Glue Gun
Wooden Beads
Gold Pipe cleaners
Instructions
1. Paint your seashells, add glitter immediately if using right after painting.
2.Draw a face on your wooden bead.
3. Hot glue your small two clamshells for wings.
4. Hot glue your face on larger shell.
5. Turn your ribbon into a bow and hot glue that onto the body.
6. Twist a small piece of gold pipe cleaner into a halo and glue that on top of the head.
7. Glue a piece of twine on the back so you can hang these up as ornaments.
______________________________________________________________________________________________________
Disclosure: Some of the links in the post above are "affiliate links." This means if you click on the link and purchase the item, we will receive a small affiliate commission. Regardless, we give our promise that we only recommend products or services we would use personally and believe will add values to our readers. As well, as an Amazon Associate I earn from qualifying purchases.