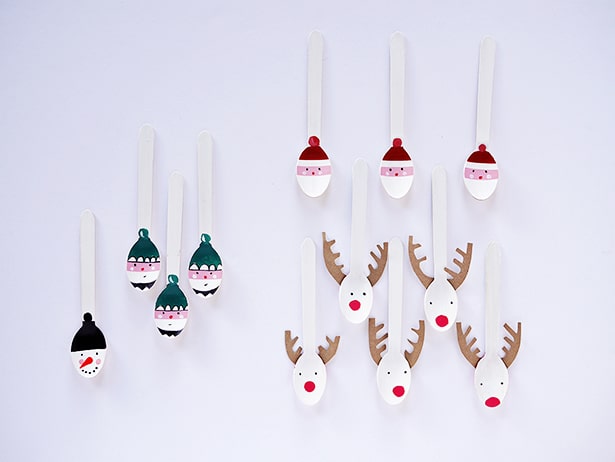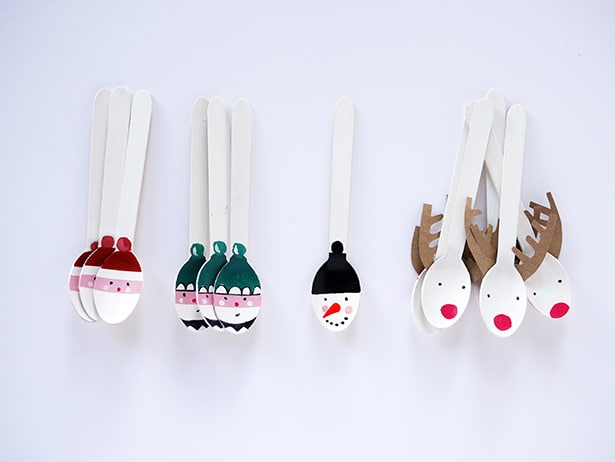 Add a little Christmas cheer with these festive painted wooden spoons. They're simple for kids to paint and adorn with other sweet handmade gifts for the holiday season! Make a Santa, Rudolph, Snowman, and Elf!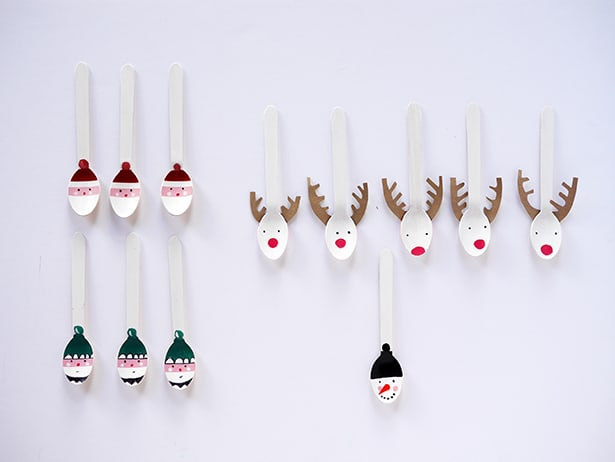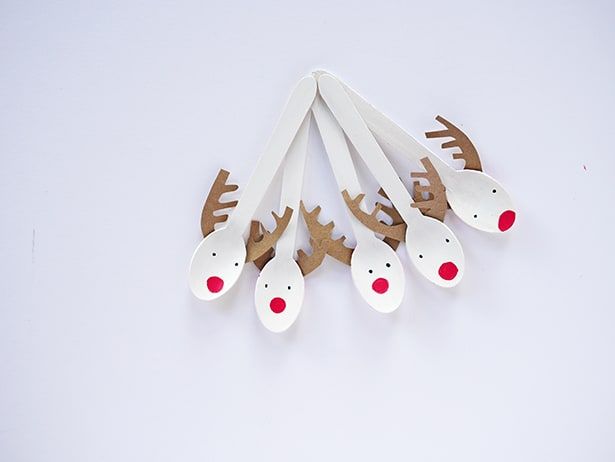 Holiday Wooden Spoons – Materials:
– Disposable wooden spoons
– Craft paint and paintbrush
– Masking tape
– Brown construction paper
– Scissors
– Tape
– Sharpie markers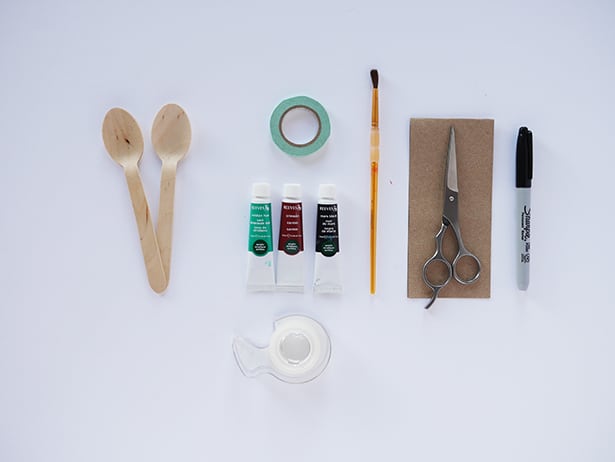 Instructions: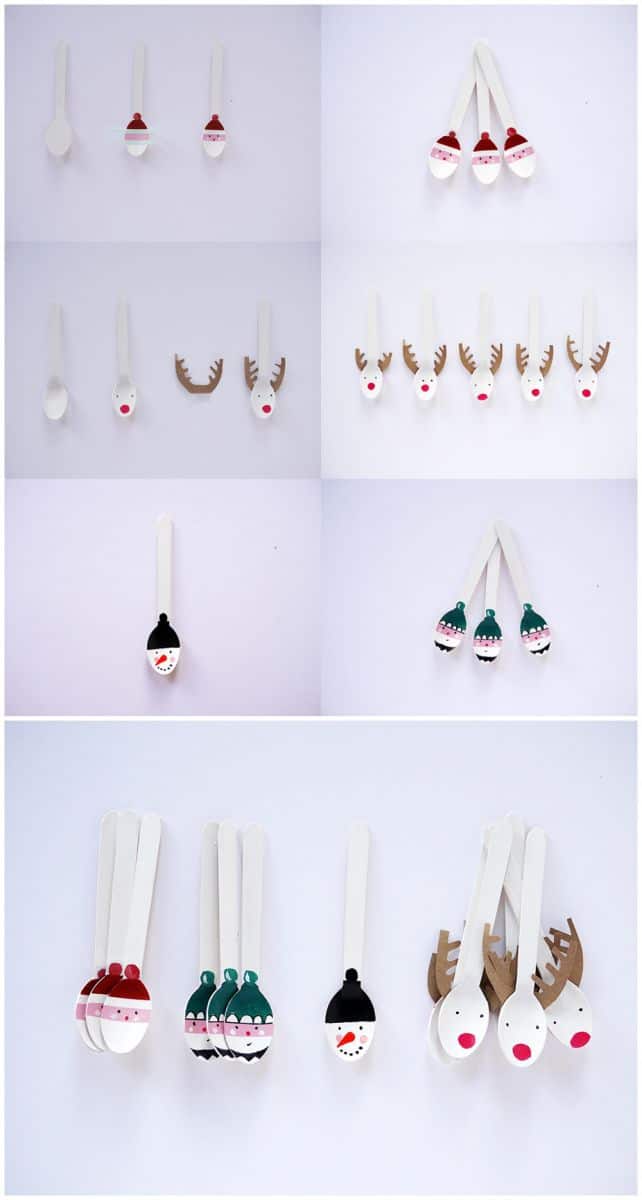 1. Paint your wooden spoons white (optional) but I prefer them to stand out in white.
2. How to make SANTA & the ELVES – with your masking tape separate your spoon in 3 parts; on top for the Santa Hat, in the middle for his face and at the bottom for his beard.In the center paint in light pink. On top paint in red. Add a dot as a pom pom and let dry.
Now draw some eyes, a nose and Santa's cheeks. Santa is READY.
For the ELVES it is the same process except you should pick a different color and add more details in the hat, for example.
3.How to make the REINDEER – take a white spoon and draw some eyes and a big red nose. Take a piece of brown paper and cut deer antlers; with a piece of tape, tape them at the back of your spoon. You are done.
4. SNOWMAN – add a black hat, black eyes and dotted smile, and an orange carrot nose. You can make him any color of course 🙂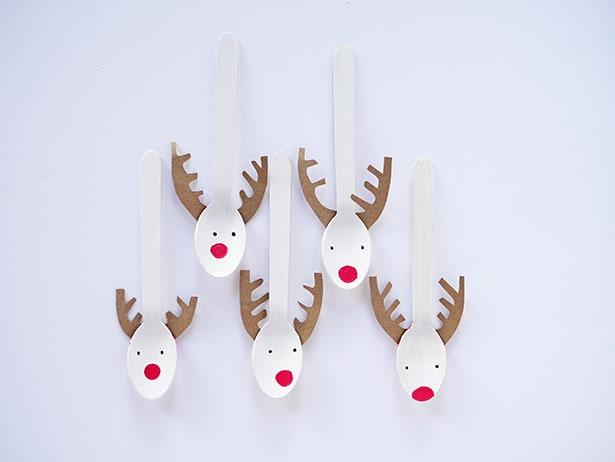 You can put these on your Christmas table and write the name of your guests on them as holiday name cards. Or add them to your tree as ornaments. Another idea is using them as puppets and playing with the kids!
Check out more fun creative holiday ideas for kids.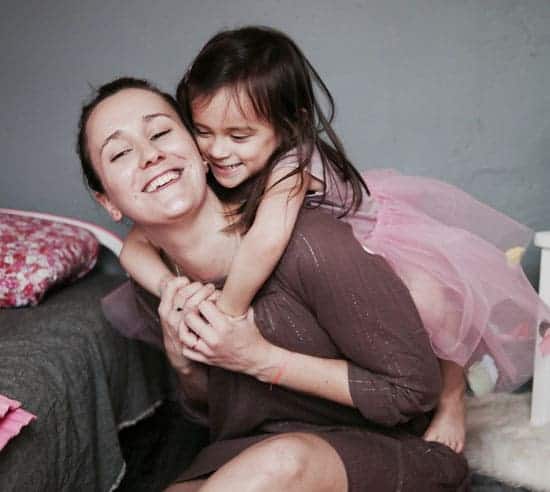 Marie-Laure, is an Architect first, a mom of two, but also a Do It Yourself kind of girl. She LOVES CRAFTING. Her blog La Maison de Loulou is a piece of her with simple and fun crafts, ideas, projects, and activities to do with your kids at anytime. Her children Louise and Roman are her inspiration and all the DIY's are made for them to have fun. Toys, games, costumes..she loves exploring the kids world with her own twist.
______________________________________________________________________________________________________

Disclosure: Some of the links in the post above are "affiliate links." This means if you click on the link and purchase the item, we will receive a small affiliate commission. Regardless, we give our promise that we only recommend products or services we would use personally and believe will add values to our readers.