This fun Butterfly Paper Heart Craft is certain to be a hit in your house! It's a great way to have early learners work on their hand-eye coordination all while creating their very own beautiful butterfly as well!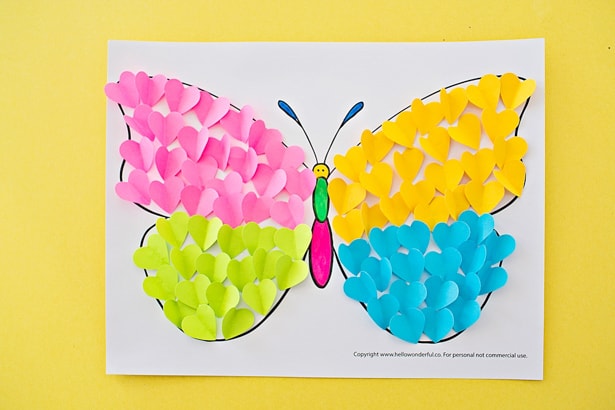 Scroll all the way down to watch the video below to see the easy process for how to make this colorful Butterfly Paper Heart Craft and make sure to subscribe to our YouTube channel for more fun videos!
Butterflies are one of our favorite sure signs of summer! We've had so much fun making moveable transforming paper butterflies, upcycling paper tubes into rainbow butterflies and even using loose parts to decorate the wings of a collaged butterfly craft! This summer we thought we'd show our love for these pretty pollinators with handfuls of hearts!
Add to our printable with a little glue and folded paper hearts to easily make your own beautiful butterfly – complete with colorful wings that flutter in the breeze! A cute spring or summer art project for kids that also practices those fine motor skills.
What age is this butterfly paper heart craft good for?
It's great for early learners and preschools because it gives them the independence that they're looking for to create and work on their own crafts. Since you have the option to use a glue stick on this craft, this is really one that they can complete mainly on their own.
Make certain that you're there for adult supervision purposes but as long as they can use the heart punch paper puncher and a glue stick, they really should be able to have fun with this butterfly craft.
What childhood learning areas does this heart craft work on?
Isn't it amazing that most people see a beautiful craft but parents also know that the craft helped work on some core key functions of their child as well?
Doing this craft will help your child work on their hand-eye coordination as well as fine motor skills, too. This heart craft also helps to teach your child the importance of staying in the lines and also following directions.
Don't forget to combine learning with fun!
One of the biggest things that we like to do when crafting is to try and bring in an outside element as well. This could be reading a book about butterflies or heading out the front door to get a nature walk to see if we can actually spot any butterflies as well.
These types of activities tend to prolong the crafting experience and give them the knowledge that will help them learn and grow, too.
Check out these other great butterfly and heart crafts: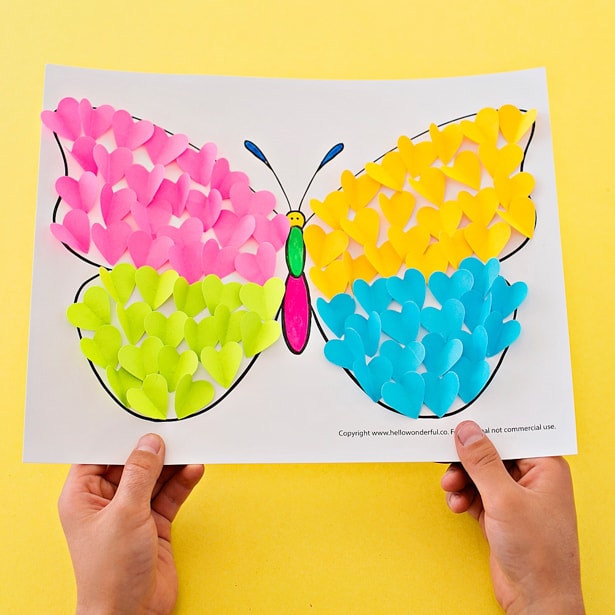 Butterfly Paper Heart Craft
The great part about this butterfly craft is that it hardly takes any type of materials to get started. Since we provide the butterfly printable template, that just leaves you the chore of filling in between the lines!
BUTTERFLY PAPER HEART CRAFT – MATERIALS:
Heart punch (we used a one-inch puncher)
Glue stick or hot glue gun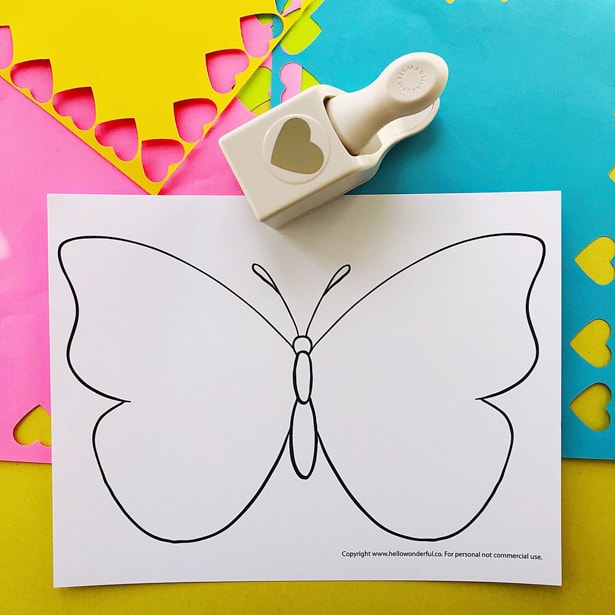 INSTRUCTIONS TO MAKE THIS BUTTERFLY PAPER HEART CRAFT
Step 1: Print out the butterfly printable.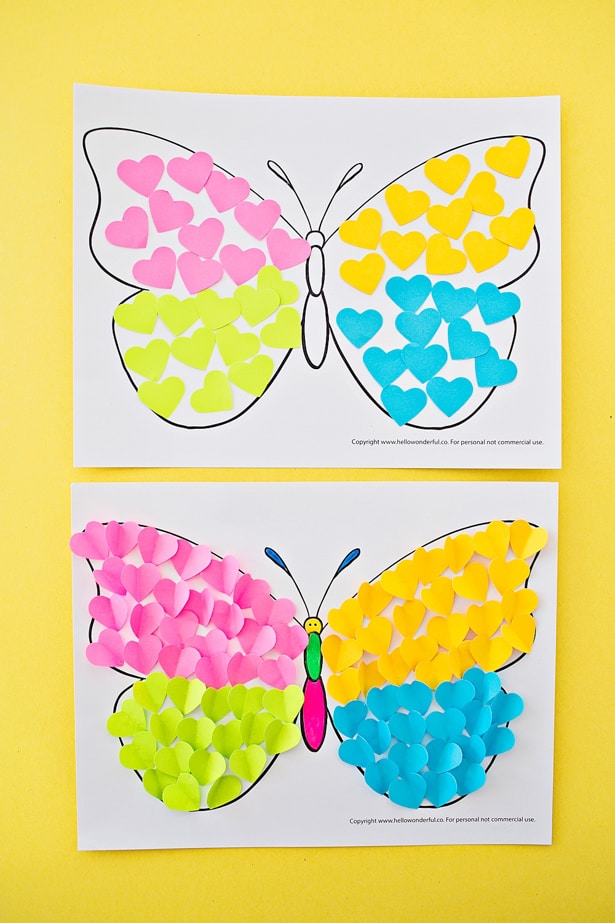 Step 2: Cut out hearts using your heart puncher in various paper colors.
Step 3: Color the butterfly body with markers or crayons.
Step 4. Fold your paper hearts in half. Arrange them as you'd like on your butterfly template.
Step 5. Add a dab of glue to the folded line of each heart and place it on the wings. A low temperature glue gun is a great use for this and fine motor exercise in getting kids to use a glue gun for the first time!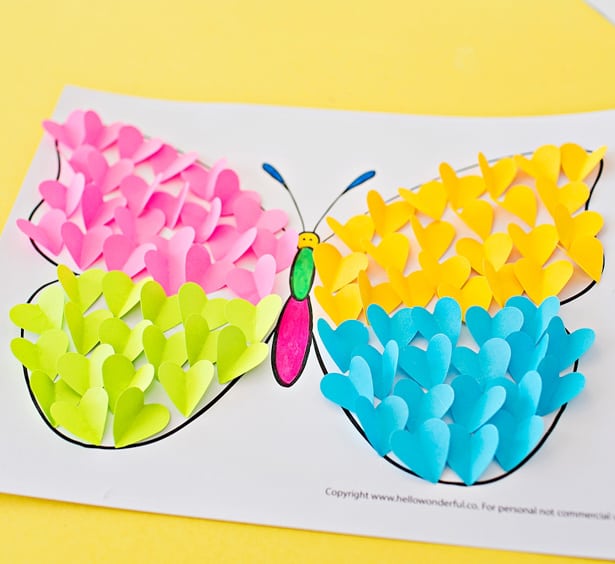 As you can see, we opted for doing different colors on each different section of the butterfly wing, but this is totally optional to what you want to do.
Your child can have a butterfly with all the same color or mix and match as they please.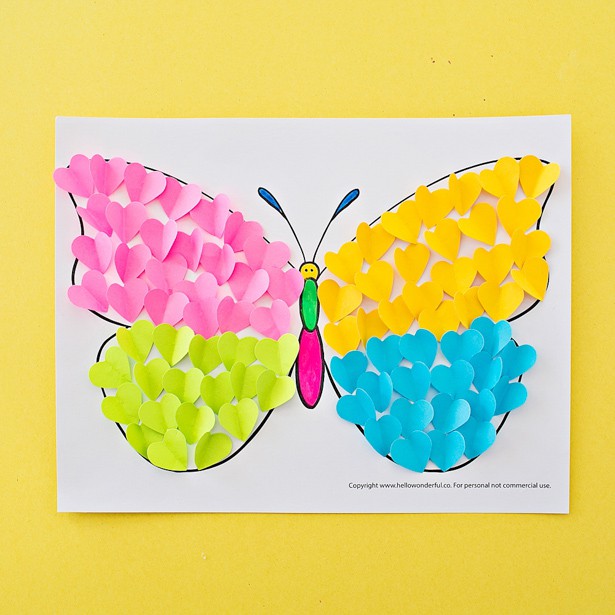 Fun ways to show off your butterfly paper heart craft
If you were to step inside our home, you'd likely see a lot of crafts and activities scattered about. This is because we're always looking for fun ways to showcase and show off the kid's art creations.
A few simple ideas that you can do at home is to put their art up on the fridge for everyone to see.
Another great idea is to add their items to a frame and hang them on the wall. That way, when they create some new, you can just remove the old and put up the new. Simple, right?!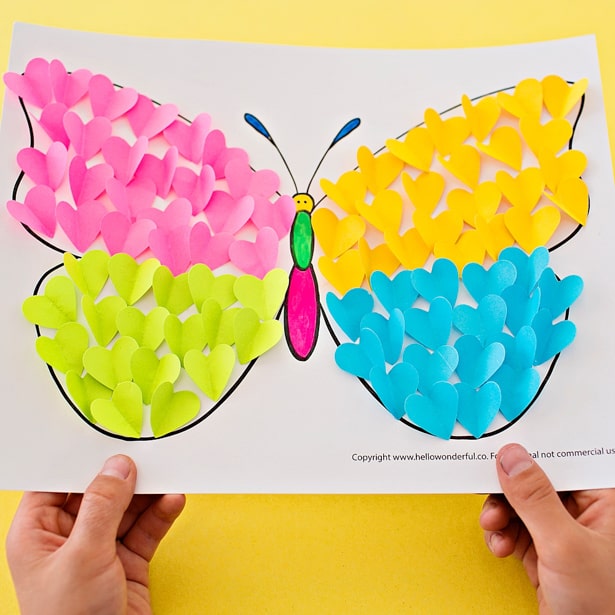 Watch the video below to see the tutorial in action to make this colorful Butterfly Paper Heart Craft!
The Summer season is chock full of great craft inspiration! If you're on the hunt for more summer-themed activities, definitely check out this list of rock crafts – perfect for outside garden play! Cool off with a printable fruit-tastic fan activity. Or try your hand at a summer memory game (printable included)!
---
Disclosure: Some of the links in the post above are "affiliate links." This means if you click on the link and purchase the item, we will receive a small affiliate commission. Regardless, we give our promise that we only recommend products or services we would use personally and believe will add values to our readers.
SaveSave
SaveSaveSaveSave
SaveSave