How to Make a Heart Pop Up Card
Follow us on Instagram for more fun ideas for kids!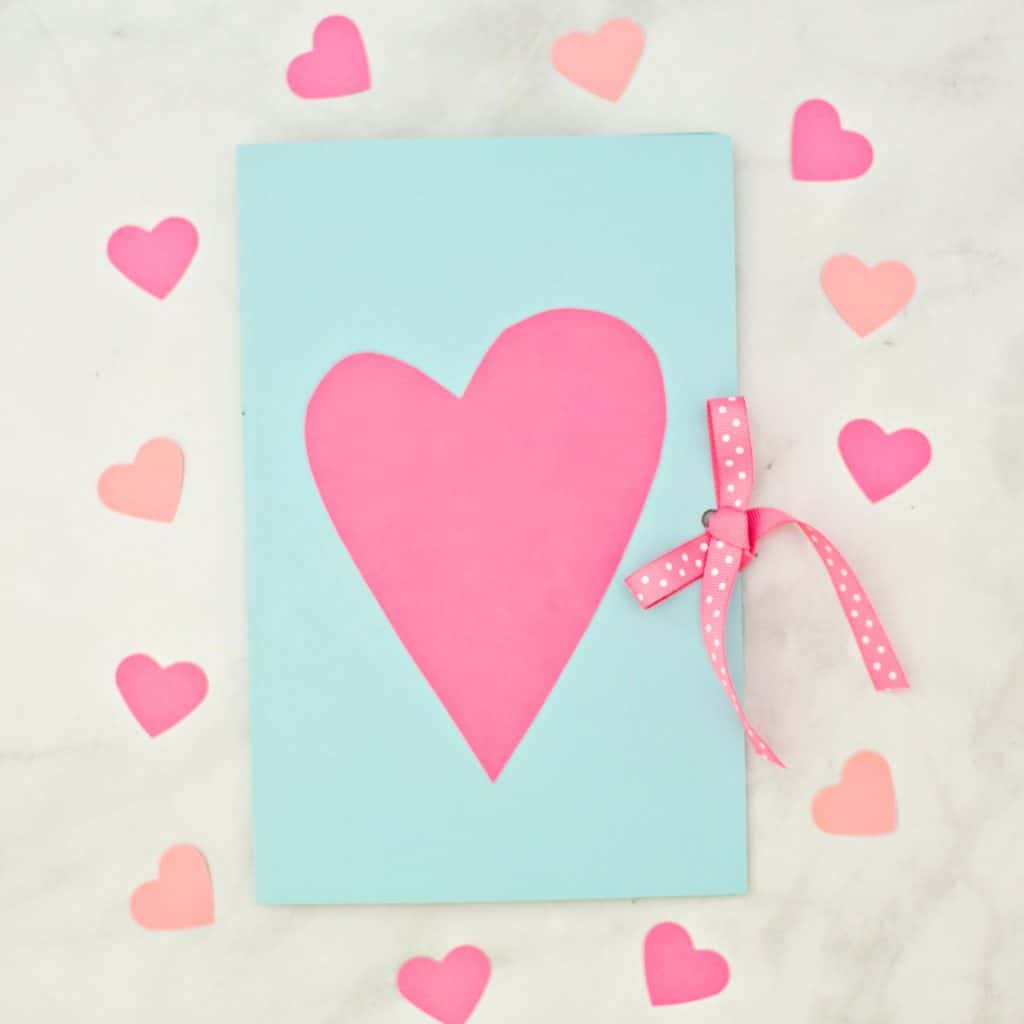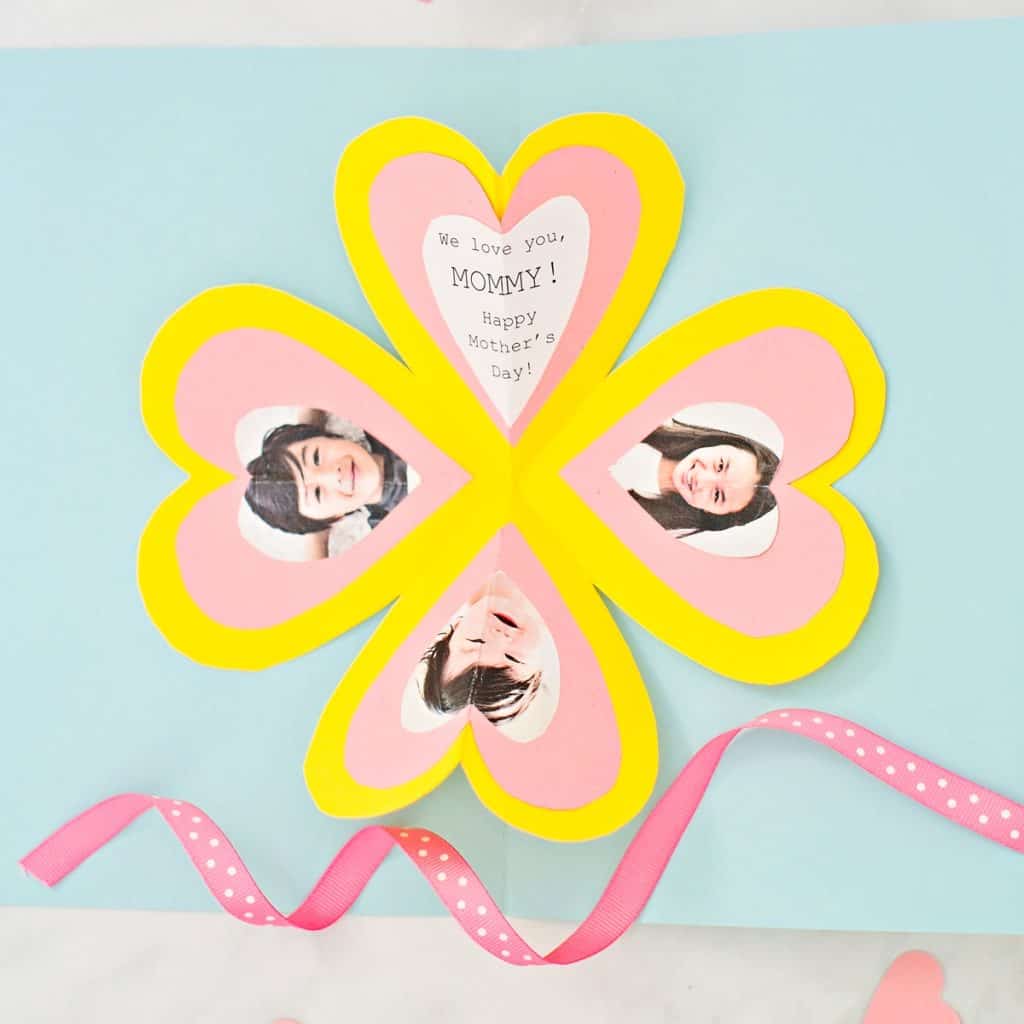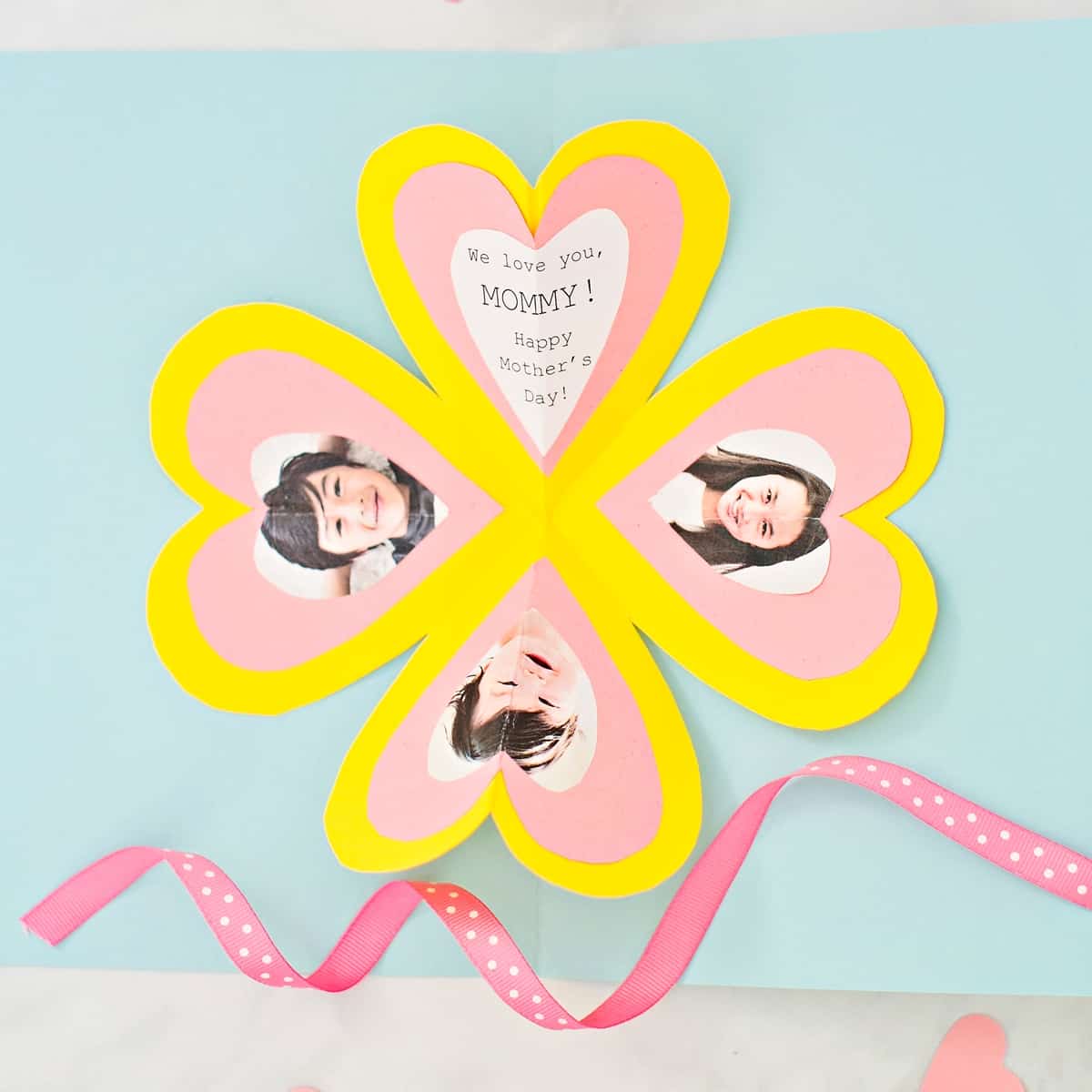 Watch the video on this post to see how easy it is to make this cute photo DIY Heart Pop Up Card for Mother's Day. Make sure to subscribe to our YouTube channel for more fun videos!
Mother's Day is around the corner and mom needs to be showered with love on her special day. What better way to show mom you love her than by crafting up your own handmade Mother's Day card?
This DIY Heart Pop Up card is extra sweet for a couple of reasons other than that it's handmade. It shows off your kids' photos (what mom doesn't like looking at her kids' faces) and you can also insert a sweet note for mom from the kids. We adore photo cards and think they make cute photo ornaments too!
You probably have a lot to thank mom for, so you can make her several cards.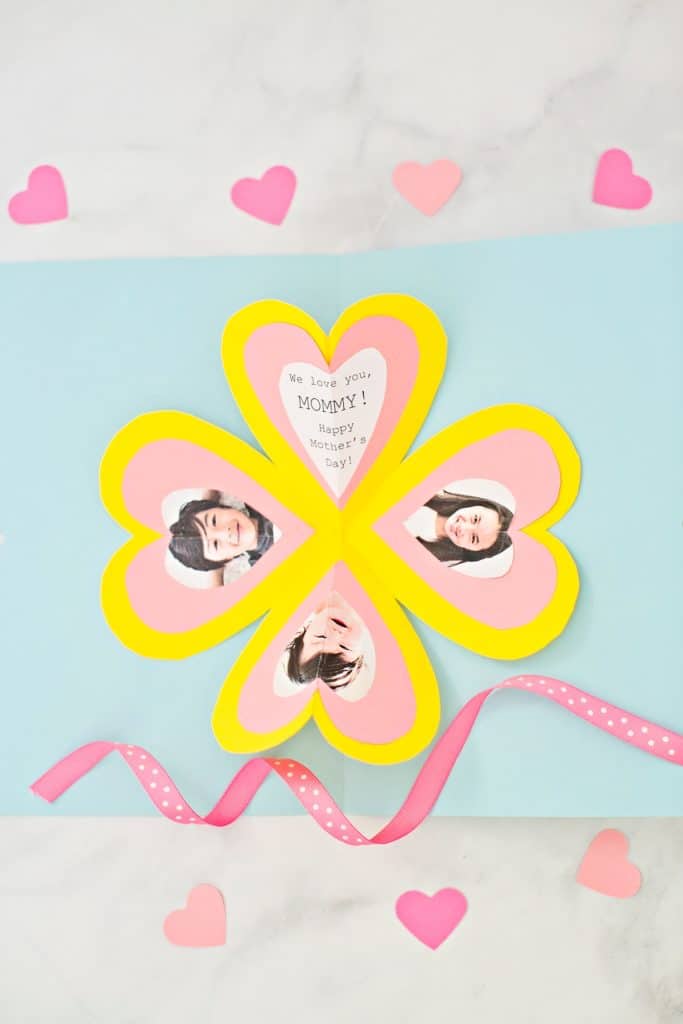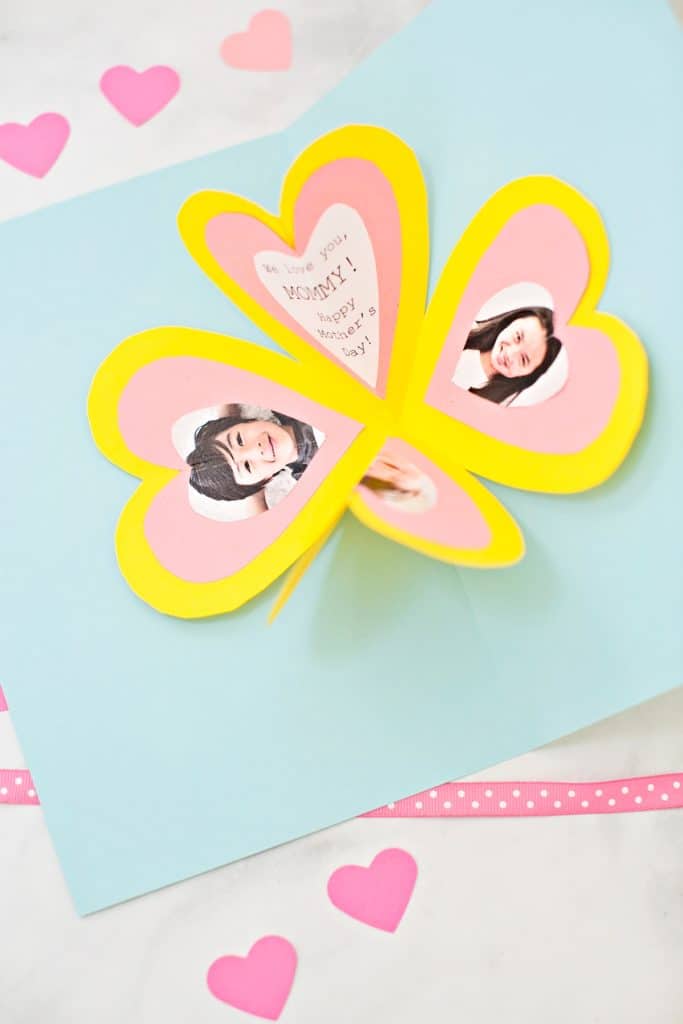 But don't worry, this won't take hours. We got you covered with a FREE PRINTABLE card template. Simply follow the instructions below and make sure to watch the video to see how to fold the card. It's not hard, but so much easier to see how it's done visually.
Note, you can make the card any color combination you want – you just need the card template to trace onto colored paper. The thinner the better. Thick cardstock won't fold and pop up easily.
You'll also want to do the same on the photo faces, just take your favorite photo and size down, and print on regular white copy paper.
Follow all the instructions below: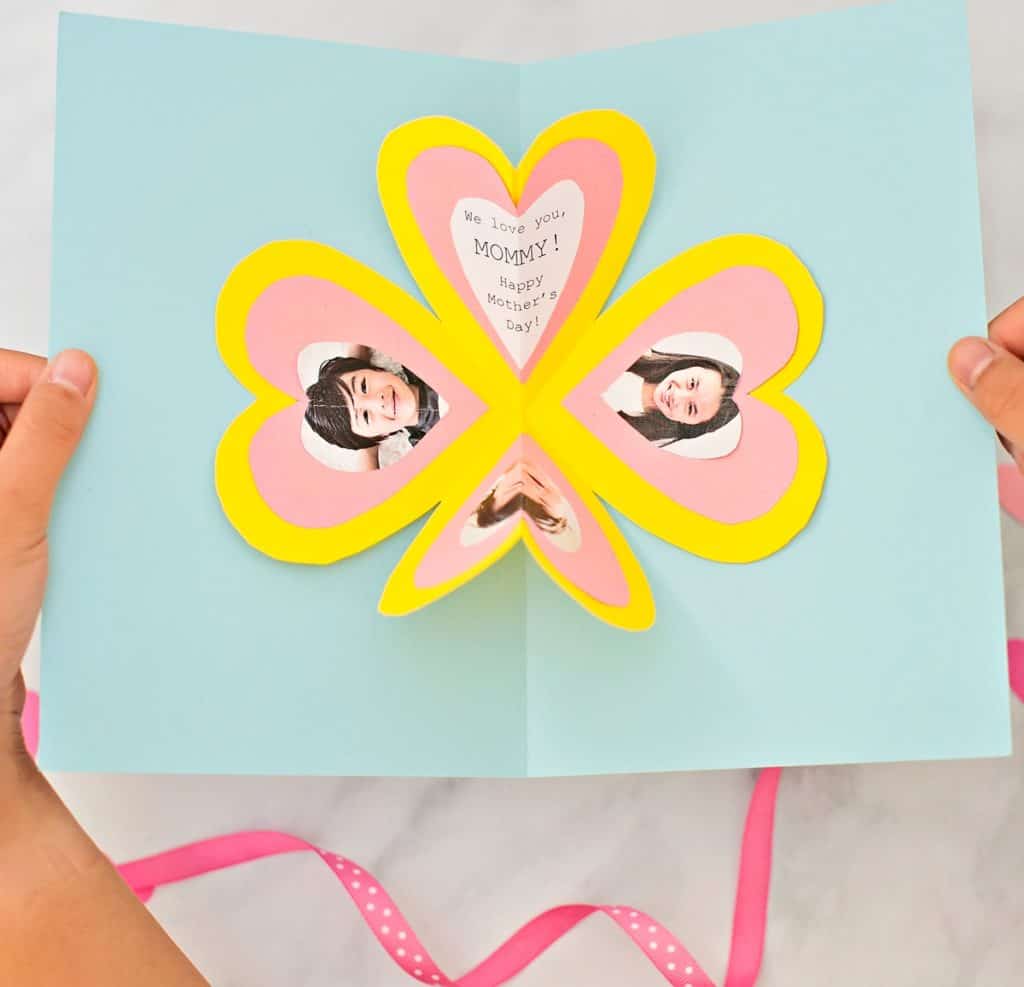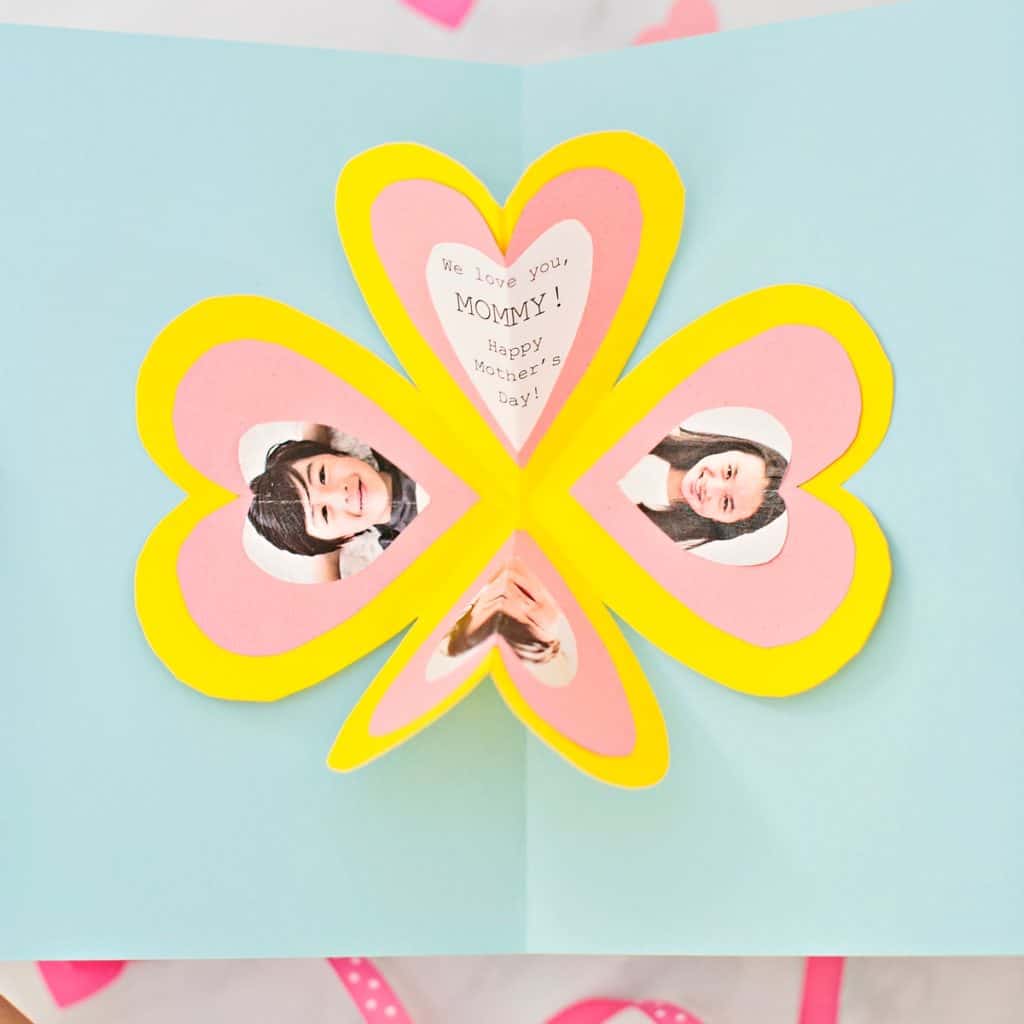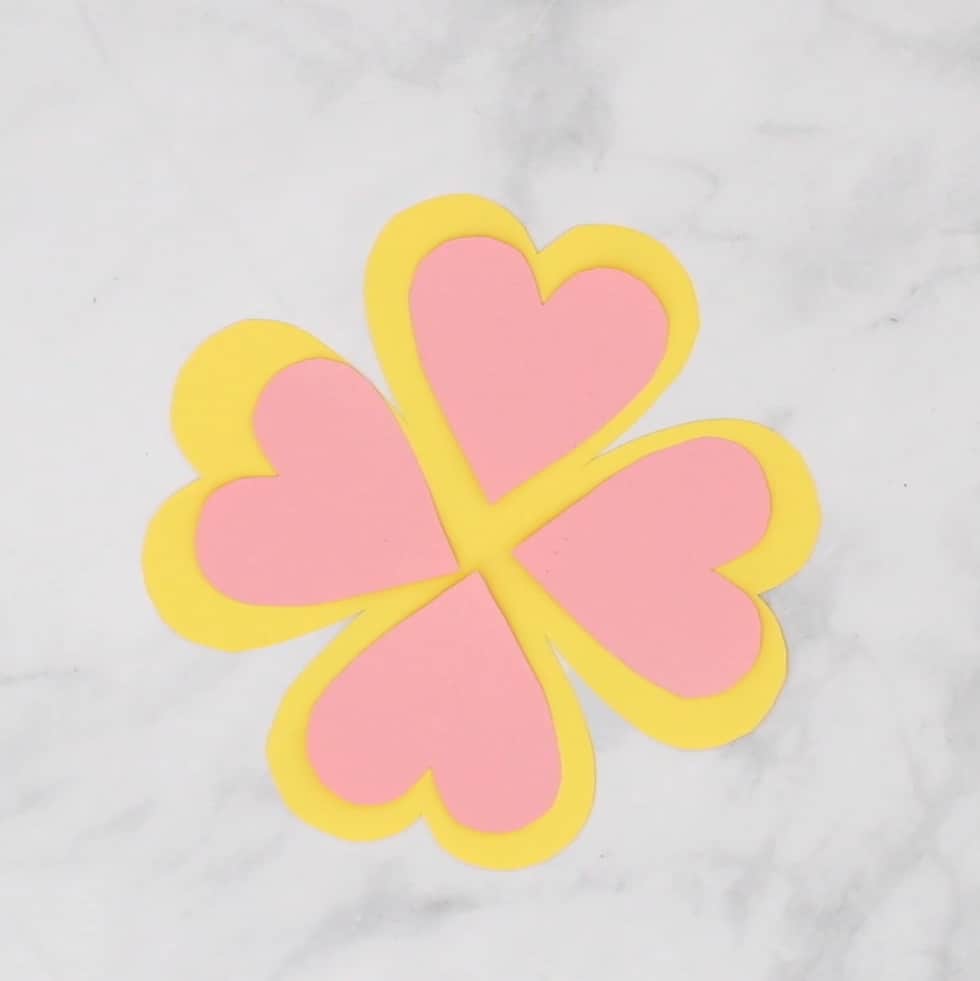 DIY HEART POP UP CARD – MATERIALS:
Colored paper (construction paper is fine, the thinner the better)
Glue stick
Scissors
Ribbon
Hole Puncher
Photo print out from regular printer paper of kids' faces, sized no larger than 2 inches across
HOW TO MAKE A HEART POP UP CARD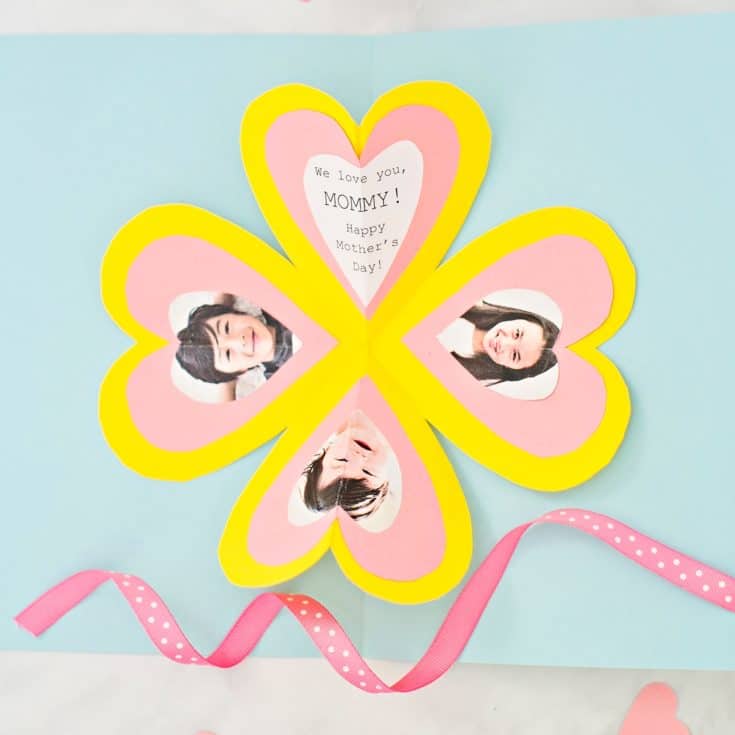 How to make a heart pop up card. Cute handmade card for Mother's Day. Personalize with photos or a special message or note from the kids.

Prep Time 20 minutes

Total Time 20 minutes
Materials
Scissors
Photo print out from regular printer paper of kids' faces, sized no larger than 2 inches across
Instructions
Step 1. Print out the template, there are two pages. The bottom hearts and top hearts.

Step 2. Trace onto your colored paper choice and cut out.

Step 3. Glue the individual 4 hearts to the heart template that is joined.

Step 4. Print out your kids' photos. Cut around for them to fit onto the heart shape and glue on.

Step 5. You can leave as many hearts blank to write a message. We simply typed one and printed it out and cut around it. Then we glued it to the heart.

Step 6. To fold the heart template, watch the video for this part. It's much easier to see the folding visually. The video is on our post, but basically you will need to fold the template in all directions and reverse side as well. It should fold to make one folded heart you can pop out.

Step 6. Fold a piece of colored paper (8.5 x 11") in half, then glue your heart template to it. It should pop open.

Step 7. Optional, decorate the front of the card, hole punch and add a ribbon to open the card up.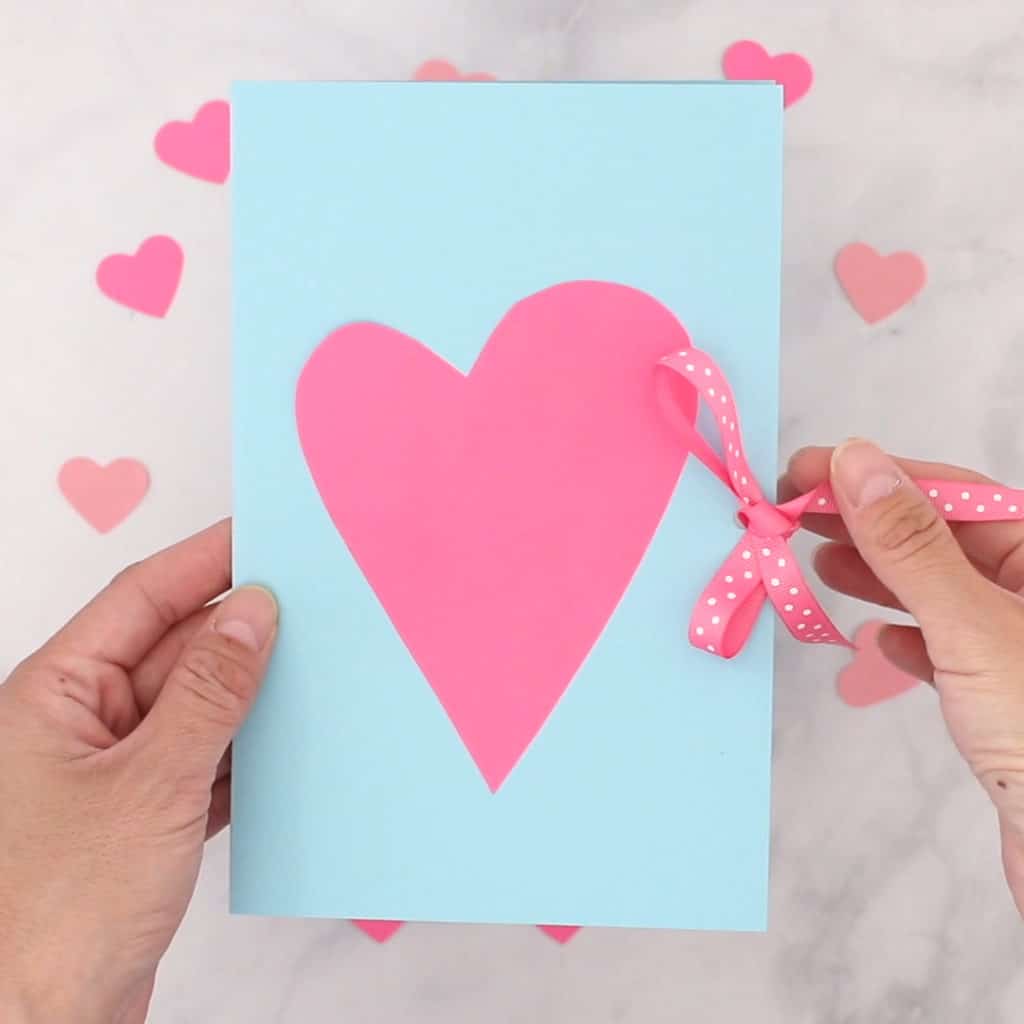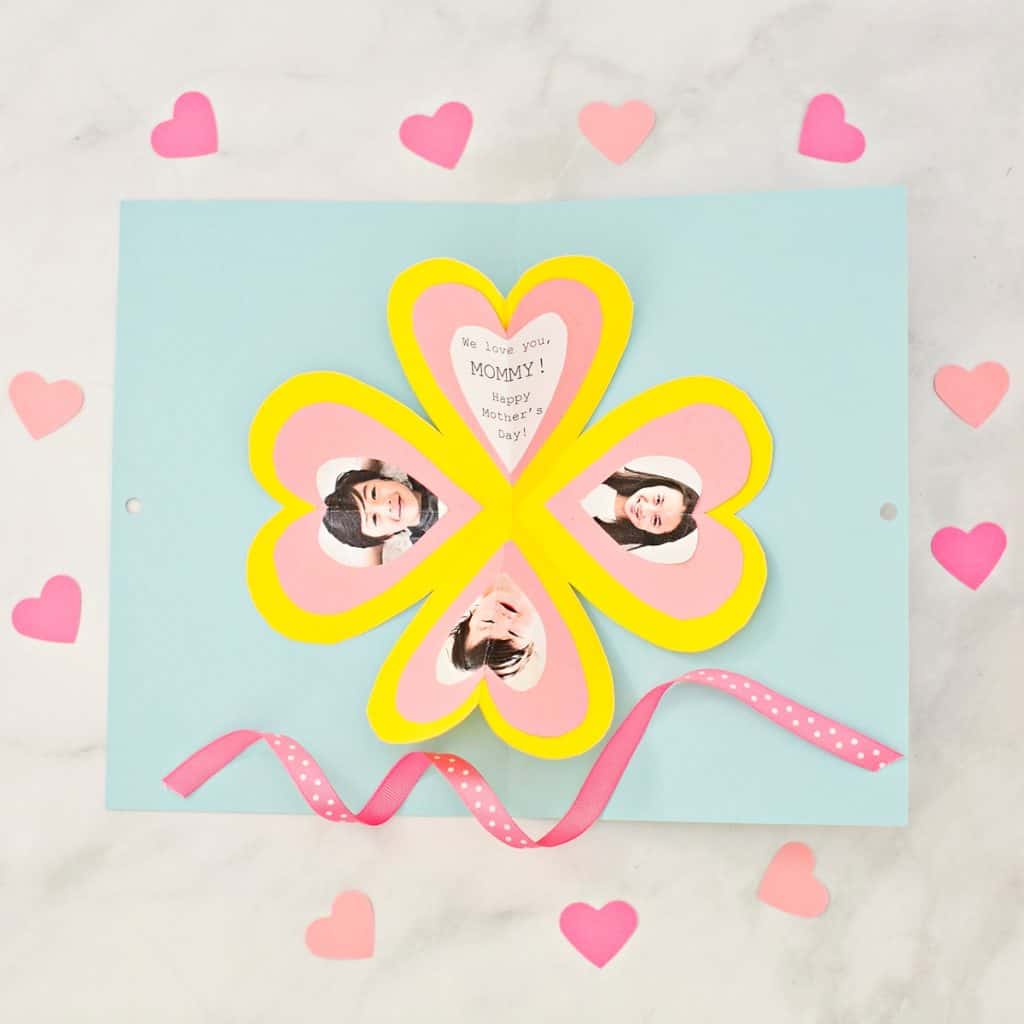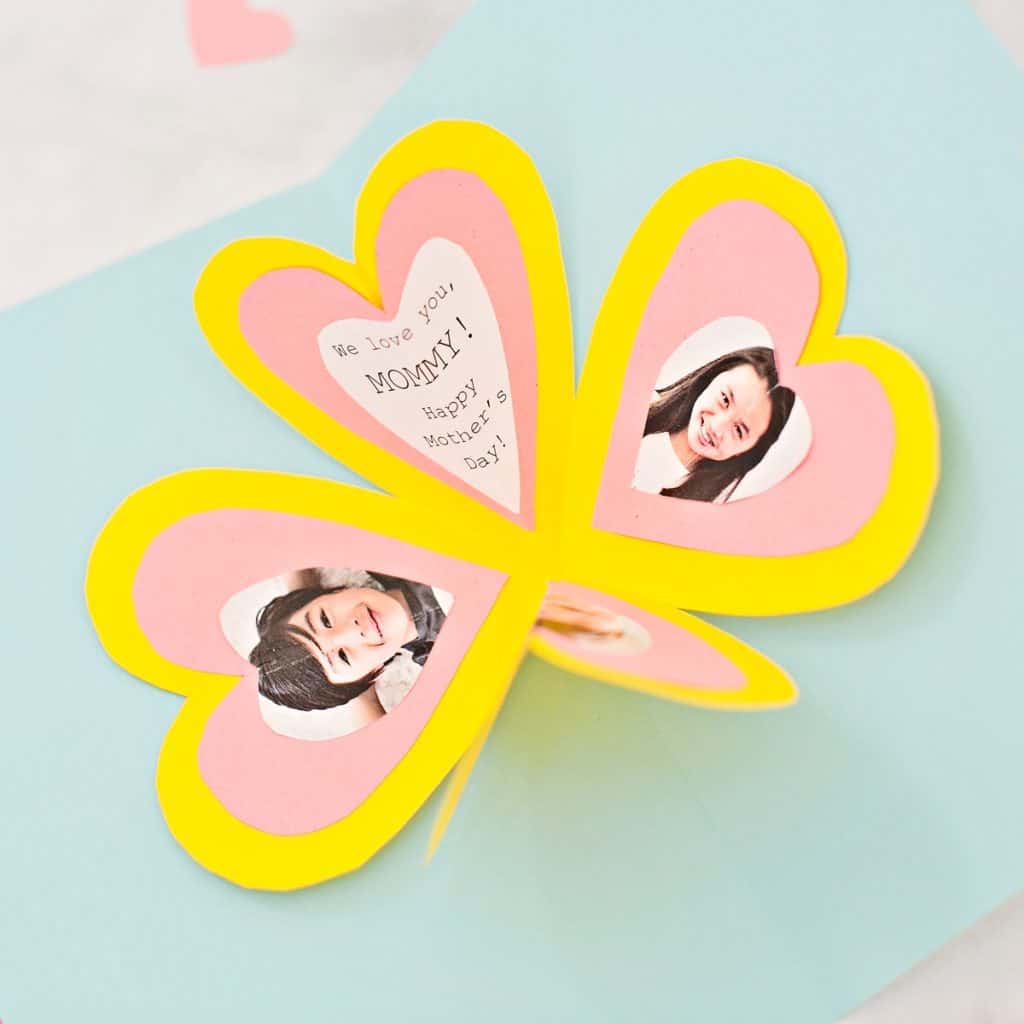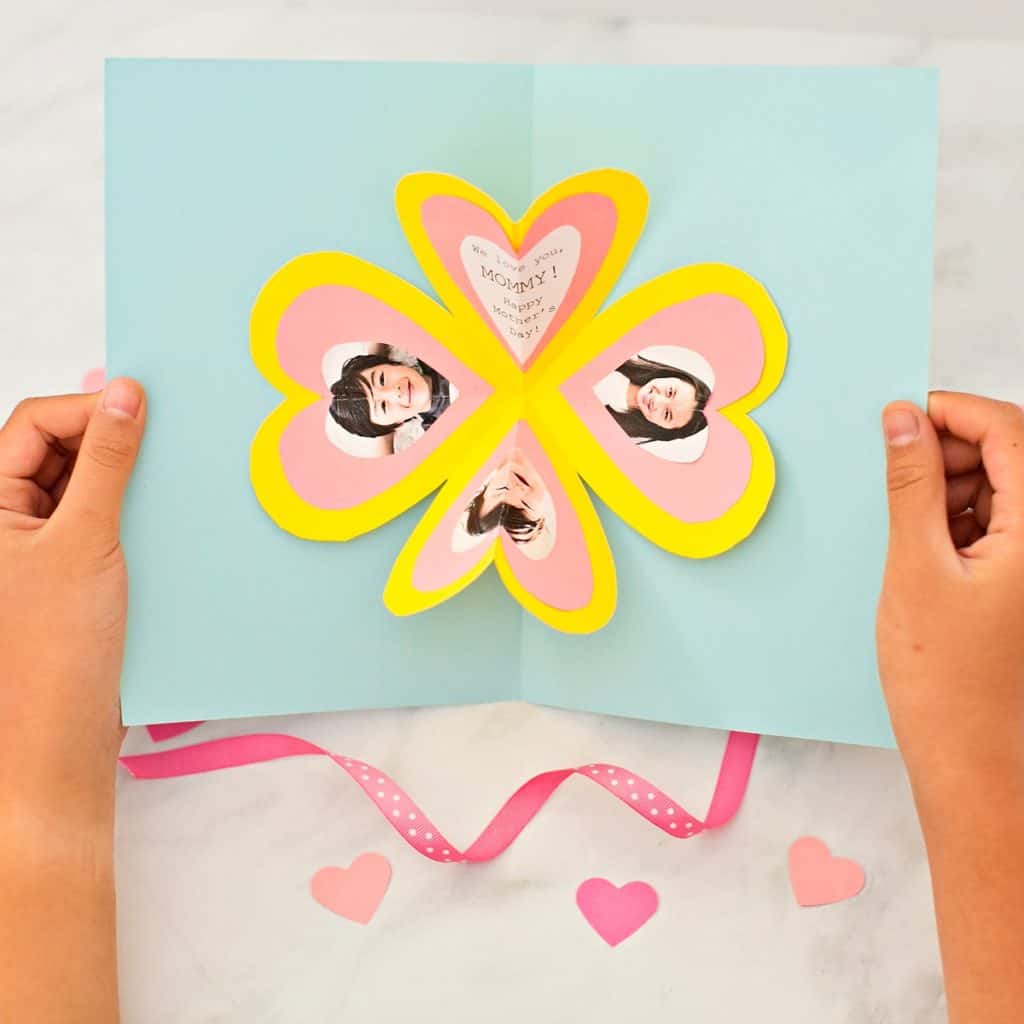 ______________________________________________________________________________________________________
Disclosure: Some of the links in the post above are "affiliate links." This means if you click on the link and purchase the item, we will receive a small affiliate commission. Regardless, we give our promise that we only recommend products or services we would use personally and believe will add values to our readers.