This post is sponsored by Disney Book Group. As always, all thoughts and opinions are my own. Thank you for helping me support the brands that I love.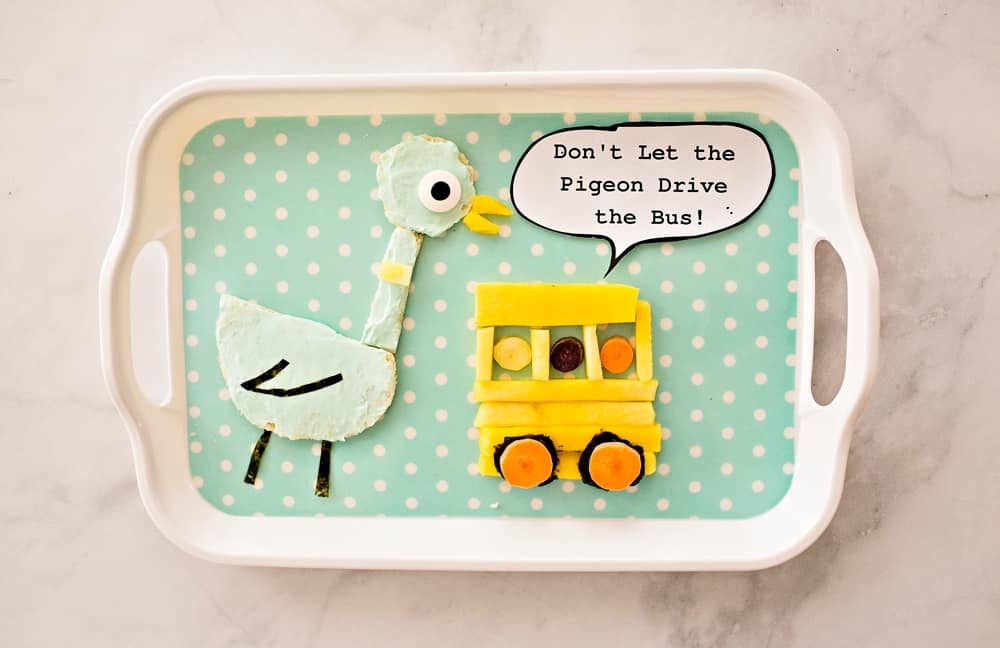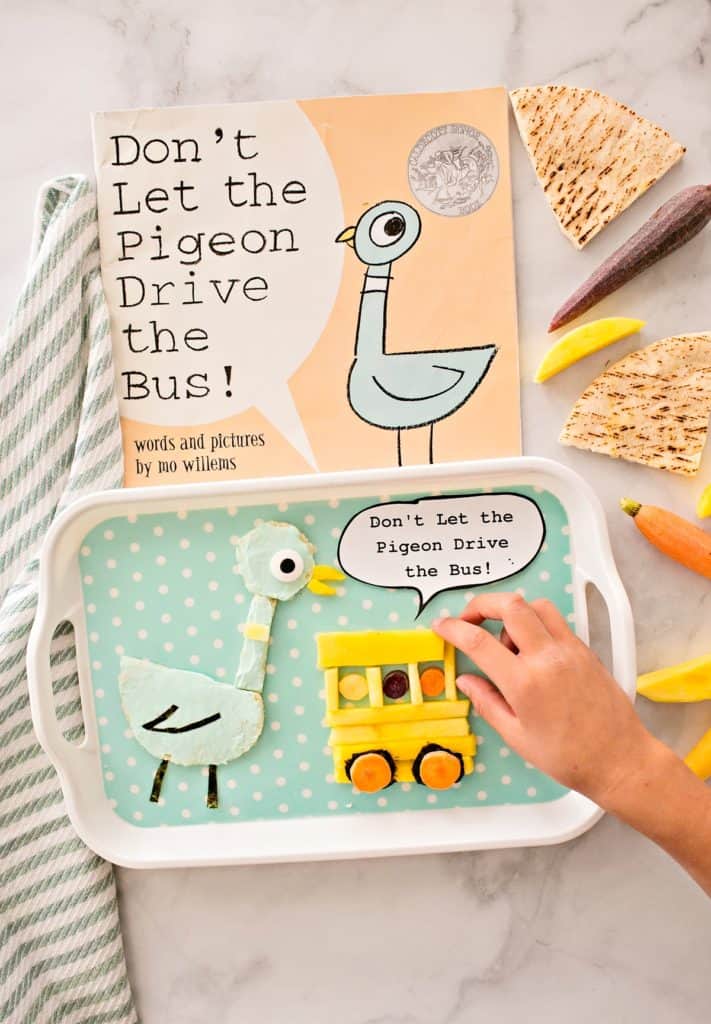 Everyone needs to be celebrated on their birthday. And that includes Mo Willems' Pigeon! We're celebrating the Pigeon book series' 16th BIRD-day! At our house, Mo Willems is one of our favorite authors! We LOVE him and the addictive Pigeon series. To honor these much-adored books, we are celebrating by eating Pigeon!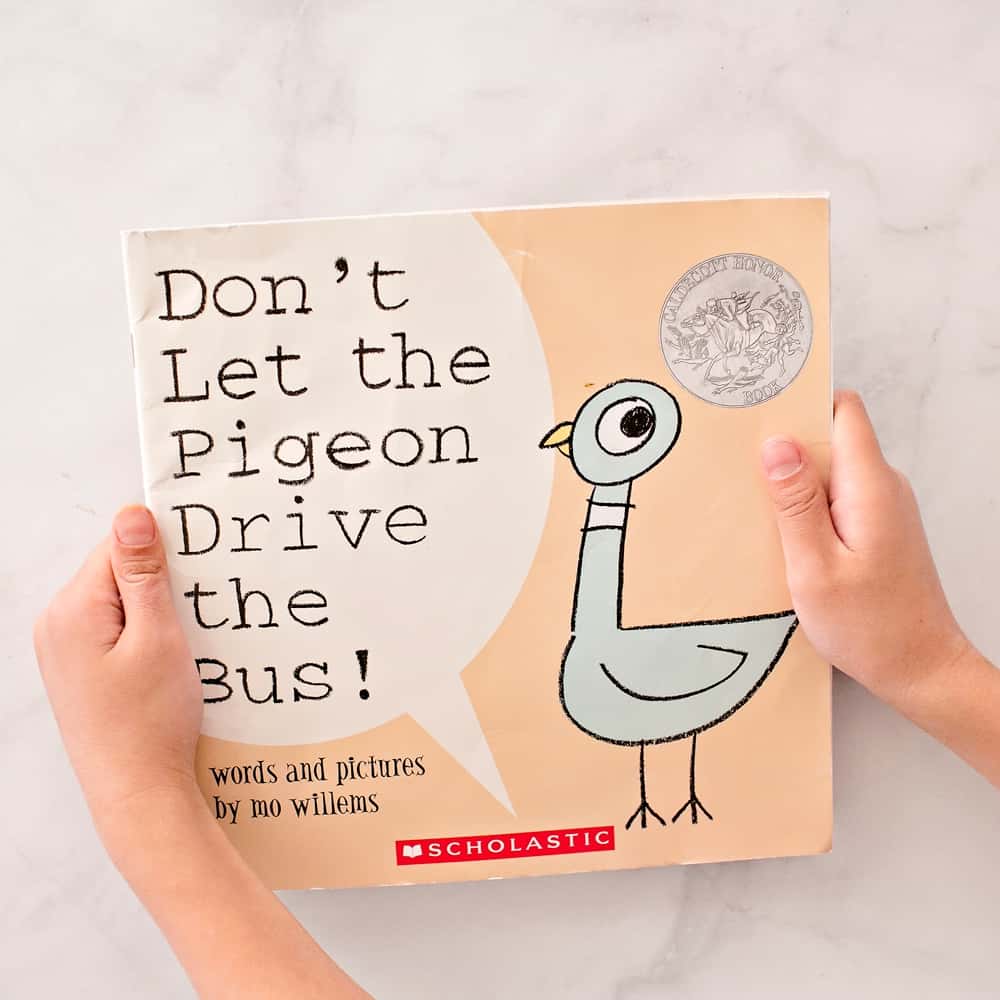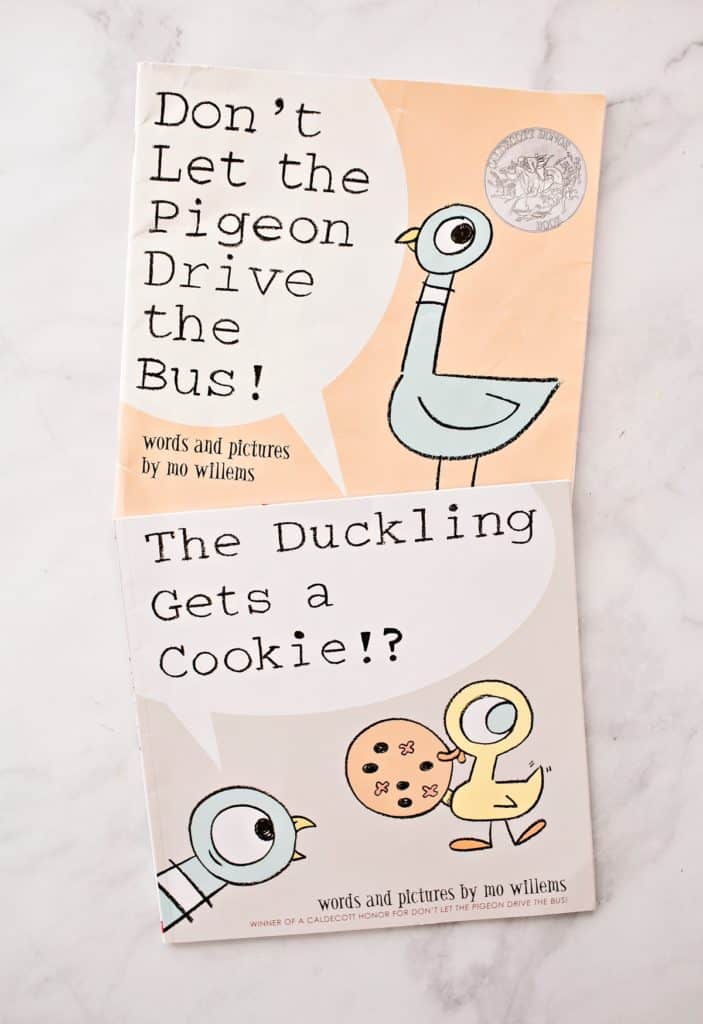 WHAT?
Yes, yes, I know it sounds crazy, but what a better way to honor this silly and beloved bird than by creating a lunch inspired by him?
Oh wait?
You thought we were ACTUALLY eating him??
Oh my, no!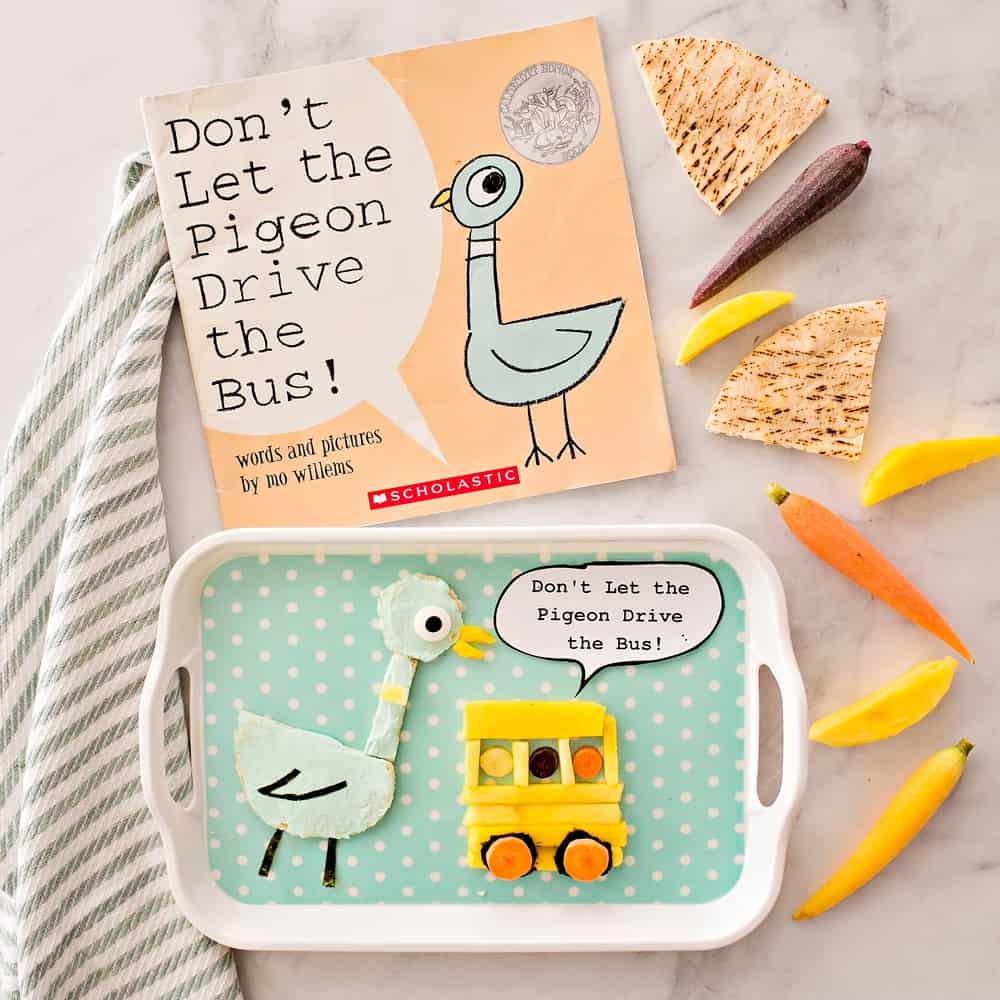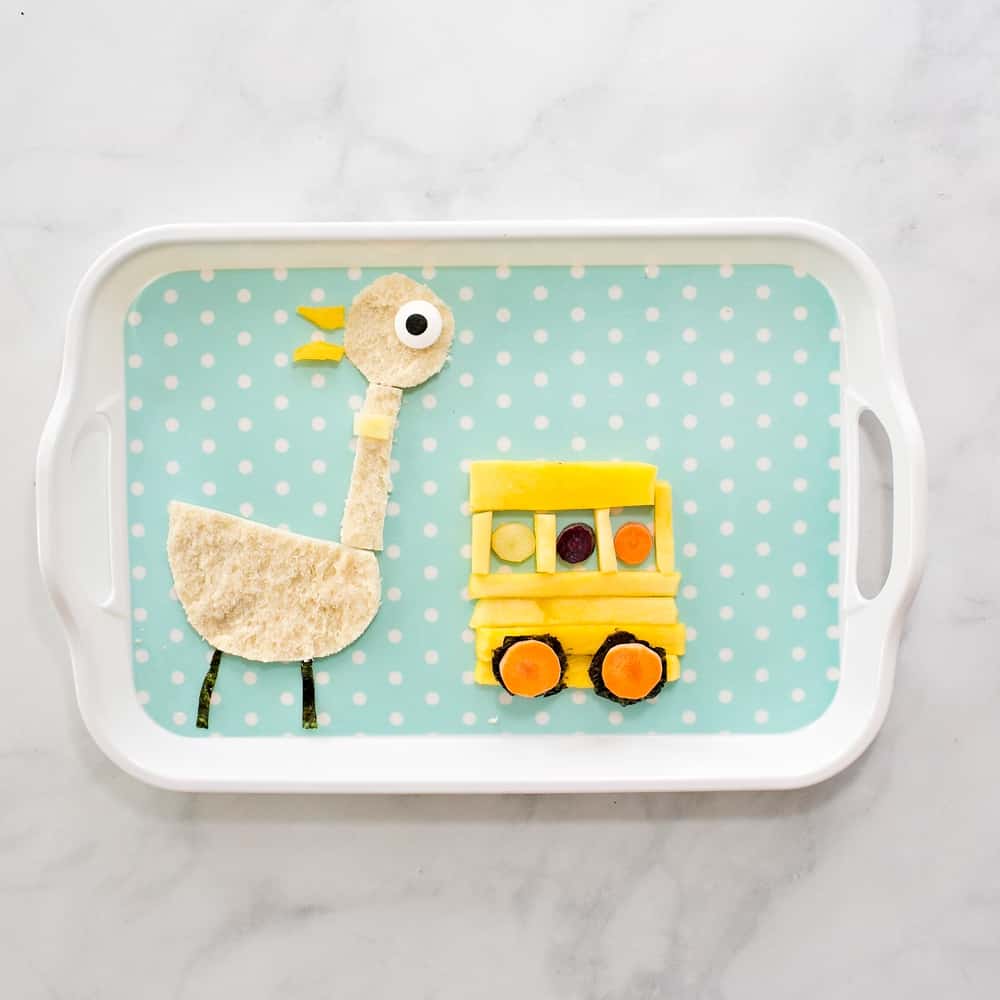 Let me show you, it's easiest that way!
We'll not only show you how to make Pigeon, but also an adorable mango school bus to go along with our favorite book in the series, Don't Let the Pigeon Drive the Bus!

Pigeon Book Lunch Craft – Ingredients:
For Pigeon Toast
-pita bread
-cream cheese
– blue food coloring
– googley eye
– two tiny scraps of mango fruit (for beak)
– Seaweed strips for legs and wing details
For Mango Bus
– Mango strips (4 skinny strips for the bottom, a thicker rectangle for the top) and 4 small strips for the windows)
– Multi-colored carrots
– Seaweed
Optional: Grab our free printable Don't Let the Pigeon Drive the Bus! speech bubble which is a cute way to round out the Pigeon lunch book theme!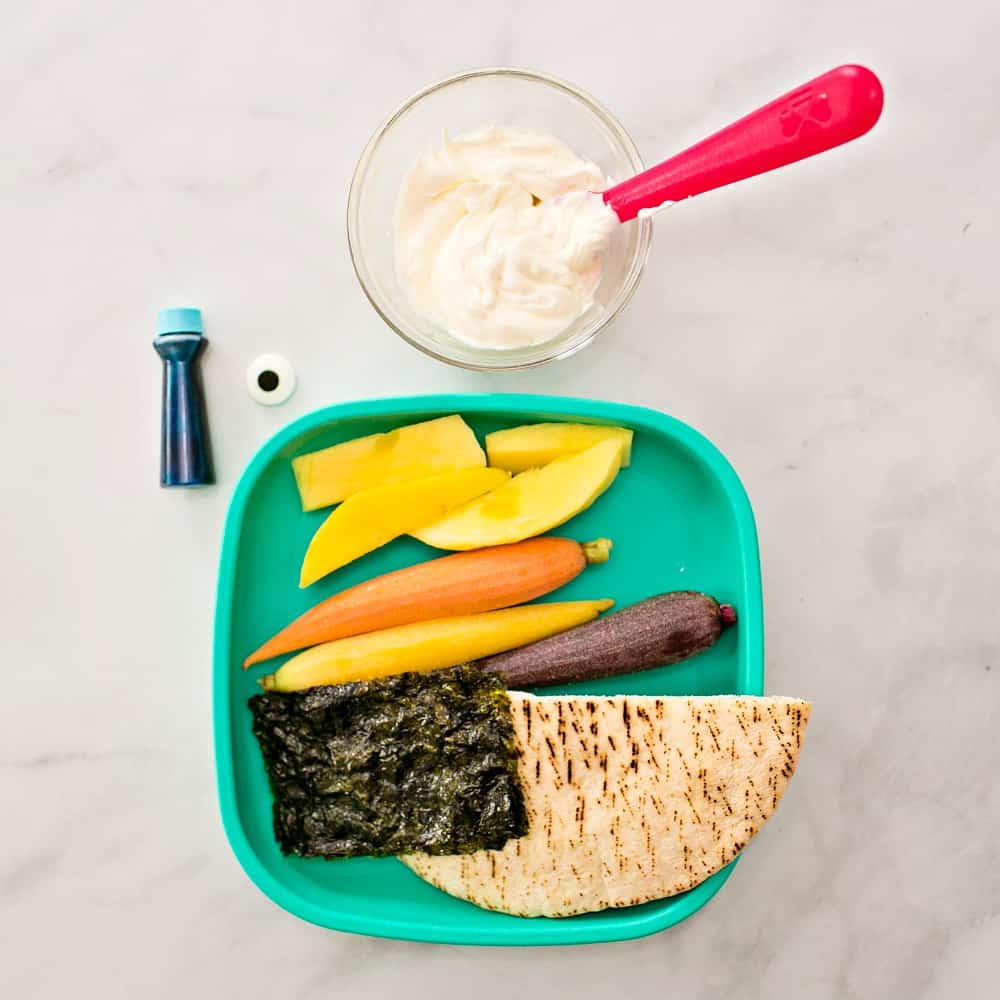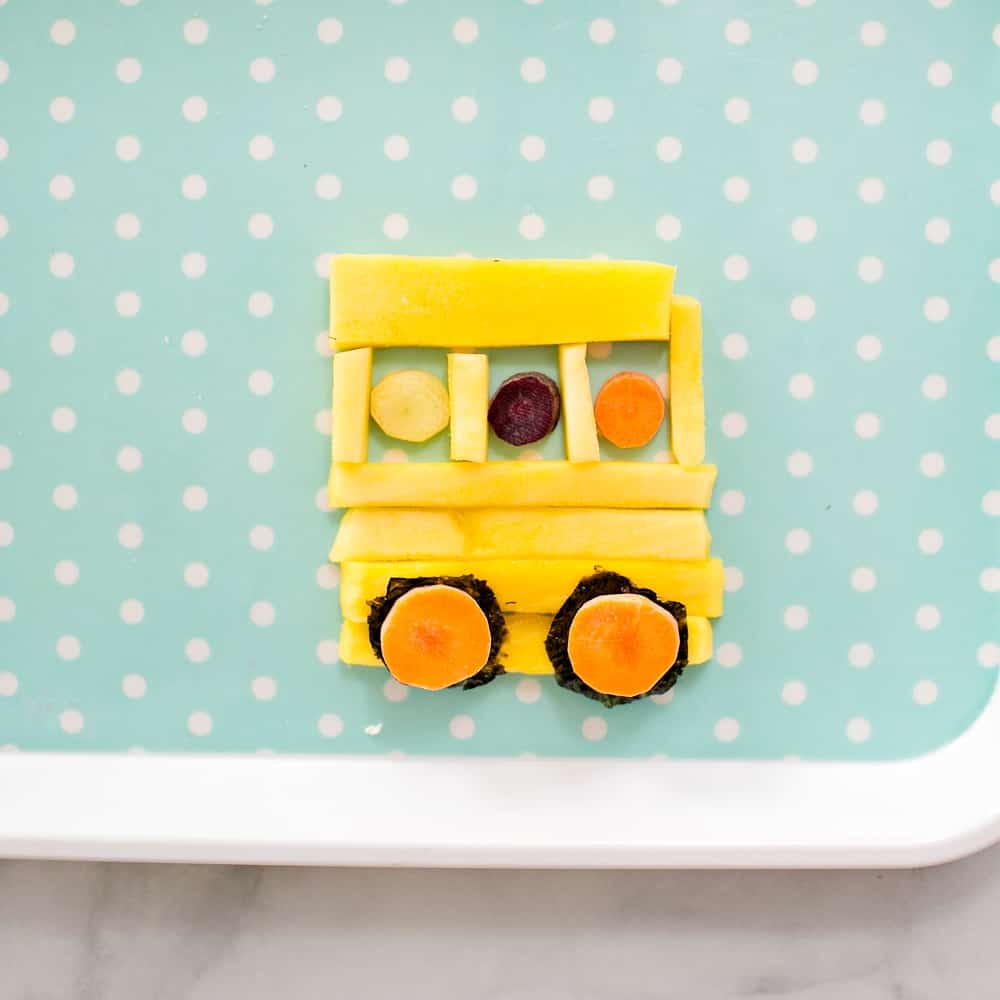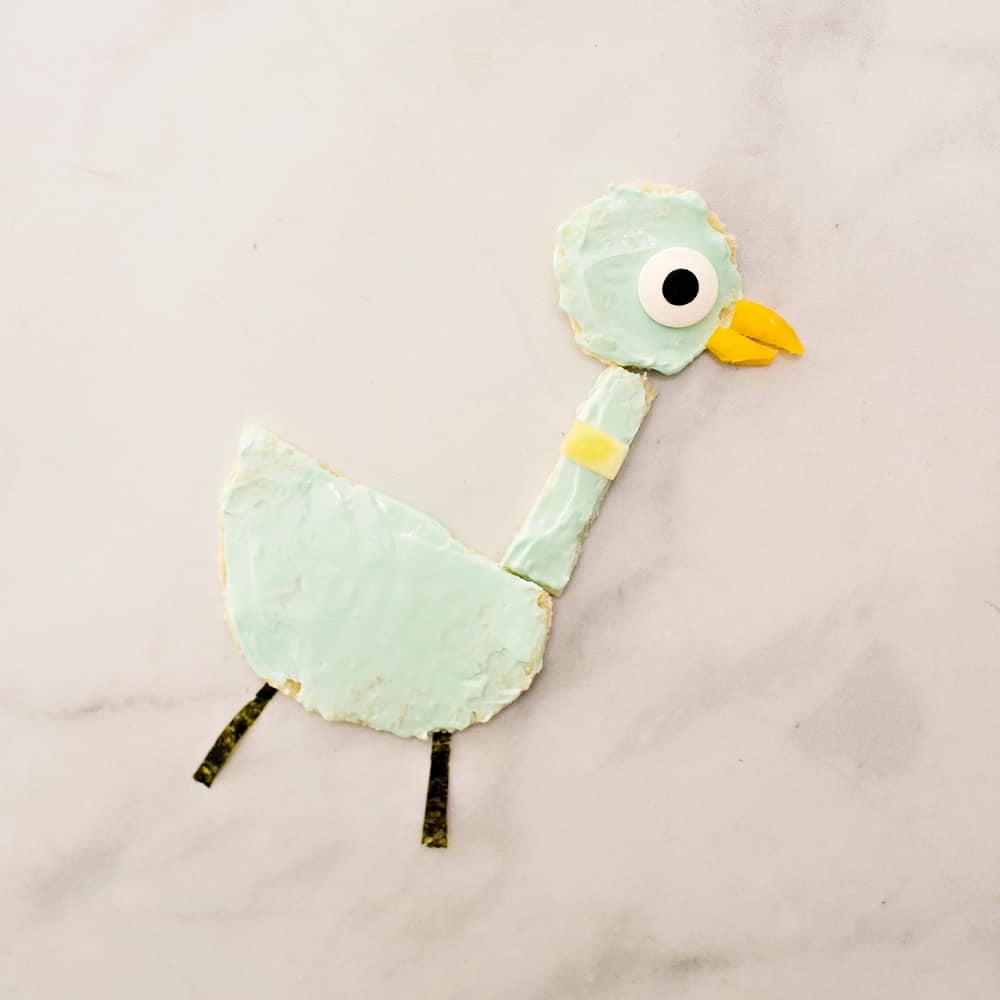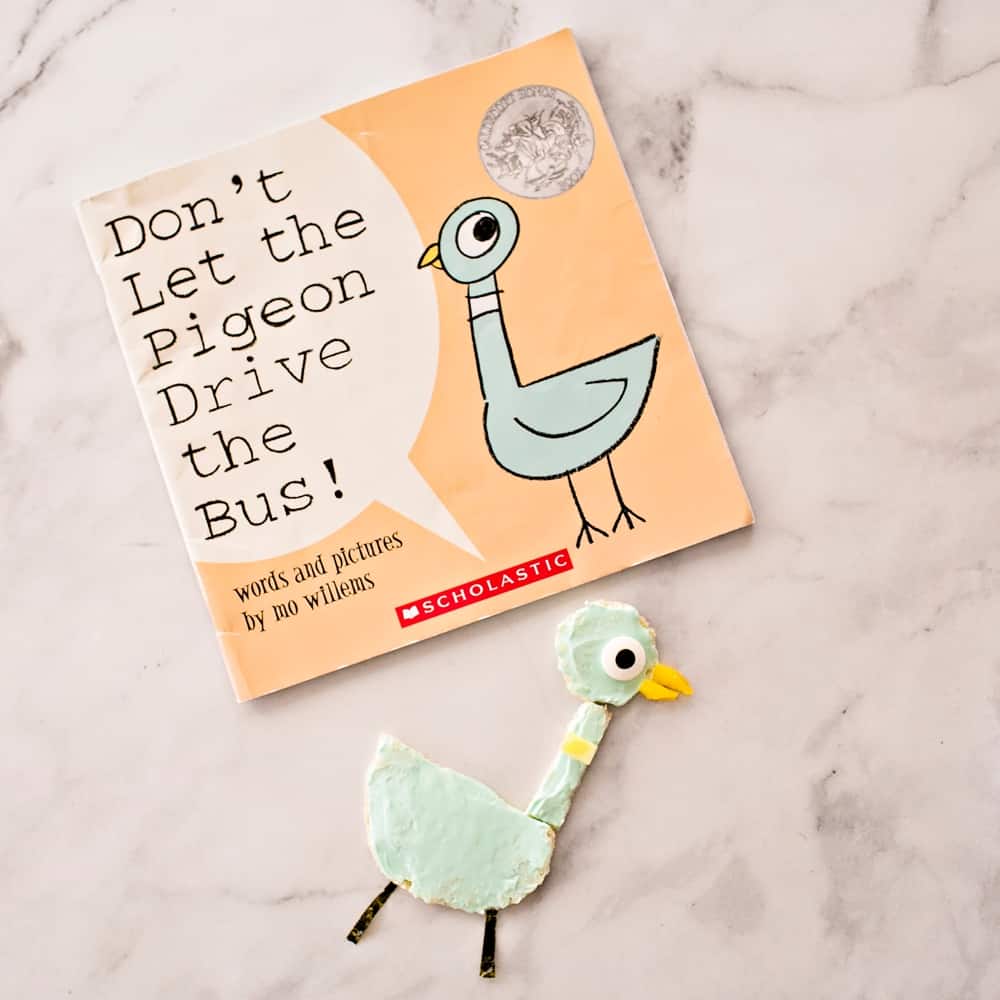 Instructions:
To make Pigeon:
1. Cut a half circle out of pita bread, a long skinny rectangle for the neck and small circle for the head.
2. Tint your cream cheese a light blue with your food coloring and spread onto your bread.
3. Cut two strips of seaweed for legs.
4. Add your googly eye on the head.
5. Cut two tiny strips out of mango for the beak and a tiny rectangle for the neck detail, add on top of the cream cheese.
To make the mango bus:
6. Line your 4 strips of mango on top of each other.
7. At the top add your shorter mango strips to create windows. Then add the thicker mango rectangle on top.
8. Cut two orange carrot slices for wheels.
9. Cut two larger pieces of round seaweed and add your carrot wheels on top.
10. Cut tiny circles from the multi-colored carrots to represent people on the bus.
Once the scene is a masterpiece on the plate, you can arrange your favorite Mo Willems books around lunch and eat and read together with your kids! Here's our free printable speech bubble if you want to add some extra Pigeon fun.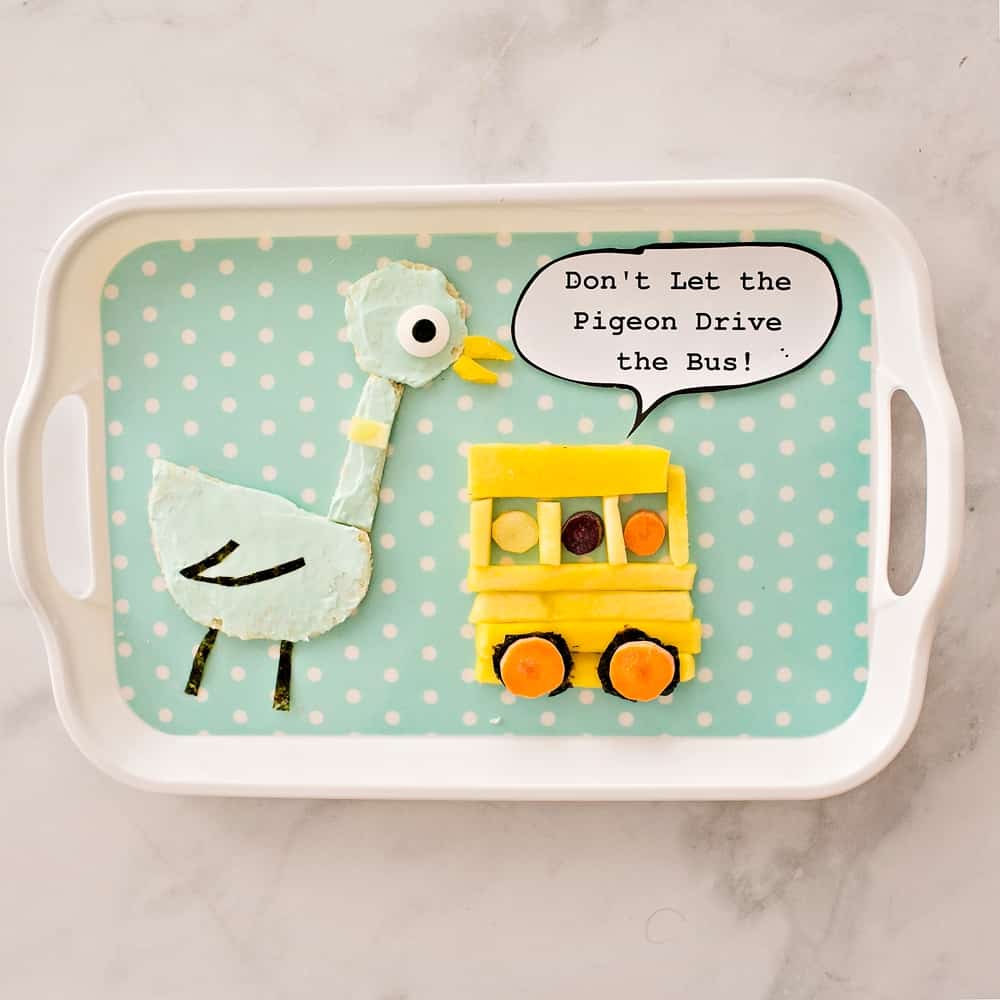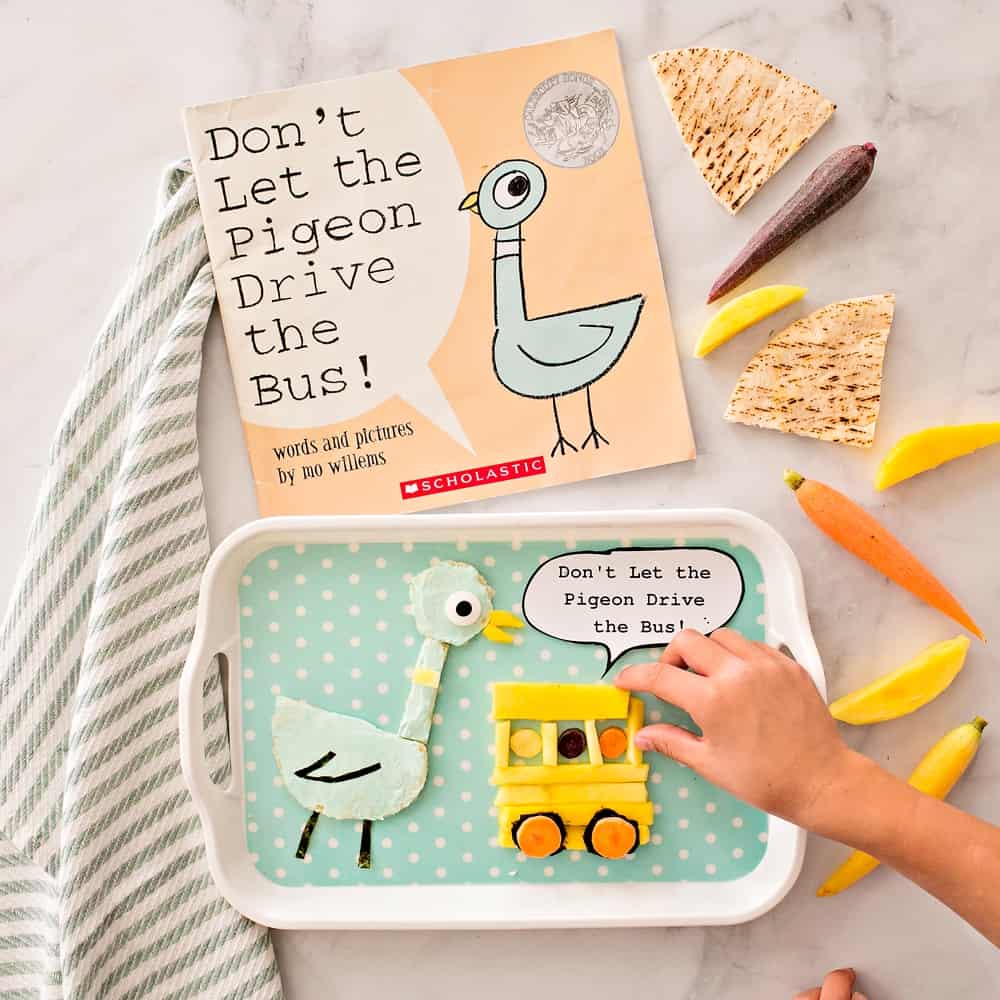 How fun is this? The kids love it. The parents love it. Tasty & a fun family activity. Is there a better way to honor Pigeon? I think not. And with summer break around the corner, I don't know a better way to celebrate than to pre-order the BRAND NEW, upcoming Pigeon book in stores June 2, The Pigeon Has to Go to School.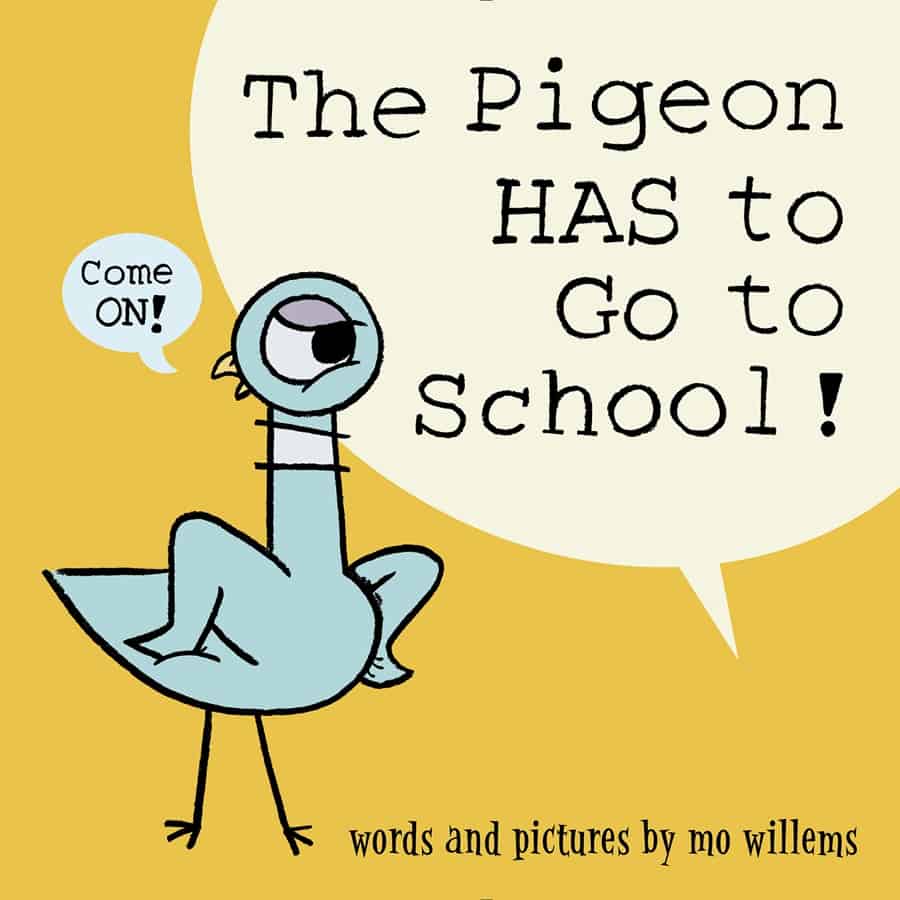 ---
Disclosure: Some of the links in the post above are "affiliate links." This means if you click on the link and purchase the item, we will receive a small affiliate commission. Regardless, we give our promise that we only recommend products or services we would use personally and believe will add values to our readers.