Giant DIY Paper Hyacinth Flower Bouquet
Follow us on Instagram for more fun ideas for kids!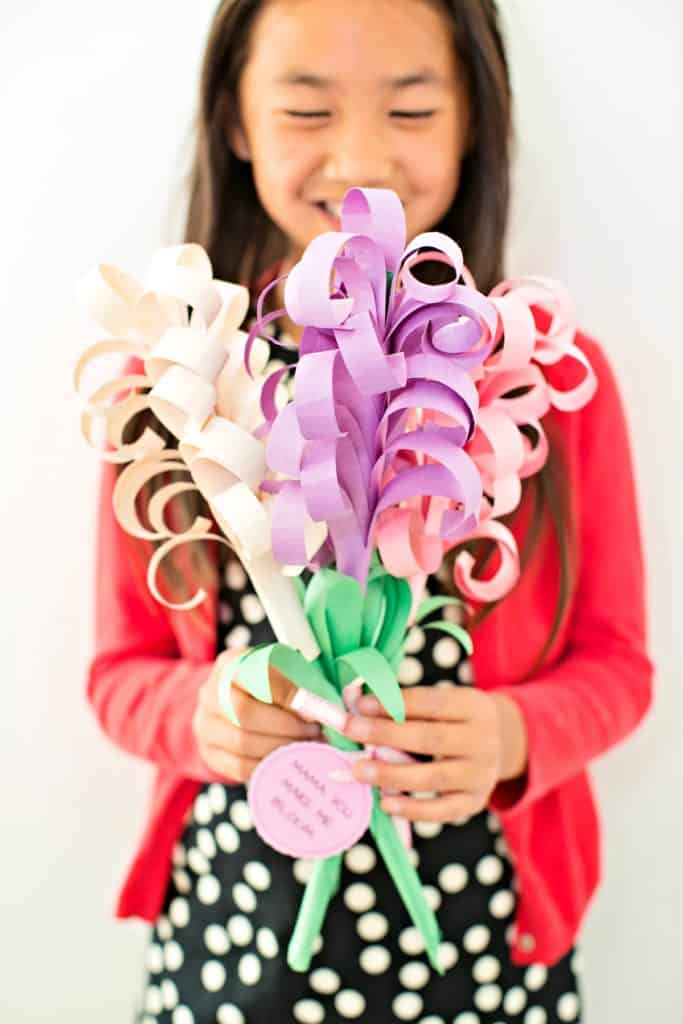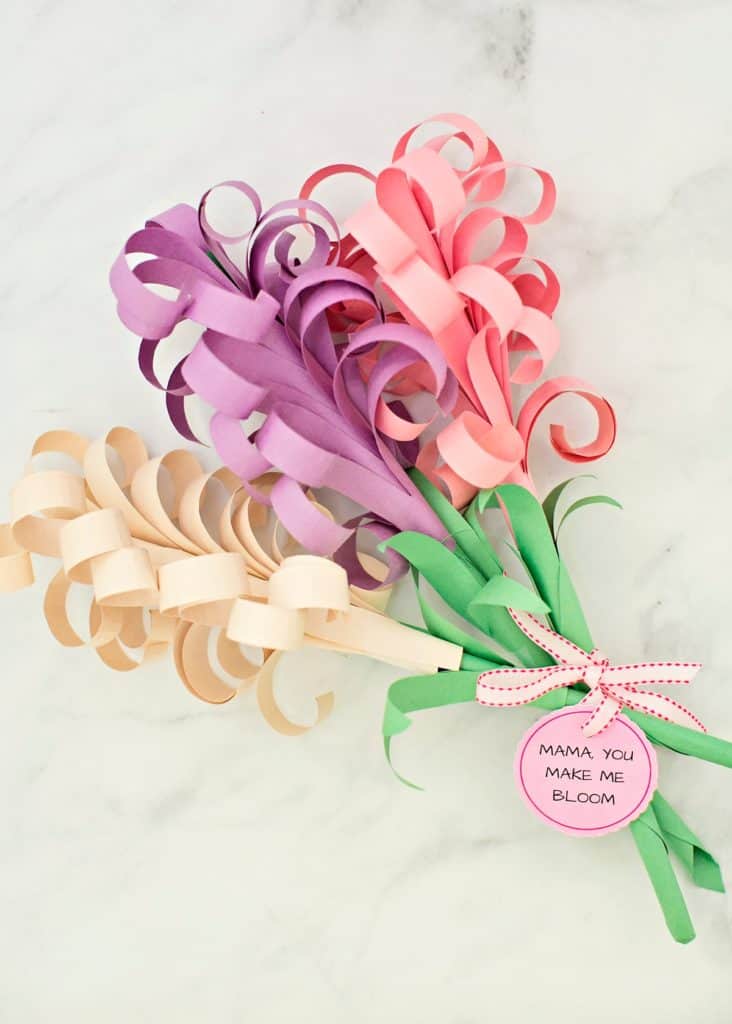 Scroll all the way down to watch the video below to see how easy it is to make this Giant DIY Paper Hyacinth Flower Bouquet. Make sure to subscribe to our YouTube channel for more fun videos!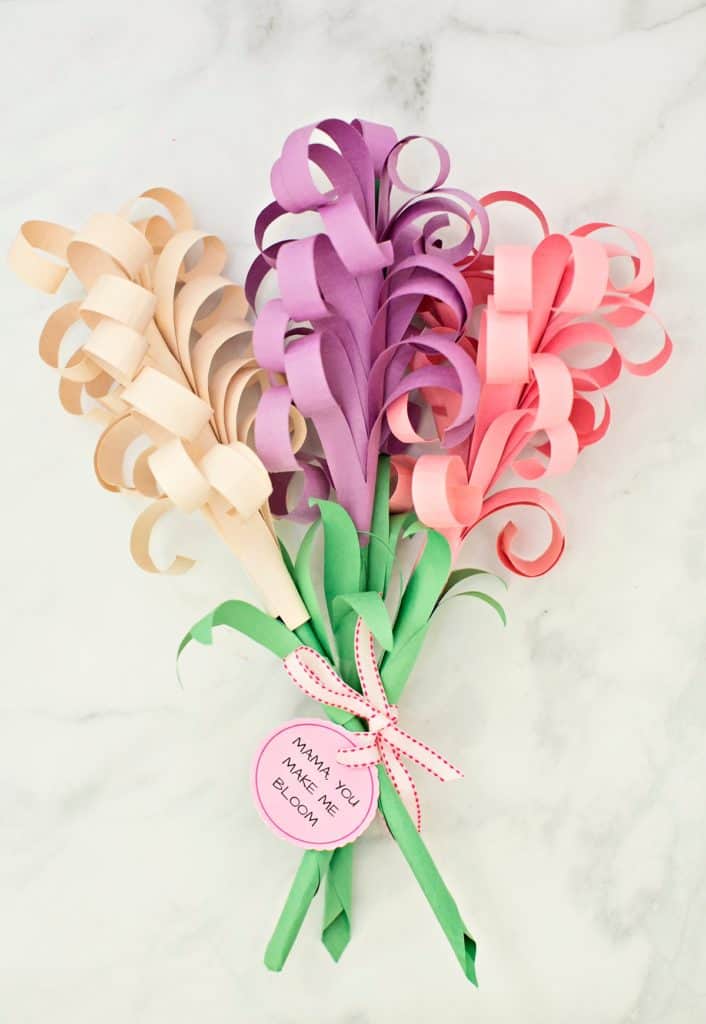 Mother's Day is coming up and what better present than to surprise mom with a GIANT bouquet of flowers that will stay in bloom all year long? Unlike these Hyacinth Tissue Paper Flowers we made last year, this beautiful DIY paper hyacinth flower bouquet is meant to impress in size!
They are beautiful presented simply with a ribbon and tag. You can get our FREE PRINTABLE "Mama, You Make Me Bloom" tags in six different colors down below.
Since these are so large, you don't need to make too many to make an impressive bouquet! We made 3 and love the size. Simply print out the tag, tie a ribbon through the stems and present these gorgeous hyacinths to mom on Mother's Day.
Another thing we love about these flowers is the simplicity. Construction paper, glue, tape, scissors, pretty much craft materials everyone has a home is all you'll need.
The rolling is super simple for kids to follow and great for practicing those fine motor skills!
Ready to make your own GIANT hyacinth flower bouquet? Read on to follow the instructions and watch the video down below.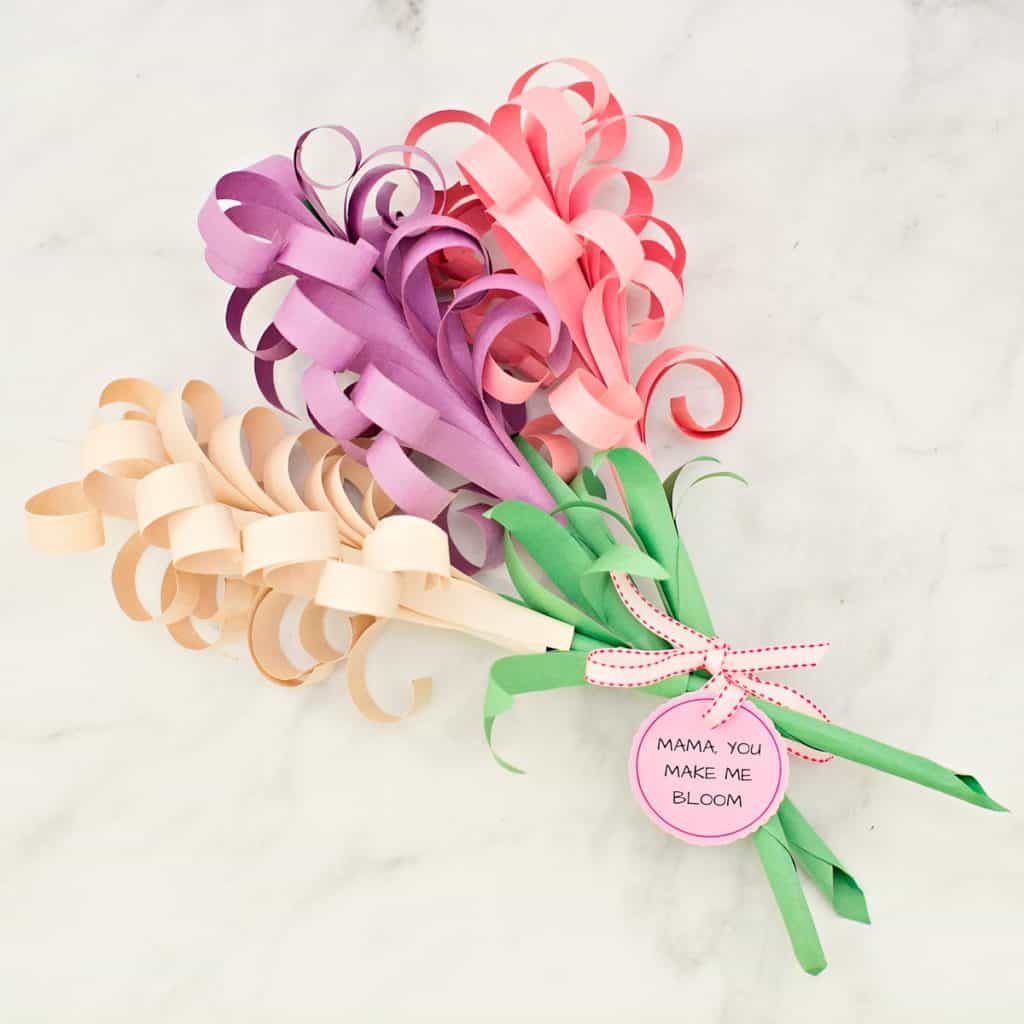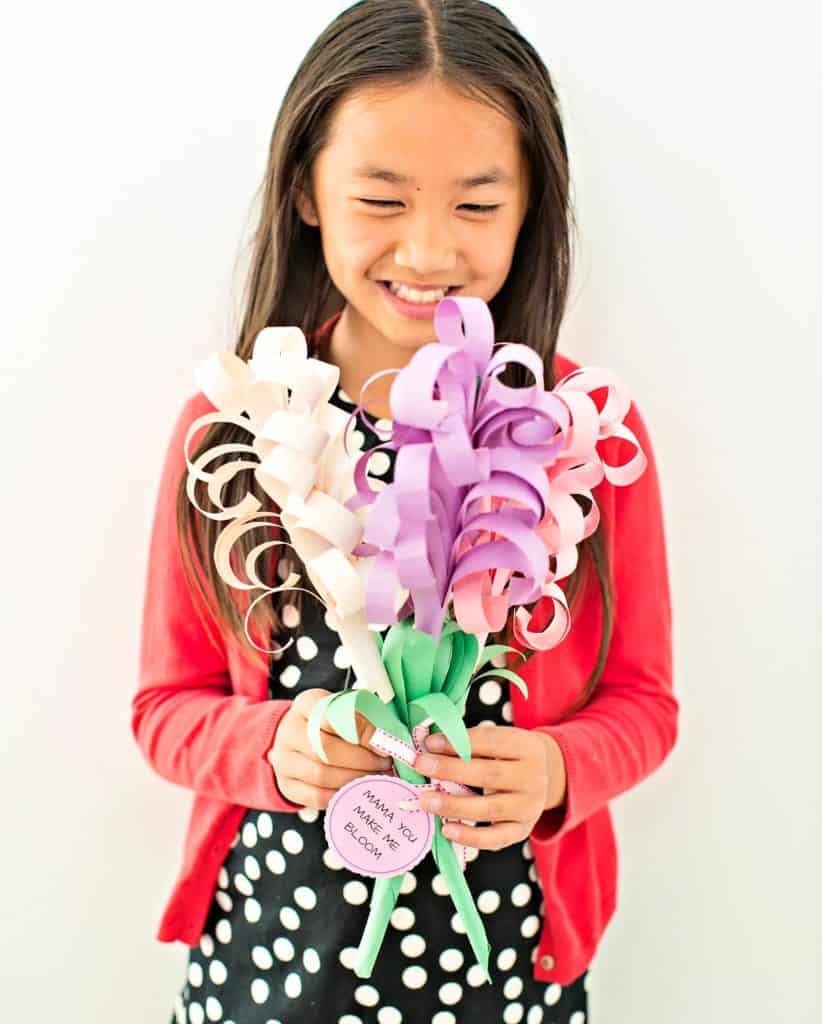 GIANT DIY PAPER HYACINTH FLOWER BOUQUET – MATERIALS:
Colored Construction paper (flower flower) (we used one sheet sized 18″ x 12″) which makes two flowers
Green construction paper (for stem) (one sheet also sized 18″ x 12″) makes two stems, plus extra green paper for leaves
Glue or tape
Scissors
Skinny dowel, chopstick or pencil (to roll stem)
Another rounded stick (not as skinny as above) to roll the flower petals. We found the handle of a foam brush to work well.
Ribbon
Hole puncher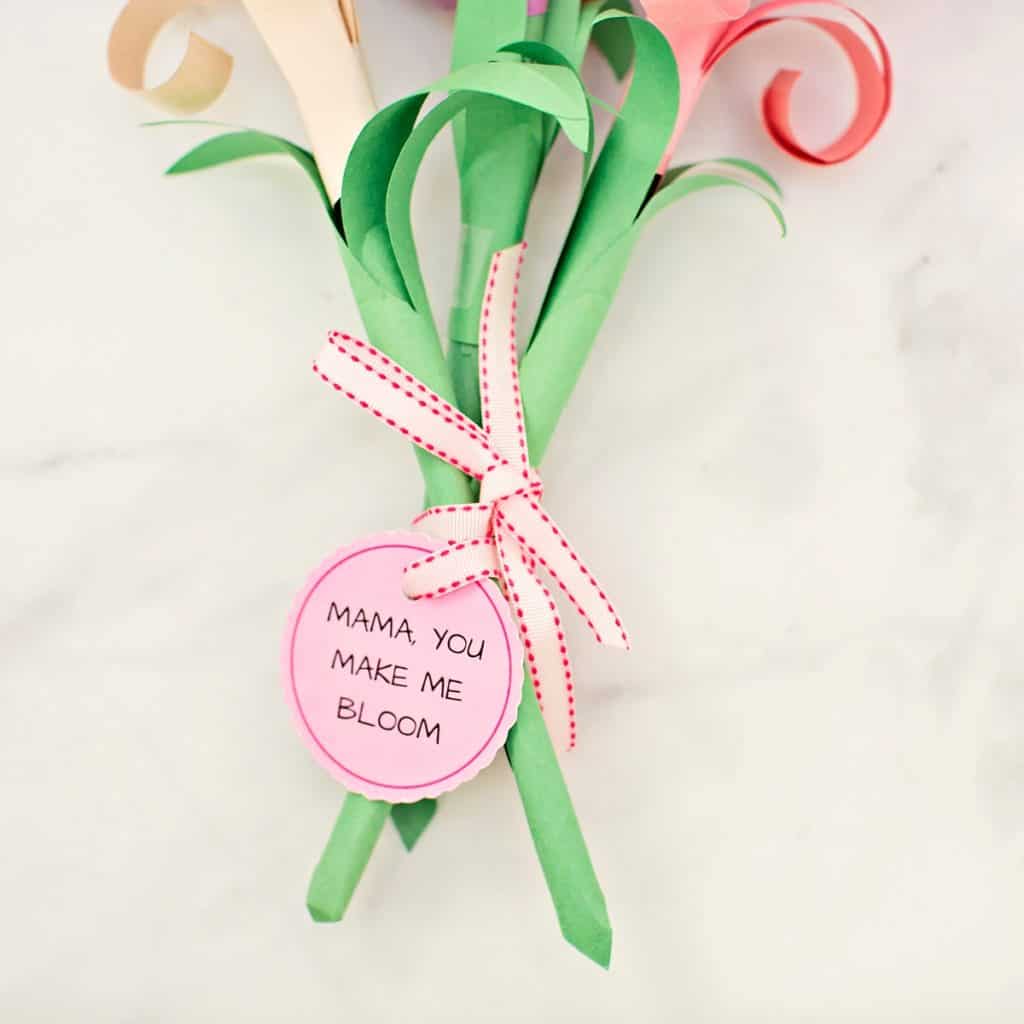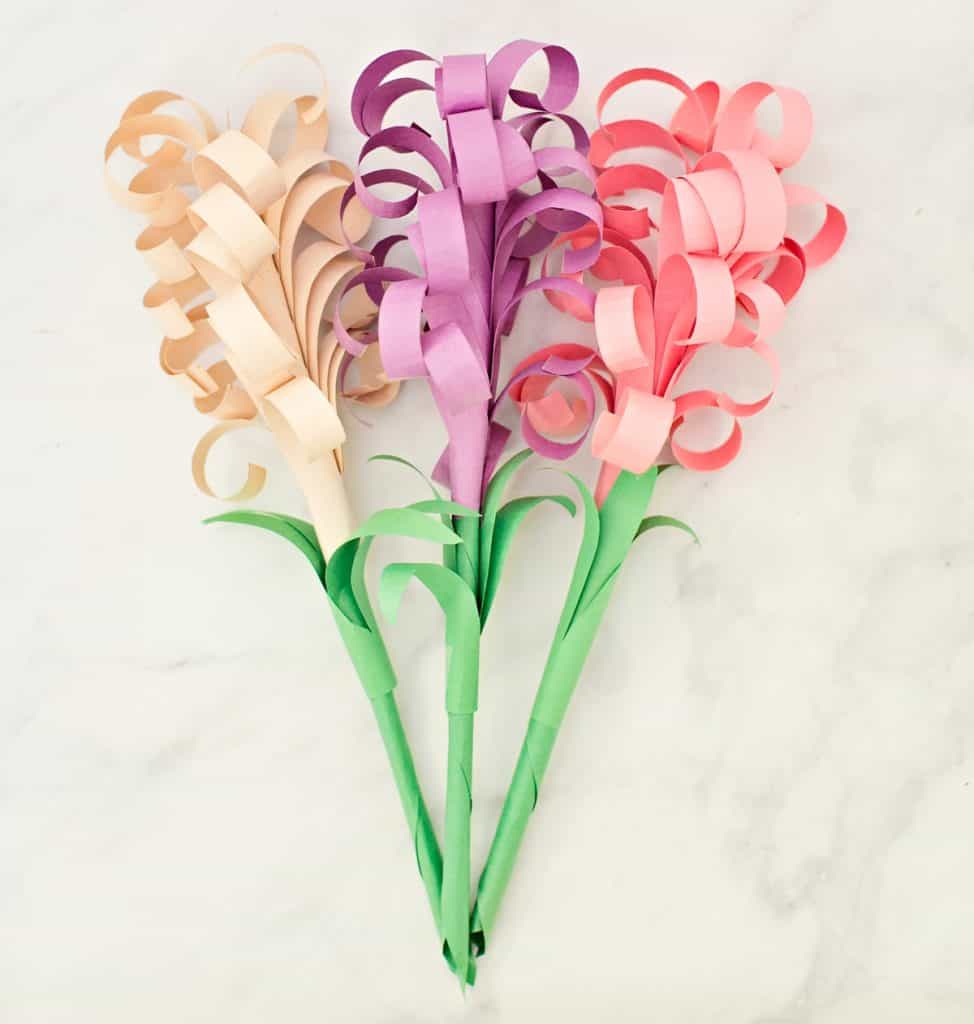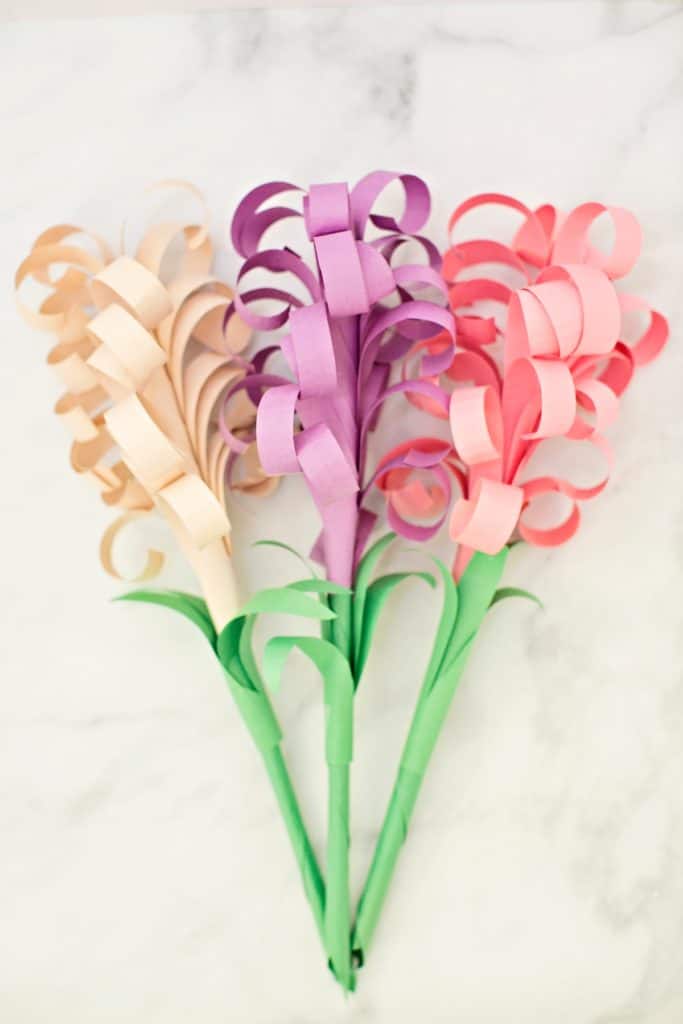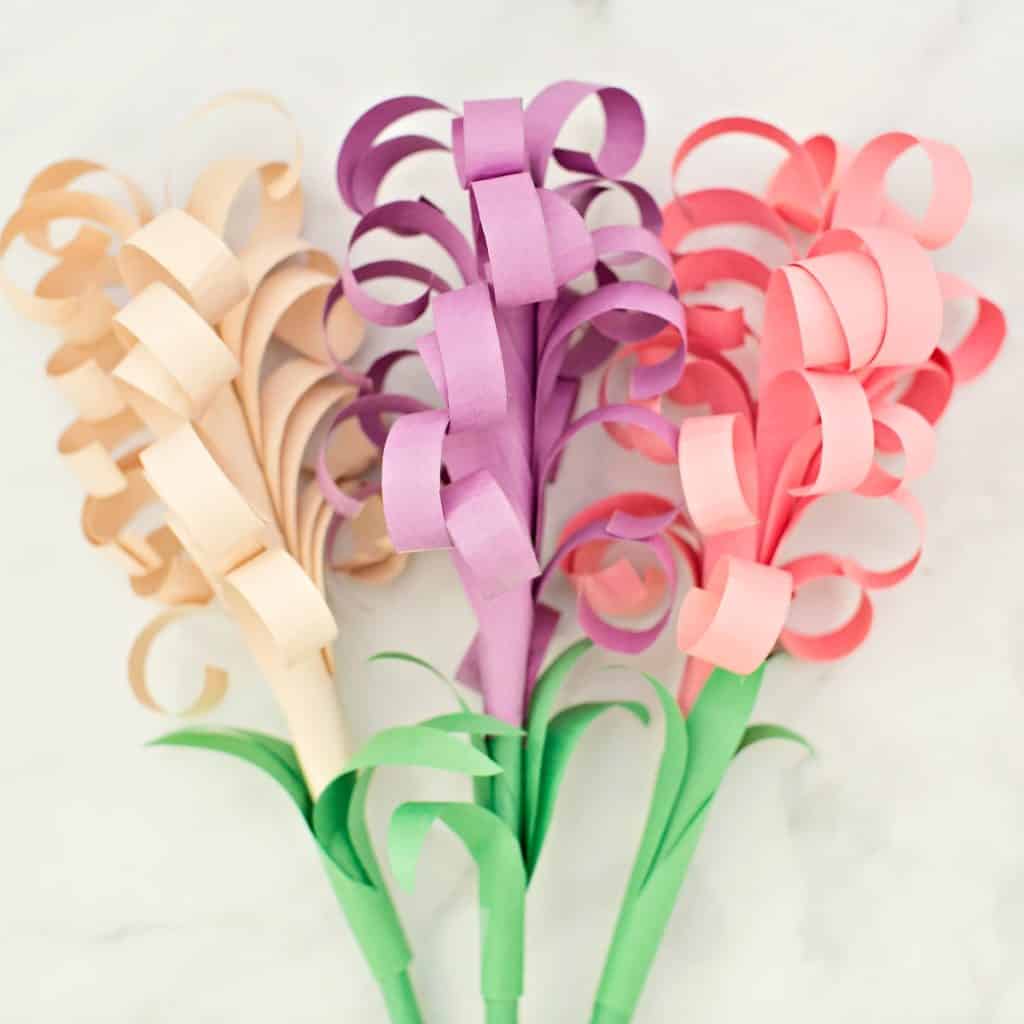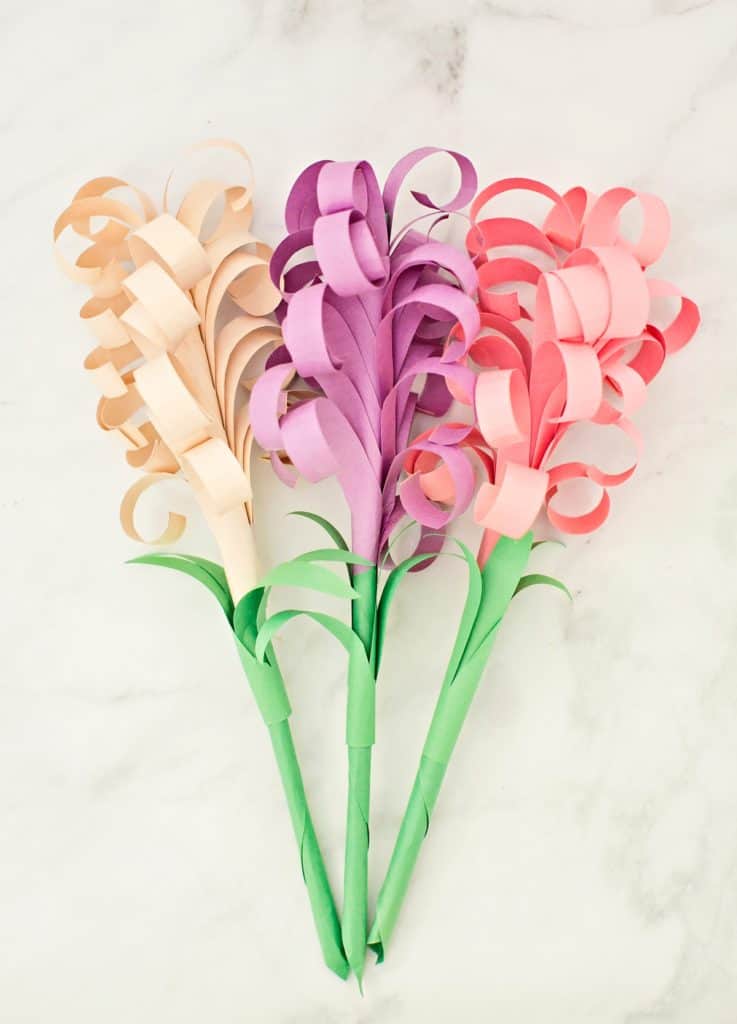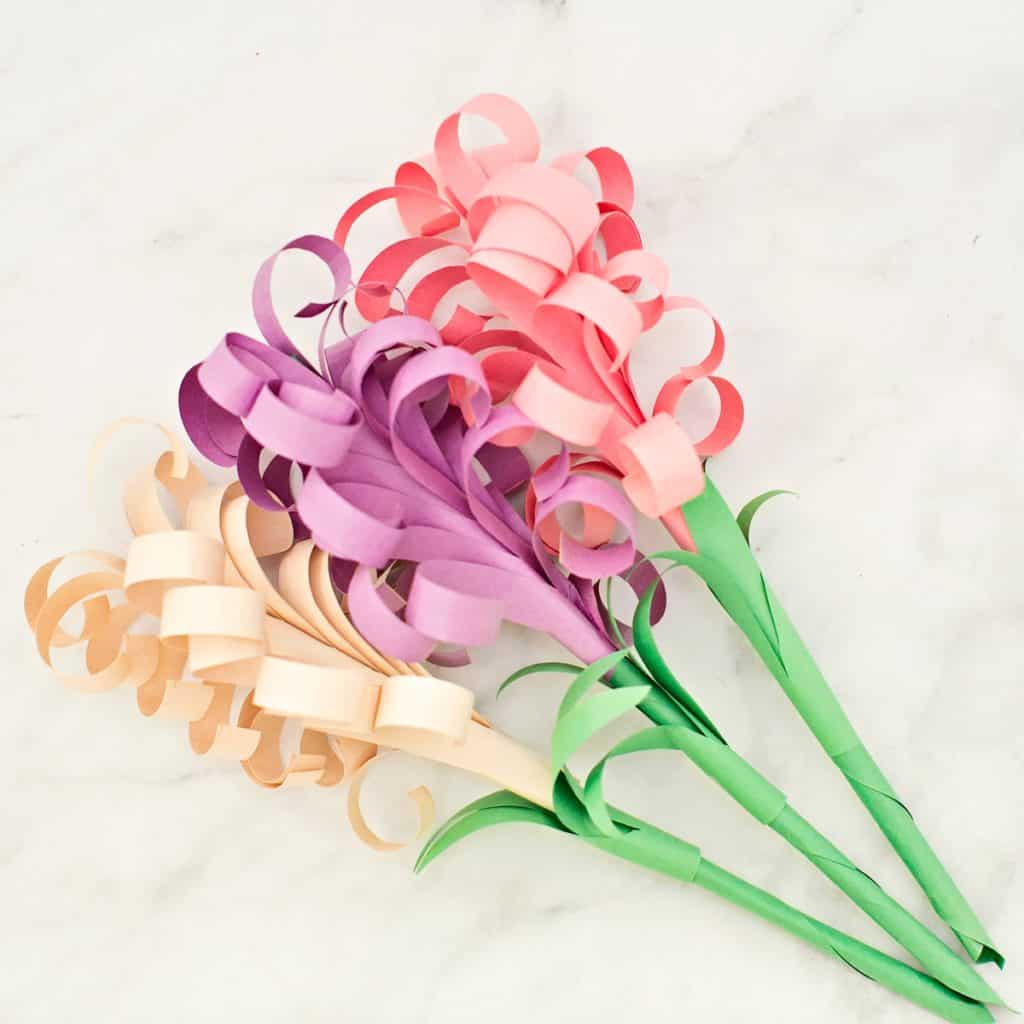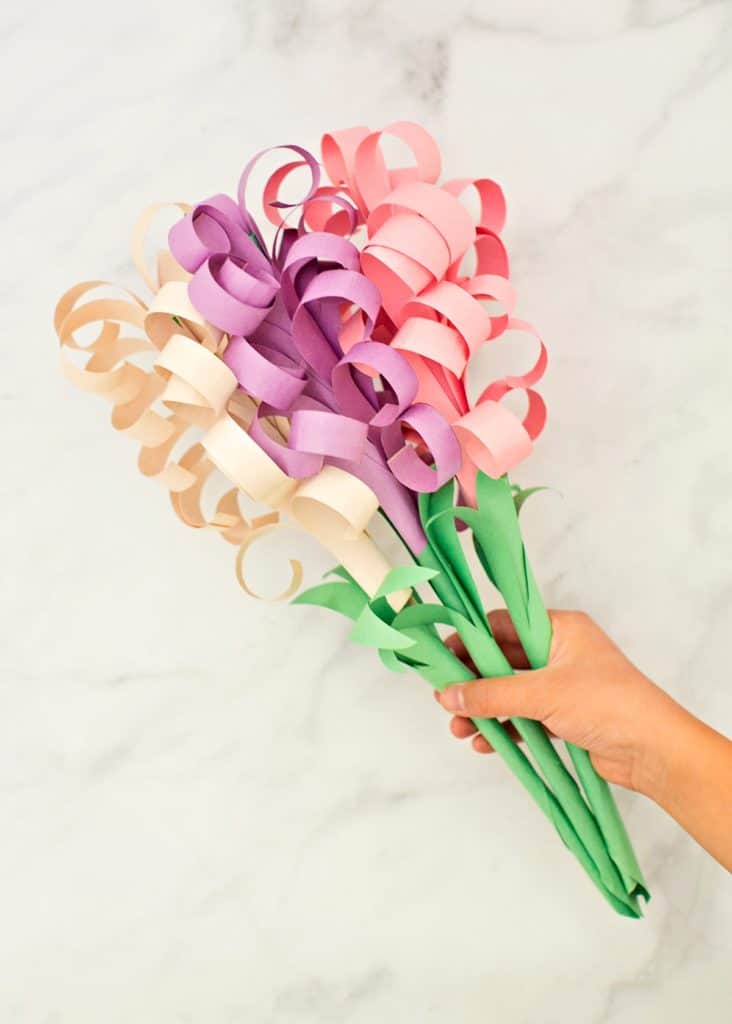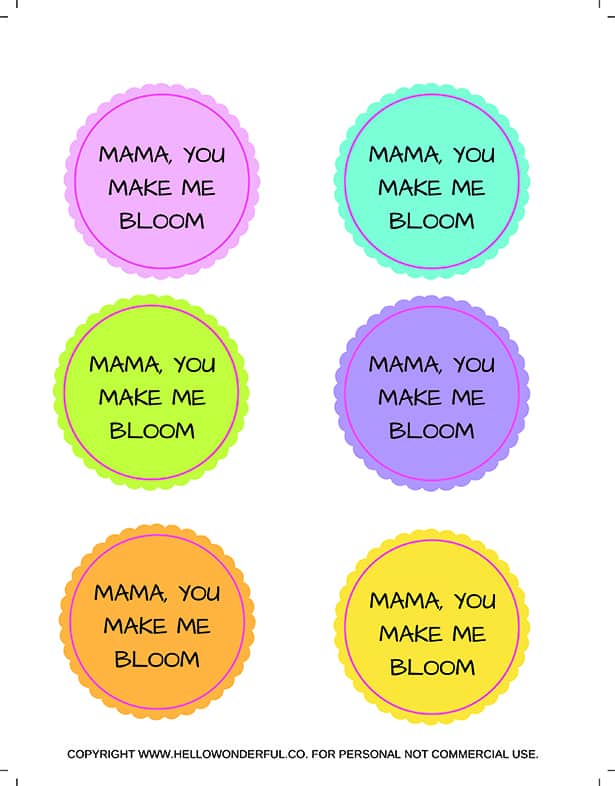 Yield: Paper Hyacinth
GIANT DIY PAPER HYACINTH FLOWER BOUQUET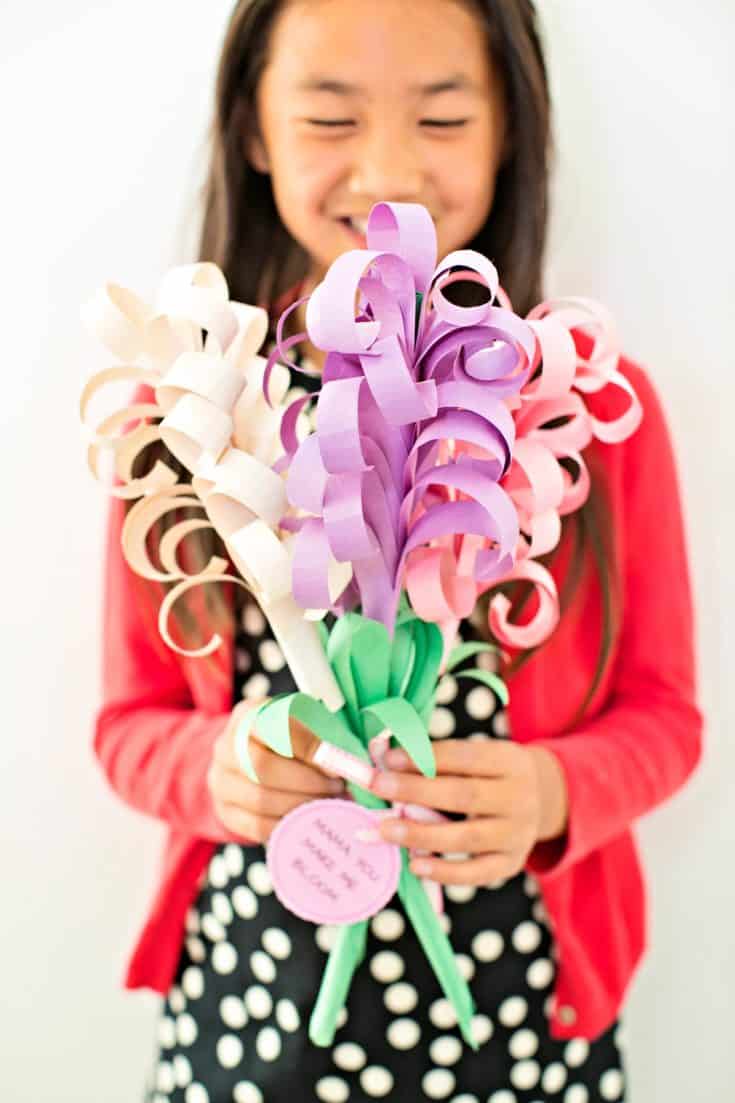 Get the instructions to make this Giant DIY Paper Hyacinth Flower Bouquet. Get our free printable flower tags.
Instructions
Take your piece of construction paper and use a pencil to draw a line down the middle lengthwise.
Draw lines all along each side that are approximately 11/16 inches wide.
Cut along the lines but stop one inch from the top. Watch the video if this part is confusing.
Roll your cut strips until all strips are curled. We used the end of a foam brush.
Set aside. Cut your green construction paper into a triangle lengthwise. Use a skinny rounded tool like a pencil or chopstick to start rolling your paper thinly into a stem. Glue or tape shut the ends.
Grab your hydrangea curls and tape one end to the stem and start rolling around the stem in a downward pattern slowly. Your curls should point downwards.
Tape or glue the ends down to the stem.
To make the leaves, cut 4 skinny leaves as shown in the video and wrap around the bottom part of stem. Secure with tape or glue. Your flower is done!
Make as many as you'd like. Remember one piece of construction paper makes 2 stems and 2 flowers (you will need extra green scraps for leaves).
Print out our FREE printable flower tags. Cut out the color you want, hole punch and thread a ribbon through the hole and flowers.
Another way to present these is by wrapping them in tissue paper and brown paper with the ribbon tied around the base. So lovely and pretty!
Aside from Mother's Day these would make gorgeous paper spring flowers to admire all year long.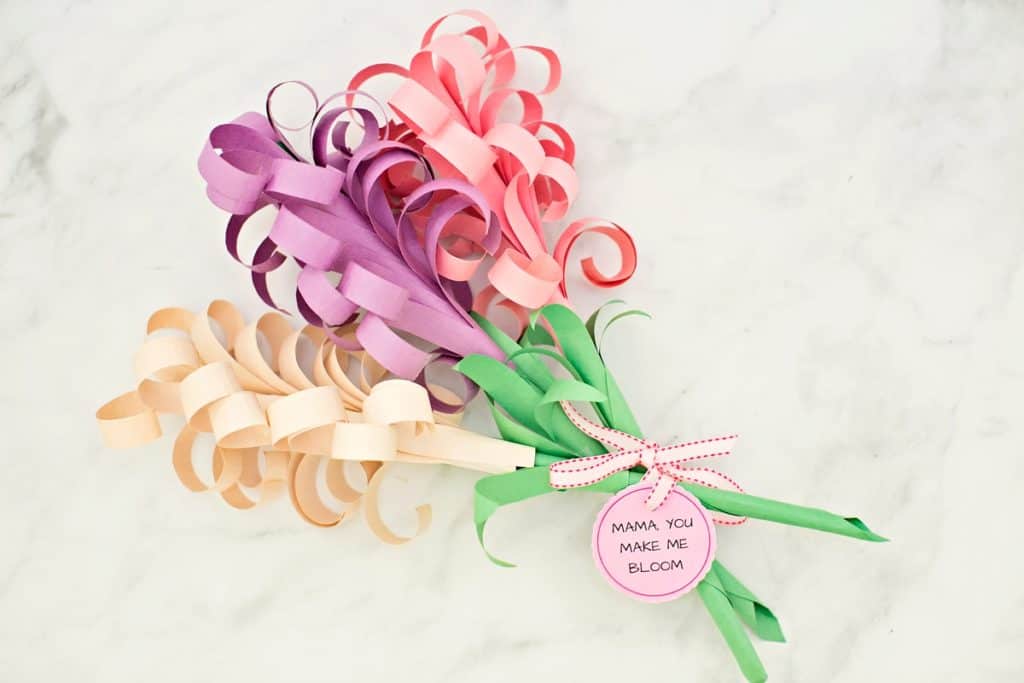 Watch the How-To Video Below:
Check out more flower projects:
______________________________________________________________________________________________________
Disclosure: Some of the links in the post above are "affiliate links." This means if you click on the link and purchase the item, we will receive a small affiliate commission. Regardless, we give our promise that we only recommend products or services we would use personally and believe will add values to our readers.