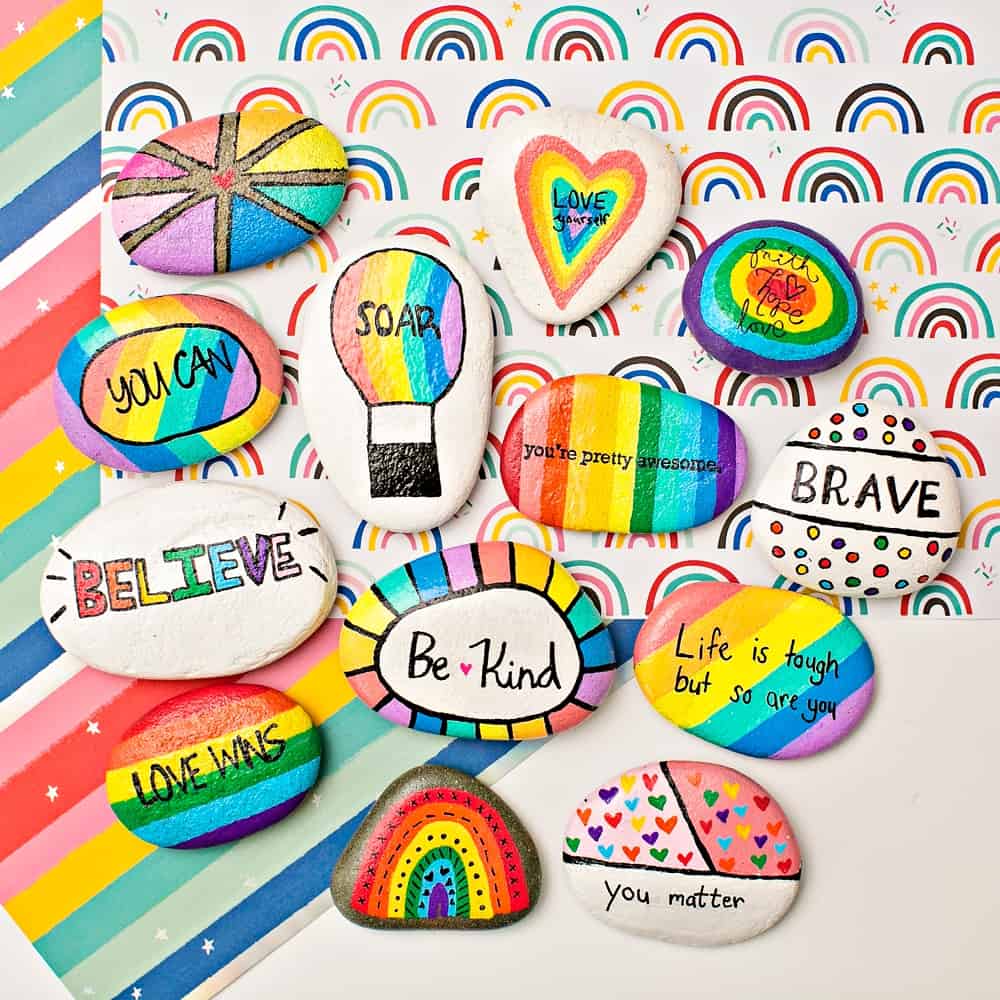 By using this site, you agree to our Terms of Use. This post may contain affiliate links. Read our disclosure policy.
Follow us on Instagram for more fun ideas for kids!
Rainbow Kindness Rocks are a wonderful way to spread kindness and happiness to others with beautifully painted rocks.
I'm so honored to be sharing this post about Rainbow Kindness Rocks with each and every one of you. Not only is this project near and dear to my heart but it's also giving back to a wonderful cause as well.
It's true that spreading kindness in life is key and goes a very long way and for this reason, my 12-year-old daughter Alia just launched her very own Etsy shop where she's selling her hand-painted Rainbow Kindness Rocks.
I'm incredibly proud of her work.
Painting rainbows on rocks
has been her passion since she was 7. She's put out hundreds of
rainbow rocks
in the world to spread happiness and she's still just as passionate today as she was when she started. It's hard to believe that 5 years have passed by!
Watch the video in this post to see these rainbow kindness rocks up close.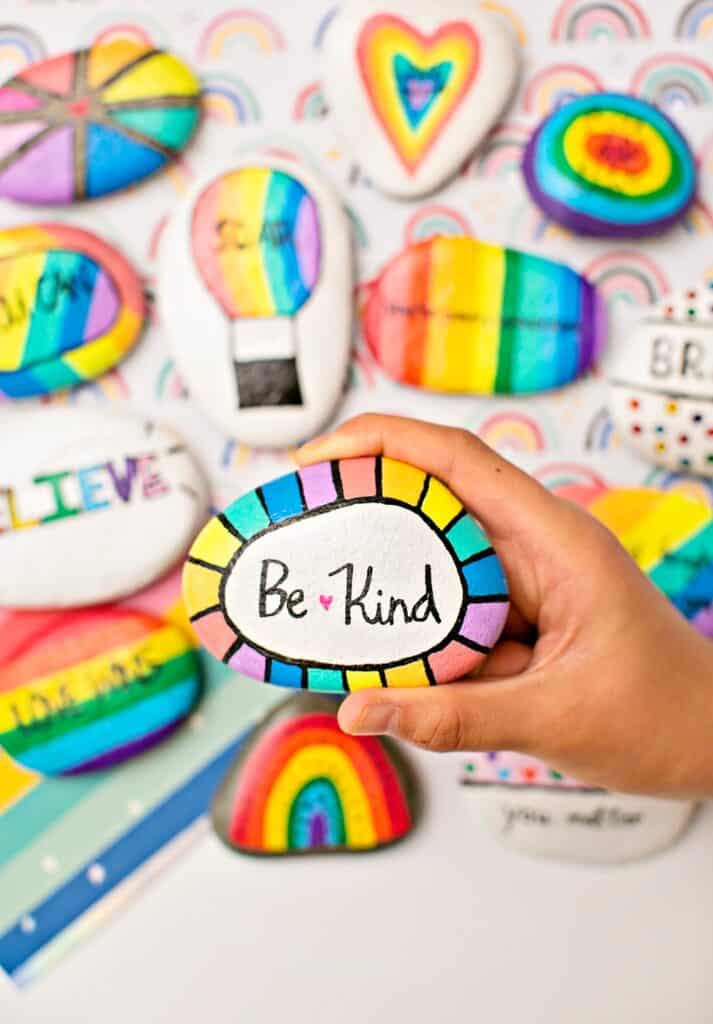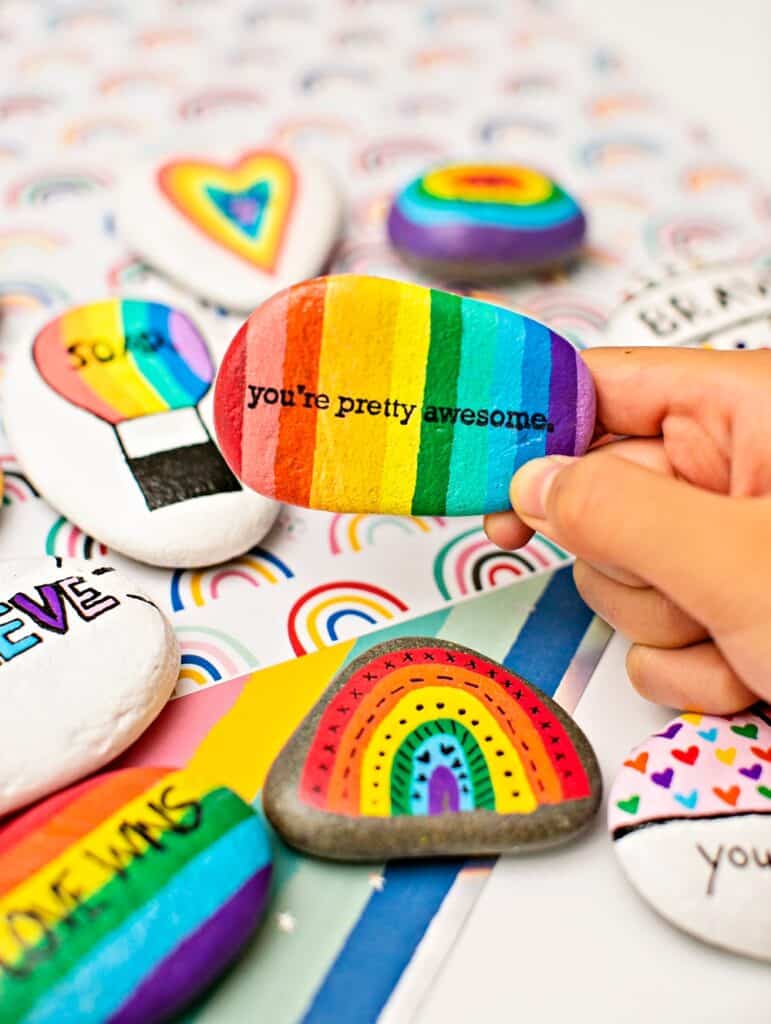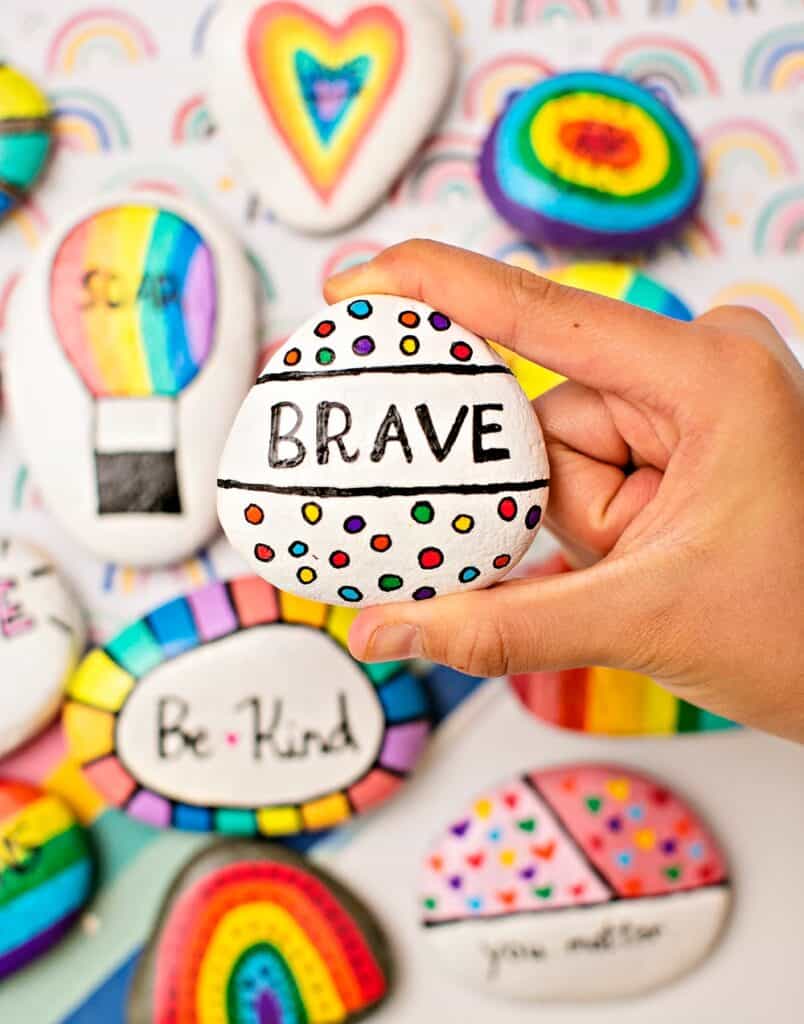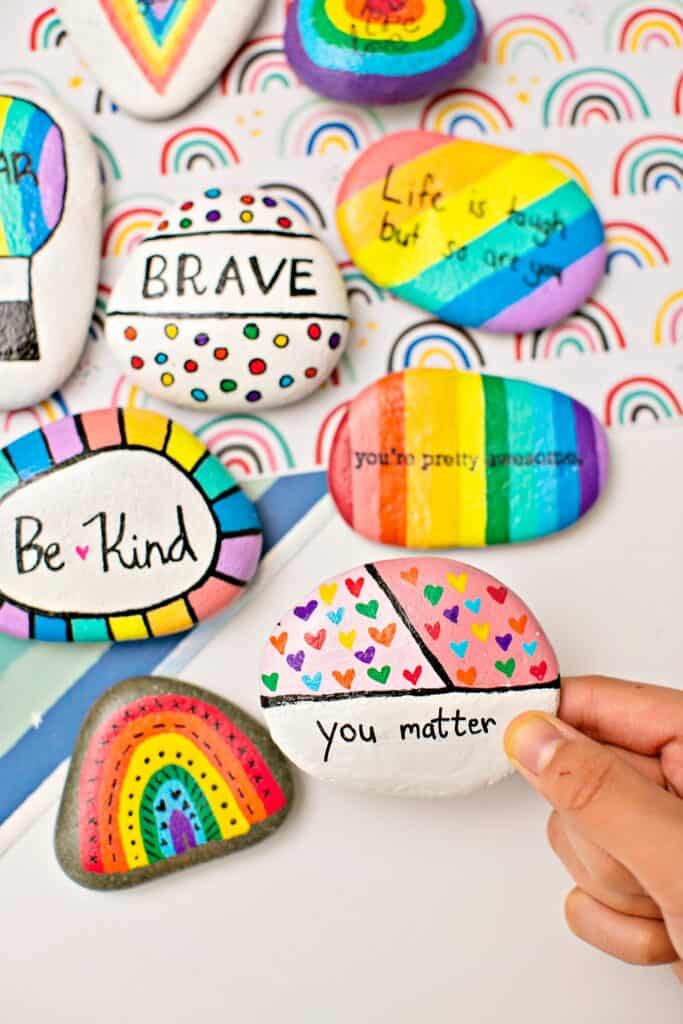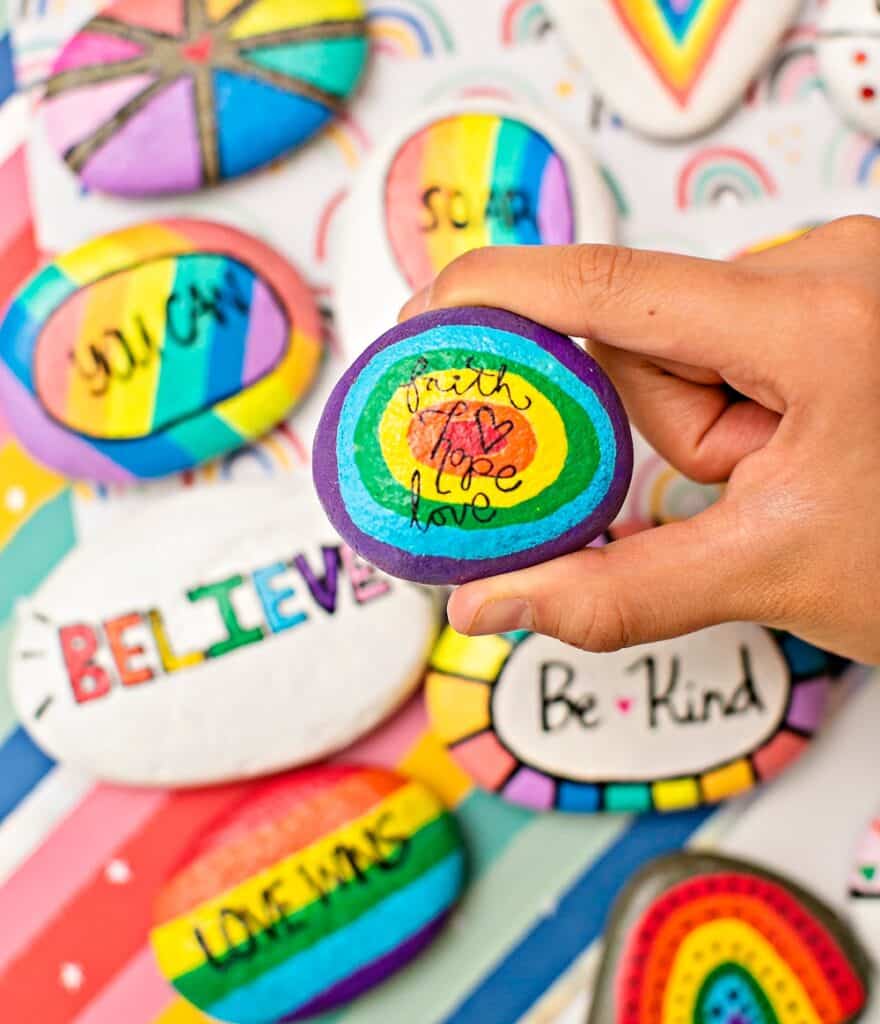 Spreading Kindness with Rainbow Kindness Rocks
My daughter has always had a big heart and an eye for creativity. In fact, before starting the Etsy shop she's managed to raise more than $10,000 in donations for various charities from a combination of rock donations, selling cupcakes, and rainbow t-shirts! To say I'm proud is an understatement.
Her kindness is what inspires me to do better every day. And for this reason, I'm incredibly lucky to have her call me mom.
The Evolution of Rainbow Kindness Rocks
Since she's been doing this since she was 7, her art and designs have evolved and become more colorful, happy, and inspiring. She's literally spent hours upon hours designing and creating them and is now opening up her own Etsy store to sell and spread kindness all over the world.
Here are her current painted rocks for sale:
Set of 12 kindness rocks

Set of 3 kindness rocks

Set of 6 kindness rocks

Set of 3 self-love rocks

You're pretty awesome rock

Be kind rock

Believe rock

You matter rock

You can rock

Life is tough but so are you rock

Rainbow rock

Brave rock

Love yourself rock

Soar rock

Love wins rock

Tape Resist rock

Faith Hope Love rock

You are my sunshine rock

Ruth Bader Ginsburg rock

Diversity rock

Rainbow polar bear rock

Hogs and kisses rock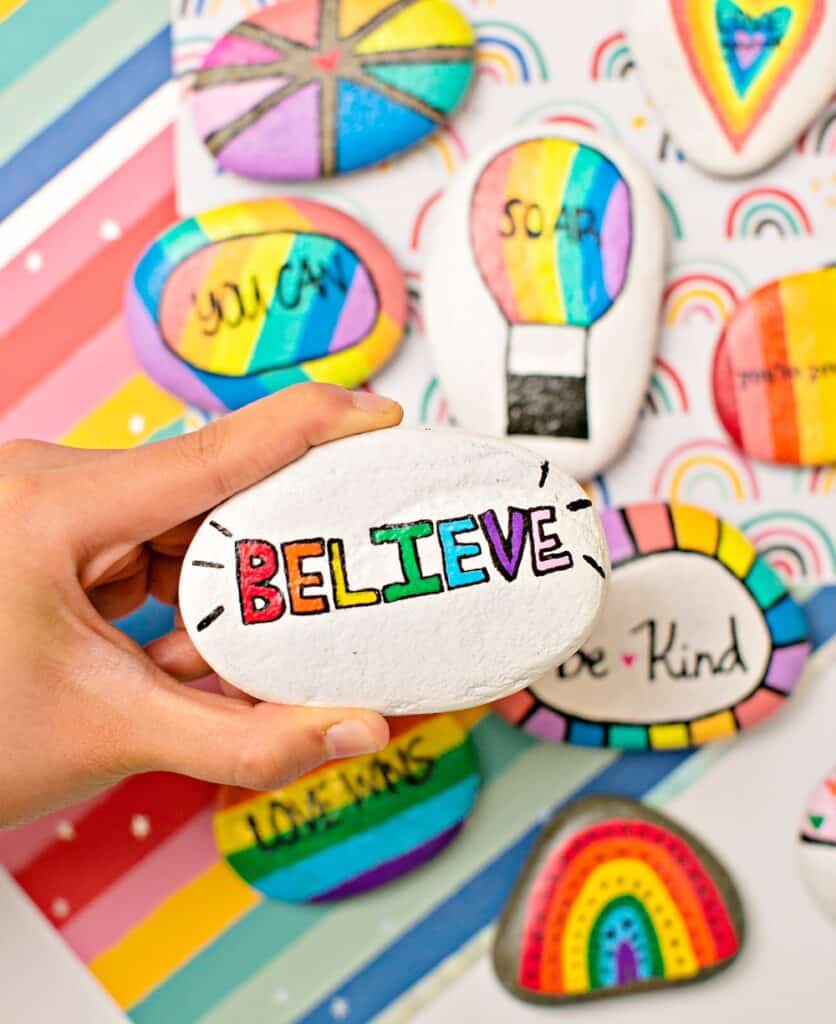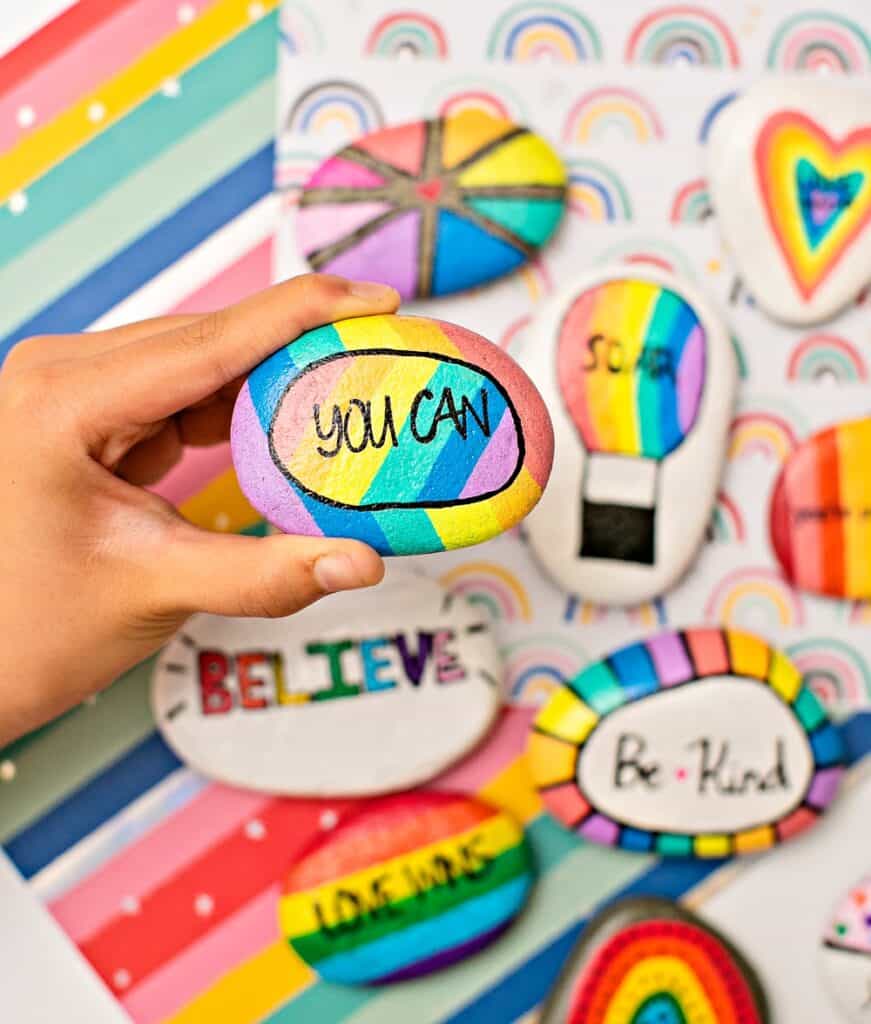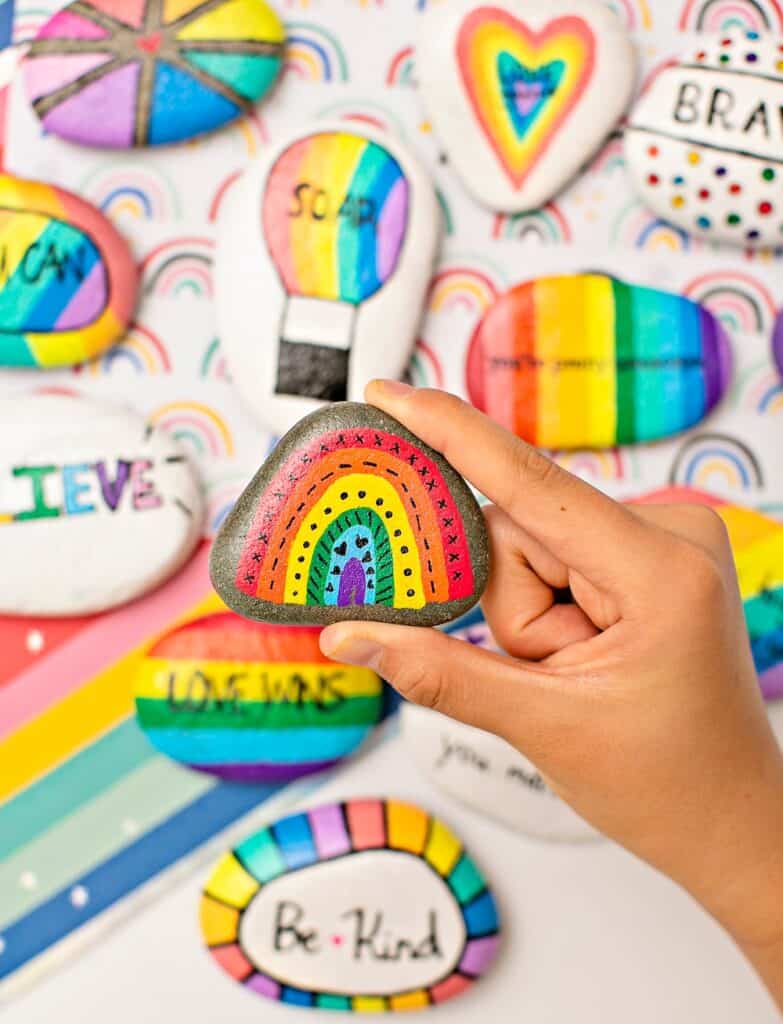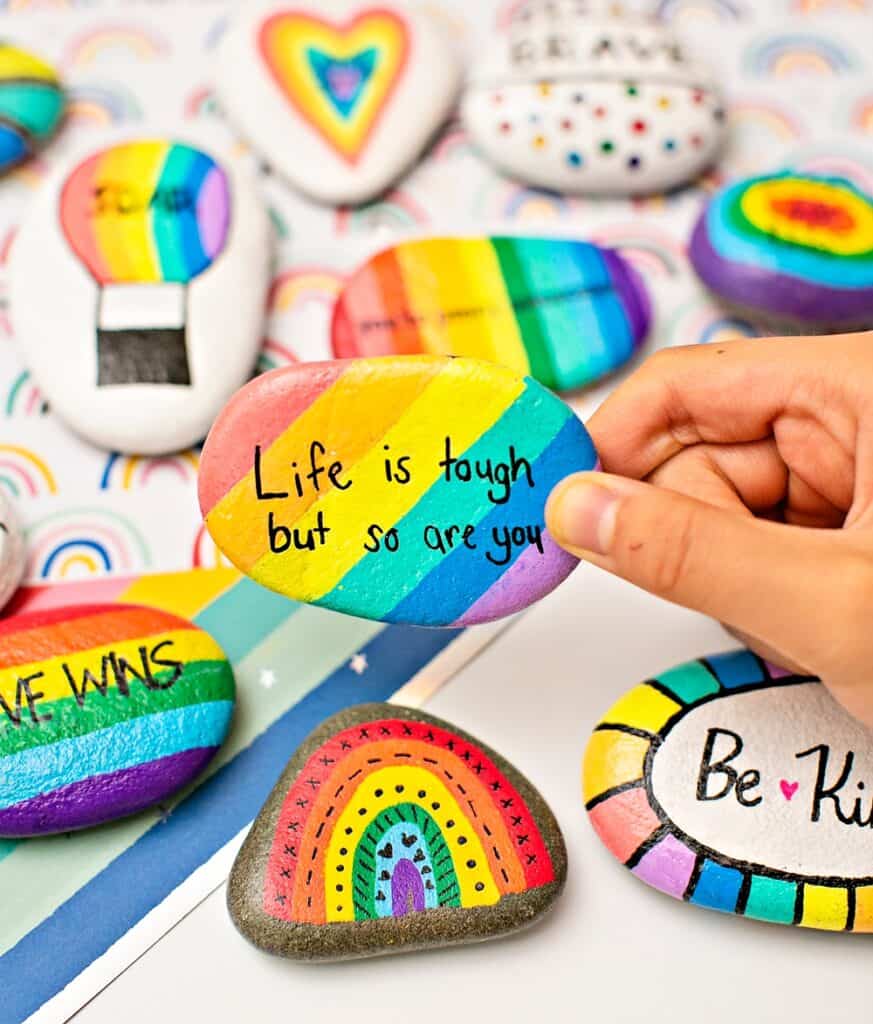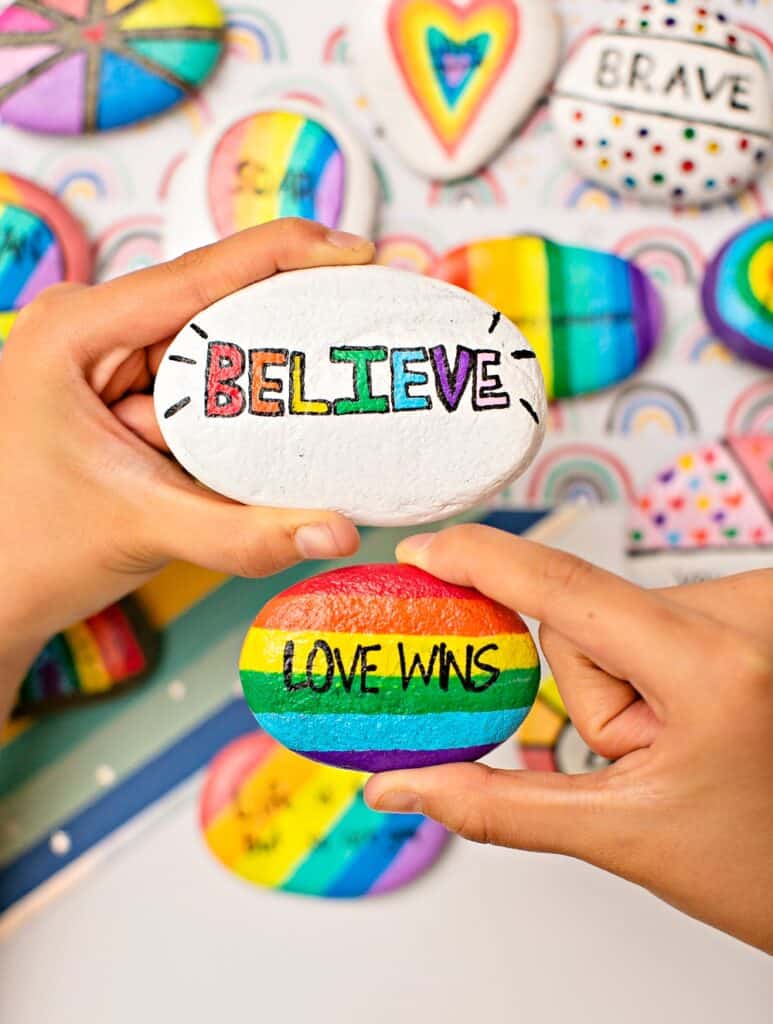 What is the process for painting rocks?
Since she creates the rocks once they're ordered, they're all unique. The backside of the rocks is left in their natural state. Rock sizes do vary and they will come in different shapes and sizes.
Paint markers and acrylic paints are used to paint the rocks. Each rock is then sealed with two coats of a glossy, clear varnish which makes it so the rocks can be kept outside easily.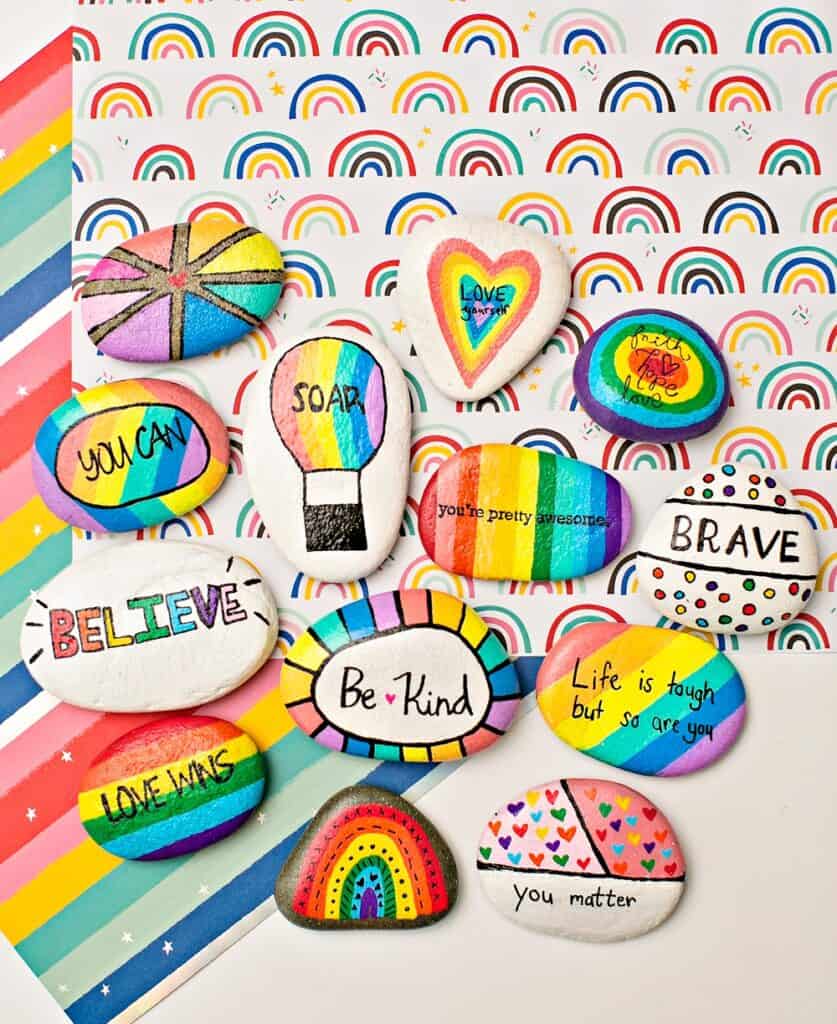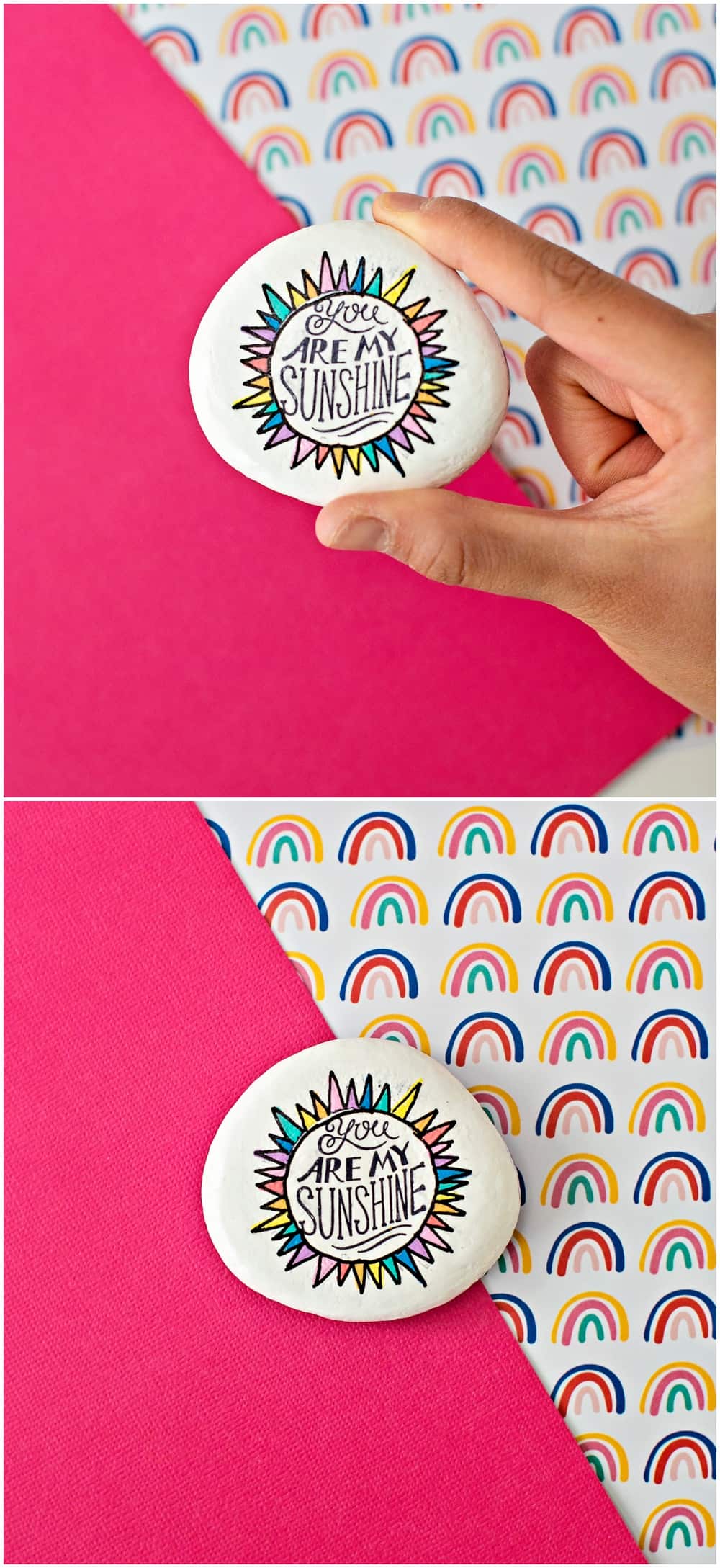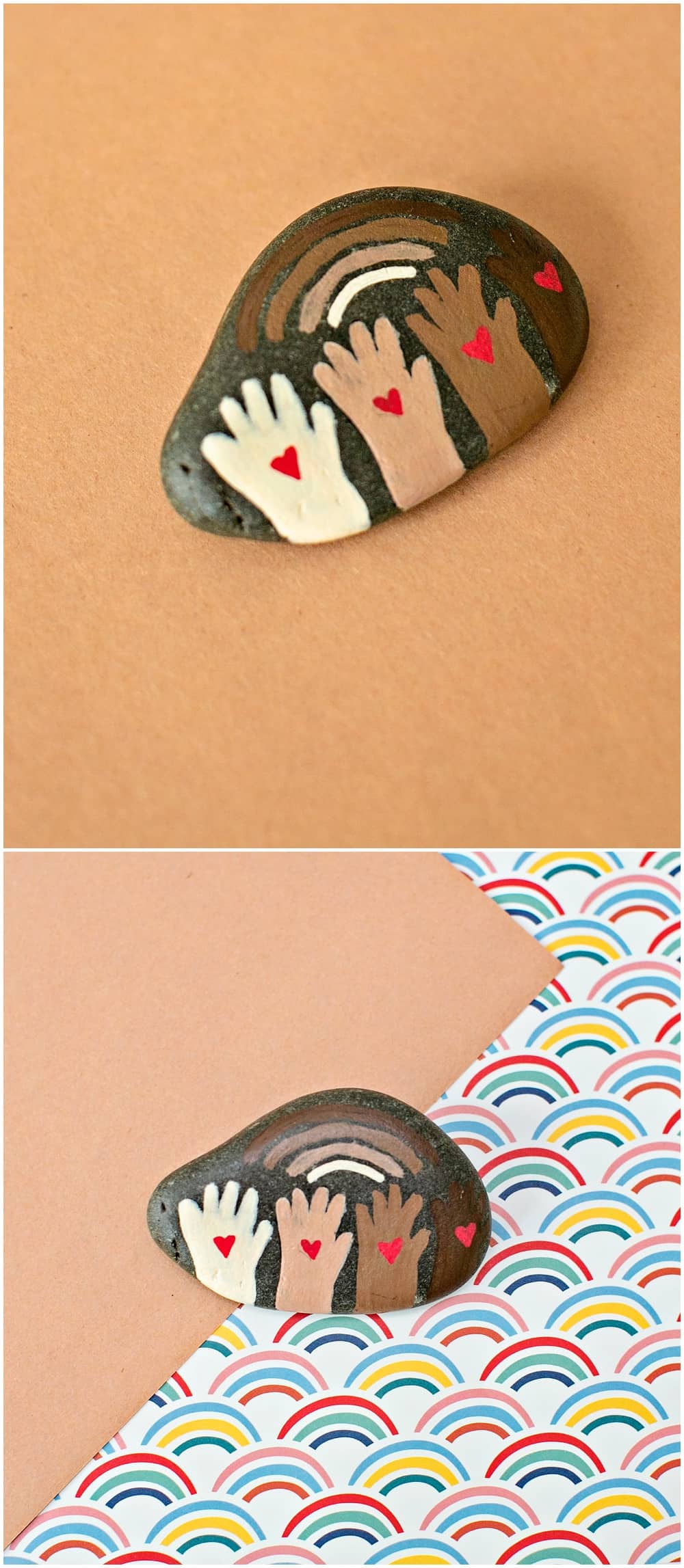 How To Shop Rainbow Kindness Rocks
Simply head to her Etsy page and check out her current designs! It is SUPER important to note that with each purchase,
10% of proceeds will benefit No Kid Hungry.
For those who've followed Alia over the years, thank you so much for the support!!! The sky is truly the limit for her growth and she's going to continue to do all she can to spread kindness and happiness to all!