Originally posted on 14/03/14
Tree houses are the stuff that kids' dreams are made of. They conjure up enchanting forests, saving damsels in distress, secret hideaways, private reading nooks, and special play spaces where friendship bonds are cemented.
If you don't have a large backyard or huge trees to support a dream treehouse, not to worry. Be inspired to bring one inside with these 12 indoor treehouses for kids – showing you can be surrounded by nature anywhere.
Although some of these ideas look grand in scale, they're dreamy to look at and might spark some ideas on how to make one your own.
Creative and Fun Indoor Tree Forts
Many of us remember the fun we had as kids in treehouses and forts, so why wouldn't we want to give the same feeling to our kids? But, sometimes that's not possible, because we don't all have big backyards or nice, strong trees to build in. So we need to bring the fun indoors.
Take a look at these inside treehouse ideas and feel free to use one (or more) of them for your next DIY project.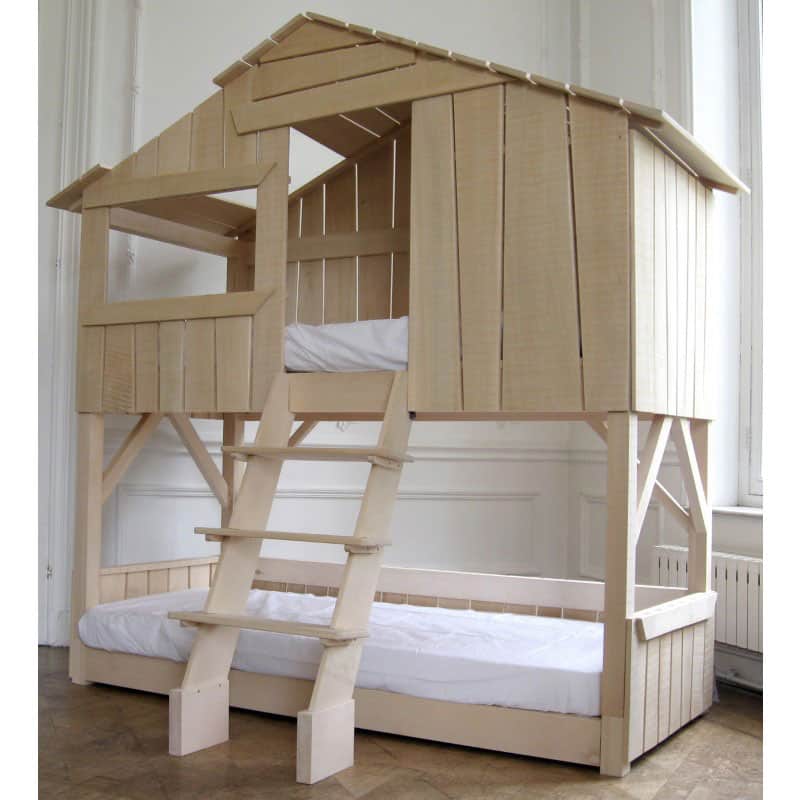 Tree House Bunk Bed (via Scandie-Vie)
This natural-looking tree house doubles in function as a bunk bed. No doubt kids will be clamoring to get to sleep – no bedtime complaints here! You may just have arguments about who gets the top bunk – but they can always take turns.
Indoor Treehouse for Toddlers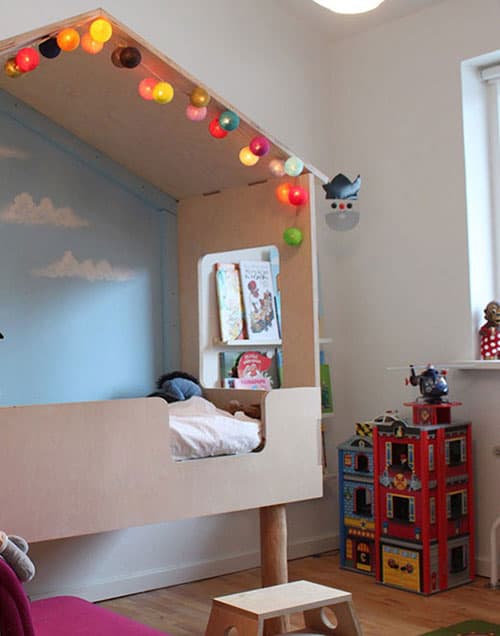 Platform Tree House (via Design Sponge)
This design-centric family figured out how to build an indoor treehouse in a quick and simple, yet fun way – raise the bed and create a platform supported by tree limbs! This isn't too high, so it's great for the smaller kids.
Indoor Treehouse Fort Play Space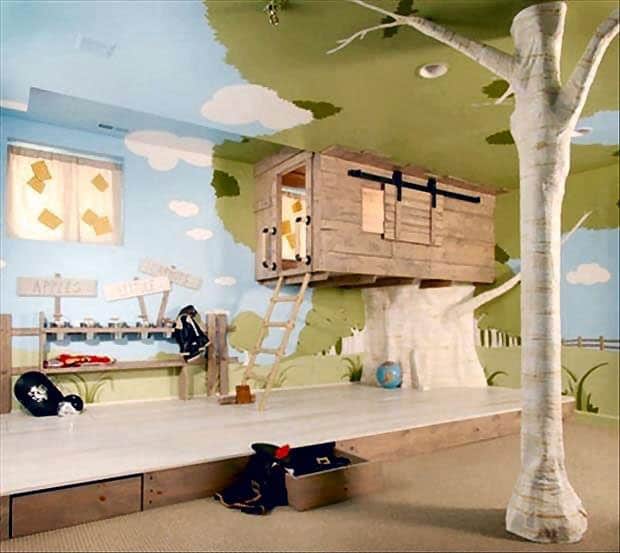 Tree House Play Space (via Pinterest)
You can even turn your kids' indoor tree house into an imaginative playing space. Regardless of how the weather is, this enchanting playroom – complete with a montage of sky, clouds, and indoor tree – will always be sunny.
Treehouse Inside the Attic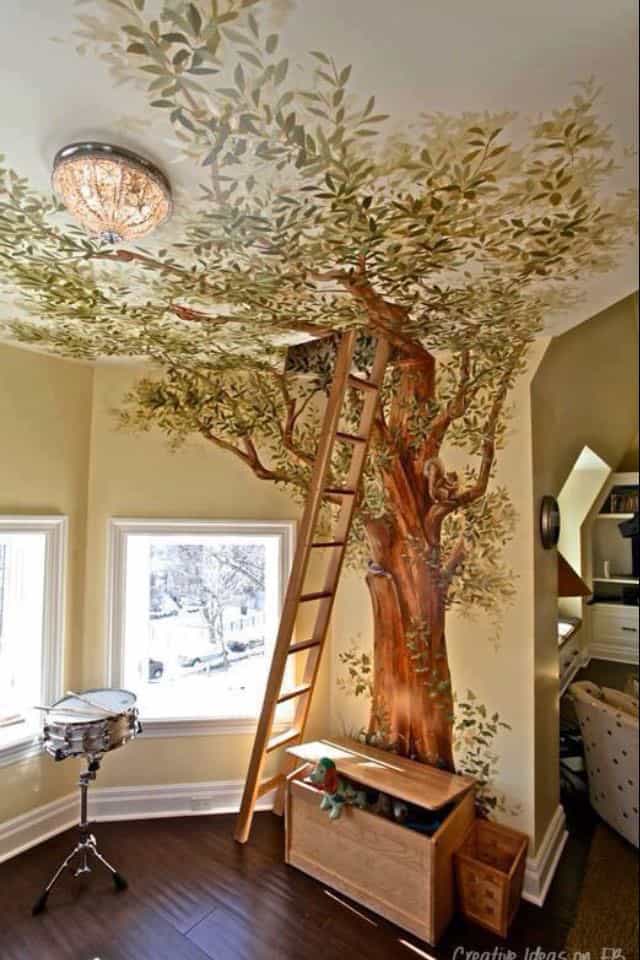 Tree House Hideaway (via Pinterest)
Use what you have in your indoor treehouse plans and save yourself some time and money. If you've got an upstairs attic or alcove, you can recreate this look by painting a mural of trees and branches to lead to a secret hideaway.
Big Indoor Tree Fort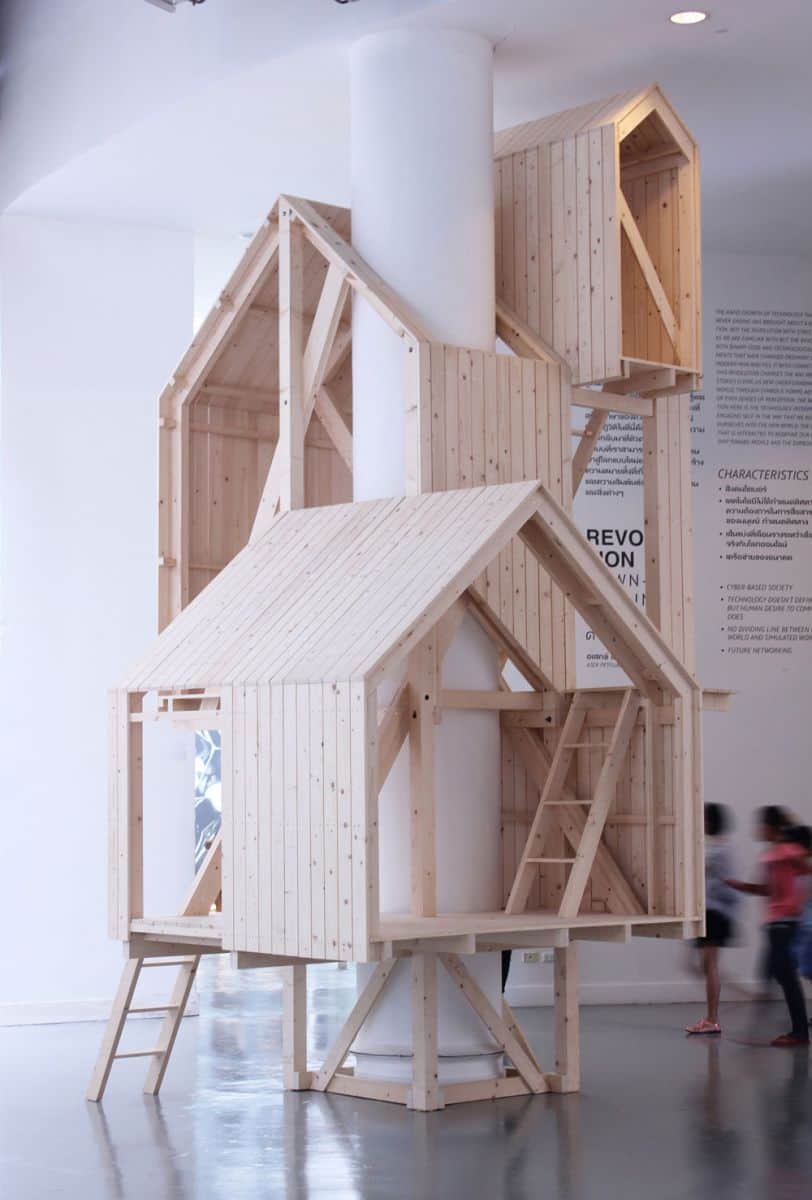 Clean, Unfinished Wooden Tree House (via Worapong Manupipatpong)
If you're looking to build a treehouse for kids inside that will hold quite a large group, you may need something a bit bigger than a simple bunk bed. This impressive designer used an existing column to wrap around this clean, contemporary, and unfinished wooden tree house – using the natural lines to extend as a tree limb.
Kids Indoor Treehouse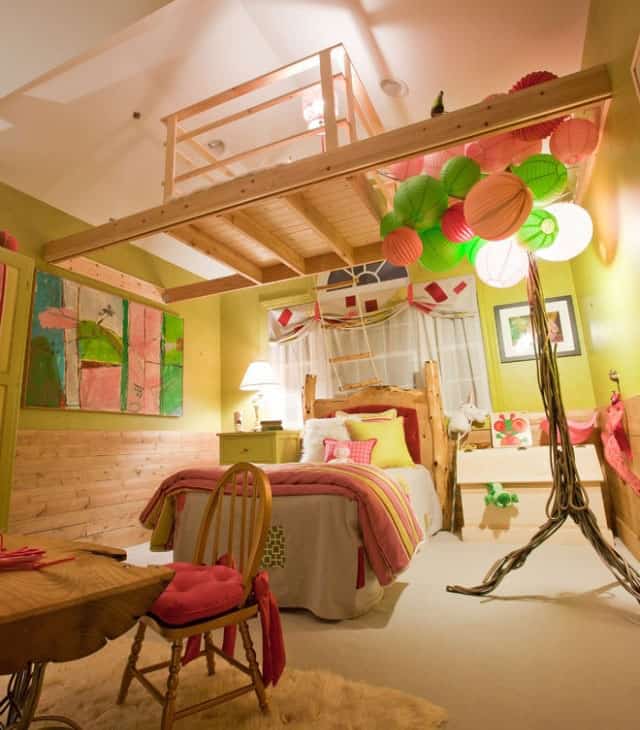 Wooden Alcove (via Pinterest)
You can fit a small indoor tree house into almost any space in your house. Tall ceilings are your friends here with this imaginative platform that holds a base wooden alcove, complete with a rope ladder.
Fun Treehouse Inside the Room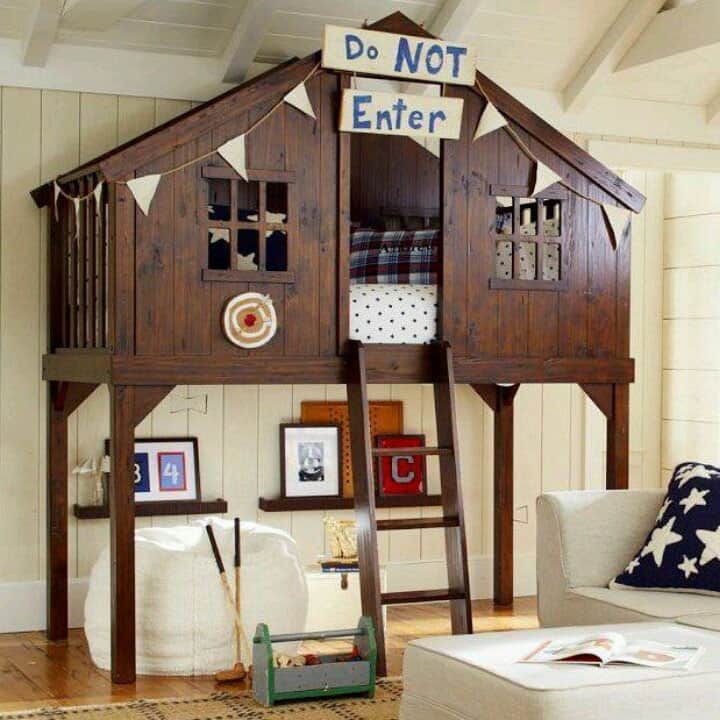 Traditional Tree House (via Pinterest)
It's important to get creative when building an indoor tree house for kids – and add in some fun and imagination. Classic dark stains give this tree house a traditional feel which also doubles as an elevated platform bed.
Indoor Treehouse for Kids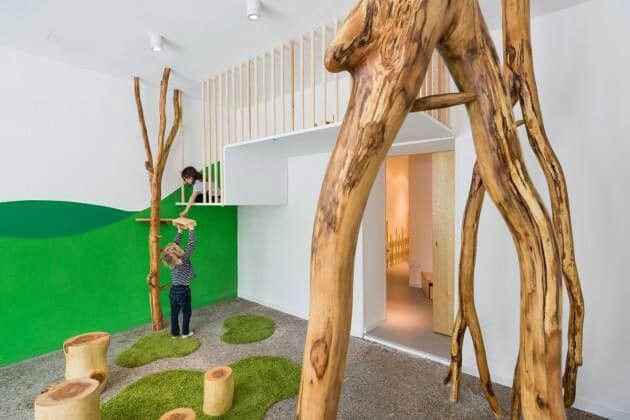 Nature-Filled Tree House (via Pinterest)
It doesn't have to be about the design of the actual tree house – recreate this look by bringing outdoor design elements indoors – such as the tree stumps and green carpet and paints. This makes for a brilliant indoor treehouse playhouse that will keep kids busy for hours.
Rustic Indoor Wooden Tree House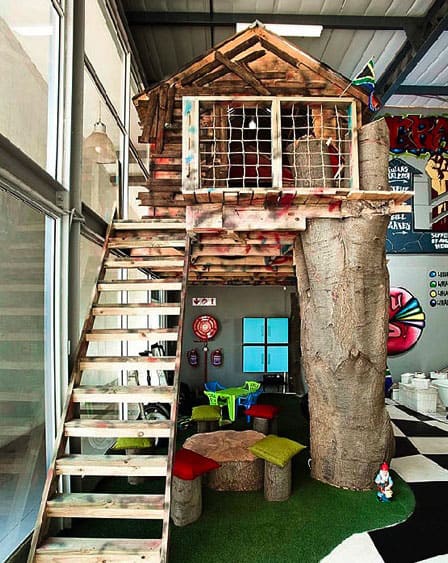 Rustic Tree House (via Pinterest)
This rustic indoor kids treehouse is reminiscent of classic Grimm's fairy tales and perfect for your little gnome or fairy. We can already see the many adventures your little ones will have in such a realistic-looking fort.
Kids Treehouse Bed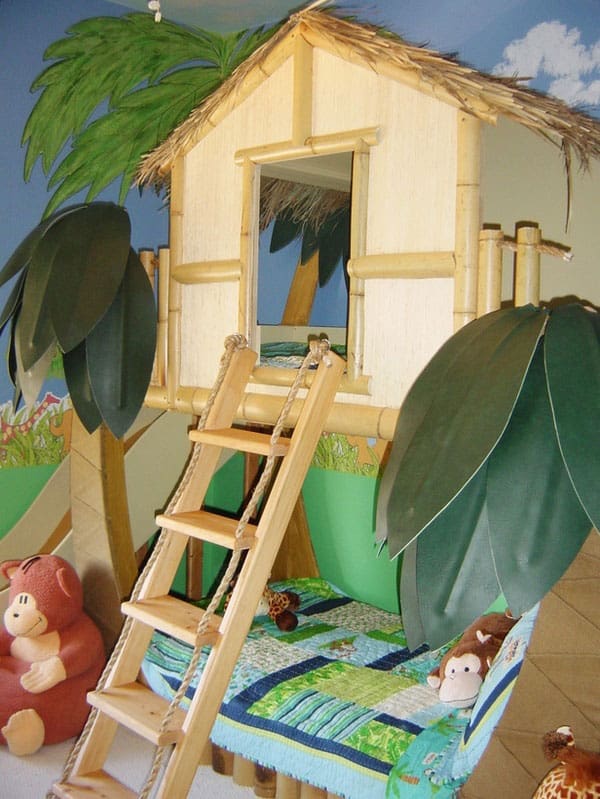 Island Tree House (via Pinterest)
Another creative indoor tree house bed, this one will make kids feel like they're in the South Pacific sipping on coconut milk. Finish it off with jungle-inspired bedding and decor, and you'll have the perfect room for adventurous kids.
Painted Indoor Tree House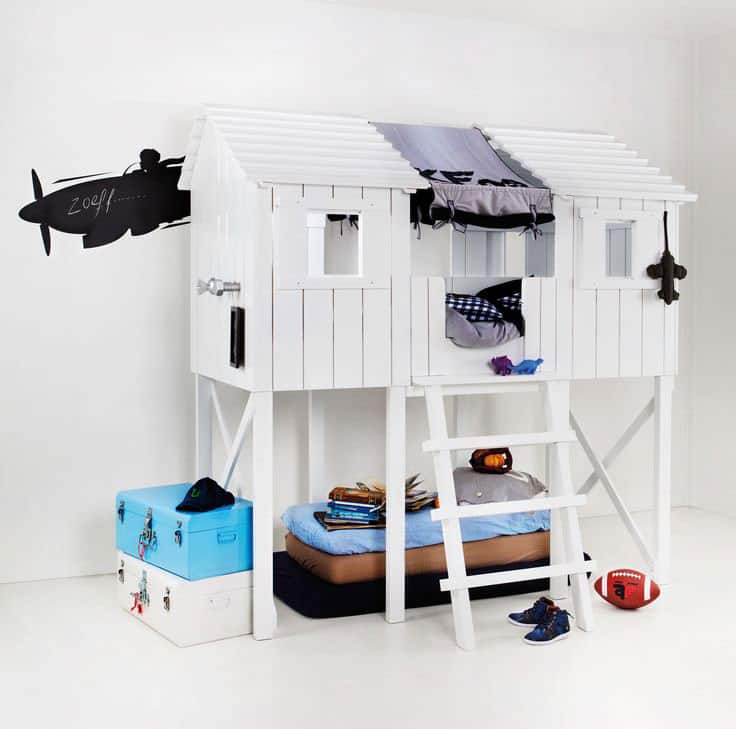 White Modern Tree House (via Pinterest)
Tree houses don't have to be rustic or wood-stained. Build your child an indoor tree house bed and paint it white for a clean finish for a modern-day playhouse.
Forest-Inspired Inside Treehouse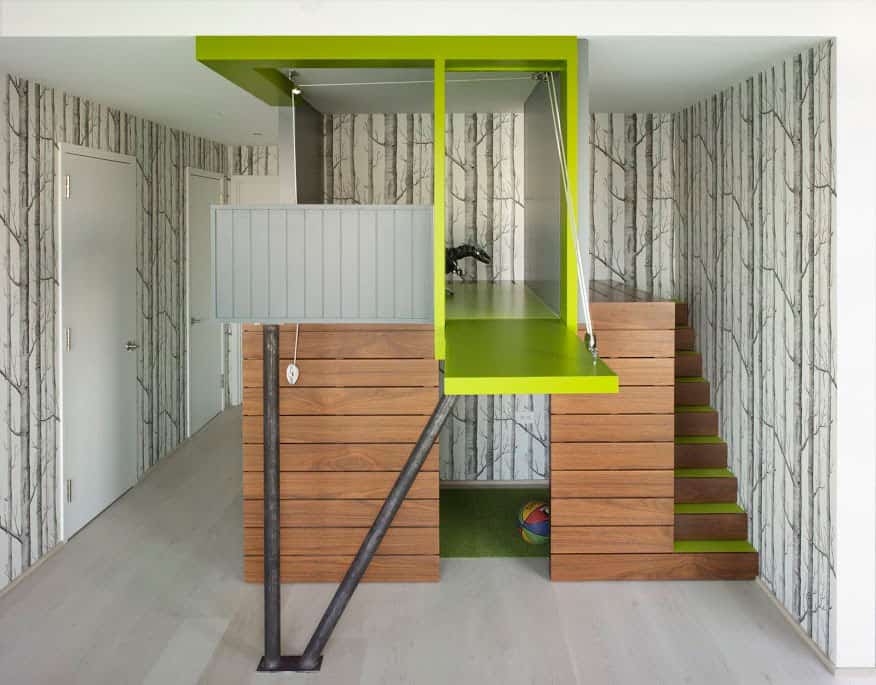 Ultra Urban Tree House (via Incorporated)
For the contemporary-minded, this designer tree house is perfect for urban dwellings and will provide many hours of fun play. The forest wallpaper is a chic way to bring nature inside.
Bring Your Treehouse Indoors
There are so many ways to do an indoor tree house DIY style. Whether you need to fit it into a bedroom and use a bunk bed, or you have a full playroom to turn into an imaginative jungle. And we're sure that your kids will absolutely love their fun forts.