Originally posted on 31/07/14
Painting with watercolors is one of my daughter's favorite art activities. No matter what, the results are always so pretty and unique each time. With all the colorful watercolor palettes and different mediums available (such as liquid watercolors), you can create some pretty cool and artistic effects each time.
Check out these different ways to use watercolors beyond using the ordinary paintbrush. From using rubber bands to bubble blowers, making cards, or cool process art, you'll be amazed by all the different ways you can paint with watercolors!
Unique Watercolor Ideas
If you're looking for things to do with watercolors for kids, we have a list full of unique and fun options. These are great activities for the summer, but can be done indoors on rainy days too – just put down lots of newspapers to catch the mess.
Fun Watercolor Paintings with a Rubber Band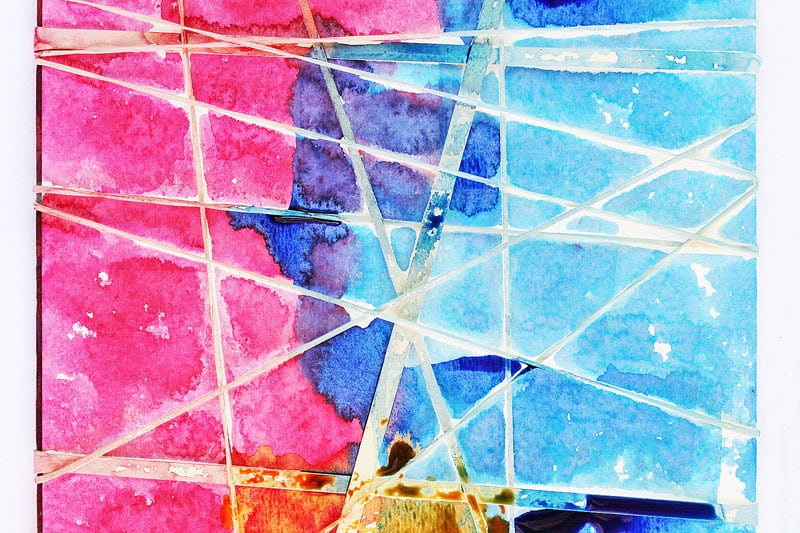 Rubber Band Watercolor Art (via Babble Dabble Do)
This amazing tutorial shows you 3 ways how to create cool abstract-looking art using an uncommon item…rubber bands!
Most people have rubber bands floating around the house somewhere, so this is one of the easiest things to do with watercolors.
Cute Watercolor Cards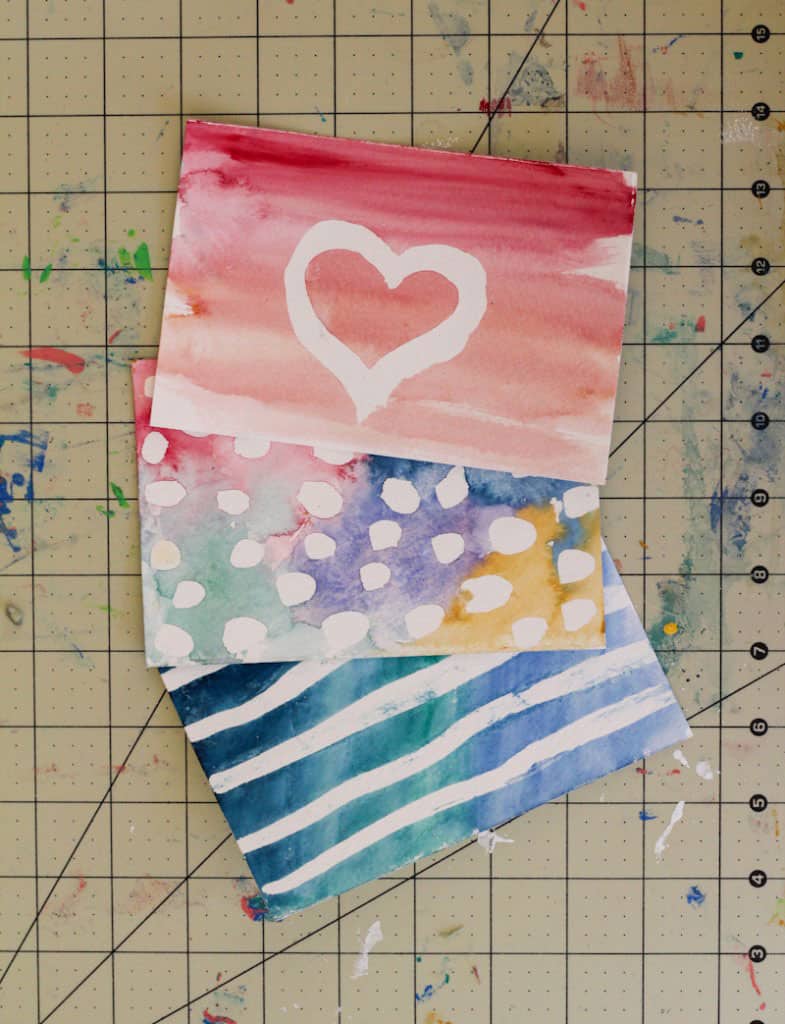 Watercolor Cards (via The Crafted Life)
These creative painted cards are a fun way to get the kids to make their own along with a fun art project.
Use these watercolor painting ideas for birthdays, anniversaries, and other special occasions where your child (or yourself) needs to give a card. Homemade is always more special.
Cool Watercolor Paintings Process Art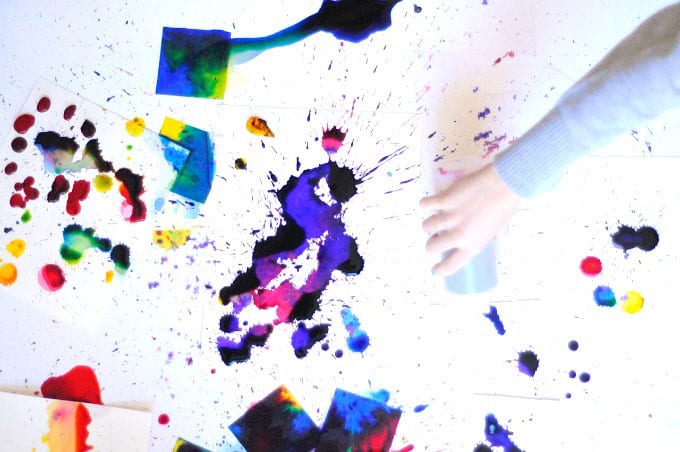 Watercolor Process Art (via Artchoo)
This is messy fun but oh so worth it. Let your child drip and splatter and in the process, create some amazing one-of-a-kind art.
Sit your little ones down and let them be creative with these colorful watercolor paintings that have no rules. The only point of this is to have fun and create.
Unique Watercolor Erupting Watercolor Art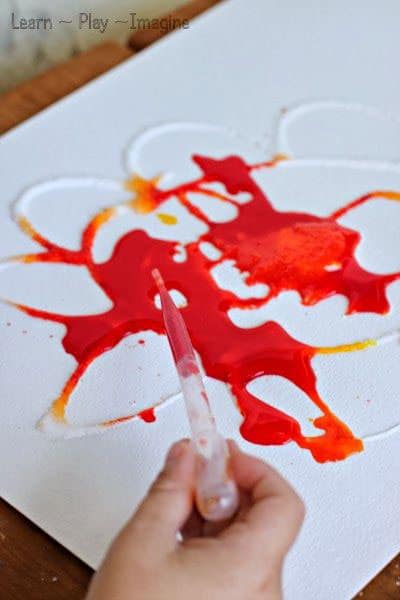 Erupting Watercolor Art (via Learn Play Imagine)
How cool is this? Combine science and art into one fun, paint-splattered explosion!
Paintings with watercolors can be pretty, fun, and educational. Which you'll see from this erupting art using watercolor paints and science.
Creative Watercolor Spring Flowers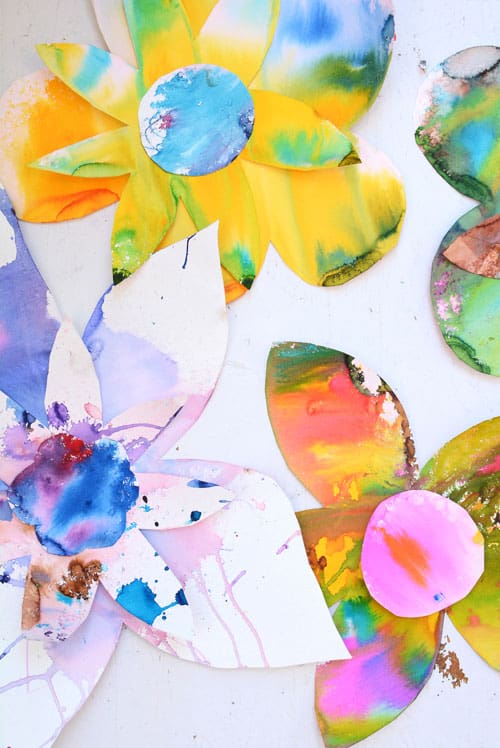 Spring Watercolor Flowers (via Meri Cherry)
Why not try out one of the pretty things to make with watercolor paints and celebrate spring with these paper flowers? They'll help brighten up a room or can be stuck into a scrapbook.
With springtime in full bloom, what better way to celebrate than by making some pretty watercolor flowers? These won't wilt and can be admired all year long!
Circle Painting with Watercolors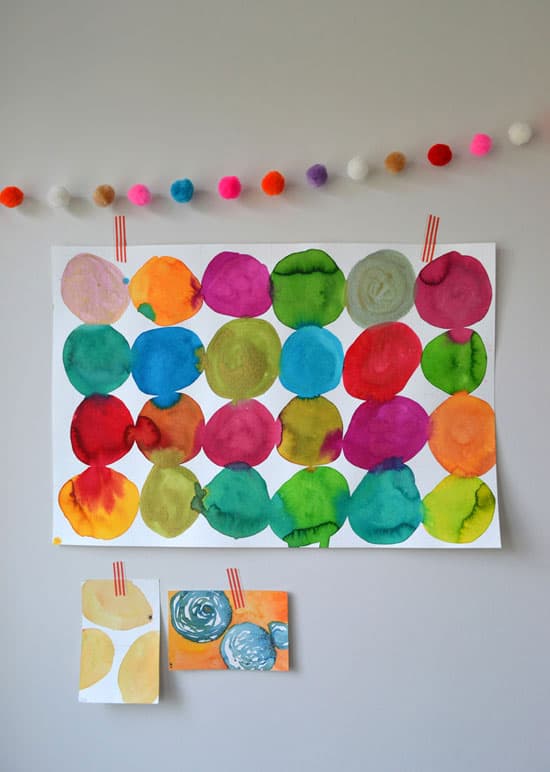 Watercolor Circle Painting (via Small For Big)
There are so many cool things to do with watercolors. For a fun and quick craft project, get your child to practice their shapes and colors.
These circle paintings are a bright and colorful way for children to decorate their room. I love the concentric patterns and fantastic colors on these.
Cool Watercolor Art DIY Stickers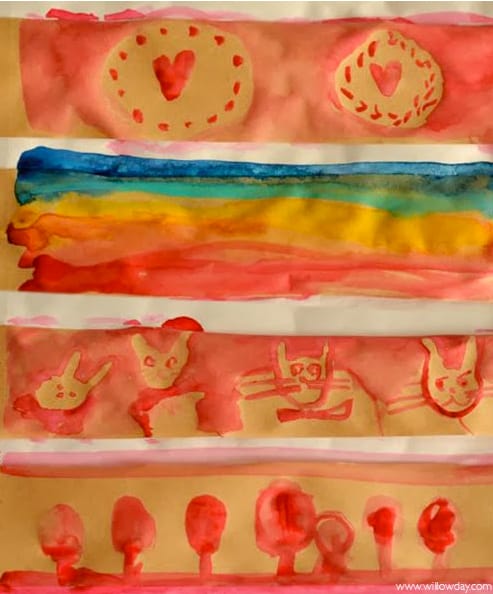 Watercolor on Tape (via Willowday)
Use your watercolor supply to spruce up some plain-looking tape and offer your child the unique and cool option to make their very own personalized stickers.
This is so clever and genius. Paint on tape and have your child create their very own stickers and stationery! This is sure to be voted one of the most fun things to do with watercolor paints.
Pictures Using Melted Crayons & Cool Watercolors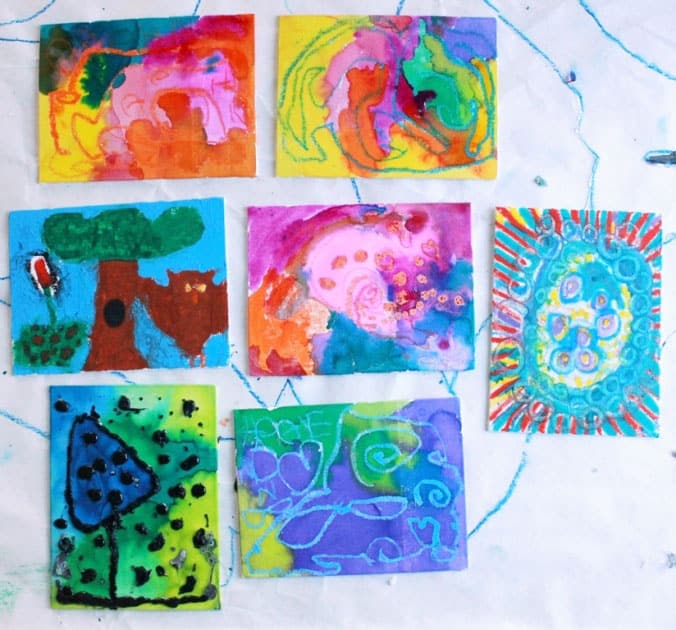 Melted Crayon and Watercolor Resist (via The Artful Parent)
Combine two fun art mediums into one and get these beautiful, textural paintings as a result.
Don't throw those old and broken crayons away. Rather save them, melt them, and use them to create beautiful art. Melted crayons can be fun, bright, and beautiful to create with.
Geometric Creative Watercolor Painting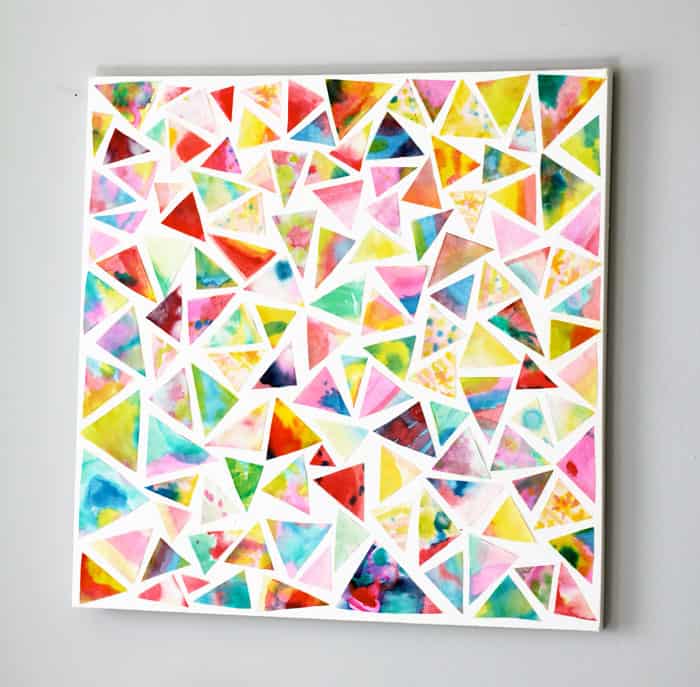 Geometric Watercolor Art (via Like a Musical Ride)
For a designer and modern-looking print, try painting with watercolors on paper and cutting them into geometric shapes. The effect is so cool and contemporary.
Why not help your child create a geometric design and frame it? These work well as gifts for the grandparents, or just to hang up in your child's bedroom.
Bubble Art – Paint with Watercolors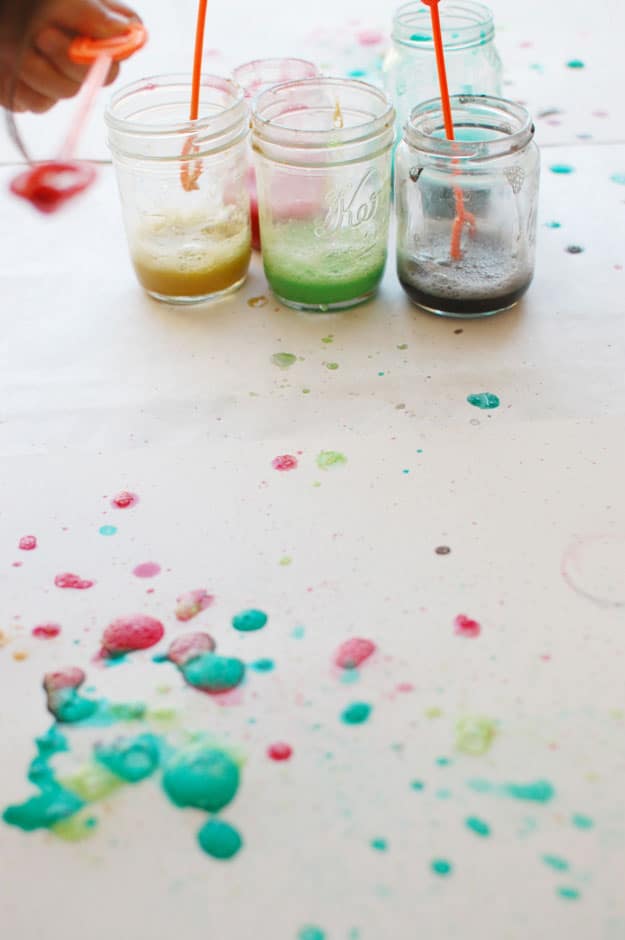 Bubble Watercolor Art (via Pretty Prudent)
Blowing bubbles is a fun pastime, but here we can see that it can also be a fantastic creative outlet.
I can't imagine any child (or adult) not wanting to try this at least once. Who knew blowing bubbles with paint could create such artistic-looking art?
Bonus Watercolor Painting Ideas: DIY Notebooks
Now here's a good reason to let kids splatter paint. These easy DIY watercolor notebooks result in frame-worthy art masterpieces kids can make with no two alike. Stamp with a monogram or name for an extra personalized touch.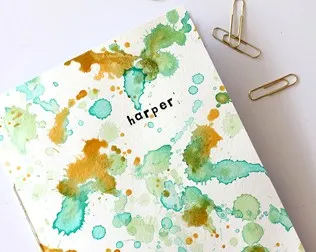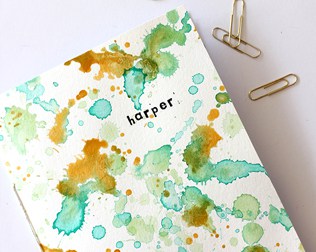 Wouldn't these make pretty handmade Mother's Day gifts? Head over to Alice and Lois for the tutorial.
Fun Things to do with Watercolor Paints
Now you know what to do with your watercolor paints that have been waiting around in the cupboard for a fun activity. And you don't even need a paintbrush.
Get out bubble blowers, rubber bands, or just a few fun shapes, and you'll have a full day of family-friendly activities to keep everyone busy.
Read More: Unique Ways to Paint
12 Clever Ways to Paint Without A Paintbrush
8 Fun Ways to Paint on Something Other Than Paper
Squeegee Painting with Toddlers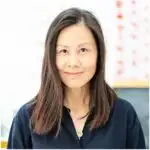 Agnes Hsu is a mom of three and has been inspiring parents and kids to get creative with easy activities and family friendly recipes for over 10 years. She shares her love for creative play and kids food to her 2MM+ followers online. Agnes' commitment to playful learning and kindness has not only raised funds for charity but also earned features in prestigious nationwide publications.