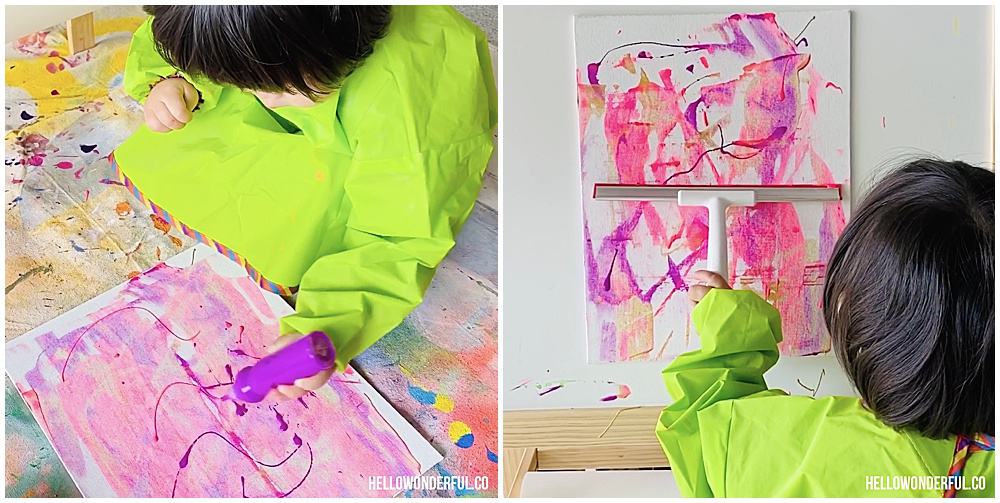 By using this site, you agree to our Terms of Use. This post may contain affiliate links. Read our disclosure policy.
Follow us on Instagram for more fun ideas for kids!
Scroll down to watch the video below to watch this fun Squeegee Painting With Toddlers in action. Make sure to subscribe to our YouTube channel for more fun videos!
This Squeegee Painting with Toddlers is a fun painting activity you can do with your little ones that creates beautiful art in seconds!
Having great indoor activities to keep toddlers or preschoolers busy and active in important and this is why when we can paint, we paint!
But sometimes, even painting needs to be switched up just a little bit. Little kids love to try out new activities and ideas.
They're certain to love the idea, even more, when you hand the paint in bottles and a squeegee and tell them to have fun!
They might look at you in disbelief but once you reassure them to go for it, they're going to be obsessed with painting and scraping it, over and over again!
What I love most about this simple painting activity is that it's an easy way to give your child confidence that they can create beautiful artwork all on their own.
Anytime that they can do anything without help, their attitude and creativity are going to soar through the roof!
Just be ready for it because once they realize that they can tackle a craft like this on their own, they're not going to want to stop anytime soon!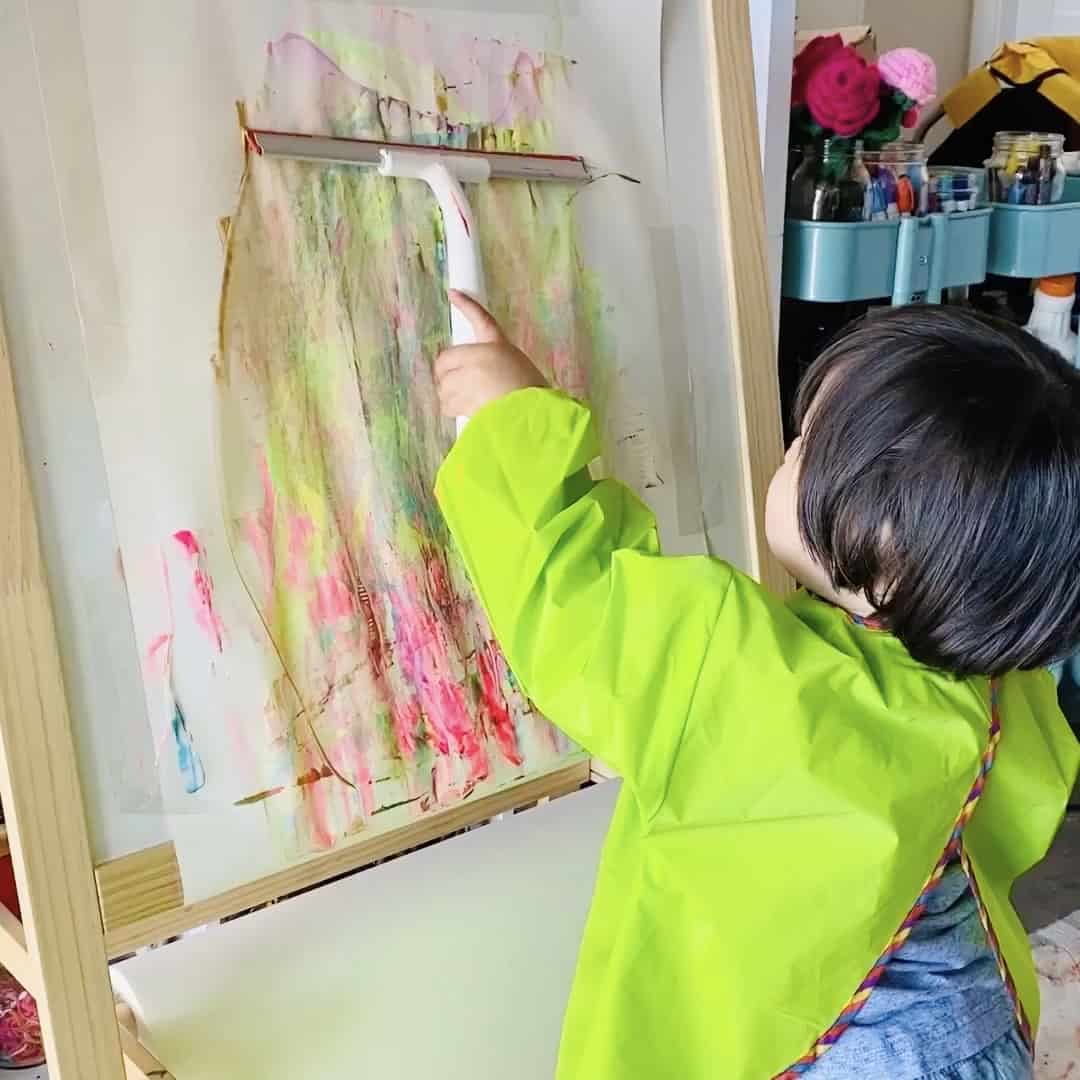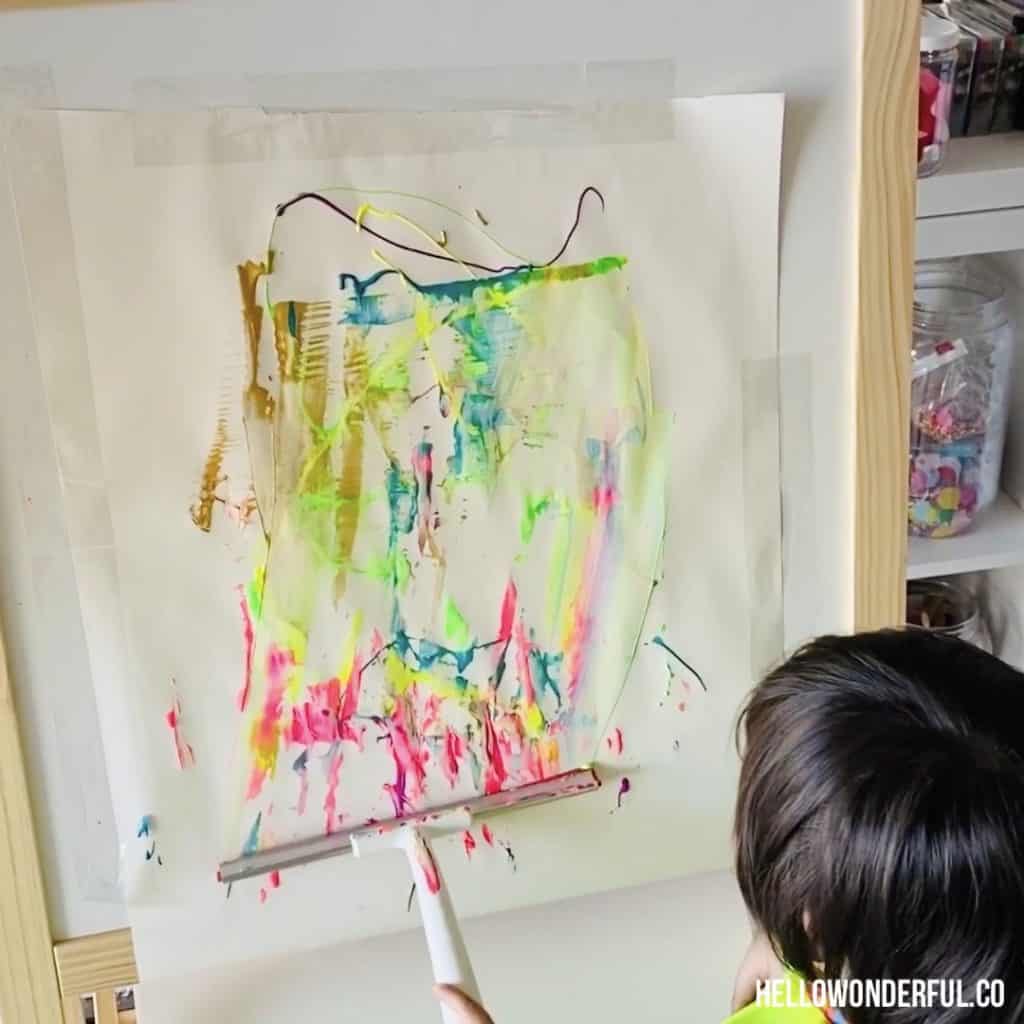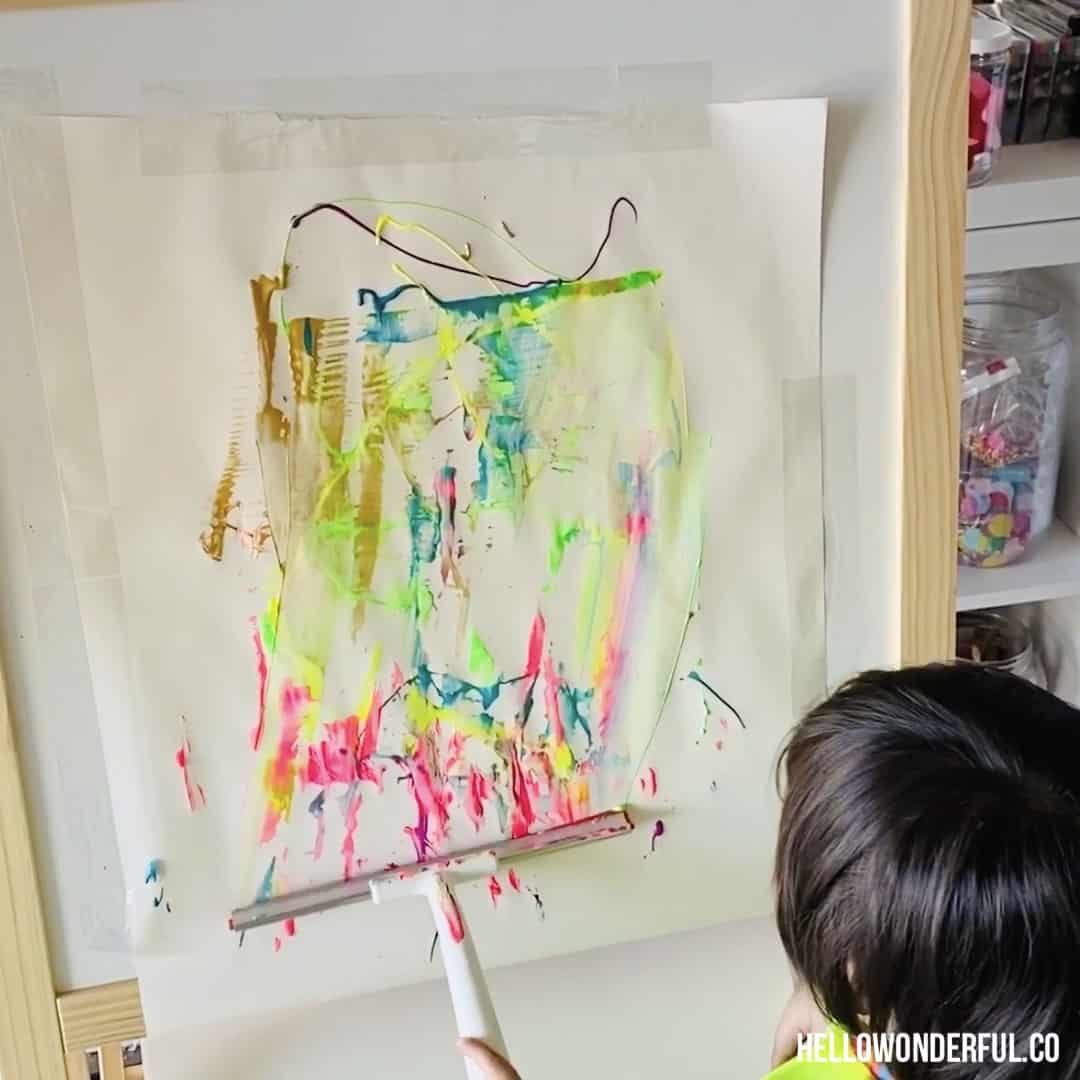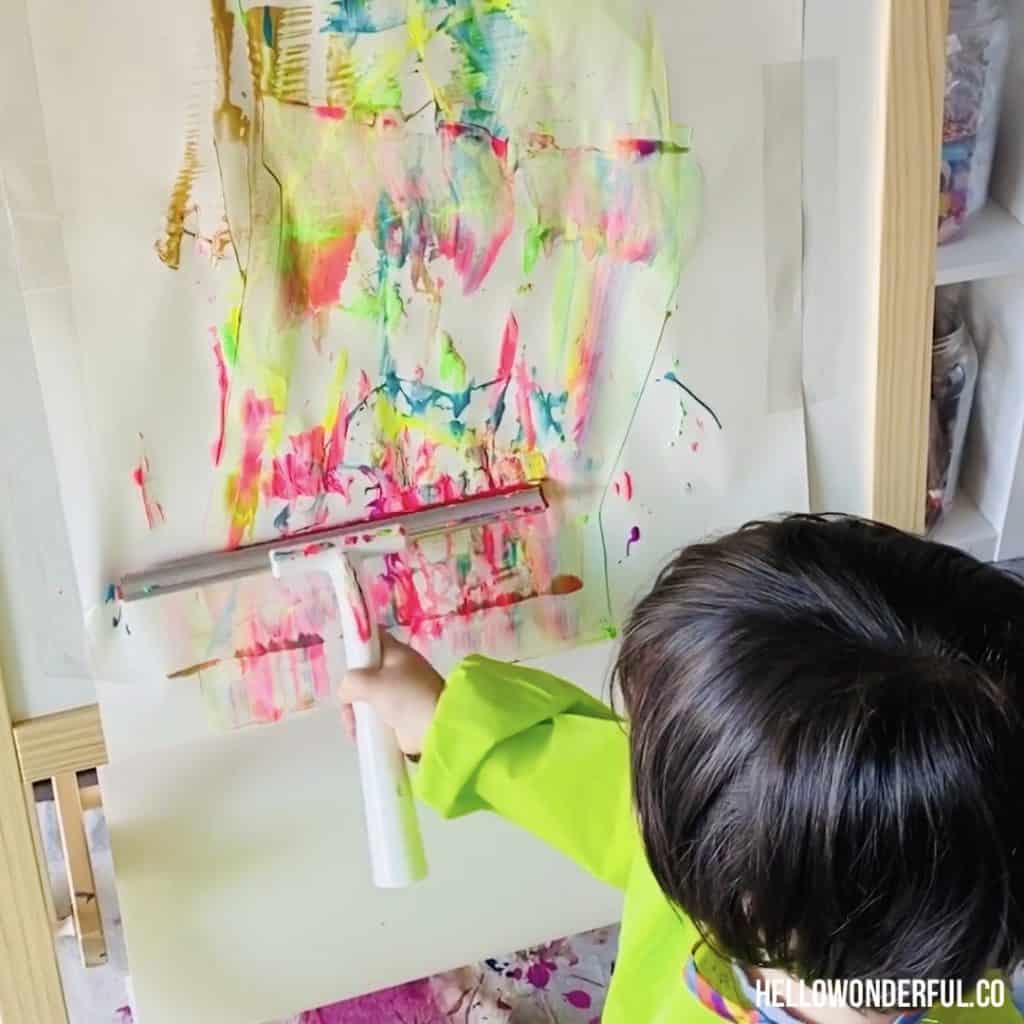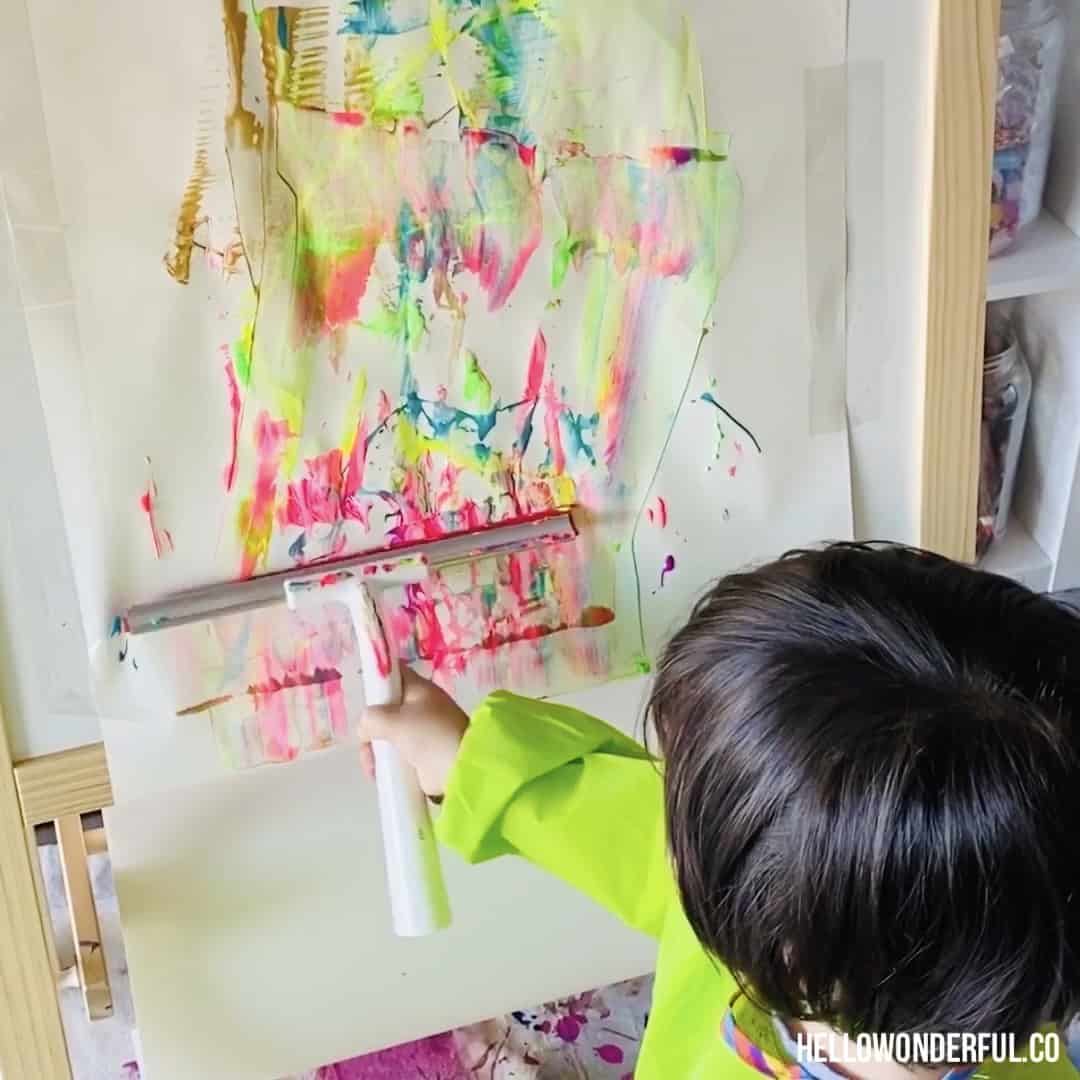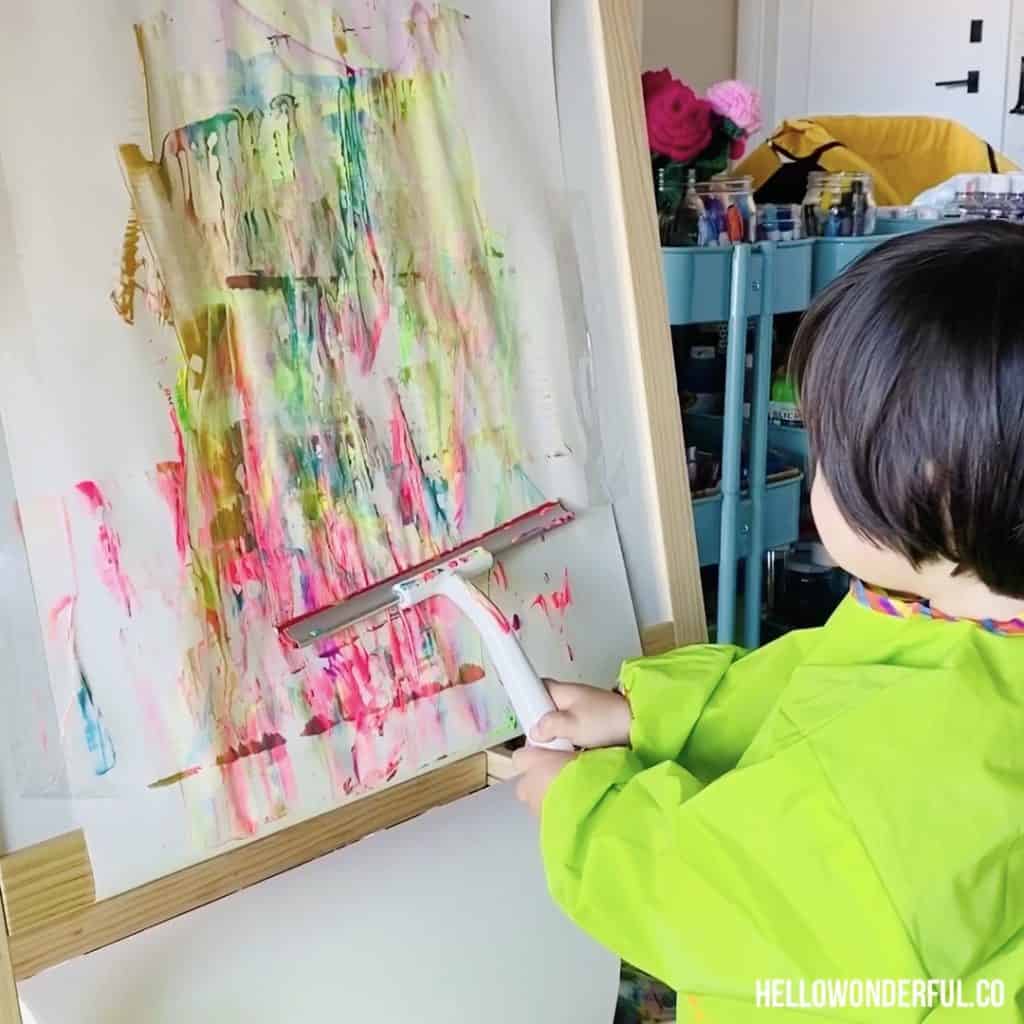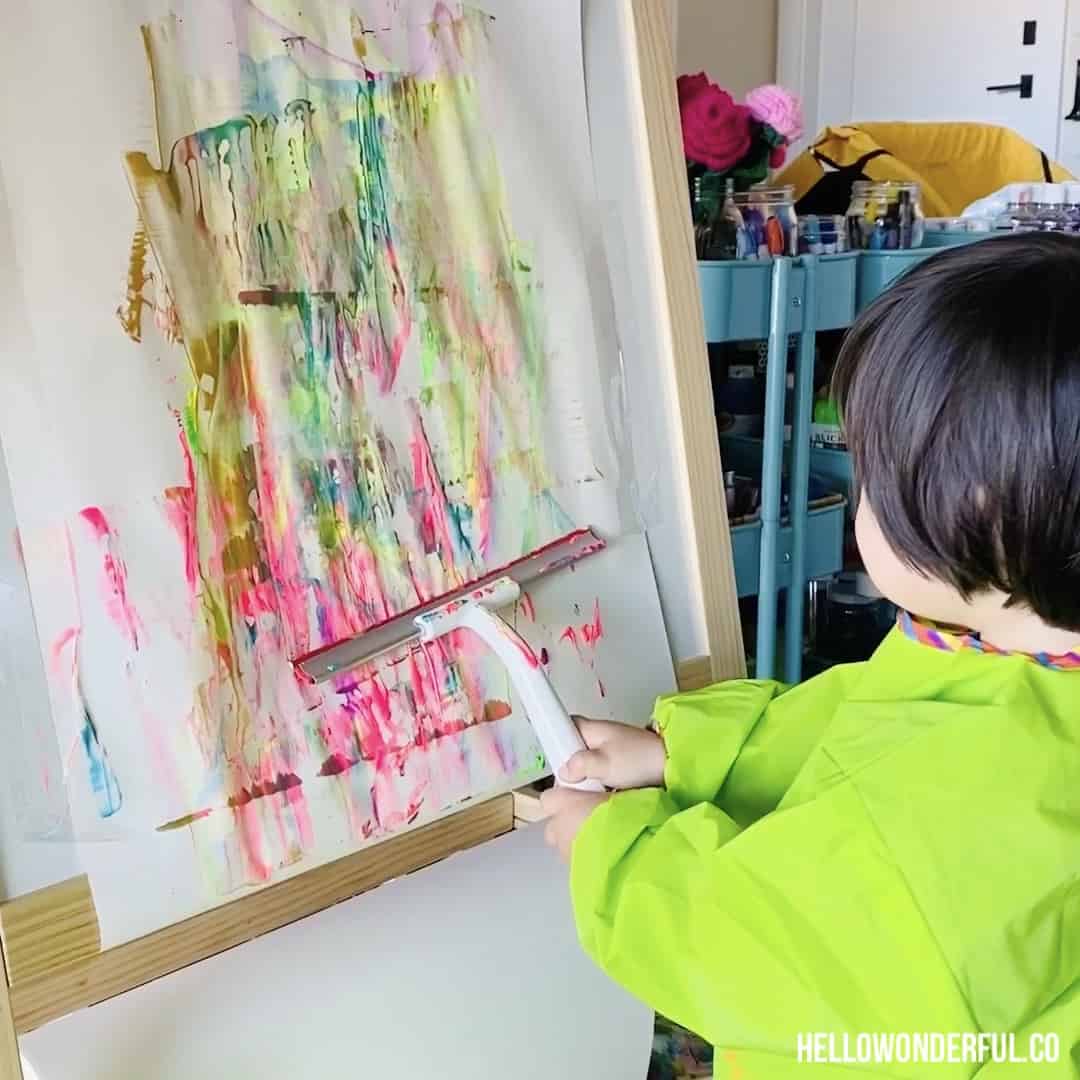 Is squeegee painting really a good indoor craft?
This all just depends on how you feel! I can assure you that there's a some probability that there are going to be issues with paint possibly being spilled but don't fret, there are a couple of things that you can do to combat it.
If you're doing this painting activity in your house (or garage in our case), take a lay down an old sheet or canvas drop cloth that you don't care about and have your child paint on top of that.
That way, when they're all done, you can take the sheet and let it dry and just use it as your painting sheet from now on.
However, if you're not overly excited about doing this indoors, take and set it up outside! As long as the weather is nice, this can be a super fun way to get them out of the house and painting in the sun.
And if they make a mess on the grass, it's really not a big deal at all!
Does this painting activity with toddlers make a mess?
Not significantly. One reason we like squeegee painting is due to the low mess. You just need minimal amounts of paint squirts to create stunning results in seconds! The best part is the reveal as the squeegee goes down!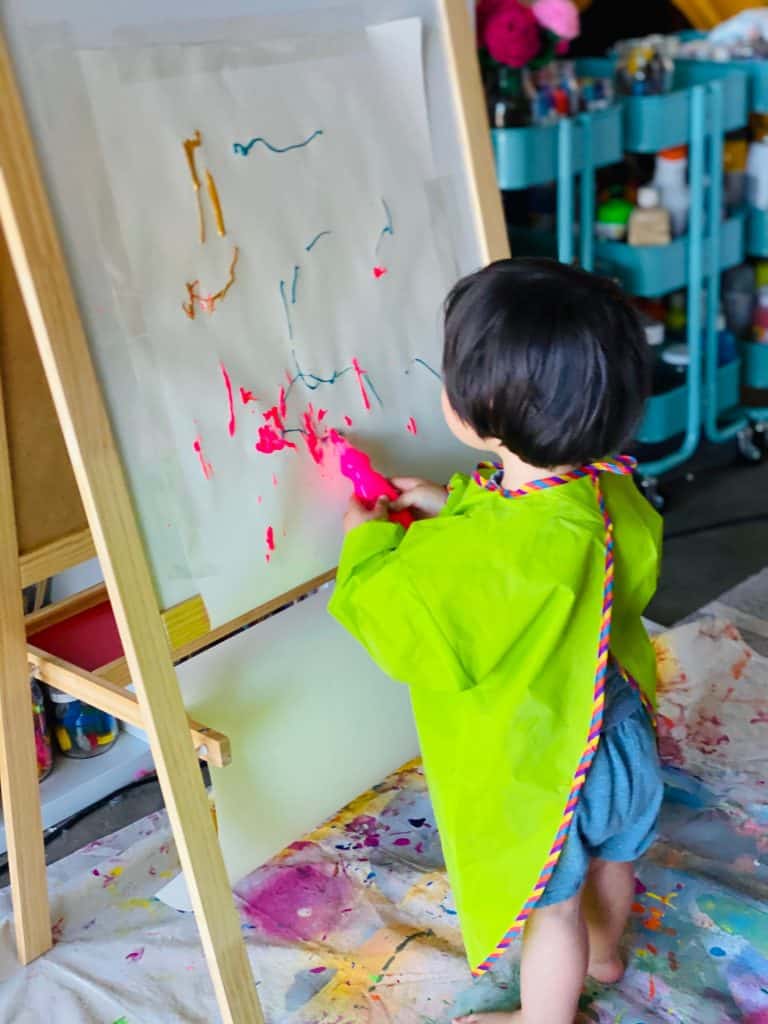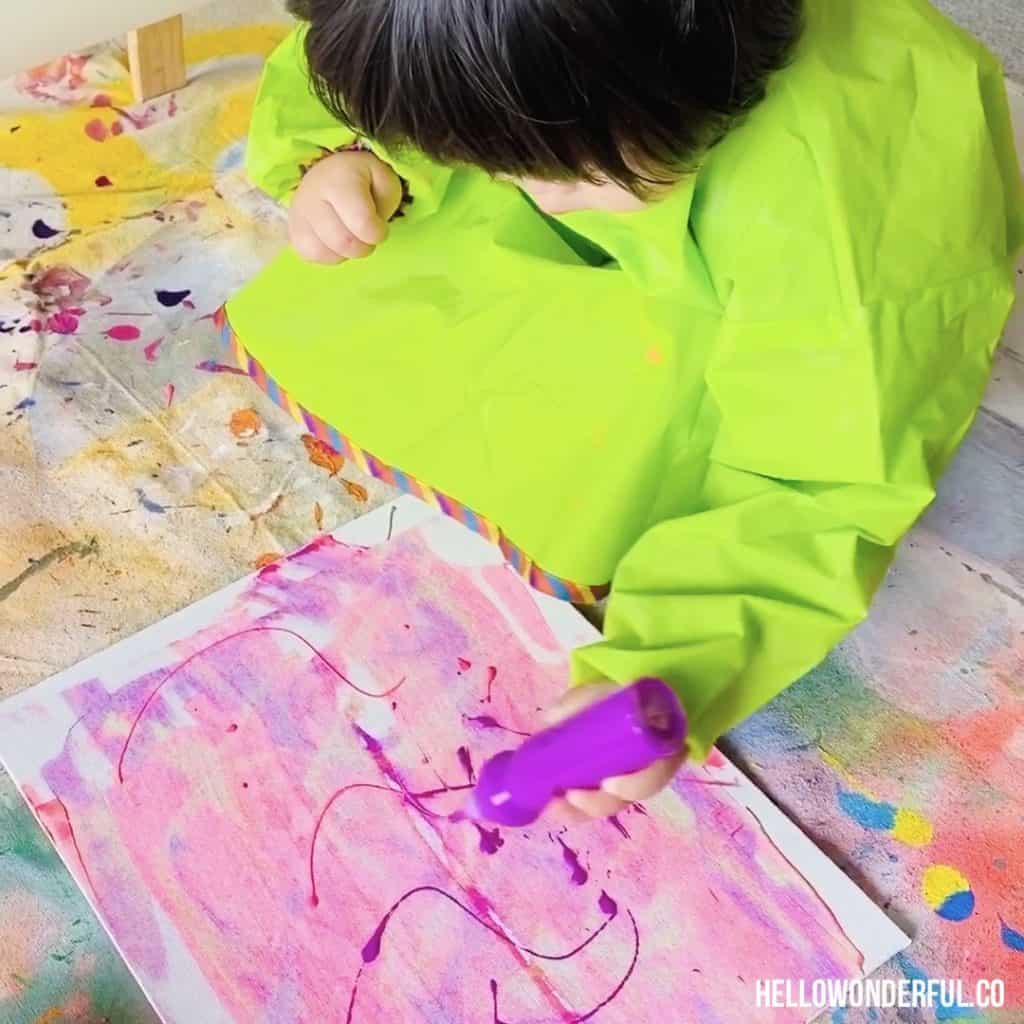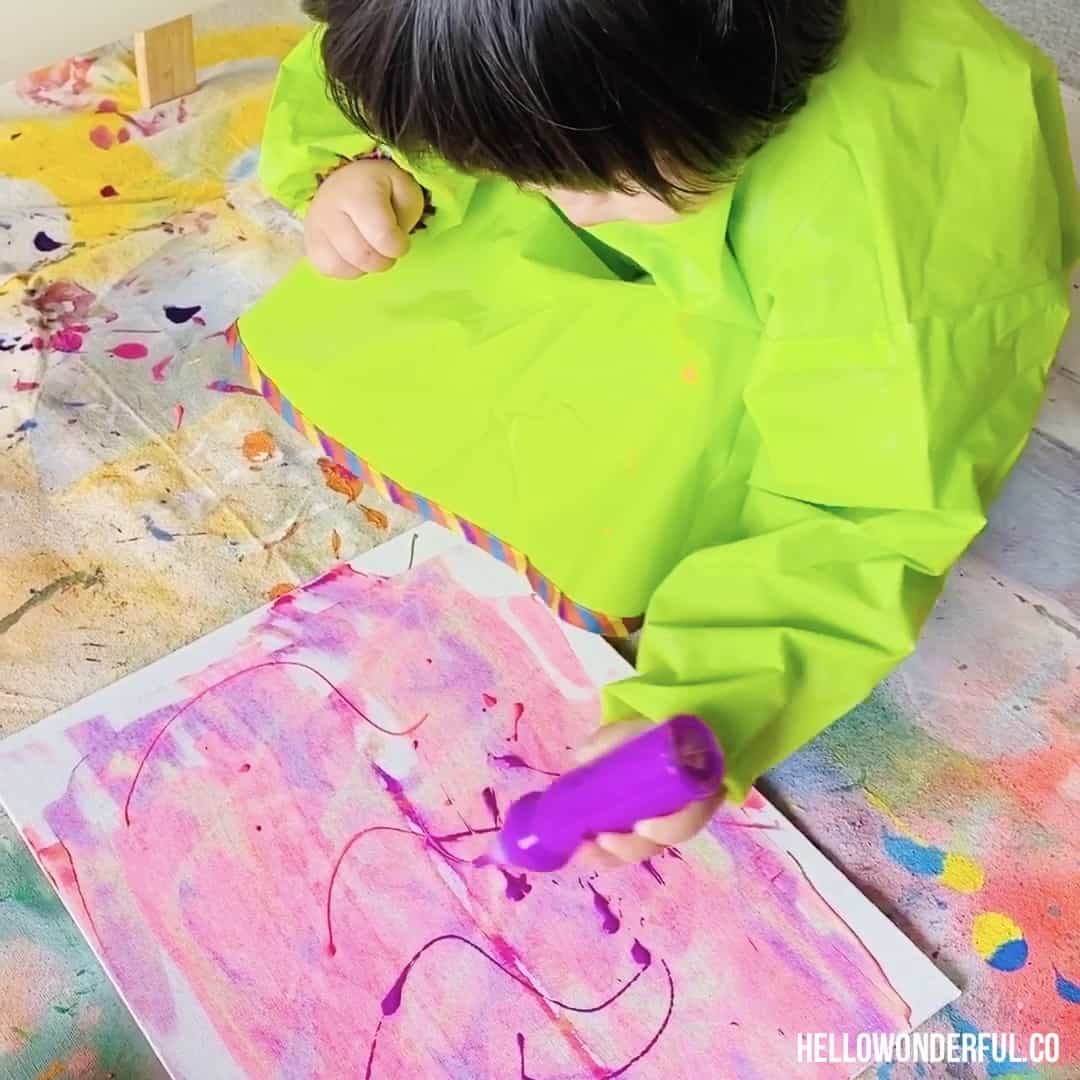 Is this painting squeegee activity safe for small children?
Absolutely! As long as you're there supervising, there shouldn't be any issues at all. Just make certain that you're using washable, non-toxic paint that won't do any harm and you won't have anything to worry about.
We got our squeeze paints in small bottles from Ikea, but if you don't have one nearby you can squirt some washable paint into small empty squirt bottles. These little bottles are great for little hands an good for toddler fine motor skills practice.
You might even find your older children joining in on the fun! Once they see the younger one making cool and unique art, it might increase their interest to give it a try as well.
How to create this Squeegee Painting With Toddlers
You're literally not going to find another painting activity as simple as this. Just gather up the small number of supplies needed and you'll be well on your way to let them create.
Squeegee Painting With Toddlers – Materials:
Easel to hold paper

Sheet or drop cloth (to put under the easel if painting indoors)
**Always supervise baby and toddler activities
INSTRUCTIONS:
Step 1. Lay paper over your easel and tape down or tape a thin canvas if you want a more finished art piece. We show both ways here.
Step 2. Encourage your toddler to squirt paint onto the paper or canvas. If they are having trouble, demonstrate or help them squirt.
Step 3. Have them hold the squeegee and paint in a downward motion. You will probably have to do this with them several times. Be warned they will want to keep sliding it back and forth muddying the colors! But it's fine for the sake of them learning about the process. It's all in learning and fun!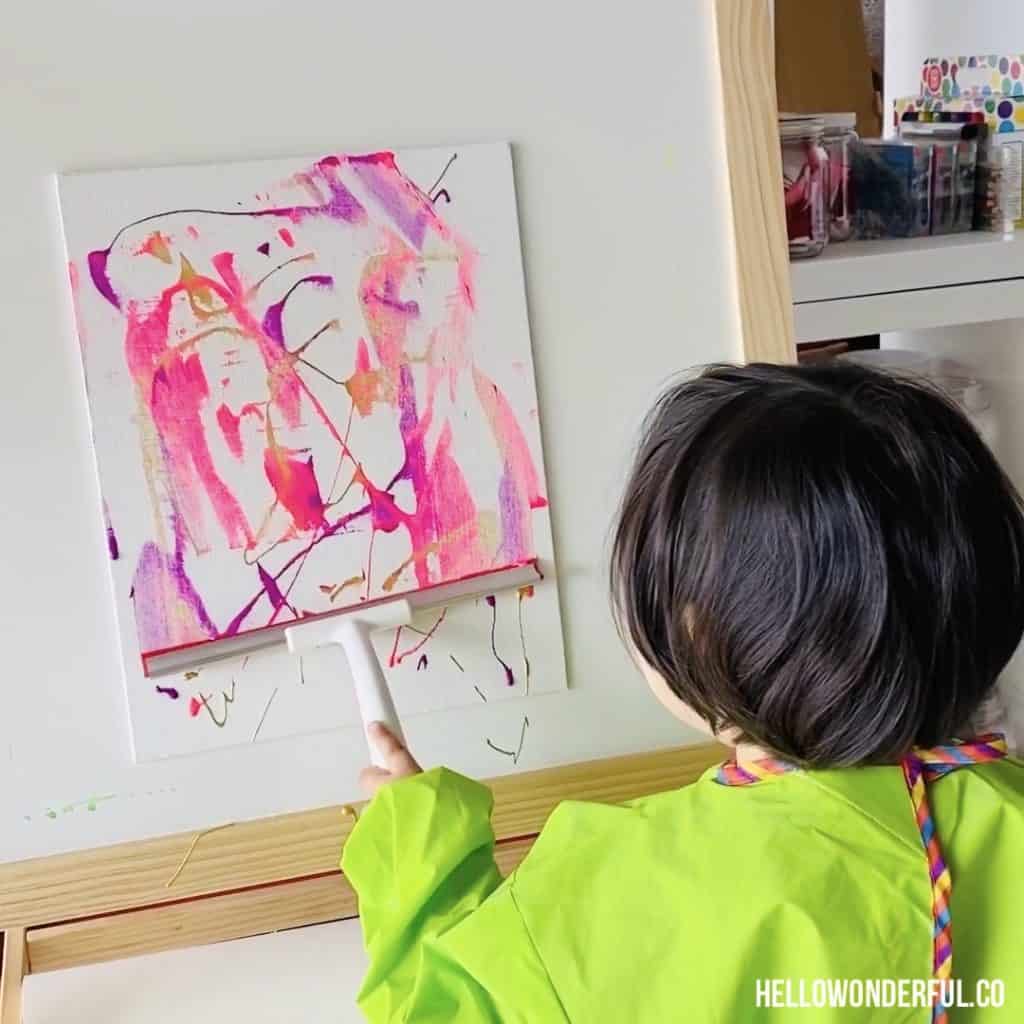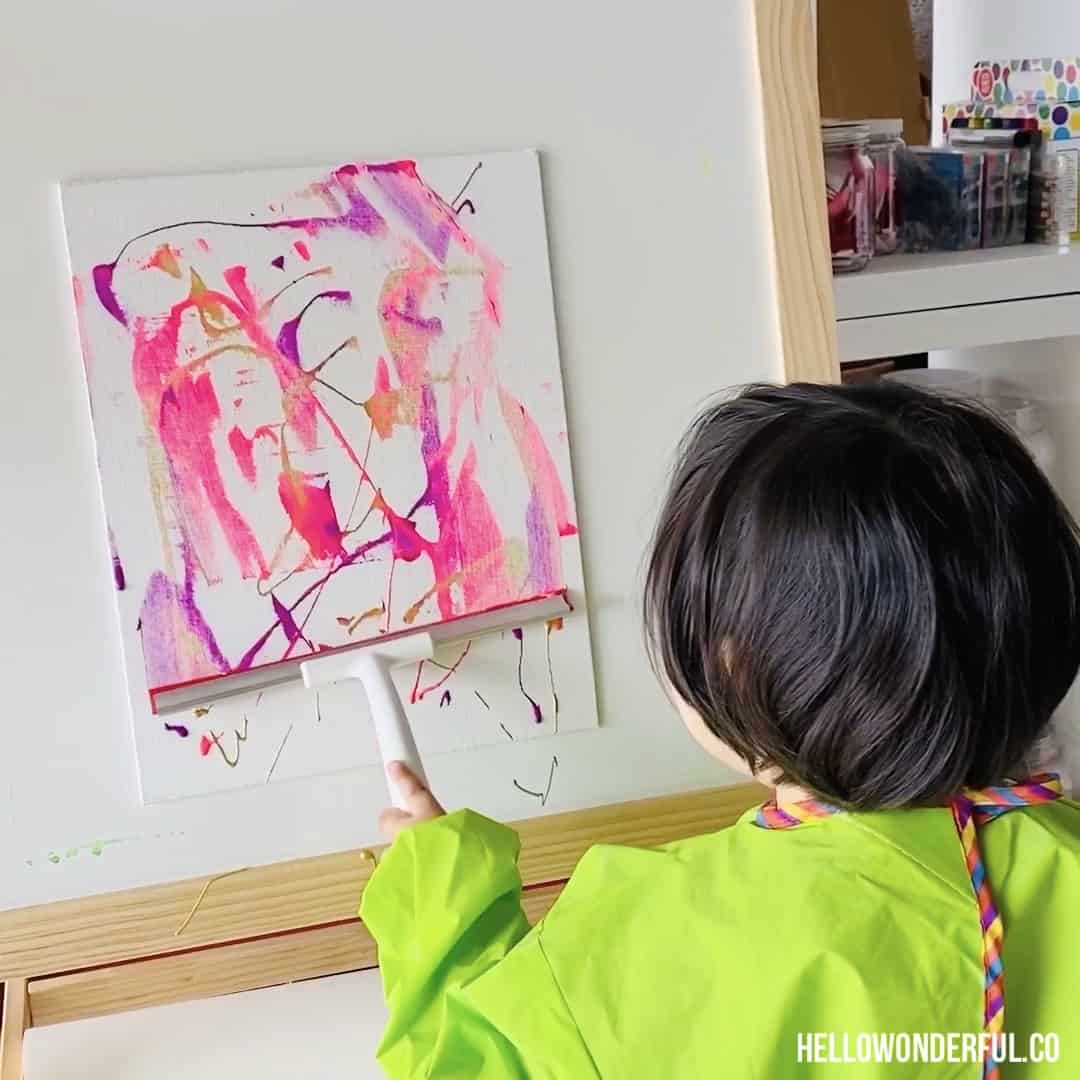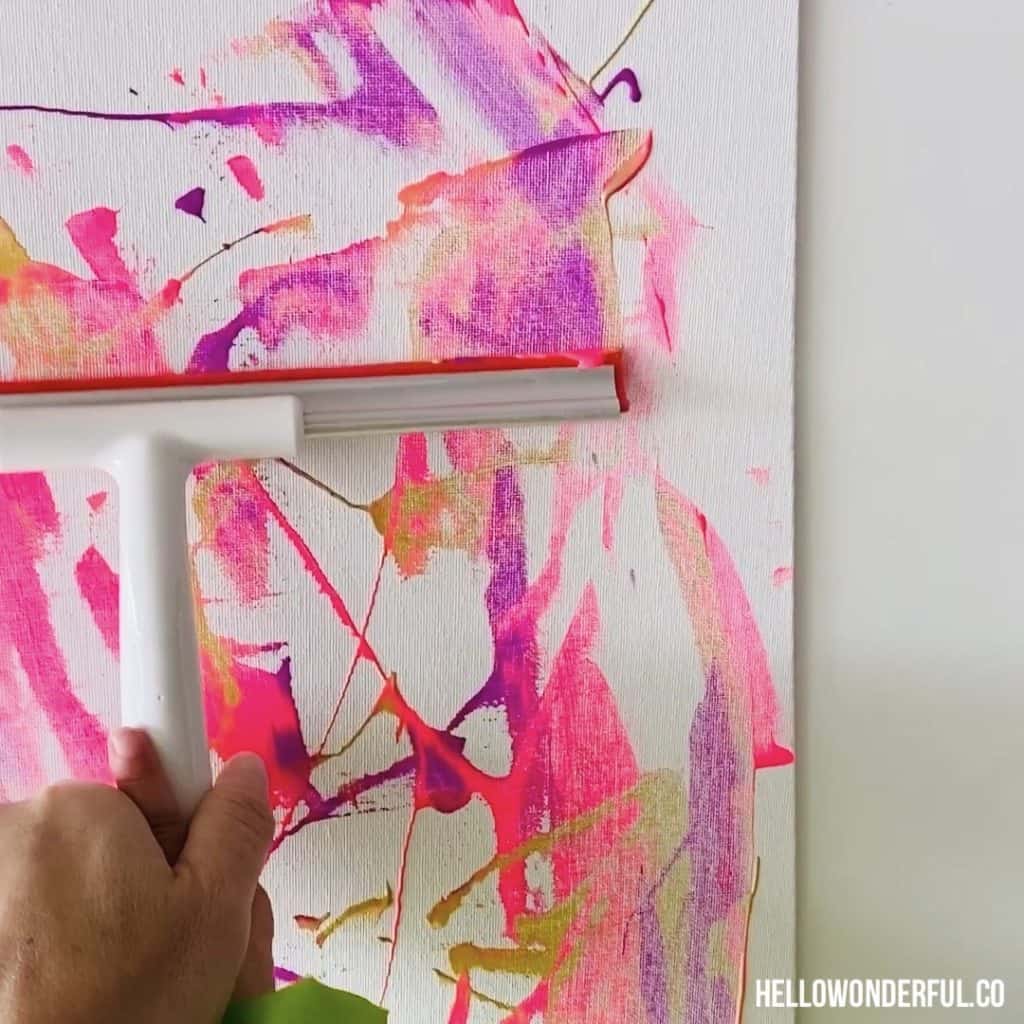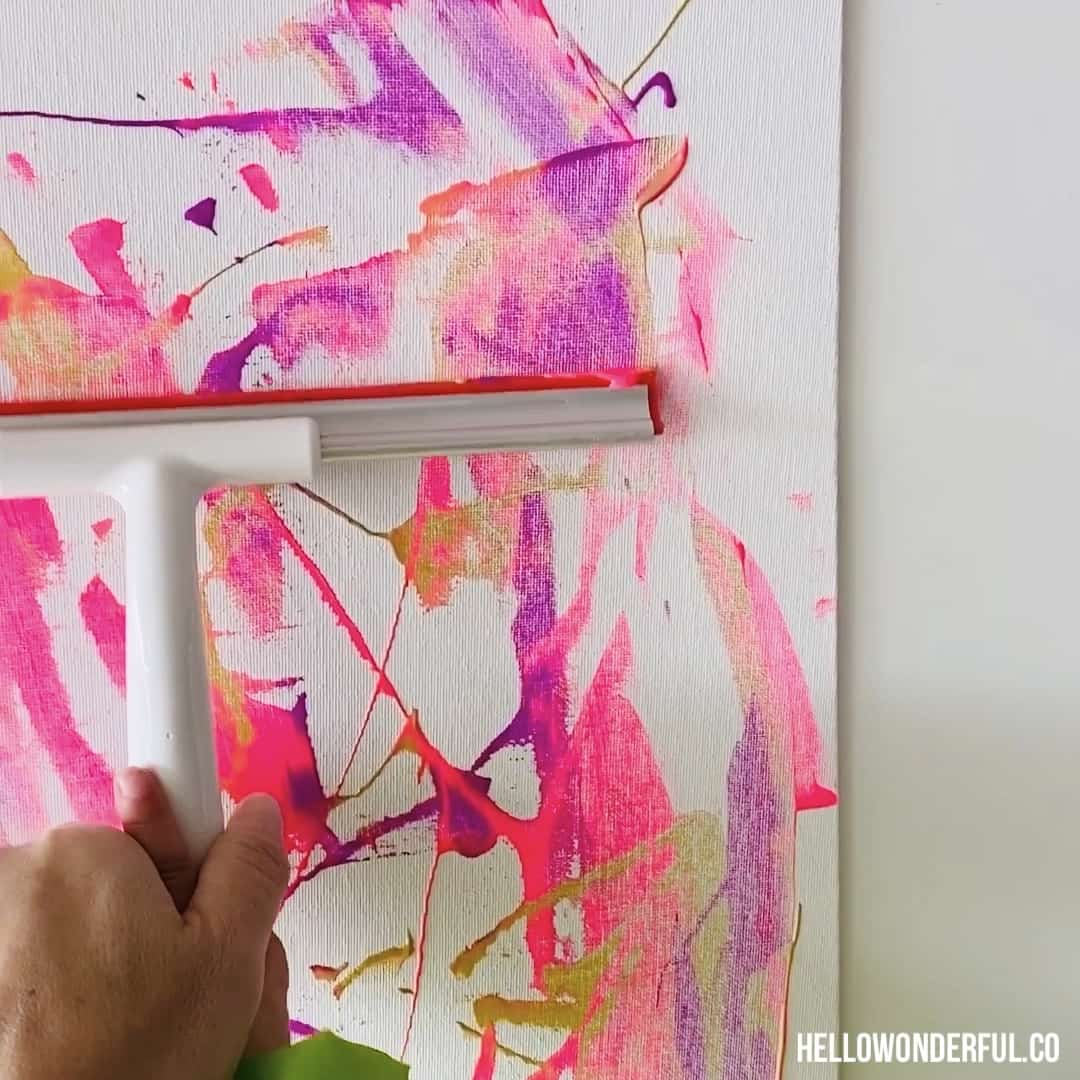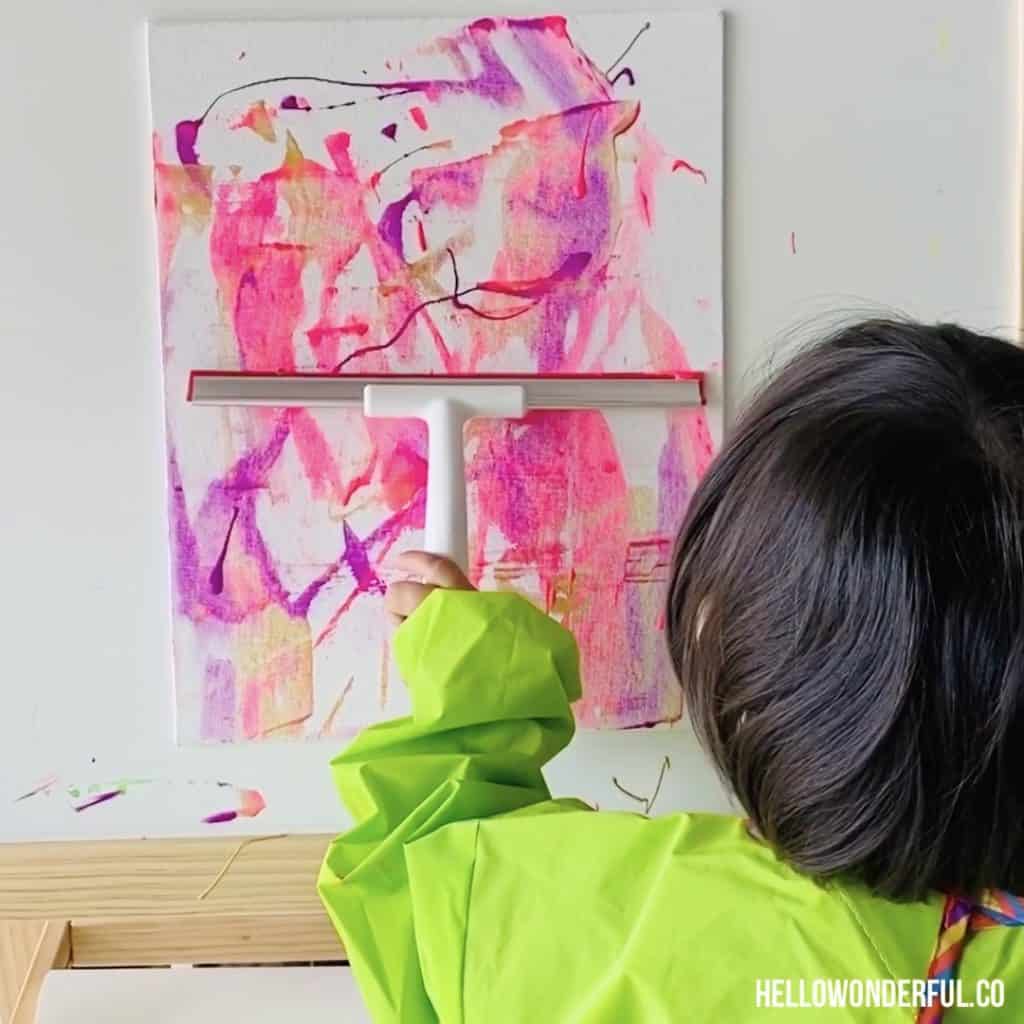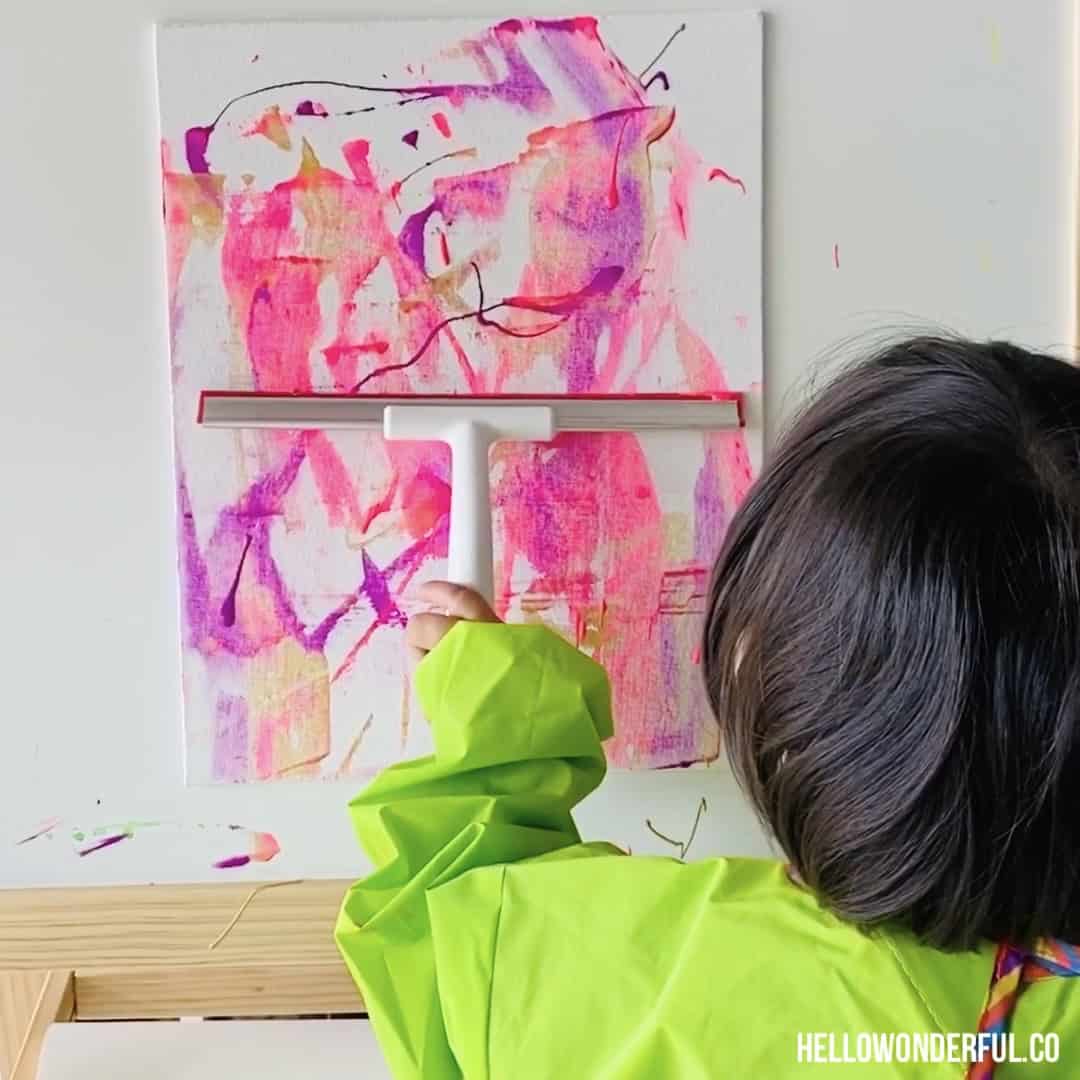 If you love this Squeegee Painting With Toddlers, make certain to take a peek at some of our fun squeegee activities as well.