By using this site, you agree to our Terms of Use. This post may contain affiliate links. Read our disclosure policy.
Follow us on Instagram for more fun ideas for kids!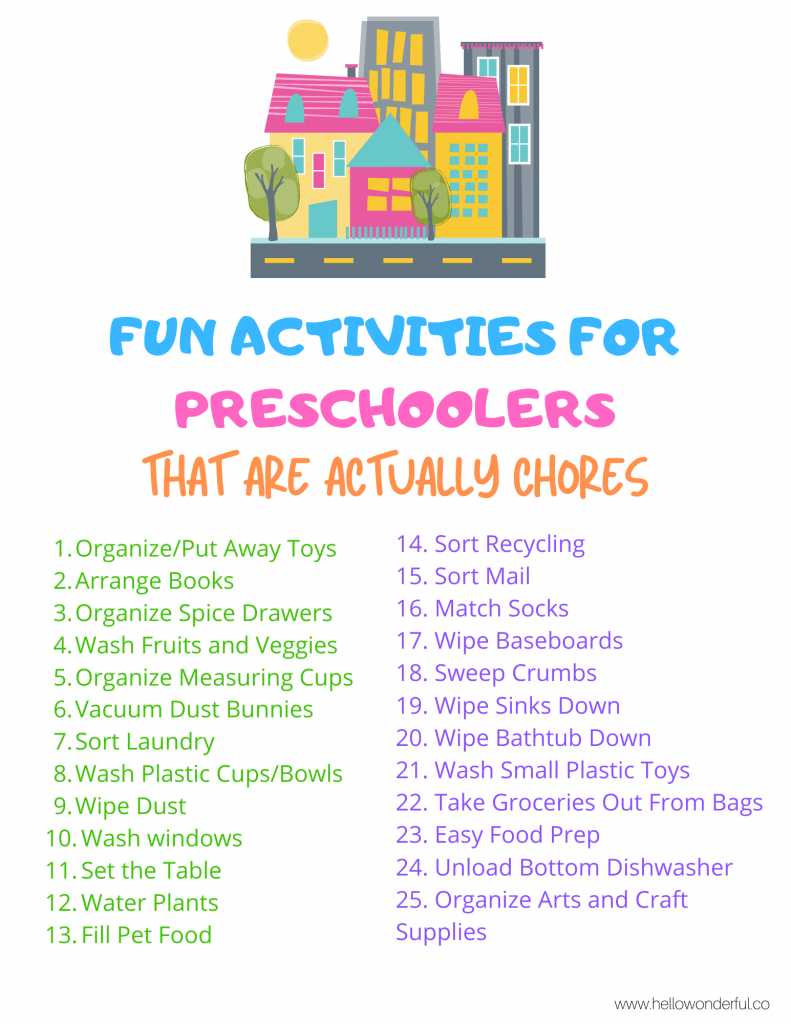 Grab the FREE Printable down below
These fun preschool chores double as fun activities for little kids!
We've all been homebound with the recent school closures and stuck indoors. If you have elementary school children like mine they are lucky to participate in school "distance learning" where their amazing school and teachers have banded to provide daily school curriculum.
The thing that threw me for a curve with the coronavirus closing schools down is our preschool.
Preschools and daycares, or Montessori preschools like the one my little one attends are all private institutions and so they shut down abruptly with no curriculum provided.
This has left many preschool parents scrambling to find activities for their preschoolers to keep them busy.
Search "preschool activities" and you will find hundreds if not thousands of ideas. Instead of giving you 25 more of the same, here are 25 preschool CHORES disguised as super fun activities.
Teach preschoolers responsibility at a young age, while nurturing their curiosity to learn new tasks with these preschool chores.
What's adoring about preschoolers is that they love to help out in the home! Now that you're all spending time inside, this is a great way to get preschoolers involved in helping out and lending a hand.
Teaching responsibilities at a young age leads to a lifetime of great values when kids get older.
These preschool chores will help give you some extra time.
Let"s be honest, you probably need the help lately? I have been struggling with keeping up with housework, 3 kids suddenly at home, planning meals, and also making time to work on my business.
Although it's likely your preschooler won't leave you with a clean house from top to bottom, these busy activities will help alleviate the workload.
And let's face it, we could all use a bit of extra help right now.
Grab your free printable of Fun Activities For Preschoolers That Are Actually Chores.
Print out the download and tape it to the fridge or anywhere easy as a reminder next time you're looking for that extra 10-25 minutes of peace or work time.
Get the preschool chore chart HERE
You might also like: