By using this site, you agree to our Terms of Use. This post may contain affiliate links. Read our disclosure policy.
Follow us on Instagram for more fun ideas for kids!
Scroll down to watch the video below to watch this Balloon Tennis Game for Kids in action. Make sure to subscribe to our YouTube channel for more fun videos!
This fun balloon tennis game for kids is easy to set up and a great indoor game or activity you can do at home to exercise and burn off energy!
Since we've been sheltering in place due to the coronavirus and staying indoors, we've brainstormed some creative ways to burn off energy like this fun balloon tennis game!
Staying fit has been a top priority since we are limited in what we can do other than nature walks (which we already do everyday) or backyard play, which can get pretty old for the kids.
This balloon tennis game burns off surprisingly a lot of energy! Bonus, if you have a toddler, like I do, you don't even really need two players.
My toddler had a blast chasing the balloon around for almost an hour! In toddler time, that's almost worth double regular time!
Let's just say he had a very sound nap after and slept for almost 3 hours straight!
Plus, what kid doesn't love balloons? Blowing up some and having kids chase them around is always a hit and is fun and cheap!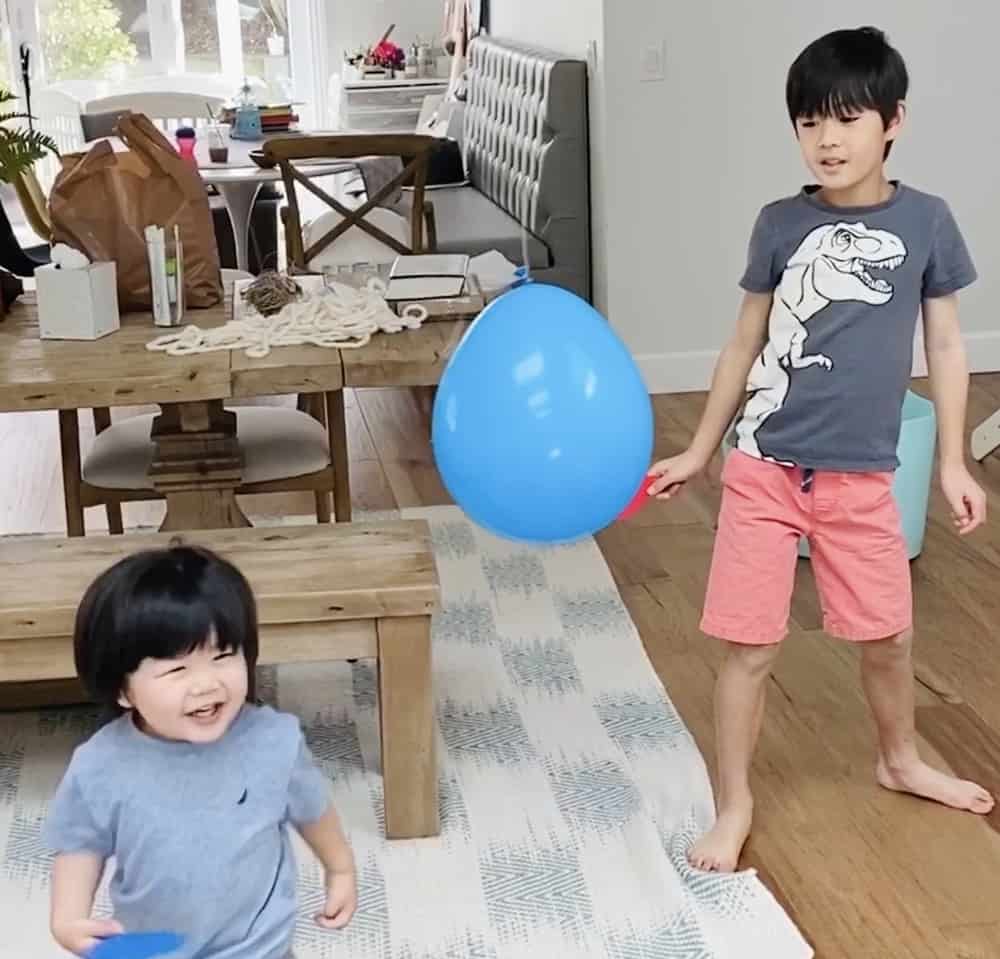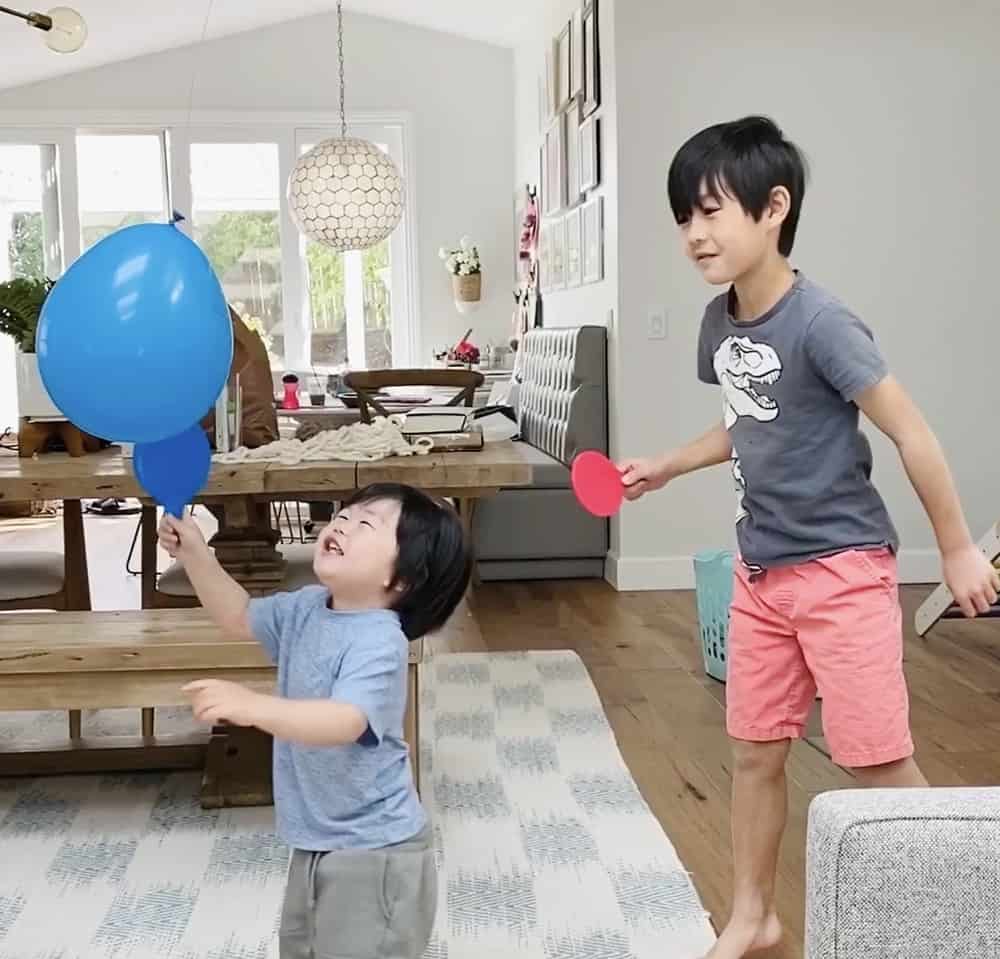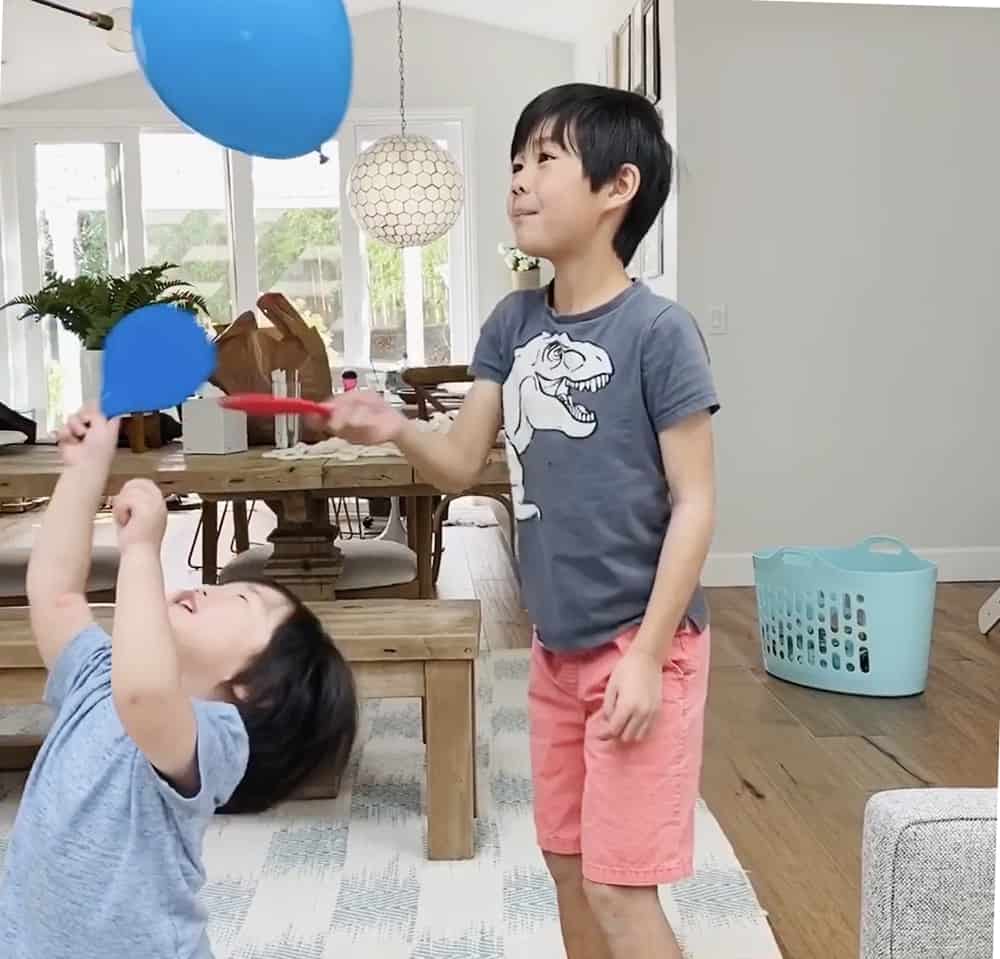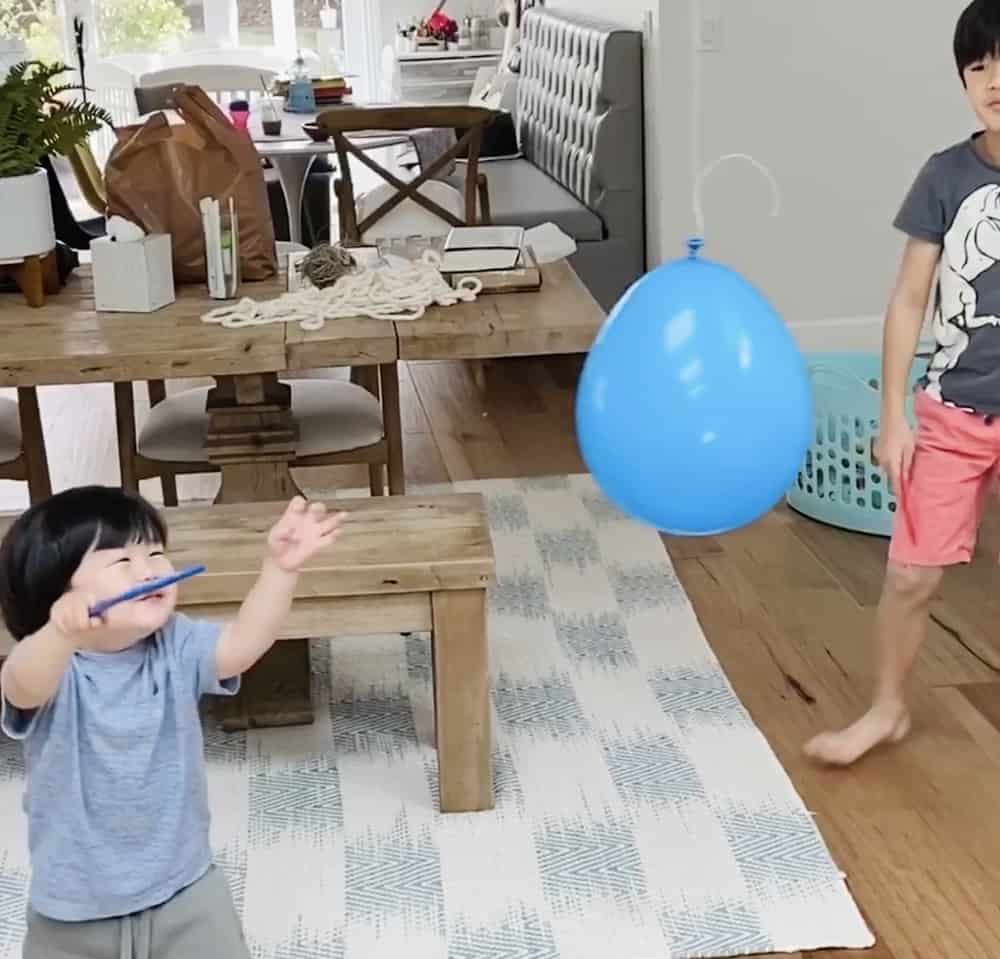 What do you need to set up this fun Balloon Tennis game for kids?
For older kids you can simply blow up a balloon and give them racquets and have them volley the balloon back and forth! See how long they can keep the ball up in the air. Try to lengthen the distance between players to make it more challenging.
How do you make modify this balloon tennis game for toddlers?
I knew my toddler would not have the eye hand coordination to keep the balloon volleying back and forth.
So I modified the game game by tying a string on it and hanging it over a ceiling beam we have.
You can use very strong tape to tie the string (not attached to balloon) to your ceiling if you don't have a beam.
Make sure the balloon is high but not too high so that your toddler can't reach it. We found at forehead level was a great height.
Last, to make it easier for toddlers, we used plastic ping pong paddles instead. We happen to have these toy ones that worked great!
However, if you don't have those, you can be inventive and use paper plates with a stick taped to it or even a piece of cardboard with a stick handle as well!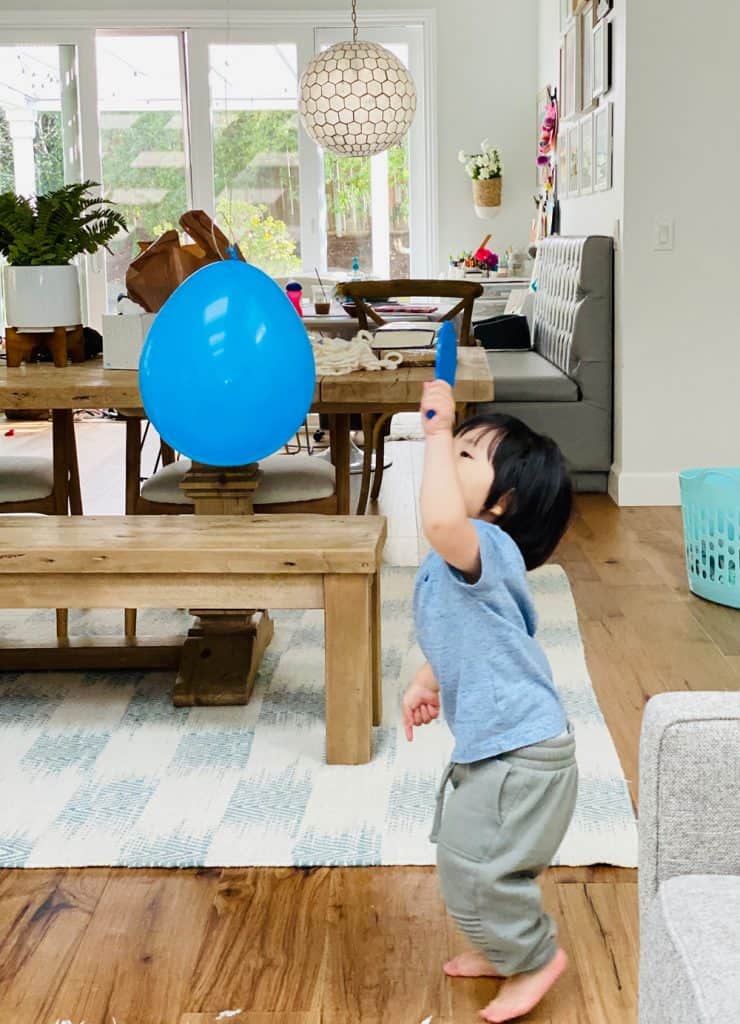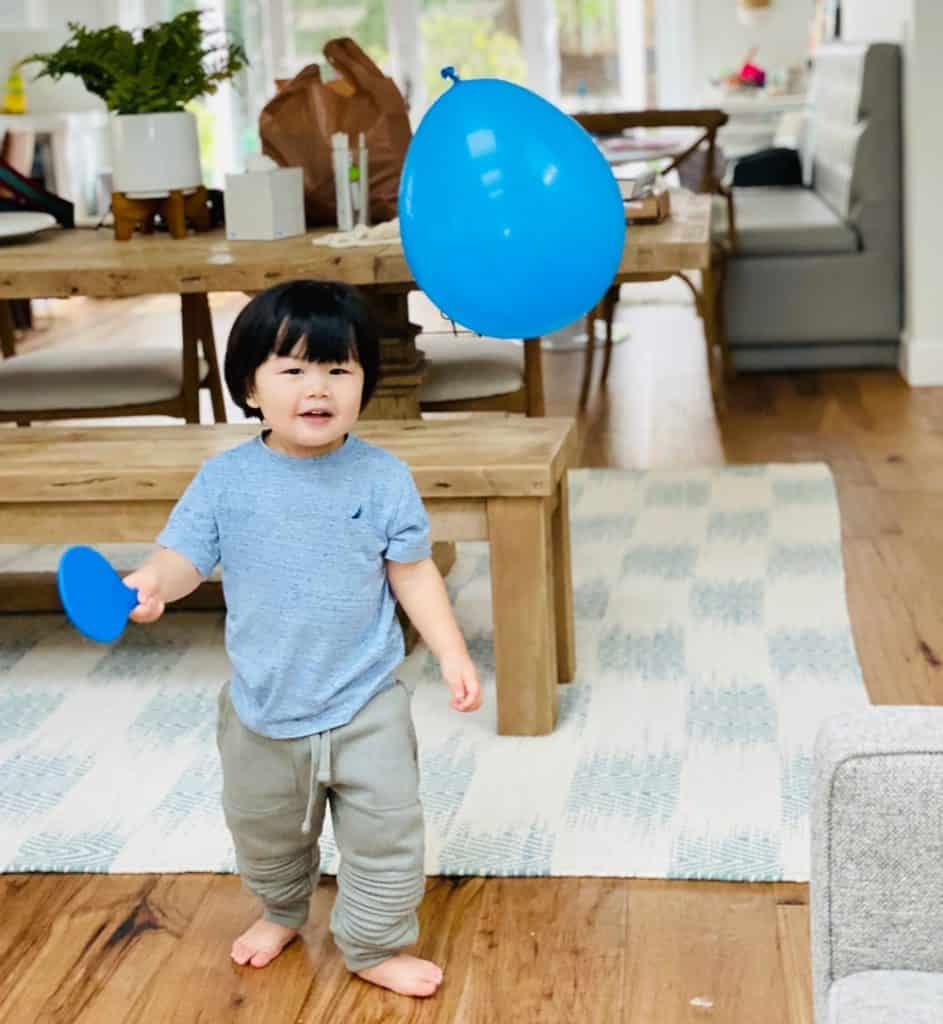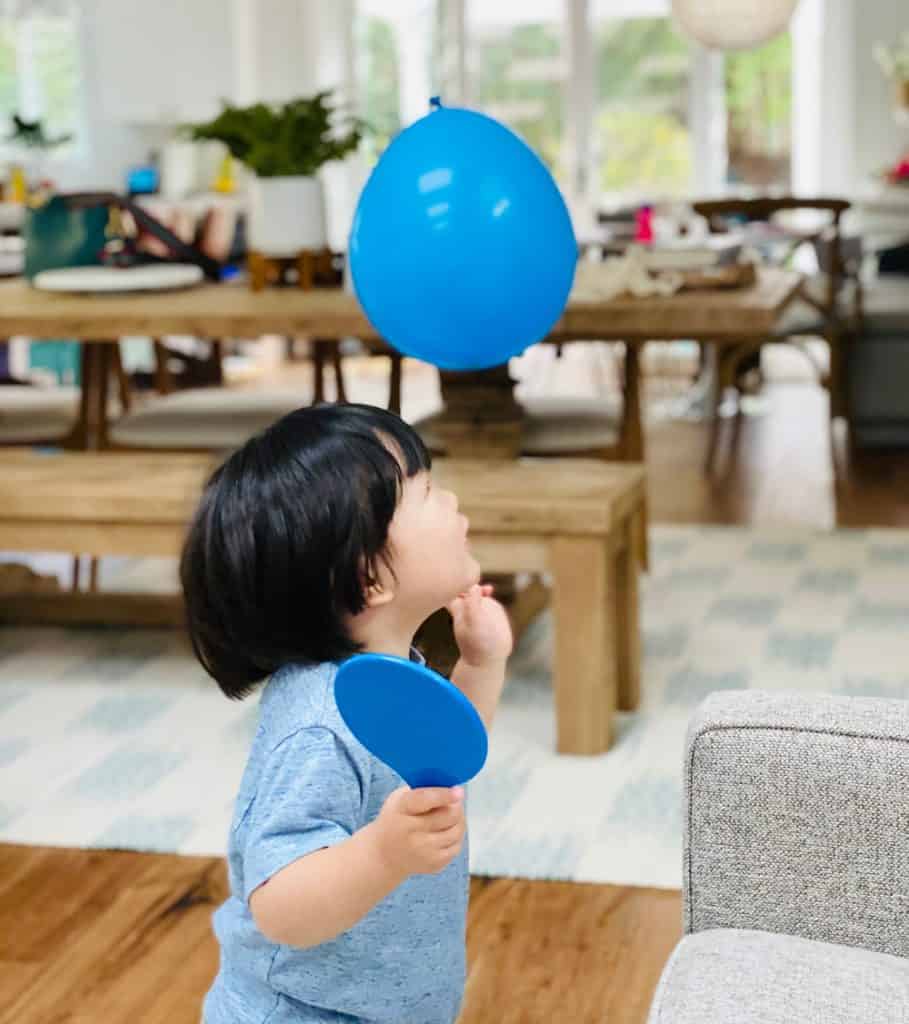 Balloon Tennis Game – Materials:
Balloons
String (optional)
Racquets or ping pong paddles
INSTRUCTIONS:
Step 1. Blow up one balloon and volley it back and forth between two players and racquets.
Step 2. To modify it easily for toddlers, tie a string and hang it from the wall. Make sure balloon is at toddler level to play
**ALWAYS SUPERVISE TODDLER PLAYING