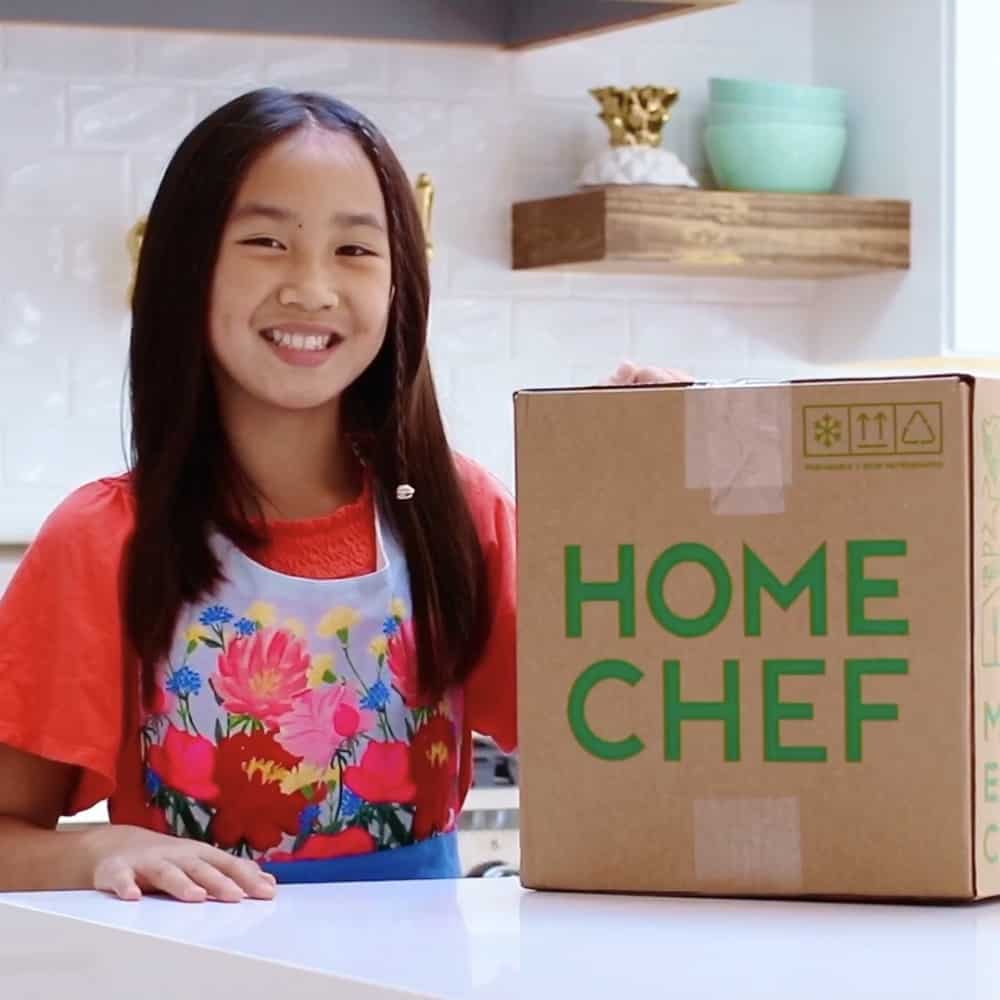 This post is sponsored by Home Chef. As always all opinions expressed are our own.
Get $80 off your first 4 orders off Home Chef and apply coupon code AGNES80.
Let Your Kids Cook Delicious Meals With Home Chef
Have your children shown interest in wanting to start cooking in the kitchen but you were unsure of how to get started? We recently came across this issue and are so happy that we discovered Home Chef meal delivery service.
Our household is a learning household so we feel very passionate and strong that our children should be able to cook and learn how to do things, even when they're at a younger age. But sometimes, it's hard to figure out how to make it happen when you really don't have much direction on how to do so.
This is why I'm so excited to recommend Home Chef meal delivery.
Not only was my 10-year-old daughter able to whip up a delicious meal of Marsala Mushroom Chicken Skillet in no time, but it also boosted her confidence in her cooking skills as well. To me, this is huge learning milestone!
Cooking takes skills and abilities, but it also takes confidence to believe that you can make it, too. I love how this Home Chef meal delivery kit empowers kids to be helpful at home and instills life skills that they can use later in life.
Making your own meals from start to finish helps kids understand the importance of assisting with household chores, and learning responsibility in the kitchen. What's there not to like?
(Please remember that kids need to be supervised during cooking, especially with times that a sharp knife or oven/stove is required or used.)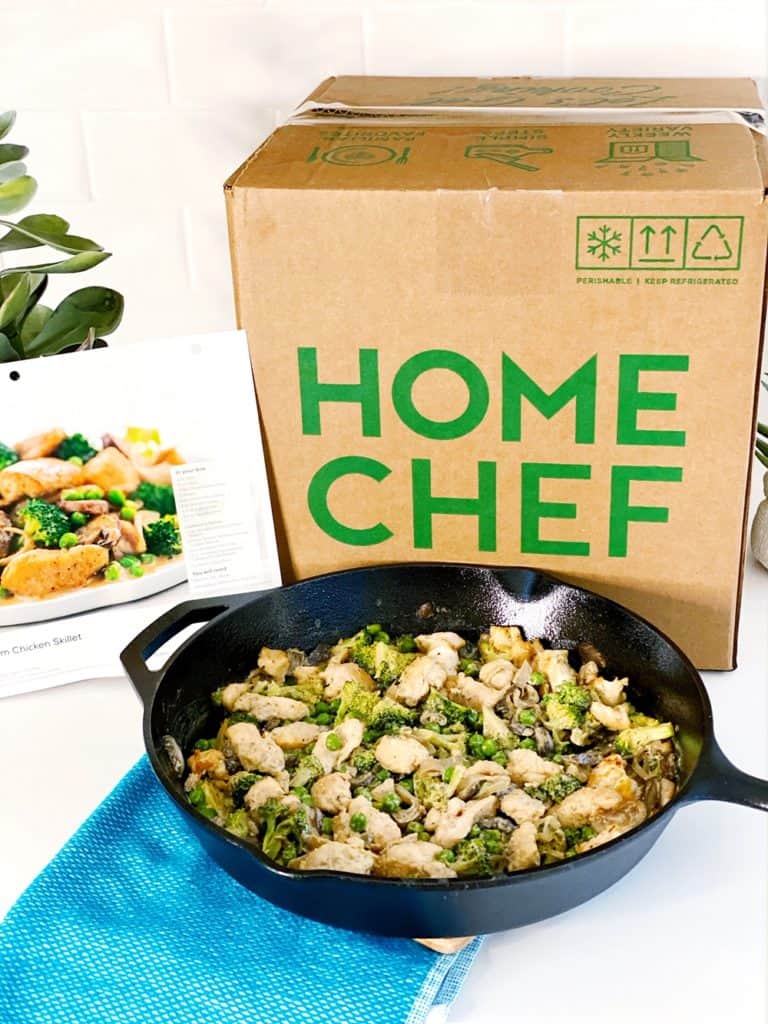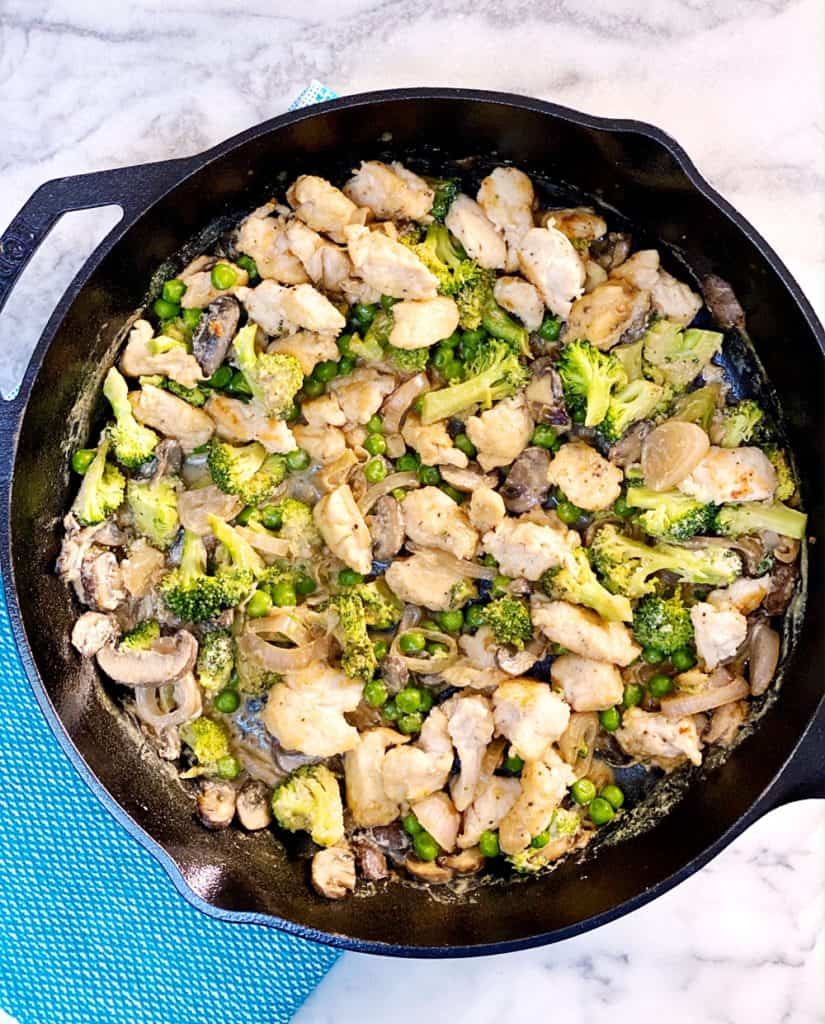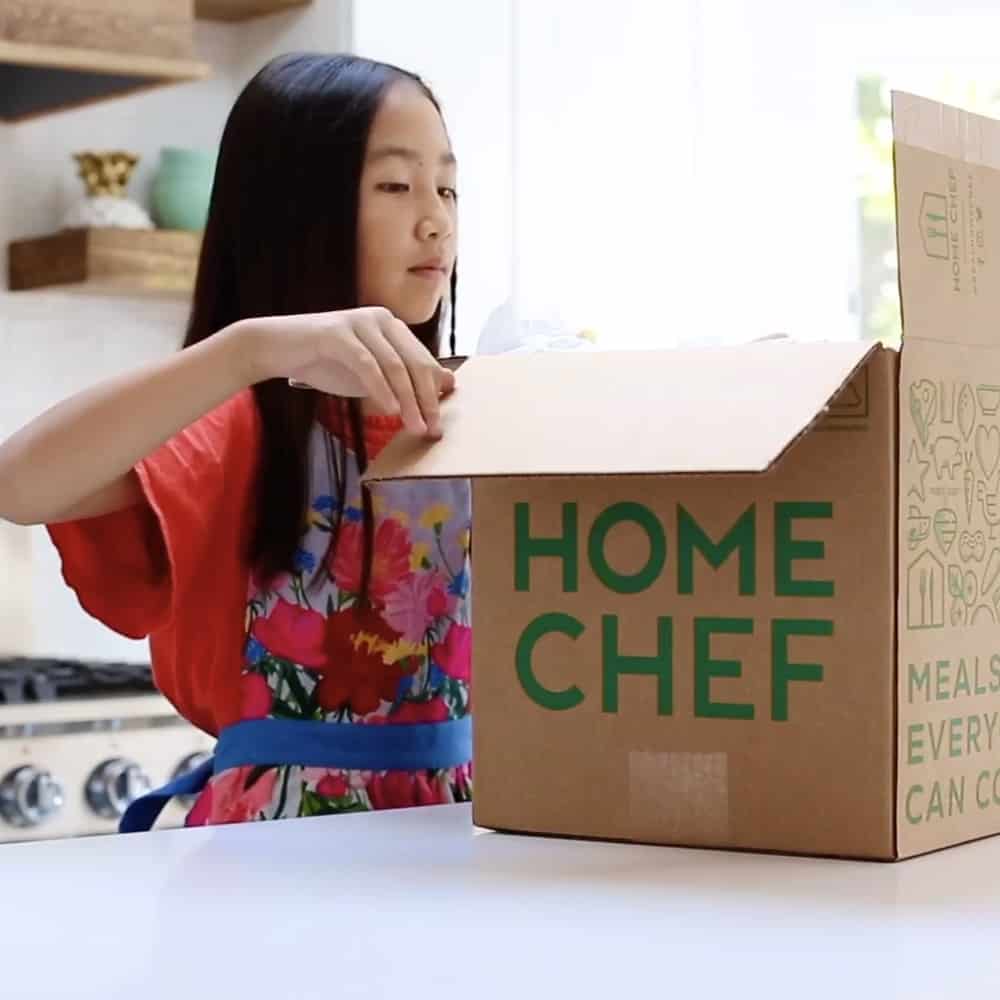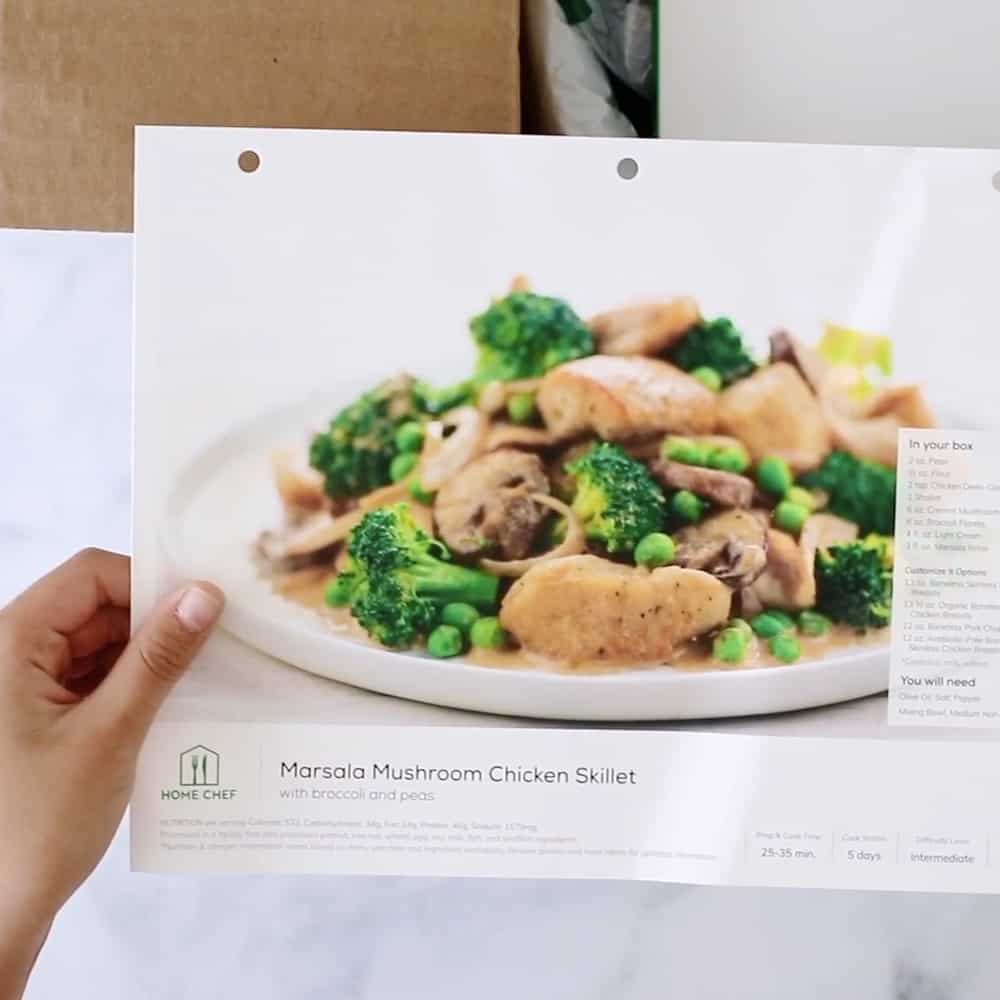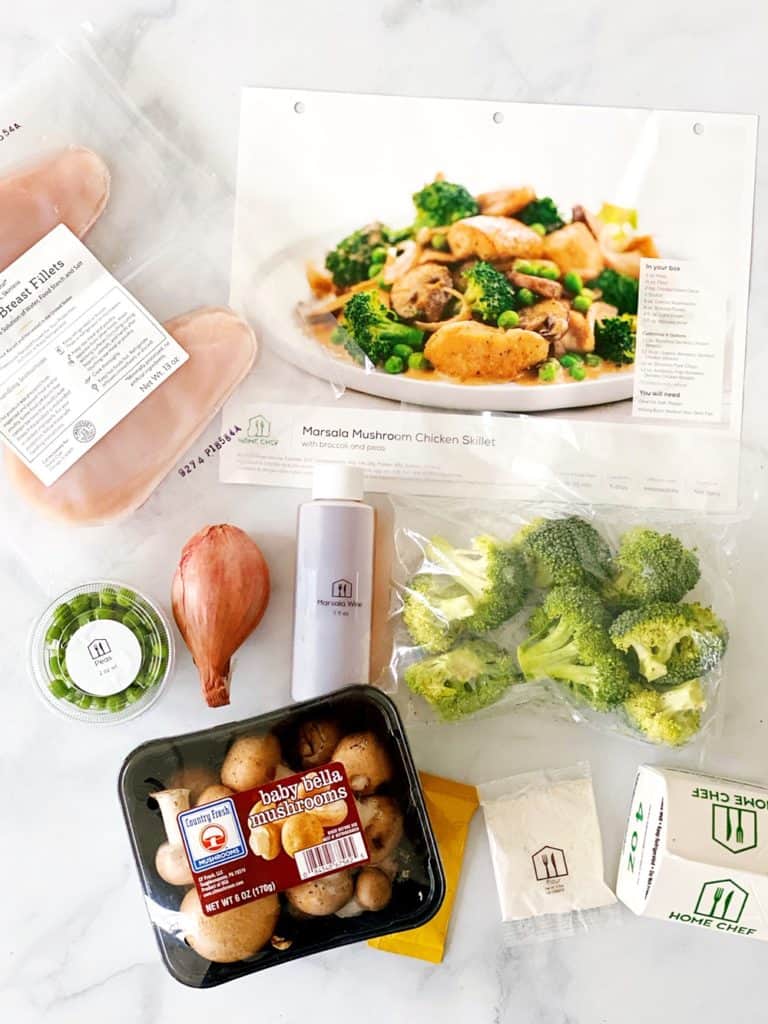 What's so convenient and great about Home Chef meal delivery?
Having a meal kit delivered right to your front door is pretty awesome. But what's even more incredible is that the recipes and food kits that are sent to you are so simple and convenient.
No recipe is too tough and many require minimal prepping and actually cooking (this is what makes them so perfect for children to help make!).
Other great benefits of Home Chef meal delivery kit are:
Everything is clearly packaged and pre-portioned
Each ingredient that is needed and included is clearly labeled and packaged separately. There isn't any worry of things getting mixed up or cross-contaminated which makes it super simple to get organized and prepped to prepare. I like how they keep meats in separate packages from vegetables and other ingredients, too.
This also makes it super simple for cleanup because it's all contained and packaged really well. You just remove the ingredients and toss the containers in the recycle bin or trashcan.
I also love how their packaging is recyclable or reusable.
Every recipe is super simple to cook
We're talking mere minutes of cooking. This is perfect for kids to cook because they don't need to have to worry about a long and extensive recipe. If it takes 10 minutes for them to make, that's a great timeframe for the kids to focus in on and cook.
The recipes are created using the freshest ingredients possible. All your child will literally need to do is remove from the package, wash the ingredients if needed and get started cooking.
We all know young children don't have long attention spans, so keeping them engaged is key along with short, executable tasks. In our case it was easy to keep my daughter focused with simple tasks like wash mushrooms, peel shallots, pour, chop, mix, etc.
The recipes are created using the freshest ingredients possible. All your child will literally need to do is remove from the package, wash the ingredients if needed and get started cooking.
All the menu options are available online
Is your child a visual person? Just hop online with them and go to the website to take a look at the menu options. This is a great way to have them see the meal that they're going to cook as well.
Once your kit arrives all pre-portioned and with step-by-step directions, Home Chef also thoughtfully provides you a recipe binder. Each meal comes with a full color page recipe with photo of the meal on the front and step-by-step photo process on the back. Once done, you can insert recipe in your binder and order again to make!
See how awesome this meal home delivery kit sounds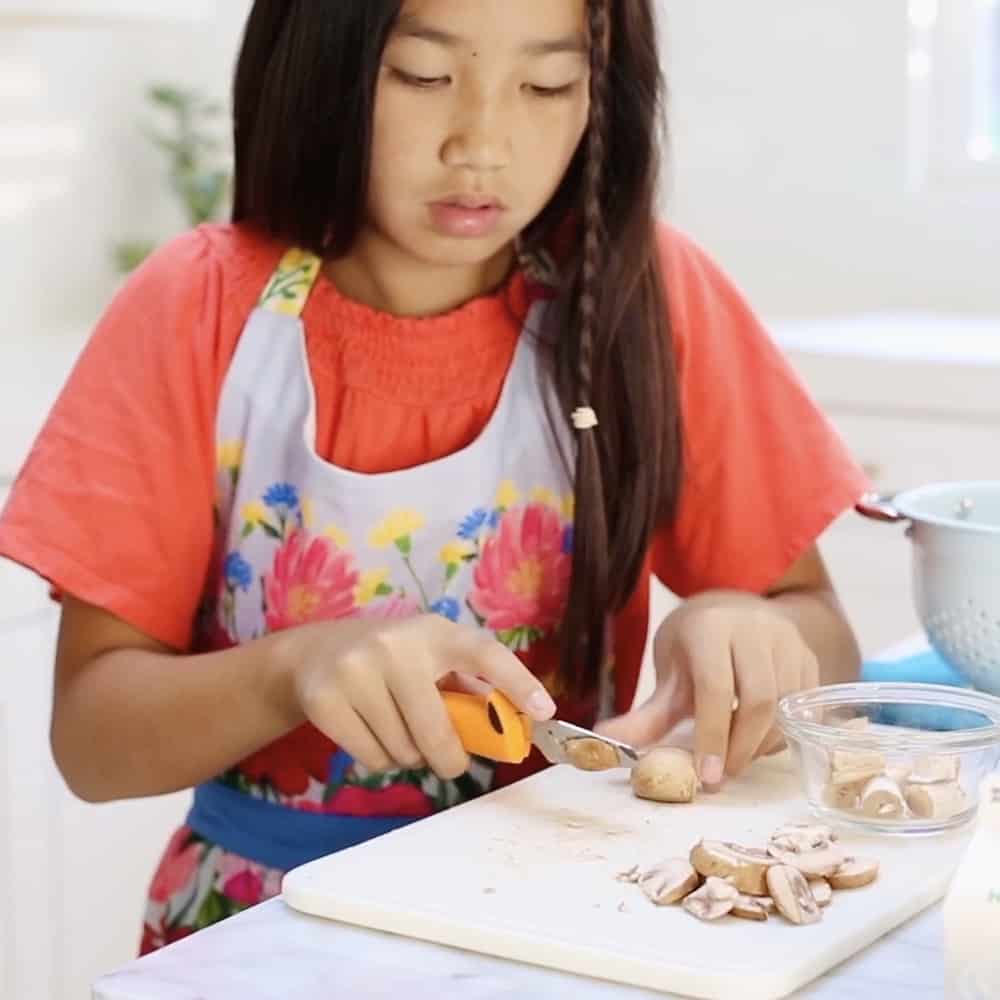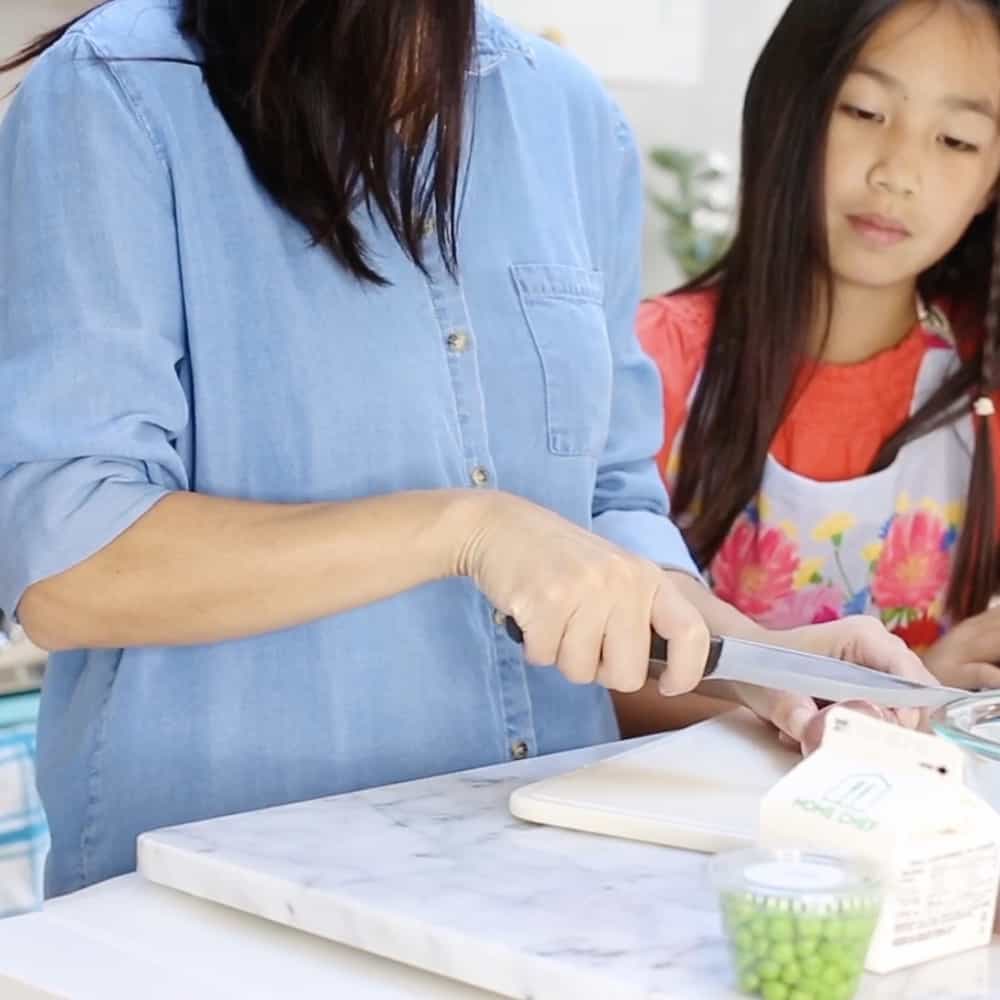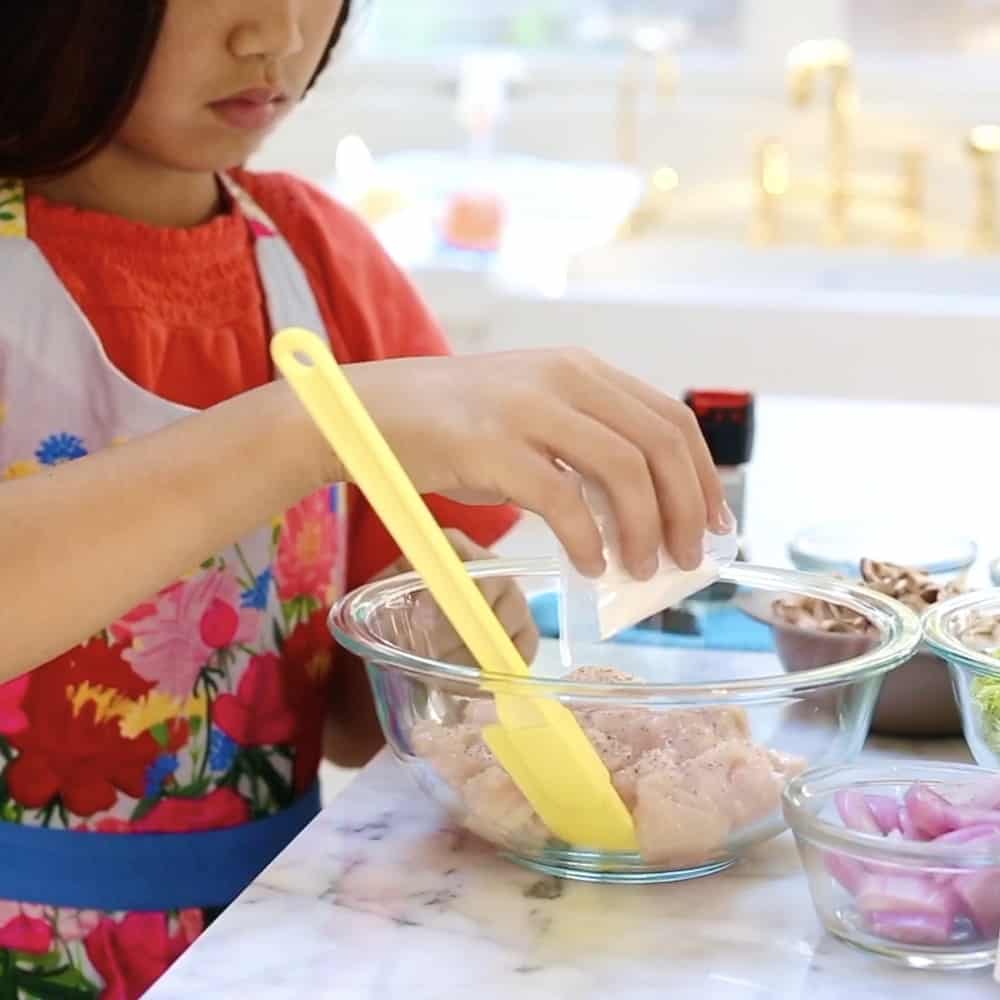 Does Home Chef meal delivery taste good?
Well, in our unbiased opinion the food taste pretty fantastic and usual mini picky eaters totally agree! What we like about Home Chef meals are that the ingredients are super fresh and prepped enough to take the hassle out of cooking home-cooked meals, but still allow you to feel like you went grocery shopping and the extra mile.
For example, the shallots came whole instead of chopped, the broccoli florets large so we could dice, and the mushrooms also whole so we went through the steps of washing and slicing. These aren't huge steps in the cooking process, but make the meal even more fresh than it already is by using whole ingredients.
As well, if the ingredients already came diced and washed, there wouldn't be that sense of "cooking" and pride associated with the "I made dinner from scratch mentality."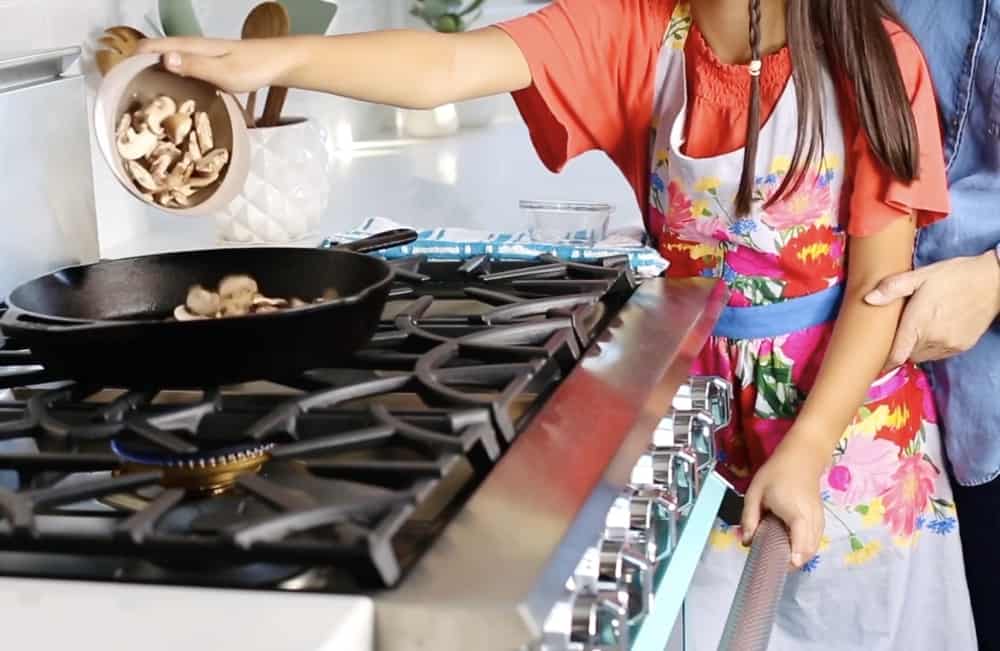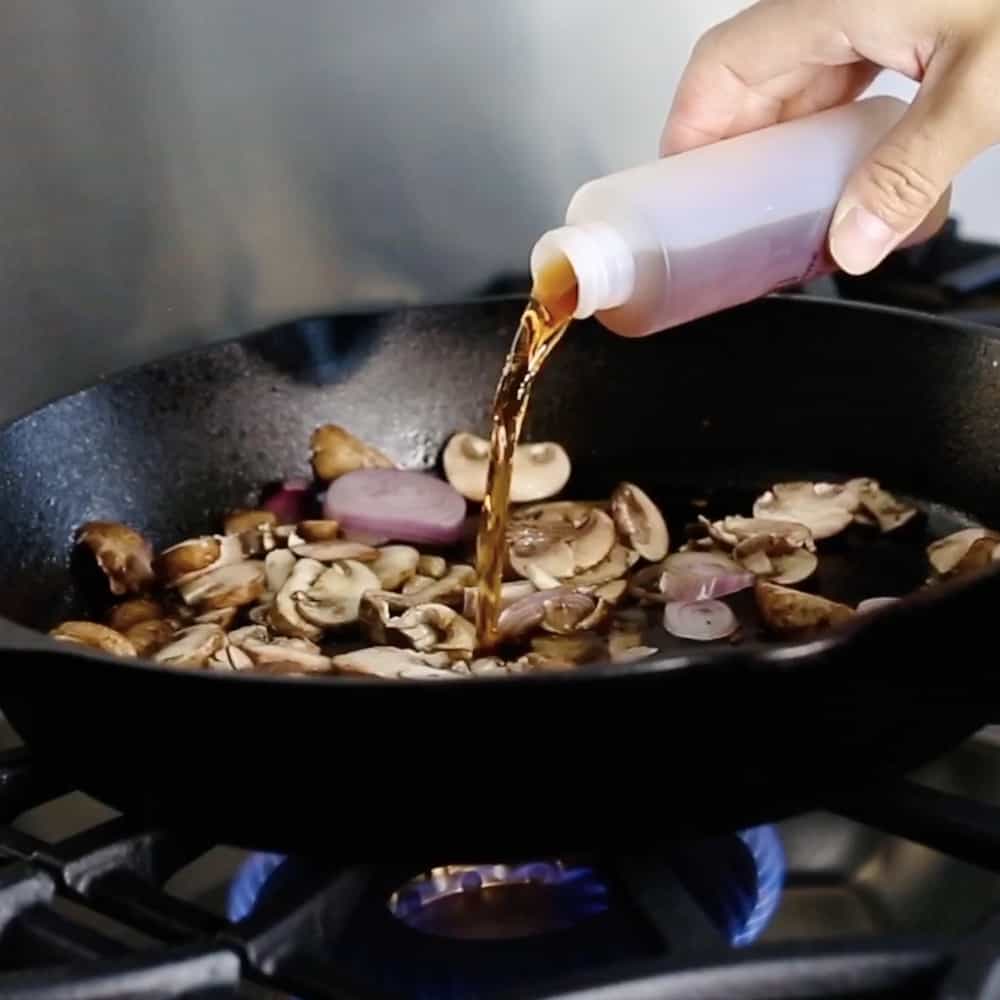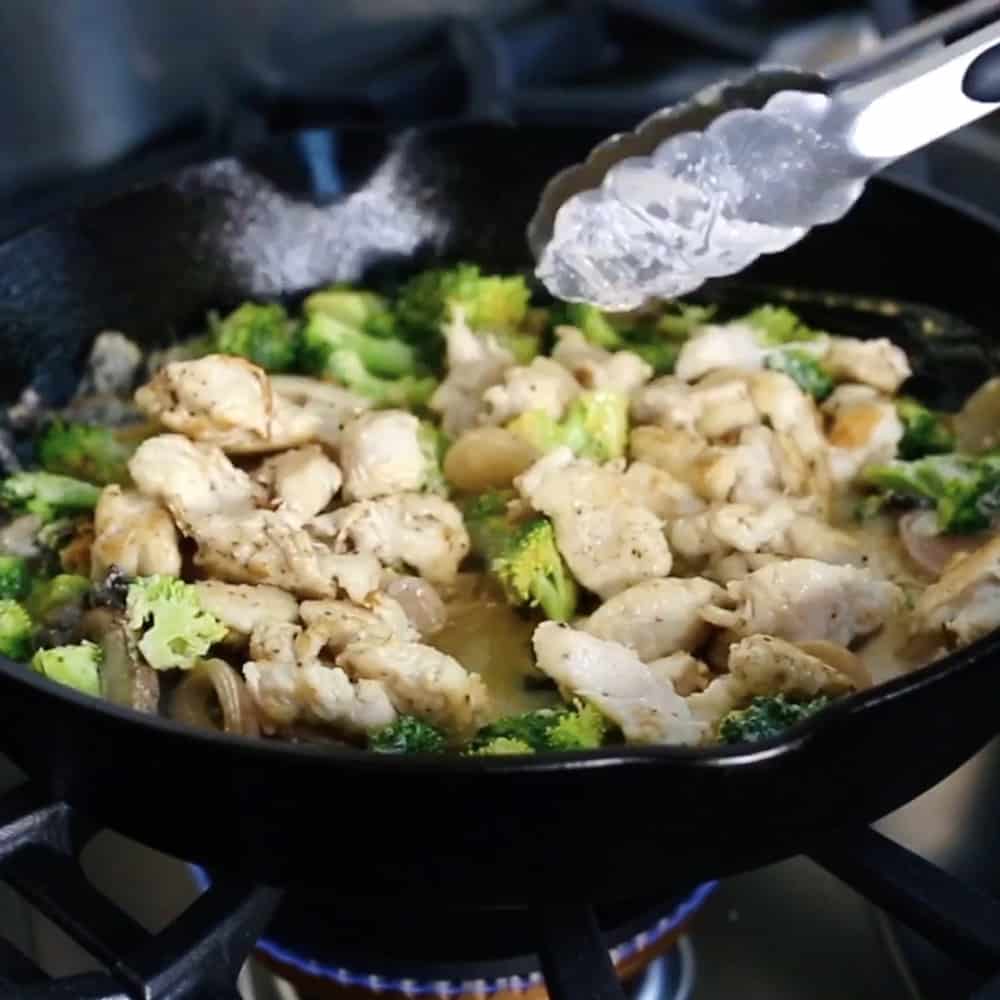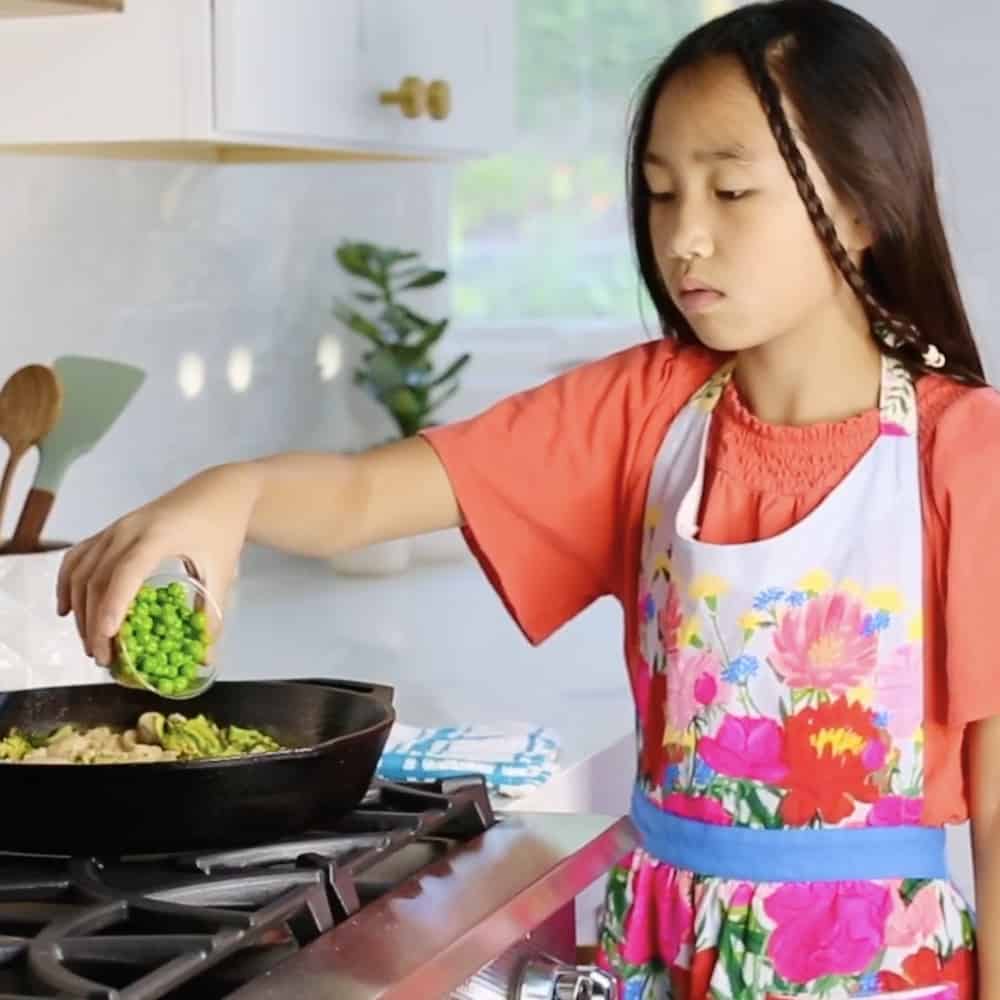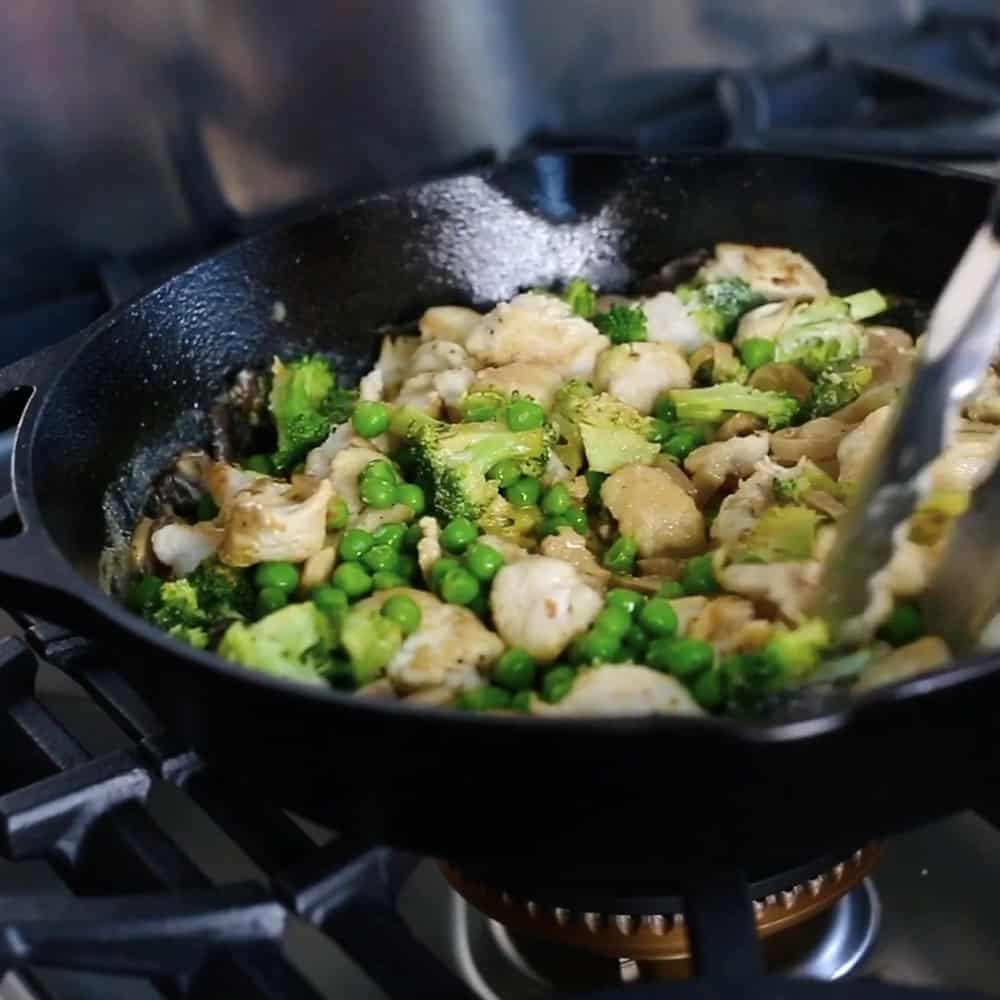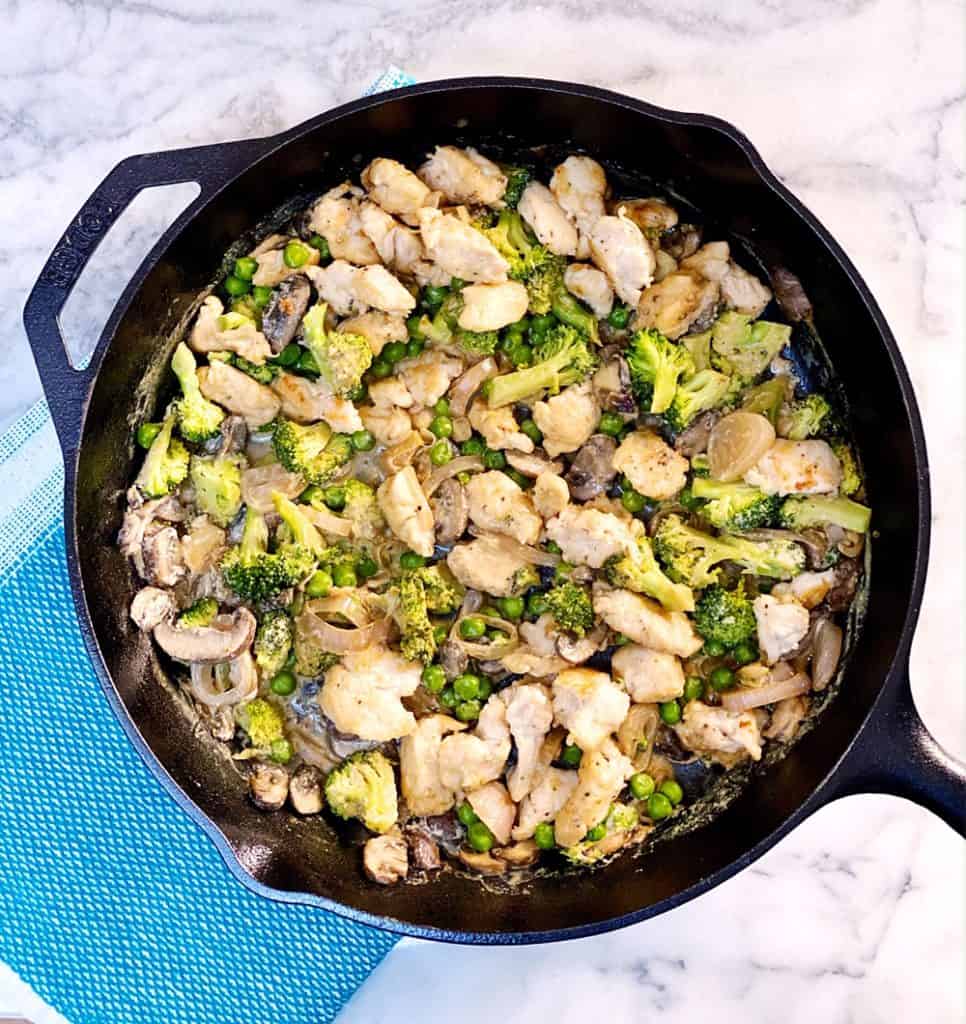 How big are Home Chef portion sizes?
One other huge selling point and a perk of this meal kit? The portions sizes are HUGE! When you order meals to be delivered online you can actually specify serving sizes from 2 to 4.
We chose 2 serving sizes although we have a family of two adults and 3 young children. We were completely full and satisfied after the meal, with even some leftovers! I was also relieved that I got to take the night off from cooking and sit back and enjoy as well.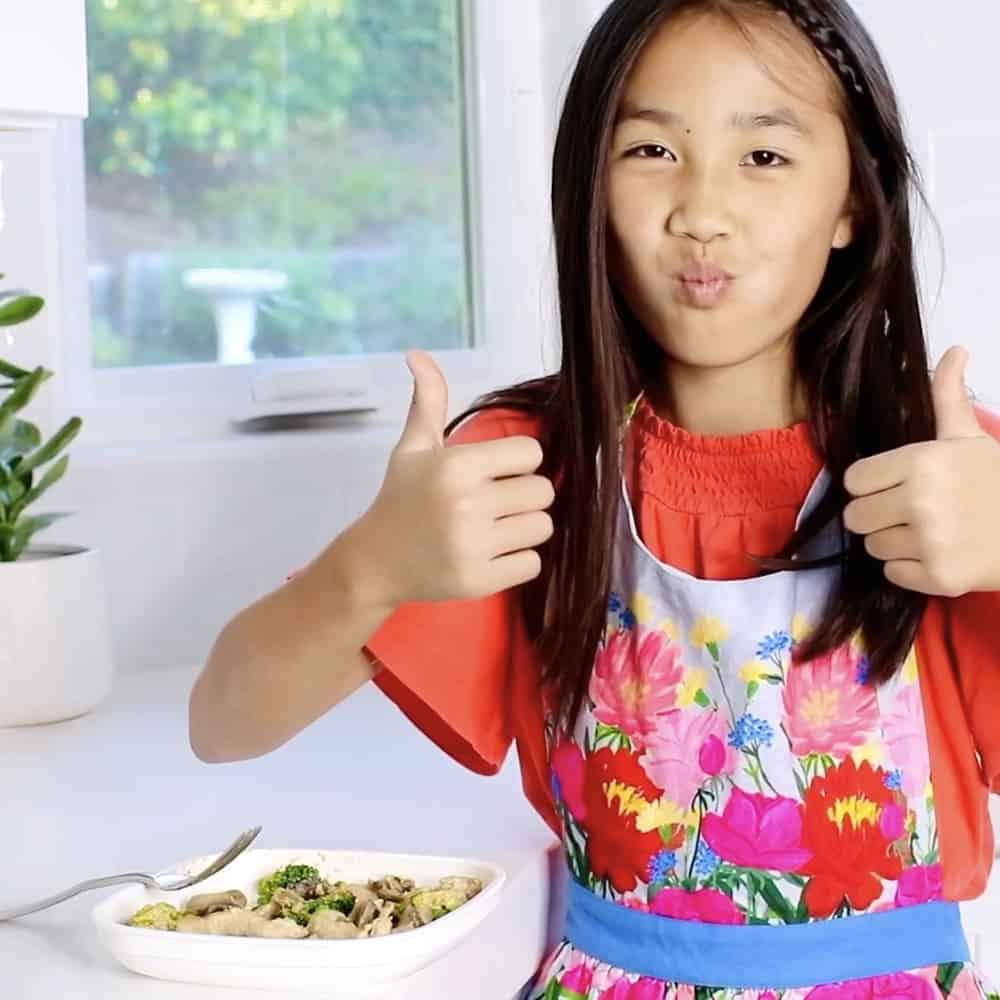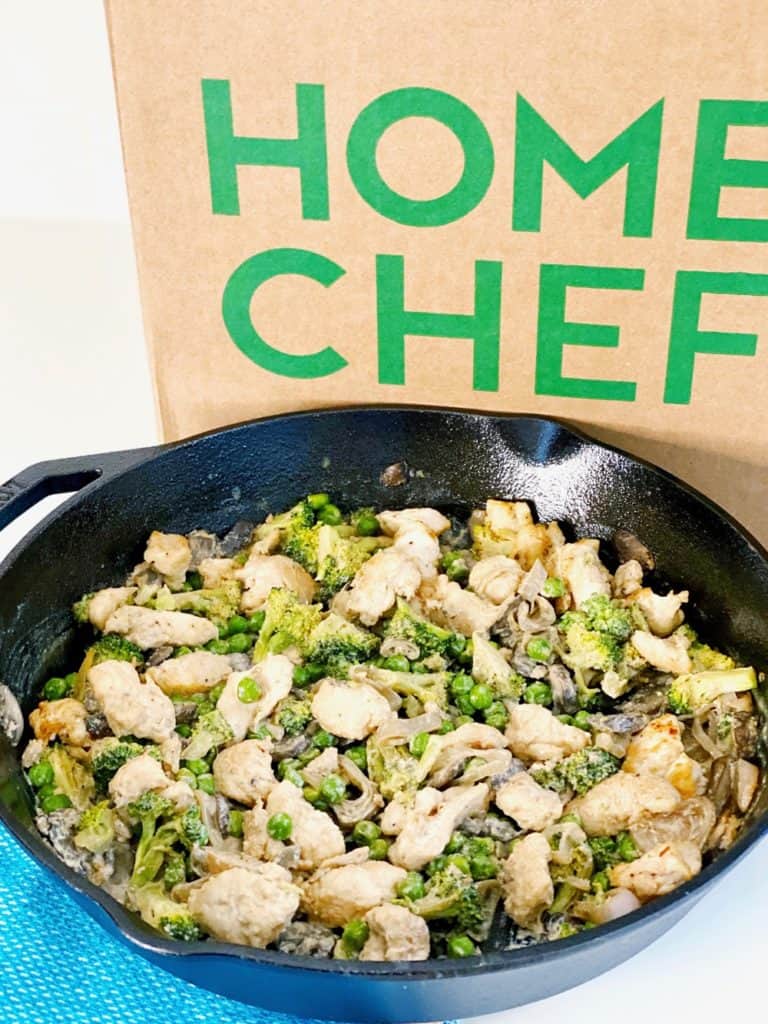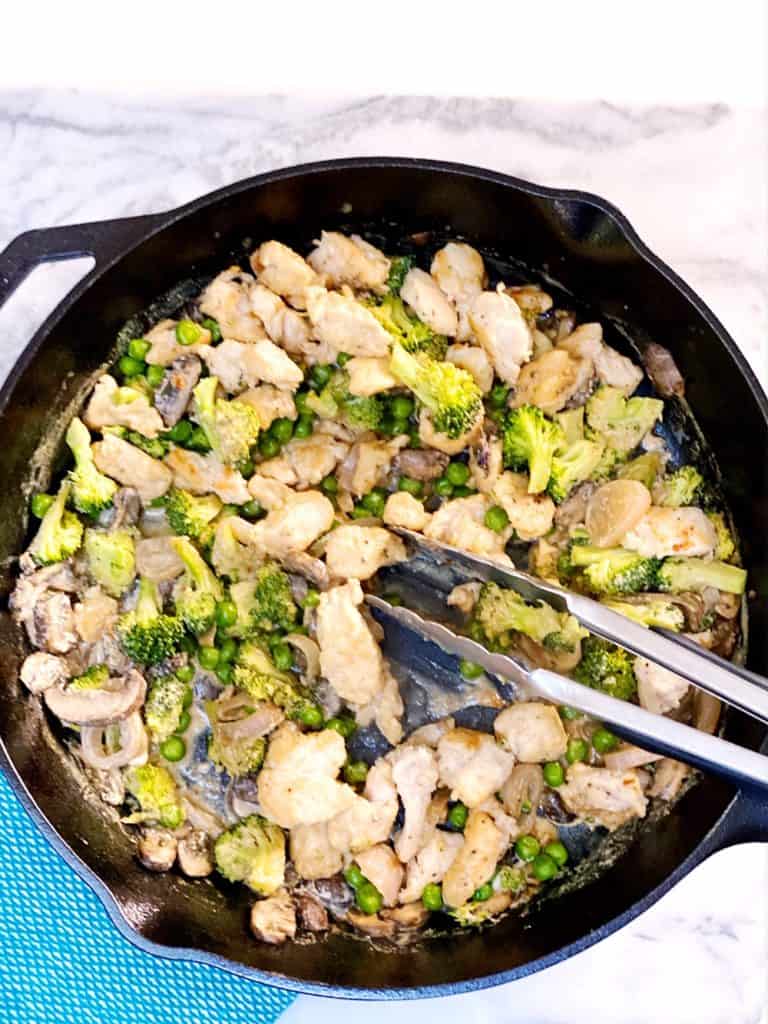 Convinced by how awesome this Home Chef meal delivery is? You should be. I can't tell you how awesome it is. And if you act now, I've got an awesome discount code to share with you.
How does a total savings of $80 off your first 4 orders sound? (which equals $20 off each of the first 4 orders) Almost too good to be true, right? All you have to do is visit Home Chef and apply coupon code AGNES80.
I know you probably have some questions, so please also check out Home Chef's detailed FAQ to get started!
This deal is one that you can't pass up. Let your child take charge of putting dinner on the table one night per week. It's a great way to get them started cooking and learning valuable life skills!