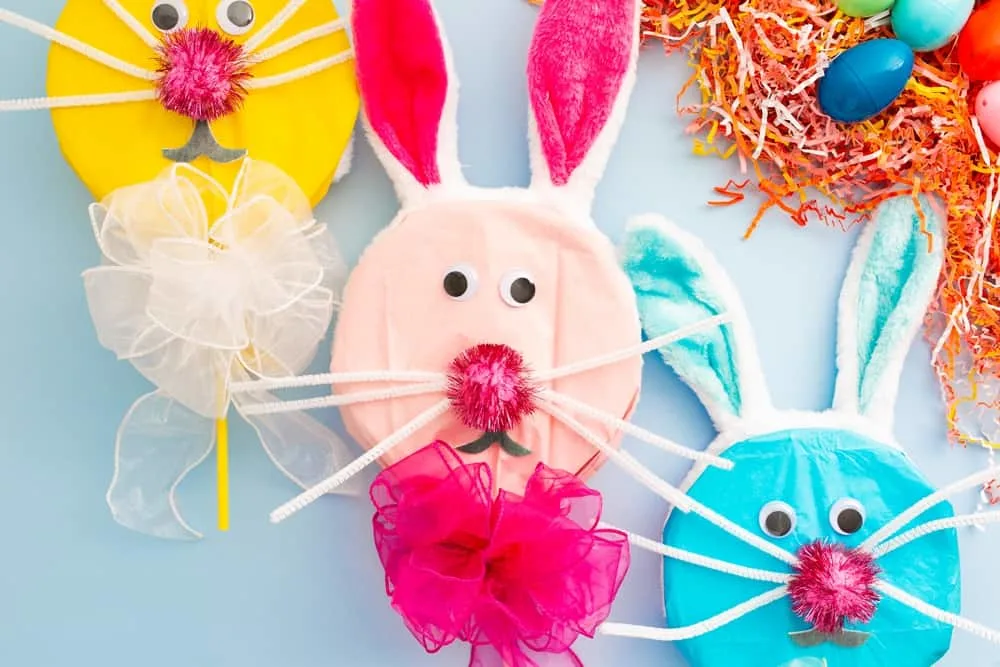 By using this site, you agree to our Terms of Use. This post may contain affiliate links. Read our disclosure policy.
Follow us on Instagram for more fun ideas for kids!
Tissue Paper Bunny Lollipops are the cutest Easter decorations! Fast, simple, and full of Easter candy for the kids, too!
Don't settle for anything less than these perfect Tissue Paper Bunny lollipops this Easter! Not only are they a mega treat, but they pack on a ton of fun to make as well. The kids will love this Bunny Easter Craft – and can even be a part of making it. Buying candy at the store is fine, but making your own sweet treat for the kids is adorable!
I think that these would be super cute to have in the yard, getting the kids excited for their Easter egg hunt! You could also have this be a fun activity and a family tradition to make together every Easter.
Instead of an Easter basket this year, you can simply hand them these cute bunny lollies filled with treats!
Since you need simple supplies, there really isn't any wrong way to make these fun lollipops. Give them a try – you'll agree!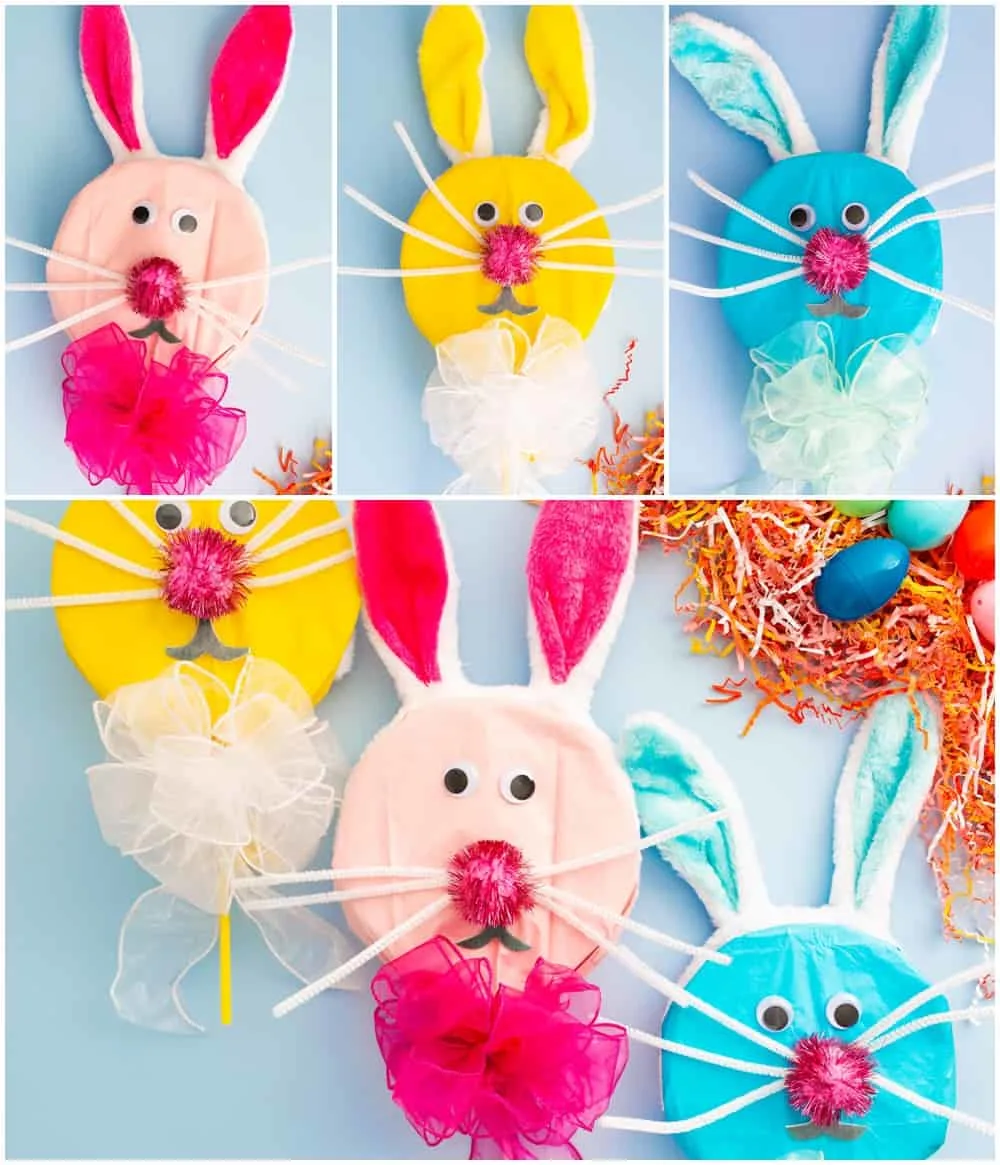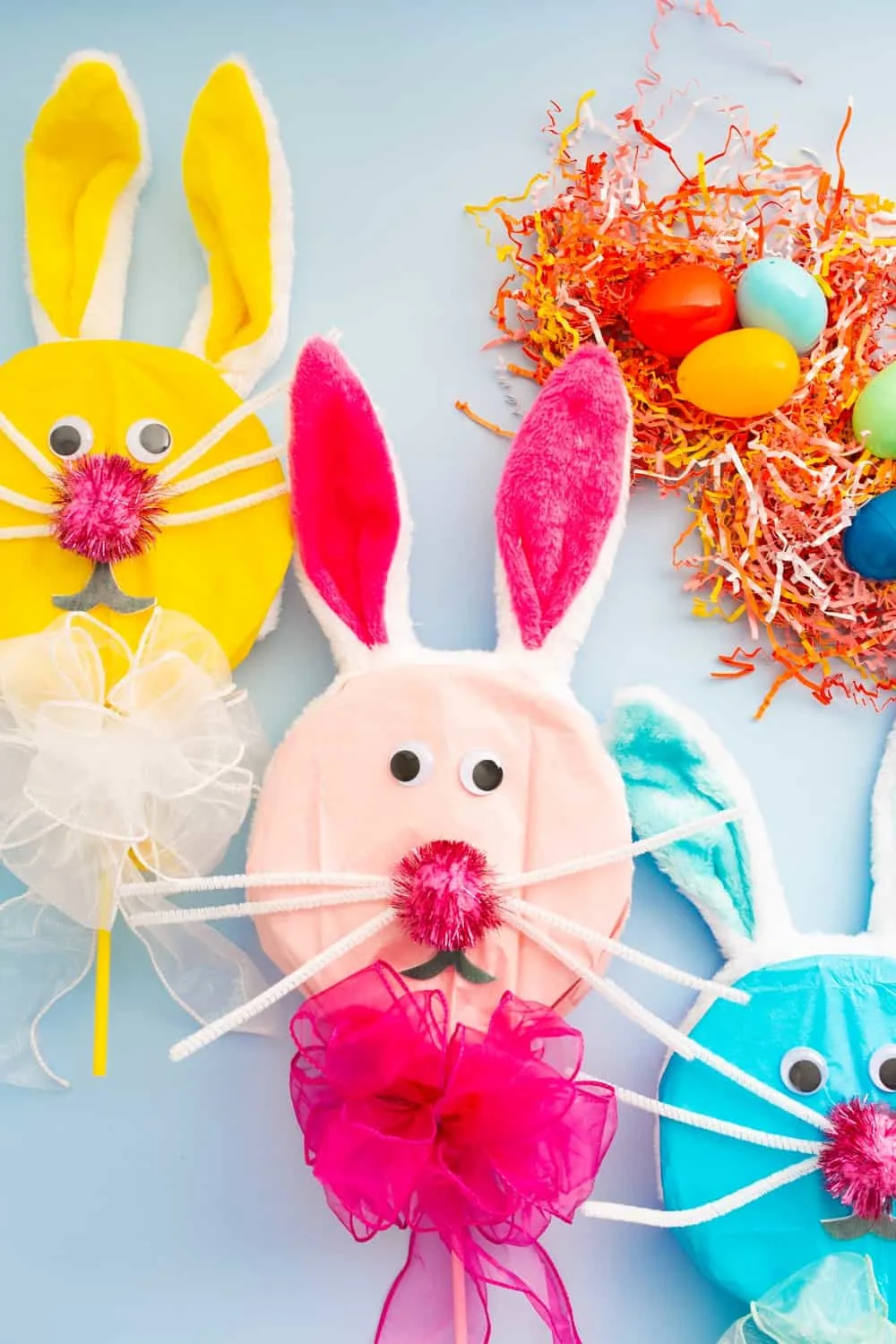 Can I use paper plates?
You'll see further down in the post the supplies that I use to make this craft. I don't use paper plates, but you probably could if they are the kind with the lip. I used moldable aluminum tins because you can hook them together easily by bending over the edges. This is a simple way to hold in the Easter grass and the candy and eggs.
What color tissue paper do I use?
This is up to you and the kids. You can use pink and blue and all various shades. If you're going to make a lot of them, I recommend that you use a wide variety of colors.
Another great idea is to use one color for each child and then let them know the color that is theirs. Then, you can go and hide them and make it a fun surprise and lollipop hunt for them to find their color.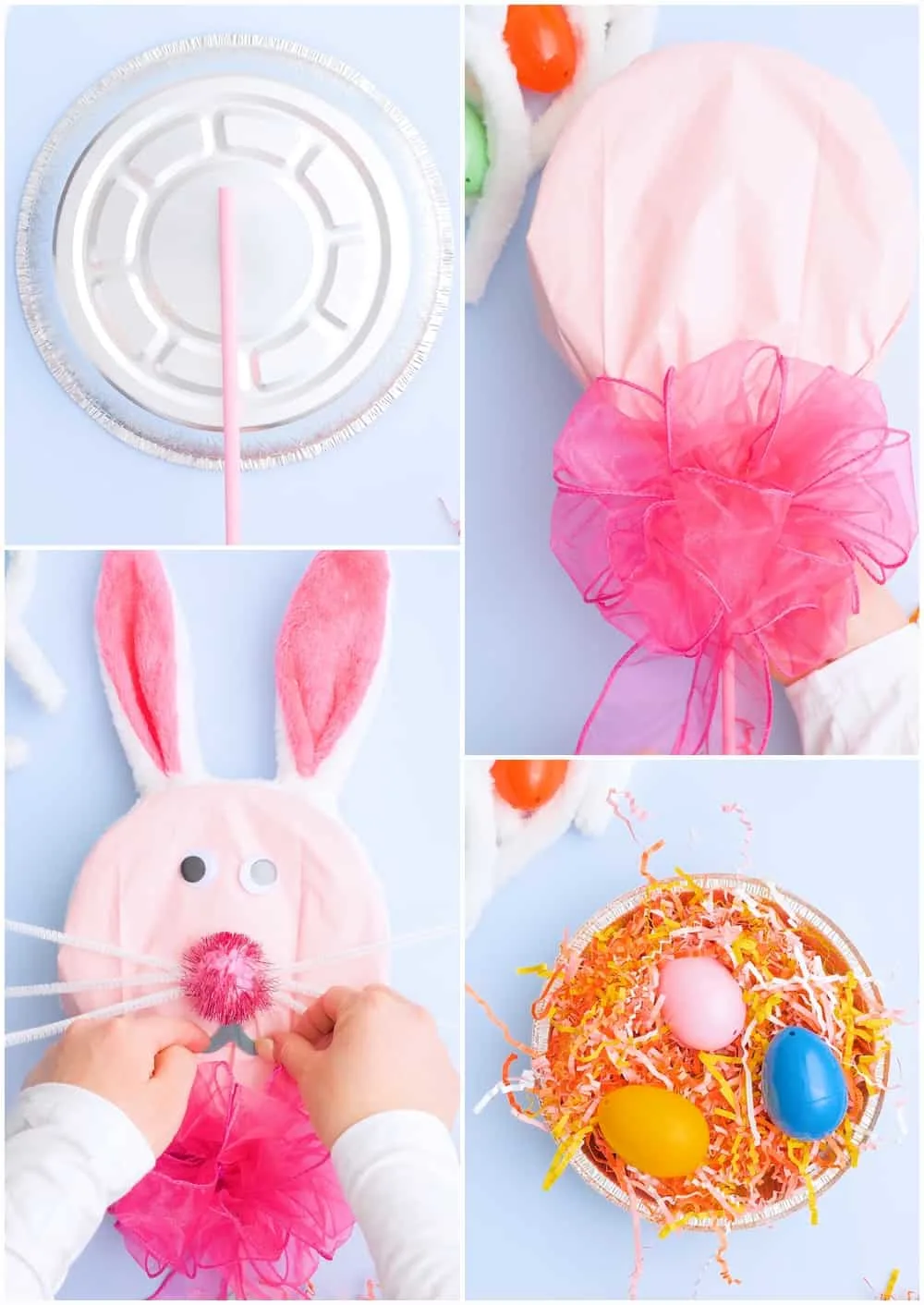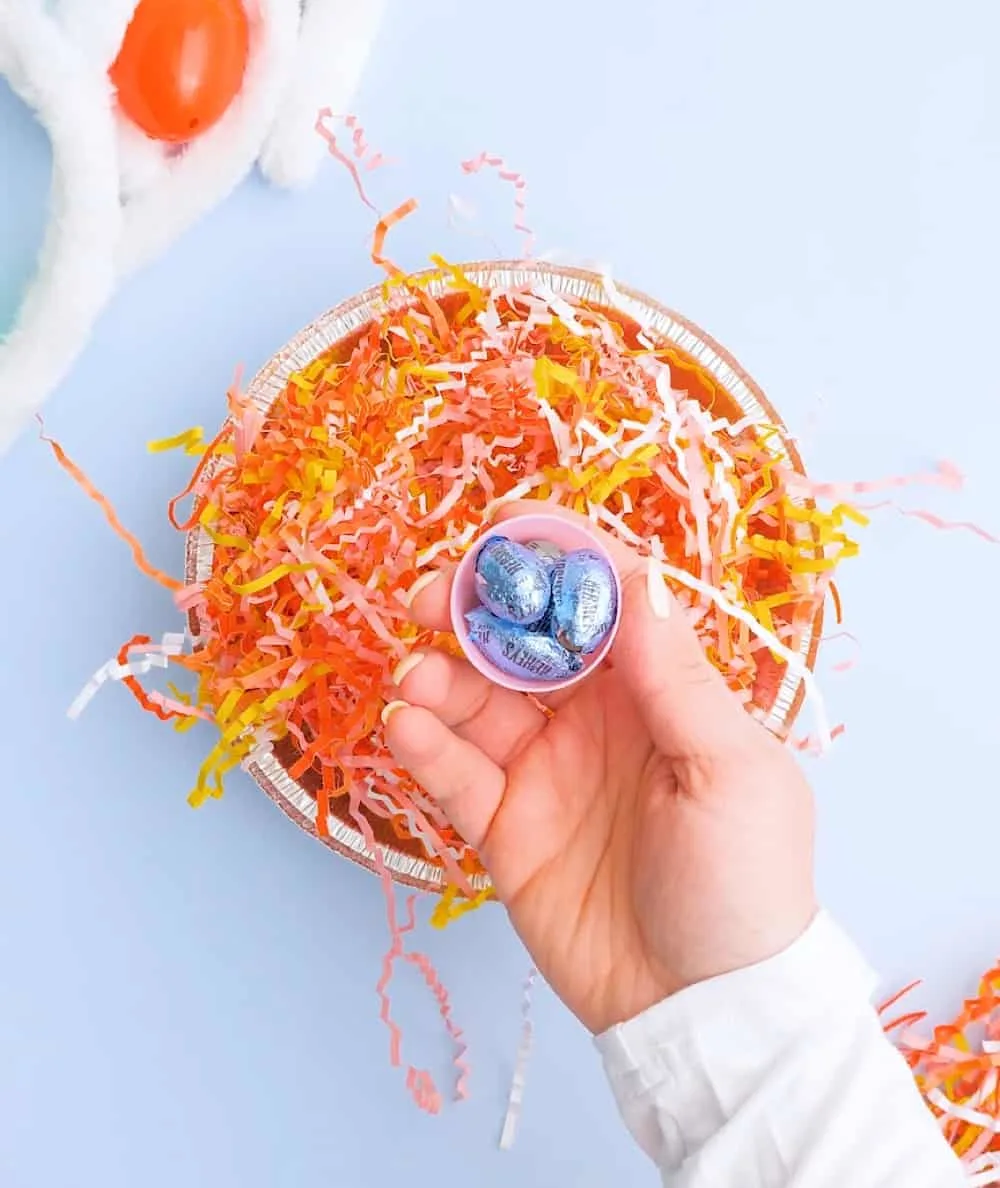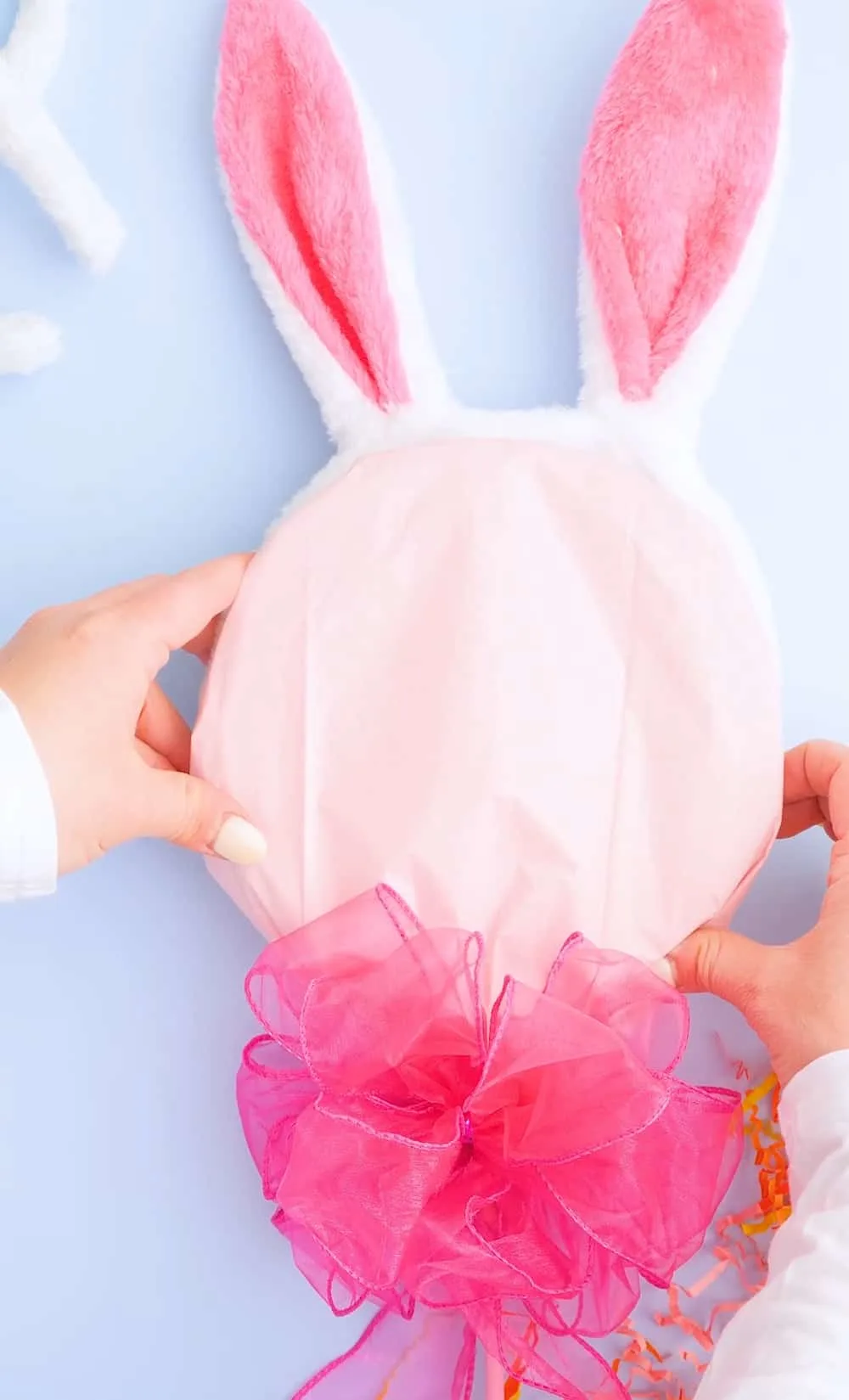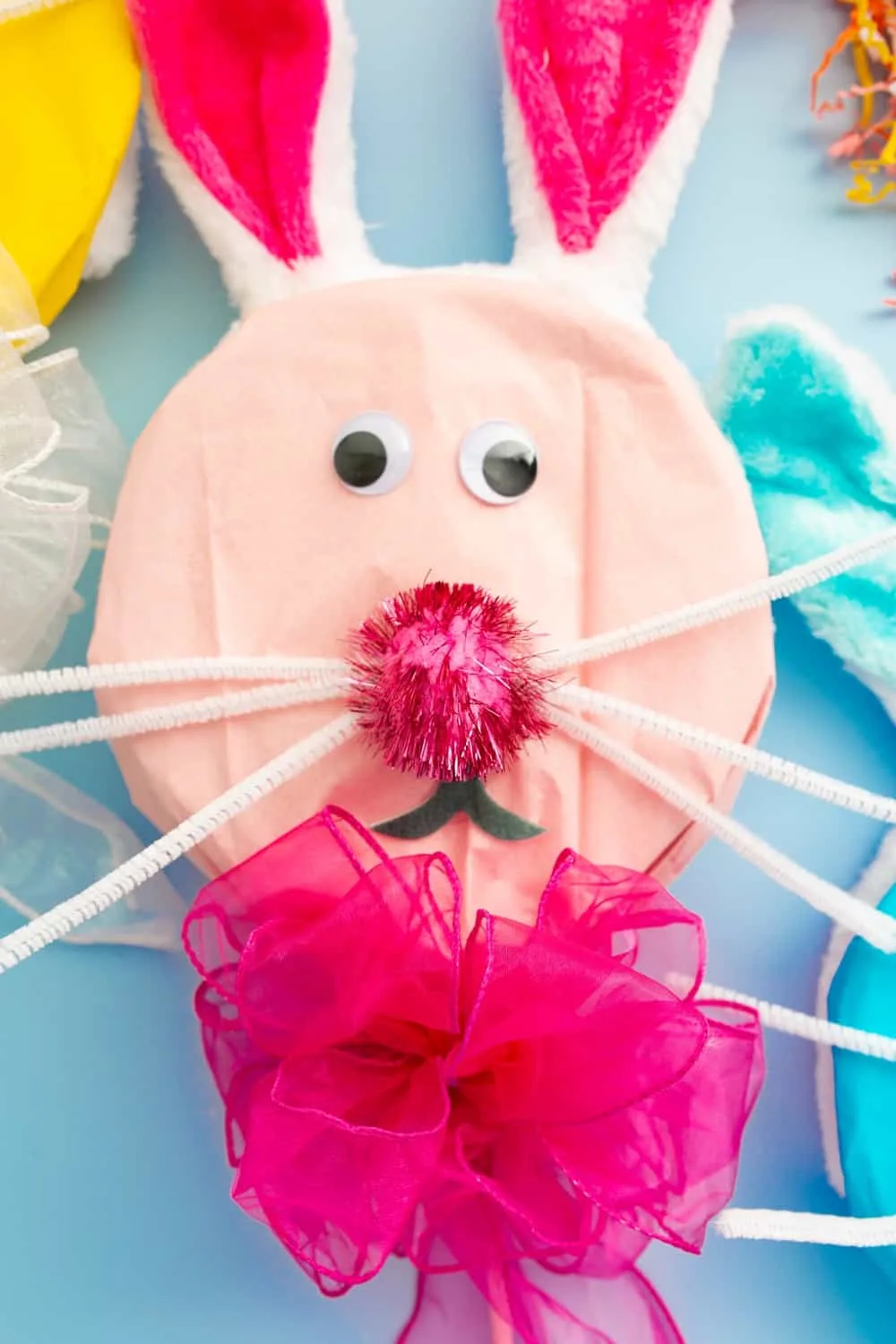 Tissue Paper Bunny Lollipops – Supplies
These are the simple supplies that I used to make this Easter craft. You can use them just like I do or vary them up as well.
Round Aluminum pans (we used 7″)
Tissue paper in various colors
Wooden sticks
Paint colors of your choice
Easter grass
Black paper
Pom Poms
Ribbon
Easter eggs
Candy
Hot glue gun or craft glue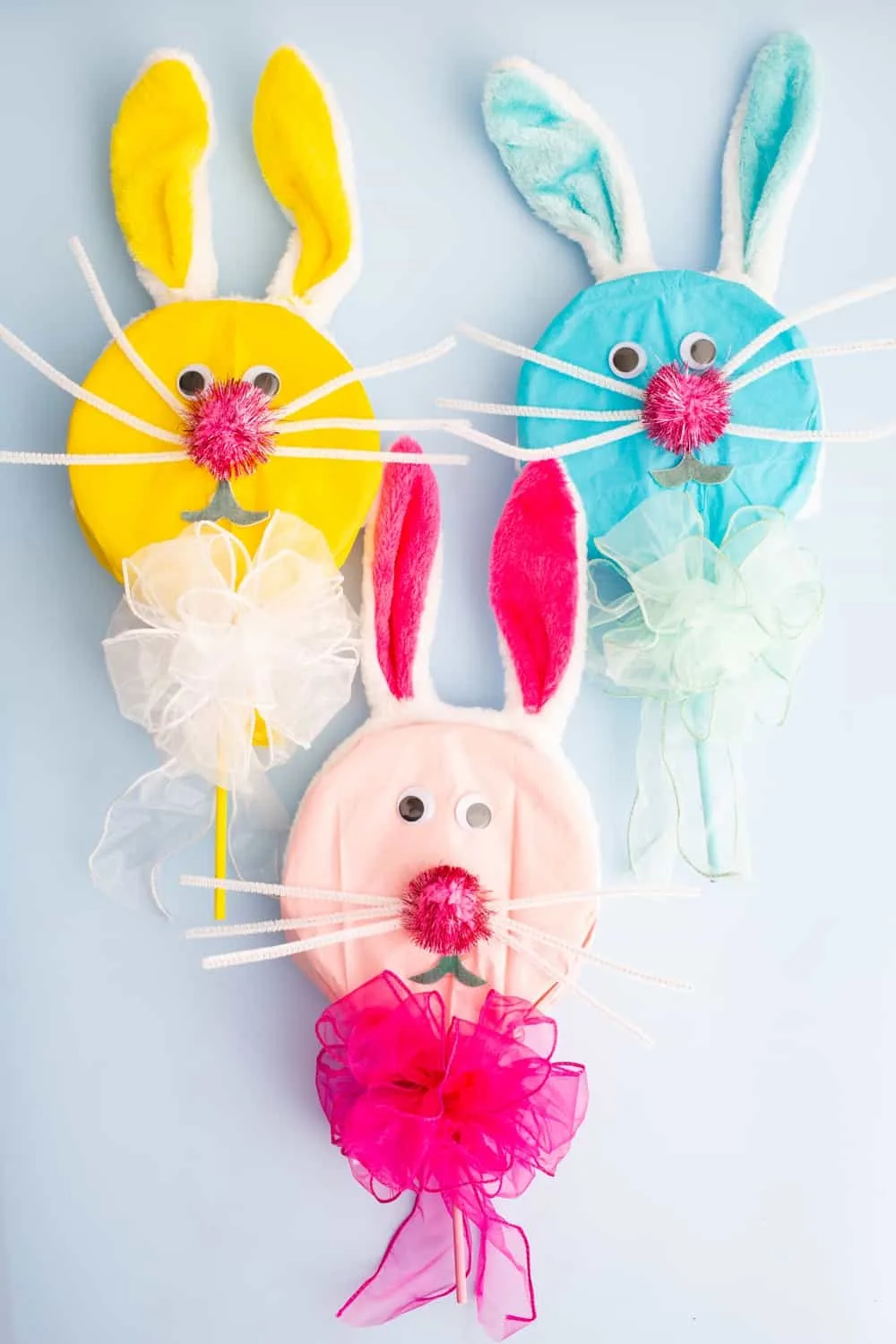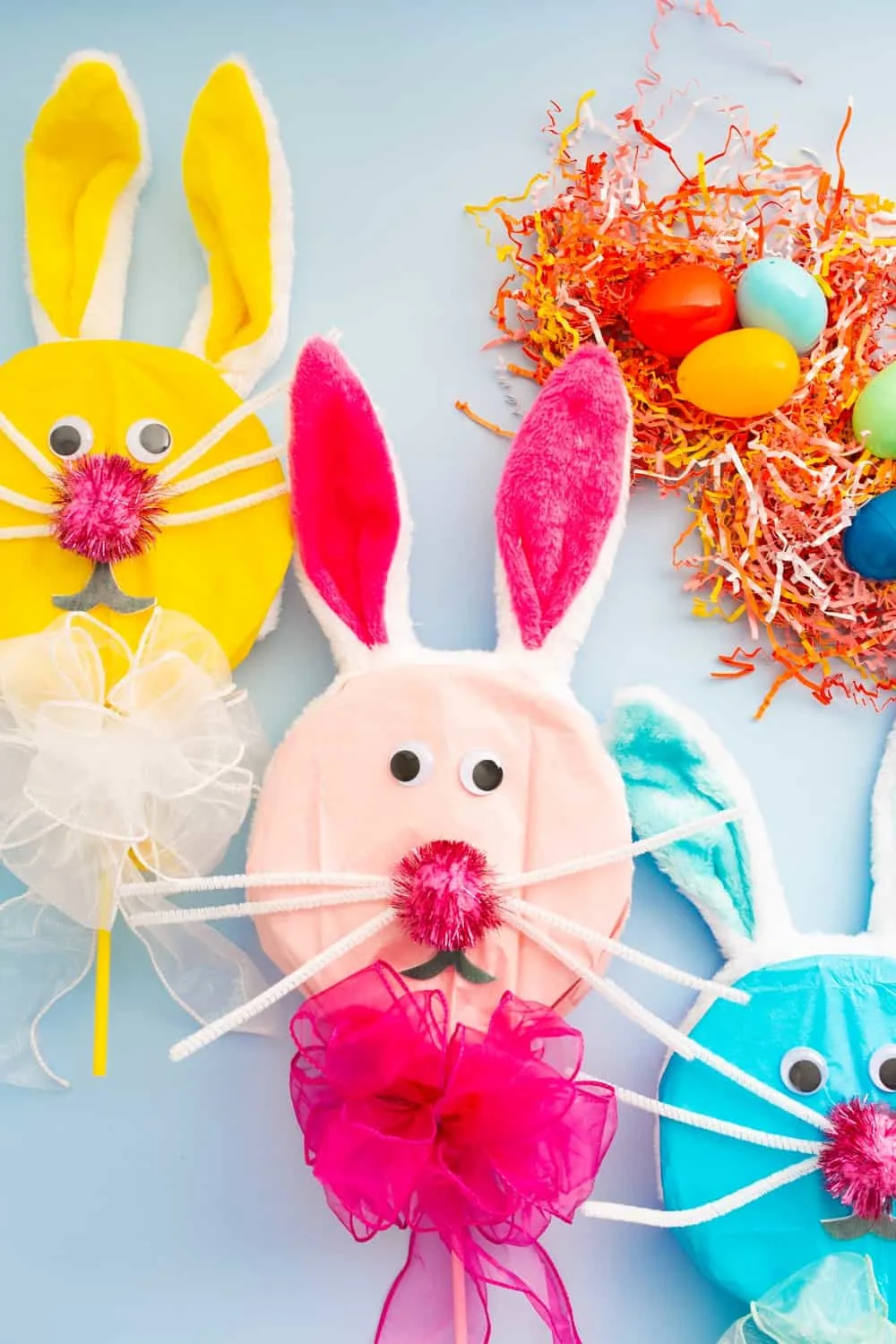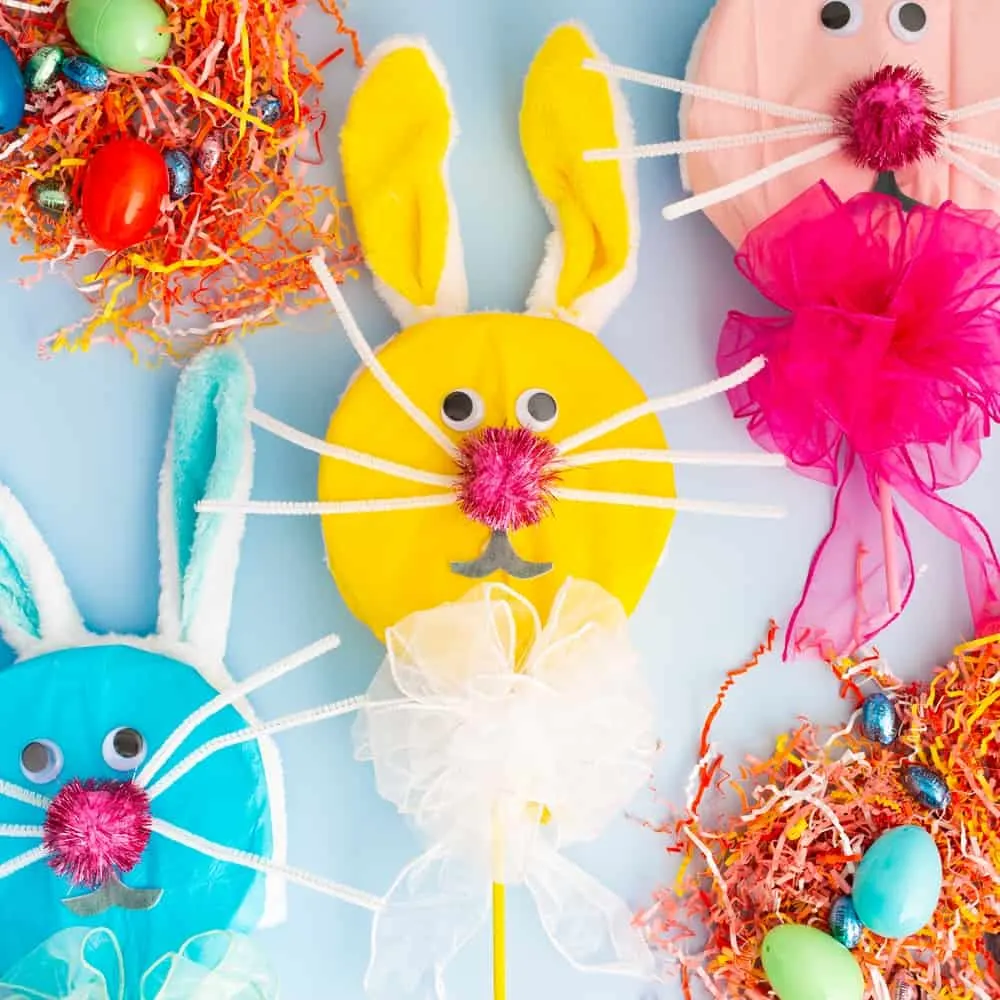 Variations
You can change the way that these Easter lollipops look easily. Use different colors of tissue paper, use various colors of pipe cleaners, and the list goes on.
The big thing that you will realize once you start making these lollipops for Easter is that you can change the colors easily every time. This is a simple way to make this look unique each time that you make it.
Can kids make this Easter craft?
Absolutely! This is a great craft for the kids to make because it's perfect for fine motor skills, directional learning, and more. The kids can easily follow the steps and create their very own Easter lollipop with ease.
Where do I put them after I make them?
That is a great question. There are options, and you can use them or make your own options as well. Since you're using a wooden stick, you can stick them right into the ground. You can also put them in anywhere in the house or have them sticking out of the kid's Easter baskets.
Can I make them smaller than this?
This would be a great idea! You can easily tweak this craft to make it smaller. I would think that using two small paper circles with strong paper like cardstock would work. You would need to add a divider center around it (just a strip of 1-2 inch cardstock hot glued) to create lift and hold your andy inside.
You can just add the candy and not have to add if that ends up still being too small. Then you can use smaller sticks, like popsicle sticks, in place of where the larger sticks are used. You can make multiples and put them in their Easter baskets!
Fun ways to share Easter lollipops
If you're all about sharing fun crafts and ideas with others, make a few lollipops for your family and friends! You can make the large bunny pops and put them in their yards as a fun way for them to come out of their door and have an Easter surprise.
These would be super cute to have at your family Easter gathering as well for the kids to make! Then they can have them to play with before opening them up and finding the candy hidden inside!
What can I put inside the eggs besides candy?
If you're looking for an alternative to Easter candy, there are options! You can add small toys, change, or even some folded money! Not everyone wants candy or more sugar in the house for Easter, and if that's your house, that is totally fine!
Instead, fill the eggs with something else besides sugar! You can mix and match what you put inside each one and let them be a total surprise.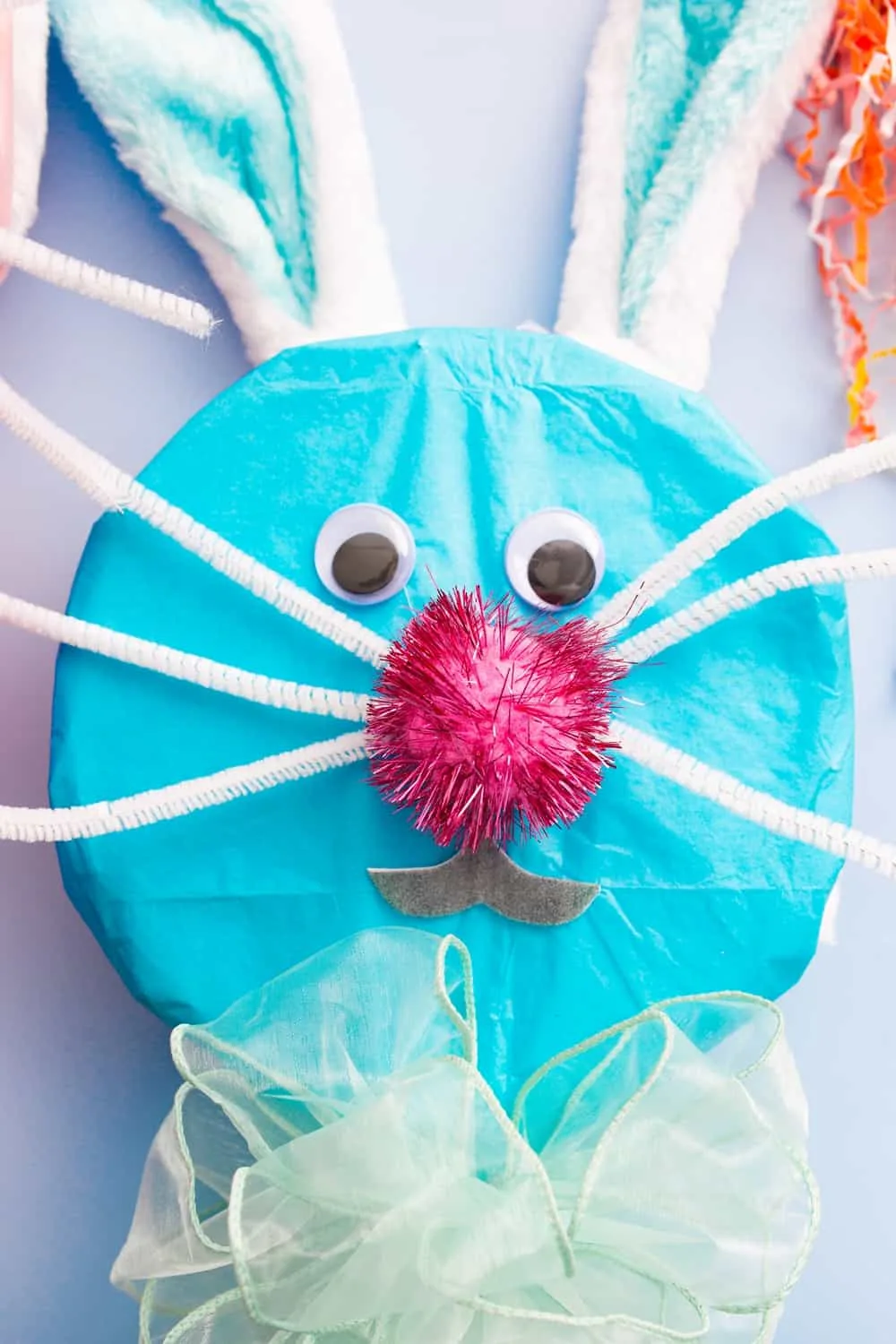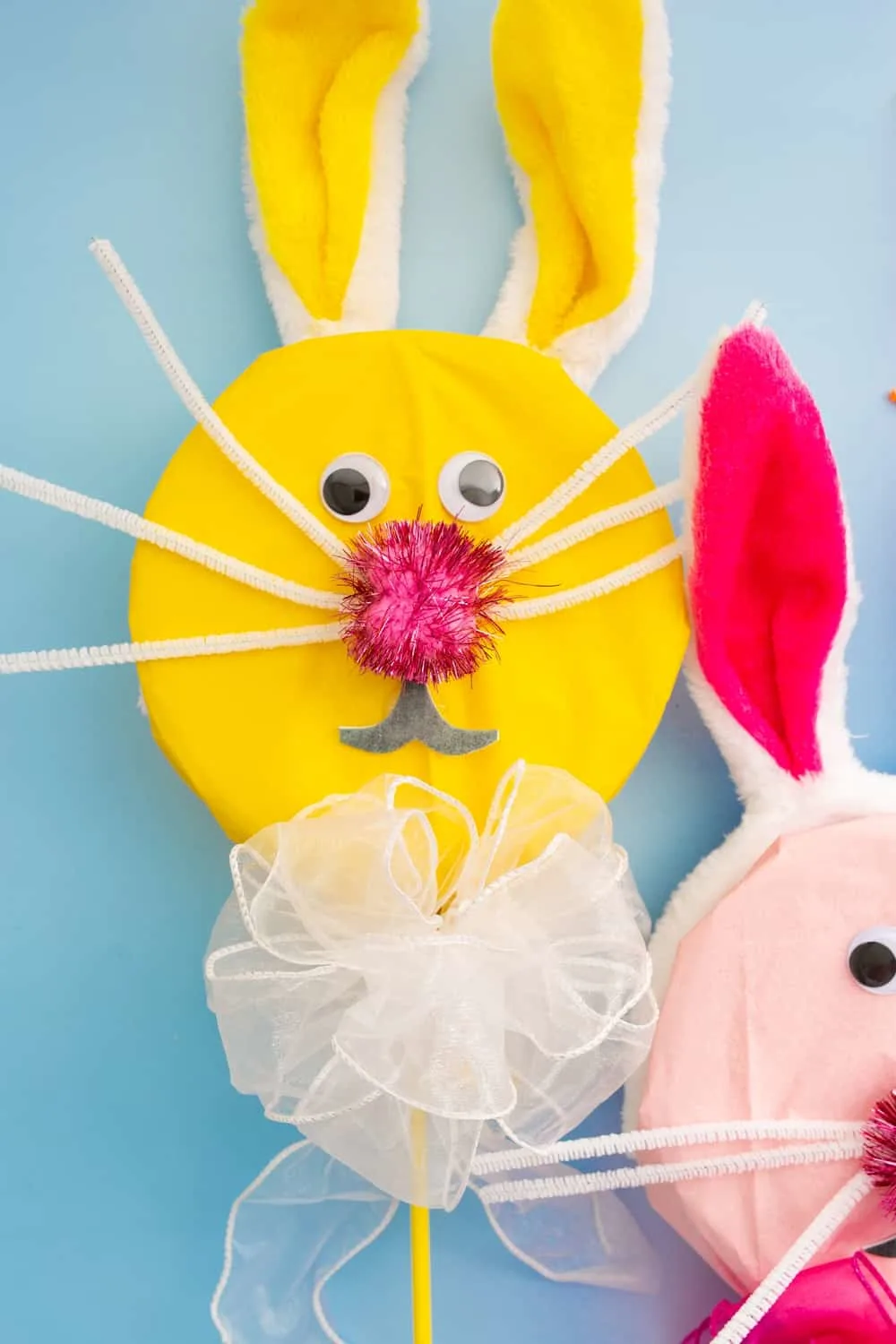 More Easter Posts
Tissue Paper Bunny Lollipops
Are you ready to see how simple and easy these lollipops are to make? They're going to be a new fun Easter tradition that everyone in the house is going to love!
I can't wait to see what the kids think of this fun activity! It's the best of both worlds of combining Easter treats and crafting.
Yield: Tissue Paper Bunny Lollipops
Tissue Paper Bunny Lollipops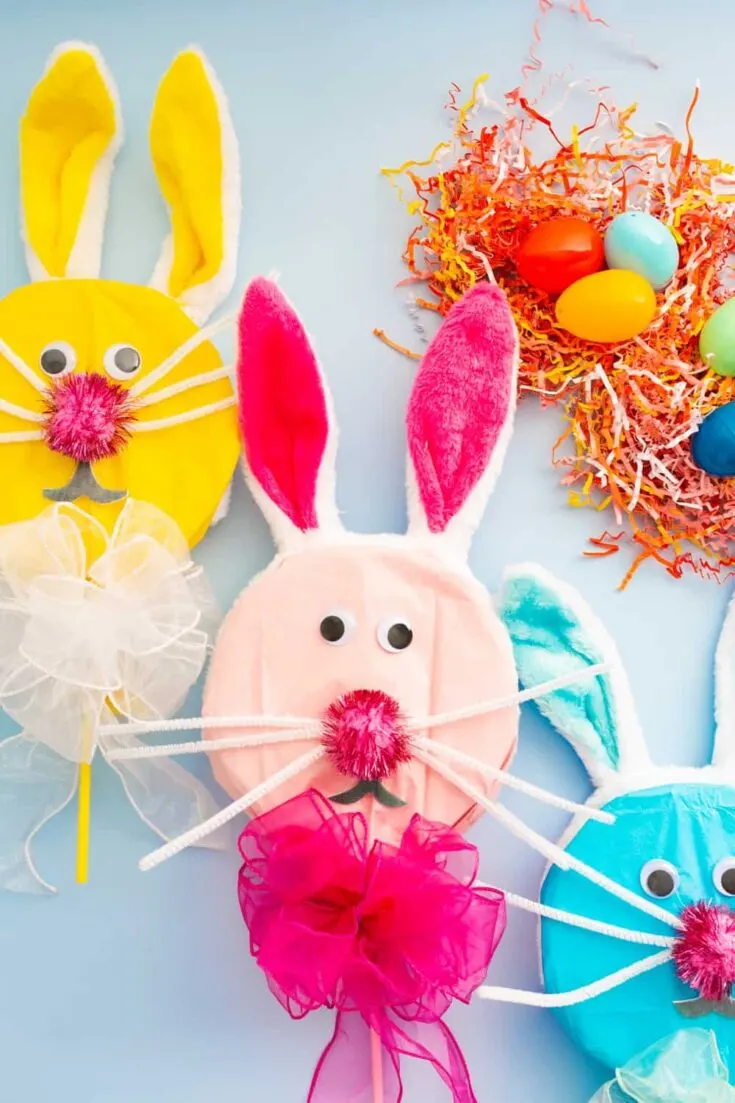 This Tissue Paper Bunny Lollipops activity is so much fun for the kids!
Materials
Round Aluminum pans (we used 7")
Tissue paper in various colors
Wooden sticks
Paint colors of your choice
Easter grass
Bunny headbands
Pipe cleaners
Black paper
Googley eyes
Pom Poms
Ribbon
Easter eggs
Candy
Hot glue gun or craft glue
Instructions
Fill the aluminum foil plates with Easter grass, and then add eggs full of candy. Seal the edges.

Grab and paint your wooden sticks any paint color that you want.

Once the sticks have dried, tape one stick to the back of the foil plate.

Cover the plate with tissue paper and then tie a ribbon at the bottom to look like a bow for the bunny.

Add the bunny headband.

Glue on the pipe cleaner whiskers, pop pom nose, and eyes. The whiskers are made of black paper.