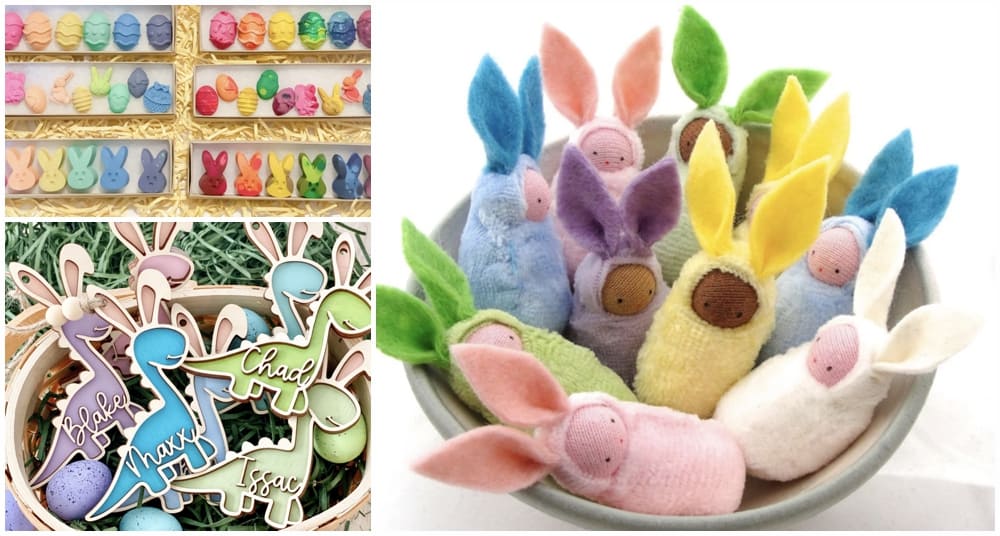 Photo Credit: Etsy
By using this site, you agree to our Terms of Use. This post may contain affiliate links. Read our disclosure policy. As an Amazon Associate I earn from qualifying purchases.
Follow us on Instagram for more fun ideas for kids!
Easter is a great time for family and friends to enjoy one another's company while sharing food, fellowship, and good times.
The tradition of giving Easter baskets as gifts to family and friends is popular during the Easter season. Even though many people believe that the only thing that should be placed in an Easter basket is candy, there are various types of gifts that can be given for Easter.
Getting creative when it comes to your Easter basket gifts will allow you to think outside the box and choose something that the recipient will enjoy. Let's dive into them now!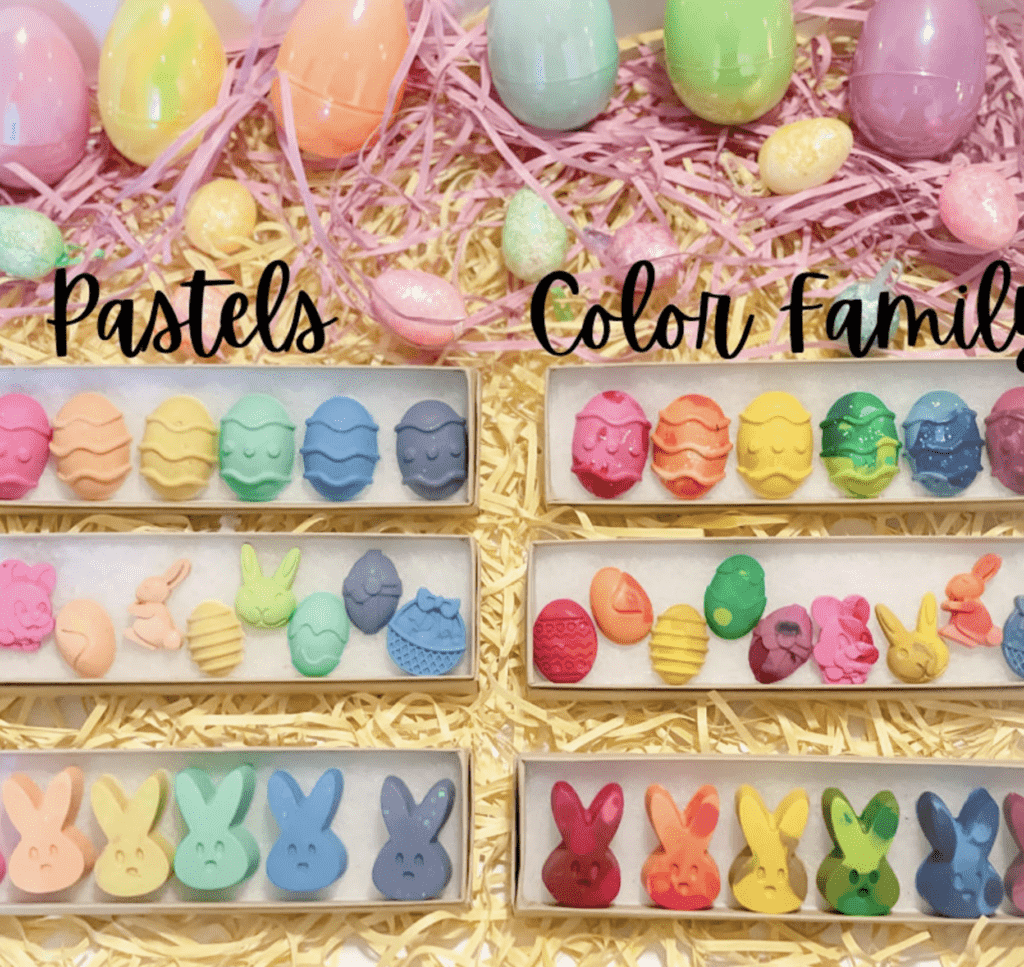 Photo Credit: Etsy
This Easter, have some family fun by coloring with these unique Easter Crayons! They're available in five different box styles, each with a diverse assortment of customized shapes like Easter eggs, Peeps, spring flowers, and bunnies.
The crayons are brand new and non-toxic, so you can let your children's imaginations run wild! Choose from pastel colors or color families to find the perfect setting for your little ones.
These are a fantastic non-candy alternative to candy in Easter eggs, and they also make a great Easter basket gift. Order your crayons today! They come beautifully packaged and ready to give as gifts.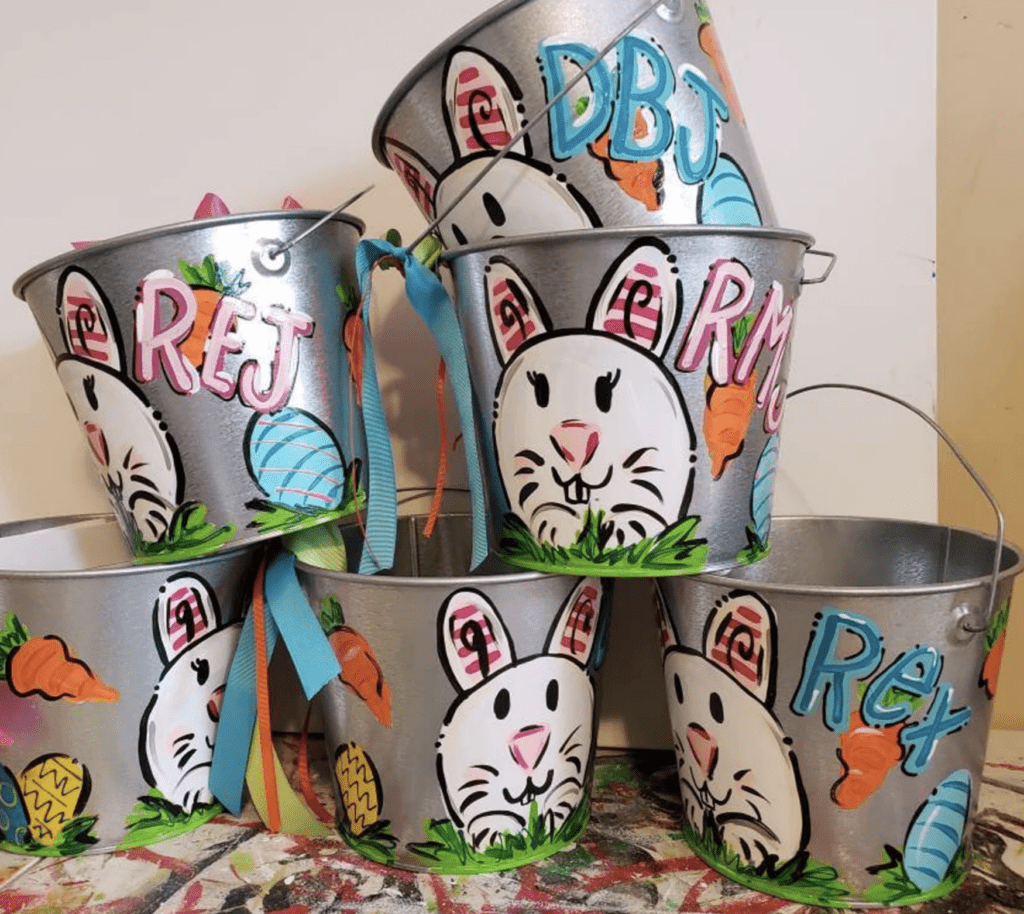 Photo Credit: Etsy
Incorporate a bucket of goodies into your child's Easter basket this year to give it a more customized feel.
After the Easter egg hunt, tin pails with hand-painted designs make the perfect addition to any gathering. They can be reused again and again for several years after the hunt is finished.
Make your Easter celebration truly special and memorable by personalizing it with one of the many available designs, including the popular Happy Rabbit.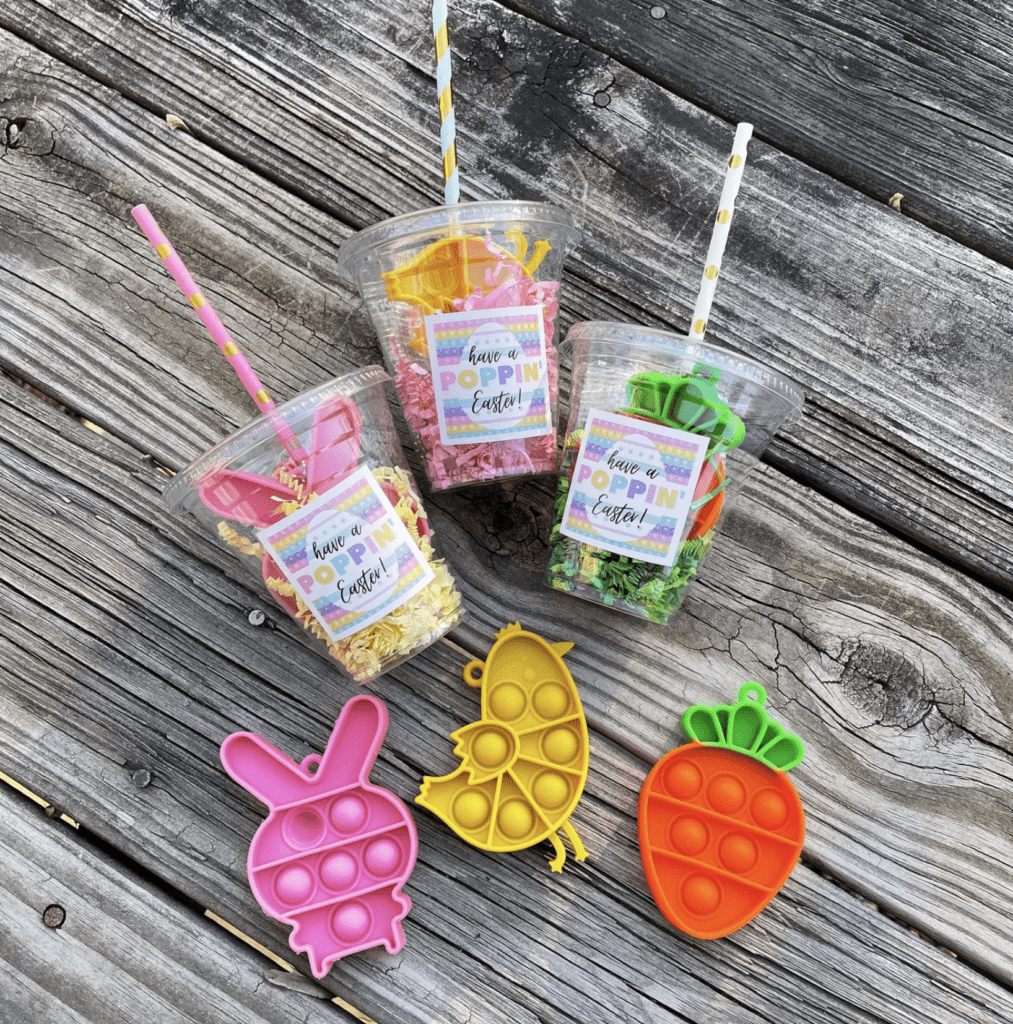 Photo Credit: Etsy
What could be cuter than a little bunny fidget toy for Easter?
These Easter Pop Its come with their very own favor cup!
It's guaranteed that each of these Pop It toys will bring a smile to any child's face, whether they are included in Easter baskets, given as classroom prizes, or simply used for entertainment.
Photo Credit: Etsy
Is your child a puzzle fanatic? If that's the case, they'll adore this personalized name puzzle!
This puzzle, made of wooden plywood and painted with non-toxic wood paint, is a great learning tool for your toddler to help them learn how to spell their name.
It's a fun way for them to practice their motor skills, but it also helps them recognize colors and shapes. Watch your child's face light up when they see their very own name puzzle!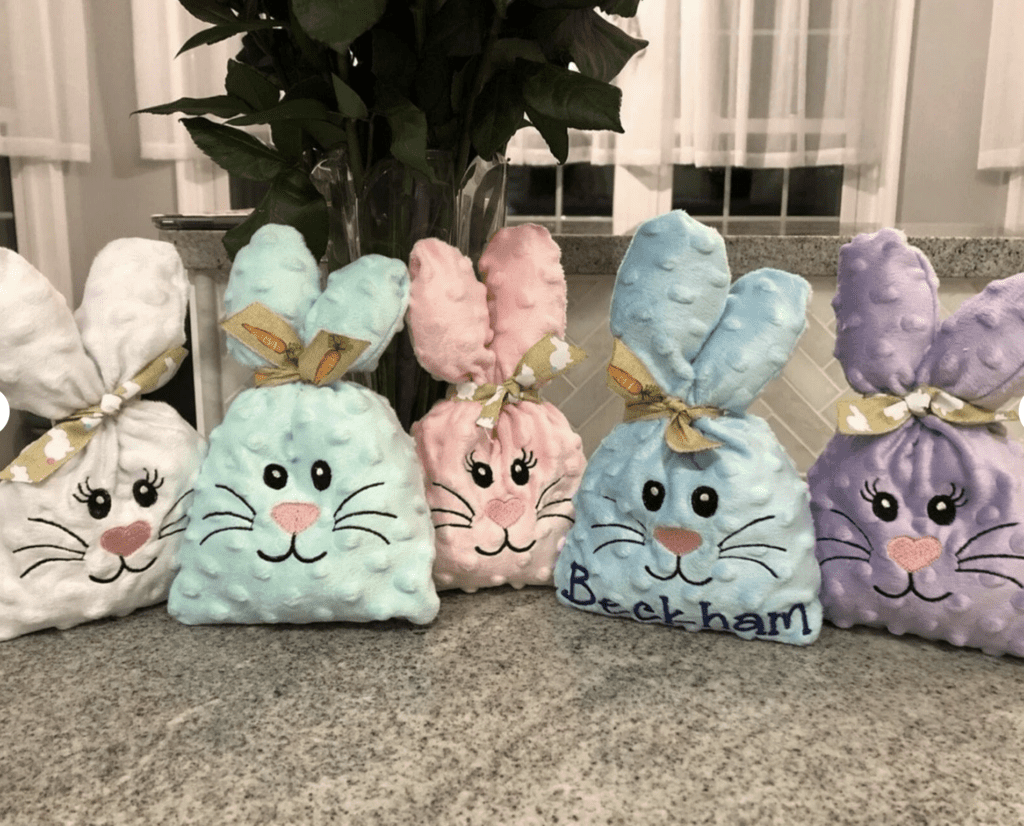 Photo Credit: Etsy
Easter Treat Bags from the Easter Bunny! This Easter, give your kids a special treat! Filled with their favorite candies, small toys, and other unexpected delights!
They can even be personalized!
Their Easter baskets will be extra special this year! Unstuffed, the bunny measures 6″ wide x 9″ tall and is made of soft Minky fabric. The bunny will be delivered unstuffed but if you prefer it to be a small stuffed toy they can stuff it too.
These are super cute as an Easter basket filler, a party favor, or a small Easter gift. You can even stuff candies into the top opening between the ears.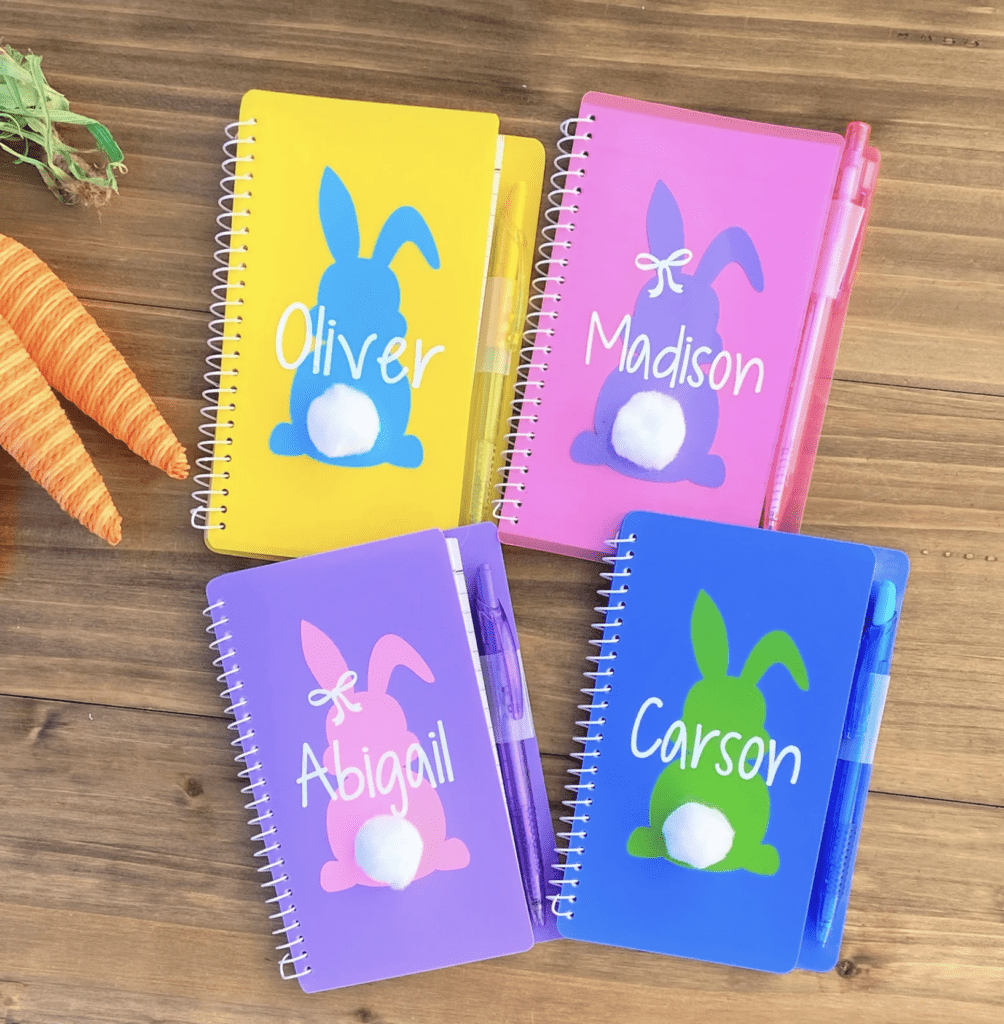 Photo Credit: Etsy
These personalized bunny notebooks and pen sets make great Easter basket fillers for both boys and girls! We adore the adorable pom-pom on the bunny's tail and the adorable bow on the bunny's ear!
These are adorable Easter basket fillers! The notebooks are 6″X4″ in size and contain 60 sheets of ruled paper. Permanent vinyl is used to apply the design.
The notebooks come in pink, purple, blue, and yellow and have a plastic cover and back.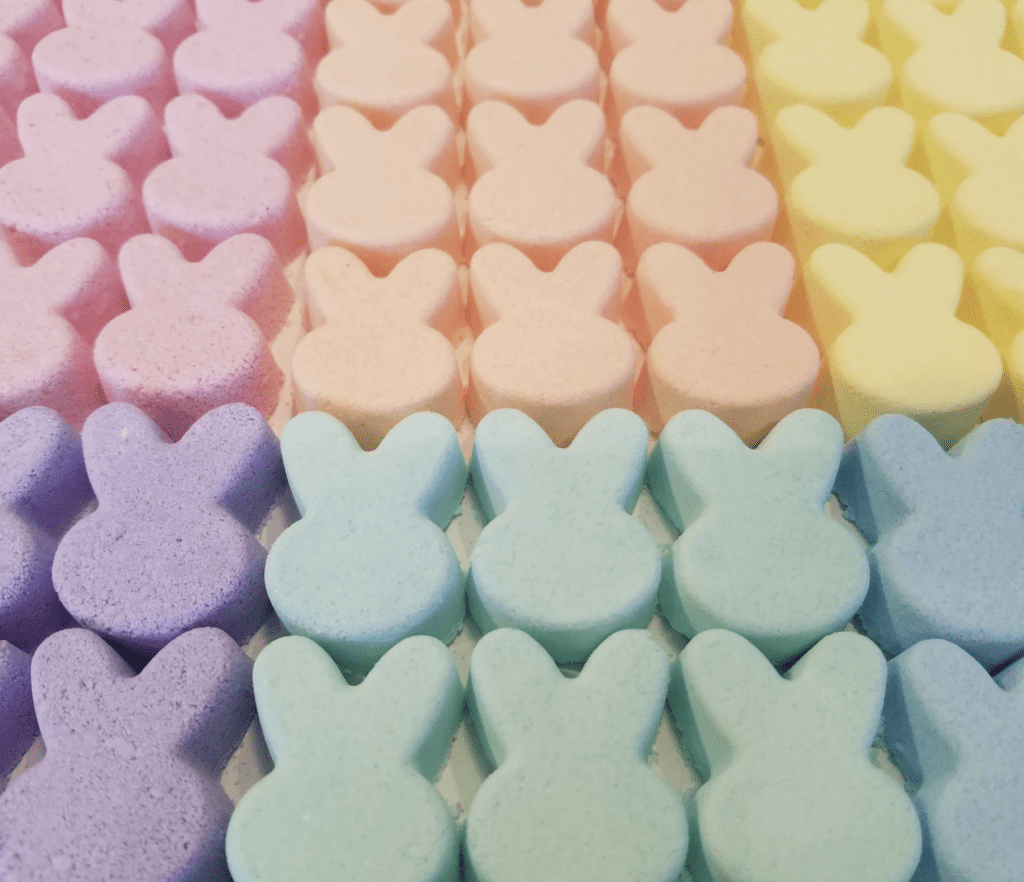 Photo Credit: Etsy
These adorable and bouncy bunnies are great for filling Easter baskets and adding to any celebration.
These Bath Bomb Bunnies are made with all-natural ingredients like organic coconut oil and baking soda and will leave your skin feeling refreshed and rejuvenated.
These Bath Bomb Bunnies are sure to please, whether you're looking for a unique gift for someone special or want some fun this Easter.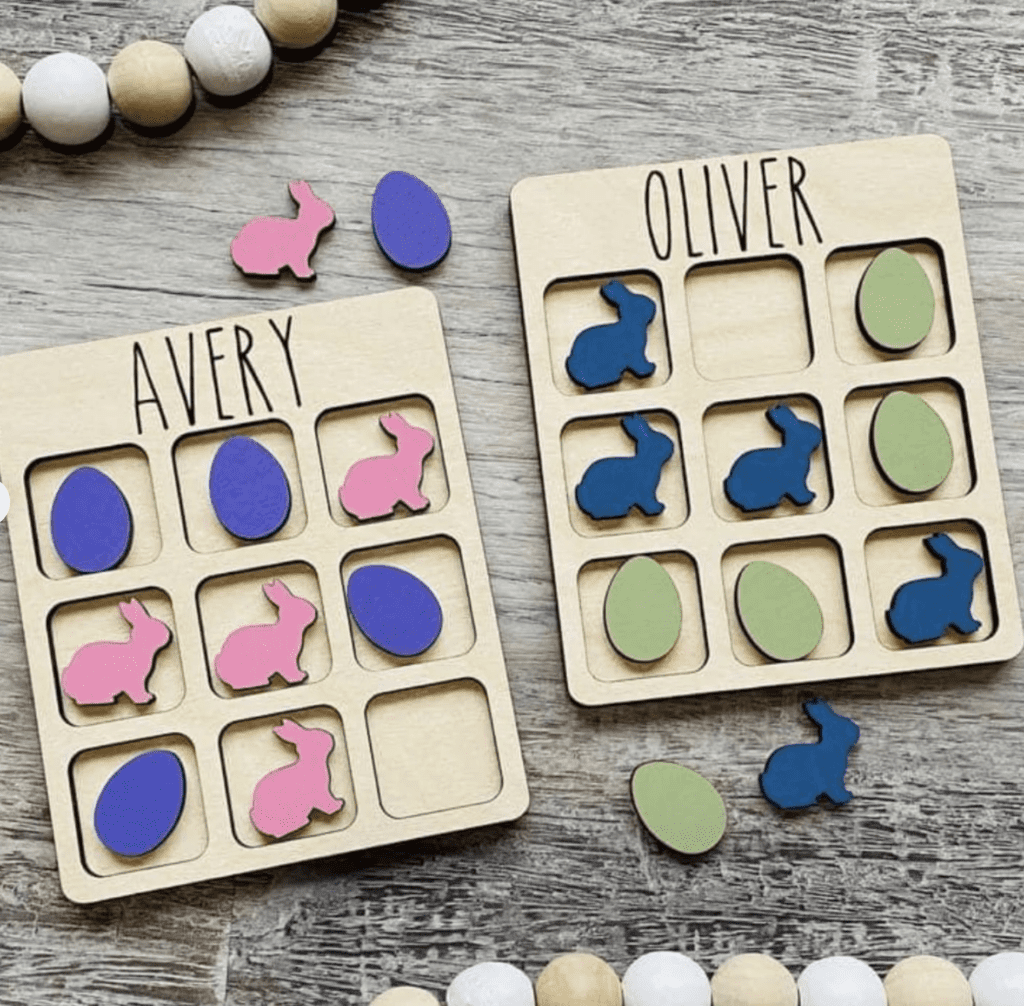 Photo Credit: Etsy
This adorable personalized tic tac toe set will make a wonderful stocking stuffer for the whole family this season. It comes with five bunnies and five eggs in your choice of any two colors.
In addition, a custom message can be added to the game board, which is made of solid wood and can be personalized with whatever you want.
A timeless classic that people of all ages can enjoy, tic tac toe is ideal for a little bit of holiday entertainment!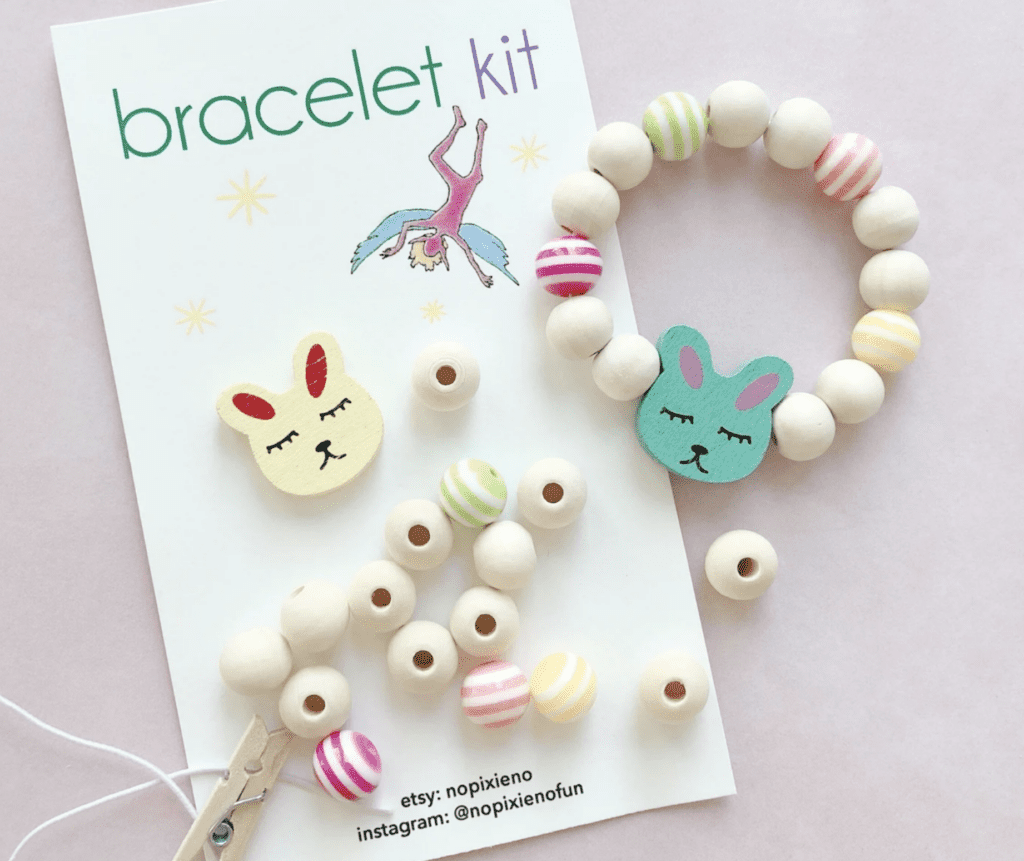 Photo Credit: Etsy
Easter is a special time of year, and what better way to commemorate the occasion than by making an Easter bracelet?
This Easter bracelet kit is suitable to fit children of all ages and includes everything needed to create a unique bracelet.
The kit includes wood and acrylic striped beads in assorted colors, a 12″ stretch cord, and a tiny clothespin, all needed to create an Adorable Easter bracelet.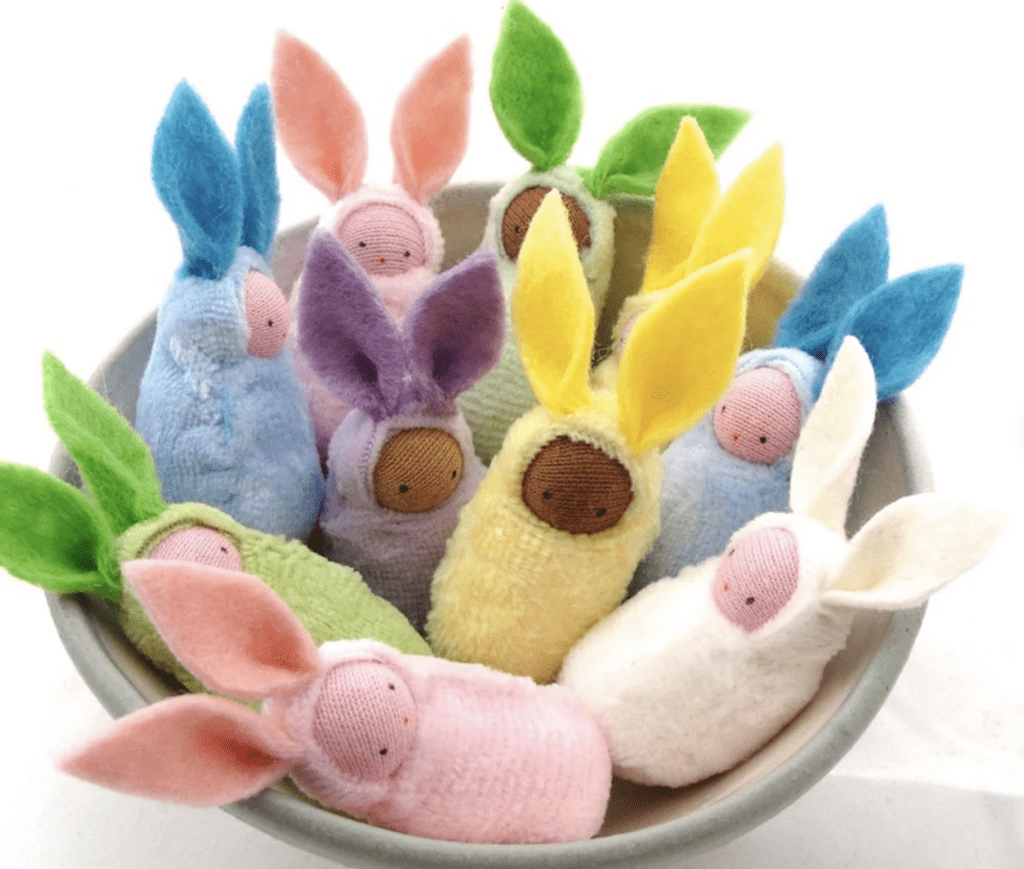 Photo Credit: Etsy
Adding this bunny favor to your Easter celebration will make it special. This adorable little favor is hand sewn from cotton knit, wood and wool felt, and has a variety of adorable features.
It is available in various colors, allowing you to find the one that best compliments your home's decor.
Whether you use him as a centerpiece for your nature table or as a component of an Easter basket, this will be sure to add a touch of springtime charm to your holiday celebration!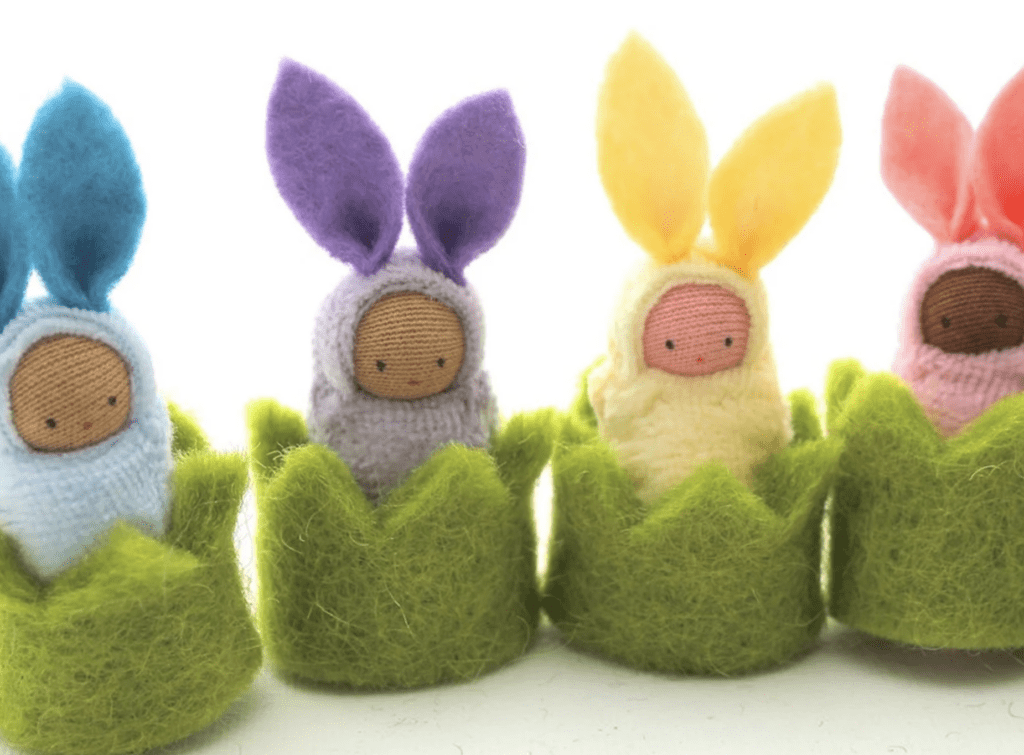 Photo Credit: Etsy
These adorable bunnies will look great on your Waldorf nature table. These hand-sewn bunnies are made of wood, wool felt and cotton knit and are sure to inspire imaginative play.
Choose your bunny's color and skin tone, and he'll brighten up your table. Each bunny is 2″ tall, with velour ears and a wooden form underneath the cotton knit fabric.
Their ears are felt stitched to their heads, and their faces are hand-drawn with permanent ink. So this Easter, add one of these adorable bunnies to your Easter decorations!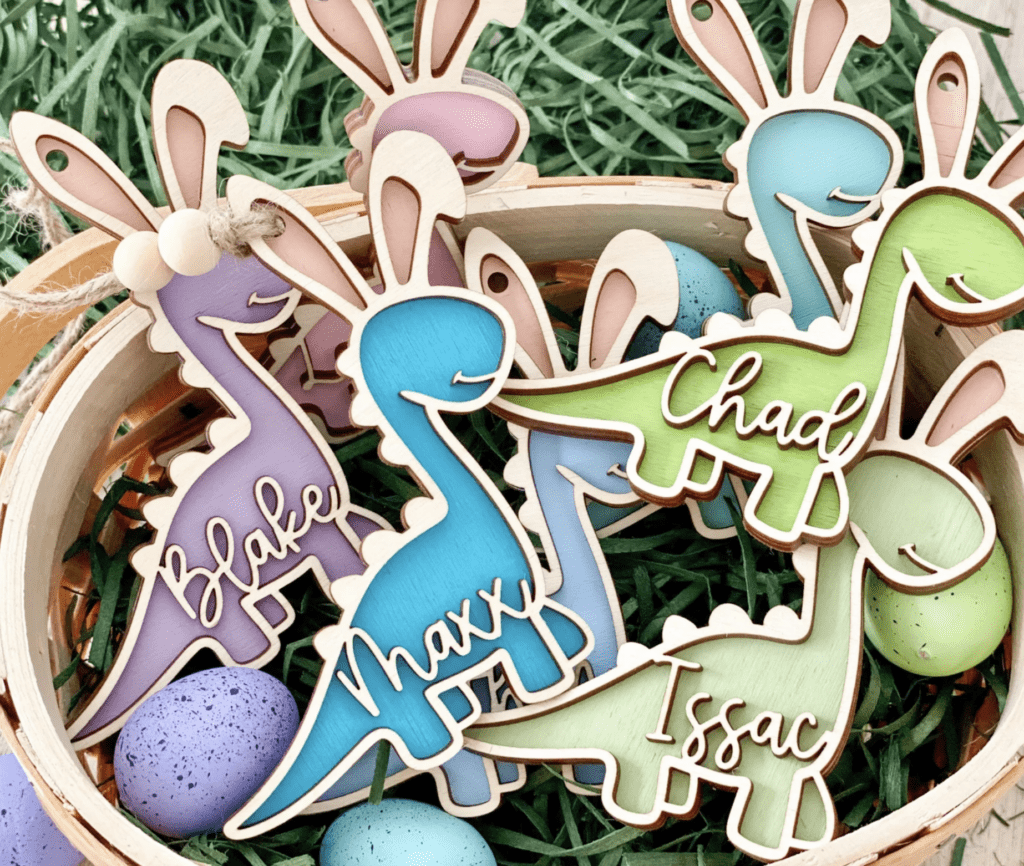 Photo Credit: Etsy
Dino meets the Easter Bunny for the first time! These adorable and fierce Dino-inspired Easter name tags are a must-have for any dinosaur enthusiast.
The tags are available in various colors and can be used to decorate an Easter basket or as part of a general home decor scheme.
Approximately 5 inches in length with beads, all dinosaurs come with wood beads and jute (approx 7 inches of jute left untied, so it can be attached as needed).
Takeaway
Once again, it's that time of year. It's time to start making those annual springtime preparations and preparing for Easter celebrations! Whether you're thinking about the eggs or a new Easter Bunny basket, there's something for everyone. In any case, we've got some unique gifts in store for you.
Whatever you're looking for, you're sure to find something special for that special someone in your life.
So take a look and get ready for a holiday filled with excitement! You can rest assured that you will find everything you require to make this Easter the most memorable yet!