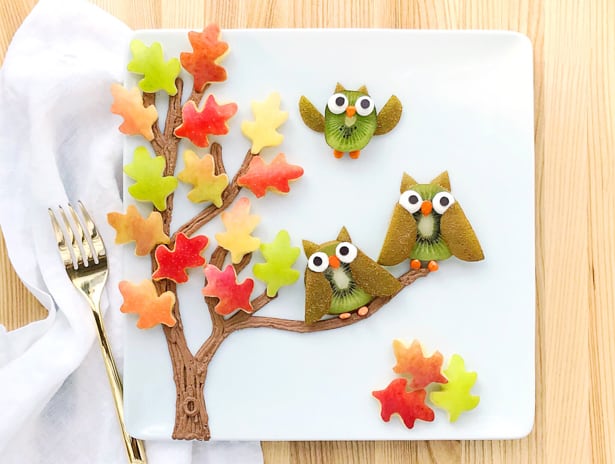 Your kids will have a hoot with this fun, fall-inspired owl fruit art that's perfect for a healthy after school snack! Did you know that you can eat the entire kiwi fruit, skin and all?! The skin actually contains tons of nutrients, and here it also adds the perfect texture for our fruit owls. Once all of the pieces are cut out, this snack is a snap for kids of all ages to decorate – and don't the owls look so cute? This recipe is food allergy friendly (just swap the seeds out with rainbow chocolate chips), and can be made with dairy free yogurt as well.
OWL FALL FRUIT ART – INGREDIENTS: (makes enough for 2 small snacks, or 1 larger serving)
Fall Tree:
– 4 oz. chocolate Greek style yogurt
2 to 3 apples in a variety of colors (I used Granny Smith, Pink Lady, and Gala)
Small piping bottle, condiment bottle, or a small zip top bag
Sharp kitchen knife
Ice water and lemon juice * (optional to keep the cut apple from browning)
Owls:
1 to 2 kiwis (preferably organic as you will be eating the outside too)
3 oz. plain or vanilla Greek style yogurt
6 mini chocolate chips
9 orange chocolate covered sunflower seeds
Small piping bottle, condiment bottle, or zip top bag
Kitchen scissors
Small and medium round cookie cutters (you can also just use the scissors instead)
Sharp kitchen knife
**All cutting should be done by an adult.
INSTRUCTIONS: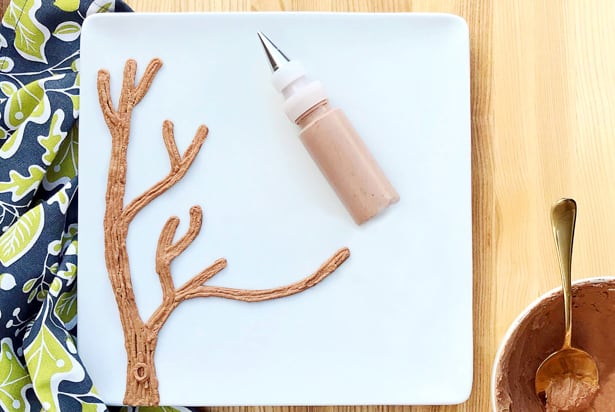 Step 1. Transfer your chocolate yogurt to either a piping bottle fitted with a small round piping tip, a small condiment bottle, or a zip top bag (if using the bag cut a tiny corner off). Beginning at the bottom of your plate, and working your way up and out, pipe the tree trunk and then the branches. I made 1 branch extra long so it would hold some of the kiwi owls.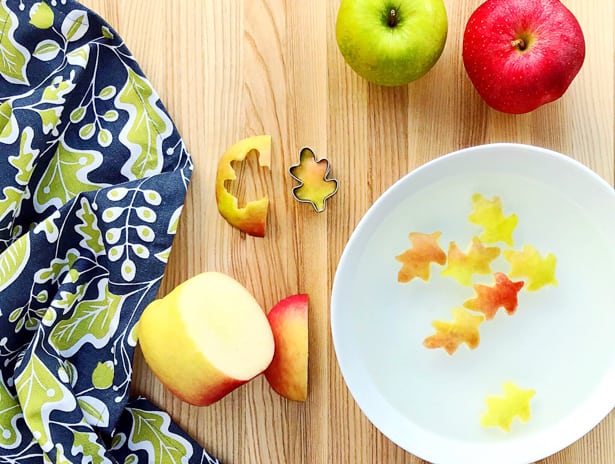 Step 2. Cut each apple into 4 sections (1 per side), then cut each section in half again, and use your leaf cookie cutter to carefully press 8 leaves out per apple. To prevent the cut apple pieces from browning float them in a bowl filled with ice water and a squeeze of lemon juice. Just make sure to dab them with a paper towel before transferring to your plate. Now you can decorate the tree with your pretty apple leaves leaving some room for the owls.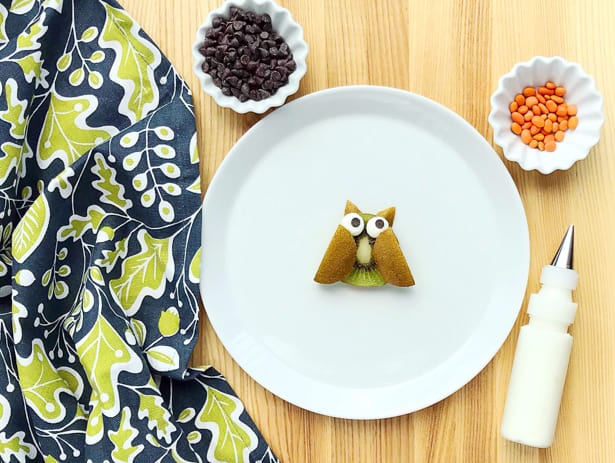 Step 3. To make the owls, begin by washing and drying your kiwi fruit. Cut the ends off and discard. Slice 3 rings of kiwi as you normally would and arrange on your plate with space for the wings. Stand the fruit upright and cut just the sides off (with the skin so you can use this for the wings and ears). Use the circle cookie cutters or scissors to cut a circle out of each side (I find it helps to cut with the green fruit side facing up). Then cut each circle in half horizontally with either the knife or kitchen scissors. Make sure that you have a set of wings for each owl. Cut two triangles for the owl's ears out of the leftover kiwi skin. Add the wings and ears to your plate.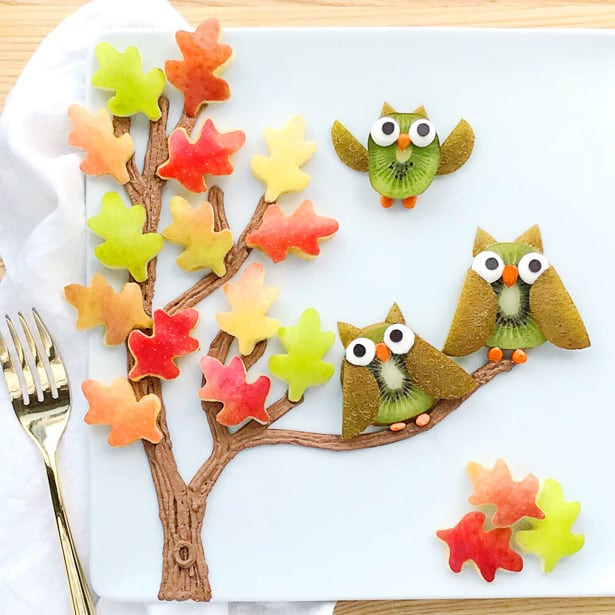 Step 4. Transfer the plain or vanilla yogurt to either a bottle or small bag, and pipe the eyes onto each owl just above the wings. Add a mini chocolate chip to the center. Place a sunflower seeds between the eyes for the beaks, and 2 more sunflower seeds below each kiwi for the claws. Admire your un-be-leaf-ably cute creation, and enjoy!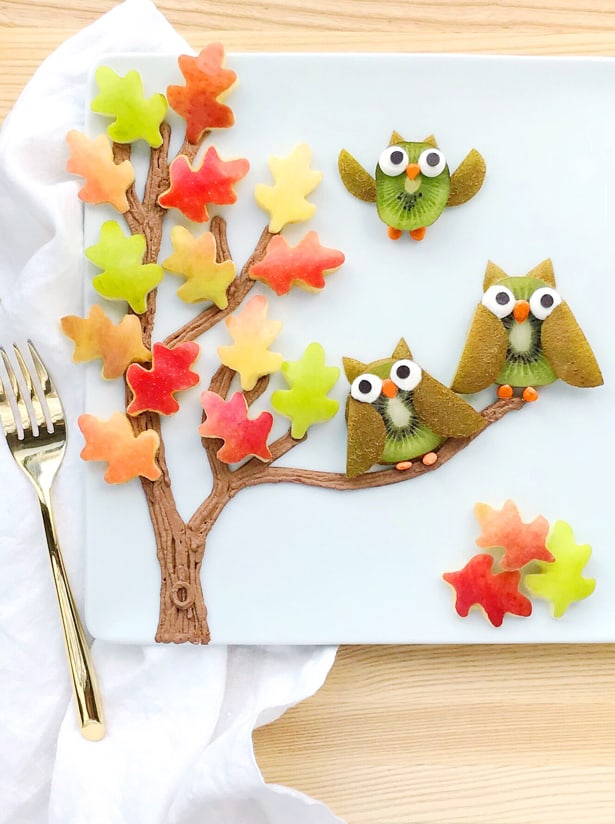 Fruit and yogurt is one of my favorite combinations. It's light and fresh, and the perfect way to introduce seasonal fruits into your diet, especially when it looks this cute! This fall fruit art can easily be modified to accommodate any fruit you already have on hand (cut grapes and berries would also work well for the leaves), and you could even add a drizzle of honey for sweetness or a little granola to the tree bark.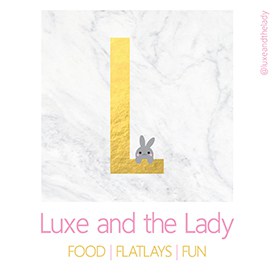 Jessica Lucius is a food and flatlay stylist with a fondness for baking, making, and all things cute. She's also the founder and creative force behind her newly established blog, Luxe and the Lady, where she shares fun ways to bring her favorite animals and childhood characters to life with food. When Jessica's not busy playing with her food, or at the grocery picking out just the right ingredient to turn into eyes and ears, you can find her trail running, working out, reading, recipe testing, and playing with her fluffy baby lionhead bunny, Marshmallow. Follow Jessica on Instagram @luxeandthelady.
---
Disclosure: Some of the links in the post above are "affiliate links." This means if you click on the link and purchase the item, we will receive a small affiliate commission. Regardless, we give our promise that we only recommend products or services we would use personally and believe will add values to our readers.