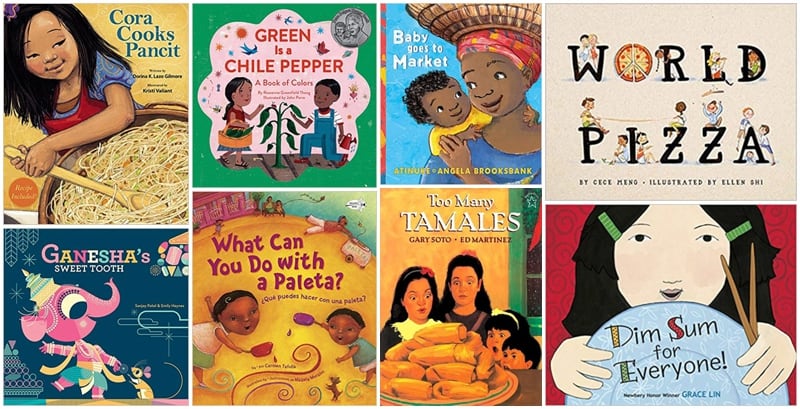 Did you know we launched a new food site called hello, YUMMY filled with yummy kid and family friendly recipes? To celebrate our guest children's book contributor Lauren is sharing a batch of 13 Fabulous Children's Books About Food From Around the World.
These engaging children's books about food from around the world will captivate your child's mind and tummy!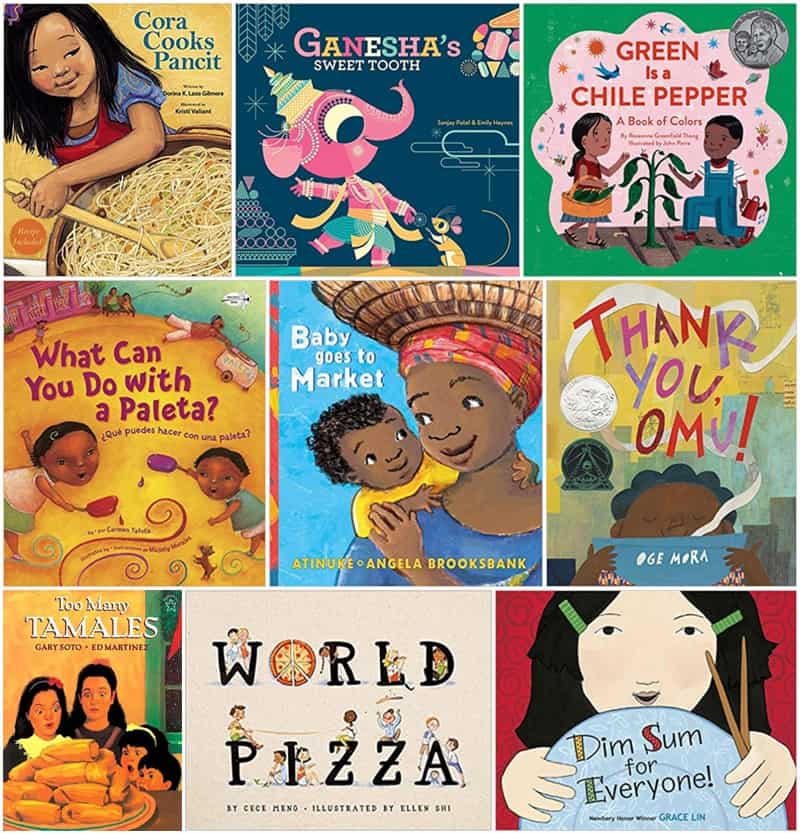 If your children are anything like mine, chances are, they are always hungry. Before they even finish breakfast they're asking what they will eat for lunch.
Your toddler is constantly demanding another snack and trying to break the baby locks on the fridge. Your first grader continually astounds you as he shovels sandwich after sandwich into his mouth, and you can't imagine how one small boy can fit such a large amount of food into his little stomach.
As much as it may drive you bonkers, there is something really cool about a child's love of food. What's that, you ask? You can use that love to teach your kids about people and cultures all around the globe!
As our world becomes increasingly interconnected, one amazing way to showcase diversity and celebrate world cultures is to do so through something every kid can relate to: their tummies!
I know what you are thinking. As much as children love to eat, getting your little ones, much less your tweens, to try new, unique foods is not alway easy. Sometimes it takes a significant amount of courage to try a meal one can barely pronounce, and we have to train those little minds to be willing to try something that takes them out of their comfort zone.
But you can do so gently and easily… and you can use children's books about food from around the world to help! Reading and eating- is there anything better?!
As you share awesome, diverse picture books about food with your little ones, you will witness firsthand the way stories that showcase foreign delicacies open kids' eyes and minds to the the world outside of their own communities.
Not only can you use food and books to teach your children to celebrate the whole world right from inside their homes, but this awesome tactic will also (1) help bridge divides among classmates at school which will in turn encourage your kids to create new friendships, (2) help children understand the beauty of embracing rather than fearing differences, and (3) encourage your children to foster an attitude of curiosity, exploration, and acceptance.
So what are you waiting for? Check out our baker's dozen of some of the most fabulous children's books about food from around the world, and let's get cooking!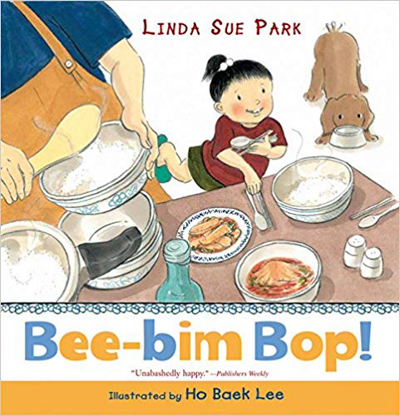 Bee-bim Bop!, by Linda Sue Park: In fun, rhyming text, this vibrant picture book tells the story of a young girl, beaming with pride, as she cooks a special meal with her mom. The two are preparing bee-bim bop, a Korean dish of rice, meat and vegetables, and it's undoubtedly a family favorite! From shopping for the ingredients to mixing it all together to finally sitting down with the family to eat, this book never fails to delight young readers who will be eager to try bee-bim bop in their own homes.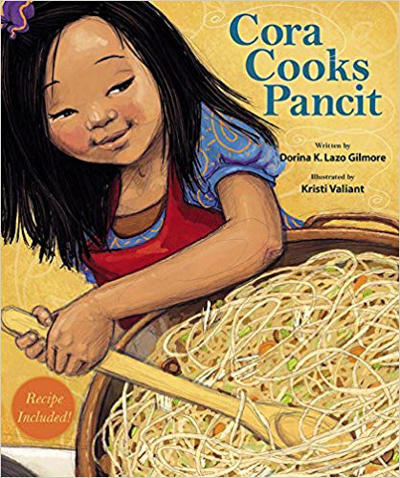 Cora Cooks Pancit, by Dorina Lazo Gilmore and illustrated by Kristi Valiant: This is the most precious story about a little girl who is finally able to help her mom with "adult" jobs in the kitchen as they make pancit, a Filipino noodle dish. Cora is so proud of her cooking accomplishments, and she even gets to stir the noodles in the hot pot. But will her dish pass the test when served to her dubious brothers and sisters?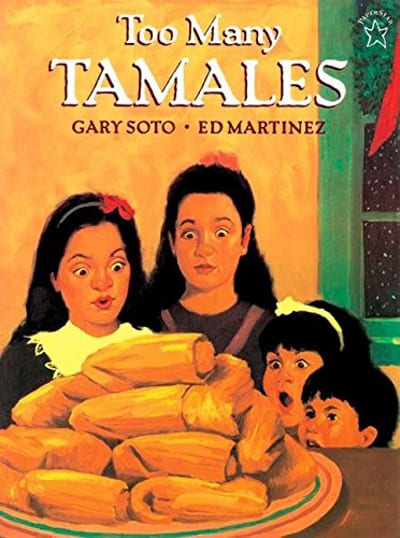 Too Many Tamales, by Gary Soto and illustrated by Ed Martinez: Christmas Eve began so perfectly. Until, that is, Maria tries on her mother's diamond ring for just a minute and then loses it in the masa she kneads to make Christmas tamales. Oh no! Maria needs to get the ring back, and fast! But the ring is inside one of the tamales! Whatever will she do? Well, she has to eat the tamales of course. Nothing beats Maria and her cousins' animated expressions as they realize how many tamales they must eat in order to find Mama's diamond!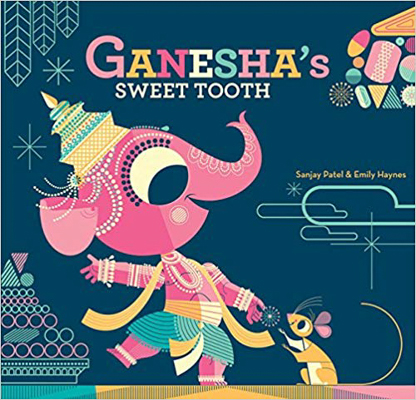 Ganesha's Sweet Tooth, by Emily Haynes and Sanjay Patel: This is a fun and whimsical adaptation that tells the story of how Ganesha wrote the famous poem, Mahabharata. Ganesha is depicted as a child with the head of an elephant who rides around on a magical mouse. And, like all kids do, he has a major sweet tooth, especially when it comes to laddoo, a traditional Indian dessert. One day, though, Ganesha's tusk breaks off when he bites into the laddoo, and though his heart breaks, he learns that even things that shatter can still be useful. Alas, his tusk is turned into a pencil which is used to write this famous poem!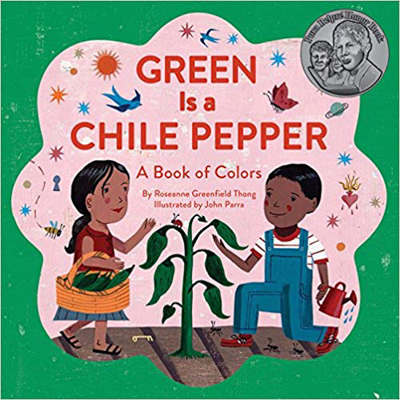 Green is a Chile Pepper: A Book of Colors, by Roseanne Greenfield Thong and illustrated by John Parra: We adore this book that uses Mexican American culture, including many traditional foods, to explore colors! With its vibrant illustrations, bilingual text and snappy rhyme, this fantastic book has universal appeal as it teaches children that, among other things, green is a chile pepper and red is the salsa that goes on top of rice. A wonderful read aloud!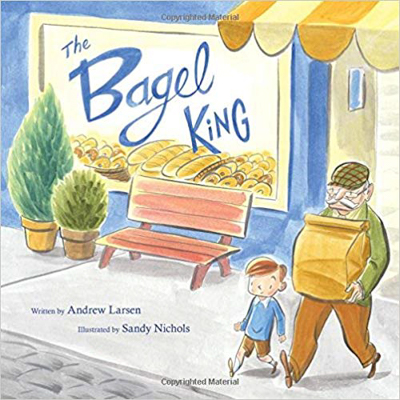 The Bagel King, by Andrew Larson and illustrated by Sandy Nichols: Who else thinks bagels are the best thing about Sunday mornings? Every Sunday morning, Eli counts on his Zaida to bring bagels for breakfast from Merv's bakery. But one Sunday, Zaida doesn't come – he had a big fall! When Zaida is told he must stay in bed for two weeks, Eli discovers there may be something he can do to keep the beloved weekly bagel tradition alive.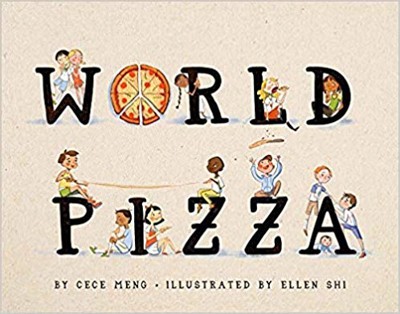 World Pizza, by Cece Ming and illustrated by Ellen Shi: Momma sees a wishing star in the sky, and as she goes to make a wish for world peace, she accidentally sneezes. "World peace" becomes "world peace-ah-ah-ah CHOO!" And so it is that mama wishes for world pizza, and pizza pies of all kinds suddenly come floating down from the sky. This food favorite may be able to solve all of the world's problems and unite people all over the world.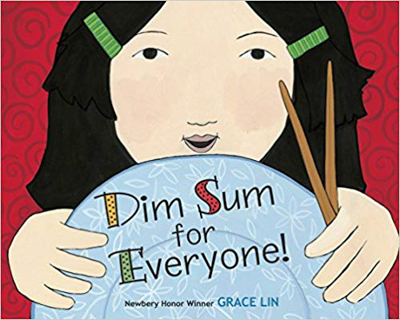 Dim Sum for Everyone, by Grace Lin: Did you know dim sum translates to "little hearts or "touches the heart"? We LOVE dim sum here at Happily Ever Elephants, and we therefore absolutely adore this book that simply introduces kids to this unique cultural custom. At a bustling Chinese restaurant, each family member gets to pick his favorite dishes to share with the rest of the group, including our personal favorite, pork buns!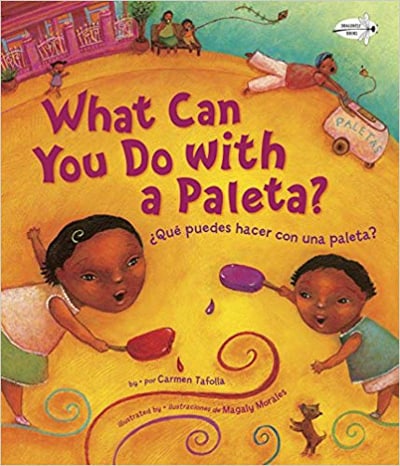 What Can You do With a Paleta, by Carmen Tafolla and illustrated by Magaly Morales: This is a story every popsicle loving child will relate to! A young girl takes readers throughout her barrio, and, most importantly, introduces readers to the paleta, a frozen fruit treat that delights Mexican and Mexican-American children and adults alike! From making blue mustaches to creating sidewalk masterpieces to slurps and licks and drips, there's so much to do with a paleta, and you will fall in love with this sweet story!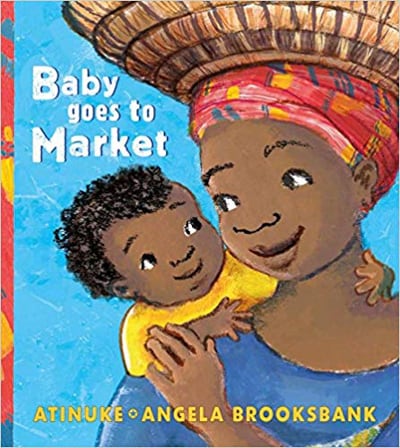 Baby Goes to Market, by Atinuke and illustrated by Angela Brooksbank: This is a fabulous concept book that takes place in a bustling Nigerian market as a mother and her toddler shop for food. Baby is so cute that all the vendors can't help but give him treats! As Mama's basket keeps getting heavier and heavier, Mama can't help but worry that Baby is getting hungry. Little does she know that Baby having the time of his life, eating the special foods he's been given, and putting some into Mama's basket as well!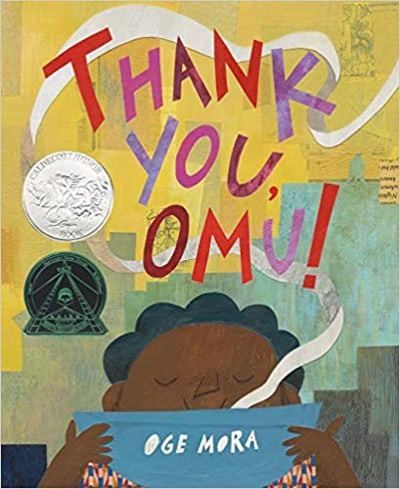 Thank you Omu, by Oge Mora: Everyone in the neighborhood follows the delicious scent of stew to Omu's doorstep, where Omu (meaning "queen" in the Igbo language of the author's parents) dishes her meal out with love. But when it comes time for Omu to sit down to eat her own dinner, she realizes she left no stew for herself! This is a gorgeous, timeless story about acts of generosity and community.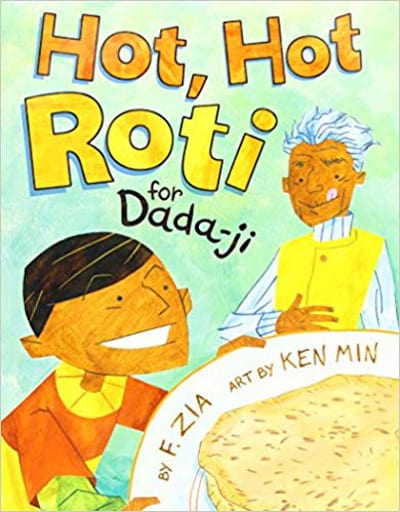 Hot, Hot Roti for Dada-Ji, by F. Zia and illustrated by Ken Min: Aneel's grandparents have arrived from India, and his grandfather, Dada-Ji, tells pretty great stories. The best stories of all are the ones that tell of Dada-Ji wrangling cobras and shaking mangoes off tall trees! But how on earth did Dada-Ji get all of his power? Fluffy, puffy, hot, hot roti, of course! Aneel wants to see if his grandpa still has his tremendous strength and power, but in order to find out, he has to first learn to make roti, of course!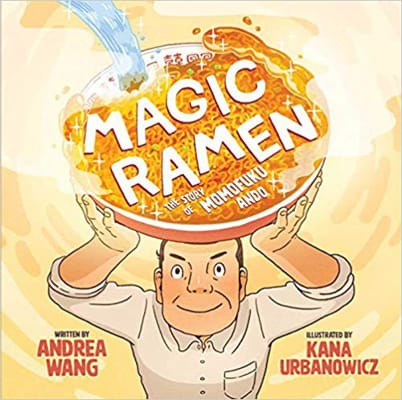 Magic Ramen: The Story of Momofuko Ando, by Andrea Wang and illustrated by Kana Urbanowicz: After World War II, Momofuko Ando saw long lines of people waiting for a simple pleasure: ramen. He was struck by inspiration and became determined to make ramen noodle soup that was quick and convenient, without sacrificing taste. He believed "peace follows from a full stomach," and with a lot of persistence and a ton of creativity, Momofuko eventually succeeded in creating one of the world's most popular foods.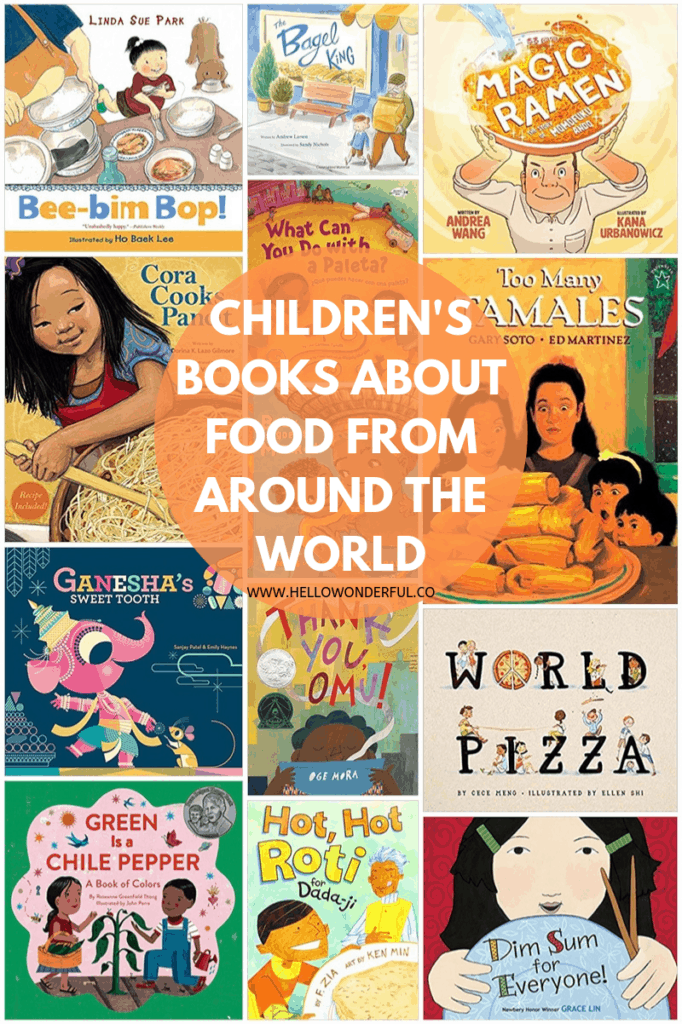 Do you have any favorite children's books about food or activities you use to explore foods from different places with your kids? One of our favorite ways to explore food from other cultures is by creating DIY felt food for dramatic play – we adore this easy felt Italian pasta set!
Reading fans will love exploring more of our book collections – like this list that shows kids the diverse meaning of love, or 11 recommended picture books about Black Americans. We even have a special collection our favorite books all about fierce females!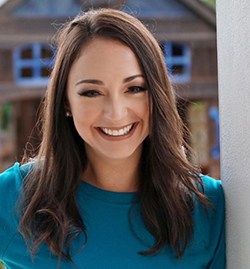 Lauren Bercuson Davis lives in Miami with her family. After twelve years as an attorney, Lauren gave up the law to pursue her passion for children's literature. She is now an elementary library media specialist, and after her two boys are tucked away in bed, she is an aspiring writer, avid reader, and blogger. Lauren has a not-so-secret obsession with books of all kind, and her greatest joy is watching her kids fall in love with wondrous stories. She shares children's literature reviews and other bookish fun on Instagram @happily.ever.elephants, her blog Happily Ever Elephants,
Twitter @KidLitLauren, and Facebook.
_________________________________________________________________________________________________
Disclosure: Some of the links in the post above are "affiliate links." This means if you click on the link and purchase the item, we will receive a small affiliate commission. Regardless, we give our promise that we only recommend products or services we would use personally and believe will add values to our readers.