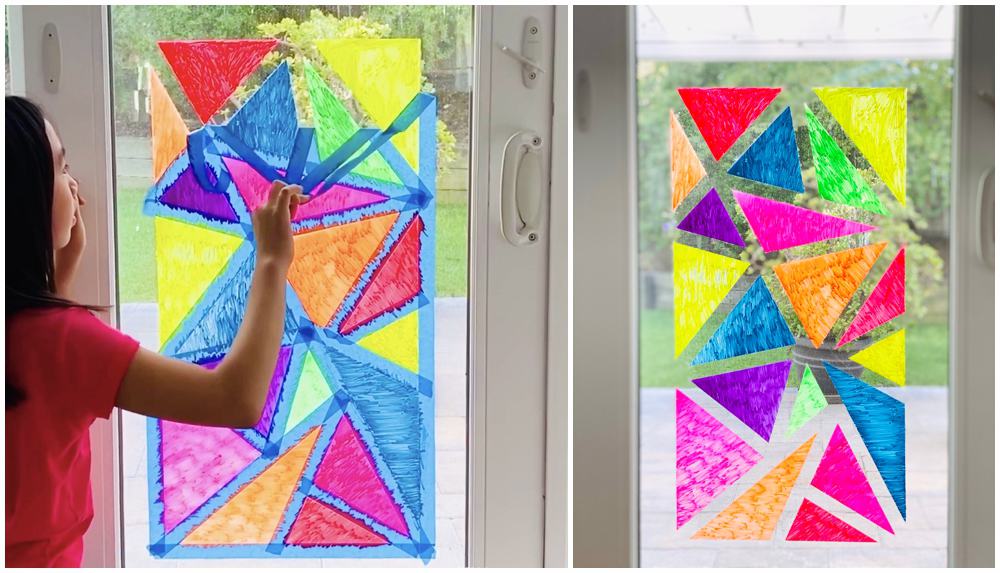 By using this site, you agree to our Terms of Use. This post may contain affiliate links. Read our disclosure policy.
Follow us on Instagram for more fun ideas for kids!
Watch the video below to see this beautiful Window Chalk Mosaic Art. Make sure to subscribe to our YouTube channel for more fun videos!
This beautiful Window Chalk Mosaic Art is a creative way for kids to paint on windows and show off unique tape resist art.
With all of us staying home indoors, we've had to find ways to get creative inside. We have been inspired by the beautiful chalk mosaic art sweeping the nation as a symbol of solidarity during the COVID-19 Coronavirus pandemic. It inspired us to start our own solidarity project, the One Million Cranes project.
Creating window art is so beautiful though that we couldn't stop at just cranes. Since we don't have a huge driveway to do chalk mosaic, we decided to do a smaller scale one on the window.
What I love about this beautiful art project that it can definitely enjoyed both indoors AND outdoors!
The kids love looking at their pretty art. It's a colorful reminder each day to stay happy and positive during these challenging days at home.
What paint do you use on window art?
To create window art, you need to make sure your paint is washable! I've heard you can make your own by mixing water soluble paint with dish soap.
We happen to have chalk markers which are washable and come in all the vibrant colors.
We love painting with chalk markers on rocks and love how easy they are to use on windows! You need to shake the markers so the ink flows, but once you do that, you have a beautiful fluid paint color with the ease of holding it like a marker.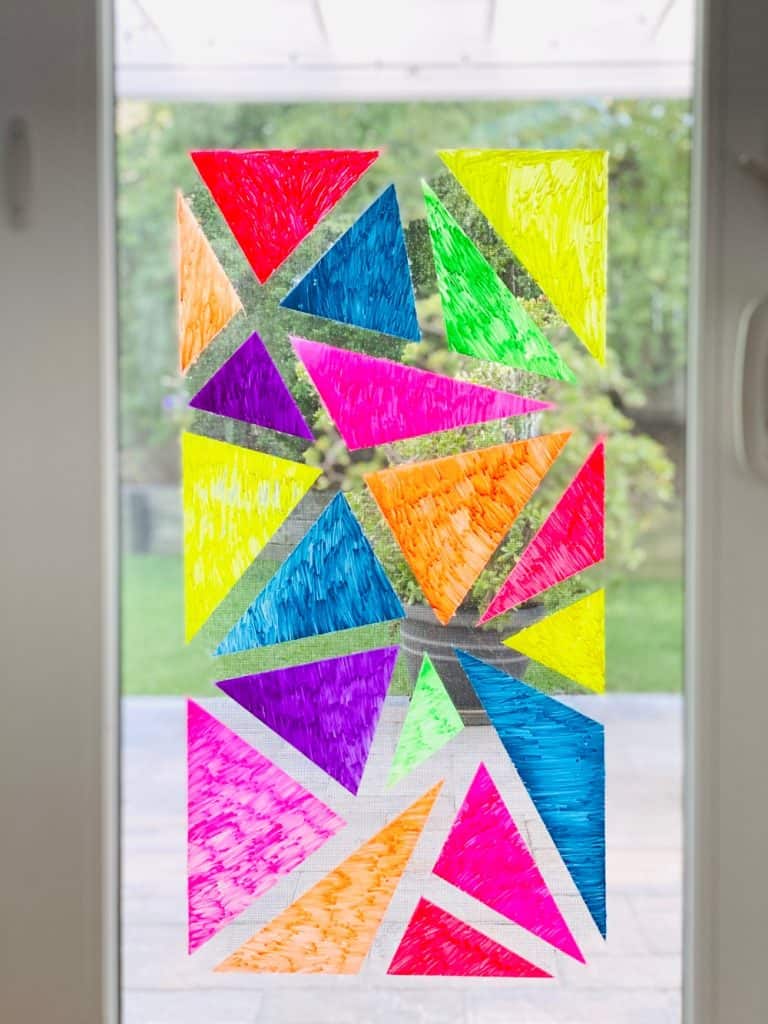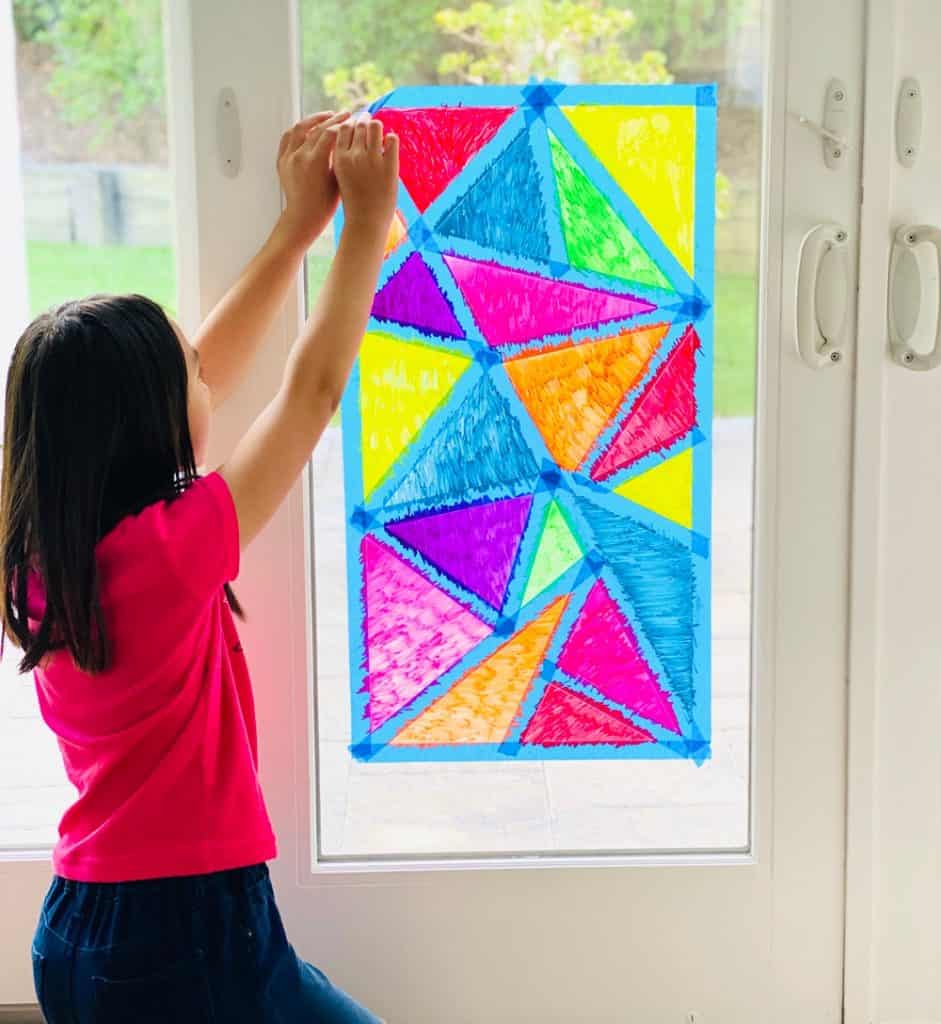 How easily does chalk marker wipe off windows?
Very easily! You just use a wipe or damp paper towel and it comes right off leaving no colored residue. This is another reason we love using chalk markers to create window art.
How do you create the tape resist?
The only other material you need is tape! Do make sure it is removable tape that will not leave markings or sticky residue. We use blue painter's tape.
We like the one inch blue tape because it is not super wide and creates a beautiful mosaic between the colored shapes.
You'll want to first decide how big your section will be and frame that with tape. Then simply start crisscrossing the tape to various sizes of shapes.
Once you have your tape design, it's helpful to mark off what your colors will be as you don't want to get started and have 3 orange pieces together! However, there really isn't any rule to this creative art project. So do what you feel is best with your kids.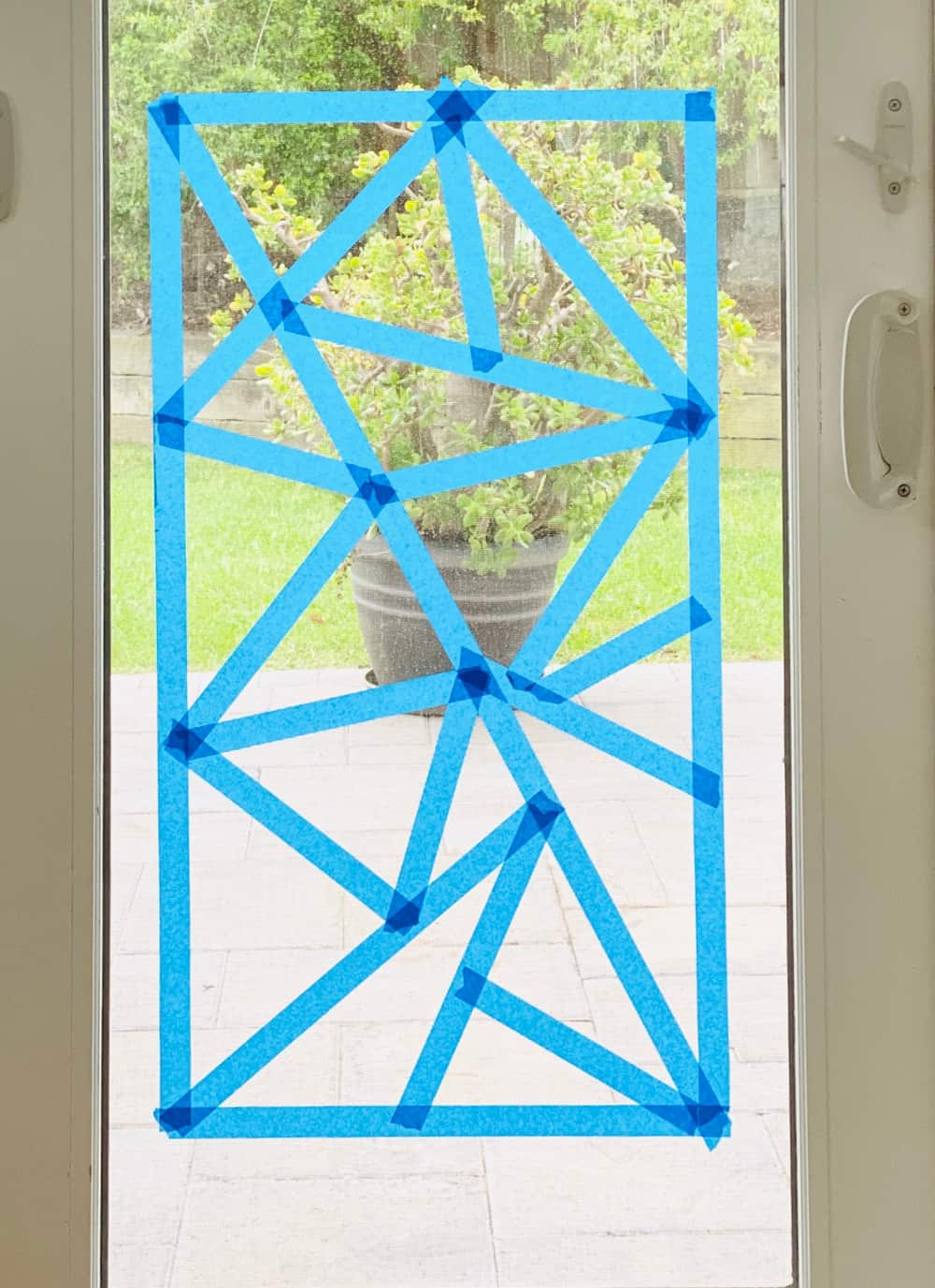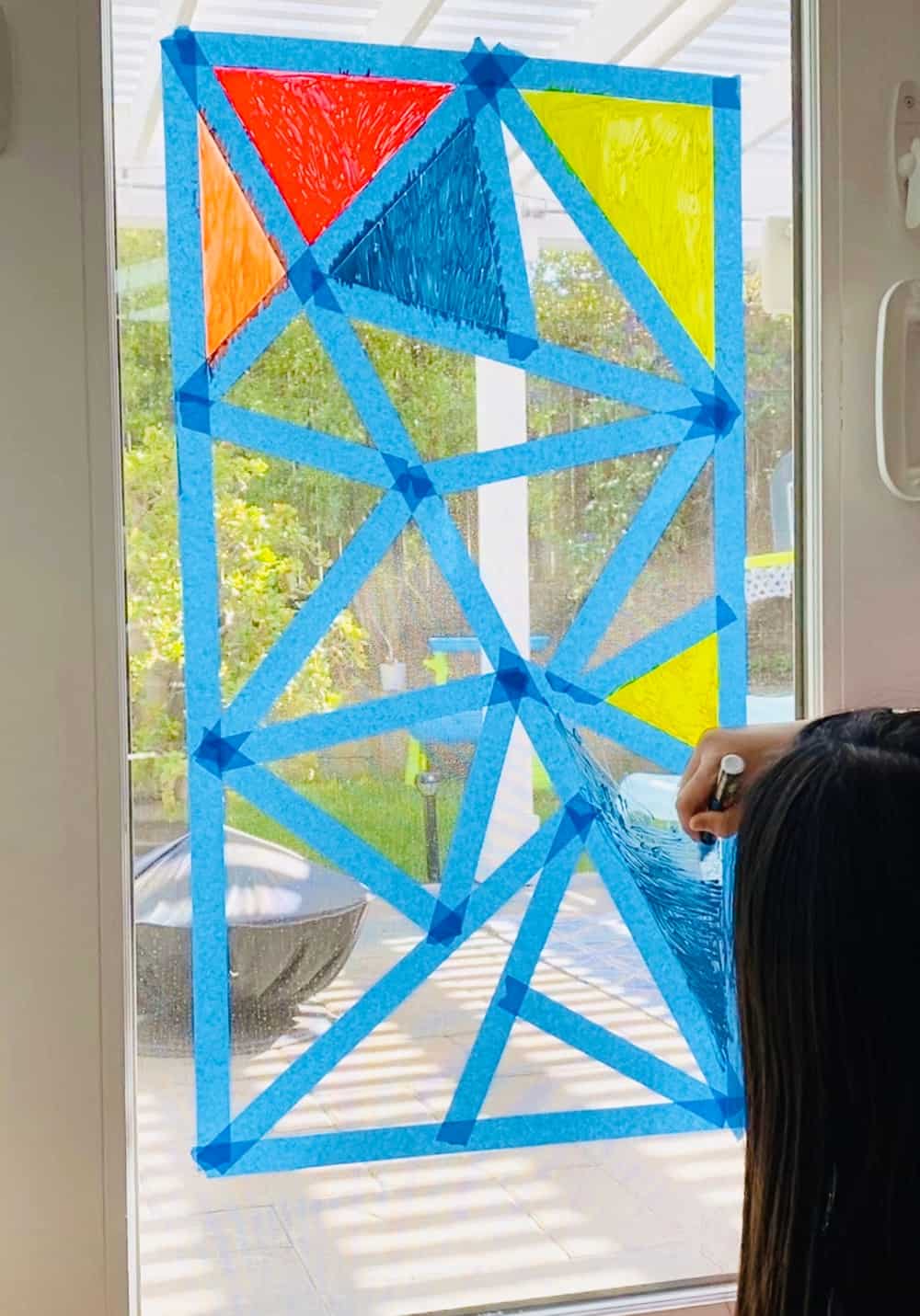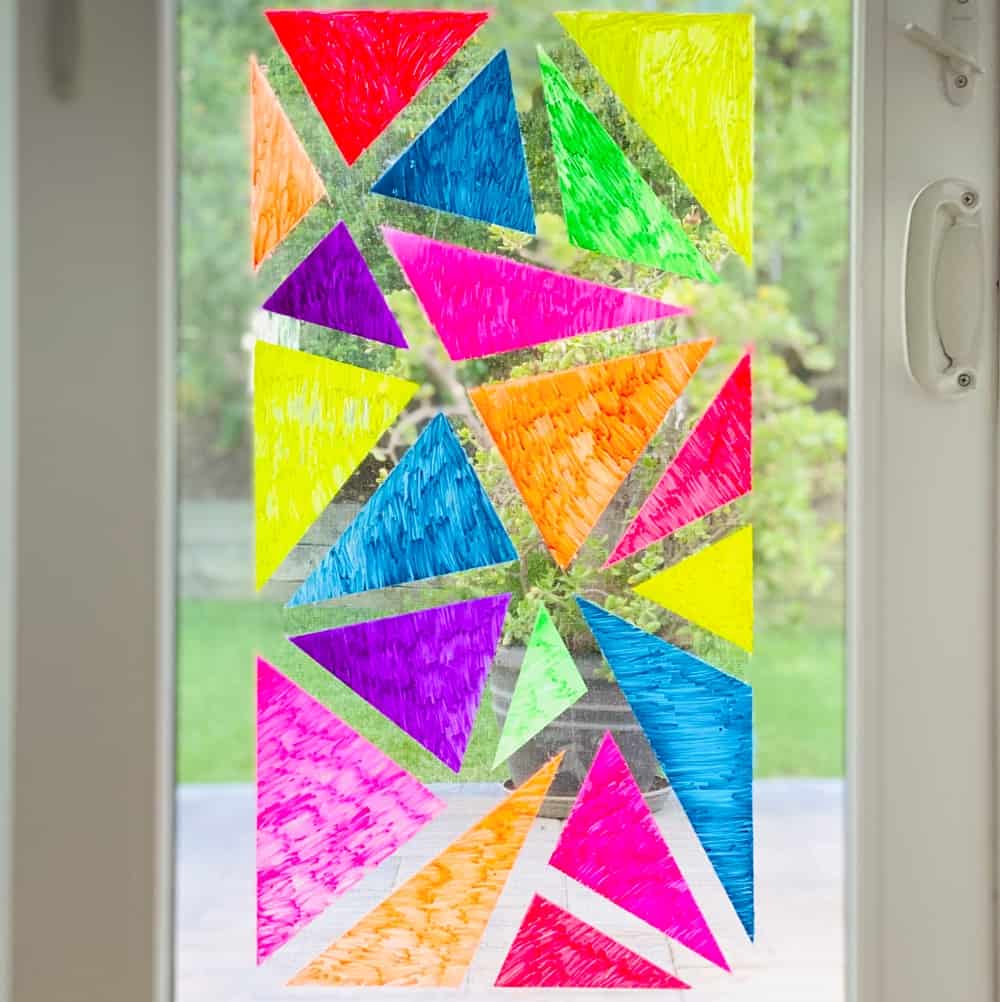 Window Chalk Mosaic Art – Materials:
Chalk makers

Blue painters tape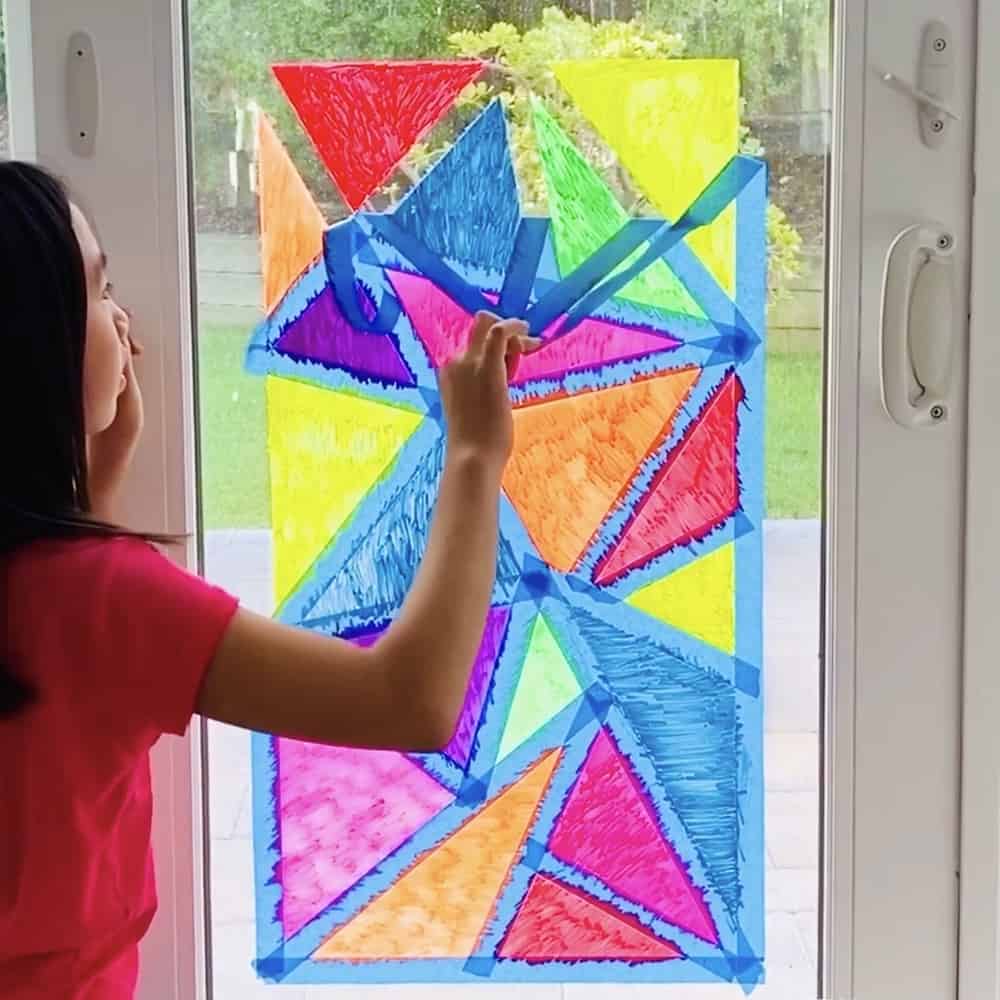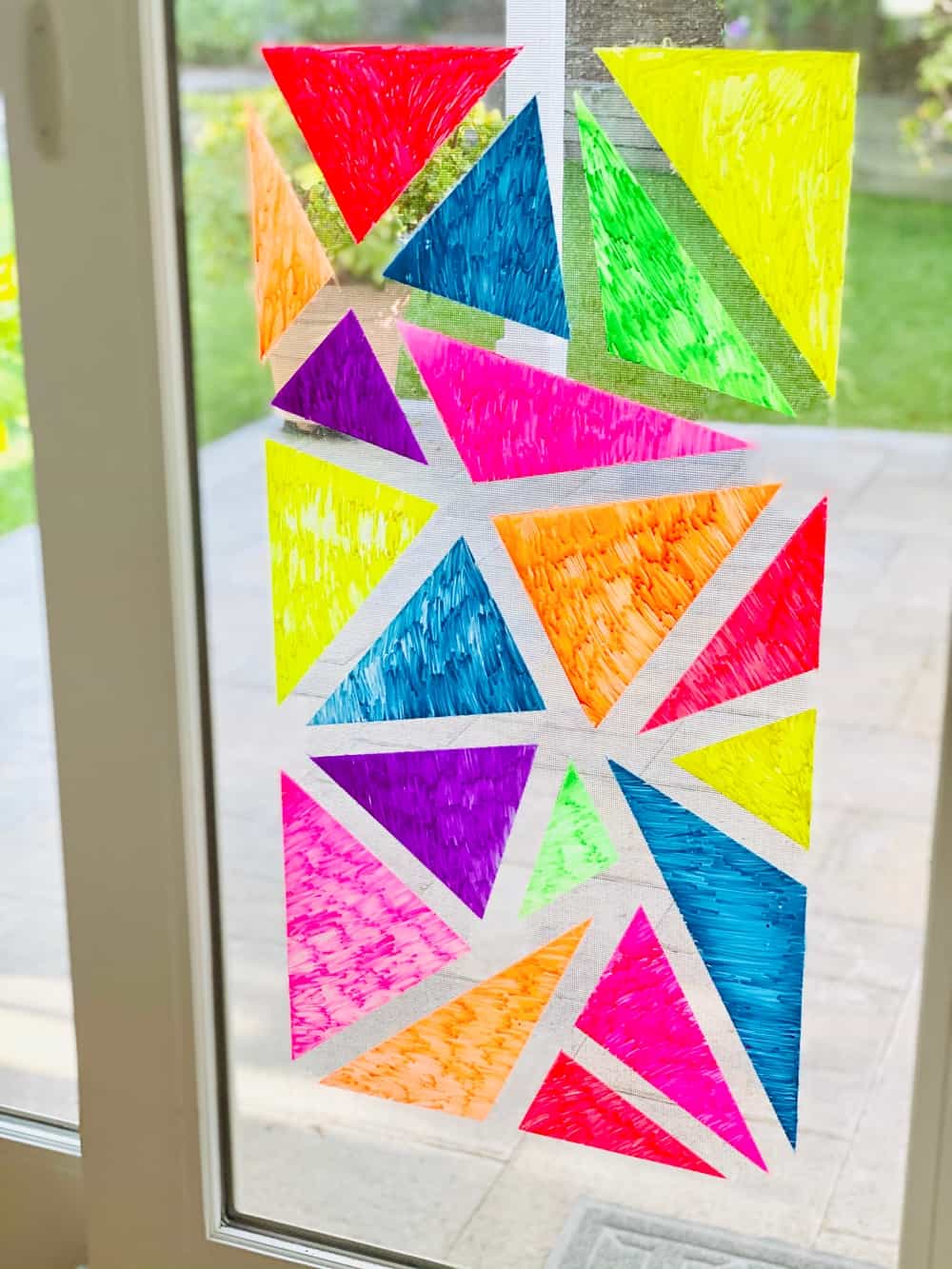 INSTRUCTIONS:
Step 1. Frame off the section of window you want to create. We did a rectangle but you can do various shapes. We've seen people do chalk heart shapes!
Step 2. Start crisscrossing your tape to make various shapes. We stuck with triangles.
Step 3. Determine beforehand (optional) what colors will go into each shape. We actually sketched ours out quickly on notepad!
Step 4. Start coloring in the mosaic.
Step 5. Allow the chalk marker to dry fully, this doesn't take too long. We just left it alone for an hour.
Step 6. Slowly remove the tape. This is the fun part! The reveal is so mesmerizing and fun for the kids to see!
If you enjoyed this chalk window mosaic art you might also like: