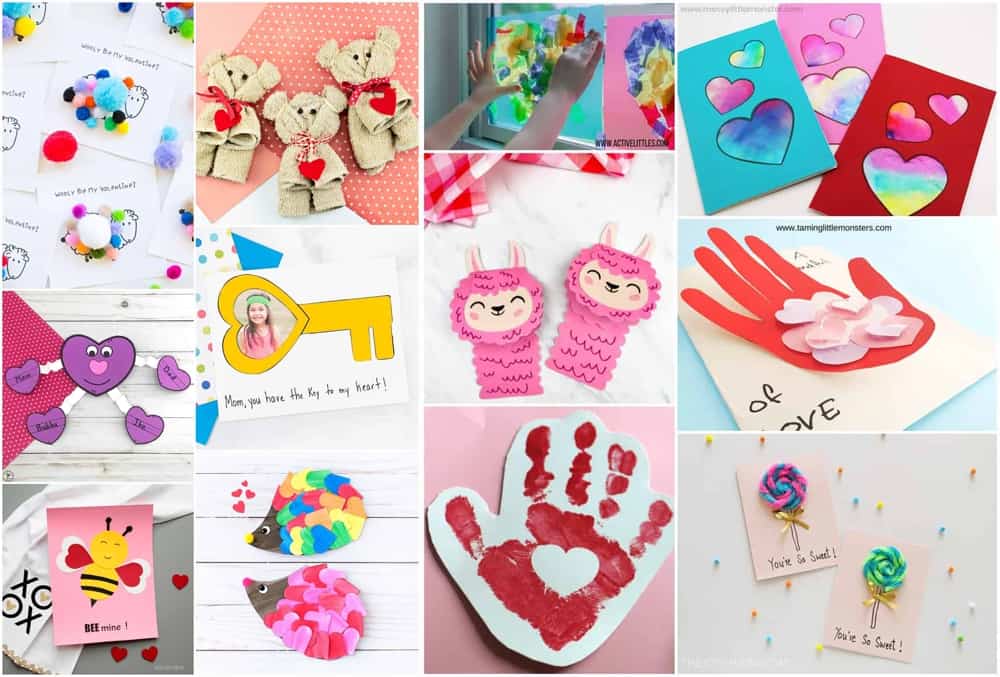 By using this site, you agree to our Terms of Use. This post may contain affiliate links. Read our disclosure policy.
Follow us on Instagram for more fun ideas for kids!
Get your little ones ready to spread love with these adorable and sweet Valentine Crafts for preschoolers perfect for heart themed art projects too!
These Preschool Valentine Crafts make cute and crafty valentine ideas for preschoolers that will make your heart fill with joy. There's really nothing like a homemade Valentine card to craft to show someone you appreciate them. These Valentine's Day ideas for preschoolers make wonderful hands-on arts and craft projects kids can make. From heart wreath to cute animal cards, handprint cards, and stamped heart projects. There are so many fun Valentine projects for preschoolers in this list! Make sure to click on each link below to take you to the description.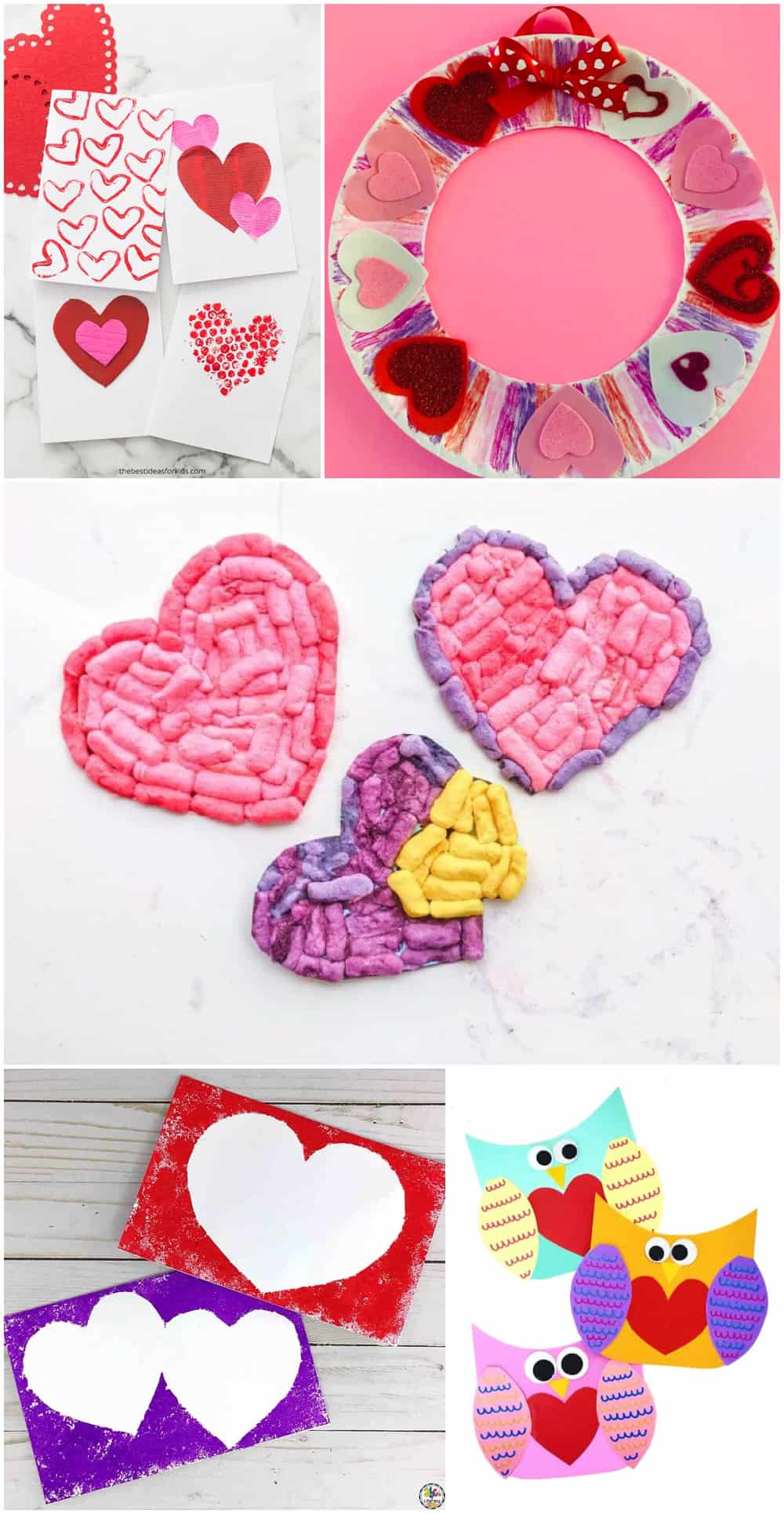 Valentine Cards – These are easy recycled Valentine's Day cards for preschoolers on up to make.
Valentine Heart Paper Wreath – If you are having a Valentine play date or class party, you need to check out this easy Valentine Heart Paper Plate Wreath Craft using crayons and foam stickers.
Preschool Heart Craft – This simple and fun heart craft is the perfect Valentine's Day activity for preschoolers. Children will engage in sensory play as they use Magic Nuudles to craft an adorable heart. Printable heart template.
Stamped Valentine Card – This Stamped Heart Valentine's Day Card Craft is a creative card for your kids to make and give.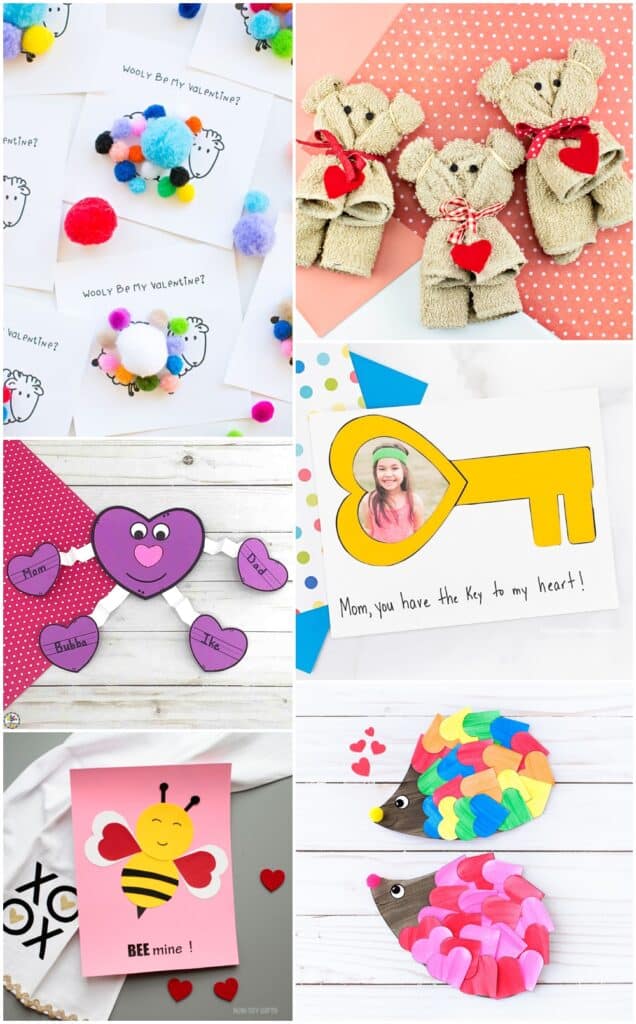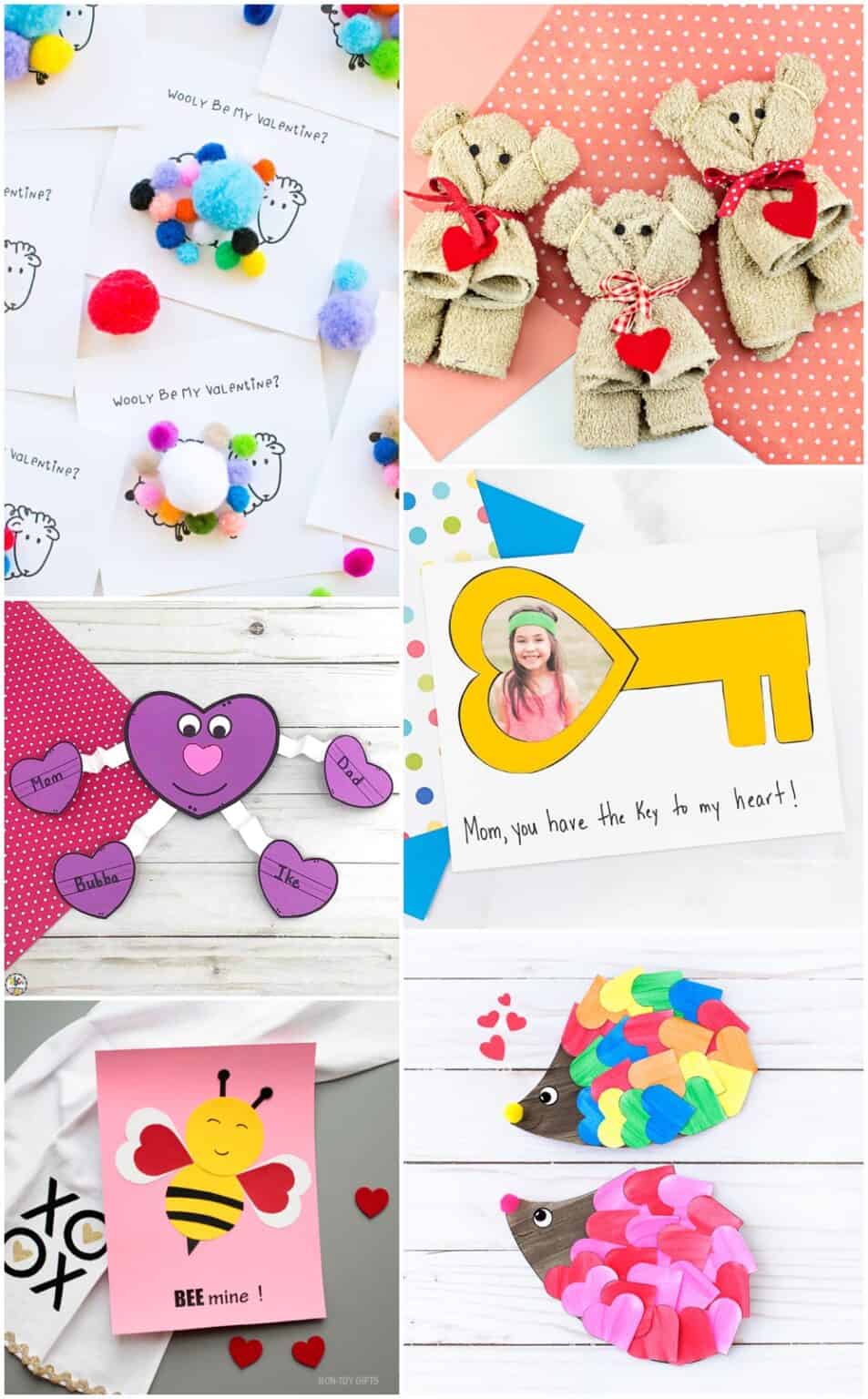 Pom Pom Sheep Valentine Cards – Get your preschoolers to practice their fine motor skills with this cute pom pom Valentine craft.
DIY Towel Bear – This cuddly Valentine towel bear is great for preschoolers because he requires no sewing, glueing or cutting!
Valentine's Day Heart Craft – This fun card comes with a printable so preschoolers can practice their writing.
Key to My Heart Craft – A cute and easy photo card that's perfect for Valentine's Day!
Bee Mine Valentine Craft – An adorable bee with shapes so your preschooler can learn too!
Valentine Hedgehog Craft – Kids will love coloring this cute hedgehog to send love to someone special.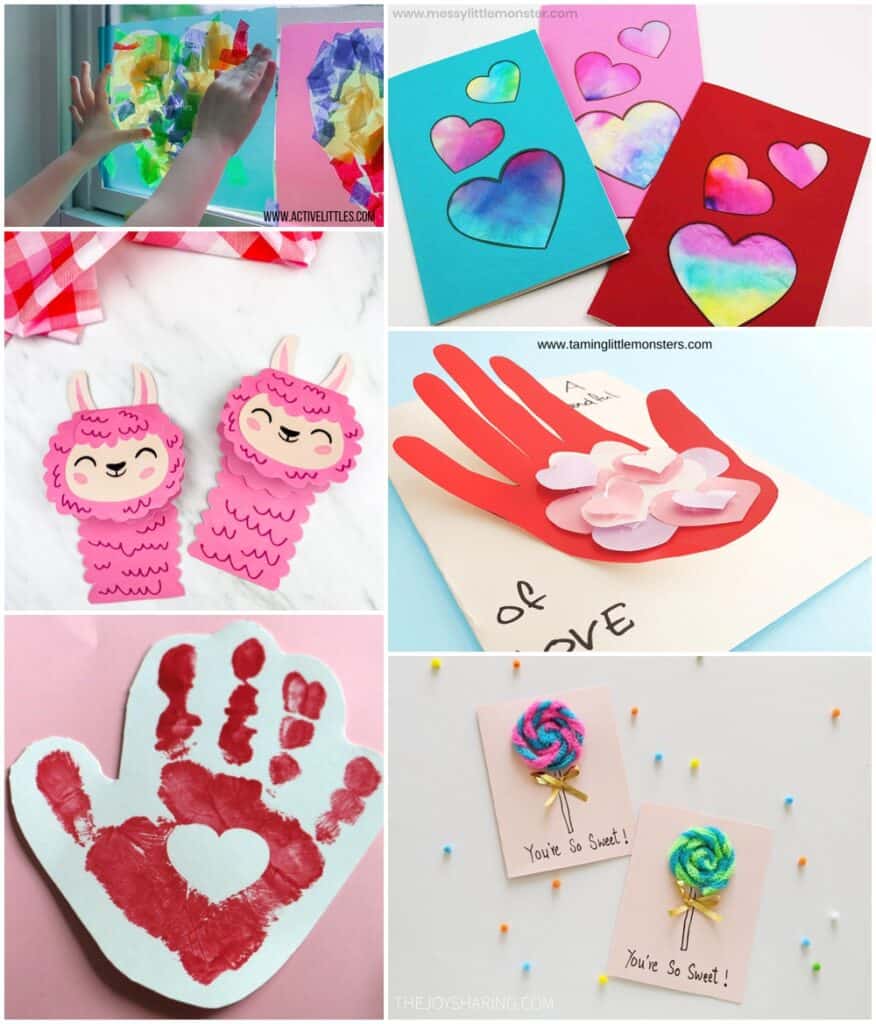 Heart Tissue Paper Craft – These tissue paper suncatchers make pretty window decorations too!
Valentine Preschool Heart Craft – Use the heart template and a fun art technique to make these cute heart cards.
Llama Valentine's Day Craft – This super cute llama will bring smiles and hearts all around and comes with a free printable template.
3D Valentine Craft – This handprint card is a sweet memento with the bonus and cool 3D heart effects.
Valentine Handprint Craft – Let your kid share a loving message with this simple, yet thoughtful handprint Valentine craft!
Pipe Cleaner Lollipop Valentine's Card – Preschoolers will love twirling pipe cleaners into sweet lollipops.
DIY Clay Heart Mobile – The whole family can get into the artsy fun in making this pretty clay heart mobile.
Rainbow Valentine Hearts – These rainbow hearts are super quick and colorful to set up!
Art Palette Cupcake Decorating – Let kids get creative in the kitchen with this Valentine's Day art palette decorating station! Perfect for littles or big kids
Sticky Heart Valentine Craft – These sticky heart cards are a great way for kids to show family and friends they care about them at Valentine's. They're simple to make and great fine motor practice too.
DIY Heart Wreaths – These cute yarn wreaths feature the people you love most – your kids!
Sensory Hearts – Make a sensory board of hearts and get the kids to help find various objects in the home to touch and feel.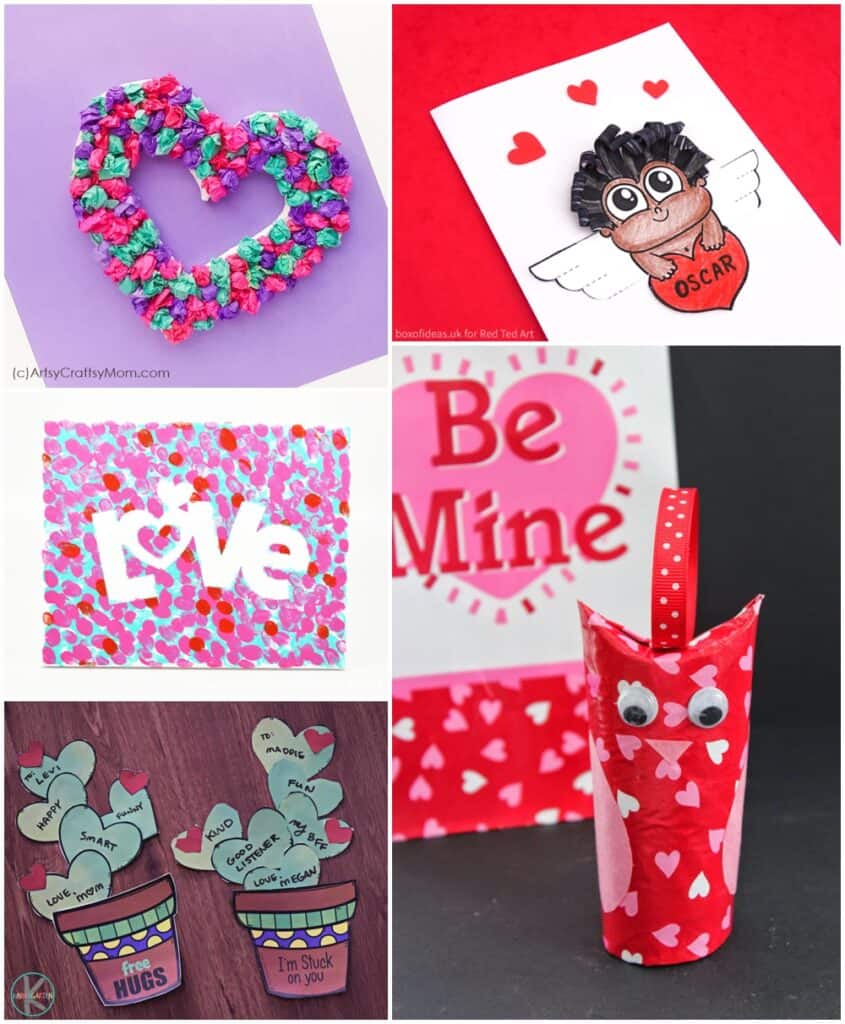 Crepe Paper Wreath Valentine – Kids will love scrunching crepe paper to make this adorable heart wreath.
3D Cupid Valentine Cards – Create different Cupid-themed Valentine's Day cards and crafts that can be gifted (like chocolate favors on a popsicle stick!). Practice scissors skills by cutting and curling the hair of this adorable cupid.
Fingerprint Valentine Canvas – Remember how small those fingerprints were with this lovely canvas Valentine art for preschoolers.
Free Hugs Cactus Valentines – Give out free hugs with this fun cactus printable and tell your kids what you love about them most.
Valentine Paper Roll Owl – This cute paper tube owl is a creative recycled Valentine project for the preschool and kindergarten age set.
YOU MIGHT ALSO LIKE
Here's another cute Valentine Preschool Art, make Love Handprint Art! Get the FREE printable.