Owl Valentine Card
Follow us on Instagram for more fun ideas for kids!
Scroll all the way down to watch the video below for the step-by-step video on how to make this cute DIY Owl Valentine Card with kids. Make sure to subscribe to our YouTube channel for more fun videos!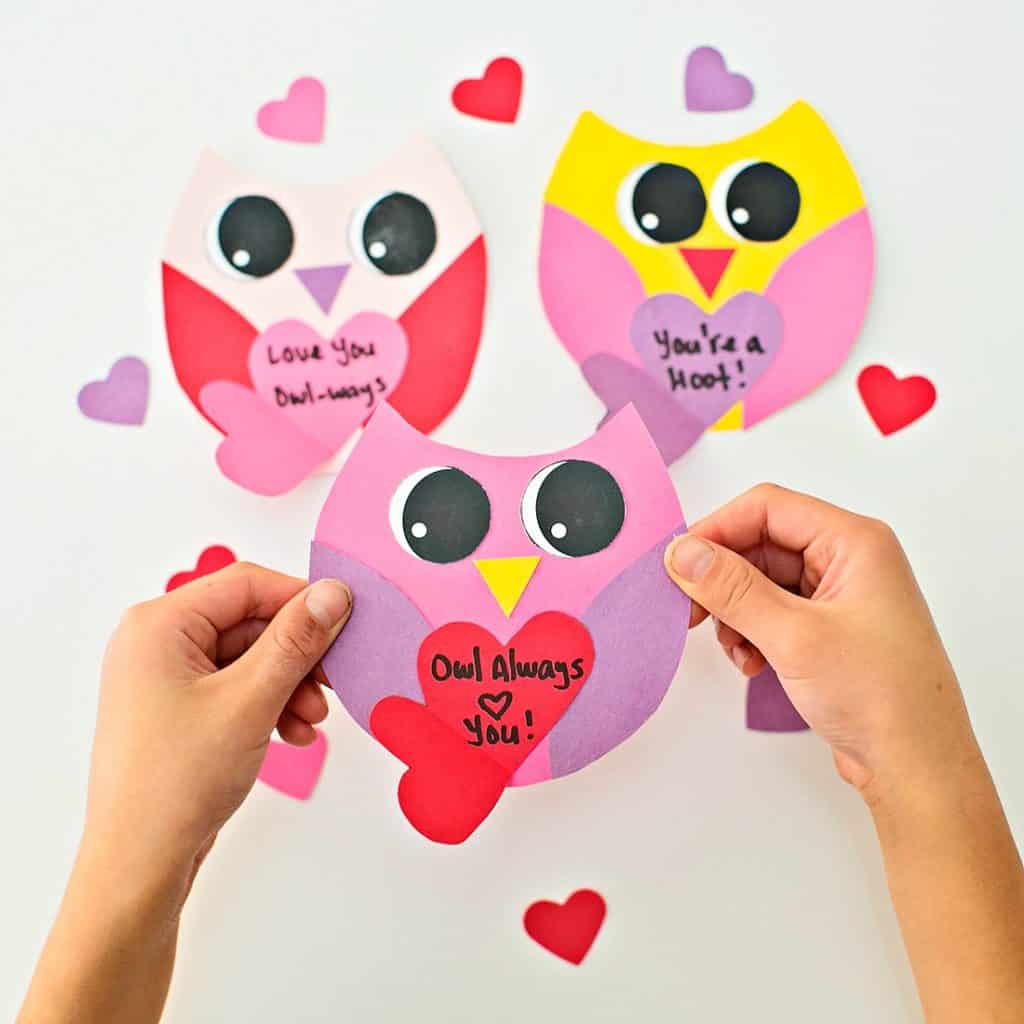 Are you looking for a simple and easy Valentine Craft for kids? They're going to love this one! It's a "hoot!"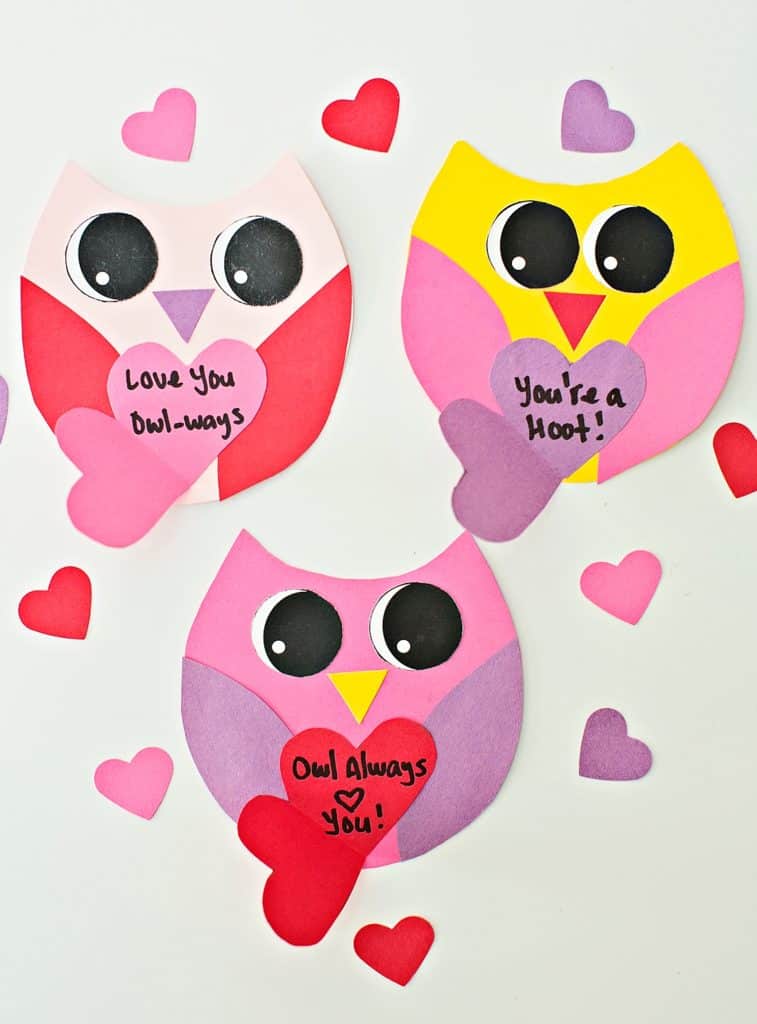 DIY OWL VALENTINE CARD
This DIY Owl Valentine Card is a hoot and an adorable way to say "I love you" this Valentine season. It's incredibly easy to make with our simple FREE printable paper template.
What we love most about this is that it's fun and different. I'm tired of always heading to the store and trying to find something unique and this is why we love to just create and make our own. (and if you can't tell, we really like to have fun with puns and words, too!)
The best part about this simple classroom Valentine craft is that it's great for a wide variety of ages.
What ages can make this simple Owl Valentine Card?
The great part about this Valentine's craft is that it's really simple to make. Preschool-aged children can make this craft as can grade-schoolers as well. Just make certain that you're there for adult supervision just in case they need any type of help.
Simple Preschool Valentine's Day craft for kids
The reality is that this craft is pretty simple and easy. If you have a young child, this is actually one that they can do with just a little bit of help. It's also a super great craft to have for an activity at school as well. If you're in charge of the Valentine's Day craft in your child's class, this might be the perfect one!
You could easily cut out the owl template ahead of time so that it's ready for the kids to start decorating and creating right away. (any bit of prep work when trying to schedule a group craft is always a good idea!)
Are these appropriate to hand out as fun cards to other kids?
They sure are! In fact, they just might be the hit of the class party! If your child feels like being crafty, have them make up a bunch to hand out to all their friends. The more, the merrier.
How to make a DIY Owl Valentine Card
Can you believe that there are hardly any steps to this craft at all? It's literally as easy as 1-2-3.
Just cut out the paper parts, trace onto colored paper and glue! The fun part is coming up with a punny message to write inside the flip-over heart.
We've gotten you started with some owl-tastic ideas like "Owl Always Love You," "Love You Owl-ways," and "You're a Hoot." But we're sure you can come up with a few more punny quotes!
Grab your favorite colored papers and let the kids make this cute card for all their special friends or classroom Valentines.
Read the instructions below or scroll down to watch the DIY video.
You can also download our free printable down below as well.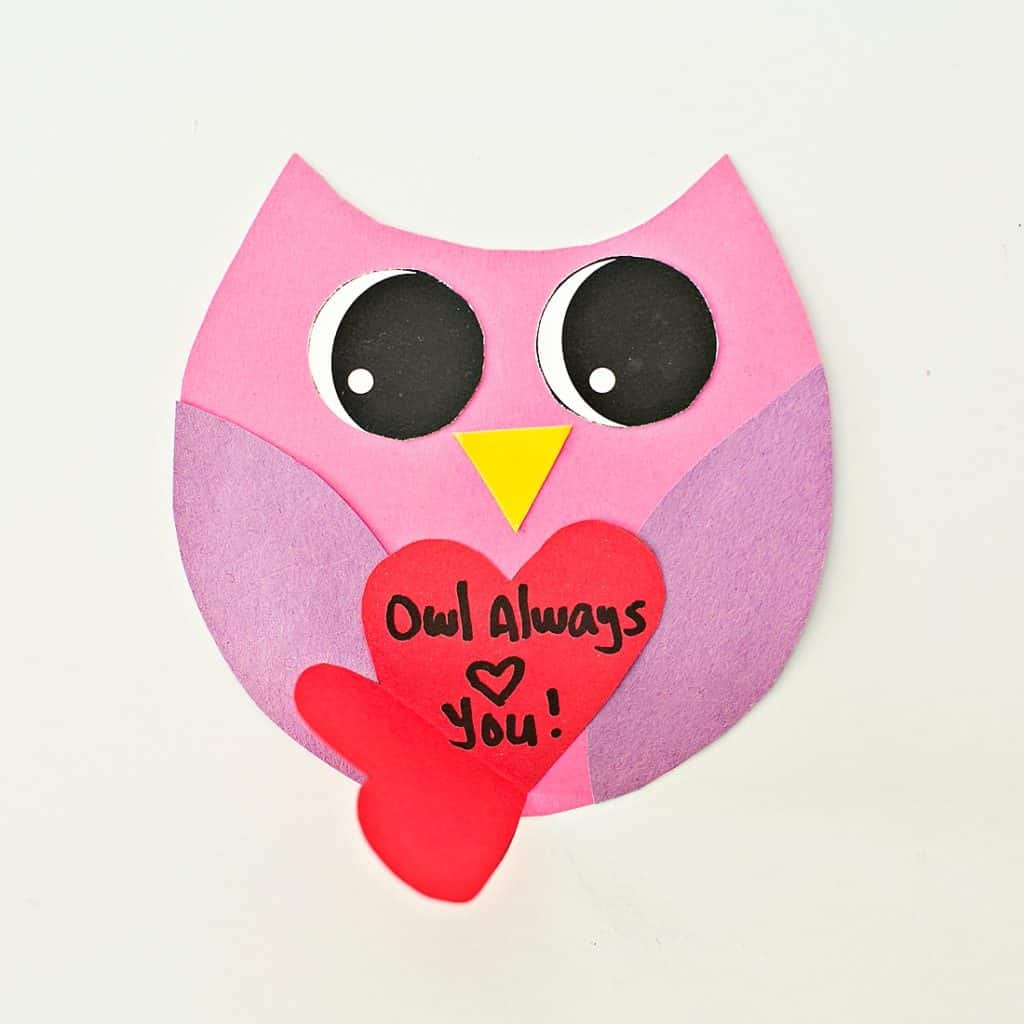 Make certain that you change up the colored pieces that you use for the face of the owl. As you can see we used yellow, pink, and cream but there's no right or wrong way to make them. Use blue, orange…anything that you want! As long as the children are creating, there's no wrong way to make it happen.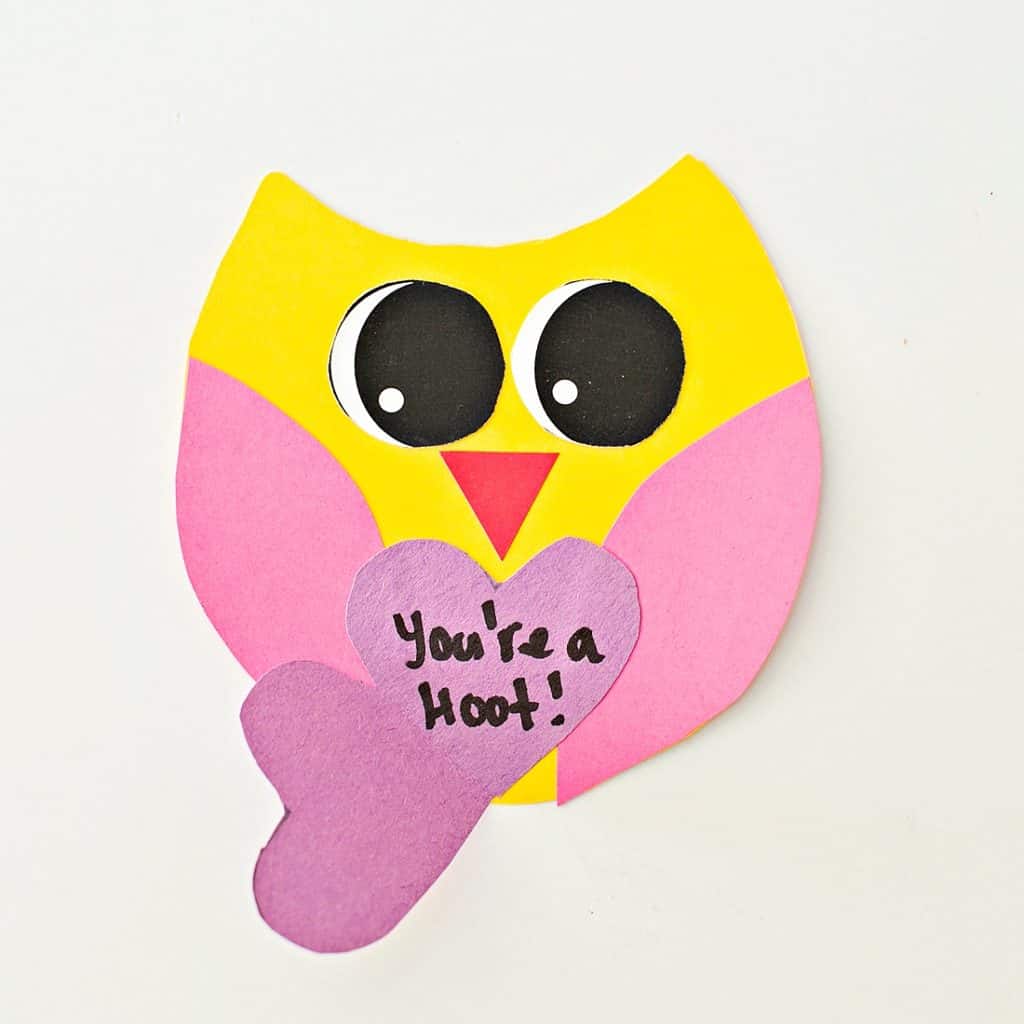 These are just a few of our favorite puns but there are so many great options out there. And if your child wants to write something different on the heart, let them. This is their creation and they should have fun with it.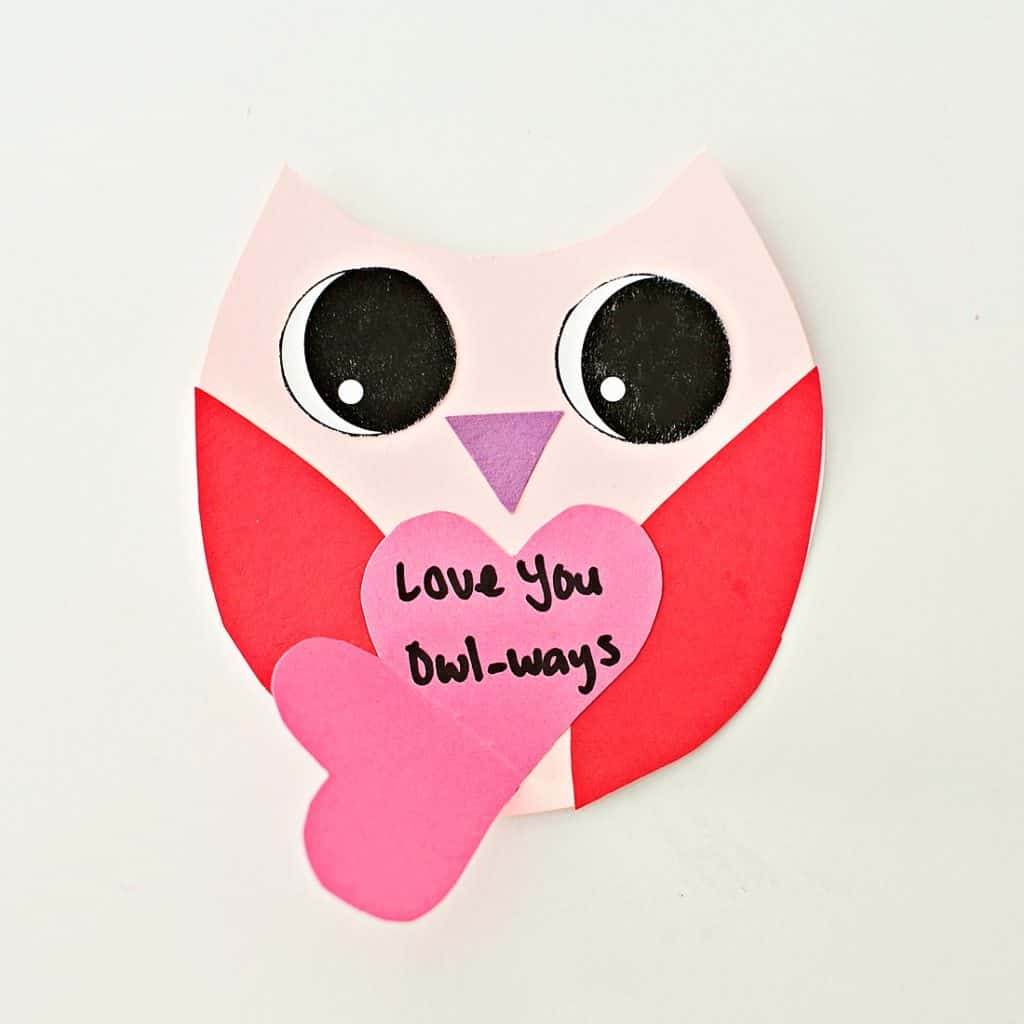 DIY OWL VALENTINE CARD – MATERIALS:
All you need are a few supplies which you can find below. Feel free to add in glitter or any other type of fun decals that might add a little bit of glamour or sparkle to your owl.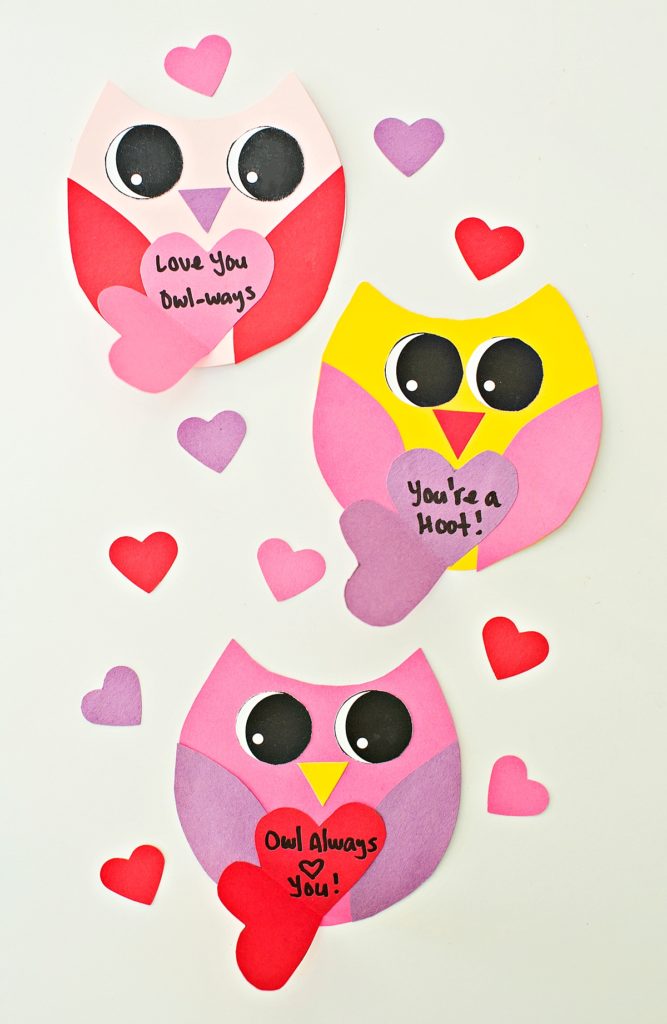 Instructions to make DIY Owl Valentine Craft:
Step 1. Download the FREE PRINTABLE CARD RIGHT BELOW
Step 2. Cut out all the parts and use those as templates to trace onto colored paper of your choice.
Step 3. Glue the wings, beak, eyes, and heart to the body.
Step 4. Fold the heart in half, write a message inside.
You're done! So easy you'll want to make a bunch of these cute owl Valentine cards this year. Can you believe how simple this fun preschool craft is?!
What are some fun ways that you can alter this craft?
If you're wanting to add some fun to this craft, go for it. I'm a big fan of googly eyes so if you have some of those, glue them on! (kids really love them as well!) Like I mentioned earlier, grab the glitter or other fun sparkles and let the kids go crazy.
My only real recommendation to you is that you lay down a towel or old sheet below these free owl templates so that you can avoid having to clean up a mess. A simple towel (or really old one) that you can use without worry is the best plan. That way, you can easily let the kids craft and have fun and all you have to do is take out the sheet or towel and shake it off or toss it in the washer. So much better than having to find glitter everywhere for the next couple of weeks.
Make certain to take the time to create with your children as well. I think it's really important to do these types of crafts and activities together, even if they can do them on their own. Simply sitting by them and encouraging them and watching them means the world to them and will continue to help their creativity.
In our house, creating crafts and doing fun Valentine's Day activities is a great way to create awesome family memories.
Watch the step by step video right below:
More cute Valentine Cards:
---
Disclosure: Some of the links in the post above are "affiliate links." This means if you click on the link and purchase the item, we will receive a small affiliate commission. Regardless, we give our promise that we only recommend products or services we would use personally and believe will add value to our readers.