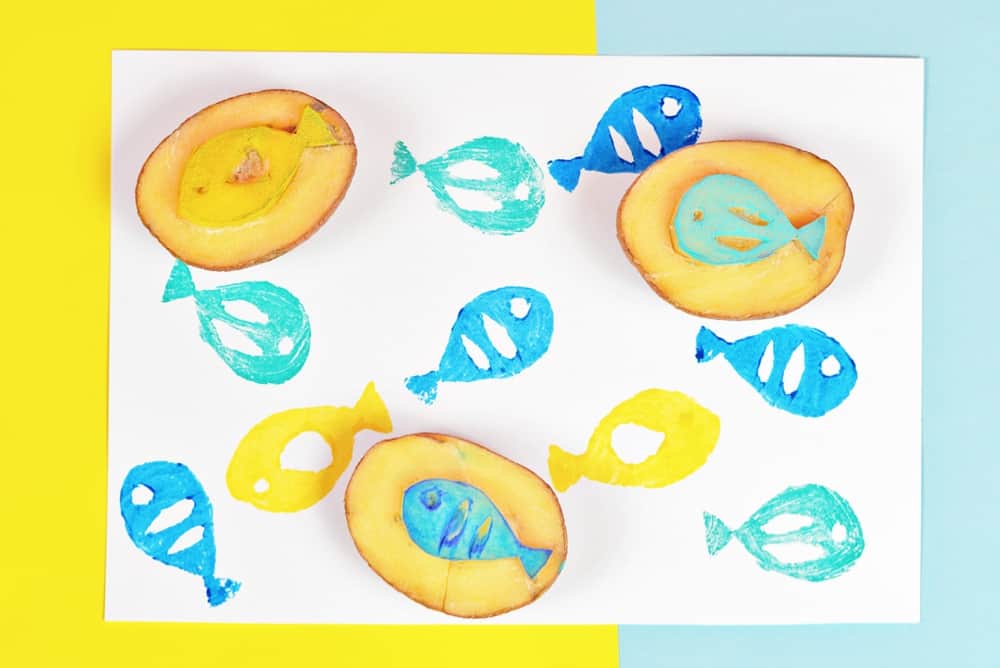 Follow us on Instagram for more fun ideas for kids!
Watch the video below to see this fun Potato Stamp Fish in action. Make sure to subscribe to our YouTube channel for more fun videos!
This potato stamp fish makes a fun stamping summer art activity for kids with a common household ingredient you probably already have on hand!
We're always looking for fun summer crafts to keep our hands and minds busy. And what I love most about this simple potato stamp fish is that it's literally a couple of items needed to create fun art.
Everyone has a couple of potatoes just lying around the house, right? If so, you've literally got almost everything that you need to get started.
While this craft might look a little different, trust me on this one. Potatoes actually make a great art object because of their size and are simple for little hands to hold on to.
You can also use this to make other animals and objects like potato stamped ice cream besides fish but those designs are totally up to you. We had a blast with the fish stamps which was why we ended up making three different ones!
Get ready to fall in love with using potatoes for crafting. They really are great to use!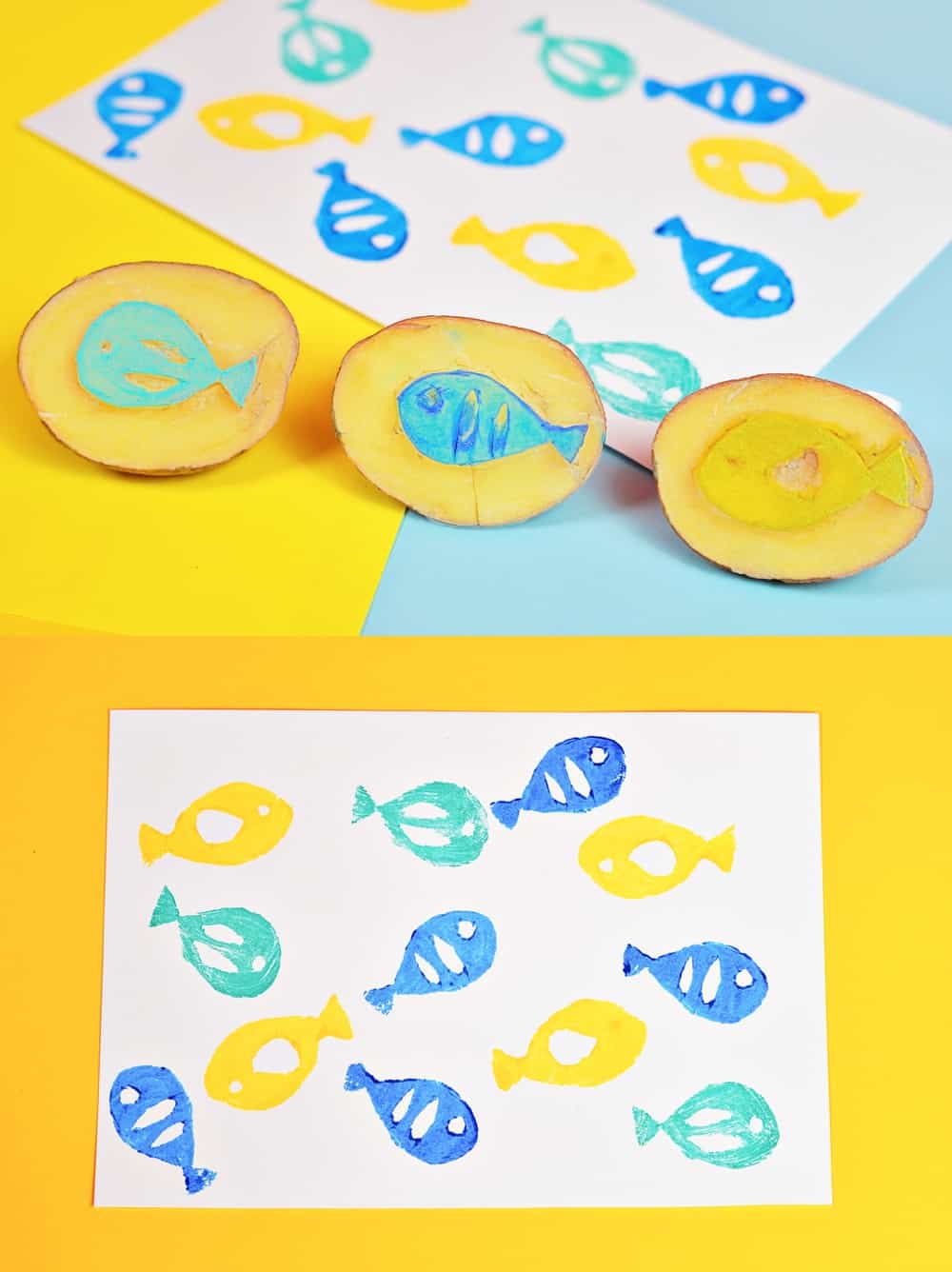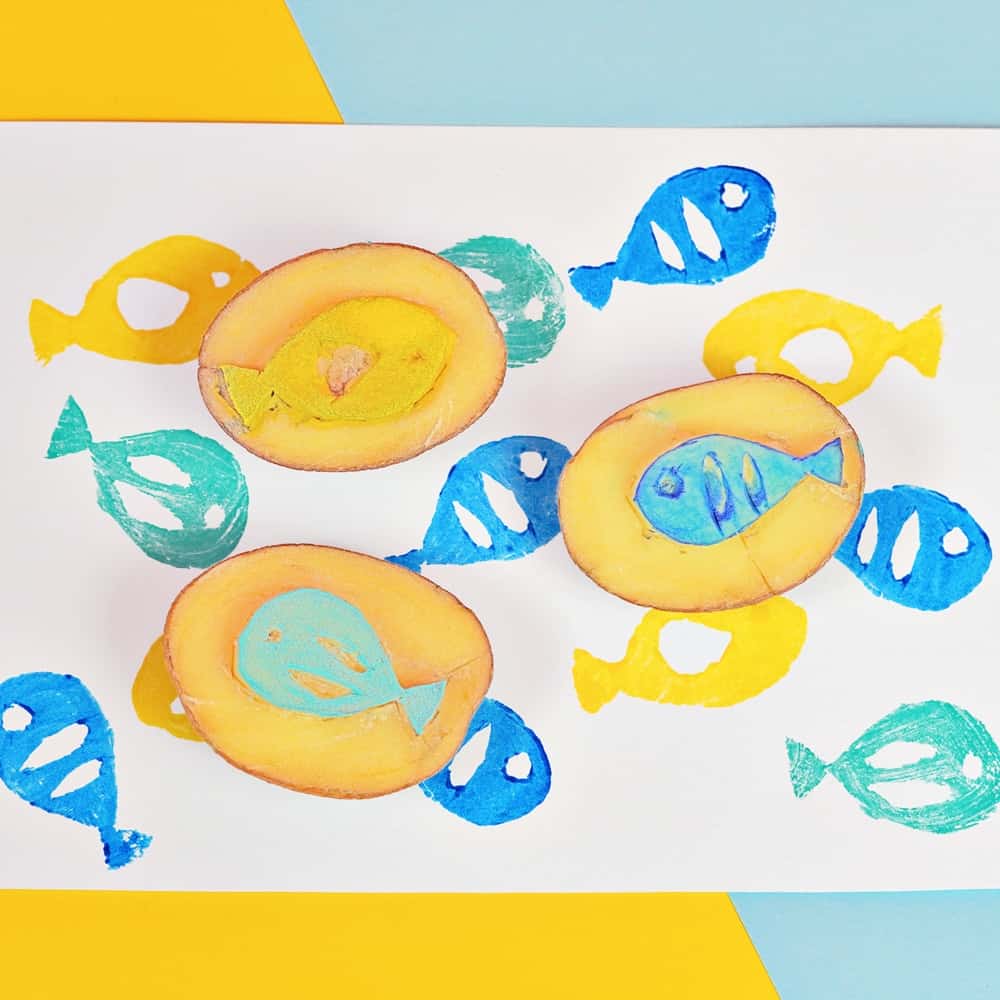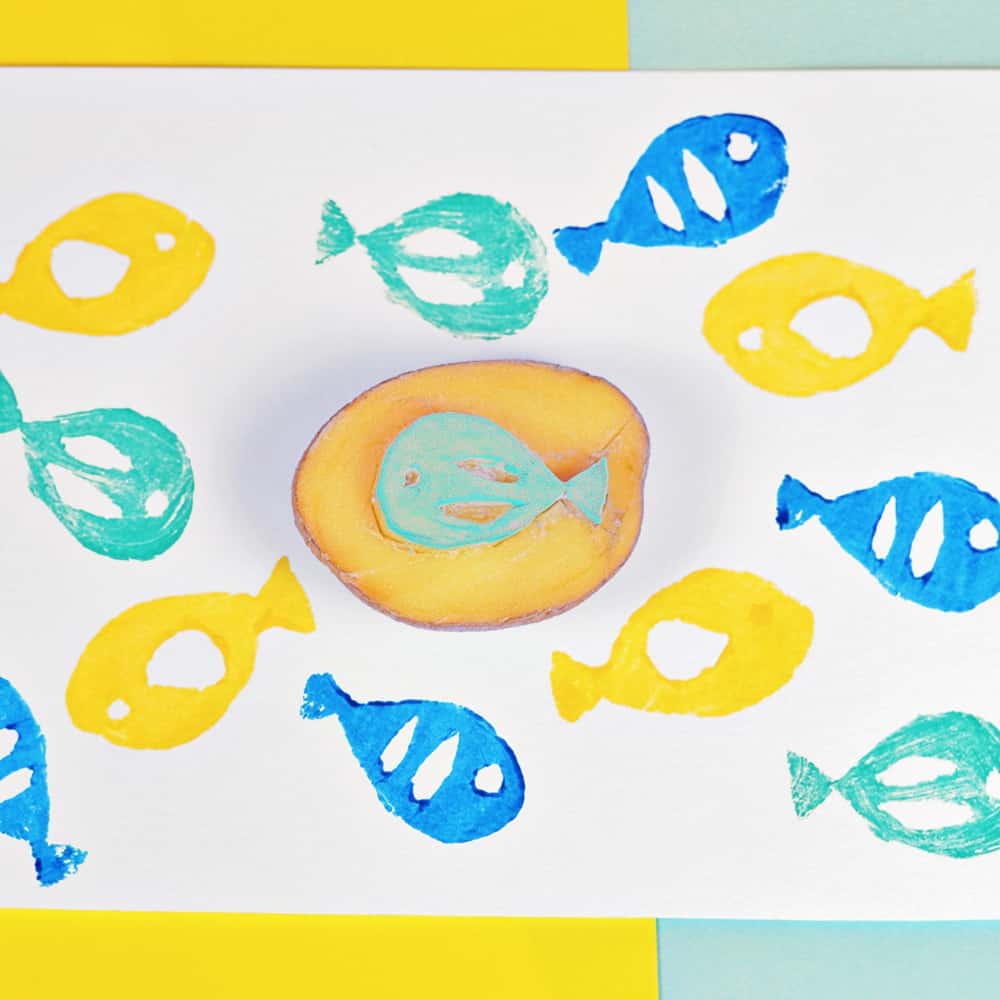 What can you use these potato stamps on?
Literally any surface that you want! You can use this just like you would any other type of stamp so use it on paper, canvas, wood, or whatever other surfaces the kids would like.
While the stamping part of this craft is simple to do, you do need an adult to carve the potato stamp.
Cutting the shapes of the fish into the potatoes isn't something that kids should be doing on their own to be safe.
Even though this is an indoor craft, it can easily be done outdoors as well. And be aware that it can get messy at times so put something underneath it so that the paint doesn't get everywhere!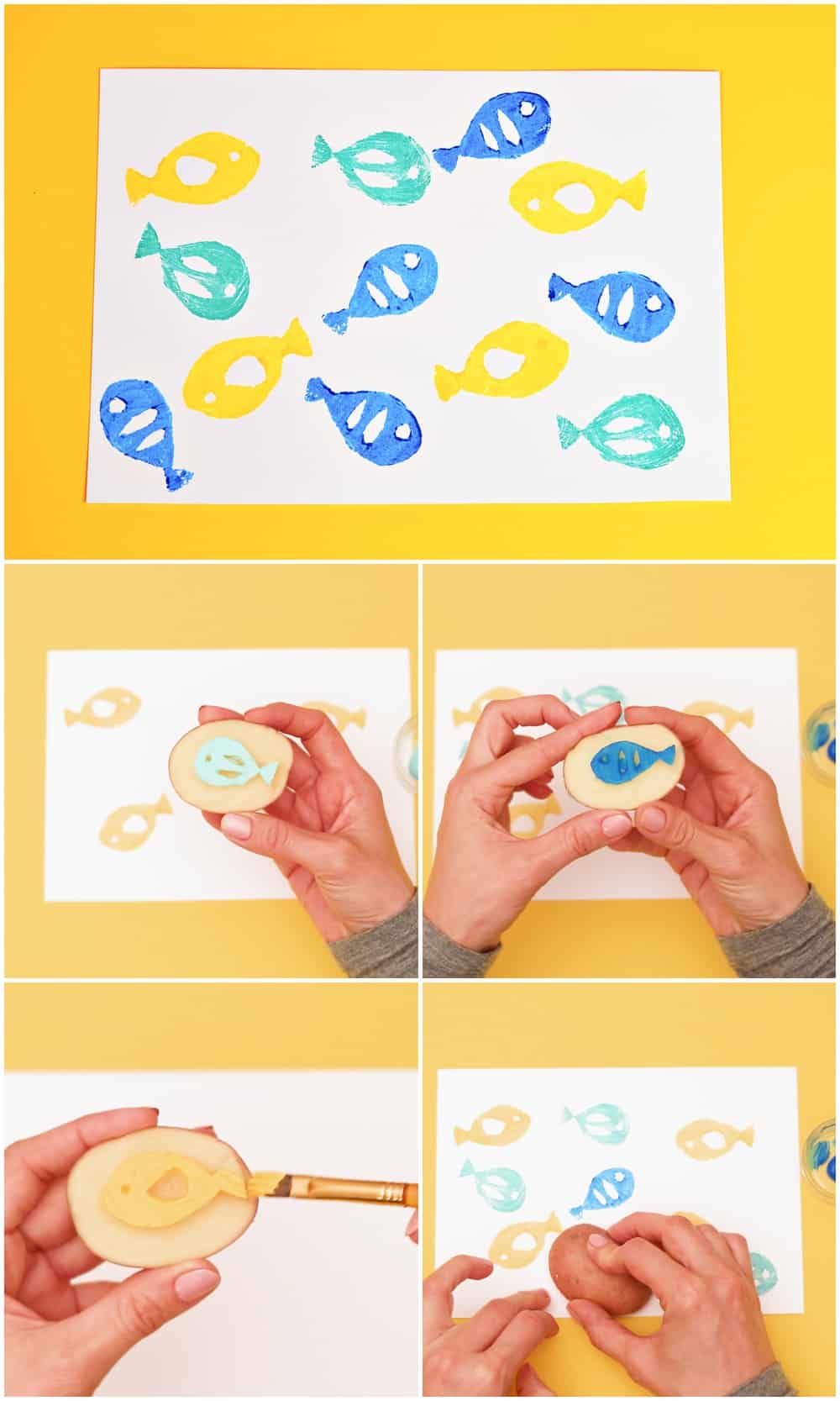 What other animals could you make in your potato stamp?
Any animals that you can create! Some animals will obviously be easier to create than others so make your best judgment call on what you want to do.
Cats, dogs, elephants, and even just a simple bird are all great choices as well. You can easily add features like ears, noses and tails with a fine black marker after stamping.
Whatever you can design and get to stick in your potato is a great way to be as creative as you want.
Talk to your kids and see what kind of animals that they want to try and create and then work together to make it happen. \
Or you can create a theme such as an ocean theme with this one and create other sea creatures such as octopus, whales or sharks!
Such a fun way to bond! And they'll love being a part of the creative process as well.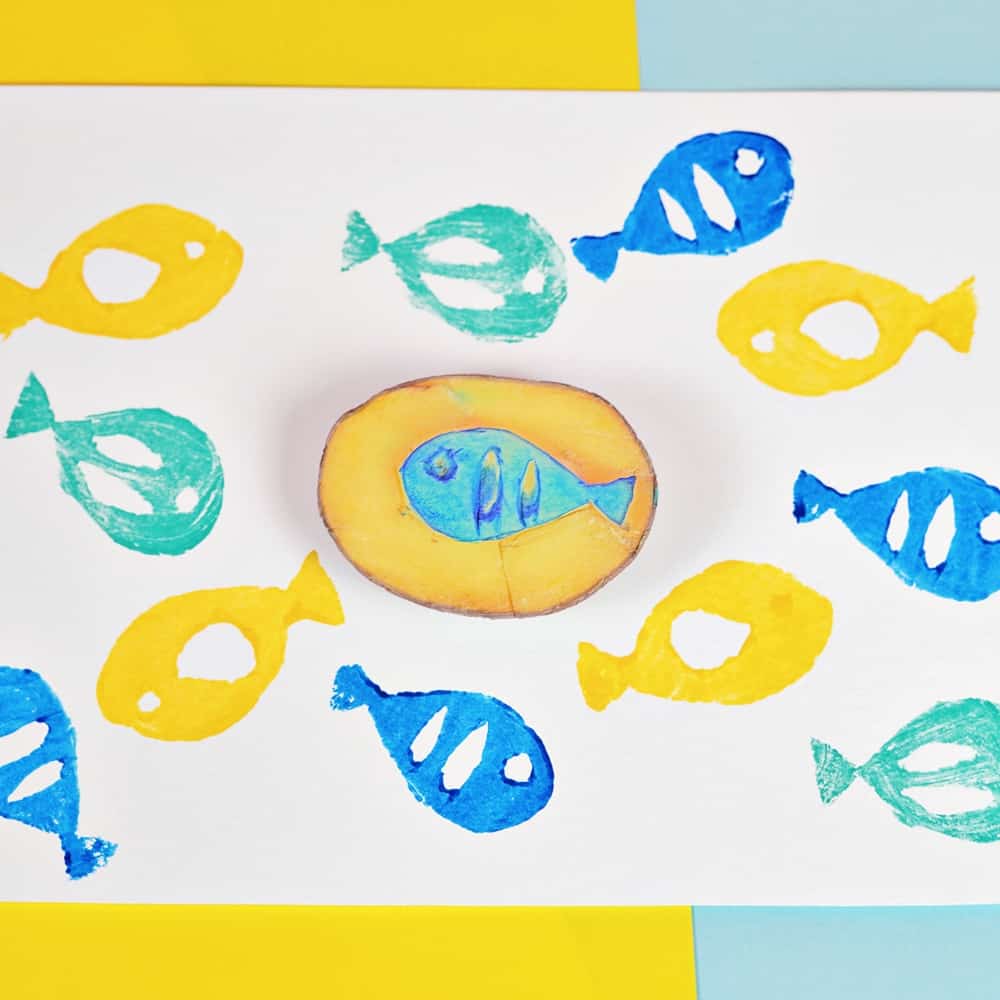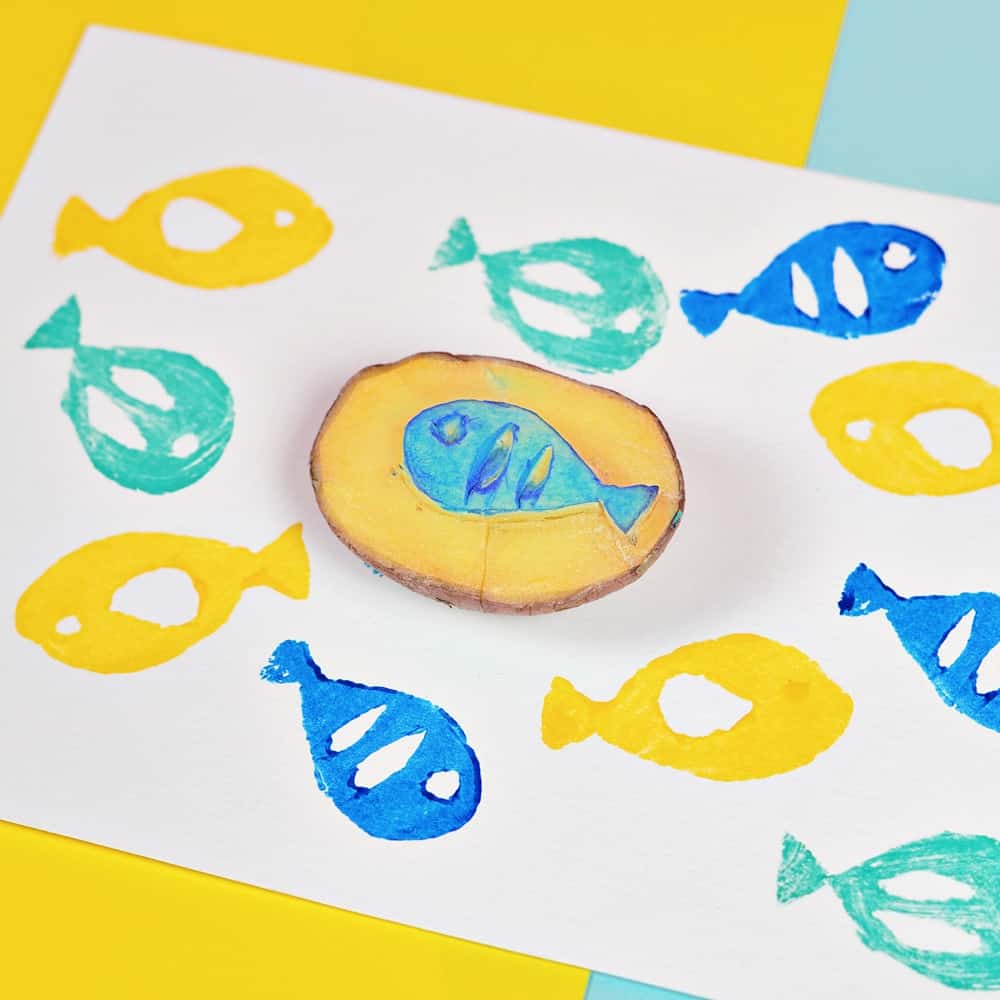 How to create this Fish Potato Stamp
When I said that this was a simple art activity for kids, it literally is. You need very few supplies to get started and it's certain to be a blast!
Fish Potato Stamp – Materials:
Potatoes (small red ones work best)

Paint (acrylic is fine but any craft paints will work)

Paintbrush

Paper (white cardstock or watercolor paper is great so it can absorb the paint best)

Sharp knife to carve the potato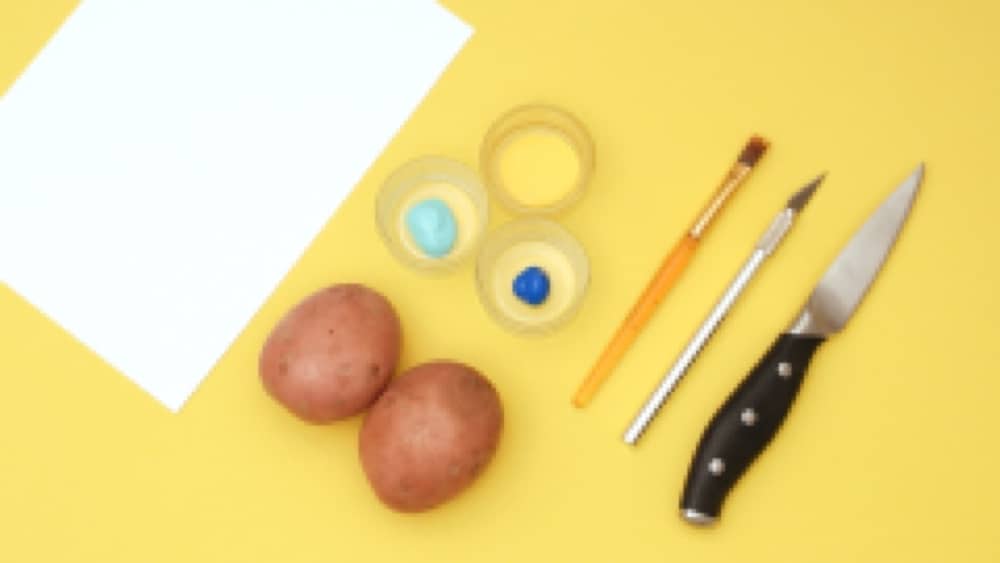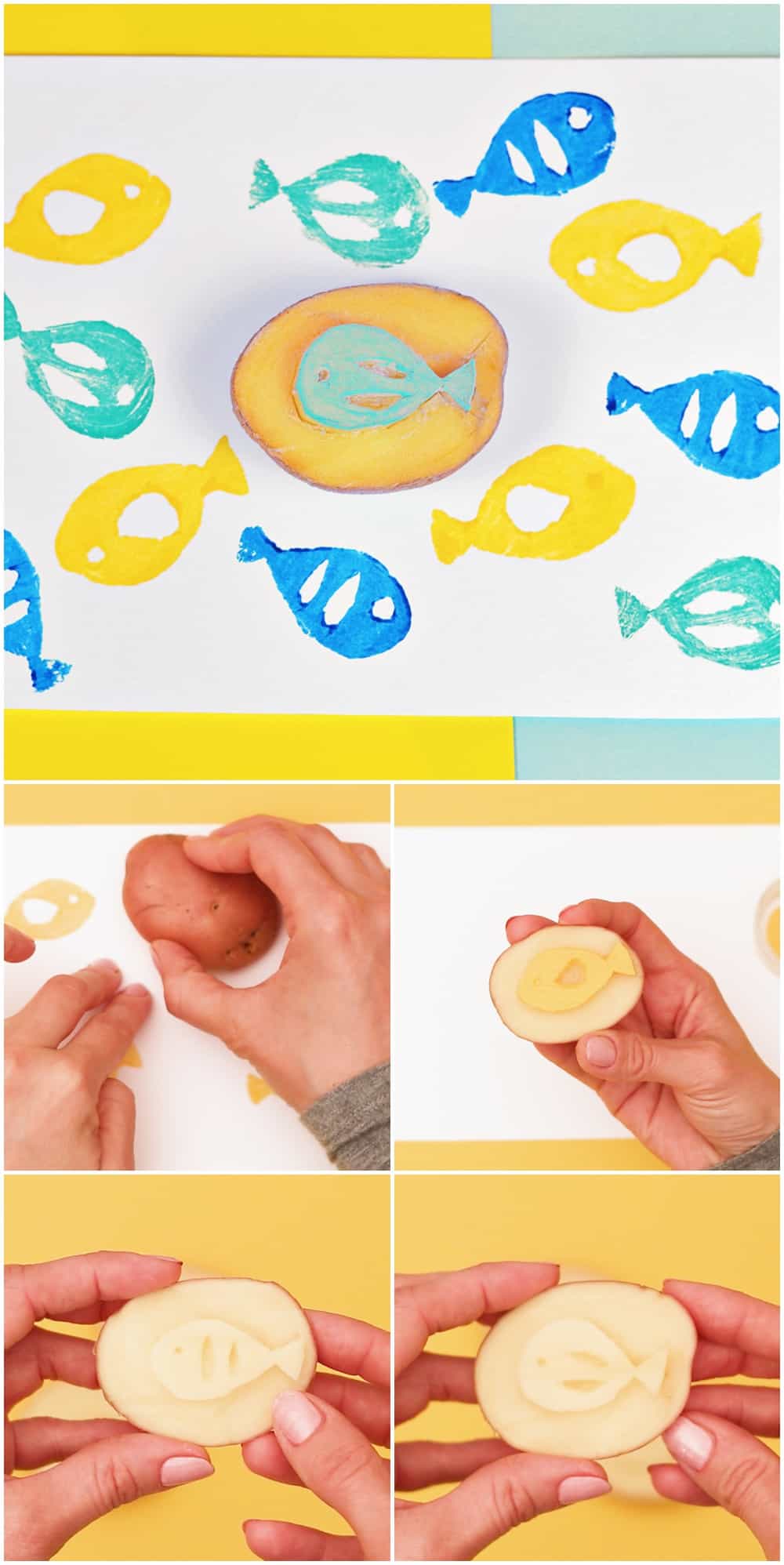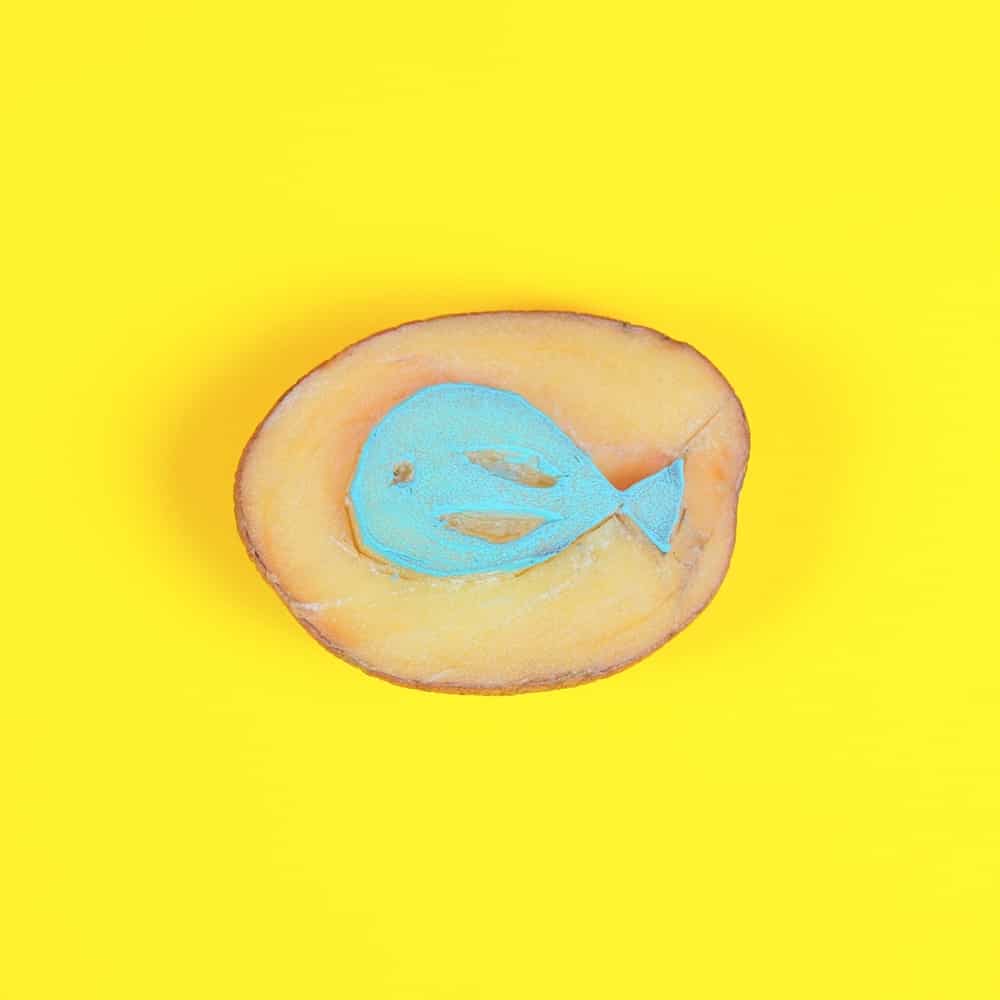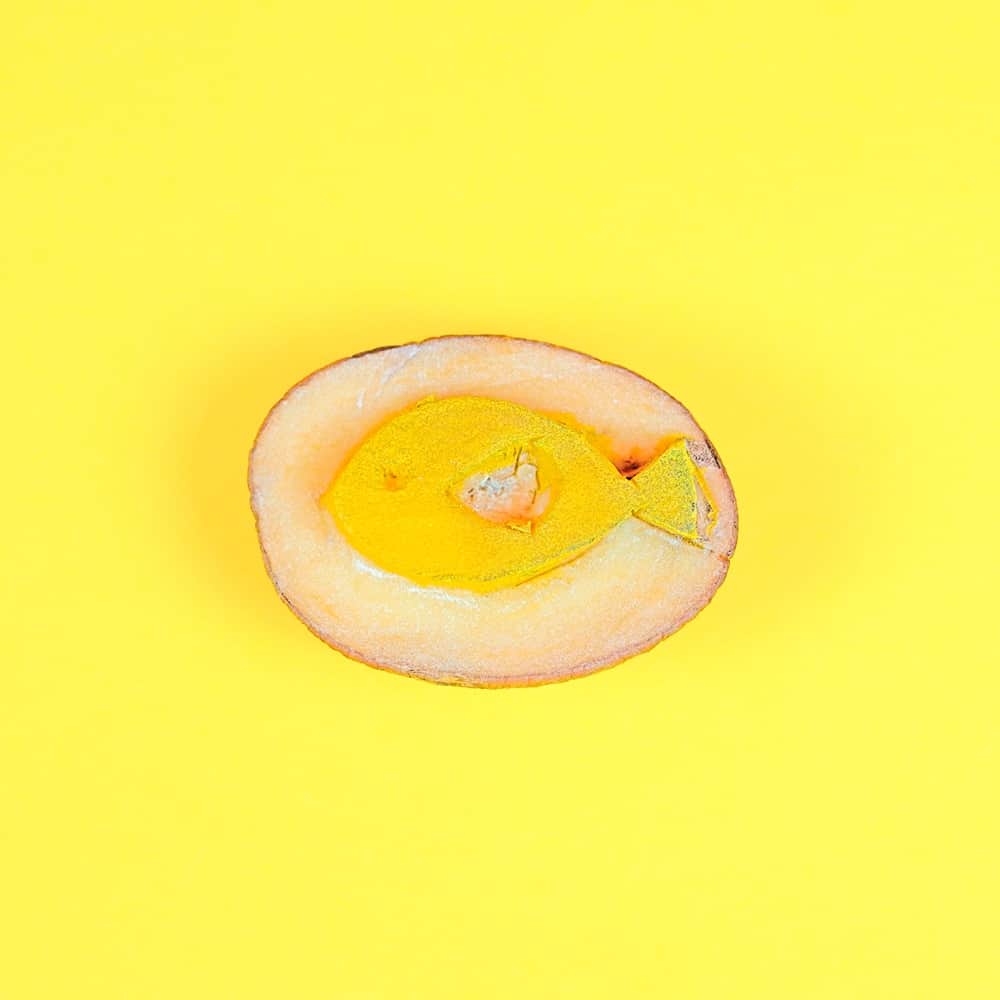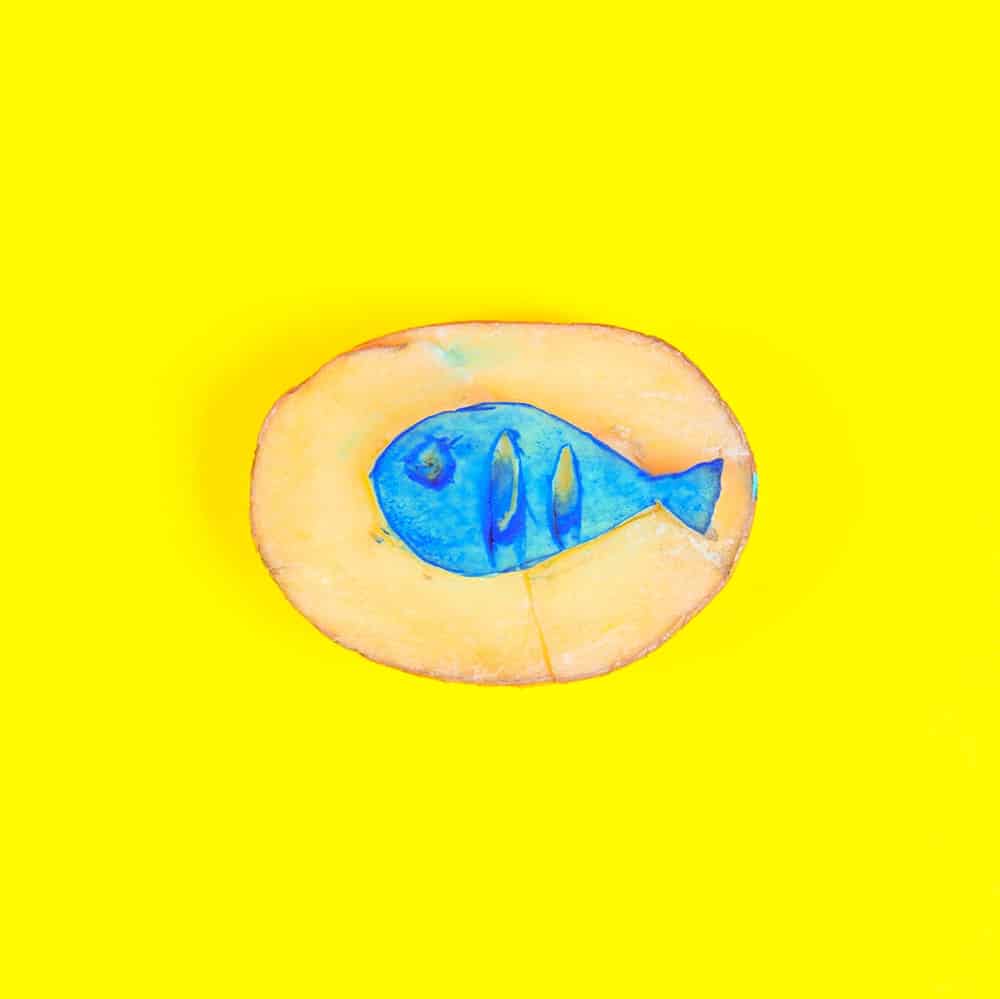 INSTRUCTIONS:
Watch the video in this post to see how to carve 3 fish designs.Step 1. Cut a potato in half.
Step 3. Use the knife to draw the outline of the fish, then go along the outline of the fish a little deeper with the knife.
Step 3. Use an exacto knife to carve out the fish's eyes and fins, pattern. Allow the potatoes to dry or pat well with a paper towel.
Step 4. Paint the fish with a layer of paint and stamp on white cardstock or thick paper.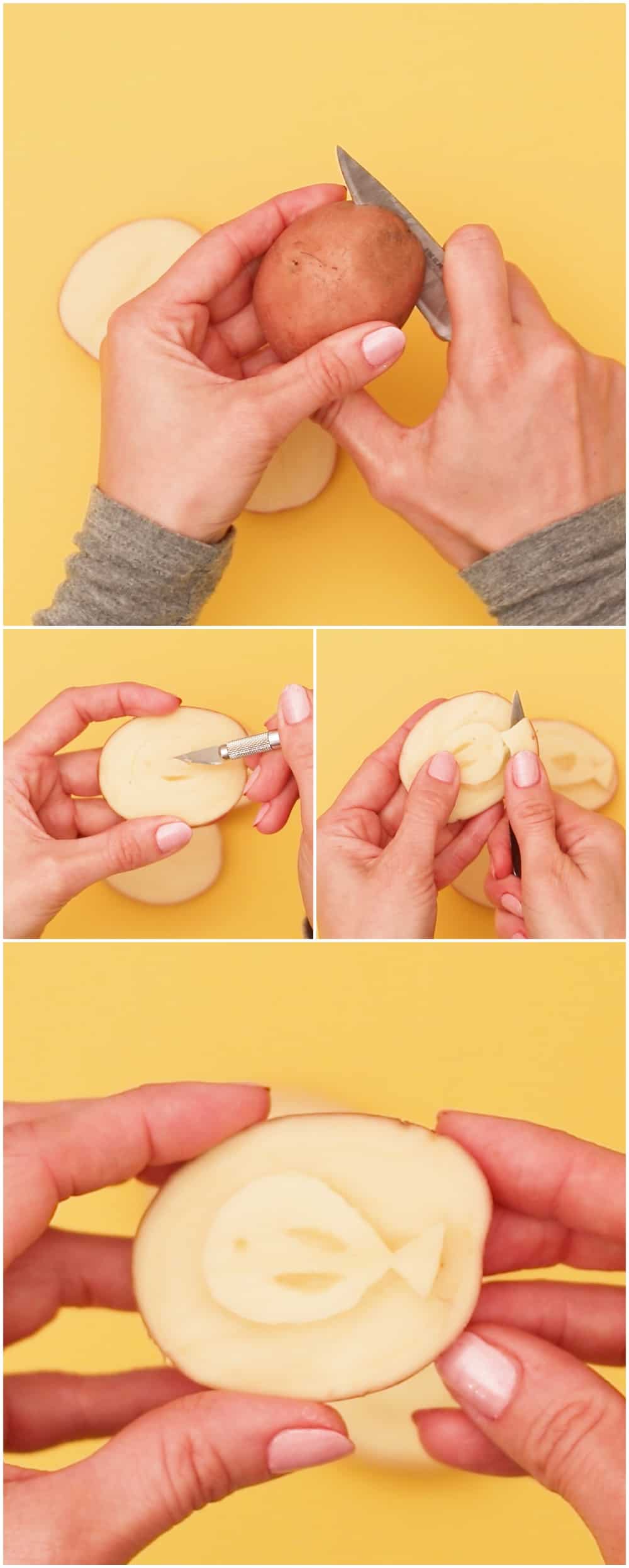 If you love this Potato Stamp Fish, take a peek at some other fun and creative kids' art projects.