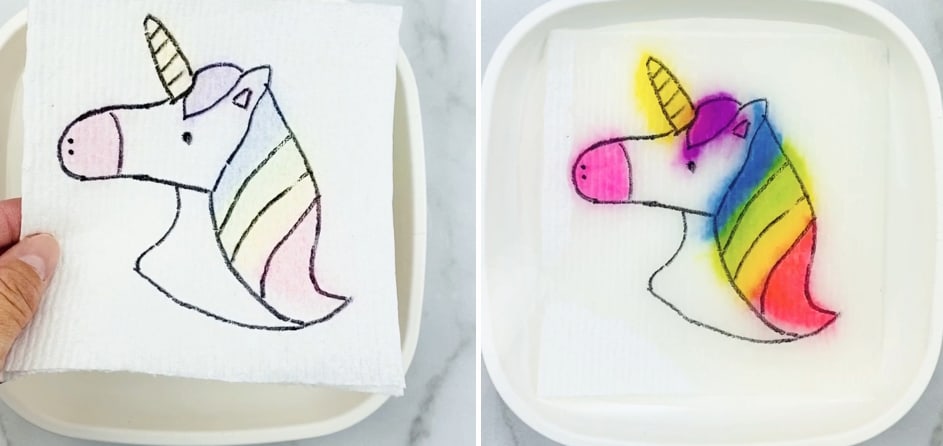 By using this site, you agree to our Terms of Use. This post may contain affiliate links. Read our disclosure policy.
Follow us on Instagram for more fun ideas for kids!
Watch the video below to see this beautiful Window Chalk Mosaic Art. Make sure to subscribe to our YouTube channel for more fun videos!
This beautiful Unicorn Magic Paper Towel Art is so easy to set up and makes mesmerizing art kids will love!
We're smitten with the latest viral art craze on social media lately. You've probably already see this magic paper towel art on our feed, in various forms. We had to put a magical twist by featuring our favorite spirit animals, unicorns of course.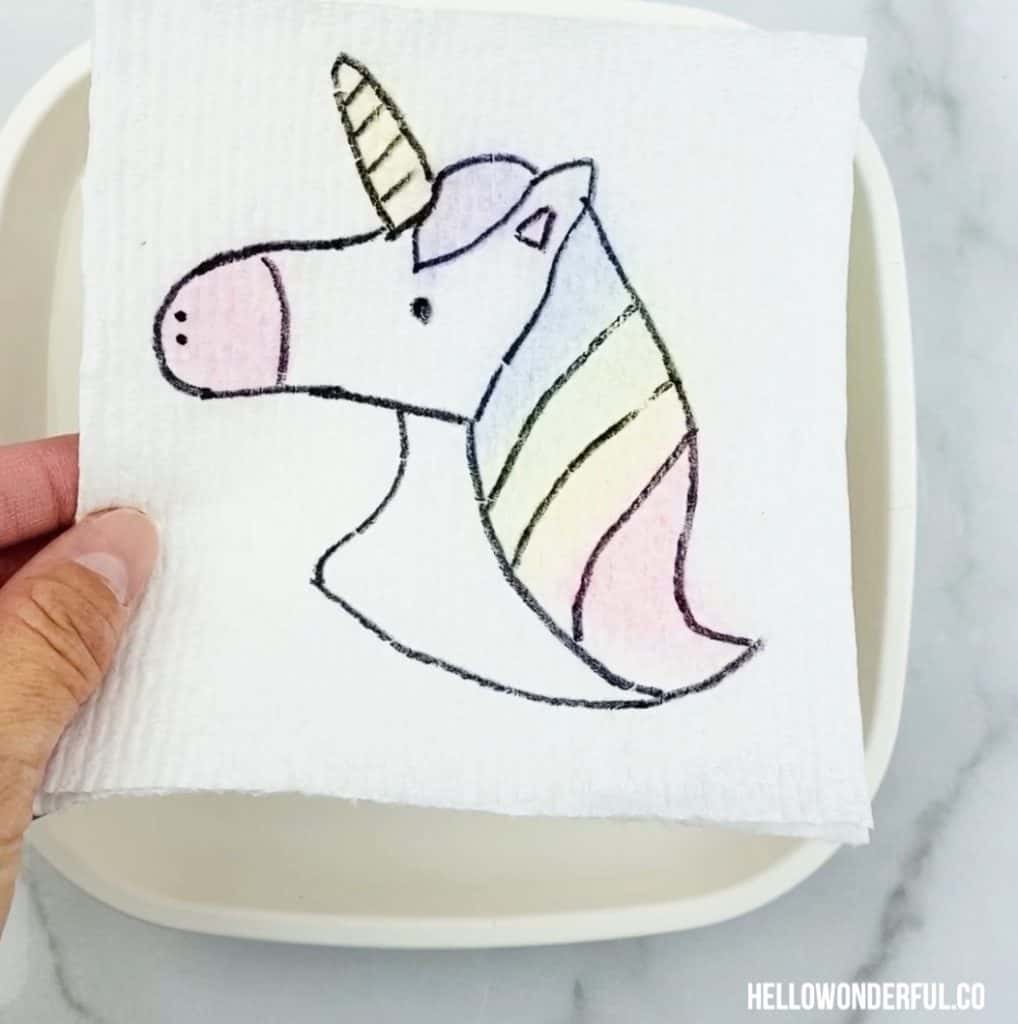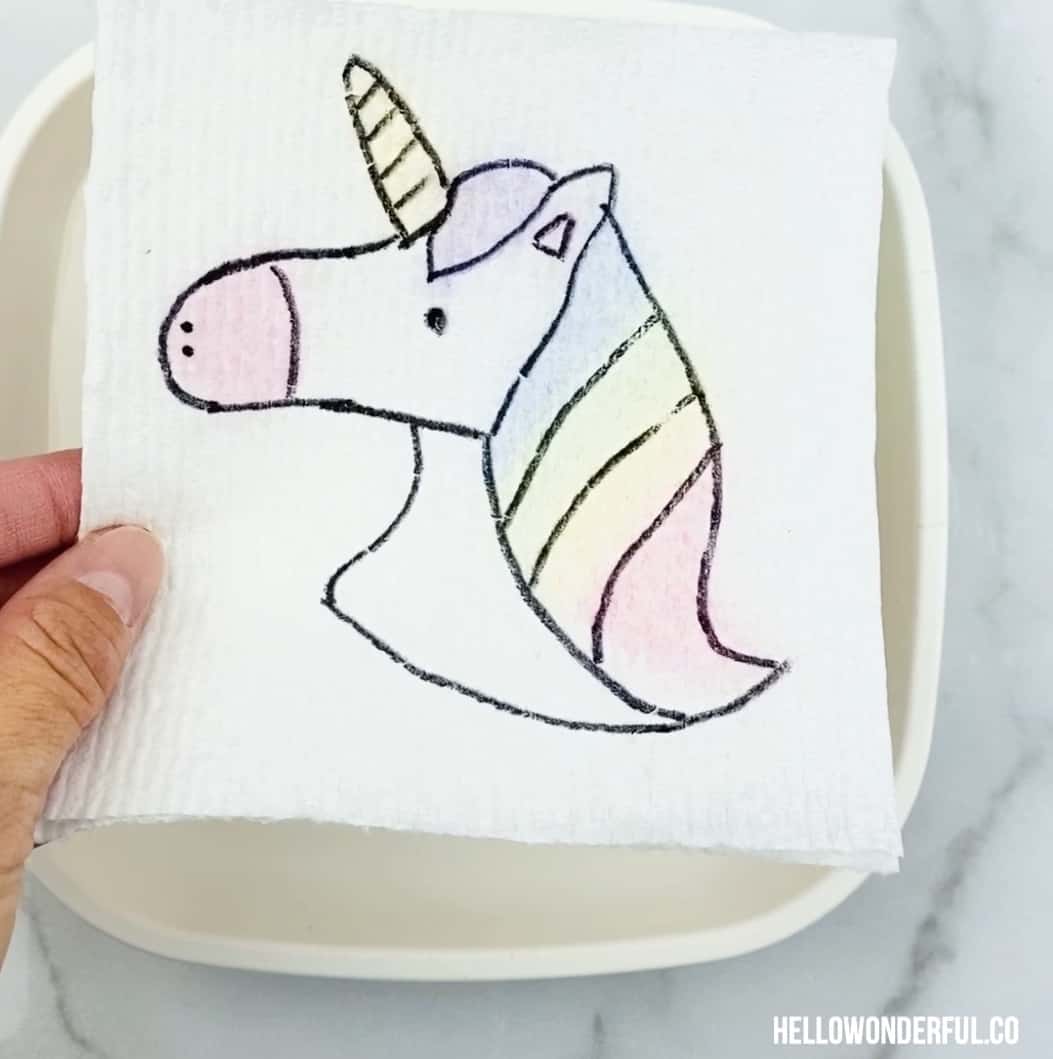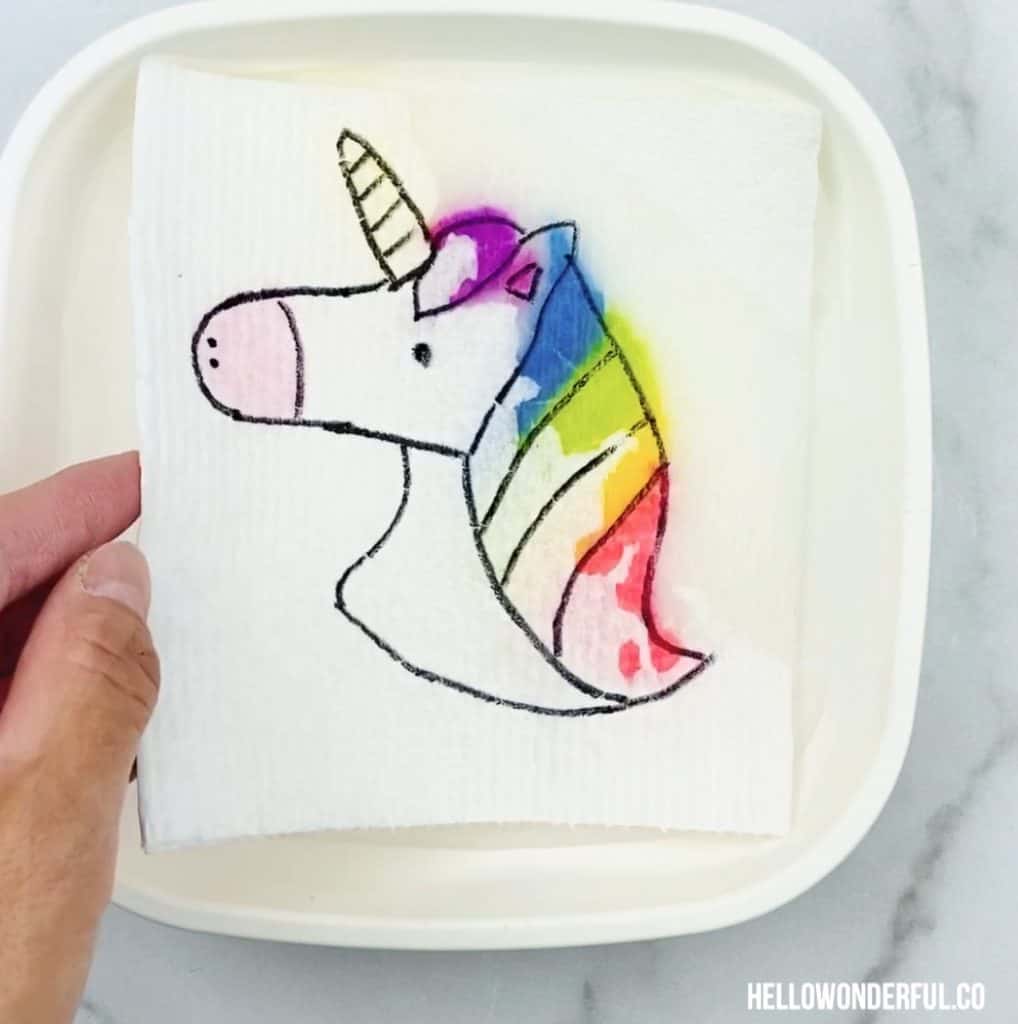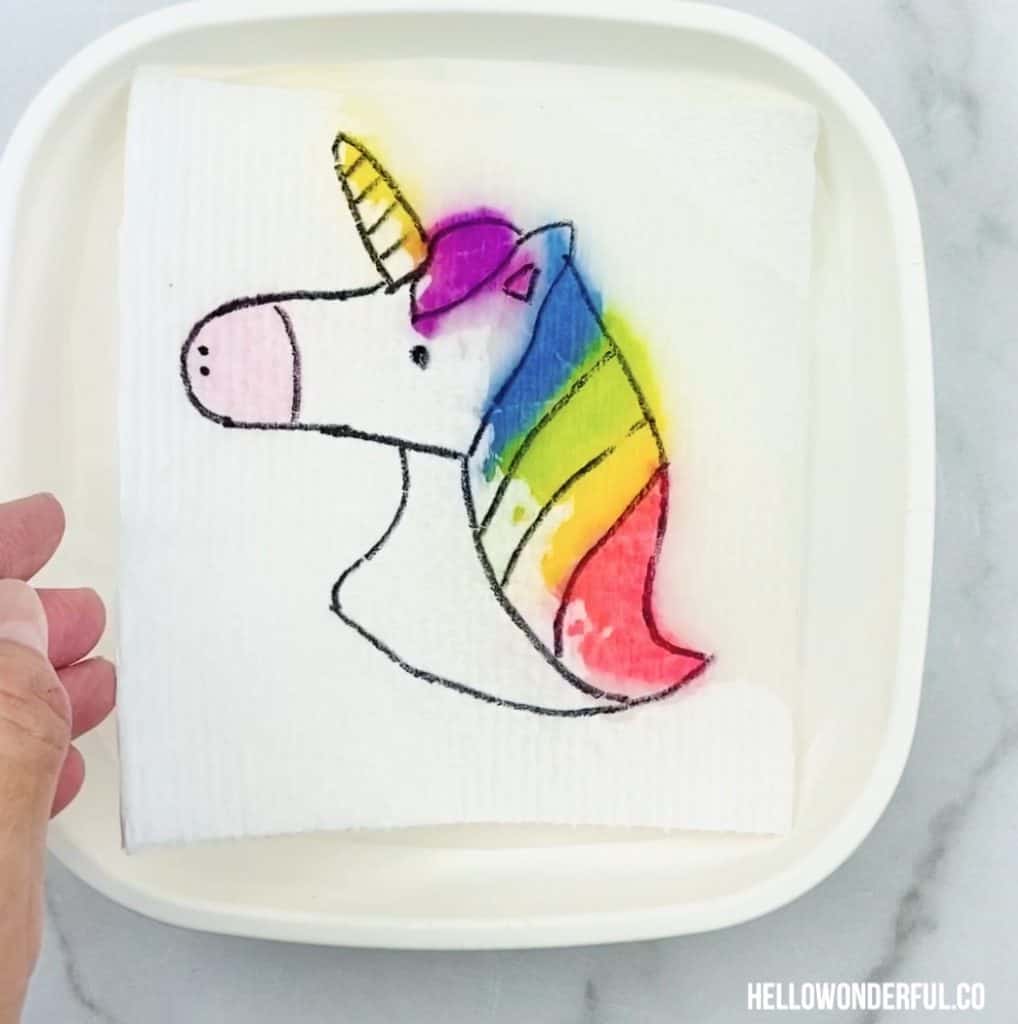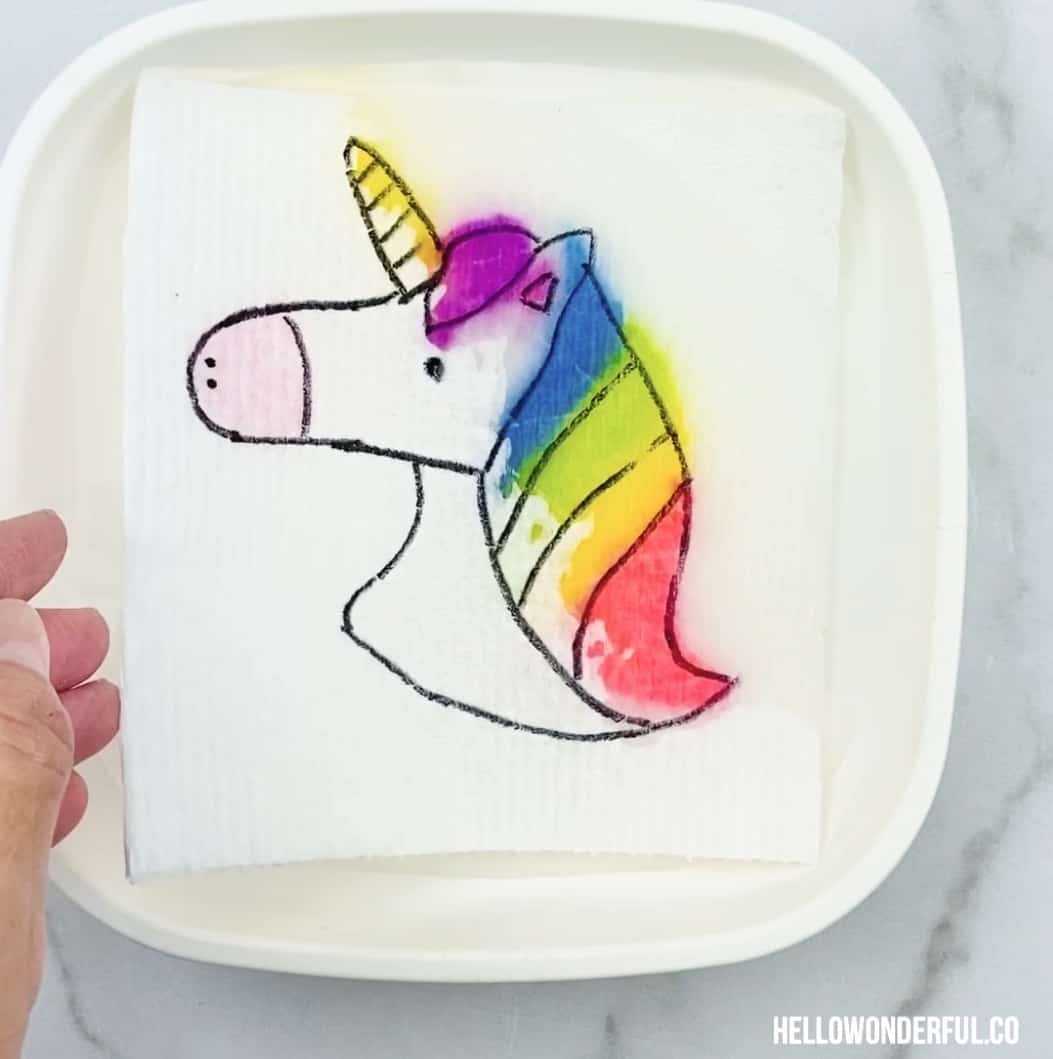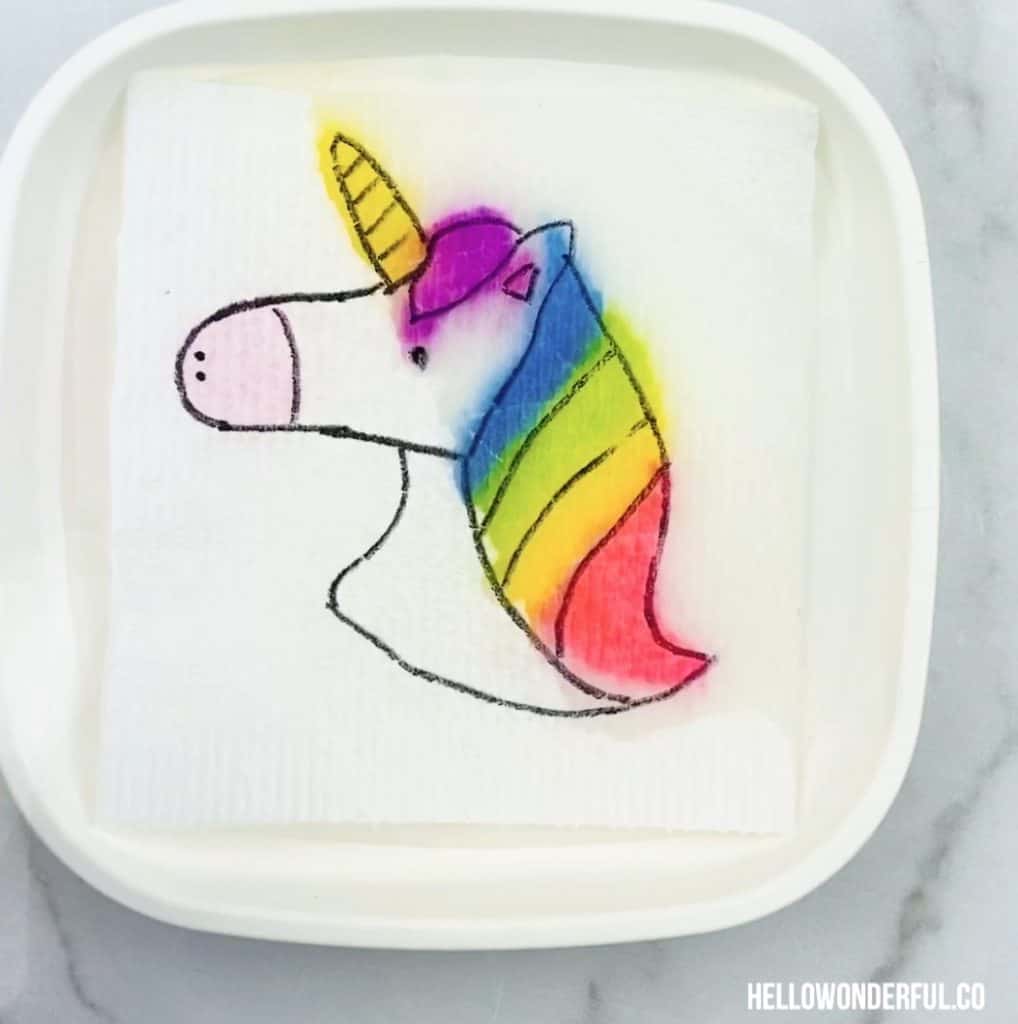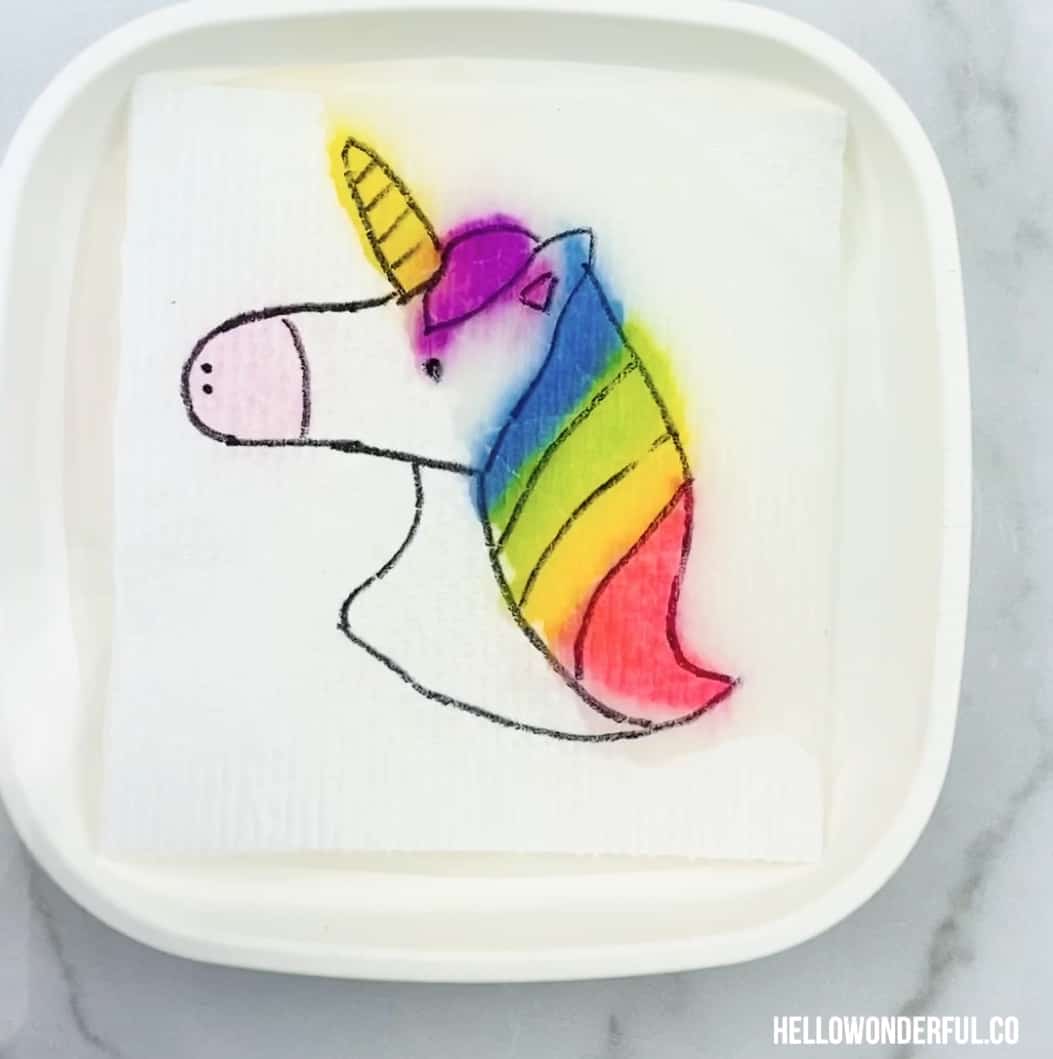 What's the magic behind Magic Paper Towel Art?
What's mesmerizing about this art is that you first see only black outlines on one side of a paper towel and as you insert it into water, colors will magically bleed and appear within the lines.
How to achieve this magic art trick is to use permanent markers on the top paper towel and washable markers on the bottom paper towel. That's it! isn't it simple and clever?
My kids had a blast doing this over and over again with their own drawings.
How do make the perfect unicorn paper towel art?
Easy! We've included a FREE template of 4 unicorns to start with. They are perfectly sized so that if you fold a paper towel in half lengthwise, you can fit two, top and bottom, and cut off the middle.
You can of course draw your own unicorn, but we thought a template might be fun and useful too. Download it below in the instructions details.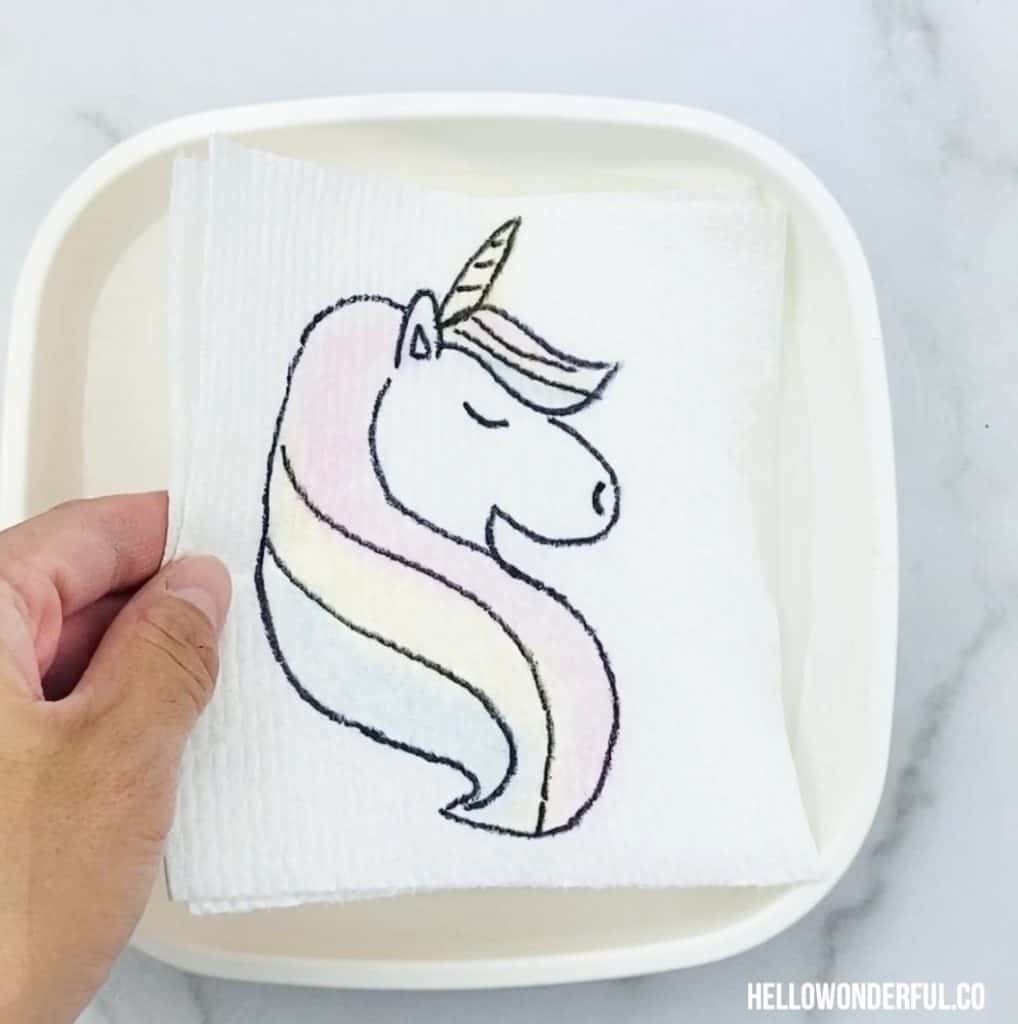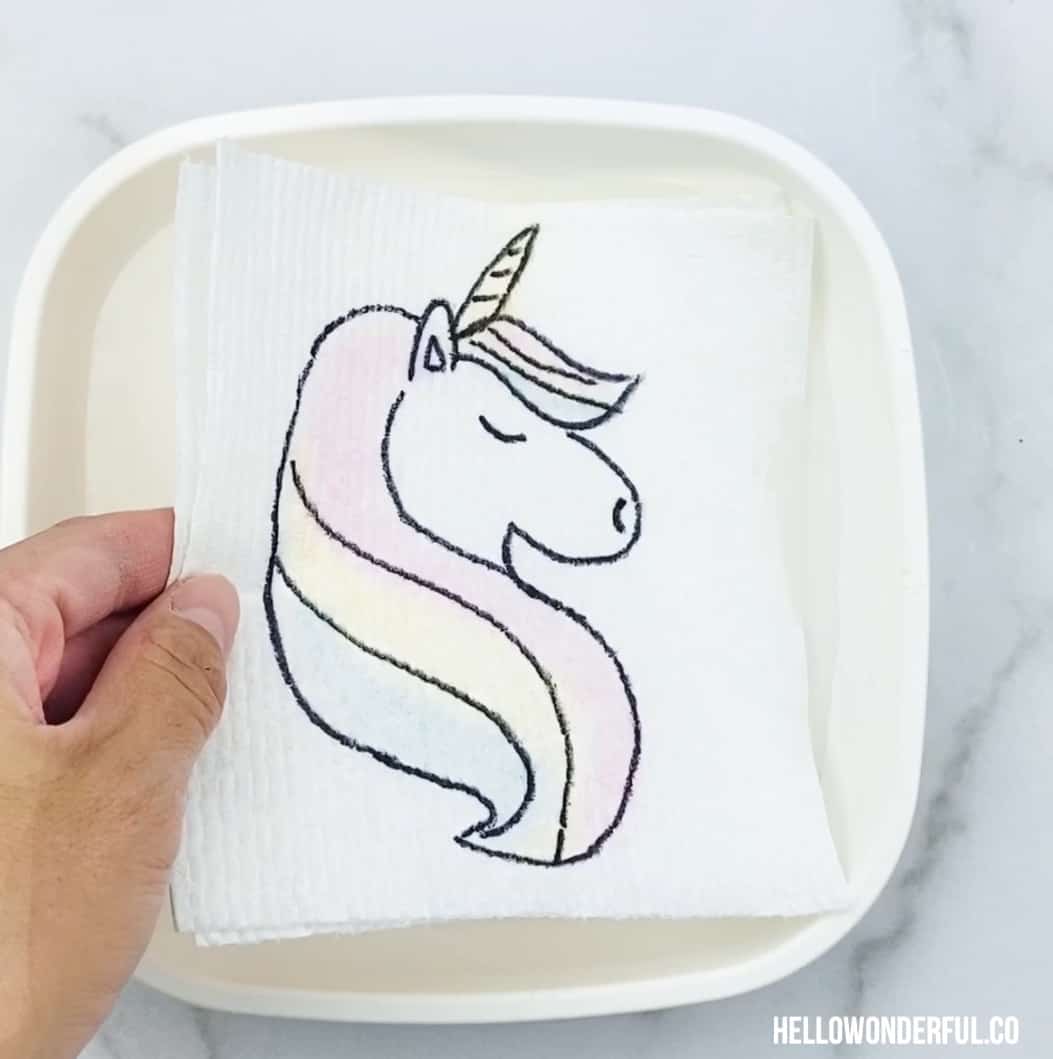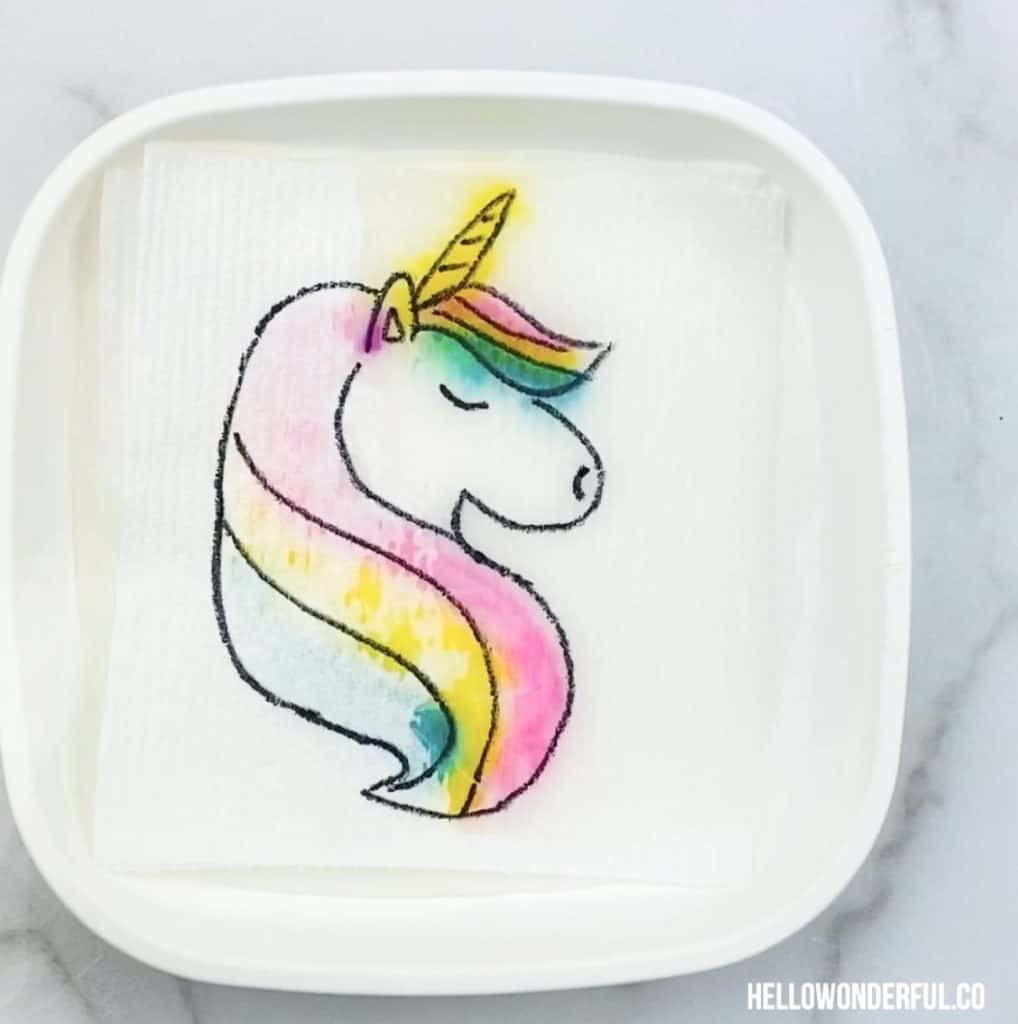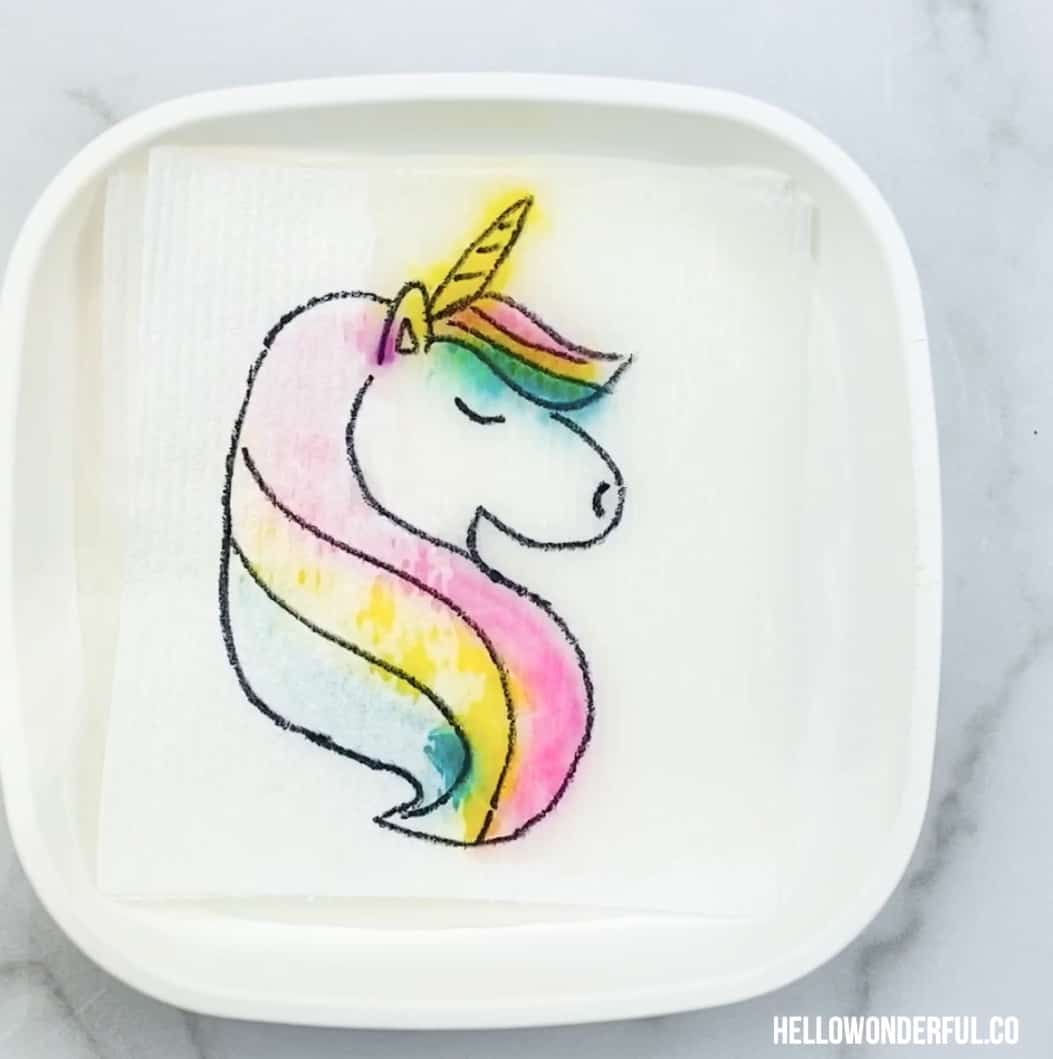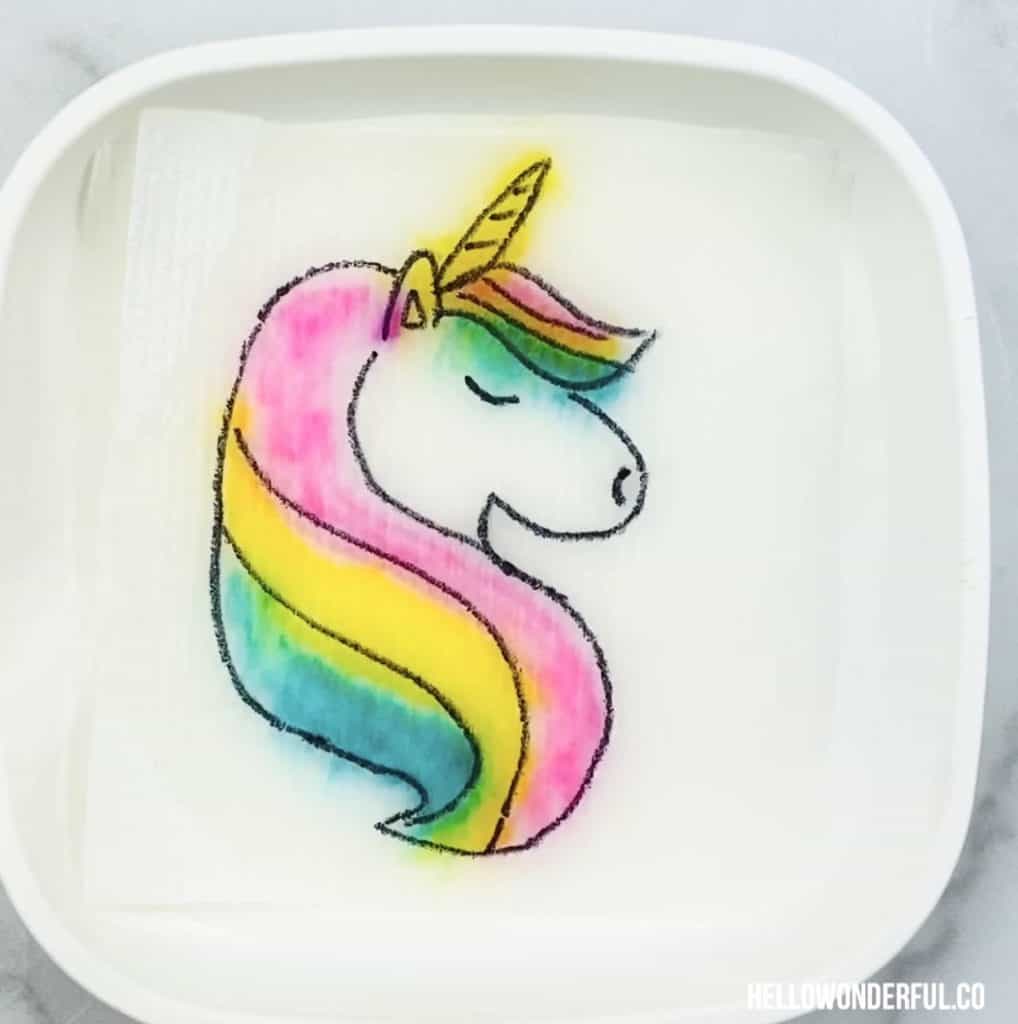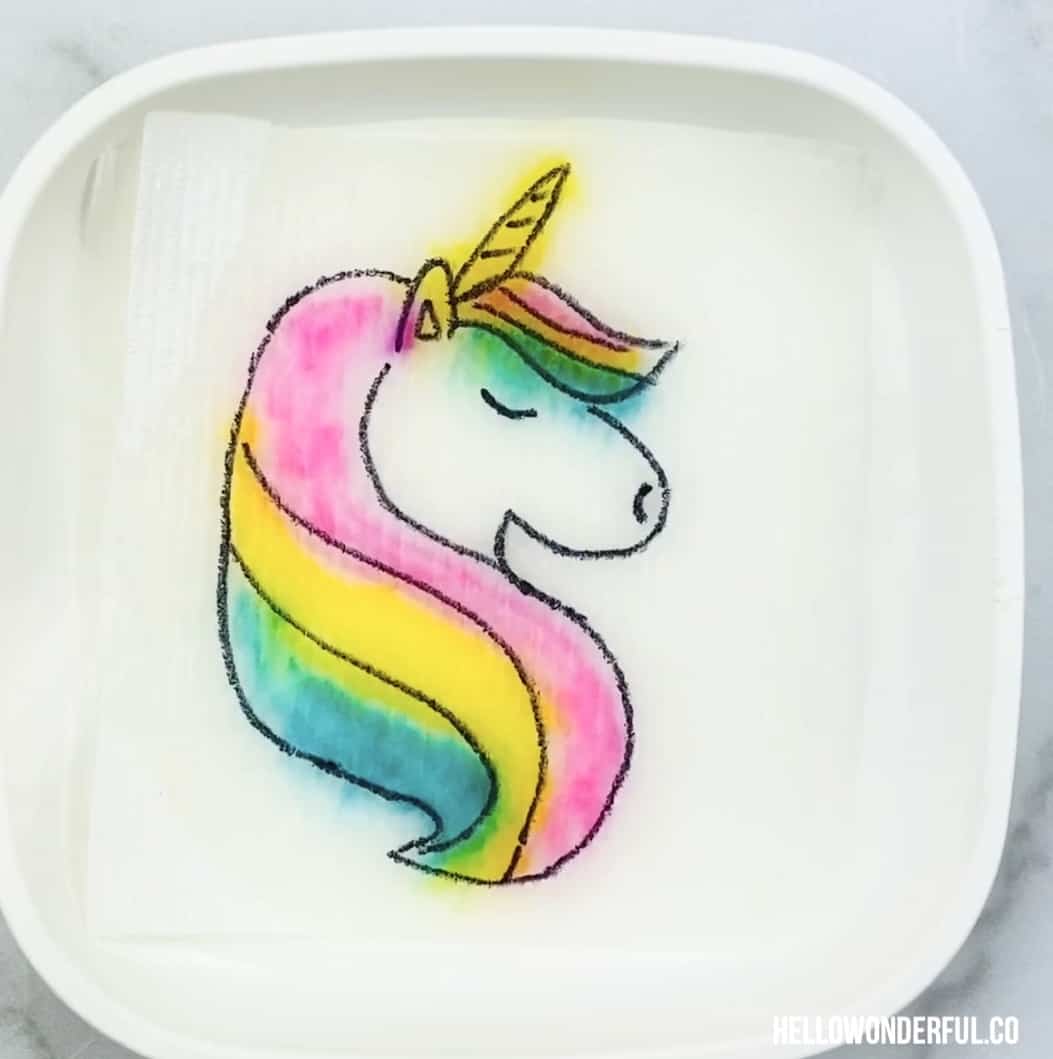 What's the trick to getting the colors filling the black lines on the paper towel just right?
We actually experimented several times with this to get as close to possible to filling in the black outline with minimal bleeding.
First you will want to cut your printable unicorn close around its shape. Fold a paper towel, lengthwise (vertically), cut it in half so you should have two separate squares. Place your template under one square and use a black permanent marker to outline the shape including features like ear, nose, eyes.
This is where the tricky part is, you want to then place the second square of paper towel EXACTLY where you traced the with black marker. This time you will color with the washable markers only.
Then line the two pieces of paper towels so they match up.
Another trick to minimize bleeding is when you are coloring, don't go heavy on towards the edged, because the colors will bleed and stretch out. So you almost DON'T want to color all the way to the edges.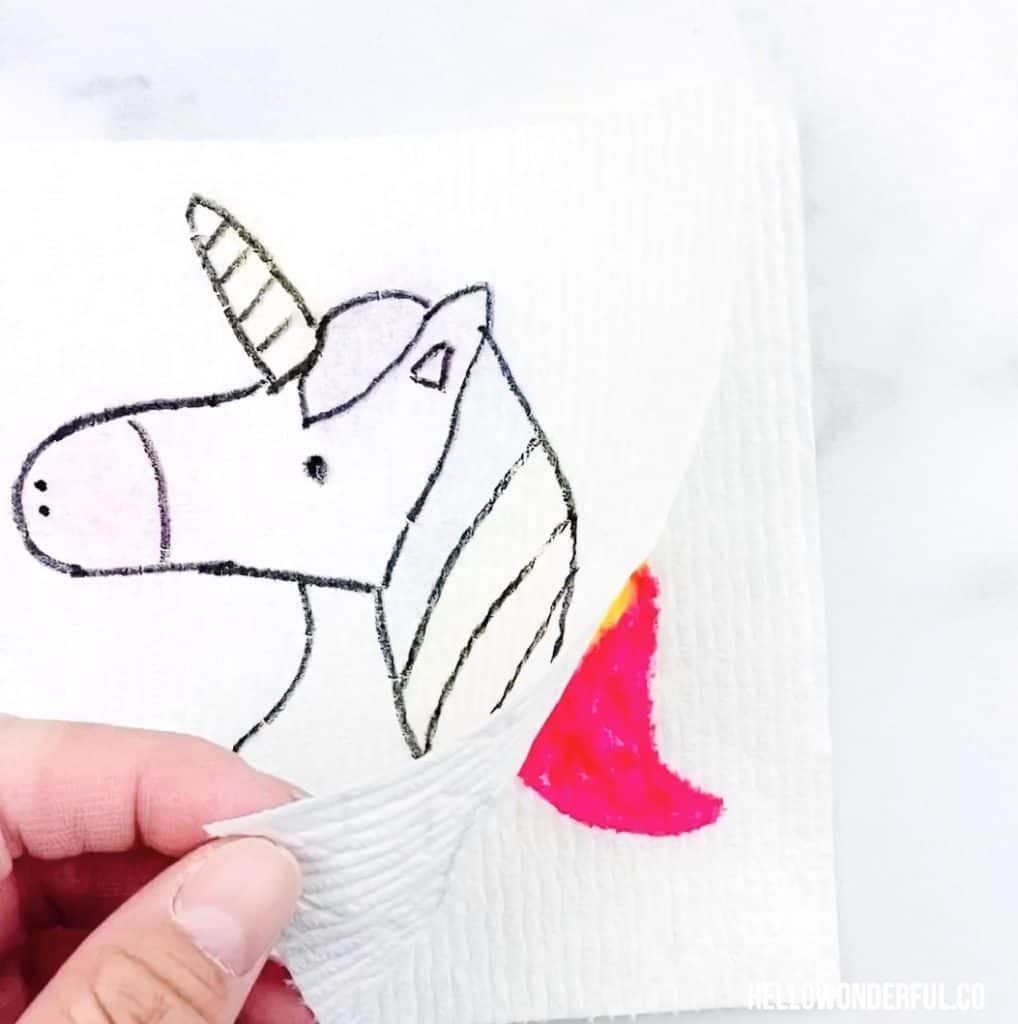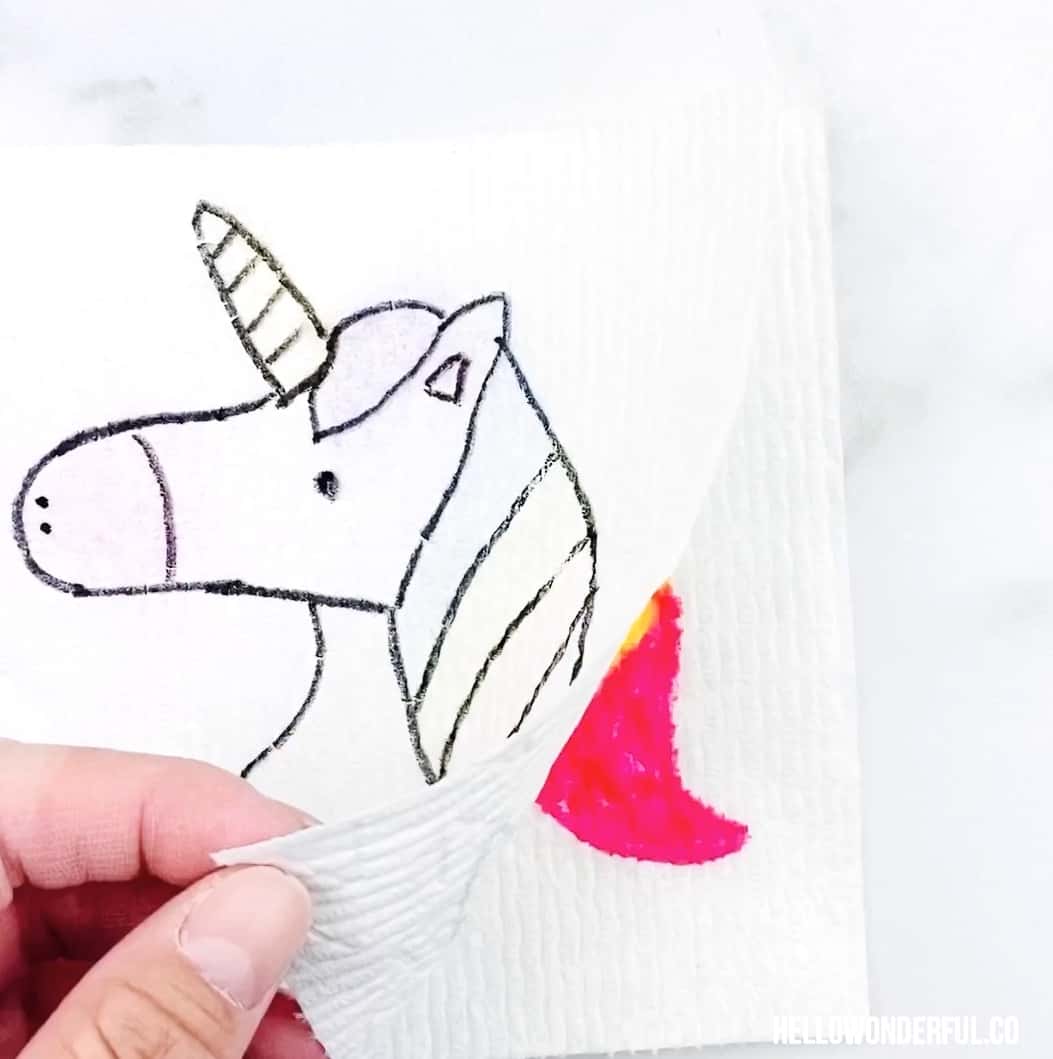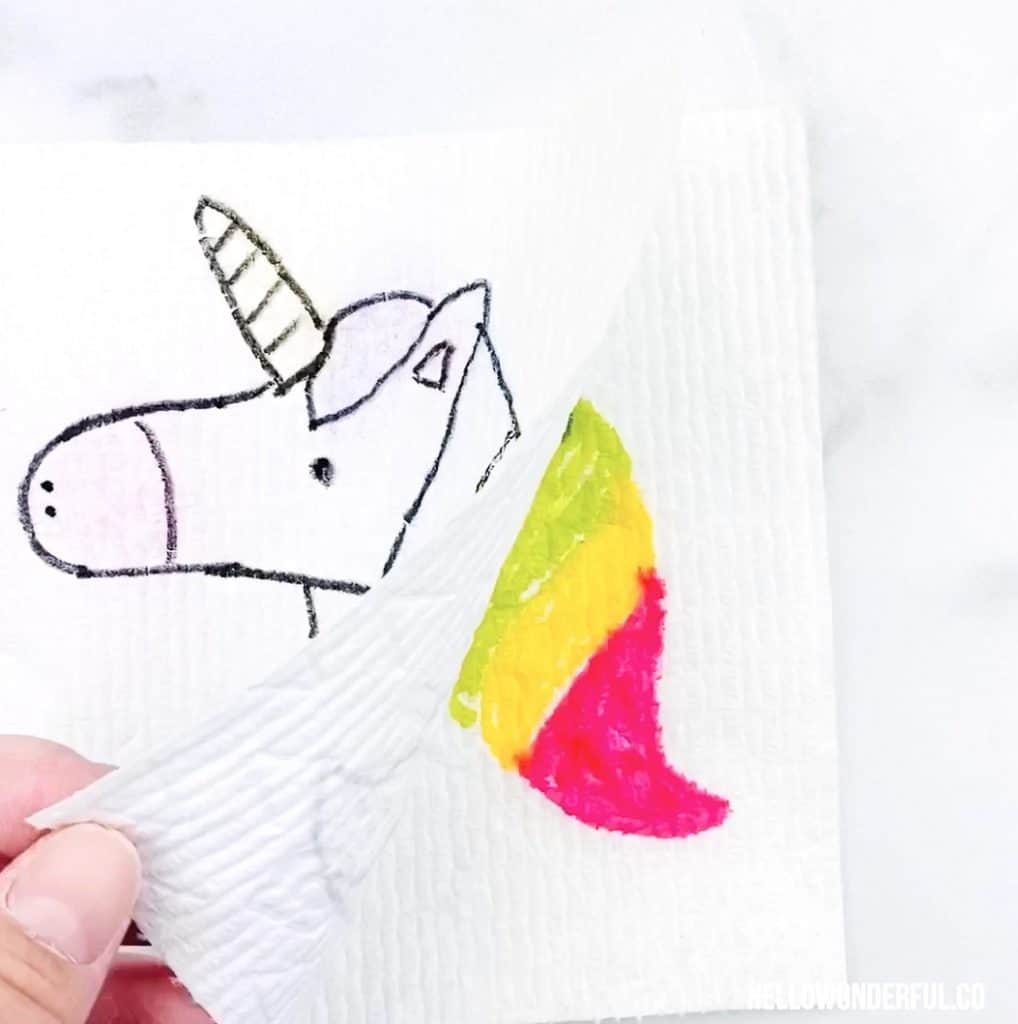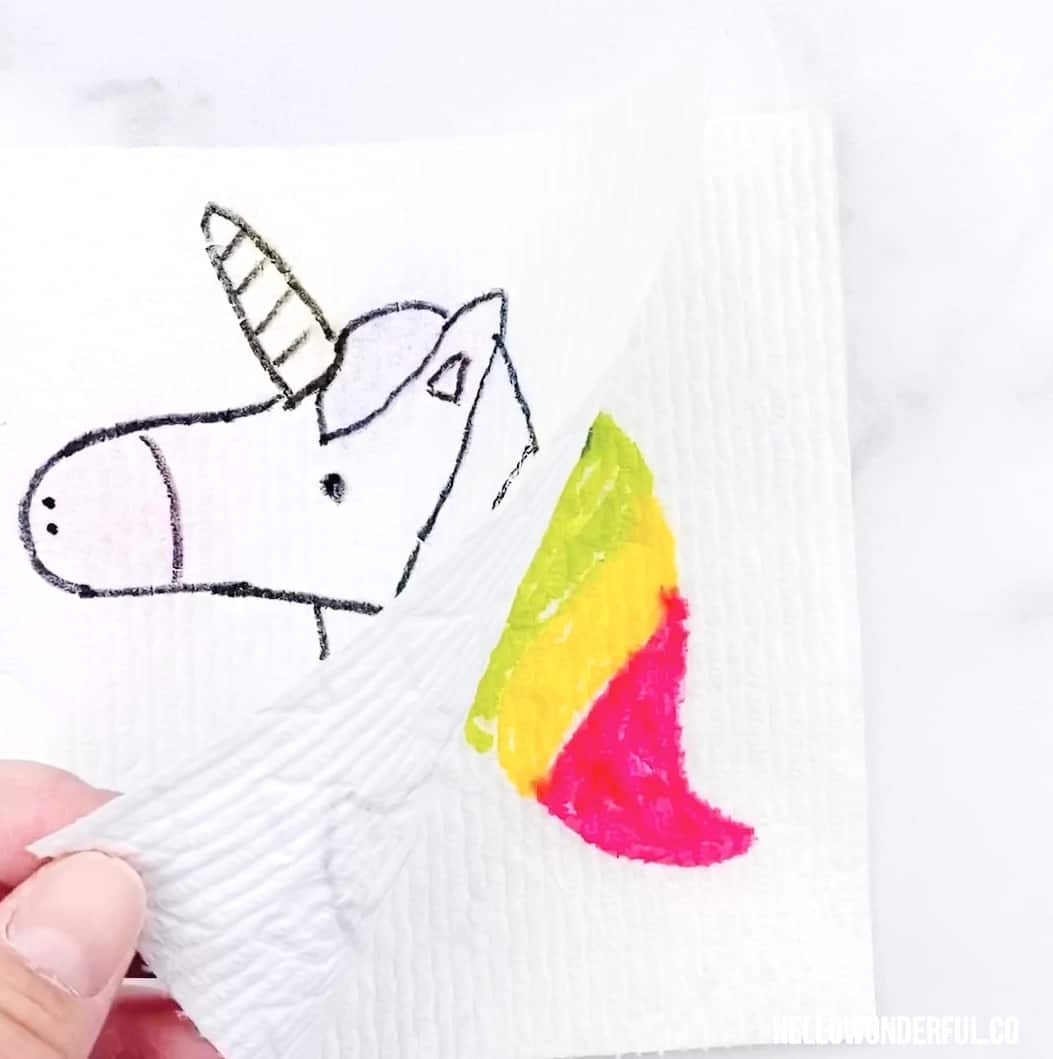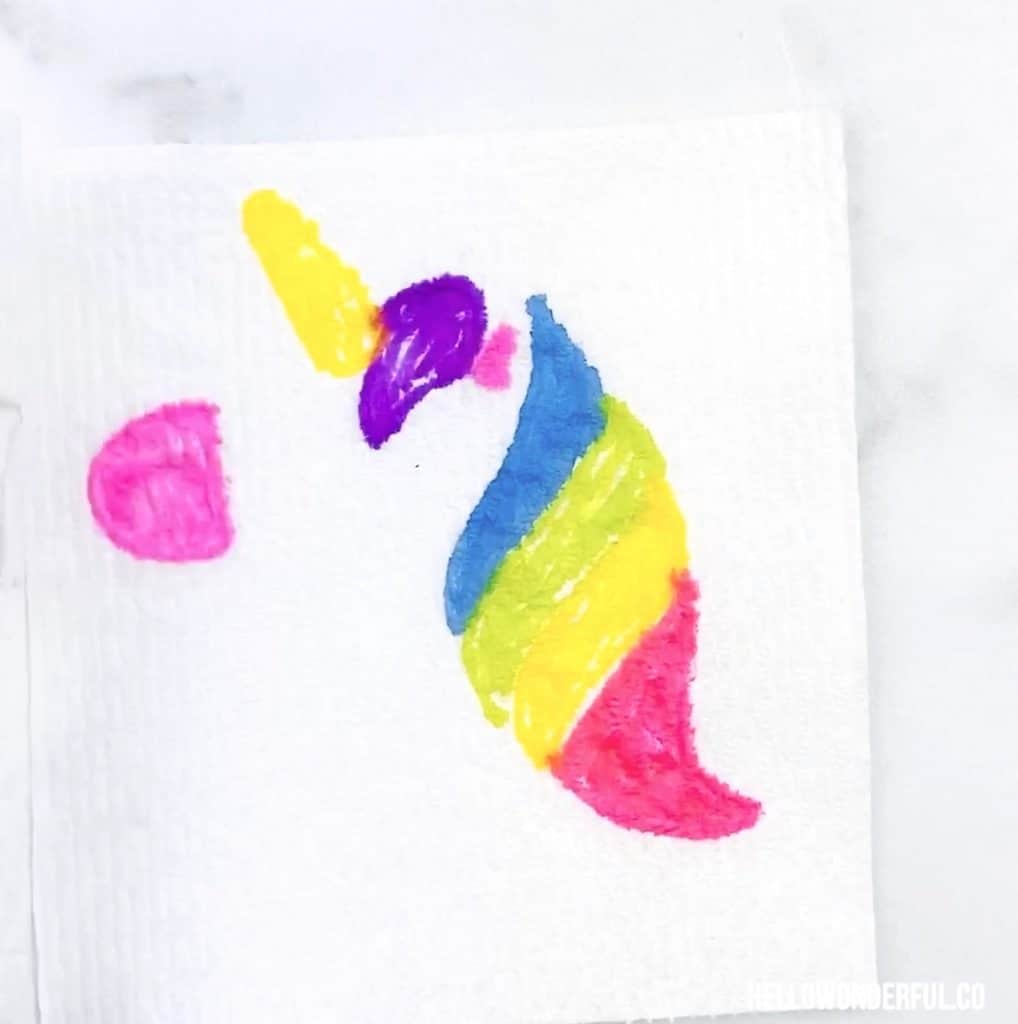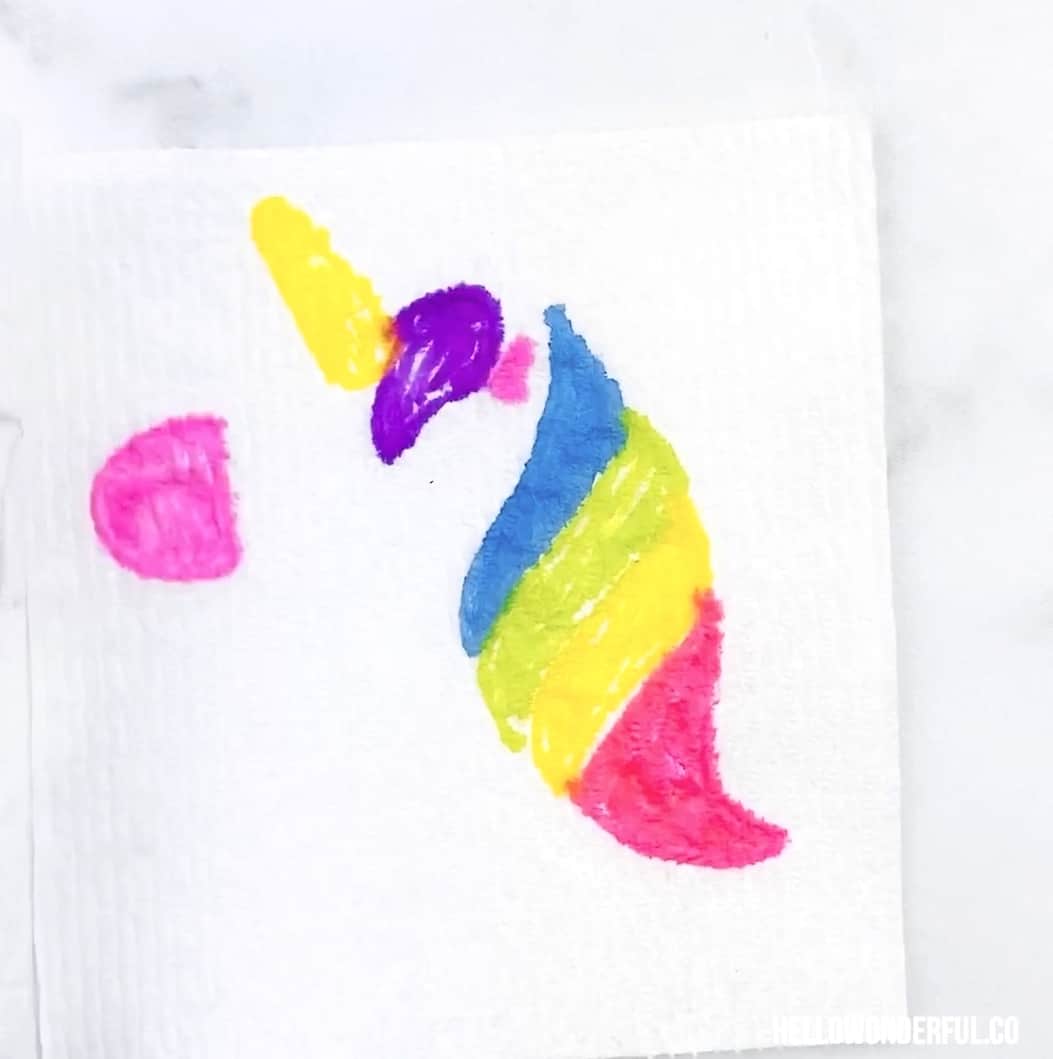 Are you ready to get started now? Just follow the materials and instructions below and grab our FREE printable unicorn art.
Unicorn Magic Paper Towel Art – Materials:
Paper Towels

Shallow plate with sides to

Water

Scissors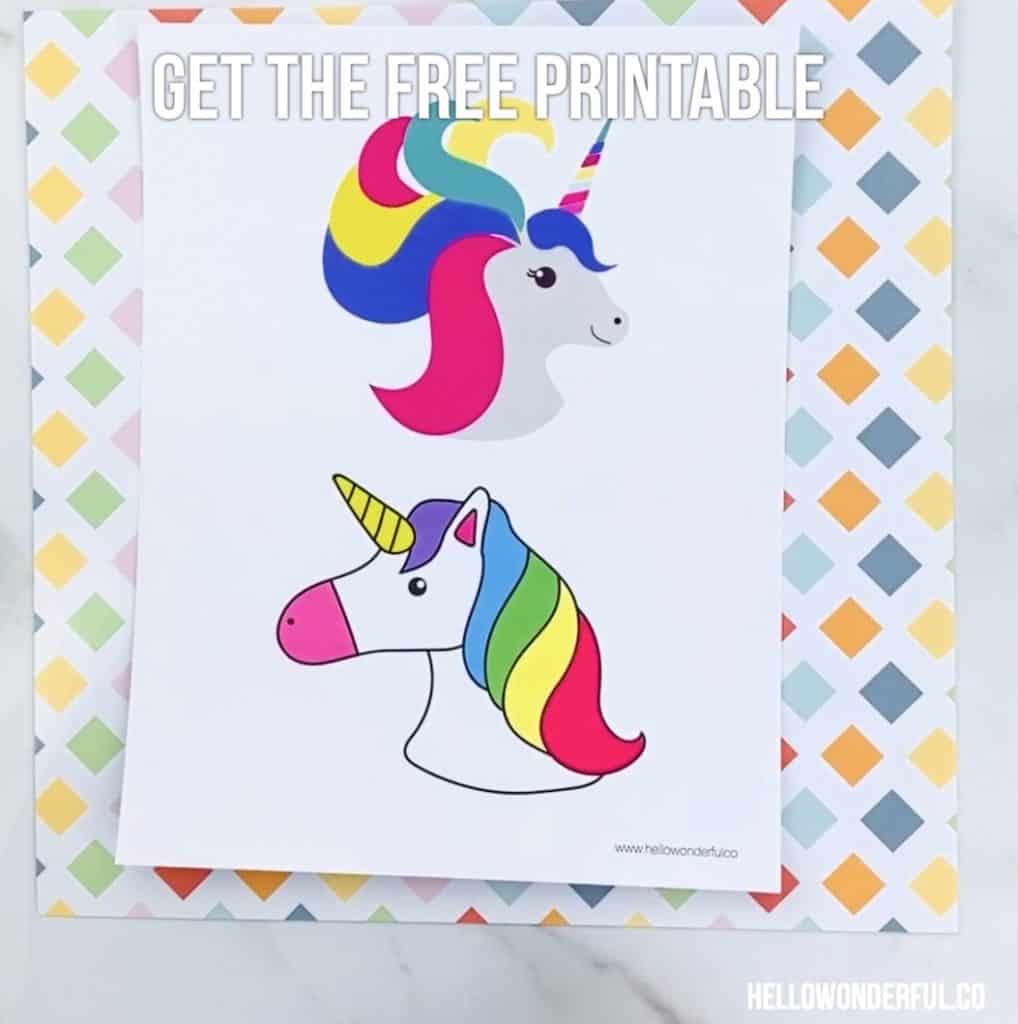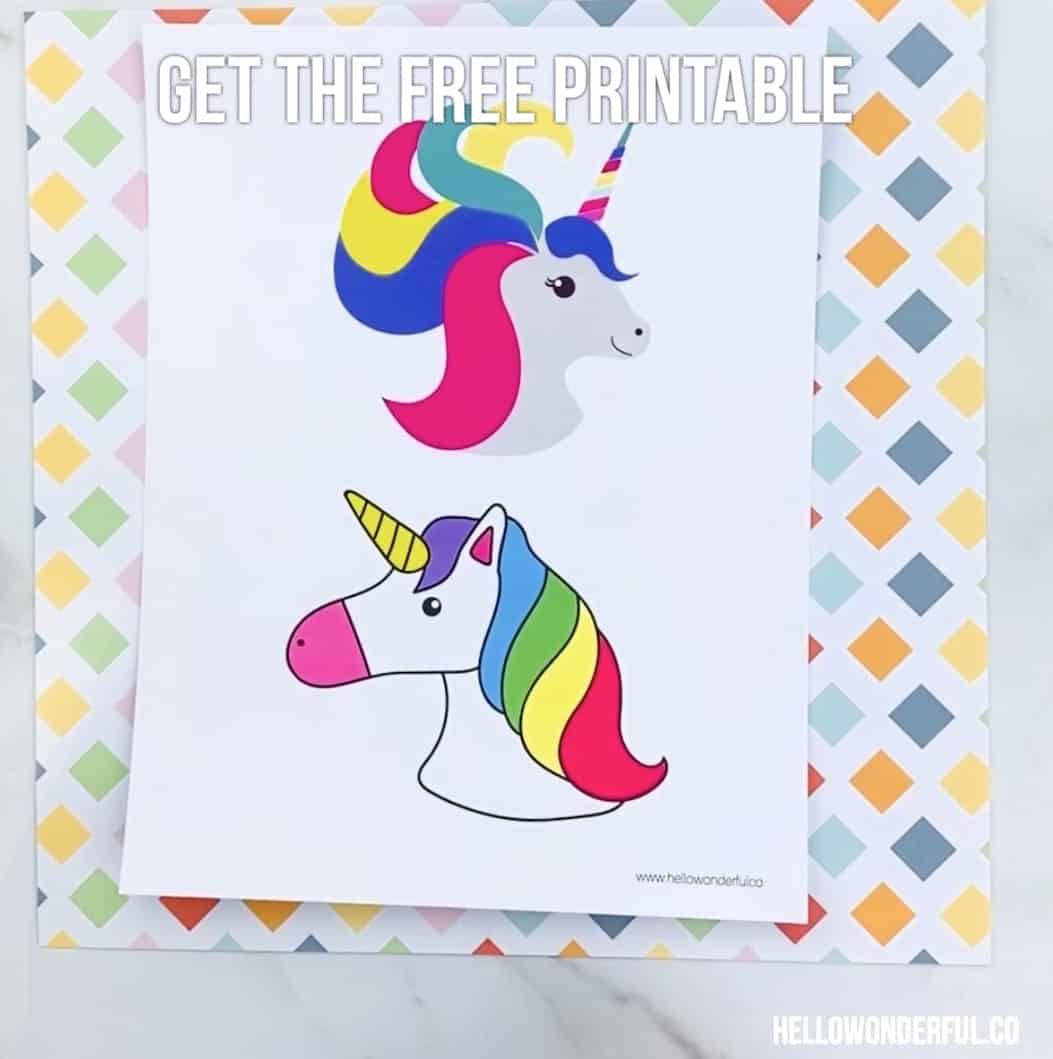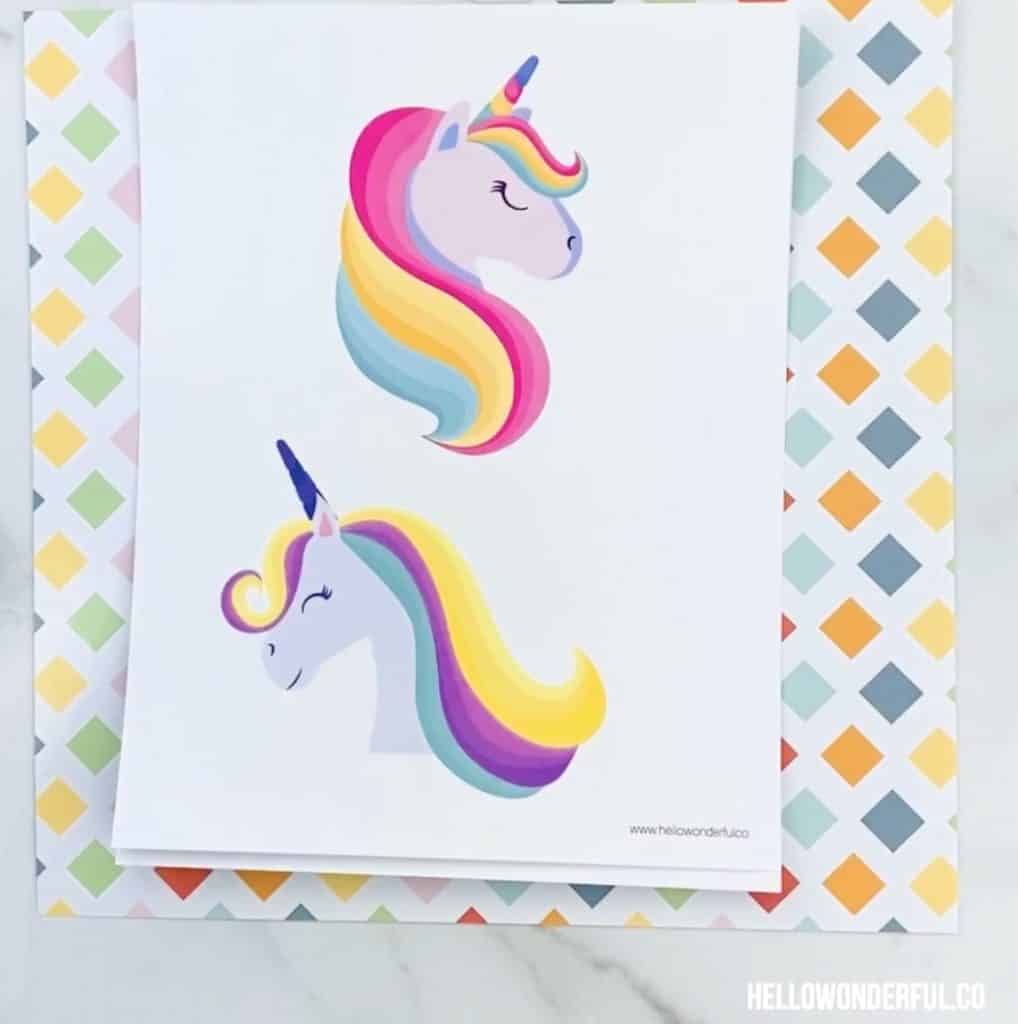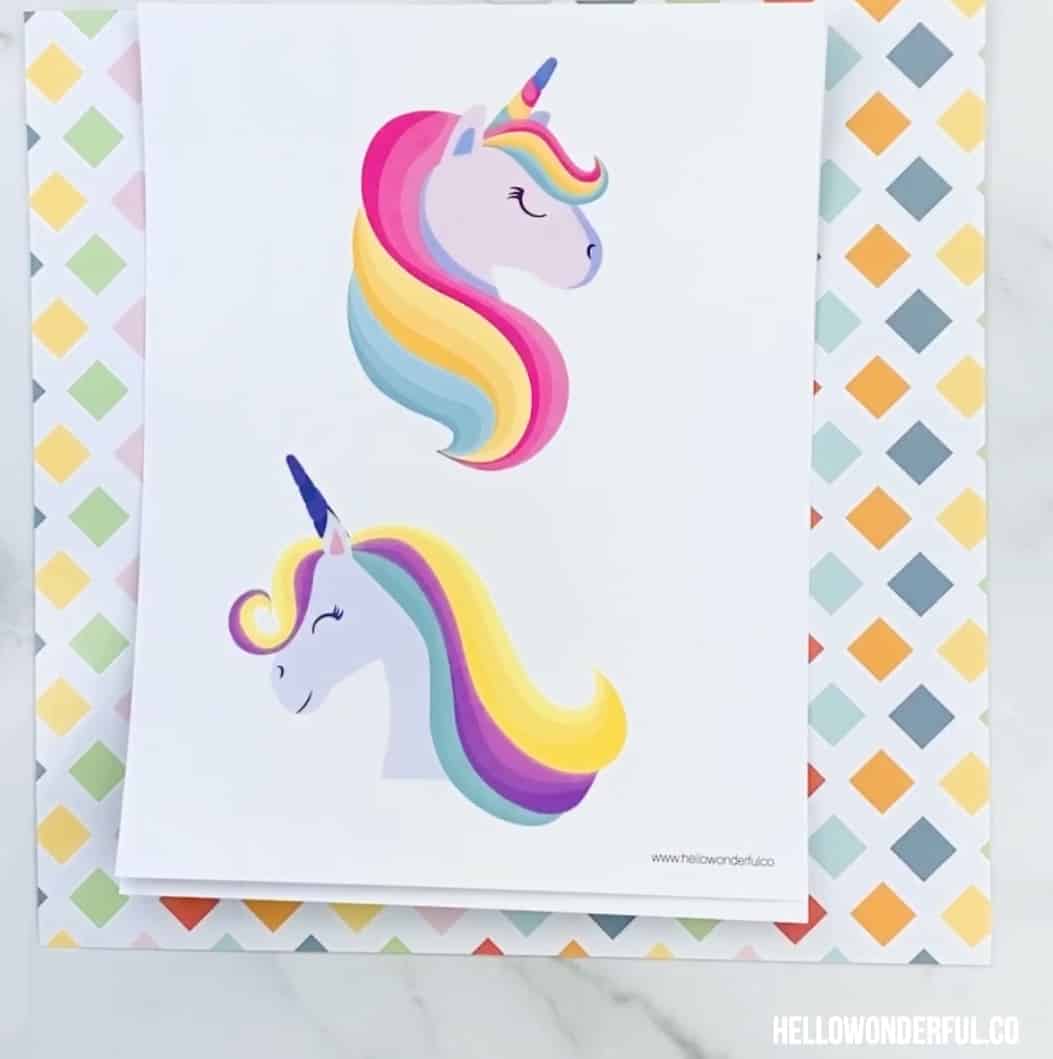 INSTRUCTIONS:
Step 1. Print out the template. Cut around the shape of the unicorn you want to color, it can be loosely around and not an exact line. You will just want it to fit on a paper towel folded in half.
Step 2. Fold a paper towel lengthwise (vertically) in half. Cut it in half so you are left with two squares. Place your template under one square and outline all features and shape of unicorn with your black marker. Keep your template in the same place. Take the other piece of paper towel and line it up as close as possible to your black outlined square.
Step 3. Now use the markers to color in the colored shapes.
Step 4. Add water to a shallow plate that fits your paper towel.
Step 5. Grab your two squares, line them up and place gently in the tray of water. Watch the colors magically bleed into the black lines, filling the spaces and coloring your unicorn.
To do more, discard the paper towels and water and add fresh as the water will now be colored.