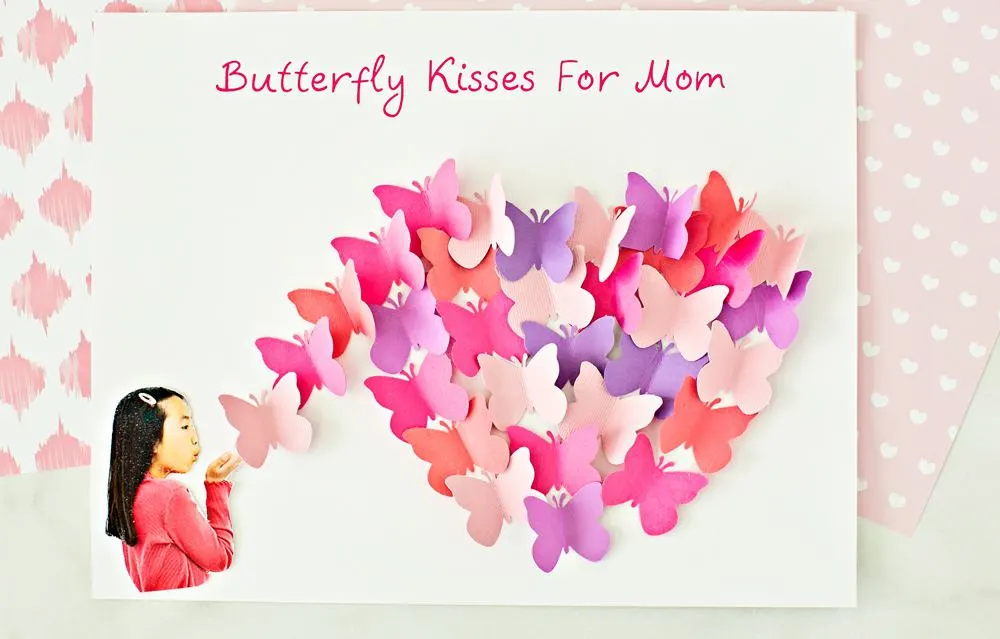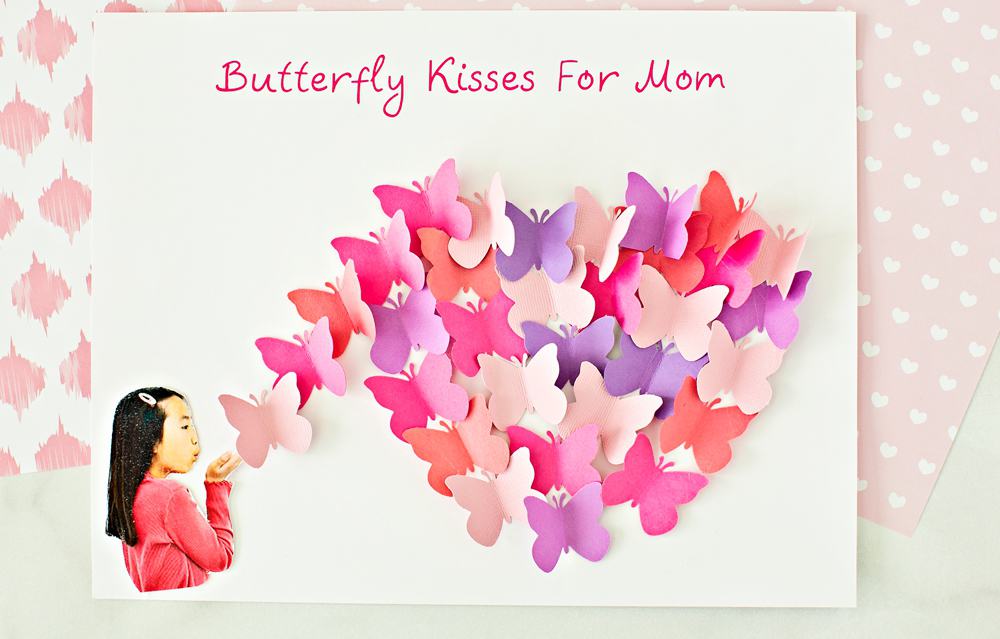 By using this site, you agree to our Terms of Use. This post may contain affiliate links. Read our disclosure policy.
Follow us on Instagram for more fun ideas for kids!
Watch the video below to see this beautiful Mother's Day Butterfly Art. Make sure to subscribe to our YouTube channel for more fun videos!
This gorgeous Mother's Day Butterfly Art to celebrate mom with your child's photo makes pretty cards she will cherish forever!
Mother's Day is around the corner and handmade Mother's Day cards are one of the most special gifts you can give mom! We love this personalized Mother's Day Butterfly Art because it's personalized with your child's photo.
The symbol of butterfly kisses and the butterflies forming a heart is also symbolic of a mother's love for a child and vice versa. Plus butterfly art in general is so pretty.
This not only makes a gorgeous card but you could also place it in shadow box and hang up as art for years to come!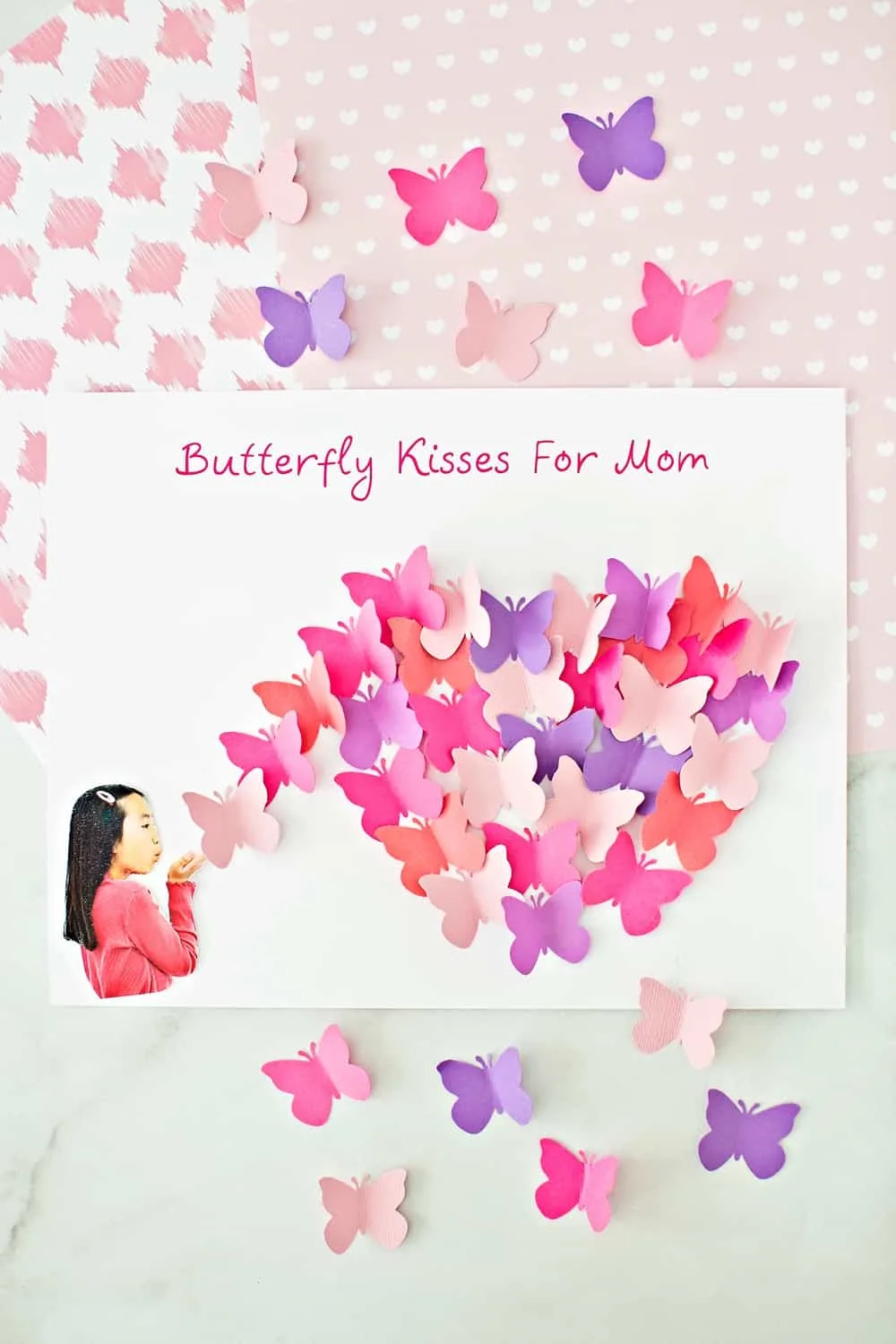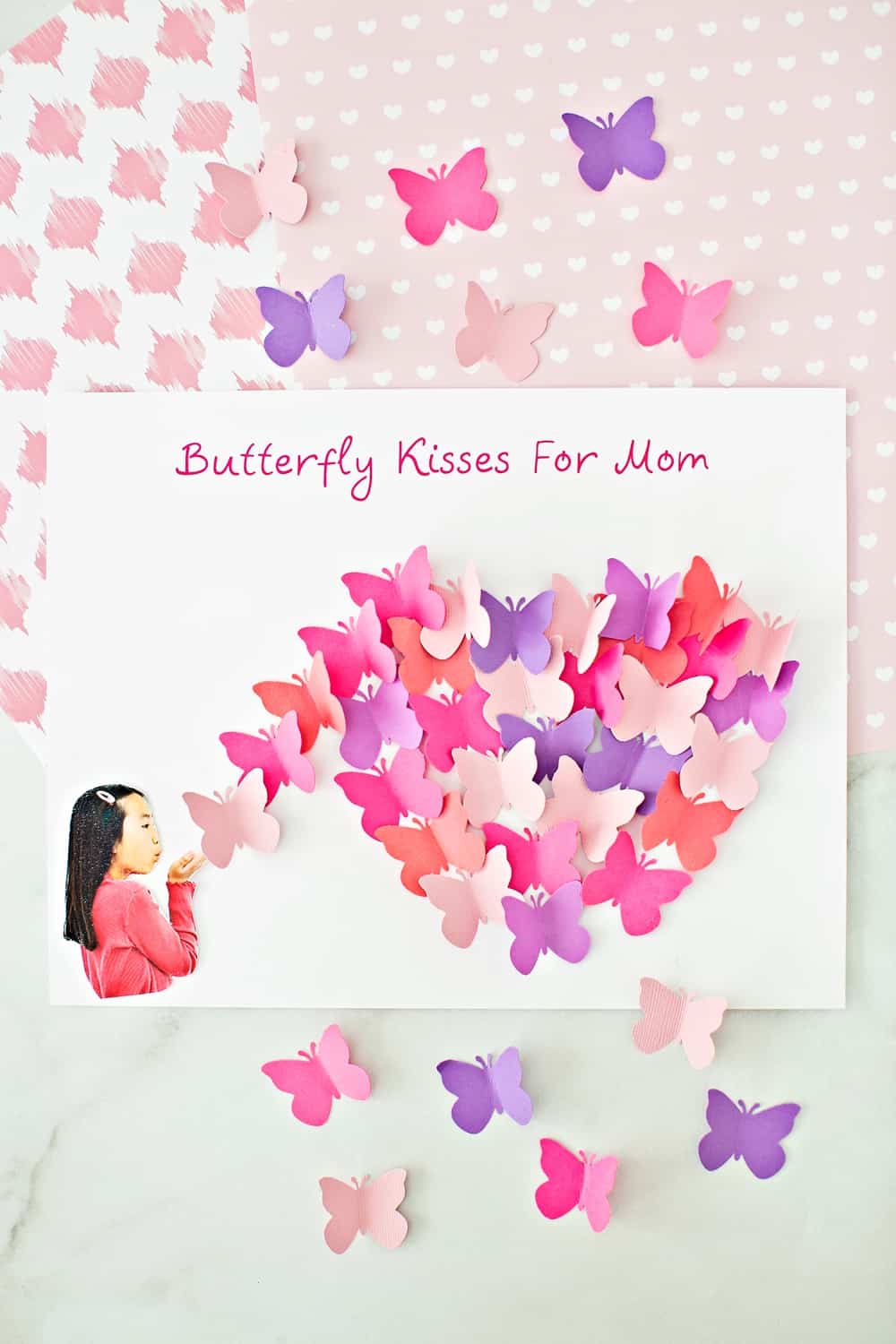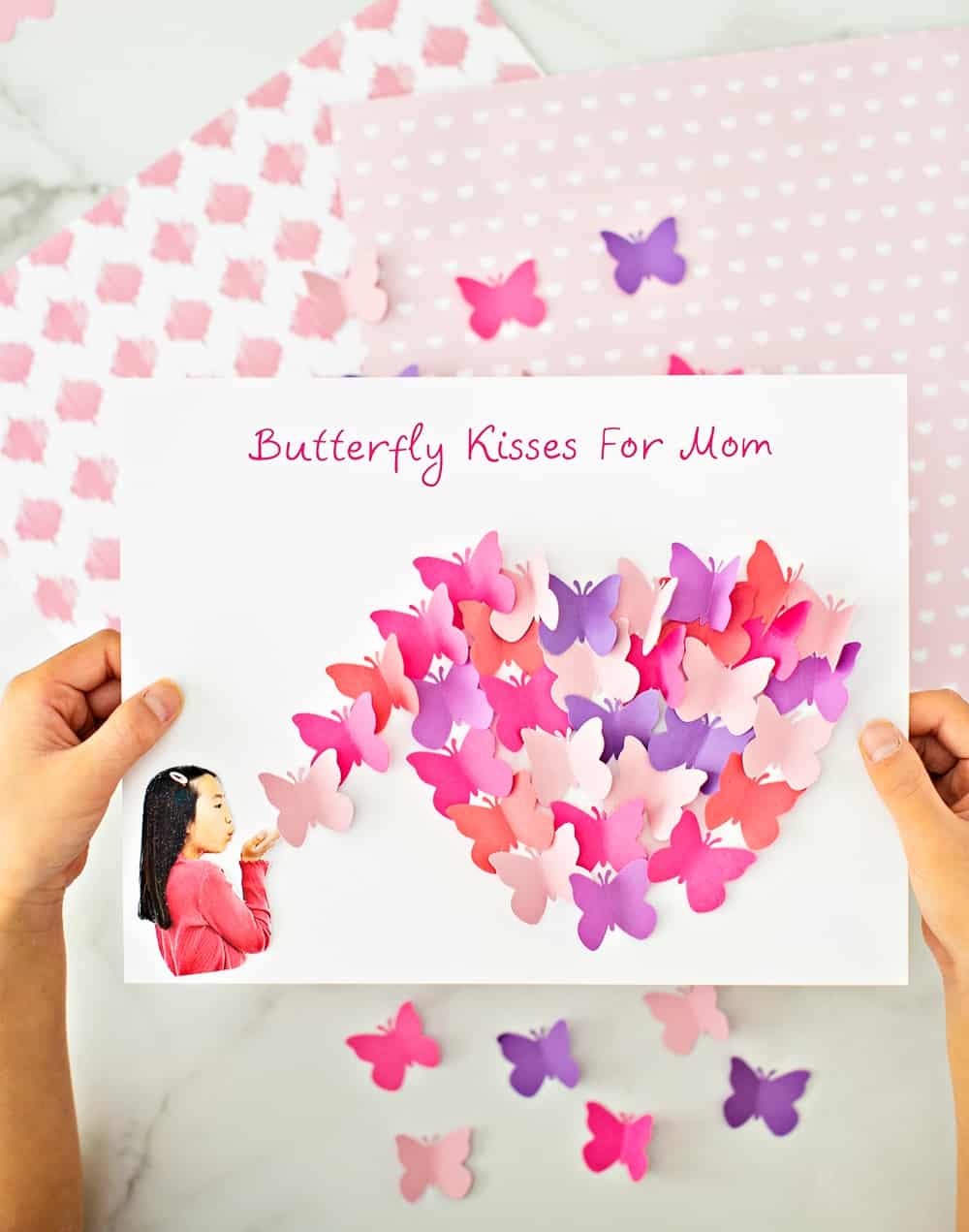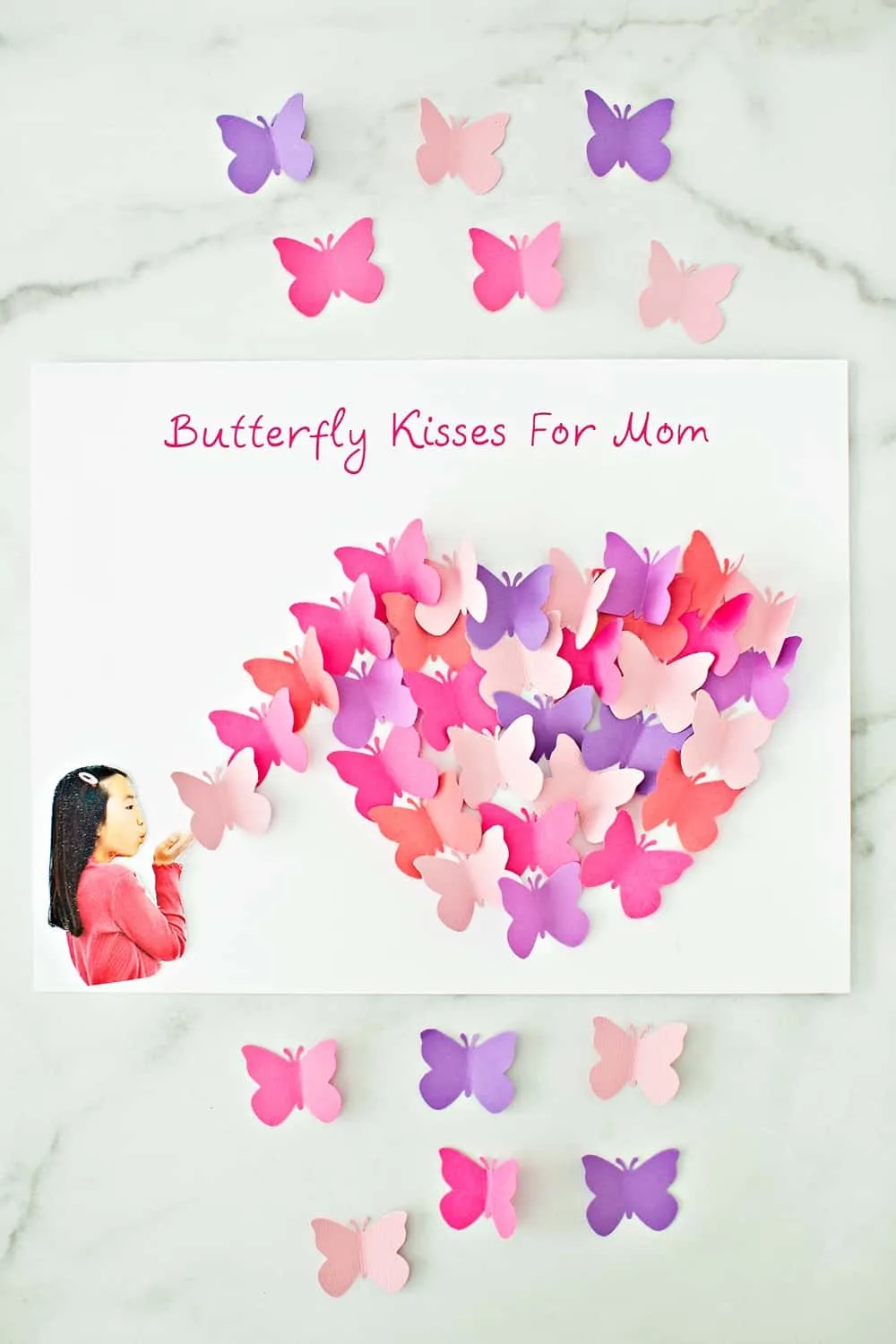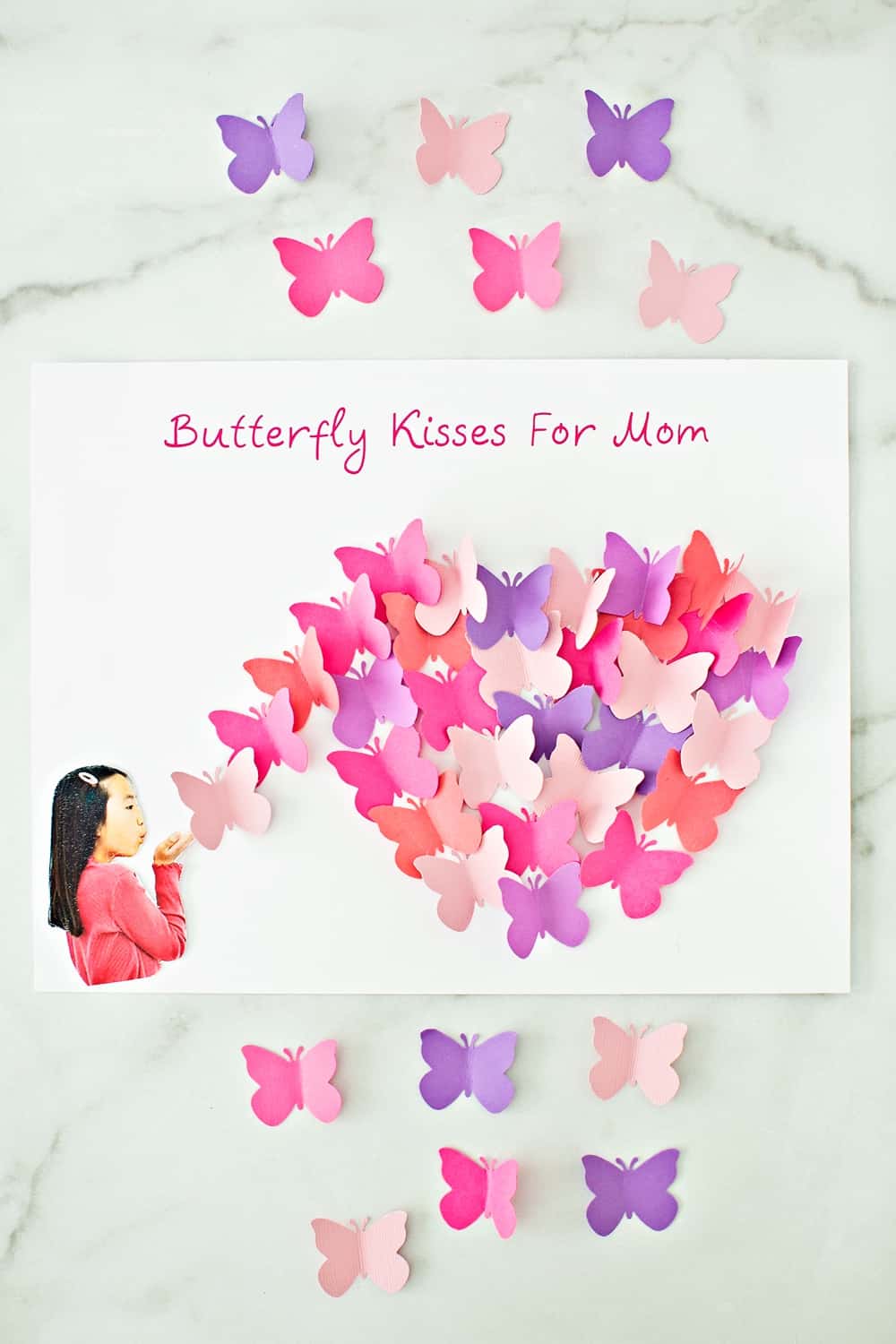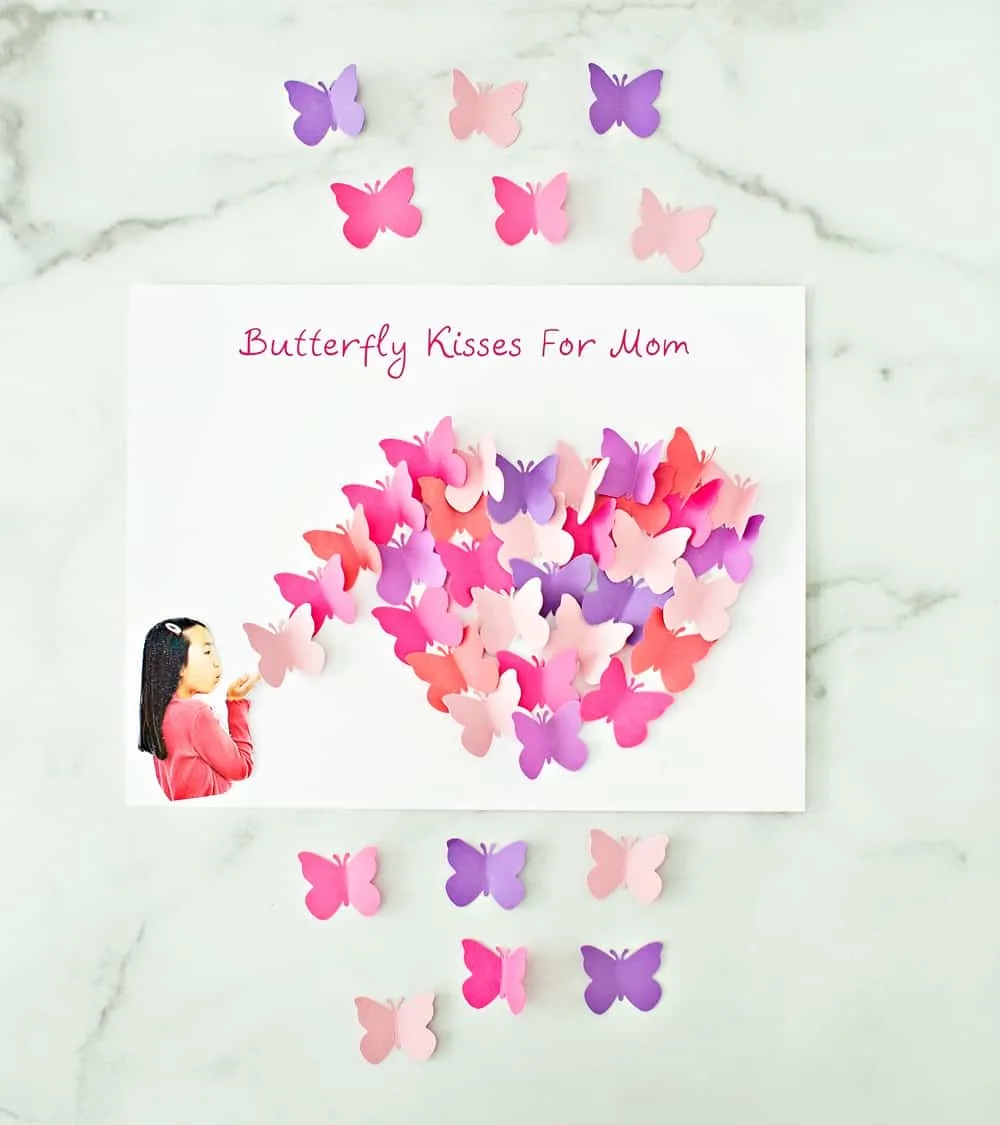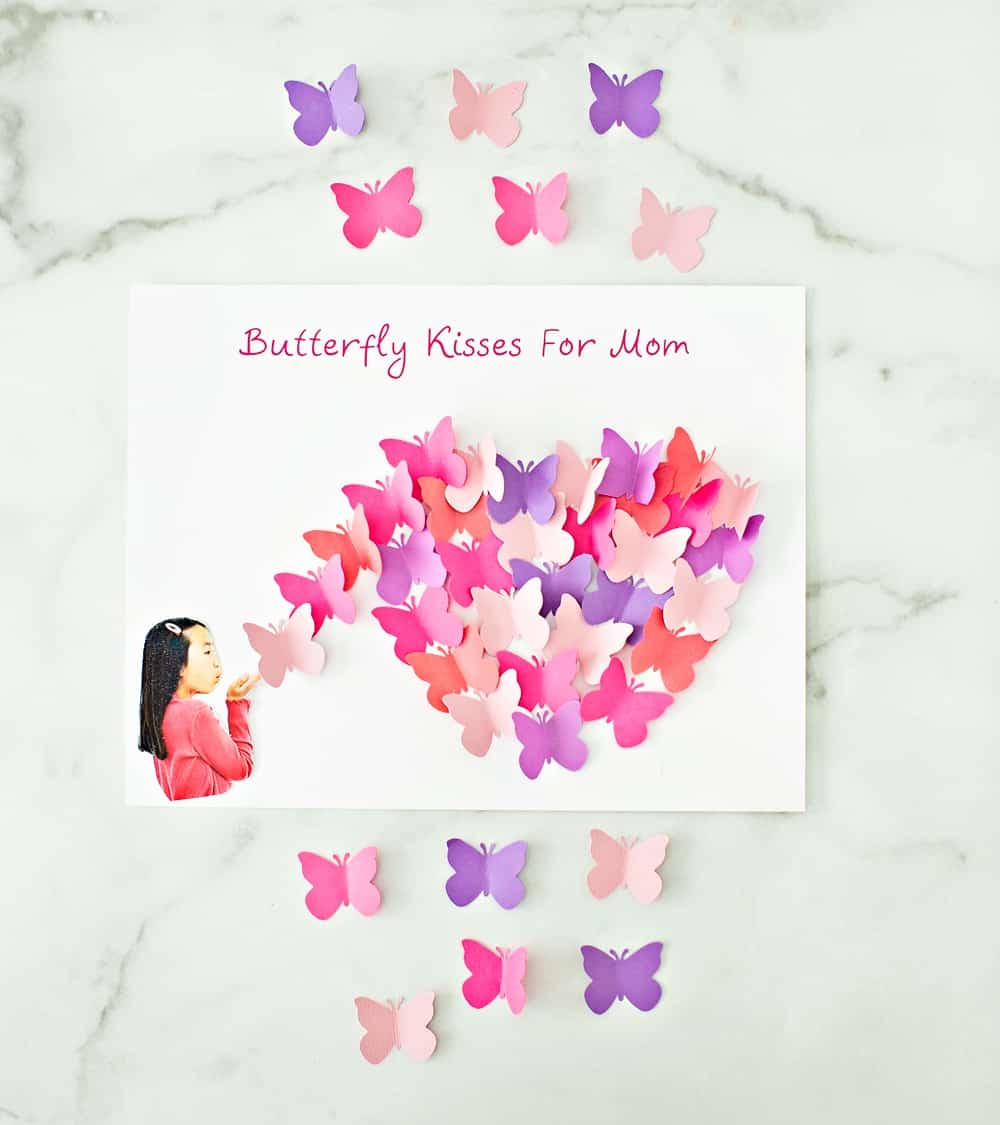 Get the FREE printable template to make your own Mother's Day Butterfly Card
To make this art easy, we have created four 8.5″ x 11″ standard copy size paper templates with 4 different sayings. Download below under Materials.
The four quotes are Butterfly Kisses for Mom, Happy Mother's Day, I Love Grow-WING with you. Happy Mother's Day!, and Mama You Make Me Soar.
Of course you can make up your own quote and don't need to use our printable. We just like to make it as easy as possible when we can 🙂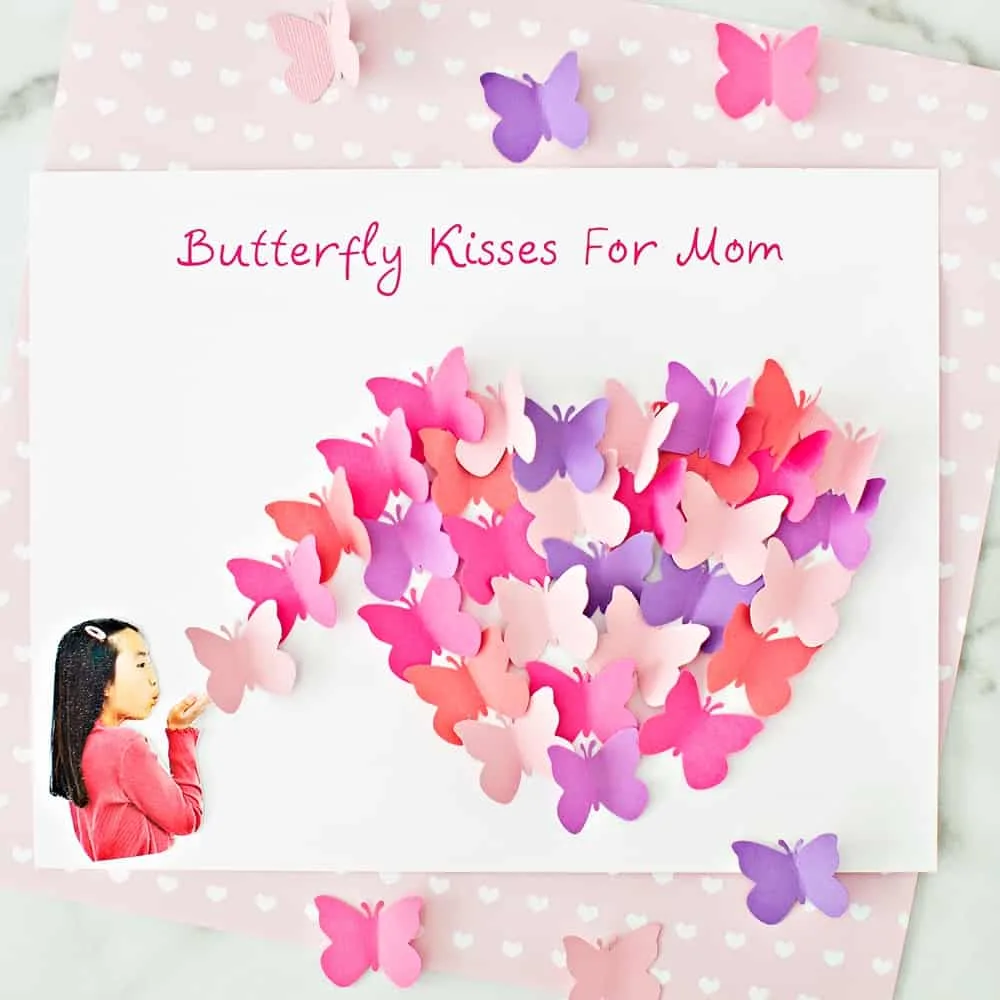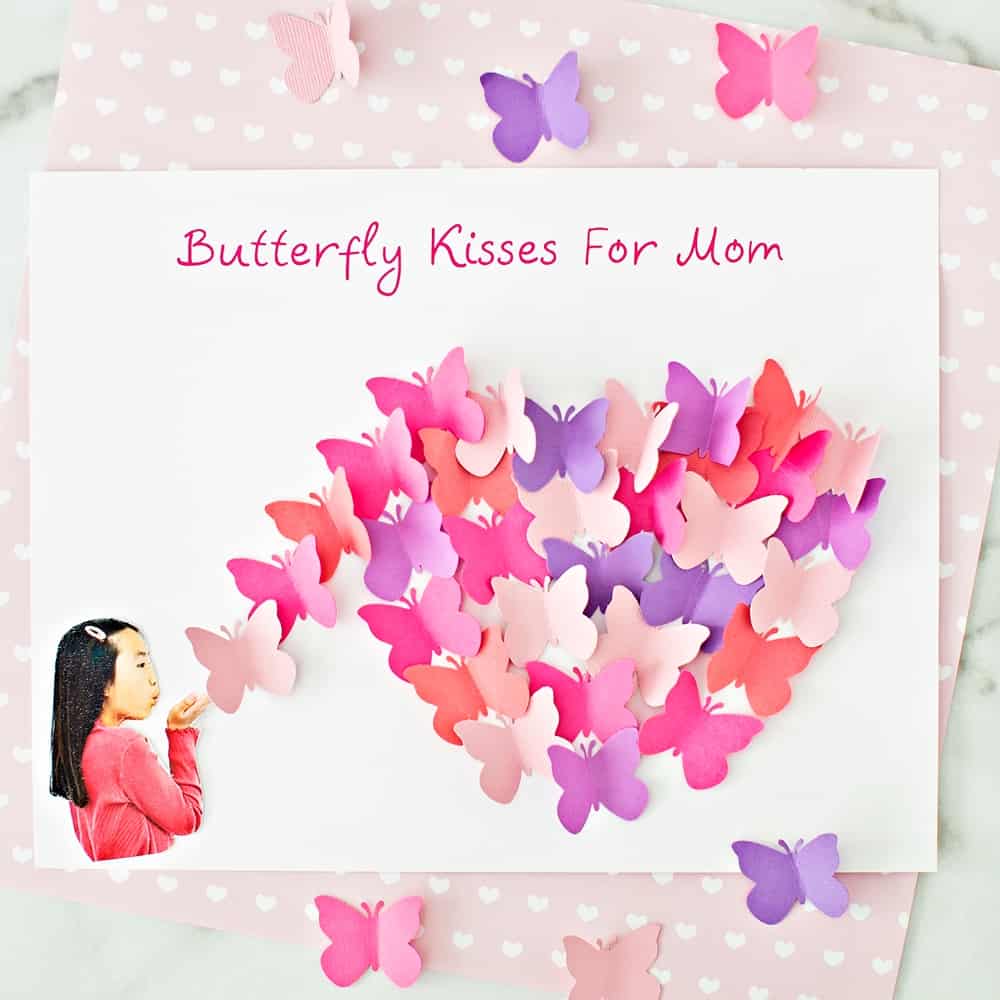 Do I need a butterfly punch to make this this butterfly card?
You can always look up a template of a tiny butterfly or make one of your own, if you're into tracing and cutting out many different butterflies! It's entirely up to you.
We just love our butterfly punch it makes it so easy and uniform to punch out many at once! It's a great tool for fine motor skills too.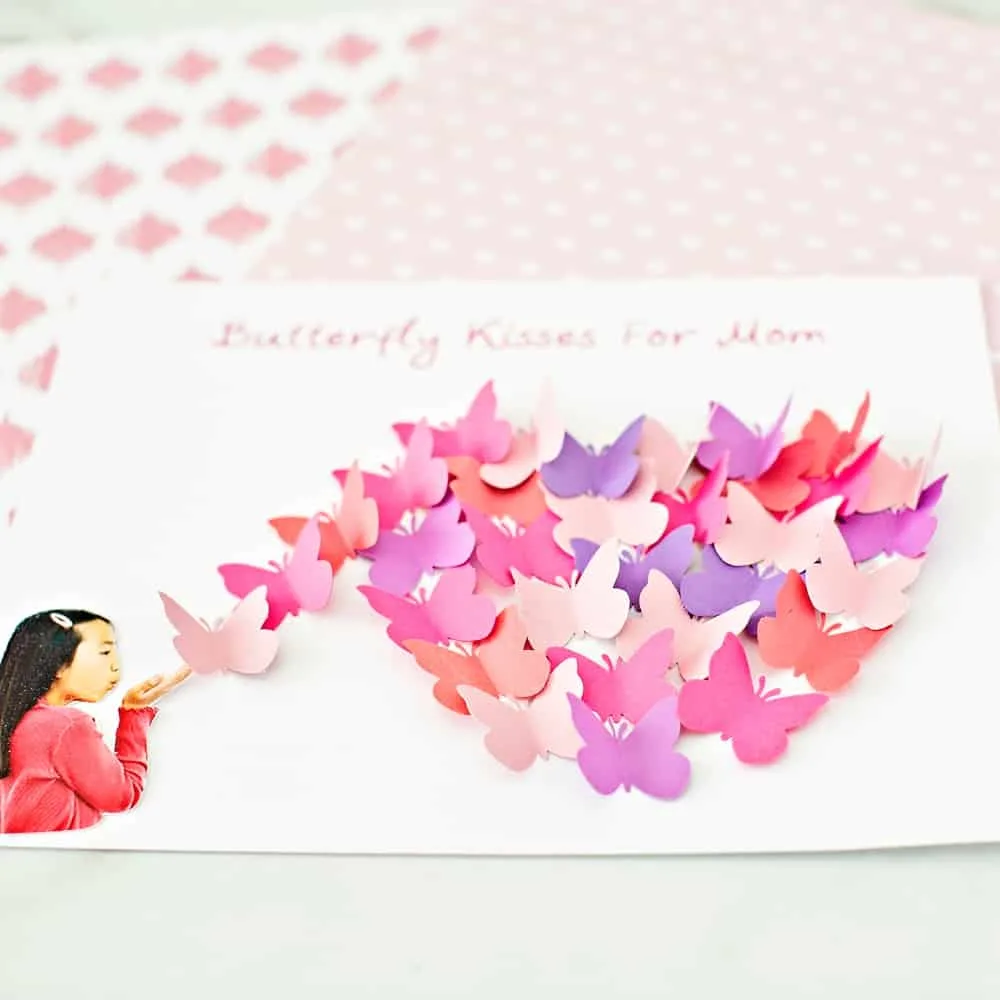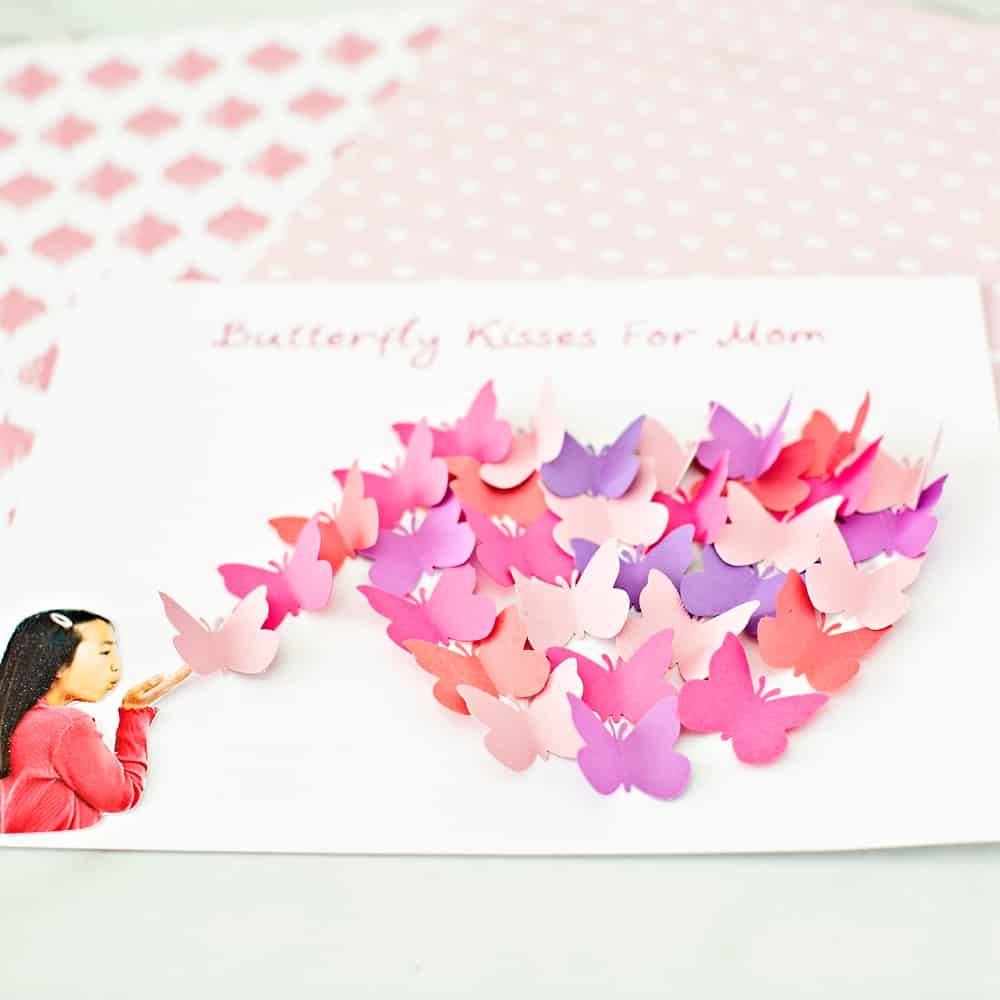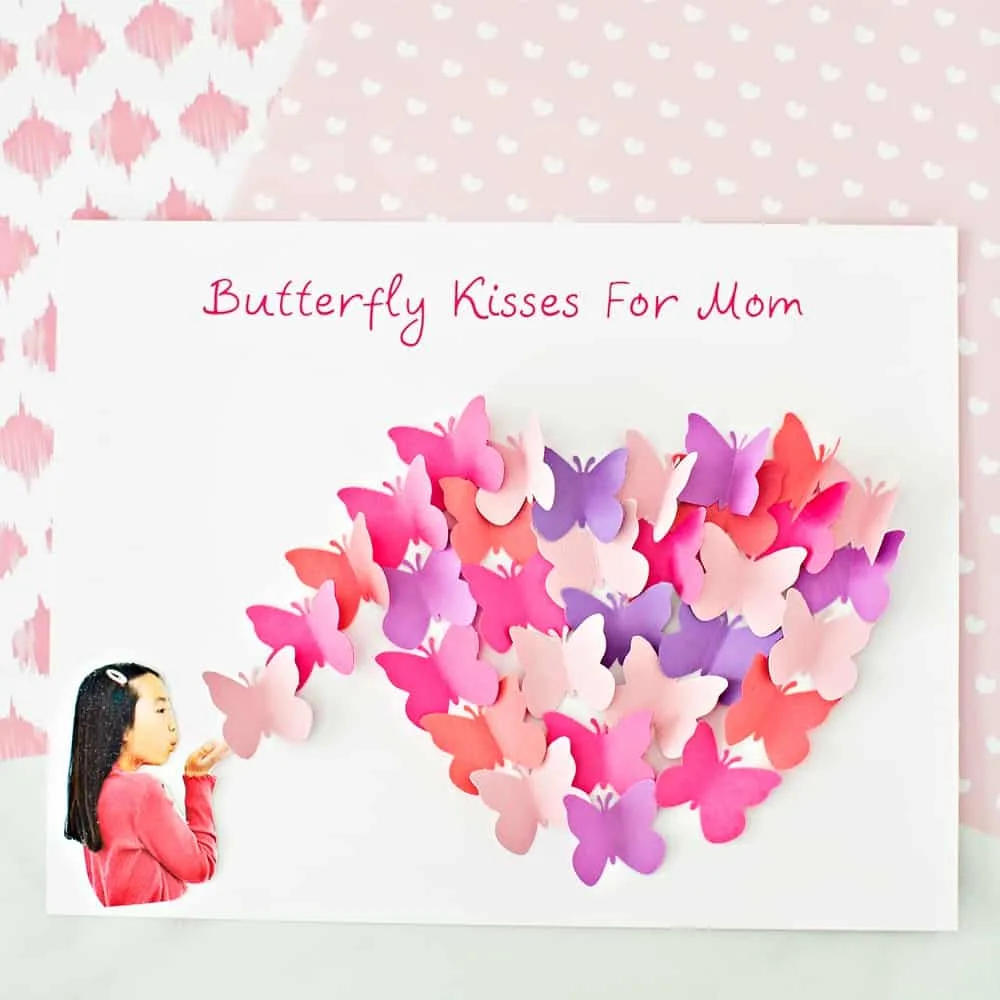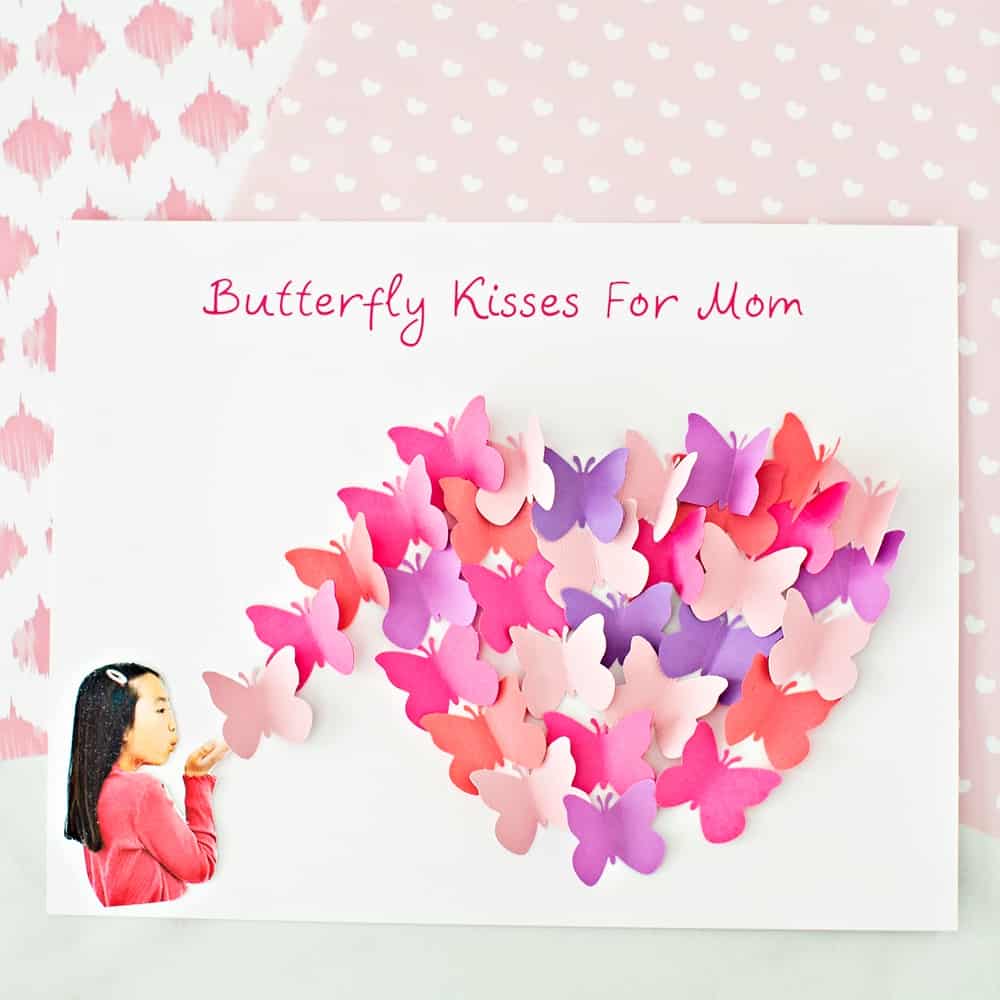 Mother's Day Butterfly Art – Materials
Craft or hot glue gun

Printout of your child pretending to blow kisses (we sized ours around 3″ and cut around)
Watch the video in this post to see how to make this pretty butterfly art.
INSTRUCTIONS
Step 1. Print out our template
Step 2. Size your child's photo and cut around so it will fit nicely on the bottom left of photo. Ours was around 3″ Glue that down.
Step 3. Use your butterfly punch to cut out many colored butterflies
Step 4. It helps to arrange your butterflies first and THEN glue down one by one.
Step 5. Give to mom as a card or hang up inside a shadow box for art!
You might also like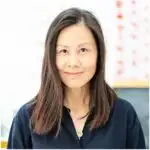 Agnes Hsu is a mom of three and has been inspiring parents and kids to get creative with easy activities and family friendly recipes for over 10 years. She shares her love for creative play and kids food to her 2MM+ followers online. Agnes' commitment to playful learning and kindness has not only raised funds for charity but also earned features in prestigious nationwide publications.