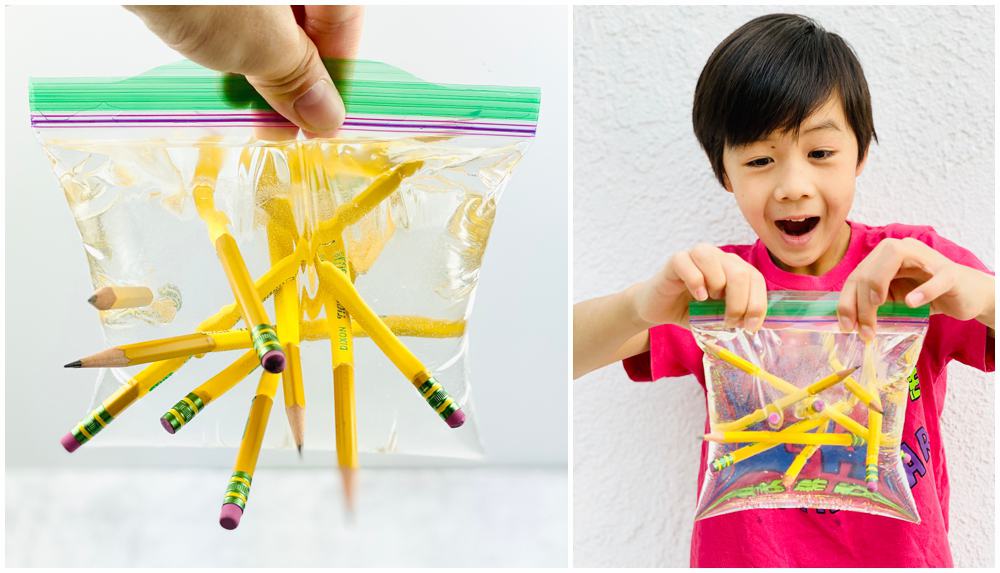 By using this site, you agree to our Terms of Use. This post may contain affiliate links. Read our disclosure policy.
Follow us on Instagram for more fun ideas for kids!
Watch the video below to see this amazing Pencil in Water Bag Experiment. Make sure to subscribe to our YouTube channel for more fun videos!
This amazing Pencil in Water Bag Experiment is a cool science project for kids that creates an instant wow factor.
Have you heard of this classic Pencil in a Bag Experiment? What we love about it is that it's seriously so easy to set up and always gets a wow reaction from the kids!
My son loves mesmerizing science experiments like Elephant Toothpaste or Magic Milk Experiment so he was eager to try this one out.
He gave it two kid-approved thumbs up for a mesmerizing and fun science project.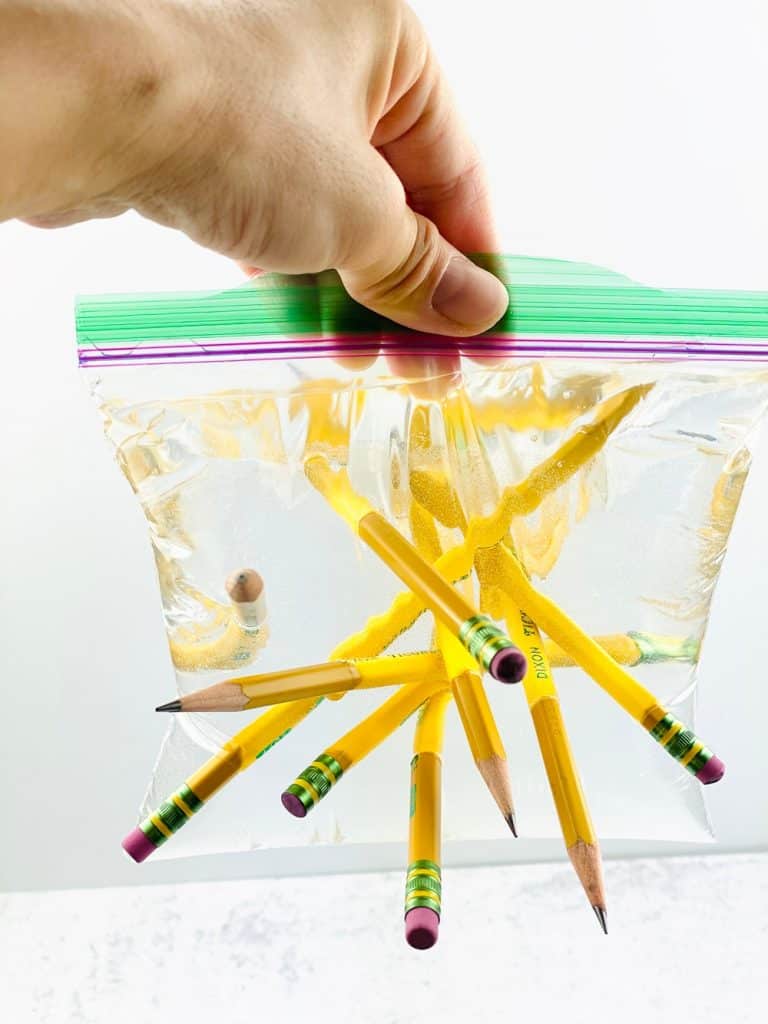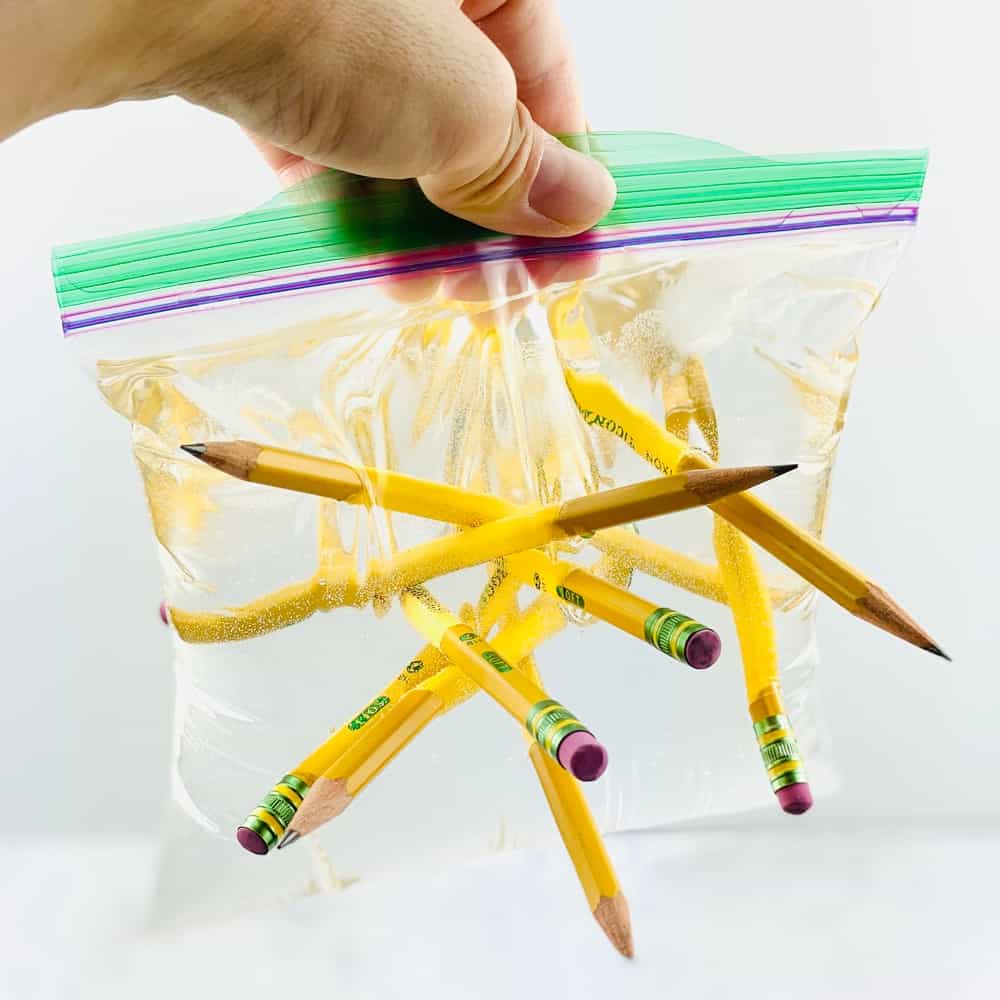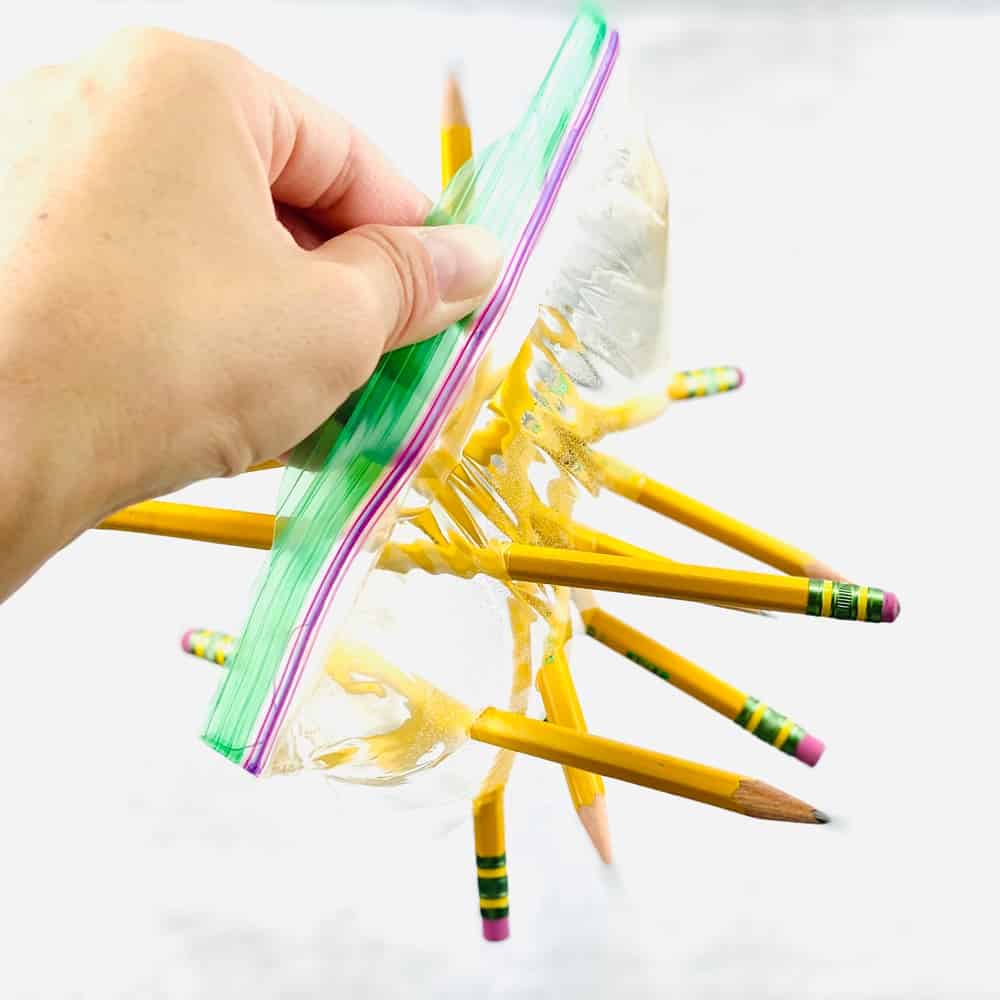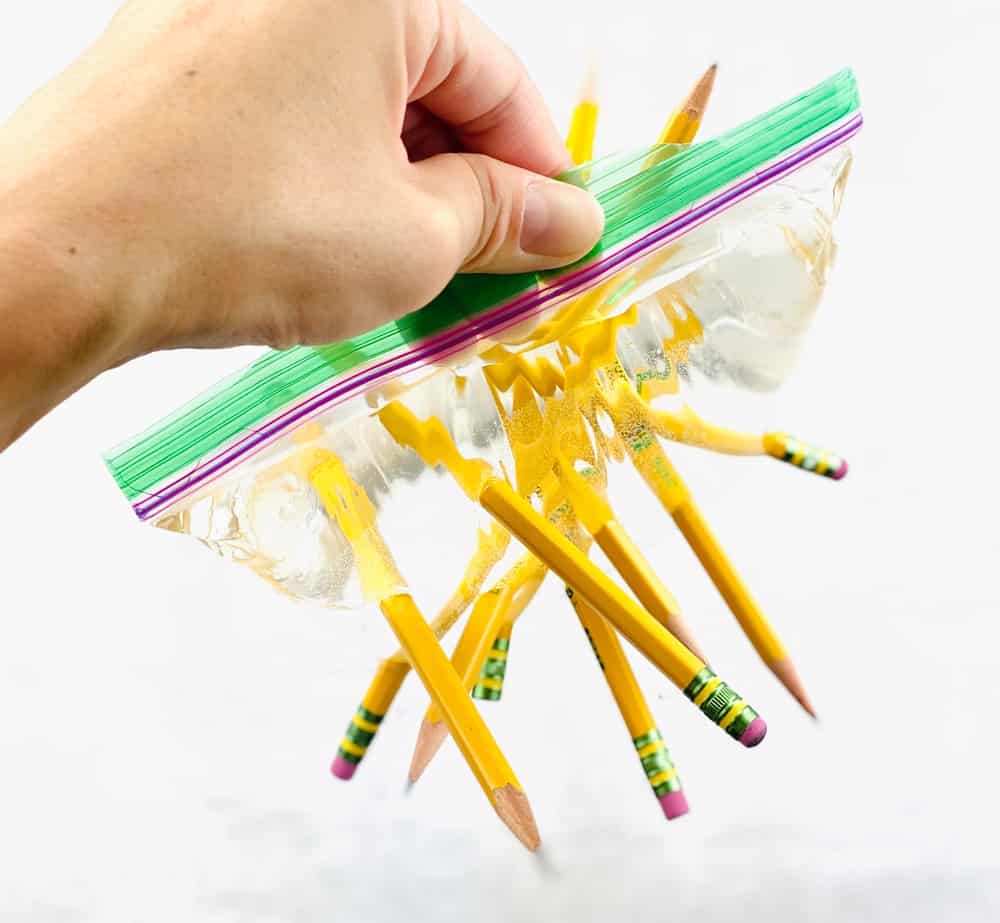 What you need to set up this Pencil in Water Experiment in minutes.
You probably have all you need to set up this fascinating pencil experiment. All you need are pencils (make sure the tips are nicely sharpened), water, and a plastic zipper sandwich bag.
It's also helpful to have a large bowl handy, just in case you don't get this right the first time and there are leaks. Or simply do this outside or in the backyard.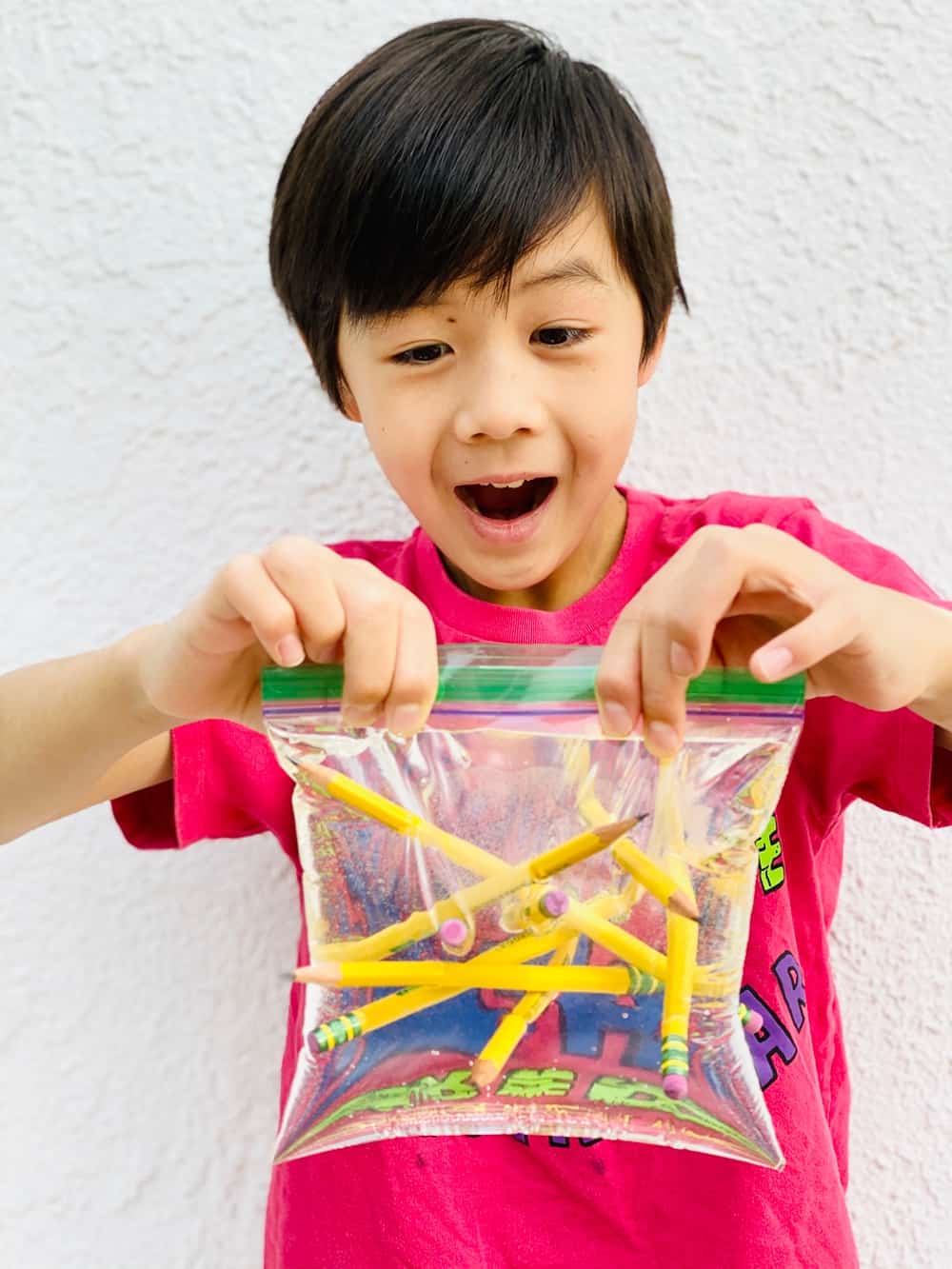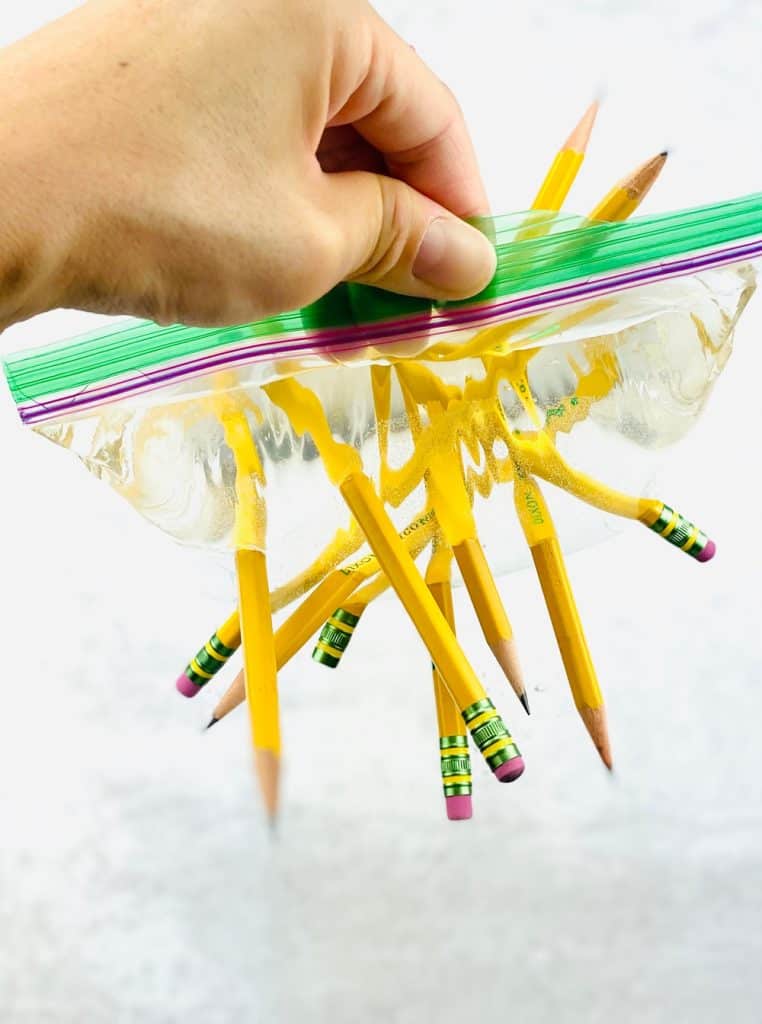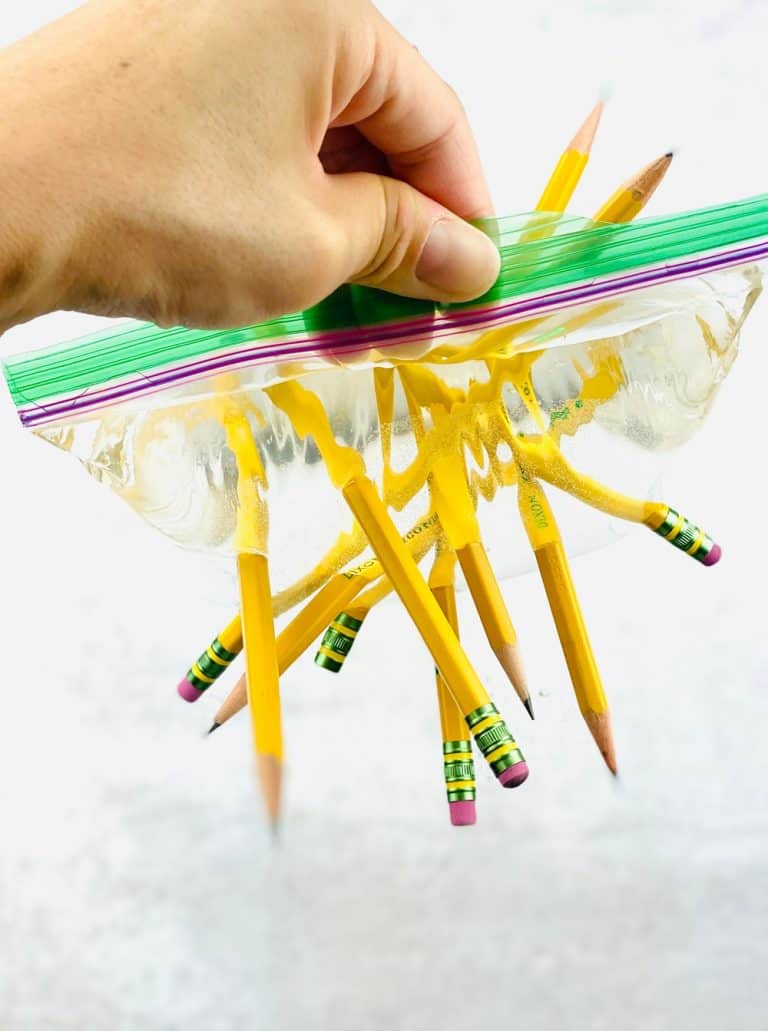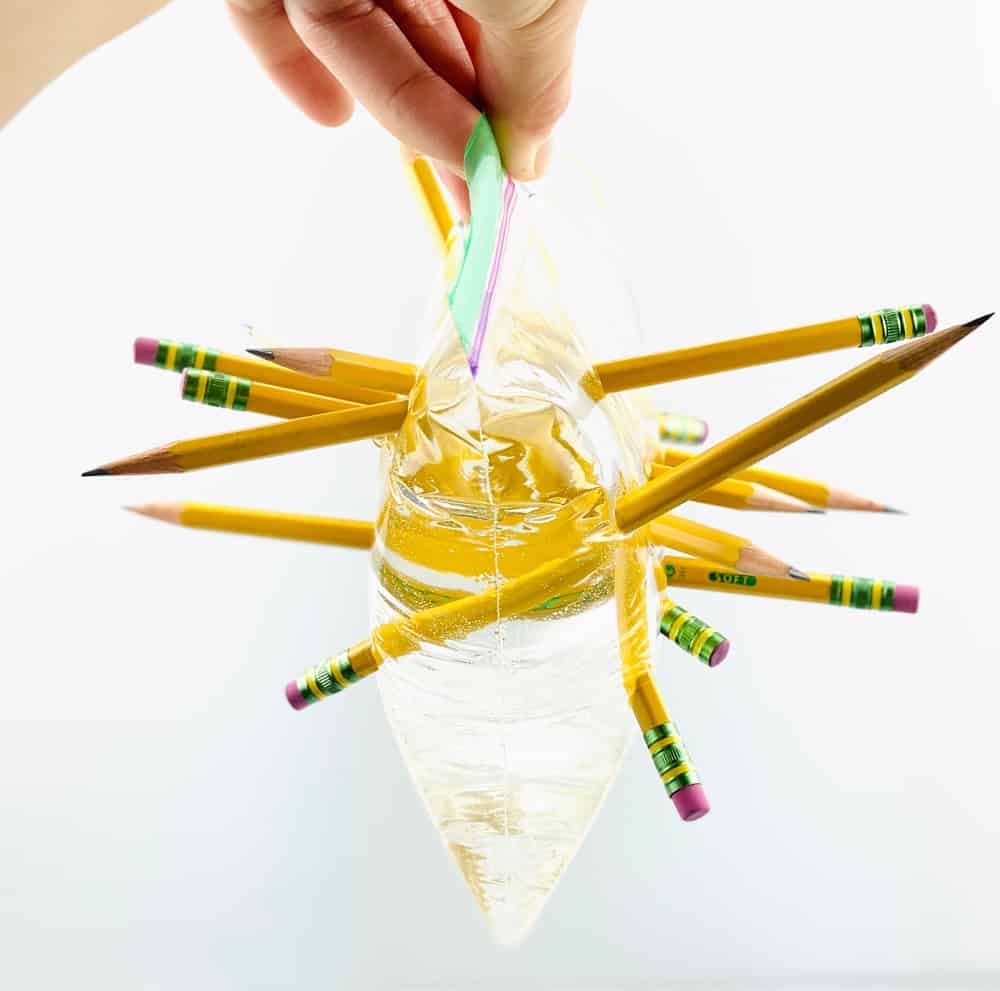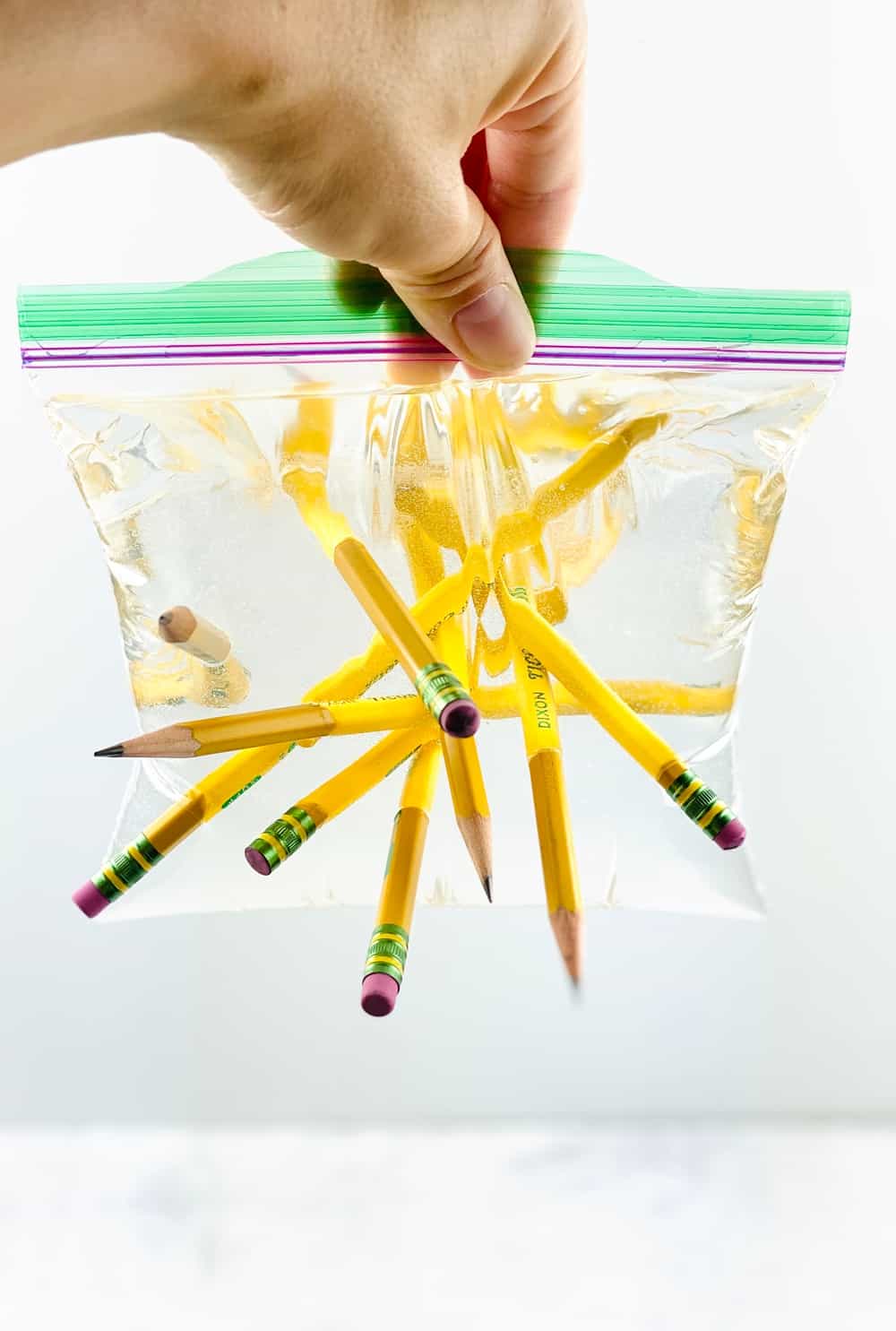 Materials – Pencil Water Experiment
Sharpened Pencils

Zipper sandwich bag

Water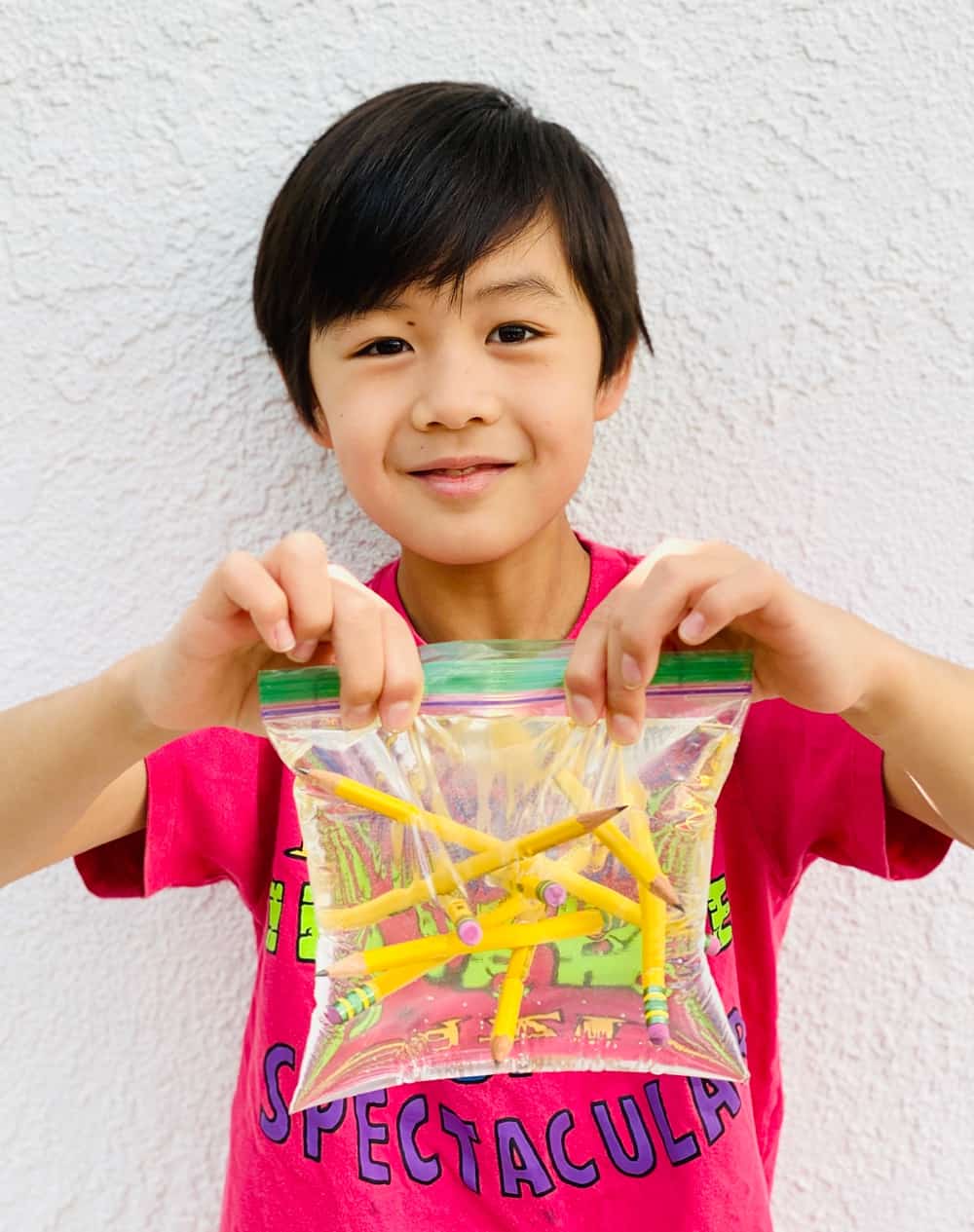 INSTRUCTIONS:
Step 1. Fill up your sandwich bag with water and seal (over the sink is recommended) Make sure it's to the top but not so overfilled that you can't close the seal up tightly.
Step 3. Take a sharp pencil and punch it through one side of the bag and to the other, but make sure it's not all the way through or water will spill from one end.
Step 4. Repeat with more pencils on various areas of the bag. Take our advice and just watch the video on the post to see how, it's seriously cool!
What's the science behind the Pencil in a Bag Experiment?
According to kid science expert Steve Spangler, the reason the bag doesn't leak is because the bag's long chain polymers wrap around the pencil creating a seal. Pretty neat fact!
Hope you try this fun science experiment for kids with yours!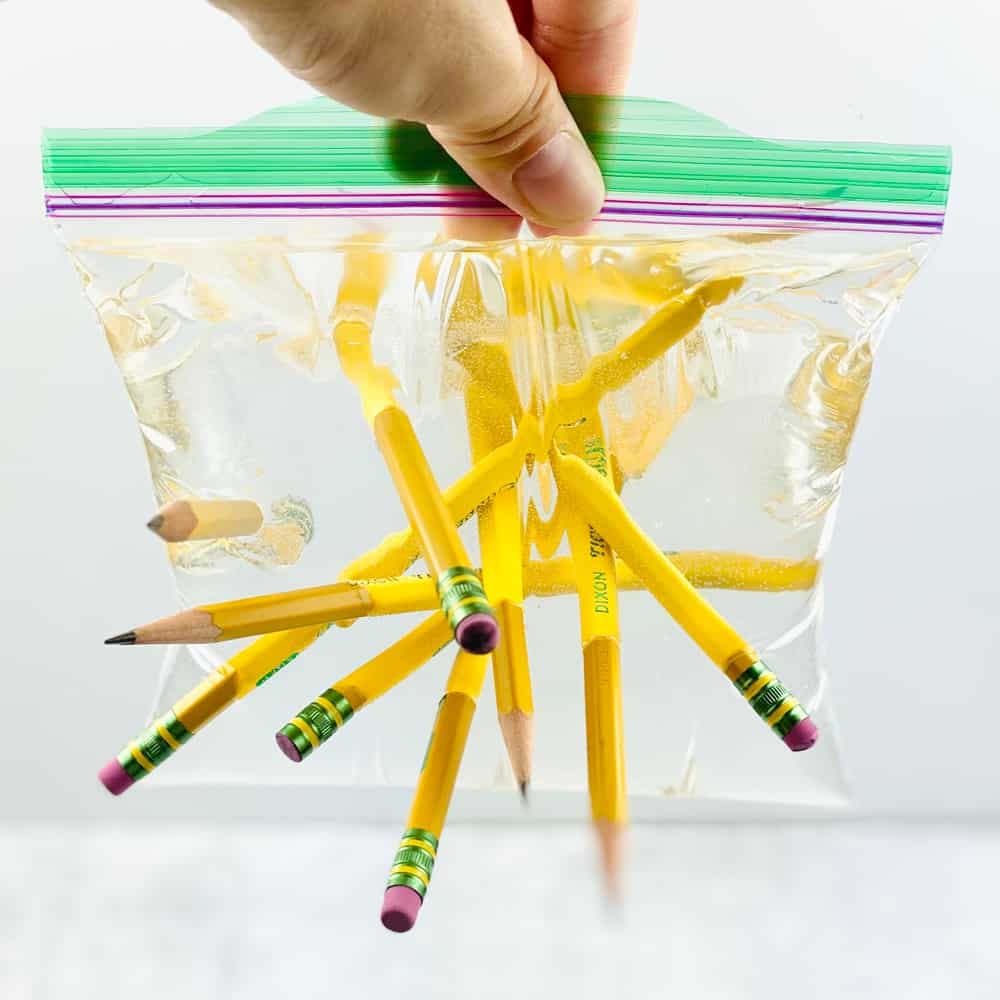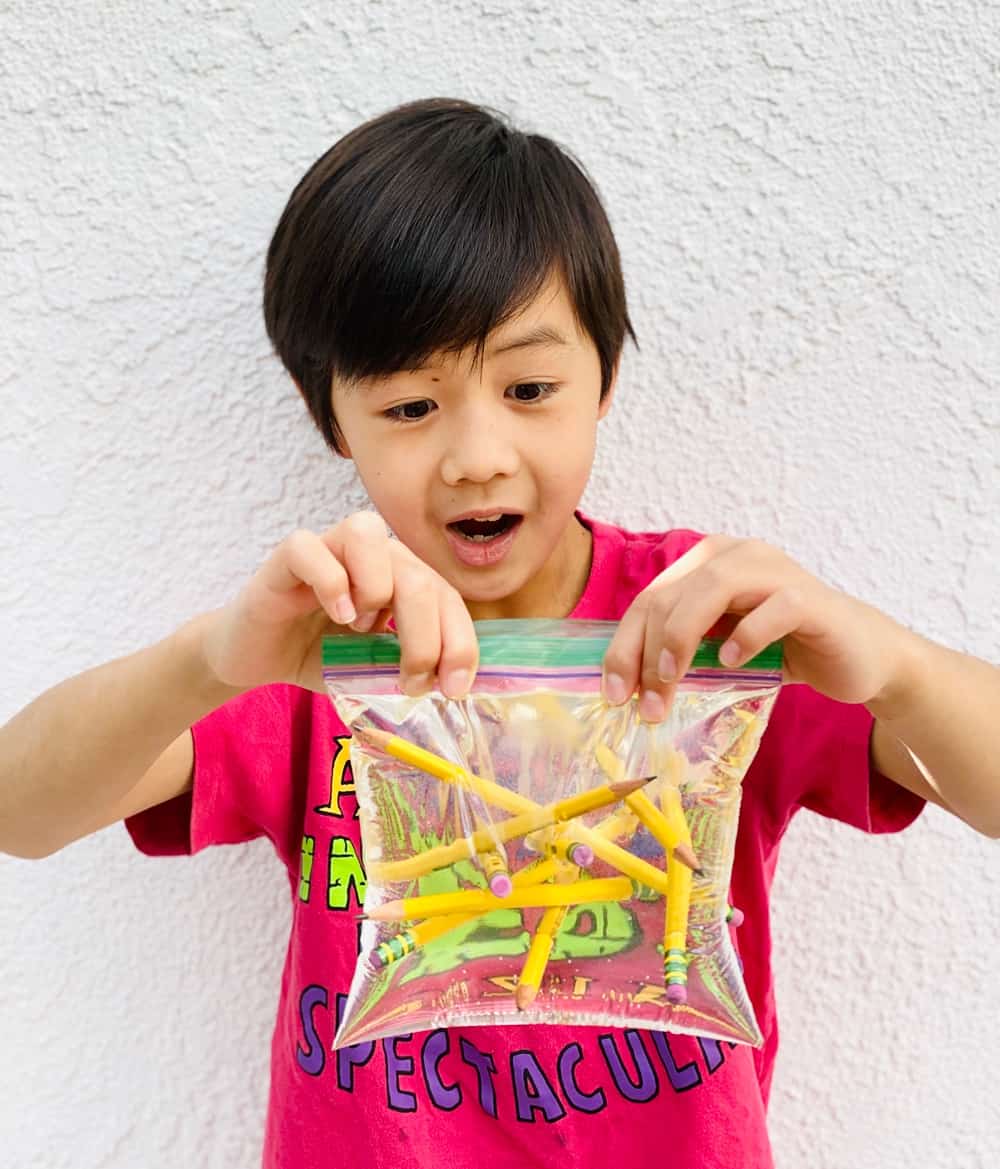 You Might Also Like: