Originally posted: Aug 3, 2015
Kids are fascinated by the vast ocean world before them, filled with colorful creatures that carry distinct characteristics like rainbow fish, dangly jellyfish, menacing sharks, and leggy octopus. Maybe your little one already has an Ocean Busy Board that they love.
So why not make these dashing ocean animals come alive with these fun and colorful underwater sea creatures arts and crafts?
They are easy for kids to make and can be used to explore learning about the ocean and the creatures that inhabit it.
What are your favorite ocean crafts for kids?
How to Make Sea Creatures
The options are endless for making sea creature crafts. From paper mache sea creatures to clay-molded cuties, you can dig up paper cuttings and paint and get started.
You can turn the crafts session into a fun activity for kids by teaching colors, letters, and sea animal names along the way.
Here are some basic materials you'll need to get started:
Colored Paper
Cardboard
Glue
Paint
Colored pens and pencils
String or twine
Fun additions such as glitter
Sea Creature Craft Ideas
You'll have a hard time deciding where to start with these amazing sea creature craft ideas. Begin by figuring out what materials you have on hand so your kids can get busy creating, playing, and loving their sea animal creations.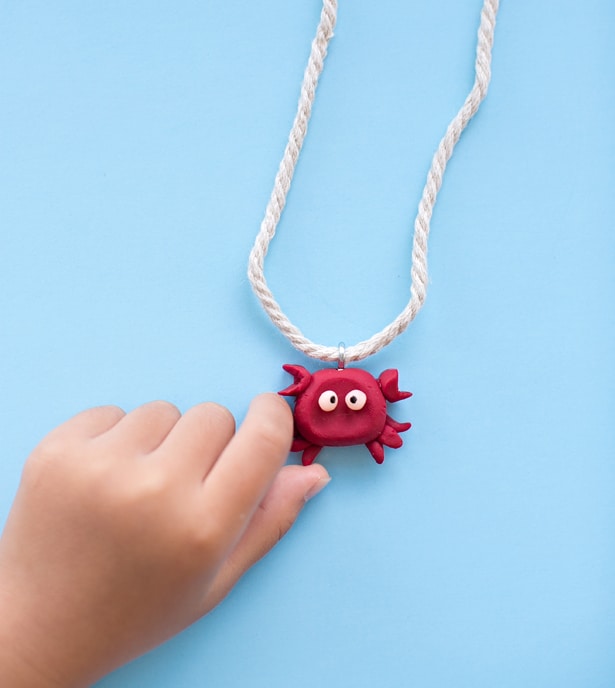 Clay Crab Necklace (via hello, Wonderful)
This is one of the sweetest under the sea clay ideas. With just a bit of oven-bake clay, you can mold a cute little crab and turn it into a pendant or charm to make a fun accessory for kids.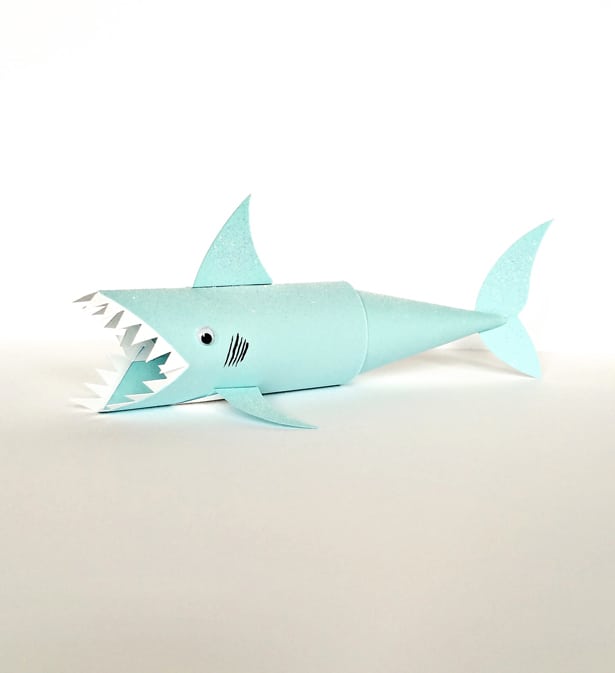 Shark Paper Tube Craft (via hello, Wonderful)
This cute paper tube shark won't bite and is totally tame to take along for some fun under the sea play. Add it to your collection of paper sea creatures!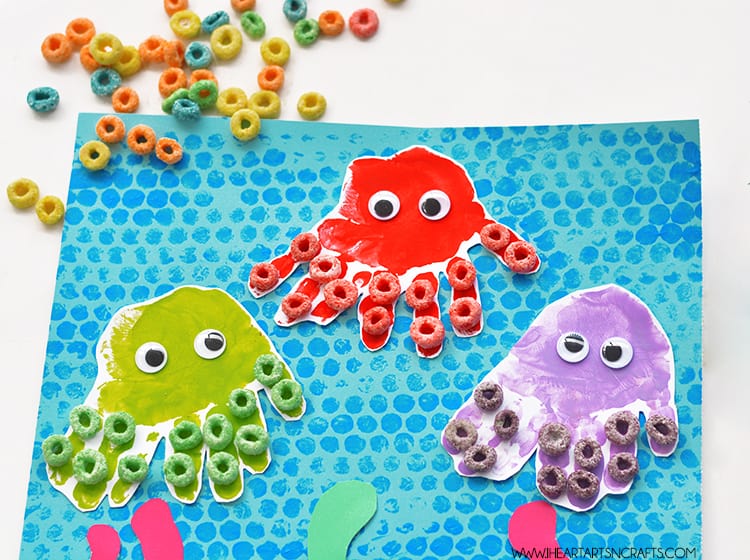 Handprint Octopus Color Matching Activity (via I Heart Arts n Crafts)
Not only are these the sweetest octopus you'll ever see, but they also include a fun matching activity – the perfect sea creatures activity for toddlers learning their colors.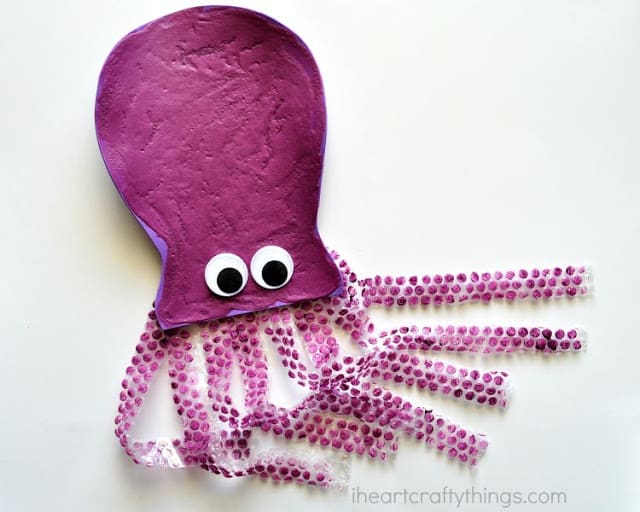 Puffy Paint Octopus (via I Heart Crafty Things)
Here's another adorable octopus craft you'll want to get the puffy paints out for. This sea creature craft idea involves unique textures and popping colors.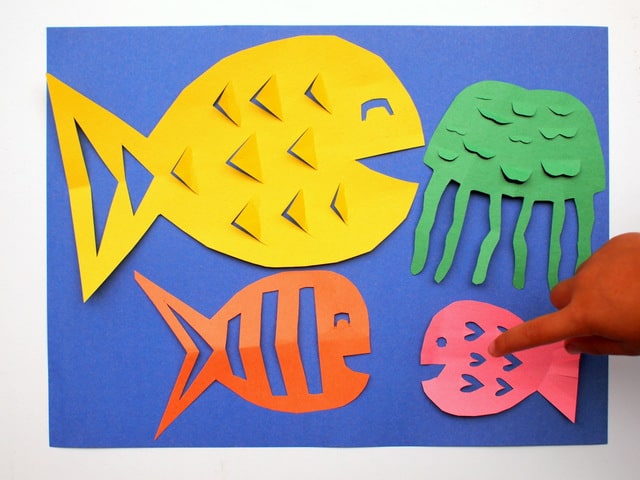 Paper Fish Kirigami Craft (via Pink Stripey Socks)
If your little one wants to learn how to make sea animals with paper, this is a great place to start! A simple and bright papercraft that makes colorful Kirigami fish!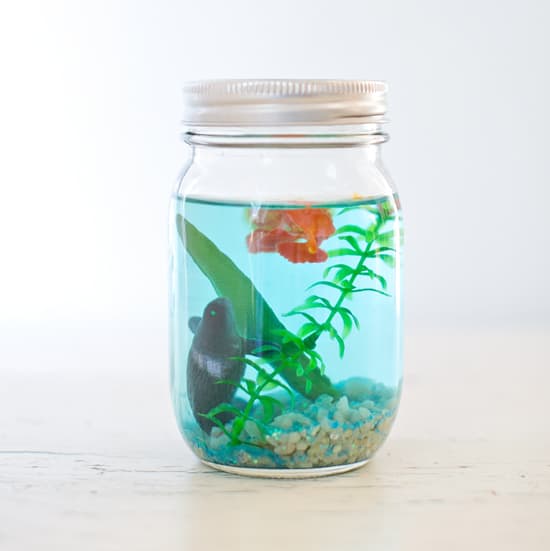 Mason Jar Fish Aquarium (via hello, Wonderful)
One of our most popular sea life crafts to date – kids will love making their own mini jar aquarium and the bonus is there's absolutely no maintenance required.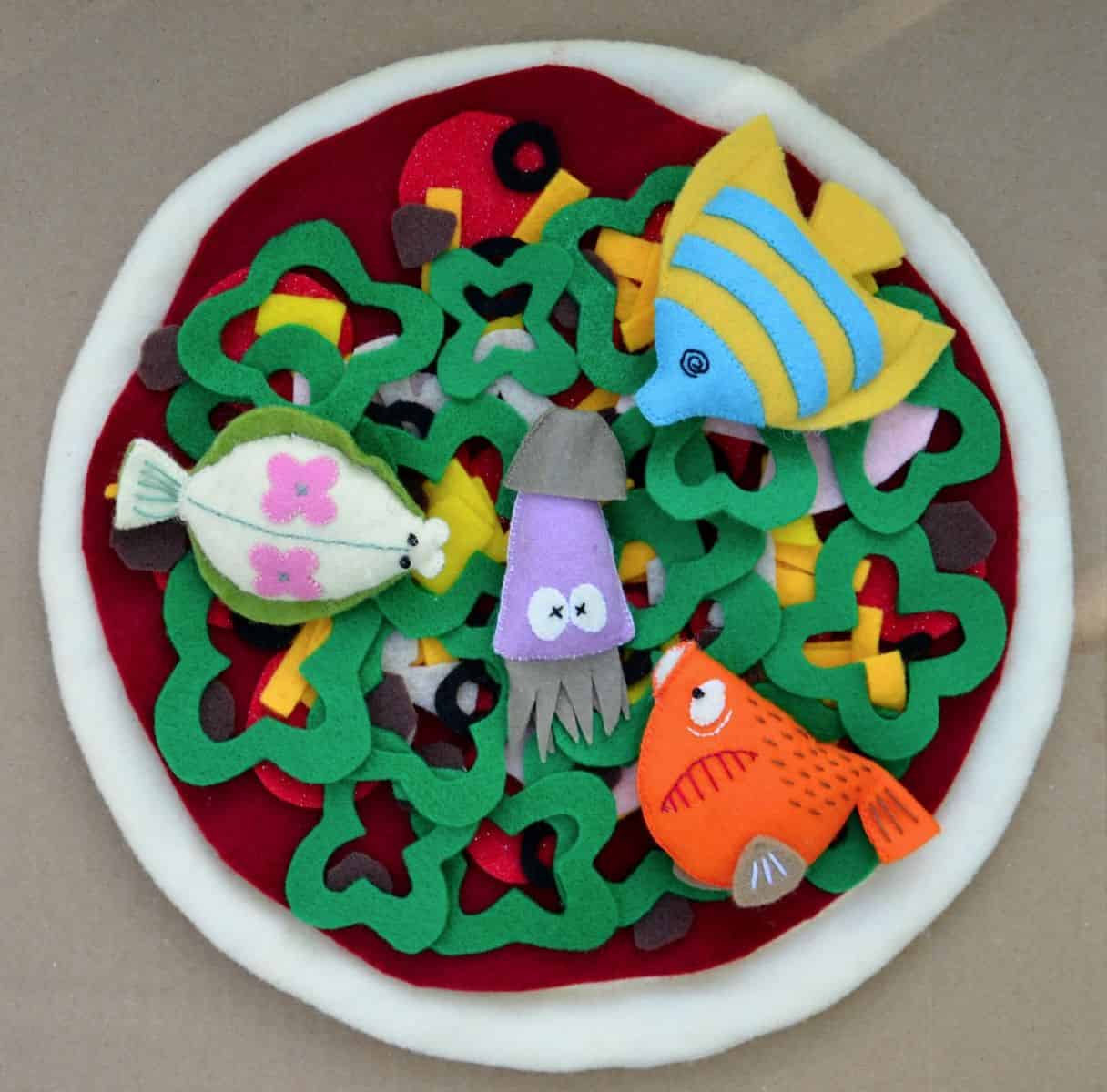 Felt Pizza Fish (via Ikat Bag)
Perhaps one of the most unique pizza flavors we've ever encountered – but there's no doubt that kids will get a big kick out of making these cute felt fish toppings.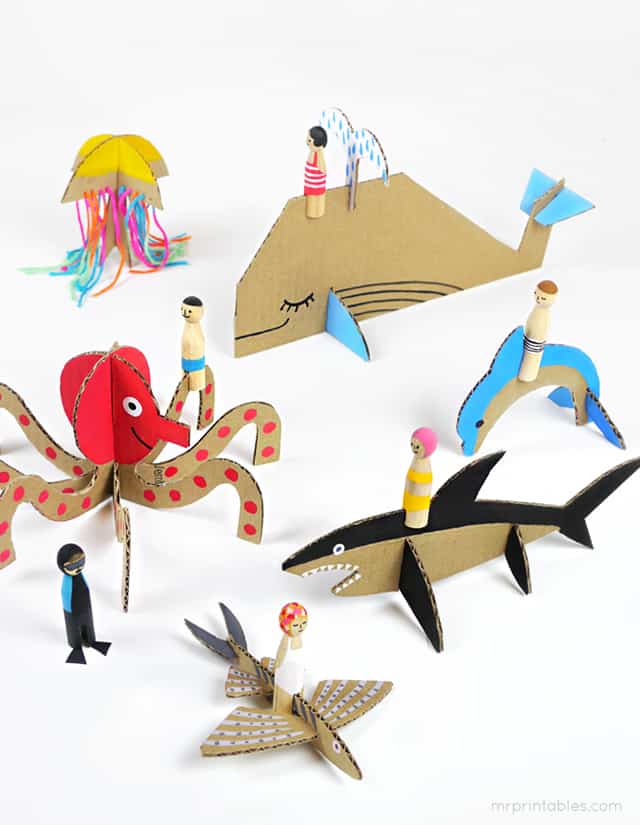 Cardboard Sea Creatures (via Mr. Printables)
Get the little ones excited to go on an under the sea adventure with these creative cardboard sea creatures. They easily slot together and require no gluing which makes them easy for kids to help make and come with a handy free printable.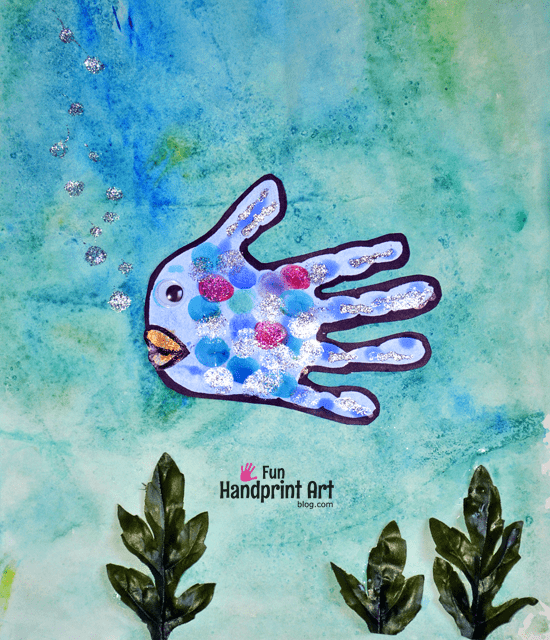 Handprint Rainbow Fish (via Fun Handprint Art)
What about sea creatures art for kids who love to paint?. Capture your child's sweet handprint and turn it into a colorful fish they'll love painting to make it stand out.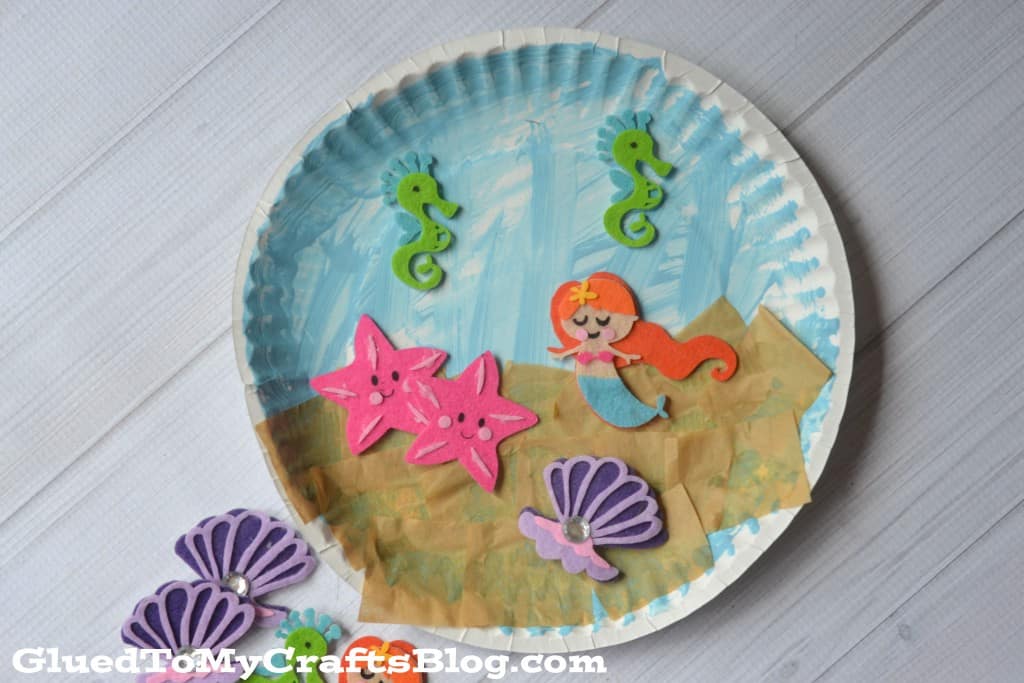 Under the Sea Crafts (via Glued to My Crafts)
We can't get over how adorable this simple paper plate under the sea scene is, decorated with your favorite ocean friends.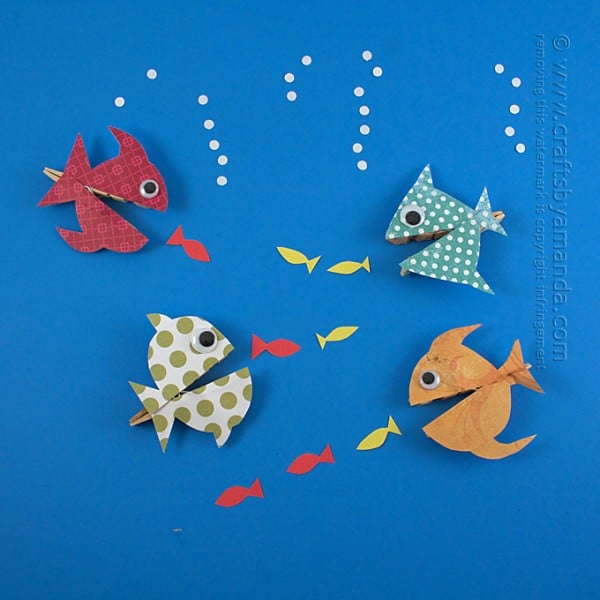 Clothespin Fish Craft (via Crafts by Amanda)
Turn plain clothespin into a lively school of colorful fish for some instant ocean play. It will be so much fun for kids to create their own underwater world.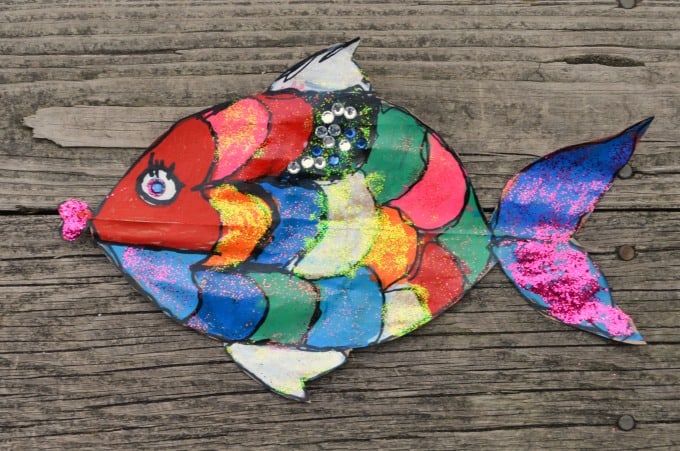 Rainbow Fish Art Project (via One Artsy Mama)
What kid doesn't like paint and glitter? Keep your little artist busy with this vibrant fish art project that results in a dazzling array of rainbow colors.
Clay Fish Craft (via Blitzy)
Kids will love molding these 3D sea creatures into fascinating and colorful fish. This is a particularly great sea creatures craft for preschoolers as you won't have to worry about too much mess.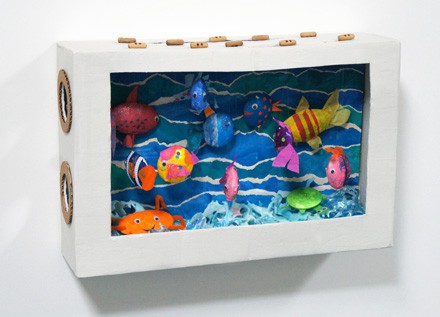 Cardboard Aquarium (via Mollymoo Crafts)
Get your recycled craft on with this fun cardboard aquarium filled with mesmerizing 3D ocean animals kids can get hands-on in making.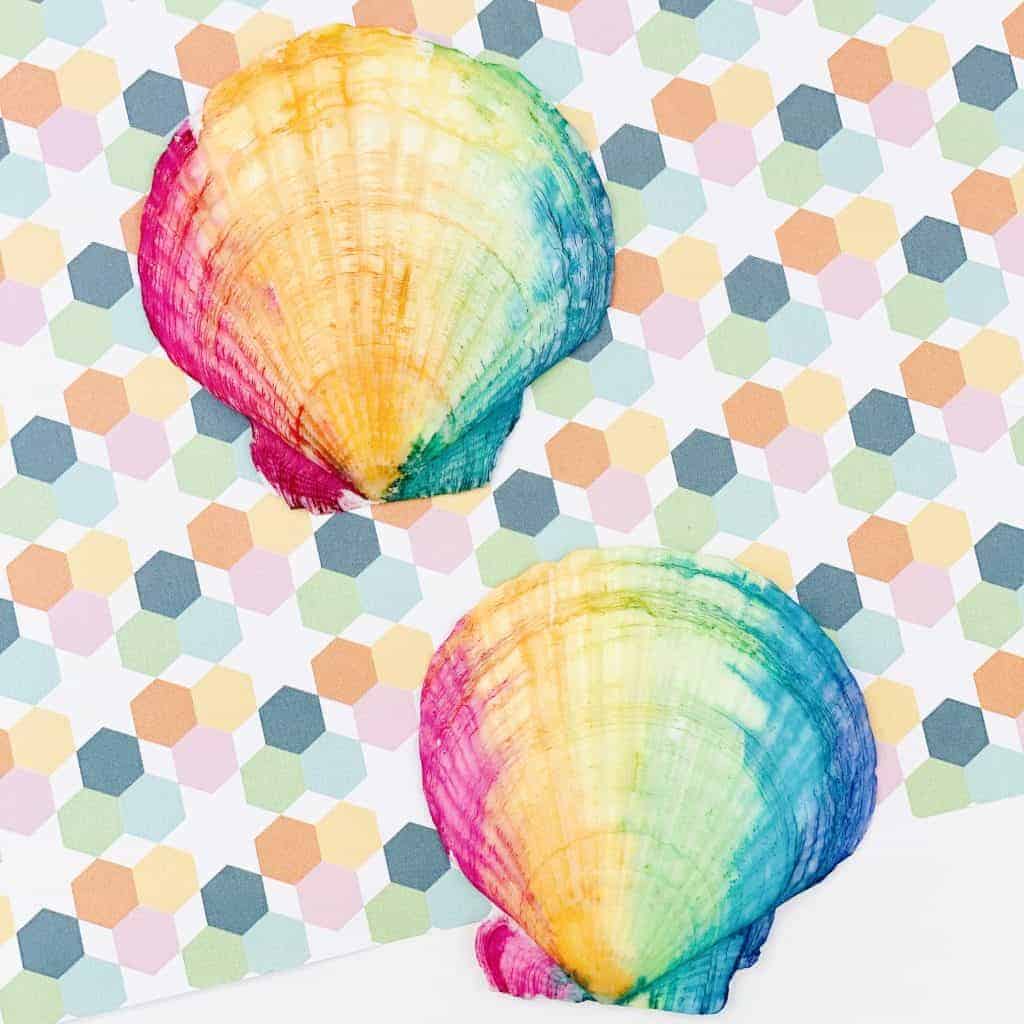 Rainbow Watercolor Painted Seashells (via hello, Wonderful)
You can't forget the addition of some beautiful, rainbow watercolor-painted seashells to the underwater world. If you love combing the beach for shells, your kids can get creative with some of their favorite finds.
For more ocean ideas, check out these pretty seashell crafts and more creative kids' projects here.