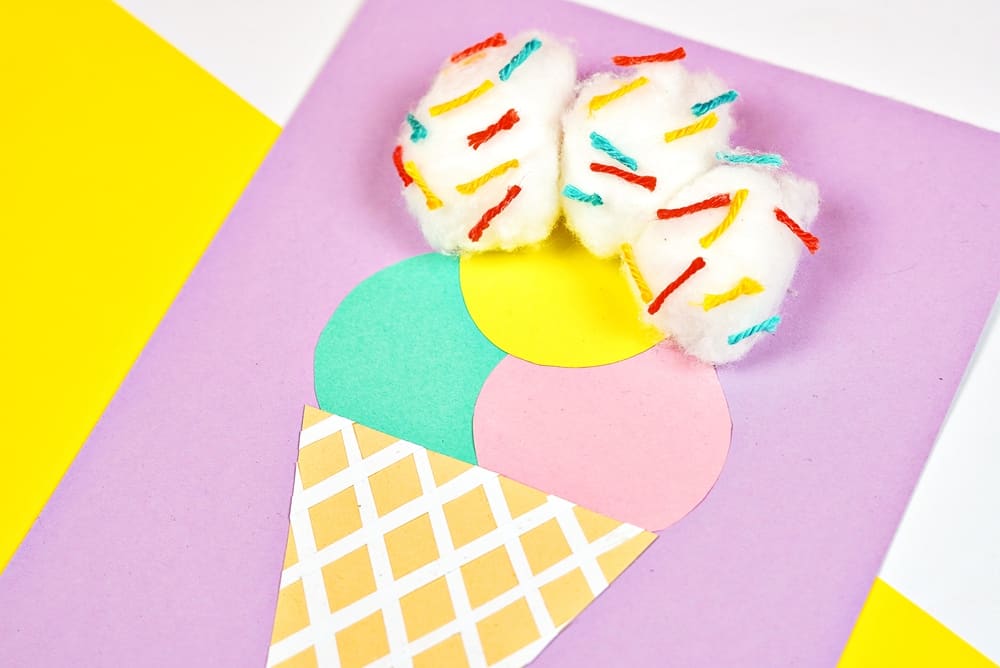 Follow us on Instagram for more fun ideas for kids!
Watch the video below to see how easy and fun it is to make this Cotton Ball Ice Cream Craft. Make sure to subscribe to our YouTube channel for more fun videos!
This Cotton Ball Ice Cream Craft is a fun summer art project for kids and lets them practice their fine motor skills with lots of paper scissor cutting!
Now that the summer months are here, we all have one thing on our minds and that is ice cream! No matter what the question, ice cream is always the answer, even when it comes to what we craft. Cute this adorable Cotton Ball Ice Cream Craft to stimulate creative minds and imagination in a a fun way. The sweet reward could be a real bowl of ice cream after!
The great part about this fun ice cream activity is that there is plenty of fine motor and sensory skills involved.
Older kids will have fun practicing their paper scissor cutting skills Younger kids will love adding soft yarn to the fluffy cotton balls for some sensory play.
While there are a few steps, they're easy to follow and kids will love being able to make their "pretend" ice cream cone to then earn a real one to eat later on in the day!
Let them take charge of this fun and creative activity and make it as colorful and tasty-looking as they want!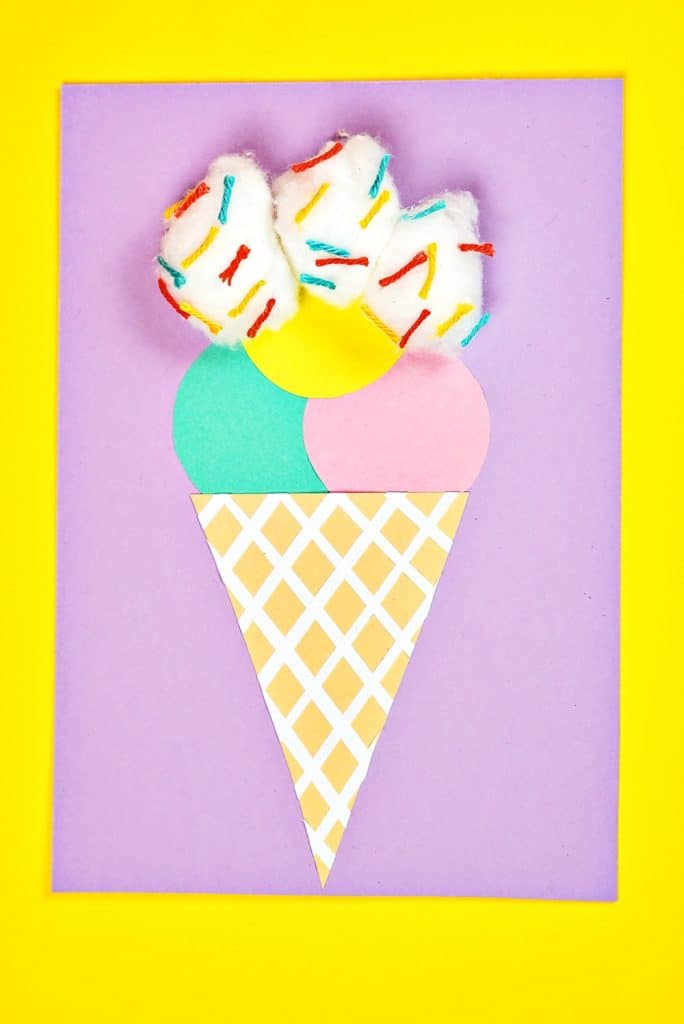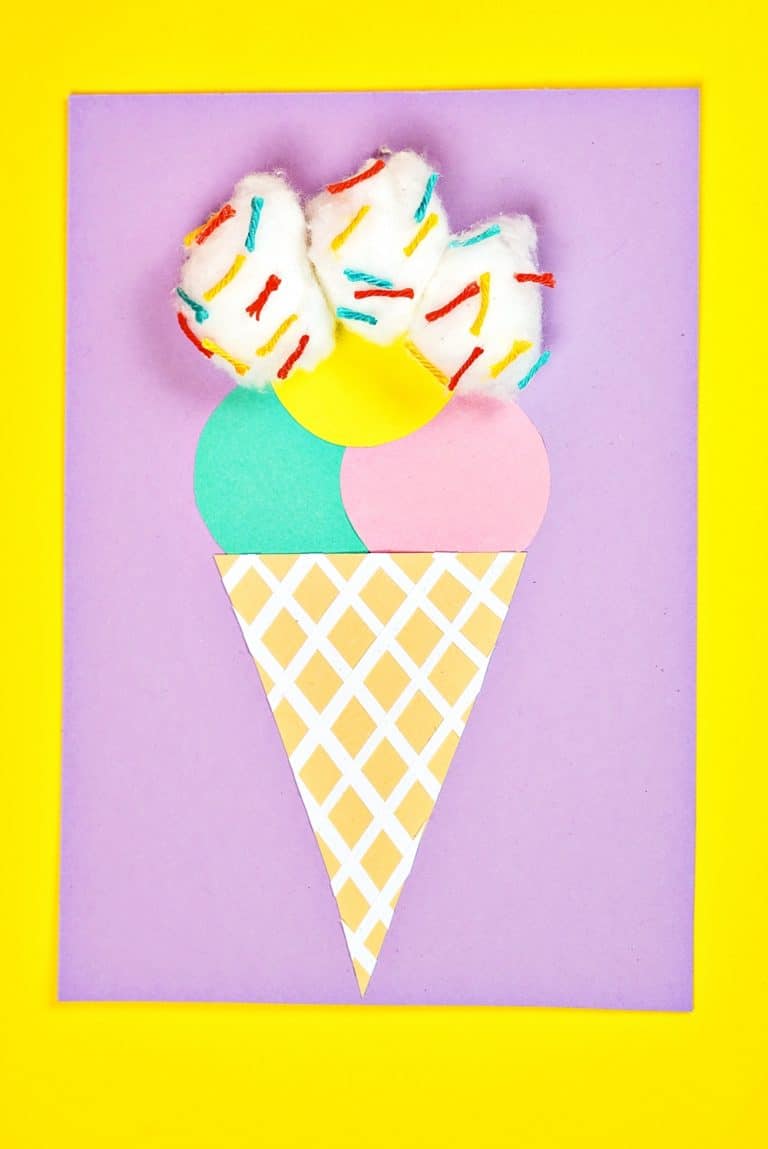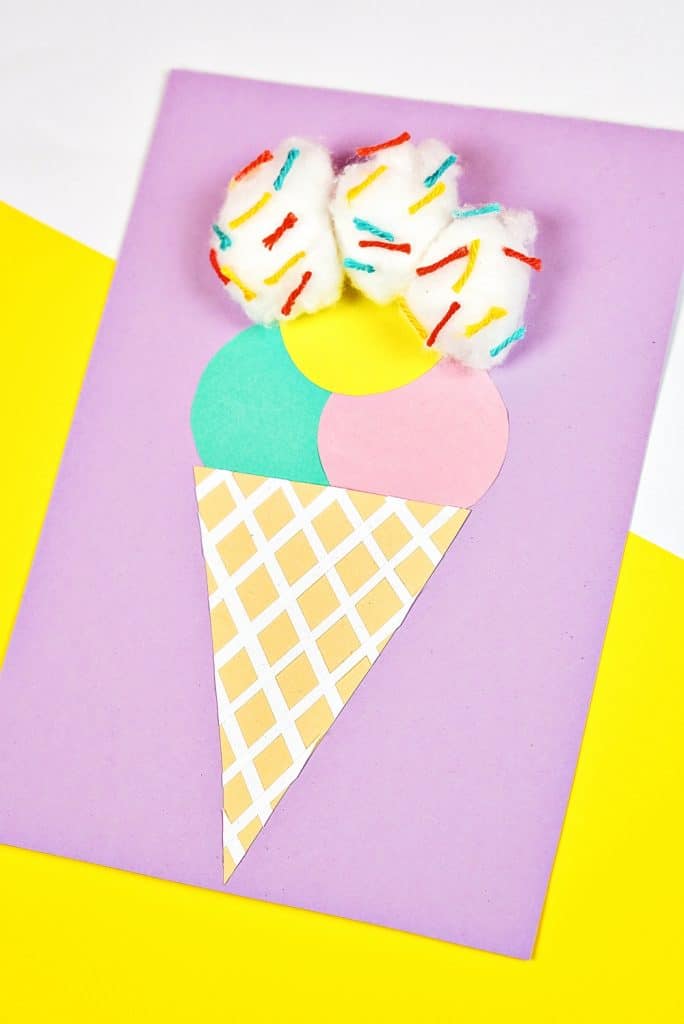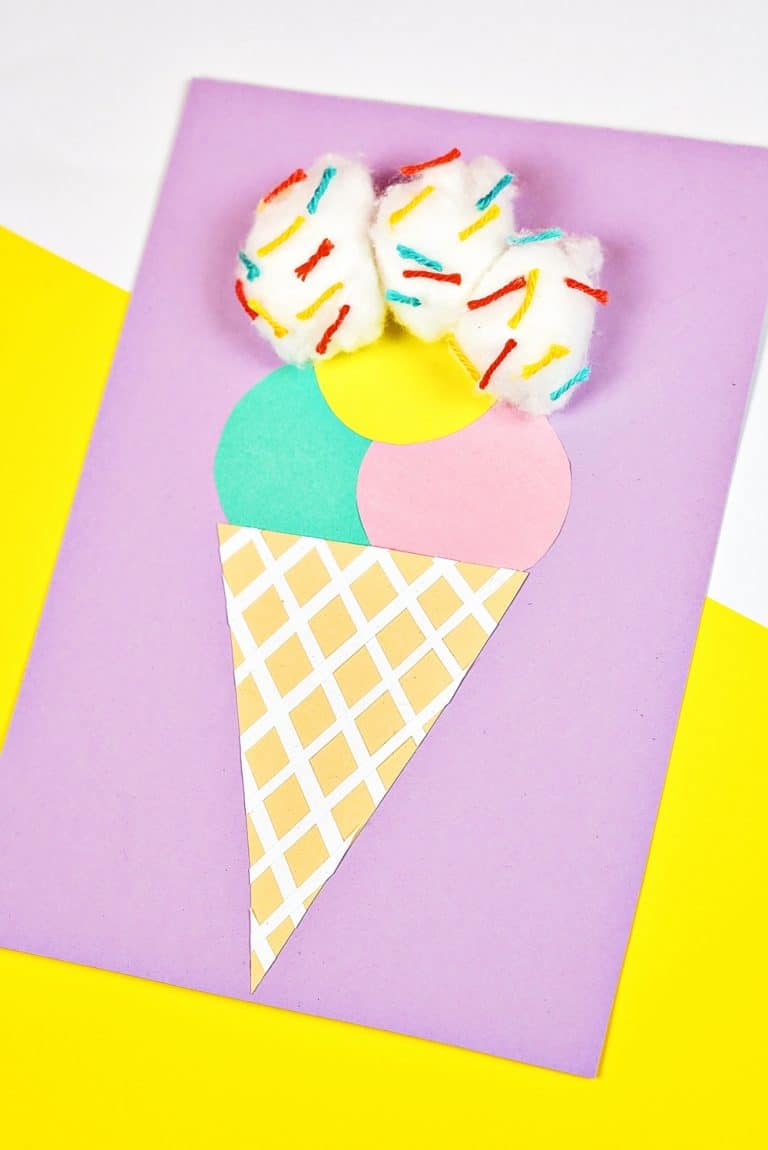 What are some other ways to decorate this ice cream craft?
As you know, no two ice cream cones are ever the same. This allows for a lot of imagination and creativity to happen in the minds of the kids. If they want to add real sprinkles onto their ice cream craft, why not? As long as they're aware and careful, they can decorate it any way that they want.
And if you're feeling brave, you can even bring out some glitter and let them use that, too. Although there's a good possibility that they'll make quite the mess if they use it, it's such a fun addition to use for any activity.
We also recommend colorful small beads, pom poms or cut straws!
Can you use this ice cream craft for learning?
Of course, you can! Anytime you want to incorporate a craft and make it educational, there is always a way. One way to do this is to work on counting.
Have them count up the number of scoops of ice cream and then work on taking one away or adding in a few as well. This will work their minds with some simple mental math!
You can also pair up this fun craft with some fun books about ice cream. While the kids are crafting and creating, you can read pages to them all about random ice cream fun!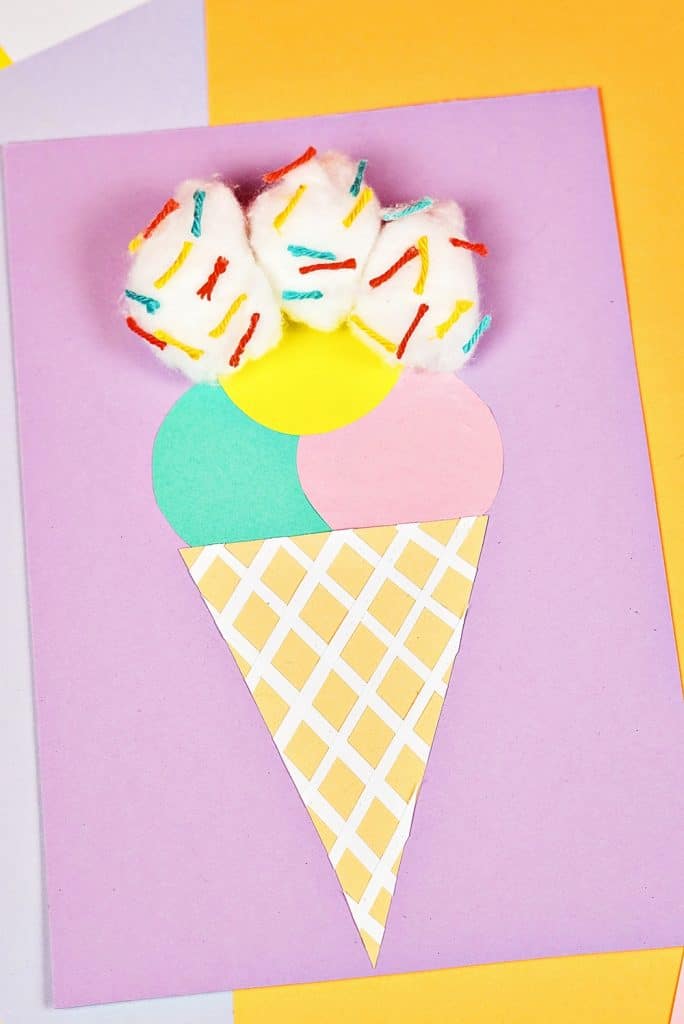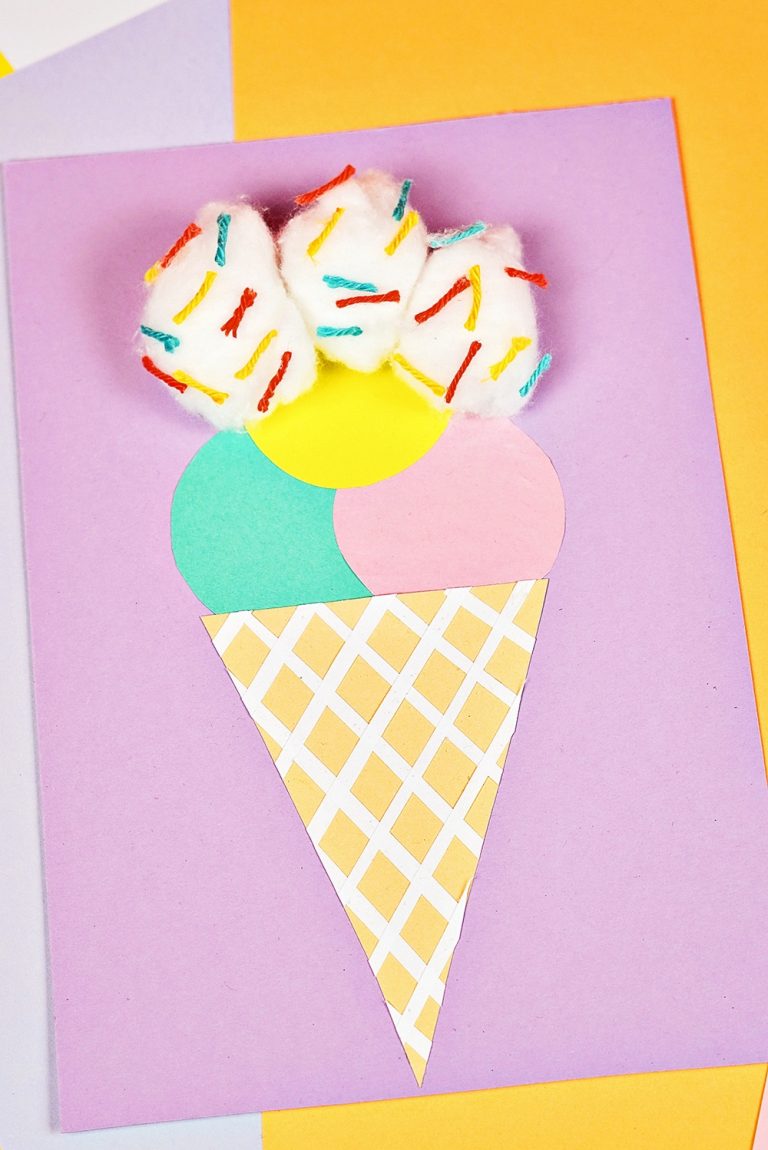 How to create this Cotton Ball Ice Cream Craft
Since this is such a simple craft and activity, you really don't need a ton of stuff to get started and probably already have all of them at home! See the simple list of supplies below.
Cotton Ball Ice Cream Craft – Materials:
Cotton Balls

Scissors

Glue

Yarn

Anything other craft materials that you might want to add in for more ice cream decorations like beads or pom poms, cut straws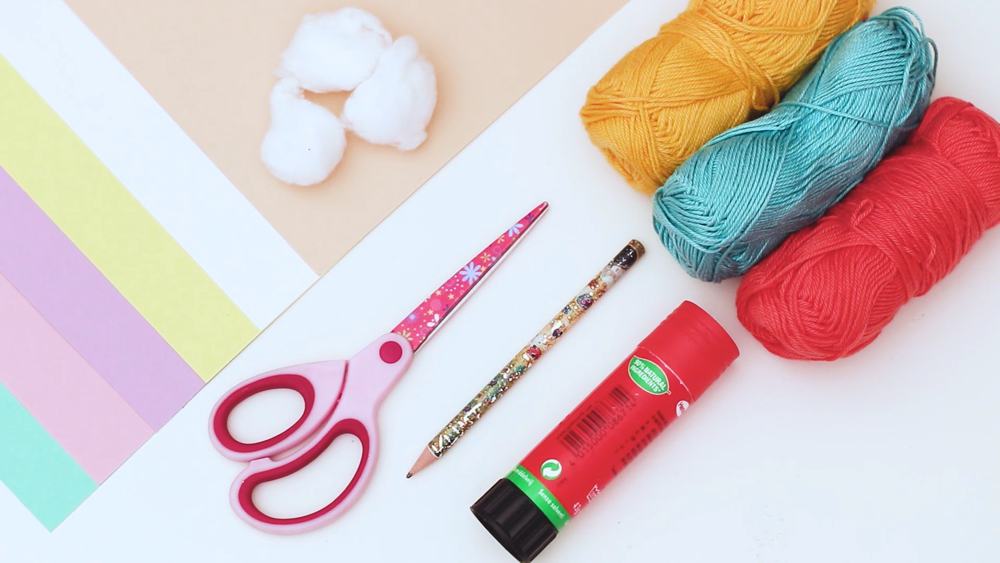 INSTRUCTIONS
WATCH THE VIDEO IN THIS POST TO SEE HOW TO MAKE THIS FUN ICE CREAM CRAFT!
Step 1. Cut out these shapes: 3 circles for scoops of ice cream, triangle for cone.
Step 2. Cut out strips of paper and glue over your cone in a crisscross fashion.
Step 3 Glue your cone and ice cream scoops on paper.
Step 4. Glue cotton balls on top of the scoops.
Step 5. Cut small strips of yarn for sprinkles and glue them on top of the cotton balls.
If you love this Cotton Ball Ice Cream Craft, make certain to check out our other fun ice cream crafts as well!